Among the best kids' entertainers and gaming tables, is a homemade Lego table. Build beautiful, frugal, and storage-friendly version of this table with these 25 homemade DIY lego table ideas that are full of creative hacks. You will get here free plans, blueprints, diagrams, visual guides, step-by-step instructions, hardware, and tools list! Painting and decorating hacks, too, for building pro-style Lego play tables at home. So, while looking through these logo table ideas, you will be left with no excuse to build a one for your kids. Moreover, these woodworking projects are for every skill level, and most of them are beginner-friendly. Open this big compilation of 25 DIY Lego Tables that contain some amazing DIY Lego Table IKEA hacks, too, to see a variety of designs.
Here each table comes with smartly build storage options that will organize the blocks and Lego projects neatly with zero clutter. Build the folding Lego play tables, can be stashed to narrower spaces easily. Get the tutorials for them, too, here.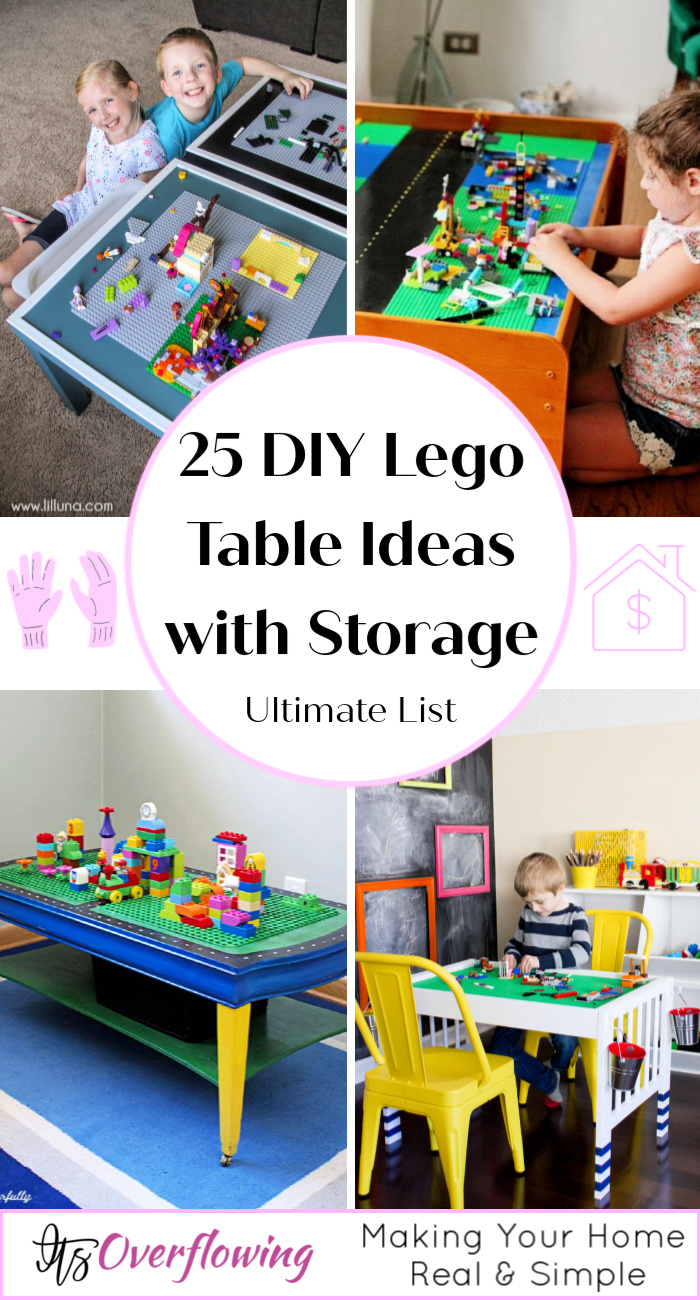 Playing Lego blocks help improve the motor skills of your kids, along with polishing the cognitive thinking and special recognition. Putting together Lego blocks to achieve the target, will make you think like a genius, hence boosting their creativity. While being around this DIY lego table with friends and siblings! They will learn how to work as a team and hence improving their communication skills too.
Increase the awareness of engineering in your kids, also by making them sit around the Lego play tables. At the same time, playing with blocks will help boost their confidence and problem-solving skills too. Take a round of all DIY lego table designs, and some are made of recycled furniture too, to get impressed with the DIY Talent.
1. Build a DIY Lego Table
Learn how to make a Lego table at home like a pro with removable legs and build in drawers that will store your Lego supplies. Build this DIY Lego table design with the Rockler's plywood. It comes with smartly built-in storage options and storage dividers that will organize all the gaming clutter leaving behind a neat bedroom of your kids. Here you need a 4x8ft sheet of 3/4" birch plywood, 4x4ft sheet of 1/4", drawer slides, 6 Lego plates, white paint, and glue to build this homemade Lego table. Details here philipmillerfurn
2. DIY Lego Table with Storage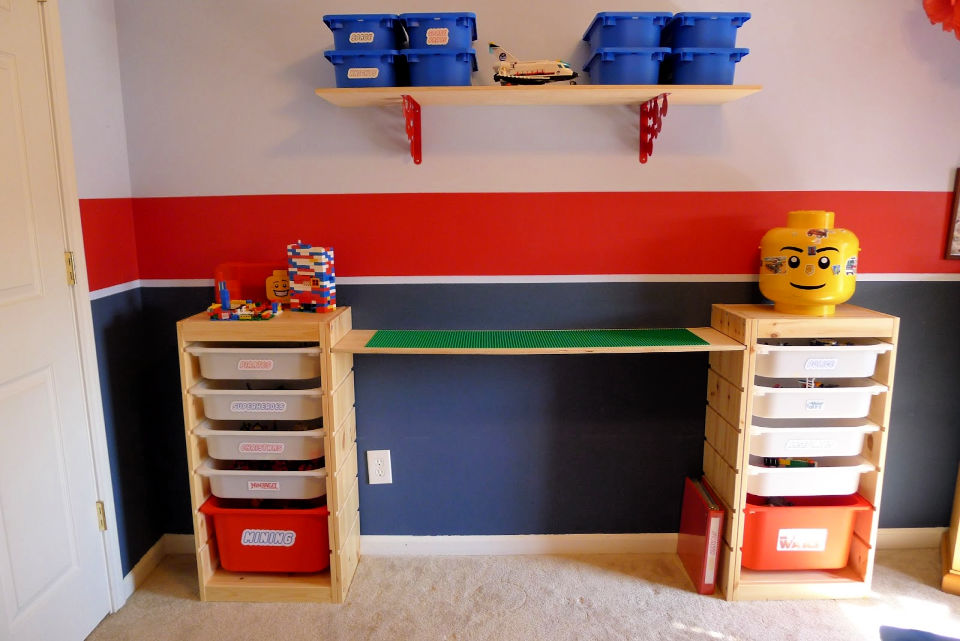 Indulge your kids in playing the Lego blocks it will surely help improve their motor skills. Getting a DIY Lego table with storage is necessary for Lego block playing. Don't buy a one expensively, just make a functional one at home with the provided free plans. This Lego play table comes with adjustable height and provides storage units built-in both sides. Here you need the trofast frames, shelves, and Lego plates to build this model. Personalize it more using a Lego vinyl stencil. Details here thatmommyblog
3. Simple Lego Play Table
Build also fully functional Lego play tables out of old and recycled furniture items. Grab a 2 level coffee table, a basket, liquid nails, a LEGO baseplate, custom trim, and paint to build this adorable Lego play table. The best gift to make for the kids without getting expensive. Being around this table daily will boost your kids' creativity, and they will be having great fun for sure. A better and quick to build a play table that will simply cost you nothing. Choose any paint that goes best with kids' bedroom or playrooms. Details here itsourlongstory
4. Portable Lego Creation Station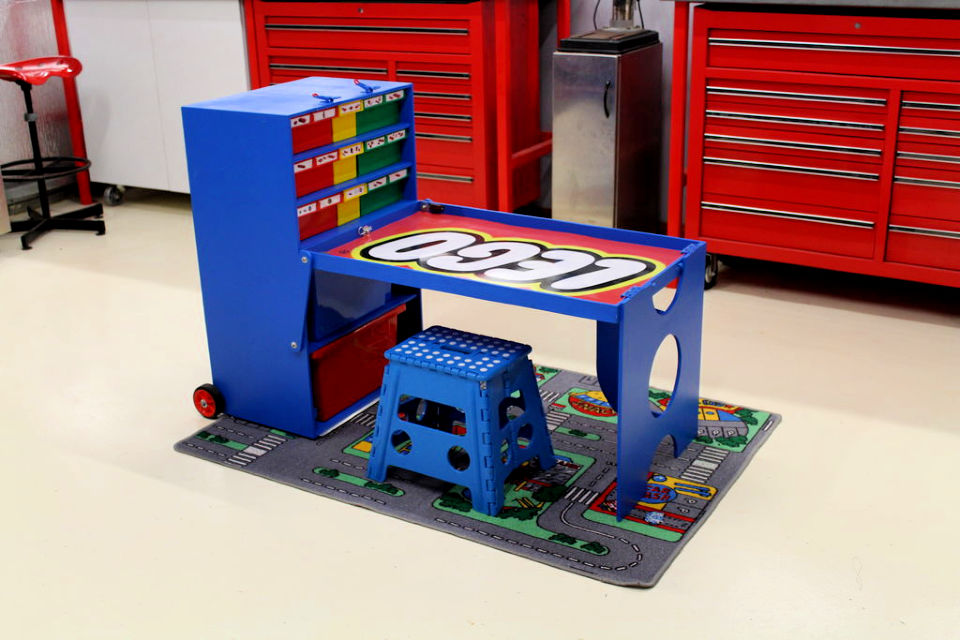 You will surely fall in love with the folding features of this portable Lego table, the best entertainment station for kids to build at home. It provides built-in storage options to organize the parts and current projects and allows a fast pack-up. Here you need plywood sheets, storage tubs, parts trays, aluminum sheet, round bars, screws and catches, and lots of other hardware to build this portable Lego creation station. It is big enough to be suitable for older kids and will be a great pleasure to build right in your home. Details here instructables
5. Ultimate DIY Lego Table
Playing Lego blocks can really promote teamwork and communication skills among the kids, These fun activities and games will boost your kids creativity. So, do build this ultimate Lego table to make your kids easily play the Lego blocks. Here you need the round molding and pressure-treated pine wood, IKEA Lack side table, IKEA trofast storage box, and Lego base plates to build these fabulous homemade Lego tables that are storage-friendly too. Spray paint your tables for a glorious appeal. An insanely clever DIY IKEA hack to build a Lego table. Details here lilluna
6. IKEA Lego Table With Storage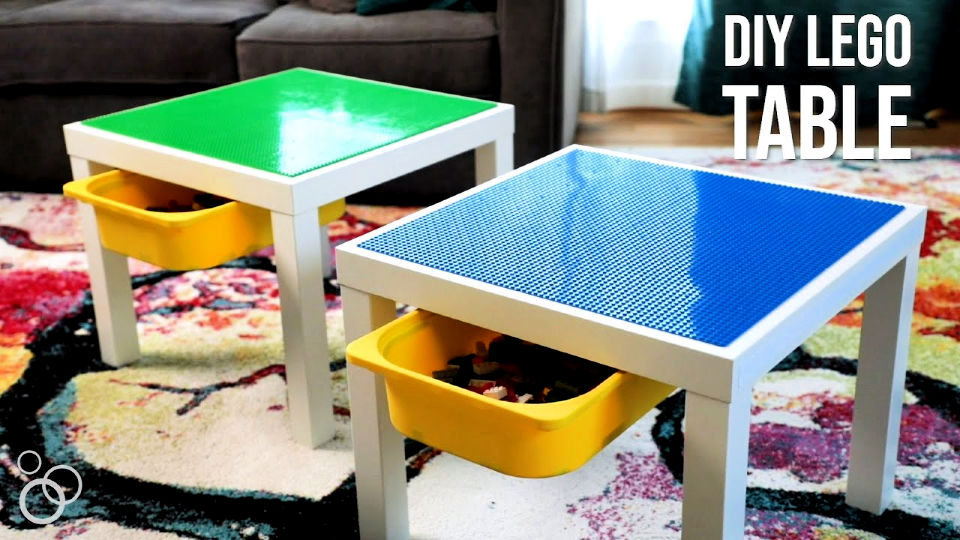 Kids can be around a Lego play table also to learn great problem solving and mechanical skills. So, just build the beautiful and ultimate storage-friendly Lego tables at home with this amazing IKEA hack. Grab the IKEA lack side tables, IKEA trofast bins, Lego base plates, and also some drawer slides to build these outstanding IKEA Lego tables that are nothing in construction. Adhere Lego base plates on the top of the table and then install the underside of the bin the tabletop using drawers slides for extra storage of blocks. Details here youtube
7. Make a Lego Table for Under $50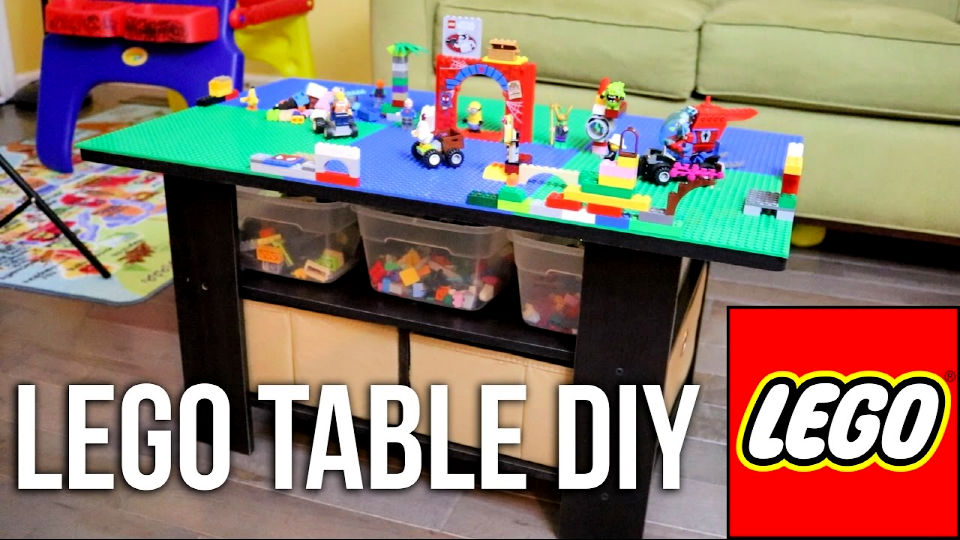 Wishing to build a DIY Lego table in a frugal way without compromising on the beauty and features? Then get here the free plans about how to build a Lego table for under $50. In supplies, you need the blue and green Lego Baseplates, Furinno coffee table with bins, and plastic cutting tools to build this adorable and fantastic DIY Lego table with storage. There are no cuttings, measurements, and hardware installations. Hence this table will just whip up super quickly. The best gift for kids to give on this upcoming birthday of them. Details here youtube
8. DIY Lego Table from a Repurposed Dresser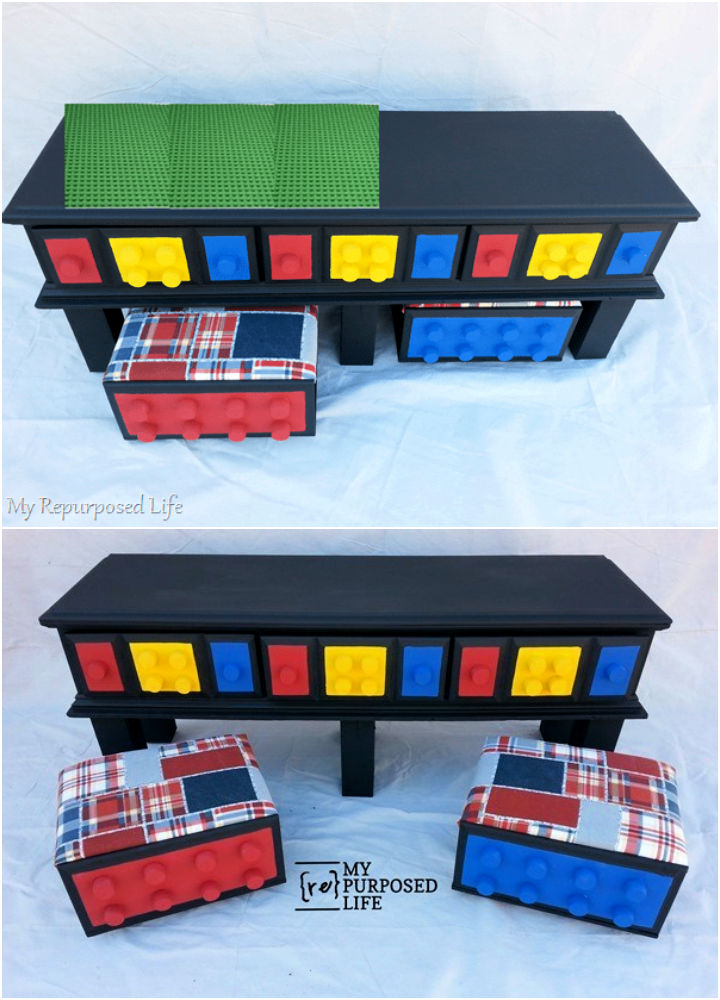 Want to build the Lego tables that will cost next to nothing? Then a great idea will be to build them from repurposed home furniture. This ideal design of Lego table is made of upcycled old dresser top, and it comes with rolling drawer seats that are storage-friendly too and comes on ball-bearing wheels. The dresser top with 3 built-in drawers gives the perfect Lego table with drawers to store extra blocks and completed projects. Slice the old crib spindles to get the perfect round wooden discs that you can paint to make perfect Lego drawer knobs. Details here myrepurposed
9. DIY IKEA Lego Table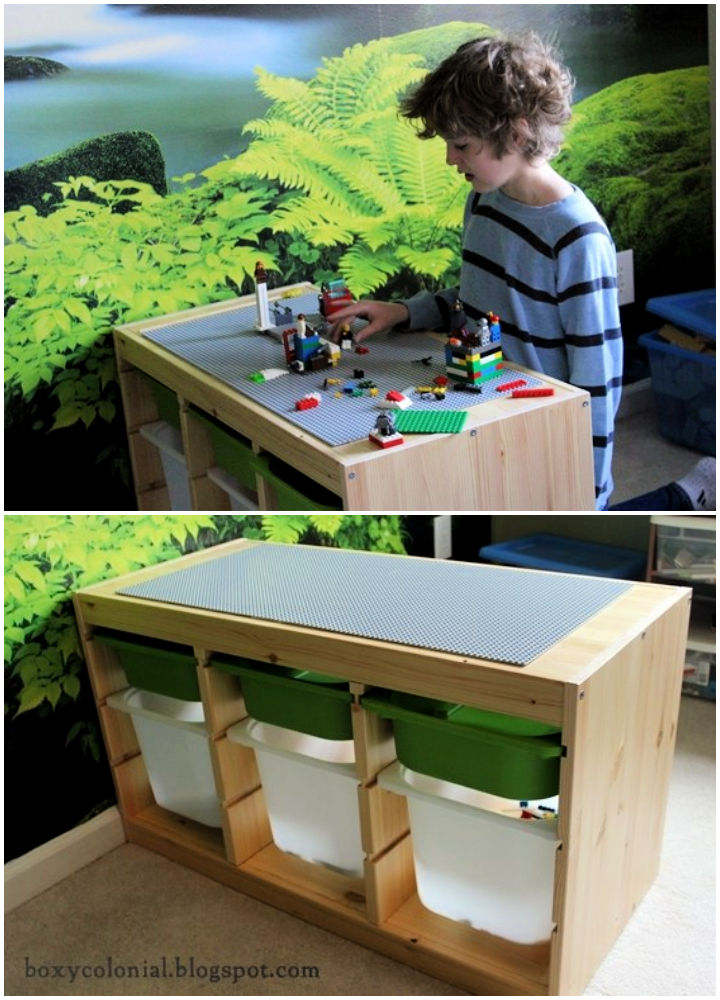 You will love this another amazing IKEA hack, helping to build a modern and fully functional Lego table in a prudent way. Grab the IKEA Trofast Shelving boxes and bins and install the Lego base plates to their top and gain stand out design of Lego play tables, will make fantastic handmade gifts for kids. Lego block playing is a creativity boosting activity and will also provide the kids the problem-solving skills. The entire project will complete in minutes, and you can build it in any size appropriate to your kids. Details here boxycolonial
10. Easy to Make a Lego Table
If you have never gone through carpentry or a beginner, then you can still be able to build a great looking Lego table for your kids. This Lego table is another genius IKEA hack, and the super quick construction of this table will amaze the entire audience. Get the IKEA Trofast shelving boxes, prime and paint them and add up with the storage bins. Grab the Lego baseplates in custom colors and install them on the top of the table and gain a fantastic Lego table. The given model will be loved dearly by all Lego play loving kids. Go with any paint color you like. Details here ericandlydiasfam
11. Coffee Table Turned Homemade Lego Table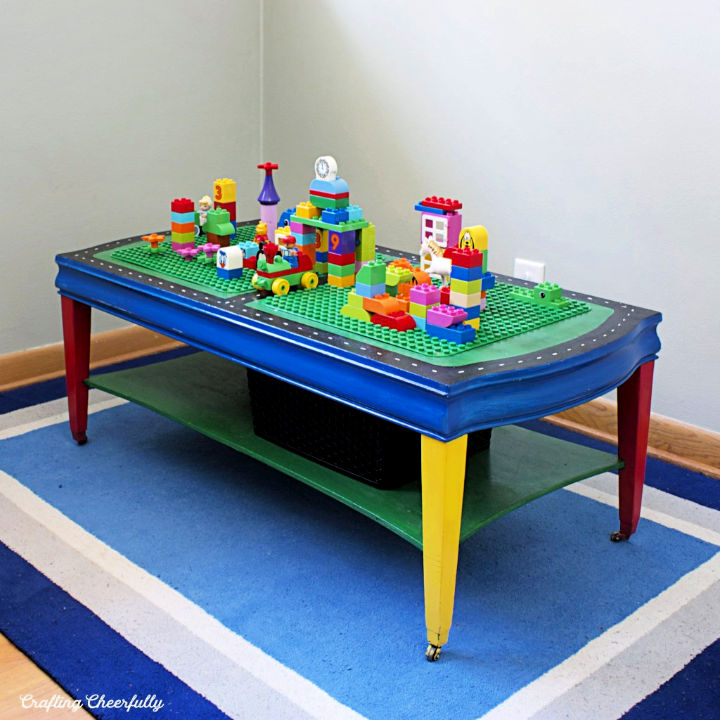 You will surely fall for this amazing transformation of coffee table that results in a colorful Lego play table, the big kids' entertainer. Grab an old coffee table with a storage shelf built underneath. Paint the top and also paint the roads, install the Lego baseplates to the top and store the rest of the supplies underside the table. Paint legs in colors of choice like in red, yellow, or green and make the table as colorful as your kids will like. Details here craftingcheer
12. Lego Meets Lack Project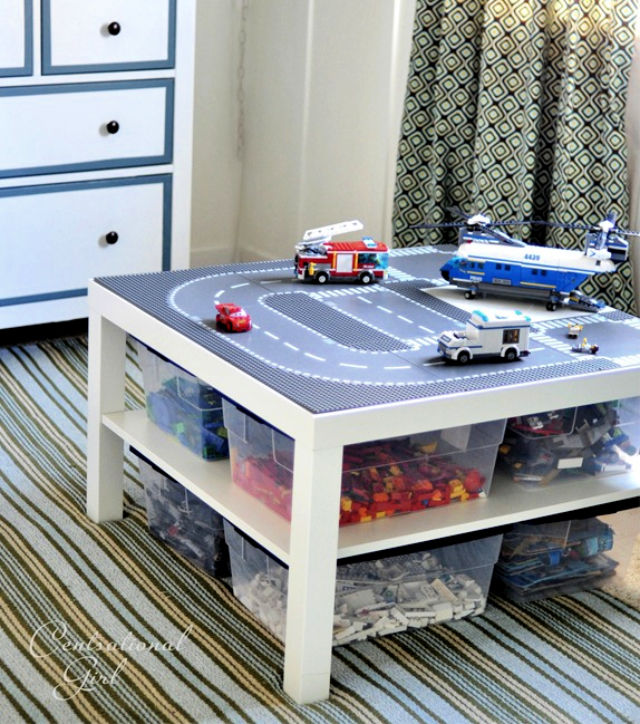 Are you on a mission of organizing the Lego table and blocks? Then this Lego meets lack project is only for you. This table impresses with a unique design and comes with a top that provides painted roads, helipads, and Lego base plates. Using this table, kids can play with both, with their toys and also with Lego blocks. Grab a table, 2 sets of curved road plates, 2 sets of crossroad plates, and plastic block storage bins to build this ultimately functional design of Lego play table. Details here centsationalstyle
13. DIY Lego Tables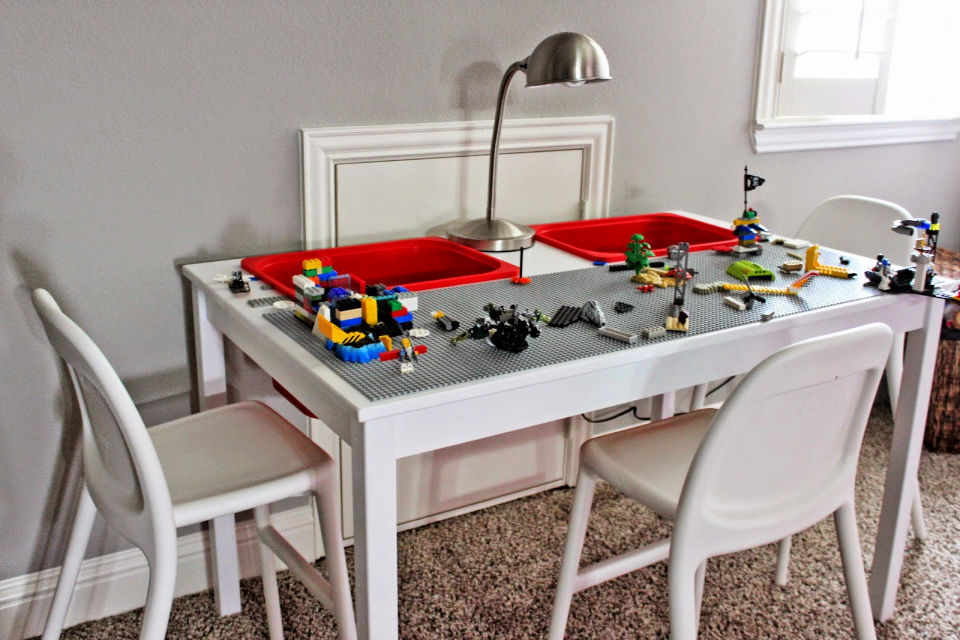 This IKEA dining table hack will surely impress you, and you will love building this Lego table for sure. You need an IKEA Ingo dining table, IKEA Trofast buckets, spray paint, clear sealant, and sandpaper to construct this sweetly beautiful DIY lego table. Cut the 2 big holes in the top of the table to fit the buckets in and install then paint the table in the way you like. Install the Lego baseplates to the rest of the tabletop and let your kids be around it to make something creative. Details here alittleofthis
14. Portable Lego Tray Table
This 20" x 15" Lego Tray table is made of breakfast serving tray that folds smartly. Next, use Elmer's pro-bond glue and adhere 3 green Lego building plates to the top side of the tray. Next, grab the Lego playsets of choice and let your kids be around it to do some creative achievements. Fancy up the table more with vinyl lettering and decors of choice. Do build this gaming table to promote self-esteem and planning skills among the kids. Details here busycreatingme
15. DIY Lego Table IKEA Hack
Again an insanely smart IKEA Lego table hack is here to wow you. Take one piece of IKEA Gulliver changing white table to build this fab looking Lego table, which will cost you under $50. Next, just paint your table for a fancy or chic white appeal and add up the side hooks to hold the Lego block buckets. Furthermore, install the green Lego building block plates on the top of the table, and here you go. One can use an ordinary dining or coffee table, too, for making this Lego play table. Details here erinspain
16. How to Build a Lego Storage Table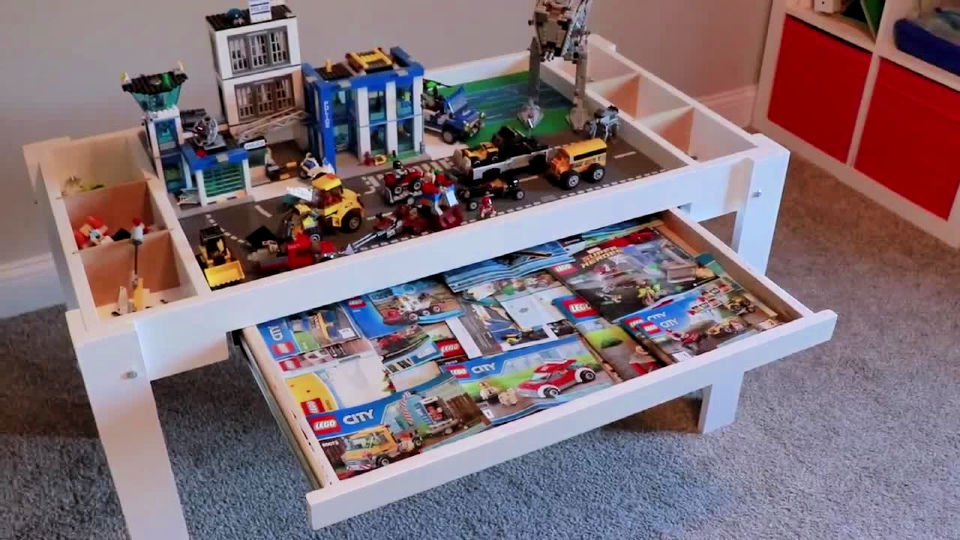 Even a 4′ x 8′ piece of plywood will be enough to build a flawless and storage-friendly design of Lego table. Check out here a Lego Storage Table challenge done with one sheet of plywood. First, build the tray-like top of the table and then install the legs. Along with built-in compartments insides, this Lego storage table also provides a built-in sliding out tray just underside the top where you can store the instructions. The ultimate Lego table that will not allow a mess of blocks. Details here youtube
17. Creative Lego Table with Storage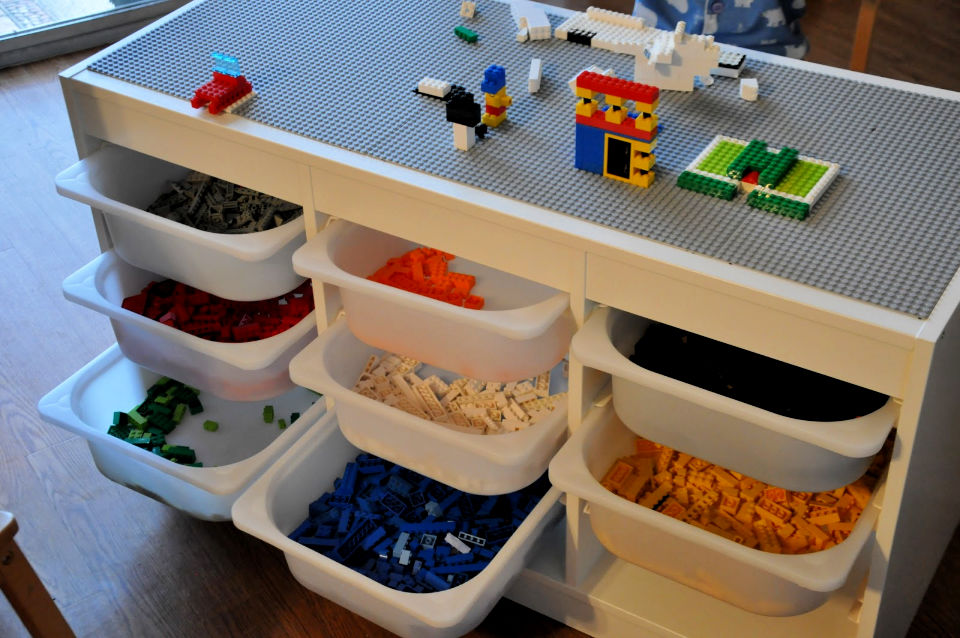 Check out here another fantastic model of DIY Lego table, surprises with the amazing built-in storage options. Building this Lego table will be a piece of cake as the supplies you need are readymade. Just grab the IKEA trofast white boxes, IKEA Trofast storage bins, and Lego X-Large gray baseplates to build this fantastic Lego table. It will make a great gift to the little kids in a home. Now, playing Lego will not create a big mess for sure. A smart choice of table to keep the kids' bedroom or playroom neat all the time. Details here thatcraftyjuls
18. Make Your Own Homemade Lego Table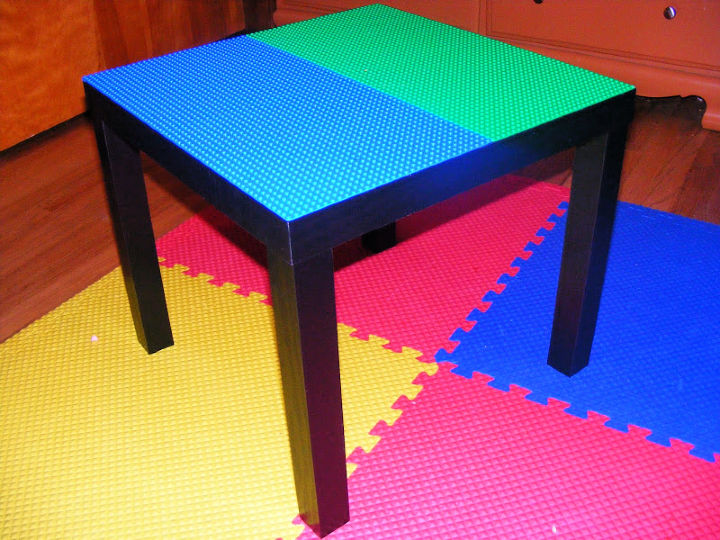 Playing Lego can help boost the creativity of your kids, and hence you must add some perfect Lego tables in the kids' playrooms or bedrooms. Here you need a market bought Lego table and 10 x 10 Lego baseplates to build this brilliant Lego table. This table is simple and comes with a storage option installed. The best entertainer to add to your kids' rooms and it will be ready in a few minutes. Make it with the IKEA Lack side table too. One of the best Lego tables ever made at home. Details here thekidsperts
19. Awesome DIY Lego Table for Kids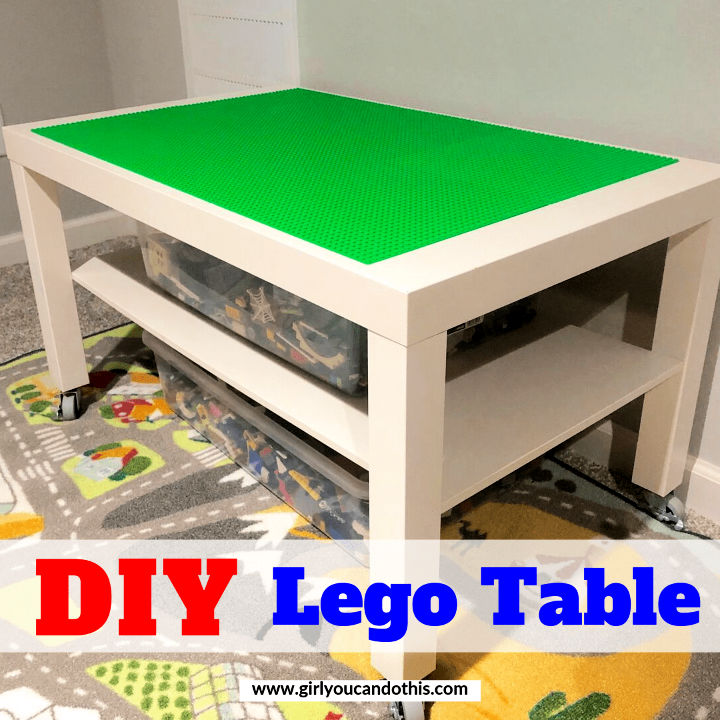 Maybe you are wishing to build a modern DIY Lego table for your kids, but it should not cost you big for sure. Go with this genius IKEA hack, helping you build a quick modern Lego table inexpensively. Grab an IKEA Lack coffee table, gorilla glue, 6 Lego baseplates, large Tupperware, and caster wheels to build this stylish and storage-friendly design of Lego table. Install the Lego baseplates on the top of the table and finish the legs with caster wheels. A touch-to-move DIY Lego table. Details here girlyoucandothis
20. Turn An Old Train Table Into DIY Lego Table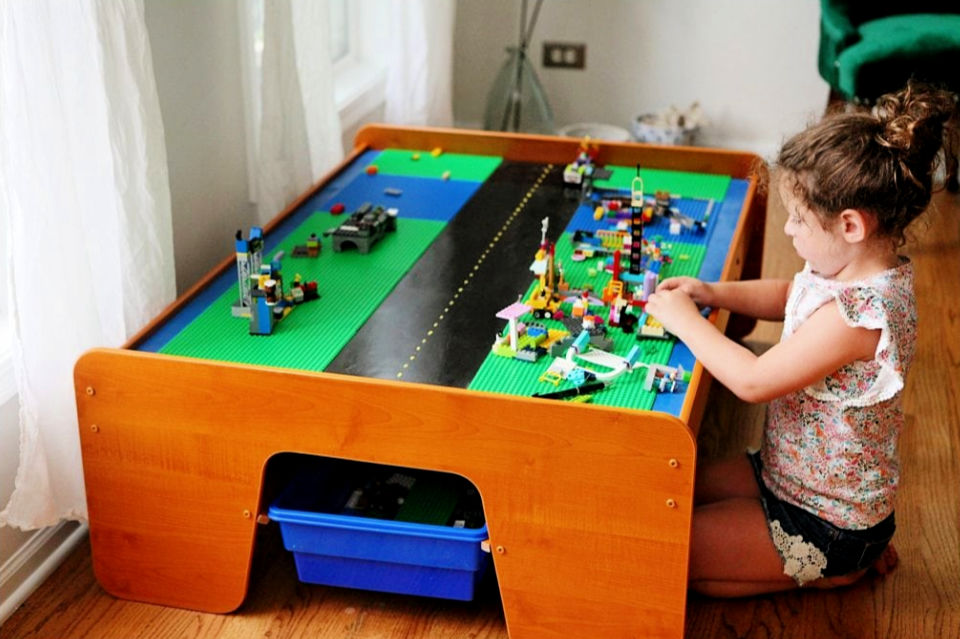 Do smart makeovers of the old kids play tables to get fantastic new Lego tables of choice. Check out here the hack about how to build a brilliant Lego table out of an old train table without getting a bit expensive. Here you need a train table, a piece of wood, 9 Lego plates, and spray paint in blue, yellow, and black to make this Lego table. Use the spray paint to paint the roads. One of the best play table to build for kids. Details here theeverydaymom
21. DIY Train Or Lego Table
Grab here the free plans for building a fully featured model of a Lego table, will make a great train table too. Build the box-like table with 1x12s and 1x2s wood slats that will nicely hold the IKEA Trofast storage boxes. Opt for 1/2" MDF board to build the top of the Lego table. This table has the capacity to store a large collection of extra Lego blocks and even the current projects your kids are working on. Building this entire table will cost you under $100. Details here shanty 2 chic
22. DIY Lego Table With Custom Lego Knobs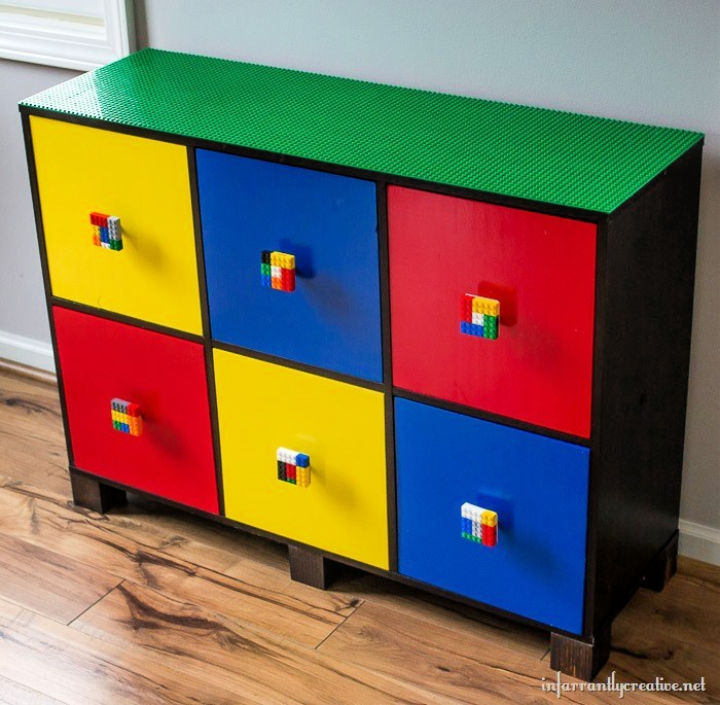 You will fall for this another great Lego table that is looking divine with cube-shaped drawers and colorful appeal. Just grab an IKEA bookshelf and fill its compartments with cube-shaped drawers you can easily build with the plywood. Double up the 2x4s and cut cubes out of them to make tiny feet for the bookshelf. Adhere to the Lego plates on the top of the table and also use the base knob hardware, leftover Lego blocks, and Lego plate squares to make the Lego knobs for drawers. Details here infarrantlycrea
23. Giant Lego Play Table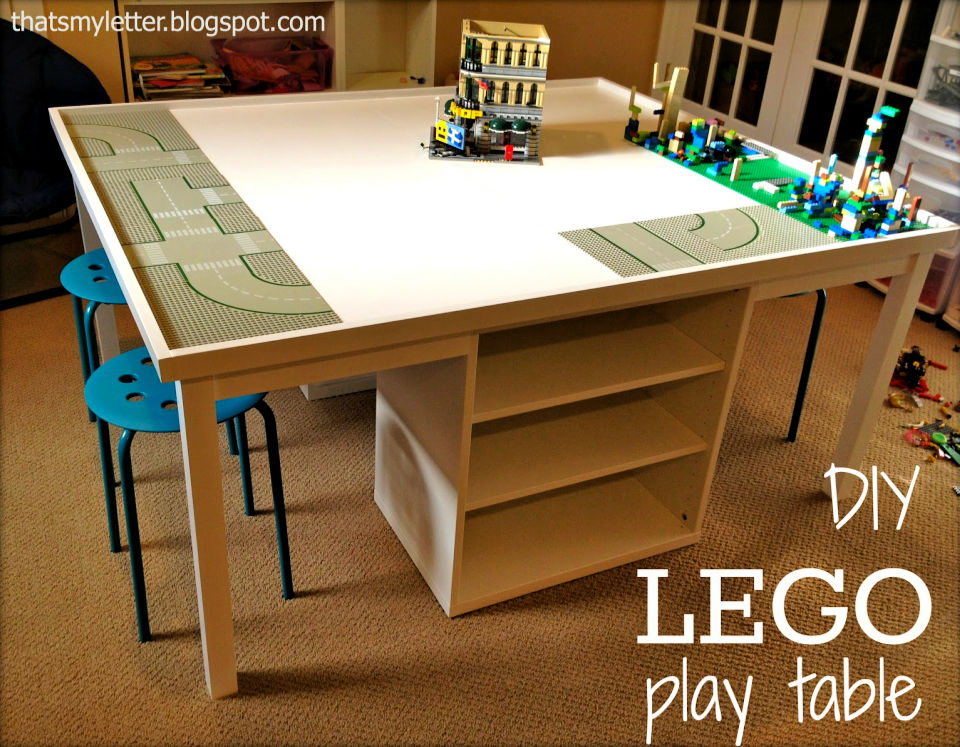 This Lego play table will be suitable for multiple kids at the same time striving to play Lego blocks. What makes this table very special, is the outstanding storage options. 2 IKEA Besta shelves have been installed underneath the table that supports the large tabletop and also provides ample storage space to the Lego blocks. Build the giant top of the Lego play table using plywood, 1x2s, and 1x3s and do install the durable legs that will withstand the heavy-duty top. Let your kids approach this table using IKEA Marius stools. Details here jaimecostiglio
24. Lego Table from old TV Table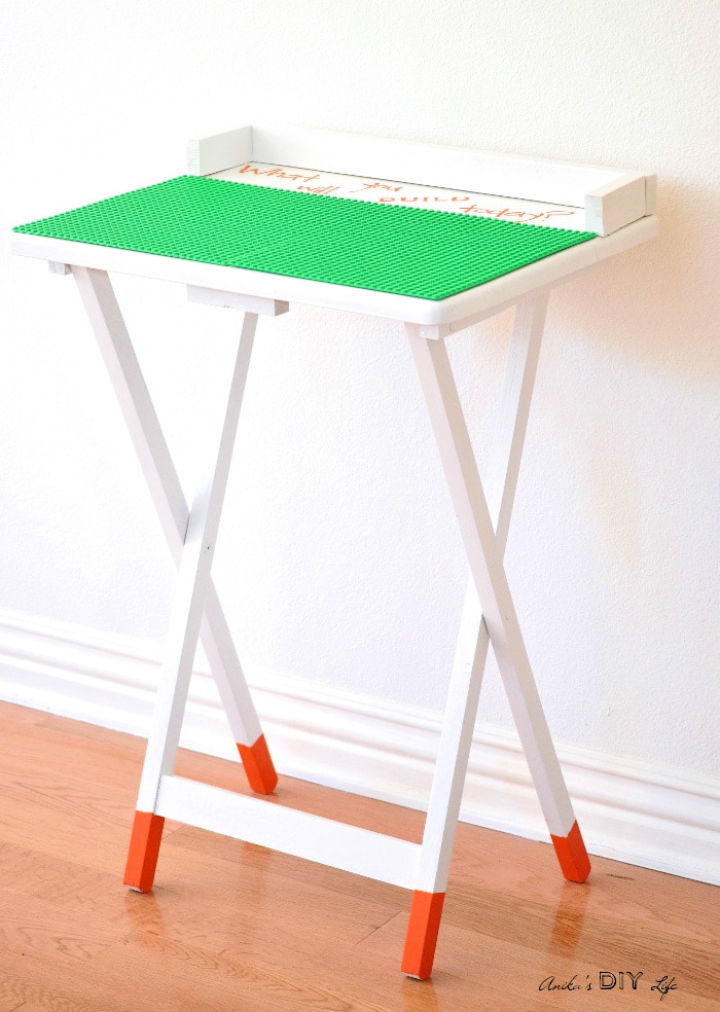 Get inspired by this another amazing transformation. An old TV table has been upcycled into a brilliant looking Lego table, will whip up super quickly. Grab and an old TV table with glass insets, MDF, Lego baseplates, primer, paint, and custom wood stain to build this fantastic looking Lego table. Stuff the storage crates, baskets, and even the drawers underside to store the extras. One of the best DIY Lego tables ever built at home. Details here anikasdiylife
25. Lego Play Table for Kids
For this aesthetically pleasing Lego play table, you need IKEA stools and IKEA side table. Put the stools around the table and install the 4 Lego plates to the top of the table. Simply glue them in place and use the cork sheet when wishing to put some weight over the glued Lego plates. A quick to build a Lego plate table that will not the kids bored but will help them boost their problem-solving and mechanical skills. Details here gigglebox
Conclusion:
Start it in the very beginning to make your kids think like a genius, engineer, and also like a great problem-solving person by giving a DIY Lego table as a gift. You just no need to buy it expensive, build stylishly beautiful and super storage-friendly models of DIY Lego play table at home, will be the best kids' entertainers along with booting their motor, communication, and problem-solving skills.
Upcycle the old dresser and coffee table to make the enchanting design of Lego tables. Opt for IKEA trofast shelving box, and IKEA lack side tables or IKEA dining tables too for making fully functional and modern looking Lego blocks. From simple to folding to portable, you will get instructions and free plans for all sorts of homemade Lego tables here for free.