Looking for the digital-free ways to add some fun activities and games to your kids' lives? It seems that the digital world has taken over our world completely, and unfortunately, our kids are suffering the most! Behind that tablet or X-box might be okay for some time, but productive playtime is no compromise! Especially in the growing age when the mind is developing, and there is so much room for learning! We have rounded up below these mind-blowing and absolutely FREE 56 fun activities and games for kids that makes them happy! We say that "makes them happy" because well, you look at these DIY activities and games tutorials, and you will be like, why did I not think of this before?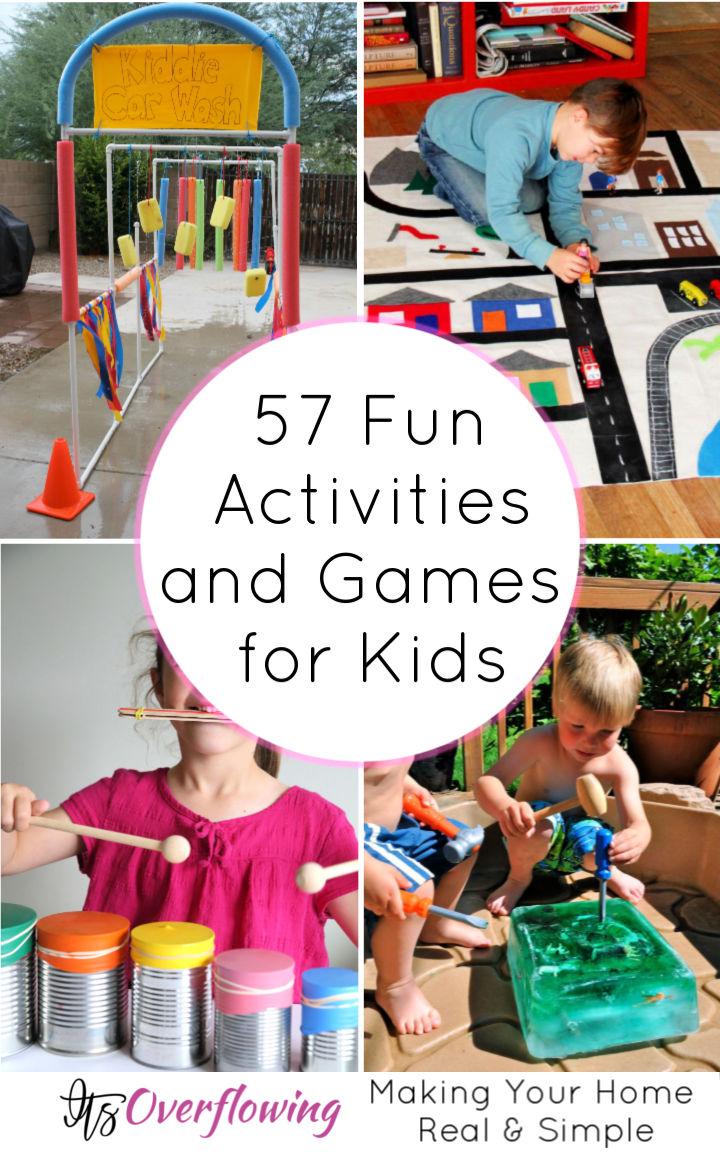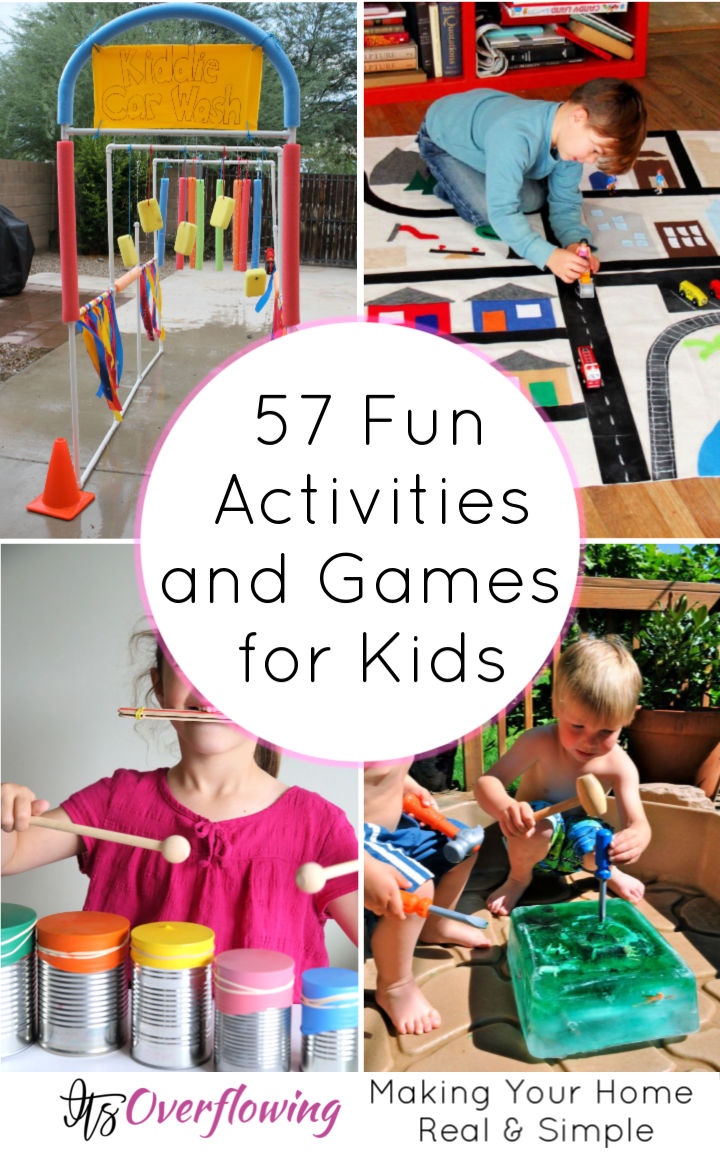 These fun activities and games for kids are super easy to whip up! Some of them don't even require a parental guide or check. Most of the materials used might already be resting somewhere in your craft closets or your kitchen cabinets! That's the beauty of DIYing. Most importantly, these fun activities for kids are a great way to have some nice family bonding time. Choose an indoor game like a life-size building block experience or a fun outdoor day with boats, water games or abstract art! We have got it all! With these fun activities and games for kids, you get so much room to let your kid's imagination run wild! So, hop on to this fun train and let's explore some darling DIY activities below.
1. DIY Kid's Art Room Decor

Art is certainly an important part of our lives. Life would be nothing without art and creativity. It's good to have artistic minds. One way to get your kids to have a creative mind is by making this DIY Kids art room decor. It's such a fun little project to do with your children! funathomewithkids
2. Versatile DIY Pom Pom Balls Toddler Activity

This is one of the best fun activities and DIY games for kids that makes them happy. All you do is take a used container like the one shown in the picture and make some holes in it. Then you prepare the pom pom balls. Pom pom balls can be in different colors to make it look fun and bright. busytoddler
3. Homemade Racing Pom Pom Balls Game for Kids

The spring vacations are just around the corner. It can be really annoying when your kids want you to give all of your attention to them. An easy way to get all your work done these vacations is by setting up this game for them. They will be busy all day playing this and won't bother you a tiny bit! frugalfun4boys
4. DIY Crayon Push Toddler Toy

What can be more satisfying than posting some crayons perfectly through a hole into the container? If your kids lie around all day watching the TV or playing games on your phone, this can be a good way to get them active. It's good for their mental and physical health and will satisfy them a lot. busytoddler
5. DIY Indoor Swing & Crash Pad

It's good to mix things up and add something new to your kids' bedroom! There are many DIY activities and fun games for kids that make them happy but this one's by far the most fun to do! Imagine your kids having an indoor swing! All you will hear is laughter instead of groans from them! teach-me-mommy
6. Build a Play House Using Pool Noodles

Don't you want to be the cool mom? The mom all of your kids' friend love! Build this amazing house using pool noodles for your children when they have their friends over! They will not bother you all day. You will get your work done on time and they will have a lot of fun too! Two birds killed by one stone. fromabcstoacts
7. Indoor Climbing Space for Kids

Kids can be little monkeys sometimes. You have to look after time the whole time to make sure they don't hit their head somewhere or do something stupid! An easy way to prevent this can be by making this indoor climbing space for children! There is a mattress at the bottom to keep them safe! thelovenlife
8. Edible Slime Recipe

From all the fun activities for kids that make them happy, DIY slime is one of the most famous activities! You may have heard your kids talking about it before. Even teenagers and adults play with slime! It's just so satisfying to play with. According to the latest research, it releases stress and tension! growingajewele
9. Best DIY Cardboard Box Fun

It can be very hard to focus when your kids have their friends over and they're all over the house. You can make these fun DIY cardboard boxes for them and turn on a movie! If it's cold where you live, you can add some blankets too! Snacks like popcorn and crisps can be placed near them. notjustahousewife
10. Make Your Own Bathtub Fishing – Kids Activity

Bathing can be boring sometimes. Your kids even not want to bath at times. You can make it super interesting for them by making this DIY! They will not only want to bath for longer but also will never say no to getting cleaned up again! A very easy and fun DIY to do which almost every kid would love. artsymomma
11. Giant DIY Ice Cube Awesomeness

Inculcate the knowledge of sea life and sea animals. Plan Ice cube activity and create an artificial sea life. Take a tub and freeze some water in it. Place some sea animals in it while freezing. Children will love playing with it, especially in summers. crumbbums
12. DIY Ninja Turtle Paper Plate Kids Craft

Do not throw the extra paper plates but plan a DIY activity out of it. Craft ninja turtles using paper plates. Paint the plates in different colors and cut them in the shape of ninjas. You can join multiple plates using glue to get the right ninja shape. iheartartsncrafts
13. Name Practice Activity Using Toy Cars

Car lovers pay attention! If your child loves cars, you can take advantage and make him learn words. Draw a road in the form of letters and ask your little one to drive a car on those letters. In this way, he will enjoy while learning. buggyandbuddy
14. Drawing With Cars – Fun Kids Activity

Drawing with cars is a fun-filled activity. Join markers with small cars and place a white paper on the table. Ask your child to drive the car. the marker will create colorful patterns. Your child will love painting different things using cars. Also, he will learn the name of colors this way. housingaforest
15. Vinegar-Free Fizzy Car Rescue

Get ready to rescue some freezing cars in the town. This DIY activity will inculcate in kids the habit of helping. Use vinegar in a bottle to rescue the car from the frozen area. Add colors in the bottle to make it a fun activity. Kids will enjoy the activity of rescuing. funathomewithkids
16. DIY Monster Truck Sensory Play

The monster truck sensory tub is a cheap and fun-filled activity. You will need simple material to conduct the project. 1 plastic container of medium size, with a lid, 2 bags of grounded coffee, monster trucks, a bag of rocks and small toys. pagingfunmums
17. Sight Word Drag Racing for Kids

Gone are the days when you had to make your child sit and teach things. Children demand innovative ways to learn new things. The sight word game is the perfect innovative way to teach your children words and their spellings. playdoughtoplato
You may also like to have these piggy bank for kids using mason jar!
18. Monster Truck Letter Mash

Teach your kids words by pasting the on their favorite monster trucks. Write a letter in large fonts and paste them on the trucks. While they play with trucks, make the sound of those letters. Children will learn the alphabet and will memorize it forever. toddlerapproved
19. 8 Preschool Math Ideas Using Toy Vehicles

Make use of your child's favorite cars and teach them numbers. Write numbers on paper and make parking. Ask your kid to park the car in a specific number. This activity will enhance their grip, motor and learning skills. Numbers will be on their fingertips. themeasuredmom
20. Monster Truck Bowling – Kids Activity

Monster truck bowling is the perfect activity to polish aim taking skills of your children. To plan this game, you need some toilet paper rolls. Paint them with different colors. Place them together and splash the truck on them. A perfect replica of bowling game! crayonfreckles
21. Painting with Trucks – Art for Kids

Trucks are not only used to transport material. They can also be used to spread vibrant colors on plain paper. Paint the tires of the truck with different colors. When the kids will roll the truck over the plain paper, a beautiful combination of vibrant colors will appear. learnplayimagine
22. DIY Numbers Game Car Parking

So just take an empty carton and cut it in half. Mark parking with the help of marker and number each marker. Ask your little one to park all of his cars and little cars in each parking lot. This way, your child will be able to memorize numbers in an innovative way. b-inspiredmama
23. DIY Kids Climbing Wall

The activity of wall climbing is an attractive game, but surely a little risky. You can plan this project at home, and ensure 100 percent safety of your child. Drill some wood pieces in a wall and place some plastic pieces, which can bear kids' weight. Children will enjoy this wall climbing activity at home. thecreatedhome
24. Cotton Ball Painting Kids Activity

Enhance the learning skills of your children by planning this cotton coloring activity. Take different poster colors and spread them on cupcakes' tray. Attach cotton balls with ice cream sticks. Ask them to color cotton of a specific color. domesticmommy
25. DIY Kids Hotel Activity Pack

It is very difficult to manage kids in a hotel, with a limited playing space. Plan this hotel activity to keep them busy. Carry some paper plates and mark each with an 'O' and 'X'. make a border of tic tac toe and let them play the game on the floor. learnwithplayathome
26. Balloon Stamp Painting Activity for Kids

Balloons are a fantasy for kids. Bring a variation in their fantasy world by organizing balloon stamp pasting activity. Blow a balloon and dip it in some colorful paints. Post the balloon on a plain paper and make beautiful patterns. You can use any sort of colors; poster, water or oil. amazinginterior
27. Easy Indoor Balloon Tennis Game

Introduce your children to games like tennis in a fun way. Use balloons as a ball and fly killer to plan the tennis game. Kids will enjoy playing tennis with balloons. You can use balloons of different colors as well. This way kids will learn colors name as well. littlebinsforlittle
28. Homemade Moon Sand or Cloud Dough

Playing with moon sand is fun but expensive as well. But no worries, moon sand can be made at home. You need 8 cups of plain flour and 1 cup of baby oil. Mix them well and place them in small ice cream containers. Place the sand out and put stars on it. lessonslearntjournal
29. Kid Made Drum Set and Kazoo – Indoor Craft

Make a set of drums and kazoo at home, with inexpensive material. Attach two ice cream sticks with rubber bands, hence a kazoo is made. Take empty pineapple or mushroom cans and cover them with plastic lids. Play drums and kazoo at home. itsalwaysautumn
30. 5 Fun Things To Do With Tin Cans

Start saving all the cans of mushroom, pineapple, beans, and corns. Gather them all and paint them in different colors. You can plan 5 different fun activities for kids using these colorful cans. The activities are described in detail in the tutorial. agirlandagluegun
31. DIY Tissue Paper Art for Kids

Tissue paper art is a unique and dazzling arts and crafts activity for kids. The end product will be an attractive frame that you can hang in the house. Paint tissues with different colors. Let the dry. Just paste them on a board and frame them! itsalwaysautumn
32. Knock the Balls Down Nerf Target Game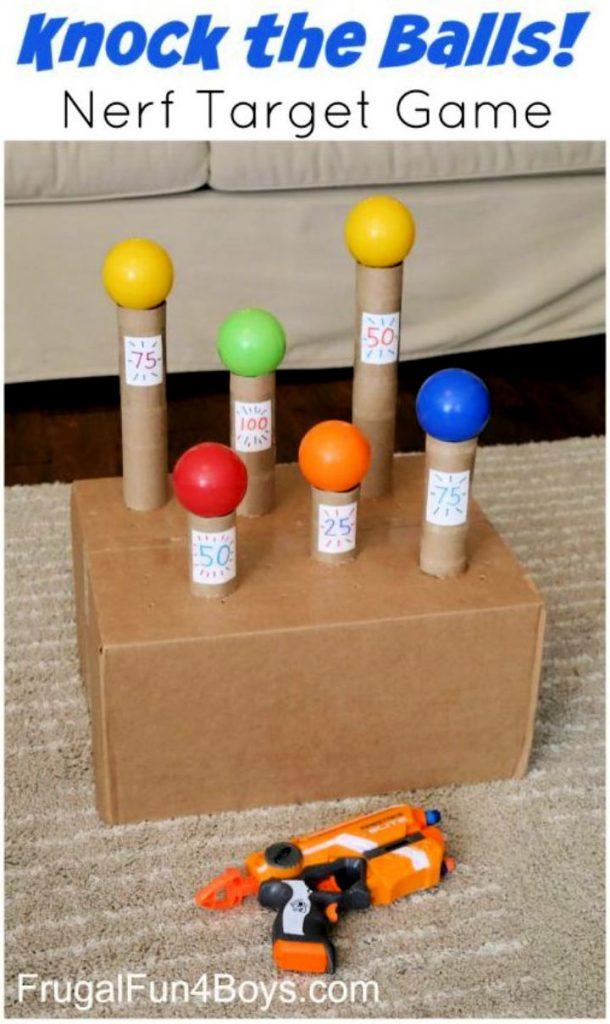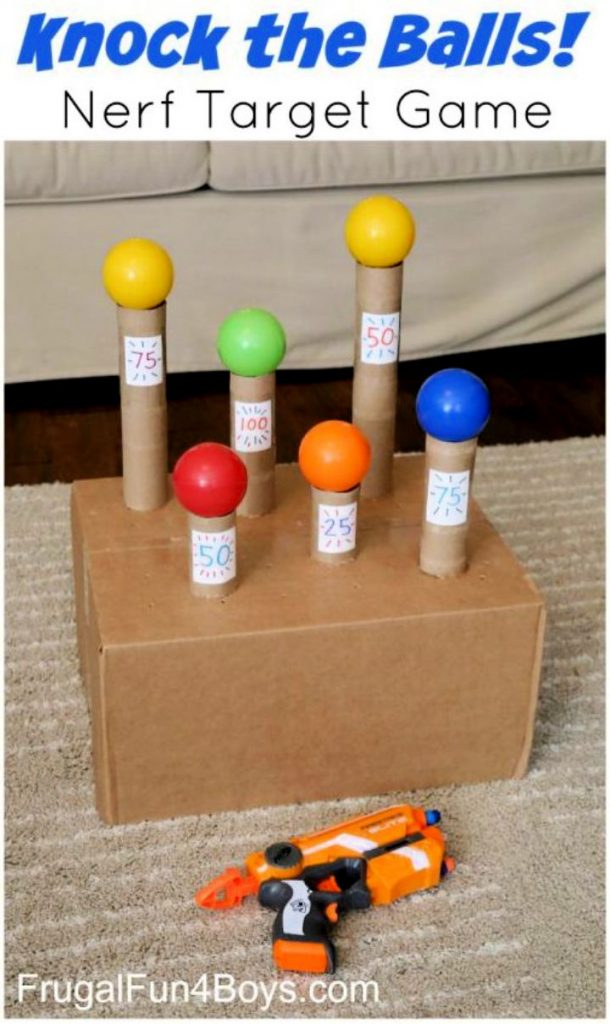 Knock the ball off nerf target game is perfect to enhance the aim taking skills of children. Place balls on tissue paper rolls, placed on cardboard. Assign numbers to each ball. Ask your kid to knock them off. Give him credit accordingly. frugalfun4boys
33. Turn a Cardboard Box into an Epic Marble Run

The marble run is an attractive product for kids. You can make one at home using cardboard. Cut small strips of cardboard and paste them in an angular shape on a big cardboard. Place paper cups at the bottom to catch the ball. Roll a small ball and you are done. frugalfun4boys
34. DIY Laser Maze Kids Activity

You might have seen laser mazes in Hollywood films. You can make one at home and play with your kids. All you need is a set of glace paper and scotch tape. Cut the glace paper in strips and attach them with wall haphazardly. Your laser maze is ready. brassyapple
35. Homemade 2 Ingredient Play Dough

Playdough is never enough for kids. No matter how much you have, it is always less. Time to make play dough at home. You need only 2 ingredients to make it. Take some corn starch and mix in it some conditioner. Keep on adding conditioner until it solidifies. Playing dough is ready. hip2save
36. DIY Kiddie Car Wash

Construct a kiddie car wash area for your little ones. You will need to buy some simple material from the hardware store. You need; PVC pipe, PVC joints (elbow, T), PVC caps, pool noodles, sponges, nylon ropes, plastic tub cloths, drill, scissors, PVC cutters, and permanent marker. momendeavors
37. Pool Noodle Obstacle Course

Use pool noodles in a fun and productive way. Make an obstacle game using pool noodles and ask your child to come over the obstacles. You can use pool noodles of different colors to make the game attractive for kids. Kids will learn to pass the hurdles and it will be a big achievement. raisingdragons
38. DIY Sponge Water Bombs

A sponge can be used in multiple ways to make the dull life of children colorful. You can make sponge water bombs as explained in the tutorial. Take sponges of different colors and cut them in strips. Join them at one place and make a water bomb. endlesslyinspired
39. Beat Summer Boredom With Festive Spin Art

As summers are around the corner and so are the vacations. Keep your kids busy these summers and plan the fun activities for kids that make them happy. Paint the paper plates with different colors using the spin activity. Your children will love to paint the paper plates this way. You can gather them all and hang on the wall. goodhousekeeping
40. DIY Washi Tape Car Track

Can you imagine your childhood without playing with cars? We bet not! Even if you are a girl or a boy, each one of us had that great time playing cars. This DIY washi tape car track is a great idea to make a lovely car track to play with! Imagination and it's best and more control of the fun, what would a kid love more? lejardindejuliette
41. How to Make a Polka Dot Slime

Slime has given fun a new meaning! Every kid loves playing with slime and this polka dot slime is definitely promising. So, whip up your own DIY fun activity by using just a few ingredients. Including five ounces' bottle of clear school glue, liquid starch and pom-poms. funathomewithkids
42. DIY Soap Boat Races Fun for Kids

Here's another one from our collection of ultimate fun activities for kids that makes them happy! We bet one of your best childhood memories must include boats in them! These DIY soap boats are an absolute dose of ultimate fun! Made with a soap bar, toothpick, glue gun, and scissors. iheartnaptime
43. Homemade Rainbow Bubble Snakes

Who doesn't love bubbles? But the sad thing is they leave us too quickly! Remedy that, shall we? Check out this bubble snake mantra to introduce a long-range of bubbles in your life that won't go away such easily! What you need is a water bottle to start off with. Hit the tutorial for details. housingaforest
44. DIY Abstract Window Art for Kids

In growing age, while kids are developing their mental abilities and skills art is an important constituent! It certainly helps to strengthen a positive and strong personality. This DIY fun activity revolves around a darling DIY abstract window art. Few supplies, with so much more room for creativity. andnextcomesl
45. DIY 3 Ingredient Foam Paint

If your kids are bored of all the other games it's time to take things up a notch! And our undivided attention and focus go with this DIY foam paint. It's super easy to make and it's something different to keep your kids occupied for long! All you need is shaving cream, school glue, and food coloring. dabblesandbabbles
46. DIY Outdoor Sound Wall -Music Station

A DIY sound wall is a great idea to indulge your kids into healthy learning as well as healthy playtime! Another classic idea from our collection of fun activities for kids. Also, introduce your kids to a wide variety of sounds. Choosing an outdoor space is certainly the best option in every possible way! funathomewithkids
47. Mini Colored Kitchen Volcanoes

Learning new things and asking questions is every kid's nature! But instead of just showing videos and verbal learning, practical learning is far better and easier. With these mini colored kitchen volcanoes, you can have a nice family time teaching your kids about volcanoes and how do they erupt! Hit the tutorial for details. momdot
48. DIY Pool Noodle Water Wall

For the love of water! If summer break is already upon you and you still haven't figured out the great way to keep your kids happily occupied, we have got you covered! This DIY pool noodle water wall is a lovely idea to go for just using 3 supplies. Some pool noodles, zip ties, and a pegboard to make the wall. teachingmama
49. Bubble Painting Kids Summer Camp Craft

Doesn't this bubble painting sound so much fun? Gather some plastic cups with straws, some colorful paints, dish detergent, water, and cardstock. Use the straw to rise the bubbles from the cup, once they are above put the paper on your bubbles and so on! It's easy, different and full of creativity. happygoluckyblog
50. DIY Funny Face Flip Book

A funny face clip book is not just an interesting idea to kill a lazy afternoon but it can also be a lovely family bonding activity! You will just need some white cardstock paper, cardboard, 3 metal book rings with a hole punch and basic craft notions. Also, add in googly eyes for an added fun factor! iheartcraftythings
Need something creative for kids? like creative crafts for kids? Then look at these 75 easy craft ideas for kids to make at home that are amazing and make the kids busy in Crafts without missing out the fun factor!
51. DIY Fireman Air Tank & Play

If you can remember how much fun it meant to have a pretend play day, you will definitely want to let your kids experience the same charm! Kid's usually love the rescue heroes and God, they would love to be one themselves! With this DIY fireman air tank, you can help their dreams come true! Head to the tutorial now for details. crayonboxchronic
52. Flower Prints from Soda Bottles

Check out this DIY fun activity that is super accessible for you as a parent! And super fun for your little one to create some little mess with full liberty! You might have these empty soda bottles lying around somewhere. Time to paint some pretty flowers out of them! Just some paint and white cloth piece or cardboard would do. innerchildfun
53. DIY Life-Size Building Blocks

Sure, little building blocks are all fun and games but take things up to a new level with these life-size building blocks! Kids love building forts or handling toys bigger than their size! This DIY fun activity is super easy to whip up. All you need is a bunch of old newspapers to be rolled and secured with a piece of tape or stapler. modernparentsmessy
54. DIY Embellished Glasses for New Year's

Everybody loves the new year #feels! That adrenaline rush and plans are there for all, regardless of age. So, while you might be all caught up with the grown-ups' new year preparations, show your kids to have their own fun making this embellished new year glasses! Get a bunch of glasses from the dollar store and go crazy with glitter, sequins and whatnot. rufflesandstuff
55. Make a No-Sew Play Mat From a Drop Cloth

A play mat is one great way to let your kid be as creative as they can dream of! Let the imagination run wild. You will simply need a 5' x 5' drop cloth, some black and blue felt and some hot glue gun with a bunch of glue sticks! Hit the tutorial for the complete guide tow hip up this no-sew play mat in just a little time. diynetwork
56. How to Make Glitter Slime

Your kids could hear the word slime and there's no talking them getting out of buying it! While market slime could be harmful to any toxic materials used, a homemade slime with the added charm of glitter in it can certainly be a win-win for both you and the kids! the36thavenue
57. DIY Fluffy Slime!

How to make fluffy slime at home? This easiest fluffy slime recipe guide you to make your own slime at home with your kids is a great family activity!
Do you like these fun activities and things to do with your kids?
Water your kid's imagination and creativity with these 56 fun activities and games at home! These are certified to make kids happy. Not just happy, these crazy little explorers' can also learn a thing or two with these ideas! Plus, all of these fun activities for kids and fun indoor games are absolutely safe, and they come with parental approval. We can bet that with these ideas in your bucket list, you can successfully keep your kids away or take them out from the digital world to some creative and productive fun time!