What's the biggest dream of gardening lovers? how to store garden tools? Have organized gardening tools and mess-free storage areas will make you happy! The right garden tools make gardening more comfortable. Check these 17 DIY garden tool storage ideas to help you organize your gardening tools and supplies easily and cheaply. For the gardening lover people and homemakers alike, this post can be like their personal favorite haven of all well and settled realm. Most of the time, your gardening schedule has to be trimmed out of the hectic daily routines of the day. Now, you wouldn't want to miss that time finding the right tools, right? Plus, it looks so much messier with a pile of tools just lying around elsewhere. So, say a BIG NO to piles and instead get to an excellent tool organizing!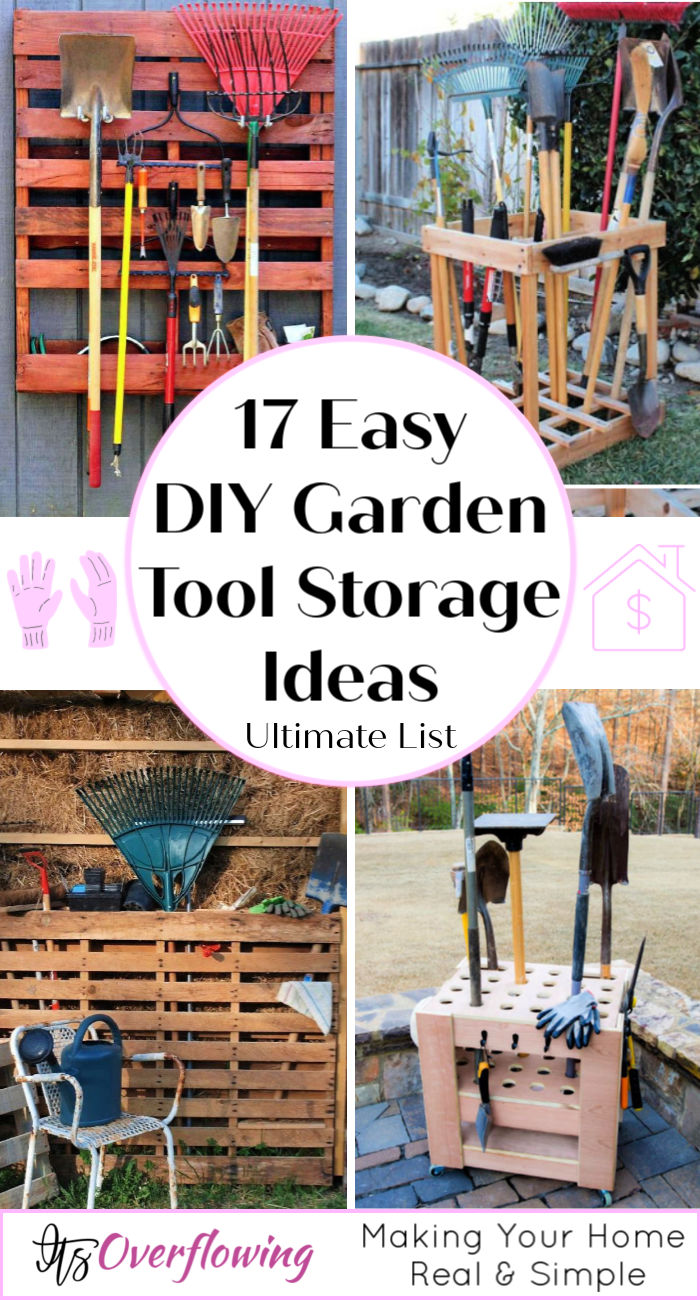 These DIY garden tool storage ideas can be quite easy to follow, customize, and on top of everything, super economical to go for! Don't lose heavy bucks on commercial garden tool organizer! Amidst all that shine and fine surface, you can whip up something way more functional, basically tailored to your personal needs.
Below, you can find a great garden tool storage ideas. Including the art of transforming repurposed materials into new organizers. Make a gardening tool shed, tool storage rack or a locker, the options are literally SO many, and you are in complete control of what you decide to choose. Let's get started.
1. DIY Garden Tool Rack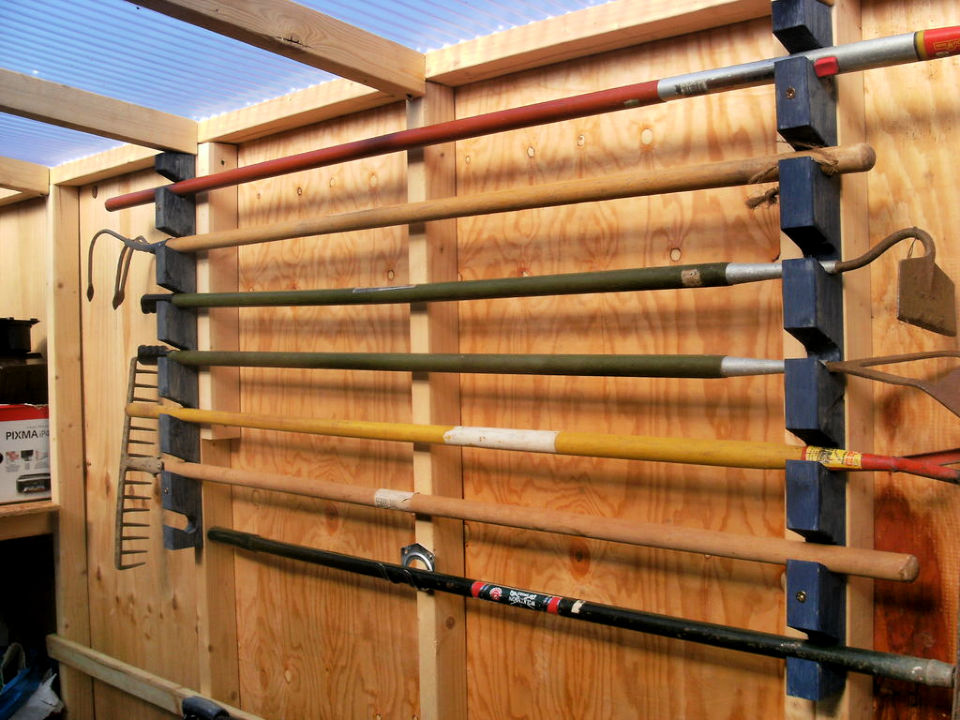 A gardening lover? Gardening and planting can bring you peace at heart. It is truly satisfying to see your plants grow! The garden tool rack is the ultimate solution to not having your gardening tools everywhere and organized in one place. As we all know, the organization is the key to success. instructables
2. Repurposed Rake to Organize Garden Tools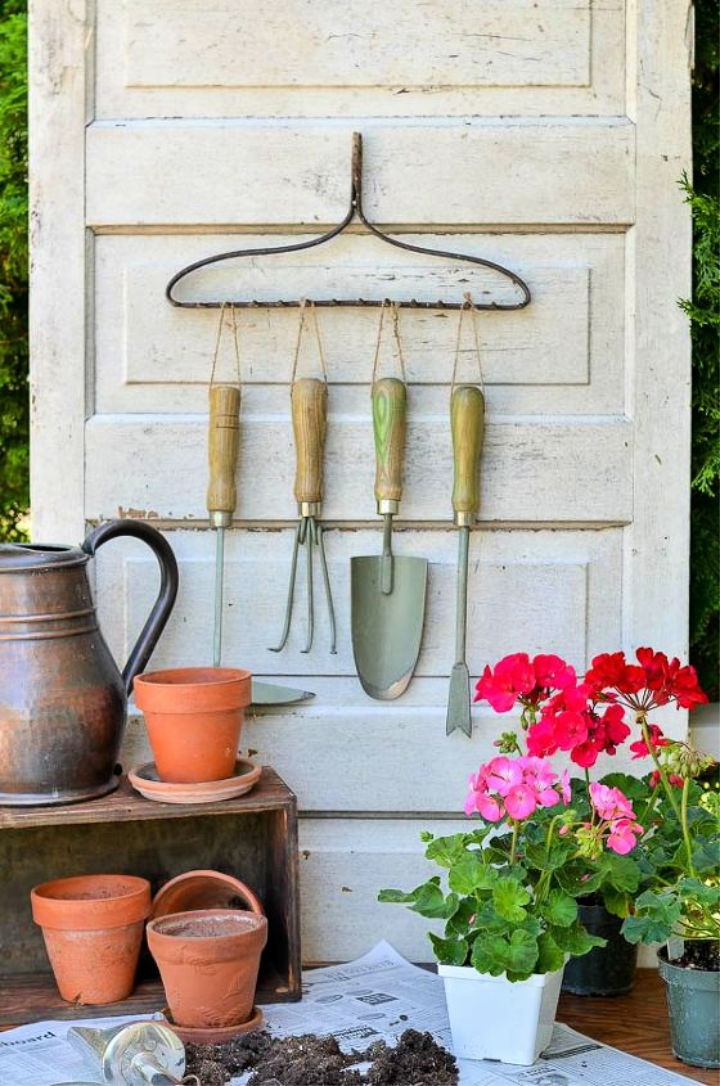 The only piece of supply needed for this fantastic DIY garden tool organizer is a metal rake. You can either remove the head and hang it up with a nail or use the head to attach it to the wall. A very functional way to hang up your gardening supplies. Make sure to attach it to the wall properly! hometalk
3. Yard Tool Storage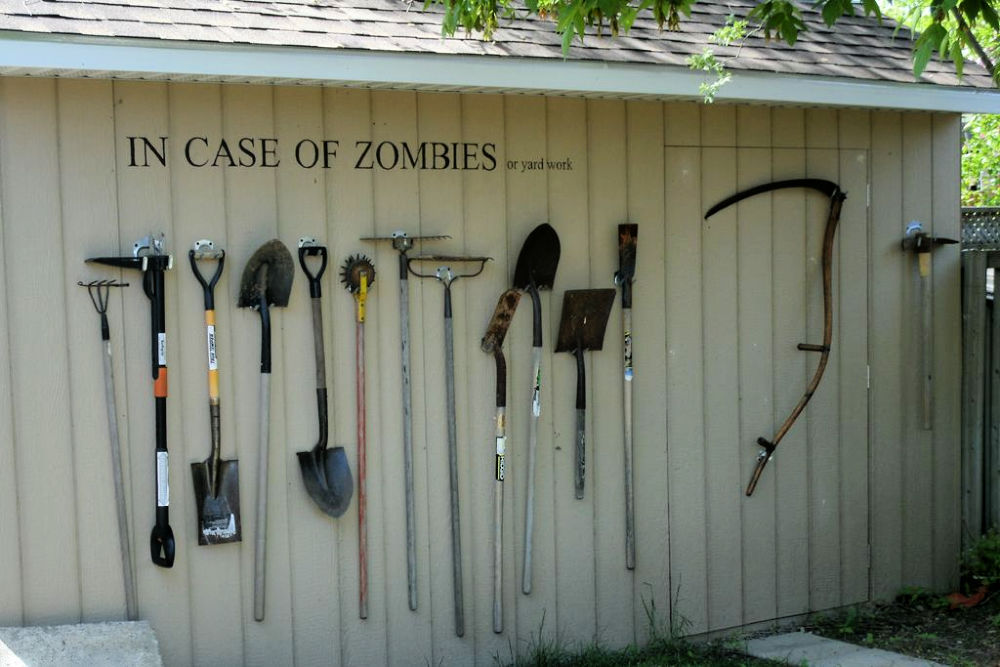 If you like gardening, then obviously, you like art and appreciate it! You may have a very creative mind and imagination. To fulfill your artistic desires, use this yard tool storage guide to keep your gardening tools organized with style! instructables
4. How to Build a Storage Cart for Yard Tools
Why waste so much storage and space when you could make this simple storage cart to be used as a storage unit for your yard tools! Very simple and easy to make. The supplies needed include table saw, drill machine, hole-saw bit, sander, nail gun, jigsaw, and router with a small round-over bit! diynetwork
5. DIY Storage Shed for Garden Tools
This garden tool storage shed will help you to store everything, like gardening tools, wheelbarrow, pipes, etc! Yes! You heard that right. A whole guide to making a storage shed in your backyard at home! It will work as a fantastic storage unit and save you a lot of unnecessary effort, once it's done. hgtv
6. Build a Pegboard Shelf for Garden Tools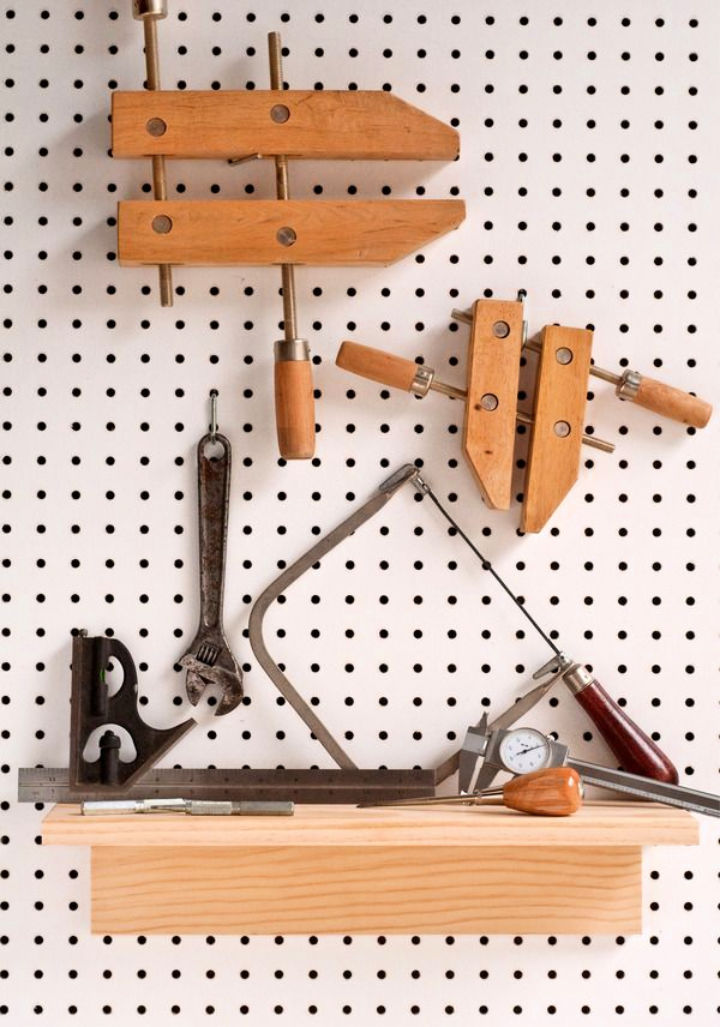 A very stunning and pretty pattern to add some liveliness and beauty to your backyard or gardening area. It features pegboards shaped like half pentagons! Such a creative and out of the box type of pattern. Save space and time by making this! manmadediy
7. Outdoor Storage Locker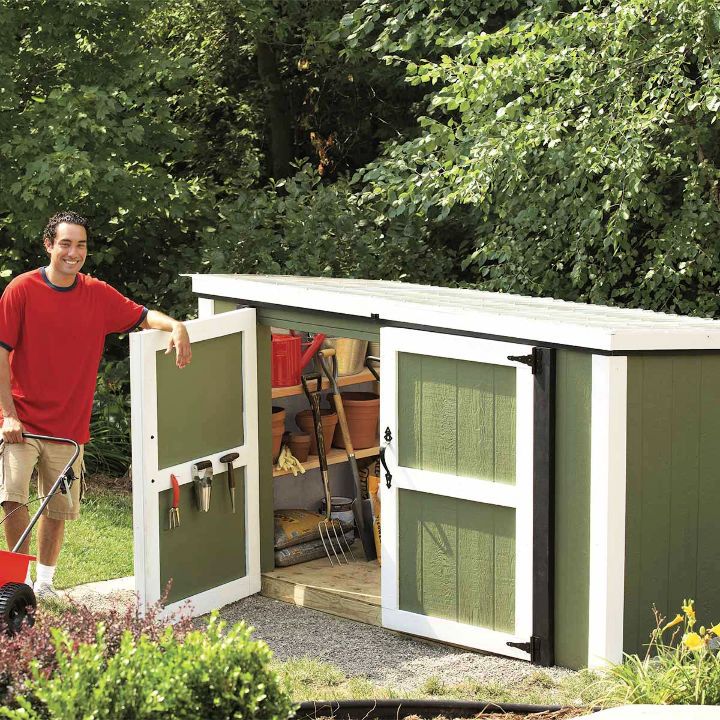 An amazing DIY garden tool organizer can be an outdoor storage locker! There's no doubt that it will be covering a lot of space in your house, so make sure you're into the modern-looking decoration before making it. The perfect way to organize your tools and supplies for modern decoration lovers. familyhandy
8. Turn a Wooden Pallet Into a Garden-Tool Rack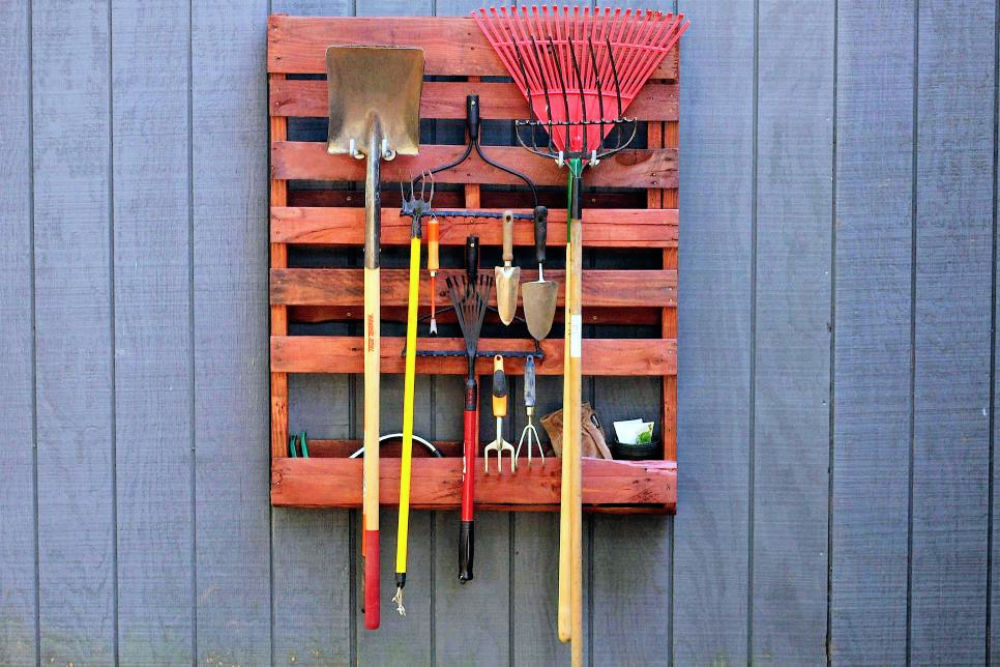 Do you have a wooden pallet that you don't use anymore? Or maybe you just want to save some money. Follow this pallet garden tool storage rack tutorial to make a hanging organizer. Save some money by getting a wooden pallet and painting it a pretty color! Use it to organize your tools! hgtv
9. DIY Garden Tool Storage
A super simple and easy garden tool storage that can be made by almost anyone. If you're a teenager and trying to make this, ask for some help from your parents! Once it's done, it will save so much time and effort! You can place it in one corner of your backyard shed. gardenclub
10. Vintage Bucket Sconces & Cutting Board into Garden Tools
Your garden may be super clean and green. However, this fantastic garden tool organizer will add even more green to your backyard! It has two containers with neon green colors. You can hang it up on the walls and save a lot of space! Something you won't regret making. sadieseasong
11. Easy Hanging Garden Tool Organizer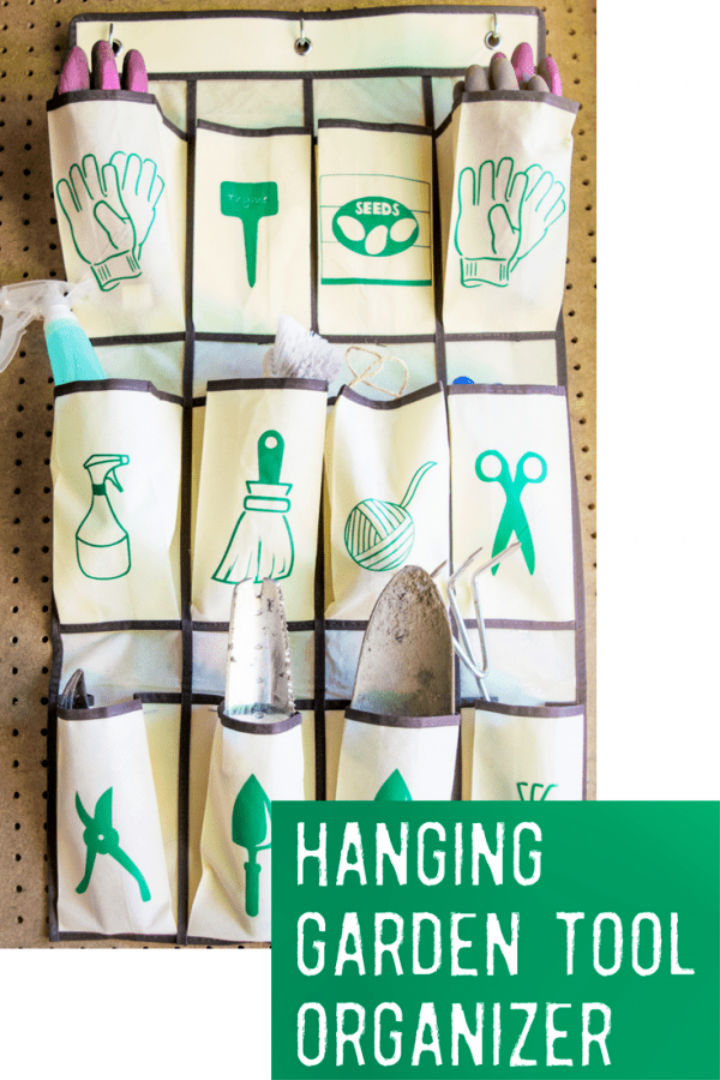 Do you love gardening but hate losing the gardening tools in all the mess of other things? Well, with this ideal garden tool organizer, you can totally remedy that. This is a simple yet charming combination of a wooden board and basket scones. Get all the details in the link below. thehandymans
12. Effectively-Simple Gardening Tool Holder
Keep your hand tools, gloves, twine, and all other gardening tools in one designated place. Never lose them again! Plus, this way, you can be more organized than ever. All you need for this hanging fellow is fabric over the door shoe organizer, iron-on vinyl, Cricut machine, weeding tool, and get the cut files from the tutorial. diybullseye
13. Garden Tool Rack from Scrap Wood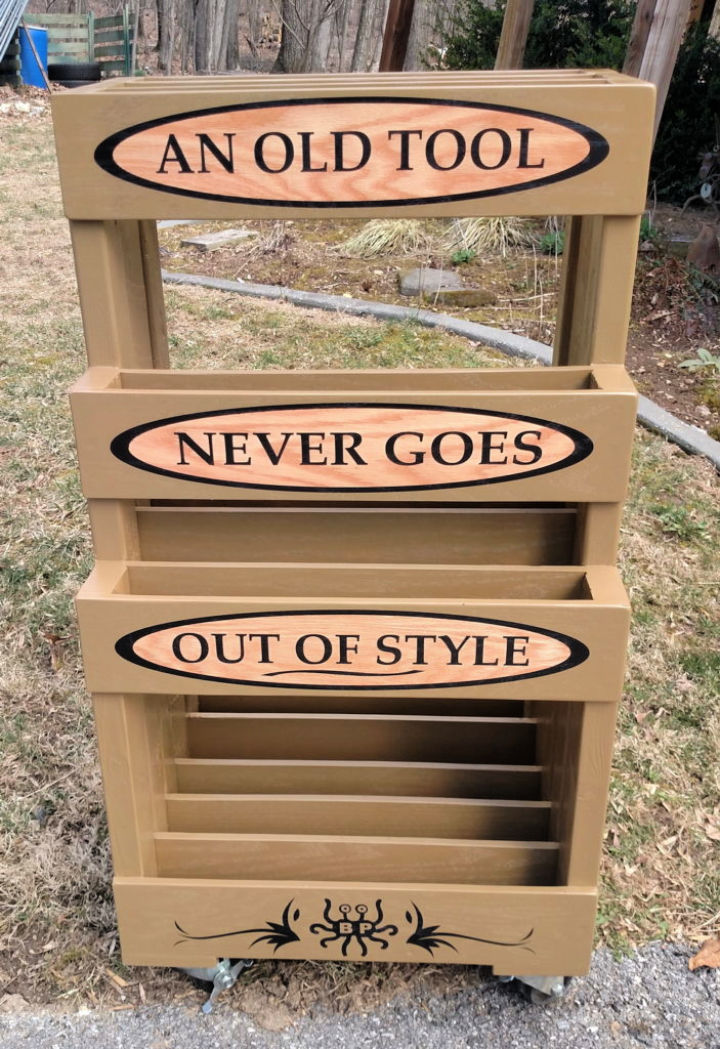 Not a fan of the fancy stuff? Check out this super simple yet highly functional gardening tool organizer. You will need 2 wood pallets with planks, 2-inch wood screws, 1 x 4 pine wood, urethane, and paintbrush. brianpaonessa
14. How to Build Garden Tools Rack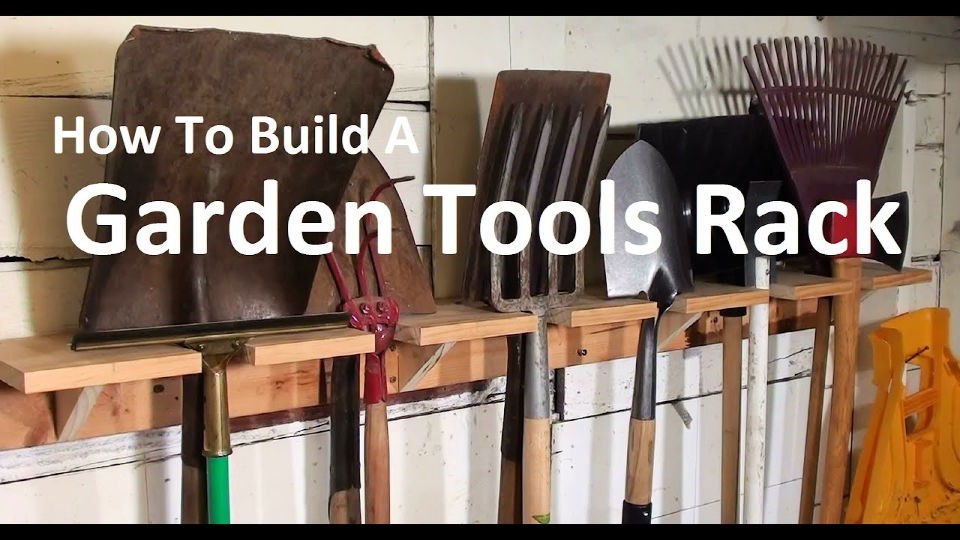 If you happen to be anywhere near to Monica's obsession with cleaning and organizing, you are going to love this one! It is quite a wondrous garden tool rack made out of scrap wood. It has a number of compartments to keep all your tools sorted out. youtube
15. DIY Garden Tool Organizer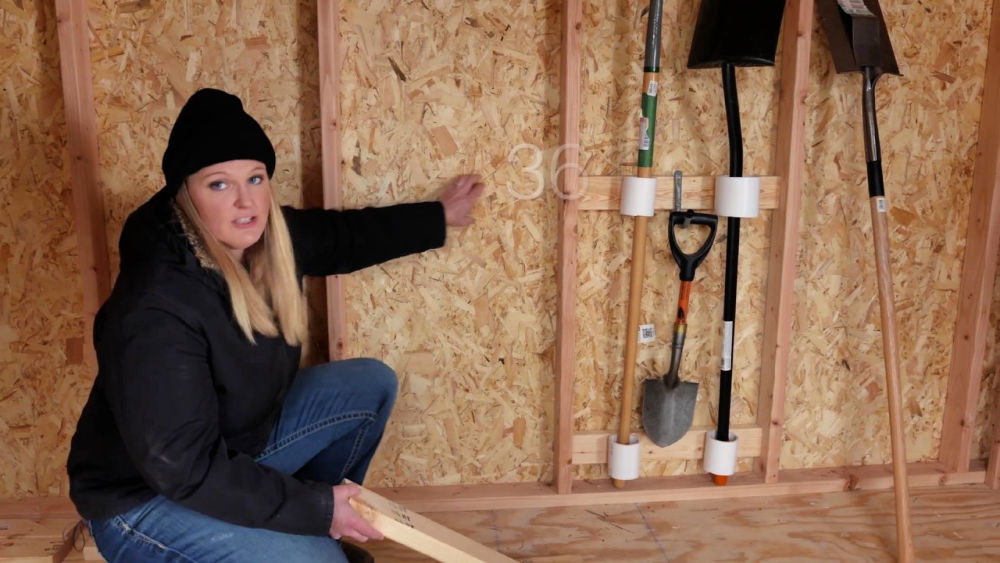 Made out of leftover salvage boards, this garden tools rack can doubtlessly hold all your supplies together! You will be needing some hole saw, table saw, and drill for nailing this project. Get the complete step by step guide from the video tutorial. youtube
16. Homemade Garden Tools Rack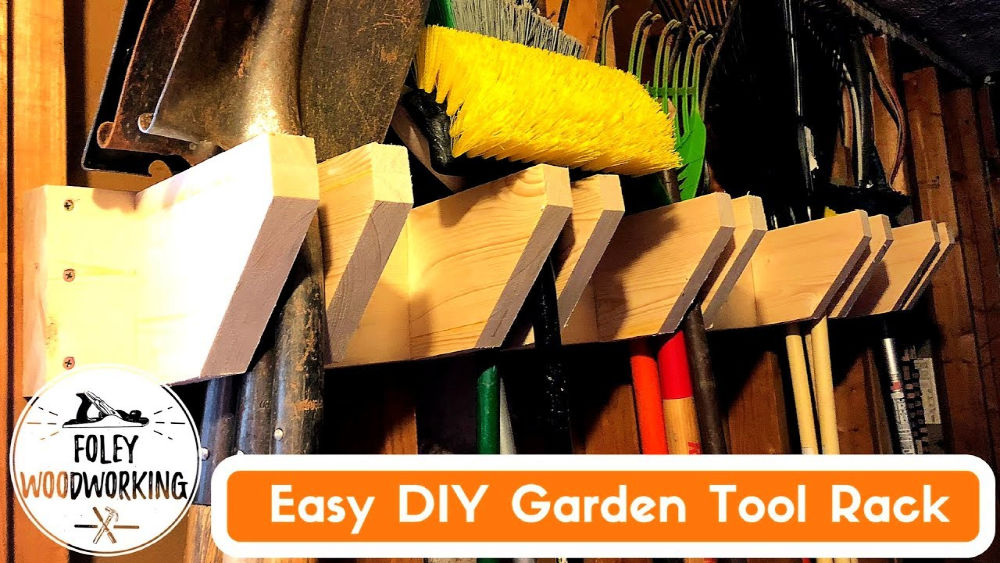 Just spare like even less than an hour and get yourself ready, an ideal garden tool rack! This can be made easily using a couple of 2 x 6 x8s and can perfectly fit in your designated space for storage! While also hold all the tools you wish to organize. Customize it as per your needs. youtube
17. Garden Tool Storage Plan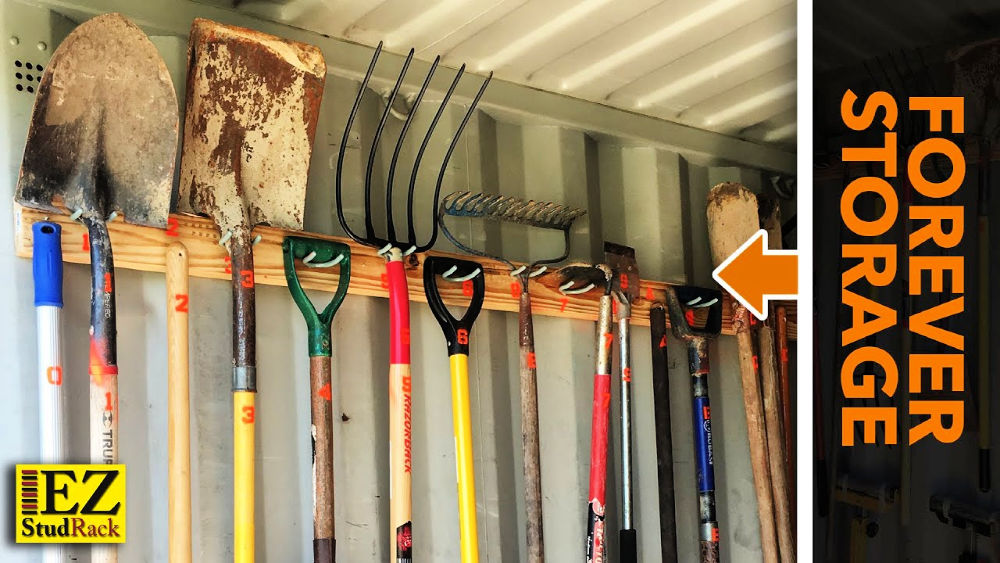 Get your hands on heavy-duty storage hook, wall mount screw-in hook, 3/32-inch drill bit, trim screw and letter and number painting stencils. Keep your gardening tools organized and never waste any time first finding the right tool for the right job! youtube
Conclusion:
These 17 DIY garden tool storage ideas can come in really handy to run a smooth gardening affair! Gardening itself is an excellent mental health boost. When you combine it with these ideal tool organizer plans, you are never going to need a Prozac! Be in charge of your own mental health and your garden, of course.