Give comfort to your camping journey with these 10 DIY Pop Up Camper Projects that are inexpensive to make with the provided guides, step-by-step instructions, and tutorials. Time to enjoy camping without going through the pain of sleeping on the ground. These campers will unfold to provide luxury beds and tents and will be a total camping luxury. They will make you feel at the camping space like you are at home and they are an easy way to carry with you all the facilities that you often miss out on ordinary camping.
You can build these recreational vehicles in lots of different and creative ways. All have been shared in this collection of 10 DIY pop up camper ideas that will share all the pro tips and tricks to design a folding up campers will surely rock for summer adventures and will surely make you live the camping luxury on a budget.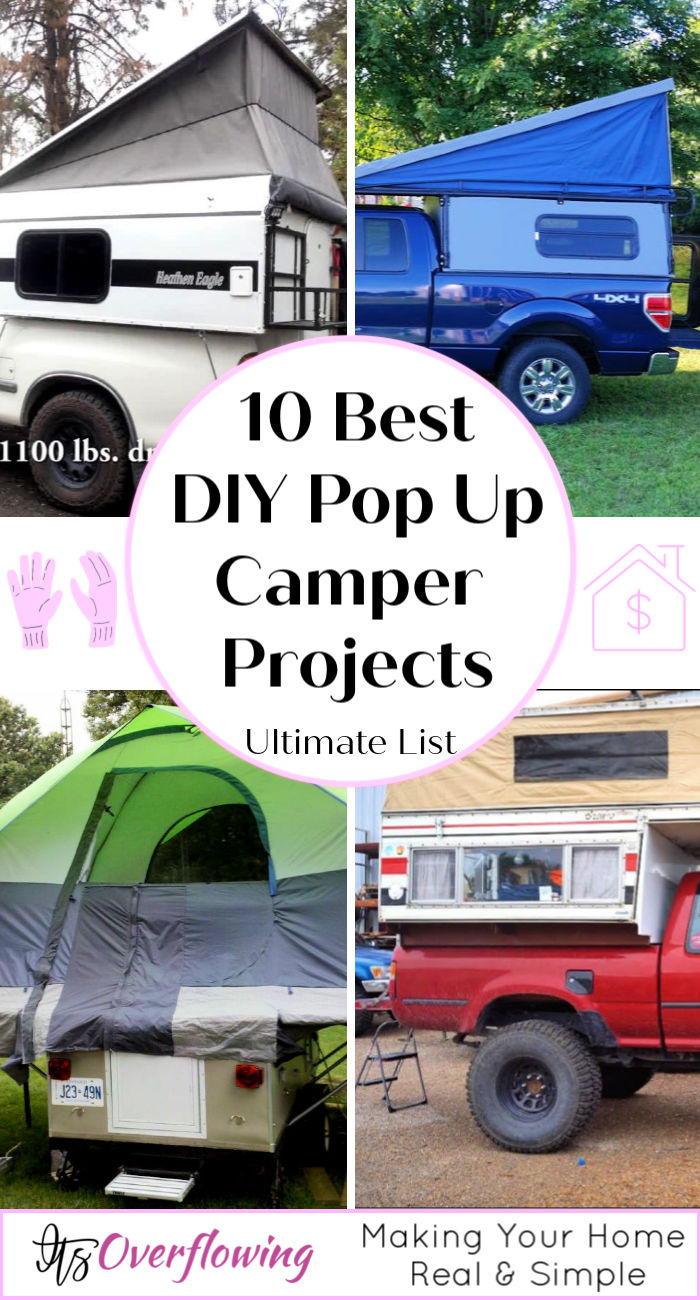 You can build the DIY pop up camper using the harbor freight trailers, and you will learn the quick guides here to do creative makeovers of your campers. So, not merely you will get the hacks to build new campers but will get a whole bag of tricks to smartly upgrade your old camper too. Taking a short tour of all these DIY pop up camper is recommended if you want to make your camping budget lower. All these DIY pop up camper plans are budget-friendly and will be much doable for every skill level.
1. Build Your Own Pop Up Trailer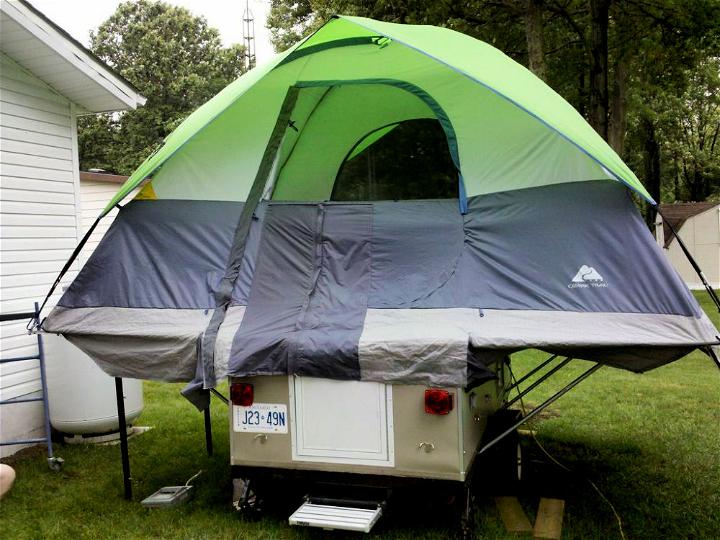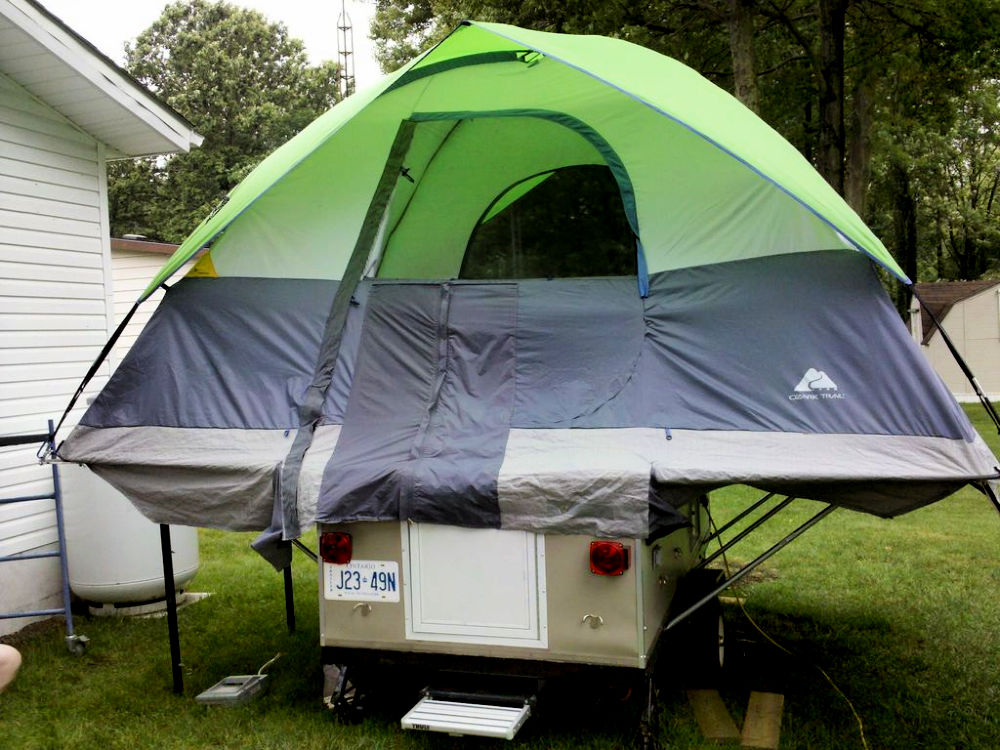 Enjoy your camping more this season by building this pop-up trailer. Build it with a harbor freight trailer base, and next use the plywood and custom wood slats like pressure-treated 2x6s and 2x2s to build the frame of the trailer. Add the hinged top at the end and finish with aluminum sheet, this will be your camper bed that will provide a secrete storage stash. The final step would install the 8 x 12 tent. Details here instructables
2. Homemade Pop Up Camper Tour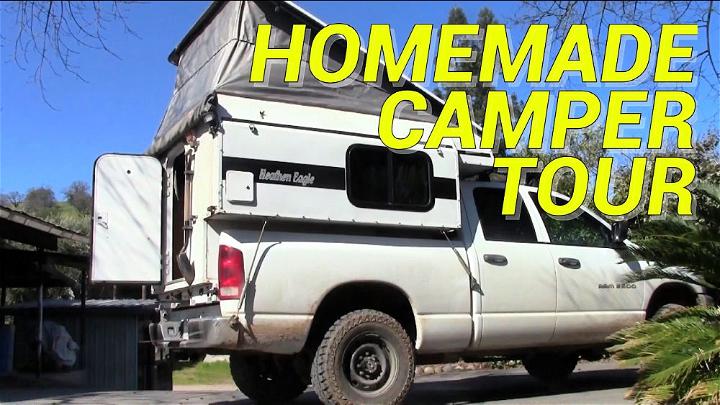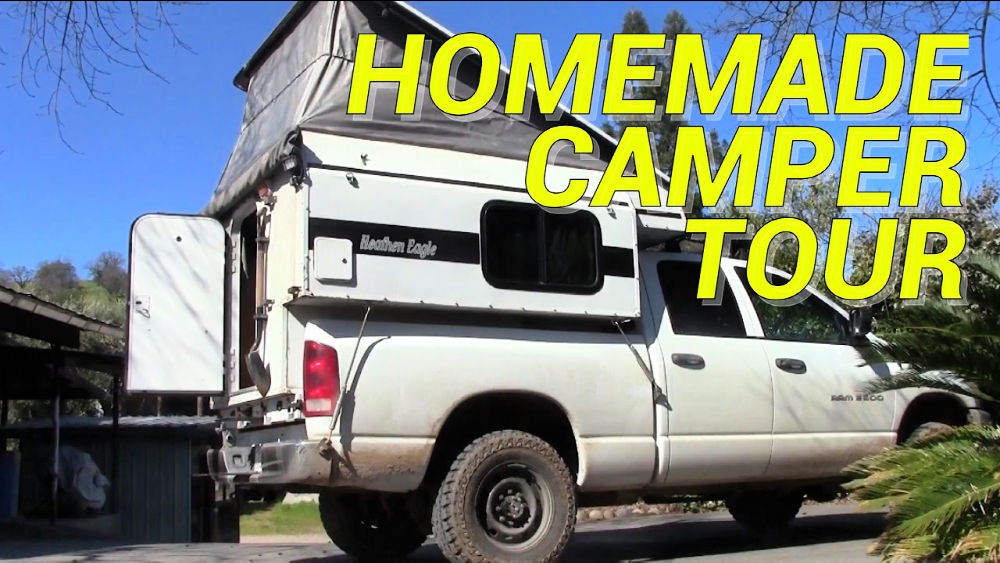 If you are addicted to camping, then you will surely fall in love with this pop-up camper that is self-made and is installed on the vehicle. You need lots of materials to build it like 2x2s frame, fully insulated, vinyl flooring, aluminum siding, 20 gal water, fiberglass, water pump, ARB fridge, and sink, etc.. Go with this video tutorial and take a tour of this camper tour, will surely spice up your camping. Details here youtube
3. DIY Pop Up Truck Camper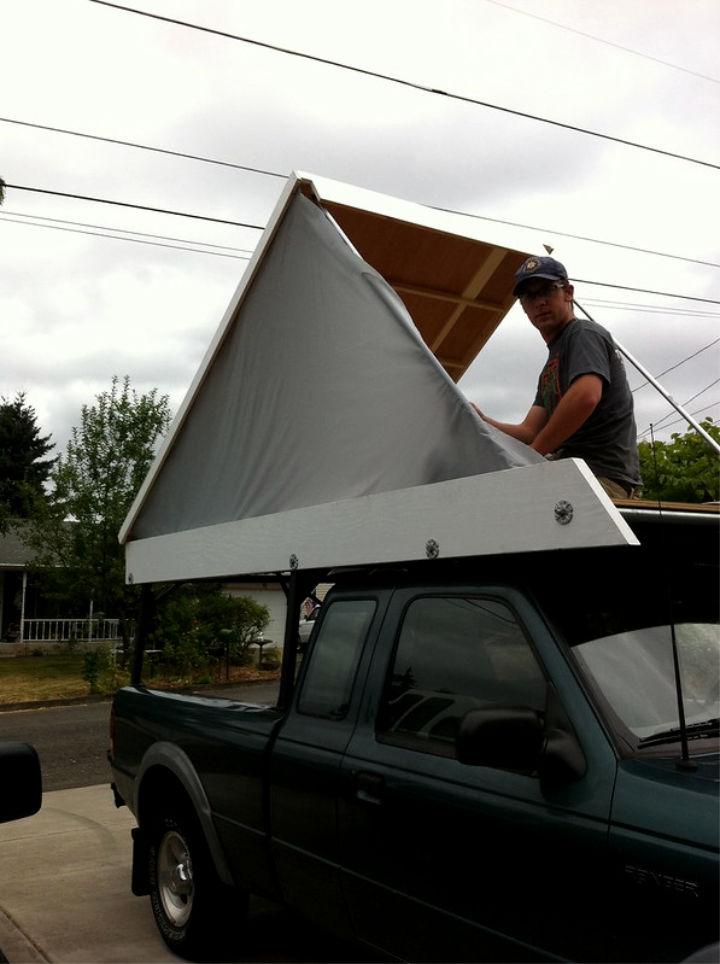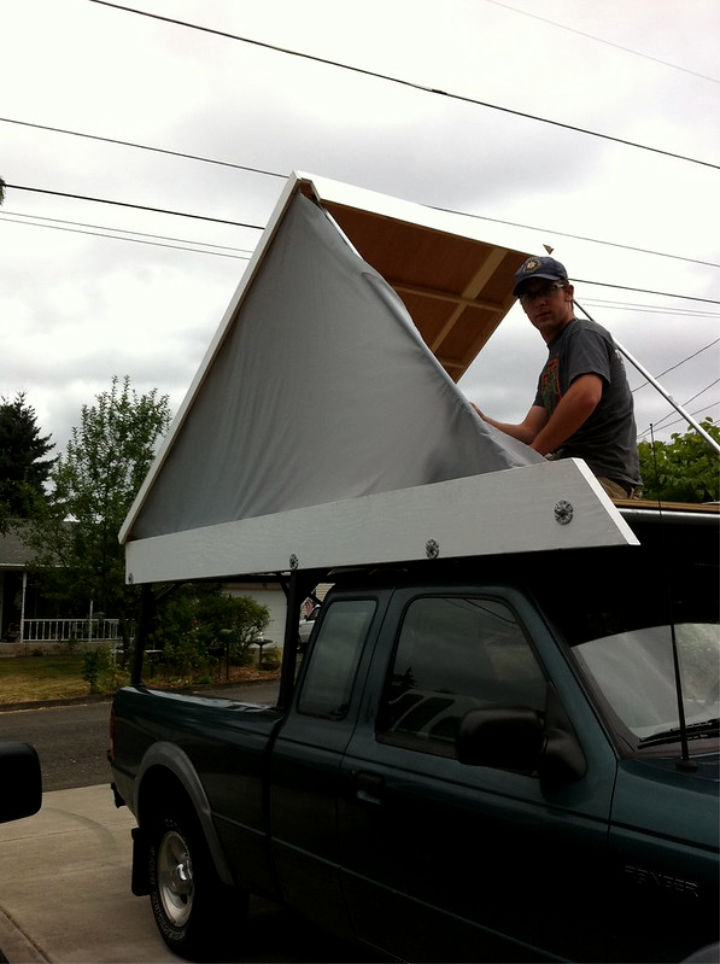 Get here step-by-step guides to building a pop-up truck camper. It comes with a metal base frame that holes the longer bottom deck beams. Fill the beams with slatted arrangements of slats and then install the arched hinged roof. Opt for arched slats to build the roof. Cover the sides with outdoor or tenting fabric and gain a durable truck camper that will open up gracefully. Details here expeditionportal
4. Pop Up Truck Camper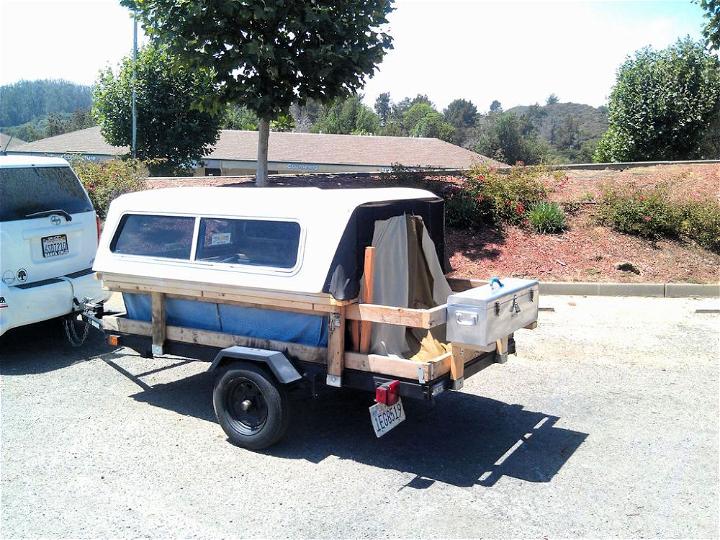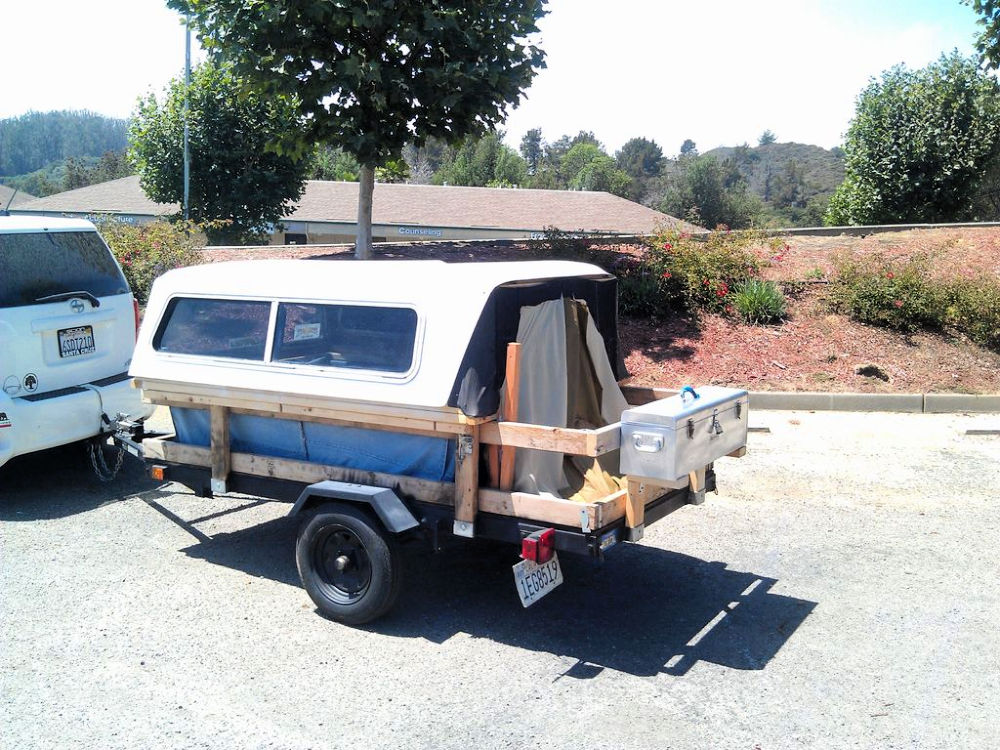 If you love camping by heart and take great pleasure in exploring the areas all around, then you will surely need this pop-up truck camper. You can simply drag it with your vehicle, and it will be like a mini readymade camping house with all home comforts inside. Here you need a camper shell, old tent, lots of old jeans, shoe goo, 2x4s, 2x2s, and a toolbox to make this pop-up truck camper. Details here instructables
5. DIY Pop Up Camper Makeover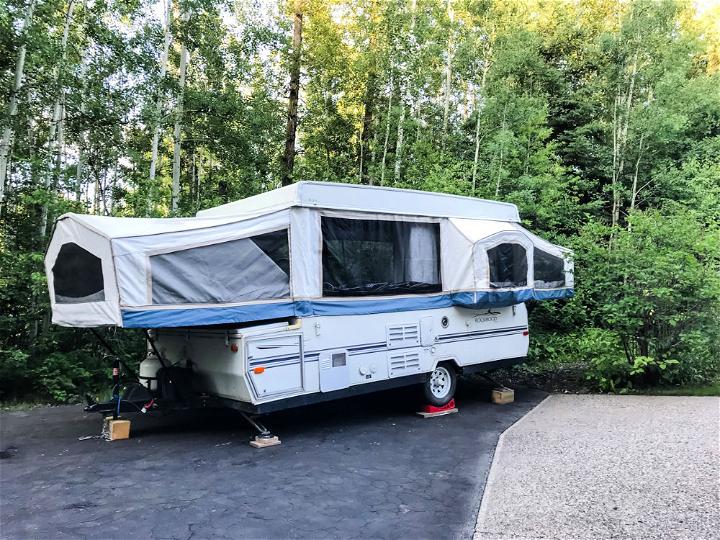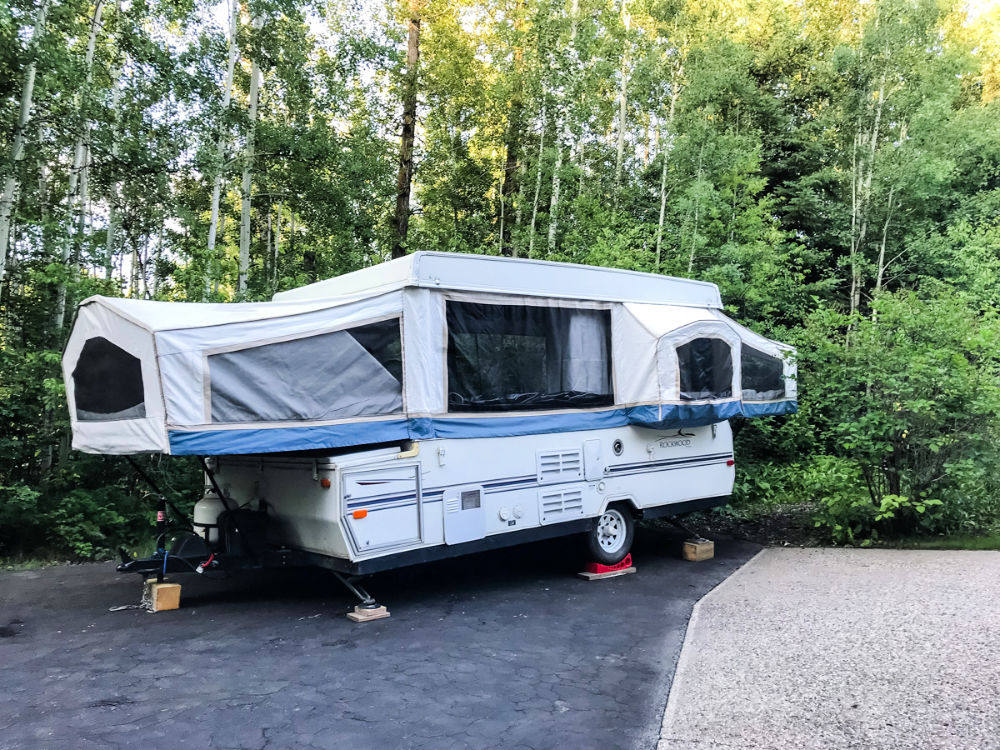 If you can't say bye to all luxury comforts of home for your camping obsession, then must make this pop-up camper makeover that will be a luxury home on wheels. You can drag it to any camping location, and it will make you feel like you are at home there. It comes with an installed bed, sofa and other life comforts. Here actually, a smart makeover of the camper has been done that is sure to impress. Get the details here aprettylife
6. Pop Up Folding Tent Camper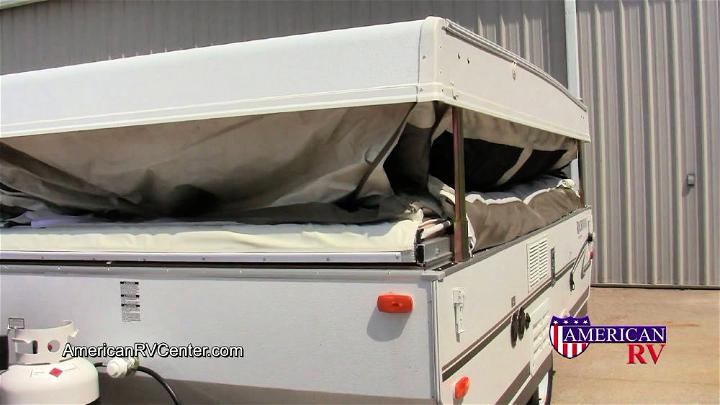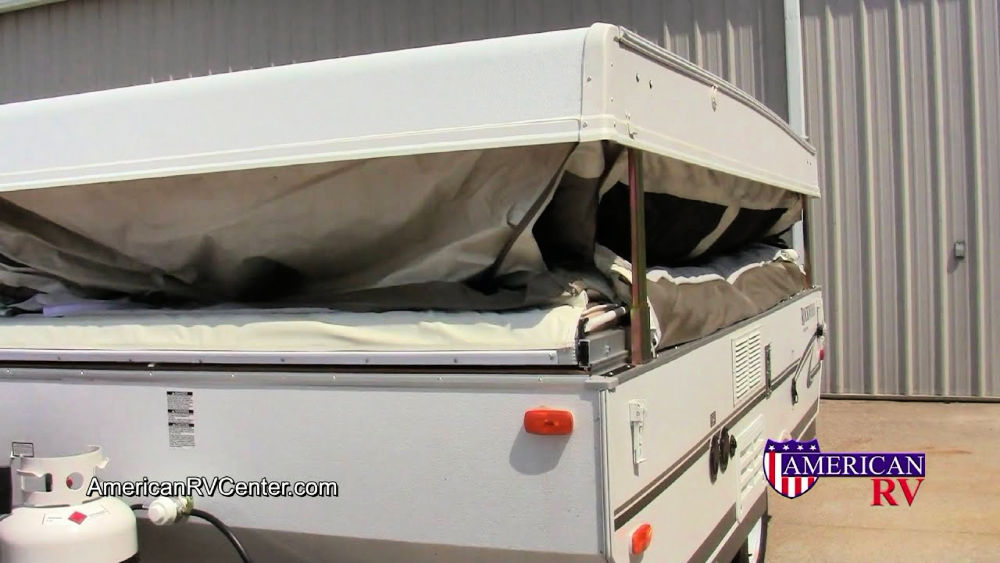 This pop-up folding tent is one-of-a-kind and comes with so many features that will wow you. It comes with stabilizer jacks installed that will help make the camper stable while setting it up. Next, it comes with a lift-up roof that is installed with a durable custom setup. From appliances to utilities to extras, this folding tent camper provides all comfort of life at the camping space and a must to get camper to build in no time. Details here youtube
7. Homemade Pop Up Truck Camper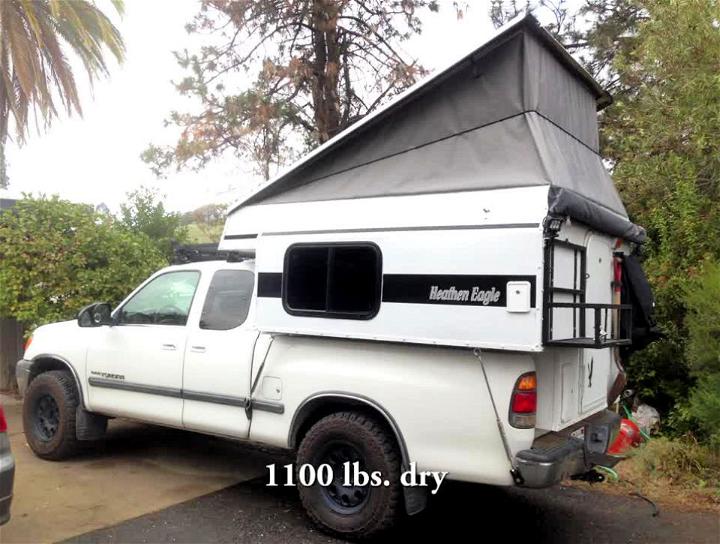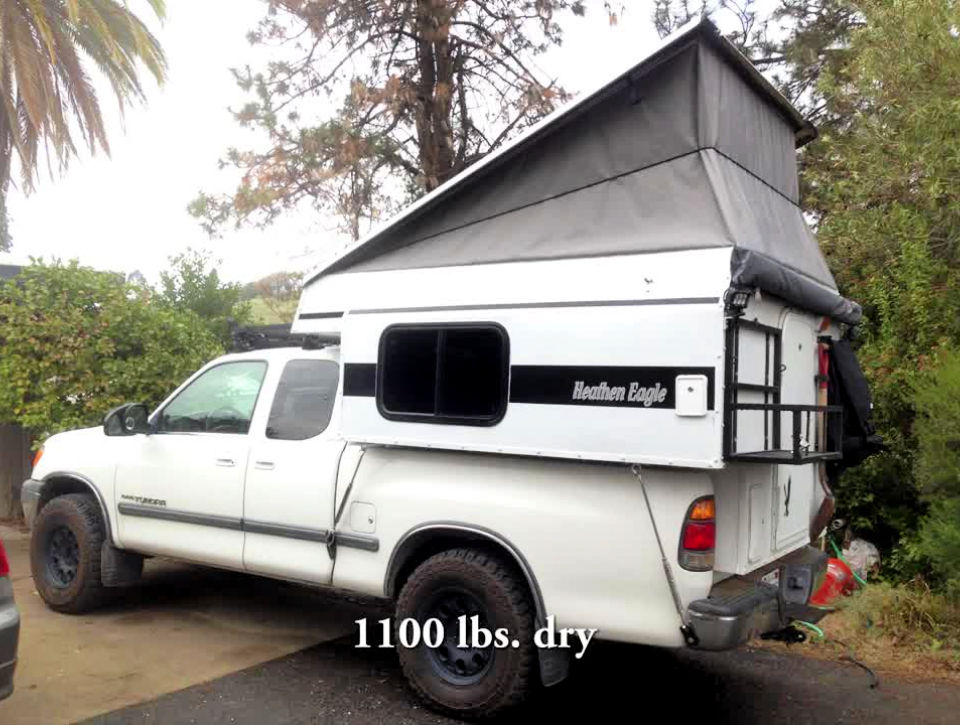 Rock your camping routines with this homemade pop-up truck camper that is sweet and gorgeous. First, build a wooden frame for this truck camper that can simply be loaded on the back of your vehicle. Repurpose an old tonneau cover for building the roof, and this is something best to get to rock your camping. It comes with a bed inside and also the seats all around the bed, providing storage in the seats. Details here youtube
8. Toyota Pickup Pop Up Camper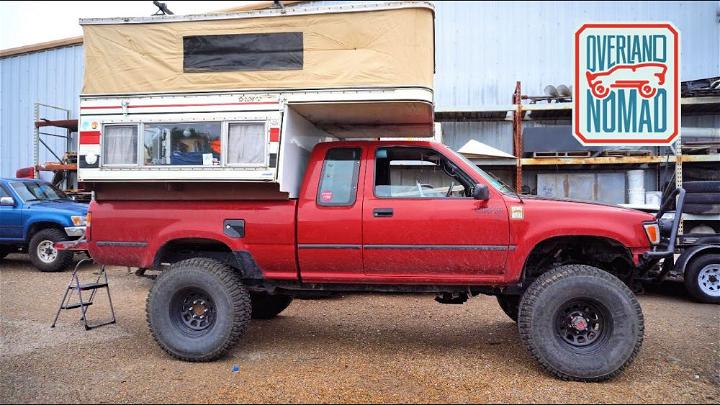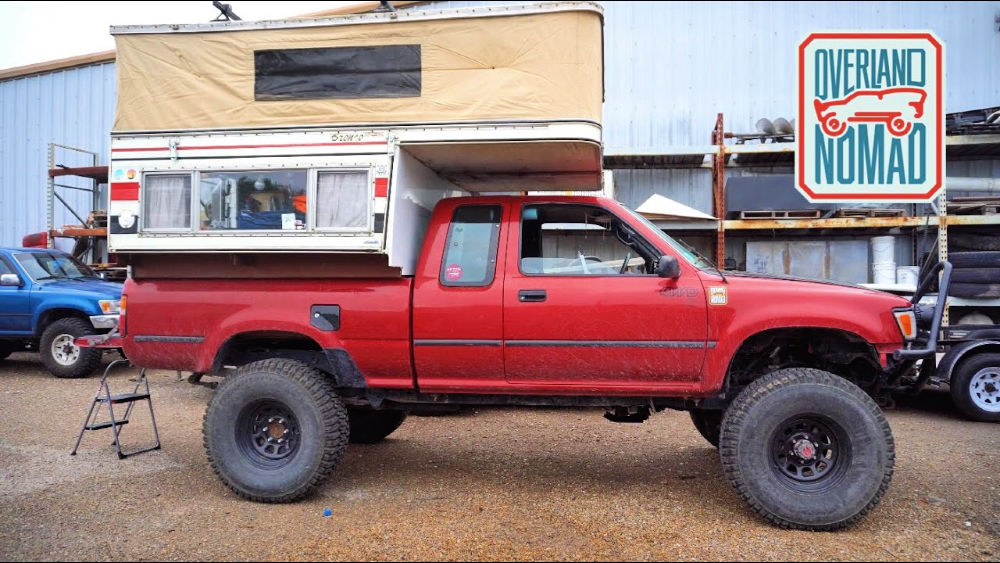 If you are new to camping and wish to gain your own pickup pop-camper, that is to build on a Toyota pickup. By doing this project, you are actually loading a whole mini house to your Toyota pickup that will provide all the comfort at the camping space. It will allow you to sit and sleep during camping, and this is like you have dragged your home to the camping space. The best to build and get for the luxurious camping. Details here youtube
9. Truck Camper With A Pop Top Roof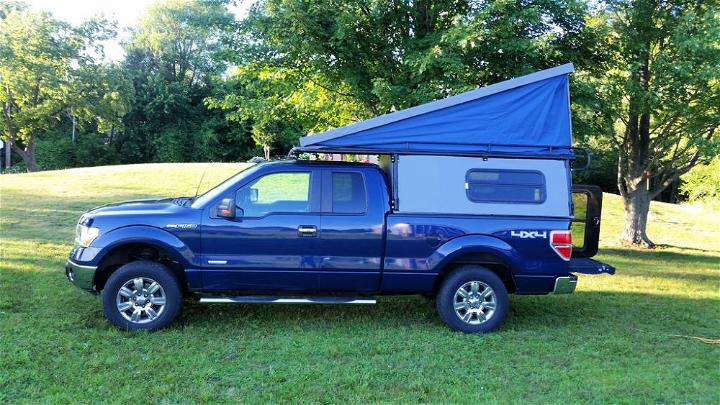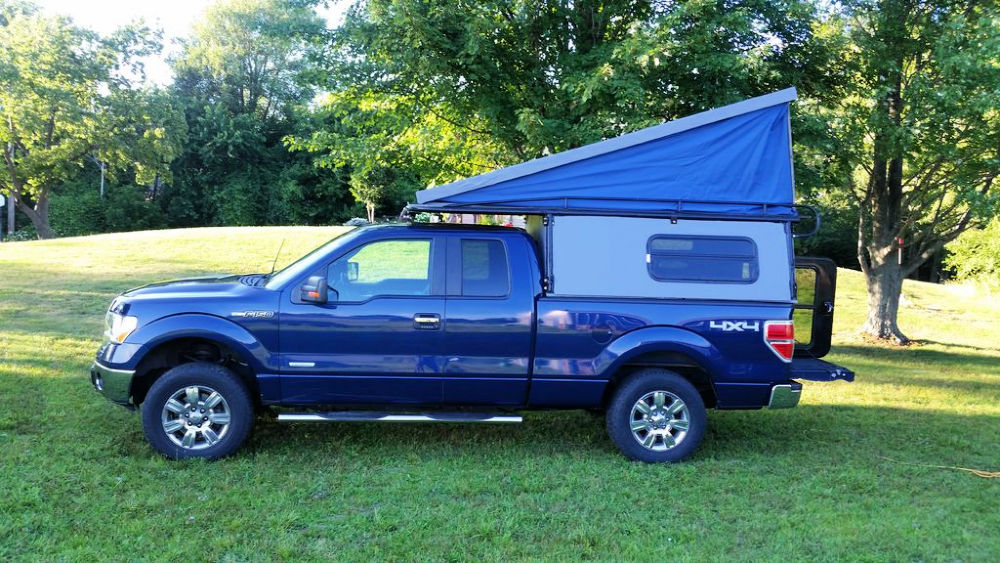 Get inspired by this another great looking truck camper that provides a pop-up roof. The project or the tools and supplies will cost you under $1500. Build the camper frame with plywood and then install a bed inside. Next, head over to the roof and install a pop-up roof or shelter. Sheath and insulate the frame using OSB and foam can insulation, respectively. Fold the canvas fabric diagonally into half and then cut to make 2 triangular shaped sides. Details here Instructables
If you love your camper, you will enjoy these DIY camper awning ideas! 10 DIY camper awnings from pop up tent to RV awnings, from PVC to tin can awnings!
10. Hardside Pop Up Camper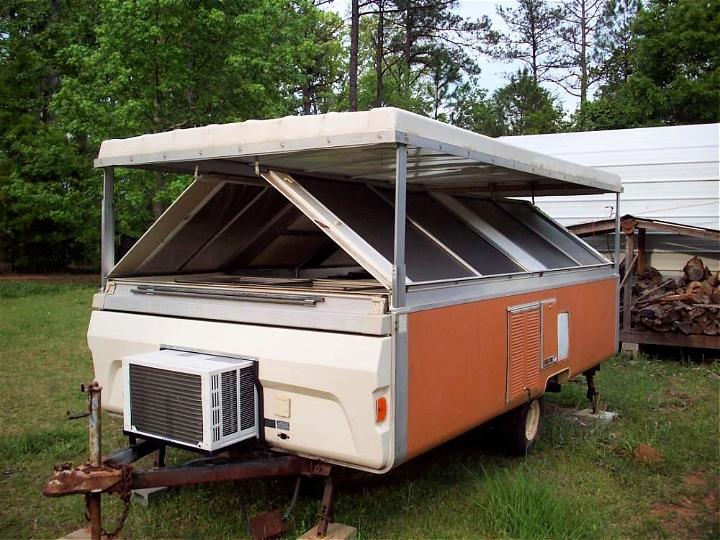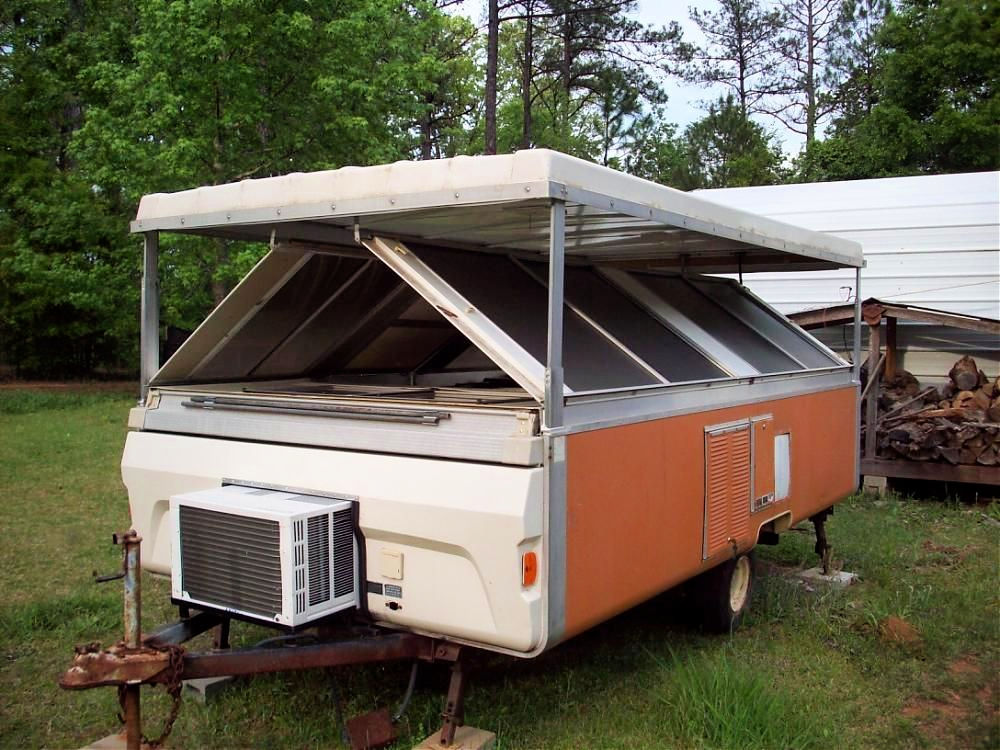 Check out here another great design of hard side pop-up camper that is sure to make you live the luxury at camping. It comes with a harbor freight trailer base, and next, you can build the whole mini wooden house over it using the wood like lumber or plywood. Buying a camper like this may cost you big, but this one is just budget-friendly to build at home.
You can save a lot of money by just building your own homemade camper trailer, To build a homemade camper you need to start with a great deal of planning.
Conclusion:
We all love to live an adventurous life by way of camping. But camping can be a pain if you don't know how to skillfully handle the most teasing camping issues like sleeping on the ground comfortably, to get the perfect amount of heat and how to withstand the bad weather. So, if you can't take the pain of learning all these skills and want to feel like at home while being at camping space, then you must go with these DIY pop up camper designs that will be the home on wheels with beds, sofas and other luxury features installed inside nicely. Just take a short round-up entire collection to see a variety of samples to choose from.