Cats may be with you all the time as a fun-making pet. They love to play with the owners and can be found in the kitchen too to grab some milk or meat. But after having all the fun, Cats need a separate resting place that you can provide them with these 10 best DIY outdoor cat house ideas that are easy to build and will nicely house your cats. Most of these outdoor cat shelter ideas come insulated and some also with heating pads for amazing weather protection in the chilly days. From simple cat caves to raised tower cat houses, you will get free plans and construction instruction for all. These DIY outdoor cat shelter will be the places for the kitties at home they can call their own and are totally budget-friendly to build.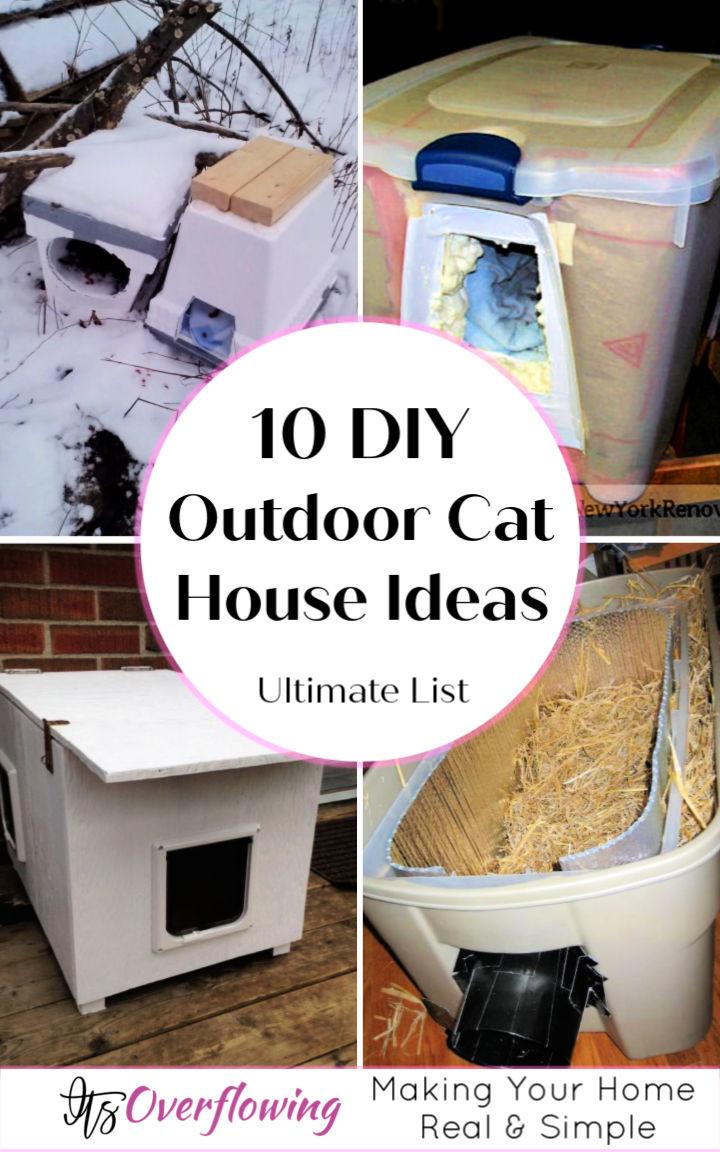 The first option will be to use recycled wood. Get busy with the lumber, pinewood boards, plywood, and with free pallets to build the custom design of the cat houses manually. Upcycle the plastic containers to easily build lovely cat residences and get creative with the igloo coolers too to build sweet kitty houses.
You will have here to many different material choices to build these sweet cat pet houses. Consider giving them as sweet handmade gifts to cat owners may be in friends circle or living next to the door. We would like you to take a tour of all these DIY outdoor cat house ideas that come with lots of different dazzling designs to choose from.
If you need more DIY Cat furniture ideas then you should explore these DIY cat shelves, DIY cat bed that are easy to make and help you to you give feline friend more comfort and fun.
1. Outdoor Wooden Cat House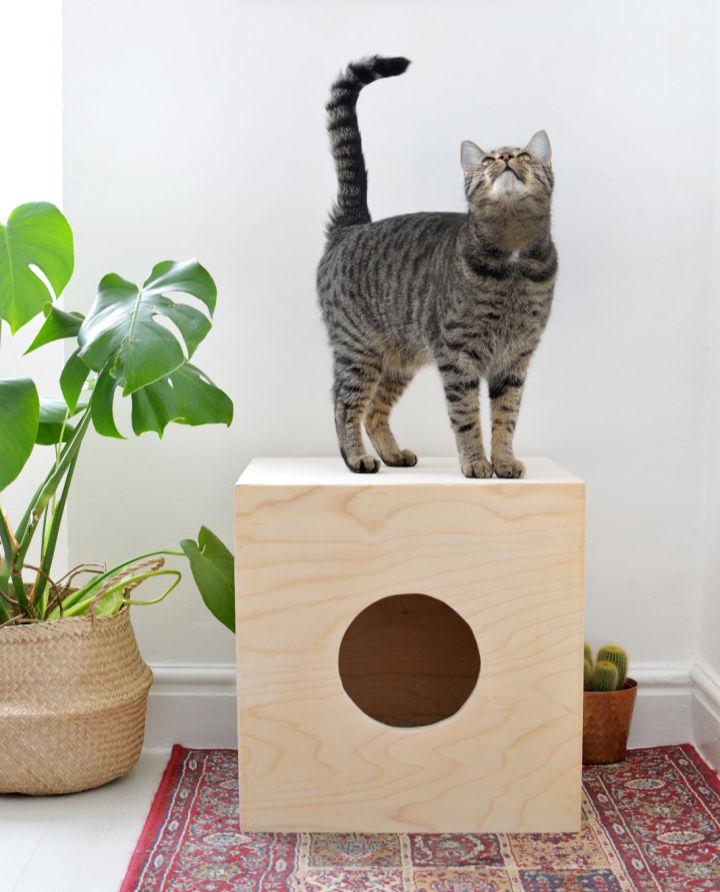 House your cat pet nicely using this wooden outdoor cat house! It looks like a perfect cube made of wood that comes with a big hole in the front side to make the entrance! The base of this outdoor wooden cat is 40cm x 40cm, and you can add the side, back and top panels in custom sizes! burkatron
2. Homemade Outdoor Cat House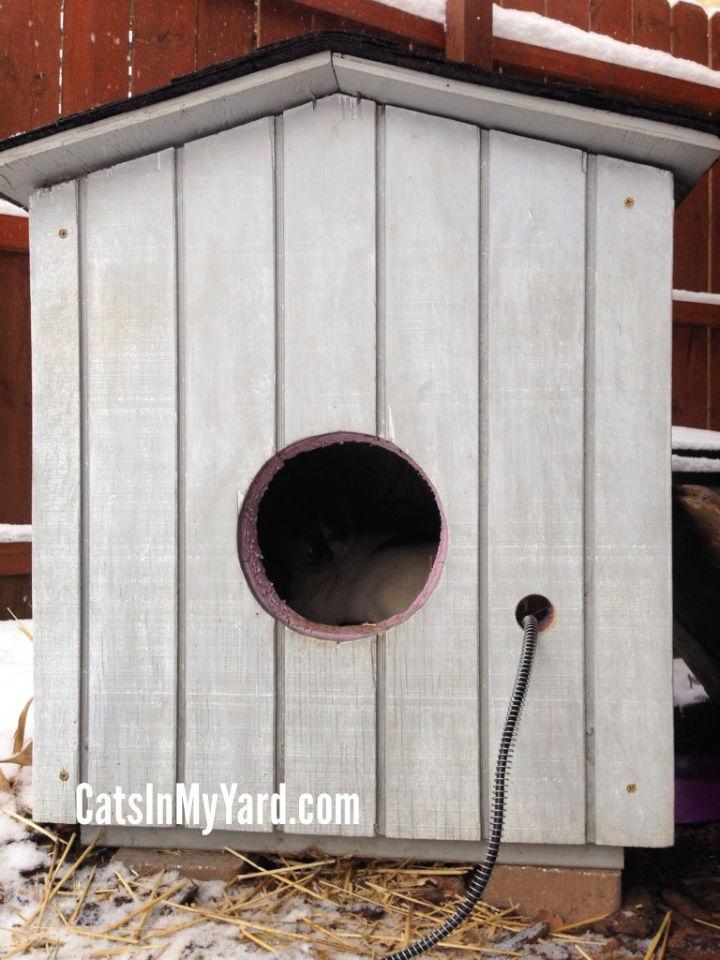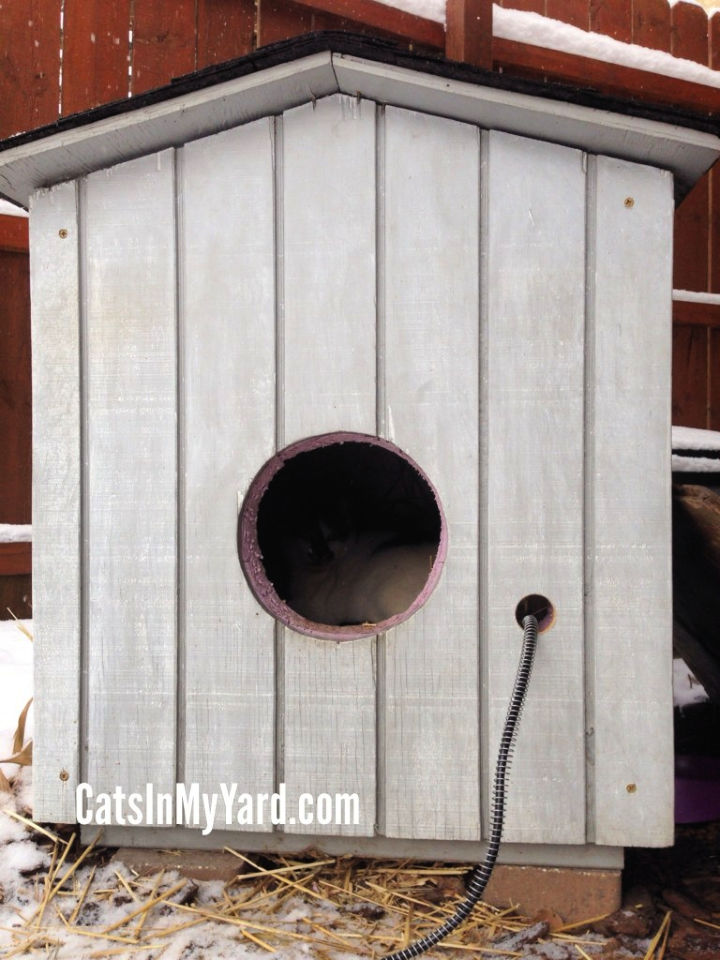 Build this wooden cat house that is a perfect residence for a cat as it provides all comfort. This wooden cat house comes insulated with the heat pads and impresses with its sweet bungalow style design. Build this outdoor cat house mainly with plywood and do add it up with steel cat bowls. catsinmyyard
3. DIY Winter Cat House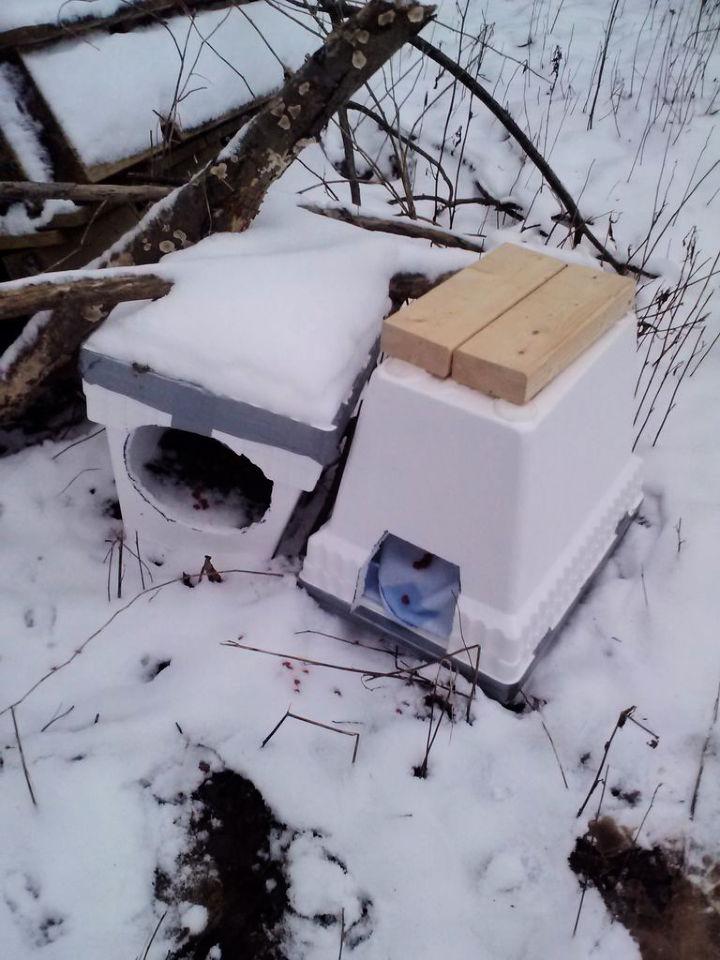 You will surely fall in love with this winter cat house that is amazingly beautiful. Make it using $5 styrofoam cooler and use the batting or Peanut Packaging for the insulation. Further, you need the duct tape, plastic bags, scrap fabric, and a custom adhesive to make this winter cat house. instructables
4. Outdoor Heated Igloo Cat House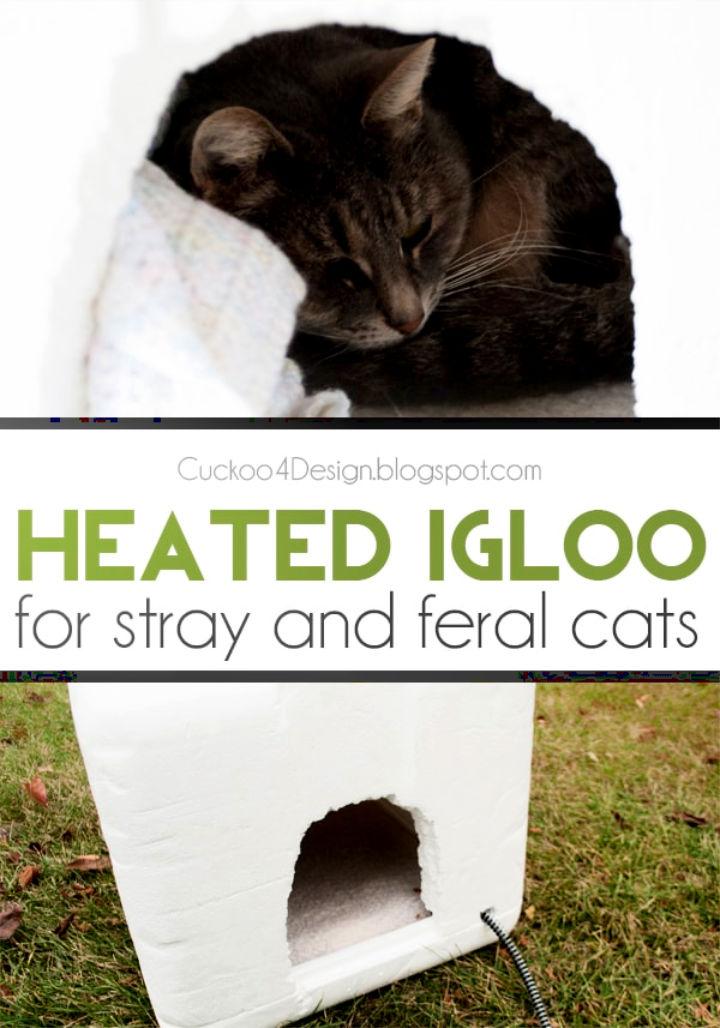 For the chilly days, this heated igloo cat house will really work great. Make it using Styrofoam box, and those kitty pads with fleece covers, using 12.5″ x 18.5" is recommended. Install the heated pad that you can buy inexpensive and get this heated igloo cat house made. Details here cuckoo4design
5. Build an Insulated Outdoor Cat Shelter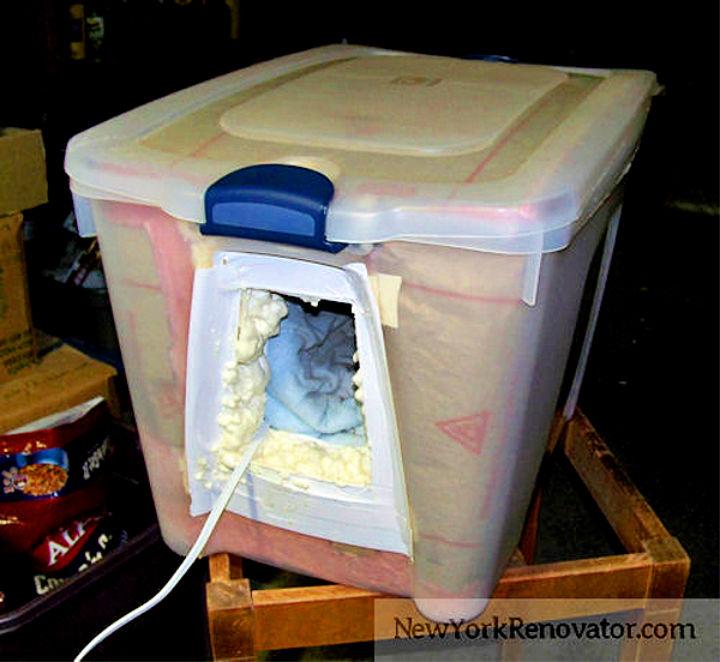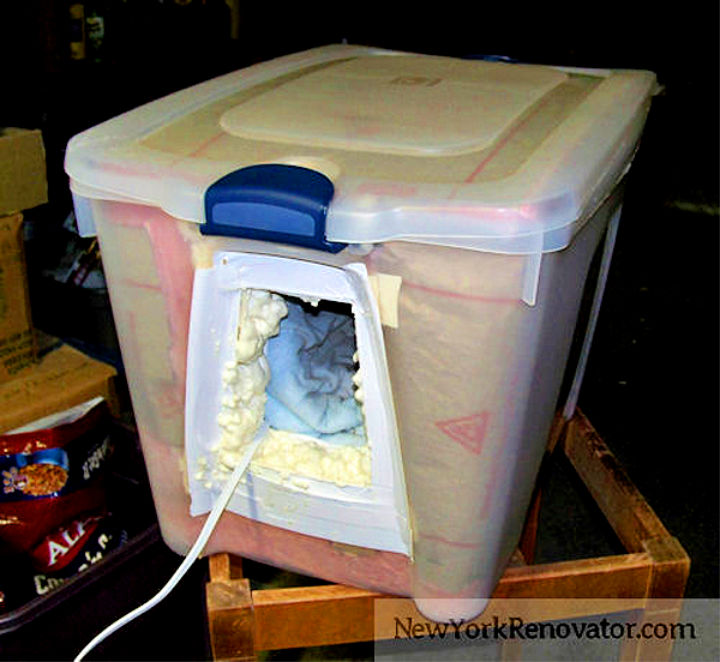 Grab a 30-gallon plastic tub with a lid, an 18-gallon plastic tub with and a roll of fiberglass insulation to build this insulated outdoor cat house. Next, you need a duct and a bottle of expanding foam to complete this outdoor cat house. It will provide protection against all weather conditions. catster
6. DIY Outdoor Cat House for Feral Cats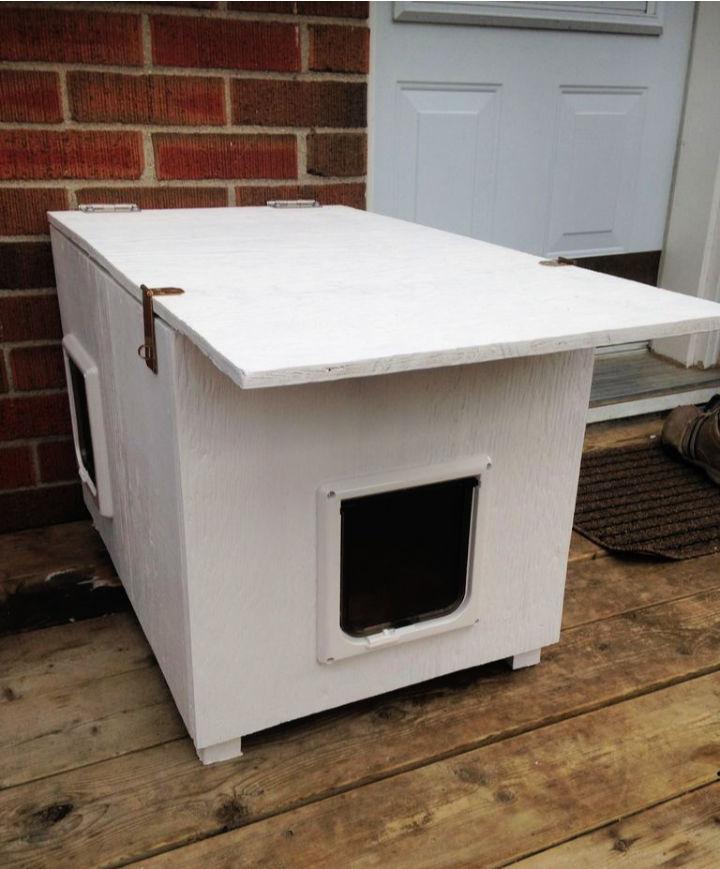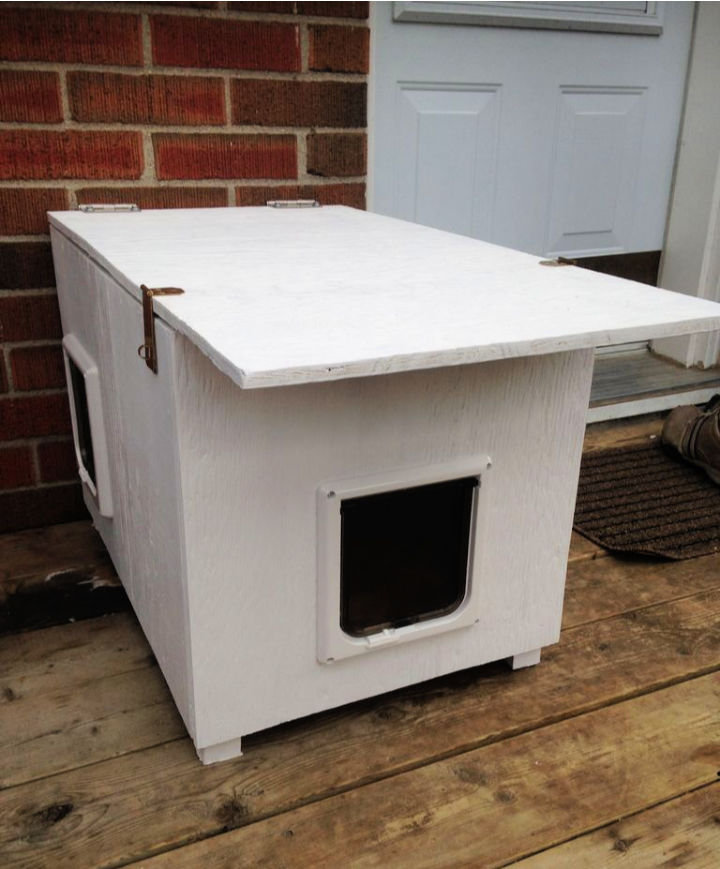 Get the free plans here to build an outdoor cat house, will work great for feral cats. Build this cat house with 1/2″ plywood and then insulate it with 1/2″ insulation boards. Build the frame of this cat house using 2x2x8 boards and sheath them with plywood. It comes with an edged and hinged top. Details here instructables
7. DIY Insulated Winter Cat Shelter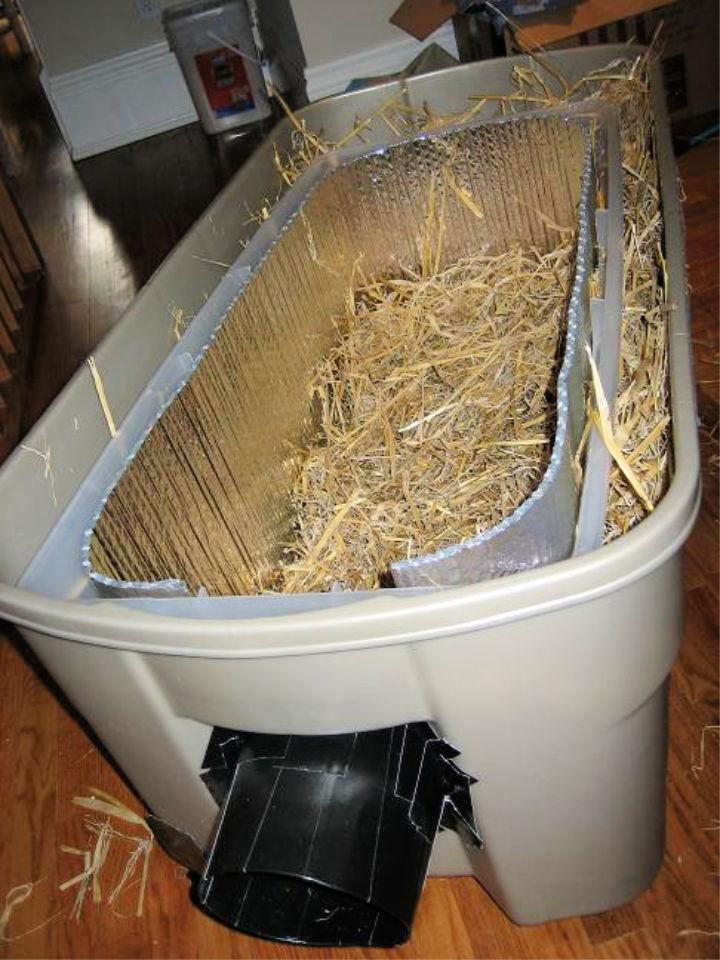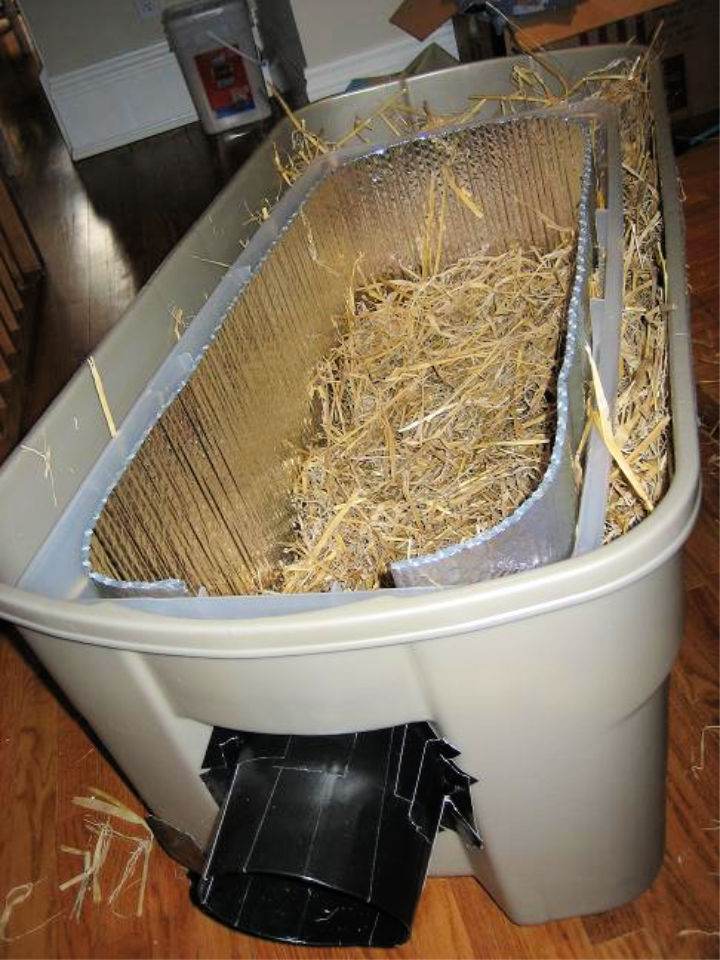 Build this winter cat shelter using Rubbermaid 189L bin and Sterilite 85L bin to build this insulated winter cat shelter. Further, you need reflectix 1.33′ x 25′ staple tabbed, tuck tape, and a strip of the laminated poster to build this perfect cat shelter. It will make a great gift for a pet lover. diycatshelter
8. DIY Winter Shelter for an Outdoor Cat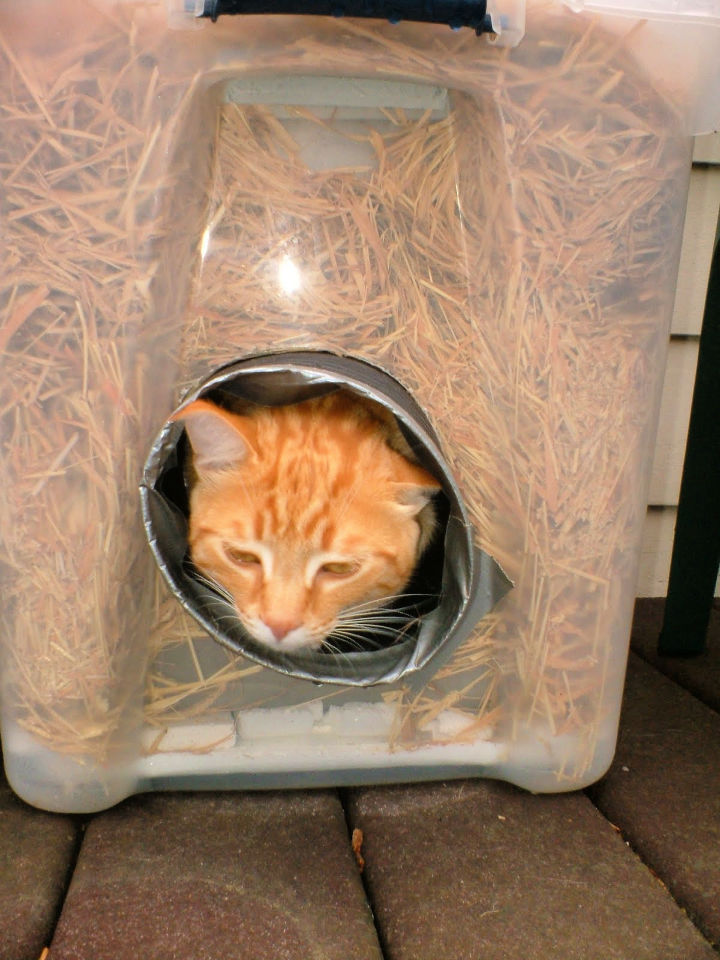 Build the bigger plastic container to build this adorable winter shelter. It will make a sweet handmade gift and will be loved dearly by all pet lovers. Just grab a big plastic container with a lid and then cut out a bigger hole in front of it to get the main entrance hole to build this winter shelter for cats. Details here theverybestcats
9. How to Make an Outdoor Cat House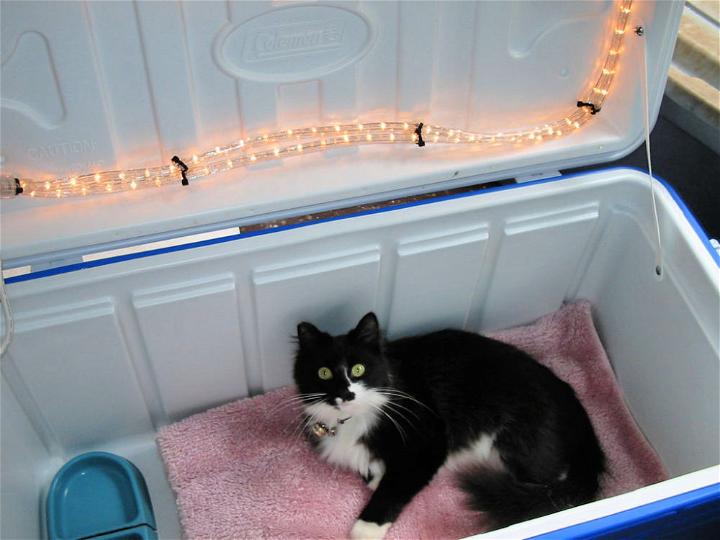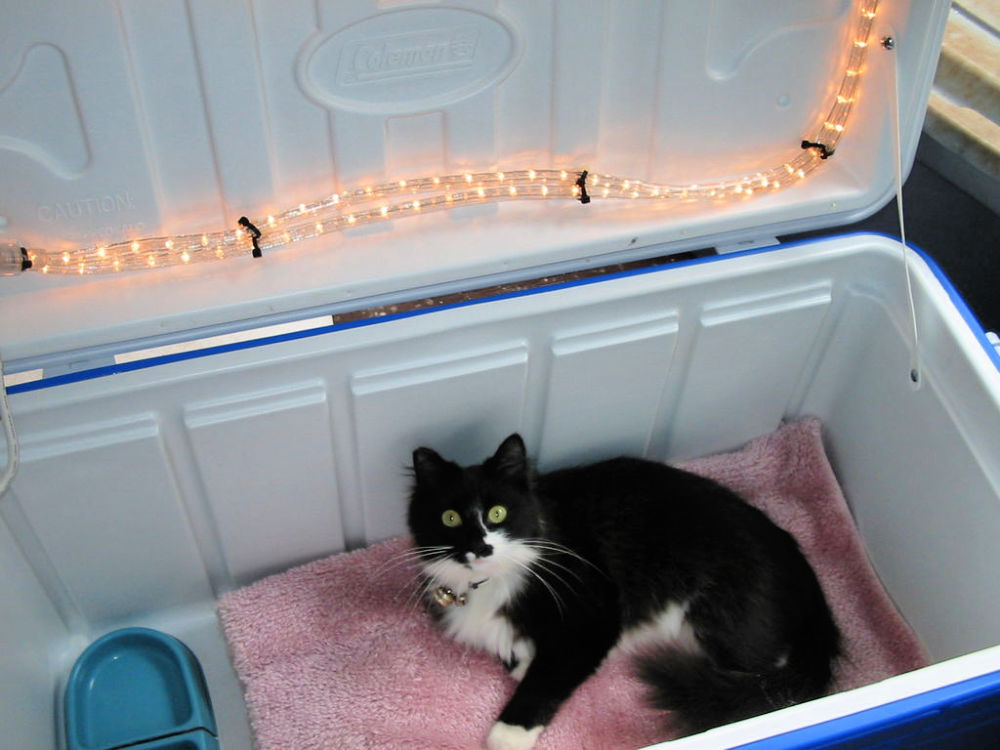 Build this outdoor cat house using a large 100qt. Cooler. Next, you need 12 ft rope light, 1" x 1" mounting bases, zip ties, 8" x 8" piece of carpet, a foam pad, and 1 rug. Don't forget to add the cat bowls inside. All cat lovers will love to own this very beautiful outdoor cat house. Details here instructables
10. DIY Outdoor Cat House Out of Pallet Wood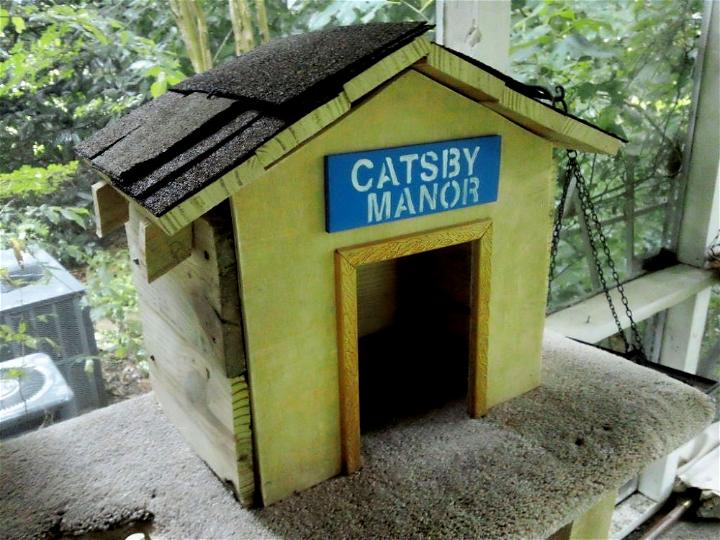 This DIY cat tree or cat tower is an adorable pallet creation and will surely impress the pet lovers. First, build the cat tower and then finish the top with a cute kitty house. Use the pallets and plywood to build this adorable cat house, and next, you need sisal rope, 5-gallon bucket, carpet, and nails to build this cat house. Details here instructables
Conclusion:
You always need some comfy resting places for your pets to leave them there tired just to sleep well. In case of cats, you can simply head over to these DIY outdoor cat house list that are to make with the simple, recycled and leftover materials and hence are sure to come with low price tags. These outdoor cat house ideas are full of creativity and involve building the featured structures that will bring ultimate comfort and protection to them. From using leftover wood to igloo coolers to plastic containers, use all to build a lovely DIY outdoor cat house, which will be a home of their own.