Your outdoor furniture recreation is as important as your indoor decor! Do you love spending time outside, soaking in the sun, and breathing through the fresh air? These 50 free picnic table plans can bring quite an economical and sturdy vibe to your outdoor events and times. Given the stronghold of technology and its drastic effects on human life, incorporating a little time for fresh air can make your life way better. Also, for holding all these family dinners, brunches, birthday BBQ parties, or play dates for your kids can be a lot more fun and easy to manage outside. These picnic table plans can be easily built using recyclable wood or materials. Plus, the free plans are all pretty detailed and come with a comprehensive list of cuts and supplies that include plans for traditional, folding, kids, portable, octagon, hexagon, round, small, and large picnic tables.
From two in one picnic table, i.e., a picnic table cum bench, there are many exciting picnic table plans below! You can upcycle an old table using a bit of paint, stain, or stencil art. Make a huge and full-sized picnic table using cedarwood or untreated lumber. Or you can even make mini picnic table versions, out of pallet woods or scrap wood. Add a steady base beneath to make it stand firmly on any uneven surface.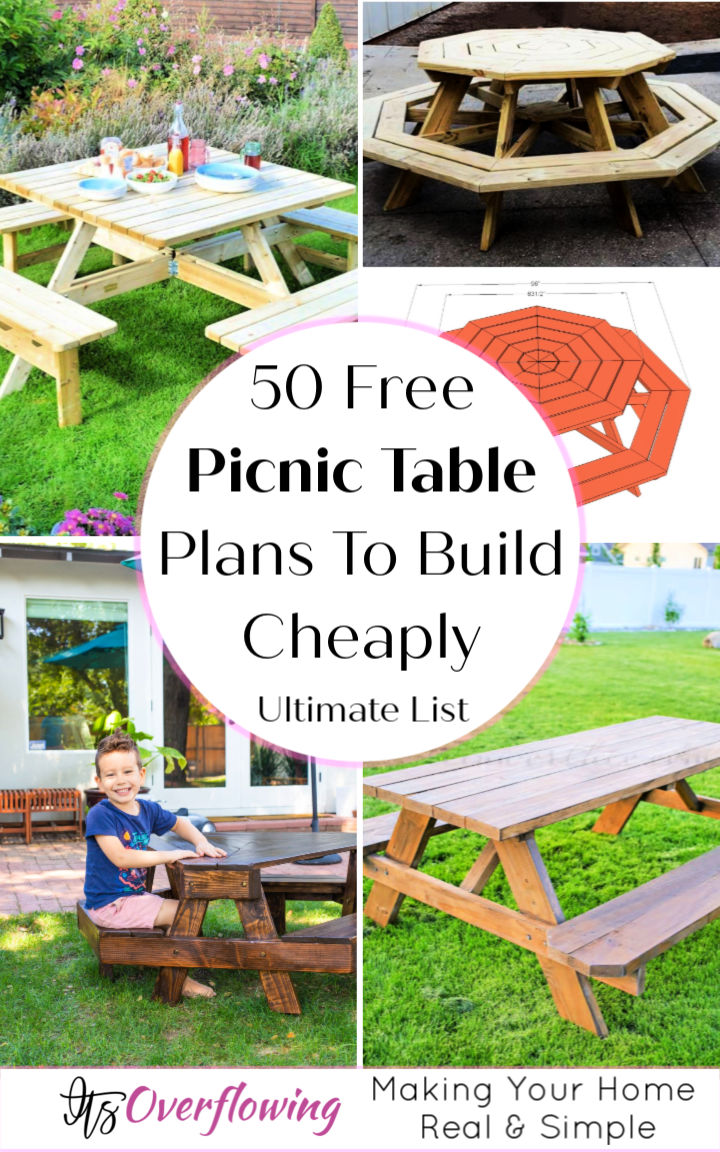 You can even find below many exciting portable picnic table plans. Be in charge of your own decor, be it indoor or outdoor. So, gather around your supplies and get ready to nail some pretty affordable and easy to make picnic tables! Explore this ultimate list of picnic table plans!
Also, We have a selection of easy to build and free garden bench plans, to make the perfect seat for your garden, backyard and deck!
1. Modern DIY Kids Picnic Table
Cherish your most exceptional woodworking project by building this modern kids picnic table. Let your children have a picnic party outside while soaking in some sun! Herein, you will find the elaborated instructions on each and every part of doing this DIY picnic table project. Check it out! lovelyindeed
Also try these great outdoor activities for kids that keep your kids playing, exercising, and burning energy for hours and enjoy some great time on these picnic benches.
2. Reclaimed Wood Flat-Pack Picnic Table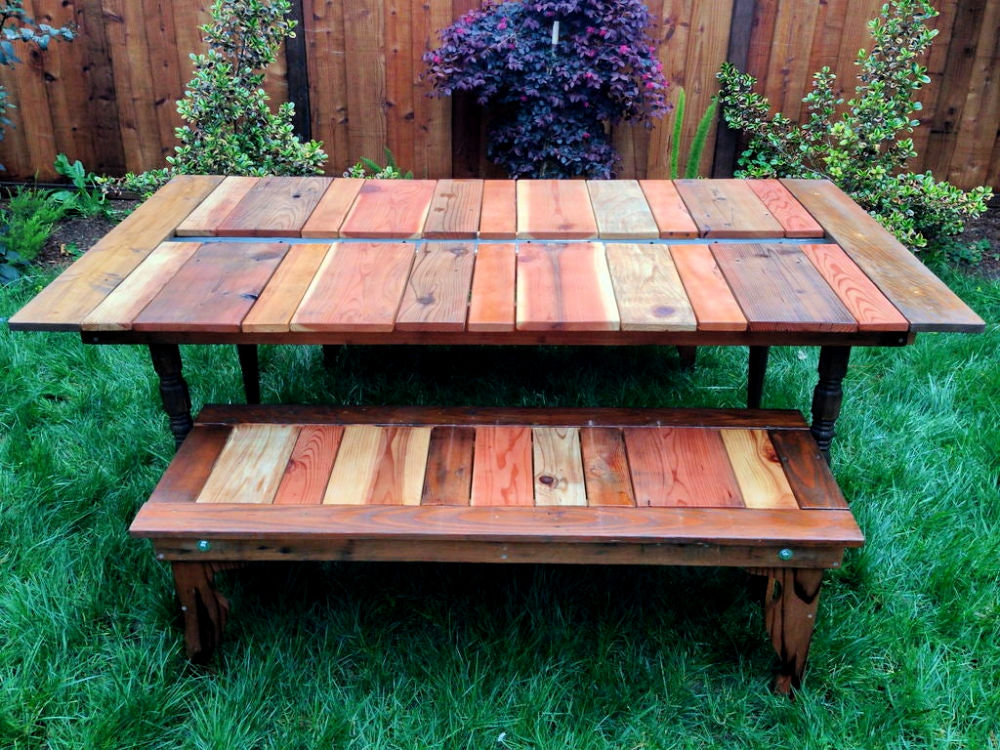 You can totally construct a picnic table with benches from reclaimed wood. Because this table is a flat-pack from the top, so it's not that complicated to build. The fun part of this picnic table plan is that it is made super sturdy to even manage through a rainy day! instructables
3. Picnic Table Out Of a Barn Door
Utilize your barn door in a fun way and make this picnic table for your home. A perfect way to make your family sit together and have fun. The tutorial will teach you how you can build this project up by using materials like a nail gun, screws, barn door, hose, spray, and the drill machine. rainonatinroof
4. Compact Picnic Table and Stools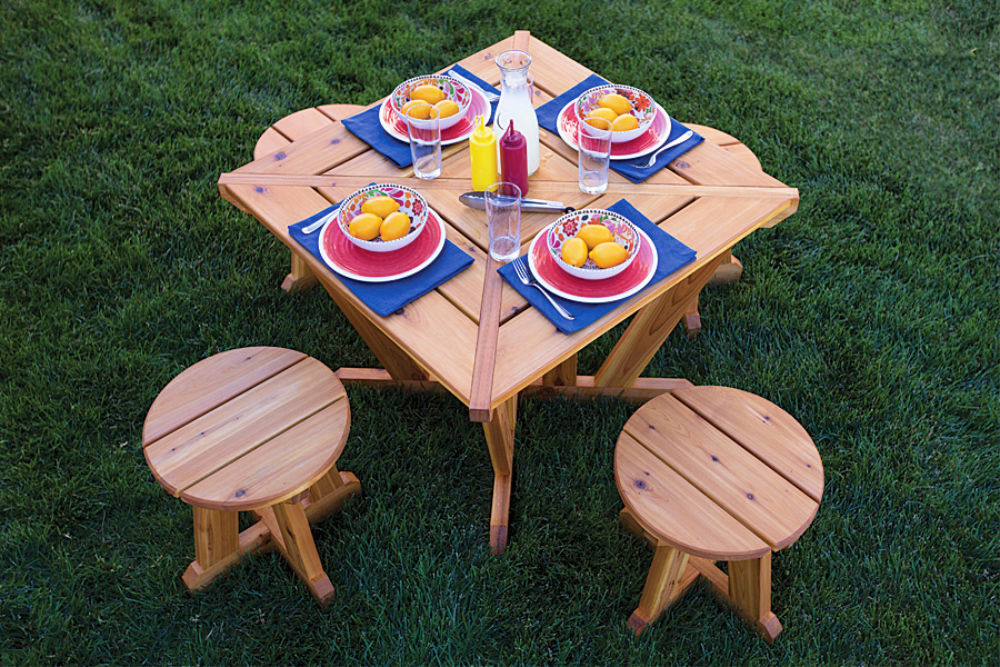 Once in a while, everyone should invite your family to a picnic party at your home. Oh! You don't have a picnic table for that? Check out this super cute but uber compact picnic table with stools in a classic and catchy shape! buildsomething
5. How to Build a Picnic Table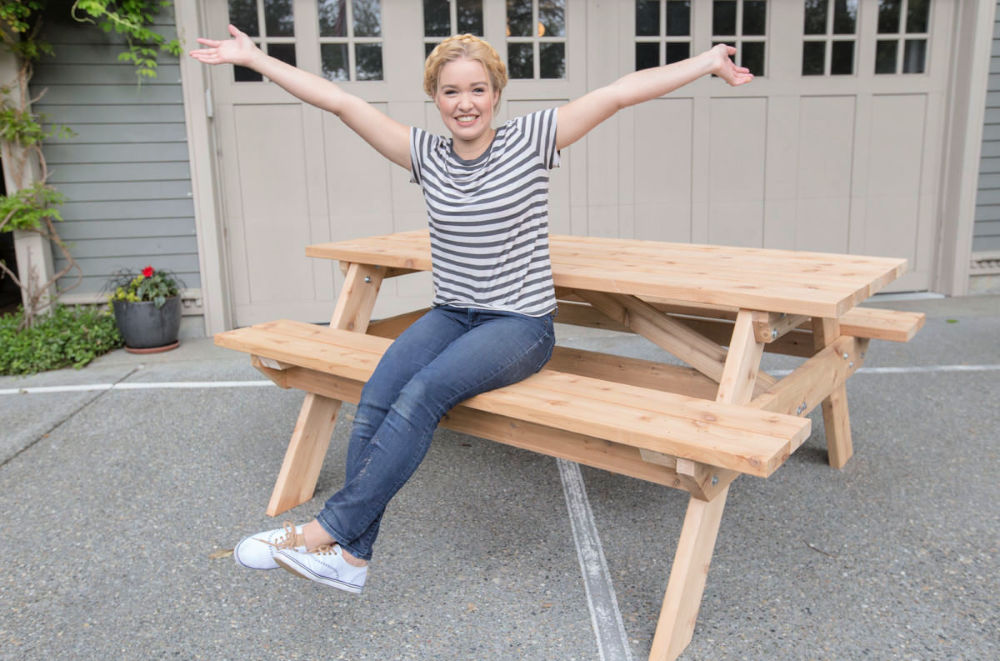 Learn how to build a picnic table? At this time of the year, when spring is all here with the blooming flowers and scented air, you must be thinking of a reunion with your friends or family. Right? A DIY picnic table would be a fantastic project for this kind of get together. You must try our free picnic table plans and build your own at home! But don't buy one, just build one! dunnlumber
6. Easy DIY Picnic Table
You certainly don't need to be a professional carpenter for building a DIY picnic table, folks! All you need is some enthusiasm and little skills for acing this project. You will be amazed seeing that this project is incredibly simple to make and turns out to be such a useful piece of furniture. kleinworthco
7. Build a Farmhouse Picnic Table
Do you want to turn your backyard into a picnic spot? Why not do that by building a farmhouse picnic table in your lawn? So to give an aesthetic outlook to your front or back yard? It is super economical to make at home with just your moderate level of skills and few needed tools and supplies. lifestorage
8. DIY Kid Picnic Table
Spring is here, and the good times must be around the corner too. Have you decided how you are going to entertain your kids this season? Make this kid's picnic table entirely and solely at home. Although it looks giant, that might make it look a little intimidating, it's super simple to build it once you get started. loveandrenov
9. How to Build a Pallet Picnic Table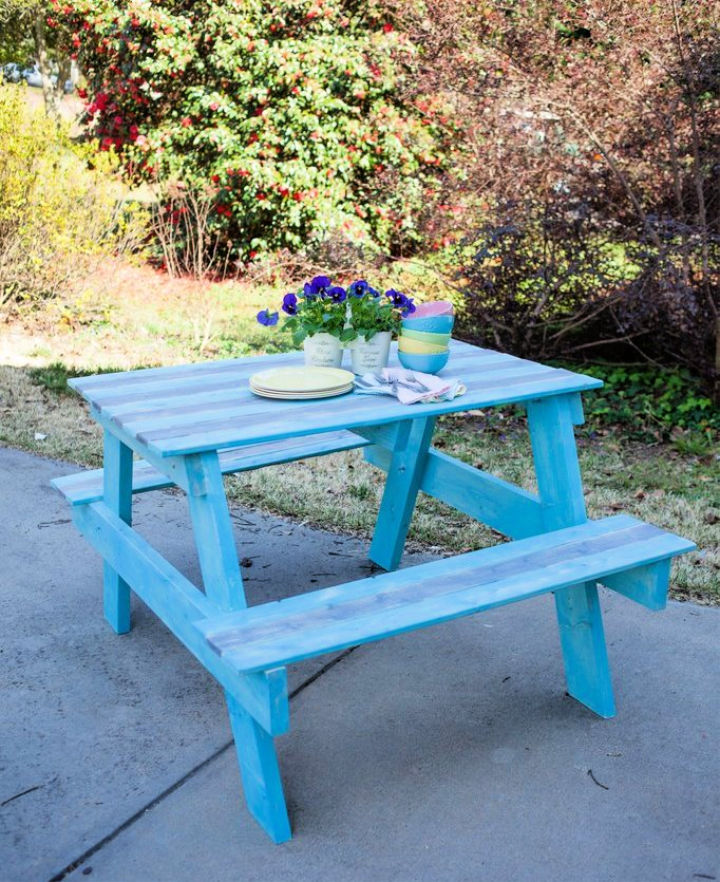 Why go outside when you can plan all the fun at home? Just by following the directions and using the given supplies, learn how to build a picnic table and you are all set to spruce up your picnic game! The material you will be needing to ace this free picnic table plan includes pallets, pinewood, nail gun, hammer, clamps, and drill. craftboxgirls
10. Easy-to-build Picnic Table Sized for Kids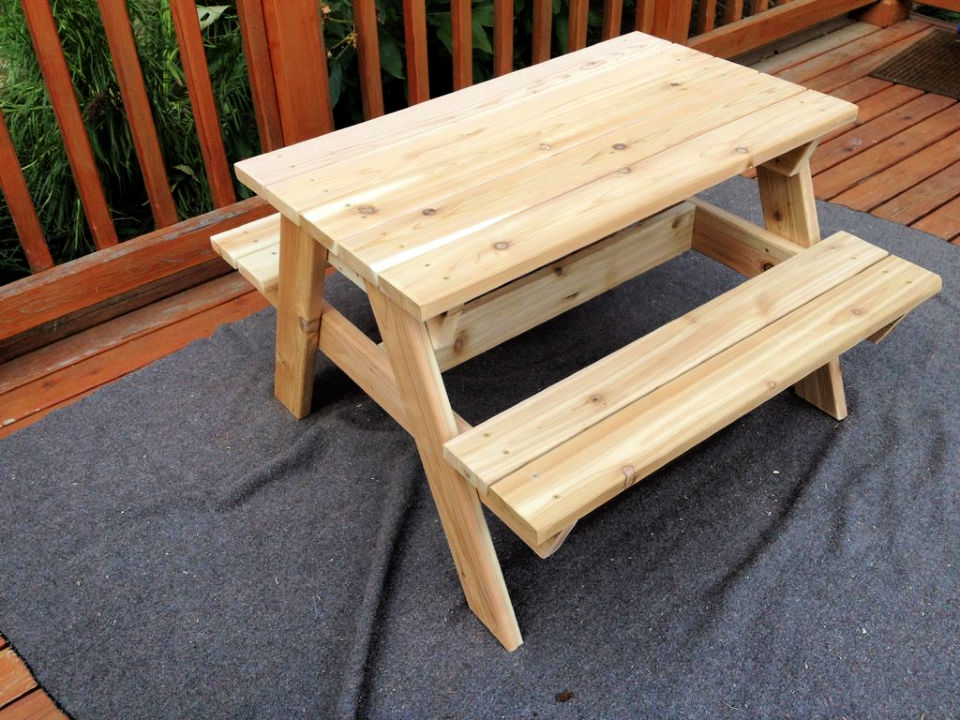 Let your kids play inside the home safely and let them feel like they are playing somewhere in the park. You can do so by utilizing hardly a day of yours and trying this plan out of our picnic table plans! This picnic table is perfectly sized for kids and can be easily made using just a few tools and supplies. instructables
11. Suitcase Picnic Table and Speaker System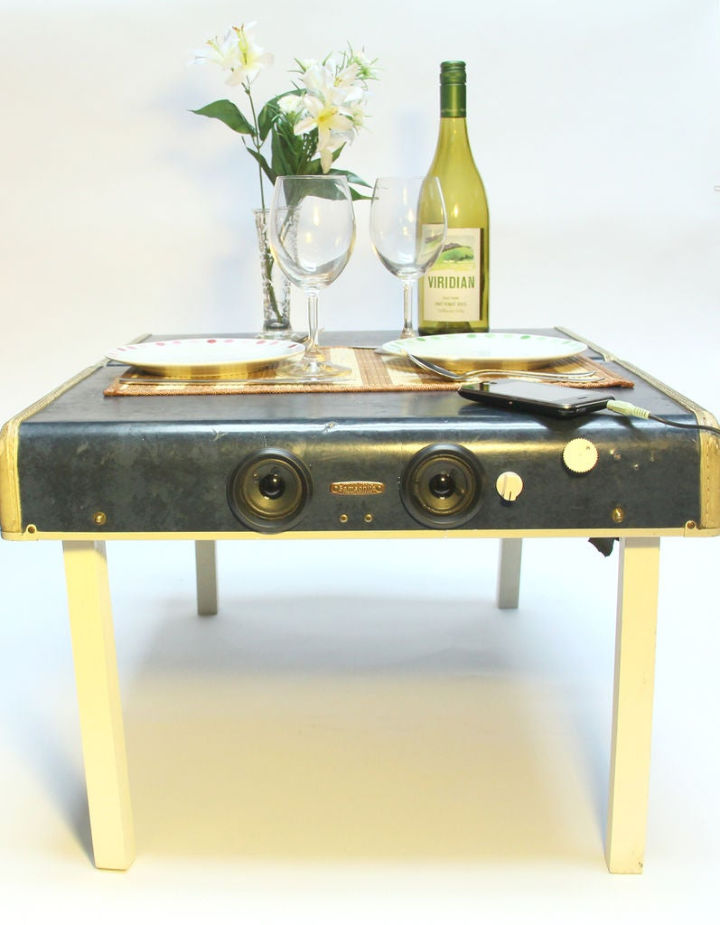 The best part of DIYing? Using old and otherwise thought useless things into creative new assets for the home décor! A fantastic project of a suitcase in a picnic table and also a built-in speaker to let you enjoy both the food and the music simultaneously. You are definitely going to love building this hybrid project. instructables
12. Free Large Picnic Table Plan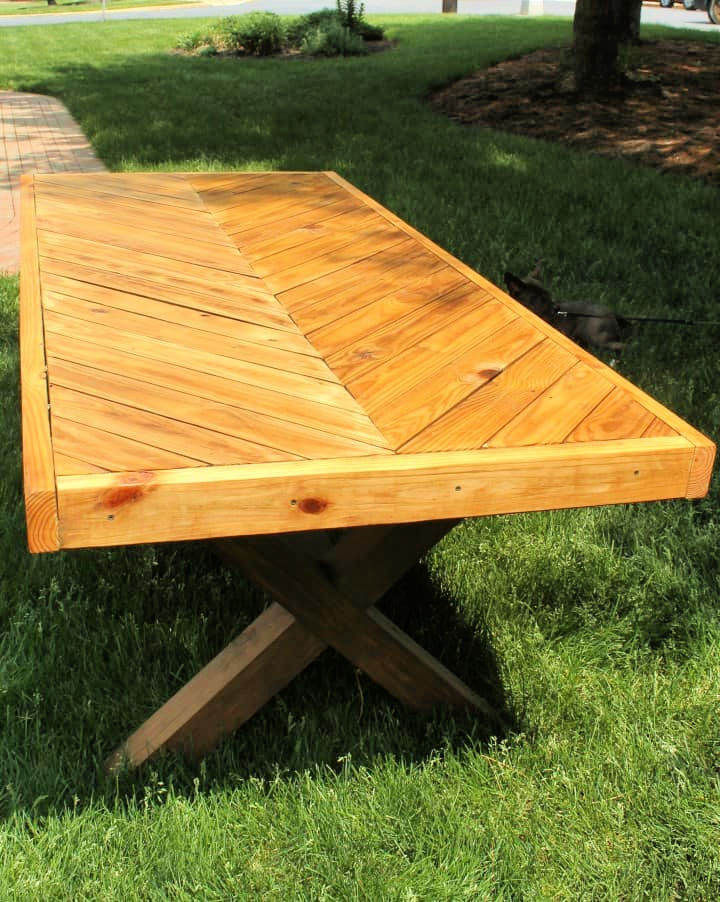 Your backyard needs to be equally embellished as your indoor space is. With this free picnic table plan, you can try building this project at home. It is absolutely ideal for beginners as it requires to have just a hammer, few screws, drill machine, and pine woods to get started. aturtleslifefo
13. Cool Kids' Picnic Table
Building a little project is kind of more fun! Especially when it turns out to be this much cute like this cool kid's picnic table project. Your kids also need some private space apart from the adults to discuss their own little things. So make them one and let them enjoy it. buildsomething
14. Large Wooden Picnic Table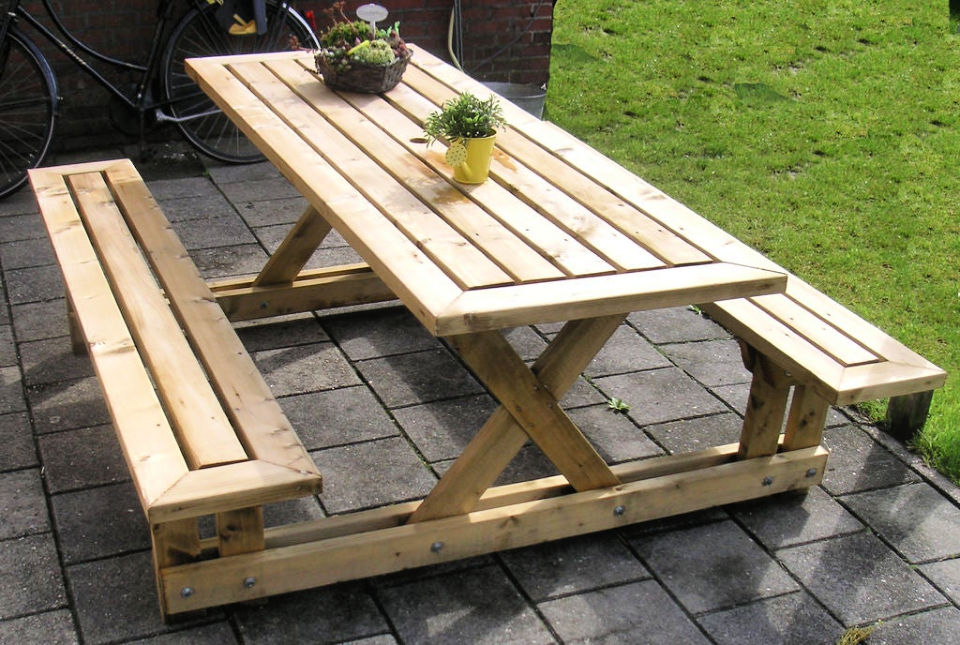 When it comes to building an enormous project for the whole family, this DIY picnic table would be an excellent choice here. Because it has quite the space to reunite the entire family to enjoy Thanksgiving or Easter. The finished size of this picnic table is 89 x 38. Hit the tutorial for a full plan! instructables
15. Weekend DIY Picnic Table Project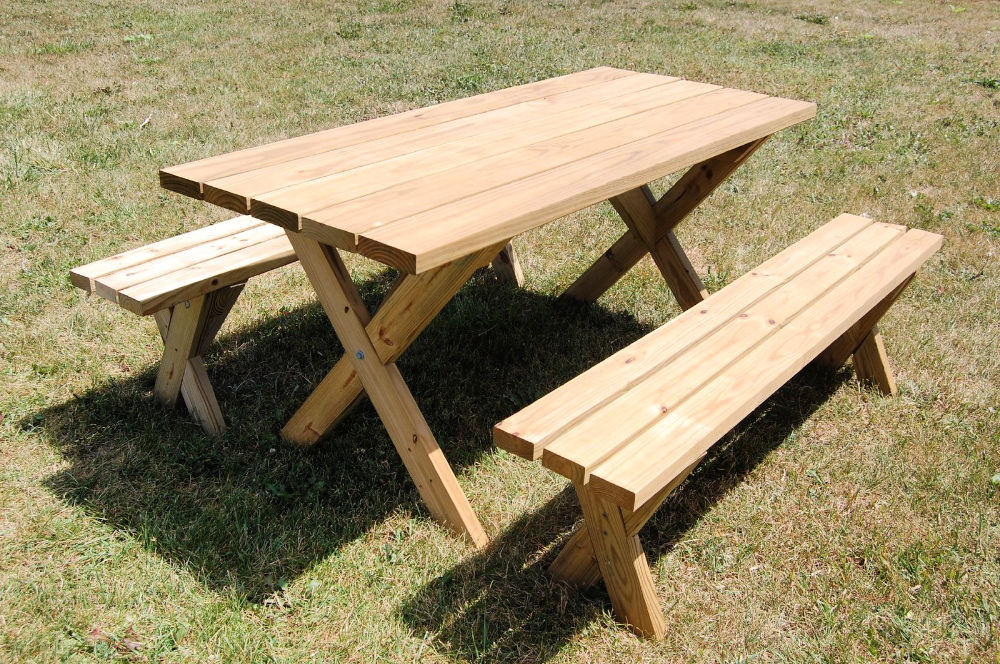 What are weekends for? Of course, to spend some quality time with your family members or to meet your long lost friends. Build this picnic table with benches to create some memories. You will need a miter saw, clamps, level, square, drill, bolts, screws, and wood boards to accomplish this project. diydiva
16. Picnic Table for Your Kids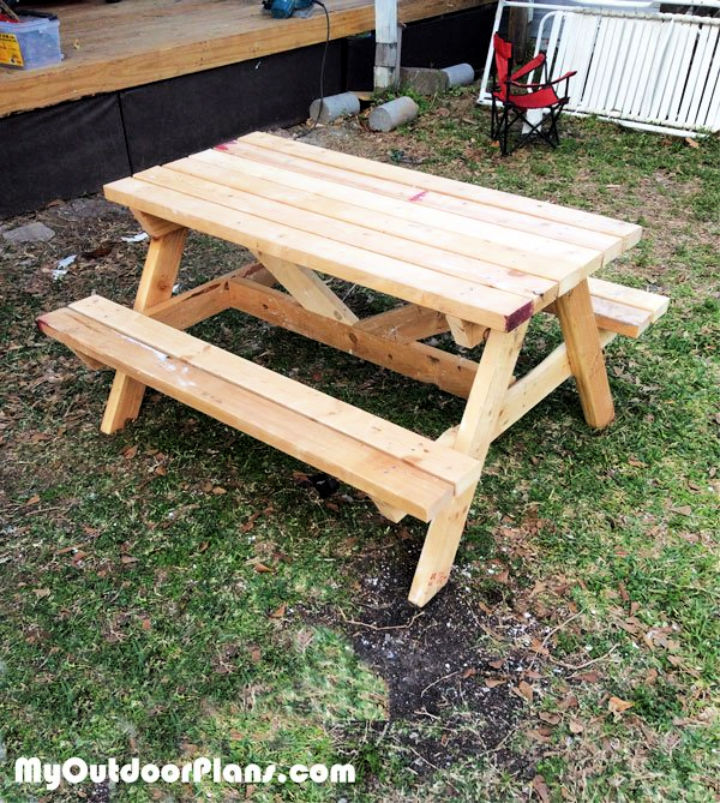 Build a picnic table for your kids so that they can enjoy a tea party there with their friends. Give them a proper space and let them enjoy on their own. You will love this idea of doing this project at home affordably and without paying to the carpenter or buying a commercial one rather. myoutdoorpla
17. Building a Picnic Table In One Day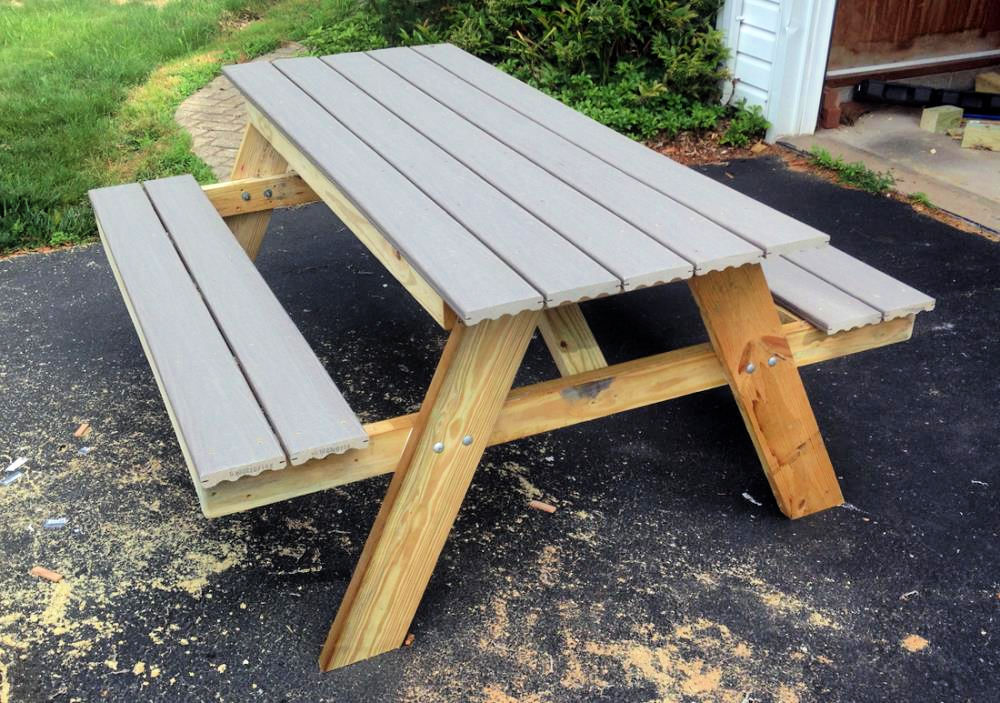 A picnic table in the middle of the backyard sounds like some promised fun memories. This project seems to be super simple to construct and durable to stay in your home for a long time. Also, it's a wonderful project that will take hardly your one day to get completed. Isn't it awesome? justmeasurin
18. Octagon Picnic Table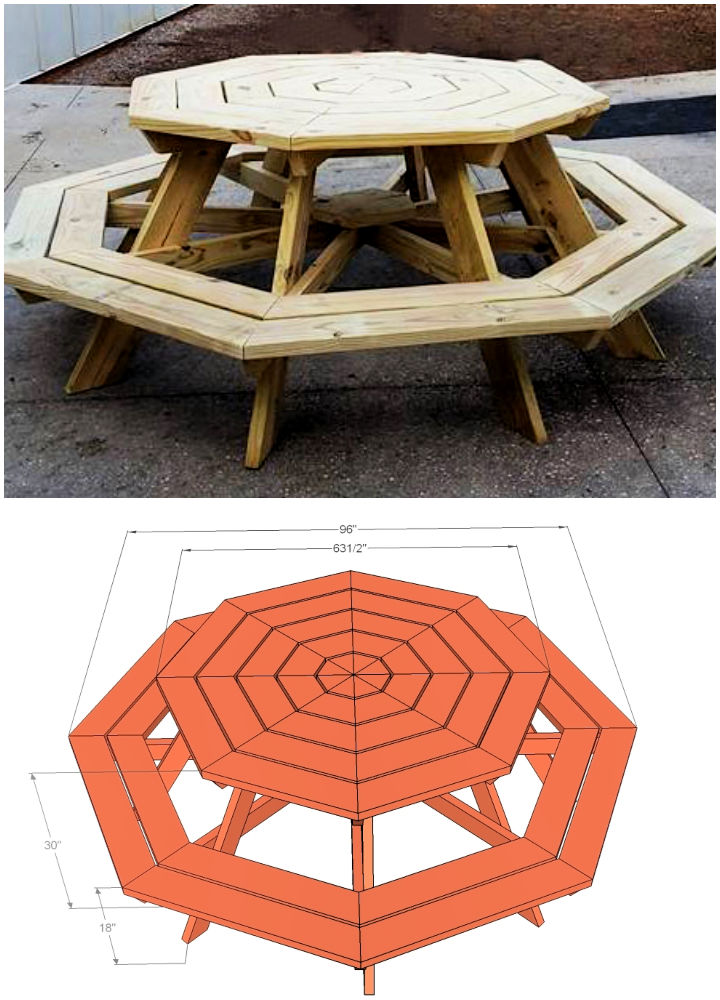 If you are up to a woodworking project, a free octagon picnic table plan is ideal for summers and spring. A fabulous addition to your backyard that will make it super embellished and adorned. This octagon picnic table looks absolutely picnic goals! Spacious enough for the whole family to sit together. ana white
19. Picnic Table Bench Plan
Life is a picnic! Enjoy it to the fullest and make it a memorable one with this DIY picnic table bench . Take a sunbath or enjoy the wind gust by chitchatting with your friends over a cup of coffee. Make it all happen at an affordable price. Click the link below for the complete plan. homefixated
20. Ana White Preschool Picnic Table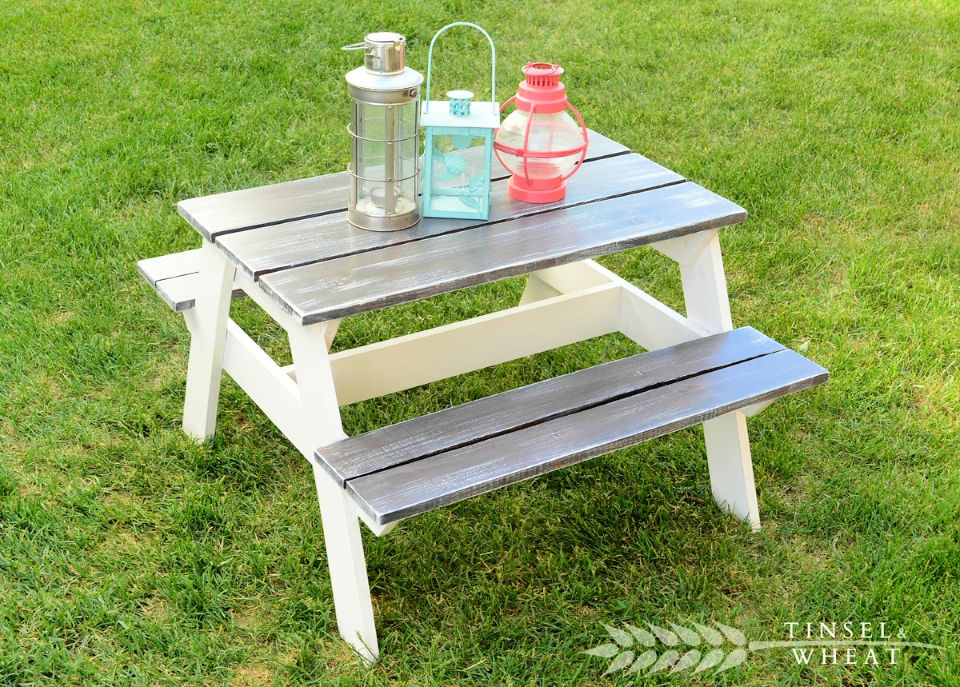 Check out this funky twist on a preschool picnic table. It is perfect for smaller spaces and smaller kids. A fantastic project where more than 4 kids can sit and enjoy their time planning and eating food. Plus, this project is all set to help the preschoolers to socialize and make new friends! ana white
21. Kids Picnic Table from Pallet Wood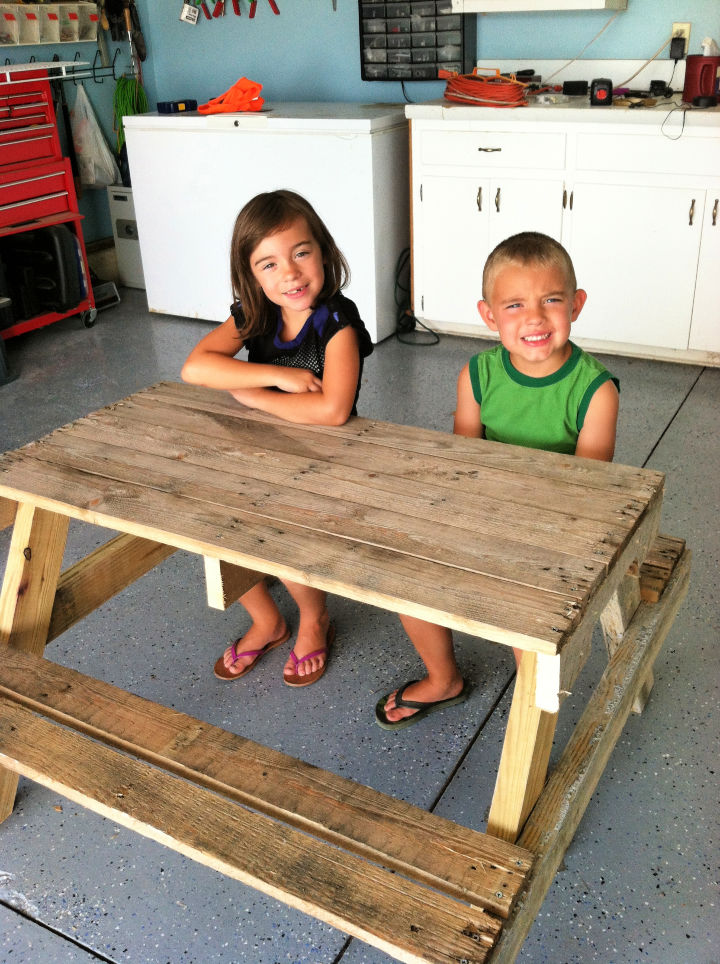 If you have a backyard and you want to add some pizazz to it, or you're just trying to have some more seating place in your kitchen! This kid's picnic table made with pallet wood is the solution! It has a relatively smaller size, so it will not take up a lot of space. needlesandnails
22. Build a Bigger Kids Picnic Table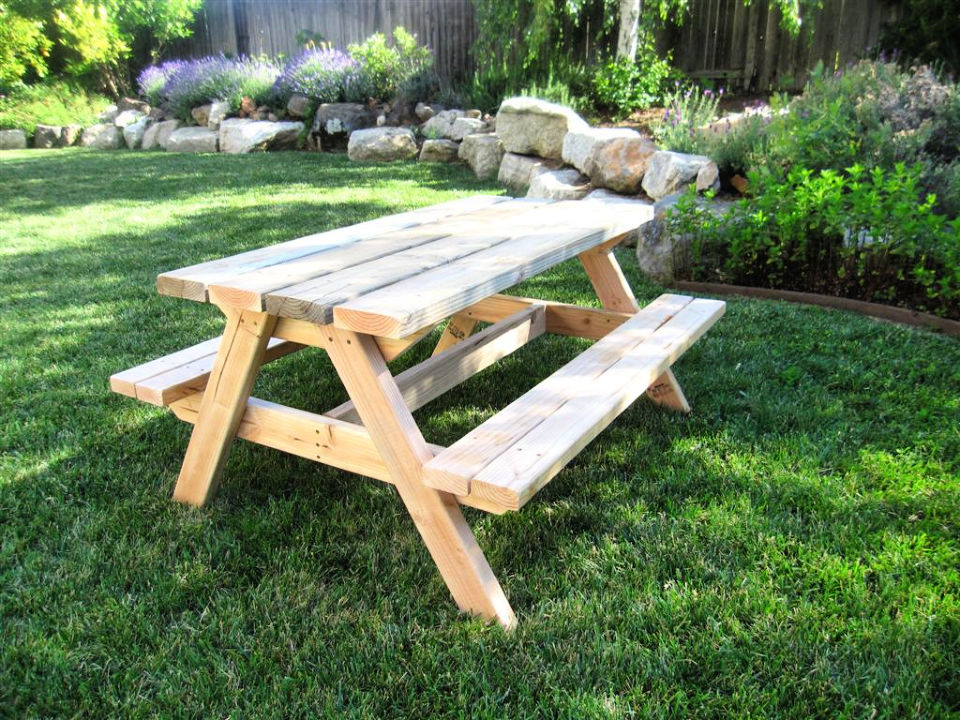 If you liked the last table talked about in this article, but you want to make it in a larger size, this guide will give instructions on that! The whole family can sit on this table and have a picnic in their backyard. You can have many tea sessions on this beautiful picnic table. ana white
23. Modern Picnic Table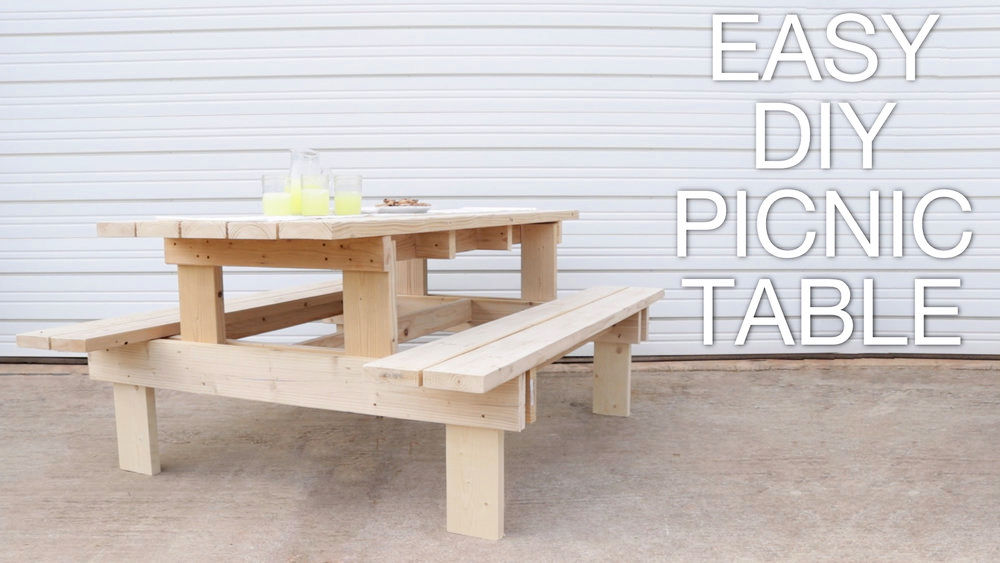 What is the first thing that comes to your mind when you see this? Modern! It's so perfect for the contemporary styled apartment and houses being built nowadays. You can place it in your balcony or in your backyard or even in your kitchen! A portable picnic table plan surely to surprise everyone.modernbuilds
24. Homemade Kids Picnic Table
Make this super comfortable and functional table, all from scratch, from the comfort of your own house! These types of tables last a few years and can be used for picnics to tea parties! A must-have! Follow this picnic table plan and make yourself this stunning table. bitterrootdiy
25. Wheelchair Accessible Picnic Table
The feature that stands out about this picnic table compared to all others is that it has a long table. The table is so long, and it will fit all of those dishes your grandmother makes you on Thanksgiving! We need a picnic table plan like this one in our lives. rogueengineer
26. Free Picnic Table Plan and Project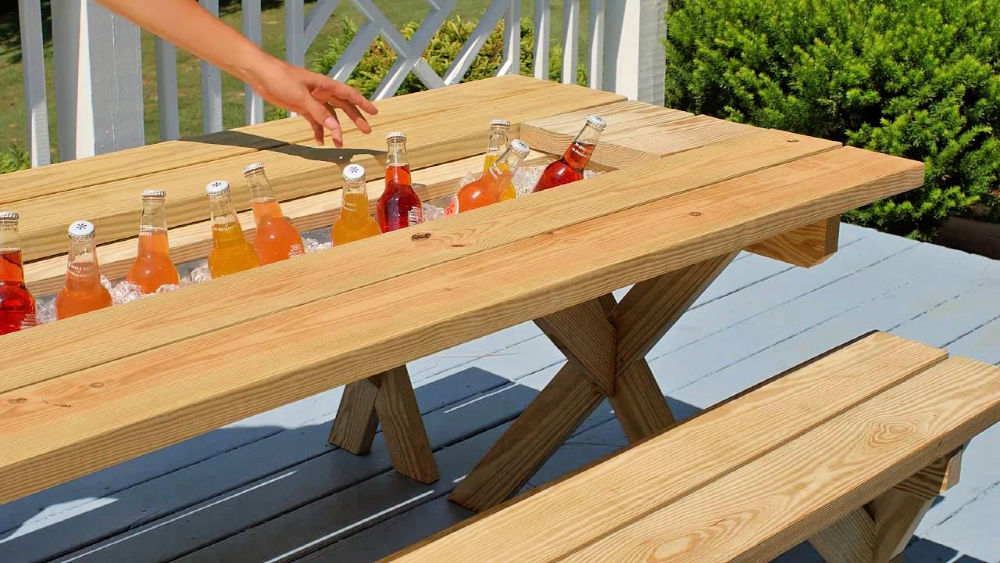 Now that the summer season is almost around the corner, there are going to be many pool parties and barbeques in your backyards. To not worry about cooling your drinks, you can make this fantastic table which will have a place to store the ice and keep the drinks cool! yellawood
27. Picnic Table With Built-in Cooler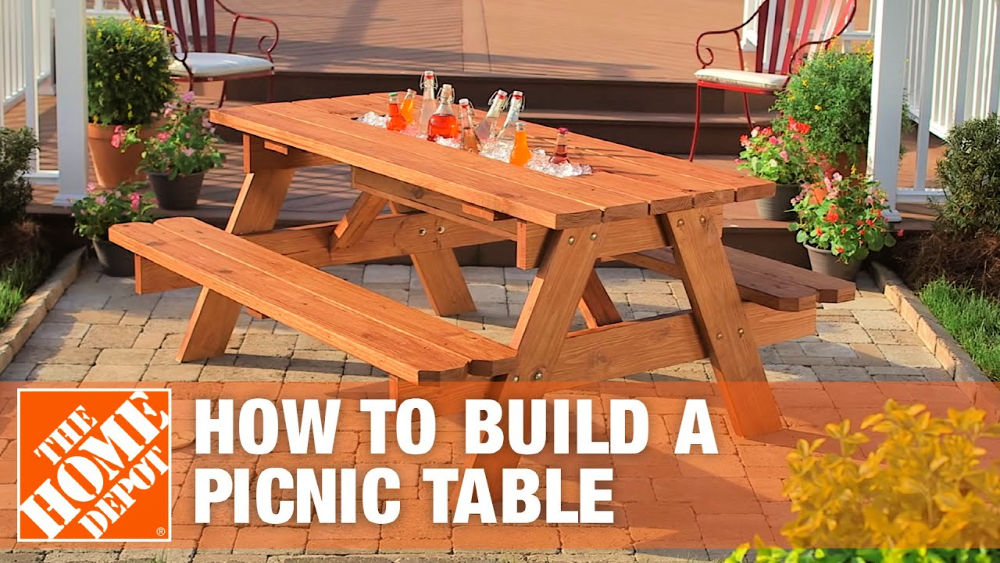 The spring is ending, and the summer is here. You'll have your friends all the time! To not have them rush into and out of your kitchen all the time, you can just make this fantastic table with a built-in cooler! It will keep your drinks cool, and you won't have to worry about them. homedepot
28. Modern Industrial Picnic Table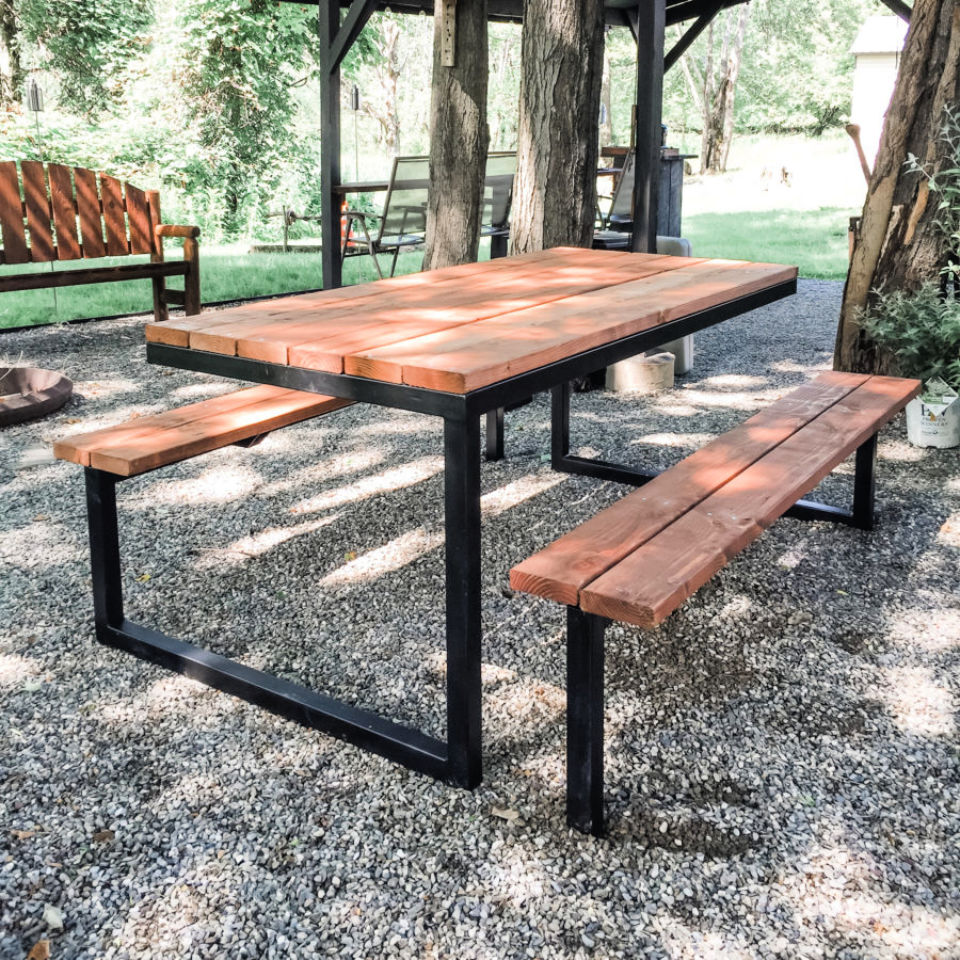 This DIY picnic table will guide you on how to make this modern industrial picnic table. It is absolutely beautiful and matches perfectly with modern times and modern houses being built nowadays! You can use this one in your backyard. cahillscreative
29. DIY Convertible Picnic Table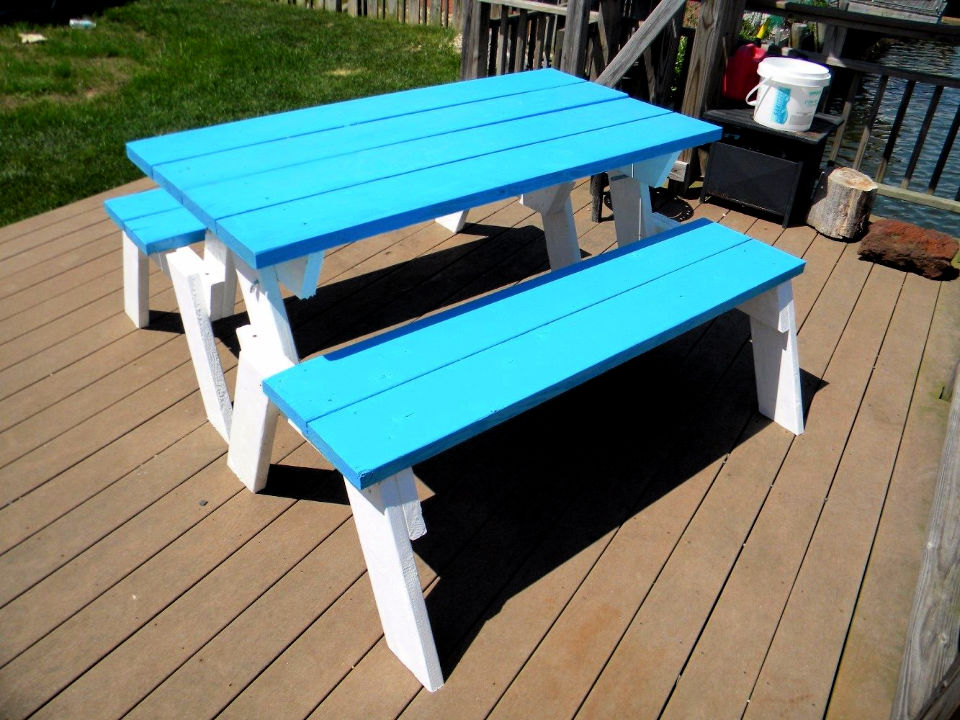 A DIY convertible table will be the perfect table for all the minimalists out there who are just trying to add some color to their house. The spring season is here, and it can be a little tempting to play with a bit of color. This bright blue and white combination is perfect for them! hometalk
30. Free Picnic Table 2X6 Plan
The ultimate picnic table that everyone needs in their lives. This table will be your best friend during the Thanksgiving season. It has enough space to have everyone's dishes on it. You want to keep them on your kitchen counters and move again for the sweets! mycarpentry
31. Build a Picnic Table with Attached Benches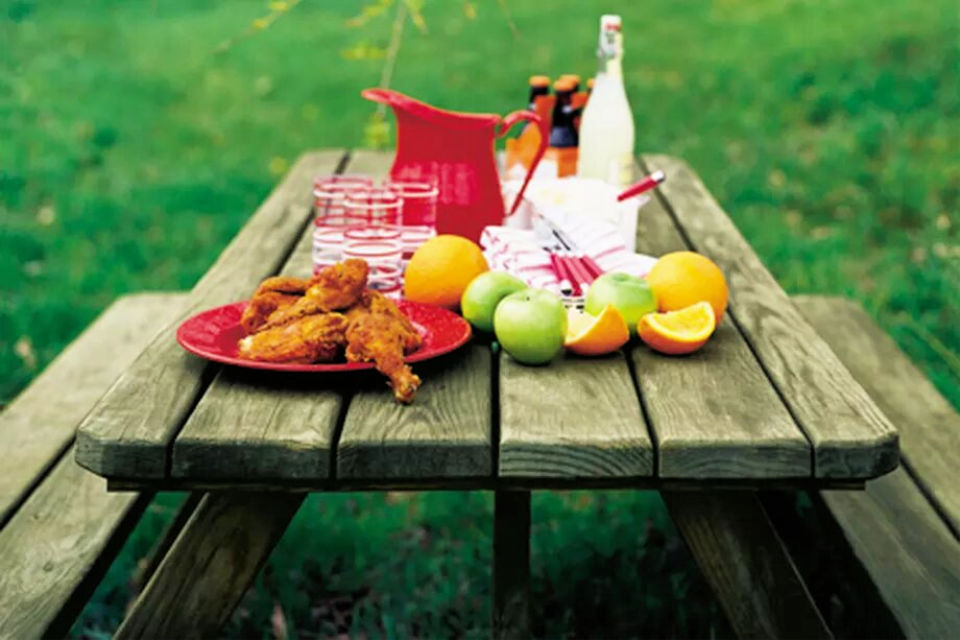 A classic American DIY picnic table is your solution to holding a perfect barbeque party or dinner. Integrated with benches, it can be one ideal picnic day for you to enjoy with your family! This picnic table plan is super easy; all it includes is joining the symmetrical frames together. thisoldhouse
32. Traditional 6 Foot Picnic Table Plan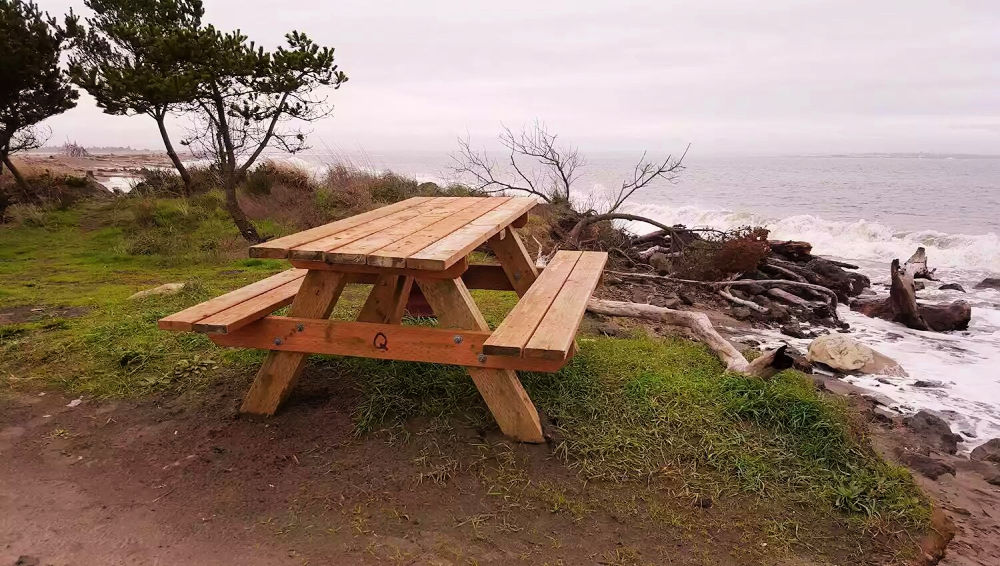 As they say, old is gold! Nothing beats a traditional picnic table. Joined with connected benches and ample space like 6 feet long to have fantastic family time together. All you need is a sand, drill, screwdriver, and an adjustable wrench. Cedar is the preferred material to use for it stays long without decay. bobsplans
33. How to Make a Picnic Table for Two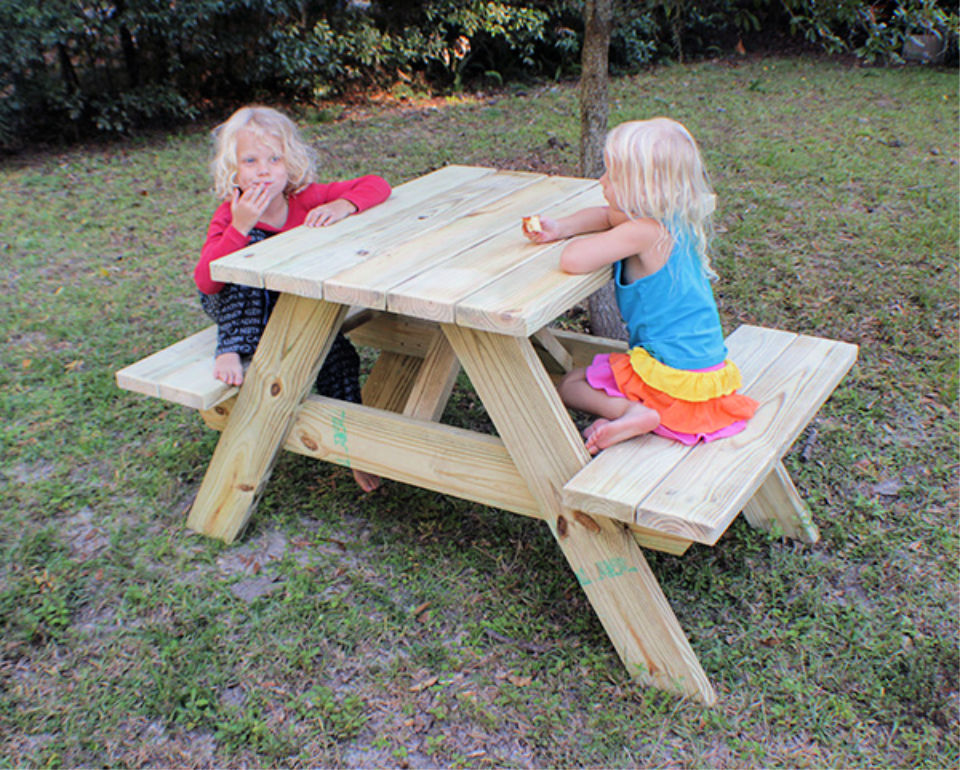 Kids these days have a lot going on! With the specter of technological devices and school bullying, connect them to the peaceful outsides. This DIY picnic table plan for 2 is a perfect playdate idea for you and your kids to enjoy! Hit the tutorial for details. iliketomakestuf
34. Free Picnic Table Plans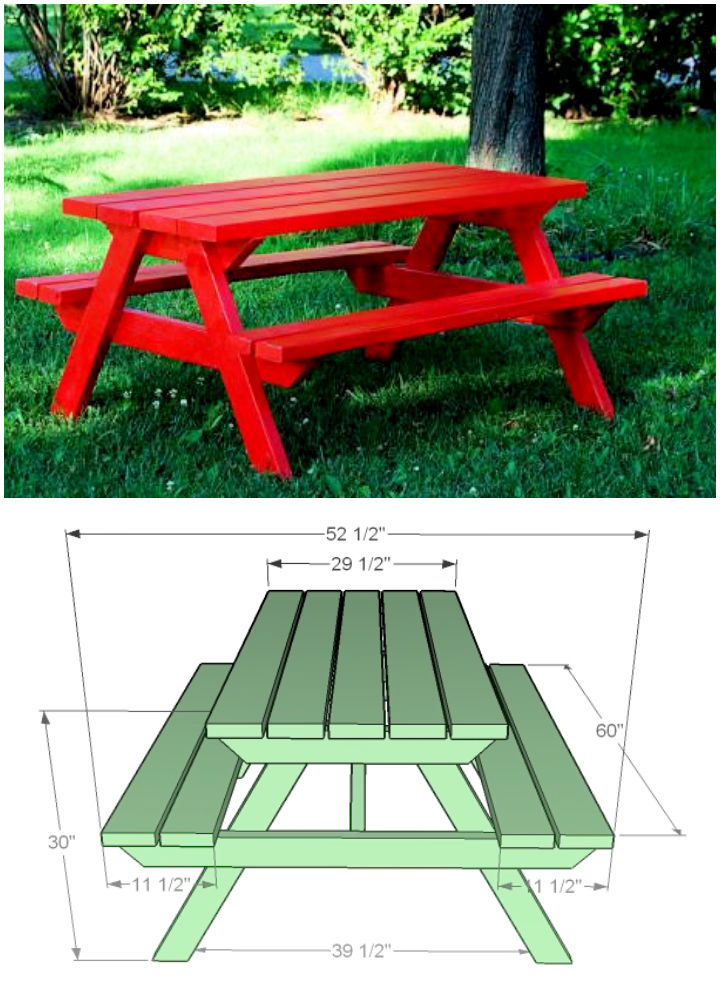 Picnic table plans are your personal domain to get as creative with your outdoor furniture as you would want to be! They are super versatile, and this all bright red plan by Ana White has its own charm! You will need 2 x 6 boards and 2 x 4 boards, with ½" self-tapping deck screws. Learn here how to build a picnic table, ana white
35. Build a Picnic Table for the Kids
A little space for your kids to sit outside and enjoy! A kid-sized picnic table is super easy to construct. The basic trick lies around in making the cuts around the edges finely in shape. Roughly it should be a shallow 50 degrees angle. Get the detailed plan, here.blackanddecker
36. How to Build a Kids Pic-Nic Table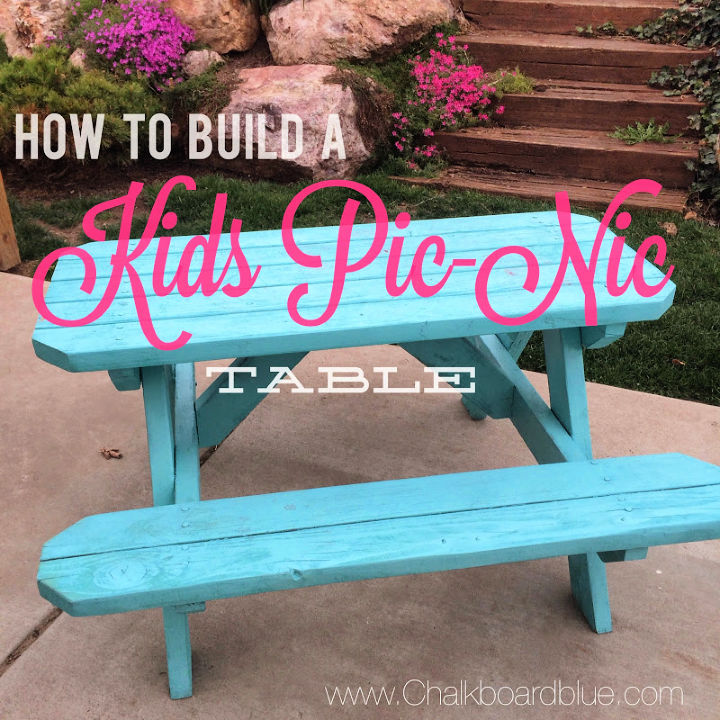 Here's another DIY kids picnic table plan! With summers around the corner, spending quality time outside with friends is all your kids need this season. The main table is made up of 42 inches longboards and is 5 in total! The side benches are 39 ¼ inches. chalkboardblue
37. DIY Convertible Picnic Table and Bench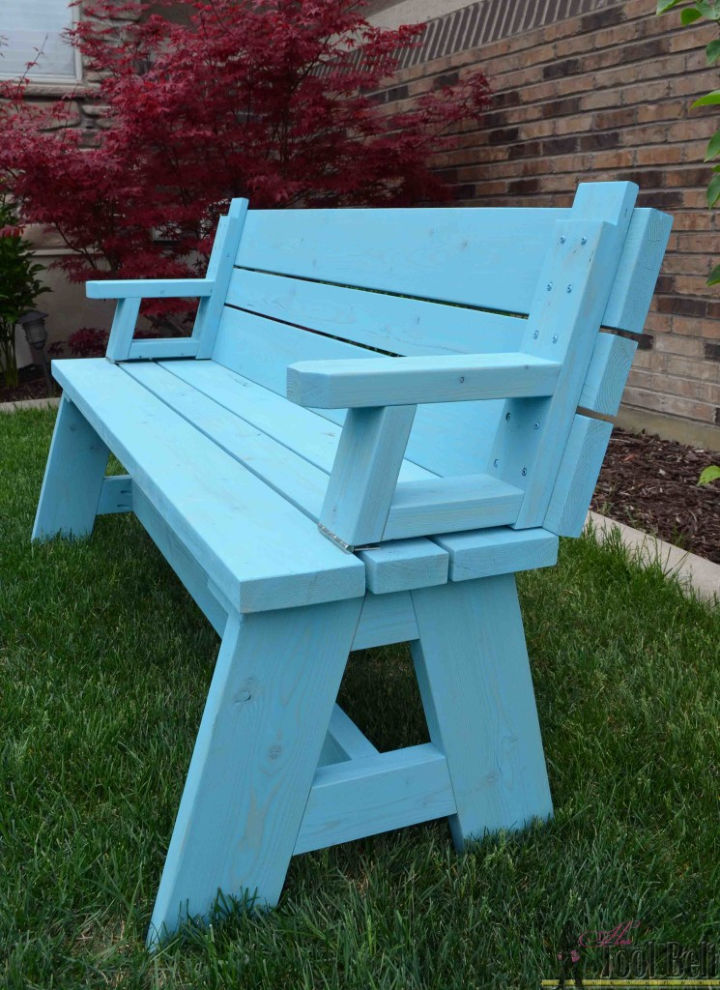 Name anything as fun and useful as a convertible picnic table into a bench?! One set of this picnic table cum bench can hardly cost you around $80. The pair of these 2 can be joined together to form a complete table in the middle. hertoolbelt
38. Homemade 10′ Picnic Tables
This DIY picnic table is made up of using non treated lumber wood! And it looks pretty ideal for sprucing up your whole family together extended picnic plan. The tutorial features detailed plans for a 10' long picnic table. It involves coated decking screws, pocket hole screws, all bolted and glued together. jayscustomcre
39. 6ft 4×4 Truss Picnic Table
Not a fan of the traditional picnic table PLANS? With benches attached to sides? Check out this uber-chic Truss picnic table, with a 6ft length. Don't forget to grab the free plan from the link below with the detailed illustrations and building guide. diytyler
40. Outdoor Picnic Table for Two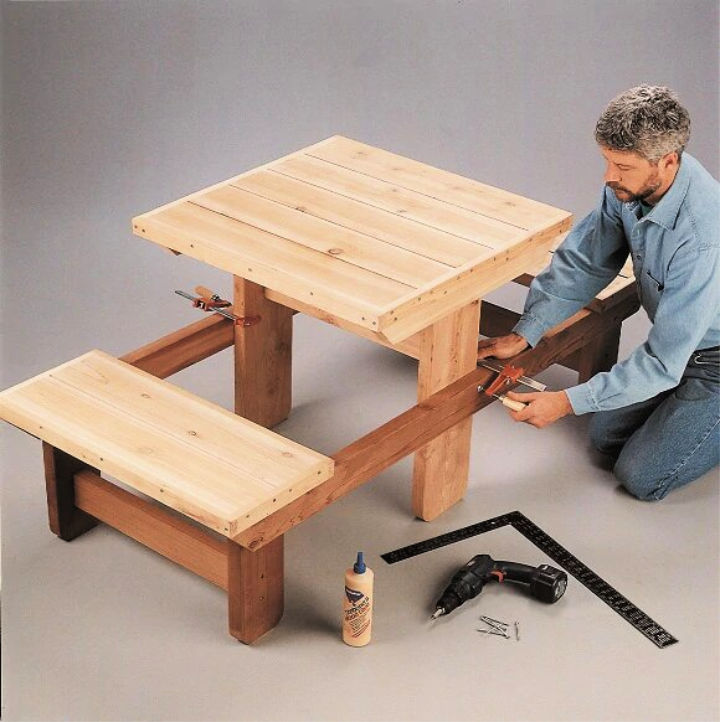 Nothing says love more than a beautiful, quiet, and meaningful brunch or dinner date outside! Nail it with this absolutely cute and inspiring picnic table for two. It is quite lightweight and hence super easy to move around. Start by building the tabletop and then moving further. blackanddecker
41. DIY Mini Picnic Tables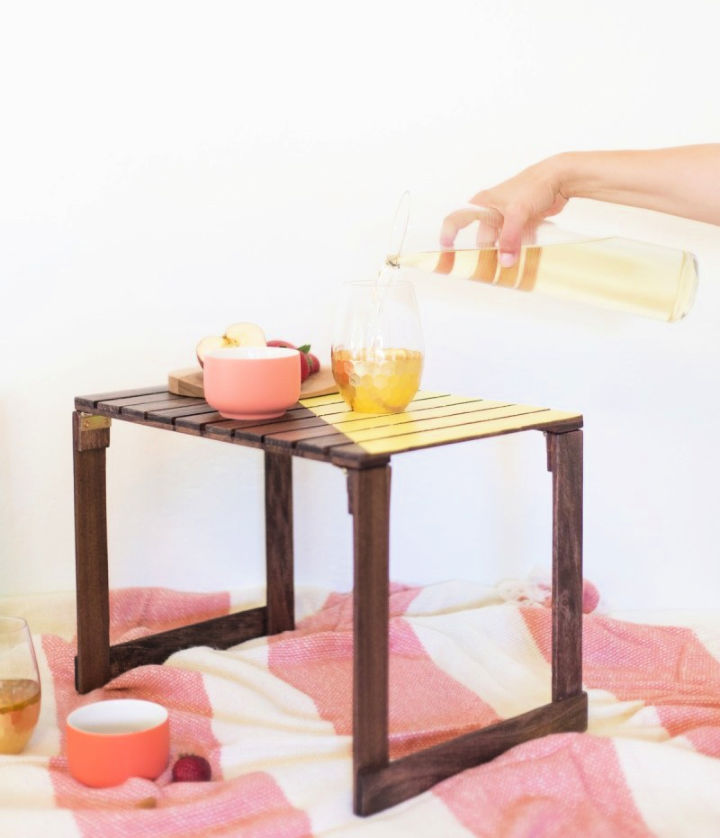 Isn't this mini picnic table just oh so darn cute? It can be ideal for moving around, just put it in your car and travel with it to your picnic spots. Or it can also be used in breakfast in bed kind of situation. You need some poplar hobby wood pieces, wood glue, saw, drill, four small hinges, wood stain, and painting notions. lovelyindeed
42. Plain Picnic Table and Add Lighting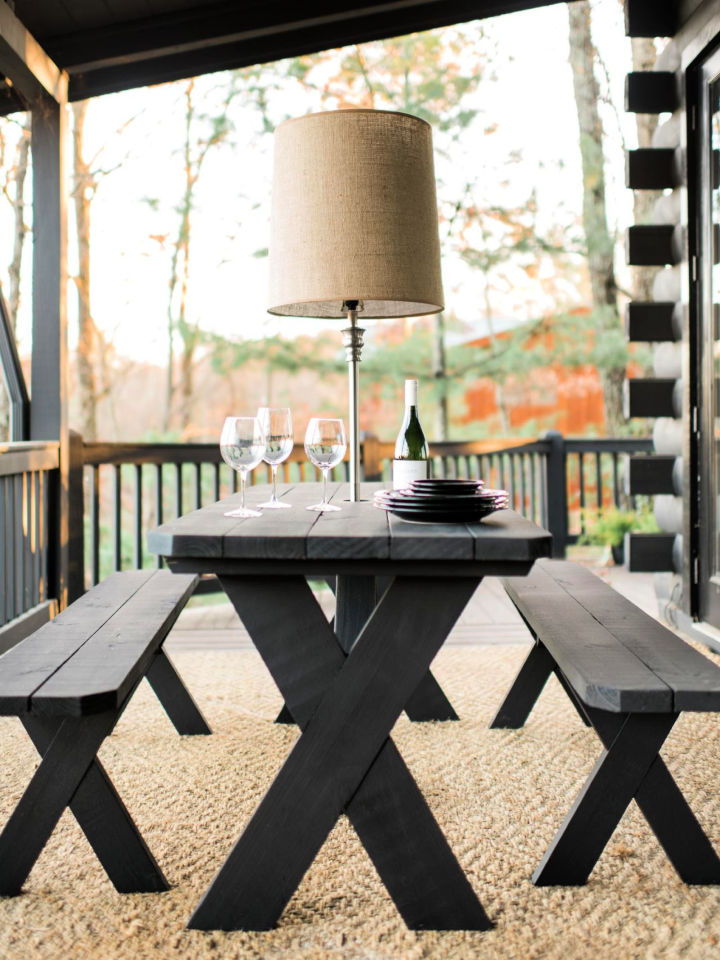 A basic picnic table made of pine can be furnished using some stain and a floor lamp or other lamps. It can be a lovely BBQ night or any other fun day at home with your family. You will need a drill bit with 3" hole saw bit, HVLP paint sprayer, and measuring tape. diynetwork
43. Fold-up Camping Picnic Table
For the days when you decide to soak in a little more refreshing sunlight out and about, this DIY folding picnic table plan can come in really handy! It has a tripod base and can be perfectly placed on any uneven rough surface. instructables
44. DIY Picnic Table Upcycle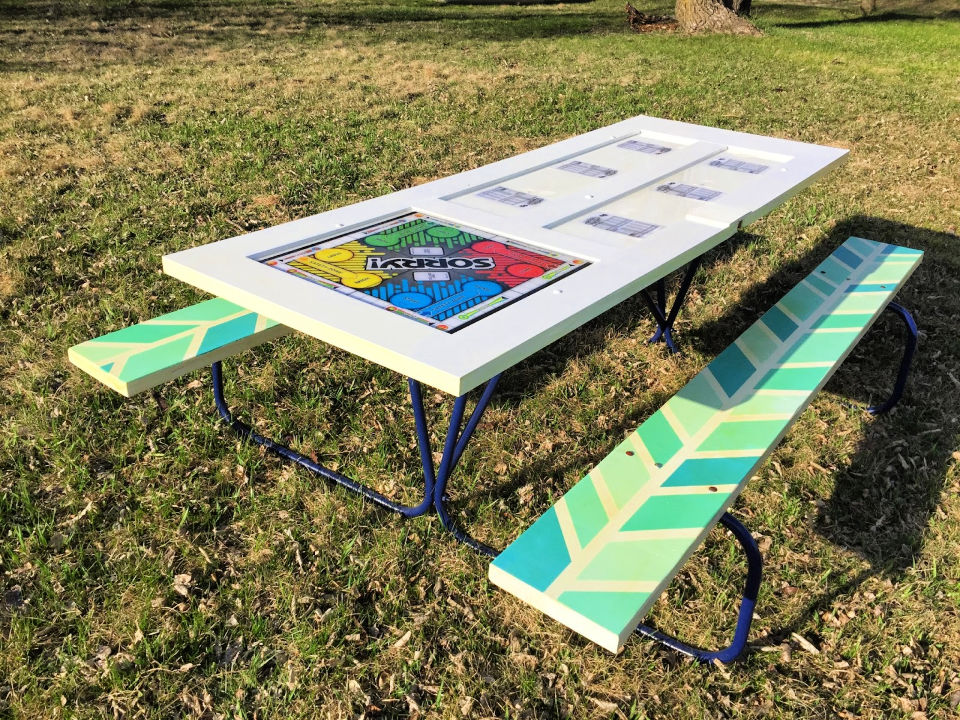 Take your DIY picnic table with benches to a whole new level! This picnic table can be your favorite spot to hang out with your family these summers. You just need an old door, some spray paint, latex paint, varnish, wood, and some fun game board. Get all the details from the tutorial link below. thedabblingcra
45. How to Build a Boho Pallet Picnic Table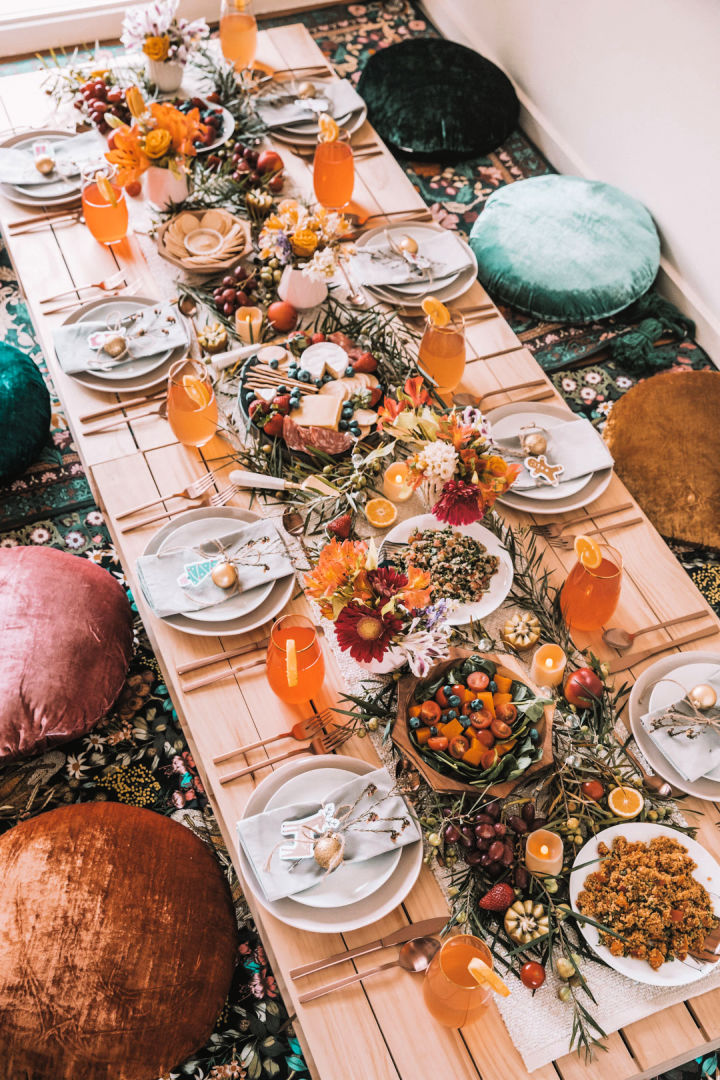 Check out this uber chic and BOHO pallet picnic table! This can be easily made without using more scrap wood or a lot of tools. Do you know how to build a picnic table? You will be needing 11 pieces of timber in 89 x 19 x 1200 mm, 3 pieces of 840 mm length. With wood glue, 25mm nails, hammer, long ruler, and measuring square. connieandluna
46. Farmhouse Picnic Table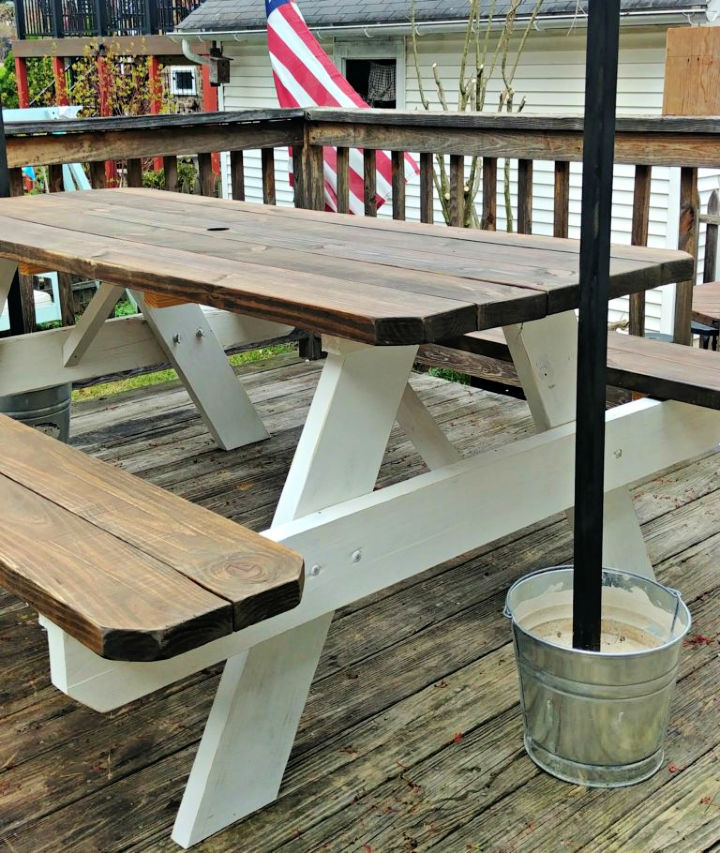 Who doesn't love a nice, refreshing, and spacious picnic table? Nothing is better than going for a farmhouse-inspired picnic table plan. It has a beautiful and inspiring stain in dark brown and white hues. You can also do some fun stenciling on the top to make it look even more ravishing. thepaintedhome
47. DIY Low Wood Picnic Tables
A tiny little delight for you to make your next DIY picnic table charming! A fully functional low wood table with a dashing lace runner in the middle of it can totally make this a go-to table for a fancy date night! Or any event. Nail this one in just simple 8 steps! fun365 orientalt
48. DIY Fire Pit Picnic Table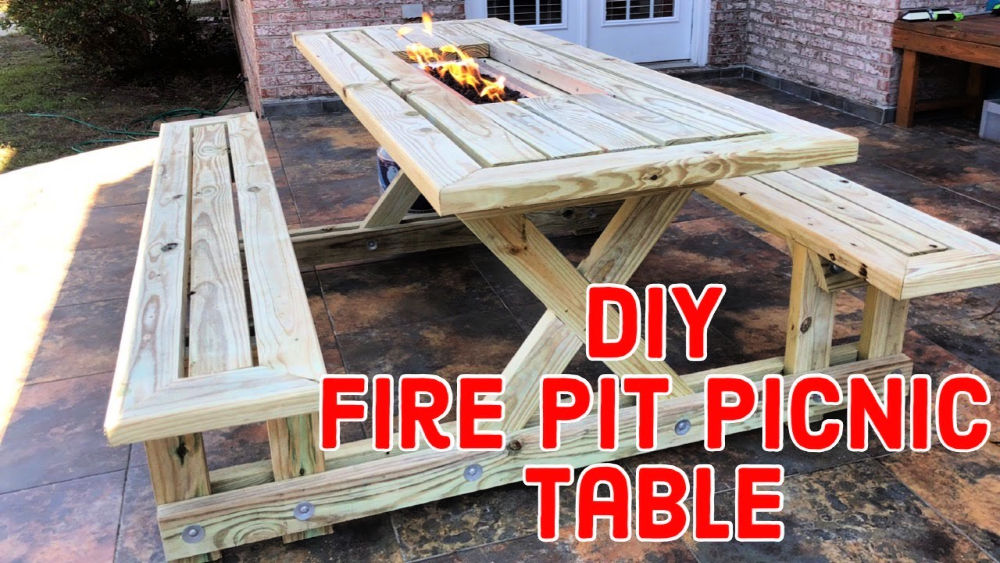 A fire pit picnic table can make any casual night out turn out to be one of your memorable days! Made out of 2 x 4s of lumbar pieces, this can be the next best thing you can add to your outdoor furniture. You can get the complete cut list from the link below! youtube
49. Build an Octagon Picnic Table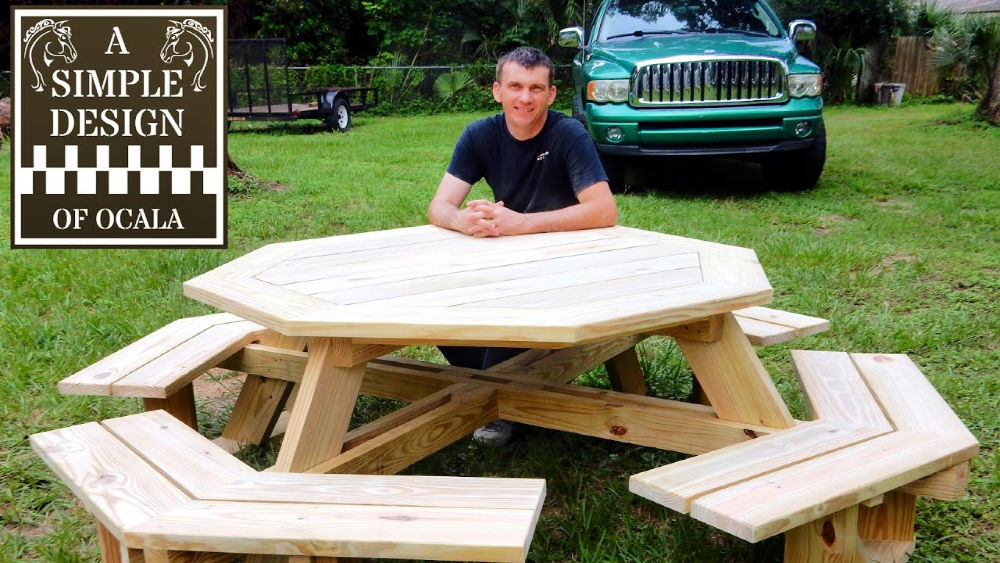 If you are not a huge fan of the same rectangular or traditional picnic table plans, this octagon delight is for you. The material will cost you a little more than just 150 dollars. An Octagon picnic table not only looks versatile but also offers a lot of more space to adjust spaciously. youtube
50. Picnic Tables with Built In Grills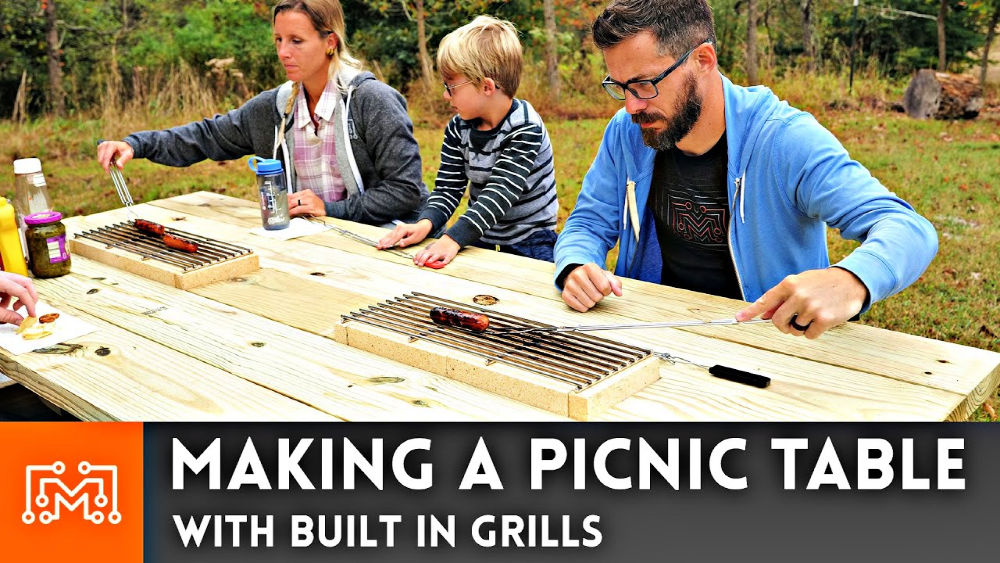 How about we take your picnic table plans to a whole new level of creativity and utmost fun? What if we tell you to insert some grills inside your picnic table to have a hot and fresh from the grill kind of fun? youtube
Conclusion:
So, are you all set to make the most out of these summers by getting your hands on these free picnic table plans? We bet they can increase your fun to a whole new level. Bring your family together, the whole family on one table, by building something totally customizable as per your requirements using these picnic table plans! Have a great time constructing them, and then enjoy making memories with your family and friends.