On a hot summer day, we all look around for ways to cool down, and animals are not an exception. Check these 8 DIY dog pool ideas for your pet dog so that he can cool off while staying outdoor with boiling temperatures. You might be doing your dog a big favor as the poor animals can't go to take a shower like us every time they feel hot and just don't have any other means to do so. It might turn out better for them rather than them staying inside the house all day. You will have to use the AC more, and the dues will be piling for sure.
There are some quick and easy methods to DIY Dog Pool so that you can save up on a lot of money. Your dog will also be able to enjoy a playful day while staying outdoors. Most importantly, they will also feel extremely happy about enjoying the cool water sports. In this article, find easy and doable ways to build a dog pool that your dog can easily wade through! In ground dog pools made out of a rock, friendly backyard pool, a bone-shaped one, or a pallet doggie pool. You can also make your dog a deck with a kiddie pool and let your dog enjoy the summer in full swing.
1. How to Build a Dog Pool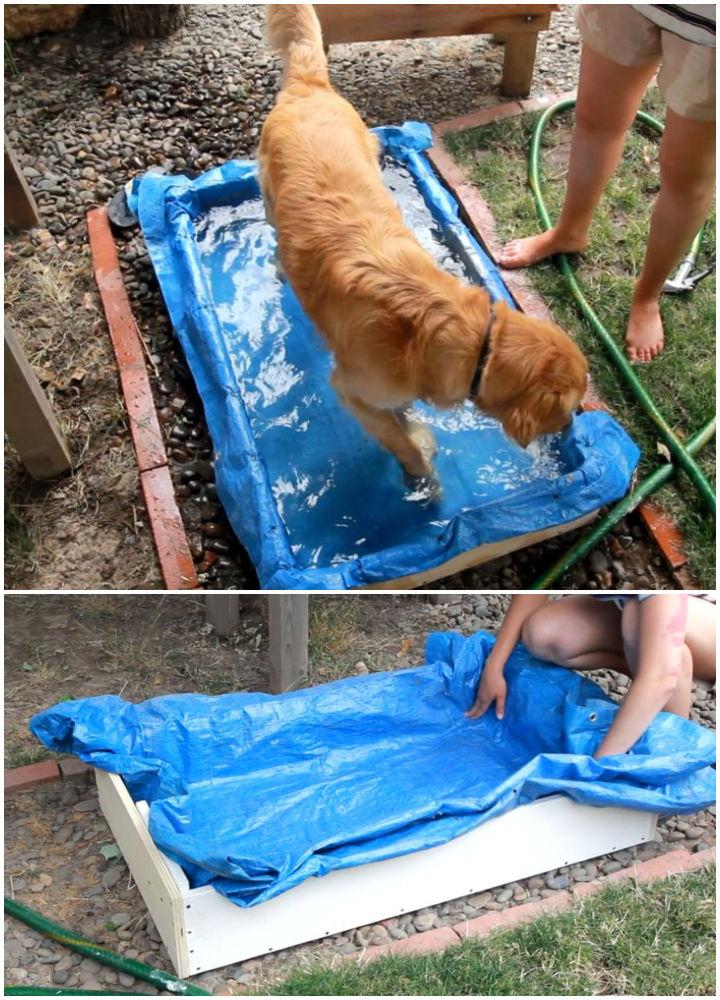 Throw a few things together you have on hand, and DIY Dog Pool. It will not occupy much space, and your dog will be able to play a little with water. The supplies you need are different length cuts of scrap plywood, an old tarp, some nails, and hammer. Alter the size as you want. instructables
2. DIY Dog Wading Pool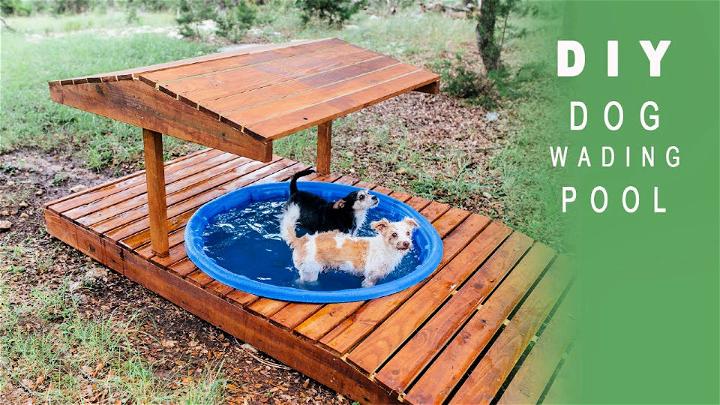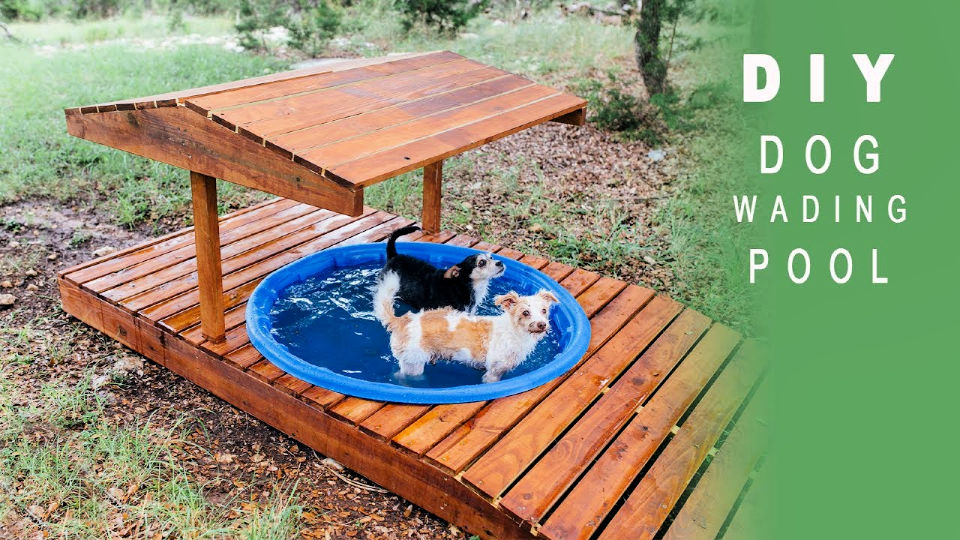 Build your dog a wading pool so that he can easily as they love to get their bellies wet on a hot summer day. Paint both the inside and outside of the pool to give it an excellent finish. The supplies needed are hearing protection, milter saw, workbench, clamps, jigsaw, track saw, general finishes, and general finishes. youtube
3. Building a DIY Dog Pool Out of Rock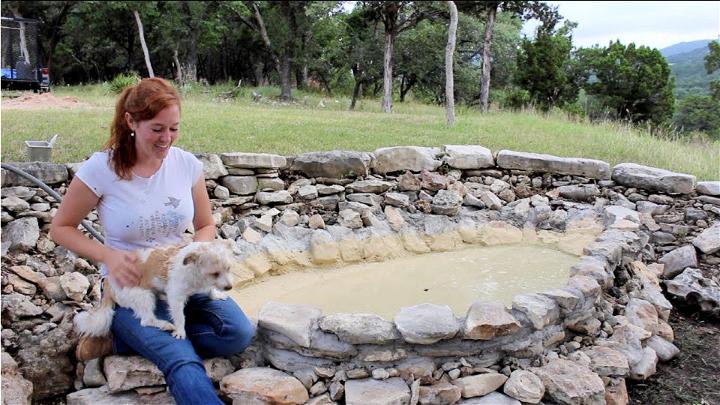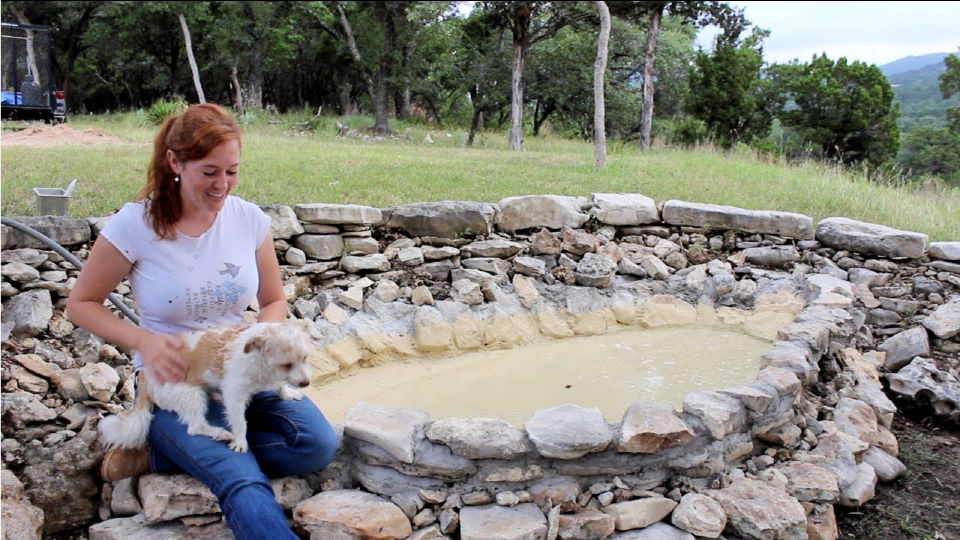 There is no better way than sit in a pool and let the heat leave your body when it's killing hot. The same goes for your dog too. So build it a DIY dog pool with rocks that are non-toxic. The supplies required are hearing protection, Masonite board, mortar, knee pads, drain valve, saw, and brush. youtube
4. In Ground Dog Pool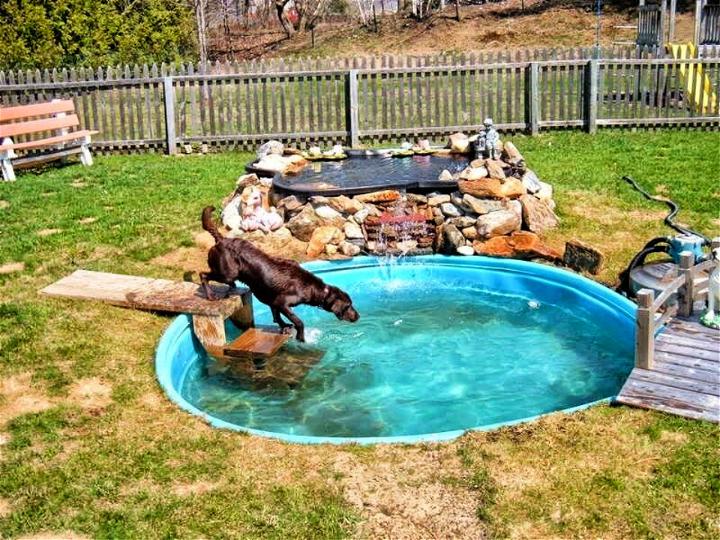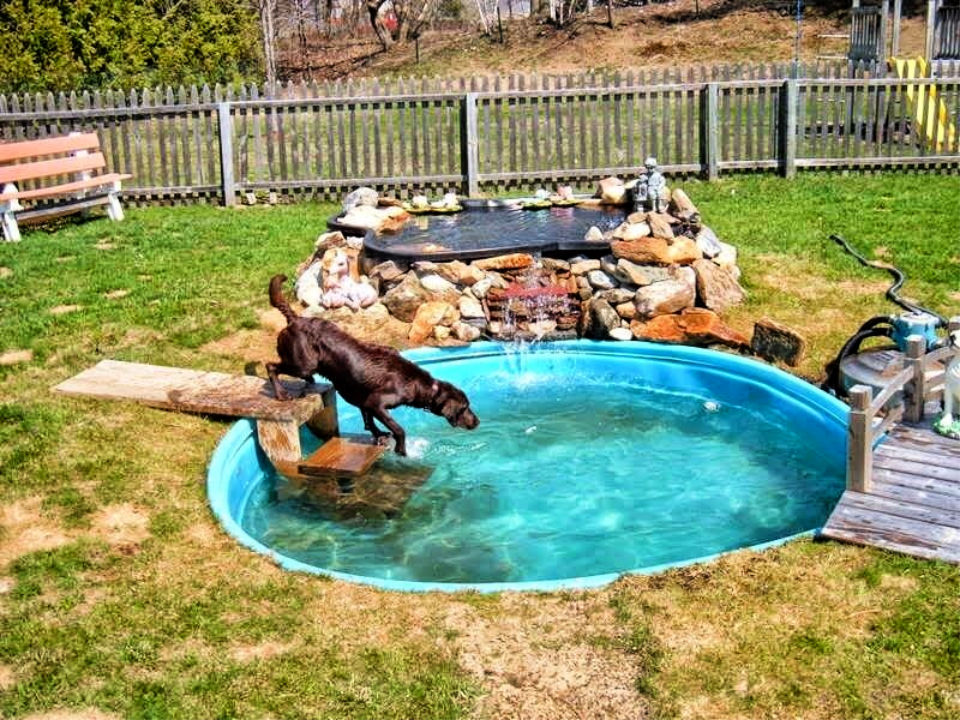 Make your dog an amazing In Ground Dog Pool that your dog is undoubtedly going to love. As a dog owner, it's inevitable to give your pooch a little water to enjoy during summer. Use supplies like pieces of plywood, fiberglass so that the dog claws don't tear the coat, hammer, and drill, etc.
5. Bone Shaped Dog Pool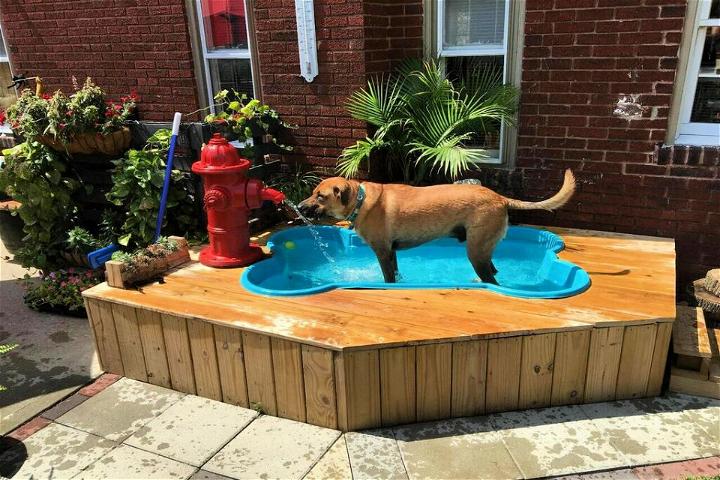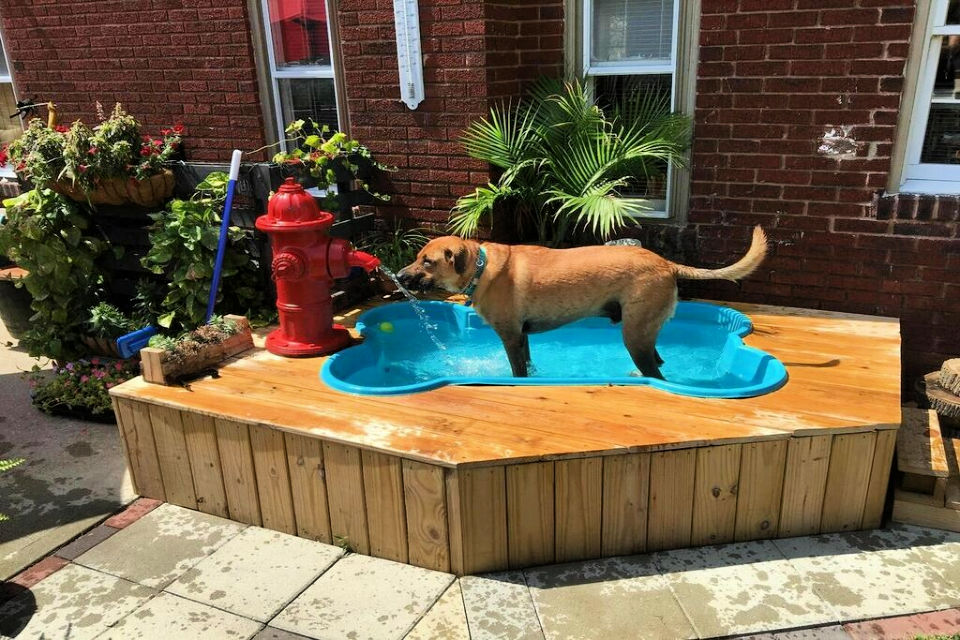 Make a much cuter doggie pool that is better than an old round kiddie pool anytime. Build it into the deck so that your dog can enjoy a wonderful experience. Make it built to last, so use top-notch materials to give a nice treat to your dog during a hot summer day.
6. Pallet Doggie Pool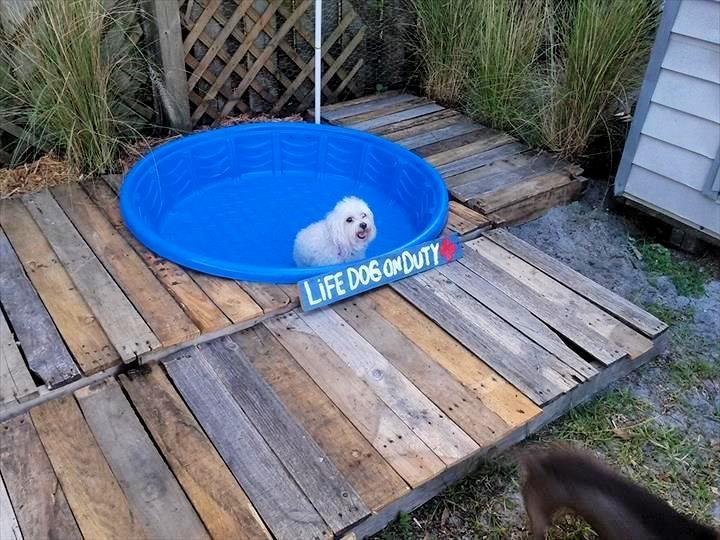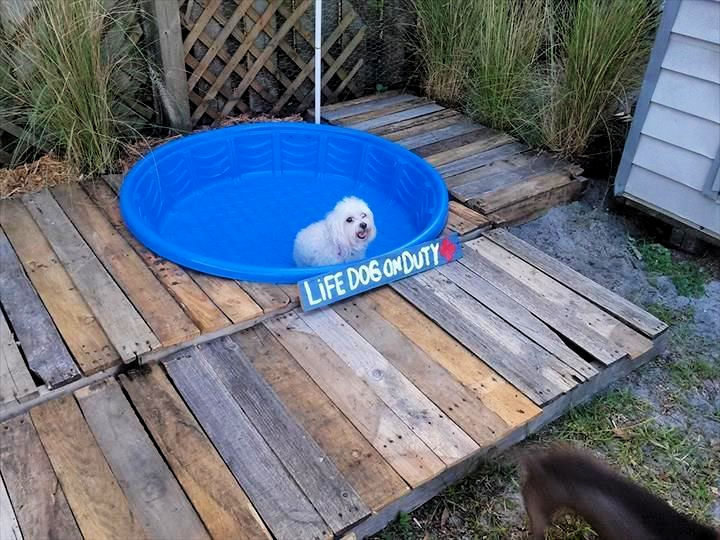 It's so much fun to see your dog jumping with joy when they enjoy playing with water in a pallet doggie pool. Use pallet so that it is strong enough for your dog to play while moving around as much as possible too. Use sheets of plywood to make the sides.
7. Dog Deck With Kiddie Pool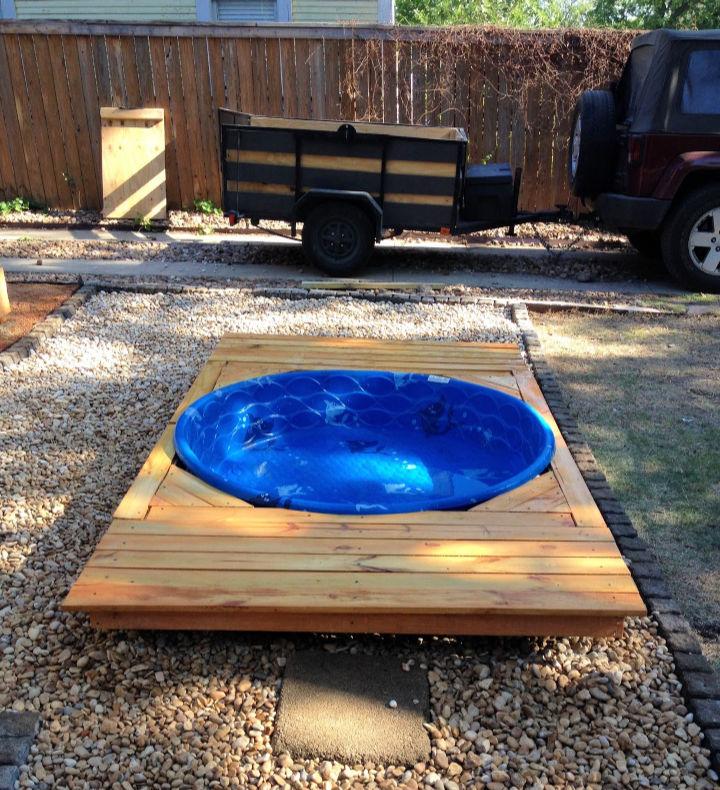 Build a dog deck with a kiddie pool easily so that it can turn into a place where the little ones can play, and pets can enjoy. Use small pieces of wood, nails, drill, and screws. Make sure you fit it nicely into the deck for the lip of the pool to rest on.
8. Fancy Dog Pool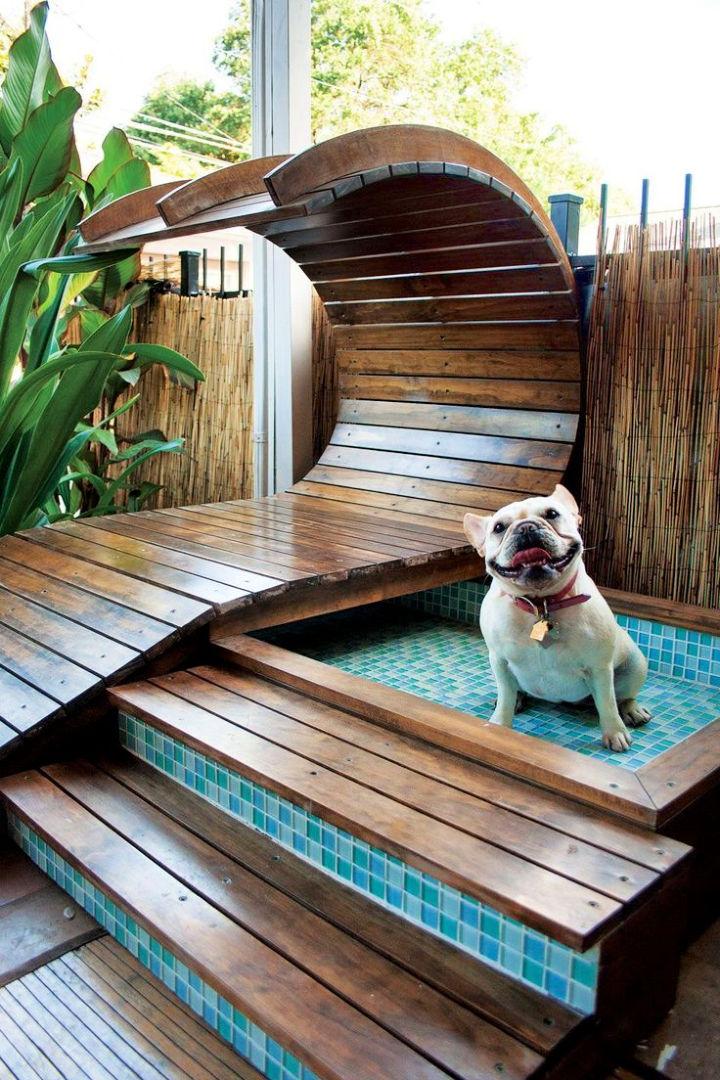 A fancy dog pool is the best thing you can provide to your pet dog so that he can get wet and enjoy the hot weather. It can be an amazing tool for your dog as he can not only bathe but cool off too. Use PVC for the pool and different sized wooden boards.
DIY Ideas for Dogs:
Conclusion:
The size is easy to change as per the materials you have available and the size of your dog! So easy DIY Dog Pool ideas and make your dream come true where you can also enjoy your evening, and your pet will be relaxed too. Keep in mind that the pool is shallow so that your dog can easily walk in and out of the pool.
The whole idea might not be super permanent, but just join together whatever you have on hand, and get to work. Don't forget to empty the water after each use so that you can make it hopefully last the season.