Do you love reading? Find these 30 DIY little free library plans to build one in your yard or neighborhood that can be just perfect to share a reading passion. You can start off this helpful campaign by making or re-creating this amazing little free library and attaching it in your yard. Make sure to have it in a place where other people can see it and use it. Once the setup is done, you can start by using any old books and placing them in there. People will start borrowing and adding more books!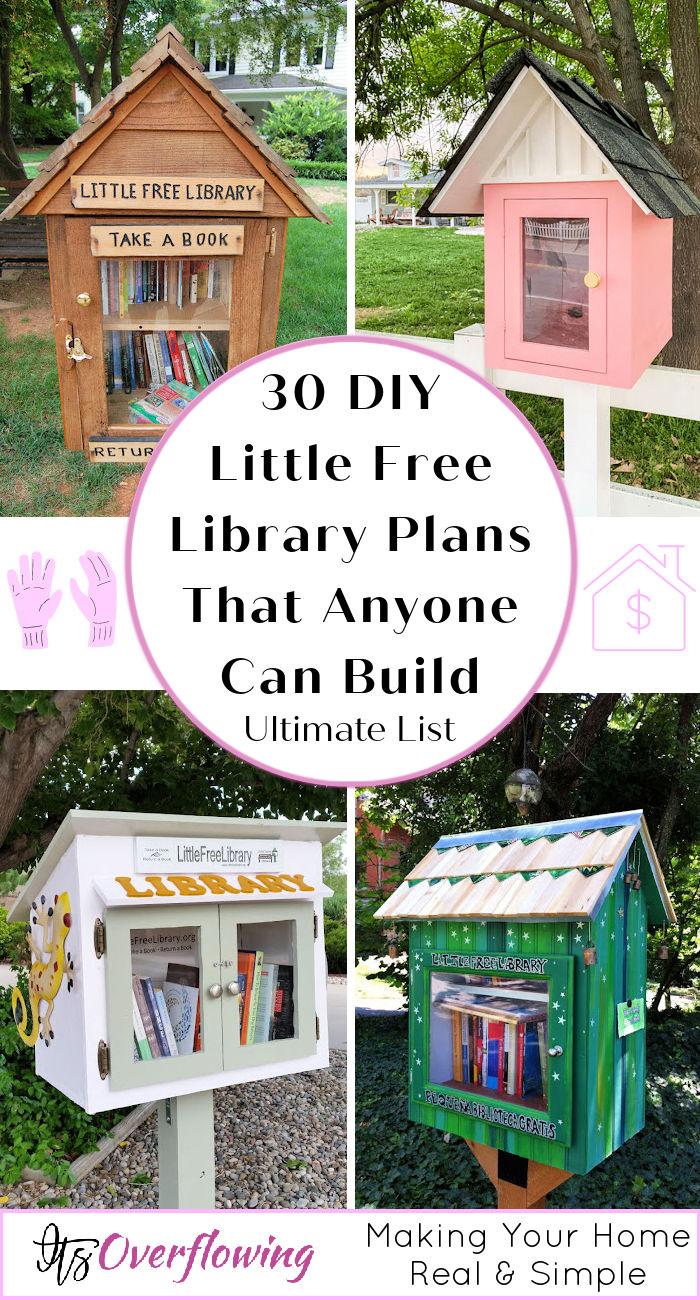 These little free library plans can be a great way to start socializing and talking to new people. If that's something you want or need in your life, this is just what you need to do!
This article will cover a range of little free library plans, from the living roof to lazy little one, from gorilla glue to little pink one, from the schoolhouse to the lending library. There are a lot of little free library plans to choose from- any colors, themes, styles, and patterns. You will be really able to choose one that fits perfectly with you and your personality. Learn how to build a little free library with given options can make the final decision a lot better!
1. DIY Little Free Library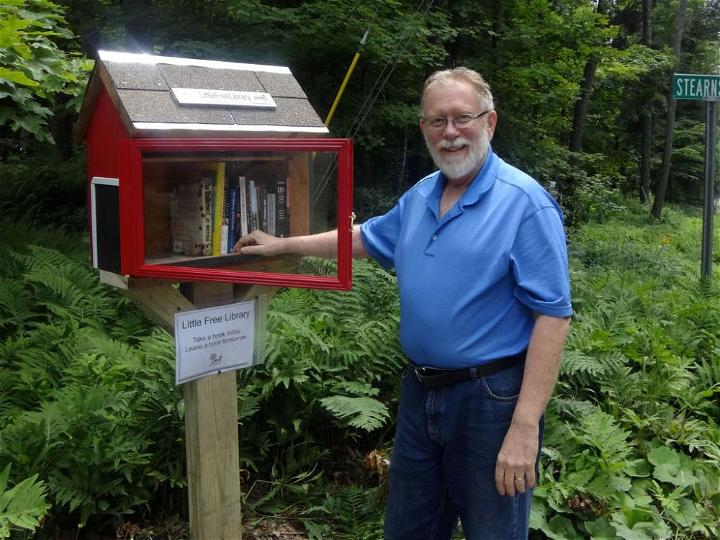 Isn't this just the cutest library plan ever? The shape, style, and color are so aesthetically pleasing, and there's a lot of versatility size you can change up the size easily. Wood glue, caulk, clear acrylic, tape measure, socket wrench, circular saw, and a few other tools and materials will be required. instructables
2. Little Free Library Plan

Do you have some experience in woodworking? If yes, then this plan will really speak to you. However, if you're a beginner, this may be a little hard to understand. You need a few tools and supplies like paint brushes, rags, a drill, carpenter's square, etc. archleague
3. Little Free Library Plan for Your Neighborhood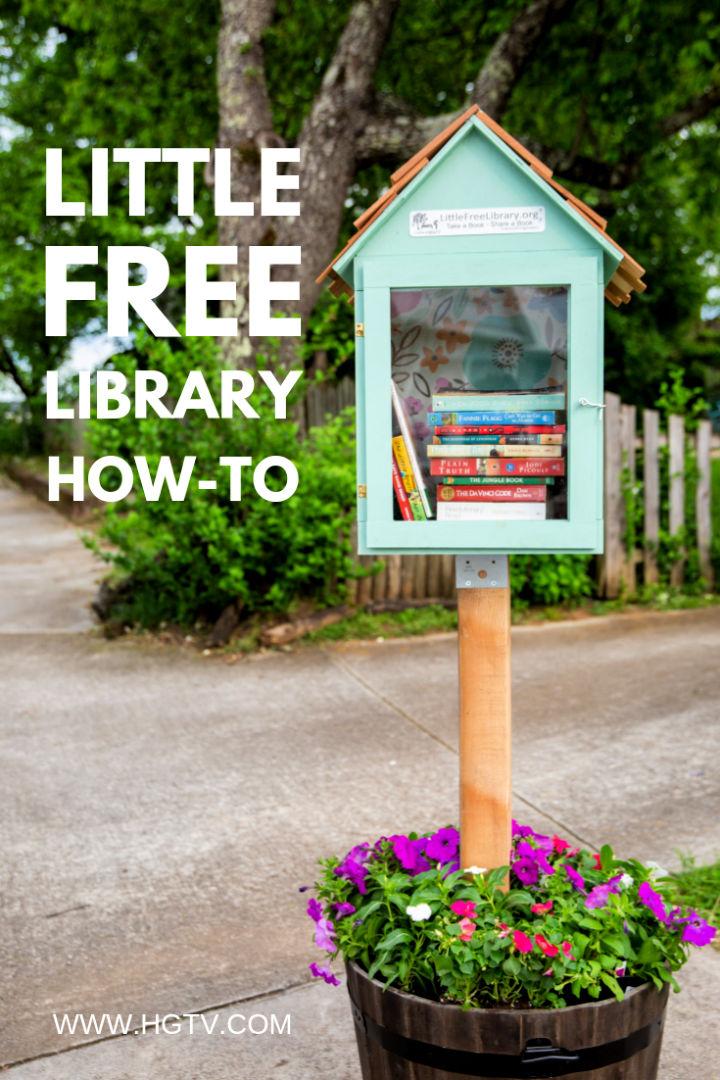 Little free library plans like these can be really great to look into. You can spend your free days re-creating them! Small hand clamps, staple gun, staples, masking tape, clear epoxy, door latch, paint, roller, and a few other tools and materials will help you nail this project. hgtv
4. How to Build a Little Free Library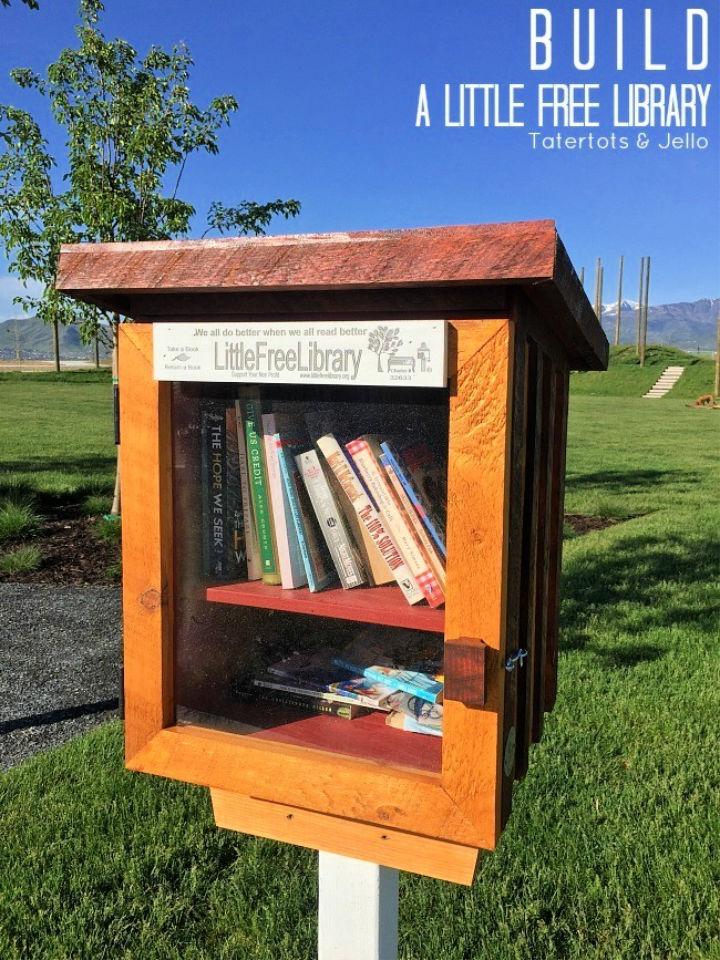 Just look at this adorable little library! It's so pretty and a great thing to install in your backyard or even outside somewhere. It has a lot of space to fit in a ton of books there, which is always appreciated because more storage is better. tatertotsand
How to Organize Your Books?
DIY Bookshelf: Use one of these free DIY bookshelf plans to build a new bookcase in a few hours at a very low budget. All plans include diagrams, photos and directions.
Bookshelf Ideas: These small bookshelf ideas are easy projects for beginners. Check out the best tutorials and pick your favorite design!
5. Free Library Box With a Living Roof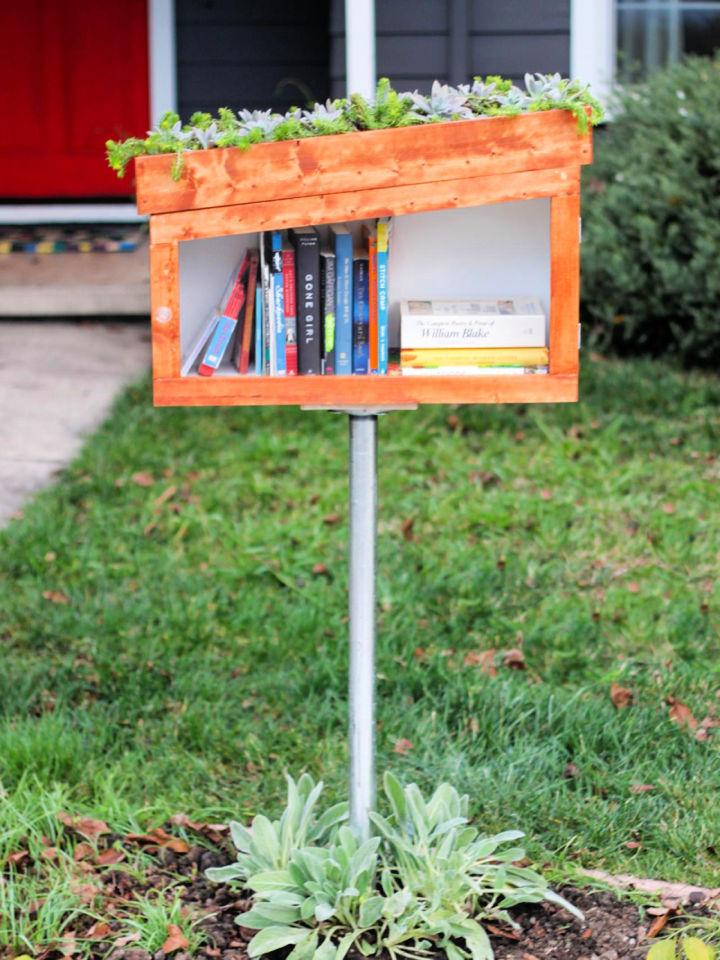 A little aesthetic and beauty are good to add in everything you create. Here's a beautiful plan which has a very pretty almost rhombus- shaped pattern. You can re-create this very easily, and this is a perfect project for beginners. Miter saw a power drill and a circular saw are the only tools needed. diynetwork
6. Homemade Little Free Library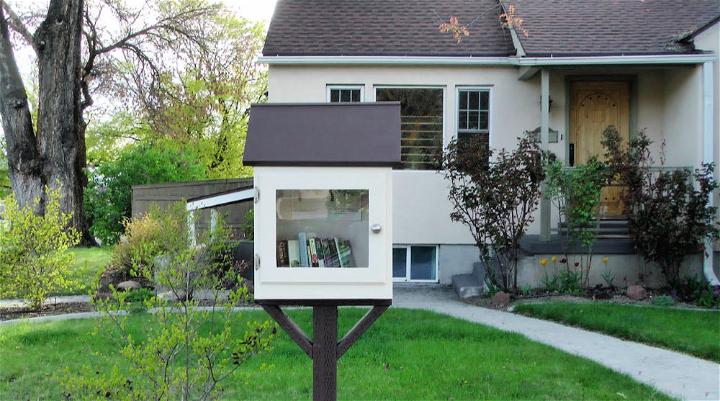 How pretty is the final result? The coloring and theme of this library really make it stand out of all the other little free library plans! You don't need to work very hard to make this, and every beginner should take a look at this guide. Only basic tools will be required. youtube
7. Little Free Library Plans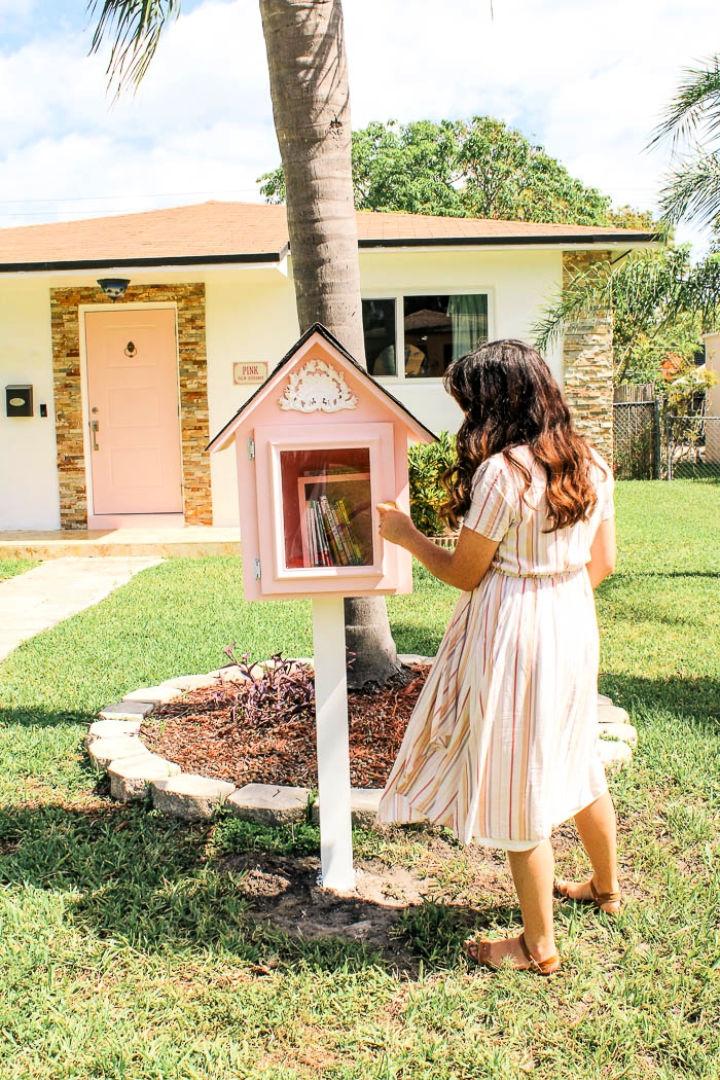 Pink is a very soft color, and everyone who's into the 'soft aesthetic" will love this plan! It's so feminine and pretty! If you want to make your house stands out and also share the love for reading with other people, definitely take a look at this plan. athomewithash
8. Build Lazy Little Library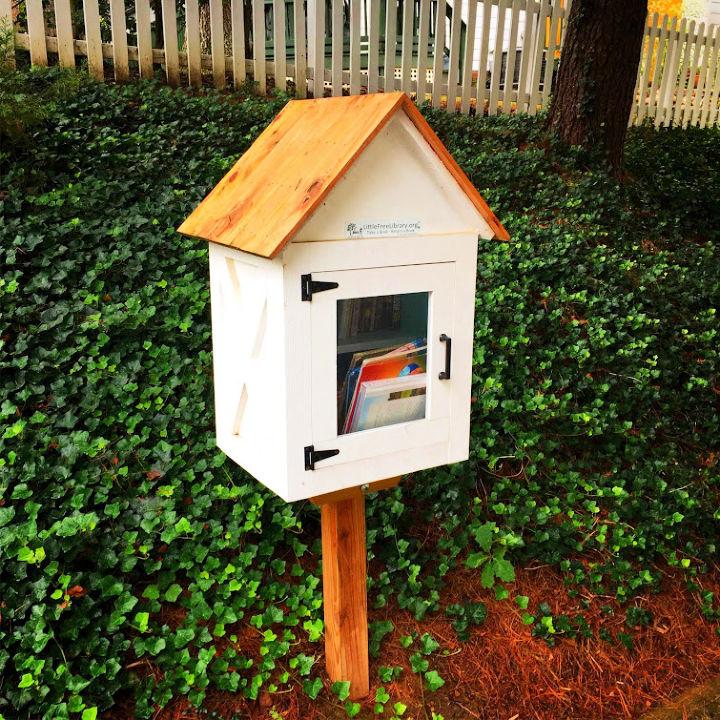 Do you have a lot of books gathered from all those years of studying? If you've recently graduated, don't throw those books out! You can just make this adorable little library that everyone can add to and burrow from! Circular saw, socket wrench, and a few other tools required. lazyguydiy
9. Make a Little Free Library with Gorilla Glue

Brown and all the other darks colors are underrated when it comes to projects like these. The color used in this plan really makes the bookcase stand out and attract more people's attention, which is what the actual point of this whole campaign is! dazzlewhilefra
10. DIY Pink Little Free Library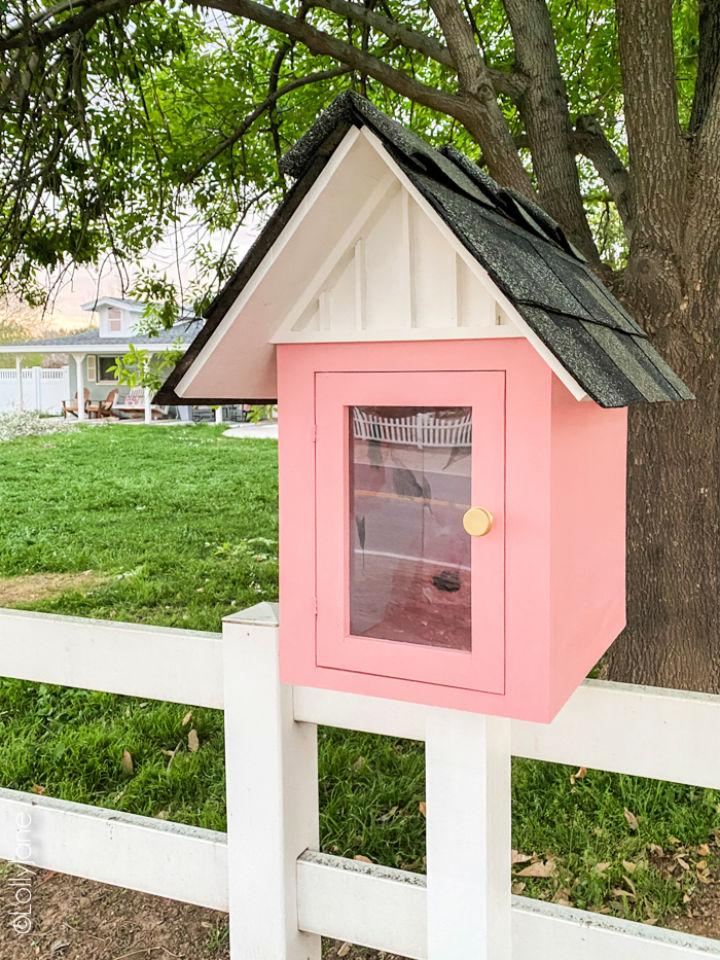 Such a pretty and soft pink and white themed plan! Who could resist taking a look at this little library? It's so attractive and eye-catching that your book will be all good in a few seconds! Hammer, drill, door hinges, old knob, wood glue, scrap wood, and a few other supplies will be needed. lollyjane
11. Building a Little Free Library

A warm-colored and pretty plan which will stand out of those other little free library plans since it has a dark and warm color. Warm colors will attract more people, and it will also be very pleasing to the eye. The design and style are amazing, as well! Everyone should take a look at the guide. geometry
12. How to Make Little Free Library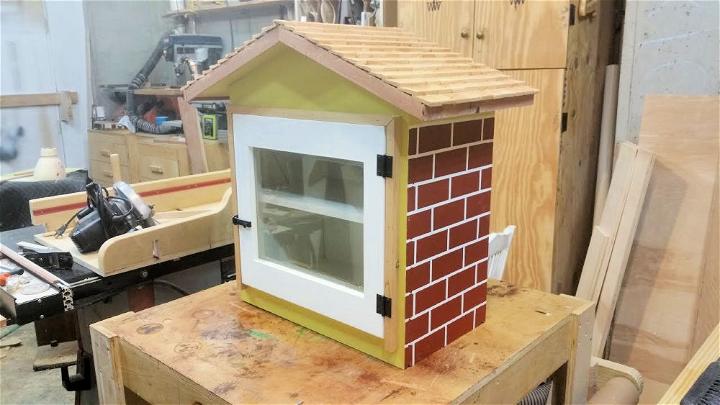 If you love reading and sharing books with people, then this campaign can mean a lot to you! So following a plan like this would just be perfect! You only need a few tools and materials to make this project a success. It will make your yard look very interesting and pretty.
13. Little Free Library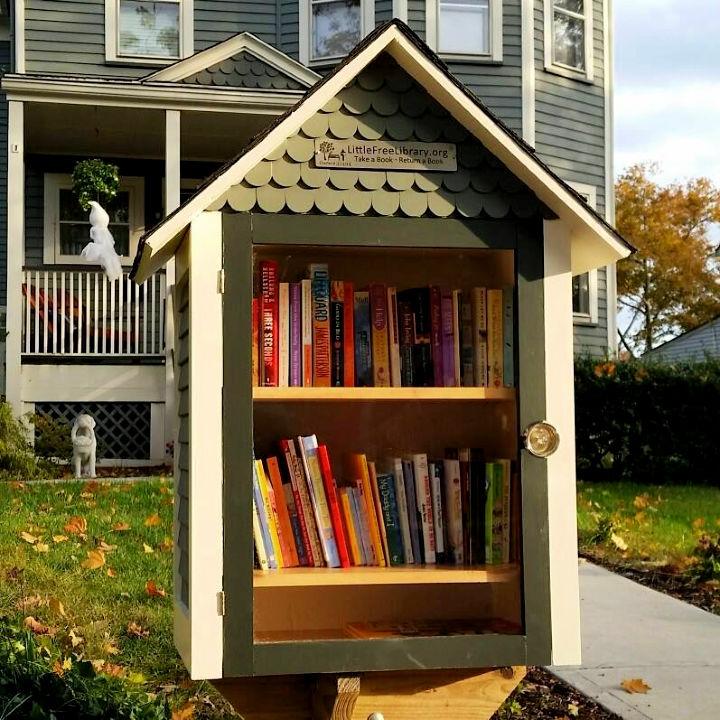 Dark green and white is just a beautiful combination, and if you want something that's a little bigger in size to hold more books, then this plan would work perfectly for your needs. There's a little door at the front, as well, which will keep the books safe from rain and snow.
14. Best Little Free Library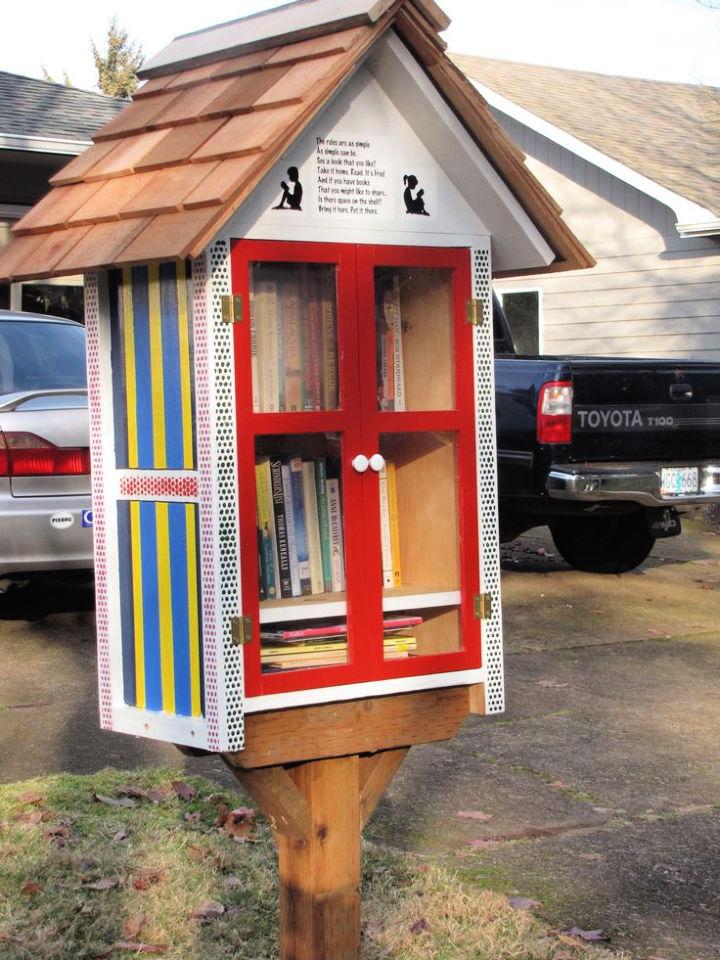 Public services like these are just the best, and you can meet many new people by doing them. This plan features a beautiful little library with red, white and many other colors in it. It is a great way to add some color to your backyard and help out many people while doing so!
15. Little Red Schoolhouse Library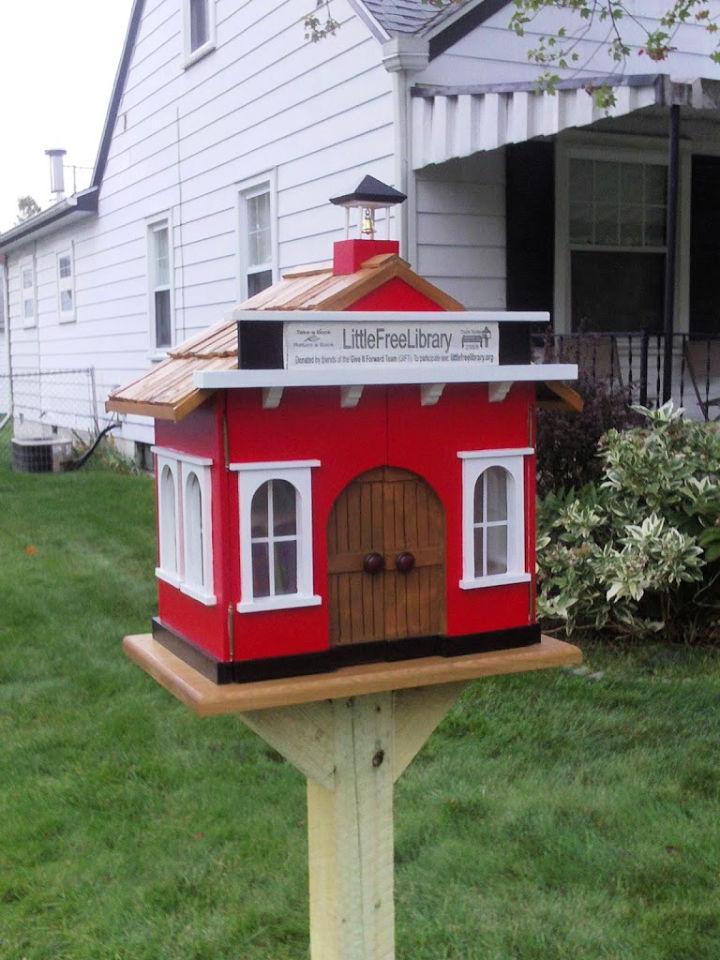 Here's an idea which you can use to make a little library in your school! It's so aesthetically pleasing, and the final results will be very satisfying to look at. Definitely give this guide a read to make something fun and interesting. Drill, miter saw, and a few other tools needed.
16. Little Lending Library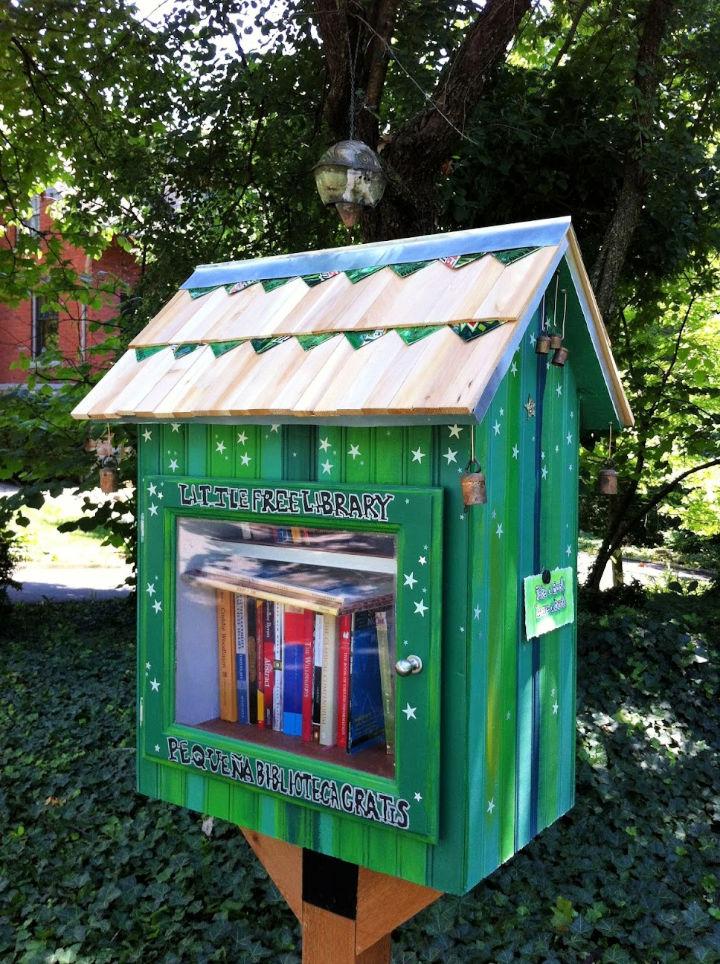 The green library can be a great addition to your backyard around the Christmas season, as it will make it look super festive and pretty. The door has a bi glass in it so you can see the beautiful books from the outside, as well! Tape measure, drill, socket wrench, circular saw, and a few other tools required.
17. Little Free Library for Neighbours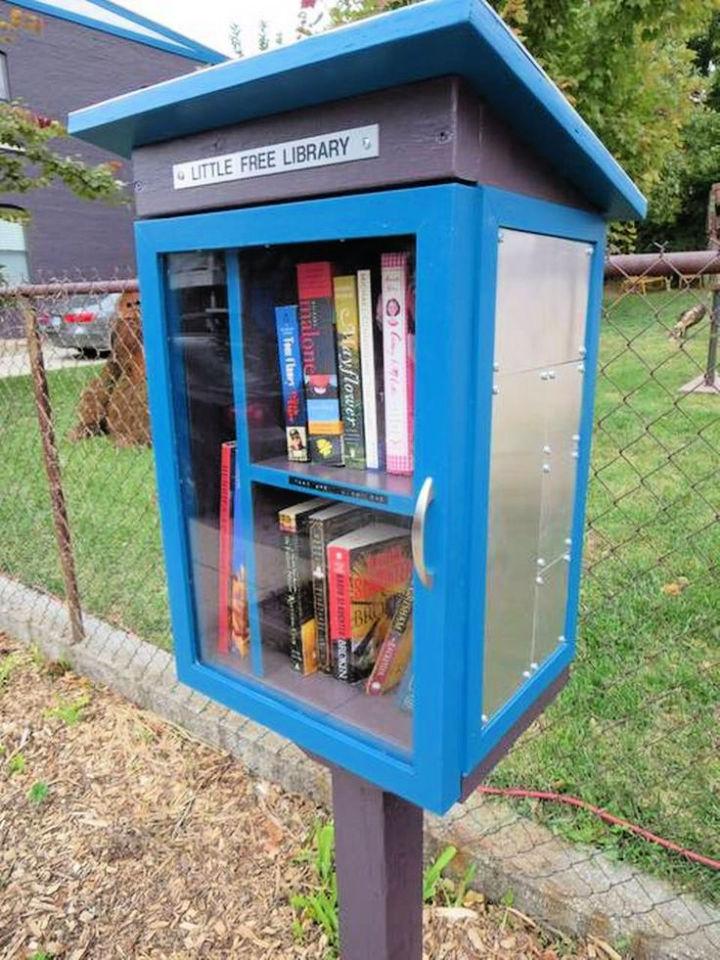 Blue and the steel finish on the sides can really elevate design and make it look so much more beautiful and aesthetically pleasing. This plan also has a ton of space, so anyone who wants to store many books should take a look at this amazing plan. A few basic tools will be required.
18. Tiny Free Library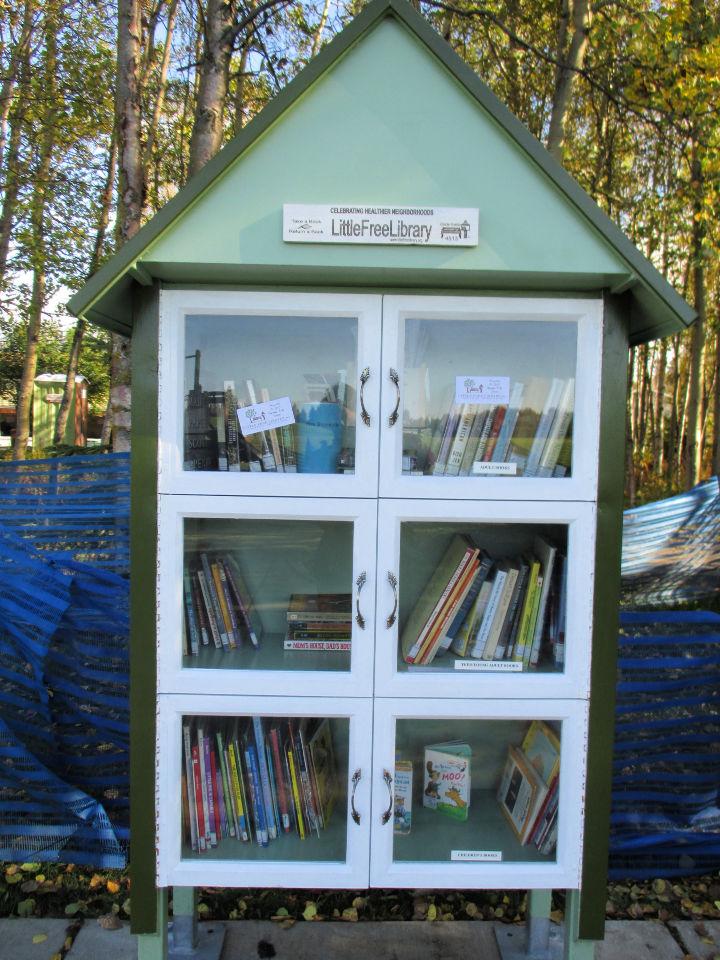 Free libraries can be a treat! Especially if someone is just very bored and passes by it. A variety of different books and things can be fun. This amazing plan will show you how you can make it. In comparison to the other little free library plans, this one is huge and spacious.
19. Outdoor Little Free Library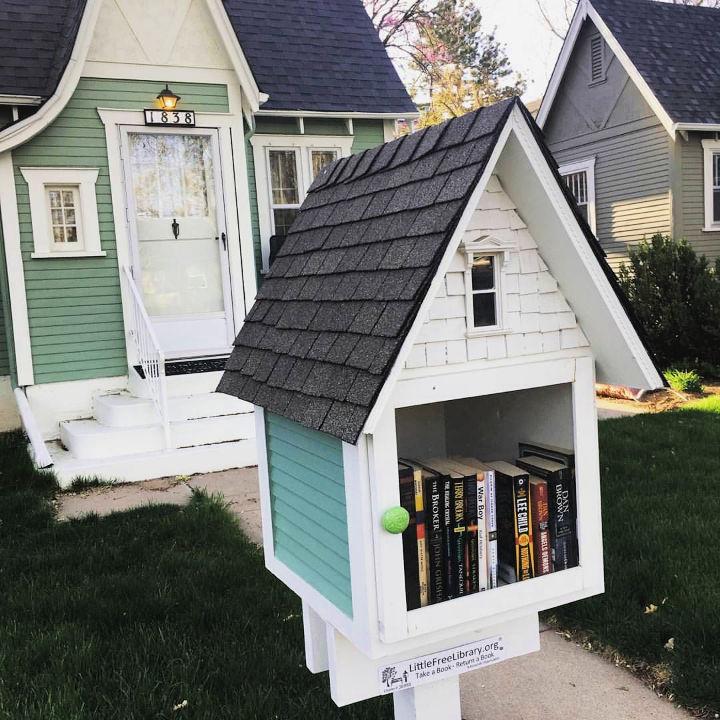 All the minimalists reading this article may have been in the search for something simple and basic. If that's the case, then you're going to love this plain black and white plan. It's very easy to make, as well. In the end, it gives off a clean and fresh vibe.
20. Beautiful Little Free Library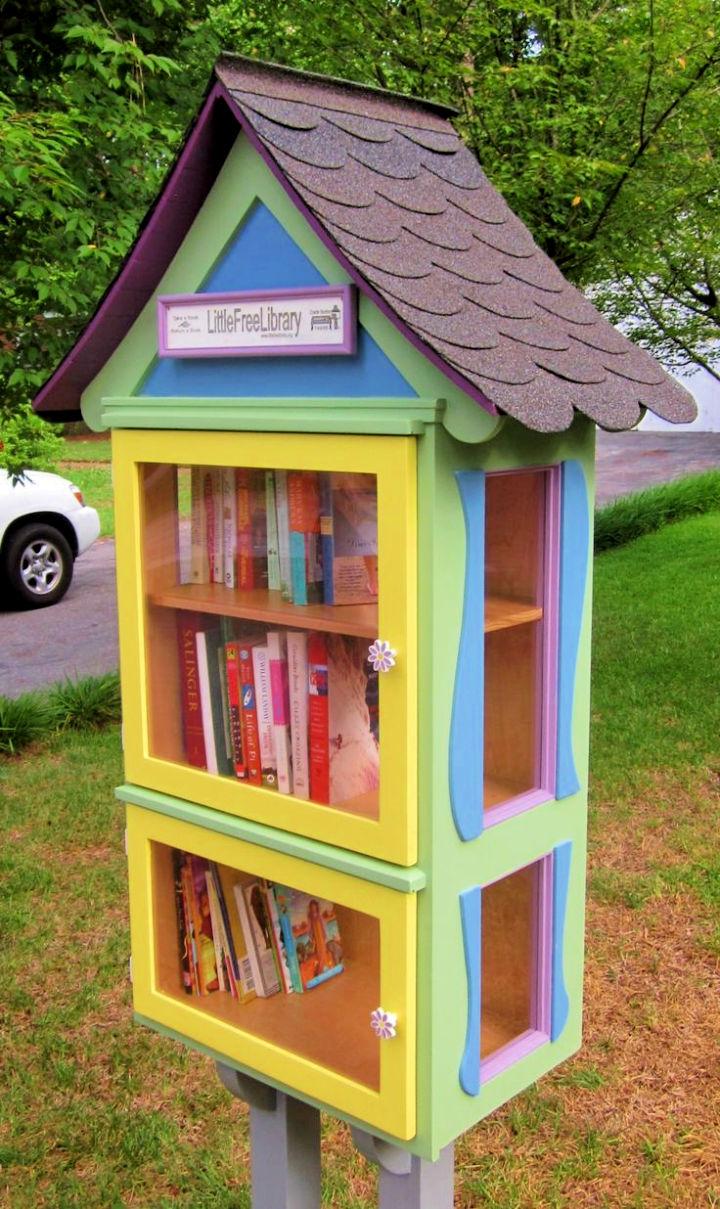 Make a beautiful free library using vibrant colors. The architecture of this library is simple. It involves the basic hardware products, such as plywood sheet, mirror frame, hinges, wood glue, enamel paint, circular saw, socket wrench, paintbrushes, screwdrivers, and level.
21. Simple Little Free Library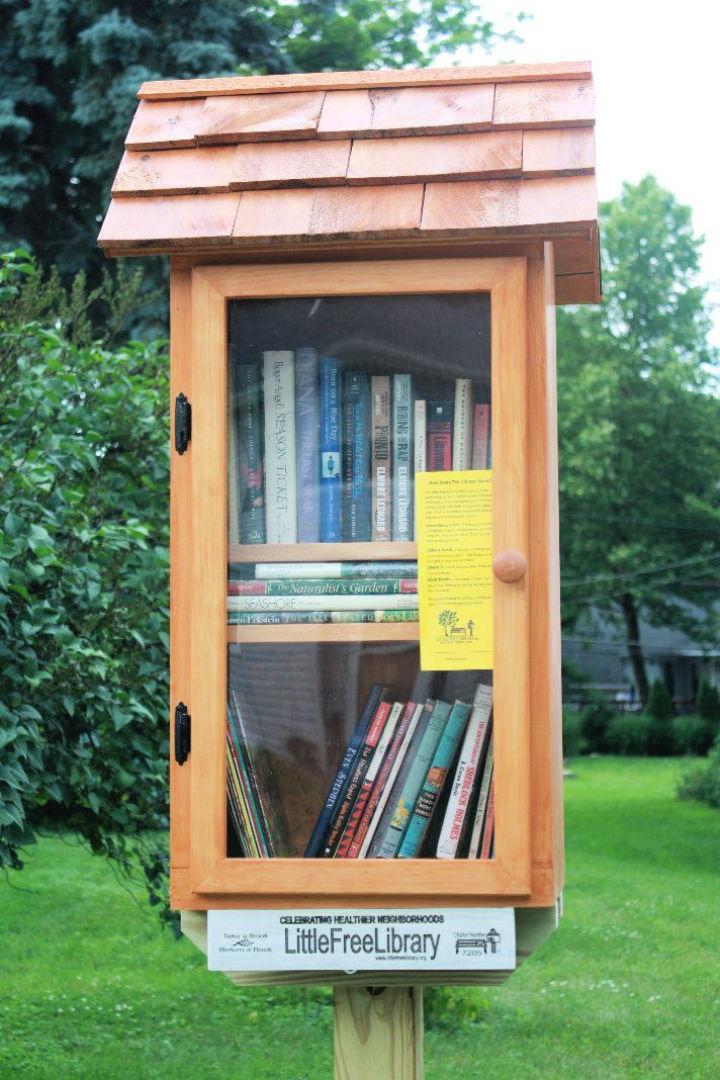 This design is the simplest with neutral colors and easy design. The design, if followed as it is, will turn out to be a beautiful, small and simple library. The design consists of 3 compartments. You can add more if needed.
22. A Little Free Library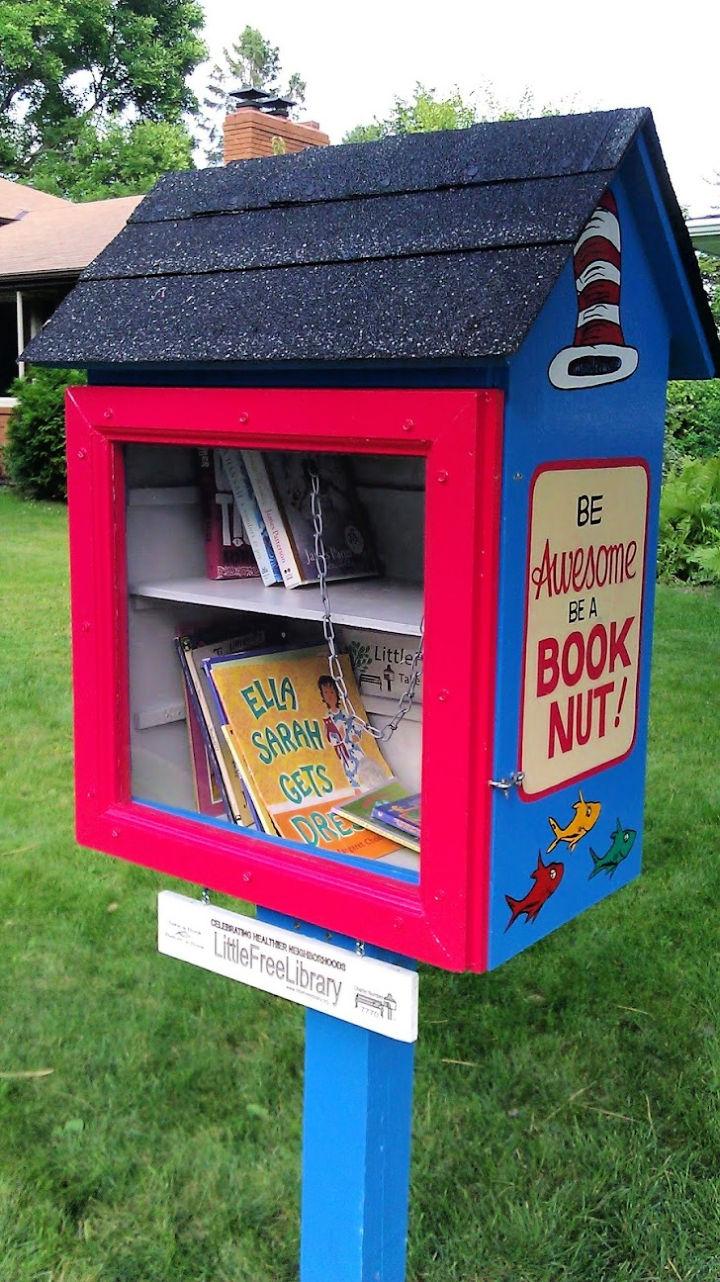 Attract little kids and motivate them to read by building a colorful little free library. Place the books for children inside it. This design is embellished with beautiful saying and pictures of creatures at the sides. The pink and blue colors will be a sure attraction for children.
23. Adorable Little Free Library

Make the prettiest library ever with white deco paint. This one is a small library, with a lizard on one side. Well, you can make any creature to attract people. You will be needing plywood, aluminum sheets, deco paint, circular saw, hinges, and screwdriver to create this piece.
24. Custom built Little Free Library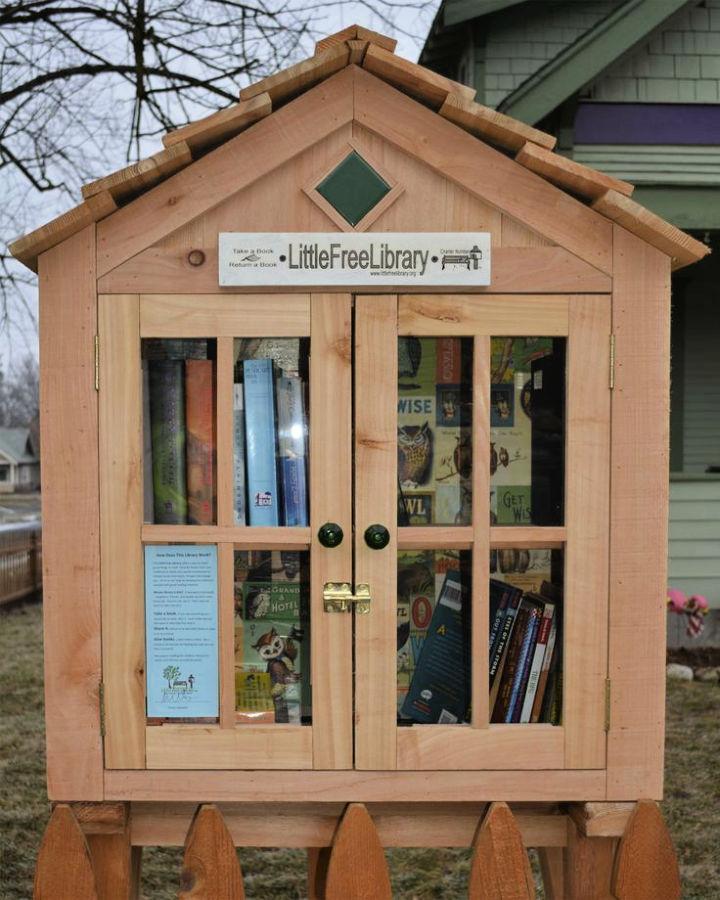 A brown piece of wood, containing inside a number of books will be a pure attraction for bibliophiles. This design is simple yet very attractive. The long panes of glass will show every book placed inside it.
25. 3-story Little Free Library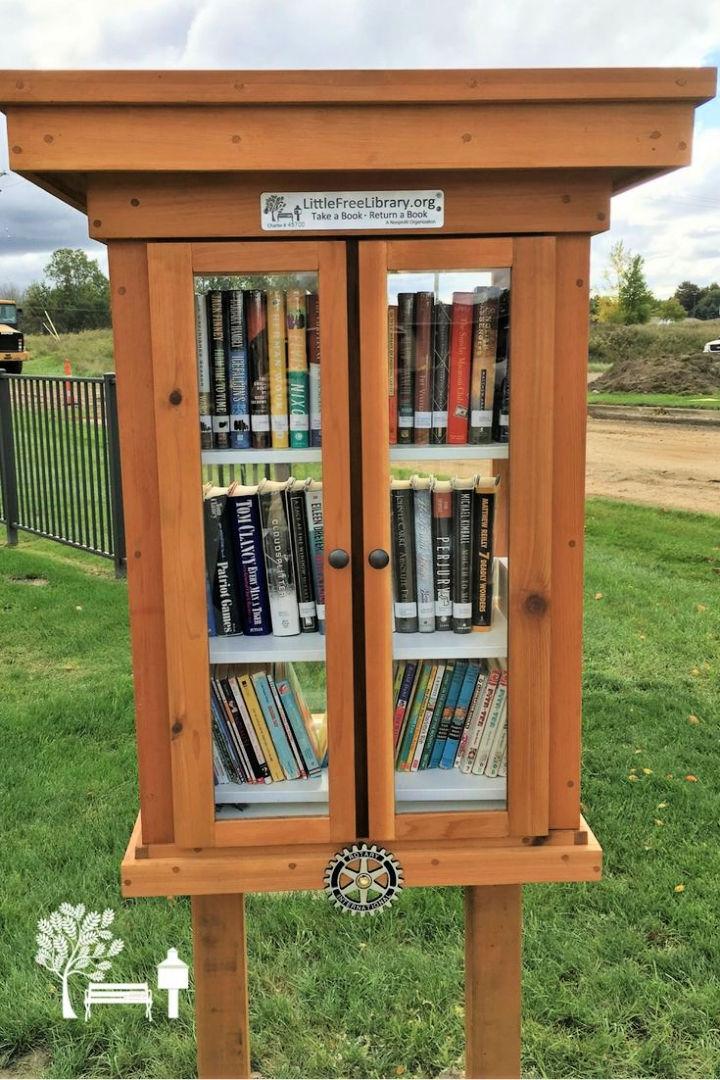 Make a 3 story little free library using this pattern. The design has a simple brown polish over it. Though, you can always bring variations in the design when it comes to color customization. This library can accommodate a large number of books inside it.
26. The Red Mini Shed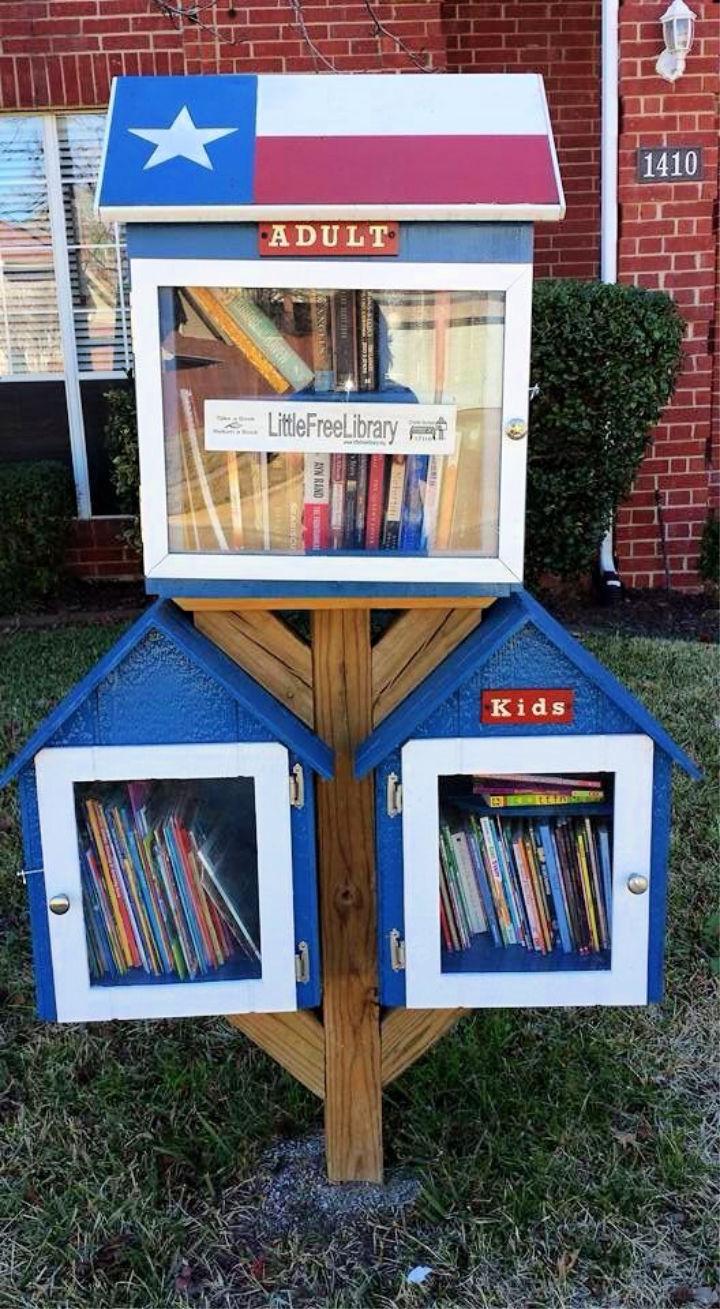 The library with 3 different huts is available in this tutorial. Not only it looks fabulous, but it provides 3 separate cabins in one piece. You can label each portion as per the genre of the books placed. For example, label them for adults, kids, or entertainment.
27. The Schoolhouse with Bench Little Library

Make a schoolhouse style library along a bench by following this tutorial. Color the bench and the free library of the same theme. For the bench, you will need some extra wood, plywood, hinges, and glue. The rest of the hardware tools are the same.
28. Neighborhood Lending Library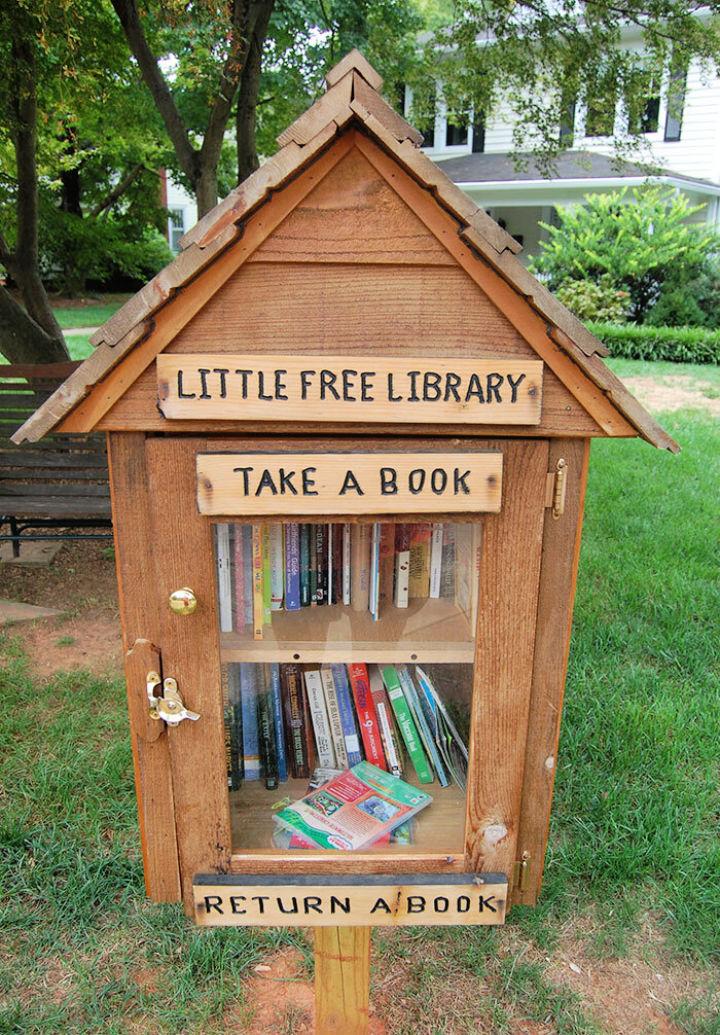 The neighborhood lending library is a unique and classy idea to lend books to passionate readers. The idea consists of two banners; 'take a book' and 'return the book.' The free library with cute little messages will look adorable and creative at the same time.
29. Park County Library System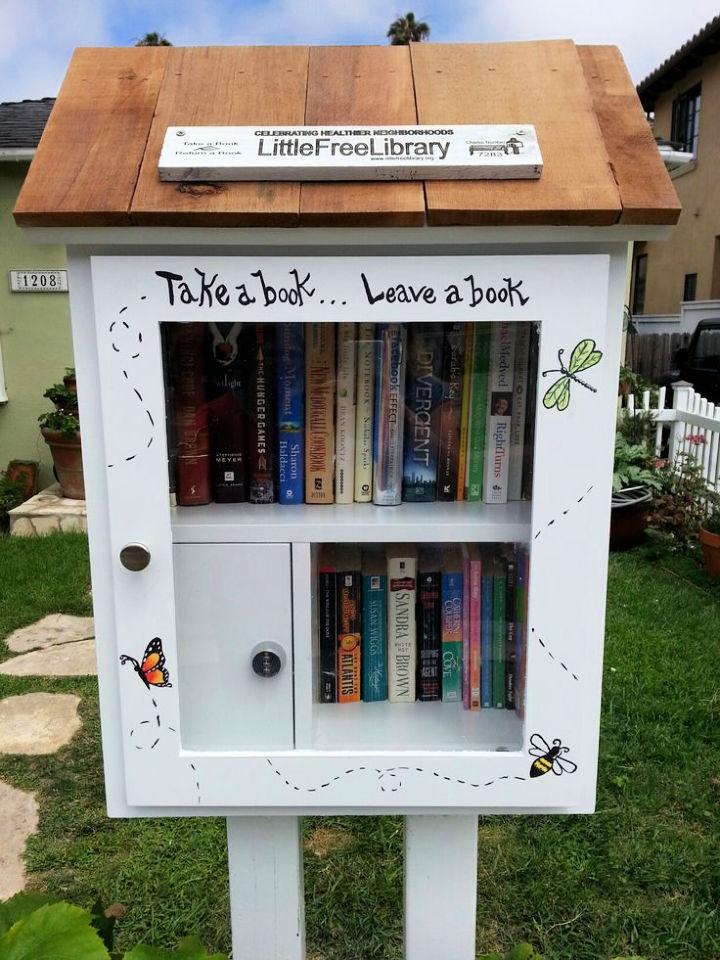 A unique design with bees, butterflies, and winged flies is awaiting in this tutorial! The theme of the library is also a white deco. The spacious area inside the cabin provides room for a lot of books. Also, the windowpane shows the details of the books clearly. The design also asks the visitor to take a book and leave a book.
30. Little School Bus Free Library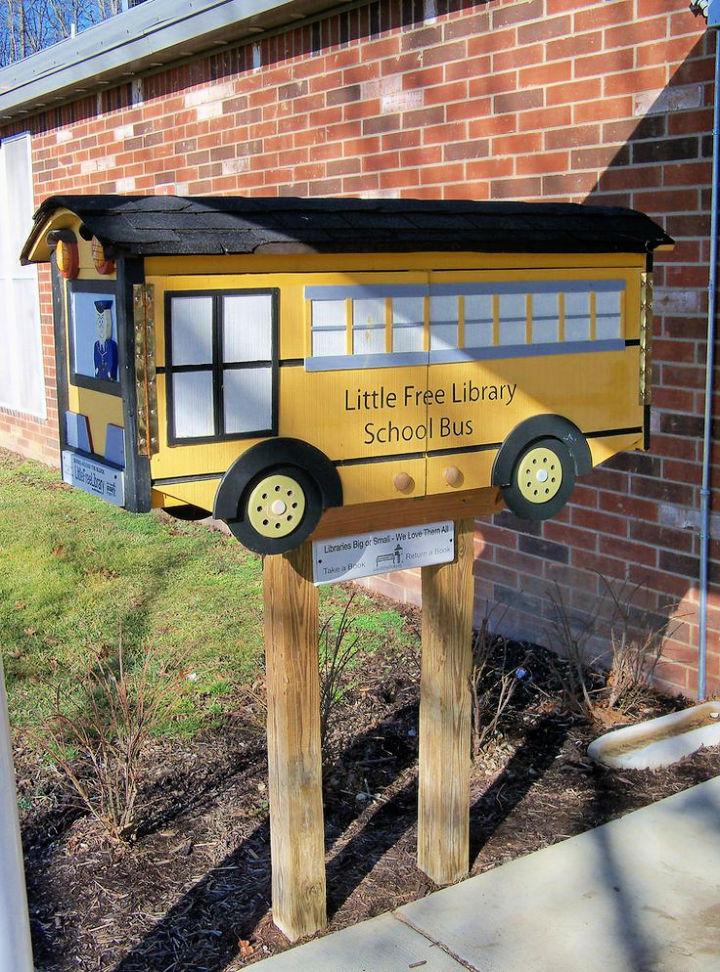 A library in the form of a school bus? Isn't it a unique and funky idea? Certainly, it is. This style of the library will attract the kids the most towards it. You will need plywood, glass mirror, hinges, screwdrivers, wood glue, paint, and paintbrushes to compile this project.
Conclusion: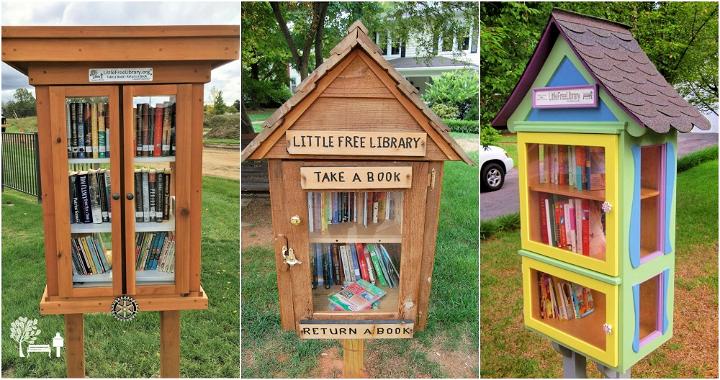 Are you ready to try out some of these amazing little free library plans? You don't need any special talent or skills to re-create these, and it's just a great way to communicate with more people and make new friends. Especially during the free summer days when you have nothing to do, reading your favorite books and sharing can be very fun! Many people graduated this year, and if you're one of those people, you may have many books that you're planning to throw away. This can be a great alternative instead. Don't throw them away!