Are you looking for ways to add extra storage to your bathroom? If yes, then you'll love these 15 easy bathroom floating shelves ideas that will help you to organize your bathroom! Nowadays, people only think about the aesthetic and forget about adding extra storage in their bathrooms! The problem with those shelves found in the store is that they barely have any space. These DIY bathroom floating shelves will help you out a lot as they will provide a ton of storage to keep all of your products and also look very aesthetically pleasing! Isn't that just what we all need?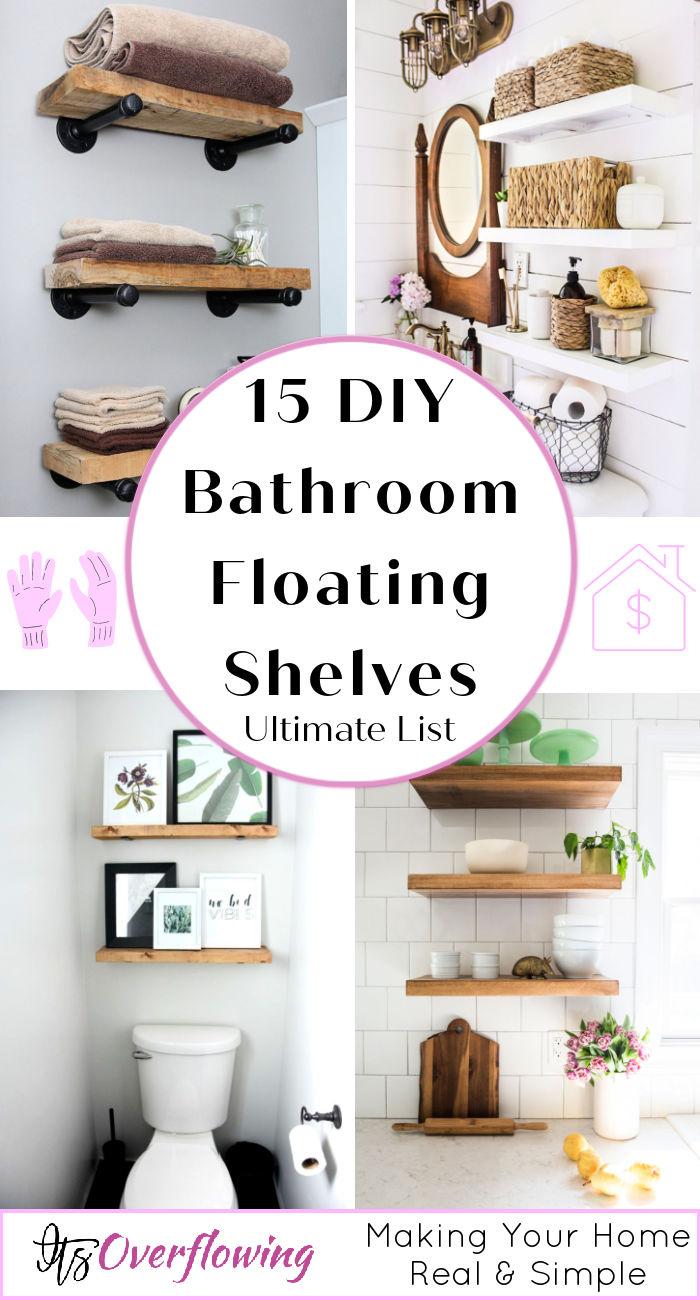 Another benefit is that you will save a ton of money by making DIY shelves in the comfort of your own house! It may seem difficult, but once you're done, you will feel so satisfied! This article will cover a range of 30 unique and simple bathroom floating shelves ideas, from rustic to modern shelves, from small to huge bathroom shelves, from industrial to stylish shelves. There's a lot of versatility and options to build bathroom wall shelves, so you will definitely find something great for yourself! After all, who doesn't want to have a few options to decide from? More options can help you find the perfect fit for yourself!
1. Easily Build Floating Shelves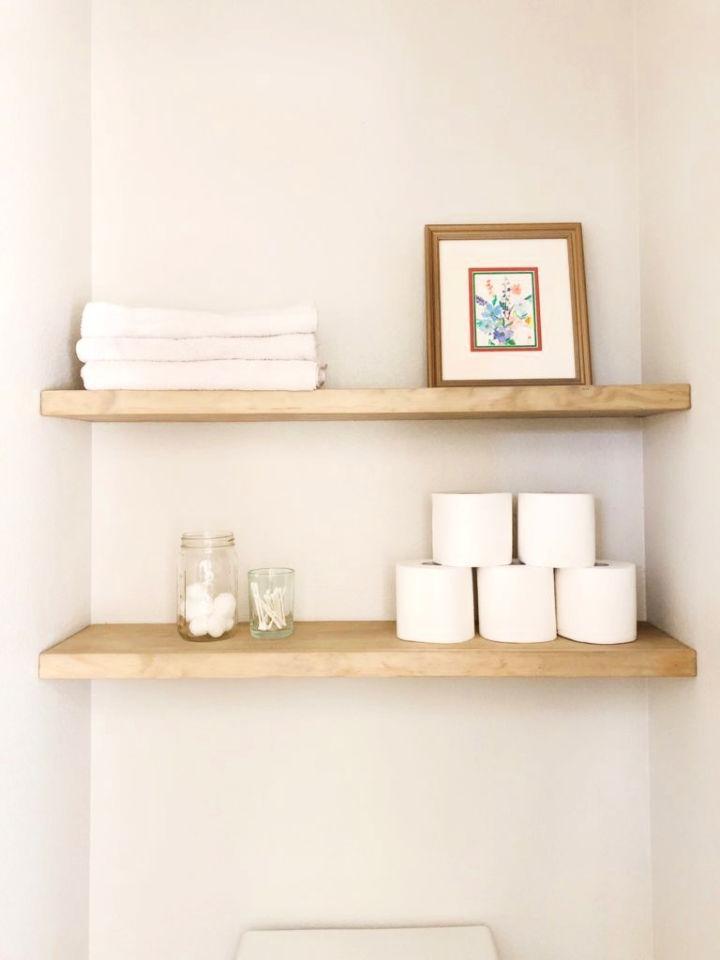 Have you ever seen the shelves that look like they are floating against the wall? This is the tutorial that you actually need for your bathroom. It is totally easy to build and very functional in use. With a few supplies like boards, Kreg jig, drill, hammer, screws, and nails you can build it up. angelarosehome
2. Floating Shelves for Small Bathroom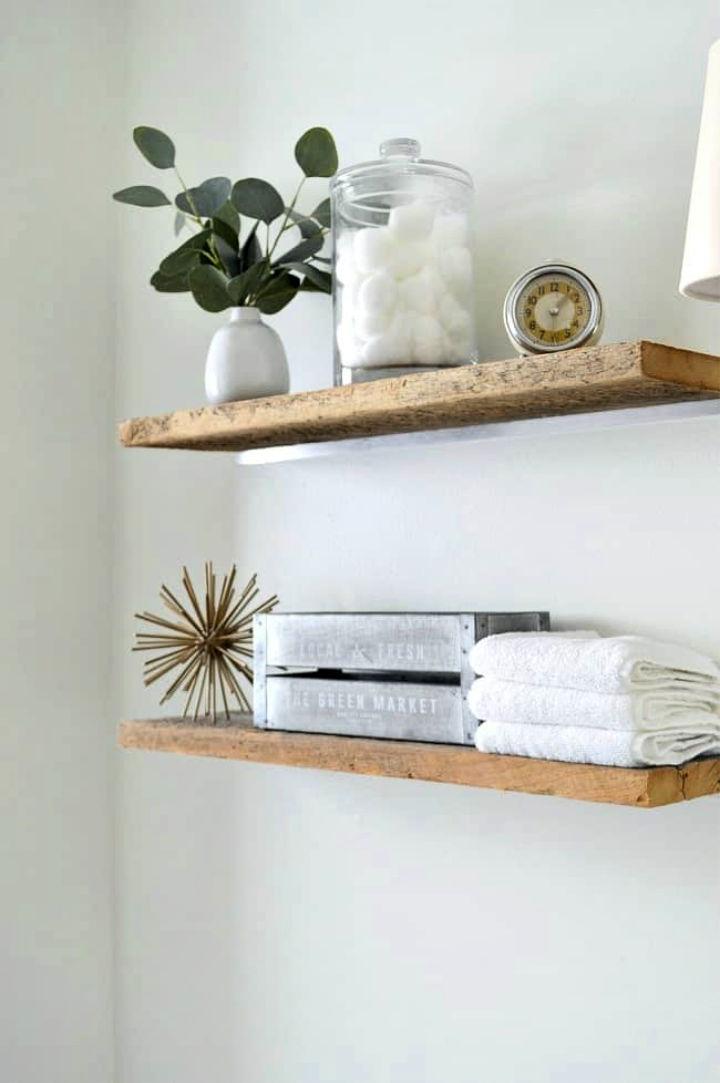 Floating shelves look magical hanging in the air by the walls. They are more perfect for the smaller bathrooms where there is the least floor space. DIY your very own floating shelves by following the instructions here. chatfieldcourt
3. Rustic Wood Shelves Bathroom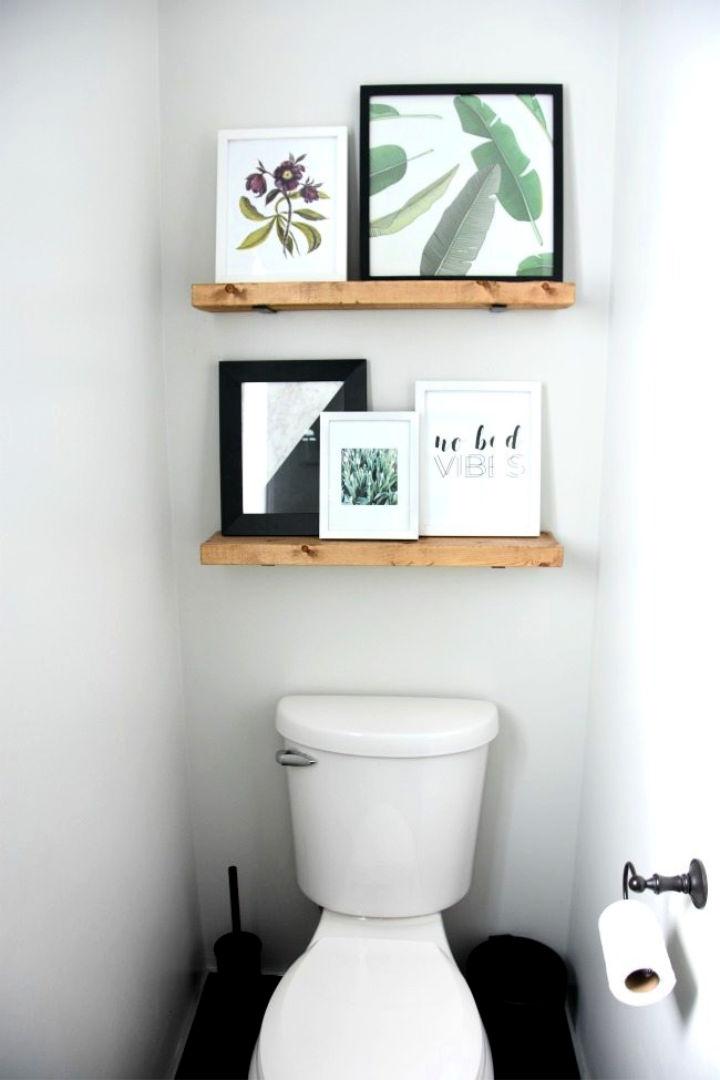 Your bathroom needs to upgrade with these rustic wood shelves. It will give your bathroom an amazing appeal. Plus, you will get more room for placing your towels, soap bars, and shampoos. Gather your supplies like lumber, stain, corner braces, drywall anchors to build these shelves. thesweetestdigs
4. Bathroom Floating Shelves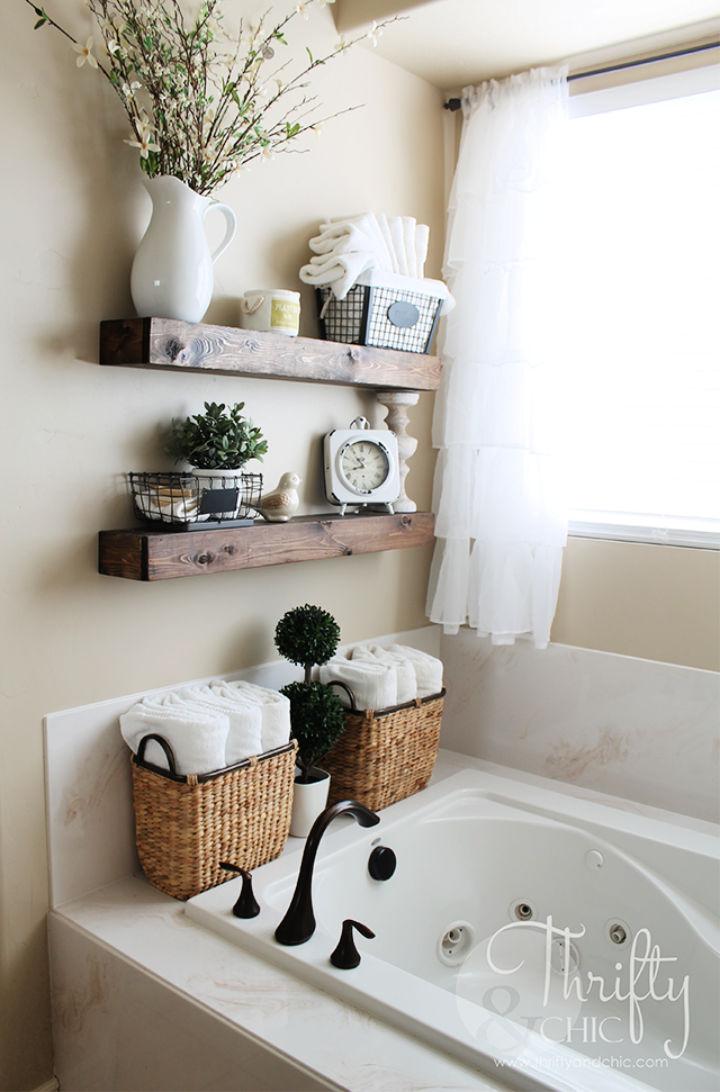 For a cleaner and uncluttered look of your bathroom, you need to build these DIY floating shelves. They will help you to display your accessories on it. The total cost you will get on DIY'ing these shelves will be far less than the store-bought ones. Check out the tips and tricks on it. thriftyandchic
5. How to Build Floating Shelves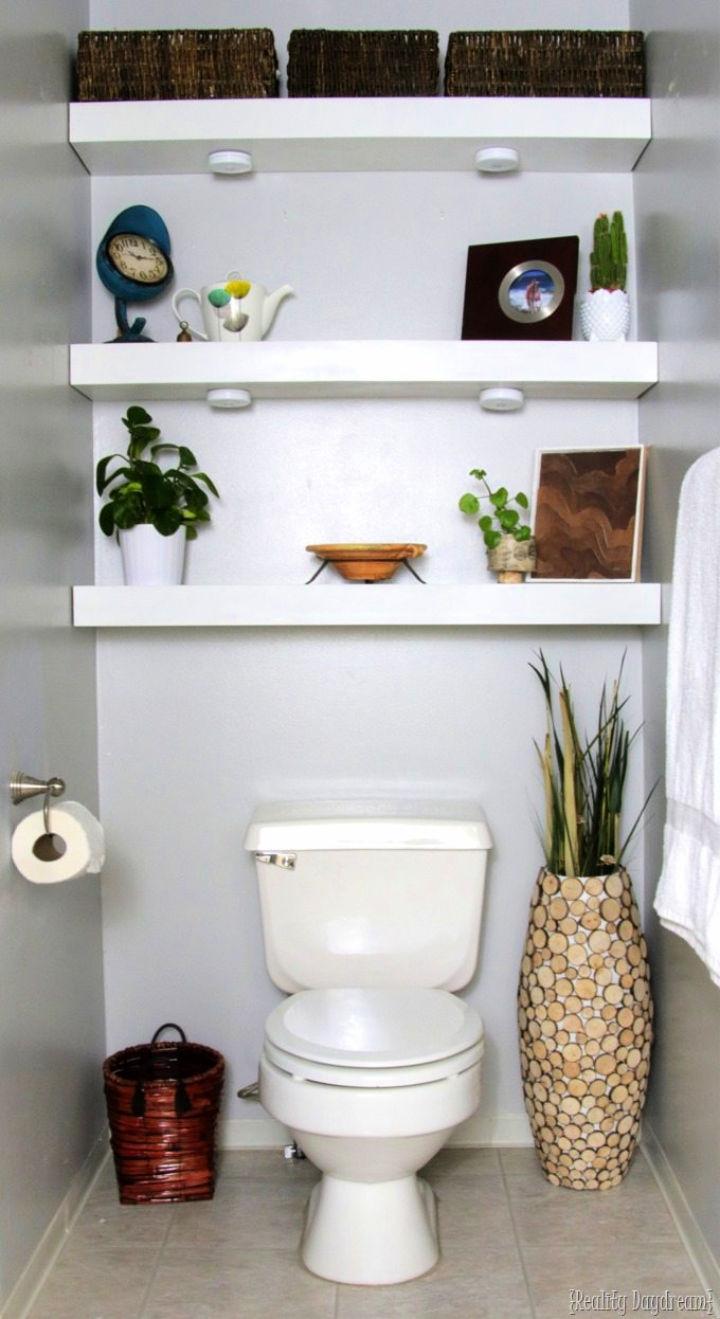 Make your baths fancy and elite ones by decorating your bathroom spaces with these floating shelves. Instruct yourself on how to make your own floating shelves with the help of these directions here. These shelves will help you to showcase your decor with a cleaner look. realitydaydream
6. Simple Wooden Bathroom Floating Shelves

You know how handy the bathroom shelves are? They look beautiful and unique, plus they can be easily adjustable in a lesser space. Grab your tools to make this DIY faux floating shelves. You will need large sanding tools, sandpaper, wood stain, and corner braces to finish this project off. mommysuite
7. DIY Floating Bathroom Shelves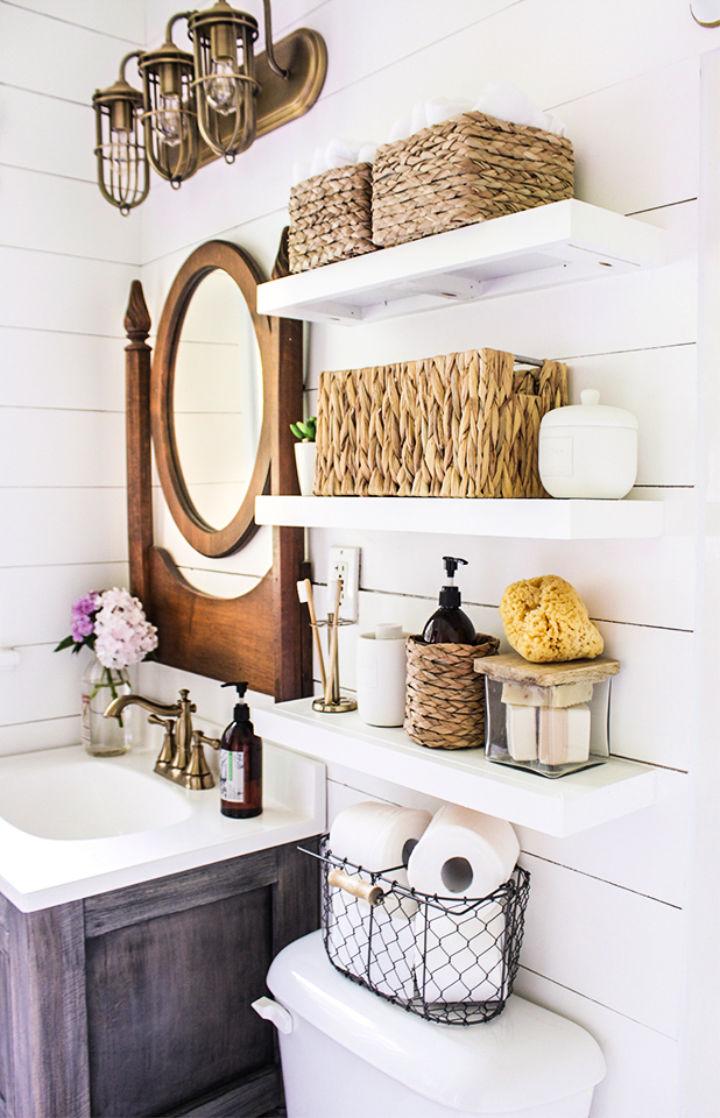 DIY bathroom floating shelves for the dimension of 22'' long x 6 ½ '' deep x ½'' thick. Use these floating shelves for extra space or showcase the bath decor. These shelves are too functional and practical. Here, you will find the tools and supplies list, cut list, and the how-to of the shelves. shadesofbluein
8. Rustic Wood Floating Shelves

Even though floating shelves are only held up by brackets, DIY rustic wood floating shelves are too sturdy and highly durable. They can be build up by anyone who is a beginner. The procedure is entirely simple and won't invite any complexities. Collect your supplies and start off. thefrugalhome
9. Handmade Bathroom Floating Shelf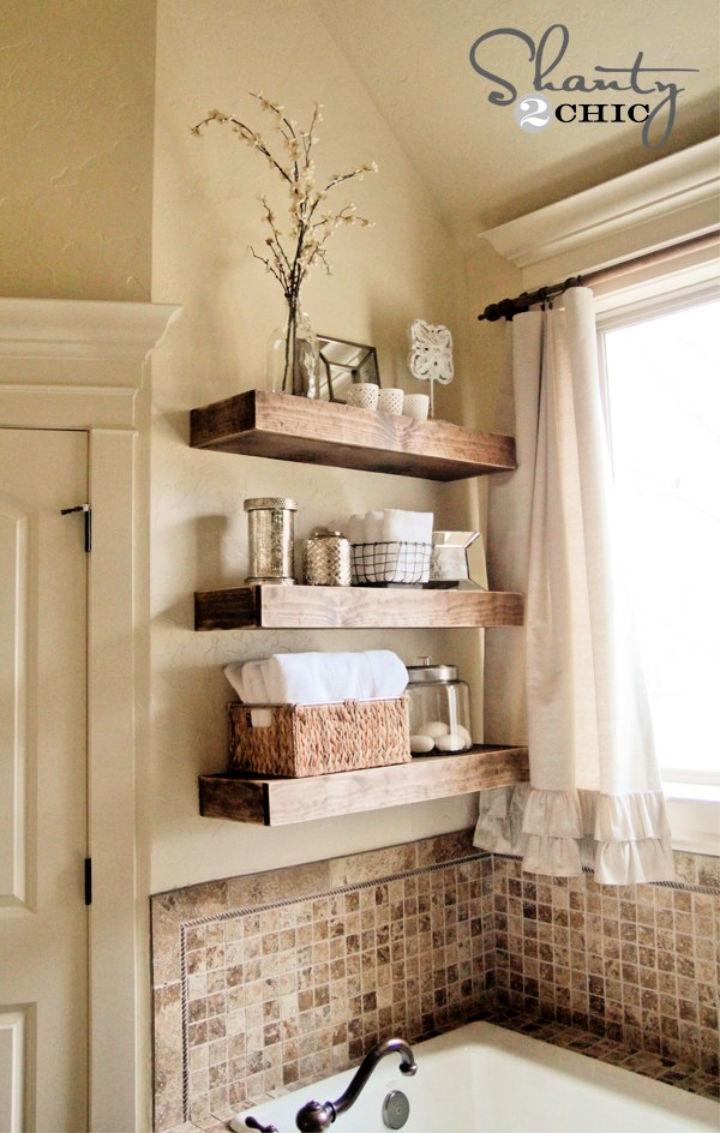 The idea of sprucing up this homemade bathroom shelf is to bring elegance to the bathroom's empty spaces. It will allow you to put your facial kit, makeup kits, and other useful items on display. Supplies required are whitewood boards, Kreg jig, hole screws, and wood glue. shanty 2 chic
10. Floating Shelves for Extra Storage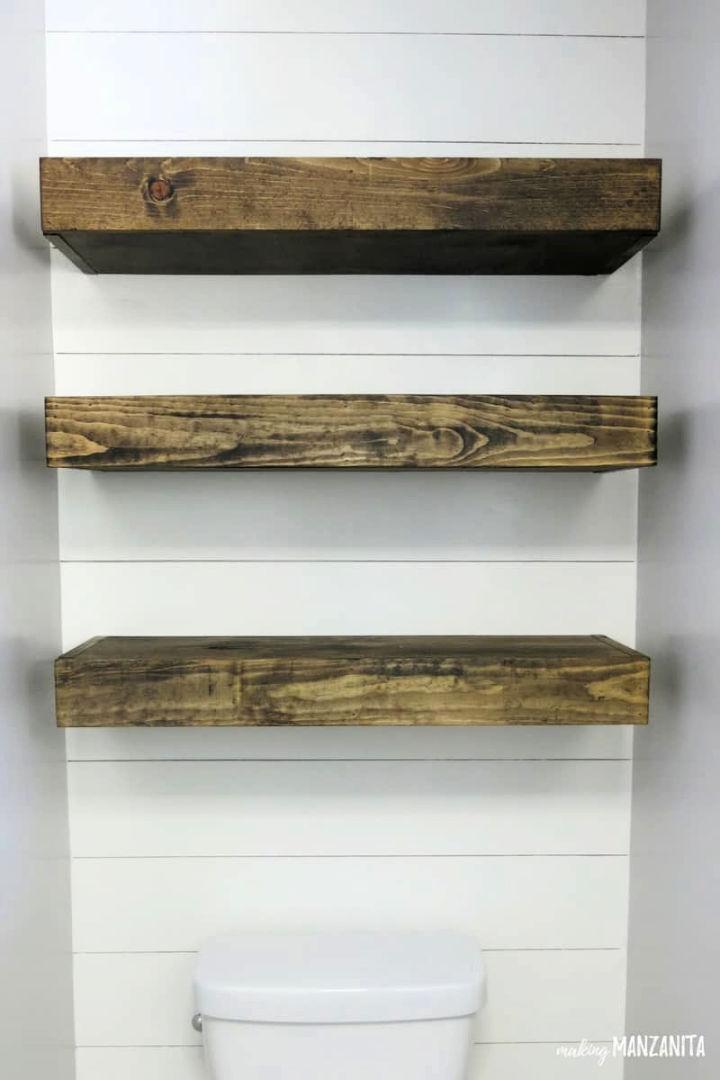 Style up the toilet's empty wall with these floating shelves. It will provide you with extra storage space for your cleaning kits. Moreover, they are very useful if your bathroom is small. Go along with the tutorial and see how you can build one yourself single-handedly. makingmanza
11. Stylish Floating Shelves

You always need some extra storage space in your kitchen or bathroom for some reason. Right? The best thing is to spruce up these floating shelves. They will look too stylish plus, building them up is like a piece of cake. Hit the link to see the supplies and cut list along with the tips. homedepot
12. How to Make Floating Shelves

Floating shelves are the kind of open shelves where there is no fatigue of opening or closing of a door. They will look equally good and functional in the kitchen as in the bathroom. The final measurement of the shelves must be 24" length to 11" depth. Dive in to find more details on it. livefreecreative
13. Industrial Pipe Shelves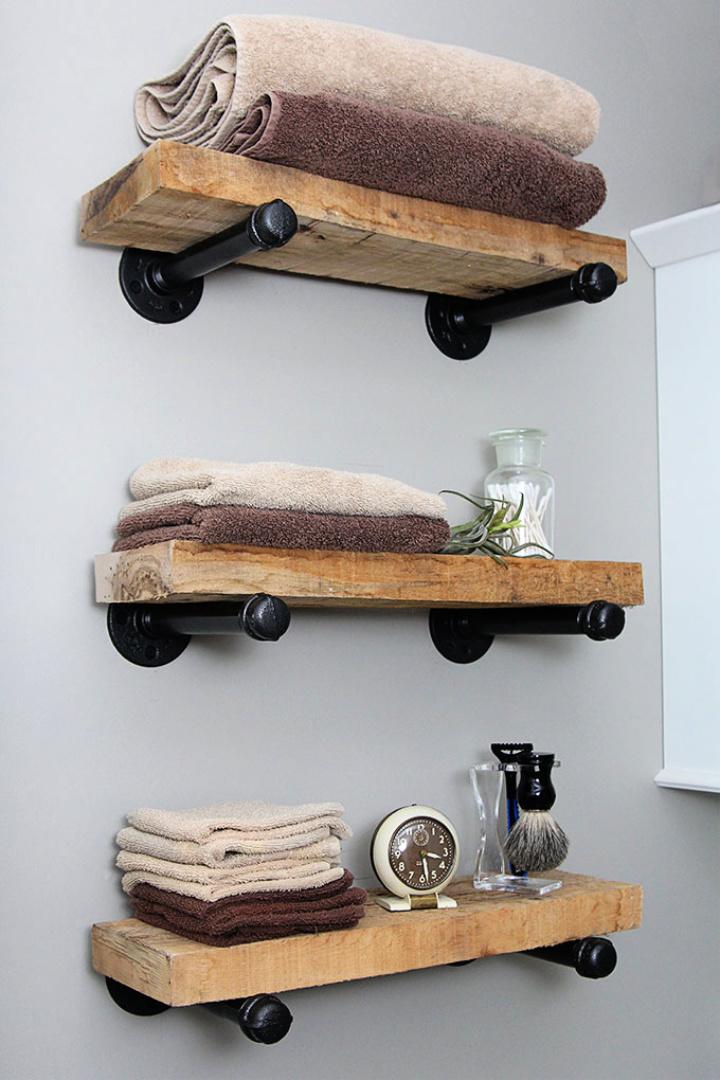 Industrial pipes make the floating shelves more sturdy and strong. They are easy to install and give you an everlasting benefit. You can even use these industrial pipe shelves anywhere in the house. Supplies you will need are flanges, caps, nipples, screws, boards, level, and spray paint. houseofhawth
14. Dad Dominic's Rustic Shelf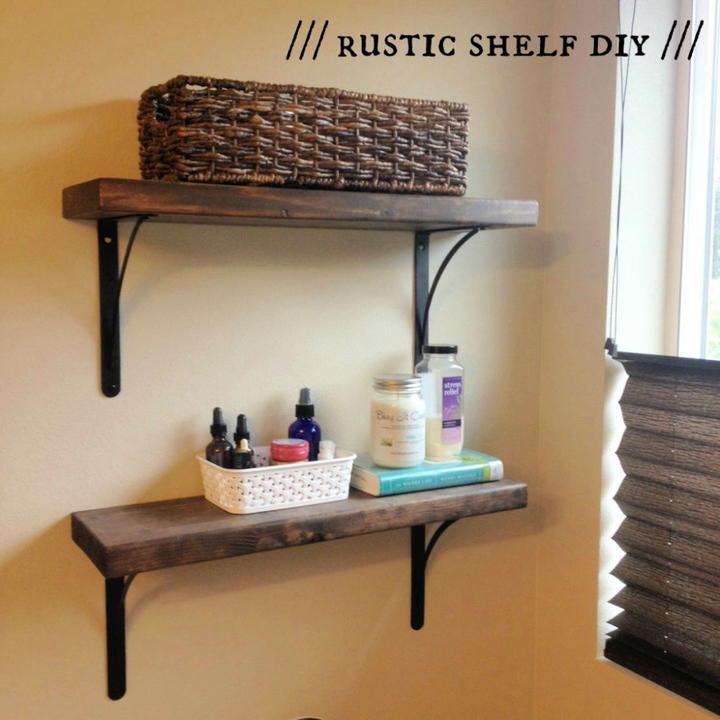 Installing floating shelves is a breeze. This DIY Dad Dominic's rustic shelf won't take your much time and effort in building up and installing it against the wall. It will provide a great ambiance to your room. The instructions here will escort you throughout the building process to the end. thatmamagret
15. Wooden Bathroom Floating Shelves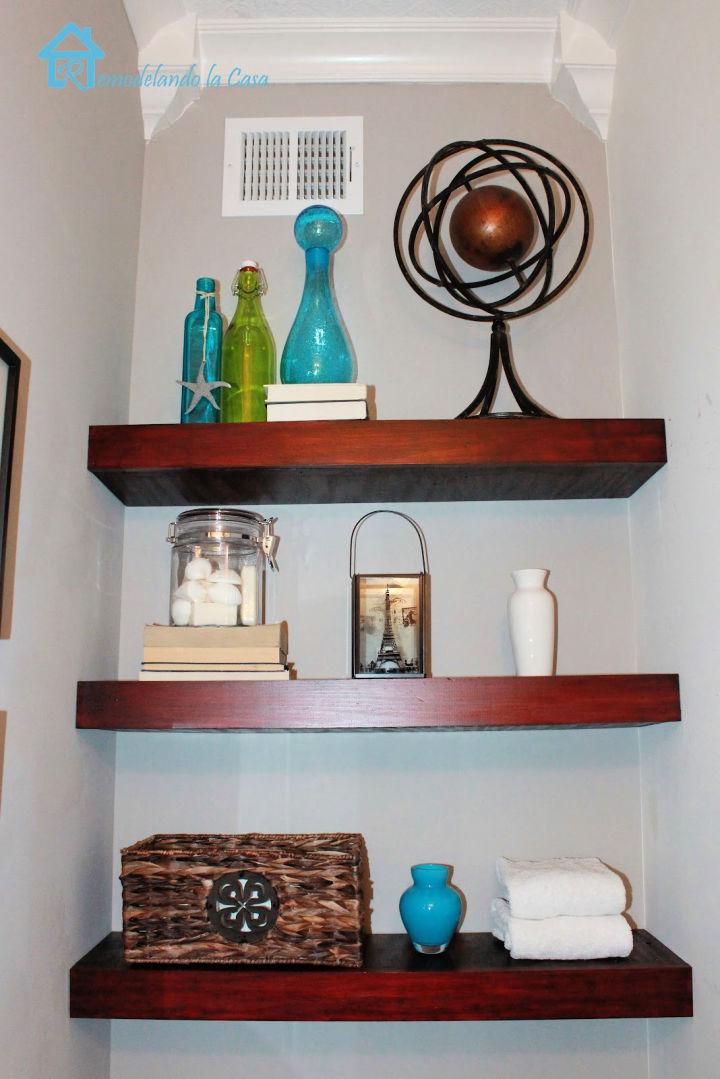 Your walls will look less cluttered and overloaded when you use floating wooden shelves in the bathroom. As they take up less space and give you more room to showcase your favorite products. The detailed illustrations are available for you to get help from and spruce up one yourself. remodelandola
Conclusion: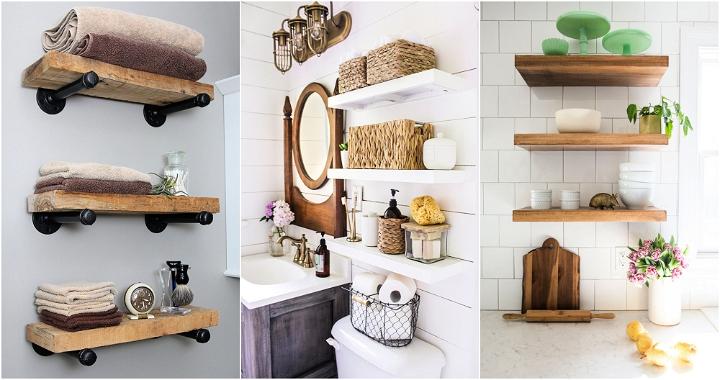 Tempted to try out some of these bathroom floating shelves? These are so beautiful, and there's something for everyone here! If you found something that you love, don't forget to save the link! What to do next? Make a list of the tools and materials that you'll need. Now, you can do a few things that might help you save a little bit of money. Browse through online websites and try to find the lumber online! You may find something very inexpensive! Everything left on the list can be found at any carpenter store, and the tools can be borrowed by a friend.