Learn how to build wall shelves at a low cost with these 15 homemade diy wall shelves ideas that come with instructions and a material list and are great for adding extra grace and storage space. Moreover, these diy wall shelf ideas are going to be a great home organization secret and provide space to prominently display your belongings and unique items of decors you want to show off with. Whether your missions are to declutter your environment or you wish to dazzle audiences with impressive settings of stuff, decorations, and accessories, these shelves will be a smart choice. These shelves are not big labor to build and will not break your bank.
Explore this collection of 25 cheap DIY Wall Shelves to see lots of fancy designs. Some come with extremely interesting designs, and some are the simple minimalist floating shelf type. Choose any that suits your taste, storage needs, budget, and overall interior decors.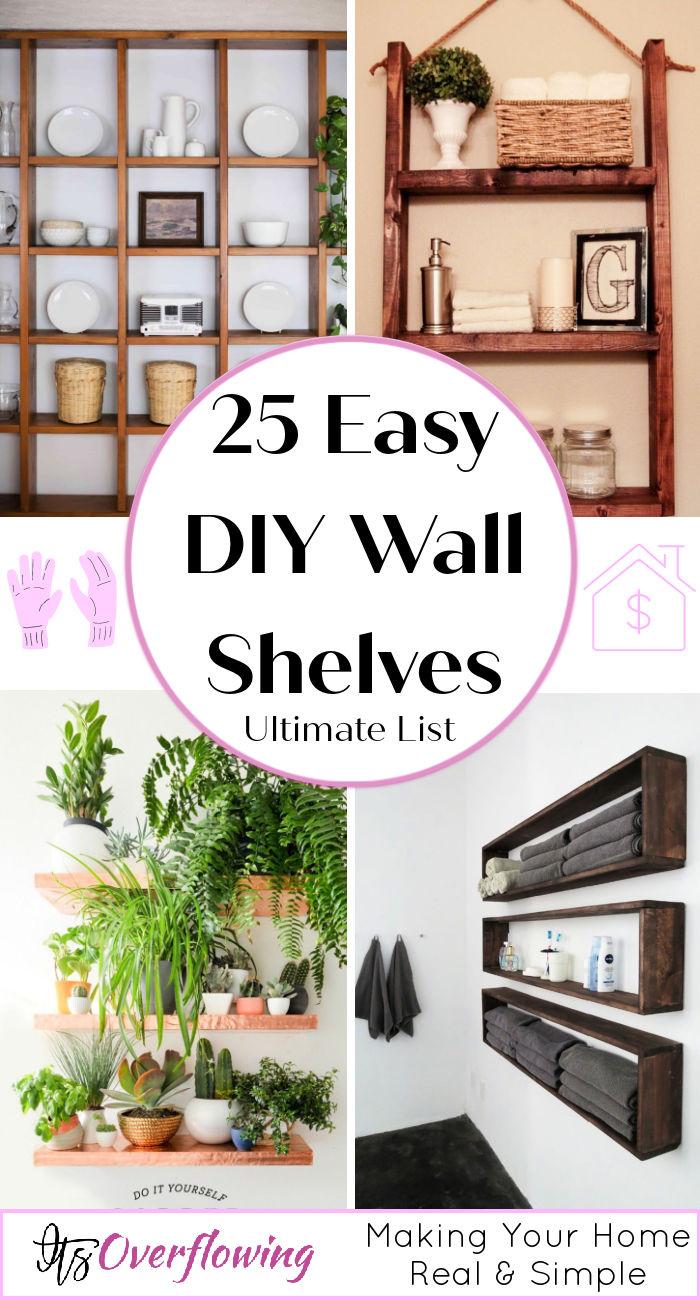 Building the box-like floating wall shelves will add a geometrical design element to an interior. To organize larger clutters, build the wall-to-wall shelves. Build the simple wall shelves with hooks so they will make amazing entryway organizers. Most of these projects are beginner-friendly and budget-friendly. If you can handle a drill or hammer, one can build most of these wall shelves.
You will get here step-by-step instructions, free DIY wall shelves plans, detailed diagrams, and tutorials, too, for each project. Finally, you will get free diy shelves plans for an apothecary, and Anthropologie-inspired wall shelves too. Explore the entire collection of DIY Wall Shelves and get your creativity inspired.
1. How to Build a Wall Shelf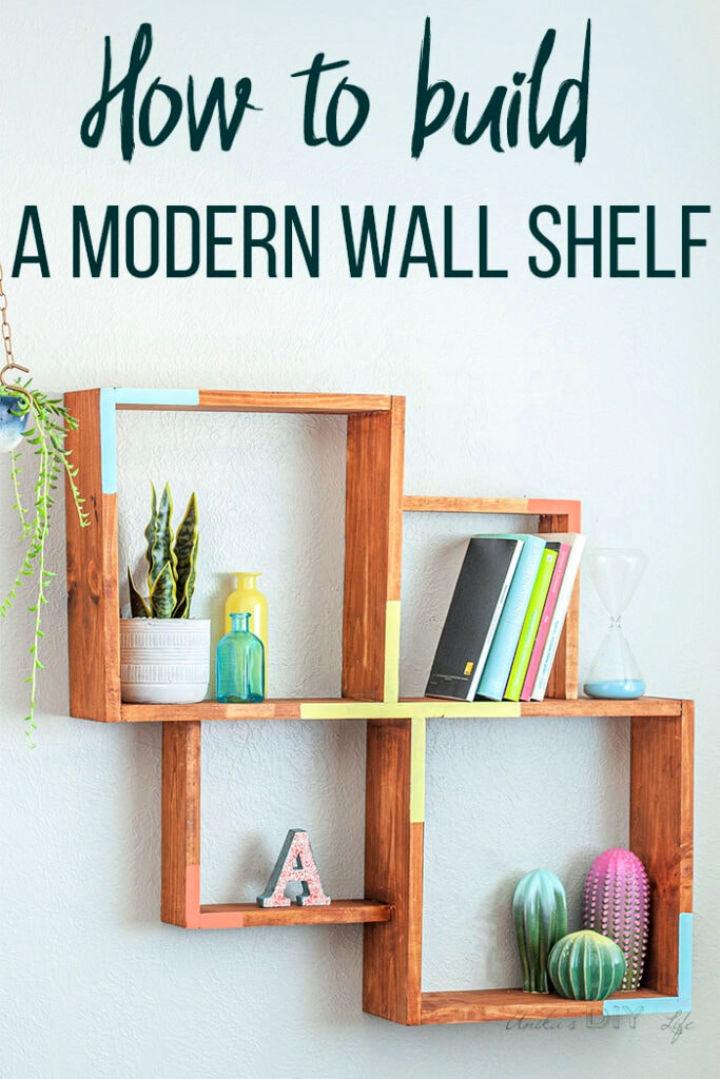 Transfer the materials and accessories on the walls that are adding to home clutter by building this geometrical wall shelf. Grab the lumber to build this fantastic looking square wall shelf, provides ideal space to store and display your items of need and interest. Cut the lumber lengths to size and then put them together by drilling pocket holes. Sand the slats smooth and give paint or stain finish. Details here anikasdiylife
2. DIY Wall Shelves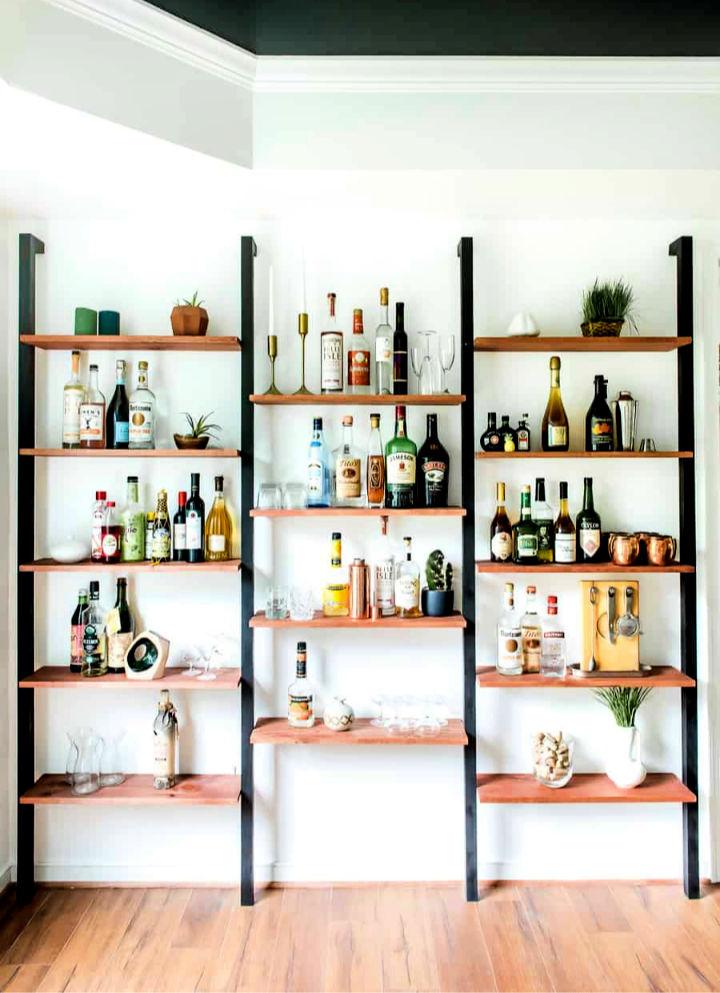 Bring the home items to order that are finding a suitable storage space for a long time, using this amazing DIY Wall Shelf system. You are all free to raise this wall shelving system to any height from floor to ceiling. Build the vertical uprights for the shelving frame using the 2×2 wood frame and use the 8ft common boards to build the 14 pieces of shelves. Paint the uprights in black and stain the shelves for a custom wood tone. Install the shelves in the frame using screws. Details here placeofmyta
3. Mounted Wall Shelving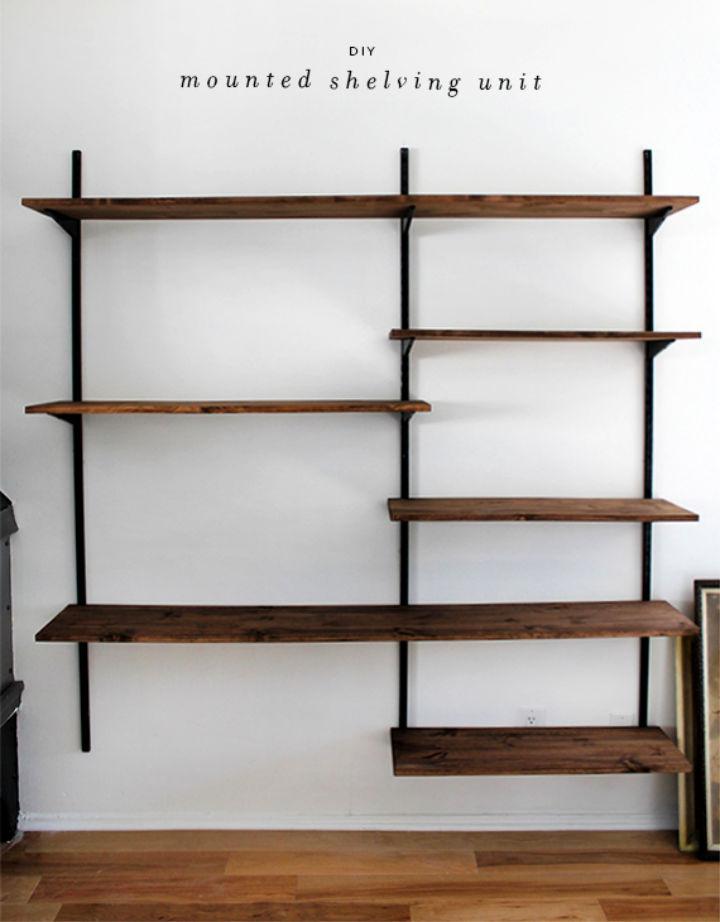 Along with giving a safe and secure storage space to your scattered items, create a prominent display of them too using this handsome wall mounted shelving unit. The secret ingredient in this wall mounted shelving project is the twin tracks. Grab 6 lengths of 70" twin racks and put them together to build the nice and elegant frame for the shelving. Next, complete the project using 26 shelving brackets and 12 pieces of wood shelves having 3/4" thickness. Do stain the wooden shelves for a graceful visual. Details here almostmakesp
4. Build Oak Wall Shelves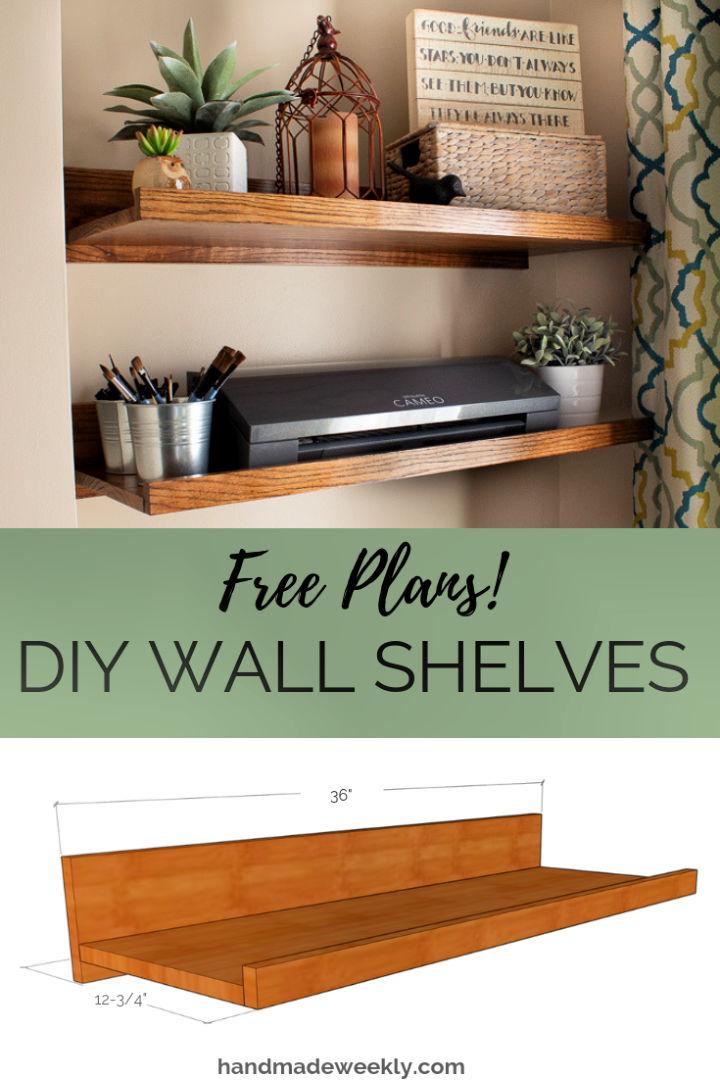 Enjoy the free plans here for building ideally beautiful wall shelves, will wow the audience with an amazingly bright wood tone. Here these shelves are 36" long and 12 3/4" deep. Build the shelves using the 1x12x8′ wooden boards and use the 1x6x8′ boards to build the back supports and 1x2x8′ will rock to build the raised fronts of the shelves. Use wood glue, screws, and brad nails to assemble the shelves. Opt for stain and polyurethane to finish the wall shelves. Details here handmadew
5. DIY Wall Shelves for Bathroom Storage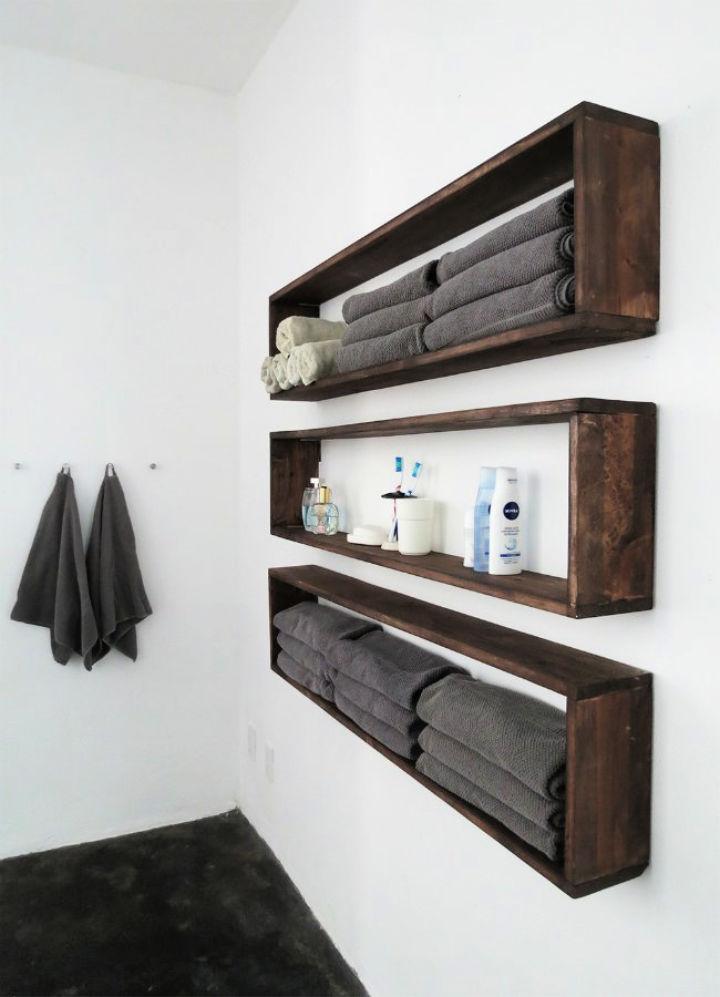 Tidy up your bathroom by building these handsome bathroom storage wall shelves, which will work up super quickly. Putting together the 1x6s lumber wood slats to build these shelves, will cleverly store your toiletries. Further, you need wood glue, drill, clamps, screws, wood stain, varnish, metal brackets, and a pencil. These shelves come in a box shape and come on the wall as a handsome trio. The best design of shelves when you wish you create a geometrical statement too in your bathroom. Details here bobvila
6. Wood Wall Shelves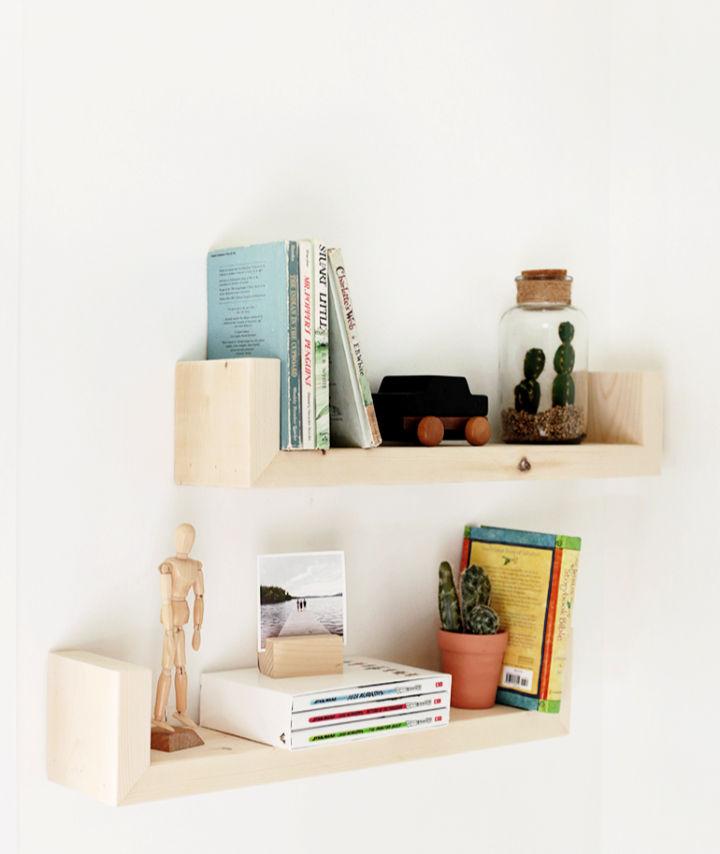 Get amazing storage space along with giving a handsome touch of pine wood to your interiors by building these wood wall shelves. These shelves are incredibly beautiful and will bring a big wow factor to a wall. Get crafty with the 2x6s wood slats and build these shelves, will dazzle the audience with their amazing floating style. The best tools to use for this project will be power planer, table saw, drill, and level. use the drywall screws and corner braces to install these shelves on the wall. Details here themerryth
7. DIY Corner Wall Shelves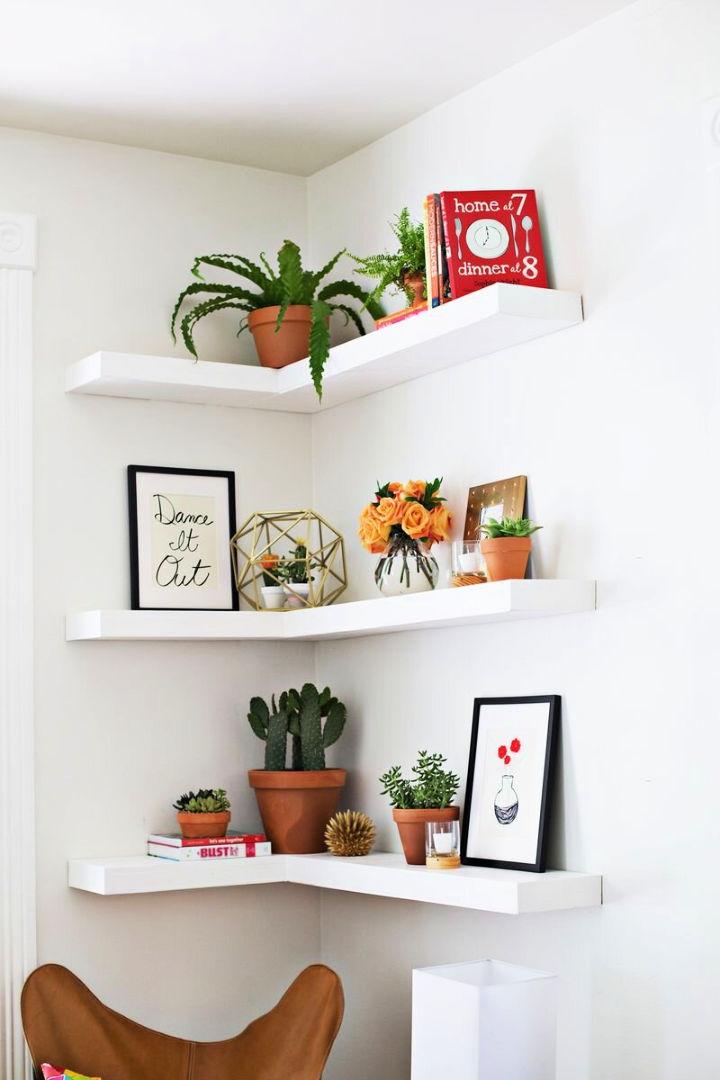 Use the leftover room corners to build incredible storage units for a room, will lend you a big helping hand in decluttering the environment. Use the 2x4s, 1x8s, 1 1/4" wood screws, heavy-duty fasteners, spackle, paint, caulk, and wood glue to build these wall shelves. Get crafty with the miter saw, table saw, drill, and Kreg pocket hole jig to build these fantastic corner wall shelves. Another graceful design of floating wood wall shelves. A beginner skill level is required for this project. Details here abeautifulmess
8. Storage With Geometric Wall Shelves

Bring fantastic geometrical decor vibes to a particular room or home interior by building these geometric wall shelves. These shelves will impress with their honeycomb design and will create a prominent display of your items of decors too. Put together the pinewood boards to build the hexagons and next use the picture hanging brackets to hang these wall shelves up on the wall for a prominent display. Use paint or wood stain of choice to vary the color or wood tone of your shelves. Details here sheknows
9. Wall Hanging Bathroom Shelf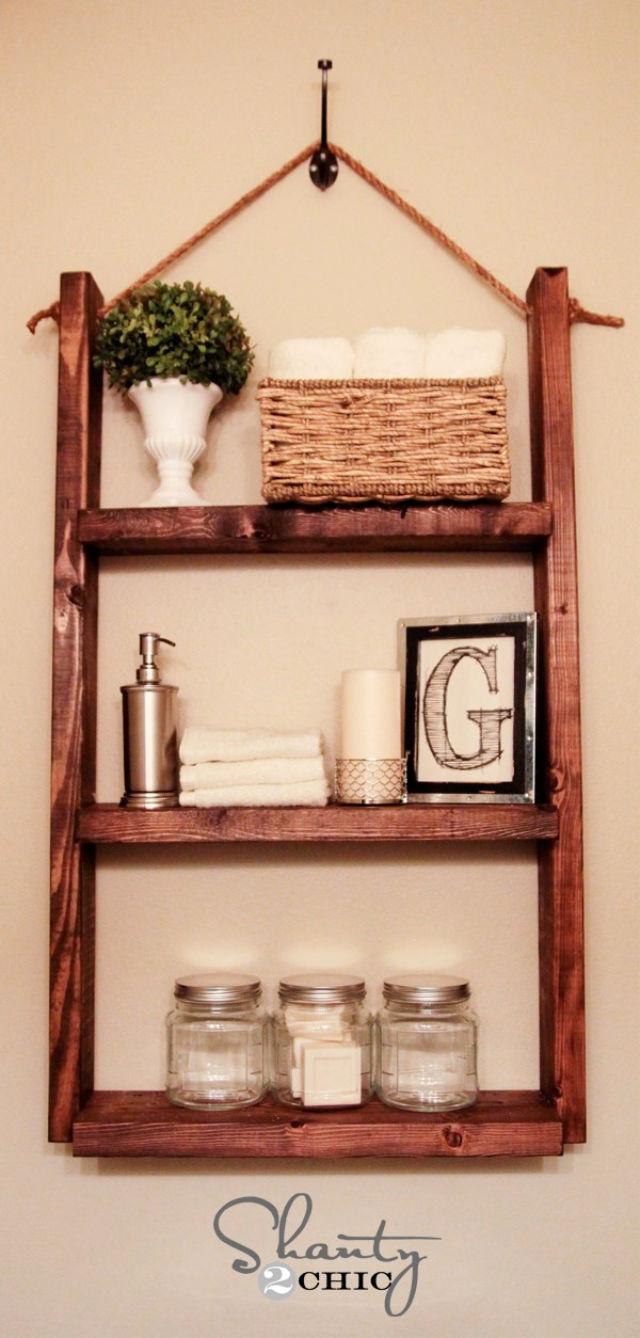 Rock your bathroom with the hanging storage of the toiletries using this wall hanging bathroom shelf. Put together the 2x4s and 2x6s wood slats to build these hanging bathroom shelves. Add a desired number of shelves and use the sisal rope and hook to hang this bathroom shelf. Use the Kreg Jig system to drill the pocket holes in the slats and then add the screws. Stain your completed shelf for a custom tone of wood. Details here shanty 2 chic
10. Pegboard Wall Organizer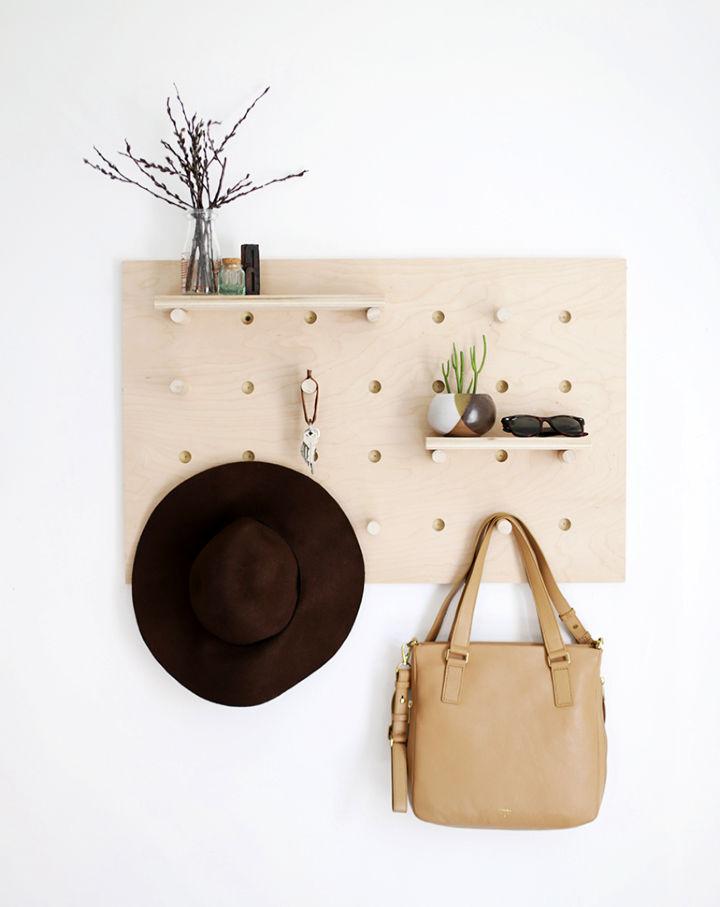 Do you strive for uniqueness in everything? then bring a unique style in your home by adding this pegboard wall organizer, which will complete in no time. Here you have to build a pegboard using a piece of plywood and a hand drill. Use the 3/4" thick board for this project, and 3/4-1" wood dowels will rock as hooks for the pegboard. Add the wood dowels and let them hold your items of display. One of the best DIY wall shelf to build quickly. Details here themerrytho
11. How to Build Floating Wall Shelves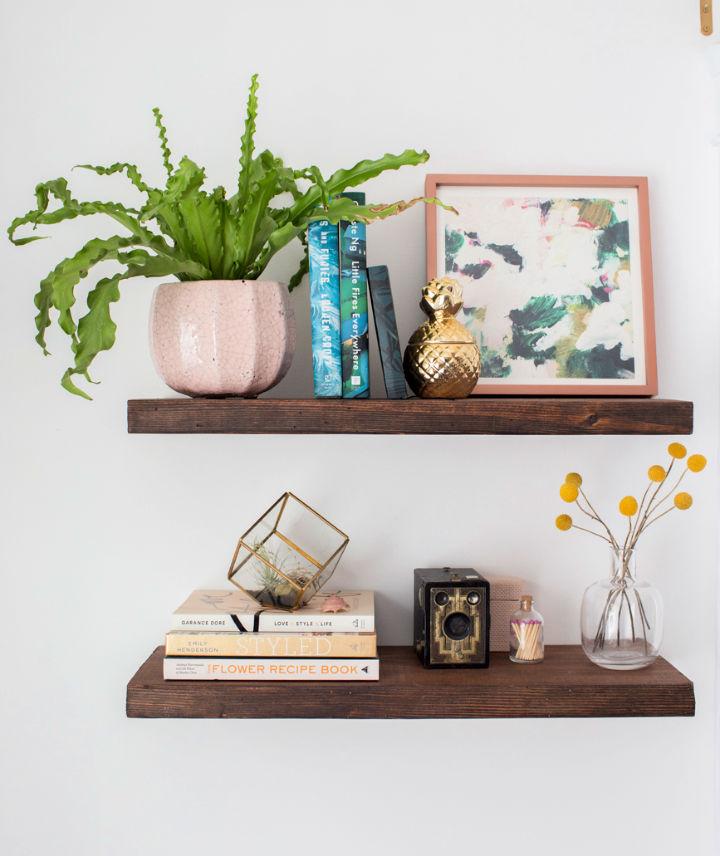 Let your items of decors gain the visual prominence, build these floating wall shelves, will work up super quickly. Build these floating shelves using 2" x 10" pine boards and give a dark wood stain finish for a rocking rustic wood appeal. The very required tools for this project will be 1/2" paddle bit, bench router, floating shelf brackets, level, pencil, and polyurethane. Stain or paint the wall shelves to create a custom appearance of the shelves. Details here realsimple
12. DIY Wall Shelf With Corbels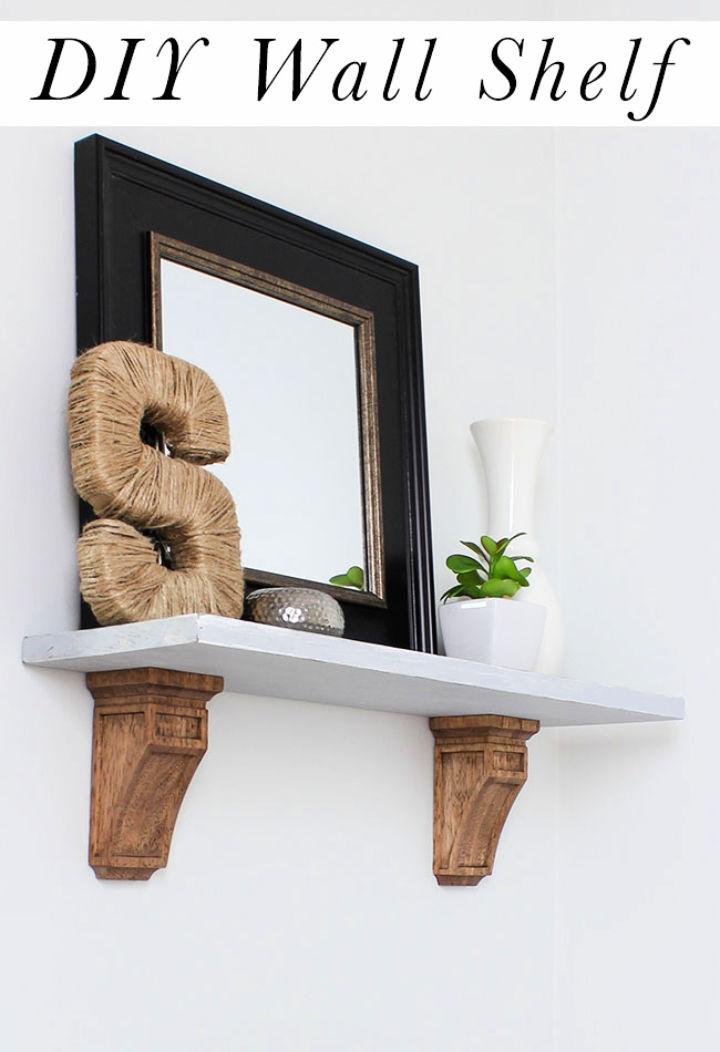 Bring that amazing grace to your interior by building this wall shelves with corbels. It will dazzle the audience with its dominant appeal and will be long-lasting. Just add the corbels and then make them hold your shelf. Use any wood of choice to build the shelf. The best type of shelves to display your picture and mural frames like a pro. Use the 1x6s with 24" length to build this wall shelf. Finish the shelf with Minwax stain and also with white and gray chalk finish paint. Details here erinspain
13. Floating U Wall Shelves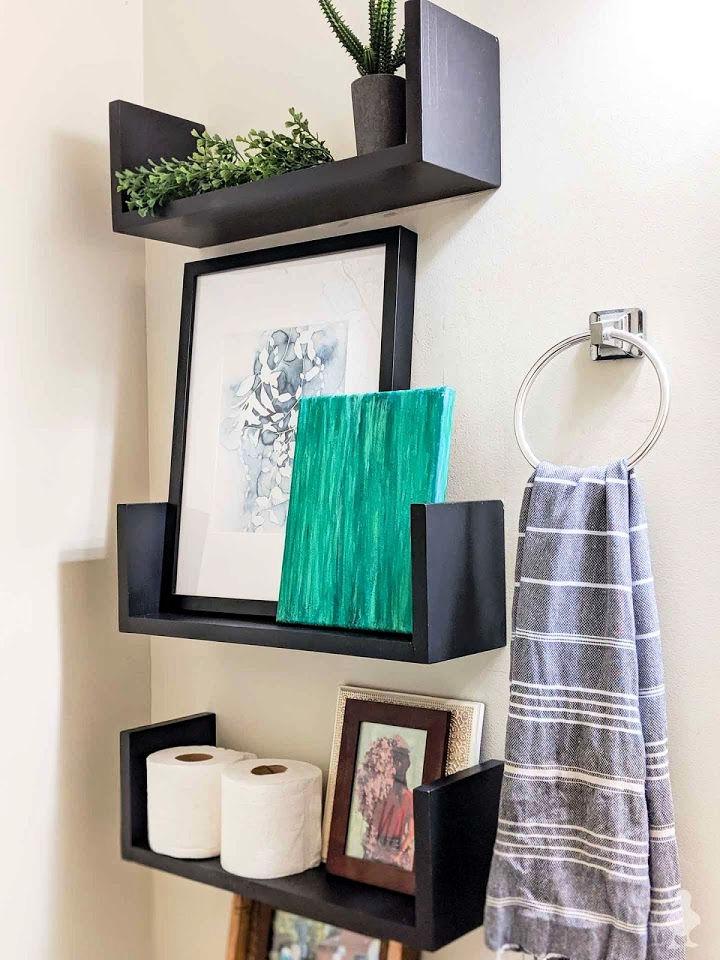 Rock your spaces also, by installing these U-shape wall shelves, will nicely and smartly display your items of decorations. Go handmade with 1x6s and 1x2s wood slats to build these shelves. Use the wall anchors as best hanging systems for the shelves. For a nice finish, opt for the wood filler, paint and drill bits. Get busy with the nail gun for easy assembly of the shelves and do wear the safety before getting into the project. Stain the shelves for a dark tone and then install on the wall in a tiered manner to start displaying your stuff. Details here uglyduckling
14. Solid Wood Wall to Wall Shelves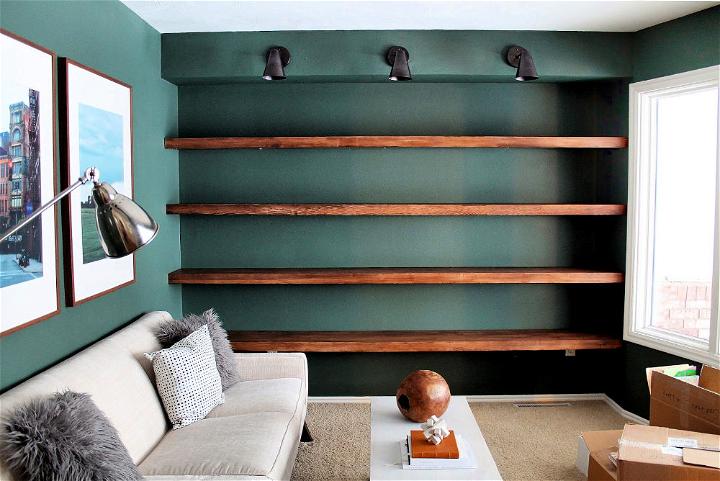 Organize the interior clutters with this handsome and solid shelving system that involves building the solid wood wall shelves on the wall from wall to wall. Get crafty with the 10 3/4" deep x 2 1/2" thick x 10′ long douglas fir boards to build these shelves. Sand the shelves smooth and stain in walnut for a gorgeous new appeal. Use the heavy-duty anchors, corner brackets and screws to hang these shelves up on the wall. Details here chrislovesjulia
15. Wooden Shelving Wall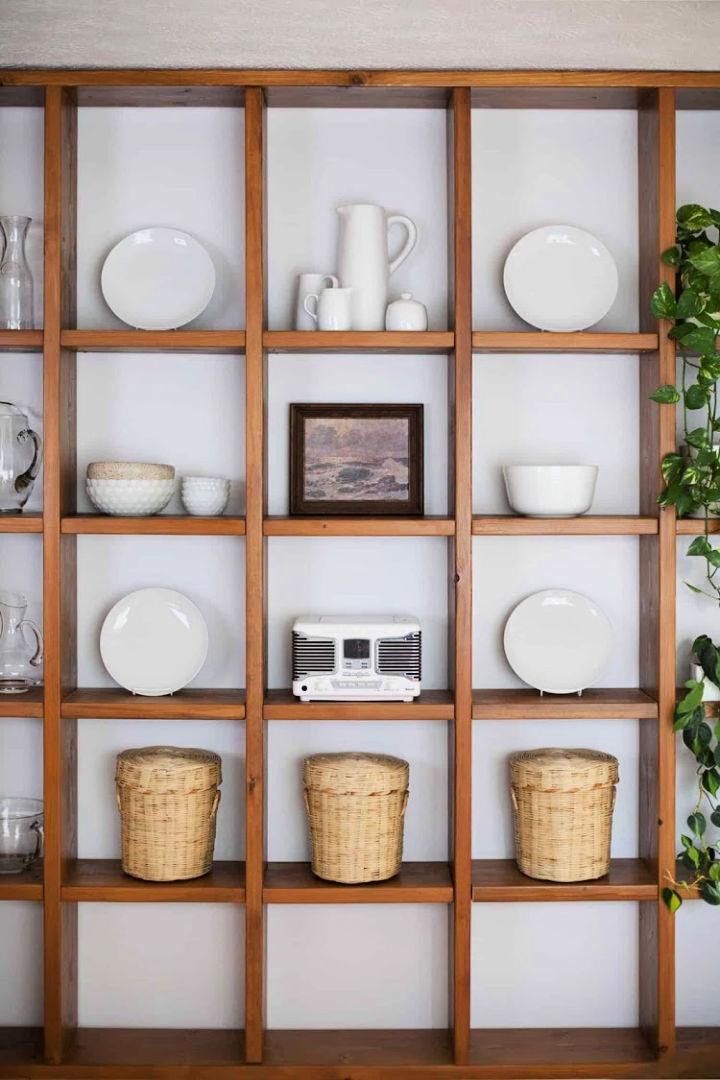 Learn here how to build a whole shelving wall in your living room, which will organize all your clutter nicely and smartly. Use the pocket hole system and assemble the wall shelving units that you can then install to the targeted wall to store your stuff. These shelves will rock for displaying your crockery, dining utensils, and other items of interest. Fill a whole wall to wall area with these shelves, and these shelves also go over the main entrance for a fancy appeal. Details here abeautifulmess
16. Wall Shelves from Scrap Wood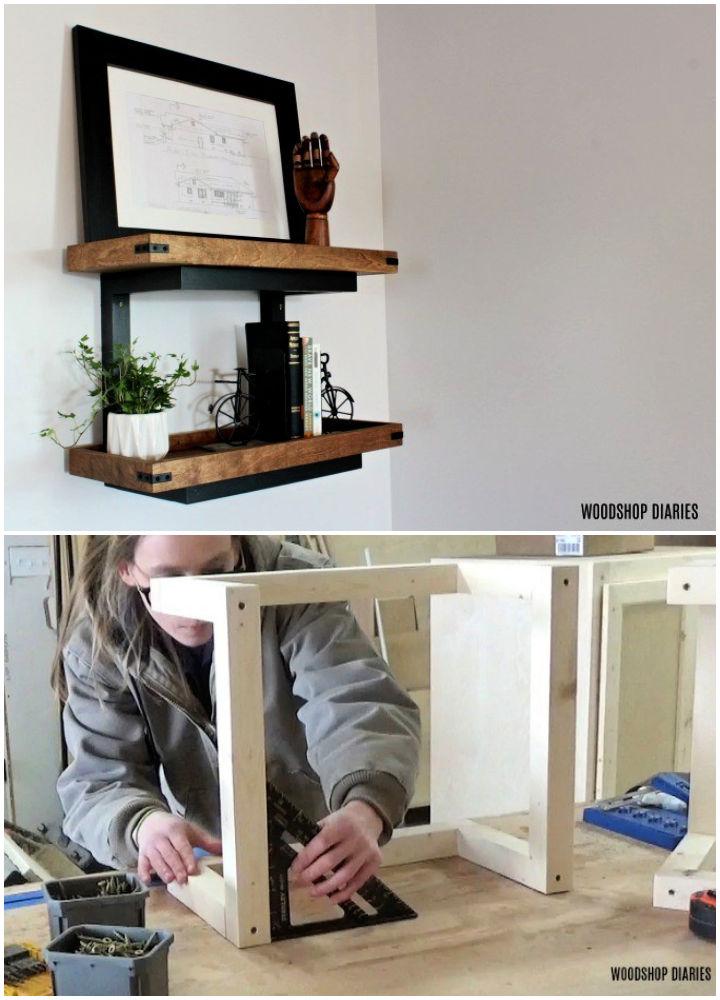 The scrap wood can be your next inspiration for building lasting longer and durable wooden shelves after getting into this project. Grab the scrap wood from the home trash store and then build the gorgeous looking wood wall shelves, which will nicely display mural and picture frames along with holding the very needed items. Here you need 2x2s scrap wood, 3/4" plywood, and decorative L-brackets to build these wall shelves. Use the glue and screws for all your adhesive needs. Details here woodshopdia
17. Box Wall Shelves

Impress the home audience and guests with these box style wall shelves will create an amazing geometrical statement in the targeted room. Go with different sizes of boxes and depths to come up with lots of variations. Grab the leftover plywood or buy a new sheet to build the custom boxes and then this brilliant box like wall shelves. Time to add some extra brilliant storage options to your interior home walls. Details here familyhandy
18. Wood Drawer Wall Shelf

Organize your spaces prominently with this elegant wood drawer wall shelving system. Along with providing ample storage and display space, this shelving unit will create a big focal point on a targeted interior wall. Here you need the bamboo drawer organizers, wood glue, clamps, stencil, cup hooks, and multi-surface paint to build this wood drawer wall shelf. Experiment this wall shelf with different sizes, depths, and alignments of bamboo drawers. Another great and decent DIY Wall Shelf that everyone can build with great ease. Details here designsponge
19. Free Wall Shelves Plans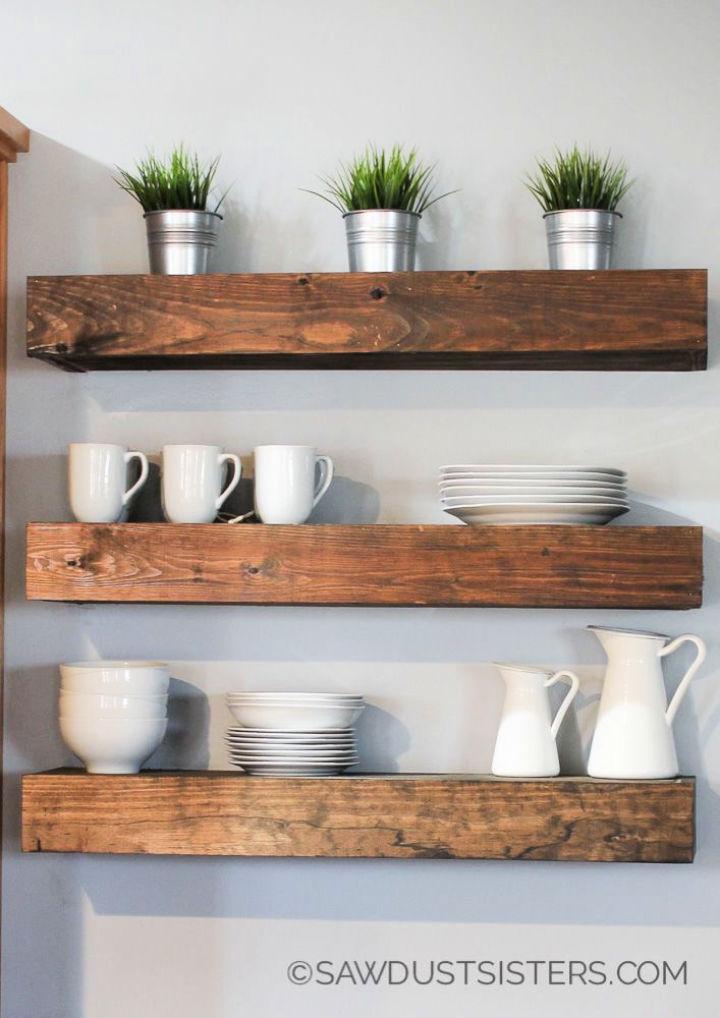 Rock your dining room with these floating wall shelves. They are ideally beautiful to display your dining utensils, hearty planters, and other decorations you want to show off with. These shelves are too stylish to make addicted to your dining room, and they are to make quite inexpensive. Use the 2x2s, 1x4s, and 1x6s to build this wall shelves, are guaranteed to be a big help in making an interior clutter-free. First, just build the frame, next fit the floating shelf boxes on them. Details here sawdustsisters
20. Rustic Modern Wall Shelves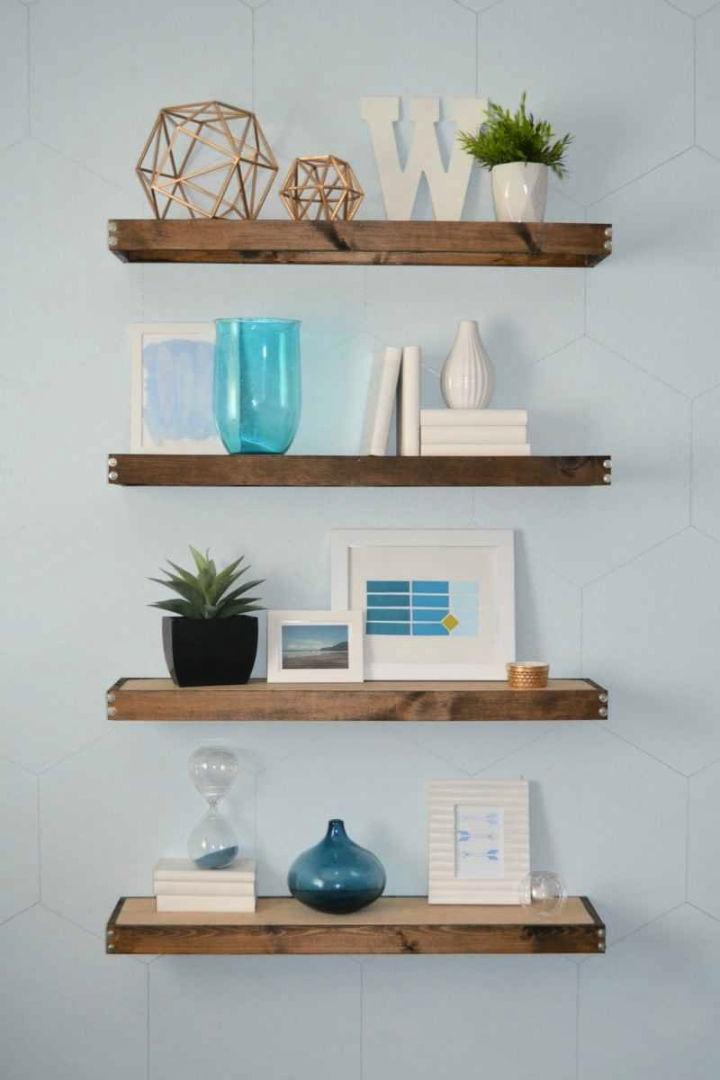 Are you willing to put extra grace to your modern interiors more by bringing a bit of rustic charm? Then do build these rustic modern wall shelves that are fantastically beautiful. They will organize your books well, centerpieces, decorations, utensils, and other items of decors and interest. Moreover, they will create a handsome display of them too. First, build the empty rectangular shelving frames and screw them in the wall. Next, fill the shelving frames solid using extra wood. Details here heytherehome
21. Apothecary Wall Shelf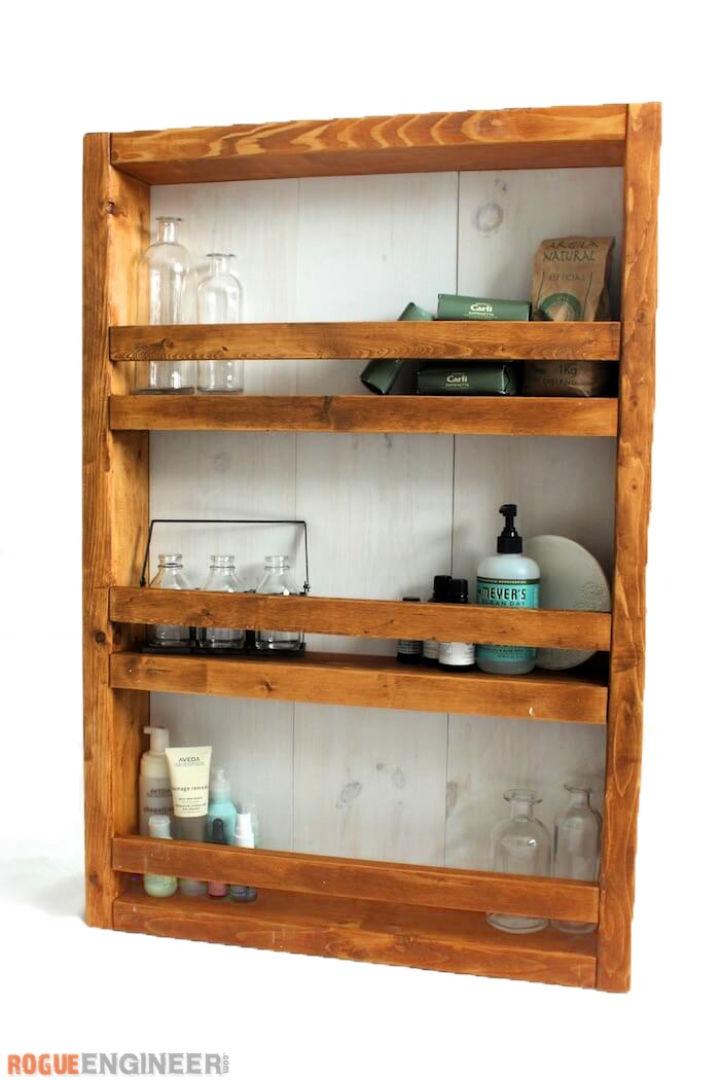 Store your medicines and other drugs over this apothecary wall shelf made to inspire. Build this medicine shelf, comes with each level well fenced, using the 2x6s, 2x4s, 1x8s, and 1x2s. Do the attachments by making the pocket holes in the wood slats and then assemble them together tight and nice. The front double fence supports will not let your expensive medicine bottles fall off. The hardware required will be Kreg pocket hole screws and brad nails. The pocket hole jig, drill, and miter saw will be the basic tools to do this project. Details here rogueengineer
22. Dollhouse Wall Shelf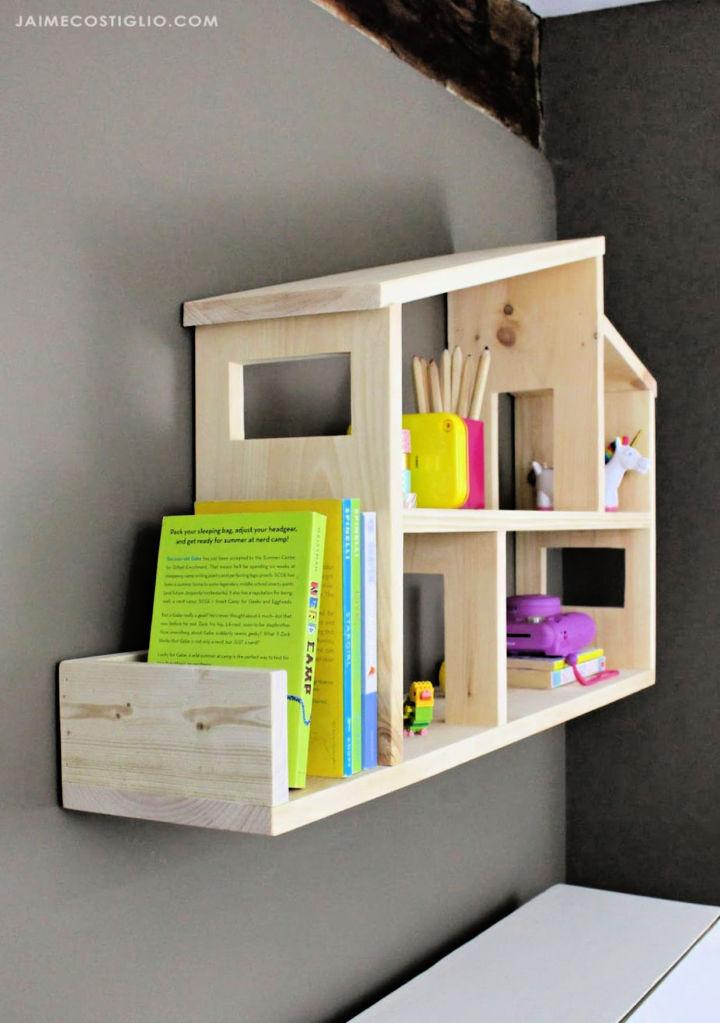 Need to gain some really special space to organize the kids' dolls? Opt for this dollhouse wall shelf, will whip up super quickly. This shelf looks like a bungalow or home and will make a great wall decor too. Build this whole shelf using 1x8s and use the 2" wood screws, nails, and glue for overall assembly of the design. The best tools to use will be jigsaw, drill, miter saw, measuring tape, and pencil. This dollhouse impresses with its unique design and will be a great pleasure to build. Details here jaimecostiglio
23. DIY Entry Shelf & Hooks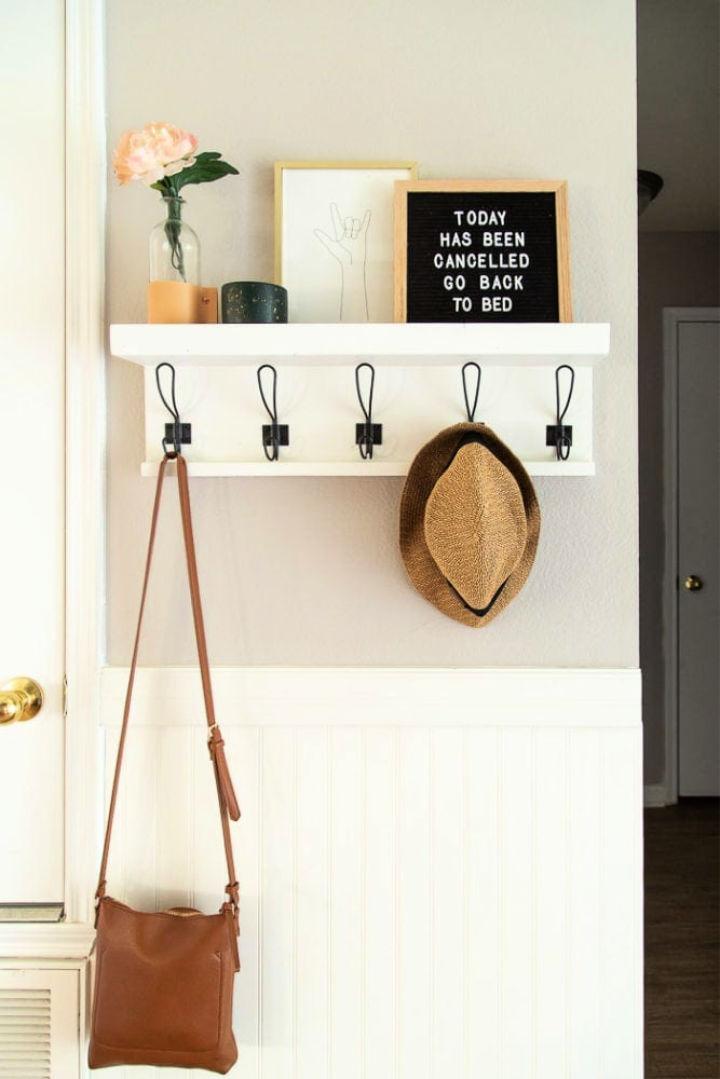 Get crafty with the 1x8s, 1x3s, and 1x2s wood boards to whip up this entry shelf that provides hanging hooks to be a super beautiful entryway organizer. Make this shelf hold your handbags, hats, gloves, coats, picture frames, centerpieces, and other items of interest. Put together the boards to build a big L-shape shelf, and next add the hooks to its lower level. Paint the shelf to match your room decors or simply stain to vary the wood tone only. An instant beautiful DIY Wall Shelf project. Details here loveandrenova
24. Anthro Inspired Copper Shelves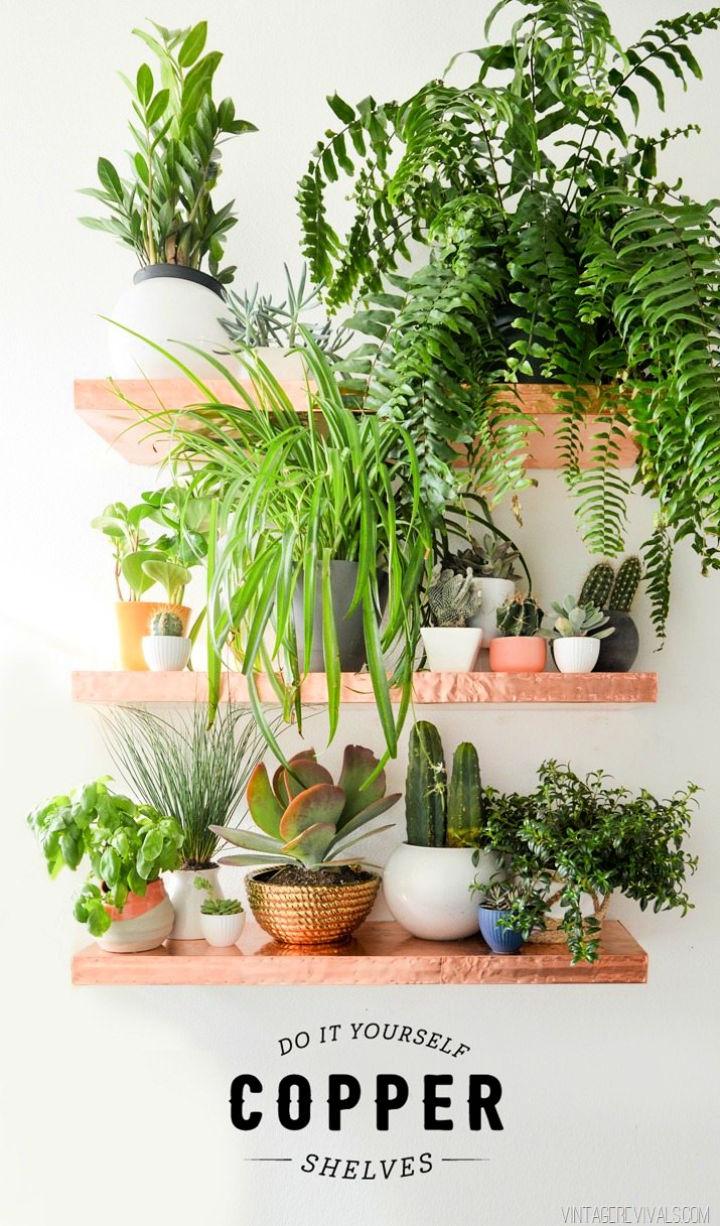 Get here the free plans for building the expensive-looking Anthropologie inspired wall shelves. They will give a darn beautiful touch to your space and will be a breeze to build too. Here you have to get crafty with the MDF, 1x2s, and copper sheeting to build these anthro inspired shelves that are actually the super beautiful floating wall shelves. Build first the floating shelf frame or wall supports and then drop the floating shelf boxes on to the supports. Finish with copper sheeting for a metallic touch. Details here vintagerevivals
25. Dining Room Storage With Floating Shelves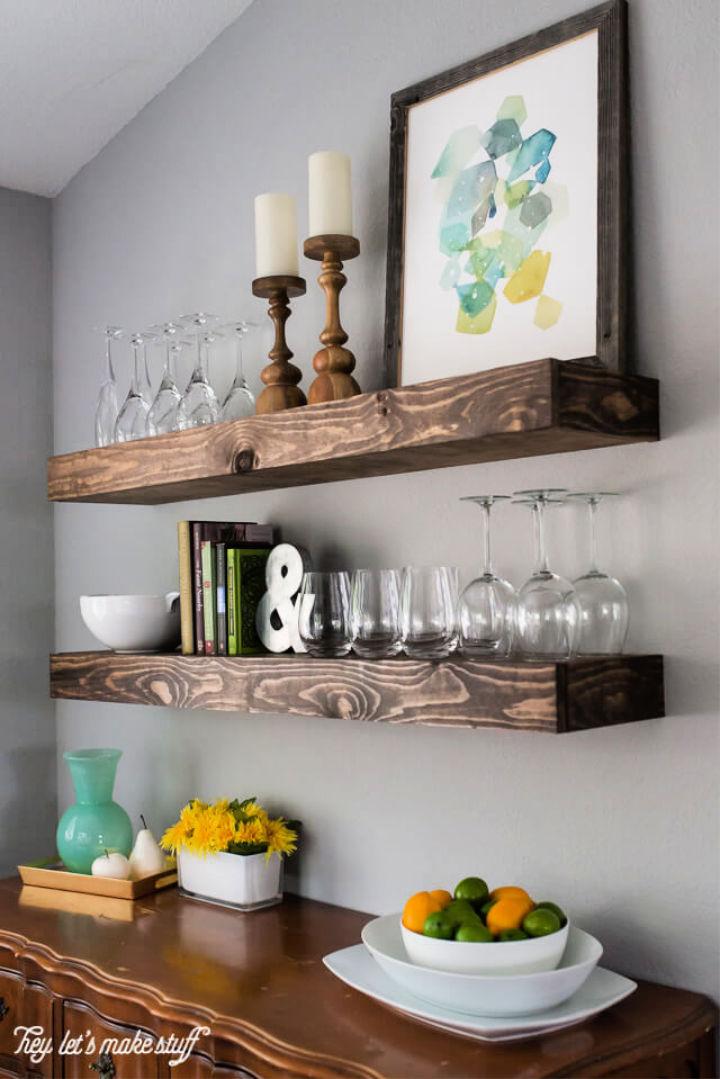 Bring tons of visual grace to your dining room by building these lasting longer floating shelves. They will impress with this fine rustic tone and amazing wooden texture. From holding books to decoration pieces to your dining utensil, these shelves will be an ideal platform. Grab the 2x3s, 1x10s, 1x4s, and plywood to build these super beautiful floating wall shelves. Drill the pocket holes for overall attachments and do the assembly using glue and screws. Details here heyletsmakes
Conclusion: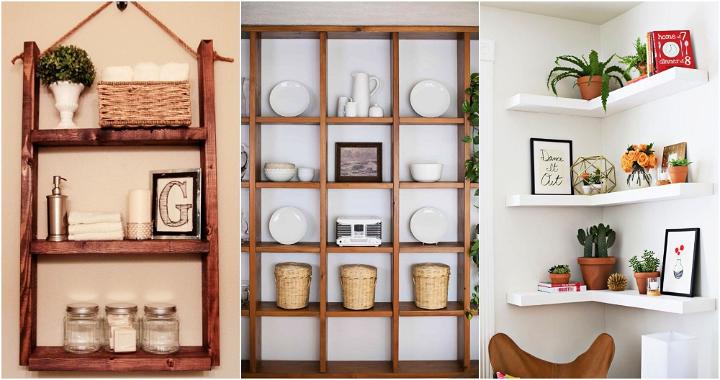 Are you having more on the floor to store and suffering from a lack of storage? Then Opt for these DIY wall shelves that will not use the further inches and will help transfer the floor items on the wall while creating a mesmerizing display of them too. You will get here free plans for building all from simple floating shelves to precious box style wall to wall storage shelves. With the provided free plans, these shelves will be a breeze to whip up. Moreover, they will not cause a big load on your wallet. Do jump on the list and choose your ideal design to copy.