A farmhouse decor appeal can make any place look whimsical! Explore these 40 best farmhouse decor ideas that will help you achieve that perfect rustic and modern farmhouse decorations! They can have almost any theme and style that you want. However, people usually tend to have a rustic and old-school theme in there. A totally opposite theme to your normal house would be amazing, so it really feels like an escape from normal life when you visit it on the weekends or bring the whole farmhouse feels at home. It should have a relaxing and soothing vibe with aesthetically pleasing decor and warm-toned lights. All of these things can help set an environment and atmosphere that will be very special.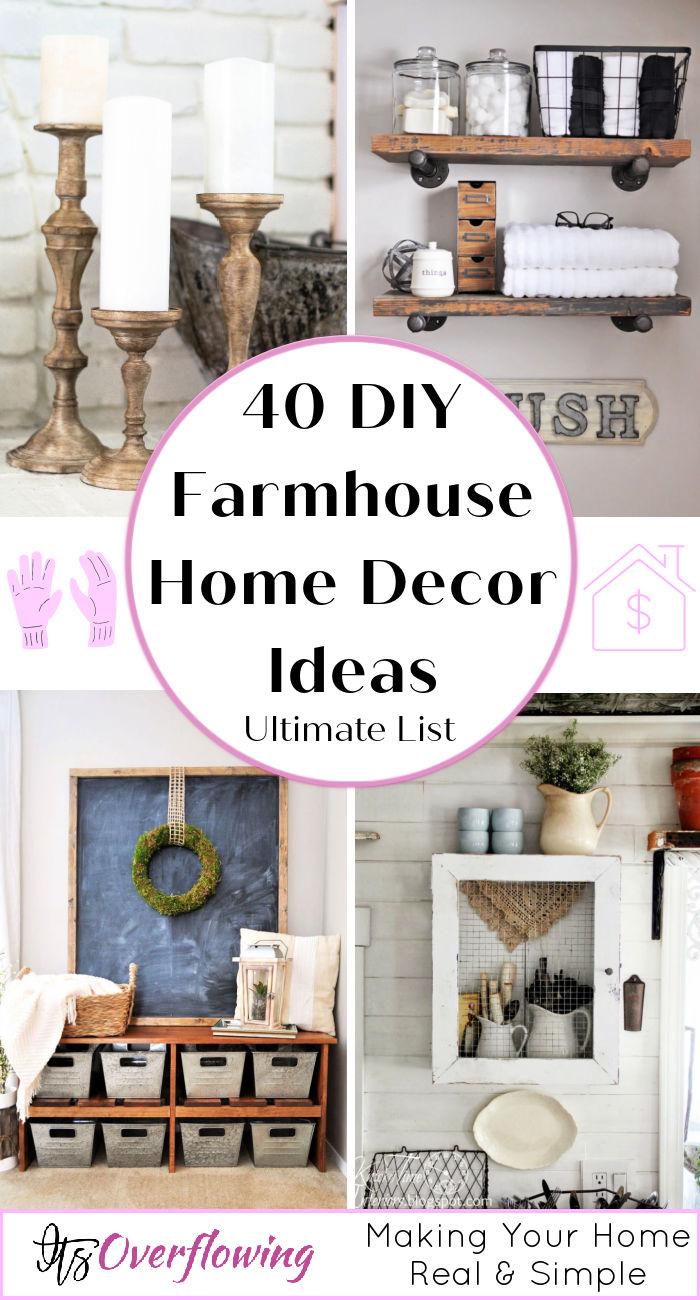 These farmhouse decor ideas can work for other places with rustic and old themes, as well. Any of these decors can make some amazing gifts too! They are all just so beautiful and pleasing to look at! Gift them to someone who is really into aesthetics and beauty. Those types of people would appreciate these gifts a lot. This article will cover a range of farmhouse decor ideas, from Mason jar bathroom organizers to pallet pantry signs, from hanging toilet paper shelves to serving trays! There's a lot to choose from! There are many options.
1. DIY Farmhouse Bathroom Hooks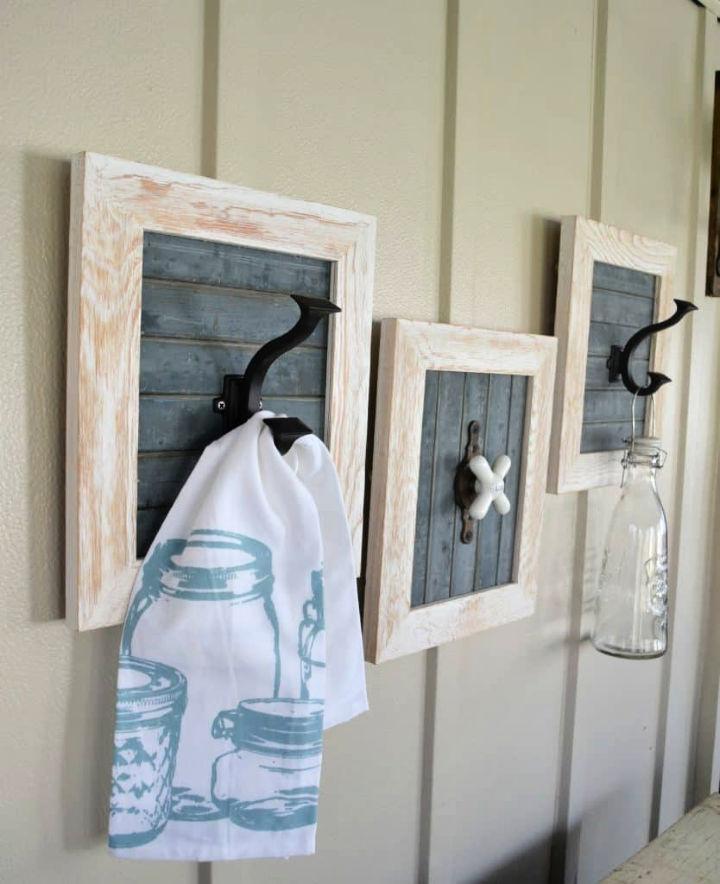 If you have useless hooks at your home, use them for some decoration and style for your bathroom's interior. These hooks can be used for hanging your towel or clothes. You can whip up these DIY decorative hooks with supplies like rustic frames, a picture hanger, a drill, and a stapler. mycreative
2. Mason Jars Bathroom Organizer

Organize your bathroom accessories with these Mason jar crafts that will make excellent bathroom storage for your cluttered accessories. By just following the instructions, you can make these beauties super easily at home. Check out what supplies you will need along with its method below. masonjarcrafts
3. Window to Farmhouse Mirror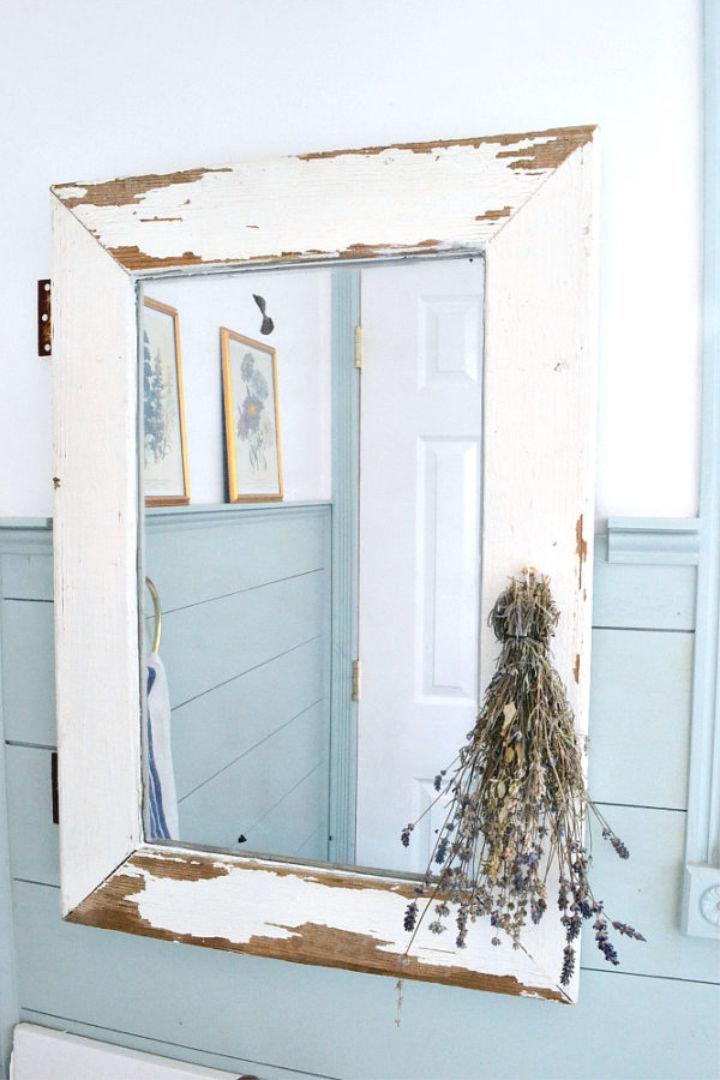 The remodeling of your house needs your investment in a good amount of money. But you can reuse the salvaged window beautifully and turn it into a farmhouse mirror. It can be a great and affordable project. Plus, you can be done in an evening using the instructions here. theweathered
Find Farmhouse Decor Ideas:
DIY Farmhouse End Table: Add the warm rustic feeling to your house with the farmhouse style table. Here's a collection of free DIY farmhouse end table plans and ideas.
Farmhouse Coffee Table: A DIY farmhouse coffee table that's giving farmhouse a new name. Build this farmhouse coffee table using these easy step-by-step free coffee table plans
Balustrade Coffee Table: Planning to remodel your living room coffee table? We have these DIY Balustrade coffee table plans for you.
4. Pallet Pantry Sign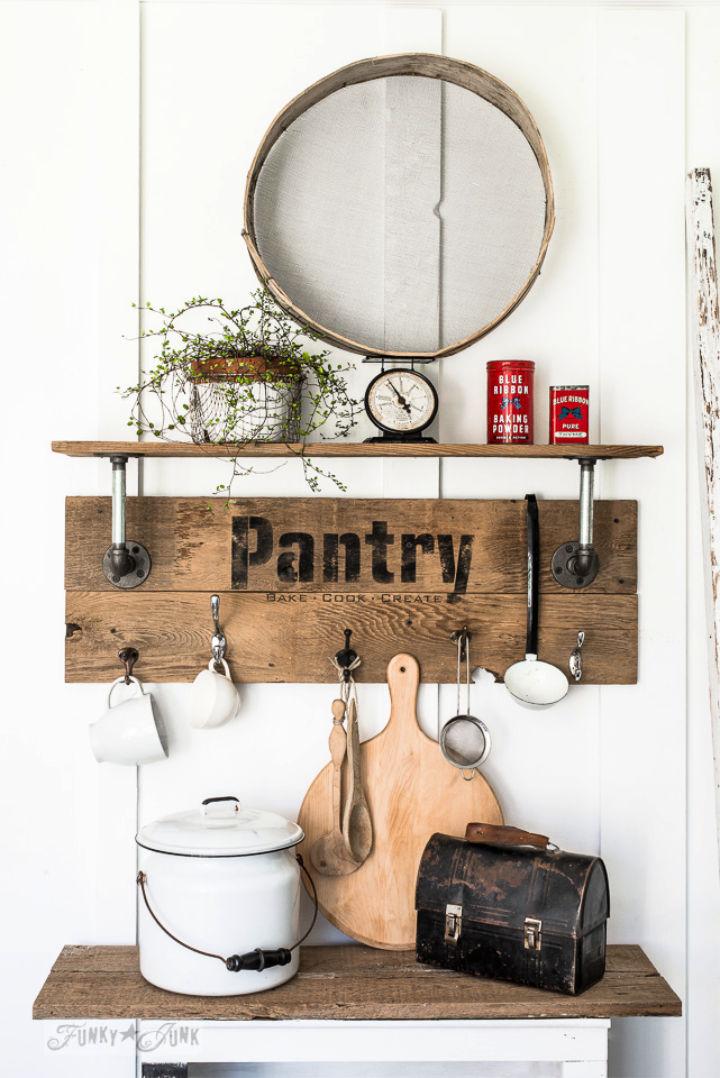 Restyling your kitchen is now too easy peasy. Also, you can give your home an industrial farmhouse style by using reclaimed wood and pipe. Go along the tips to whip up a pantry sign for your kitchen utensils. Tools required are a cordless drill, miter saw, sander and brush. funkyjunkinter
5. DIY Farmhouse Produce Rack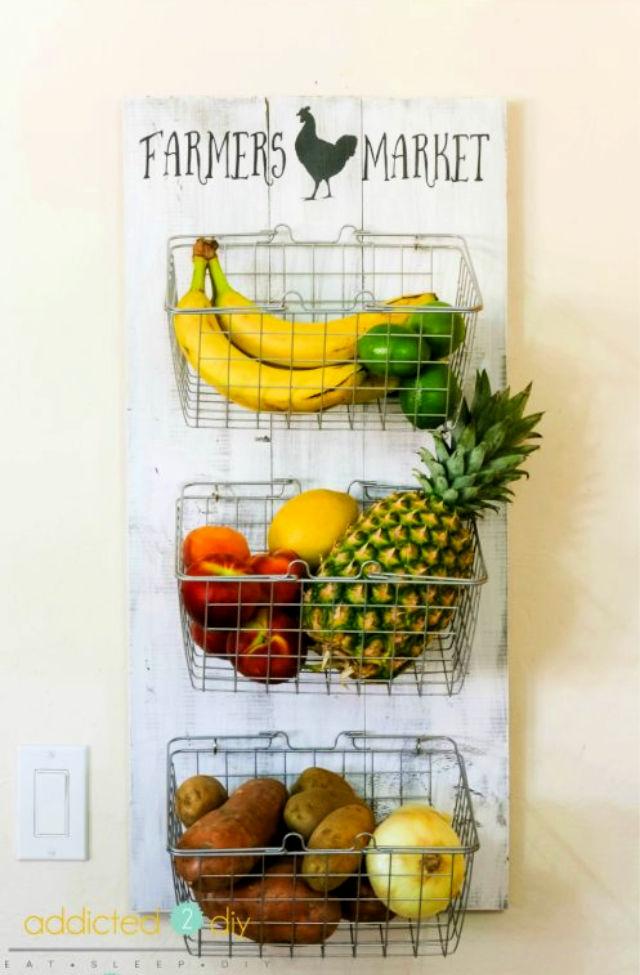 Racks are a major necessity for every kitchen. But what if you make them in farmhouse style to bring industrial elegance to your cooking space. DIY this farmhouse produces racks with supplies such as scrap piles, miter saw, paint sticks, adhesives, screws, anchors, and hangers. addicted2diy
6. Tiered Stand from Repurposed Junk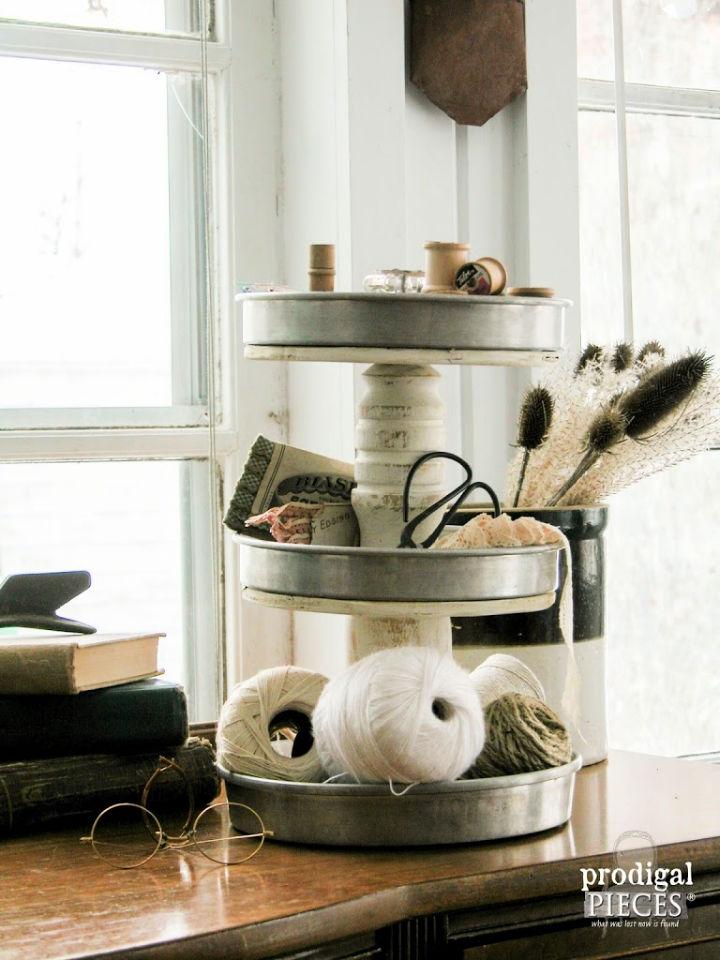 You don't need to rush to the store to buy expensive kitchenware. When DIY'ing at home can be super easy, simple, and cost-effective. DIY this tiered stand from repurposed junk and other supplies and use it to arrange the items on an orderly basis. prodigalpieces
7. Hanging Toilet Paper Shelf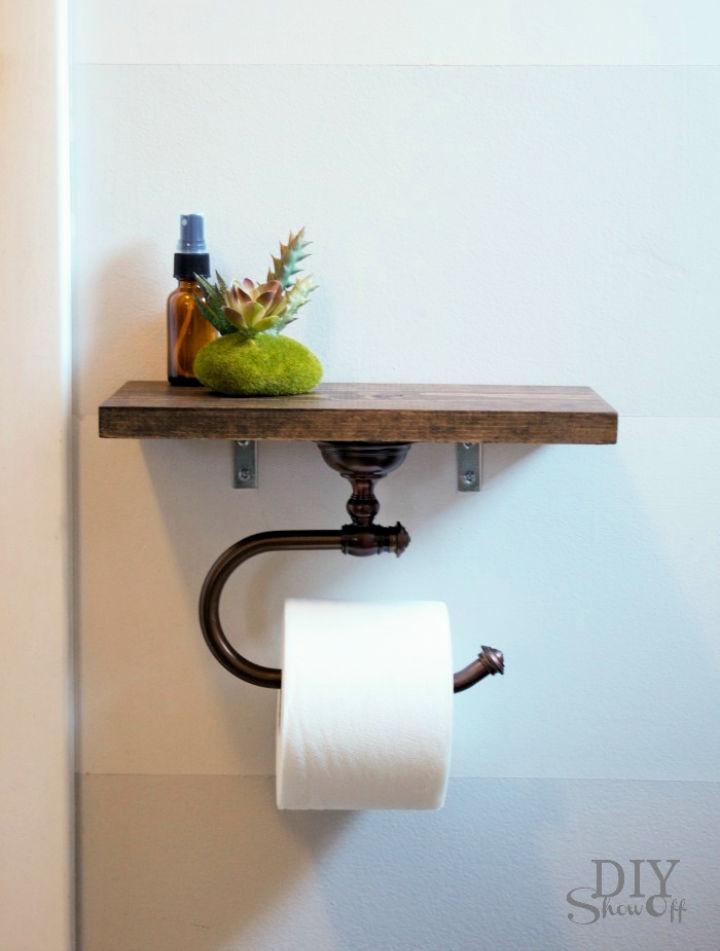 Your bathroom must be as decorative as the other rooms are. No compromise on bathroom accessories. Bringing you this fantastic toilet paper holder that is accompanied with shelf. Use scrap wood, polyurethane, corner bracket, and screws to spruce up this project. diyshowoff
8. Farmhouse Style Serving Tray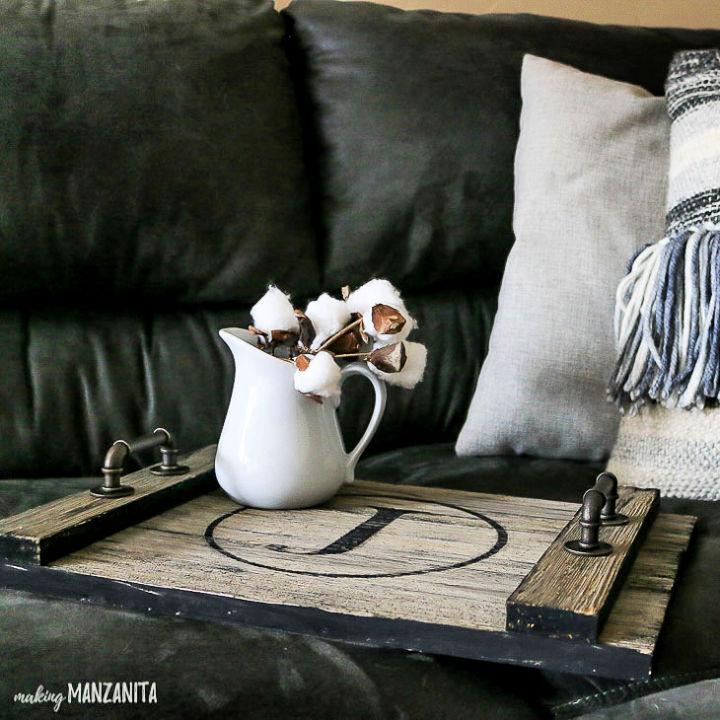 Serve your guest with style! This DIY farmhouse serving tray will make you a fantastic host. Plus, it will add function and style in your serving way. It is super easy to recreate. The method is totally suitable for any beginner. Just grab the materials and check out the instructions to start off. prettyhandygirl
9. Farmhouse Bathroom Sign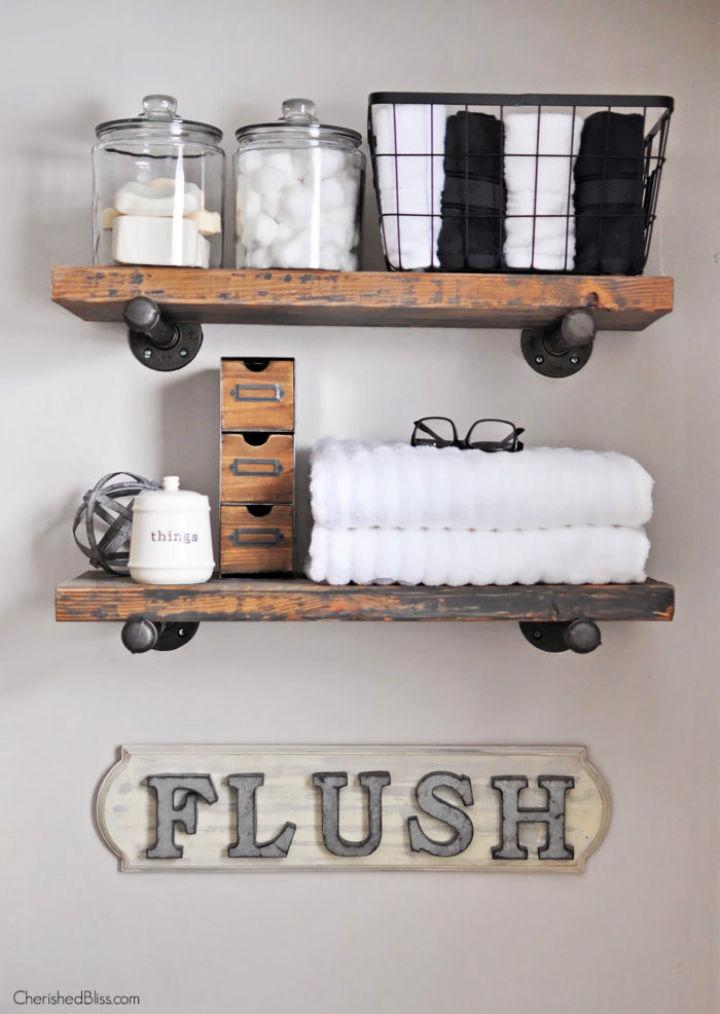 Signs can add a wonderful touch to your decor! Renovate your bathroom, this time, with style and minimalistic beauty. DIY industrial farmhouse bathroom sign and give your bathroom a chic look. Get the details by hitting the link here. cherishedbliss
10. DIY Farmhouse Mirror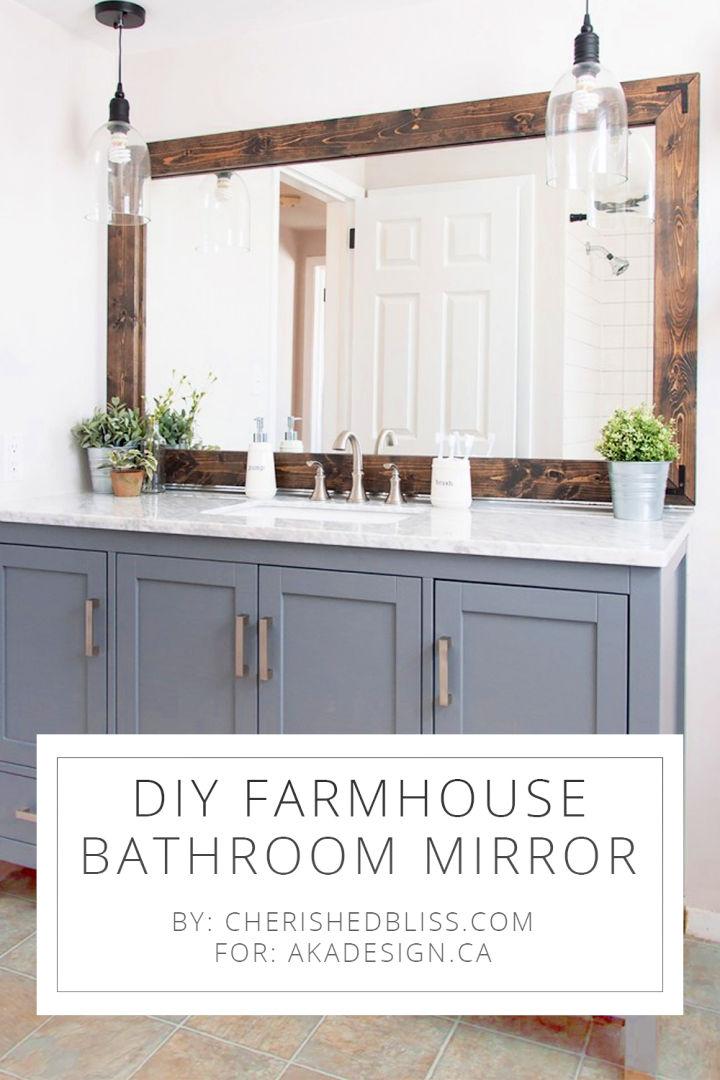 This tutorial on the DIY farmhouse bathroom mirror will lead you to an easy weekend farmhouse project. Rather than spending bucks on the store-bought one, you can build this up in such a minimal amount. Gather supplies like sandpaper, stain, wood glue, paint, staple gun, and wood. homemadelove
11. Rustic Utensil Holder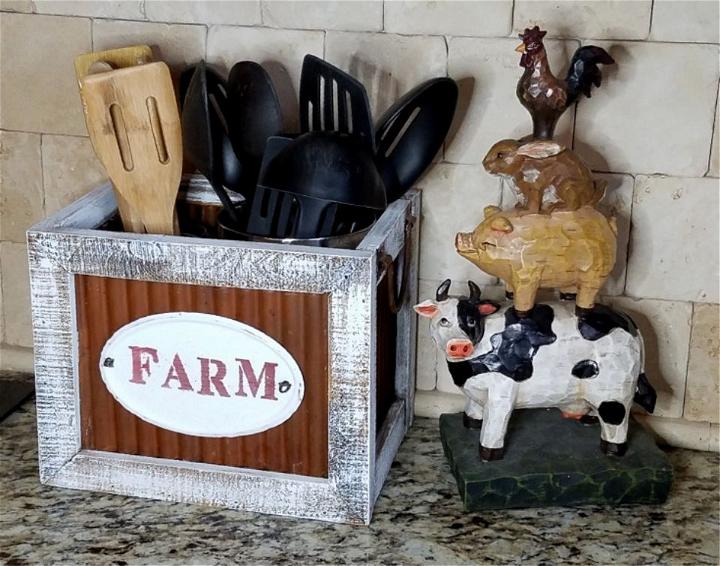 For those who love cooking and baking food, must know how important a utensil holder is in the kitchen. That's why you should learn how to make a rustic farmhouse style utensil holder. The method of sprucing it up is a straightforward process, and it won't cost you much either. mixedkreations
12. $40 Farmhouse Console Table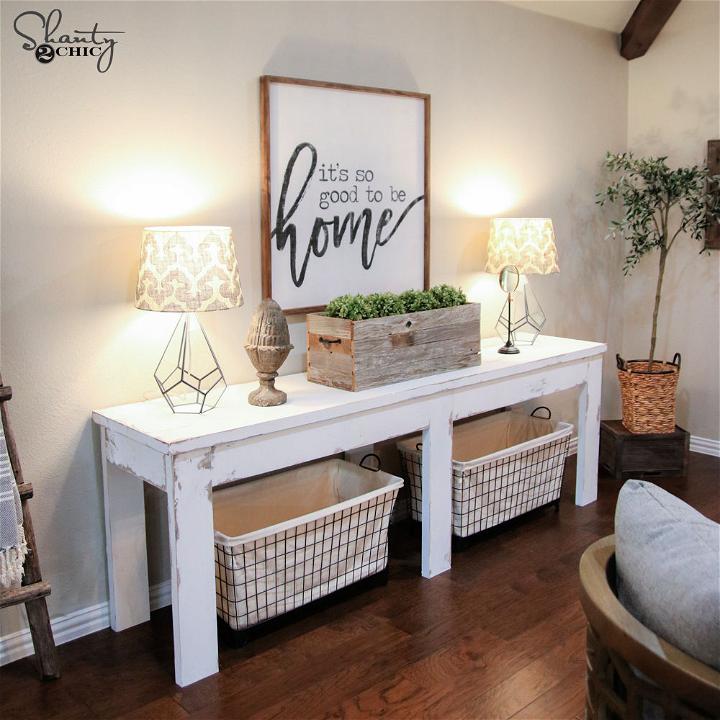 You won't believe that but Yes! You can build a farmhouse console table for just $40. Even if you are a beginner, you can spruce it up like a pro. It's that simple to build this table and will look too elegant in your living room. Click to see the materials, supplies, cut list, and assembling. shanty 2 chic
13. Farmhouse Style Coffee Table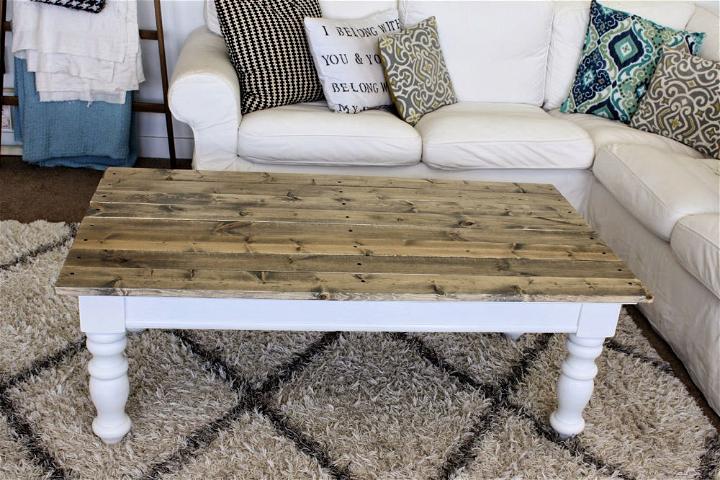 A coffee table is the focal point of your living room. Let it be worth the gaze by bringing in the coffee table a farmhouse touch and appeal. By following this DIY Farmhouse Coffee Table, you can make this coffee table far better than you could have ever imagined. Gather the supplies and get started on this project. niftythriftymo
14. Modern Style Farmhouse Bench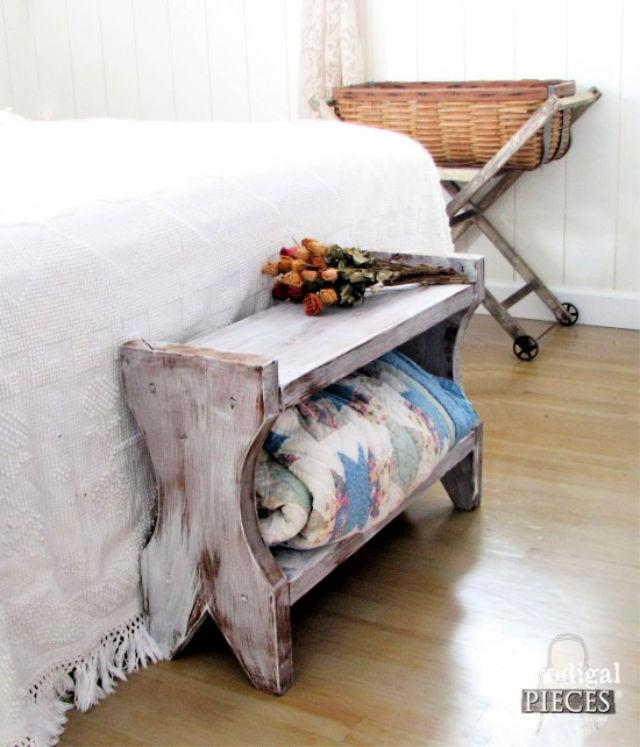 This farmhouse bench, with its rustic and modern style, can be a multipurpose bench. It can be used for sitting, displaying items on it, or you can use it as a ladder. Here are the tools and supplies you will need: pine boards, table saw, router, drill, sander, sandpaper, and square. prodigalpieces
15. Farmhouse Cabinet from a Crate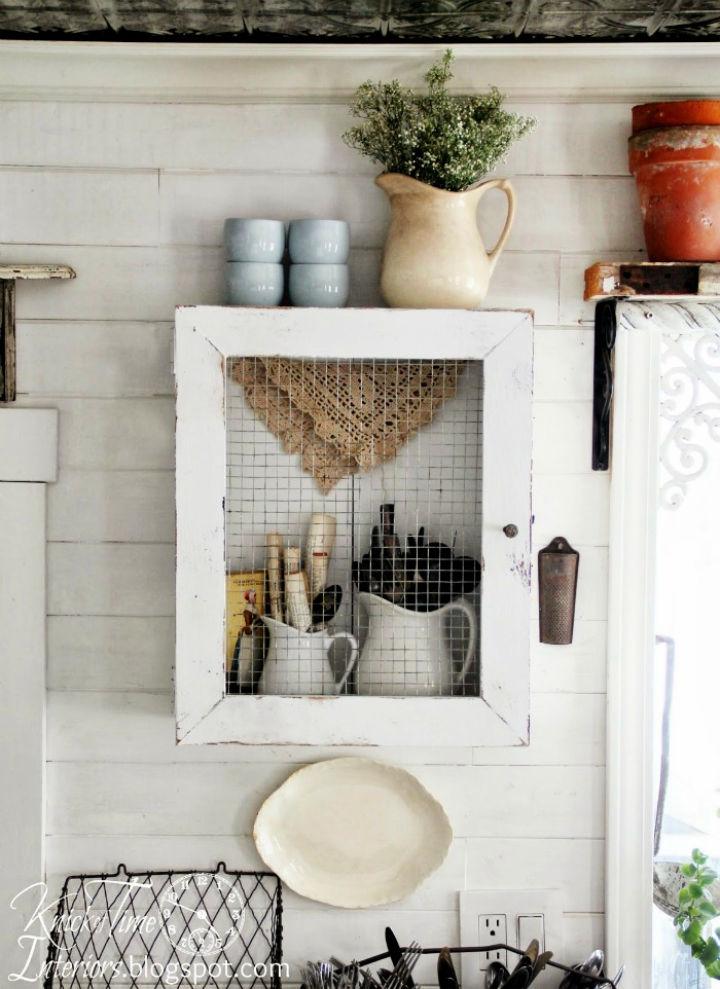 DIY a farmhouse cabinet from a crate by following the tips and tricks. You can reuse your old crate and transform it into a farmhouse style cabinet. The idea is to give you some extra space for storing your necessary stuff. Plus, it can sparkle any space where you want to place it. knickoftime
16. Farmhouse Floating Shelves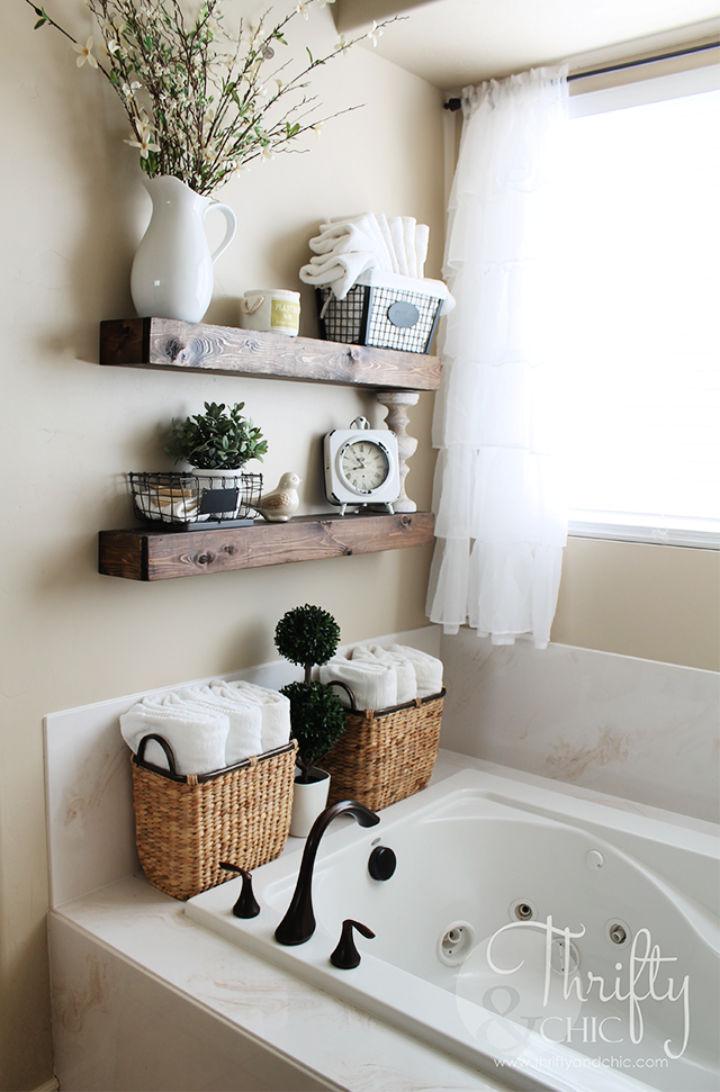 The floating shelves are in fashion and trend these days. But instead of opting any store-bought shelves, give a shot on DIY'ing floating shelves by yourself. Update the bathroom's interior and decor by whipping them up. The pictorial instructions here will walk you through the end. thriftyandchic
17. Farmhouse Candle Holder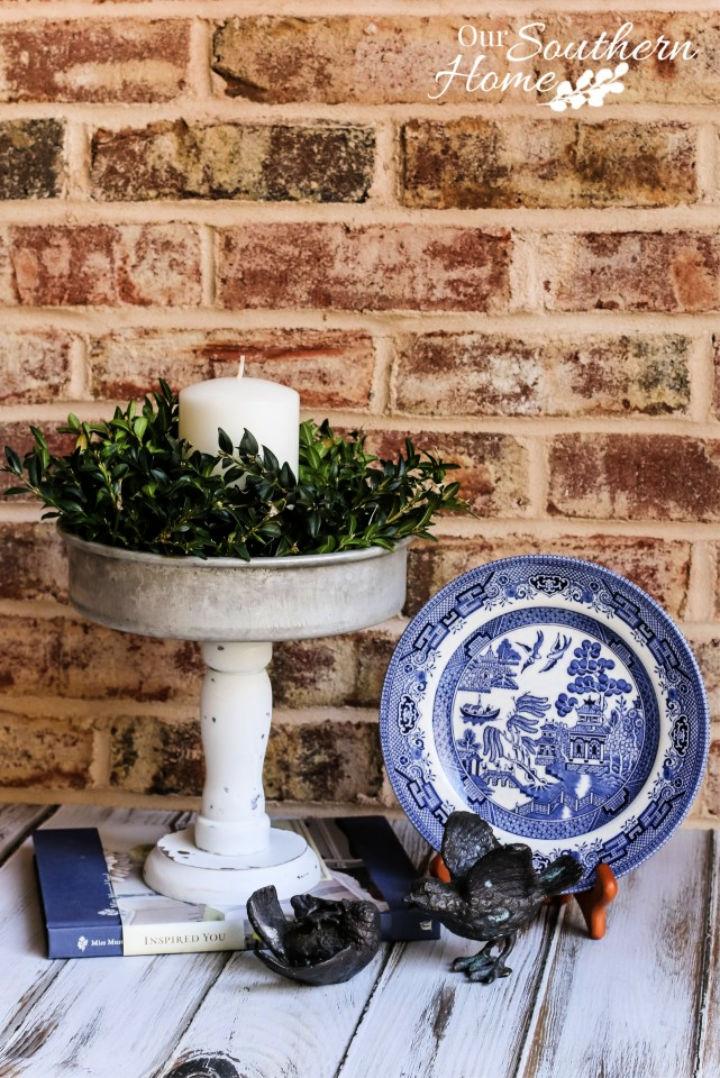 Redo your room's decor and style it aesthetically! The farmhouse candle holder will be enough to romanticize your room and your mood. Making something from the stash and make it work for your home decor is a great feeling. Go ahead and check out the details on sprucing this up oursouthernhom
18. 5 Minute DIY Candle Holder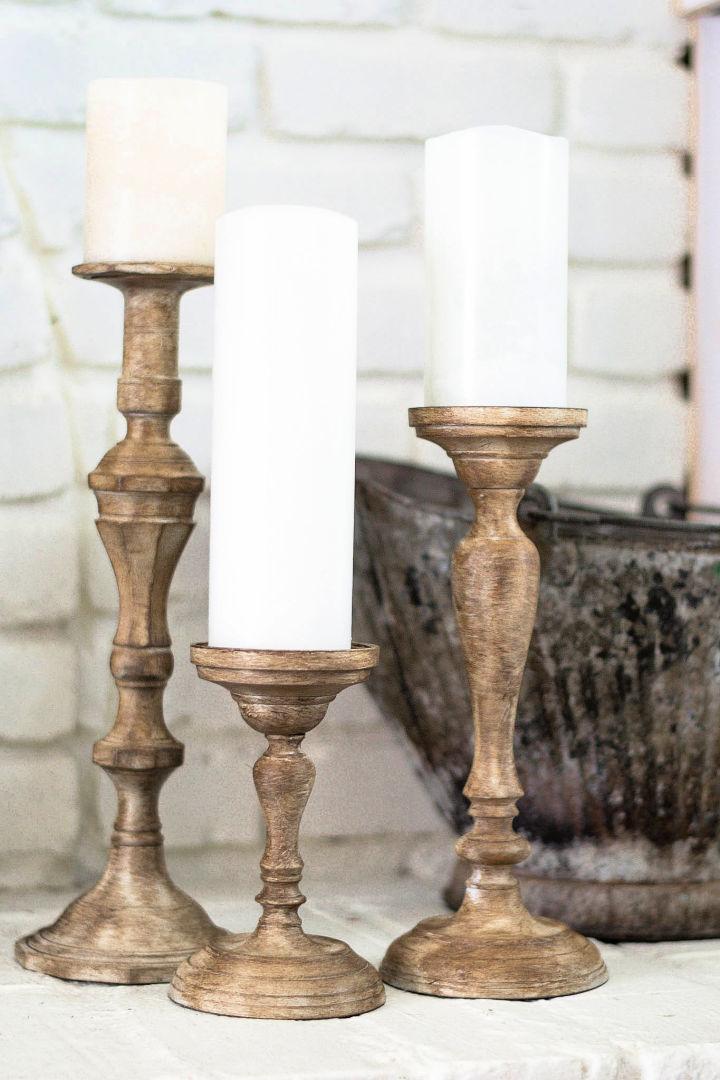 Take out just 5 minutes from your hell busy routine and craft this DIY candle holder from thrifted candlesticks. It will give a farmhouse kind of appeal to the shelf you are going to place it on. For making these candle holders, you will just need spray paint and dark wax of your choice. theweathered
19. Rustic Wall Sconce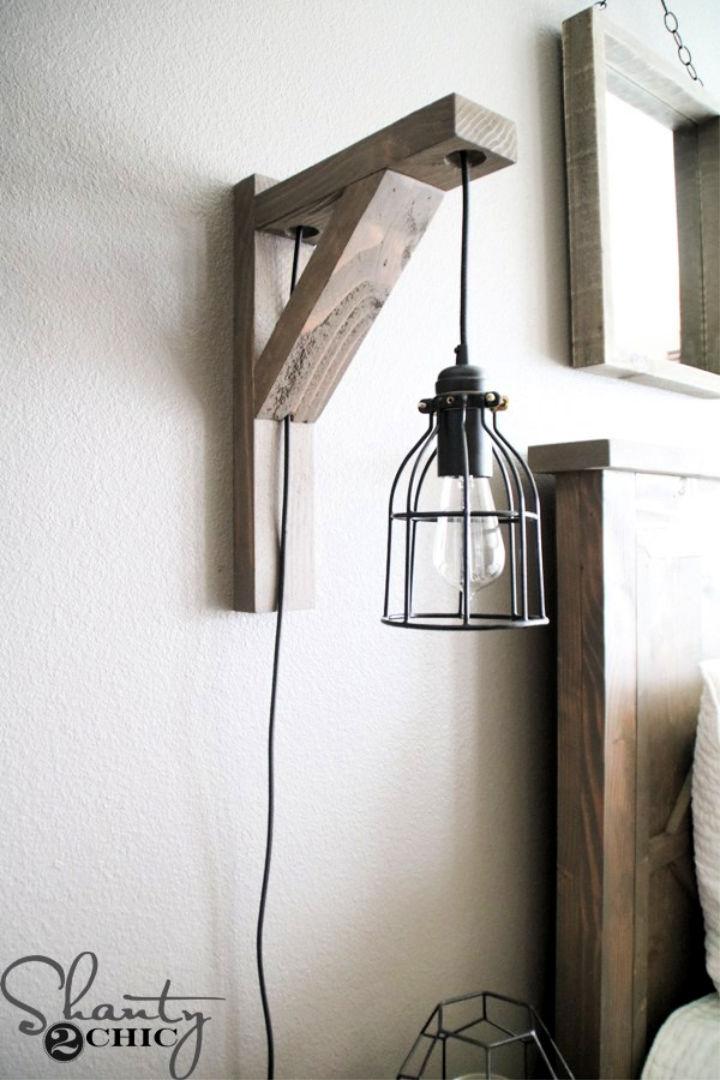 Enlighten your room with something more unique and different than the regular lamps. This DIY corbel scone light will perform its duty of brightening up the room so well. Plus, you can just make them for $25. They will be more handy and functional to use. Check out the how-to details here. shanty 2 chic
20. Laundry Room Farmhouse Light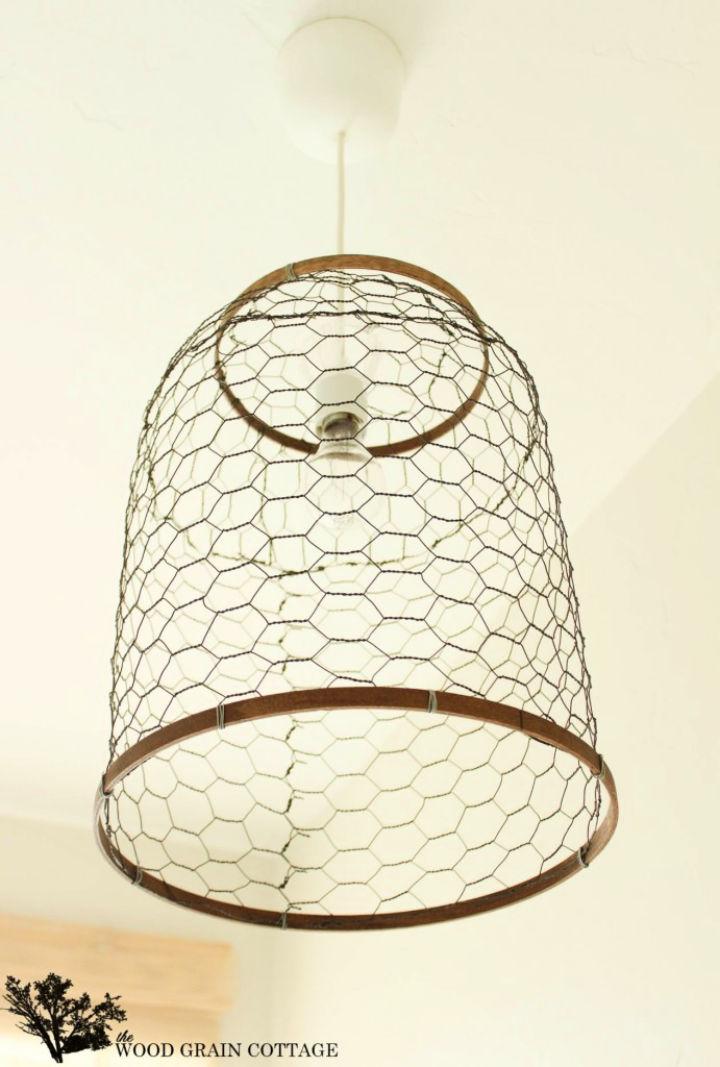 When your whole house is so sparky and classy then, why not your laundry room can be? This laundry room farmhouse light will spark up your room and will make your laundry days much better. Collect supplies to build it up, you will need an embroidery hoop, stain, metal snips, lampshade, wire, hander, and a sharpie. thewoodgrainco
21. Farmhouse Style Inspired Home Sign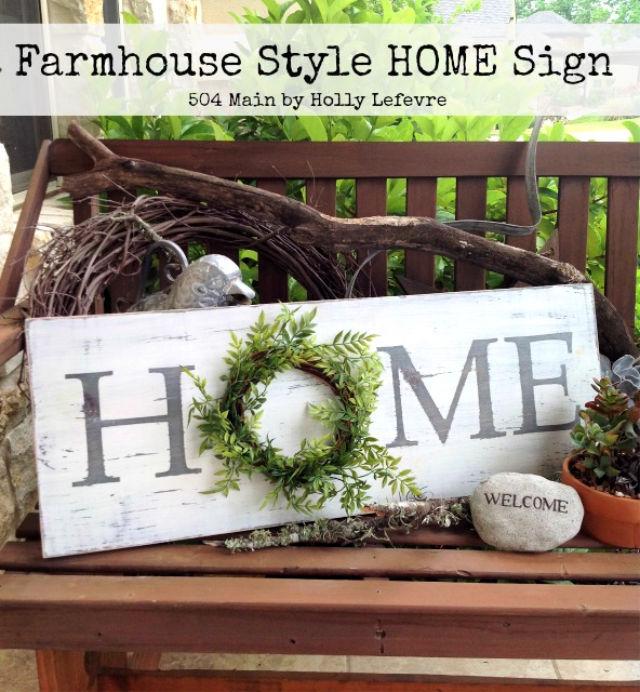 What's better than a cute little home sign right in front of your house? It adds a homely feel to it and also makes it look very welcoming when someone visits you. Hot glue gun, paintbrush, pine board, sandpaper, and a few other supplies will be required. 504main
22. Upcycled Frame and Wreath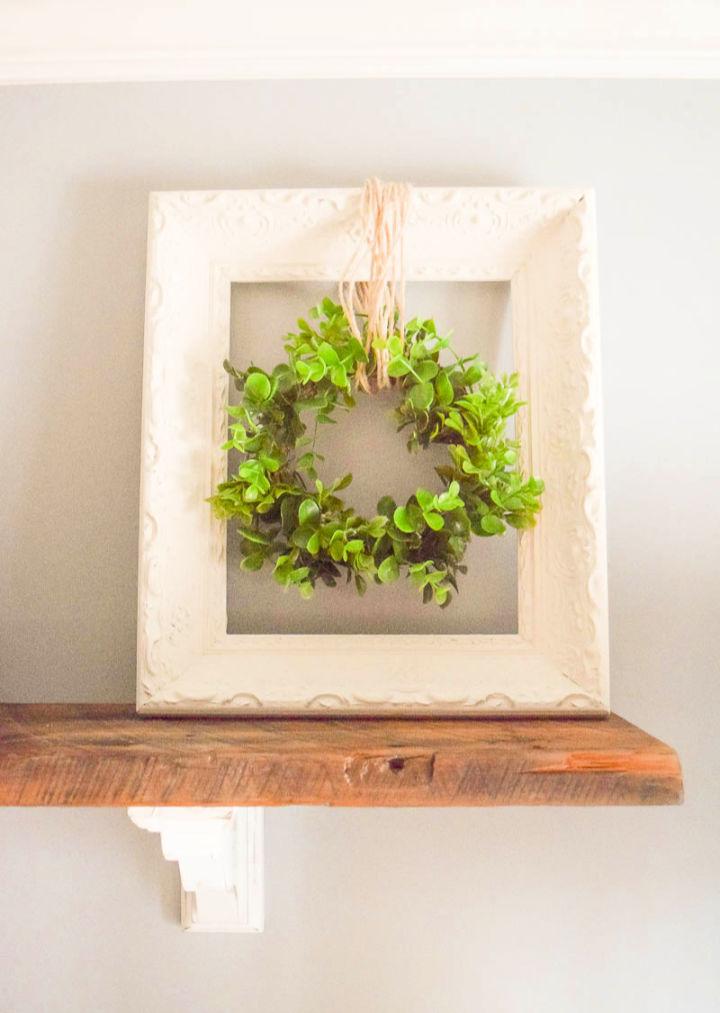 It is very good for our surroundings when we decide to up-cycle and use the same stuff to make decor like this. Use an old picture frame to make this adorable wreath decor, which has a very vintage and beautiful vibe to it- will add a lot of elegance to your house. makingjoyand
23. Farmhouse Boxwood Wreath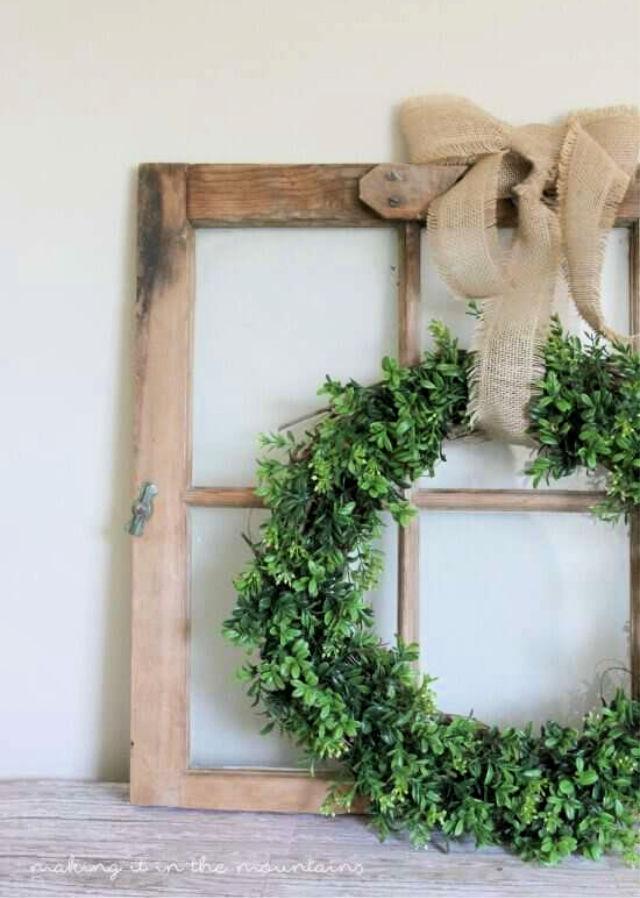 Everyone knows that there is nothing more old-school and farmhouse themed than a wreath! Here's another wreath decor, which is just so beautiful and stunning. You can place it in any boring are plain corner to spice it up and make it look a lot more interesting. tableandhearth
24. Pallet Wood Farmhouse Clock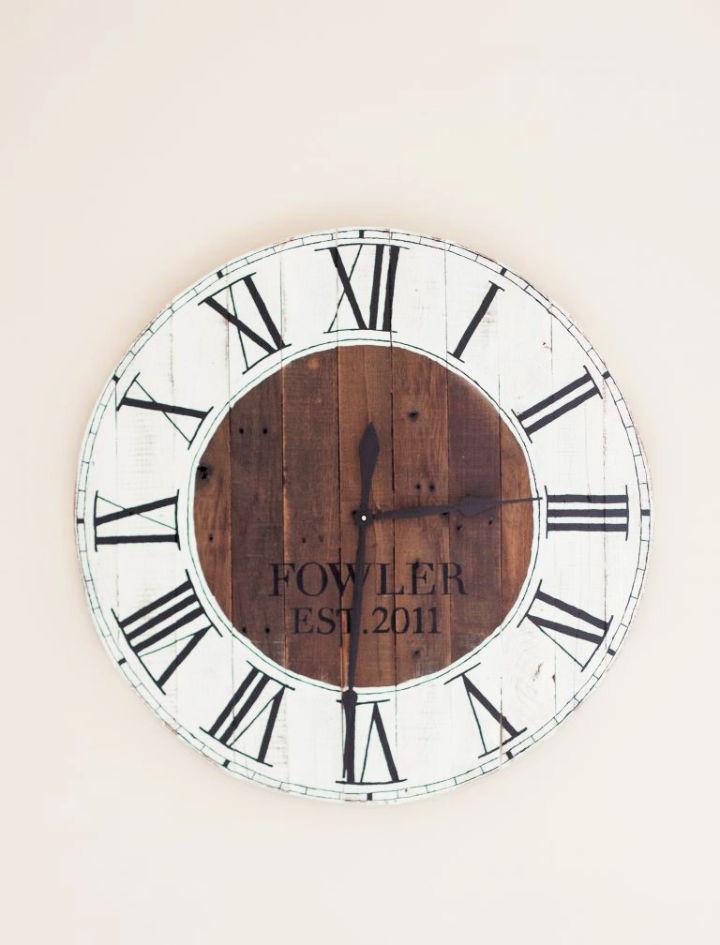 Roman numerals combined together with pallet wood! Isn't this just so old-school? It looks so polished and nice and will make your farmhouse look so pretty. Pallet wood, boards, string, twine, paintbrush, paint pen, golden oak, and a few other supplies required. gatherandflour
25. Chalkboard with Rustic Wooden Frame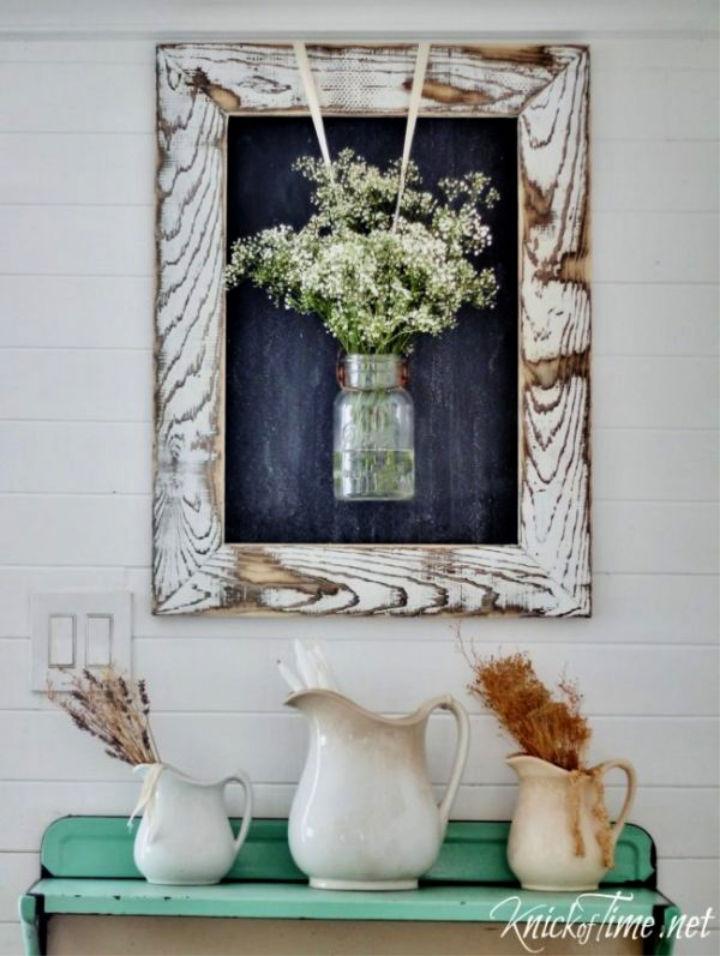 Chalkboard is just a great addition to your house. It looks and feels old, and no one would believe you when you tell them that you made it yourself! This is because it is so antique! Wood stain, nail gun, paintbrush, miter saw sandpaper, and a few other supplies will be required. knickoftime
26. DIY Farmhouse Message Board

Message boards are a great idea to really note down something that you may need to do. When you're trying to escape the normal life on your vacation, this can be a great alternative to using notes or checklists on your phone! It's so pretty, and you will love using it. seekinglavende
27. Farmhouse Style Picture Frame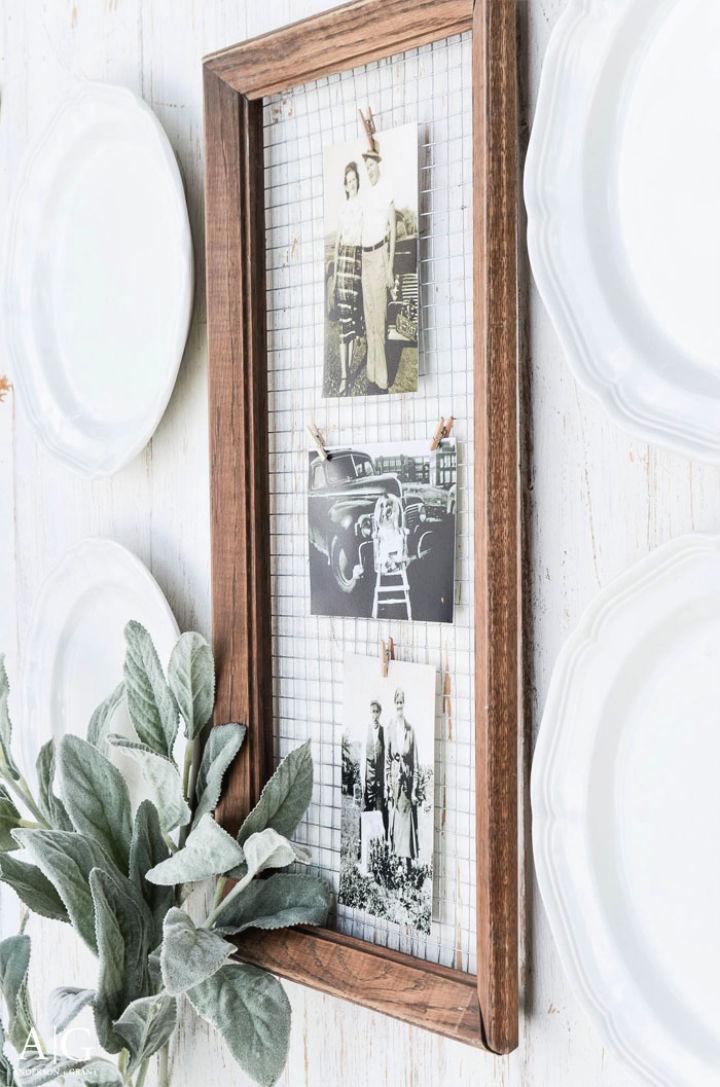 Polaroid or pictures hold great memories, and having them up on your walls will make you appreciate all the good times and those precious memories. This amazing board is just perfect to put up all of those special memories. The supplies are very easy to find. andersonand
28. Windmill Decor using Ceiling Fan Blades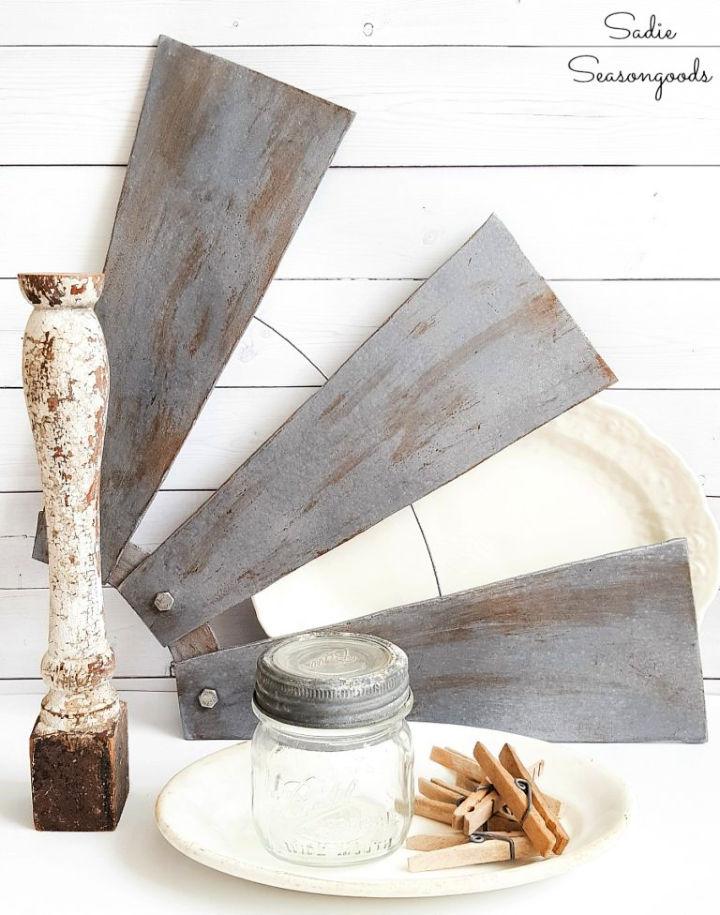 Almost everyone has some old fans lying around in their storerooms waiting to be used or sold. If that's the case with you, make this rustic and beautiful piece of decor out of it! Place it on a dresser or any table, and it will look very antique and beautiful. sadieseasongoods
29. DIY Painted Canvas Farmhouse Sign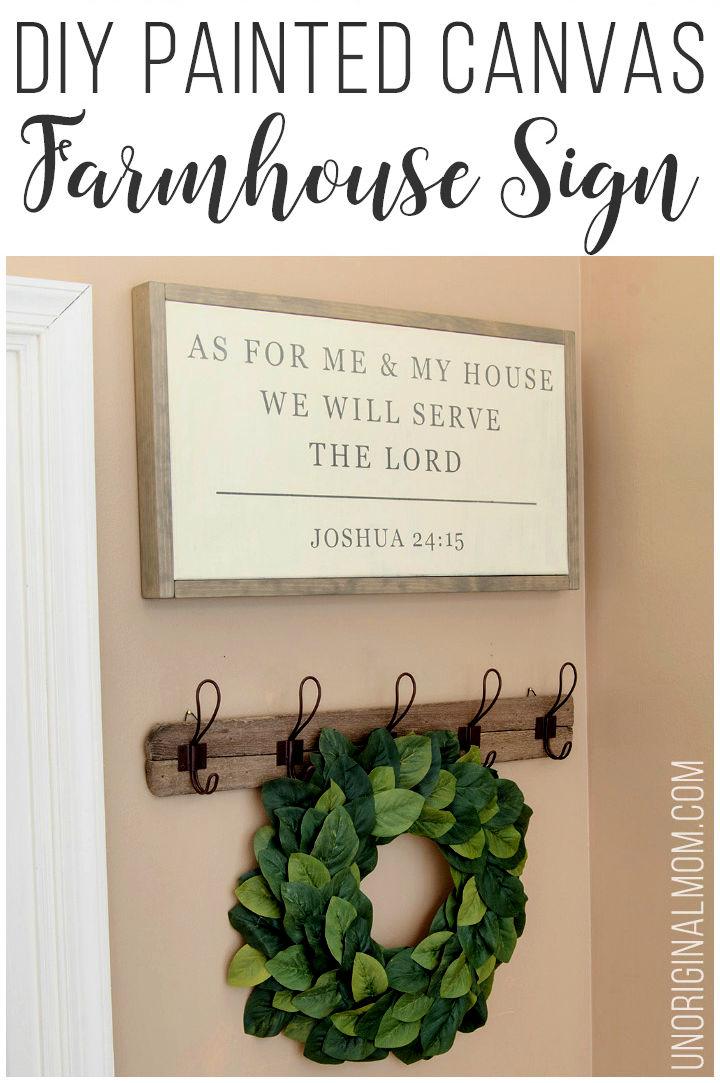 Do you have a special saying or phrase that you want to incorporate into the decor of your house? Follow this guide to make an amazing painted canvas that can be used in any corner of your home. Make sure to use a motivating phrase to live a positive and happy life as words can have a huge impact. unoriginalmom
30. Farmhouse Wooden Box Centerpiece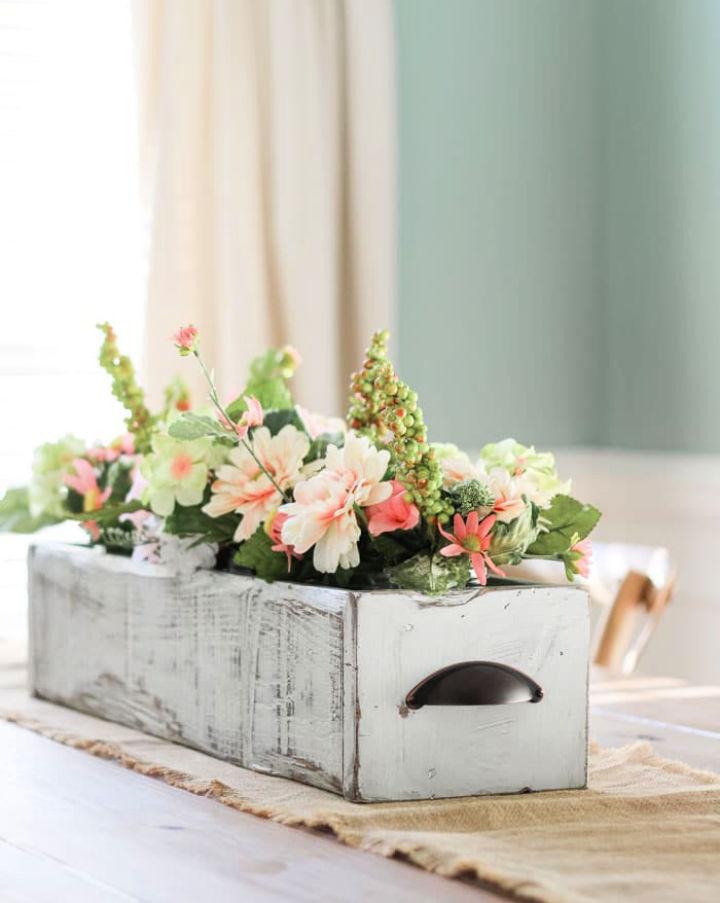 Who knew that a simple wooden box could make this cute of a decoration piece? Out of all other farmhouse decor ideas, this is the easier one and doesn't require much effort or a ton of supplies. Pieces of wood, a few basic tools, time, and patience are required. theturquoise
31. Farmhouse Style Moss Topiary Tree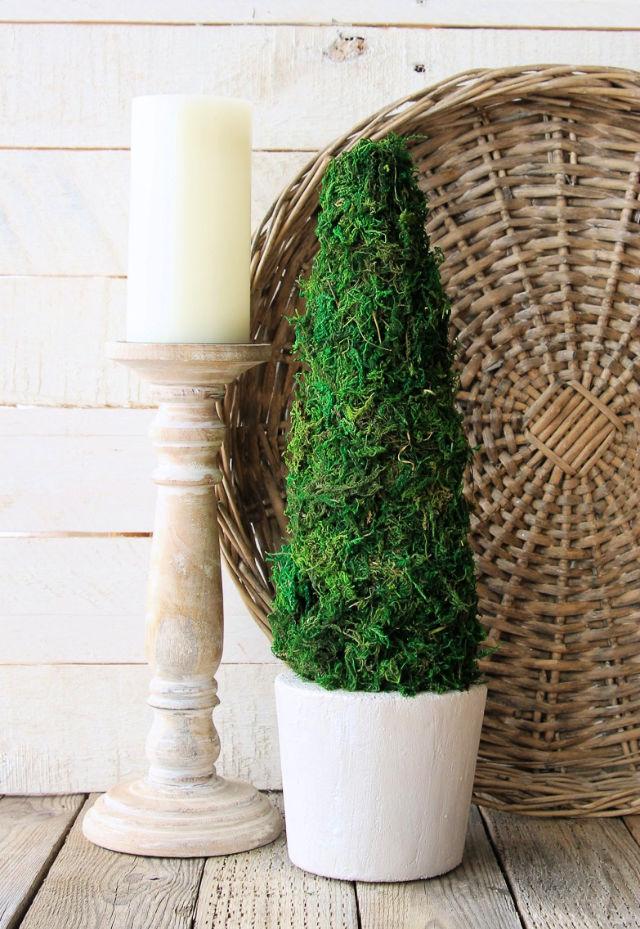 Unique and stylish pieces of furniture are always welcome! How pretty is this plant? You may have never seen it before because it is very rare. This will help make your house look very interesting and fun to be in and also some extra greenery. thehappyhousie
32. Wire Bread Basket into Vintage Farmhouse Decor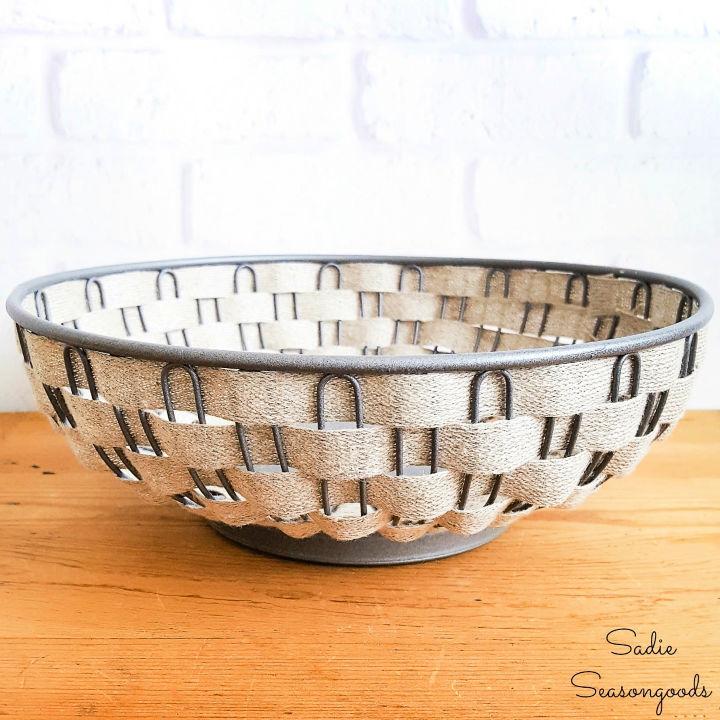 Baskets play an important role in how your house looks and feels. These little pieces help you hold many things and also make your living place look more aesthetically pleasing. It's quite simple and easy to turn any basket into this one using a few supplies. sadieseasong
33. Windmill Wall Decor for Less Than $20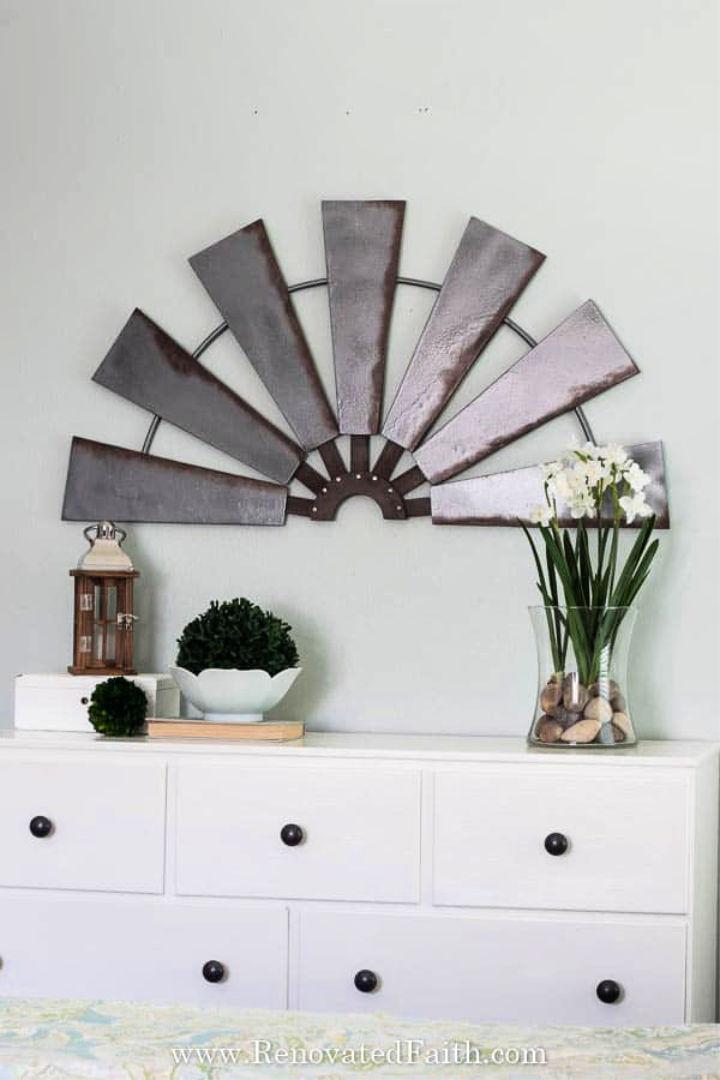 Maybe you're looking for a decor piece that's not too expensive but still adds a significant difference to your house. This wall decor can be done in less than $20 and turns out looking so pretty! Screwdriver, duct tape, wood screws, foam brush, and a few other supplies will be required. renovatedfaith
34. Wagon Wheel Farmhouse Style Wreath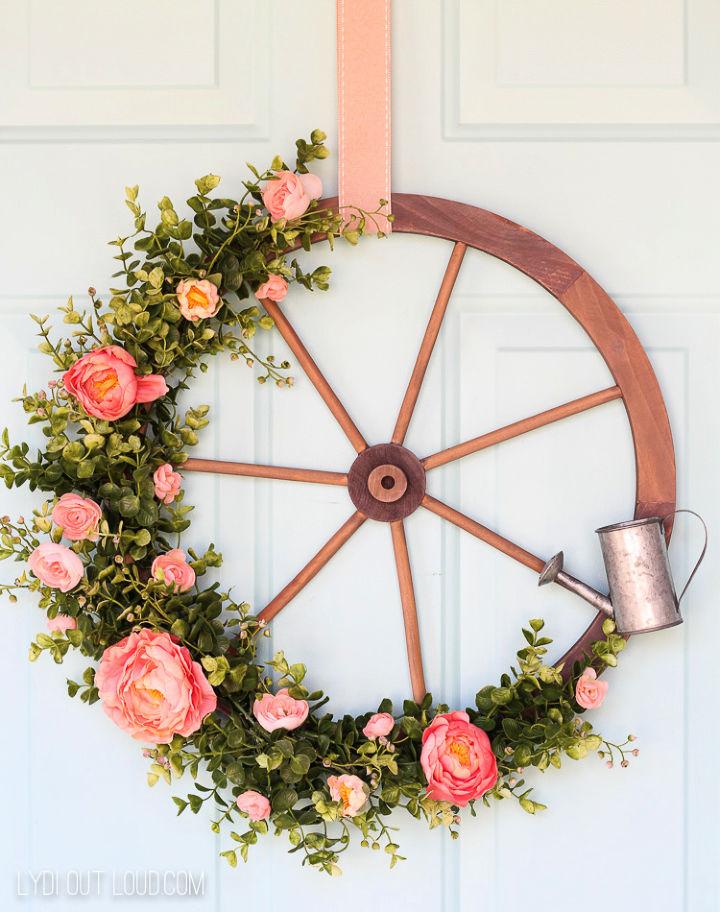 Here's a guide on how you can make a beautiful and feminine looking wreath using a wagon wheel. Yes, you heard that, right! It might be unbelievable, but it's actually very easy to do as long as you have all the right supplies on hand. lydioutloud
35. DIY Farmhouse Tray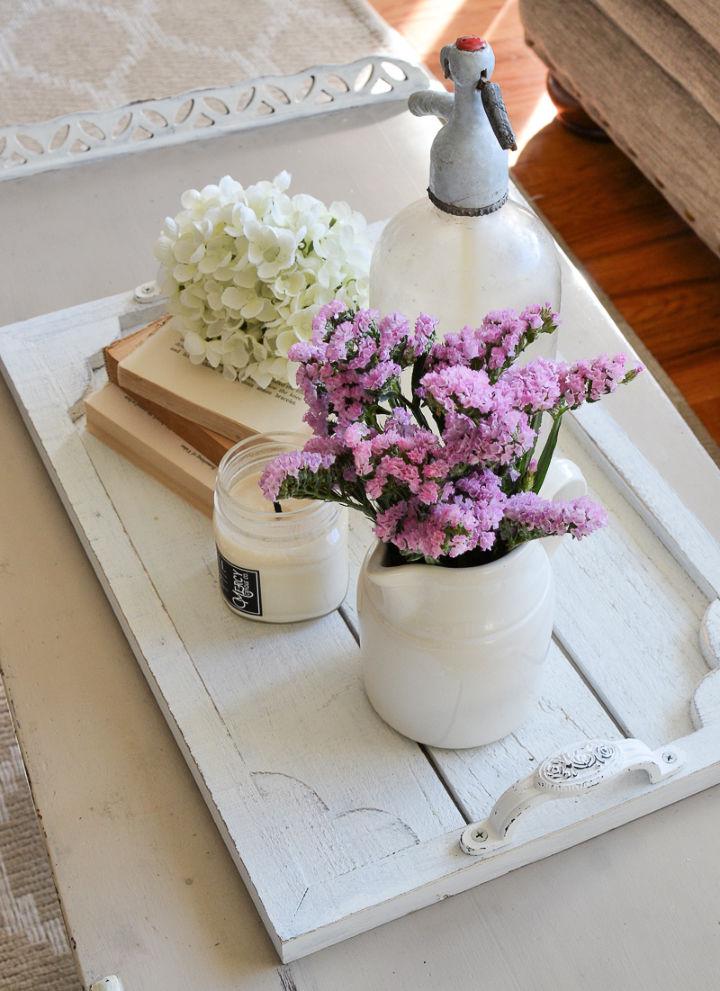 Farmhouse decor ideas may be very special and extra; however, this plan is very minimalistic and simple. So, if that's your cup of tea, definitely take a look at this amazing plan! You will need spray paints, wood, and a few other supplies to successfully nail this project. sarahjoyblog
36. Farmhouse Memo Board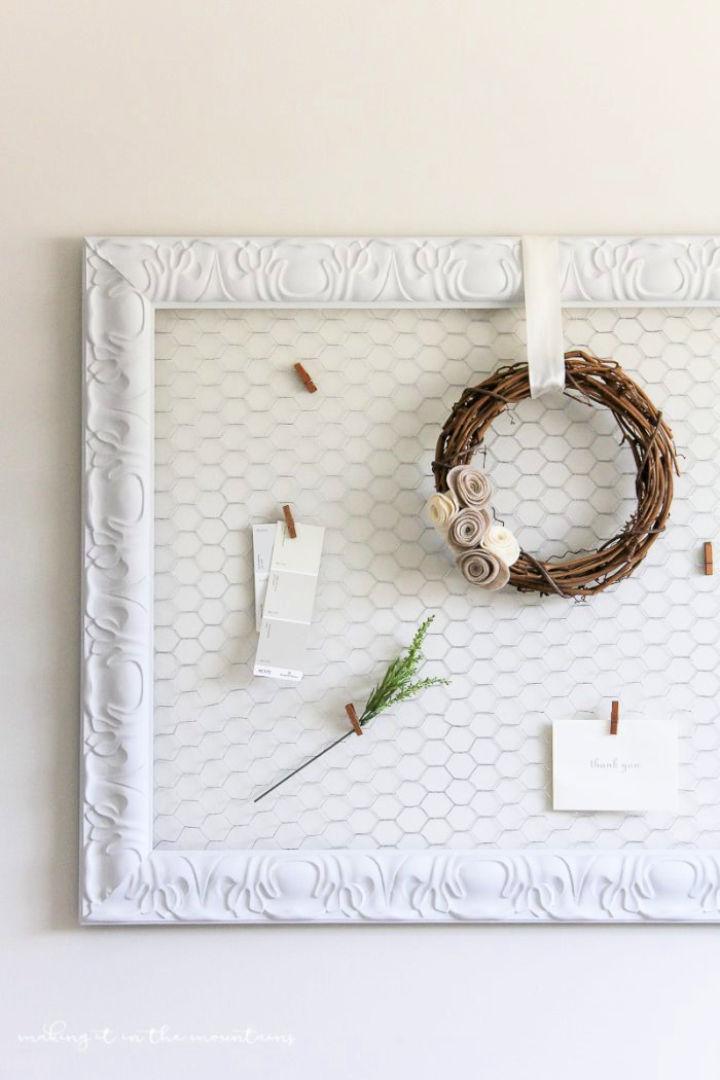 A beautiful pattern that may remind you of the '70s and may even feel you nostalgic for an era you've never known. It is very beautiful, stunning and will help you add a vintage vibe to your house. Who wouldn't want that? lollyjane
37. Large Framed Chalkboard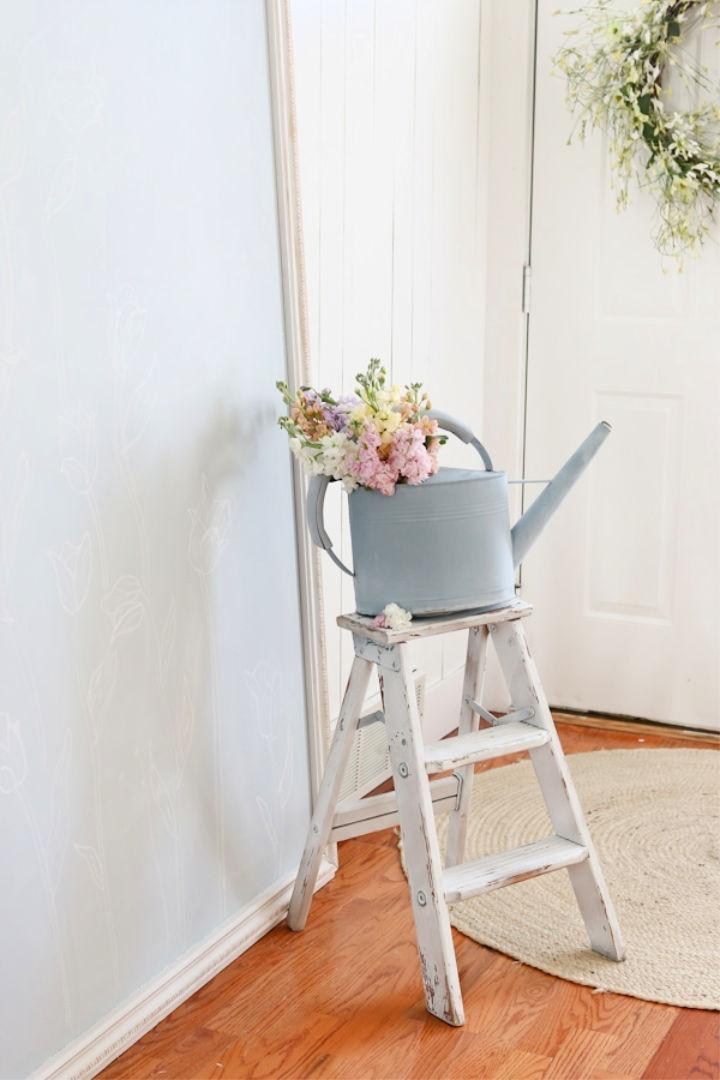 If you're a person who likes to switch up their decor and drawings quite frequently, then this is just perfect for you! This is because it is a chalkboard, so you can always erase the previous thing you drew on it and choose to draw on something new! It's very fun to play around with. tidbits cami
38. Handmade Farmhouse Bench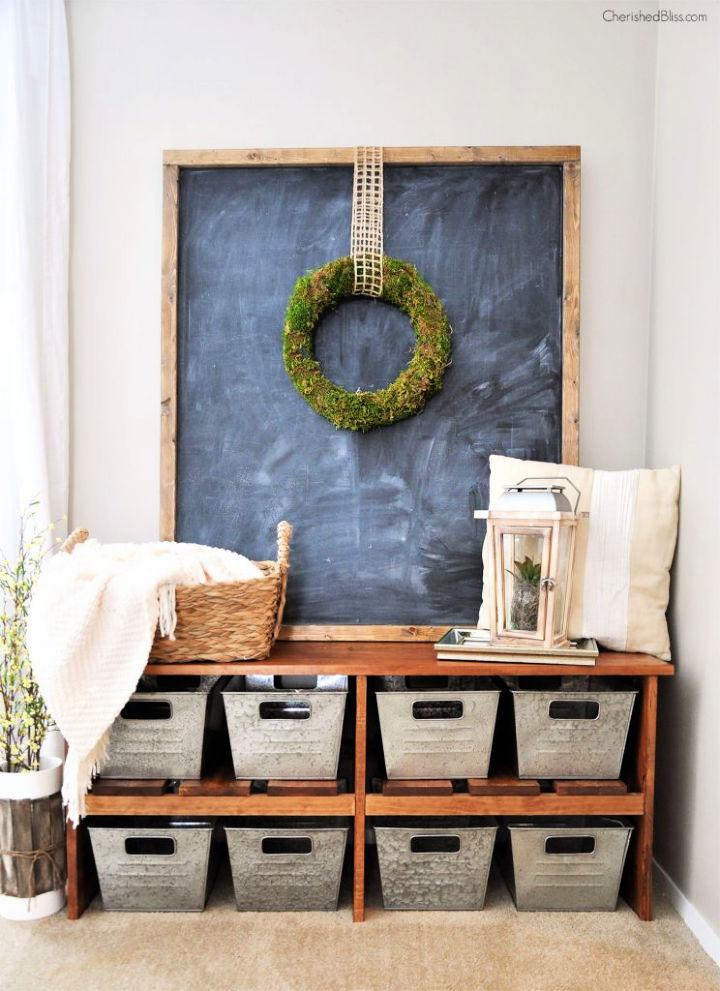 Farmhouses do require a ton of storage space, as many people choose to keep their extra things in there. However, if you wish to make the storage look adorable, then this rustic plan will work out perfectly for you! It's very easy to re-create. cherishedbliss
39. Enamel Mug Organizer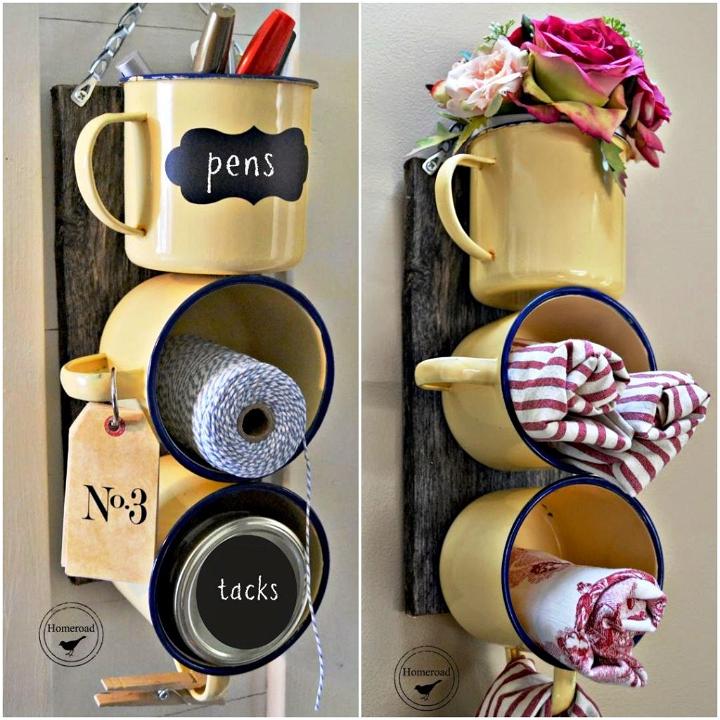 Do you have any beautiful mugs lying around your house? If they are a little antique, then even better! You can make this amazing decor for your farmhouse and place a few important things like napkins in there. It's so unique and beautiful! homeroad
40. Wood Bead Garland with Tassels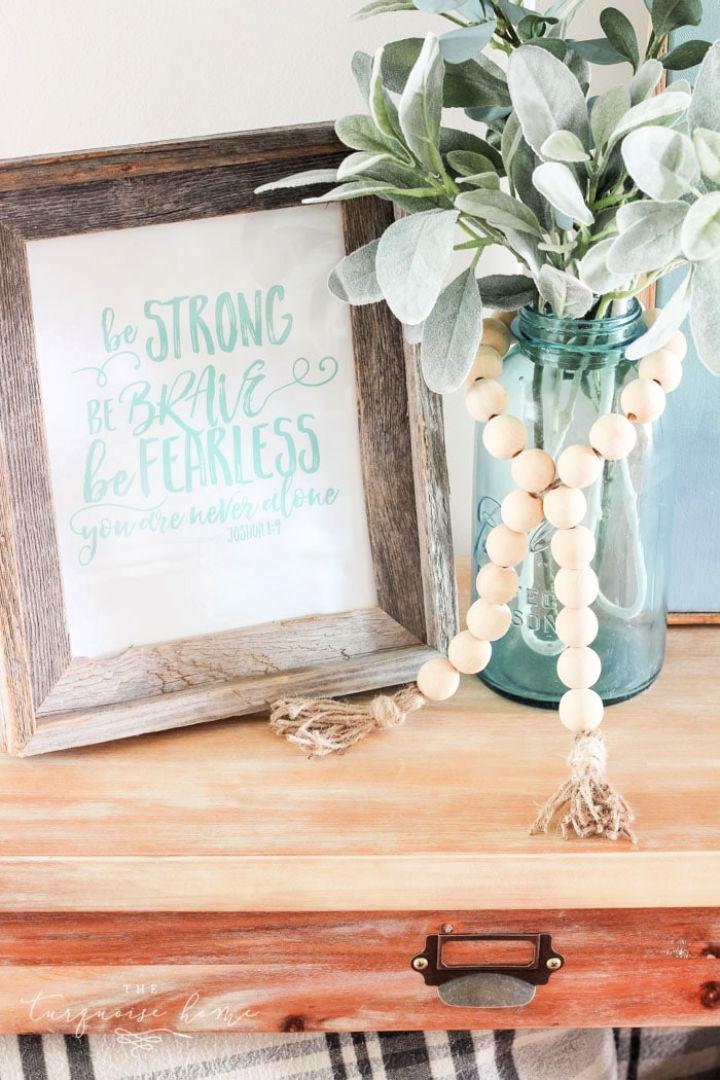 Garlands are just the most adorable. This idea is one of the coolest ones out of the other farmhouse decor ideas. You can also choose to hang it on the wall or maybe just keep it on the table, as shown in the guide. Wood tag, sharpie, jute, and a few other supplies are needed. homemadelove
Conclusion:

Are you ready to make your farmhouse look super stunning with these modern and rustic farmhouse decor ideas? You may have wanted to do farmhouse decorations for a while but don't have any ideas. This is the perfect season to make it look stunning, as you will be spending a lot of time there in the summer season! Gather all the materials, head to your farmhouse, play some music, and make these amazing farmhouse decorations for your special place! You don't need any special talent or skill to do most of these farmhouse decor ideas, and they are beginner-friendly. Your farmhouse will definitely turn out looking like those Pinterest boards!