The trend of a farmhouse end table is back in the furniture world. Modern furniture includes these end tables as center and side table. DIY end table in bedrooms and living rooms in the farmhouse style also look adorable. These 10 free DIY farmhouse end table plans come step by step instructions, a PDF guide, material list. You can build these tables with a Crisscross or X at the sides or front. You can also exclude the Crisscross design and make simple table pillars. The actual design of these farmhouse tables consists of rustic or metallic colors. But as we always say, different colors can also opt. It all is about your aesthetics.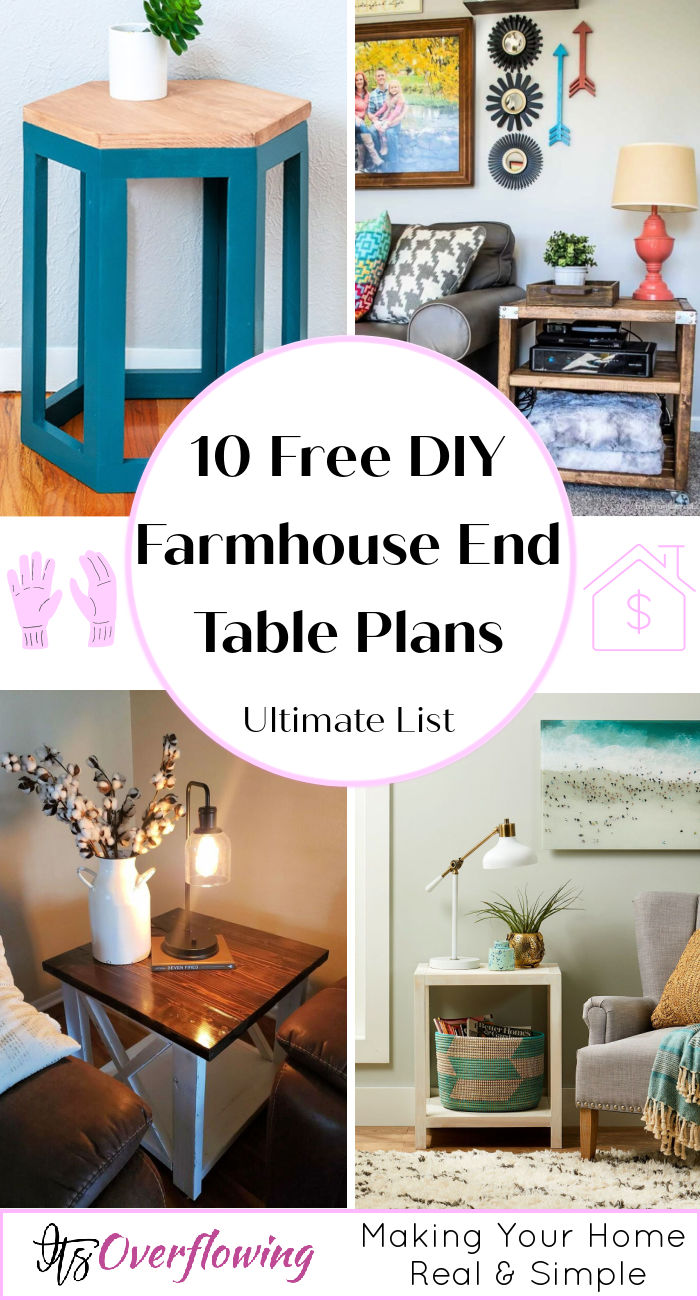 Old furniture can be used to construct farmhouse end tables. On the contrary, you can construct them from scratch. You will need very basic tools and equipment to construct these tables. These tutorials provide you with free farmhouse end table plans with step by step directions. If you want a rustic addition to your living room or a cottage touch. All these end table ideas are available here. Other than a simple four-sided table, hexagon tables are also introduced in these tutorials. You can choose to build an end table as per your furniture theme.
1. Build a Farmhouse End Table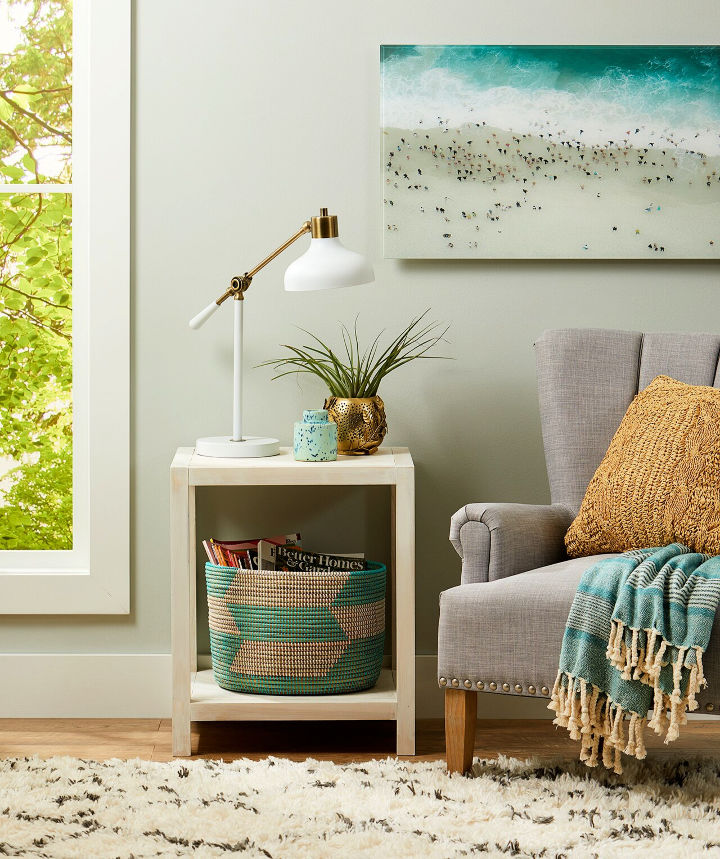 Nothing elevates a room's decor than a pretty farmhouse end table! With all its rustic prime details. What you will need for this project will be chop saw, clamps, putty knife, sander, cordless drill, dowels and wood boards. Put it next to your sofas or bed, an ideal side table too. bhg
2. Rustic X End Table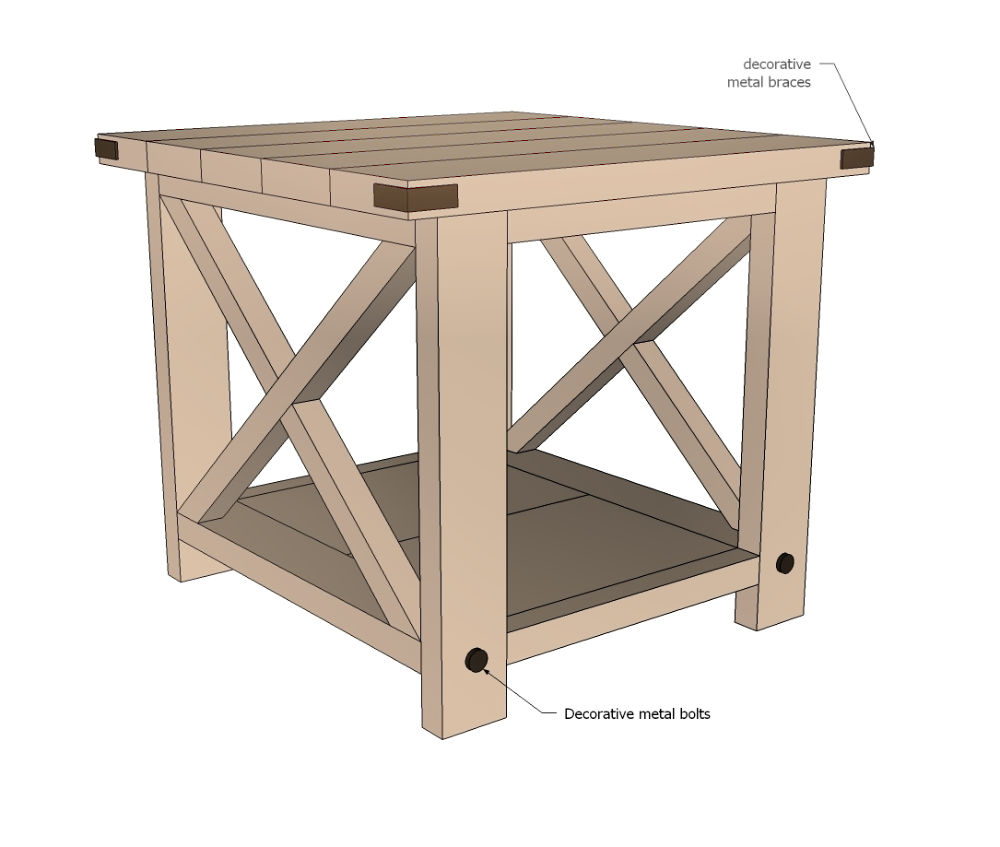 Build this rustic x end table and bring some more X to your decor! It is a simple and minimalistic table with double shelves for extra storage. This table is built from 2x 4s and lumber. Plus, it is totally a beginner's friendly plan for all the beginners out there. ana white
3. Farmhouse Industrial End Table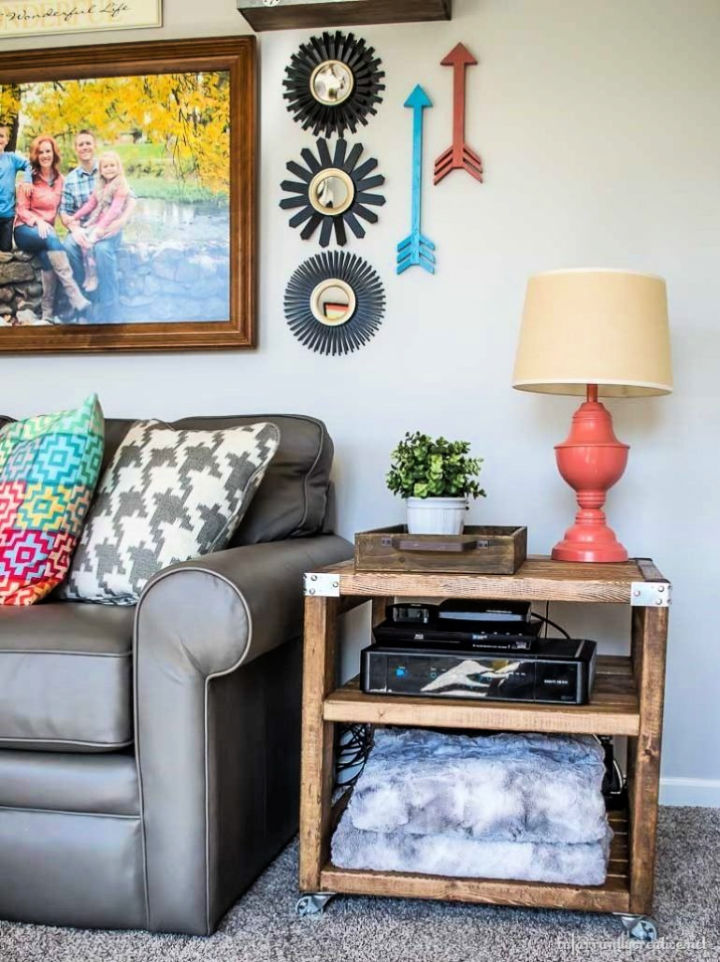 Such an elevating and whimsical industrial farmhouse end table! It can fit in anywhere and bring more texture to any decor. Gather supplies including sander, chop saw, screws, drill machine, metal casters, and wooden boards to get started. It has an excellent storage option too, so your living room is all covered. infarrantlycrea
4. Cottage End Table
An epitome of minimalism and sleek design! If anything, this cottage end table is a winner. It can be perfect for keeping the decor to a subtle appeal. Hop on to the link below and get started with this beautiful end table right away. ana white
5. Rustic DIY Farmhouse Tables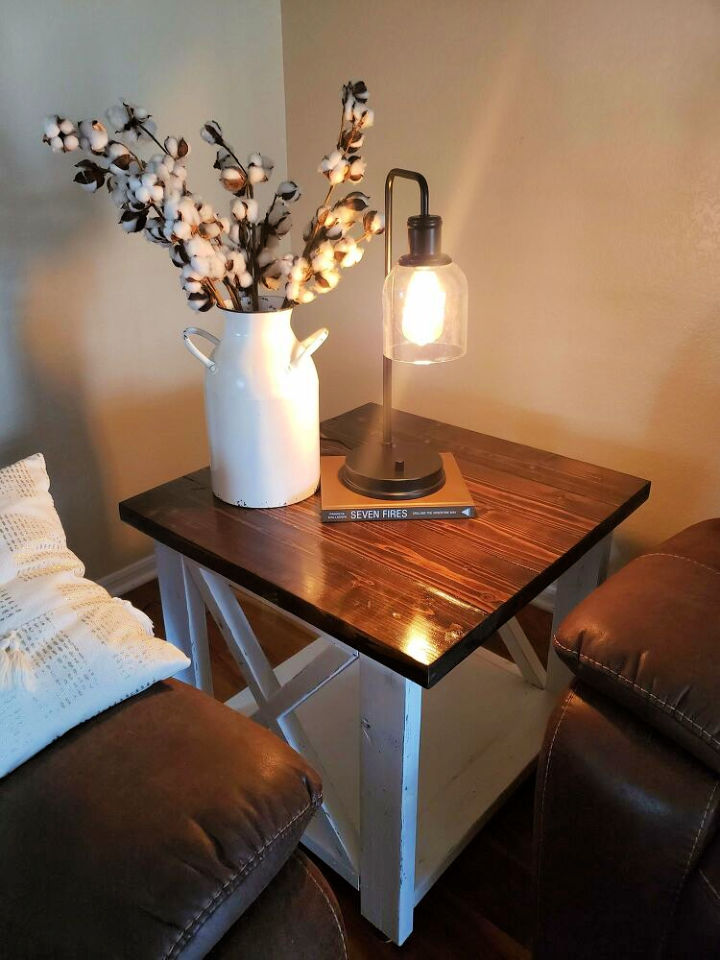 Doesn't this combination of contemporary and rustic farmhouse table look just perfect? With a super shiny wooden board on top and rustic white bottom and legs. It indeed is such a decor upgrade kind of stuff you need! Click the link below to get started. hometalk
6. Simple Farmhouse End Table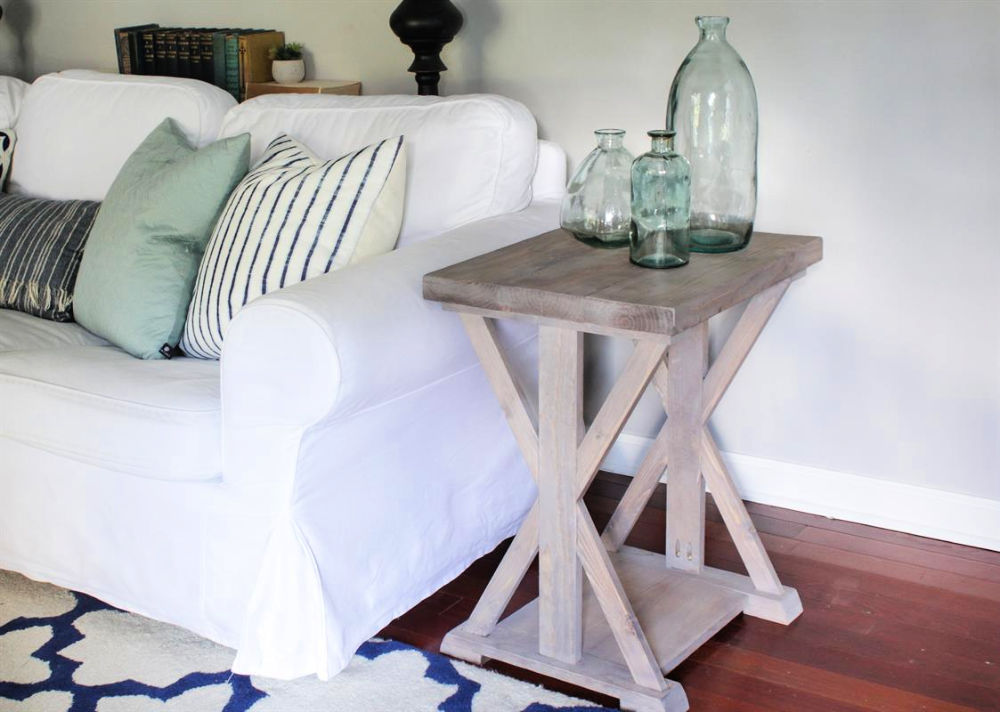 Now you can build this simple farmhouse end table to add some character and interior in your house. This table looks quite sleek, yet offers two shelves for minimal storage. The X legs are adding the perfect elevated look you need these summers. It is about 16" wide and you can get it done in even less than 30 dollars! Beat that. buildsomething
7. Howto Build An End Table
Not into the extravaganza lavish furniture? This simple farmhouse end table would do just great for your minimalistic preferences. You can also adjust the size of your table as per your needs. This is a little time taking project but the final look is worth it all! All you need is some lumber, hardwood plywood, wood screws and a few more supplies howtospecialist
8. Farmhouse End Table Plans
Make it your indoor plant stand or fit this table in any limited corner, it is versatile by all means. This can especially fit well between your chairs in the living room or the front porch. Gather your supplies including a miter saw, drill, clamps, nail gun, wood glue, and screws to nail this project. Get the cutting list details, here. prettyhandygirl
9. Small X End Table
Are you ready to build this small X end table? This beautiful and whimsical piece of furniture can be built in over one evening! Also, the style of this table will add tons of character and beauty to any room. The final dimensions of this table measure around 24'' tall x 20'' deep x 16'' wide. shadesofbluei
10. Hexagon End Table Using One Board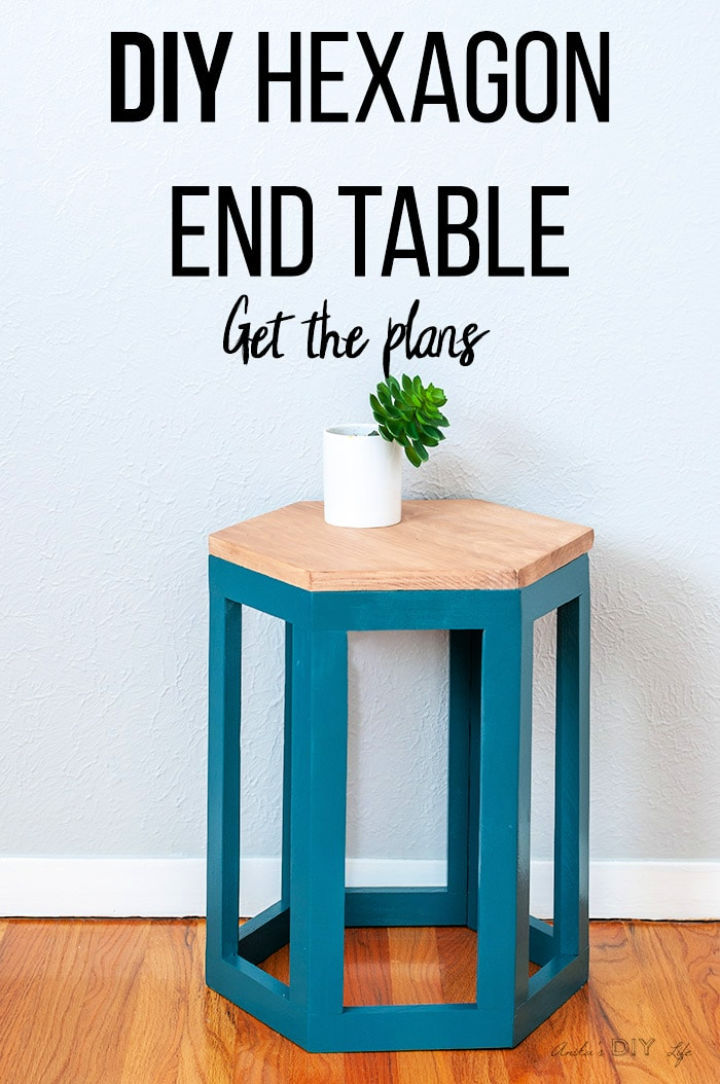 We are loving this minimalistic and oh so perfect hexagon end table! It's a perfect balance of contemporary table, having tons of beauty to add. Plus, this one is built using just ONE 1 x 10 board. Isn't that just so great? Less material, but so much more volume to add to your decor. anikasdiylife
Conclusion
These farmhouse end table plans are perfect for your living room or bedroom. A small coffee table with an indoor plant will be certainly an epitome of beauty in your newly constructed sunroom. You will feel refreshed with these tables as these tables depict as if they have a story to tell. Hence, take out your construction kit and start working on these DIY wood projects as soon as possible. because the new table addition to the family of your furniture will be appreciated and liked by all.