Build a storage bench for your mudroom, foyer, hallway, or outdoor using these 25 free DIY storage bench plans, providing hidden storage to stash your extra stuff. They are an ideal choice of benches when bringing a big functional character to a space in demand. These DIY benches with storage are not specified to narrower or short-spaced interiors. They will be a cool addition to spacious interiors, too, where an elegant style of living is to follow. Whether you need to redesign your mudroom or willing to add hidden storage space to your patio, these 25 free DIY storage bench plans will help you build a variety of storage-benches suiting your custom needs.
Moreover, to build each of these DIY storage benches like a pro, you will get free diagrams, picture tutorials, and step-by-step instructions. This not end here; you will grab the free cut lists and hardware guides too as a big bonus.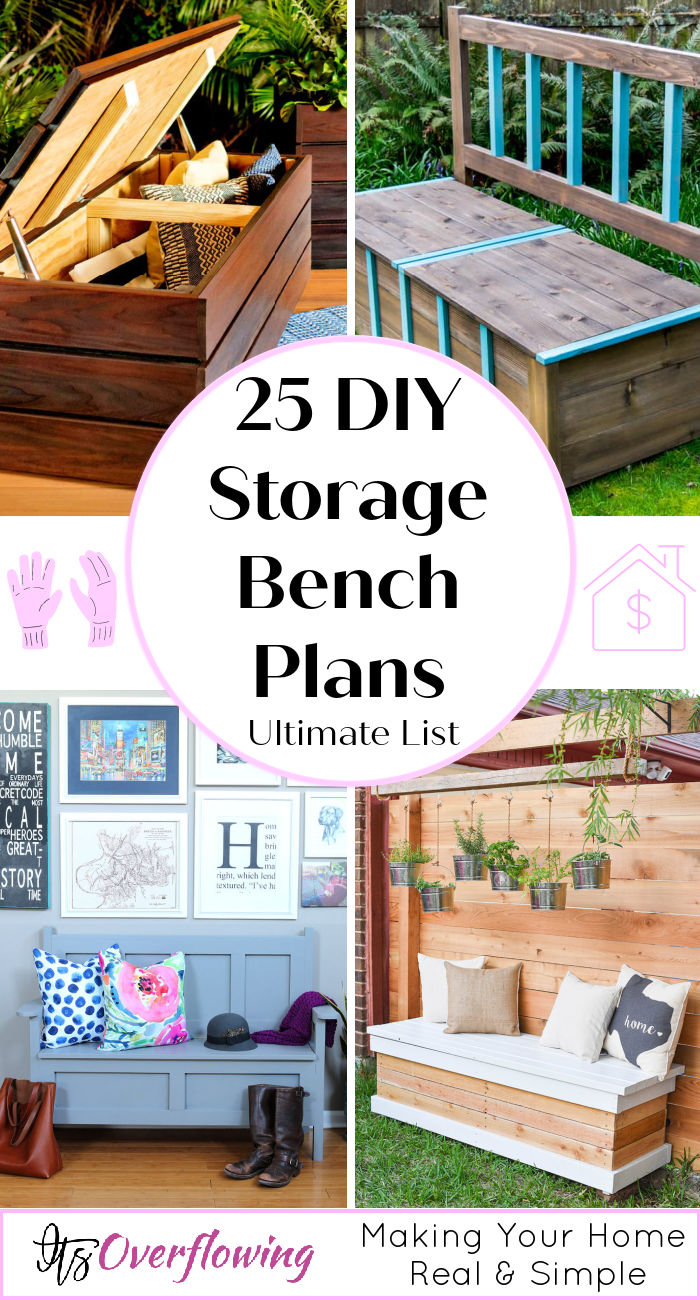 These DIY bench designs start from a simple box to a super functional L-shape corner storage bench. Most of the designs come with hinged bench seats, and some come with removable tops to reveal the secrete built-in stashes. Use all leftover, recycled, and new wood to do these bench constructions, which will enhance your woodworking experience. Finally, you will get the upholstering guides too to upholster the bench seats for a maximized sitting comfort.
Get busy with your necessary woodworking tools in your workshop and give these DIY storage bench plans a try, will really make you feel proud at their completion. Build these DIY benches with storage and underside cubbies that you stuff with weave or galvanized baskets, or just make them with built-in drawers.
1. DIY Outdoor Storage Bench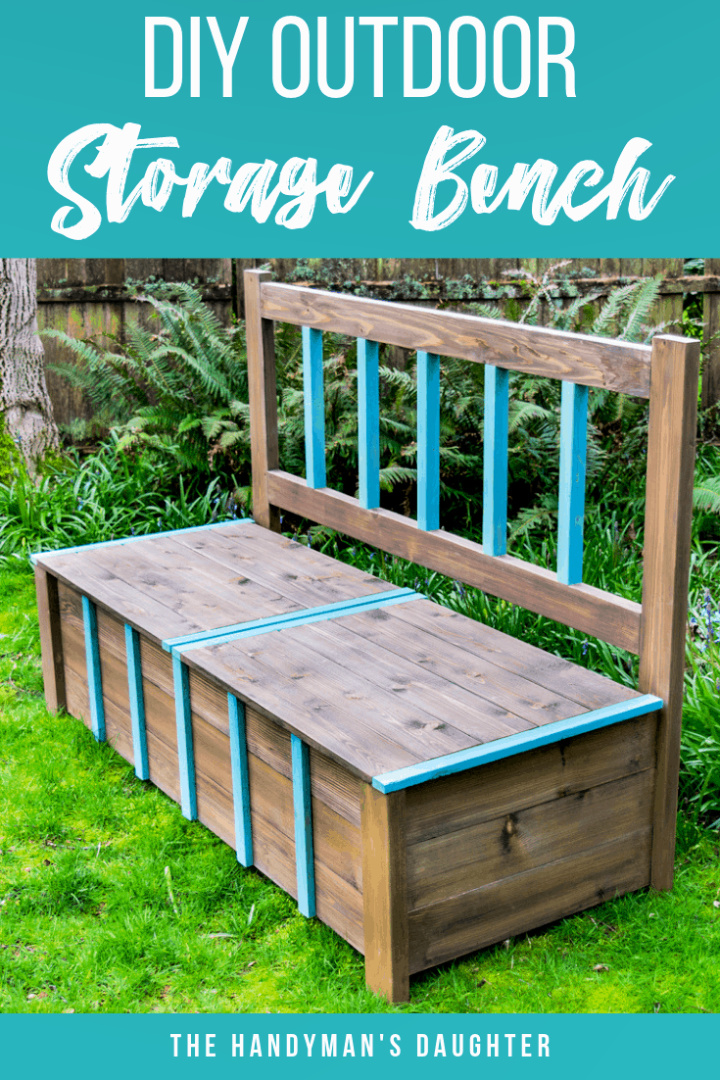 Accomplish your seating desires, along with getting tons of storage space using this DIY storage bench outdoor. Just the cedar boards and cedar fence pickets to build this storage bench. Shape up the bigger box with the wire mesh interior lining and then install the backrest. let the top of the box come on steel hinges. thehandymansd
2. How to Build a Storage Bench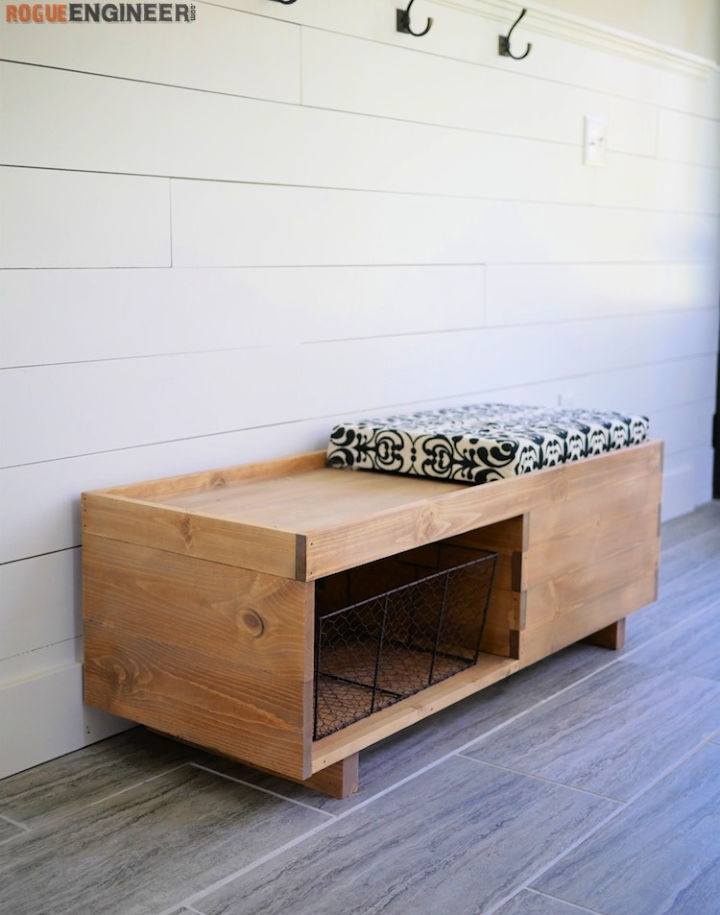 This modern DIY storage bench provides a built-in storage compartment. Add it up with a basket for a more secure type of storage. Build it up with plywood, 2×4, 1×3, 1×6, and finish with a cushioned foam seat mattress you can make yourself. The complete bench is 46″ long x 18" wide and 17″ tall. rogueengineer
3. Outdoor Storage Bench Plan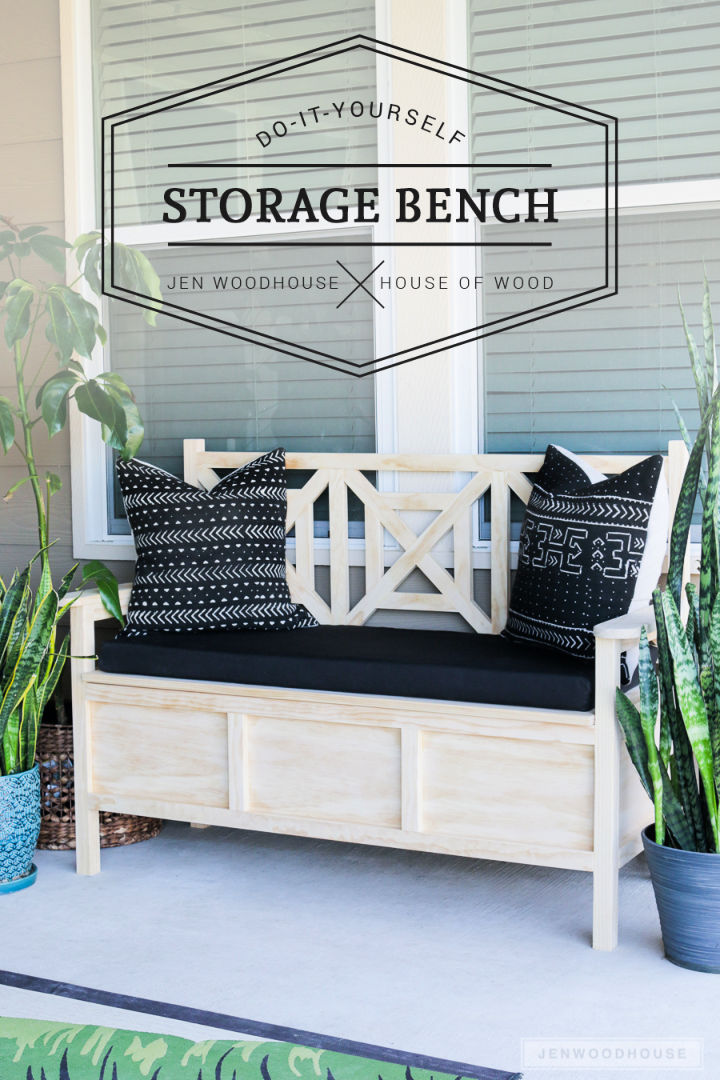 This DIY storage bench has amazing accent features and looks just gorgeous in a blank tone of the wood. How to build a bench with storage? Get crafty with the 2×2, 1×2, 1×3, 1×12, 1×4 wooden lengths maybe 8′ long to build this outdoor storage bench. The bigger box style seat has a lid that comes on a 30″ piano, and next to the artistic backrest comes to impress. jenwoodhouse
4. Build an Outdoor Storage Bench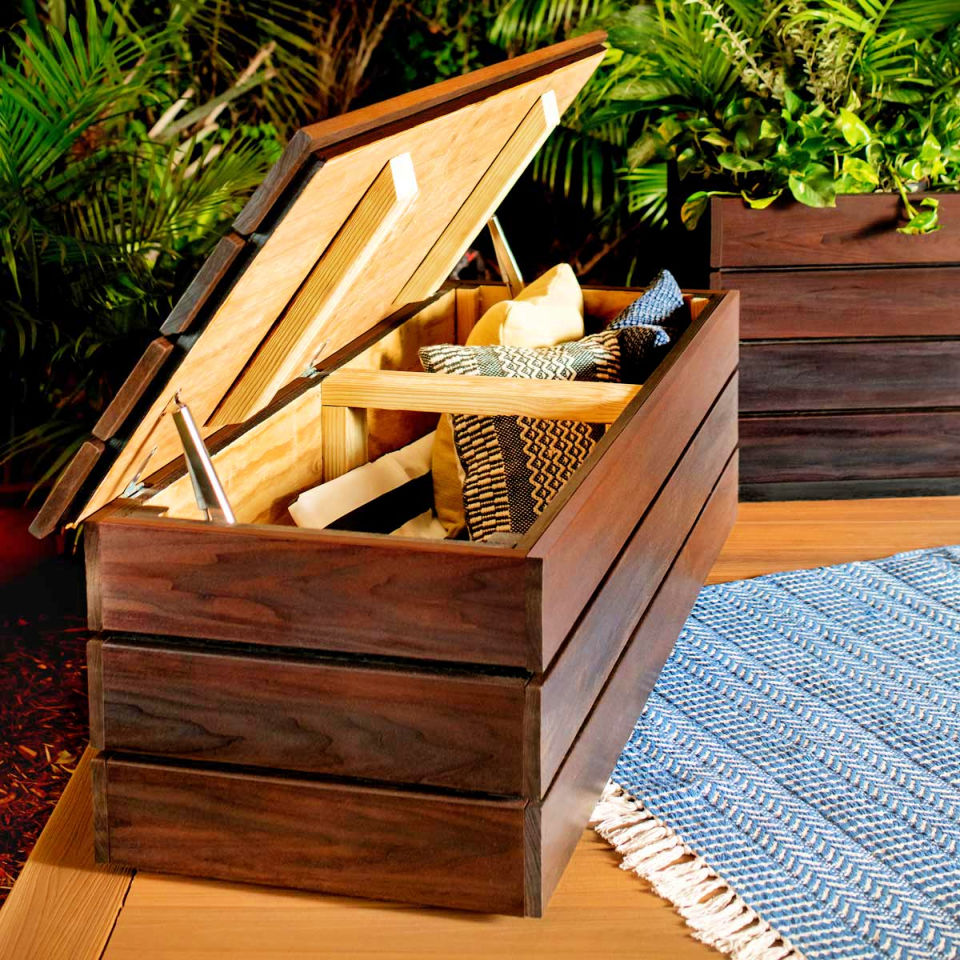 If you love to sit on the benches with no backrest, then this storage bench will get ten out of ten from you. Build this bench using 2×2, 2×4, and 3/4″ thick plywood, and next, you need 1×6 lumber too for building planter. Use the plywood for interior lining and let the bench berth come on tee hinges. Finish with latex paint and primer. familyhandyman
5. DIY Outdoor Bench With Hidden Storage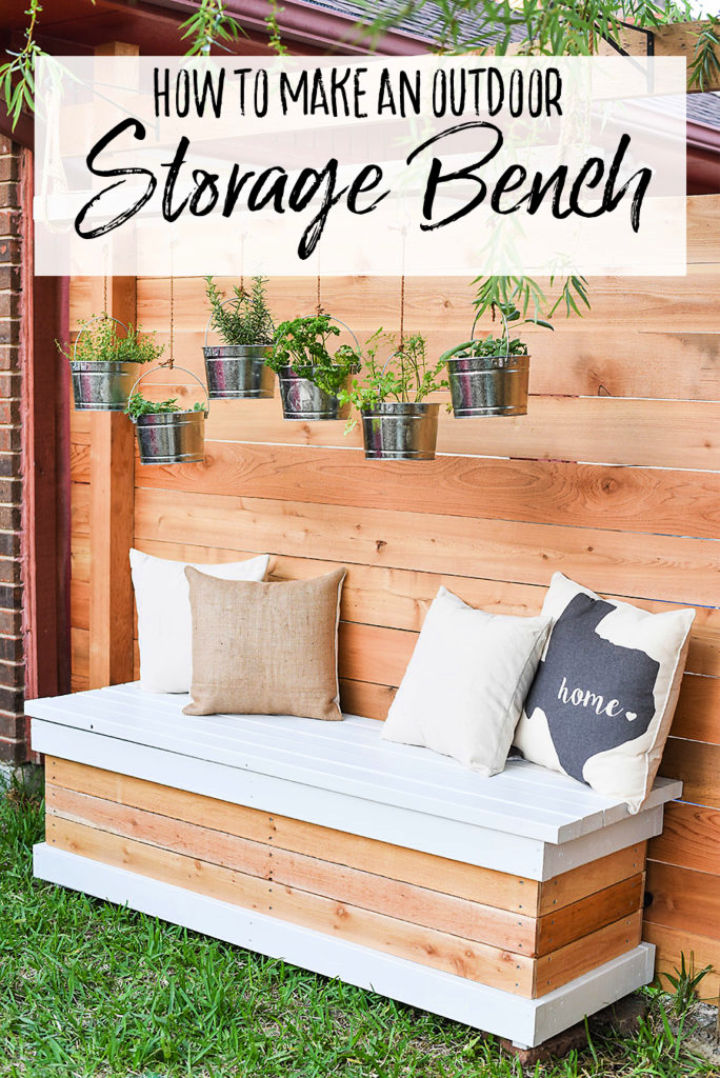 Start enjoying daydreaming by sitting on the calming DIY outdoor bench. It will provide hidden storage for kids' toys and also for your reading books. It enchants with the white skirt lining and also with the white-painted edged top. Get busy with 2x4s, 1x4s, and 1×4 cedar fence pickets to build this bench. ourhandcrafted
6. DIY Storage Bench – Beginner's Plan
You need the beginner skills to build this storage bench, and it will take only a few hours to be right in your backyard. The bench looks like a bigger box with a hinged lid. Make it using 1×4, 4×4, and hardware cloth fencing and opt for durable hinges for easy opening of the heavyweight top. Details here shainaglenn
7. Shelby Storage Bench
Rock your mudroom with this stylish storage bench plan that is made of quality wood. Build the frame of the bench and backrest using 1×2, 1×3, 1×4, 1×12, 2×2, and fill the skeleton solid using plywood. The seat of the bench is like a huge wooden box, the lid of which comes on a piano hinge. Paint to match your mudroom decors. ryobitools
8. DIY Entryway Bench With Storage
Update your entryway, living room, or bedroom with this hand-built DIY entryway bench with storage. The artistic look enchants the onlookers, and the seat is like a bigger wooden box with a hinged lid. Make it with ¾" Plywood – 1 sheet – 4′ x 8′ and 2×2. Details anikasdiylife
9. Functional Kid's Room Storage Bench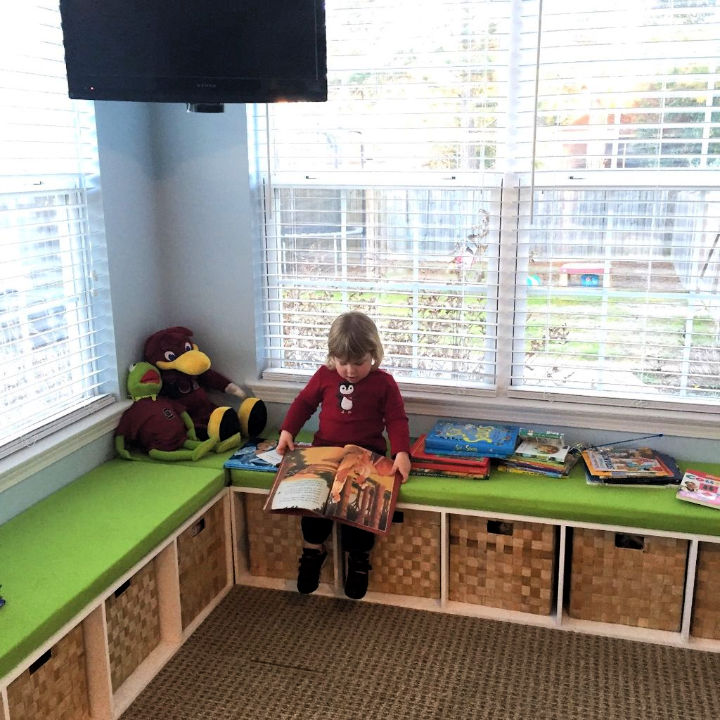 This corner L-shaped bench comes with a built-in storage compartments underside. Stuff the storage compartments with well-fitting weave baskets to get the most secured type of storage in the bench. Build the bench using 2 sheets of 4′ x 8′ MDF board and with 1 sheet of 4′ x 8′ OSB sheathing. Finish the seats with foam you can adhere in place using a spray adhesive. instructables
10. Make a Bench With Built-in Storage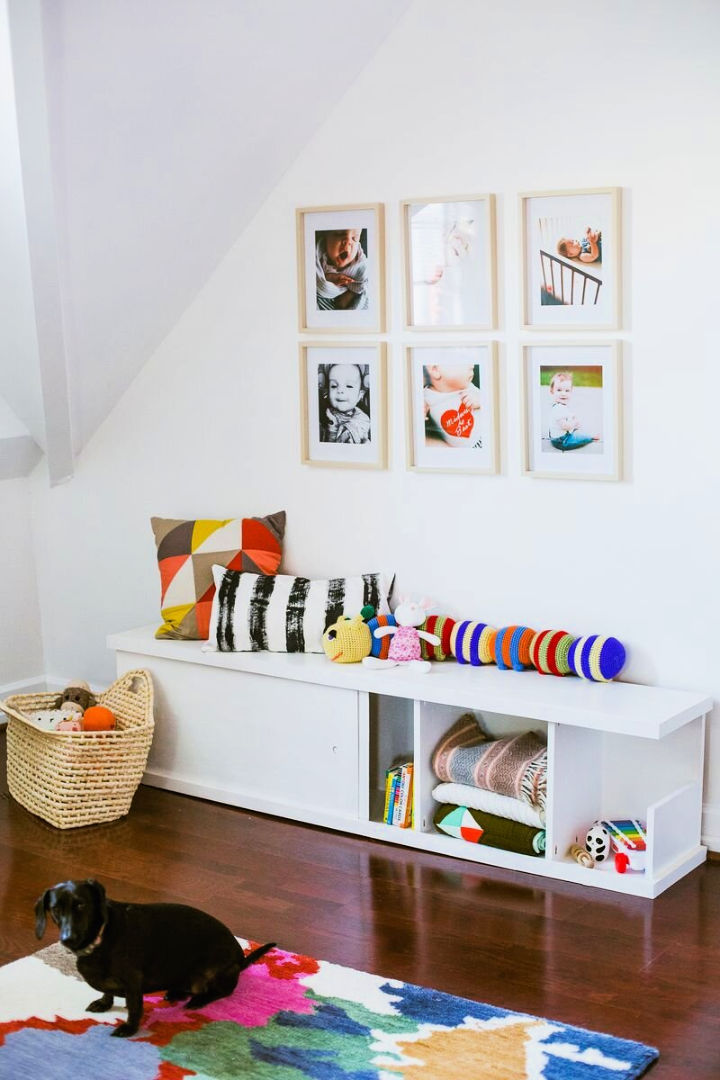 Update and organize your mudroom by adding lots of sitting and storage space that this single bench will provide. It comes with built-in storage and can quickly be made using 3/4" thick 4'x8′ hardwood ply and 1/8" DPI board having 4′ x 8′ size. The built-in storage compartments come with sliding doors. Details here abeautifulmess
11. DIY Shoe Storage Bench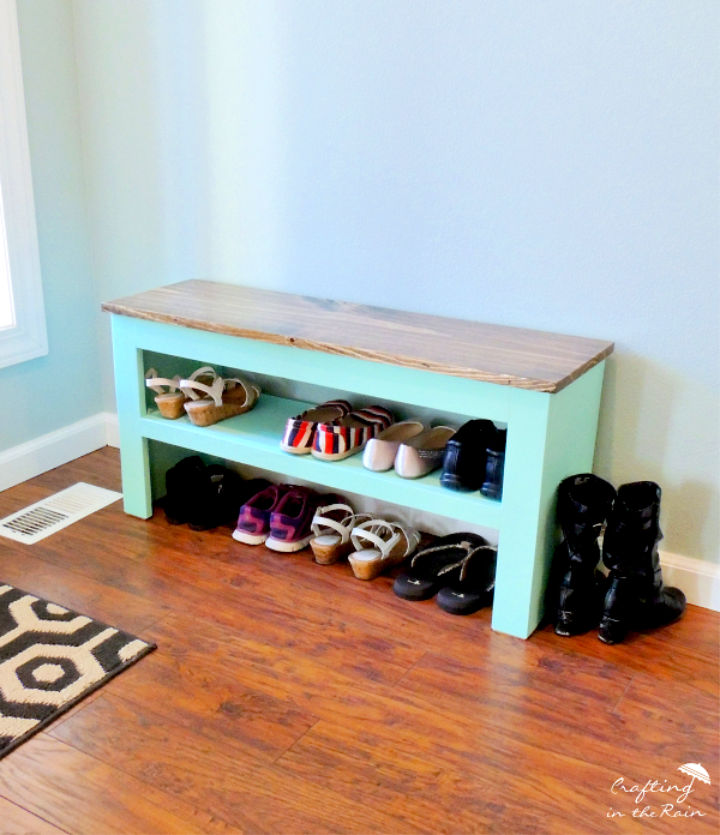 Get crafty with 1×12, 1×10, 1×3, and 1×2 to build this shoe storage bench, will definitely help organize the shoe clutter in the mudroom. It will bring lots of sitting space in style and can be painted to match the targeted space decor theme. You need a beginner skill level to build it. craftinginther
12. DIY Mudroom Storage Bench
This farmhouse style will be an excellent addition to a modern or farmhouse mudroom. It comes with built-in basket storage and is an easy woodworking project. Build this DIY bench using 3/4" plywood, 1x2s pine boards, pine corbels 9.5 x 9.5′, MDF crown molding, and lattice. Finish the storage-friendly bottom with primer and stain the top for a dark choco appeal. honeybearlane
13. How to Create a Makeshift Mudroom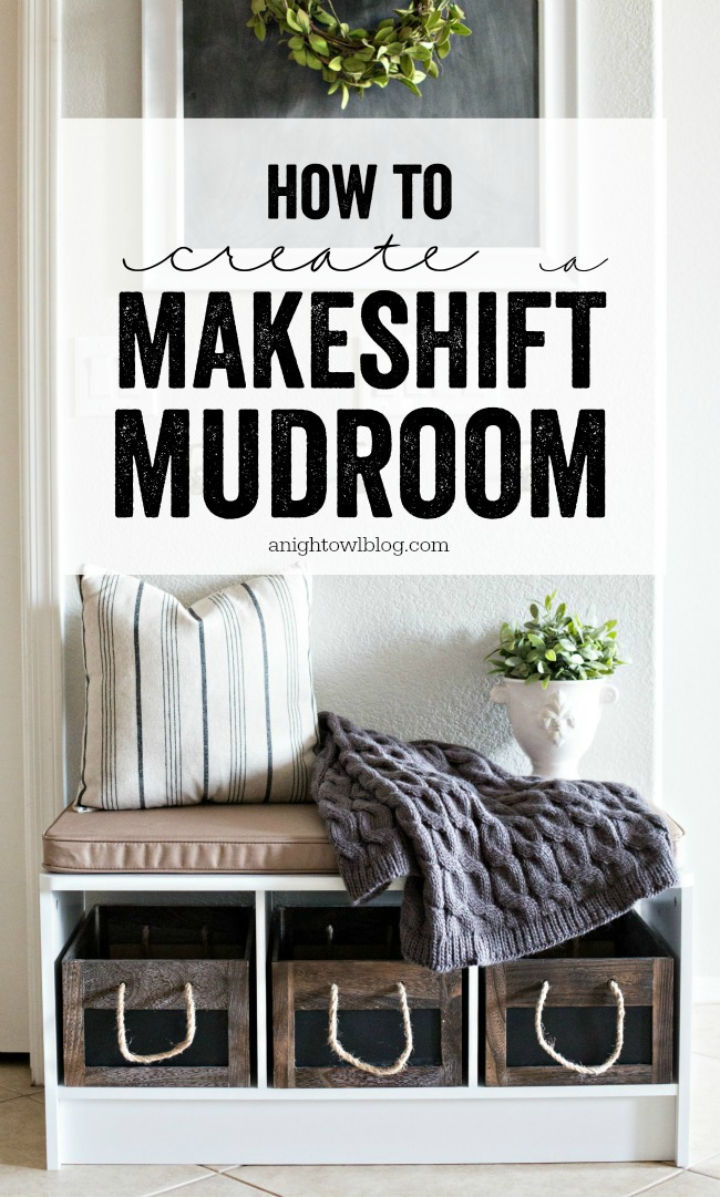 This mudroom bench with storage has got to style up a whole mudroom. It comes in matching appeal to top wall hanging message boards and has wall hanging hooks just above it. Build this bench with your favorite wood like pine boards, plywood, or MDF and do gain the built-in storage compartments in finally finished design. Stuff storage baskets with rope handles in them. anightowl
14. Two Benches Screwed Together Side By Side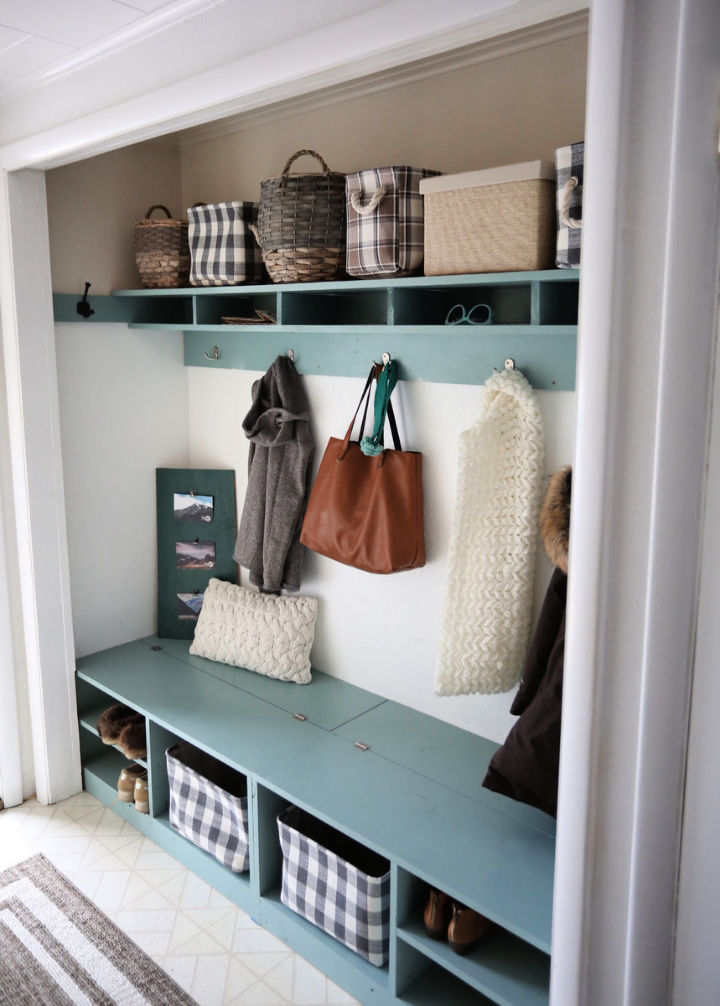 Check out here the amazingly functional roles of the built-in storage benches to update a mudroom or a closet. Just build two storage benches, may come with both hinged lid tops and with built-in storage, and adjust them in the bottom side of a hall tree or closet for a big functional role. These storage bench plans will need a nice store your shoes and other accessories along with providing enough sitting space. ana white
15. DIY Mudroom Bench and Storage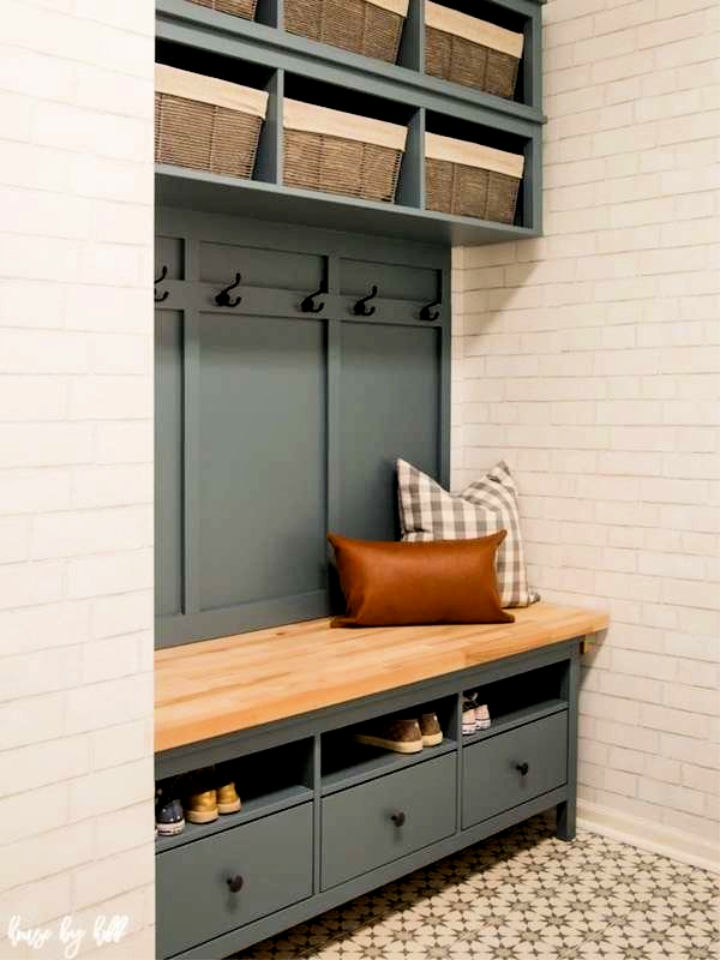 Willing to stylishly organize a mudroom? Then do get here the most amazing IKEA hack for it. Combine the IKEA Hemmes TV Unit with wall shelves to get this mudroom storage bench. The DIY bench seat comes with 2 drawers and with slim cubbies to hold the shoe pairs nicely. Add custom storage and hanging options more just above the bench for an amazingly functional mudroom. housebyhoff
16. Farmhouse Storage Bench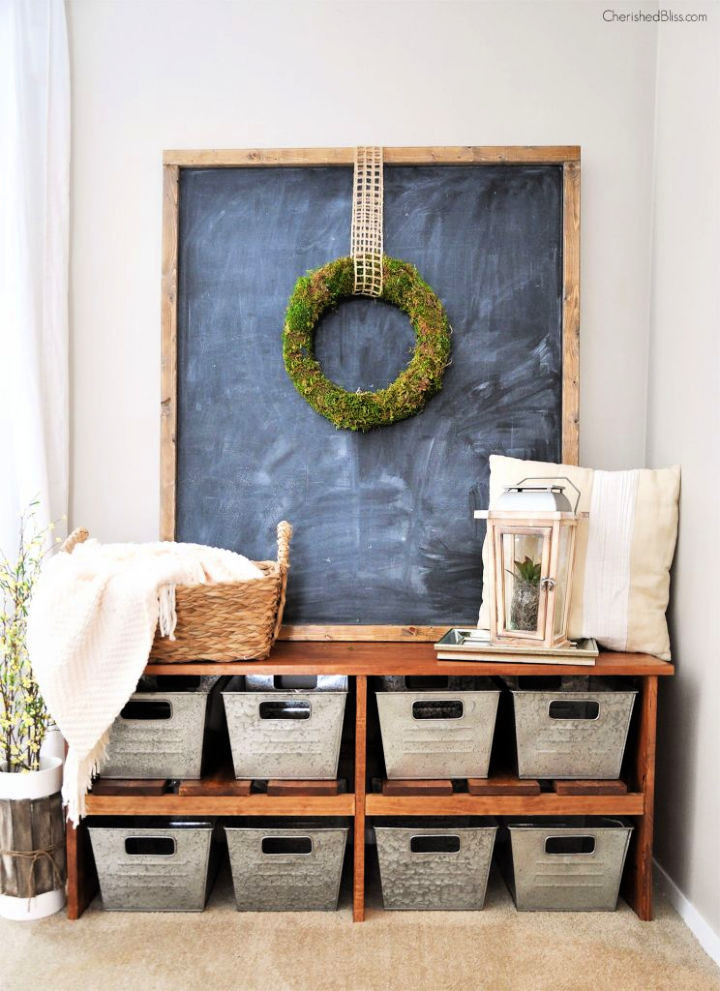 This DIY bench with storage area will rock for farmhouse style mudroom and offers and amazing built-in galvanized basket storage. Get busy with 1x4s, 1x6s, 1x2s wood lengths to build this farmhouse storage bench that provides two levels of storage shelves underside. Details here cherishedbliss
17. DIY Backpack Storage Bench Plan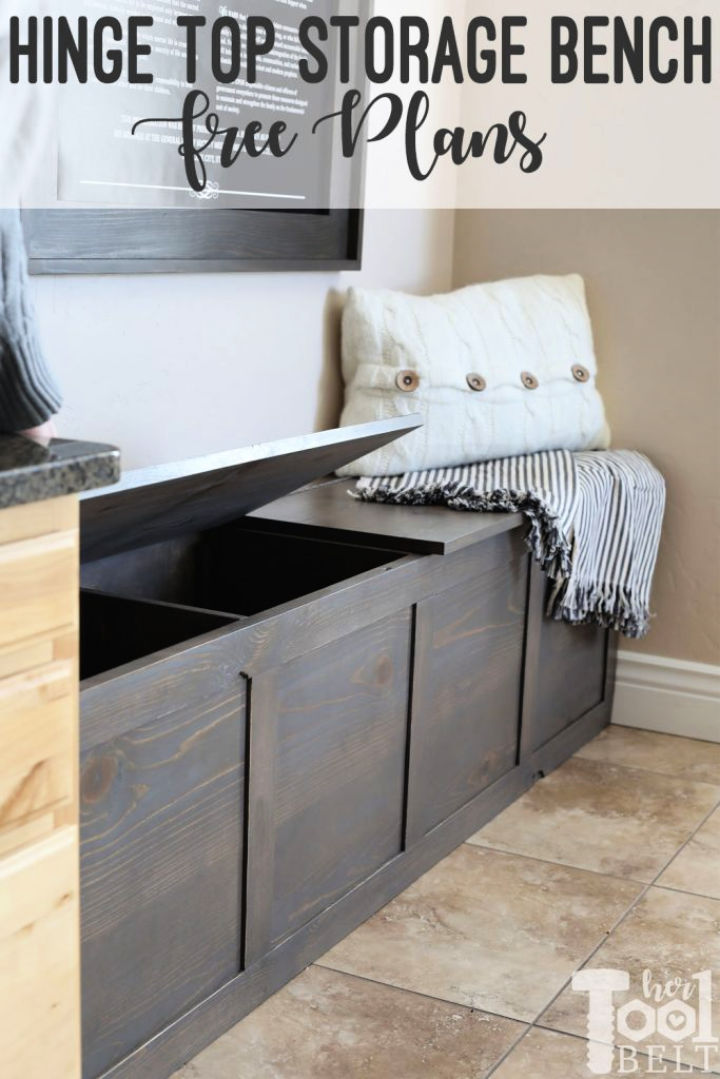 This backpack storage bench plan will rock for both indoor and outdoor spaces. It comes with hinged lids and also with fine built-in storage compartments. Build this bench using 1×10, 1×3, and with 3/4" plywood. Use 72" piano hinges for the tops. The finished bench is 74" long, 18" wide and 19 1/5" tall. hertoolbelt
18. DIY Shoe Storage Bench Plan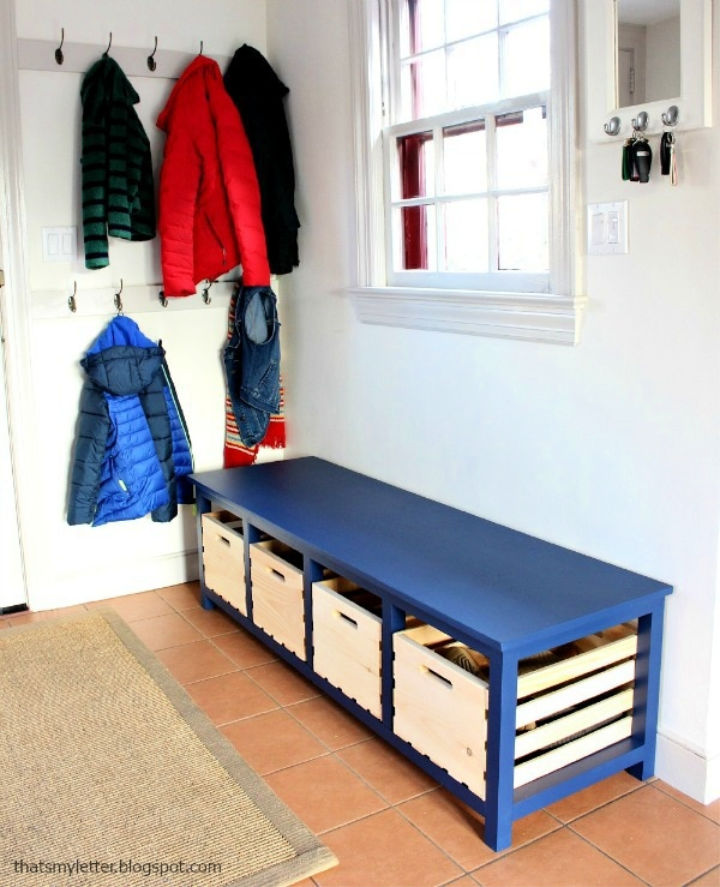 Make some great mudroom improvements by adding this shoe storage bench. It will add style, sitting space, and storage at the same time. Build this bench with 2x2x8′ and with 3/4" plywood and fill the built-in storage compartments with pallet wood crates, will digest your shoe clutter. jaimecostiglio
19. Rustic Storage Bench with Plywood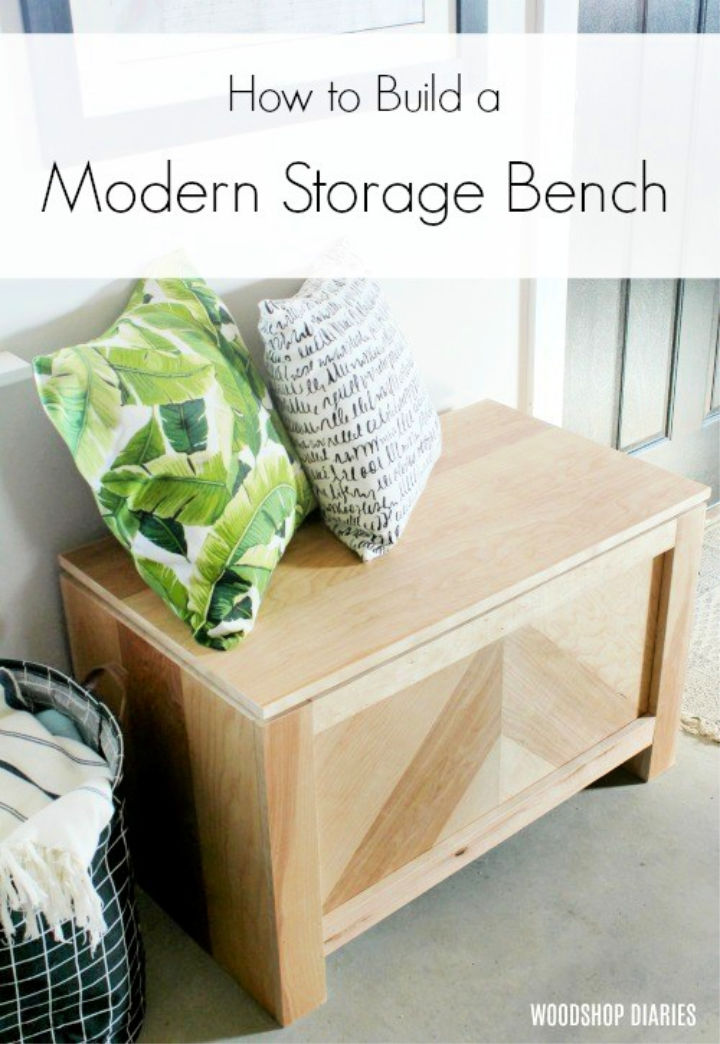 Rock your indoor spaces with this stylish wooden storage bench, will be a smart rustic addition to any of your indoor. Build it entirely with the 3/4" plywood, and it will allow storage in the seat that is hinged in place. Paint it or leave blank in the gorgeous blank wood appeal. Cut list and storage bench plan here woodshopdiar
20. Storage Bench Plan With An Aztec Inspired Design 2.0
This modern bench plan will fancy up any space, and it impresses with the Aztec inspired design pattern. Get busy with the 1×12 and 2×12 in your woodworking shop to achieve this very enchanting modern storage bench. It stands on accent metallic furniture feet and will help tidy up space with built-in storage drawers. Free plans here erinspain
21. How to Make a Shoe Storage Bench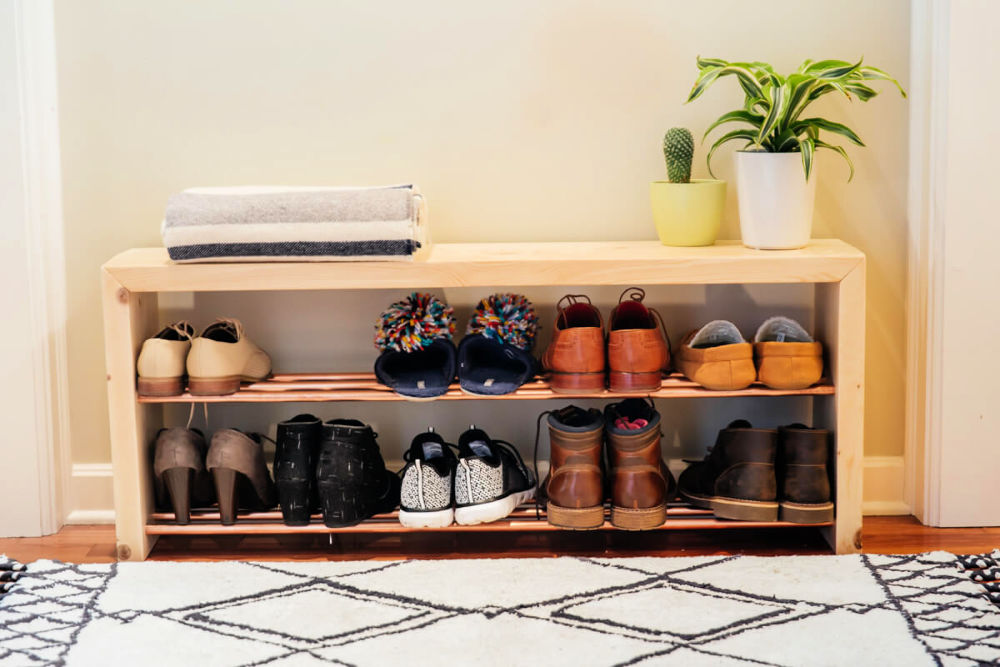 Bring a great functional character and style to your mudroom with this one-of-a-kind shoe storage bench. Build this bench using 2x10x8′ and go with the 1/2" x 10′ copper pipes to build underside shoe storage shelves. Provide weather protection to wood gain by giving a polyurethane finish. diy dunnlum
22. Corner Bench With Storage and Seating
Update your mudroom and any outdoor area like a porch, deck, or balcony space with this corner bench. It provides storage-in the seats. Build this sturdy L-shape bench using 2x6s and 2x4s and garnish the sides with 20 x 20 x 20 square planters. Cushion this bench and let it be around an outdoor fire pit too. homedepot
23. Corner Storage Bench
This corner bench will fit best to any indoor or patio corner, and it is made of two separately build benches. Use the solid wood and plywood to build each of the benches. You need a full sheet of 3/4" plywood, 2x4x12′, and 1x4x12′ to build this corner storage bench. Details here buildsomethi
24. Pine Storage Bench With Four Cubby Holes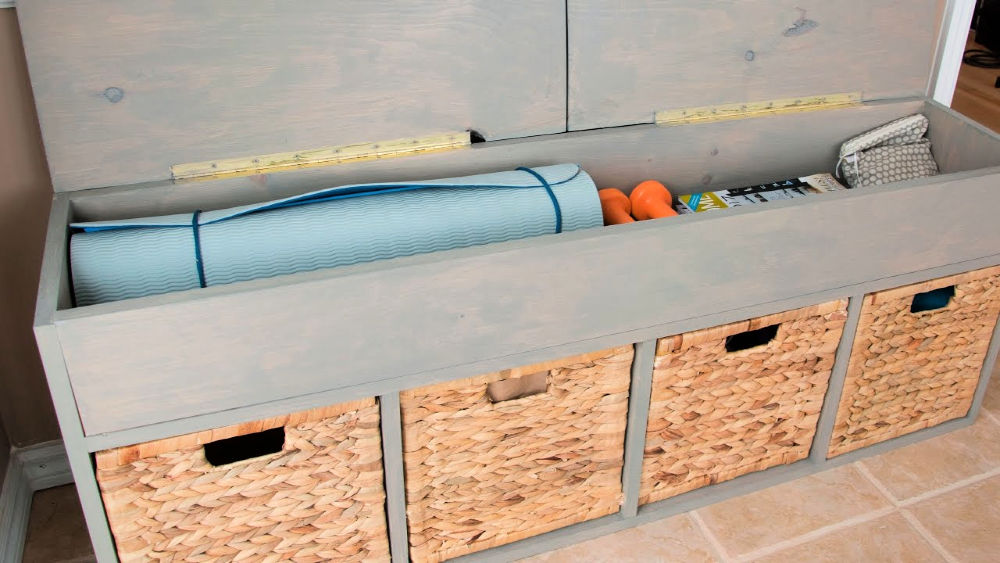 If looking for the super functional DIY storage bench seat that will help in the interior organization too, then look no further and build this pine storage bench with 4 cubby holes. It also provides hidden storage under the seat, and the seat lid is hinged in place. Stuff the weaving baskets in the built-in square cubbies for dust-free built-in storage. youtube
25. DIY Storage Bench with Leather Cushion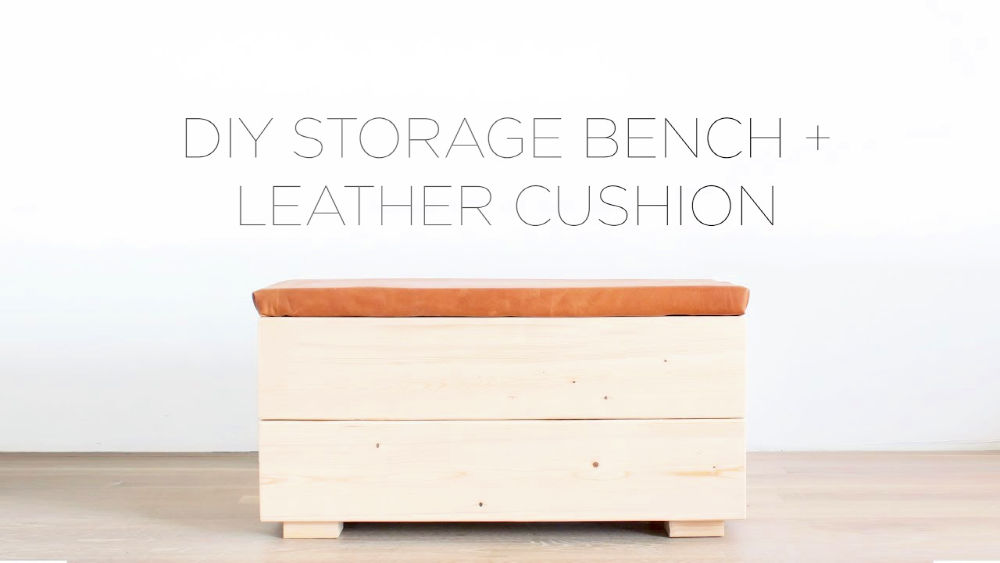 Build the bottom box of this small bench with storage using 2x4s and 2x8s boards. Use a piece of plywood to build the evenly flat top lid of the bench that will be your seat too. Also, upholster the plywood seat using leather and foam and enjoy a DIY bench seat with hidden storage under the seat. Details of storage bench plan here youtube
Conclusion:
We love to keep extra storage of things indoor or outdoor while enjoying a day with family or kids. So, go with these 25 easy to build DIY storage bench with free plans that will allow storage in the seats and will nicely store your things, extras, and custom items of need. The purpose of these DIY benches is to provide both sitting and storage space, highly need to organize an interior or a patio. These bench seating with storage come with built-in drawers, storage cubbies, shelves, and also with shoe racks. Time to live a smarter living with these more stylish designs of built in bench seat with storage.
Related DIY Storage Ideas to Organize Home