Who doesn't love a perfect and appealing home decor? It's the first step towards welcoming positive and happy vibes into your home and eventually into your life! A DIY shadow box can be one best way to be as creative as you would like to express your interest in home decor and life! This list of 20 ultimate and simple DIY shadow box ideas provides quite the ideal room to either decorate and fill in space with decoration pieces like vases, cars, or other ornaments. OR else you can try something a bit more exciting and loving, using a combination of colorful hues and pastels. A charming collection of leaves and flower petals!
Keep the DIY shadow box on your side table, on your living room corner table, or just hang it up the wall. There are quite many impressive shadow box ideas that can be generated by getting your hands on a DIY shadow box plan!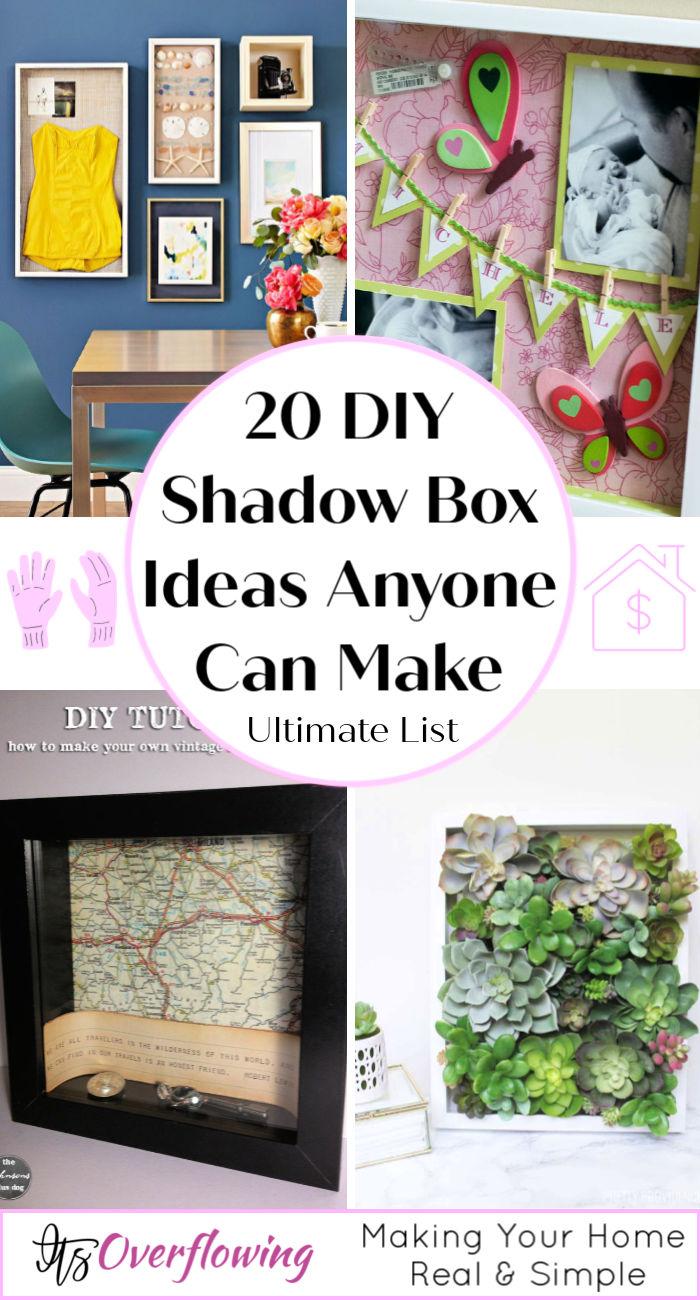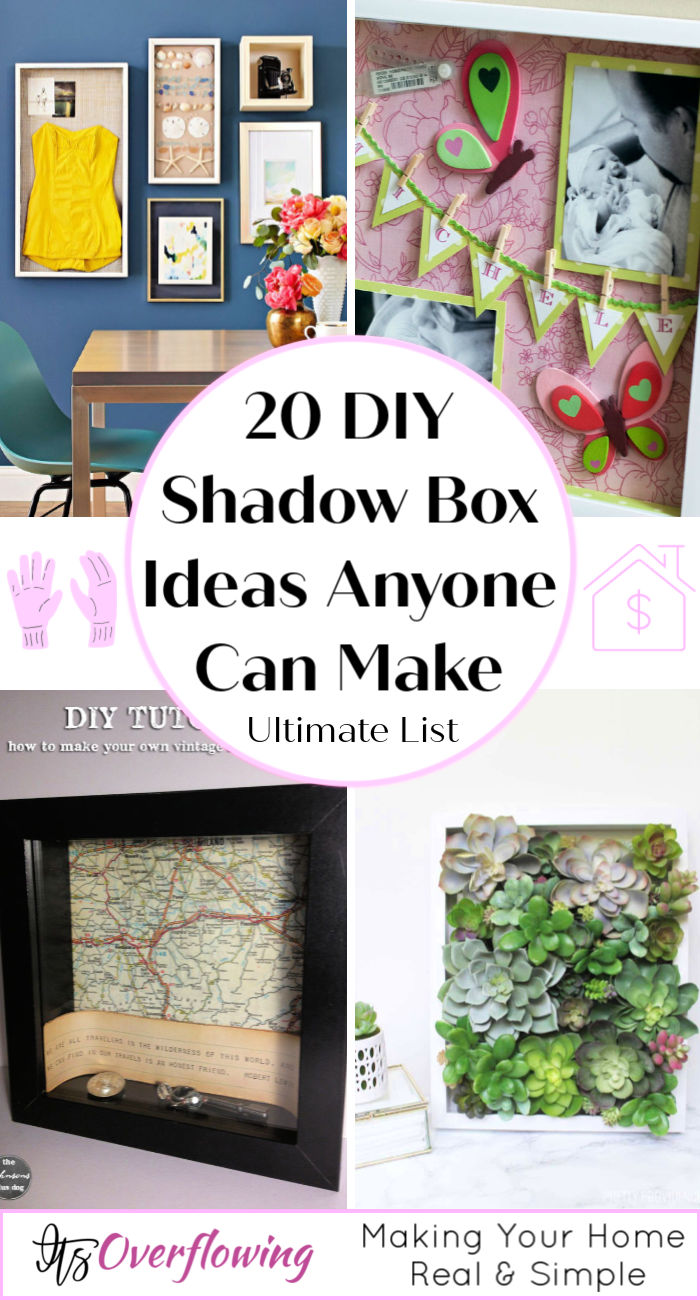 You can find below some really exciting and unique DIY shadow box ideas! Suiting almost everyone's taste and inclination. Go for a military showcase shadow box or surprise a traveling lover friend with a travel shadow box! Not only this, but you can also make quite a statement in your decor by looking out the cottage shadow box. Save the ocean in a frame or keep the keys closer.
These inexpensive shadow box plans can be quite fun to elevate your decor look. You can even add a vintage map inside or might mark your way around the globe on that. If you have never even thought of making a shadow box yourself, these tutorials below can totally challenge and alter that. Just keep reading!
1. How to Make a Shadow Box Display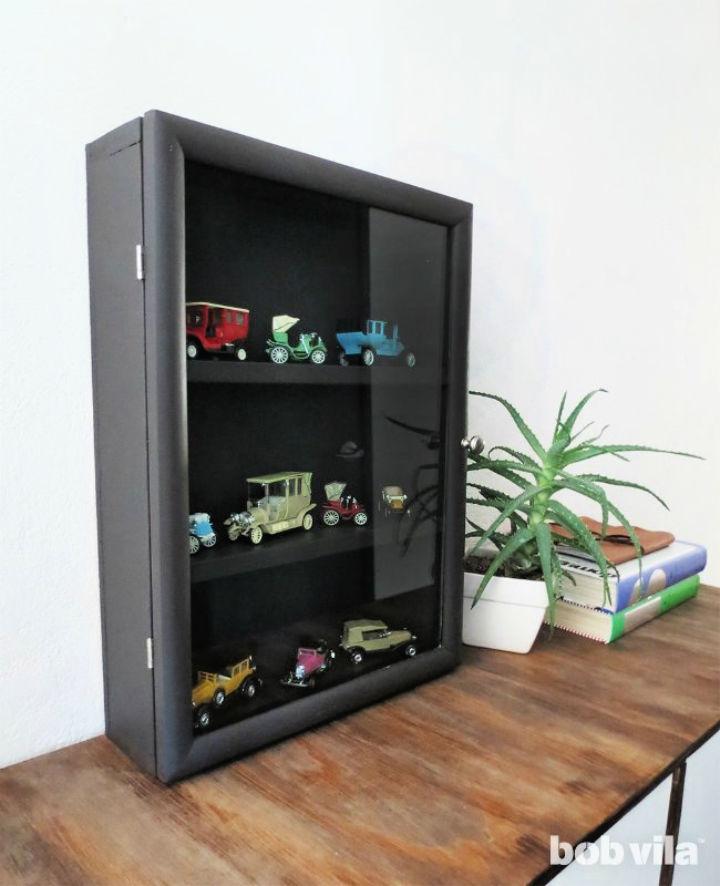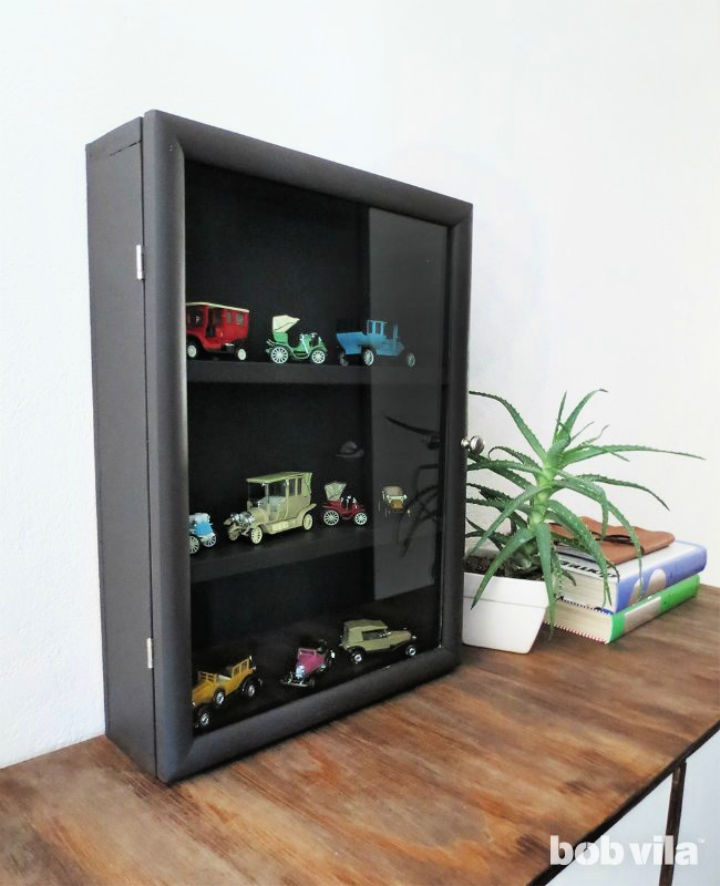 Learn how to make a shadow box? Show off your decoration pieces and other art behind a showcase kind of furniture, a homemade shadow box. Super easy and fun to make with supplies like plywood, sandpaper, clamps, foam brush, handsaw, hammer, acrylic paint, hinges and screws, knob, hot glue gun, frame, and glass. bobvila
2. DIY Rosette Shadowbox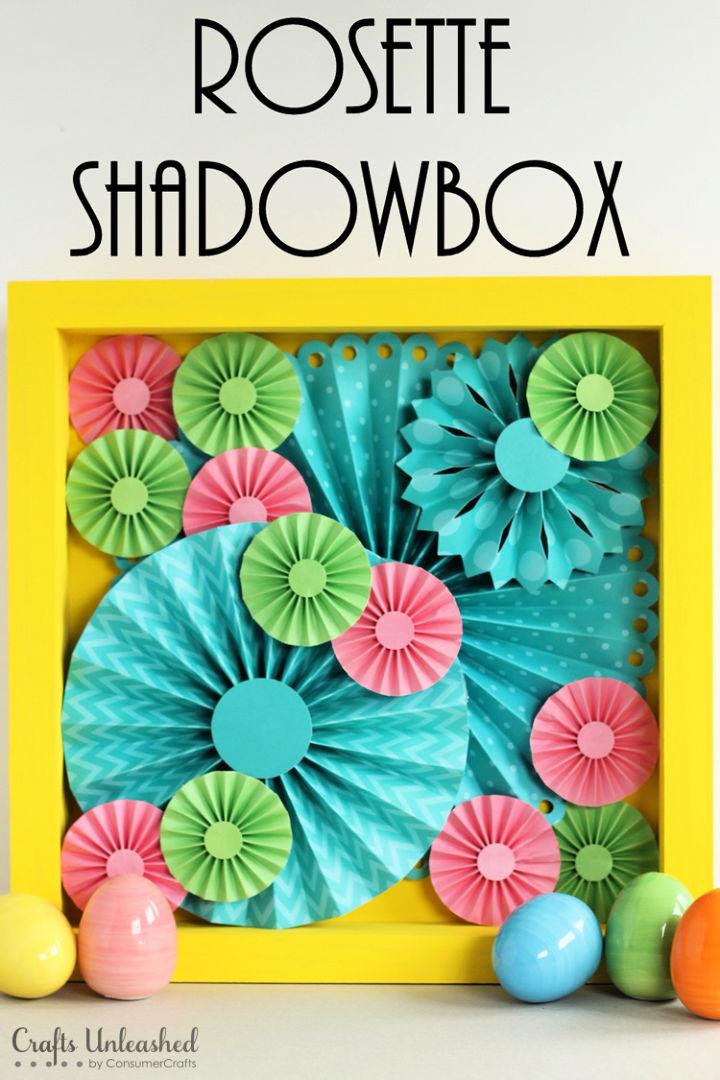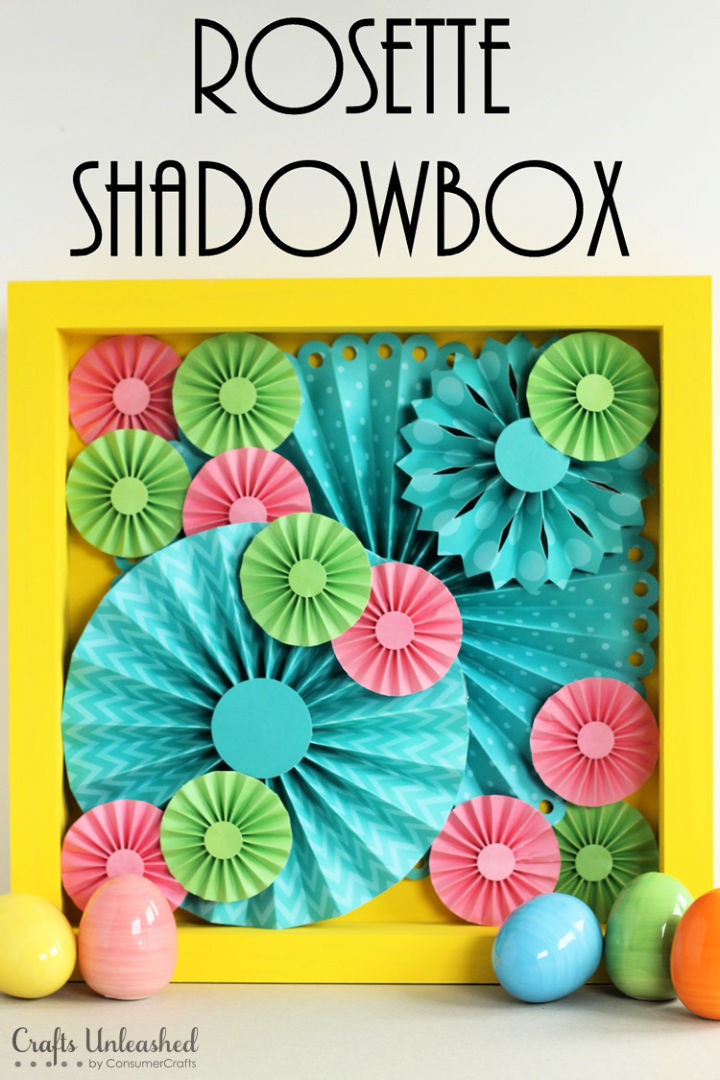 Spruce up your inside decor with a lovely spring decor idea! This rosette shadowbox is a quick and easy project that you can make by investing just a few hours in it. It can also be a perfect and gorgeous gift for a friend or a house warming present for a neighbor. consumercrafts
3. Michele's Pink Butterflies Shadow Box Picture Frame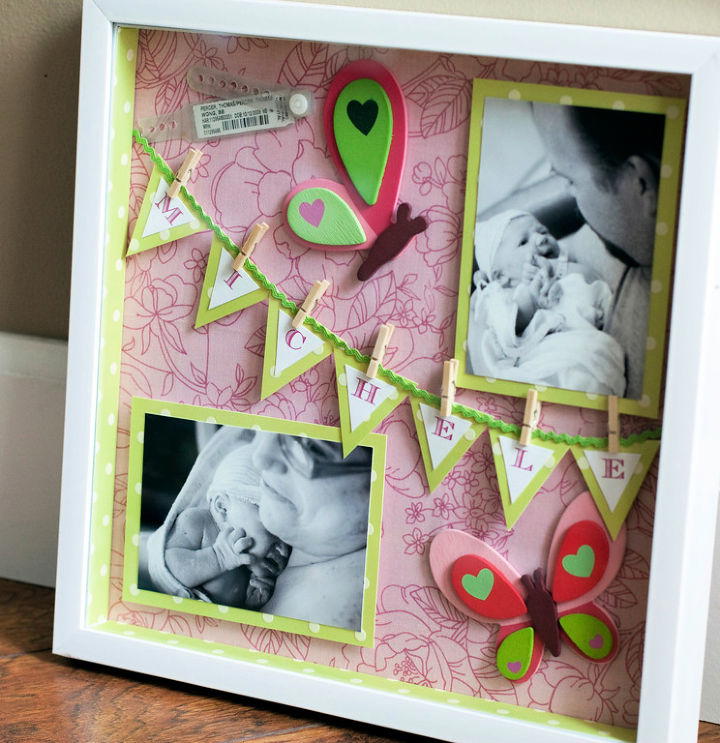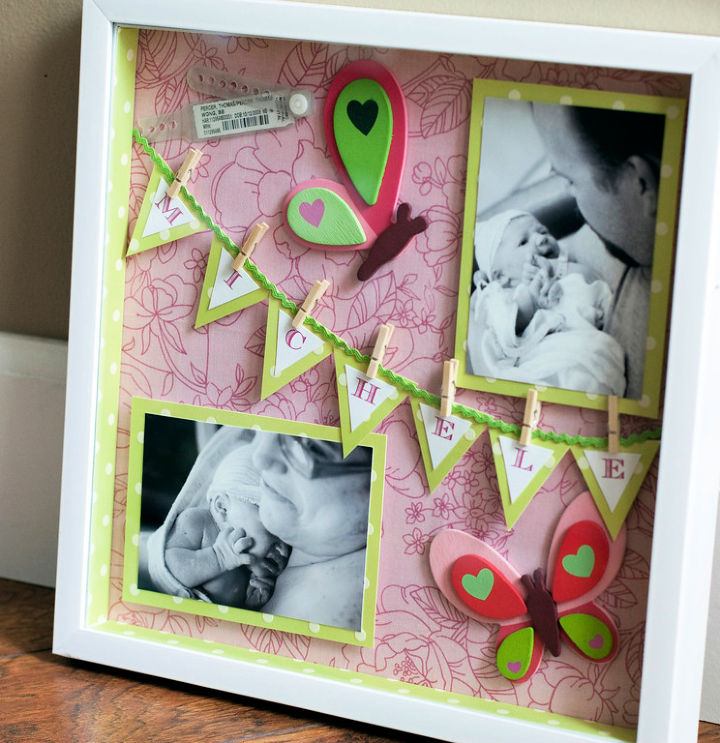 What's a great housewarming gift? A DIY shadow box, made with love and with space to offer your loved ones their own place to decorate it as they please! This Michele's pink butterflies shadow box or a baby shadow box could be an amazing and overwhelming gift to show your love towards anyone. mamasaywhat
4. DIY Winter Scene Shadow Box with Lights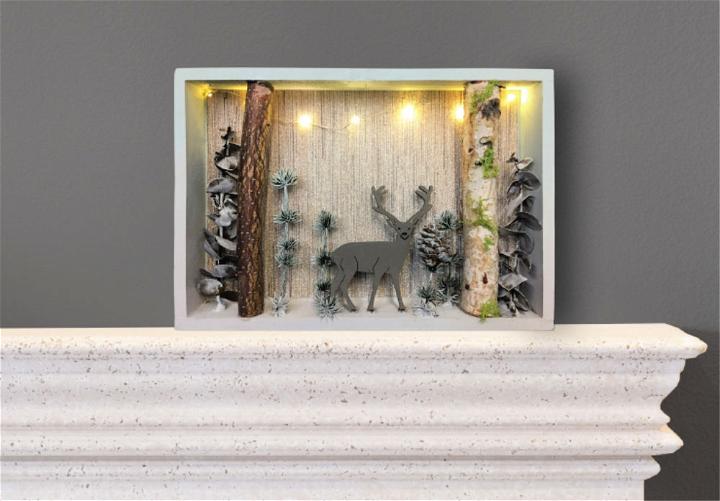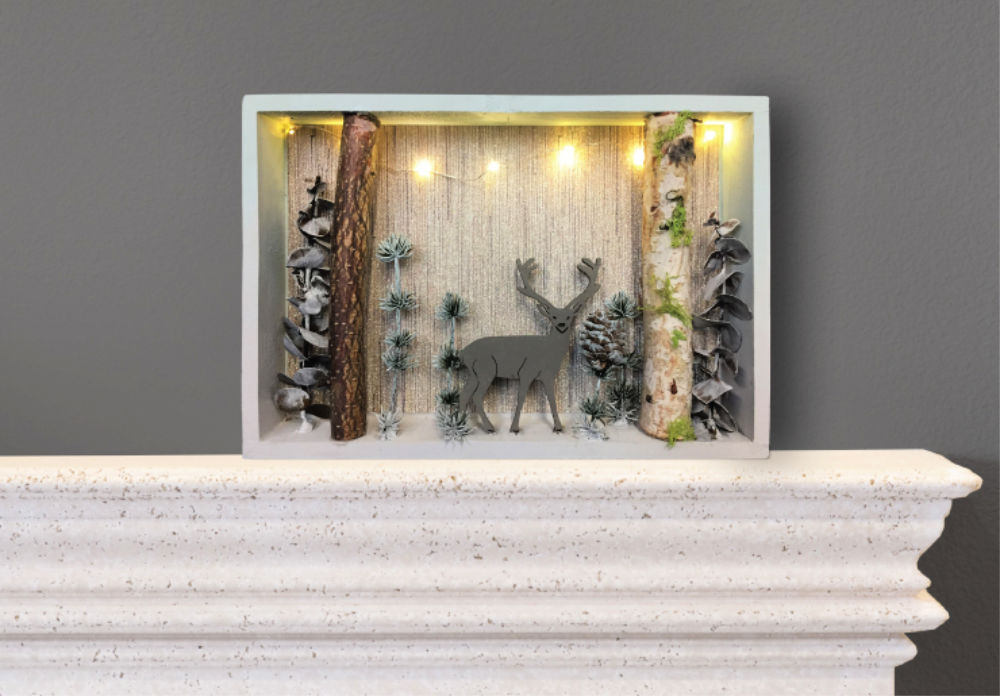 What are winters for? Of course, to do some fun projects like this winter scene shadowbox with a cup of coffee and some snacks. To complete this project, you will just need materials like a wooden box, paintbrush, artificial twigs and sprigs, paint, LED light pack, drill, and a glue gun. behrv
5. How to Make a Sea Glass Shadowbox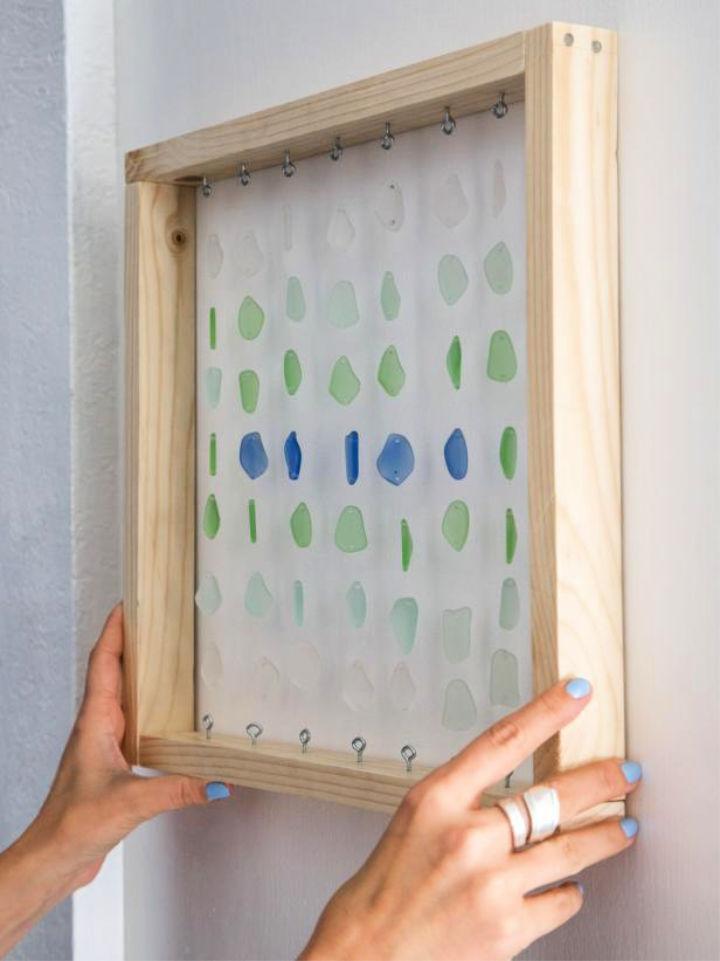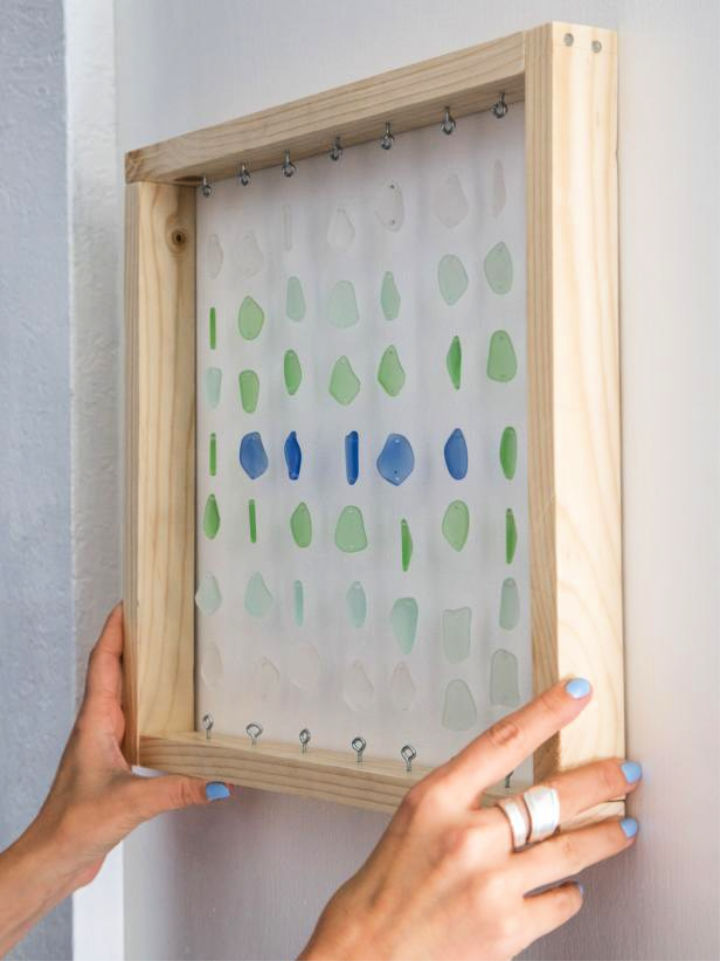 Looking for an enticing project to interest yourself into? Why not bring the beauty of the seashore to your home with fun and in such an insanely cheap offer? Check out the step by step guide in the link below to create this sea glass shadowbox. Once done, place it on your favorite wall. diynetwork
6. Shadow Box Bank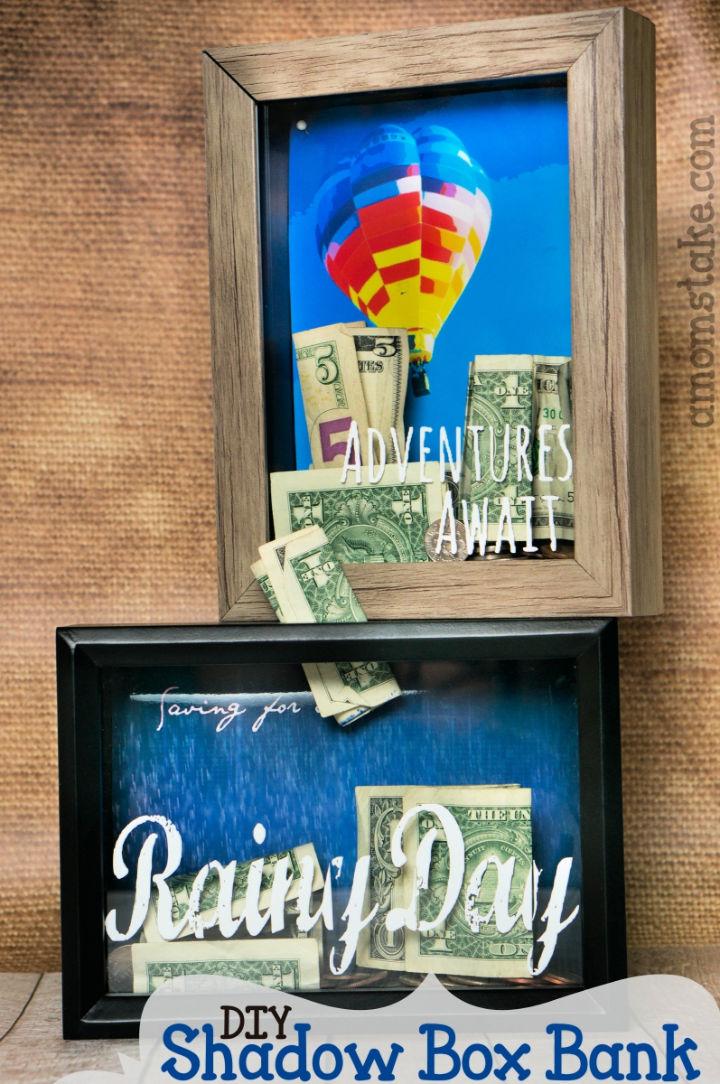 This shadowbox bank is an easy peasy project that will hardly take just a few hours to make! Before the sun sets, you will be standing with this DIY shadow box all done in your hands. Needed supplies are lots of coins, vinyl, shadow boxes, printable art, and drill. amomstake
7. 30 Minutes Shadow Box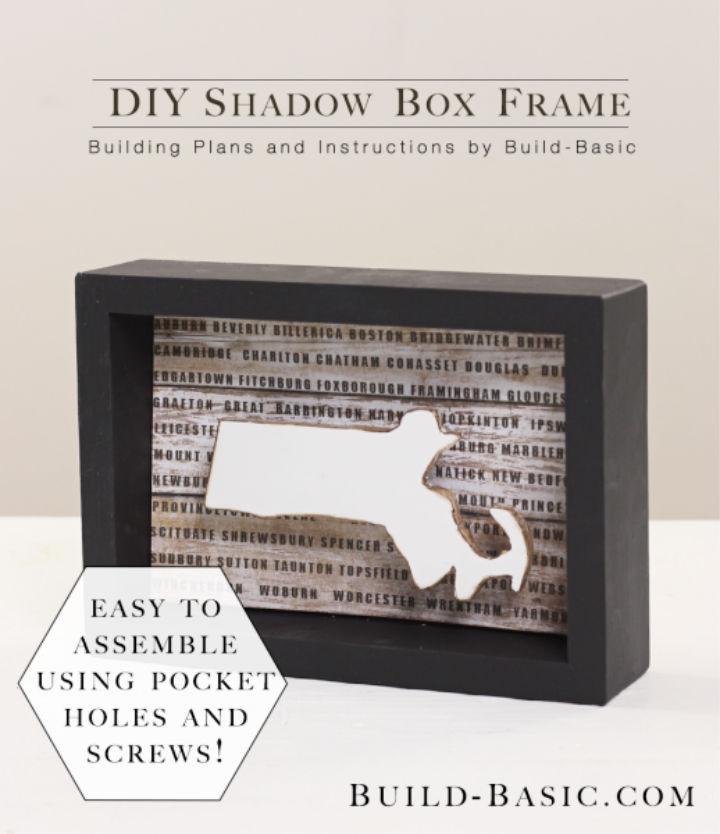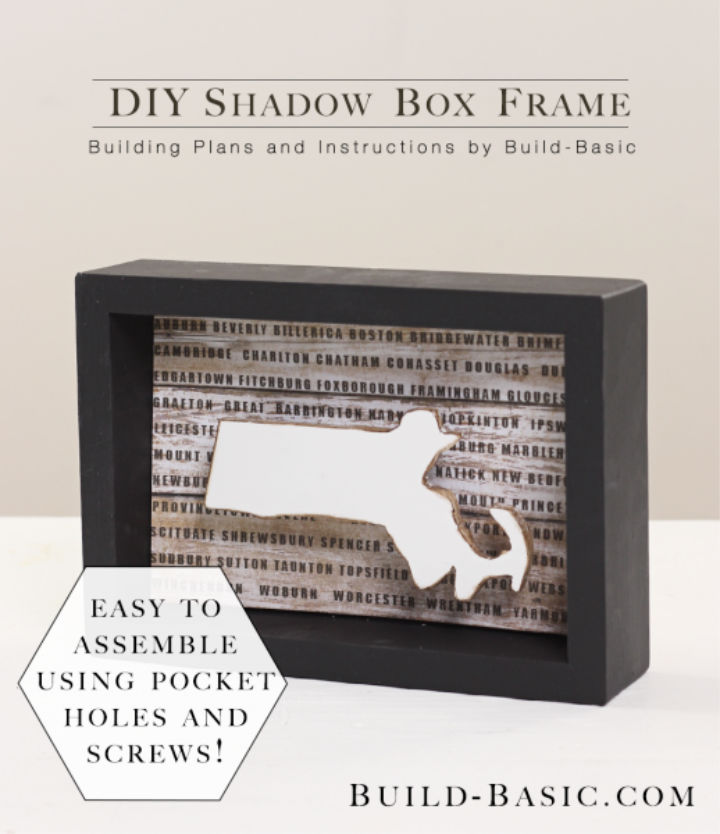 Ta-da, here comes a super-fast project that will take only 30 minutes of your time, and also, it can be made even with your beginner level of skill. It is quite easy to assemble by just using pocket holes and screws. Follow the tutorial to get started! build basic
8. Shadow Box Frame for Bathroom Wall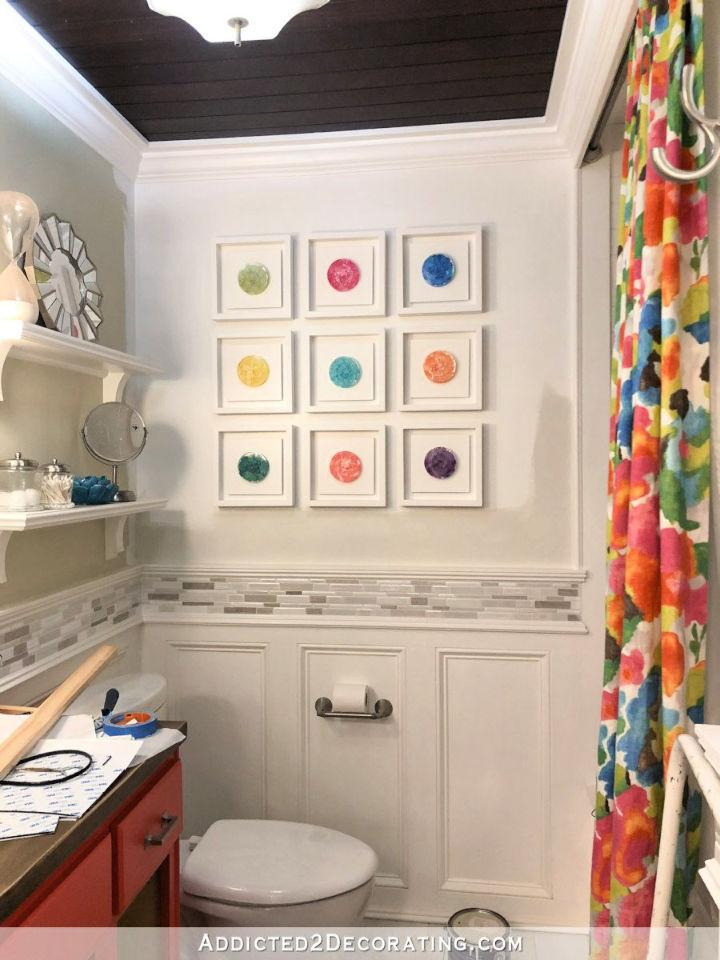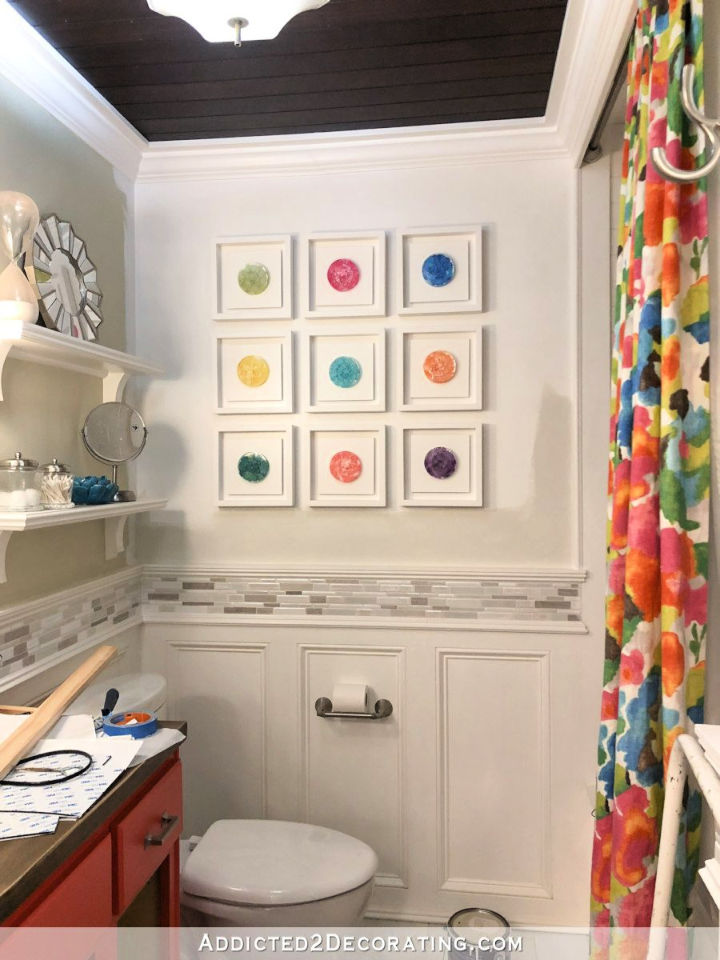 Spruce up your bathroom decor by hanging up a shadowbox frame for optimizing space utilization. Because your bathroom needs to look great too. Your finished project should measure about four inches in diameter. addicted2dec
9. Succulent Shadow Box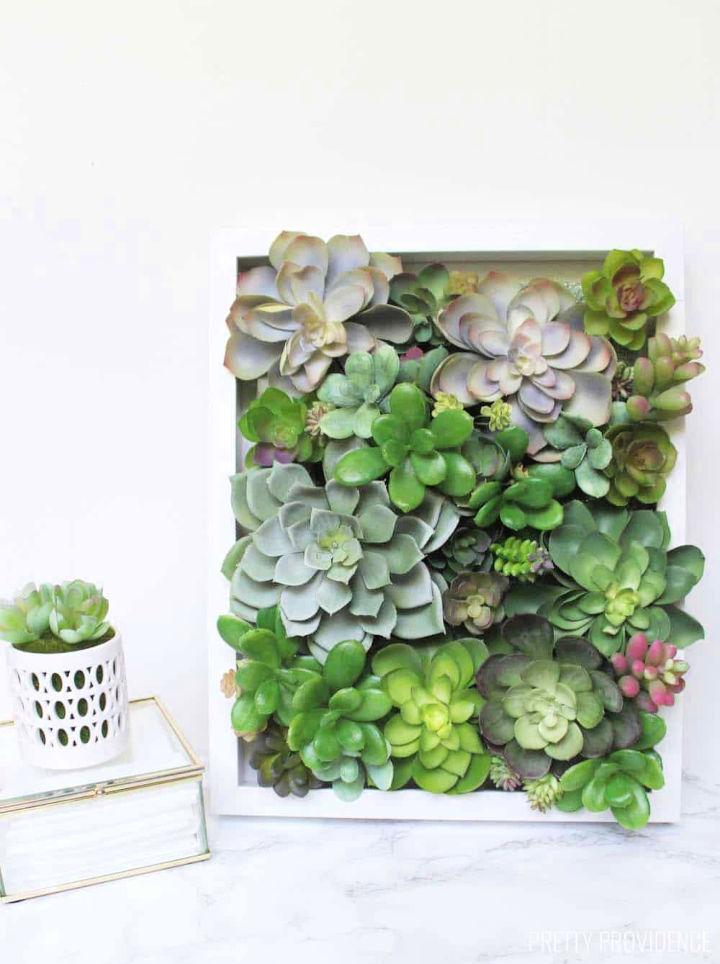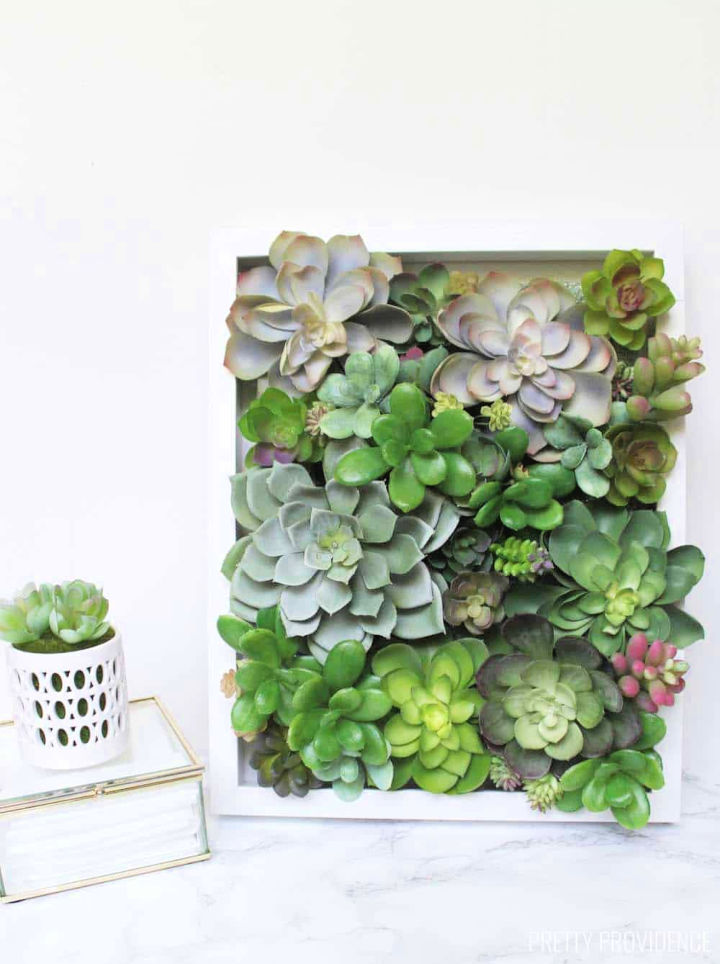 If you love decorating your home, then you must love this DIY shadowbox succulent decor project! It will embellish your walls and bring one hell of a soft spring texture! Here is what you will need to make this beauty: a shadow box, floral foam, faux succulent, hammer, and small nails. prettyprovid
10. Ampersand Shadow Box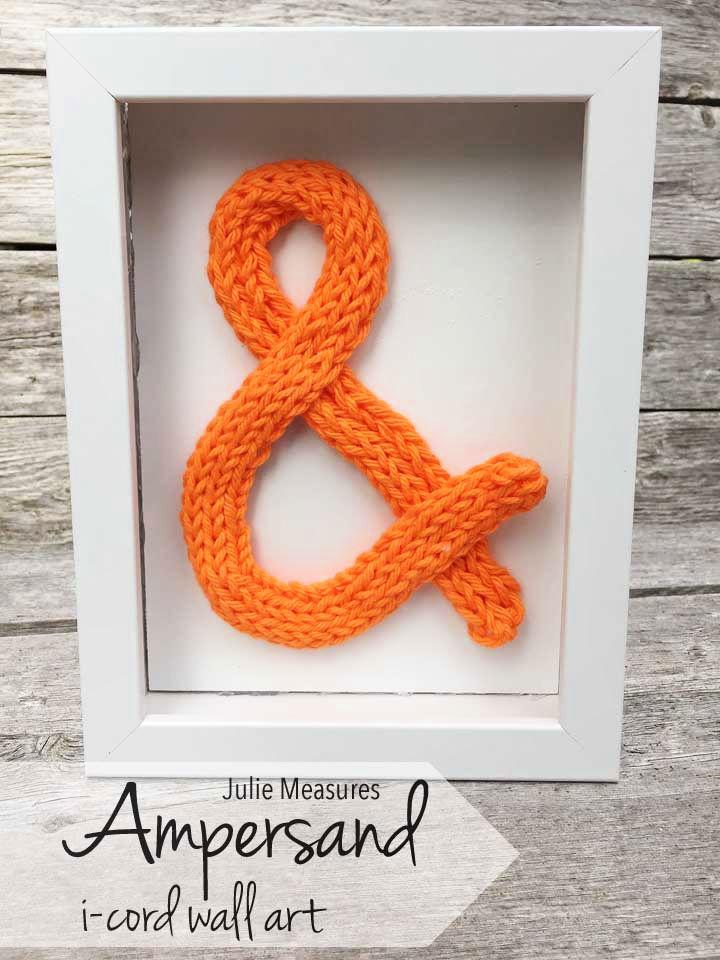 Hey ladies, use some knitting art in your shadowbox and whip up this beautiful ampersand shadow box. What a whimsical art to adorn your wall! You can also place it somewhere on any shelf. You are going to love the texture this shadow box will bring. Give it a shot, ladies! juliemeasures
11. How to Make a Shadow Boxes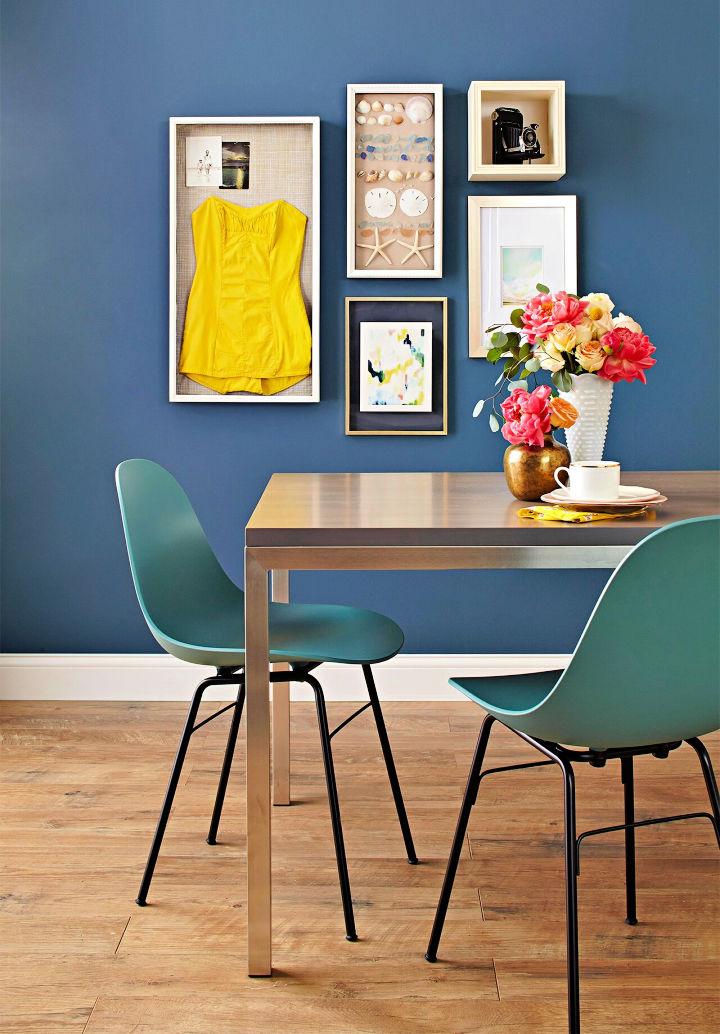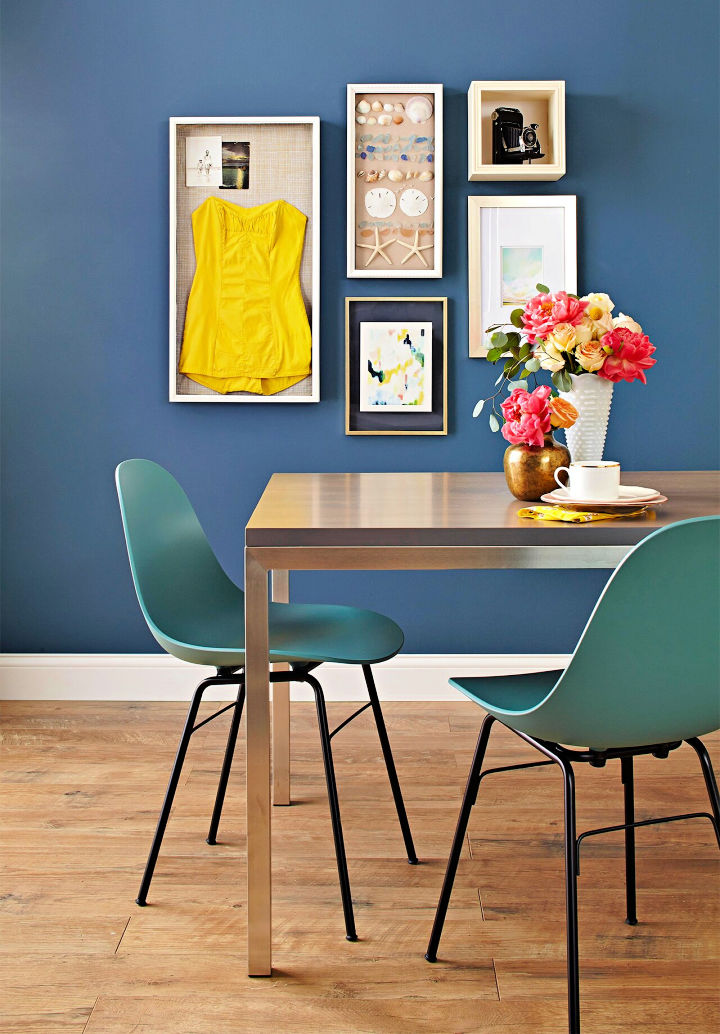 Well, our shadow box ideas are quite unusual decor items! It gives enough space to display whatever you want to. It can be small collectibles, your won medals, travel mementos, shells or anything else. You can accomplish it with tools like paintbrush, drill, nail gun, tape measure, frame, and craft board. bhg
12. Shadow Box Display Frames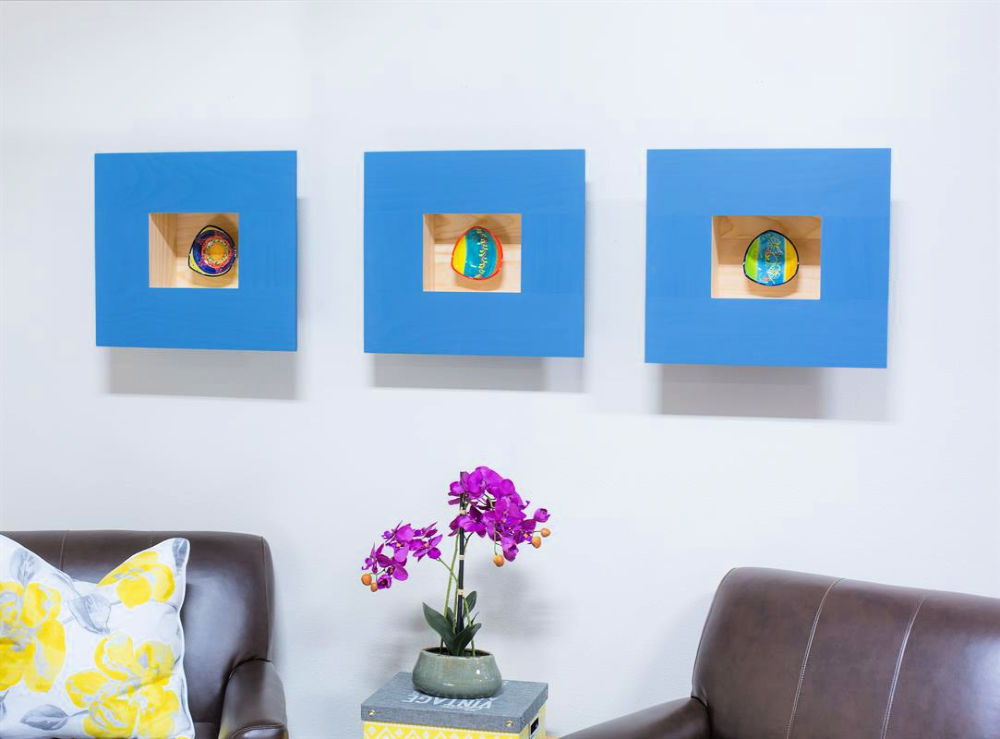 Since small but special things can be too challenging to be saved on shelves, they tend to go missing in seconds. You can keep your little memories safe by putting up these pretty bright blue coordinated shadow boxes on a wall! Get the complete guide in the link below. buildsometh
13. DIY Cottage Shadow Box

A cottage shadow box can not only provide a lot of room but also bring much more texture to any simple or boring wall! You can make a beautiful wall decor piece by acing this DIY shadow box. Hang it in your bathroom or elsewhere to keep your things at the display and manageable. sawsonskates
14. How to Make a Travel Shadow Box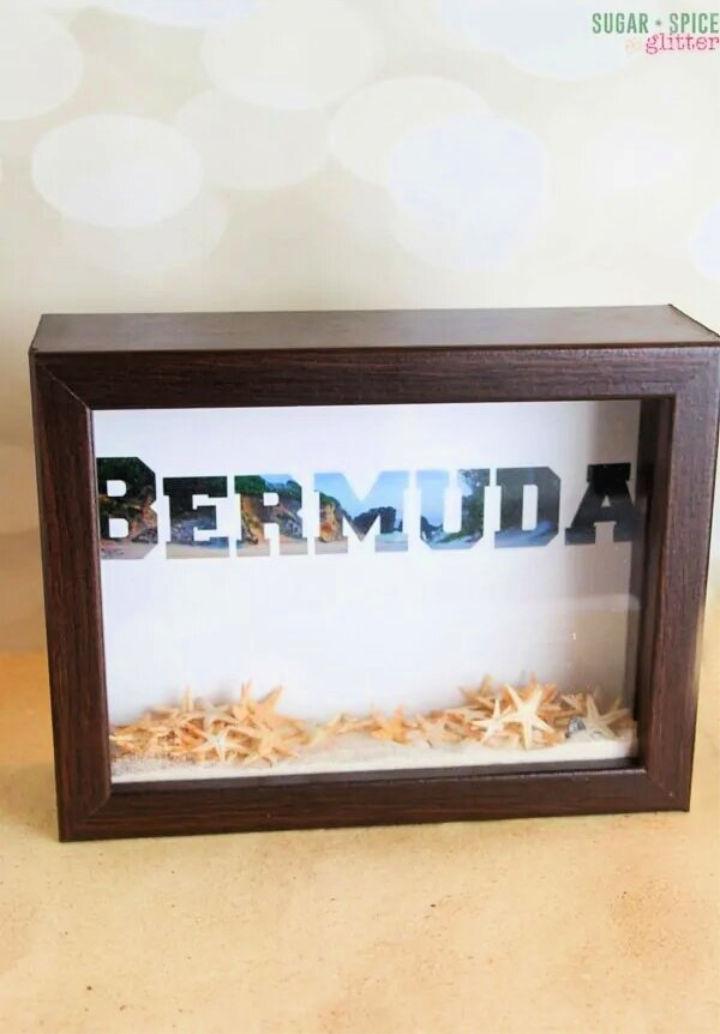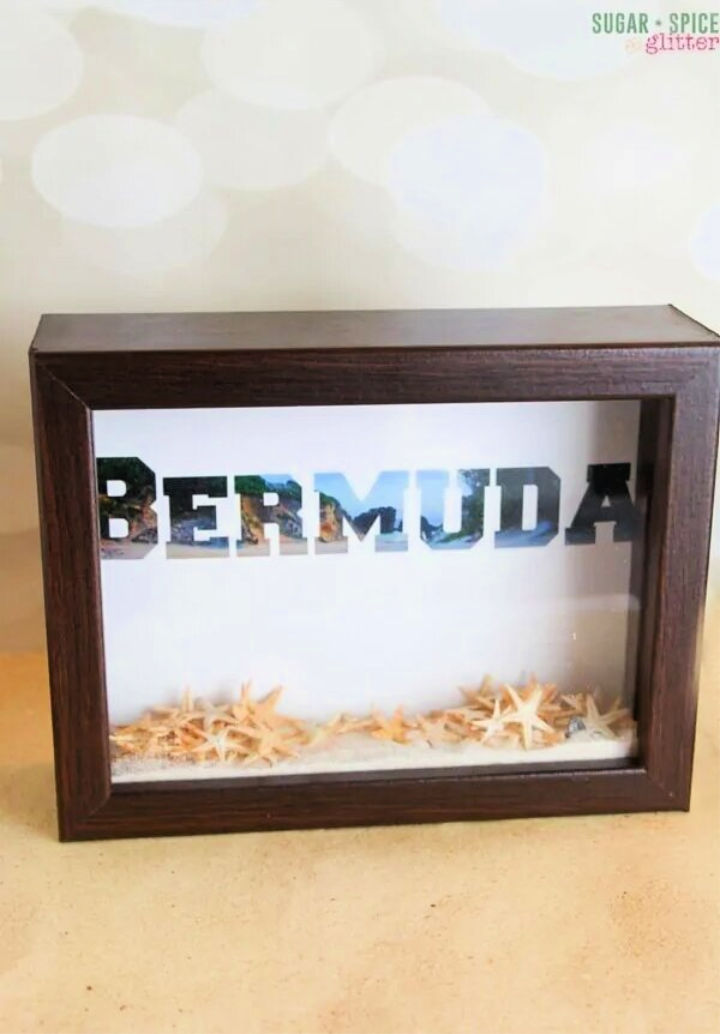 What is your favorite country you would love to travel to? This travel shadow box can be a beautiful reminder of that country you would like to travel to, or you are going to travel. This project will be as easy as pie to create within two hours with tape, knife, clamps, sandpaper, cardboard, and drill. sugarspicea
15. Military Shadow Box Display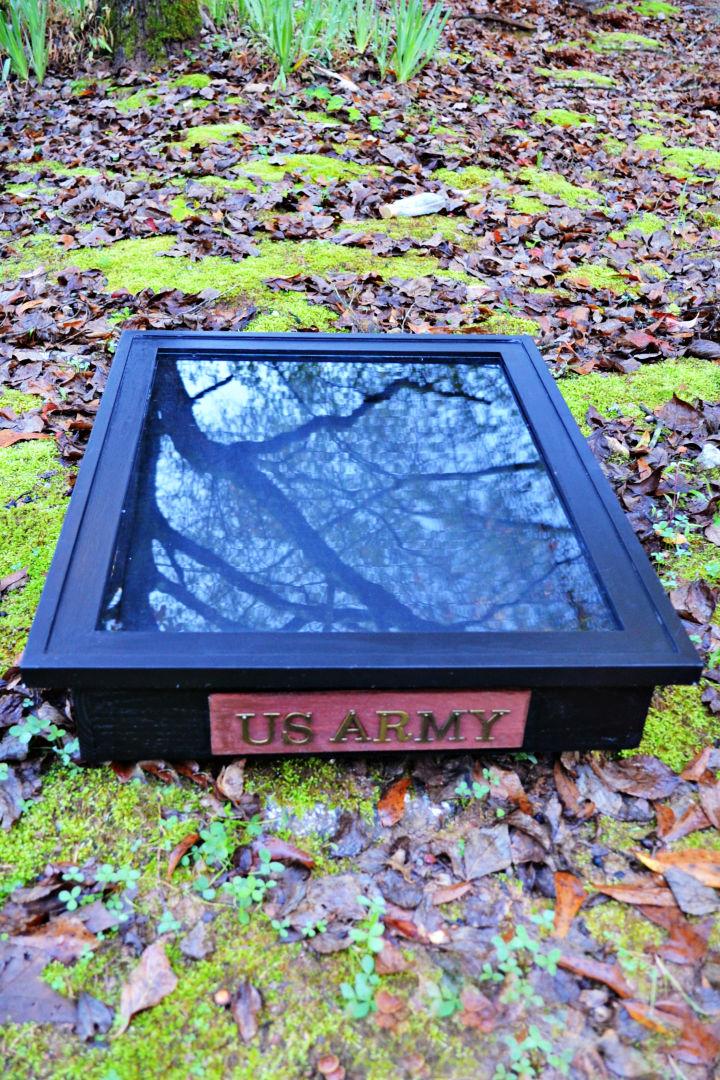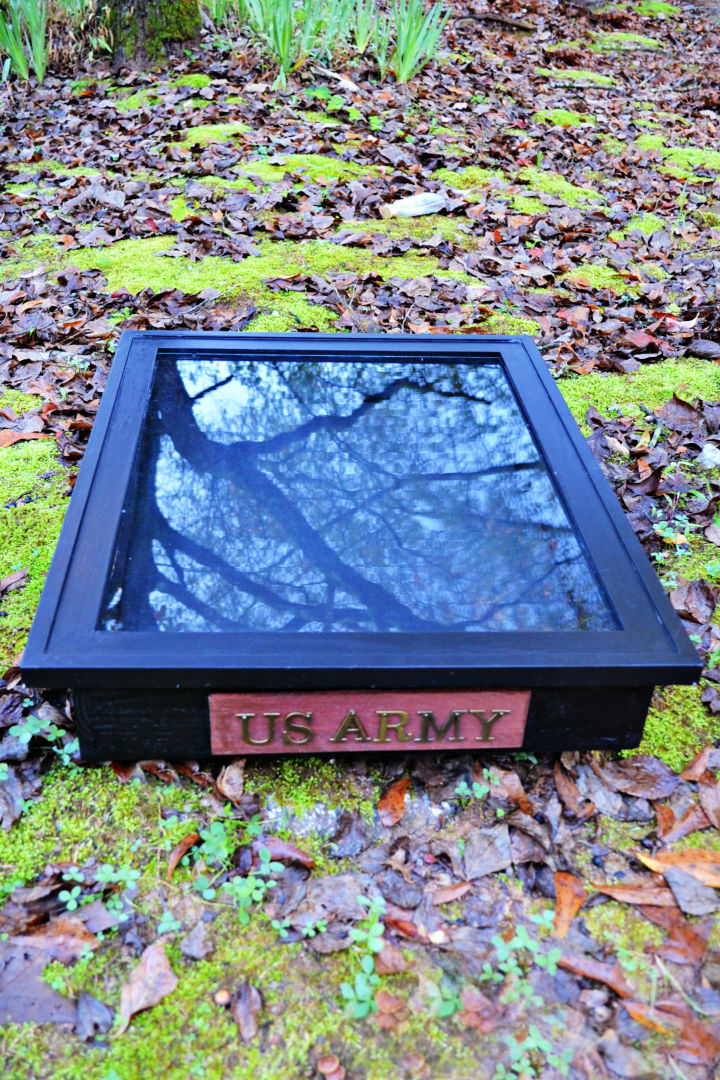 If anyone in your family belongs to the military and you are worried about what to present him/her when she/he comes back from service, here is the DIY display case or the perfect gift to make. This military shadow box will let be a lovely and thoughtful gift! atthepicketf
16. House Keys Shadow Box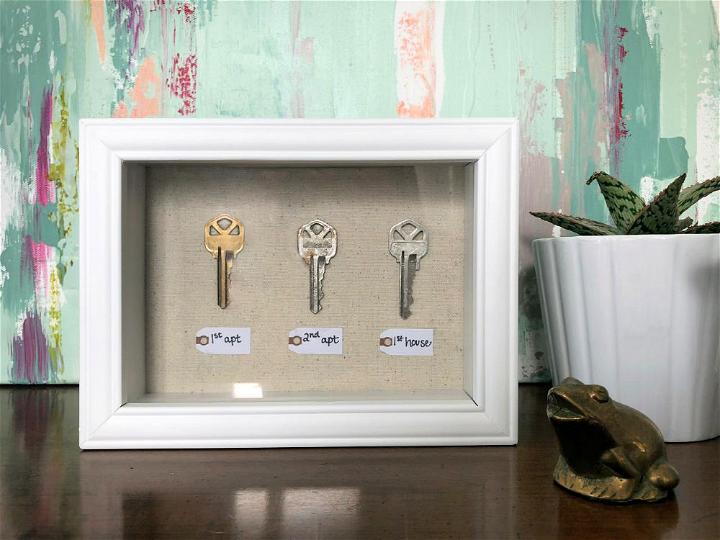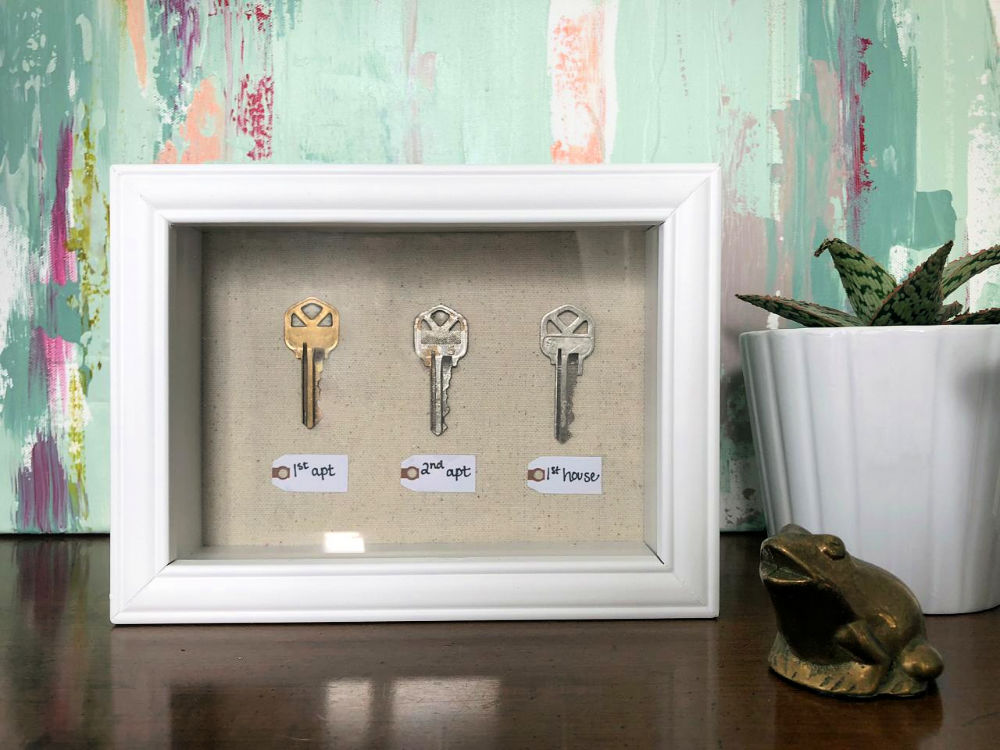 Do you want to permanently take care of not losing your keys all the time? Make this house keys shadow box for them so that whenever you need them, they will be right there in front of you. Build it using adhesive spray, shadow box, scissors, knife, pen, and fabric. hgtv
17. IKEA Shadow Box With Free Cut File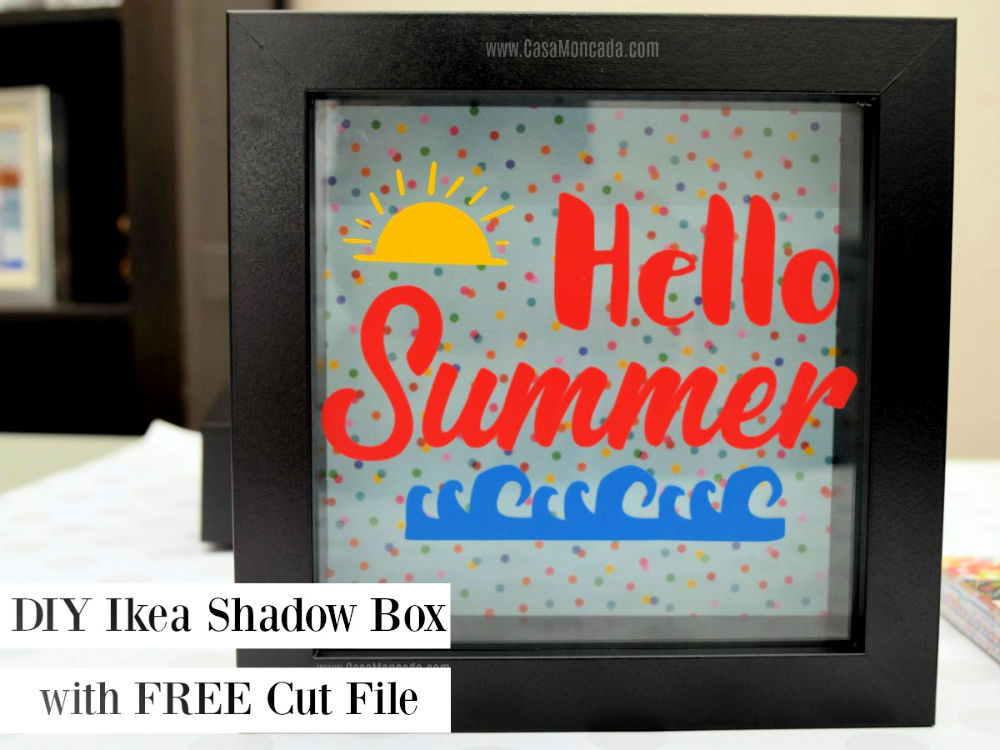 This IKEA shadow box can be totally customized as per your taste and likings! It is 5.5'' x 5.5'' in dimensions. So it can be hanged anywhere. Ideally, you have just got to make a little room. Use supplies like a cameo, removable vinyl, scrapbook paper to nail this project. casamoncada
18. Vintage Map Shadowbox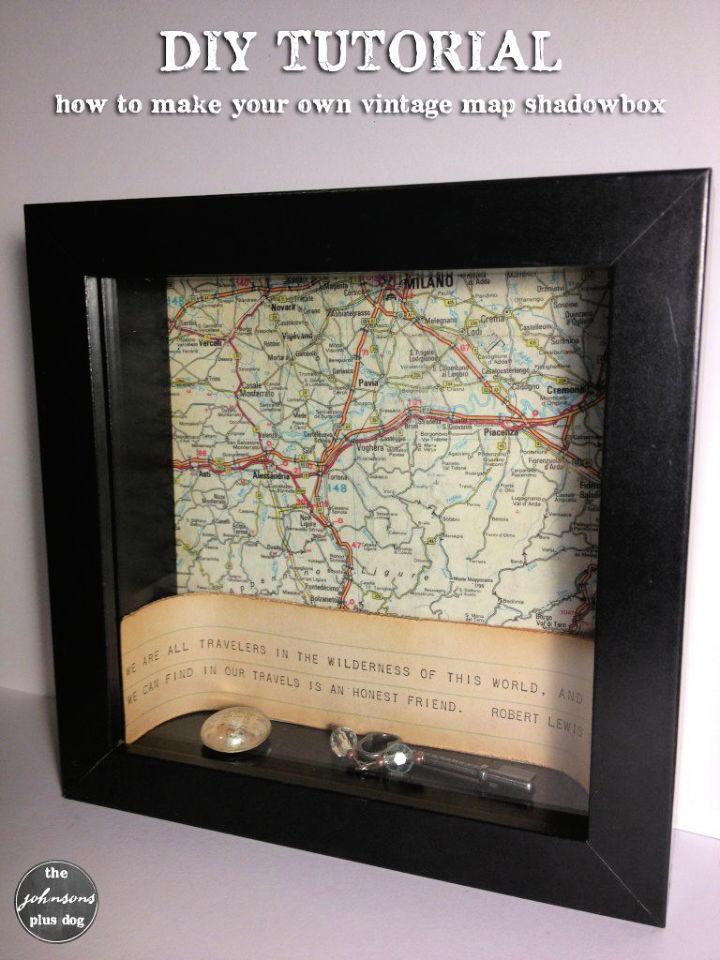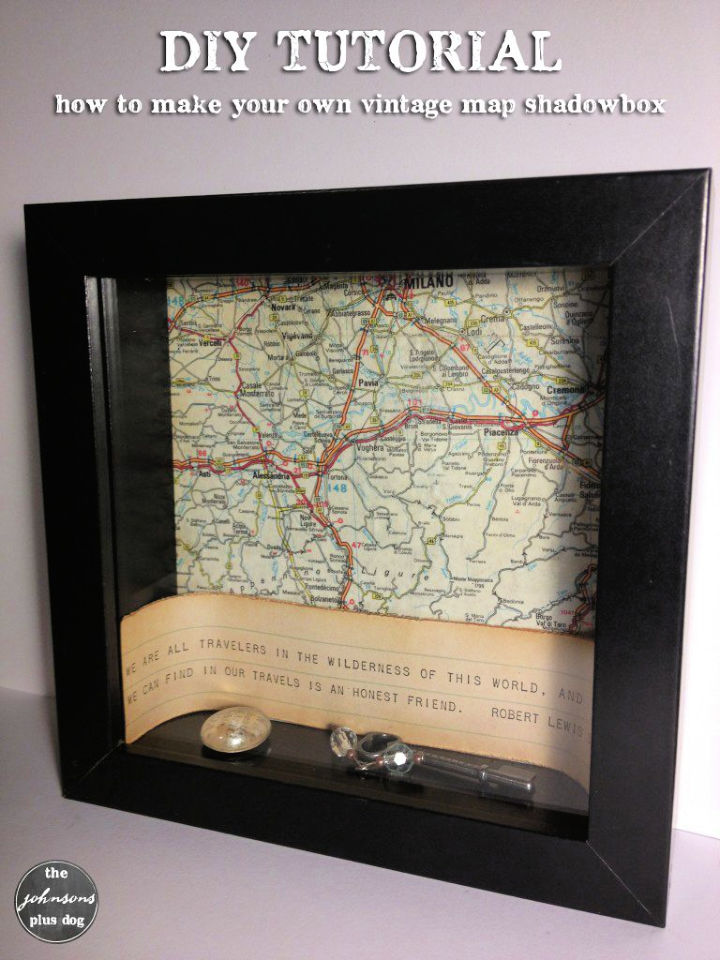 Check out this easy to comprehend step by step guide on making this vintage map shadowbox. That will remind you of your trip that you had with your friends or family. Collect the supplies like a shadow box, paintbrush, paper trimmer, ink, and a vintage map to get it done. makingmanz
19. Ocean View Shadow Box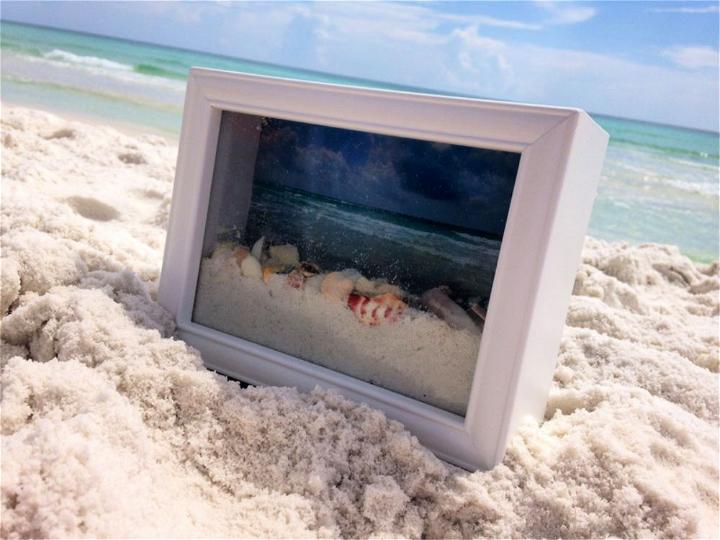 This ocean view shadowbox is the perfect way to keep the memories safe and alive in a box. An ideal way to display it in your home, comprising of all your good memories back at the beach! thesouthernc
20. How to Make a Shadow Box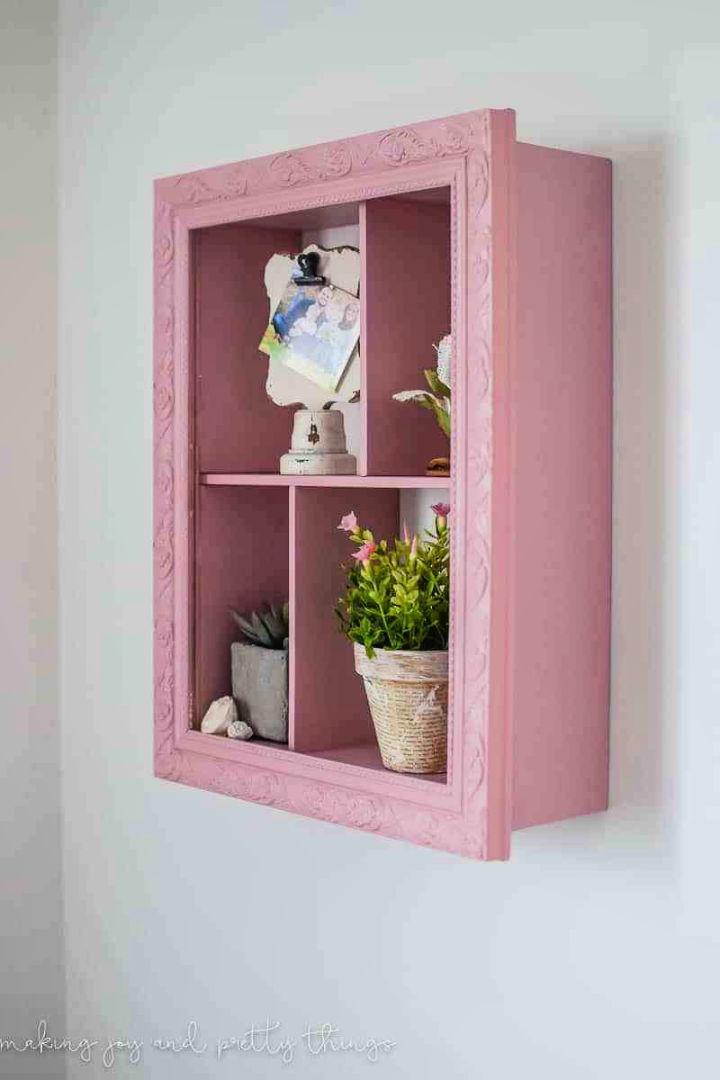 Our shadow box plans offer a dramatic way of showing off your special stuff onto the walls where they can be seen, appreciated, or revisited down the memory lane. Customize the size or make it in 11 x 14, as suggested by the tutorial! makingjoy
Conclusion:
Like we always say, Why to buy when you can absolutely DIY! That's our key to a happy life. When you DIY, you are in charge of your own happiness by customizing something as per your utmost desires and need! As well as, you can be more considerate towards your pocket, which is a huge plus point. So, what are you waiting for? You have just been through the collection of some fantastic DIY shadow box ideas and plans, whip up some and elevate your decor, already!
Homemade picture frame ideas:
Learn how to make your own handmade photo frames with these easy to follow instructions. Follow these 101 of the best DIY picture frame tutorials.