Are you looking for a new mouse pad? No need to hunt it across the over-priced system accessory stores when you have this round up of 25 mind-blowing DIY mouse pad ideas. Making your own mouse pad is not just economical, but it is also super easy and quick. In fact, to be honest, it could be like your one-afternoon fun craft or 5-minute crafts. With these 20 simple and creative DIY mouse pad ideas below, you can make yourself, your kids, friends, or parents (pretty much anyone) some really unique, meaningful, and different DIY mouse pads.
Whether you are a full-time employee, or a freelancer, or a blogger, we all have bad days! In this technological era, each one of us is deeply connected with using our laptops or systems almost on a daily basis. Your surroundings and the little things in them can make quite a huge difference in your overall mood and energy for any day!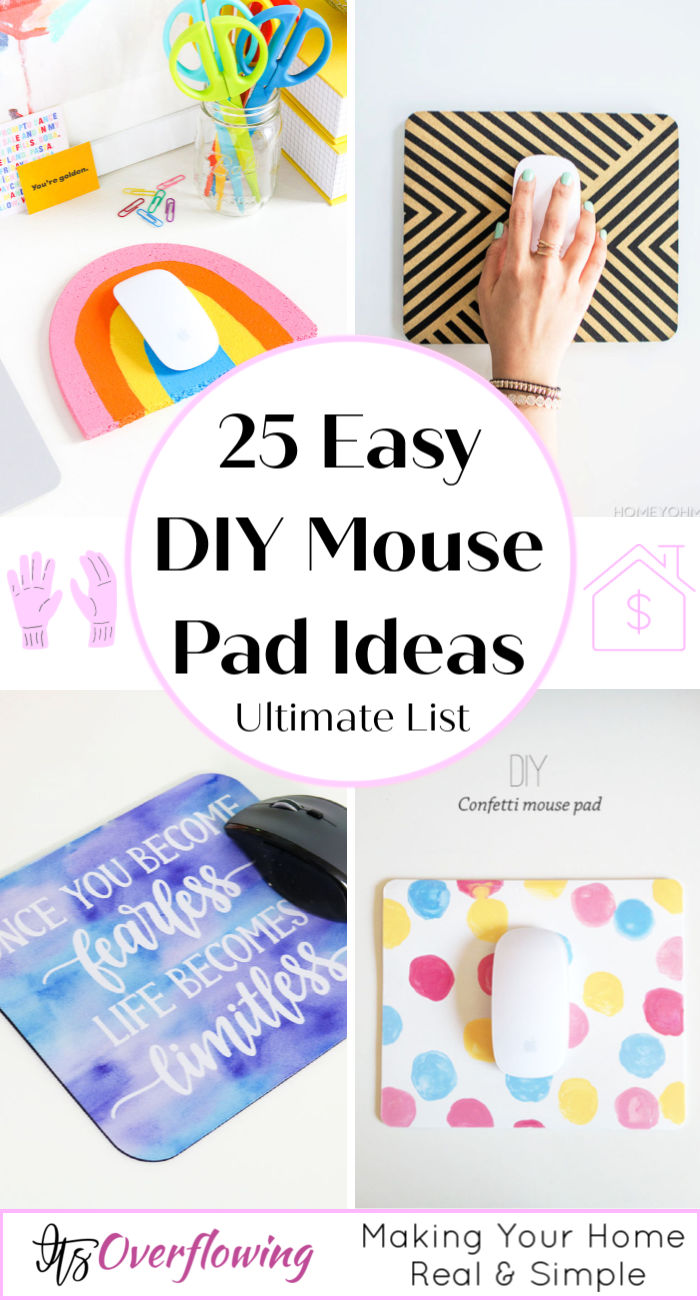 Beat the Monday blues, welcome weekend blogging with these super chic, lively, and unique DIY mouse pad. There are literally ideas for everyone below. Be it kids who happen to love or fantasize dinosaurs. Or grownups who need a little bit of motivation and positive vibes around them! Make some meaningful gifts by exploring our engraved mouse pads or fabric-covered DIY mouse pad.
It is not just that; with these easy craft ideas, you can see how you can make any dull day more happening by just flipping a double-sided mouse pad. So, be in charge of your day! While you may not be able to control everything but still, there's quite a lot in your control like your workspace decor.
1. DIY Mouse Pad with Cricut Infusible Ink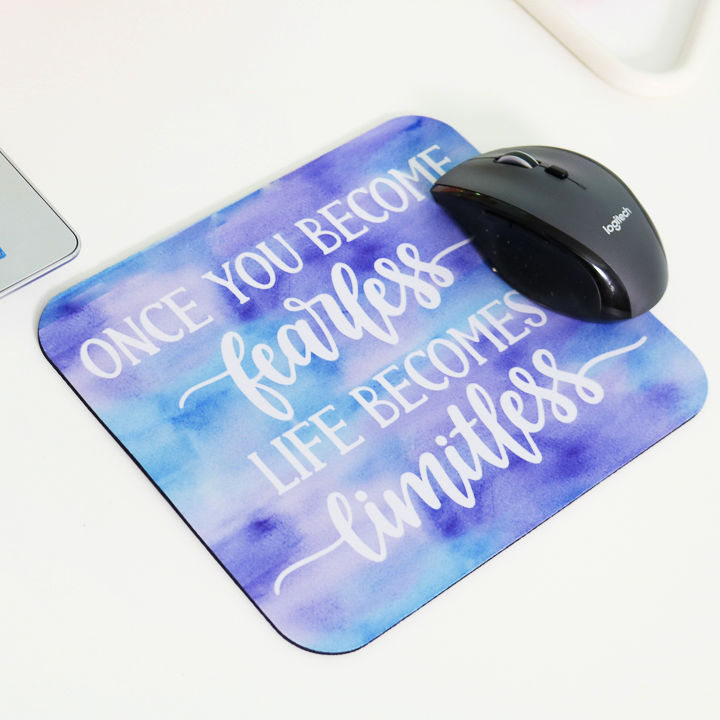 Working in a motivating and inspiring workspace is as important as anything else! How to enhance your work quality by including a customized DIY mouse pad! By using Cricut infusible ink, you can make yourself a motivating homemade mouse pad with any favorite quotation. thecountrychic
2. How to Sew a Heart Mouse Pad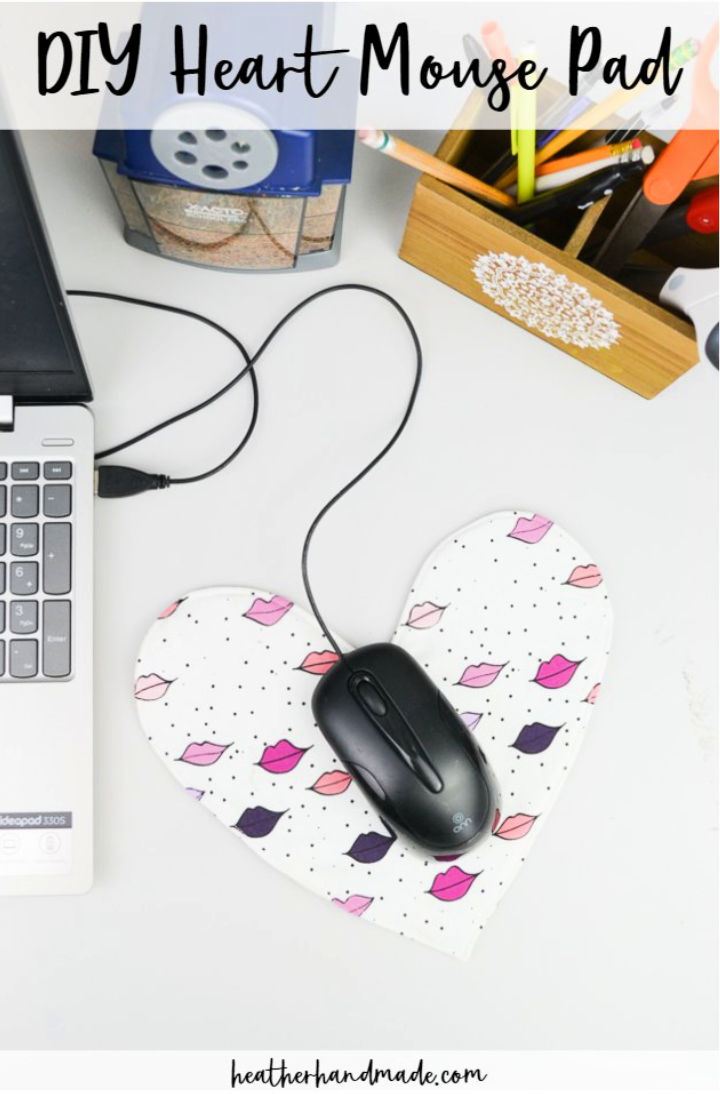 Make yourself an inspiring and touching mouse pad! You can now customize your office or workspace supplies. If your desk is smooth and working with a mouse is a bit difficult, take care of that by whipping up this fabric covered mouse pad with a super chic heart shape! heatherhand
3. Floral Mouse Pad for Spring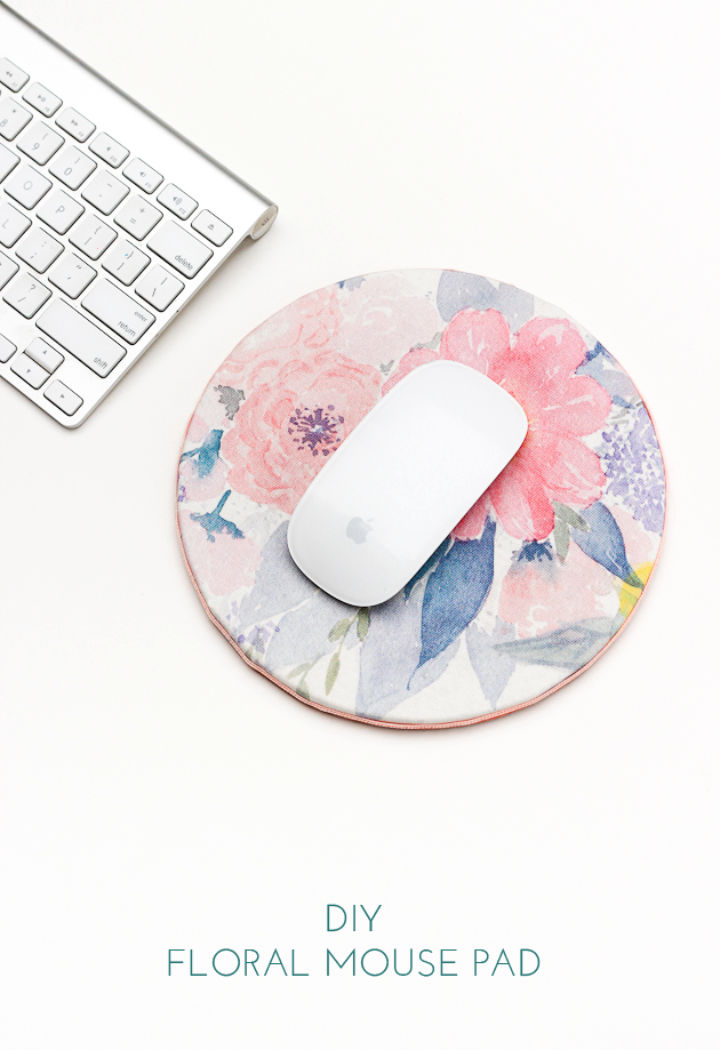 Spring is here, and so is the blooming flower season! Why not take the refreshing fun to your work table too? Check out this DIY circular fabric mouse pad. All you need is fabric, mod podge, cork round, scissors, and a sponge brush. thecraftedlife
4. DIY Donut Mousepad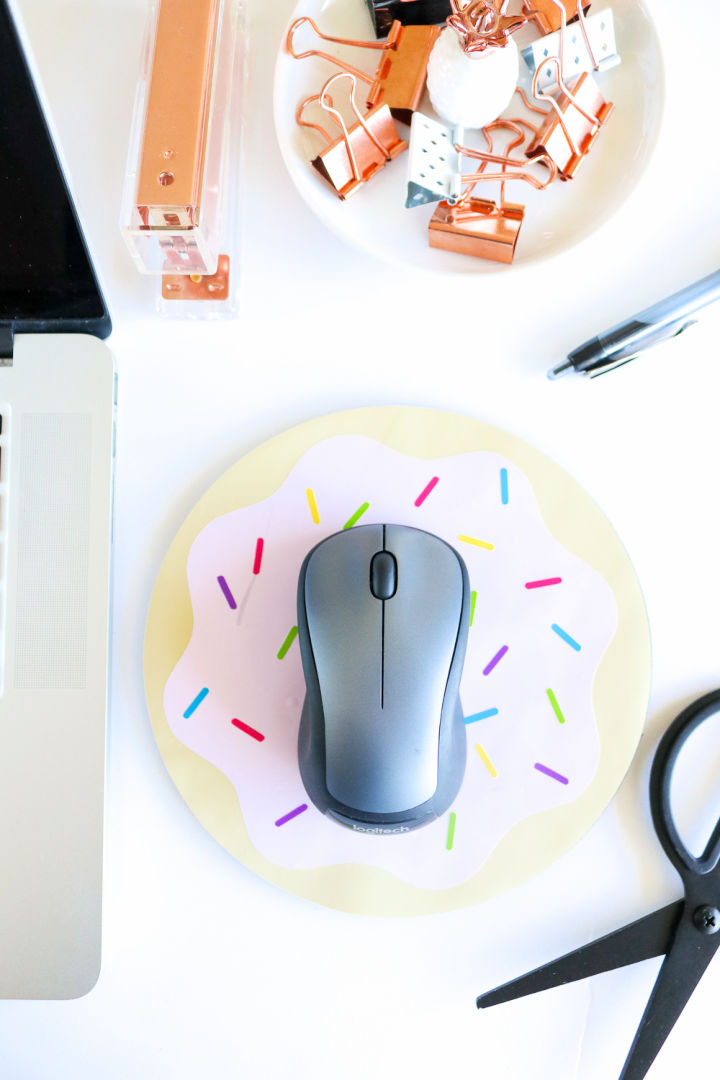 how to make a mouse pad out of household items? Having a bad day at work? What's your mood booster? Ours is a delicious and scrumptious doughnut to cheer up the mood. So, why not also whip up a DIY donut mousepad? The supplies required are tan vinyl, light pink vinyl, bright-colored vinyl, plain round mousepad, and a craft knife. clubcrafted
5. Mouse Pad for Back to School
Increasing productivity, be it for school or work, is really not such a big deal! You just need to make the surroundings motivating and worthwhile. Like this back to school DIY mousepad. If you don't have a cork piece, you can also use a thick piece of foam sheet as the main back. craftsbycourtney
6. Homemade Gold Mouse Pad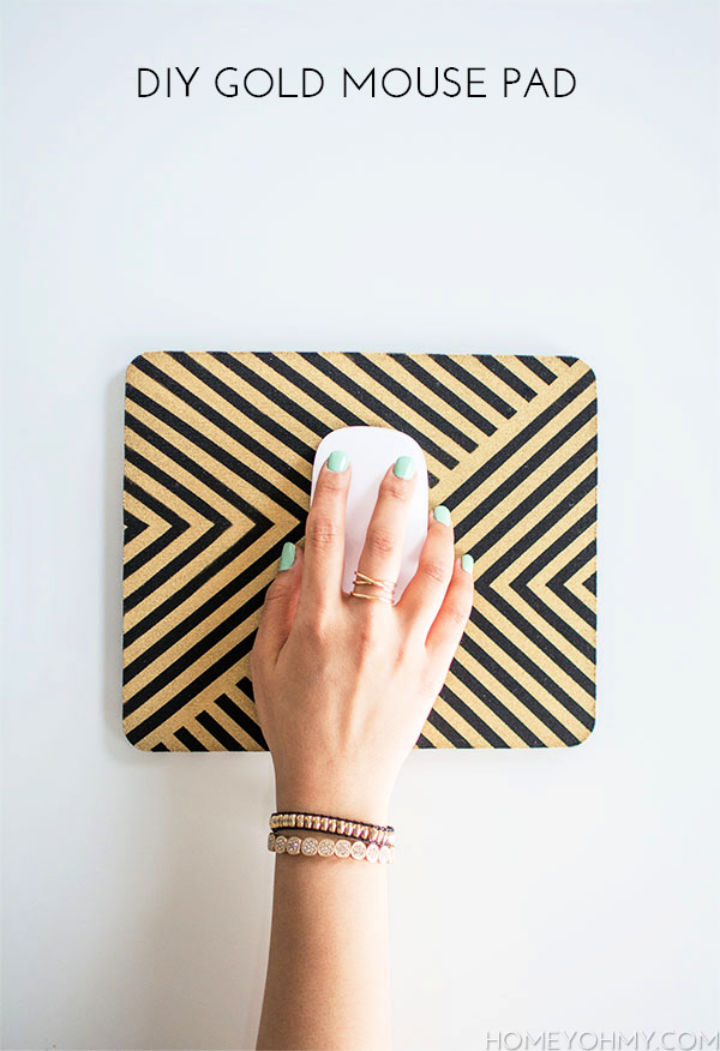 A little pinch of gold never hurts! Why not make your sad, boring days a bit more spiced up with this lovely black and golden mouse pad. You simply need a black base of the mouse pad, and by using vinyl tape, you can spray paint the design with rust oleum gold! homeyohmy
7. Mouse Pad Using Washi Tape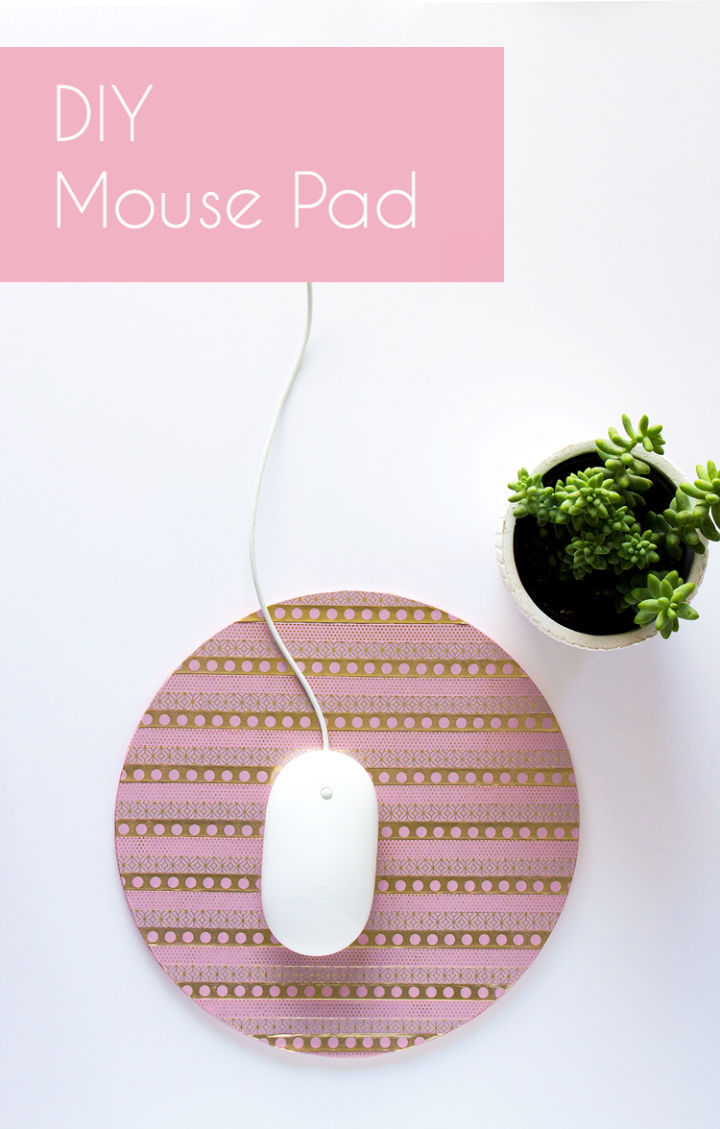 It is literally quite a wonder all the great things that can be made using vinyl tape! This can be made in just under 10 minutes and by hardly spending 10 dollars. The supplies required are 10" cork trivet, Blush Glam washi tape, E600 glue, a Xacto knife! acharmingp
8. DIY Leather Mouse Pad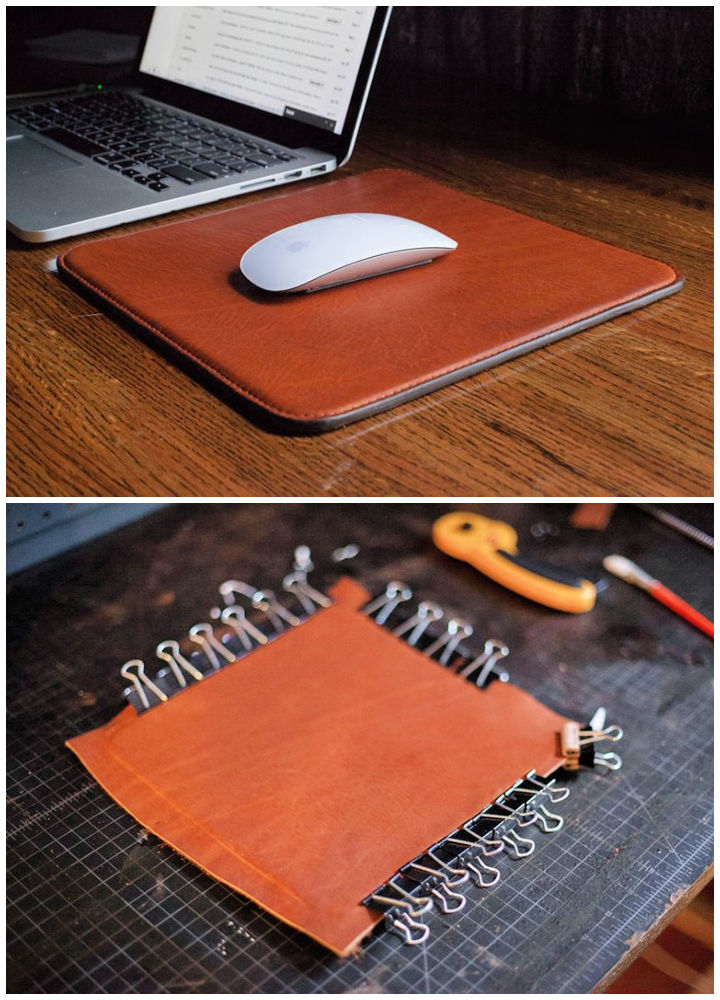 A sophisticated leather mouse pad is something that can spruce up your office décor! Another great benefit of using a leather mouse pad is that it can help you learn the art of padding! Just get your hands on scrap leather, leather glue, paint, and a few more supplies. manmadediy
9. Pom-pom Mouse Pad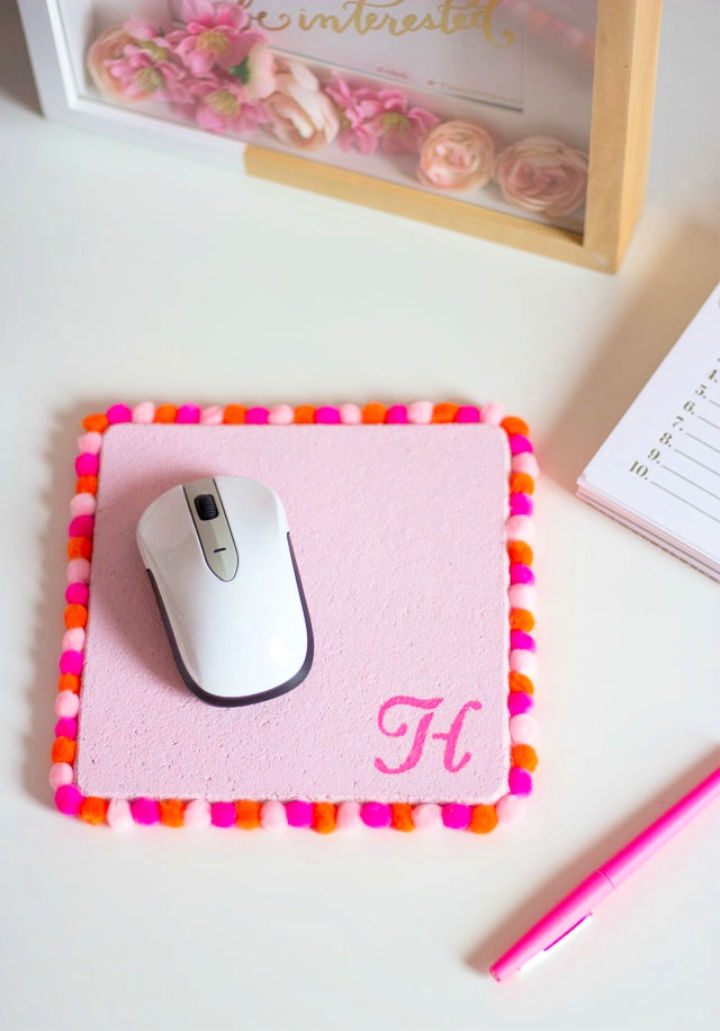 Looking for fun ways to add more liveliness to your daily work? You can whip up these cute tiny pom pom mousepads for yourself, your kids, or even your friends! The supplies are pretty simple and even fun to select. Like which colors of pom pom would you like and the color of the base. designimprovised
10. DIY Confetti Mouse Pad
Isn't confetti a mood charmer already? The beautiful and lively collection of different colors can brighten up your mood in an instant! Make one colorful mouse pad for your office or work at home! You simply need an old mouse pad, primer, white acrylic paint, paintbrush, and varnish. makeandtell
11. Make Your Own Mouse Pad
Personalization is the key to a happy life! This pretty simple doily mousepad can make any dull day better! Be your own designer and give an ordinary mouse pad a chic and lacy look using mod podge, doily, and a sponge paintbrush. bumblebeeli
12. Custom Fabric Mouse Pad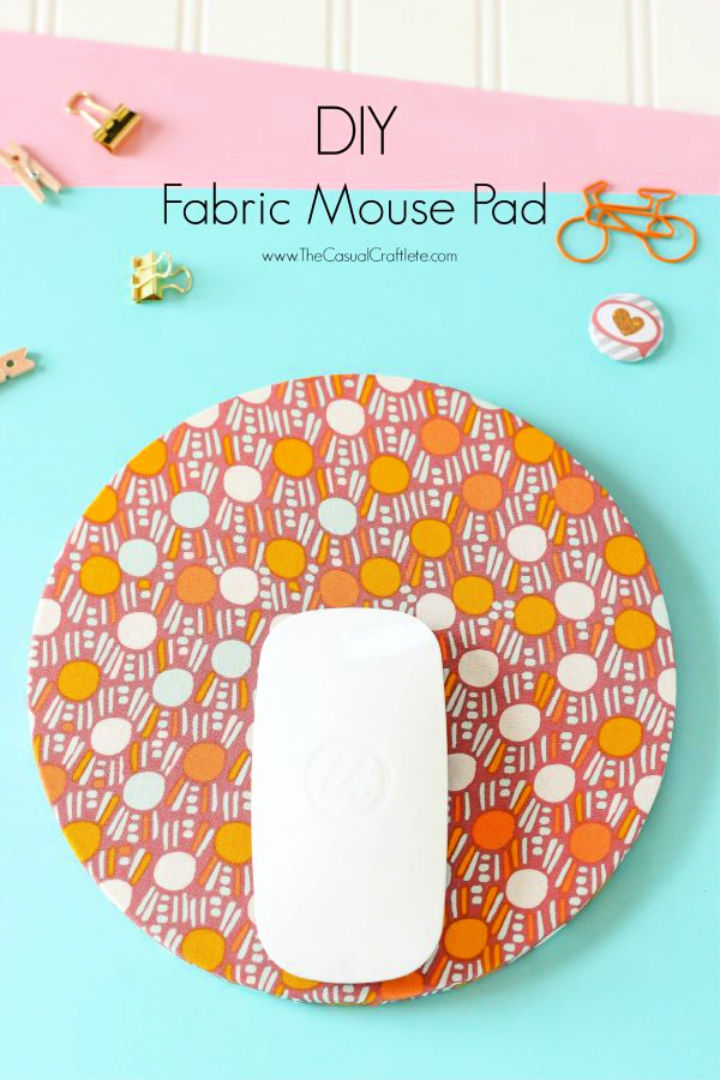 Make your own diy circular fabric mouse pad like a pro! How about we interest you in making a super simple fabric homemade mouse pad by using just a few supplies! It all begins with colorful fabric pieces covering a cork trivet! Add in some fabric pencil fun, hot glue gun, and scissors. purelykatie
13. Cork Board Dinosaur Mousepad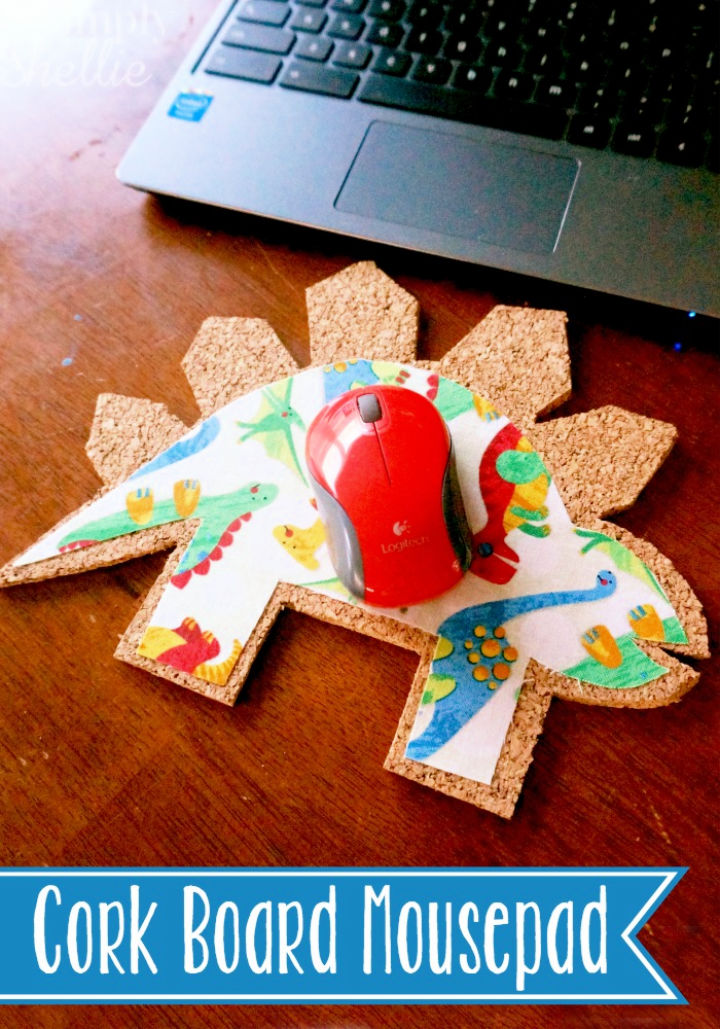 Are your little ones fan of dinosaurs? We don't think there could be any gift better than a lovely customized dinosaur mouse pad for their birthday! The FREE template is all up for grabs from the link below! Simple supplies, some artwork, and lots of funny memories. simplyshellie
14. DIY No-sew Mouse Pad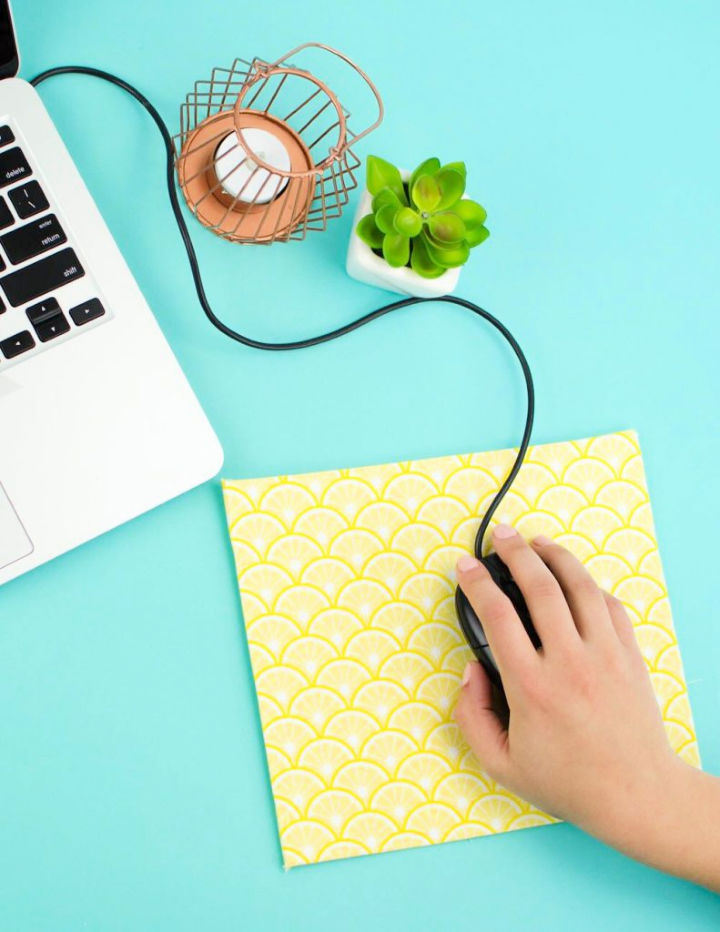 Who says that you have to be a pro at sewing if you are drooling over any fabric-covered DIY mouse pad?! A little craft in your day has got this lovely little crafty idea to make your mouse pad DIYing easier and doable, even for a non-sewing person! Check how, here. alittlecraftin
15. Rainbow Homemade Mouse Pad in Two Steps
How to make a mouse pad? Bring this rainbow homemade mouse pad into your lives to add a bit more of hope, colors, and joy in your ordinary workdays! This will only take like an hour to get completed. Gather the few supplies, including an oval corkboard, multi-surface acrylic paint, brush, knife, and tape measure. thecraftedlife
16. Mouse Pad with Scrapbook Paper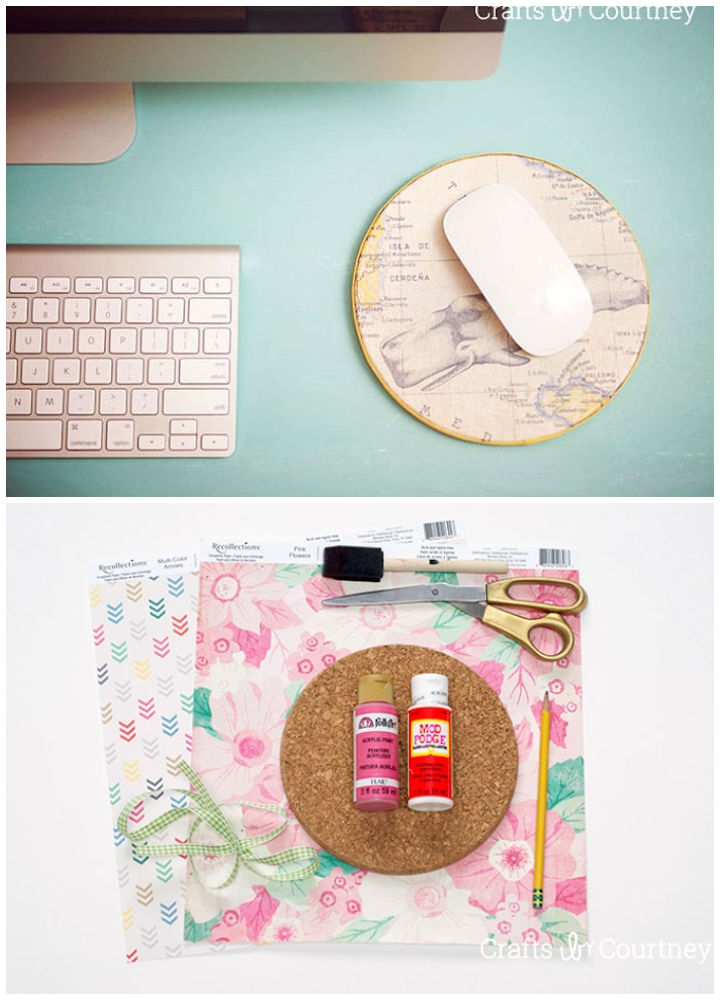 Every true DIYer has a drawer full of all those scrap paper or scrap wrapping paper! It's time to unload that scrap by whipping up some super cool DIY mousepads! Your own mouse pad just needs a few supplies and a lovely scrap paper! modpodgerocks
17. Pentagon Mouse Pad – Sewing Pattern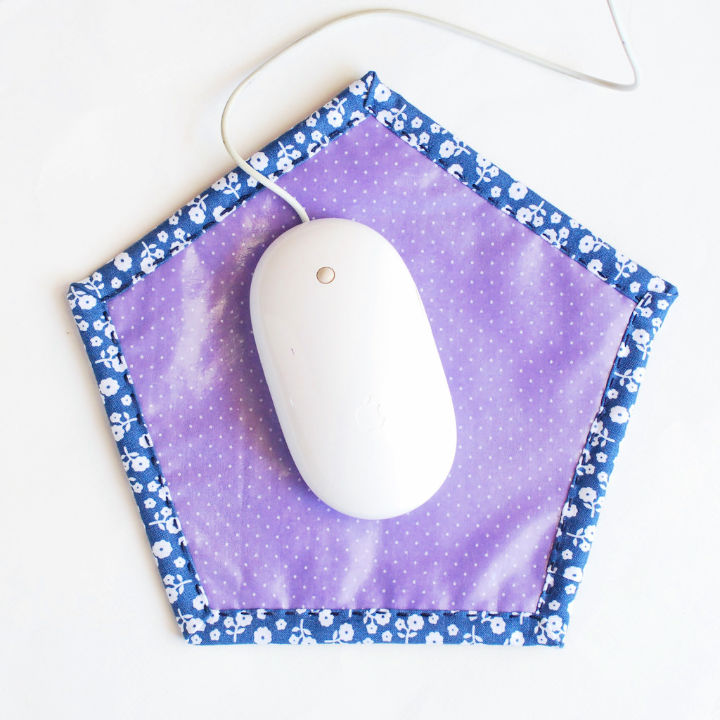 Fan of shapes? Who doesn't love playing around different shapes, right? A little more fun factor in your life. Hence this pentagon mouse pad is what you need to cheer up your days. The front fabric dimensions are about 9 x 9. Hit the tutorial for more details. wildolive
18. Geometric Leather Mouse Pad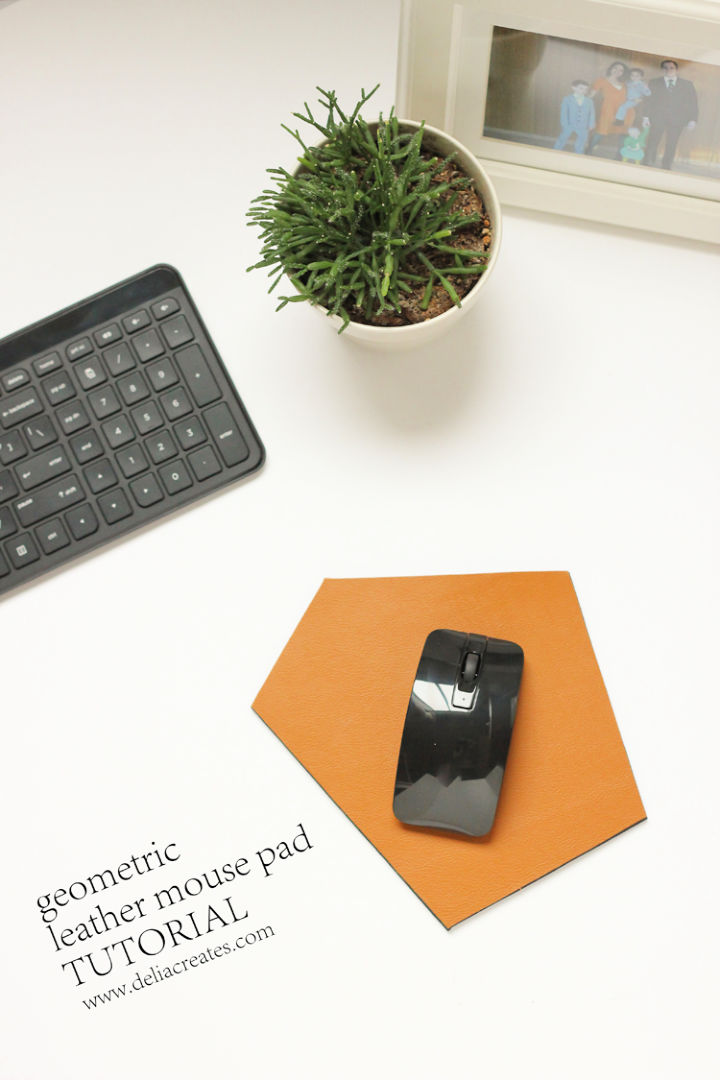 A leather pad with an appealing geometric shape can be one darn quick way to spruce up your desk décor! It is not only insanely cheap but also can be made in simple 3 steps. What you need? A scrap of leather, old mouse pad, spray adhesive, and a few more things! deliacreates
19. Cosmic Trend Inspired Mousepad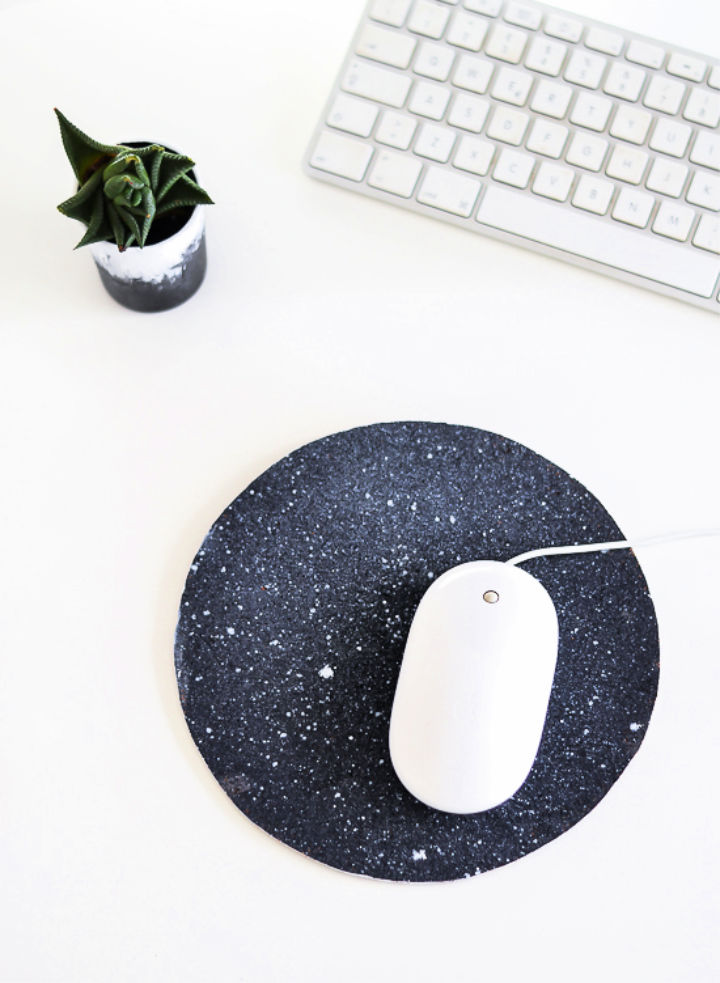 Beat the Monday blues with something to look forward to! Like this super mesmerizing cosmic trend-inspired mousepad. Clearly, a mouse pad is the must-have for any frequent worker, even if you are working from home! So, why not make it fun and appealing? passionshake
20. Homemade Cork Mouse Pad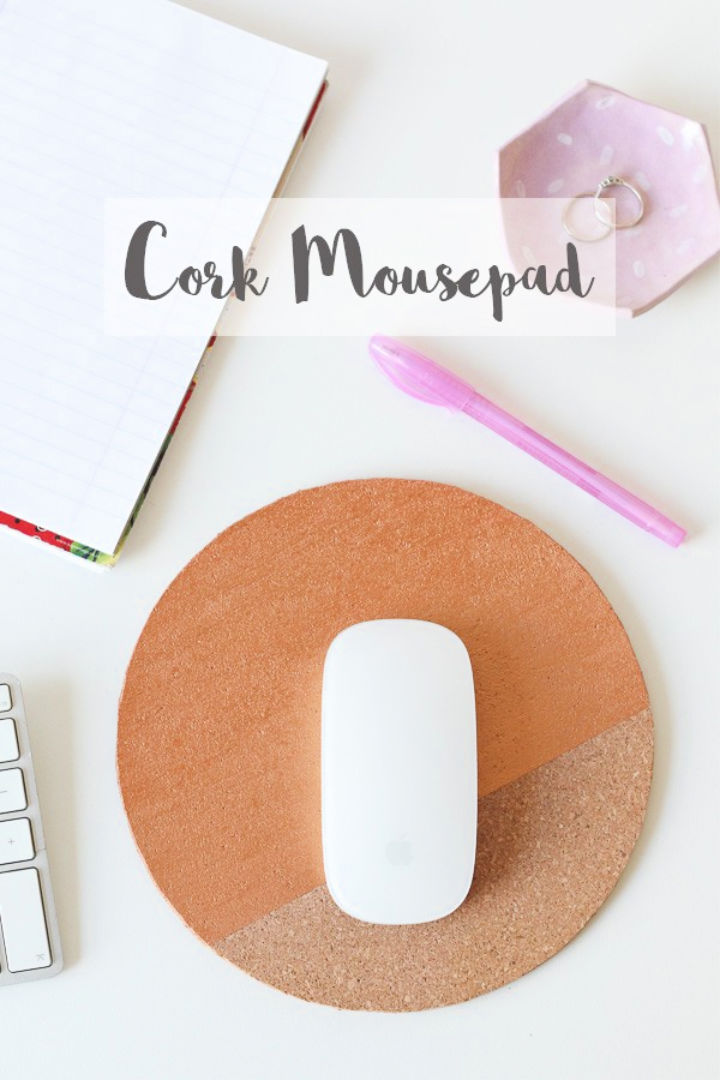 We all know how expensive or insanely overpriced those commercial mousepads are! So, why spend more than what you really have to! Instead, go for a DIY mouse pad. It is so easy to make by just getting crafty on a corkboard. puresweetjoy
21. DIY Mouse Pad for Your Office
Writing a proposal or finalizing a presentation can get quite intimidating some days! Take care of that by keeping closer a somewhat motivating mouse pad. Like this lovely polka dot fabric saying, "Make it work." These little reminders can be excellent game changers! thewonderfo
22. Double Sided Cork Mousepad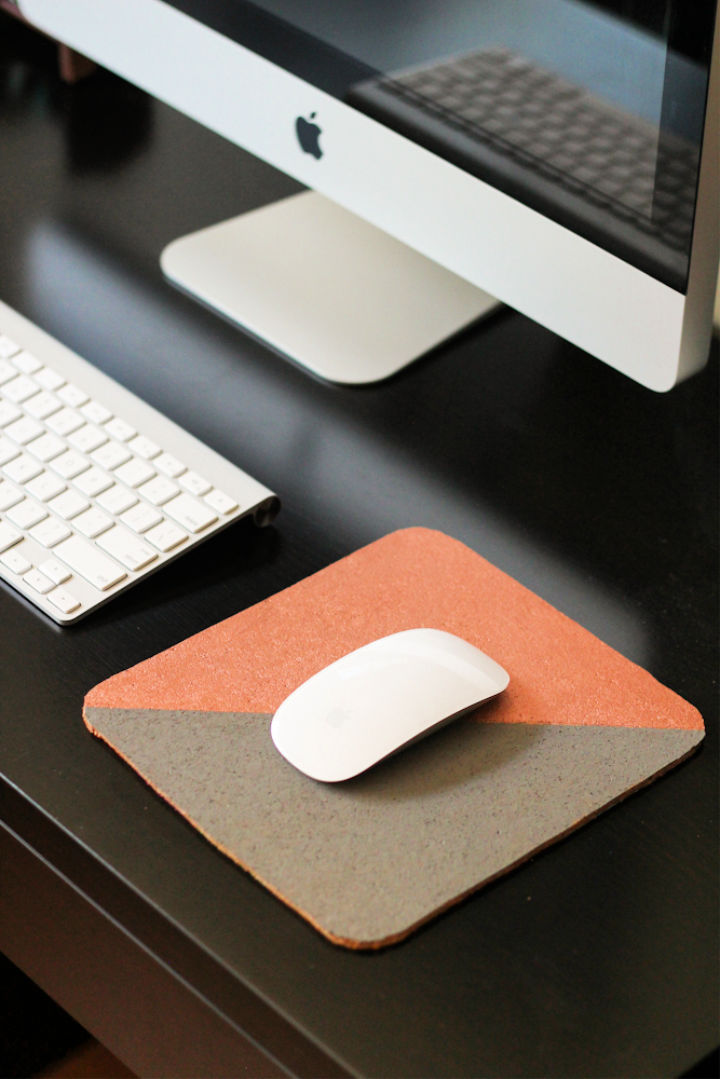 Bored of the same design and side? Flip it over! This double-sided cork mousepad is for all those people who like to make their things last for long. While at the same time, like a rather creative foothold. Make one side a funky puzzle and the other a minimalistic combo. thecraftedlife
23. DIY Handpainted Mousepad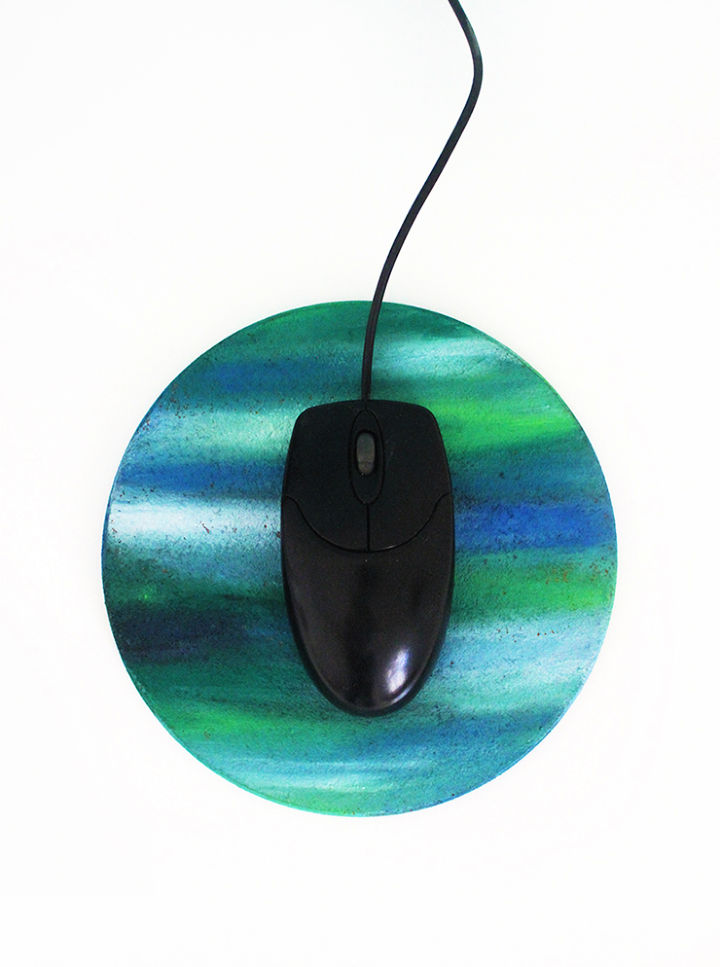 Nothing beats the fun that comes out of an evening of hand-painting! Be it a glass or a mouse pad. Who doesn't love the feeling, right? Get your hands on a round cork mat, green, blue and white acrylic paint. With a few more supplies. thecraftables
24. DIY Engraved Wood Mousepad
Looking for an ideal gift for your dad? On his birthday or perhaps father's day. Well, why not gift him something meaningful and useful. Like this engraved mouse pad. You simply need a wood circle, wood stain, foam brush, and wood-burning tool. abubblylife
25. DIY Mousepad for Your Desk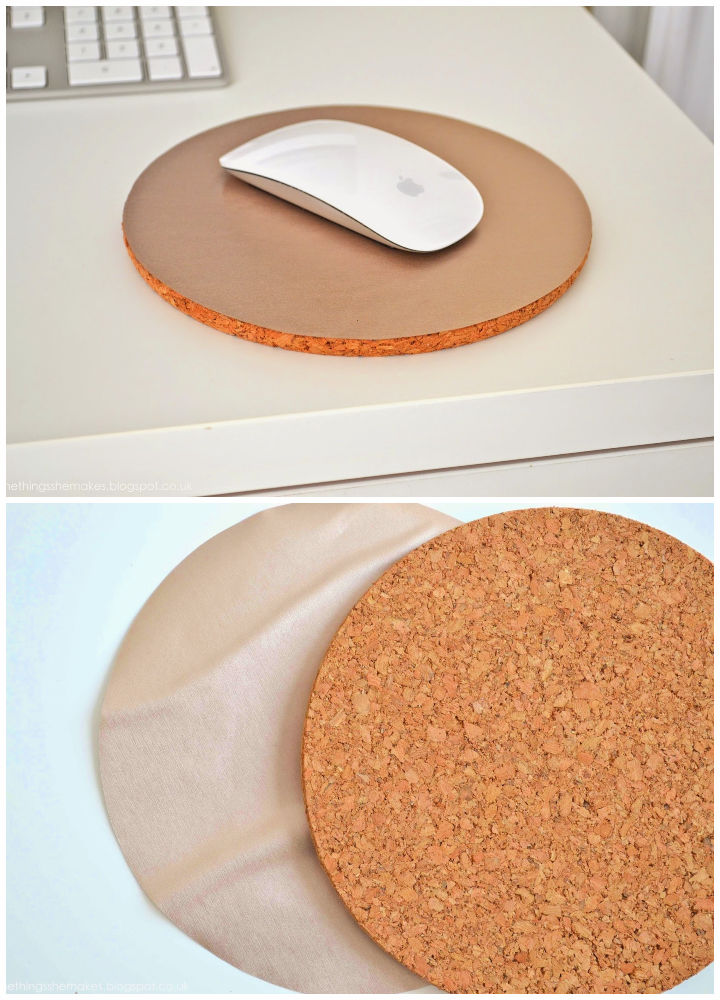 You might have never even imagined making your own DIY mouse pad, right? We can relate. But the things she makes tends to differ with that! Learn how to make your very own mousepad by using just 2 supplies. Click the link below for step by step guide. thethingsshe
Conclusion:
Did you see how easy it is to make your own mouse pad? Trying at a DIY mouse pad is no big deal at all. You can easily nail it by using just a few supplies, including cork mat, any fabric, scrap paper, glue, paint, or any other craft notions! Bring some extra meaning to your ordinary days.