Are you prone to environmental allergies? Have you ever tried to find the root cause of it? The main culprit may be the smog, fumes, debris, allergens, and other impurities in the air you inhale in. So, improve the quality of the air in your home with these 10 cheap and simple DIY air purifier ideas that involve making the most affordable and best DIY air filtration system at home. First, you have to build the casing or housing for the DIY air filter, opt for the leftover wood, cardboard, plastic containers, and 5-gallon plastic buckets to build instant beautiful air purifier casings. Next, add them up with the fast fans, even the mini 3in diameter computer fans will work great for most of the designs.
From a small to medium to extra large, build all sorts of homemade air purifier with the help of free provided plans, step-by-step instructions, detailed diagrams, cultists, and material lists.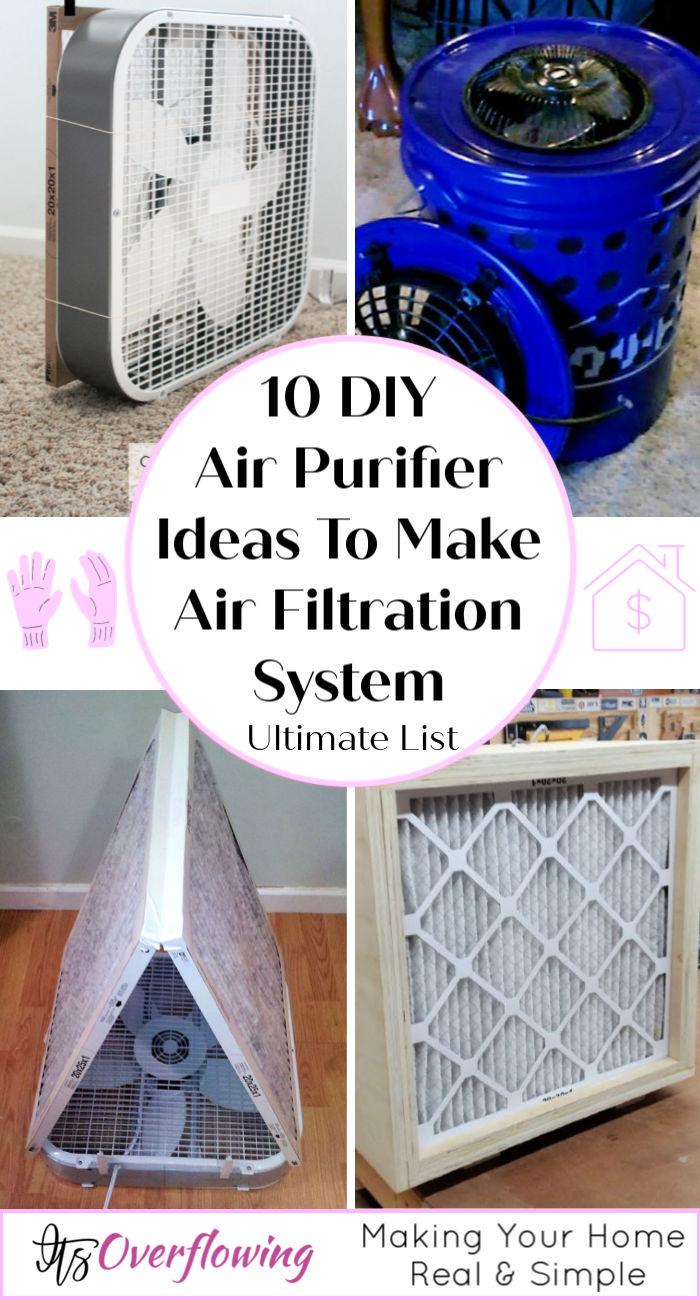 First, choose the box fans to build instant beautiful DIY air purifiers for cheap. Grab the box fans and install them to the front side of the filters and gain an outstanding air dust filter. You can have lots of filter and fan choices to vary the overall power and capacity of your models. From using miniature bike filters to large car filters, use all to build a DIY air purifier for dust and even for your desktops.
Finally, you will get free plans to build the water-based air purifiers, too, which will be the best humidifiers and ION generators helping to make your spaces hygienic. Explore the collection of these DIY air purifier projects for the dust to see a variety of designs to choose fro according to your skills and budget.
1. DIY Air Purifier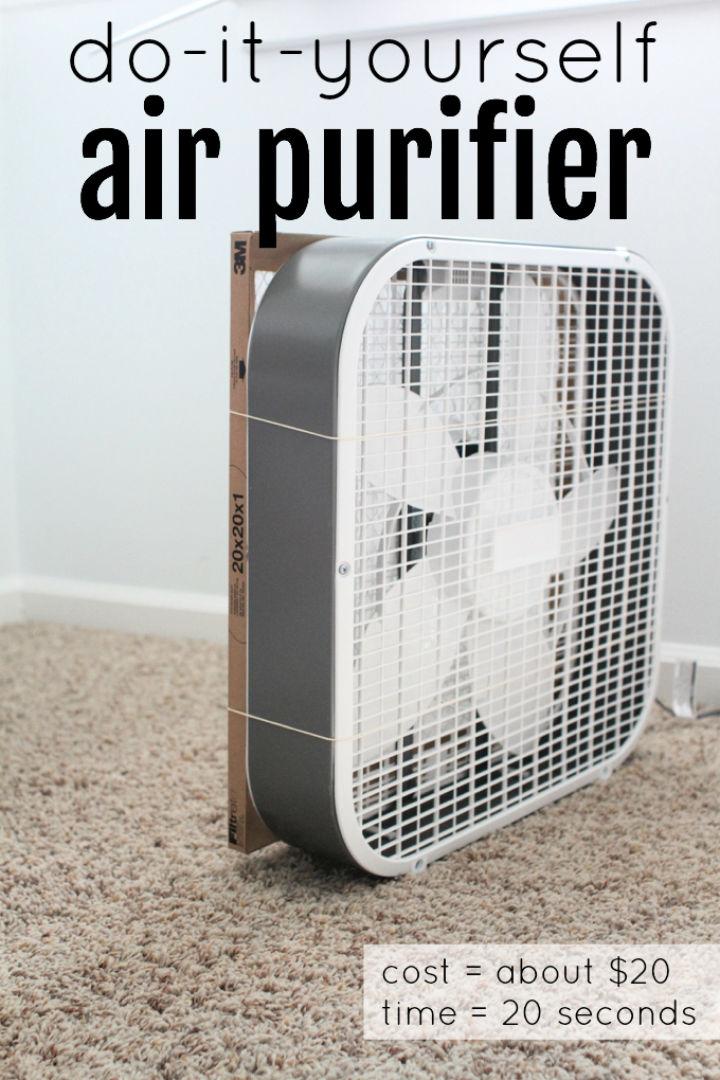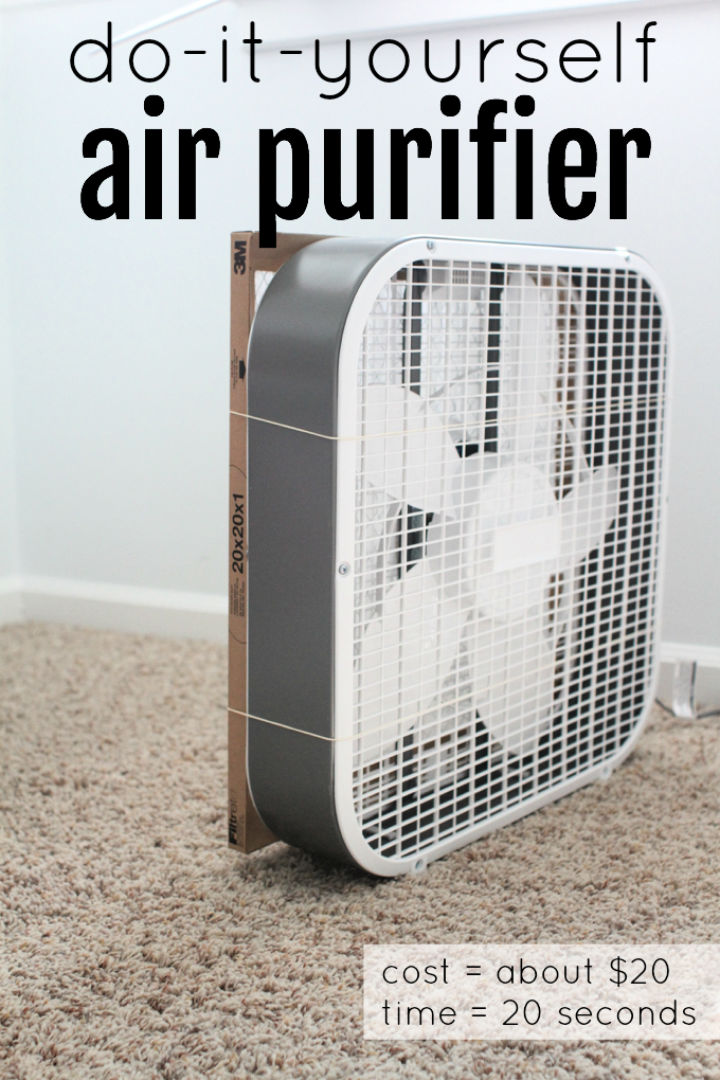 Improve the quality of indoor air by building this DIY air purifier. It will help remove the impurities from the air reducing the danger of environmental allergies. Build this homemade air purifier using a 20" box fan, 20" air filter, and large rubber bands. The box fan will simply cost you $5, and you have to purchase the filter for only $7. The idea is just to secure the filter to the back of your fan with the help of rubber bands. One of the best DIY air filter ideas to make at home without getting expensive. Details here paintbrushesand
2. DIY Box Fan Air Purifier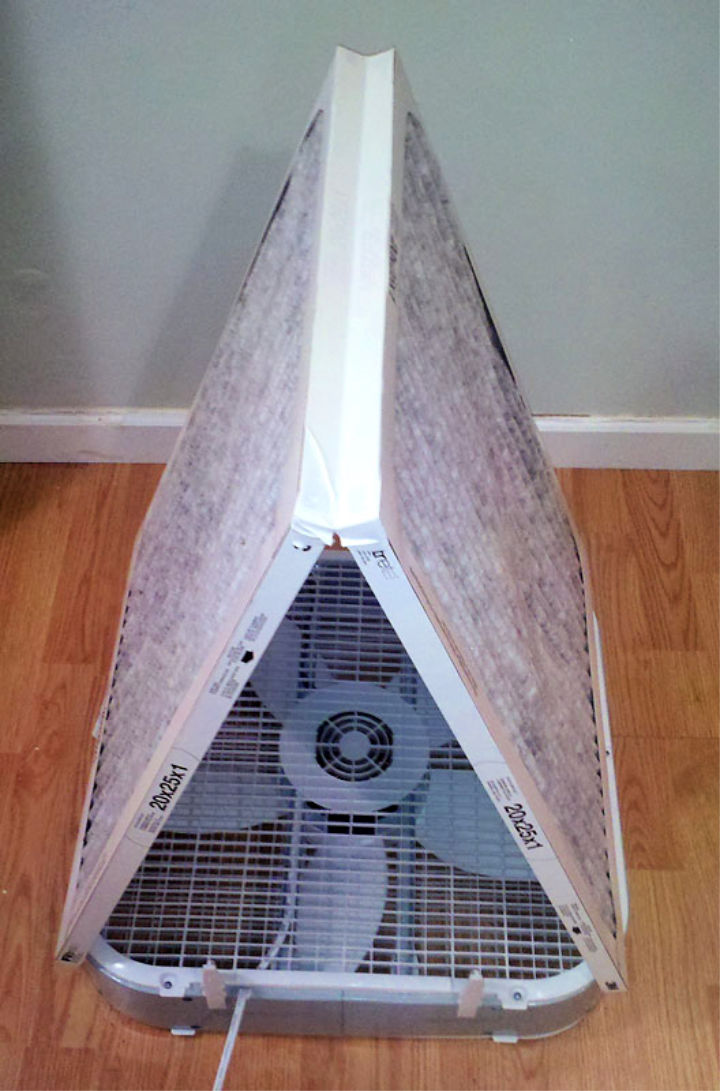 If you need to purify the air in the dirtier and dustier environments, then you surely need this better DIY HEPA filter. Grab a 20" x 20" x 1" furnace filter and just place it on a cheap 20" box fan and gain an instant cleaner air purifier without getting expensive. It will cheaply clean the air and will be a pleasure to make too. DO build this box fan air filter that will help in odors and VOCs reduction too. Further, you need the cardboard, duct tape, and plug-in timer to make this DIY air purifier. Details here tombuildsstuff
3. Make DIY Air Purifier on the Cheap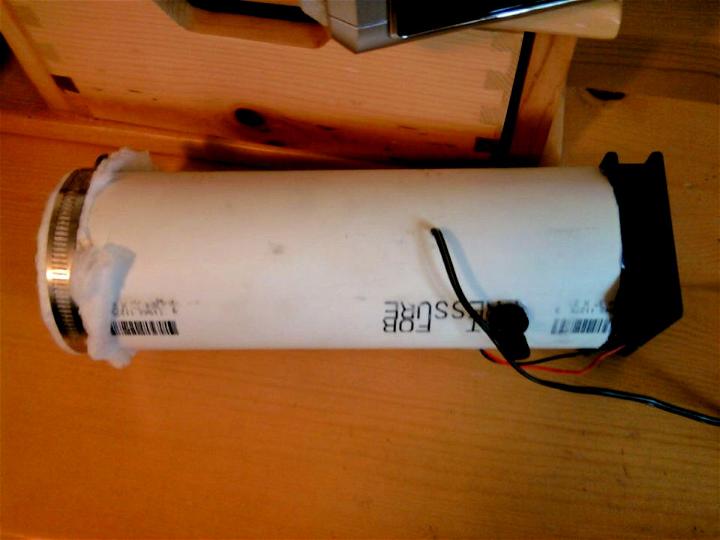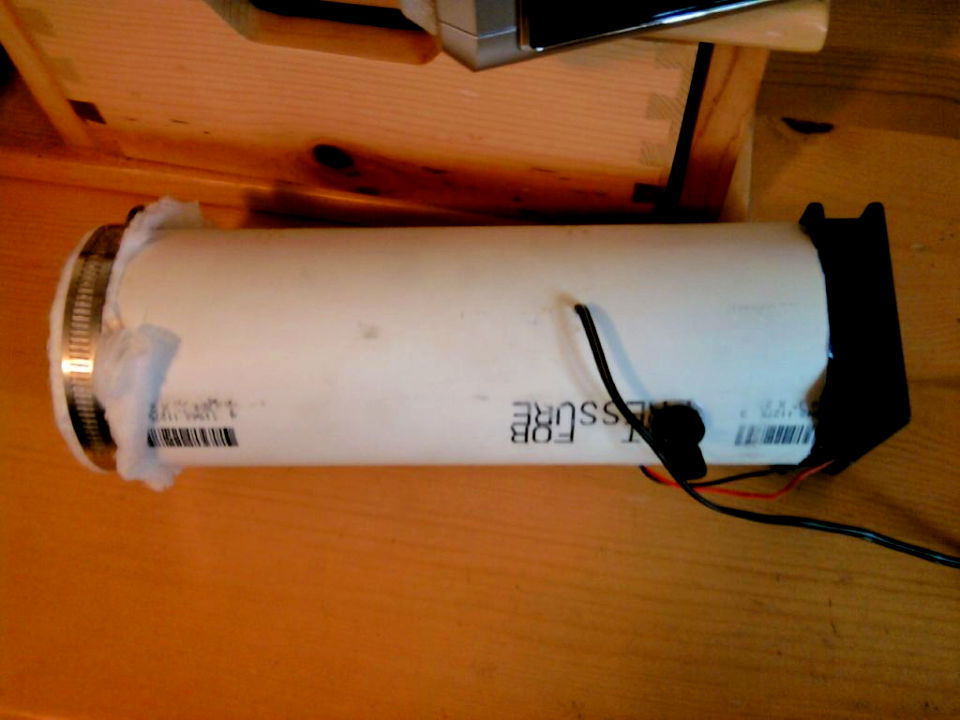 Get more free plans to build a DIY air purifier like a pro and without getting a bit expensive. Must make a DIY air filter to remove the dust, allergens, and debris from your home and room environments. Here you need PVC tubing with 3" diameter, a 3" diameter 12V computer fan, an AC/DC adapter, filter, toggle switch, and hose clamp for 3" pipe. It will not take that too long to build this purifier at home, will work up super quickly. First, do the assembly of the parts, and next put the filter on the tubing. Details here instructables
4. Homemade Air Purifier from Cardboard at Home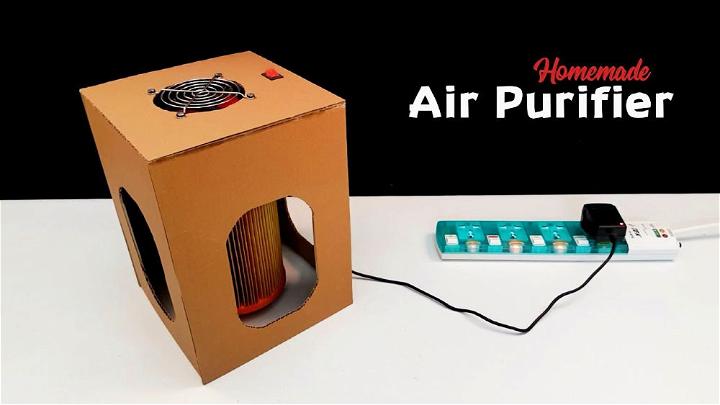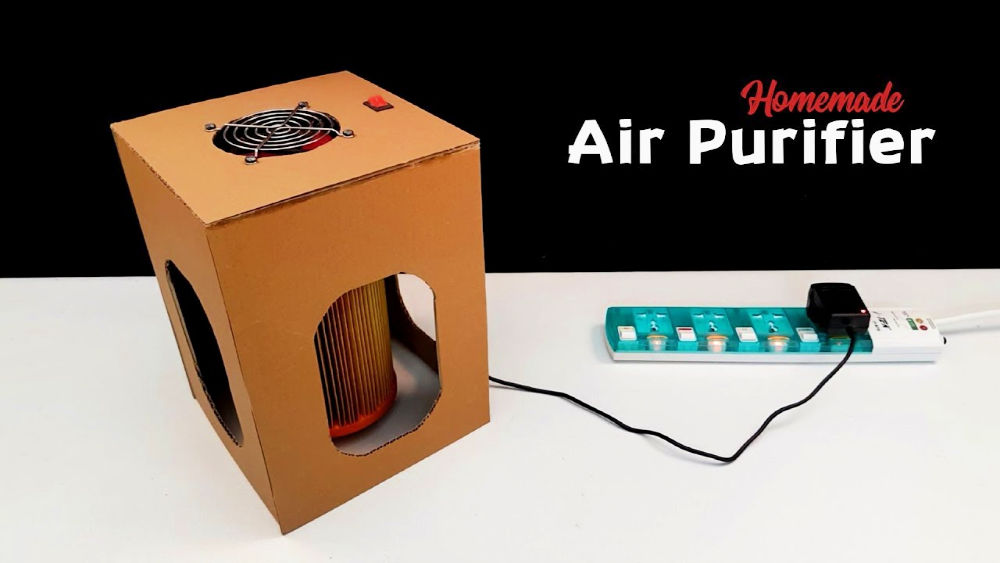 Get busy with the leftover cardboard boxes also to make awesome and super beautiful looking air purifiers. First, make the holding for the filter and the fan using the cardboard pieces like 19" x 27" pieces and 19" x 19" square pieces. Next, adjust a car filter in the cardboard box. Finish the top of the box with a computer fan may be of 3" diameter. The best DIY air purifier to make at home without getting expensive. Use the screws to fix the fan in place. Details here youtube
5. Homemade Air Purifier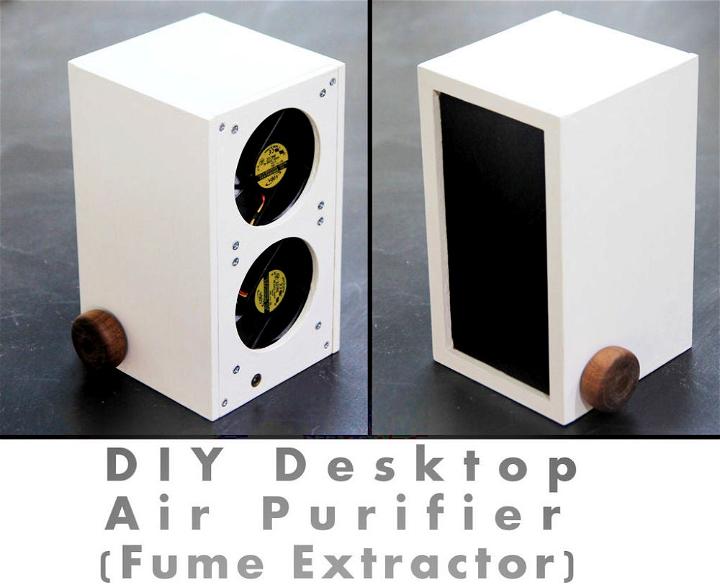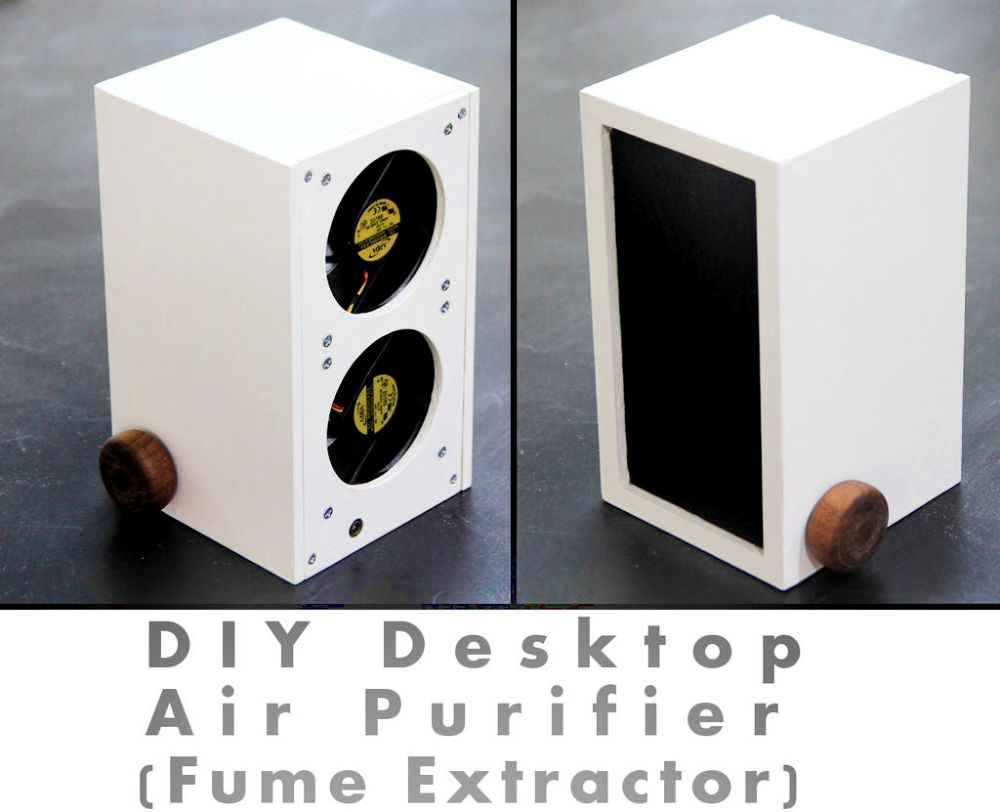 Put this homemade air purifier on your desk, which will improve the quality of air by removing the dust, allergens, and debris. It comes in a chic white appeal and looks great with the wooden wheels or controls. Here you need 2 computer fans of 24V, 12V DC power supply, voltage booster, 10K OHM potentiometer, 3000 ohm resistors, charcoal filters, MDF, and wood for the knob to make this fantastic desktop air purifier. It will remove the odors and will make a great fan for your desk too. One of the best soldering fans to whip up in no time. Details here instructables
6. DIY Activated Carbon Air Purifier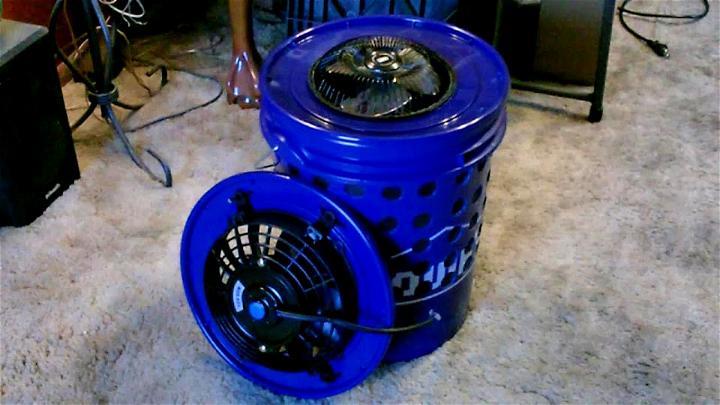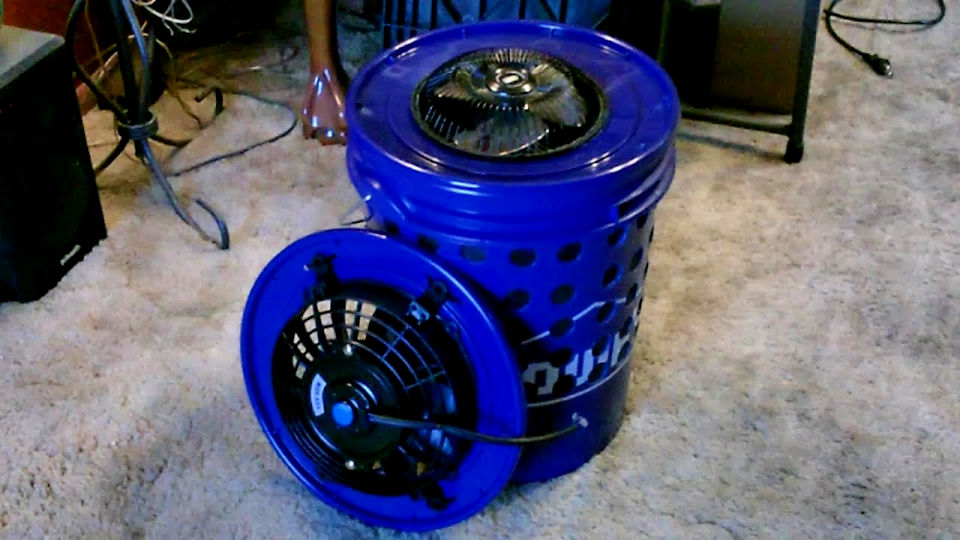 Build this one of the best air purifiers that will rock as a great smoke, smog and fumes extractor too. It will make the air healthy to inhale by removing all the impurities like odors, debris, and allergens and will be a pleasure to make using the 5-gallon buckets. This is here an activated carbon air purifier that is sure to be loved by all. This DIY air purifier here a best bucket-in-bucket design that can hold almost 4lbs of activated carbon that will instantly clean and purify the air. The best air purifiers that will remove all the smells, smogs, smokes, and even the paint fumes, if any. Use the 12V high-speed DC fan for this air purifier. Details here youtube
7. DIY Air Filter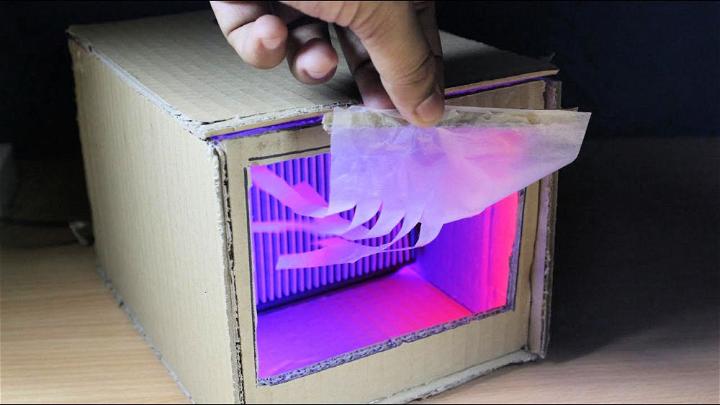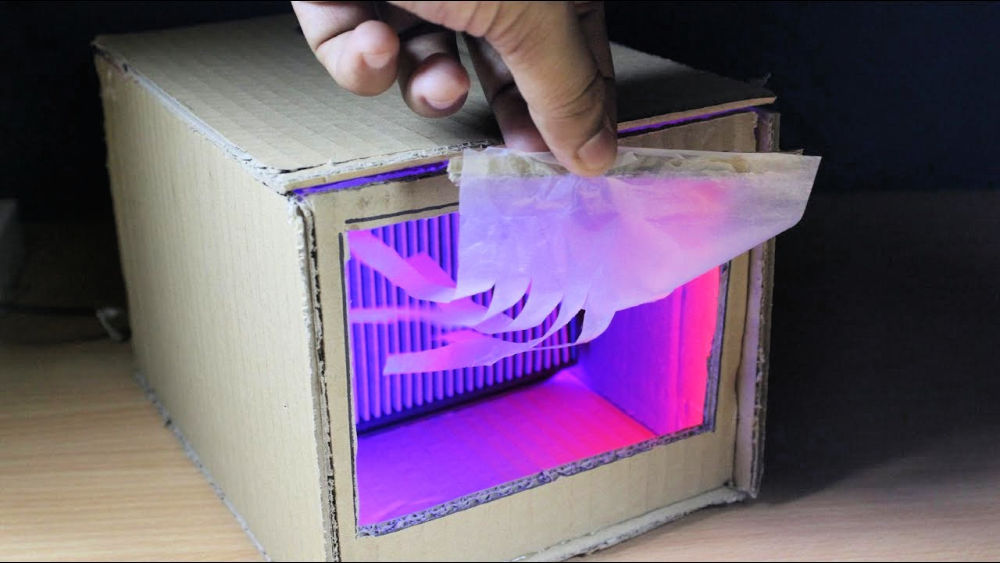 This smart DIY air filter uses the bike filter and the miniature computer fan and nicely removes the impurities from the air. The overall housing of this smart air purifier is to make with the cardboard, and you can install it on your desk to get the quality air to inhale. The smart air reconditioning hack that will make life better. Just build the cardboard housing and install the bike filter in the center. Next, install the fan in front of it and get the things closed to start using your purifier. Don't forget to finish it up with an ON/OFF button. Details here youtube
8. Homemade Air Purifier Using Water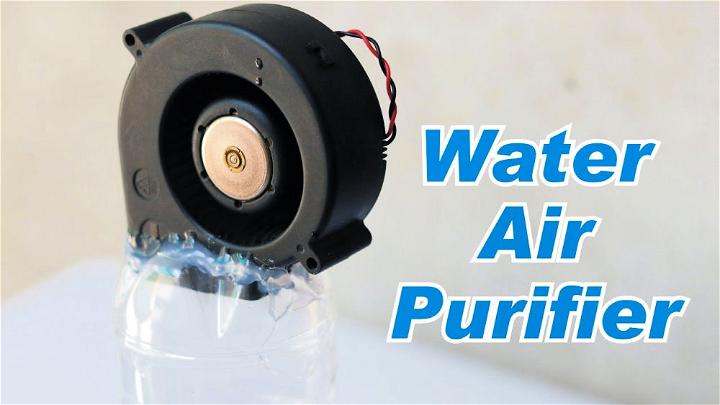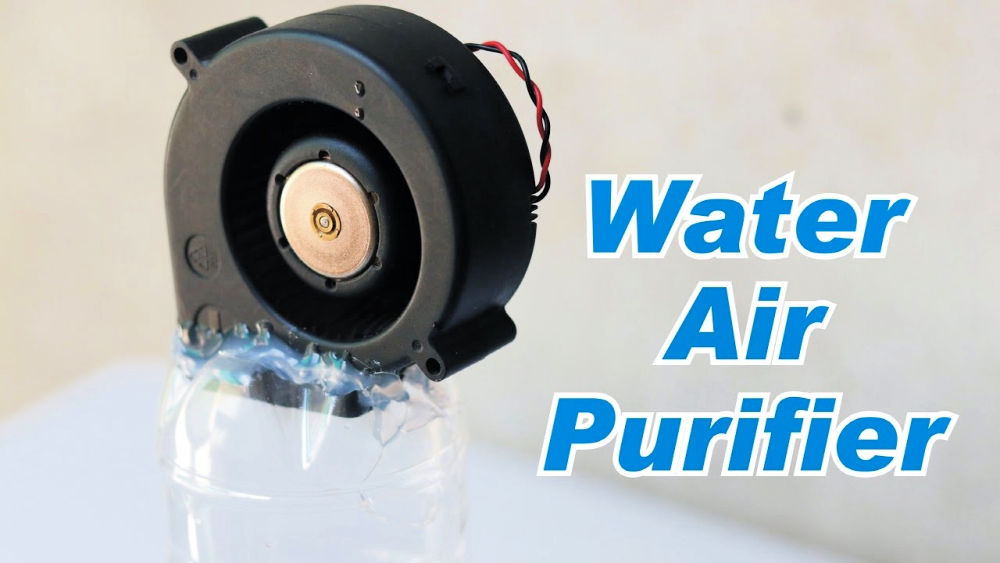 Remove the bacteria, pollens, and dust mites from the air using this homemade air purifier using water. A one of the best homemade humidifier that purifies the dusty office air fast and will also clean your home. This is going to be the best air filtration and purification system that you can make yourself using mostly the recycled items. Here you need 2 pet bottles, DC brushless blower cooling fan, 12V adapter, and DC jack to build this fantastic DIY air purifier. It will easily and cost-effective to make. Details here youtube
9. How to Make Air Cleaner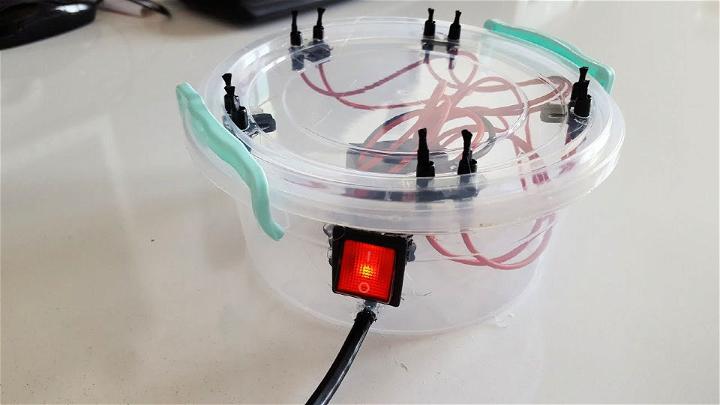 Look at this another great and fantastic air cleaner that is going to be a fast air cleaner and purifier. Here you need 220V switches, and ON/OFF button, 2-5 meter cables for 220V cable, and plastic box container to build this fantastic air cleaner. It will make a great ION generator and will be loved by all homey persons at home. This homemade air cleaner work just fine and will provide much easy and less work to be in your hands. One of the best DIY air purifier that everyone can make with great ease. The box fan air filter making details here: youtube
10. DIY Air Cleaner and Dust Filter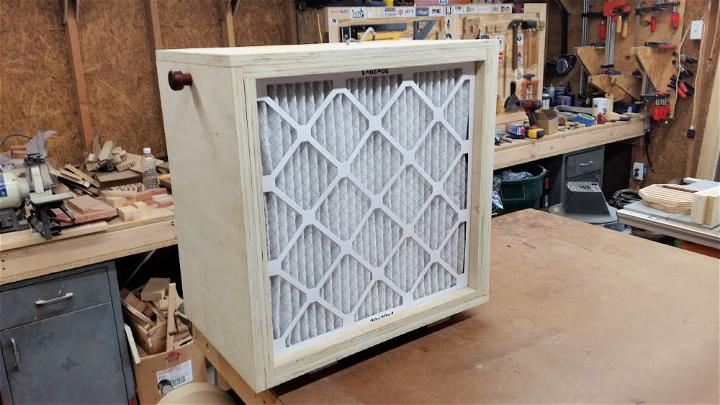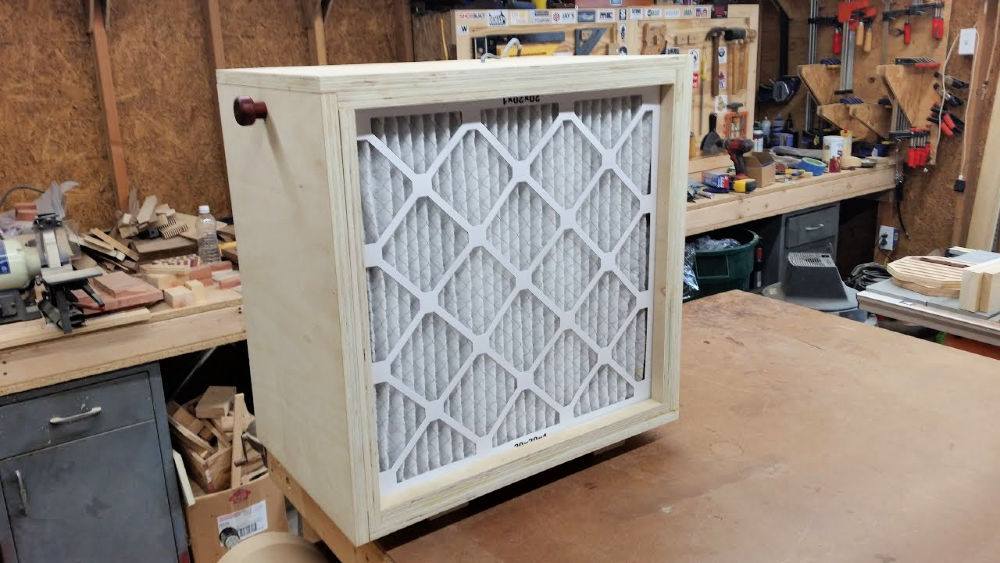 Building the right DIY air cleaner and dust filler without getting a bit expensive. This DIY air filtration system will make a great dust filter too, and it comes with lots of slots where you can insert as many filters as you want. Here you have to be a little expert in the woodworking to build the overall wooden housing for this air cleaner, and next just fit the box fan in front of the filters facing front outside of the box. Next, start it and start to purify the air with this box fan air filter. Details here youtube
Conclusion:
Live healthy by making the environments clean and pure with air dust filter. Take a start first by improving the quality of the air you inhale in your home. The homemade air purifier comes for a big rescue when you need to remove the debris, fumes, smog, dust, dirt, and odors from your home air. The market bought versions cost you too big to break your bank. So, solve it with these 10 inexpensive DIY air purifier projects that you can make mostly with recycled materials saving tons of your costs.
From water-based humidifiers to fantastic box fan filters to lovely computer fan air purifiers, learn here to build all like a pro without getting expensive. All these homemade air purifiers are guaranteed to quickly remove the impurities from the home air. So, do make them get less environmental allergies.