Bring the shabby chic and rustic decor vibes to your home with DIY chalk painted furniture. Learn how to chalk paint a dresser at home with these 15 DIY chalk paint dresser ideas that will allow you to easily get a shabby chic theme in any interior. The chalk paint is extremely popular with no prep-work needed. Next, it can be applied to any well cleaned dry surface for a quick enchanting painted look. You will get here step-by-step instructions, visual guides, and tutorials about how to chalk paint a Craiglist, thrift store, and old home dresser for a fine modern chic white, shabby chic, or distressed appeal.
Next, you will get here free DIY chalk paint recipes that will reveal all secrets about how to make chalk paint quickly at home. Just browse this collection of 15 DIY chalk paint dresser Ideas to fall in love with the DIY chalk painting furniture. As it is an extremely cost-efficient, quick, and easy way to paint old, boring, and dull-looking furniture.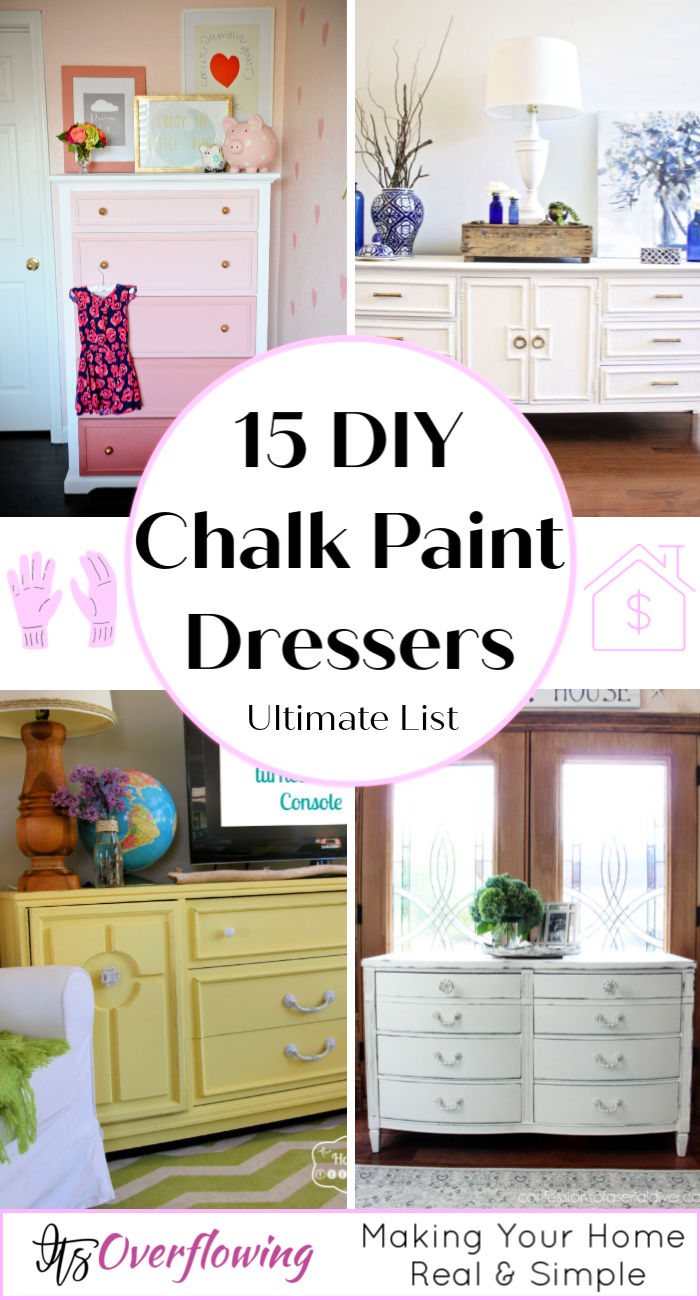 The 3 ingredient chalk paint recipe is worldly popular, and you can also cook it quickly. Just mix calcium carbonate, water, and latex paint together and make the chalk paint. Next, you can start applying a few coats of it on an old dresser. First, give a primer coat to your old dresser before your star chalk painting it otherwise, going direct will work great too. Finally, you can finish your DIY chalk painted furniture with dark and clear wax. Take a short tour of all these DIY chalk paint dresser plans to be a chalk painting expert.
1. DIY Chalk Paint Thrift Store Dresser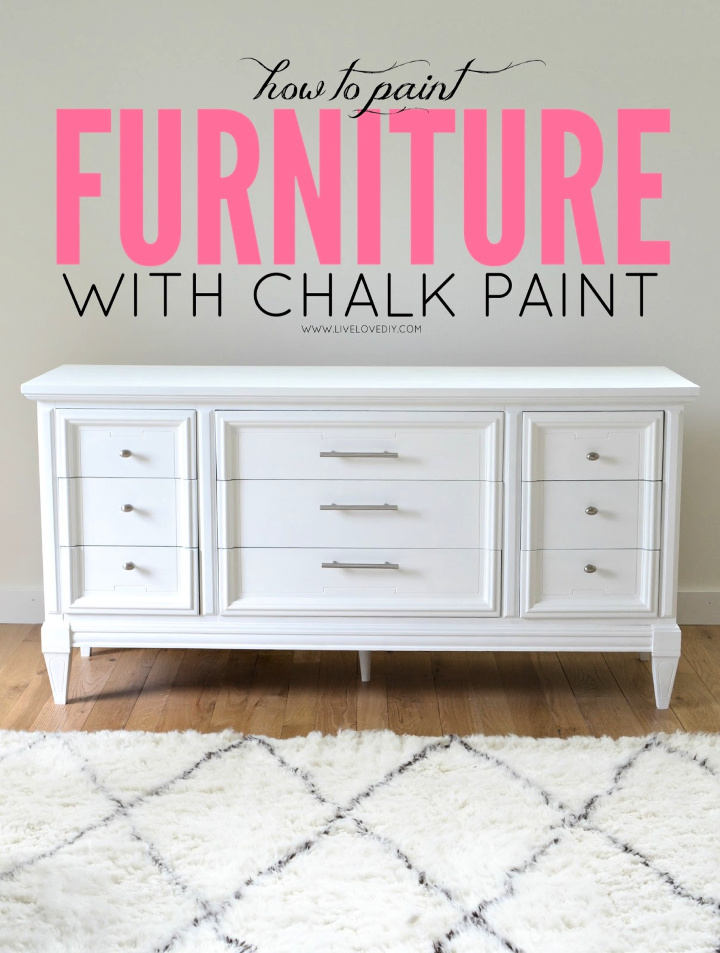 Learn here how to chalk paint a thrift store $50 dresser so it will look modern chic. The chalk paint will be a better option than staining here to hide the whole wooden look of the dresser. First of all, do a primary operation using stripping gel and mineral spirits. Next, grit the dresser and finish with Americana chalk paint. Don't forget to add the new hardware. Details about DIY white chalk painted dresser is here livelovediy
2. How to Paint Dresser Using Chalk Paint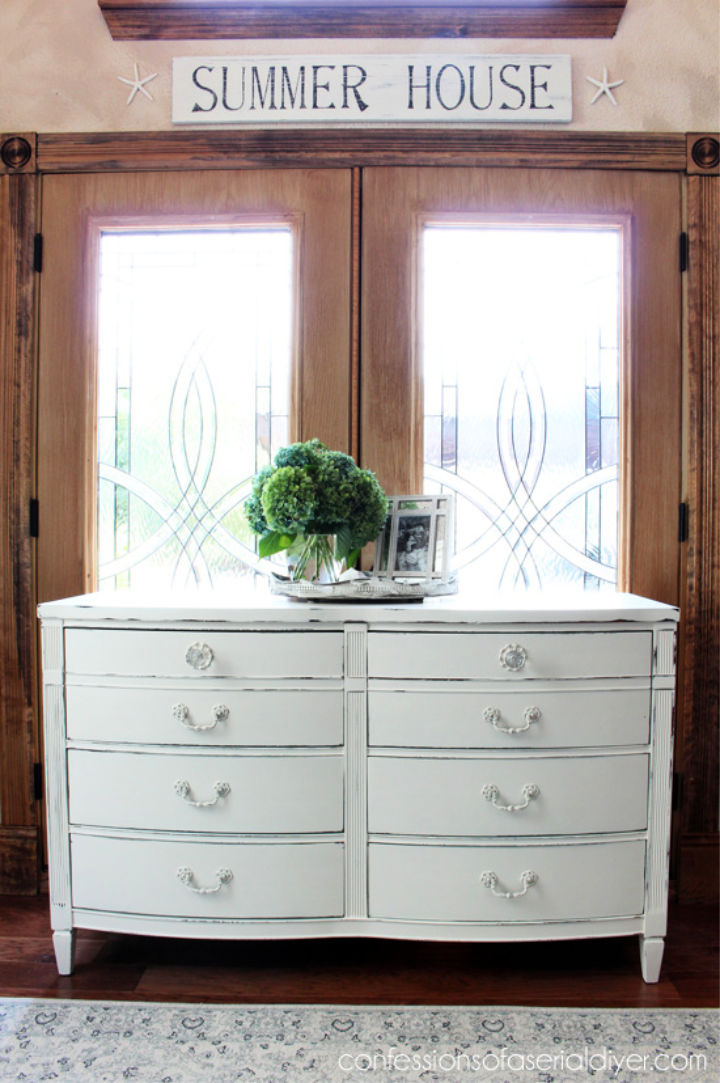 When you don't want to do a prep work but want to paint an old piece of furniture for a totally modern appeal, then chalkboard paint is just a great option. Here a $40 dollar dresser bought from a yard sale has been painted modern using white Chalk painted, a genius furniture restoration. Details here confessionsofa
3. Chalk Paint Distressed Dresser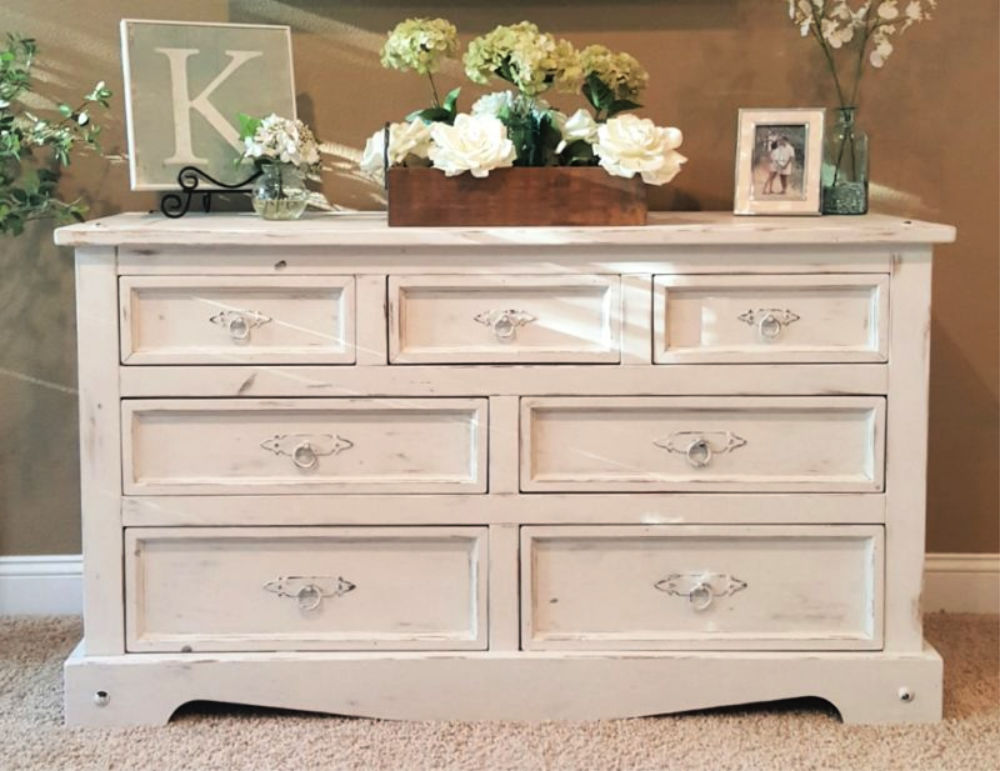 Are you a big fan of rustic, shabby chic or distressed furniture then start dong quick makeover of your furniture pieces using chalk paint. Get yourself impressed by this distressed dresser, will be a big love of rustic furniture lovers. You need chalk paint, finishing wax, drop cloth and sandpaper for this project. thedesigntwins
4. KILZ Chalk Paint Dresser Makeover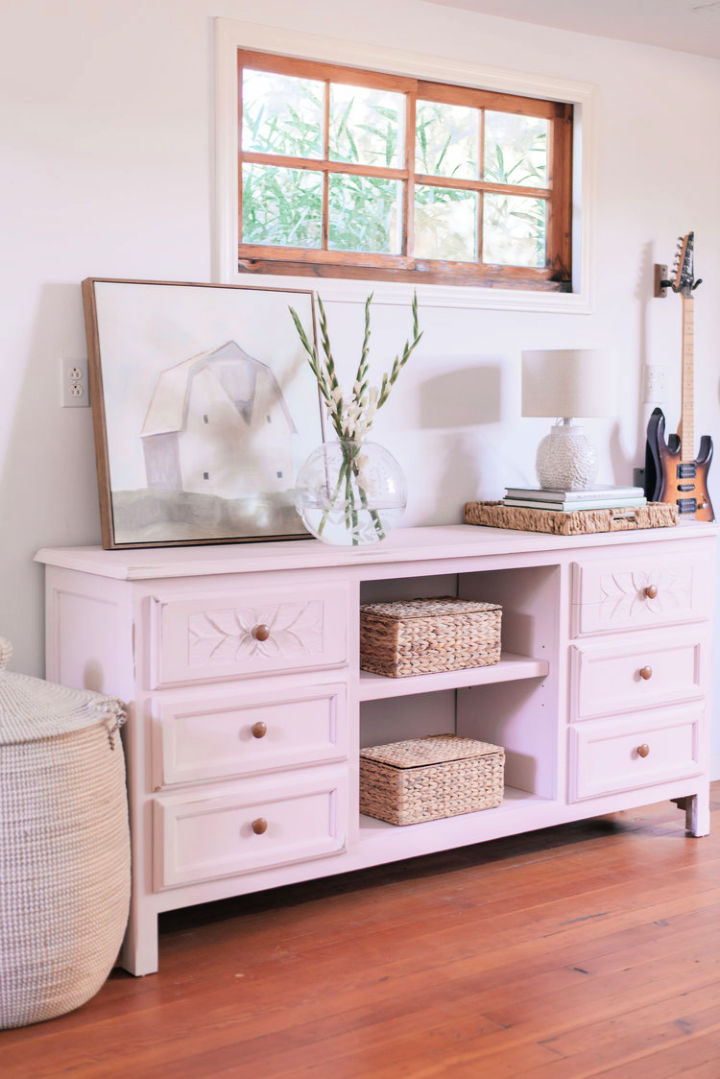 Make the thrift store dressers a cool part of your modern home furniture by using a chalk paint option. Simply clean it entirely by removing the drawers and the sand it smooth. Apply chalk paint for a modern chic white appeal and finish by installing new hardware. Get inspired by this KILZ chalk paint dresser makeover. loveandspecs
5. Chalk Paint Dresser Turned Media Console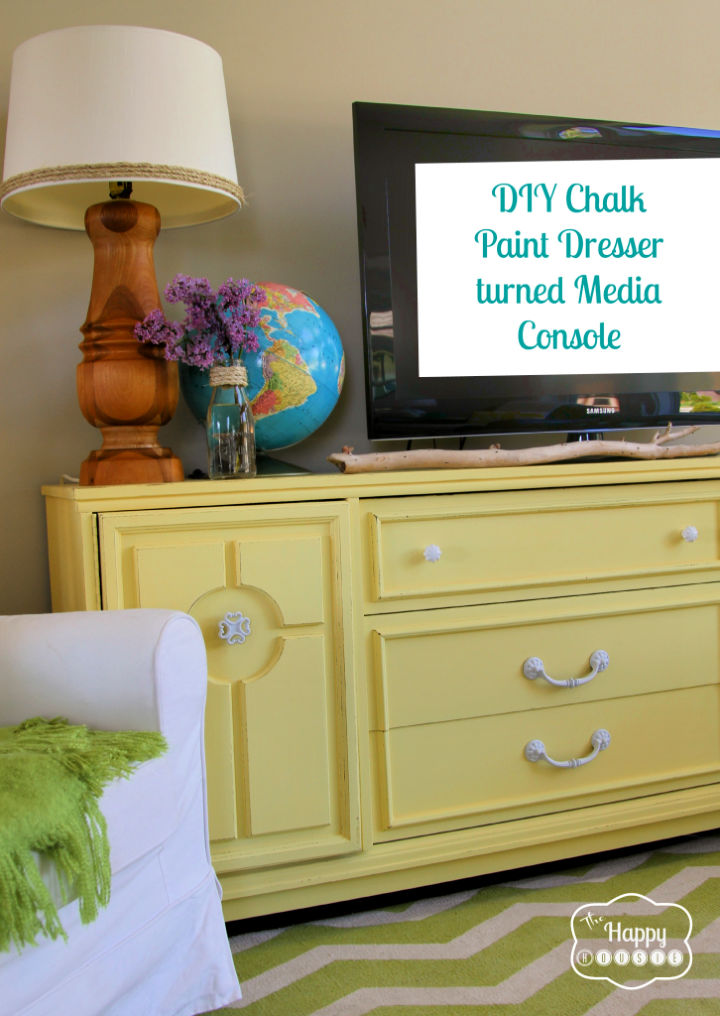 Jazz up your living room with this Chalk painted dresser media table, will gracefully hold your media and TV screen. Just hide the dark wood of an old dresser with 4 coats of yellow chalk paint. Next, give a finishing wax treatment and get an adorable painted dresser to serve as a media table. Details here thehappyhousie
6. DIY Chalk Paint Dresser Makeover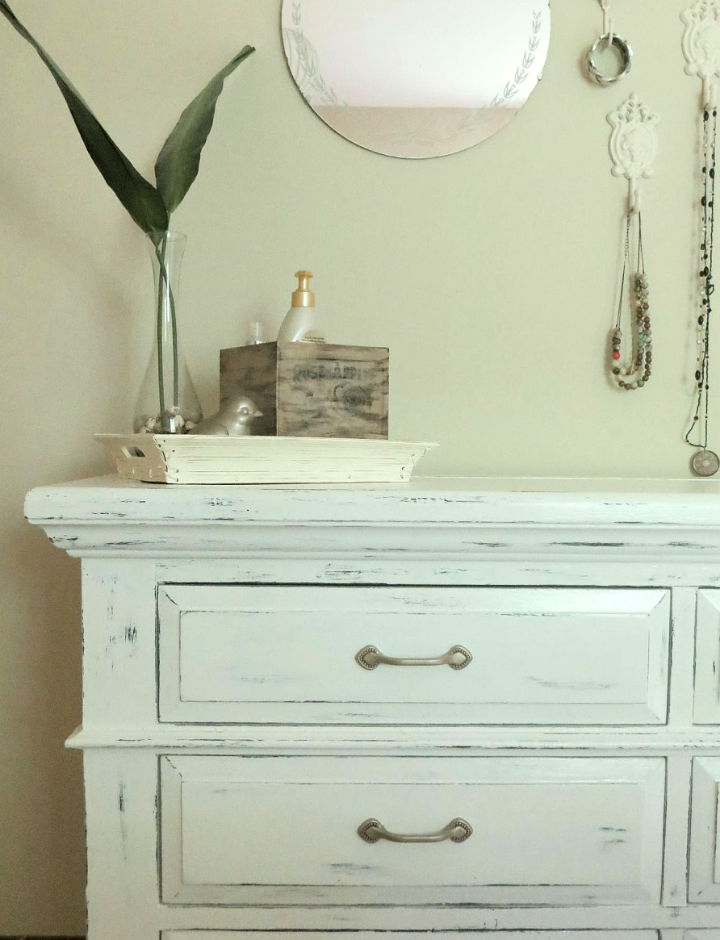 The chalk paint is a great option, too, when you need to add a lovely texture to your furniture along with getting a fine distressed appeal of it. Get here all the instructions about how to chalk paint a dresser for a lovely texture. You will get guides on how to distress the painted dresser too for a rustic appeal. Details here thediyhomegirl
7. Mint Green Chalk Paint Dresser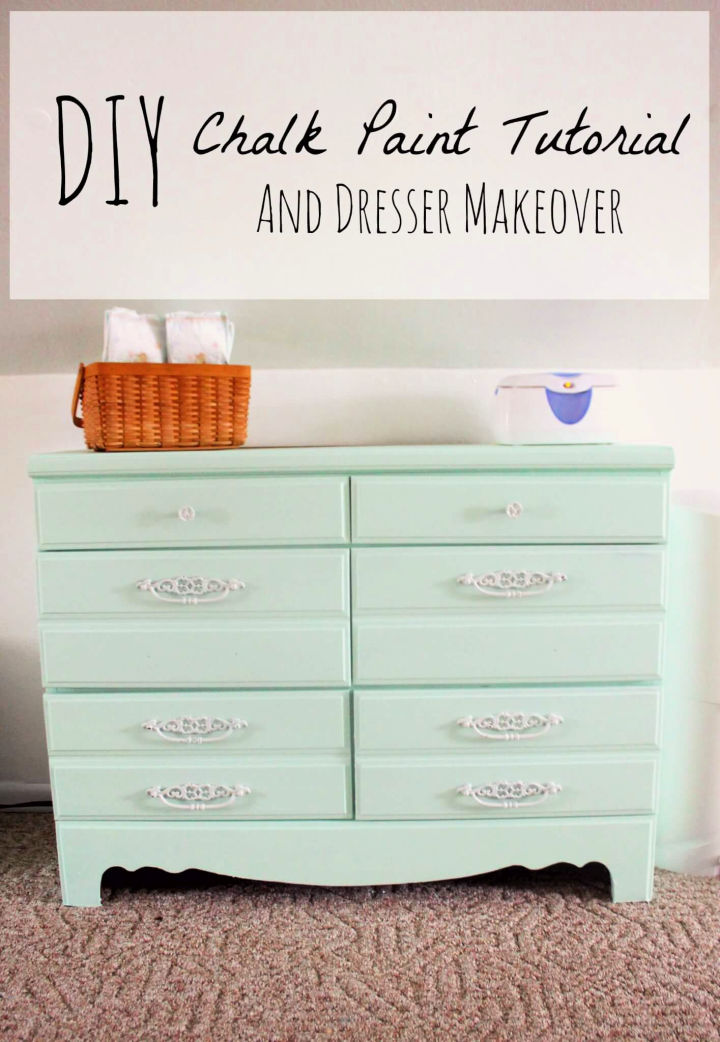 From a modern to a shabby chic interior, this mint green chalk paint dresser will be an ideal choice of furniture. First, make the mint green chalk paint using latex paint, calcium bicarbonate, and some water. Next, give a few coats of this paint to your dresser for a fine mint green appeal. Details here thedefineryco
8. How to Paint Dresser with Chalk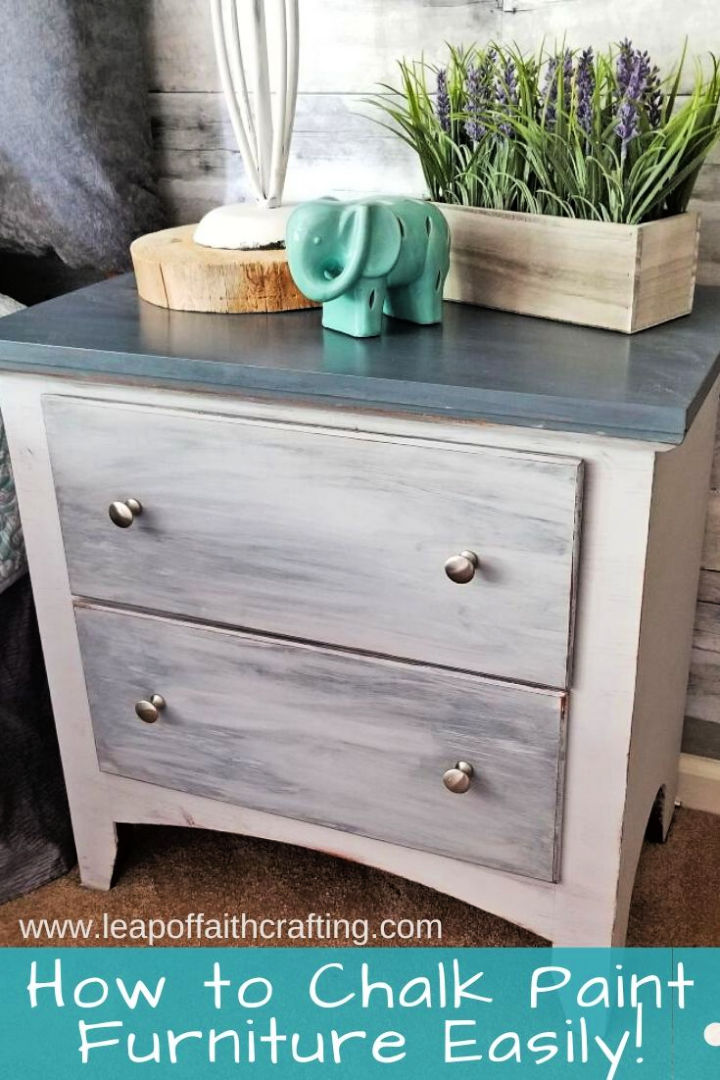 Are you a beginner to furniture chalk paint? Then get here all the tips about how to chalk paint a dresser grey like a pro. You need grey Chalk paint, a grey gel stain, chalk paintbrush, and antiquing liquid wax. First clean and sand the dresser, give custom coats of chalk paint and finish with grey gel stain and antiquing wax. leapoffaithcraf
9. DIY Chalk Paint + Dresser to Buffet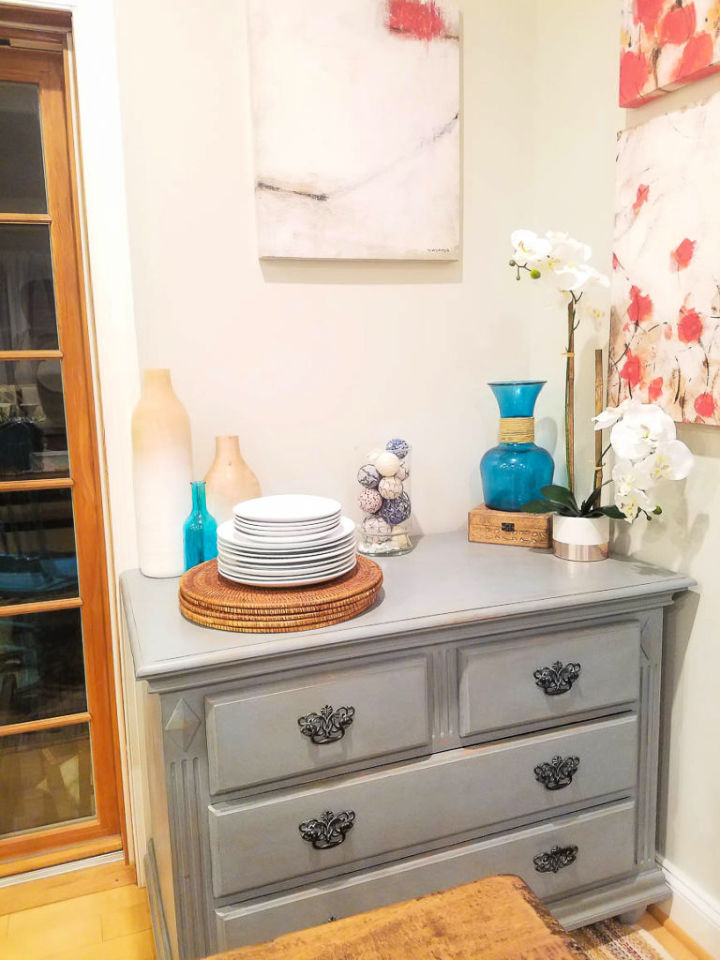 In this painting a dresser with chalk paint project, you will be impressed with two DIY furniture hacks. One is to create a brand new appeal of an old dresser using chalk paint, and the other is a smart dresser to buffet transformation. First, make your chalk paint using water, latex paint and water and give chalk painting steps of two coats to your grey baby dresser, finish with wax. thriftingdiva
10. How to Chalk Paint a Dresser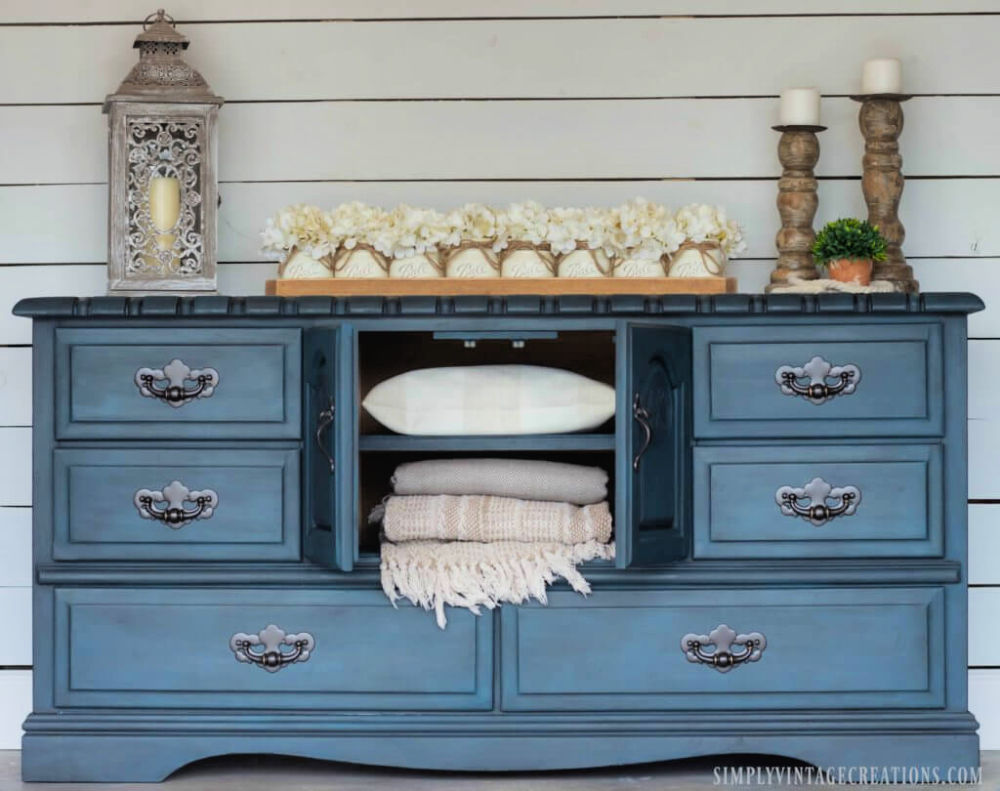 The old dressers are not merely to scrap away, just give them a quick DIY chalk paint treatment for a quick enchanting appeal. This old blue dresser makeover involves first cleaning the dresser. Next, sand it smooth using an electric sander and give primer coats. Apply then chalk paint coats and finish with varathane crystal clear matt polyurethane and also with black and clear wax. simplyvintagecr
11. Chalk Painted Ombre Dresser
Along with creating a new enchanting modern chic, shabby chic, and distressed appeal of your old furniture pieces, the chalkboard allows you to paint an item of furniture for a great ombre effect too. Get here the free guides about how to chalk paint an old dresser for a glam ombre appeal. Details here projectnursery
12. Modern Chalk Paint Dresser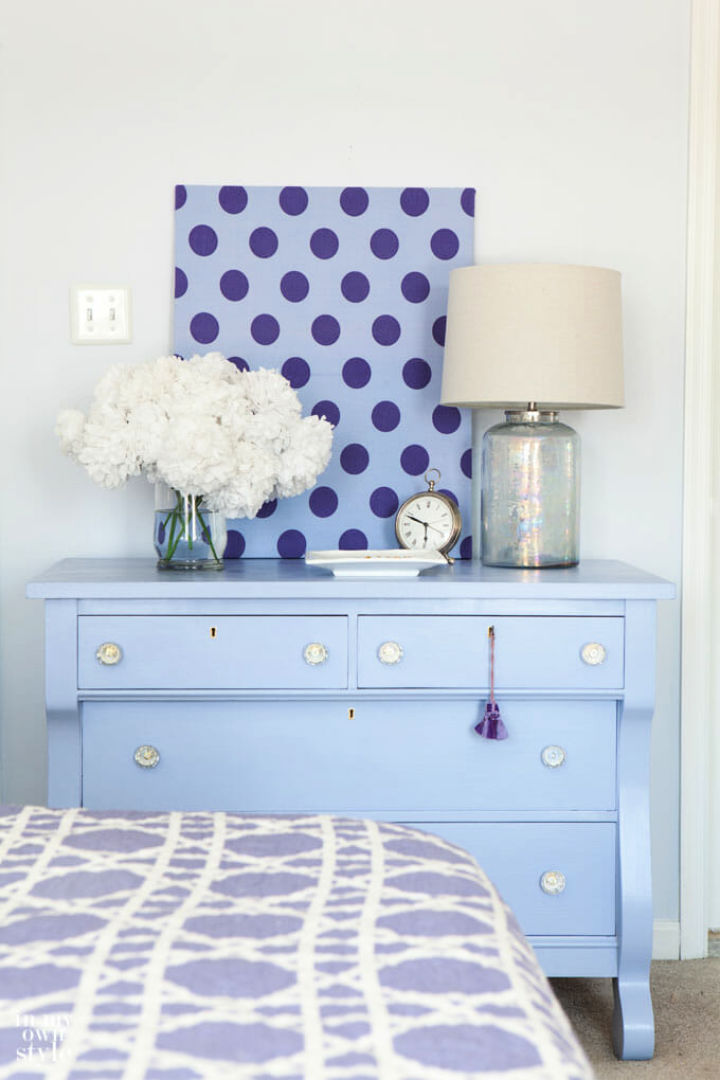 If you can't keep up with the same boring look of your dresser that is going out of style, then give it a chalk paint makeover. Clean and sand the dresser and then apply coats of your DIYed chalk paint. Next, give a wax and stain finish. Give also a coat of KILZ Original stain-blocking primer and 2 light coats of semi-gloss ultra-white Glidden latex paint. Details here inmyownstyle
13. The Ultimate Homemade Chalk Paint Dresser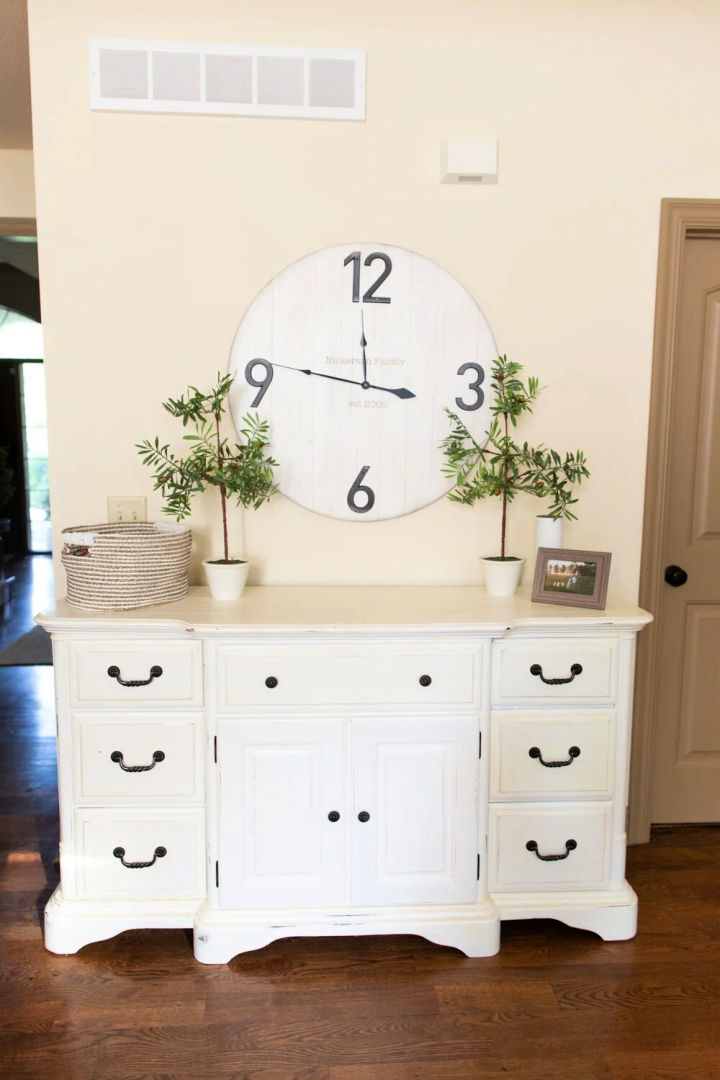 You will get here all the pro-tips about how to chalk paint a dresser at home for a chic modern appeal, and next, you will get the free 3 ingredient recipe for making your chalk paint. Make your chalk paint using water, latex paint, and calcium carbonate and then paint your dresser with it for a modern chic white appeal. sengerson
14. How to Chalk Paint Dresser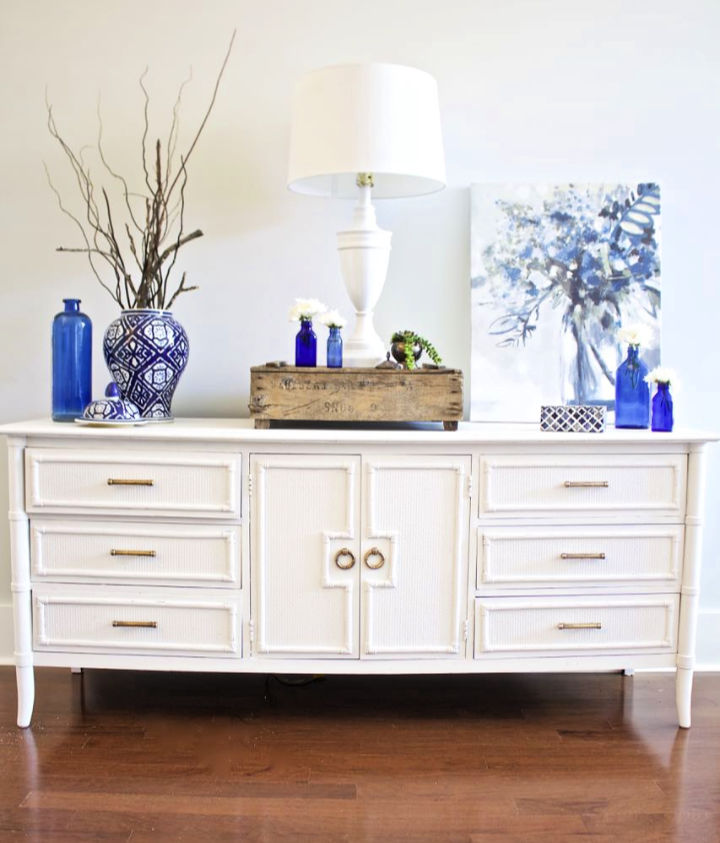 The top secrets of Chalk painting the furniture like a pro are finally revealed here. 1 quart of chalkboard will be enough to paint this dresser that appearing in graceful white appeal. Next, you need clear and dark wax to finish your Chalk painted dresser. Install the new hardware and enjoy a totally new look of dresser. 2beesinapod
15. Make Your Own Chalk Painted Dresser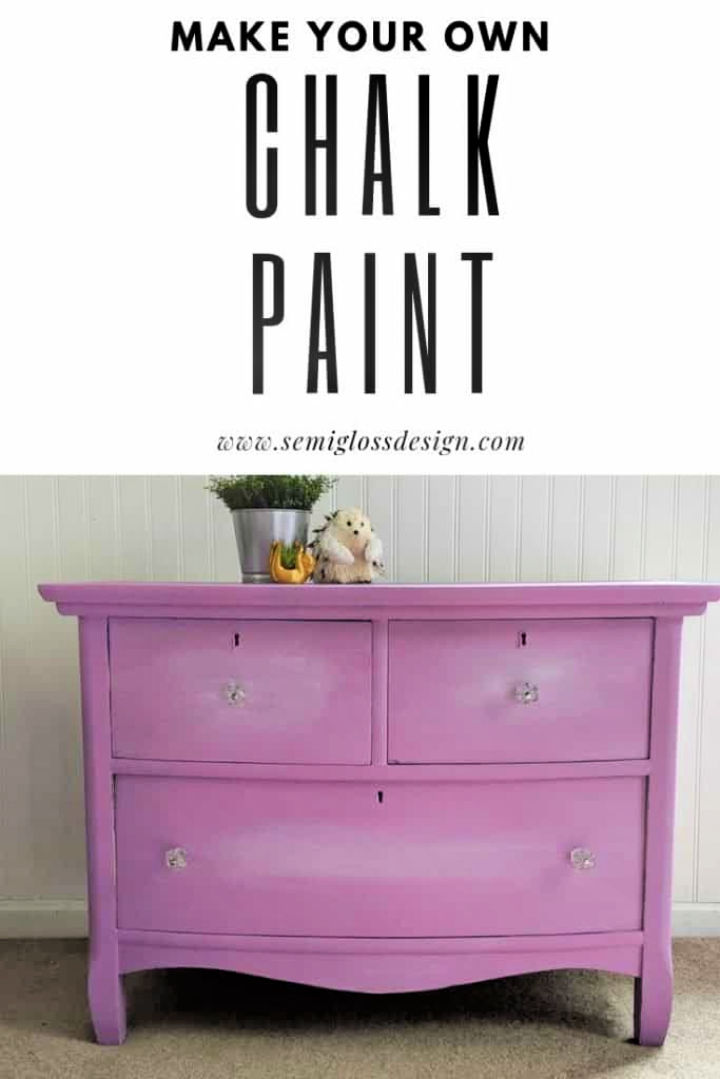 Chalk paint a cost-efficient option to paint your furniture modern, rustic and shabby chic. Prep the Chalk paint in minutes and start updating your old and boring furniture with it like this dresser. Using chalk paint requires no prep work, just apply it over well sanded and clean surfaces and here you go. Details here semiglossdesign
Conclusion:
The dressers are one of the vitally important items of furniture then one should always get for their big functional role at home. But what if you have an old dresser that is going out of style or what to do to match your yard sale and thrift store dresser to the new theme of your home?
The simple and quick solution is to chalk paint dresser. This will help gain a custom rustic, shabby chic, modern chic, and distressed appeal of chalk paint dresser so they can be fit easily in any decor theme of your home. These chalk paint dresser ideas will be a big help in this case as they will reveal all the chalk painting secrets, tips, and recipes for free.
Related DIY Projects:
Beginner Woodworking Plans
Looking for a woodworking project? Check out these 150 simple woodworking projects for beginners. Get FREE plans with clear step-by-step instructions and cut lists. You can do this!