The traditions of wearing flowers over the bodice of your dress have changed. Now, you can go with these 20 simple DIY corsage ideas to make your own corsages that will signify your grace, importance, and honor at different formal events. The DIY wrist corsage and boutonniere are often to wear on prom, wedding, homecoming and other formal events to feel and look special. They often cost you big when buying for the prom dance, but making a corsage at home can actually save tons of your costs. Learn how to make a corsage easily and cheaply below: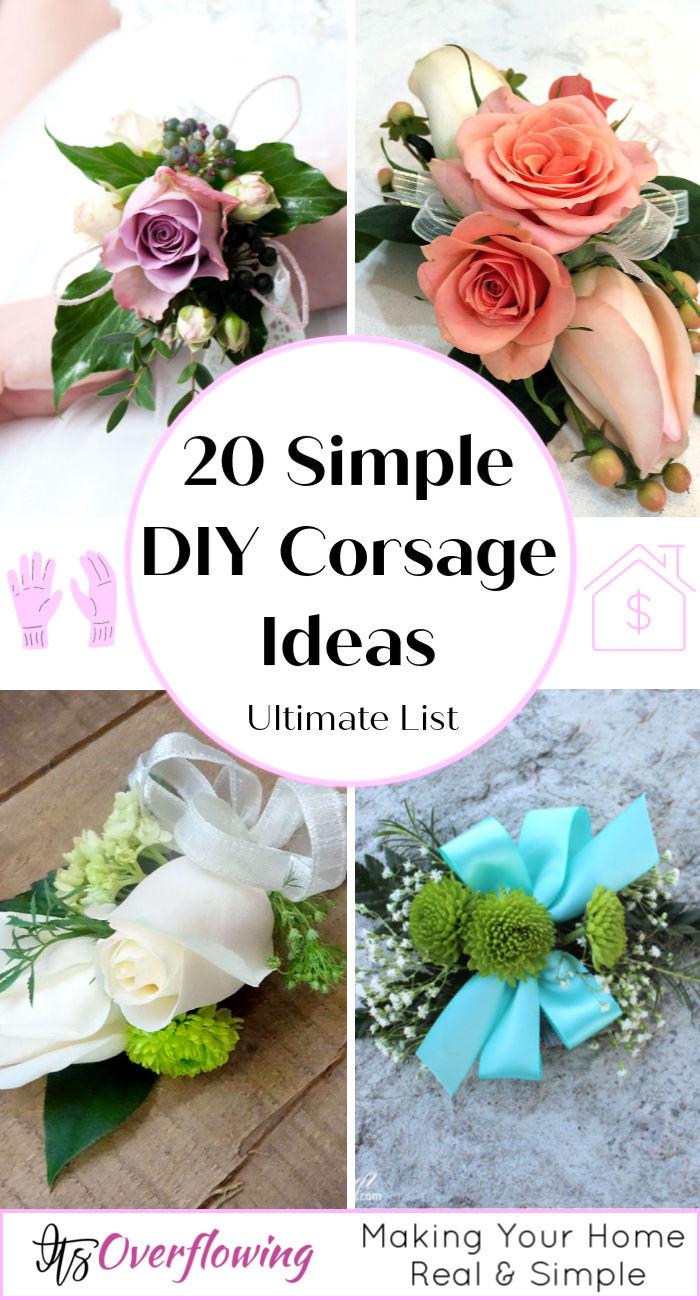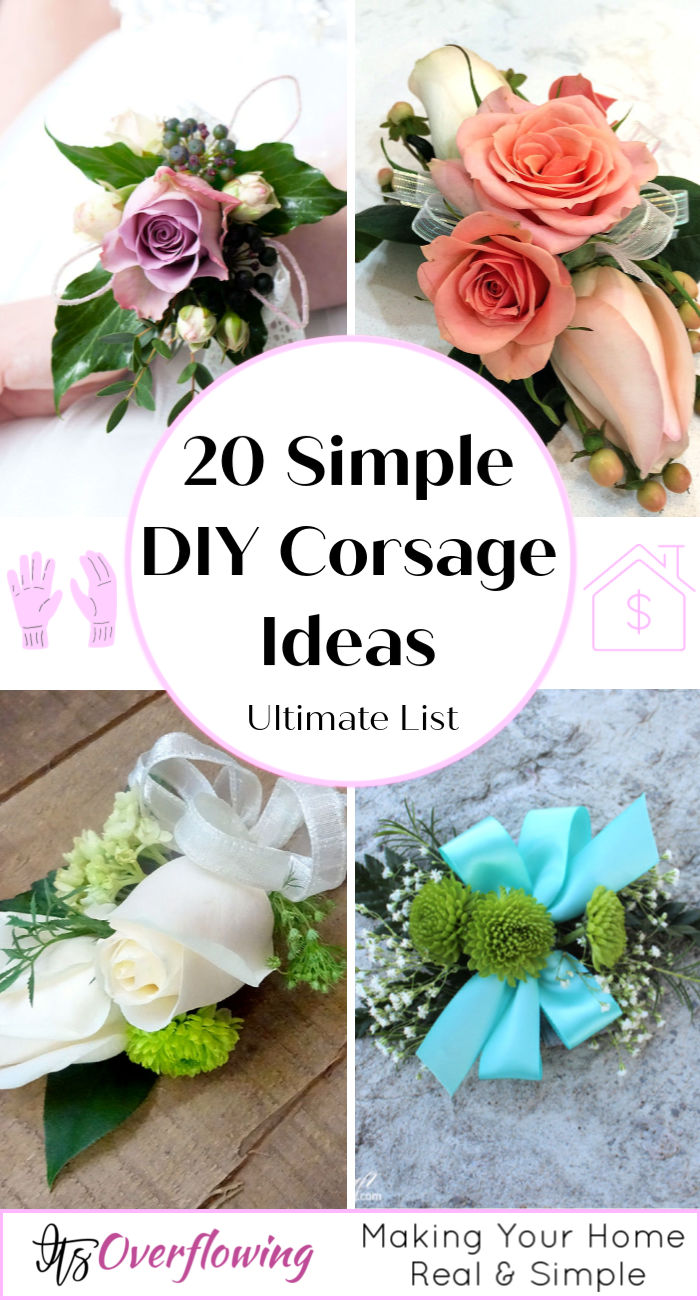 Explore these 25 easy DIY corsage ideas for some amazing design inspirations, and wearing them on the wedding day will keep the evil spirits away, a belief of ancient Greeks. The corsages can be worn anywhere over the body, but they are mostly to tie around the wrist when celebrating a homecoming. So, see how to make a corsage at home cheaply? You will get here step-by-step tutorials and instructions to make all those market-bought style DIY wrist corsages that mostly buy at the cost of $15-$40.
The DIY corsage can also be worn by the mothers and grandmothers of the wedding couple. They will give honor and respect to those moms. They will make a great handmade gift for Mother's day and can be made for any occasion that is significant, like graduations, Memorial Days, holidays, and other semi-formal occasions. Finally, they can be added to your wardrobe as a great fashion accessory too. Adding your own custom accents, ribbons, and other fresh and fake flowers, you can really customize the overall appeal of these DIY wrist corsages. Just browse the entire collection of these DIY corsage ideas and see a variety of designs to choose from.
1. DIY Prom Corsage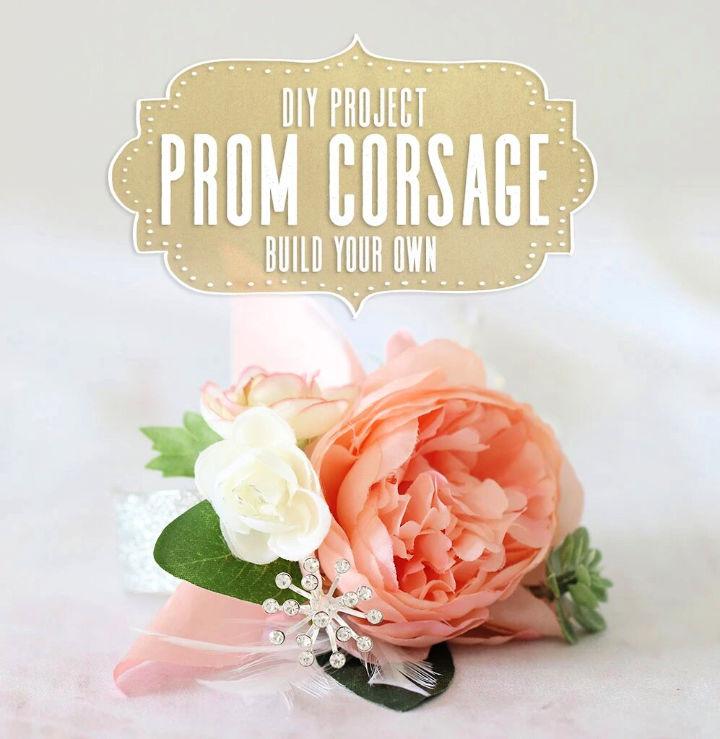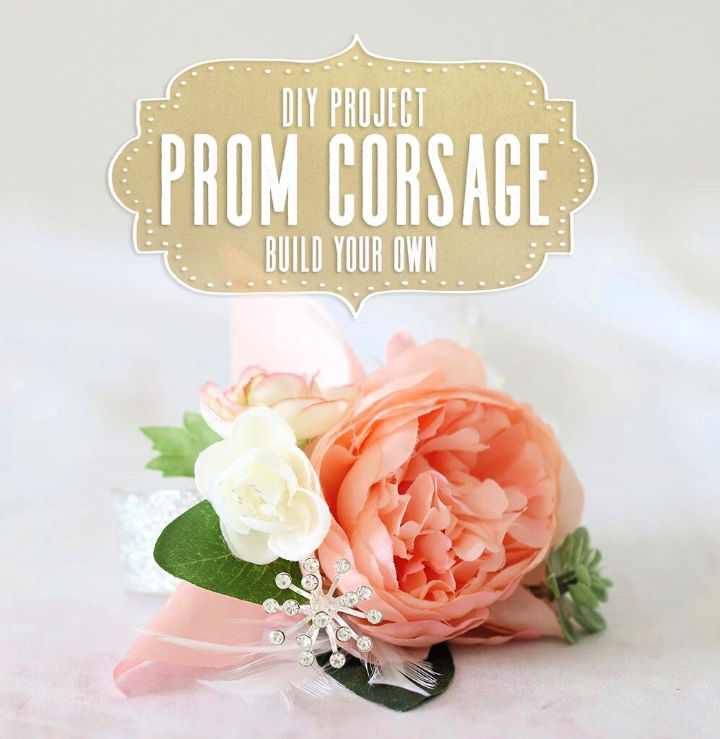 How to make a corsage for prom? Are you excited for the upcoming prom season? No doubt, you are feeling happy, but there would be loads of tension in your brain about how to get ready for the event. Let this DIY prom corsage solve a little of your worries, make a cool prom night corsage at home using custom accents and flowers. You can make it as a perfect match or contrast to your prom nightdress. Here you need bouquet jewelry, faux flowers, wire, bracelet cuff, and ribbon to make this super cute DIY corsage featuring roses. Details here afloral
2. How to Make a Wrist Corsage For Prom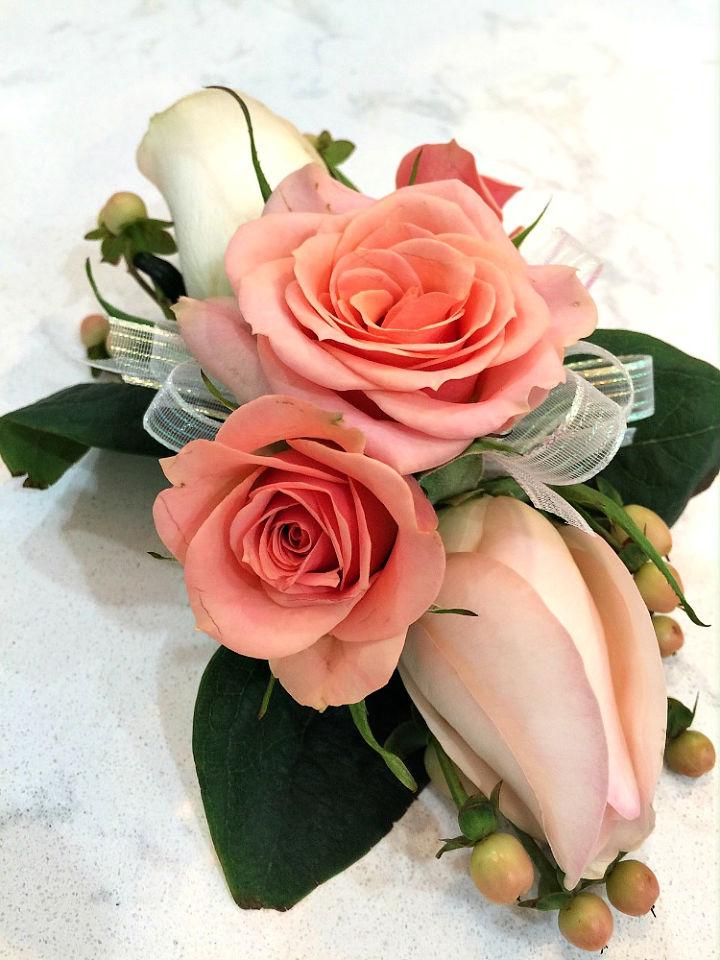 Celebrate a homecoming or prom with this homemade wrist corsage that is super beautiful and cost-efficient. Why buy the corsages expensive as you can make DIY wrist corsages at home using simple bouquets and other accents. This DIY corsage features spray and tea roses and also the hypericum berries. you need Velcro corsage wristlet band, ribbon, rhinestones, floral tape, floral wire, roses, and berries to make this fantastic prom corsage. Must wear it for the prom dance. Details here sandandsisal
3. How to Make A Corsage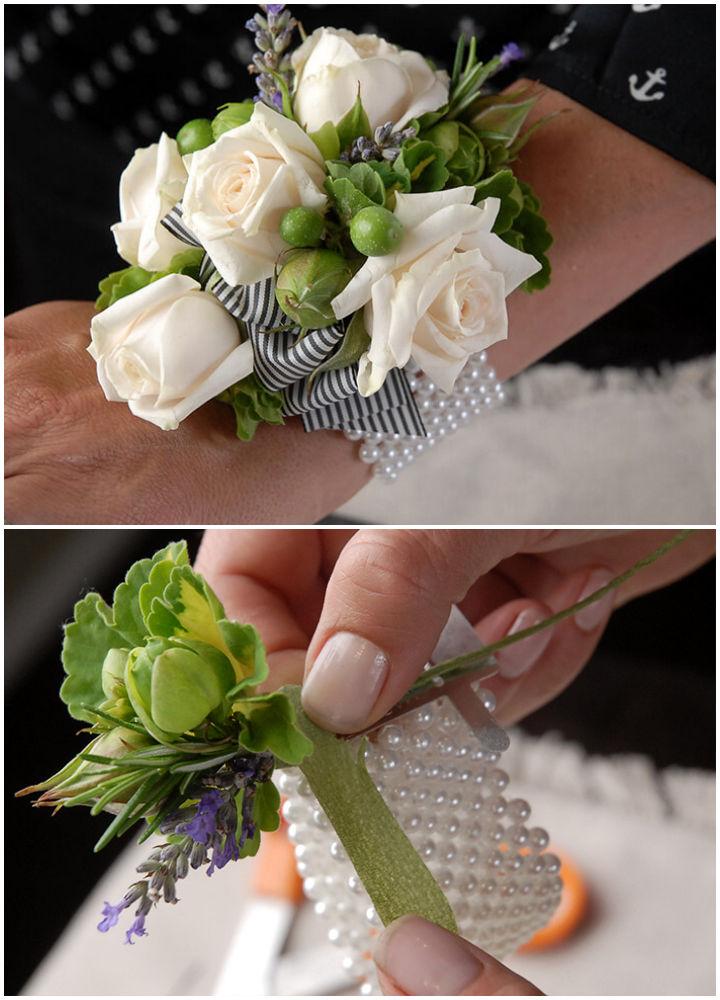 Get here the guides about how to make your own corsages for the wedding and prom. They often come with high price tags but are super simple to make at home using a handful of supplies. What supplies do you need to make a corsage? Use flowers from your own garden to make a one suiting your style. For making this fantastic corsage, you need 26 gauge wire, Oasis floral adhesive, white pearl wristlet, floral tape, ribbon, flowers, and foliage of choice. Vary your ingredients to vary the finally finished wrist corsage for prom. Details here saveoncrafts
4. How to Make Corsage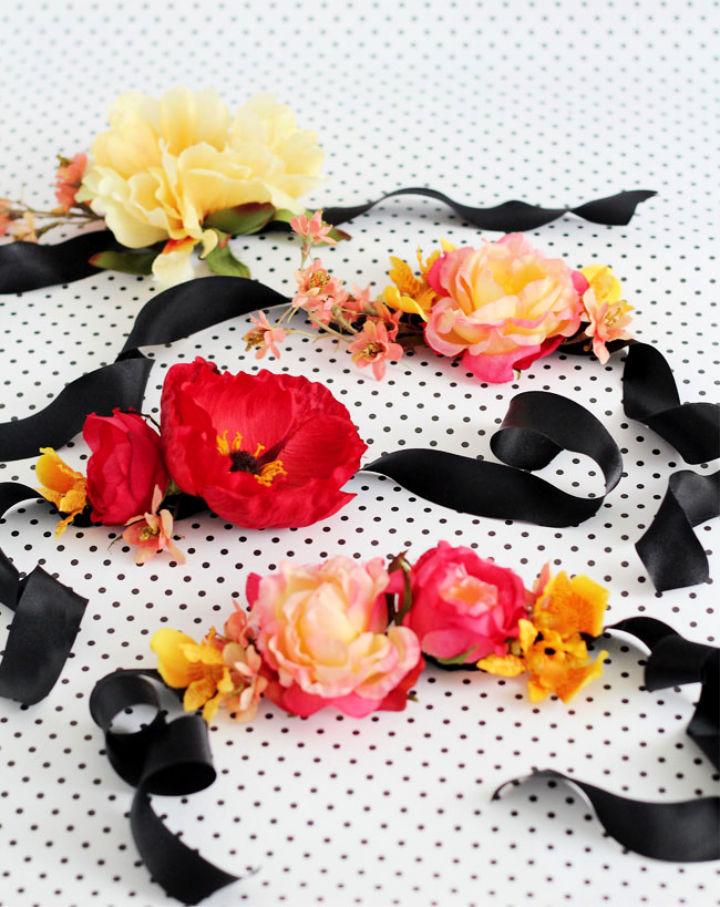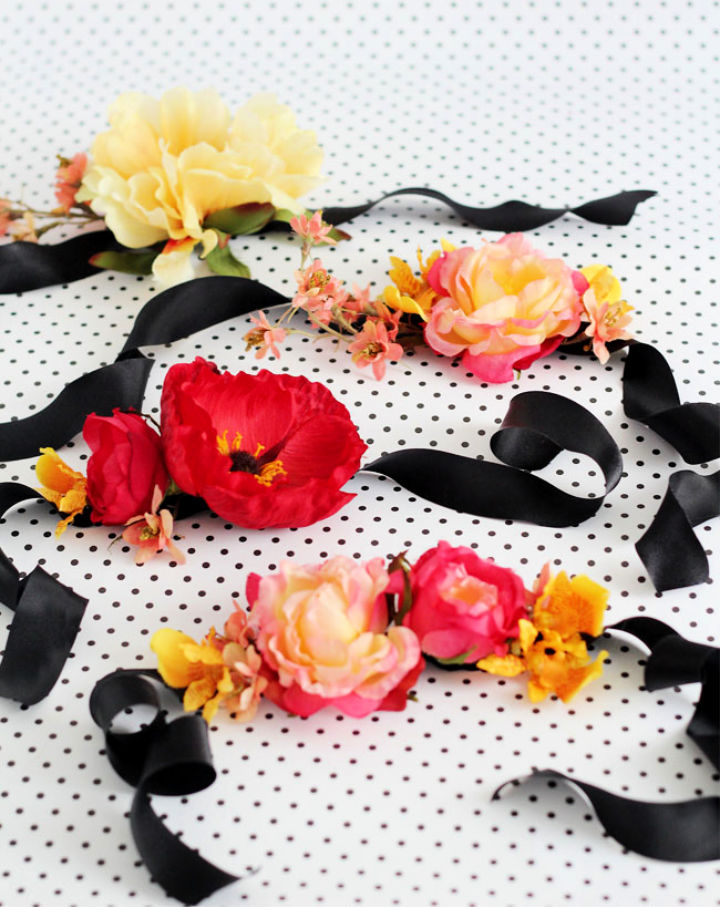 It usually costs you $11 to $39 to buy a lovely corsage that you wear without hesitation in a formal event with a formal dress. But, using a little bit of your creativity, you can save all the costs by making a corsage at home. Get here the professional instructions here about how to make a simple corsage that will adorn your wrist. Here you need a variety of silk flowers, glue, wire cutters, wide satin ribbon, and some creativity to make this corsage. Adorn it more using custom accents, and here this corsage comes with a black ribbon. Details here greenwedding
5. How to Make Wedding Corsage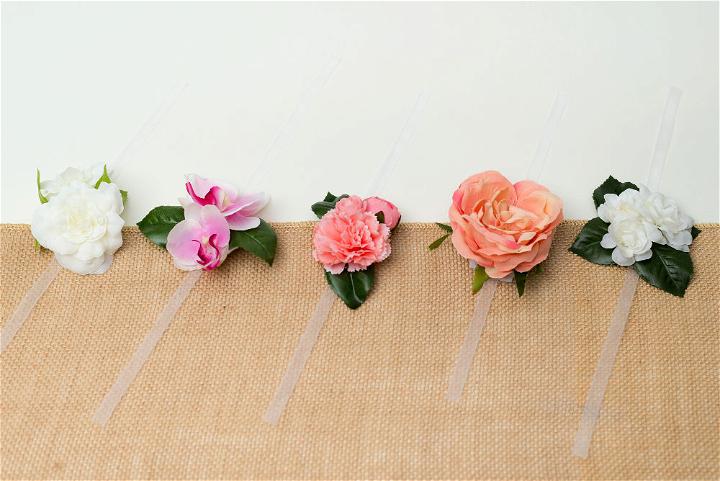 The corsages at your wrist at the wedding and prom are a sign of respect and prominence. So, save lots of your costs by making fantastic corsages and boutonnieres at home. Look at this homemade version of flawless wedding corsage, is not it adorable? Make it using 8.5 x 11 sheets of white felt, faux flowers, floral greenery, glue, and ribbon. Just grab a 2×2 piece of white felt and glue the flowers and greenery on it until it gets covered. Next, add it up with a bottom ribbon length that will help fasten it off around the wrist. Details here linentablecloth
With our step-by-step guide and floral arranging tips, you can create the incredible DIY Wedding Bouquet of your dreams.
6. Make Your Own DIY Corsage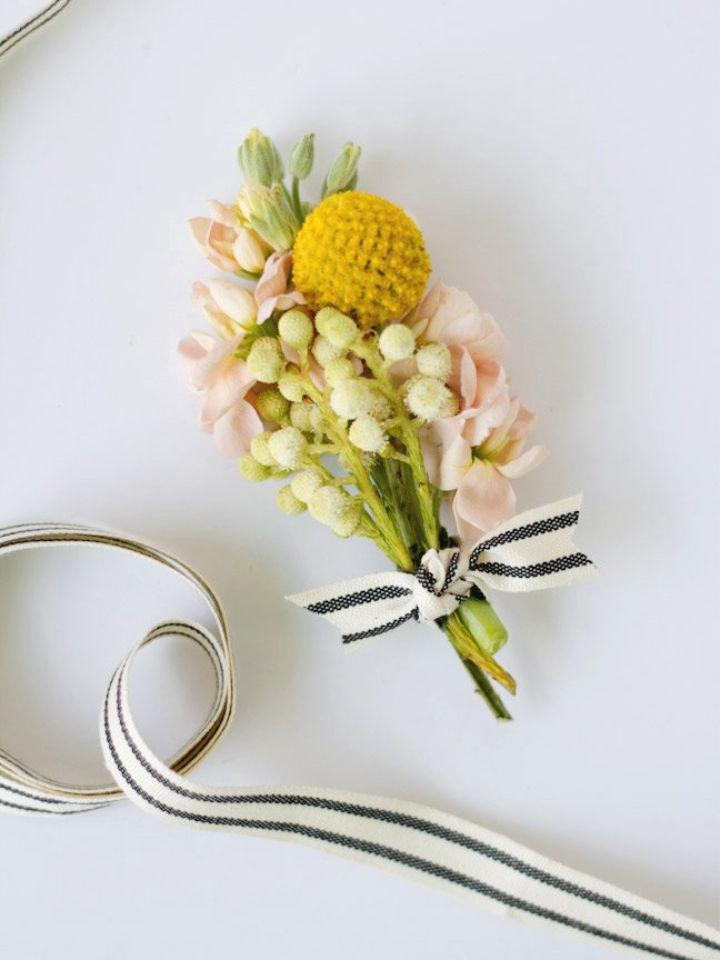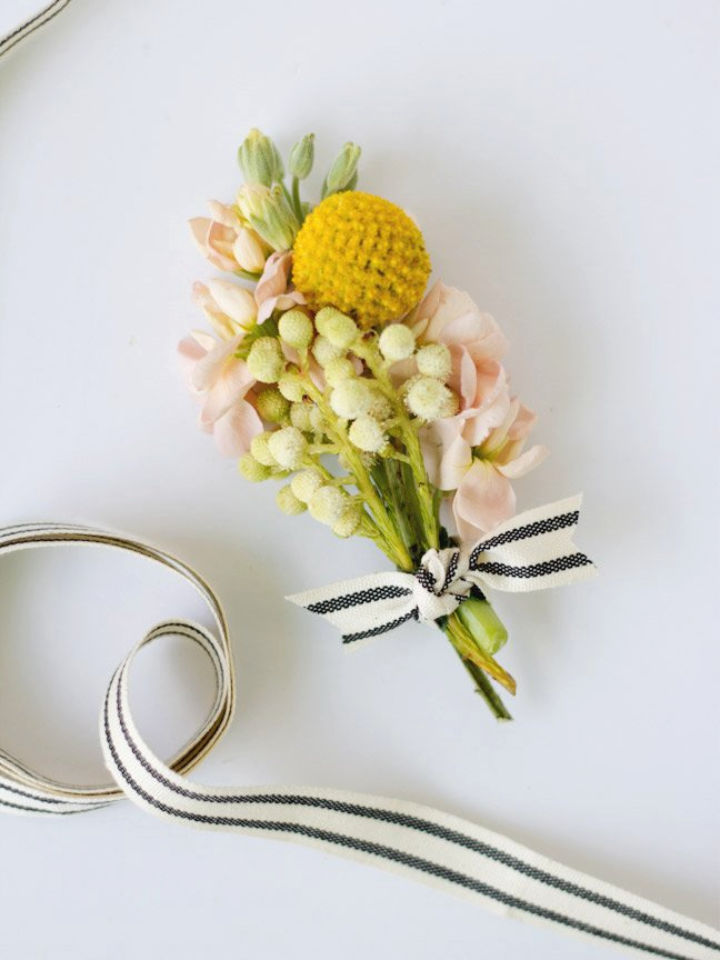 Make this corsage for Mother's Day. It will go nicely on a t-shirt and will really make your mom feel special. Here you need two types of flowers, floral tape, ribbon, straight pin, and some creativity to make this corsage, will be loved dearly by all moms. The best design of corsage when wishing to celebrate Mother's Day in the full mood. This corsage is really special and will not cost you big to be in your hands. Details here momtastic
7. DIY Wrist Corsage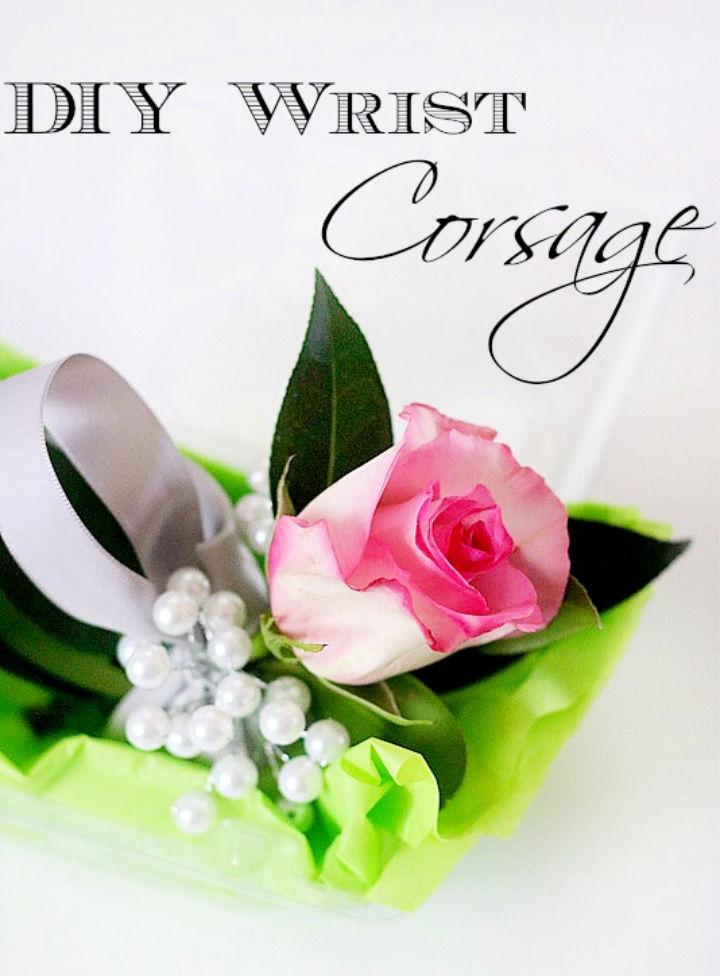 Rock your spring prom dances with this wrist corsage that will rock for the weddings too. It will be a big sign of prominence and grace to have around the wrist, and flowers will be a great pleasure to look at. Here you need floral tape, floral ties, flowers, elastic band, scissors, custom accents and embellishments, and also a sewing machine to work up this corsage model. Try it out with both real and artificial flowers, will be loved by all. Grab the foliage and roses from your garden to make it. Details here dukemanorfarm
8. Homemade Corsage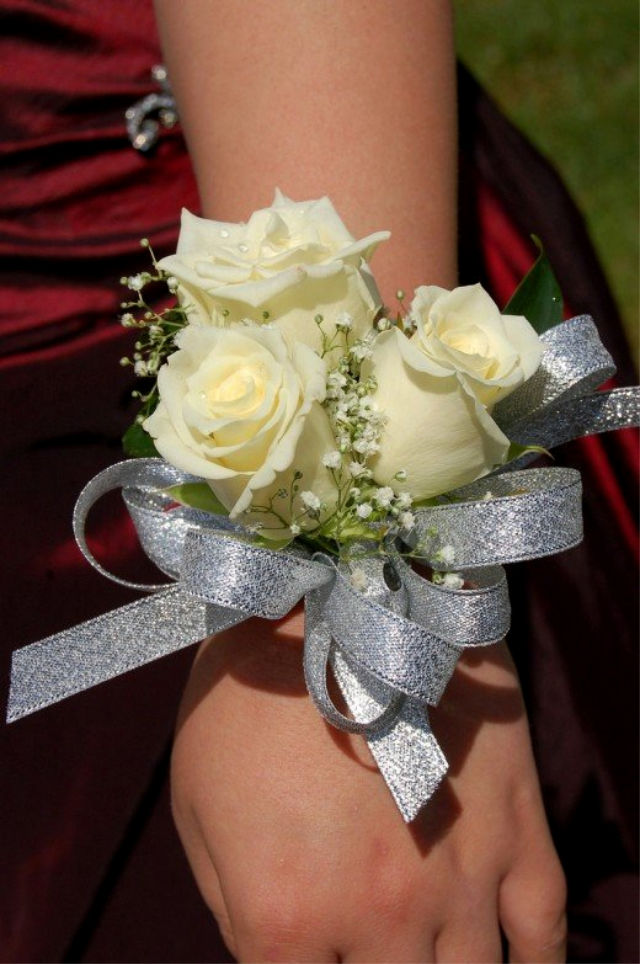 Master here, the best technique is allowing you to make the corsages and boutonnieres like a pro. So, you will be saving tons of your costs as normal corsage costs you around $20. The corsages are all about to tie a bunch of enchanting flowers. Grab flowers, clippers, wire, floral filler, floral tape, ribbon, and cellophane bag to complete this great looking corsage model. It will make a prominent handmade gift, and you can whip it up for the bridesmaids too. Make it for a wedding, homecoming, or any formal event. Details here feltmagnet
9. How to Make a Wrist Corsage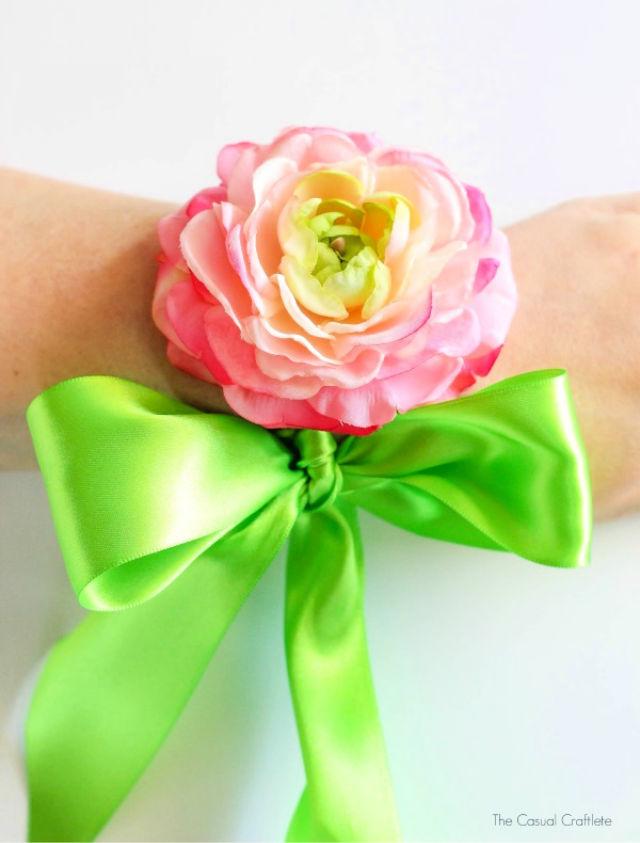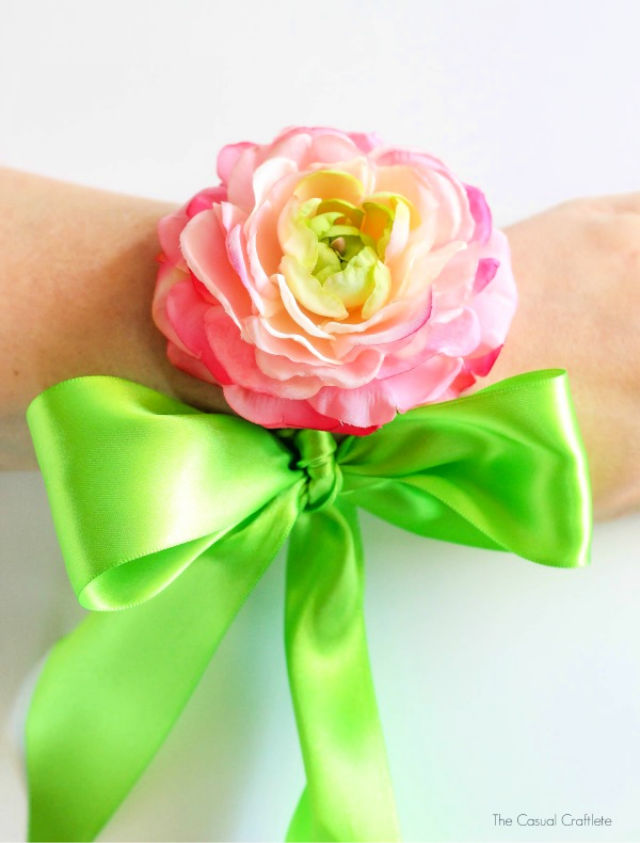 Let this another graceful model of floral wrist corsage make you feel special. Use the silk flowers of choices and ribbon to create this DIY corsage, will rock every of your formal event. Wear it to fancy up your formal outfits or give it as a sweet gift to mom on Mother's Day to celebrate motherhood. Here you need a large floral bloom with step, apple green polyester satin ribbon, hot glue gun, rotary cutter, green yarn, and custom tools like lighter, sewing needle, and wire cutters to make it. Details here purelykatie
10. DIY Wrist Corsage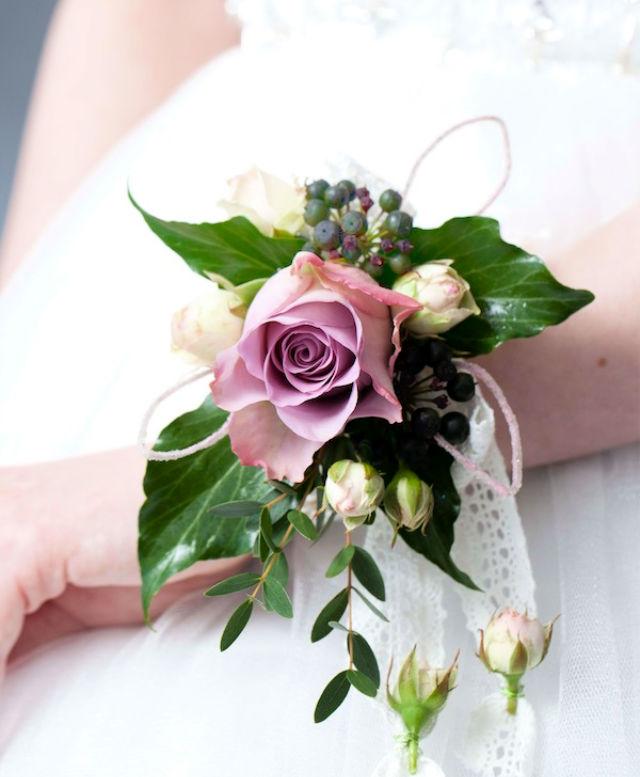 There is more use of flowers to see in the current wedding trends. There are flowers to see everywhere in the wedding environments and also around the bride. So, make this DIY wrist corsage for a bride, will rock in place of a bridal bouquet, and can simply be tied around the wrist. It will fancy up the entire outfit, along with making her hands free to use, even in conversations. Make this DIY wrist corsage using flowers like Lilac rose stems of pink spray roses and eucalyptus. Further, you need ivy or berries, vintage expandable pearl bracelet. Details here thebijoubride
11. Make Your Own Corsages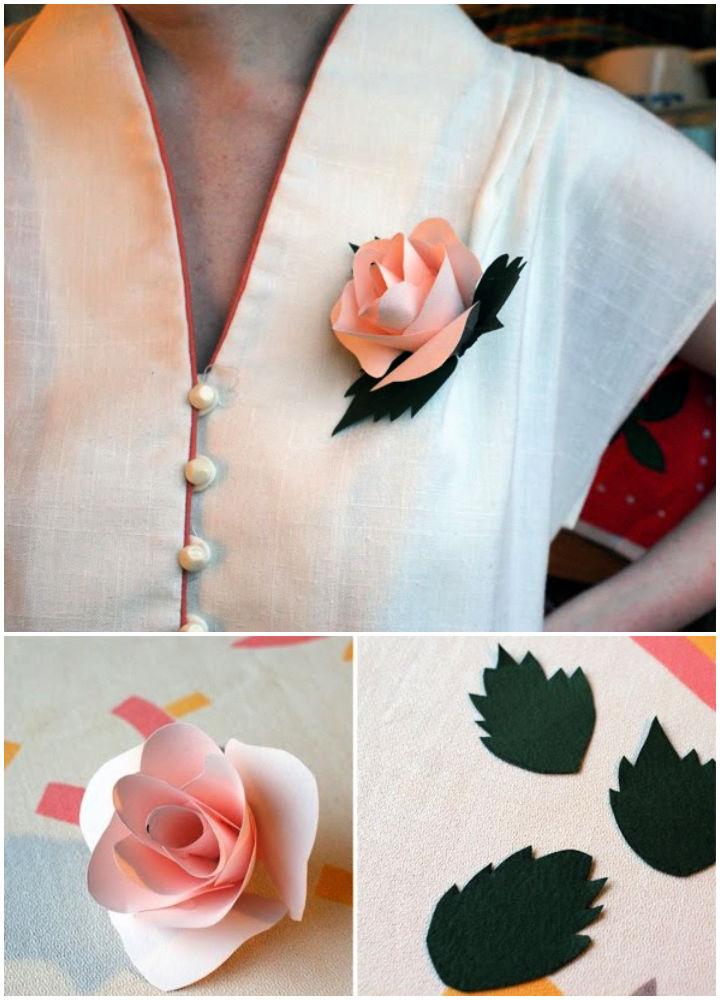 Wear this corsage on your wedding day that can be added anywhere to the bodice of your wedding dress. You have to make the paper flowers for making these corsages, which will be ready in minutes. The paper flowers will look much near to reality and will not wilt. Make the flowers using colorful artist's papers, and then glue them on the plain brooch pin that you can easily get from a craft or jewelry shop. One of the best DIY corsages ever made at home. Details here ohhappyday
12. How to Make a Corsage Step By Step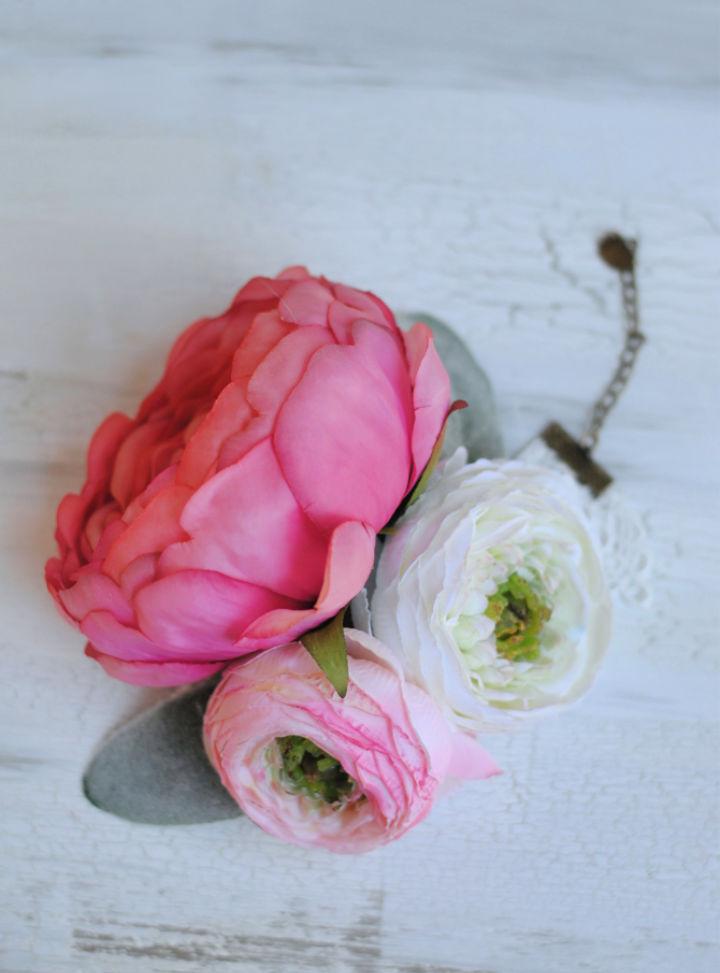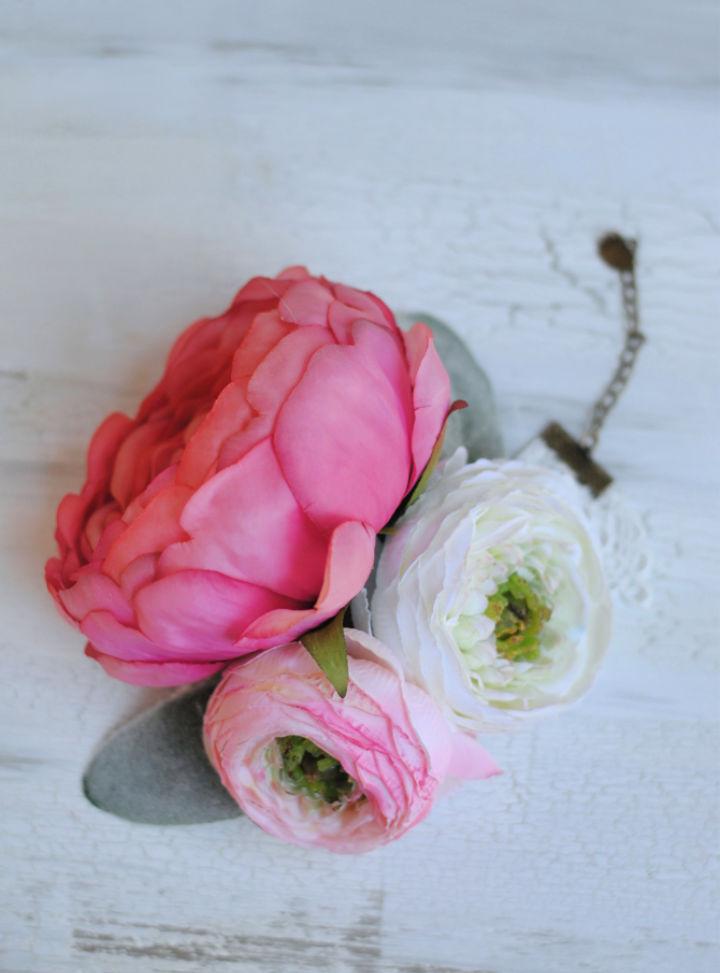 Make this one more great looking corsage featuring the ranunculus features. It will surely wish you a happy married life along with complimenting your entire wedding outfit. Opt for it when you need to celebrate the homecomings and do make it for a group of bridesmaid. Grab a large peony, two ranunculi, small bunch lamb's ear, glue fun, corsage wristlet, and a pretty ribbon to make it. A bride can wear it around the wrist in place of holding a flower bouquet. details here lover
13. DIY Wrist Corsage Out Of Felt Flower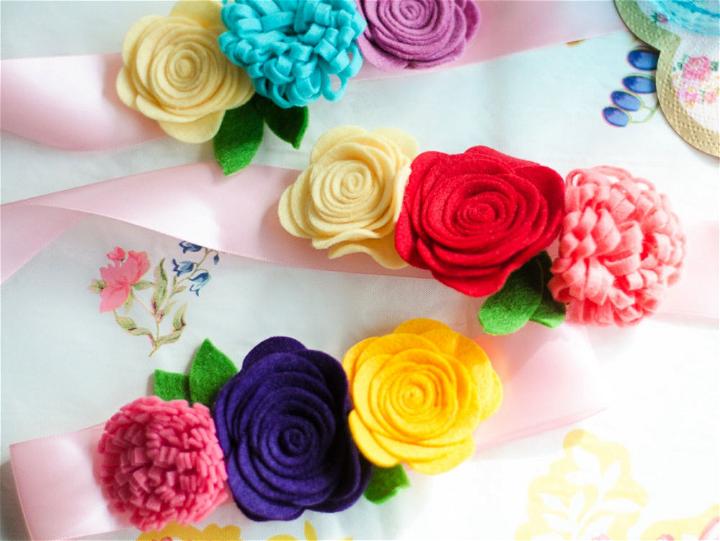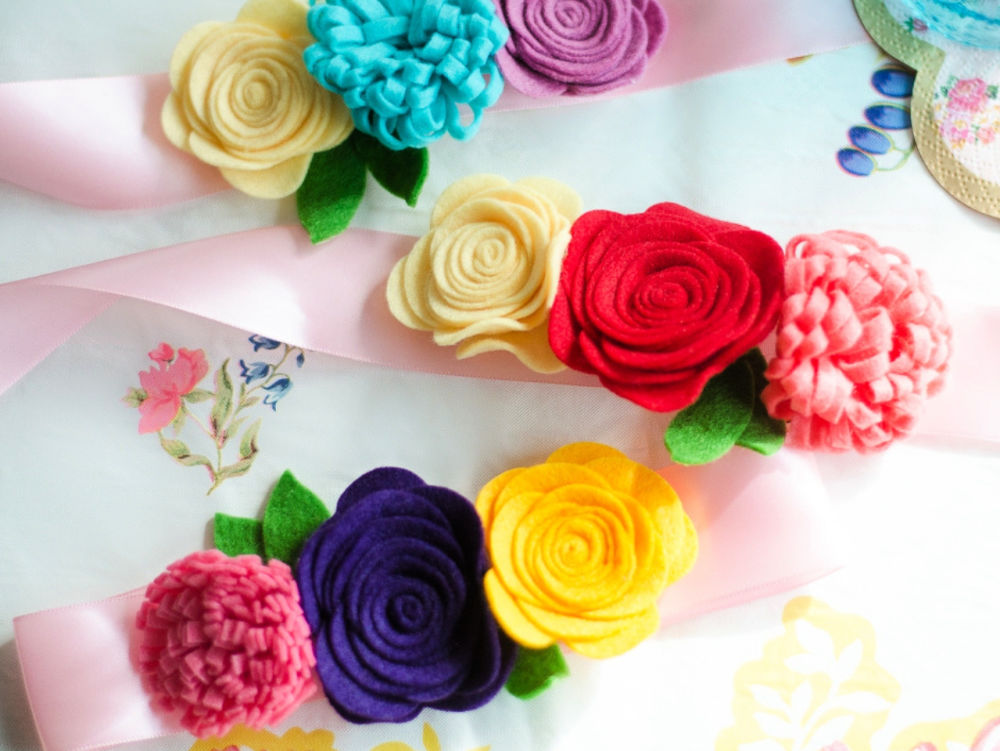 Do you really like it to make a corsage that will be long-lasting? Then do make this faux fabric flower corsage, will not droop or wilt for sure. This faux flower corsage can be made for the guests invited on a formal lunch just for great and honored hospitality. This will really make your guests feel special, and it will not take that too long to build a set of these corsages. First, make the felt flowers and then simply glue it on the ribbon of choice to tie around the wrist. Details here fun365 orienta
14. Making a DIY Wrist Corsage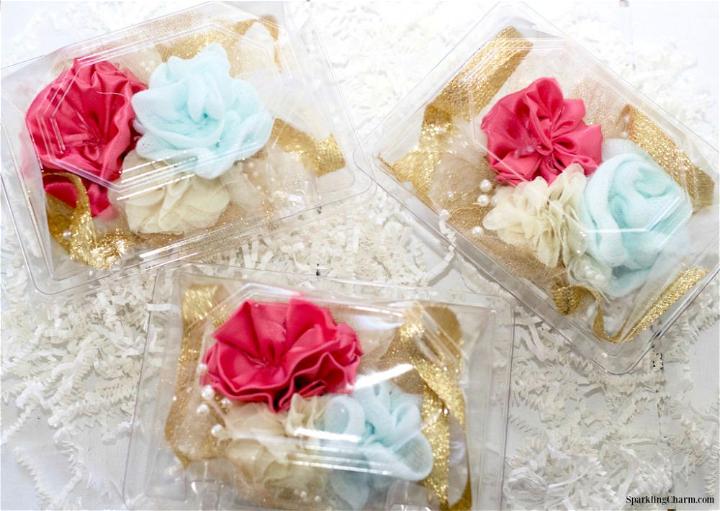 Do you know how to make wrist corsage? Look at this shiny DIY wrist corsage, can be worn on any special event like on a welcome, farewell, wedding, birthday, or on a prom. Honor a guest of honor by tying this corsage around her/his wrist, and it will also rock to make a mother-to-be feel special. Make the flower using 4in x 22in fabric strip folded into 2in x 22". After you make 2 fabric flowers, small and large, you need a foam sheet, ribbon, custom embellishments, and glue. Use the gold glitter ribbon, will go best with the bright pink appeal of fabric flower. Details here sparklingcharm
15. DIY Corsage Bracelet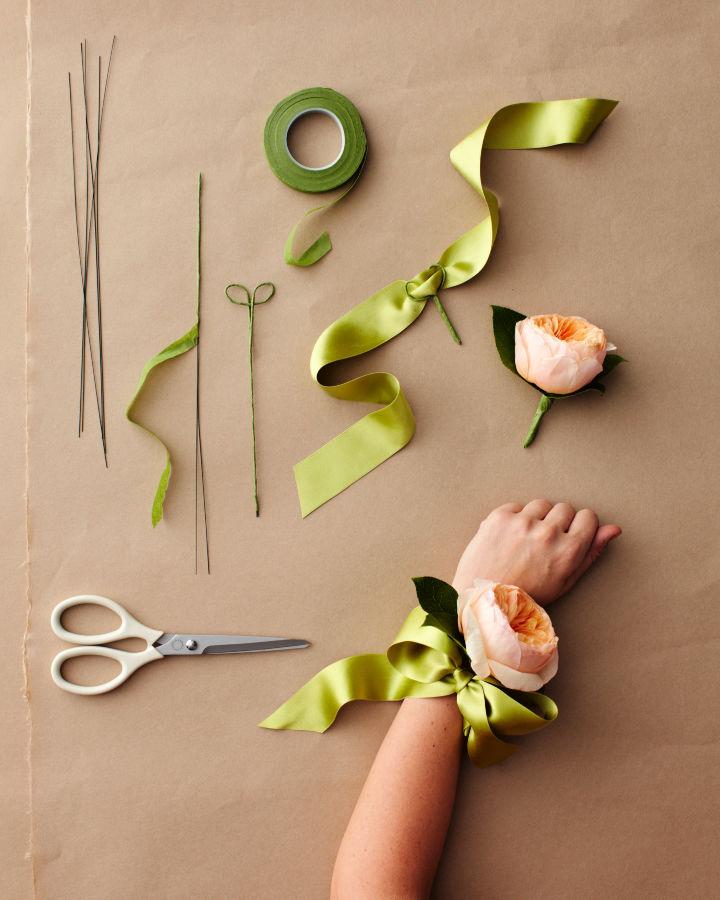 Wear this sign of elegance, honor, and prominence on any prom, farewell, welcome or birthday party, the beautiful corsage bracelet. Make it using any of the hearty rose, orchid, and gardenia and use the lemon leaves for the added greenery. The basic materials required will be 18-gauge floral step wire, wide floral tape, thick ribbon, and wire cutters. The shiny green ribbon will rock for this project, but you can go with any you like. Details here marthastewart
16. How to Make Your Own Corsage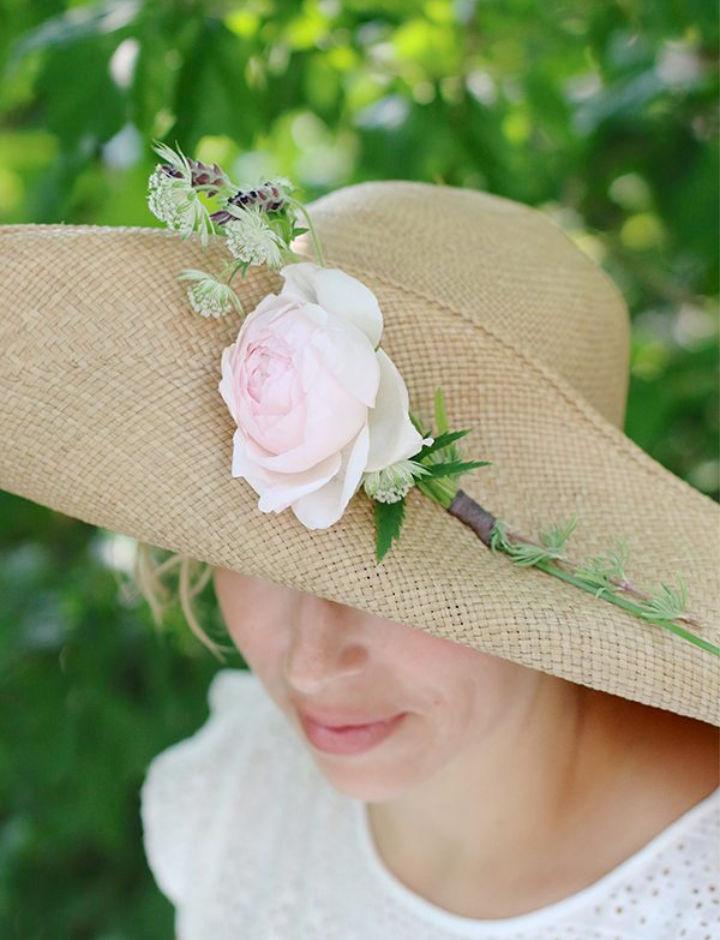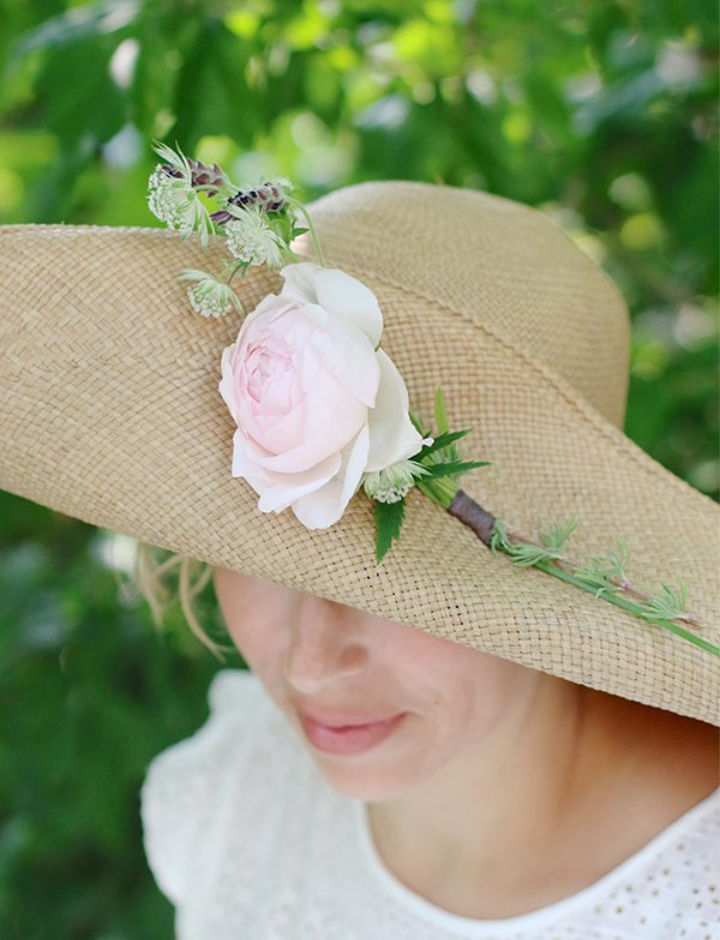 Give a fancy touch of elegance and honor to your wide-brimmed hats, too, by adding a corsage, a new for the corsages. This will help transform your casual look into a lovely formal look. The good news is that you can easily make the hat corsages at home without getting expensive. Make this one featuring pink rose, using fresh silk flowers, use the florist tape, corsage pin, and ribbon, and it will be nicely in front of the hat for added charm and visual. Use fresh or silk flowers both to make it. Details here theglitterguide
Making a stunning flower crown for a wedding accessory is easier than it looks, Just follow our guide to make DIY floral crown cheaply and quickly.
17. How to Make a Corsage For Prom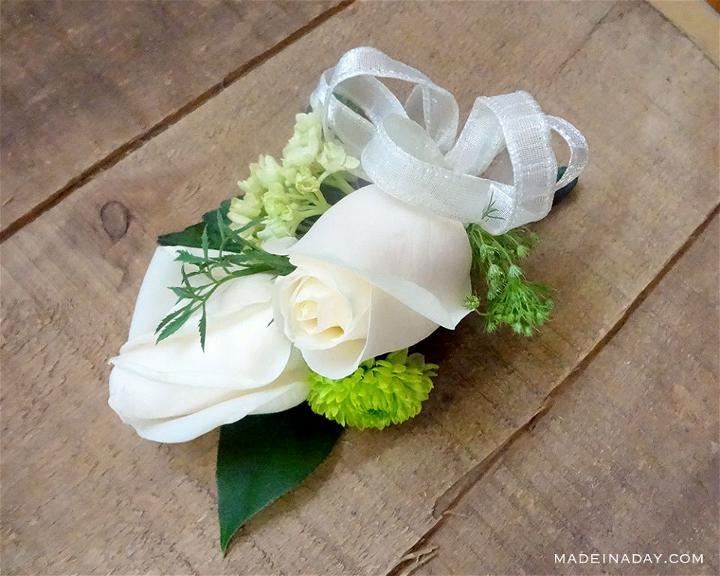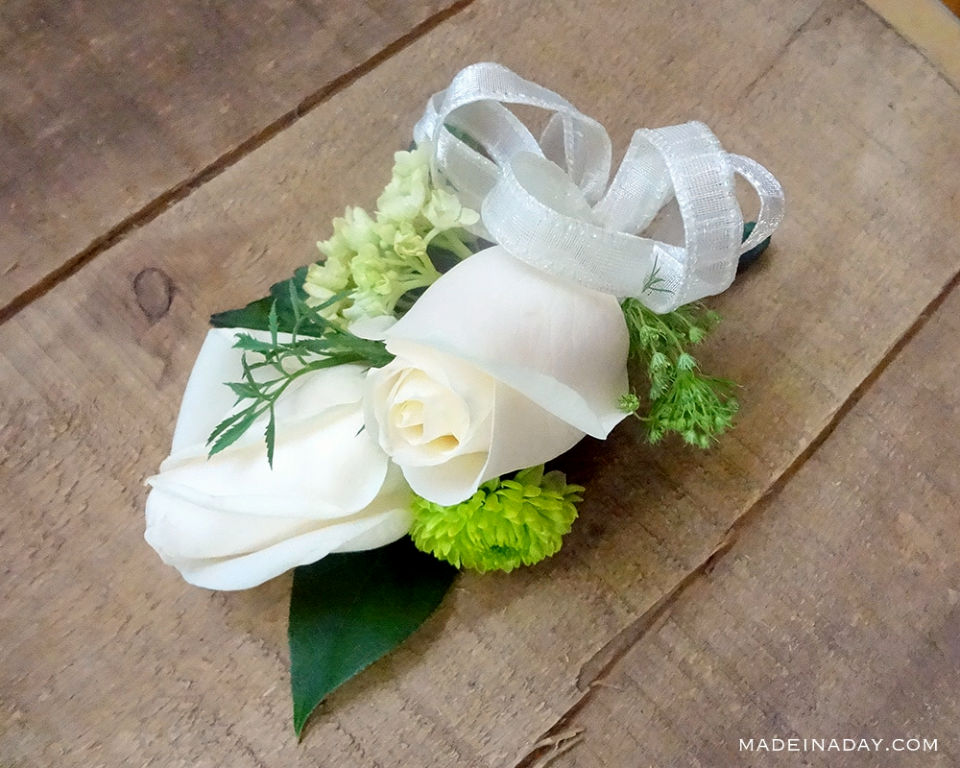 Rock your farewell, birthday party, prom, wedding, and any formal event by wearing this corsage. This corsage features 2 medium white roses, 1 small green chrysanthemum, one small hydrangea sprig, filler sprigs, and leaves. Along with flowers, you need 22 or 24 gauge floral wire, floral tape, wire cutters, 1/4" ribbon, flower preservative spray, corsage pins, and corsage plastic box to make this very special version of the DIY corsage. It will whip up super quickly and can be worn around the wrist too. Details of how to make a corsage for prom here: madeinaday
18. How to Make Corsage For Prom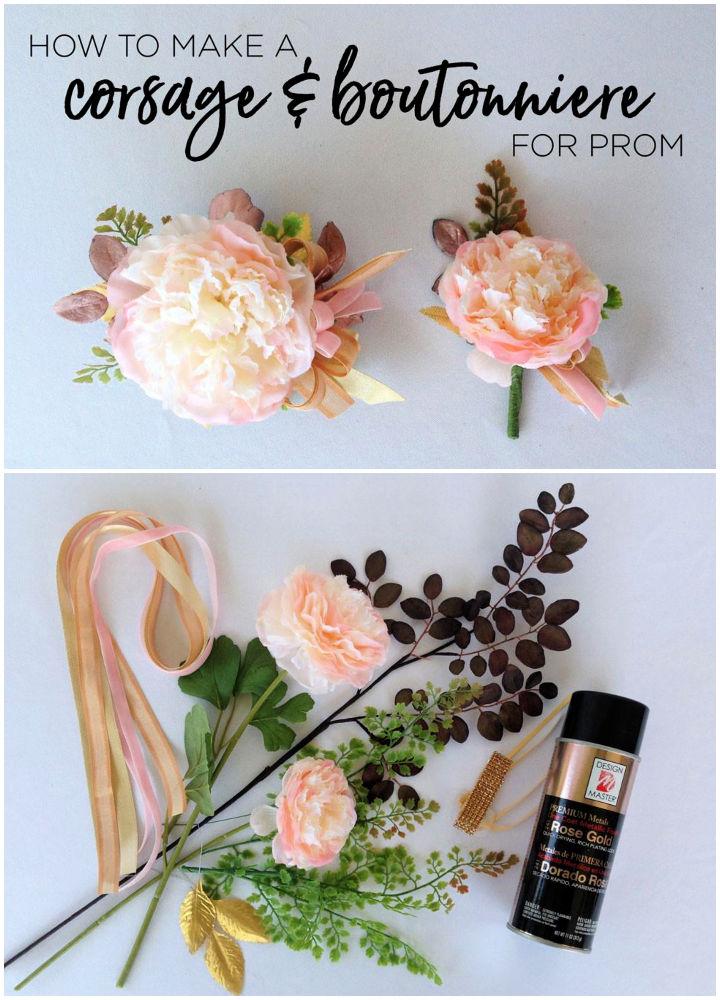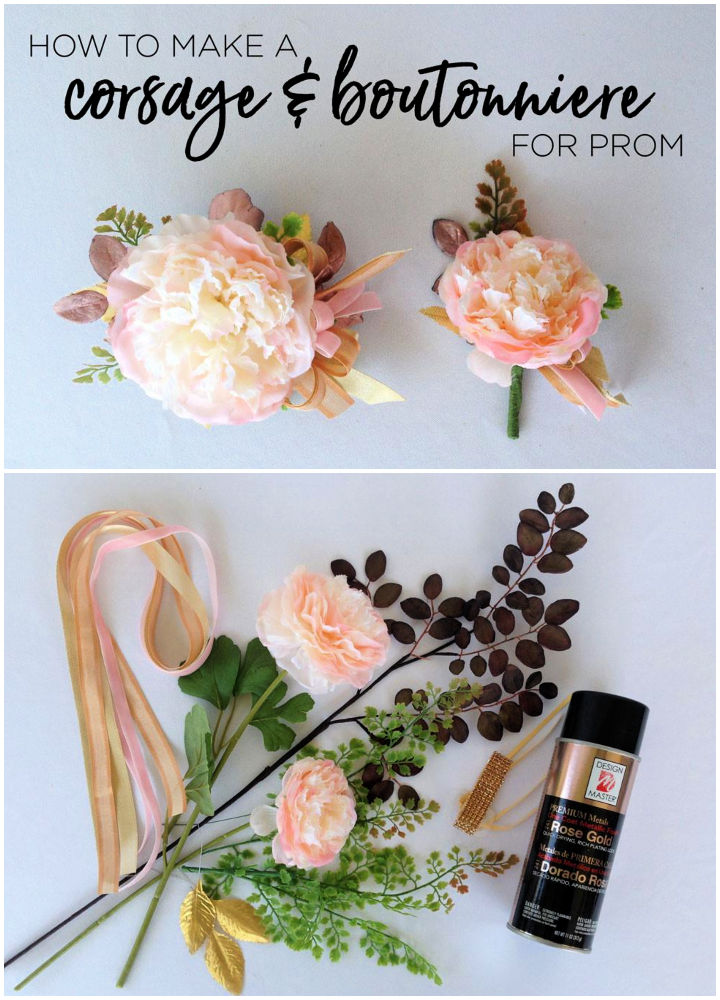 Look elegance at the prom night dance party by wearing this DIY corsage and boutonniere, specially designed and made for the prom nights. Get the rose gold spray paint, large ranunculus silk flower spray, an assortment of greenery, silk rose leaves, rhinestone wristlet, ribbons, floral wire, glue, wire cutters, and floral tape to make this super adorable corsage. It features gold glitter, greenery, the charm of colorful ribbons, and elegance of colorful flowers. Details here afloral
19. How to Make a Prom Corsage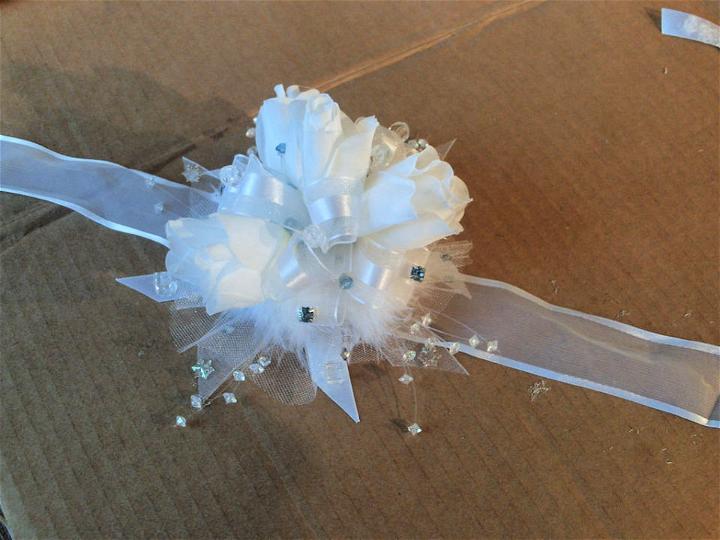 You will surely be a big of the white elegance and little transparency of this prom corsage, guaranteed to fancy up any of your outfits. Make it using assortment white ribbon, white mesh fabric, and white faux flowers. Use also custom embellishments like beads, pearls, and other accents to fancy up this prom corsage more. Wearing this corsage on the wrist will bring a great touch of elegance to your personality and outfit. A one of the Best DIY Corsage to make for the prom, farewell, welcome, and wedding shower. Details here instructables
20. How to Make a Wrist Corsage With Fresh Flowers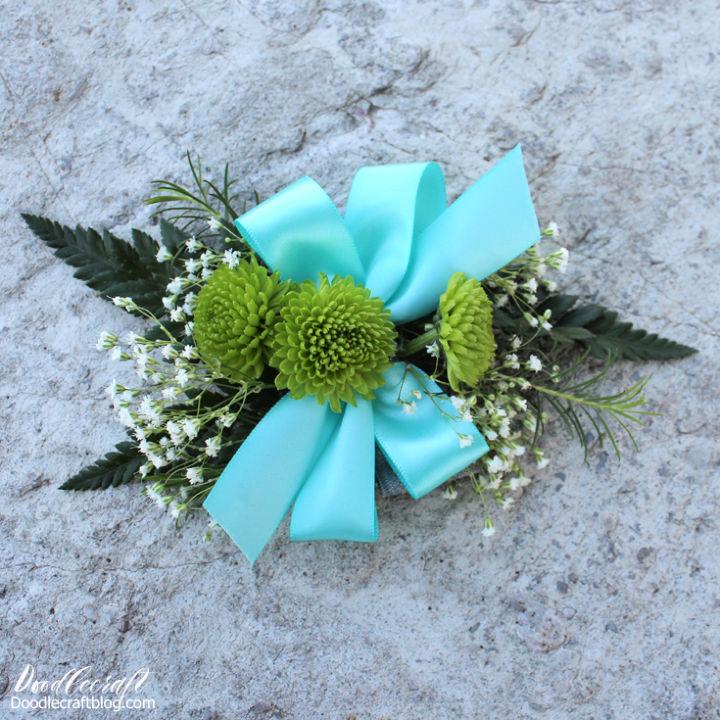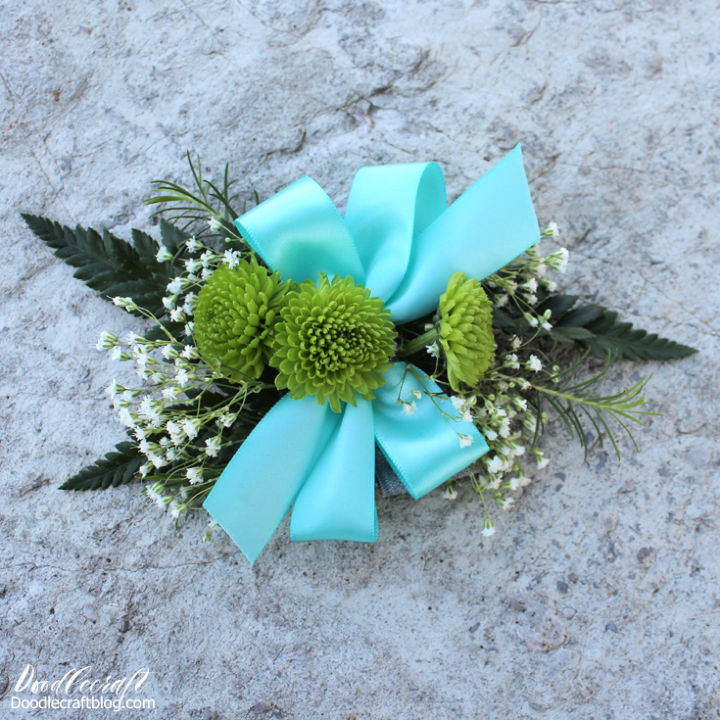 Make this DIY wrist corsage with elastic, will make it fit nicely all-around your wrist. So, how to make a wrist corsage with fresh flowers? You need fresh flowers and greenery, 8" fold over elastic, 12" of 5/8" satin ribbon, lightweight cardboard, and glue to whip up this graceful version of wrist corsage. Give it as a sweet handmade gift to your mother on a Mother's day, will rock for the prom night dance too. Make the ribbon DIY wrist corsage to serve as the base and next loads greenery and sprigs on it and finally the short little flowers in the center. Details here doodlecraft
21. How to Make a Wrist Corsage With Ribbon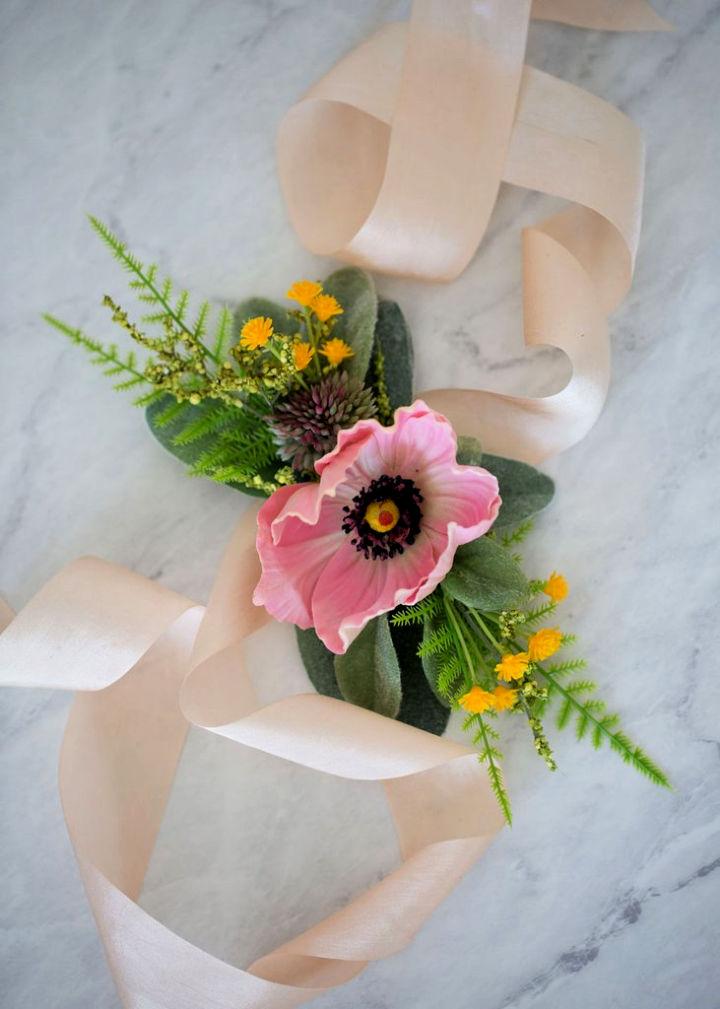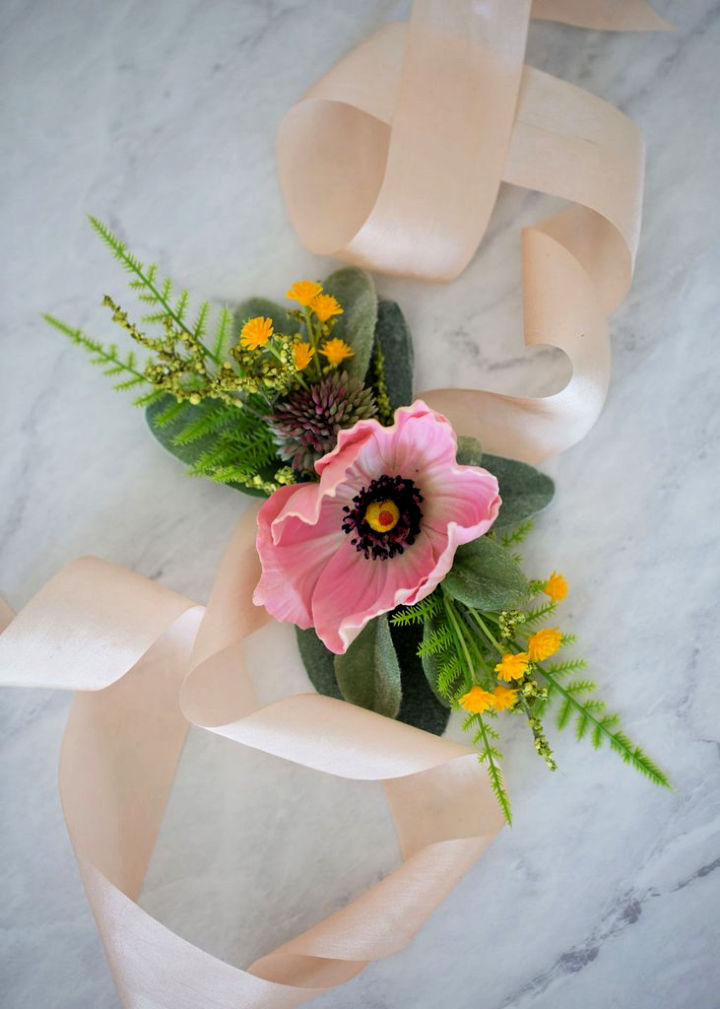 In our celebrations, the flowers play a great role, they can be over the dresses and heads as cool embellishments and can also be used to decorate your party environments nicely and elegantly. So, we recommend you to use the leftover flowers to make the DIY wrist corsage, highly in trends for prom night, wedding and homecoming celebrations. Make this wristlet corsage using a corsage bracelet, ribbon, artificial flowers, fake greenery, fillers and berries, glue, and wire cutters. Details here afloral
22. DIY Corsage With Fake Flowers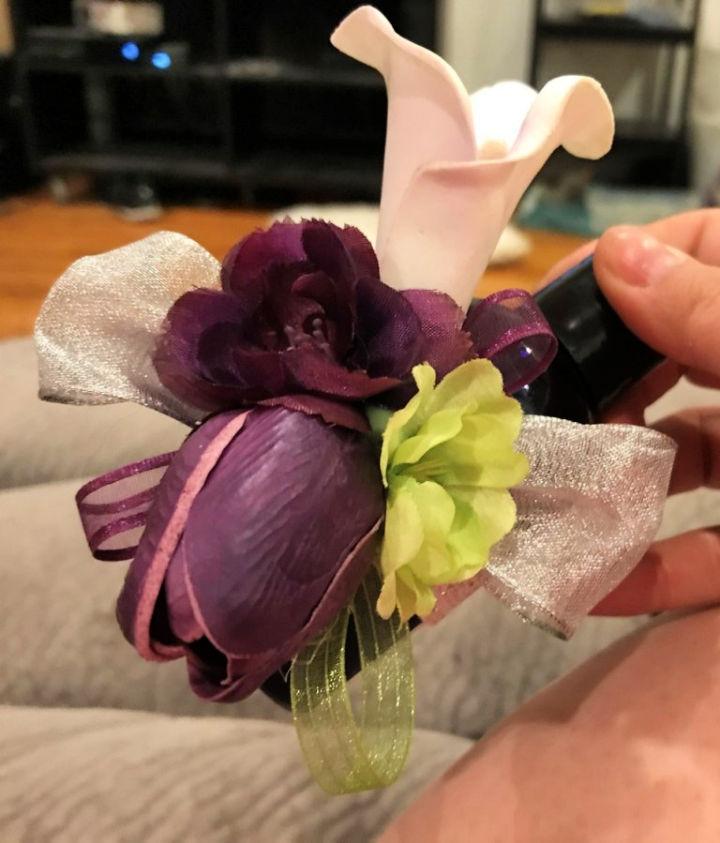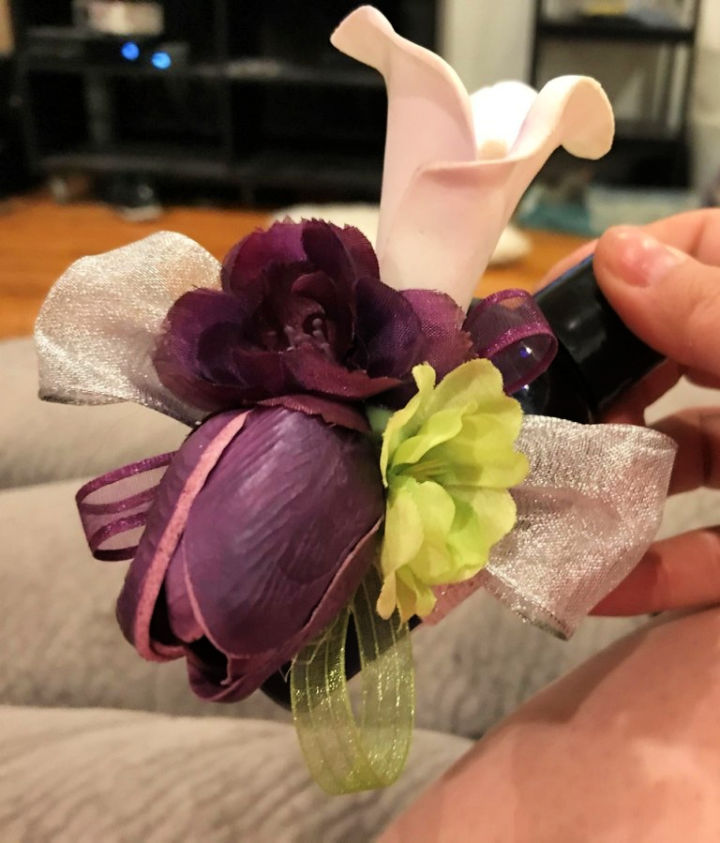 The corsages you will make with the faux flowers will be long-lasting and can finally be taken into separate pieces to use for various other home decor uses. Get here instructions about how to make the corsage with fake flowers like a pro. You are all free to reuse your old flower bouquets and other decors a having faux flowers. Making this corsage involves using a lot of colorful ribbons, too, along with a variety of faux flowers. Details here leftofnormal
23. DIY Prom Corsage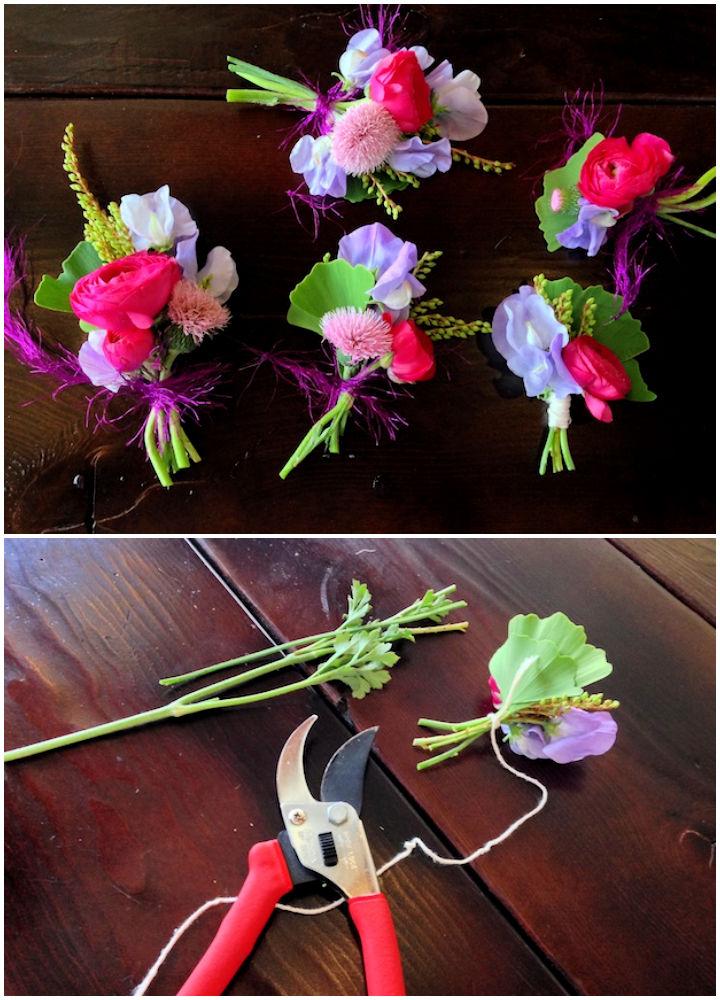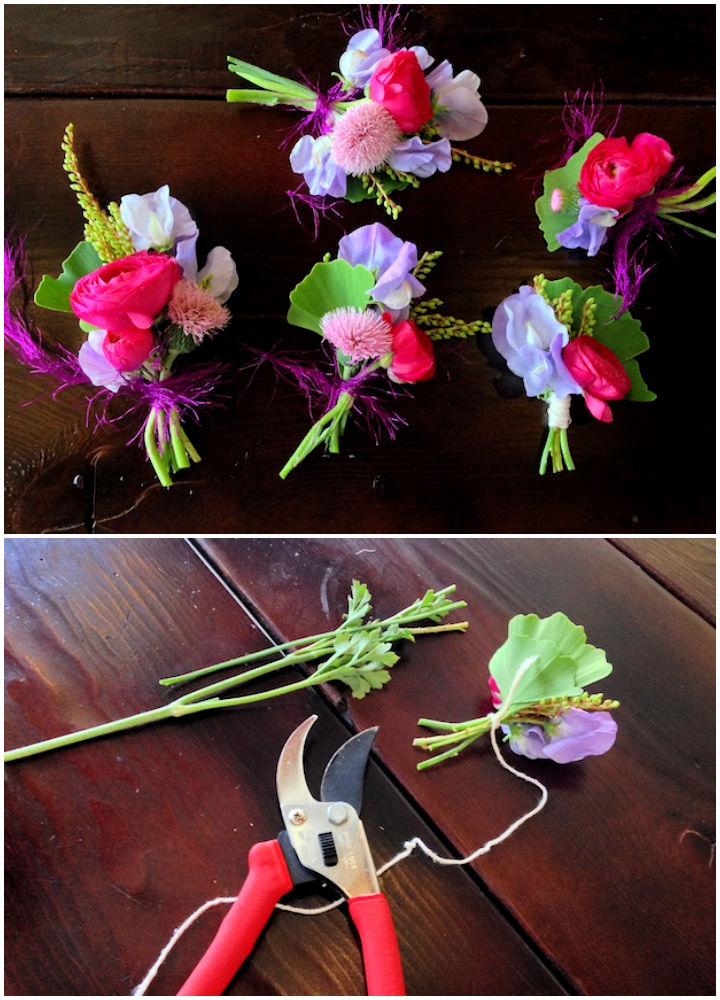 Wear this DIY prom corsage around the wrist or on any of your formal dress for instant focal stimulation. It will rock for the prom night dance and do make it for the farewells, wedding parties, and bridal showers and for your homecoming events. This corsage is colorful and can be given to a guest of honor too. Moreover, it is fairly easy to make too. Make the base of this corsage using ginkgo leaves and next load the thistles, pierises, ranunculus, and sweet peas over it to get the corsage made. Details here creativelive
24. Prom Wrist Corsage + Boutonnière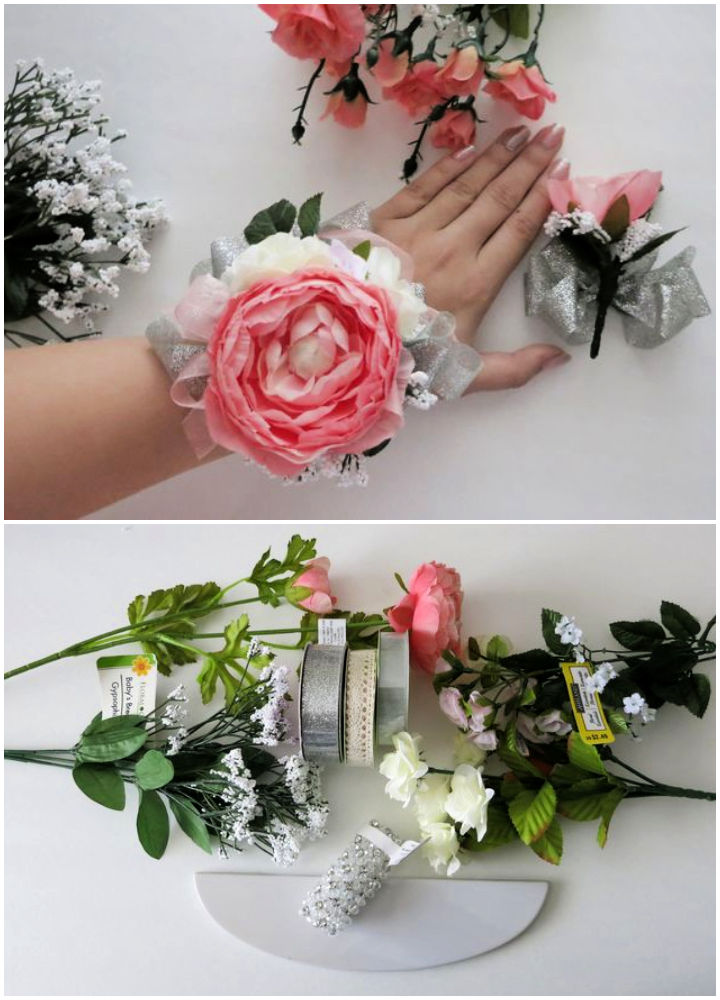 Get the complete step-by-step instructions here about how to make a wrist corsage and a boutonniere. Use the wideband bracelet for the base of the corsage, next use hard plastic, felt, silk flowers, filler, glitter ribbon, and sheet ribbon to make the corsage. This corsage and boutonniere feature peonies, roses, and use the baby's breath for filling the flowers. The glitter and sheet ribbons create a super beautiful appeal of this prom corsage idea. Details here vibrantvantage
25. Prom Corsage Idea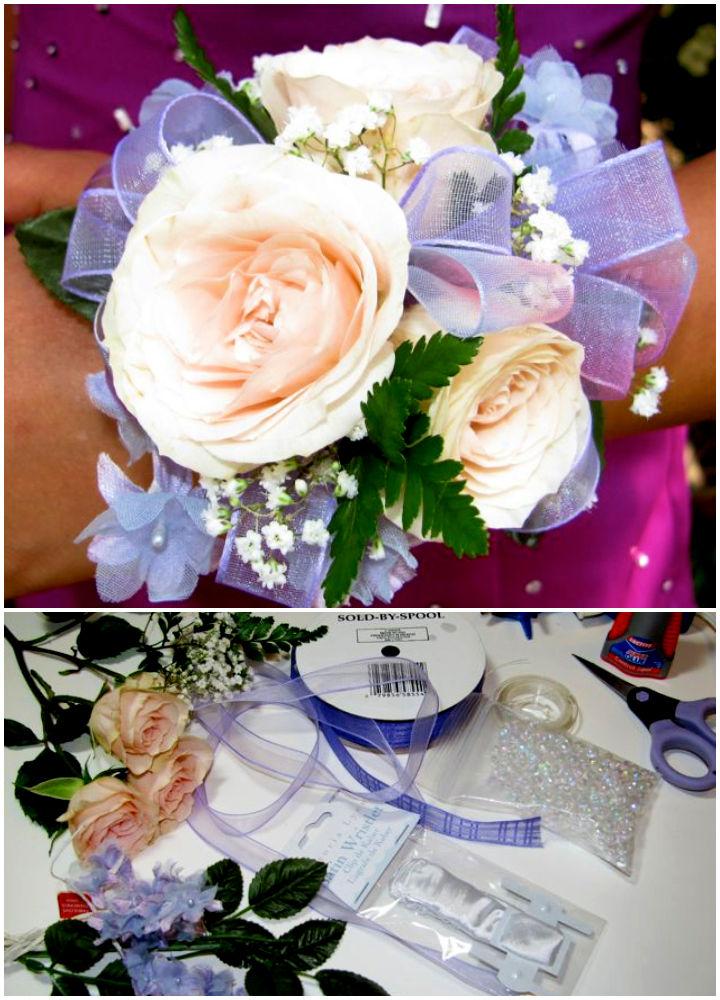 Gain the necessary visual prominence by wearing this prom corsage around your wrist. Make it for your wardrobe or make someone feel special by giving it as a gift. This enchantingly colorful prom corsage features a ribbon loop base and features the white roses and baby's breath sprigs, greenery, beads, silk leaves, and decorative ribbons. Make the base of this corsage using a satin wristlet. Use glue for all your adhesive needs. Details here debbiesaenz
Using DIY candles as decoration can make your wedding even more beautiful so follow these 25 Best DIY Candles To Make Your Own Candle.
Conclusion:
DIY wrist corsages are one of the accessories that one should get for the formal dress up. They are worn for the semi-formal occasions too and can be seen mostly around the wrist of the brides, bridesmaids, and another special person you want to honor. DIY corsage actually honors your dress up and make you look unique in the crowd.
So, whether you are willing to get them for prom dances or wishing to make them for a wedding shower, just go with these DIY prom corsage ideas that will help save a lot of costs in making an epic corsage. From making a single flower corsage to those which come with intricate details and a bunch of embellishments, you will get free plans, step-by-step guides, and detailed diagrams for all.