Bracelets are not merely the items of jewelry to tie around your wrists for a bold fashion statement. They can be the best presentation of your unique style, taste, and personality too. So, make expensively looking to all kinds of bracelets with these 20 best DIY bracelets that provide step by step instructions to make a braided bracelet, cuff bracelet, beaded bracelets, buttoned, and studded bracelets. The list encircles all the popular bracelet designs and reveals all the hidden tricks to make a bracelet like a pro.
Satisfy your bracelet crafting obsession by exploring these 20 Best DIY bracelets with easy steps and instructions that will please you with their enchanting design patterns. From simple to braided to posh-looking charm bracelets, you are going to see all in this collection of DIY bracelet ideas.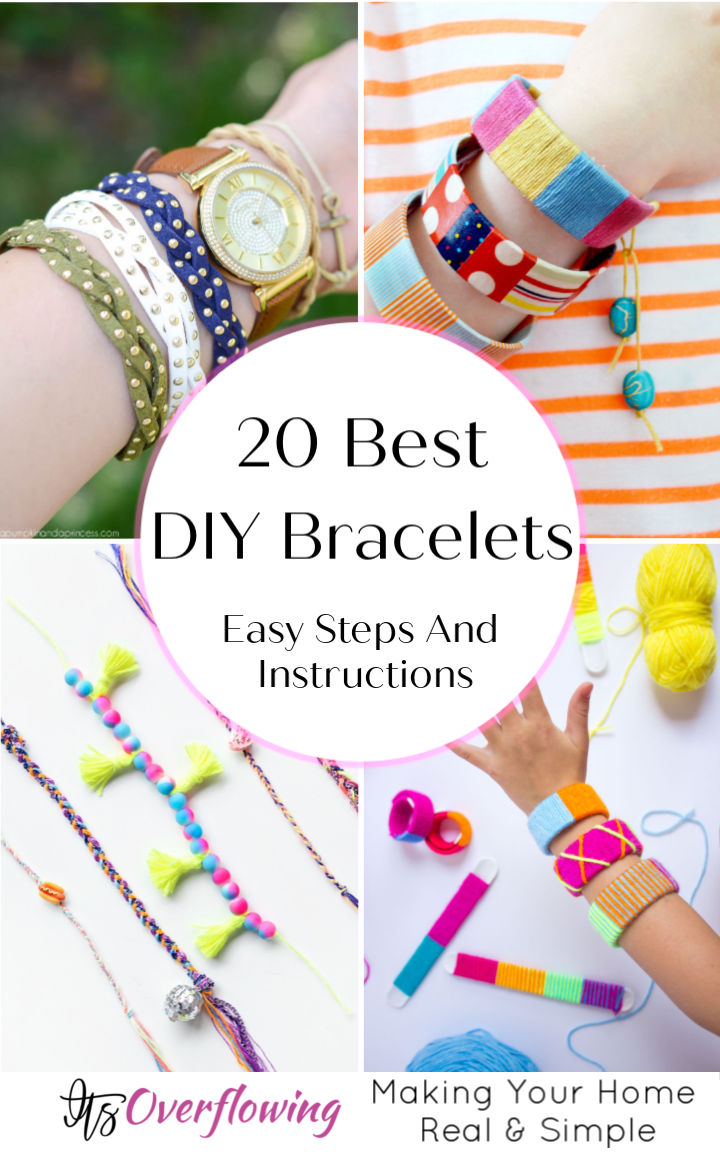 Most of the project will involve using your art of knotting to make excellent chevron, striped, or name letter bracelets. Next, you can start threading a bead onto embroidery floss to make cool bracelets. This not ends here, braid together the studded leather cords to make fabulous bracelets and bend the water-soaked craft sticks to make gorgeous bracelet cuffs. So, learn how to make bracelets using our ultimate unique list of DIY tutorials.
1. Netted Stone Friendship Bracelets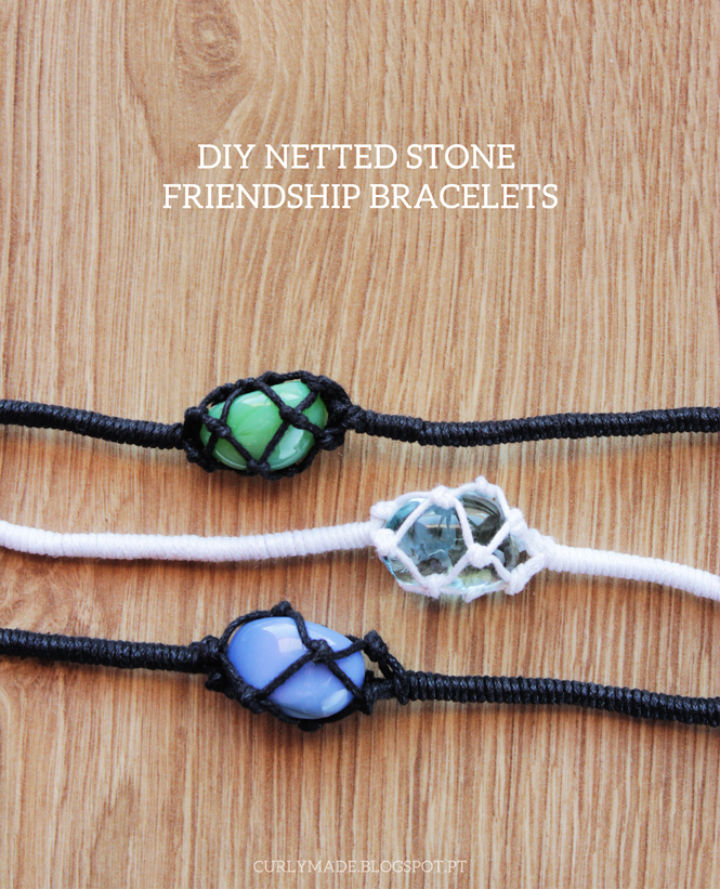 Bring more grace to your personality by making this netted stone friendship bracelet. Complete the project by braiding the waxed cotton cord. While braiding, make sure they should be like a net while being around the stone accents. Use a clipboard to hold the cords for braiding. curlymade
2. Free Button Bracelet Pattern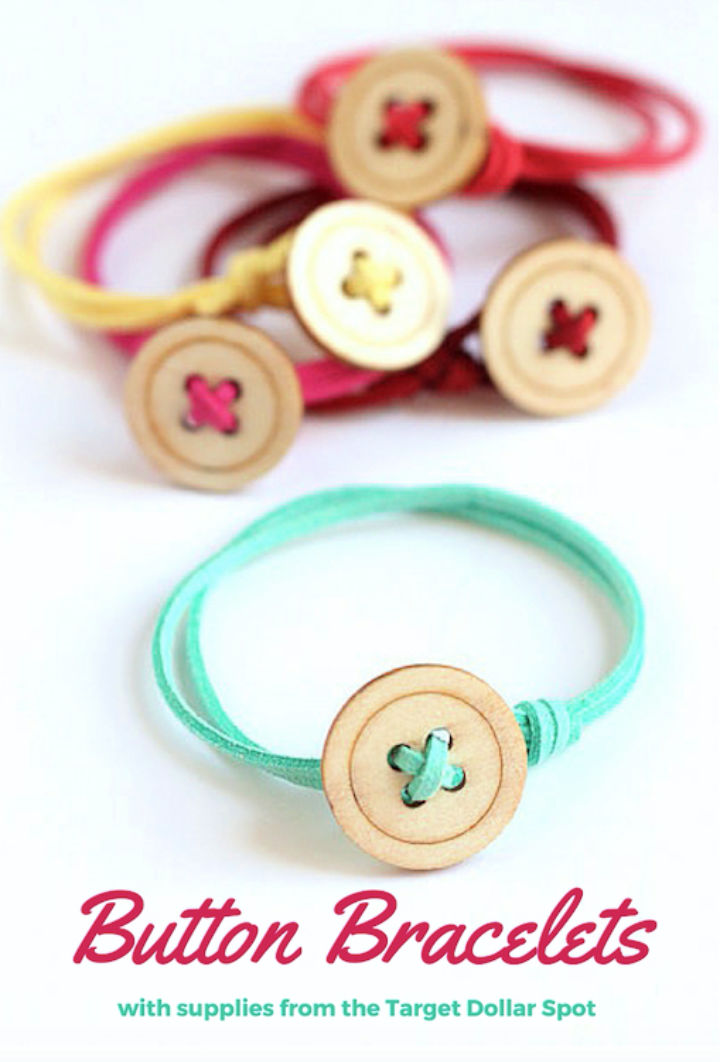 This project is as simple as pulling back a simple cord through the buttonholes. Take the suede cord in bracelet length, pull it through the button so that it holds a wooden button beautifully as an accent making an adorable button bracelet. Details here allthingstarget
3. Yarn-Wrapped Slap Bracelets – Kids Craft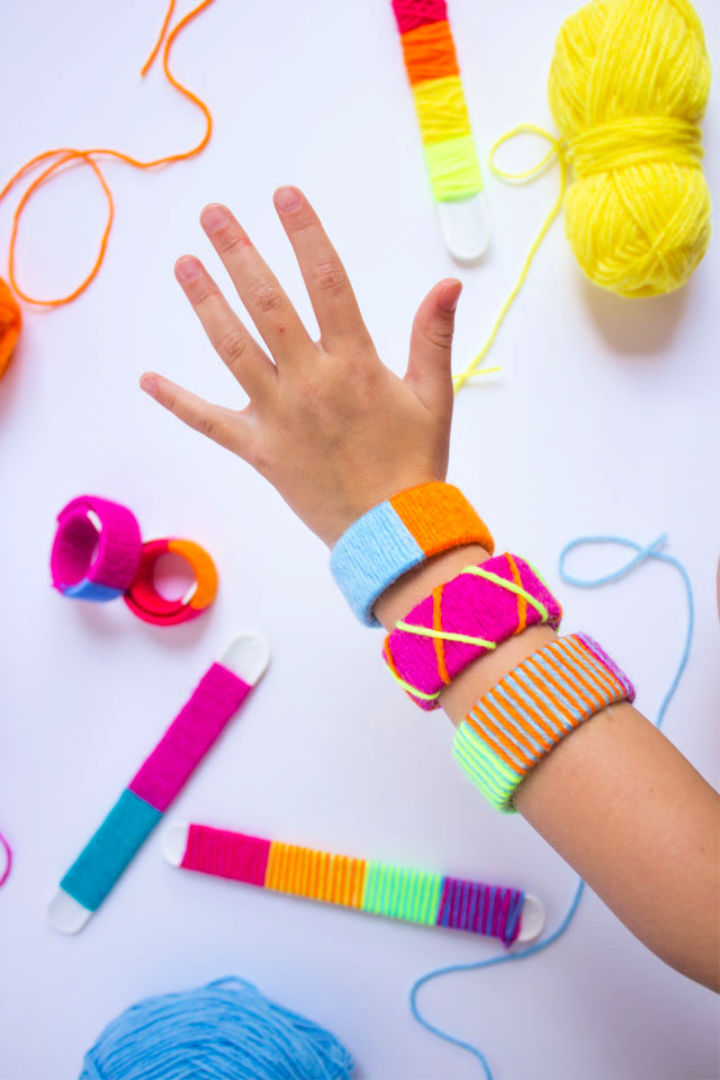 Grab the white silicone slap bracelets, cover them up with the colorful yarns making little portions in color block style. You are all free to use your own colors. Next, accent the yarn-wrapped slap bracelets more by the yarn crisscrossing, and that's it. A kids' bracelet project. designimprovised
4. Washi Tape Wooden Bracelets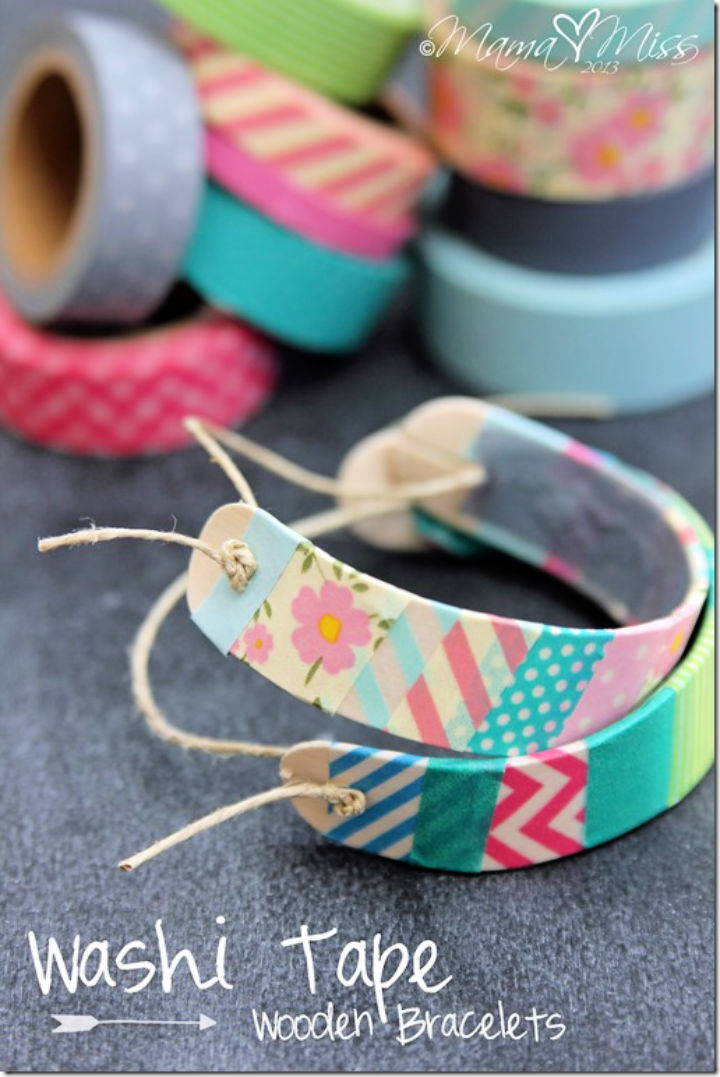 If you prefer the things with unbeatable durability and style, then you will surely fall in love with these wash tape wooden bracelets. Bend the popsicle or craft sticks into bracelet cuff shape by soaking in a glass of water. After they get soft, just start bending them inside a mug, which will help keep the shape. Next, adorn them with washi tape to make lovely bracelets. mamamiss
5. Crepe Paper Friendship Bracelets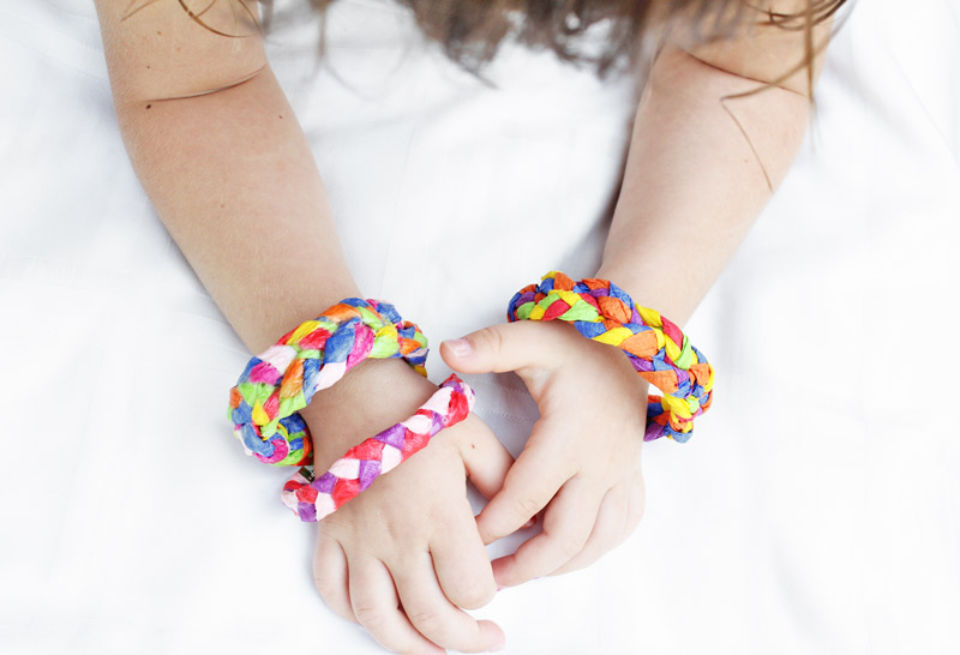 Even a little kid can complete this friendship bracelet project with great ease. Kids can braid the crepe paper streamers together, making this adorable friendship bracelet. Finish the paper bracelets with ribbon ends, swivel lobster clasp, and also with 6mm double rings. Details here babbledabbledo
6. Bracelets Gifts for Your Besties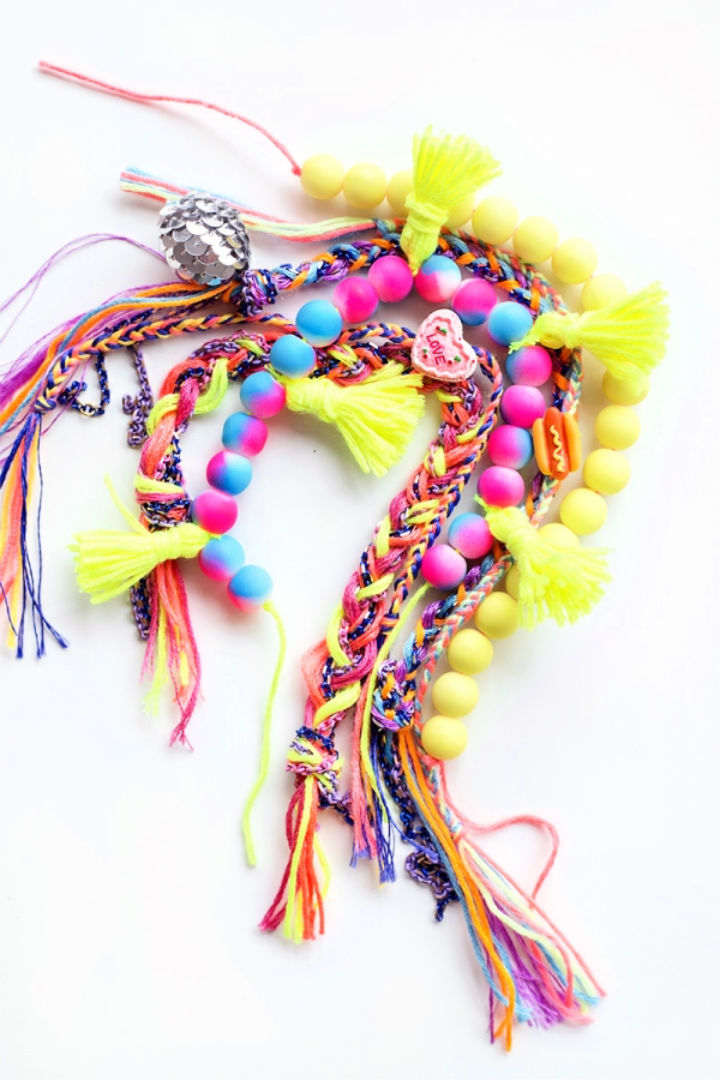 Want to give something special to a special friend? Then do make these bracelets, the perfect handmade gifts to craft for the besties. Here you will learn to make 3 different styles of bracelets quickly like a plain bangle bracelet, braided bracelet, and beaded tassel bracelet. Inexpensive supplies used will be scraps of cardboard, matte neon beads, craft thread, cabochons, and 2mm diamond cut chain. studiodiy
7. Trendy Simple Stick Bracelet
Dip the craft sticks in a glass of water, let them soak the water to be too soft to bend into a bracelet cuff shape. Use a mug or glass for bending. After you get them in shape, start decorating them with washi tape, stickers and paint or just wrap the yarn around them for a quick colorful appeal. Details here mollymoocrafts
8. DIY Studded Braid Bracelets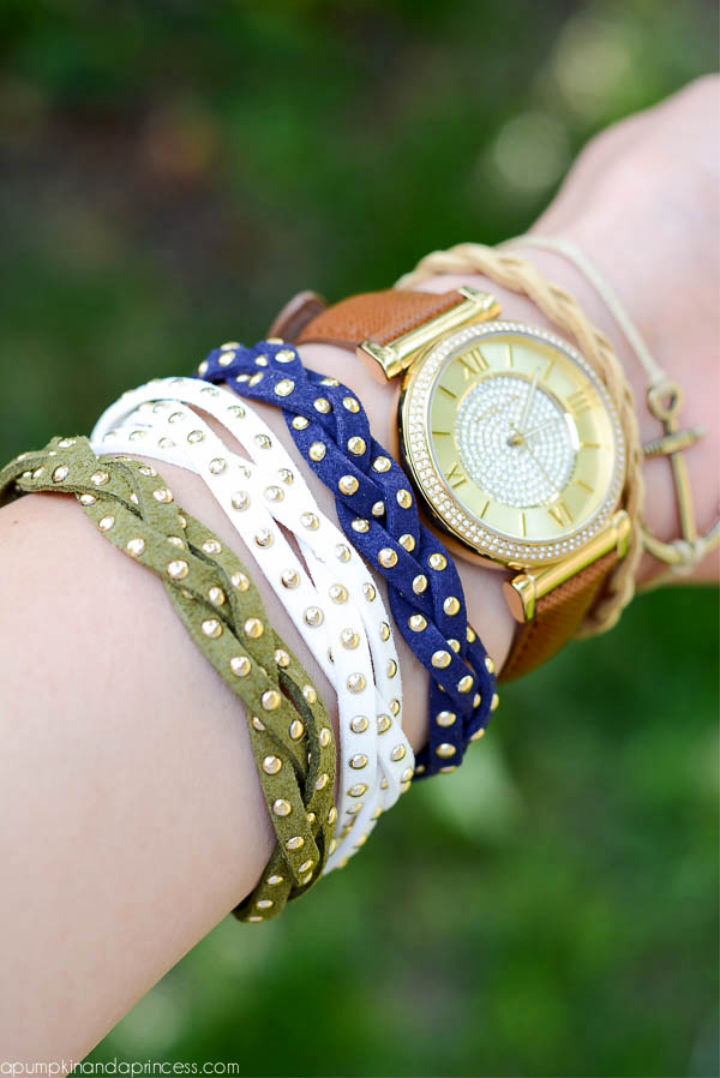 You will surely fall in love with these studded braid bracelets that are too cute to give as pleasing gifts. Grab the studded cords and braid them together, making these cool bracelets. Finish your braided cords with the lobster clasp, crimp clasp, and with a jump ring to craft this studded braid bracelet. apumpkinandaprincess
9. Friendship Bracelets for Adults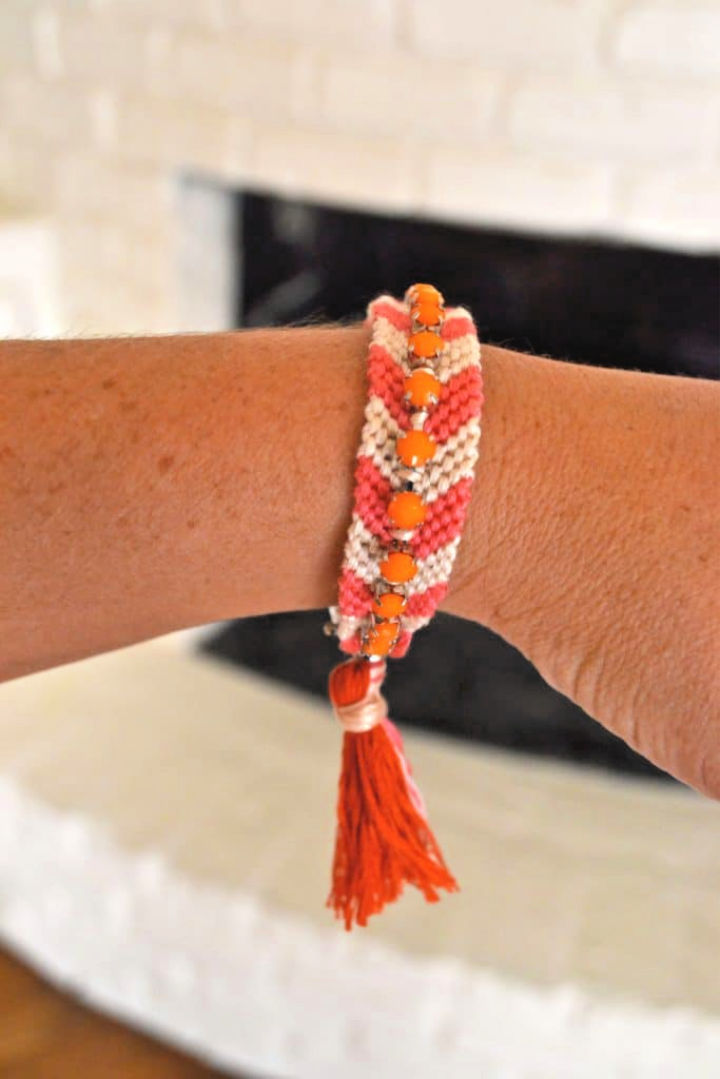 This project includes making the beaded and rhinestone bracelets manually. Thread the beads onto the embroidery floss chosen in your favorite yarn colors. Finally, enhance the visual of the beaded bracelet by combining it up with the rhinestone strands. The best friendship bracelet to make at home. goodinthesimple
10. Friendship Bracelets With Names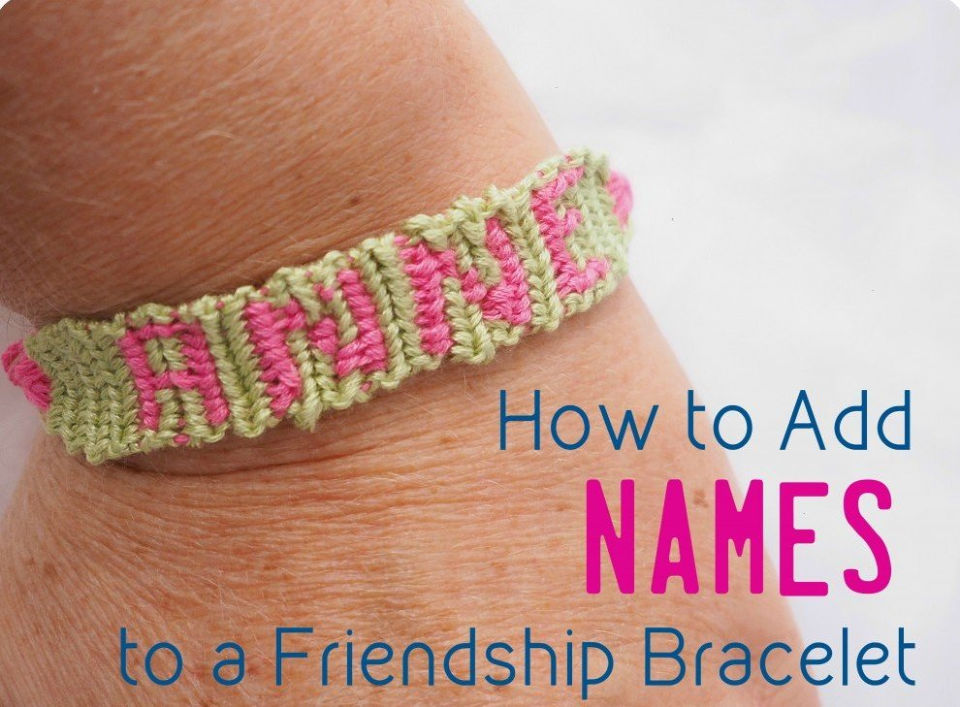 Please a friend by giving this bracelet that will come with your friend's name. You need to use a homemade cardboard loom for making this bracelet. The tricky part here is to drop the beads on to the loop to make the letters. Get free instructions here also for it. Details here feltmagnet
11. Make a Super-Easy Friendship Bracelet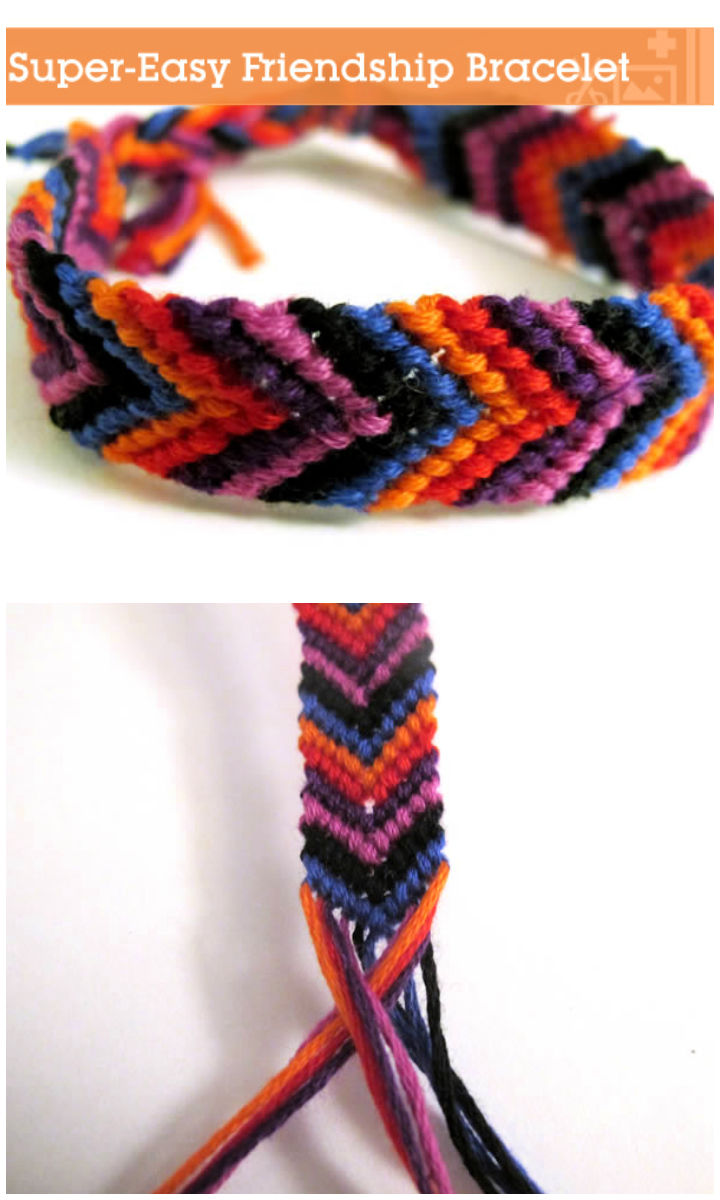 This project requires no higher skills, just go easy, and make this beautiful friendship bracelet. The project is all about to knot the colorful threads of Darice Embroidery Thread, making a lovely V-shape. Making of this chevron colorful friendship bracelet will demand a creative art of knotting only. crafts tutsplus
12. Easy DIY Macrame Friendship Bracelets
Bring your art of creative knotting to the next level by making this sublime item of jewelry, the friendship bracelet. Grab the hemp twine or bamboo cord and start transforming it into a cool bracelet by giving smart knots. Finish it up with the buttons and try it out with any color of yarn. Details here consumercrafts
13. How to Make a Friendship Bracelet
The yarn bracelets make a great choice when you are addicted to college fashion. They make sweet handmade gifts to style loving teens. So, do make these friendship bracelets to please your friends. Use a clipboard to hold colorful lengths of twine in place. Next, start giving them knots to make it. Finish with buttons. blitsy
14. 6 String 3 Color Friendship Bracelet Pattern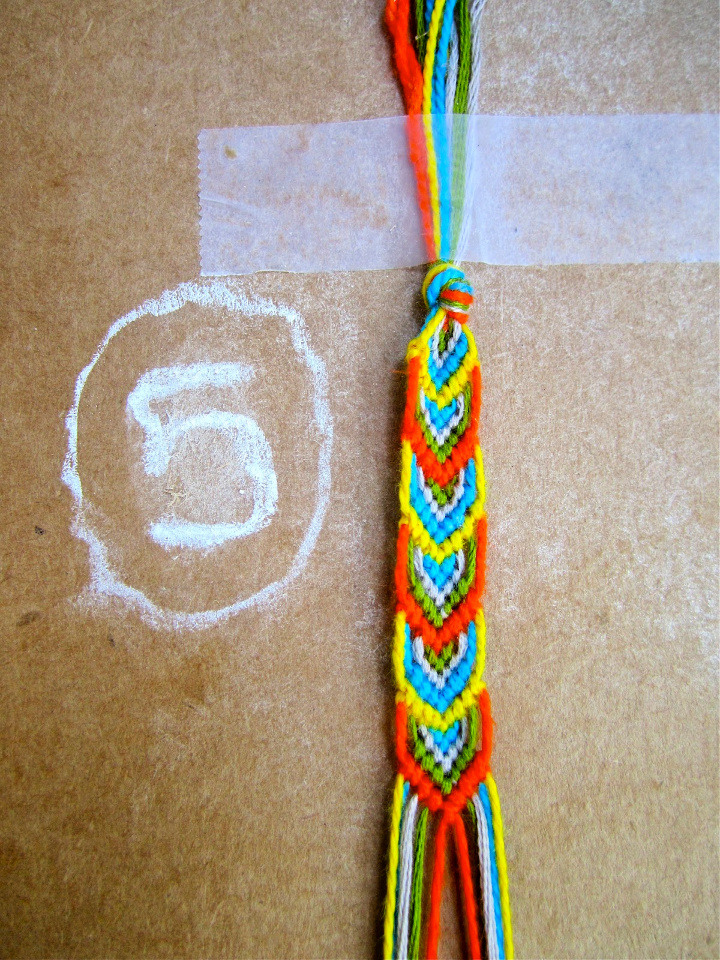 You will love making this friendship bracelet that appears in fabulous 3 colors of yarn. Start by taking almost 9 lengths of colorful yarn strands and knot them together, making this friendship bracelet. The knots look like the beads on the thread. The bracelet features an interesting design pattern. good things
15. Forward Knot and Chevron Bracelet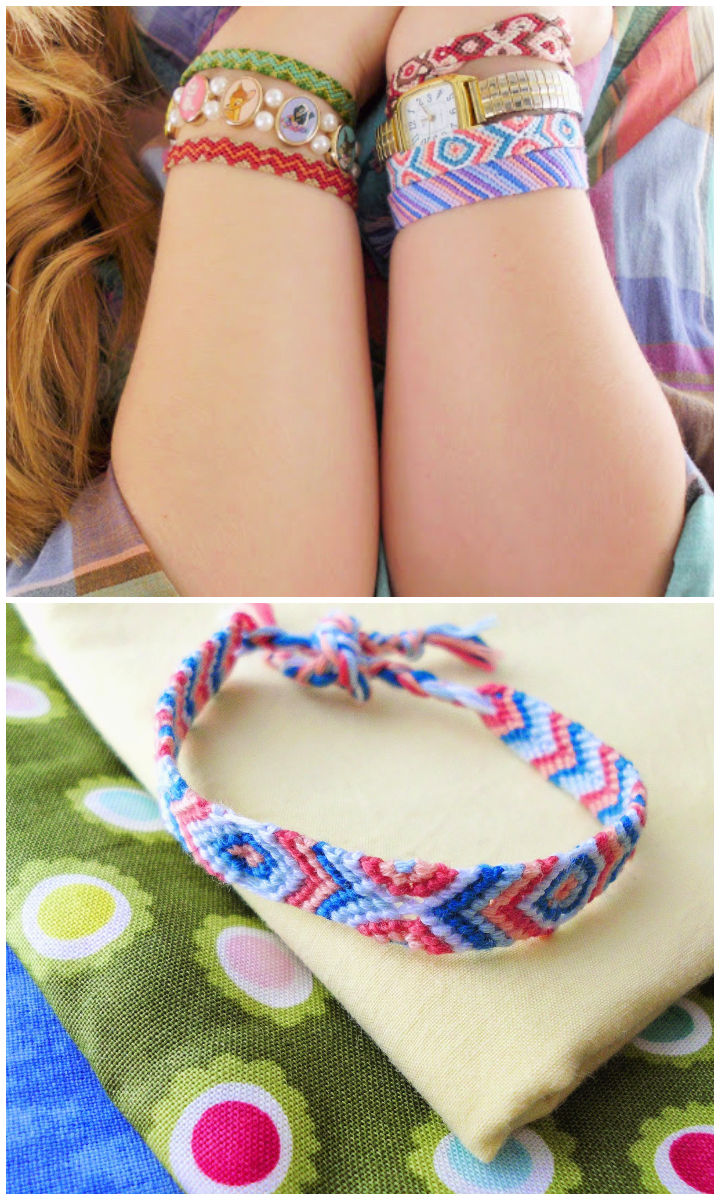 Before you start this bracelet project, learn how to forward knots. The chevron design pattern looks stunning while being around the wrist, and it all due to working in the forward knot. The V-stripes are the whole beauty of this homemade yarn bracelet, super gift-worthy. curiousandcatcat
16. Giant Friendship Bracelet Pattern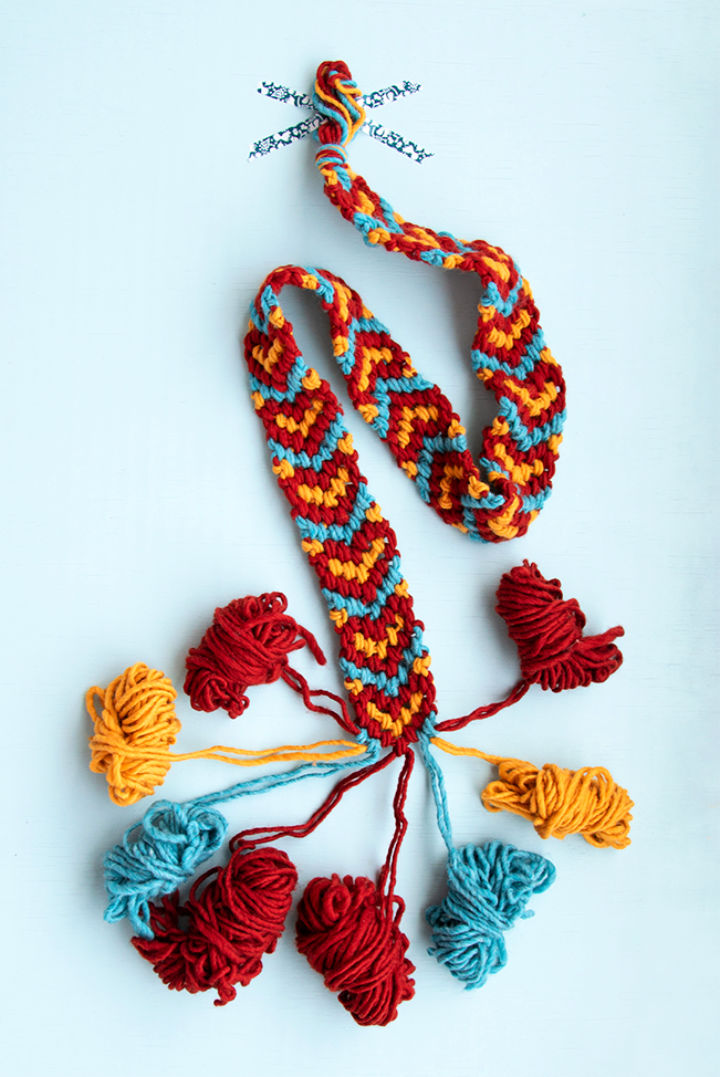 Take the bracelet making to the next level by making this giant friendship bracelet table runner. It will rock your thanksgiving party table and comes in a 4 1/2ft x 5ft size. Use different types of wool yarn to make this friendship bracelet table runner, will amaze anyone in the huge size. Details here handsoccupied
17. Homemade Macrame Spiral Bracelet
Get busy again with a clipboard, binder clips, and waxed cotton threads to make this spiral bracelet. Use your art of macrame-ing to whip up this beauty, the spiral bracelet. Must get this bracelet to please your friends and other beloved ones. A coolest handmade gift to craft in no time. craftifymylove
18. DIY String Friendship Bracelets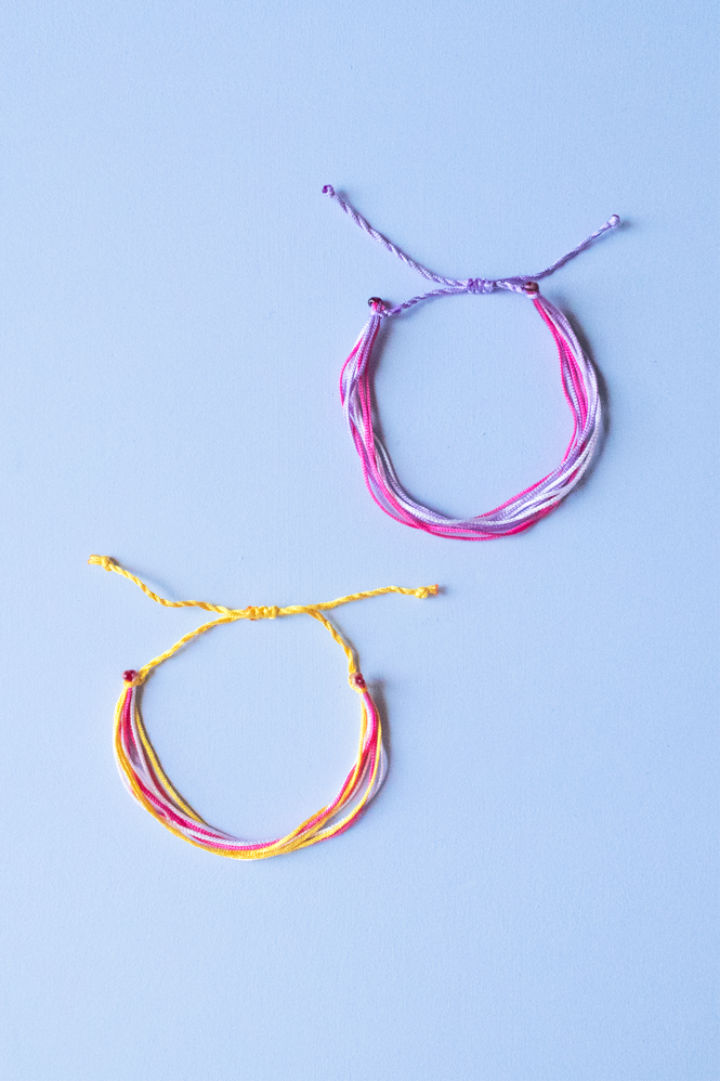 Willing to adorn your wrists with a few colorful yarn strands? Then these string friendship bracelets will make an ideal choice for you. Put together the different colored yarn in a loop style while giving smart knots, to whip up this string friendship bracelet. Details here curlymade
19. Ladder Stitch Friendship Bracelet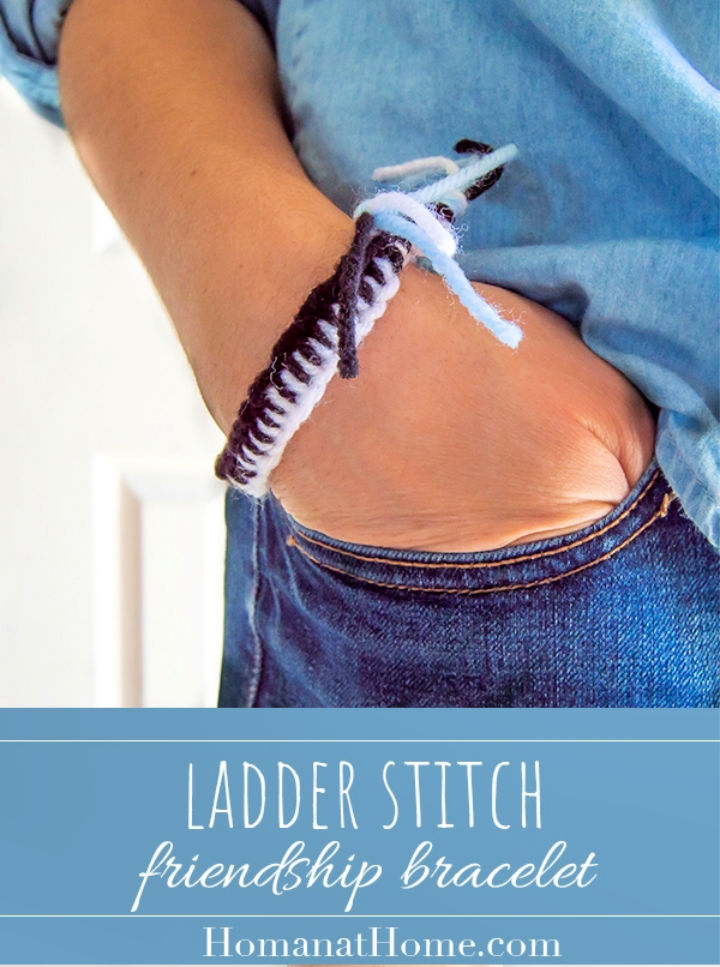 Let your art of knotting help boost your fashion incredibly. The idea is to knot the colorful yarn strands to make this friendship bracelet. The idea here is to work in the ladder stitch to craft this bracelet featuring an amazing design pattern. It comes in two colors of yarn. Details here homanathome
20. Letter Friendship Bracelet Pattern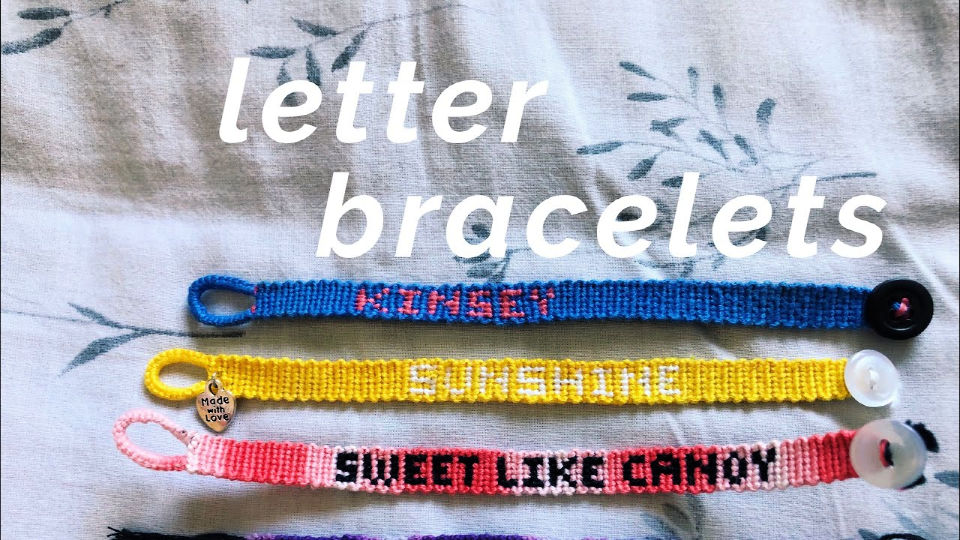 A great crafting achievement, the letter friendship bracelet, will speak for your friends' names too if given as a sweet handmade gift. Hold your yarn strands in place using tape or binder clips. Next, keep giving he knots until to make the bracelet displaying letters knotted in a different color of twine. youtube
Conclusion:
Looking at all these DIY Bracelet Making Projects will help you have lots of jewelry costs as most of these projects use inexpensive supplies. Moreover, these handmade bracelets can be your next most amazing DIY Crafting Projects to produce instant pleasing gifts for friends, family members, and lovely kids to give on different occasions. The best part is that you can play with your own yarn colors, charms, and other accents to personalize your own bracelet style.