In DIY jewelry making trends, the bracelets are the best craft project around. Make best-looking bracelets with these DIY Leather Bracelet Ideas that are based on some genius jewelry making hacks. These projects will discuss leather-made bracelets only as the leather bracelets are worldly popular. There are lots of outstanding designs to impress you with, and they come with lots of different embellishments too to make everyone say a big wow. Do prefer these wrist adornments if you to look stylish all the time. Explore this list of 15 Easy To Make DIY Leather Bracelet Ideas that will make sweet handmade gifts and will be a pleasure to make for the style lovers. From using a leather cord to twine to leather strips, one can use all to make gorgeous leather bracelets.
Put together the thick and braided leather cords to make a cool leather bracelet. Cut leaves out of green leather and sew them together to make a wrist bracelet. Get crafty with the leather and pewter to make a stylish bracelet and also get crafty with the leather suede to make a lovely DIY leather bracelet with tassel accent. Cut the faux leather to wrist cuff size and give a gold leaf treatment for making a posh looking bracelet.
Decorate your leather bracelets with custom decorative beads, custom metallic charms, and also with the Cricut decorative vinyl. Using rhinestones, crystals and beads will be another way to fancy up your DIY Bracelets more.
1. DIY Beaded Leather Bracelet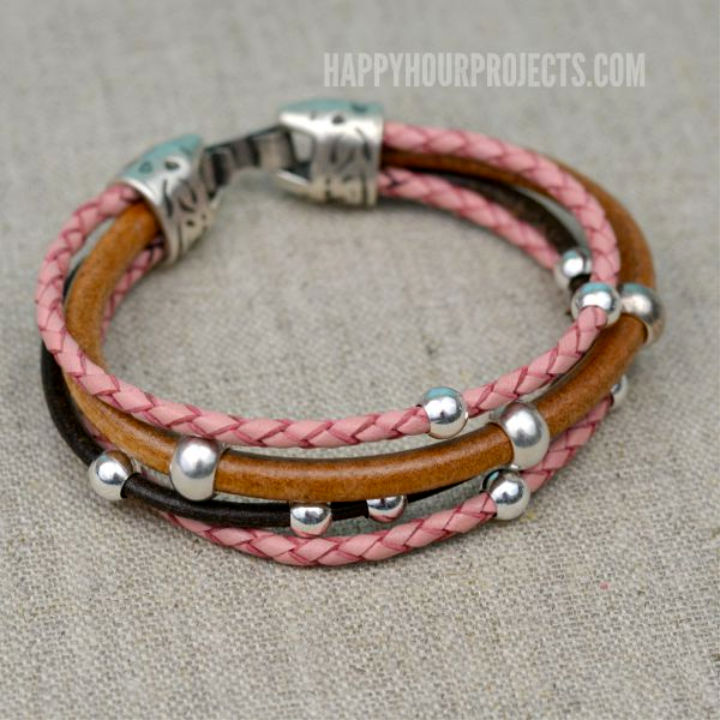 You will love making this beaded leather bracelet that is amazingly beautiful and will instantly grace up your wrist. Grab the 14″ of 3mm pink braided leather, 7″ of 5mm brown leather 7″ of 5mm distressed brown leather to make the base of the bracelet. Next, just drop the 3mm and 5mm silver beads on to the bracelets for some cool effects. happyhourprojects
2. Leather Leaf Bracelet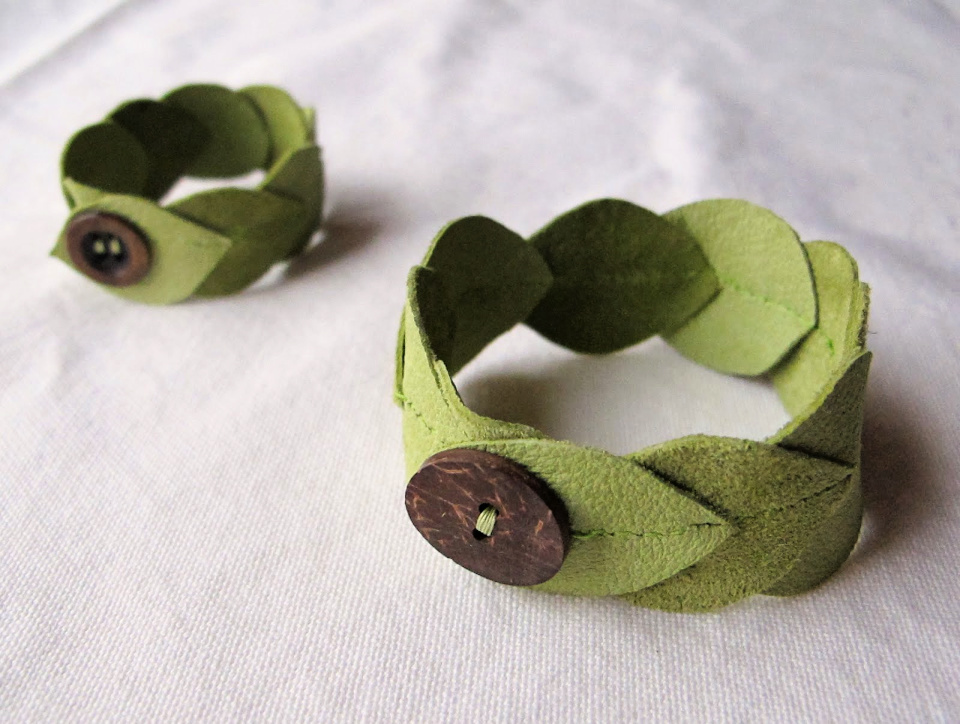 Fold the green leather and cut out lovely leaves out, sew them together, and cut short to a length that will fit best around your wrist. Next, finish your green leaf bracelet with a button, and that's it. Here these leaves looking just amazingly beautiful and cute. Details here mayamade
3. Layers Of Leather + Pewter Bracelet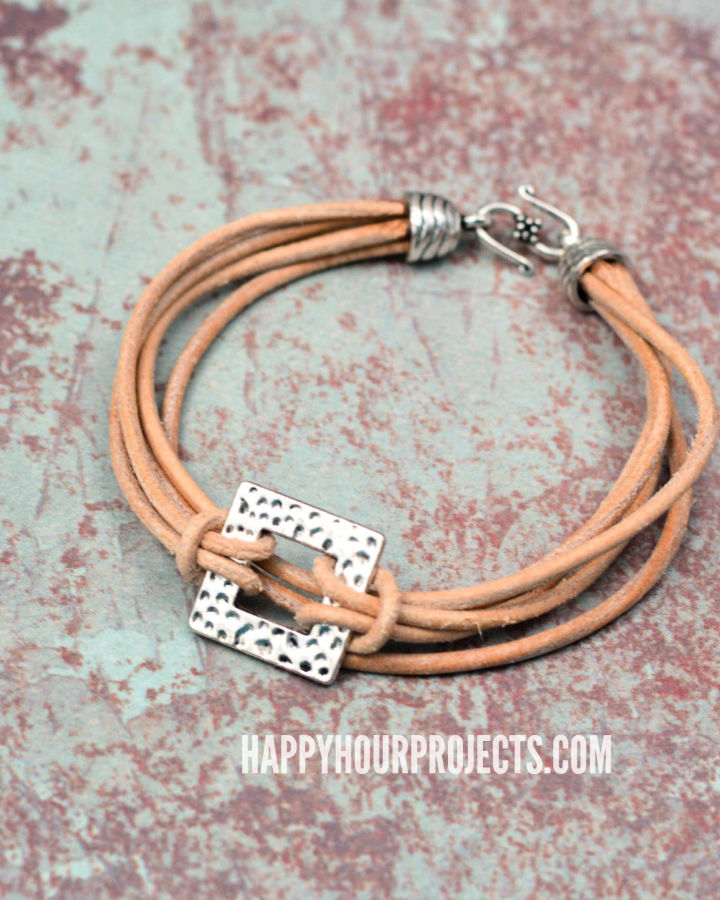 Make this bracelet using leather and pewter, will be the best accent to wrap around your wrist. Grab 32″ of 2mm natural leather cord and 2 pieces of 11mm pewter end caps with bails and an 18mm square pewter connector with a 20mm pewter hook to make these layers of the leather bracelet. Details here happyhourprojects
4. Handmade Leather Tassel Bracelet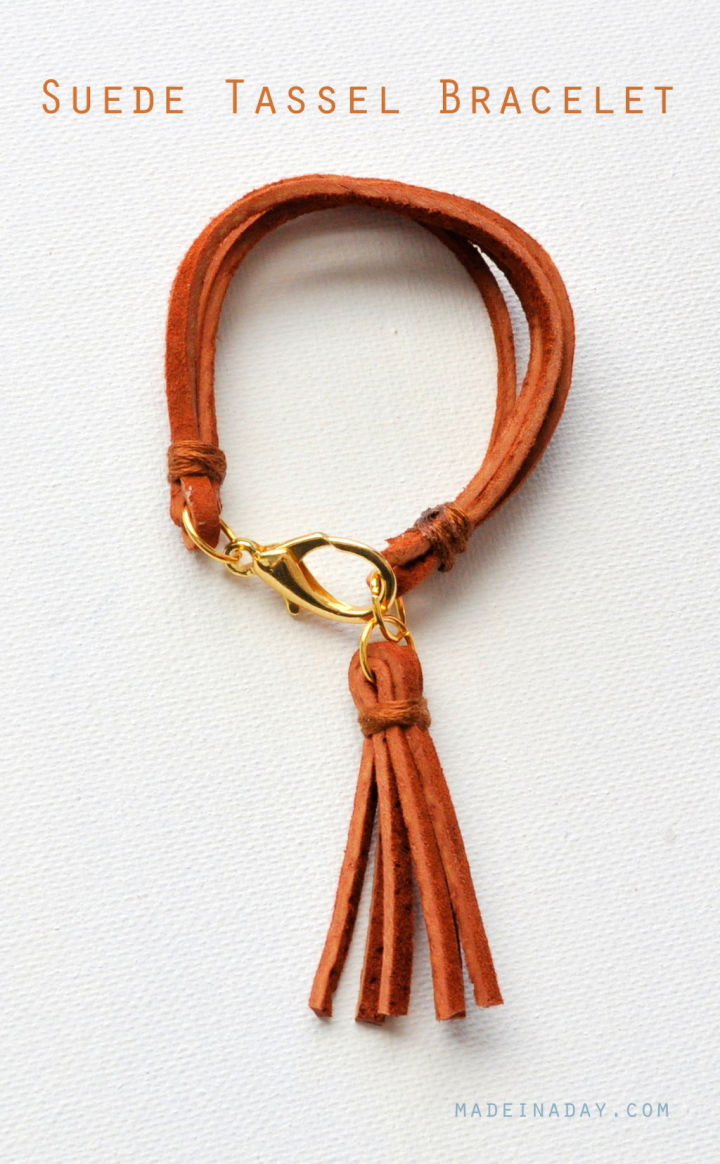 This leather tassel bracelet will get ten out of ten from fashion lovers. Grab the medium brown leather suede lace, 4 jump rings of 7mm size, gold lobster clasp, embroidery string, and glue to make this handmade leather tassel bracelet. Put together the leather cord lengths as a loop to make a leather bracelet and then add it up with a leather tassel accent. madeinaday
5. Gold-accented Leather Bracelet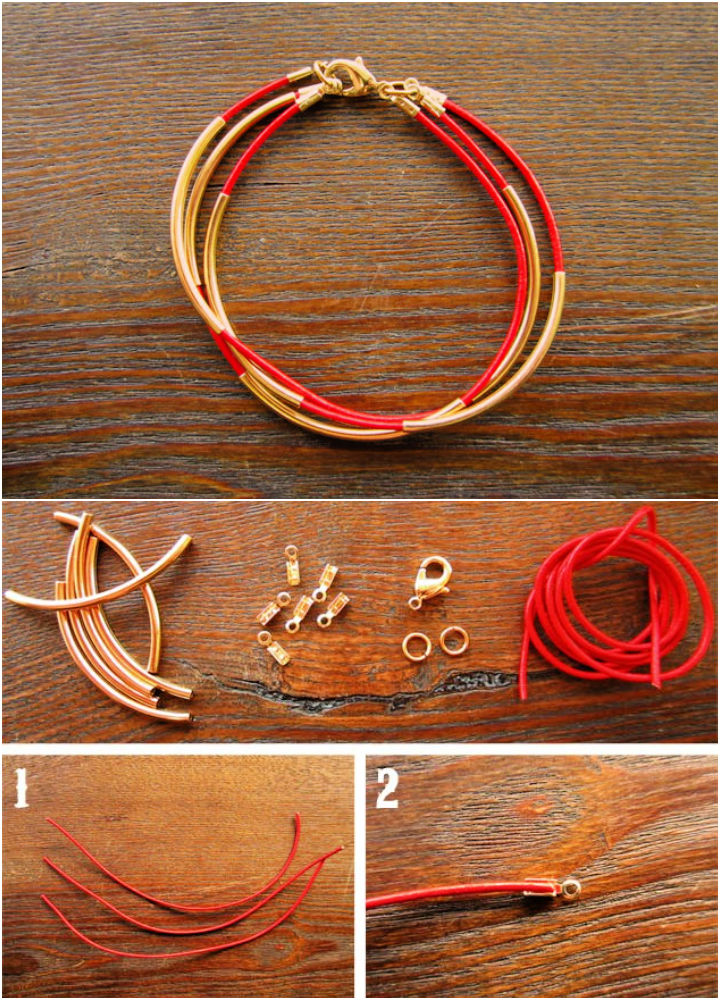 This bracelet is fairly easy to make but will make you go for bigger fashion statements. You need 6 curved tubes, 6 1mm crimp ends, 2 jump rings, 1 clasp, and 1mm leather to make this gold-accented leather bracelet. The gold touch makes this bracelet look appearing damn cool. Details here legendarybeads
6. How to Make a Leather Cuff Bracelet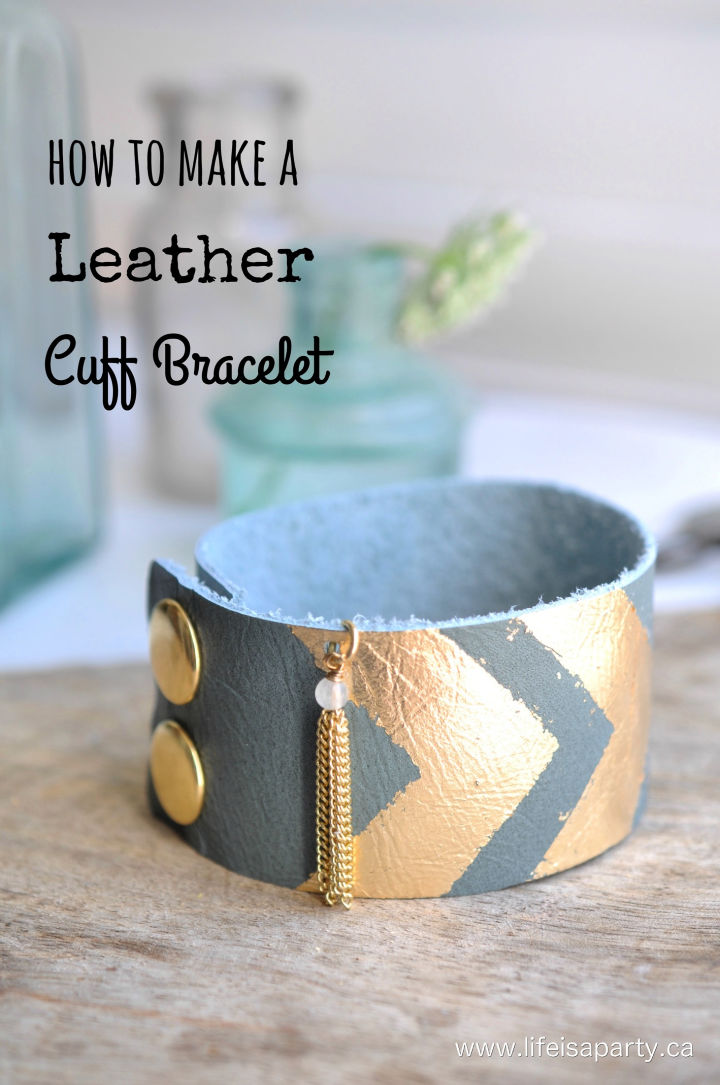 The easiest but super stylish bracelet to make at home, the leather cuff bracelet. Grab a piece of leather, punch out holes in the leather to add snaps. Next, bring a golden chevron appeal to it using a gold leaf and just finish it up with a tassel charm. One of the cutest cuff bracelets to make at home. lifeisaparty
7. 3 Styles Of Leather Bracelets for Guys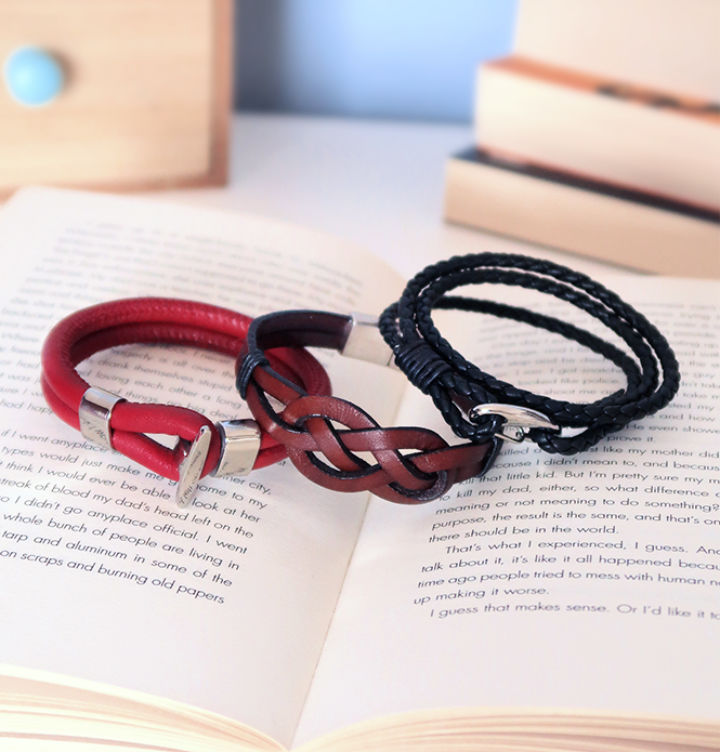 Win the heart of your hubby or boyfriend by making any of 3 styles of leather bracelets. They will make a man look cool and are darn easy to make. Here you need a leather cord, Nappa cord, epoxy glue, and matching stainless steel lobster clasps to make these leather bracelets will make a cute handmade gift for guys in the home. Details here curlymade
8. Three DIY Leather Bracelets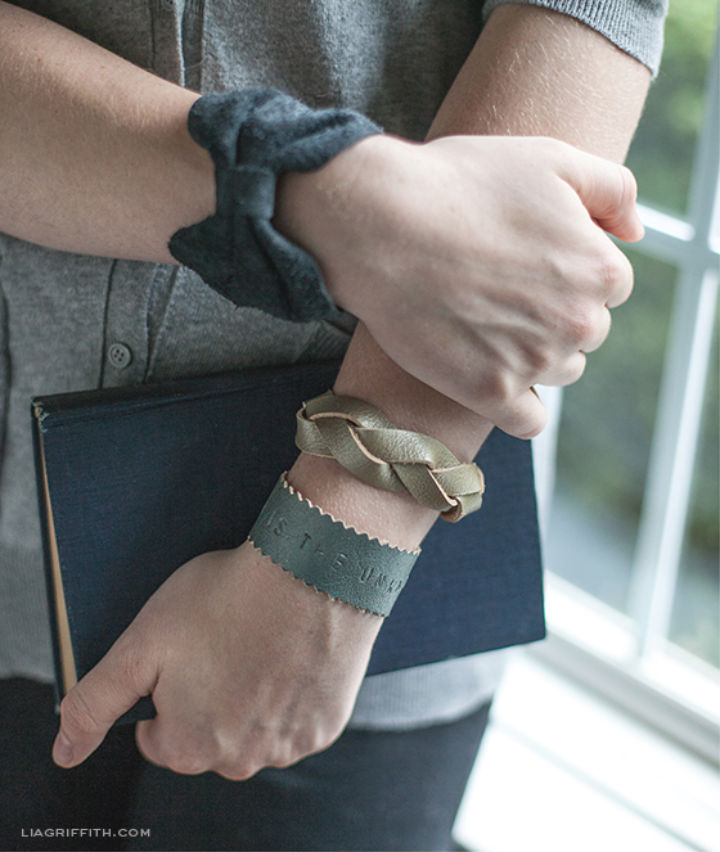 Both men and women can enchant the audience by wearing any of these leather bracelets that are looking amazingly beautiful. Just braid the leather strips together to make a leather bracelet and also stamp the leather ribbon for custom name letters to make a name letter bracelet. Details here liagriffith
9. Easy and Creative Leather Bracelets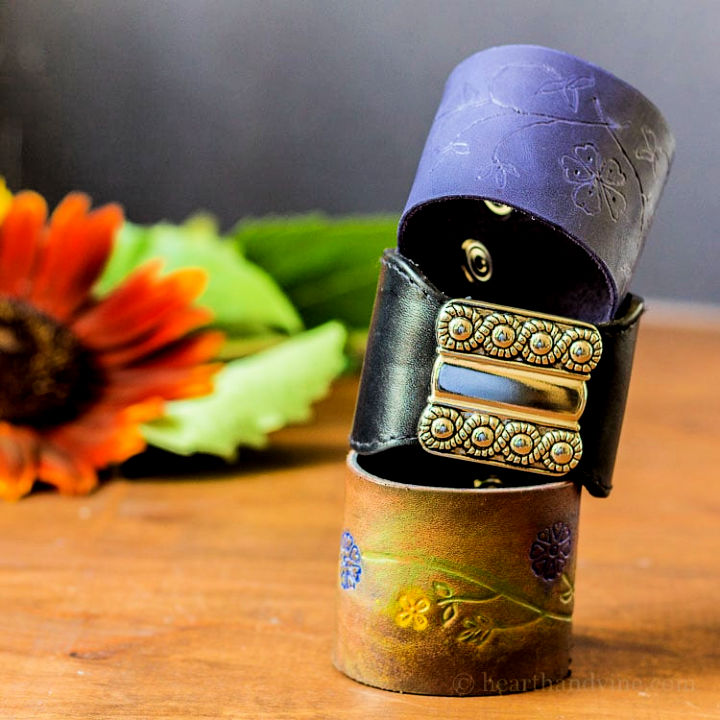 This leather bracelet impresses with lovely metallic sections is looking just amazingly cute. Just cut the leather to a bracelet size, paint the leather and then finish with snaps. Add a metal accent in the center for more amazing visual appeal. This bracelet will make an instant pleasing gift. Details here hearthandvine
10. Rainbow Beaded Leather Bracelet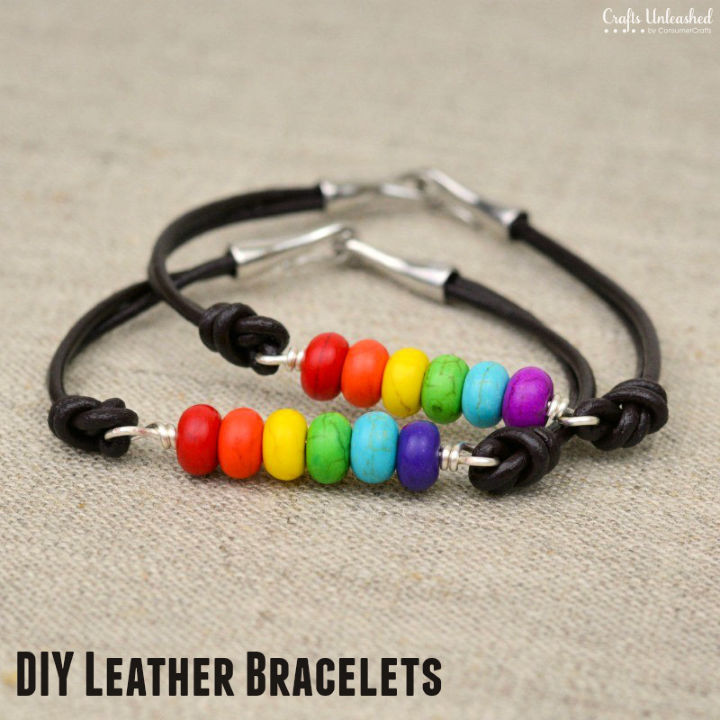 Making this rainbow beaded leather bracelet will be darn easy, and it will make you go for a precious style statement. Thread the colorful stone rondelle beads onto the 18-gauge silver plated wire and make accent beaded strands to make these beaded leather bracelets. Make the rest of the bracelets using a 2mm leather cord. Details here consumercrafts
11. Five Minute Leather Bracelet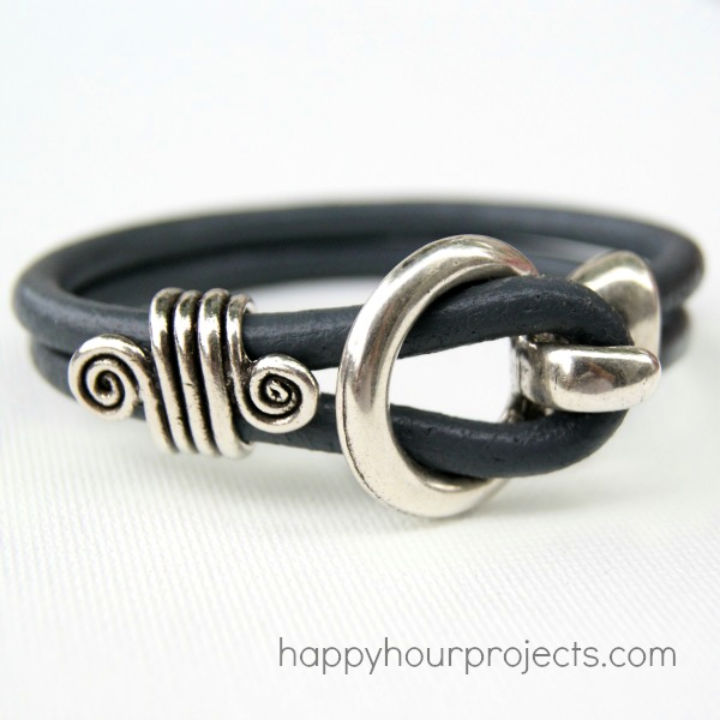 Making this bracelet requires only 5-minutes or less. A best last 5-minute gift idea. Grab 15-16 inches of 5mm round leather, round clasp, accent bead, and jewelry glue to make this leather bracelet will surely impress at a very first look. Finish this bracelet with an accent bead and with a clasp. Details here happyhourprojects
12. Hand Stamped Leather Bracelets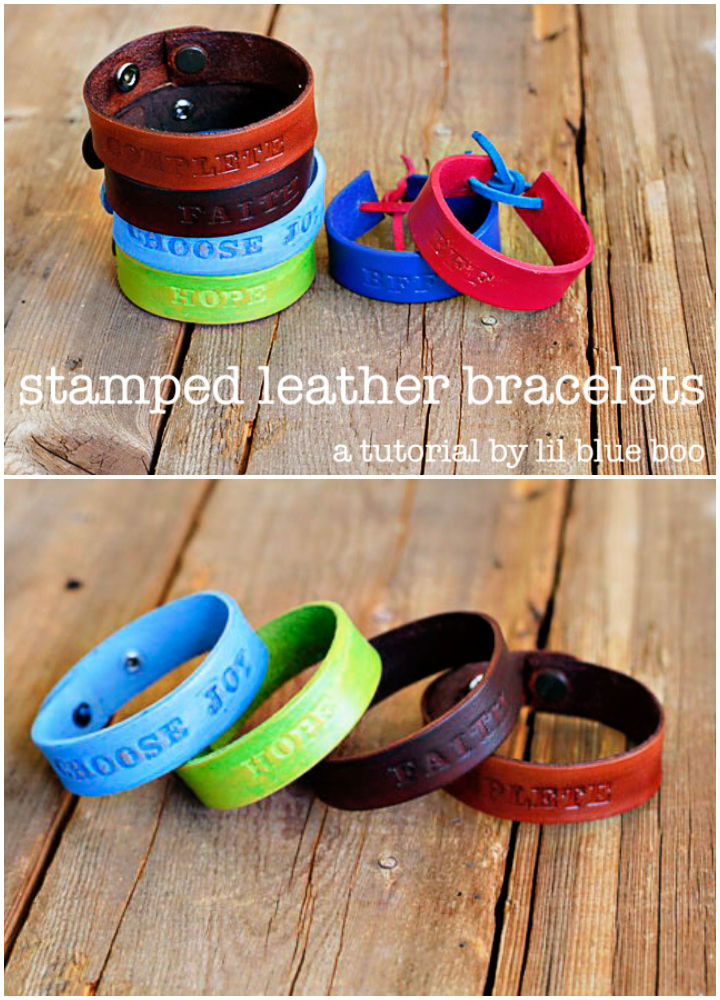 These name letter bracelets will make a gorgeous handmade gift and are quite simple to make. Grab the leather bracelets with steel buttons snaps. Next, stamp letters on them using an alphabet stamp kit. You will also need a sponge and mallet to make this stamped leather bracelet. Details here lilblueboo
13. Bracelets Using Leather and Your Cricut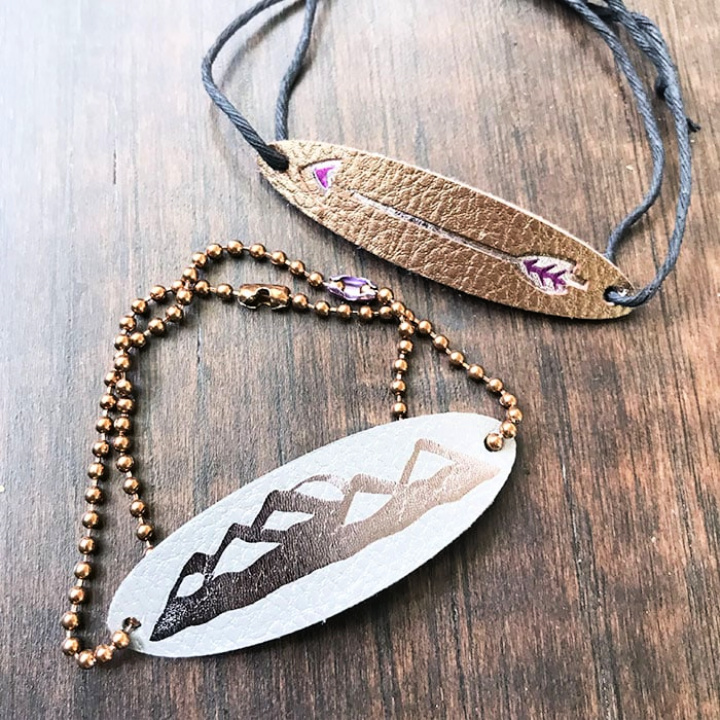 You will love this bracelet making hack that involves using the Cricut machine to make a cool bracelet. Cut out the custom leather shapes out of faux leather and punch holes in its sides to add the cord or twine. Next, transfer your Cricut vinyl art on the leather buckles of bracelets. Details here 100directions
14. Leather Wrap Bracelet Pattern
This one is looking the most beautiful in all given friendship bracelet patterns! Make this fine-looking leather wrap bracelets using 2mm, and 1mm leather cords will surely impress at a very first look. Next, you need little beads that can be incorporated into a leather cord bracelet as enchanting accents. This leather wrap bracelet will make a lovely handmade gift to a special friend. lebenslustiger
15. Turquoise Rhinestone Wrapped Bracelet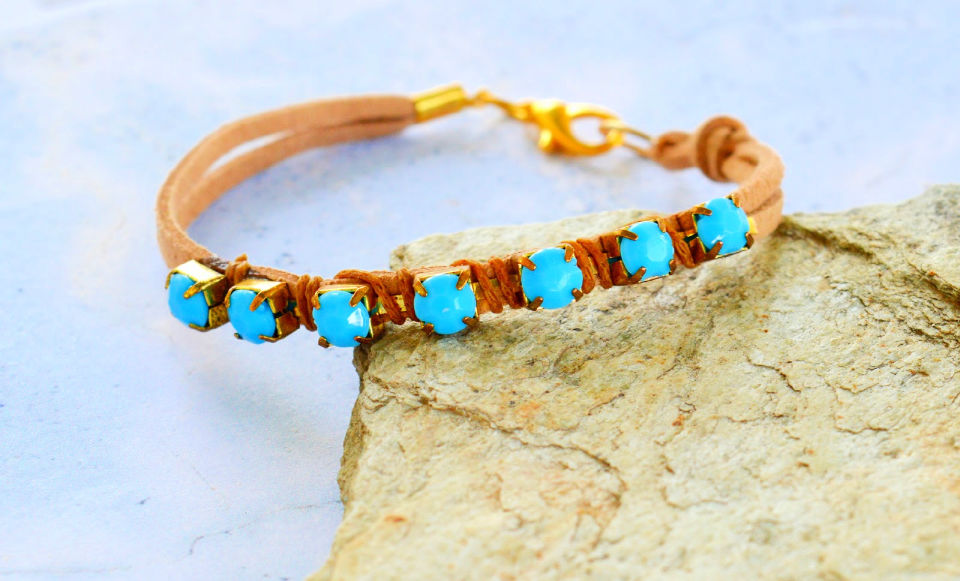 One of the phenomenal leather bracelets ever crocheted, the turquoise rhinestone wrapped bracelet. You need turquoise rhinestone cup chain, suede cord, 2 jump rings, and 1 cord crimp-ending, waxed cord, and a lobster clasp to make this lovely wrapped bracelet. Details here happygirlycrafty
Conclusion:
Making these bracelets will be big fun. This will surely enhance your crafting vision. Moreover, making your bracelets at home will save lots of your jewelry expenses. They will also make the best handmade gifts for friends and other jewelry wearers at home. Finally, they are the best way to reuse those leather scraps at home.