Friendship is that one constant in life that makes everything look a little less worrying than it originally is! For these gem of the persons in your life, you can make these friendship bracelets and give it to them as a token of your love or appreciation! Little things always make the most room. And while these friendship bracelet patterns are pretty little to work up, they can certainly convey your message well! We have rounded up below these lovely 50 easy to make friendship bracelet patterns for you to explore and choose from. And, as with even Valentine's day upon us, you can even make these little tokens of love for your friends to show your love on coming friendship day 2020. Or better, make them for your partner and celebrate your love for each other's friendship too!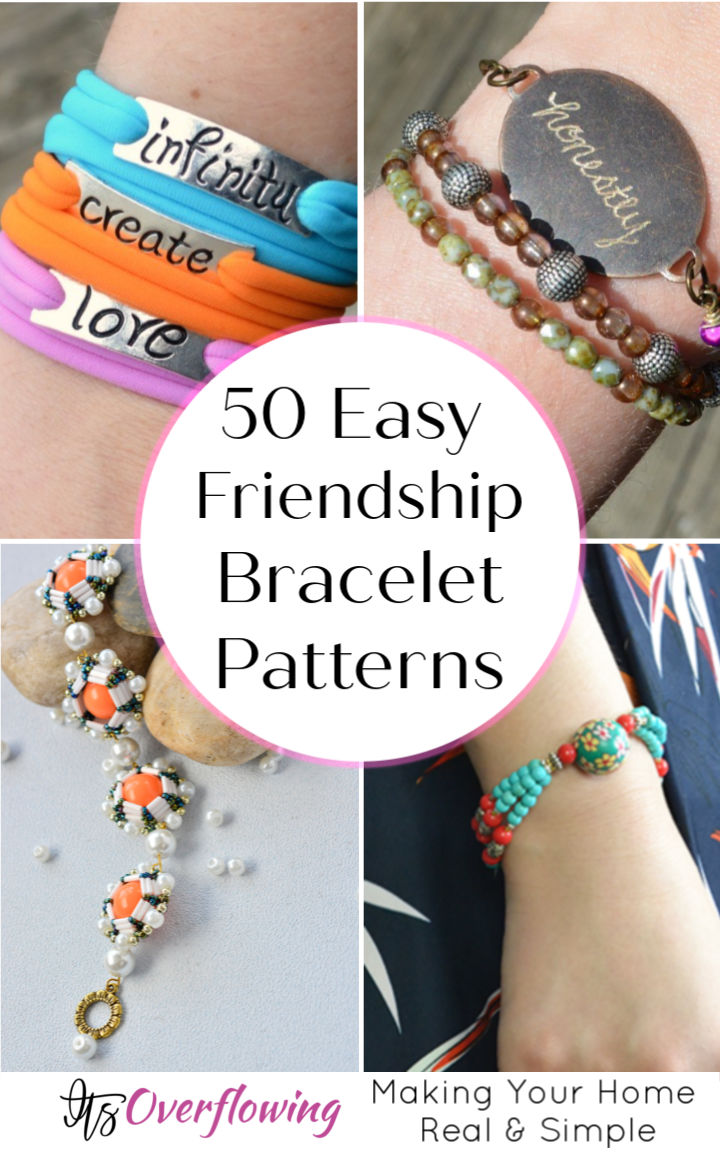 Within these bracelet tutorials, you can find many exciting ways to quench your thirst for a very crafty DIYing endeavor! From simple word beads to an enchanting collection of hand engraving or metal stamping, there are quite a lot of exciting ideas for you to choose and try below! If you would rather want something simple, you can find that too.
Like our ideal leather bracelet that also has a secret pocket. Get creative with papers, beads, zippers, or pearls! There is literally a fountain of mind-blowing and creative ideas falling down below! All you have to do is choose your favorite design. Gather your craft supplies, even empty your textile scrap drawers and start working on some darn cute friendship bracelet patterns!
1. Stacking Lycra Wrap Bracelets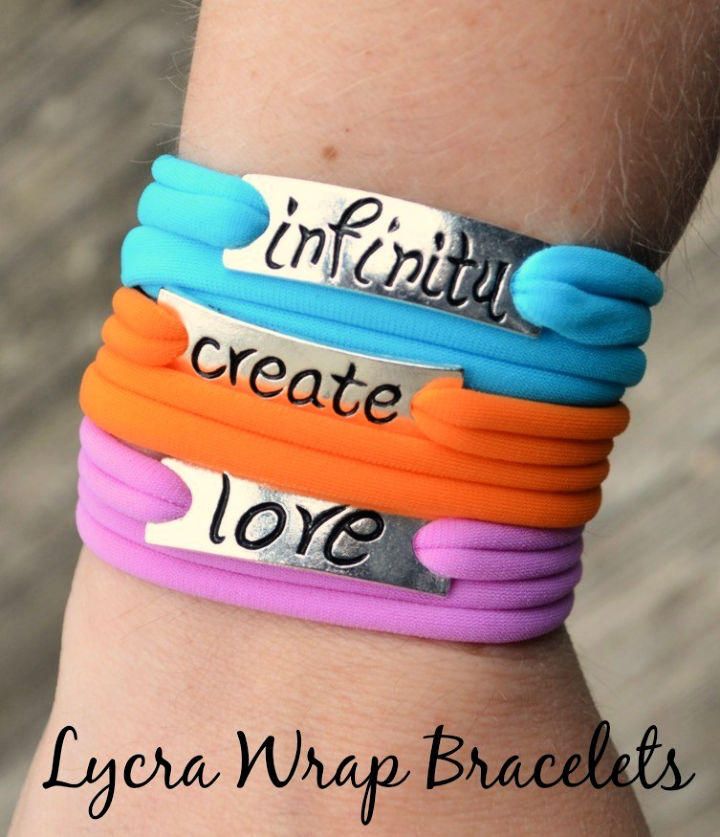 Who doesn't adore getting a friendship bracelet or flaunting one together with your girls? These Lyra stacking Lyra wrap bracelets are just a 2-minute make! All you need is a Lyra cord in your favorite colors, word beads, and scissors. amylattacreat
2. How to Make a Essential Oil Diffuser Bracelet
Learn how to make friendship bracelets while your simple bracelet can already bring such warmth and love to fill someone's heart, think how much can a DIY essential oil diffuser can do? These essential oil scents are known to be quick healers! Make one for your friend here. helloglow
3. Easy Leather Cuff Bracelets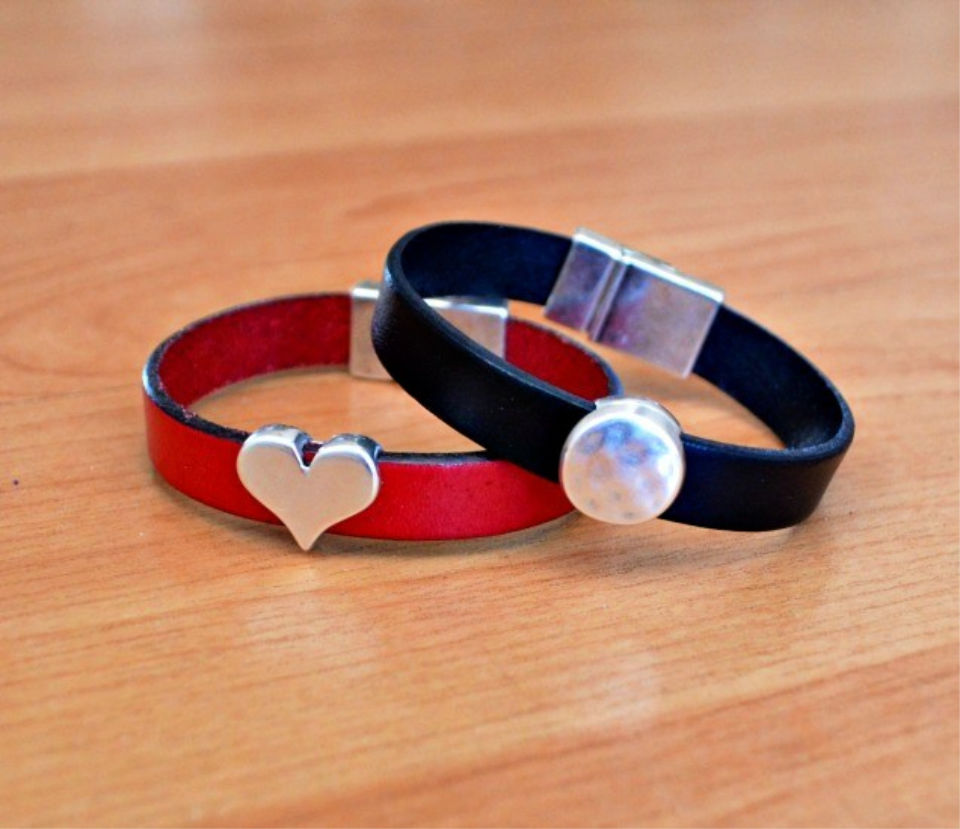 Sure, you can find a lot of friendship bracelet patterns on the internet, but nothing beats an easy one! Easy yet super stylish to look at. Check out these easy leather cuff bracelets. Go twinning with your bestie! All you need is about 8" of flat leather, slider, magnetic clasp, jewelry glue, and scissors. amylattacrea
4. DIY Word Bead Bracelet
It is always the little words that make the most room in a person's heart! Why not make your friend's day by giving them this darling friendship bracelet pattern featuring word beads? Use upholstery cord as the base of the bracelet. Hit the tutorial for details. consumercrafts
5. Ribbon Wrap Friendship Bracelet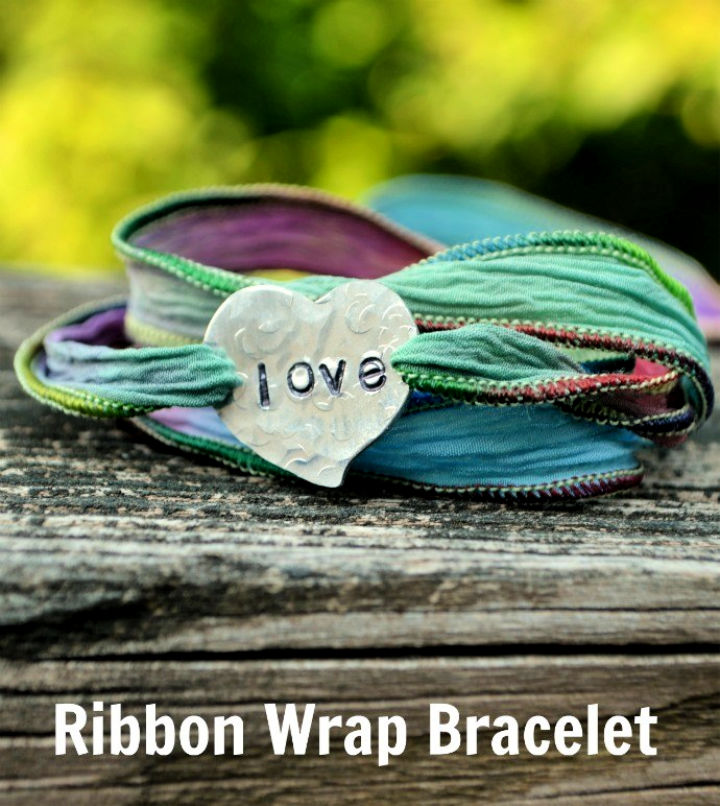 No matter how old your friendship is, little love gestures never hurt! Check out this ribbon wrap bracelet for your girls and make these little delights as a token of love. These ones that you see here are made up of these uber pretty silk ribbons! amylattacrea
6. DIY Scrap Bracelet – Gift Idea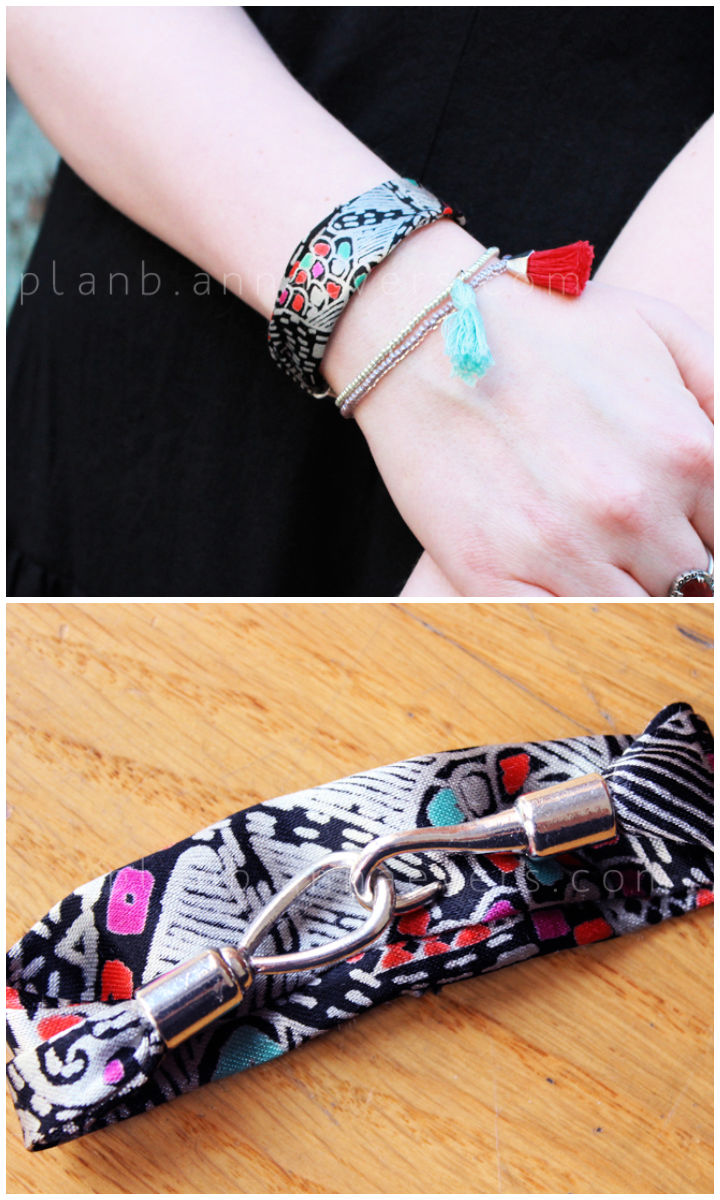 Who doesn't love keeping this secret drawer full of textile scraps? Almost everyone. So, with this tutorial, you can learn one great way to transform those textile scraps into a lovely friendship bracelet. All of this with some textile glue, scraps, scissors, and tube hooks. annaevers
7. Metal Stamped Bangle Bracelet
How about we take the friendship bracelet patterns to a whole new level? What do you feel about "metal stamping," we love the idea! You just need a steel stamping block, metal stamping hammer, alphabet stamp set, and a few more supplies. amylattacrea
8. Boho Chic Stacking Bangle Watch
Bangle watches are quite the fashion statement now! They give this such a chic look and can go with any casual outfit. This Boho-chic watch uses just a few supplies including, a silver bangle set, embroidery floss, leather tassels, and black ribbon watch faces. creativefashion
9. Hand Engraved Bracelet – Free Pattern
We bet you can't disagree that these friendship bracelet patterns just keep getting excited! Just like this one here, a hand-engraved bracelet. Ideally crafty and perfect for trying your hands on. Get the list of special tools for this lovely surprise from the tutorial. amylattacrea
10. Leather Cuff with Secret Pocket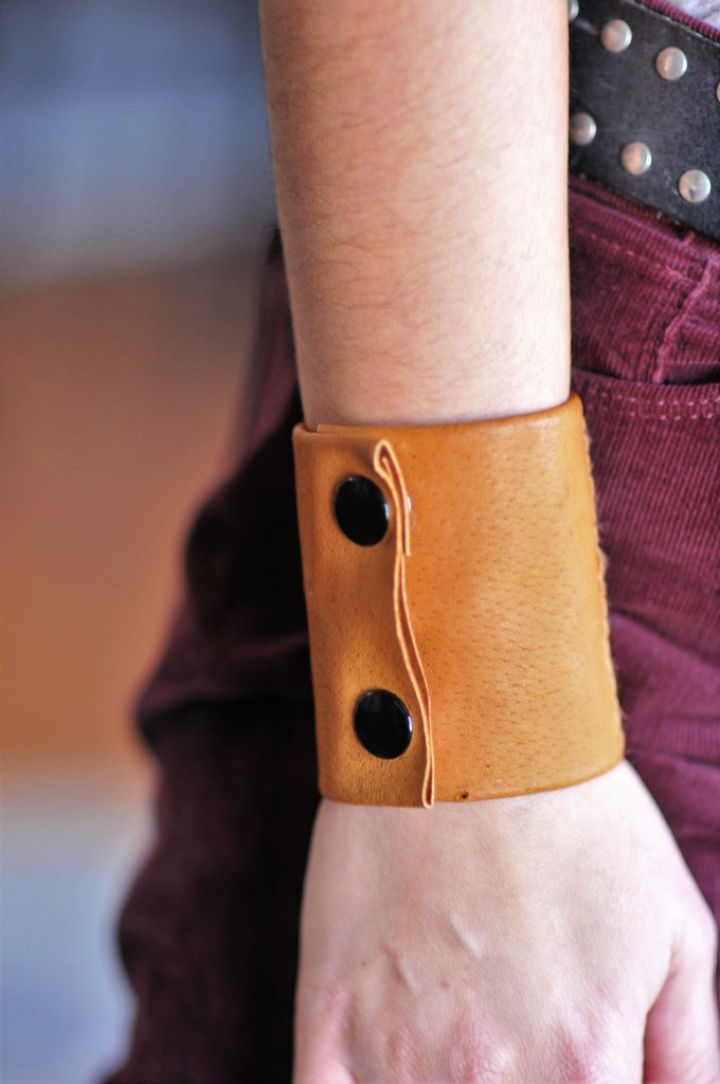 This one might remind you of the old fashion trends! But, leather never really gets out of style. This subtle leather cuff also has this secret pocket, which can make an ideal gift for a friend who likes to keep track of their steps! You will need a thin piece of leather, 2 metal snaps fasteners and thread and needle. kikucorner
11. Embroidery Rose Bangle Bracelets
These embroidery rose bangle bracelets are the best design to make for you and your best friends and match! The bright color only adds to its intricacy! All you need is Blue Seed Beads, Golden Seed Beads, a golden bangle, some lemon Chiffon Felt and needle, and some household arts and craft apparatus. lc.pandahall
12. Friendship Paper Bracelets
It is always a good idea to express your love to your best friends by making handmade bracelets for them! This Friendship Paper bracelet looks timeless, giving a very rustic look. All you need is some printed paper, some wire, and washi tape! How easy and quick is this creation! journeycreativity
13. Simple Agate Beaded Suede Cord Bracelet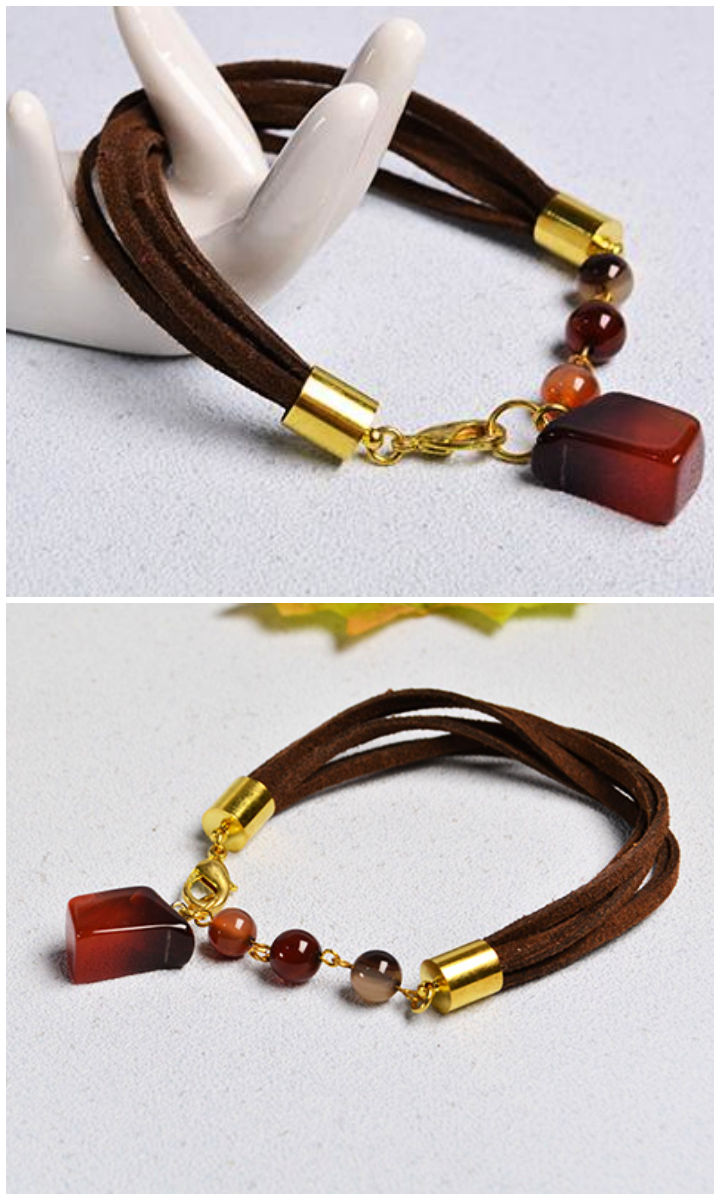 This simple agate beaded suede cord bracelet is the best bracelet design for you to DIY for you and your friends! Agate beads have always been in trend and come in various designs and colors for you to make into a bracelet! All you need is some agate beads, some wire, and a clamp to join it all together! pandahall
14. Handmade Fabric Bracelets
These handmade fabric bracelets are the best handmade gift you can give your friends! All you need is some fabric, poster paints, a brush, and a wooden bracelet! The best thing about these bracelets is that you can customize it and have a unique and different bracelet for everyone else! journeycreativity
15. Ombre Cord Curved Bar Friendship Bracelet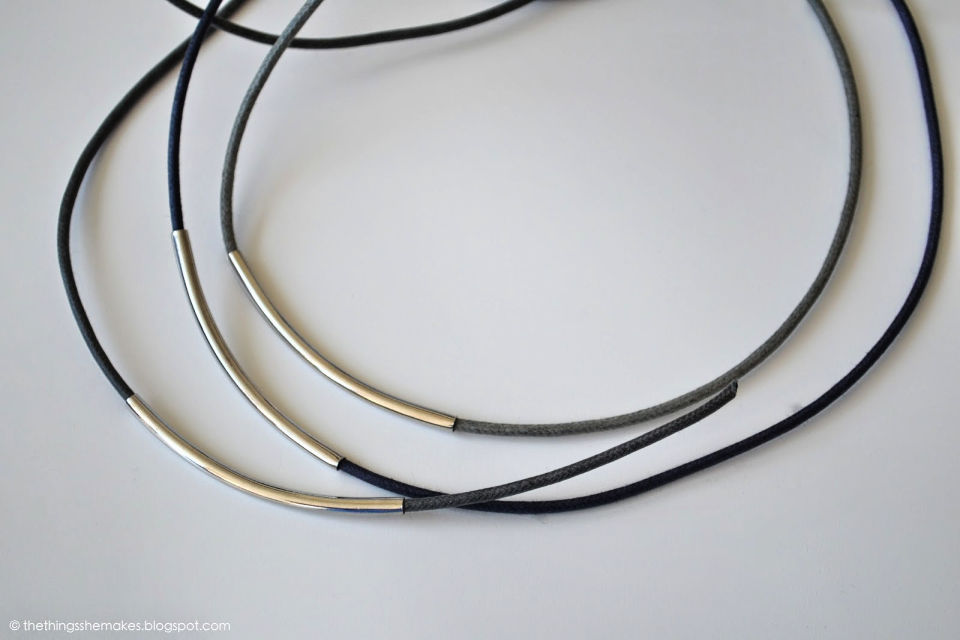 Check out these lovely cord friendship bracelet patterns, it can be your group's next very own matching bracelet! All you need is a cord thread, jewelry pliers, and a glue gun! Moreover, the unique ombre design will add a touch of uniqueness. The bracelets stand out! You can go for an ombre pastel blue or pink! thethingsshe
16. Charming Multi-strand Beaded Ethnic Bracelet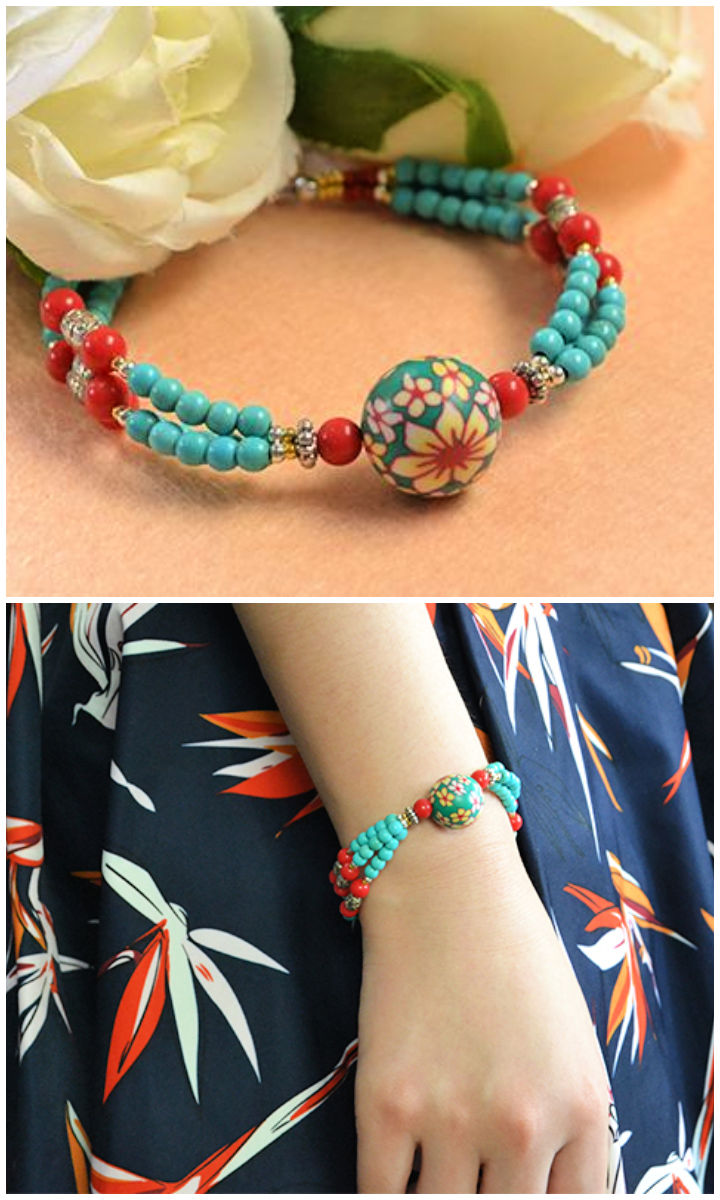 These charming multi-strand beaded Ethnic bracelet will indeed add charm to you and your squads' next matching bracelets! Try to DIY this multi-strand beaded bracelet! It sure is a very intricate task, but in the end, it will make your creation visibly stand out !incorporate different colored beads to create an even more illuminating effect! pandahall
17. Zipper Friendship Bracelet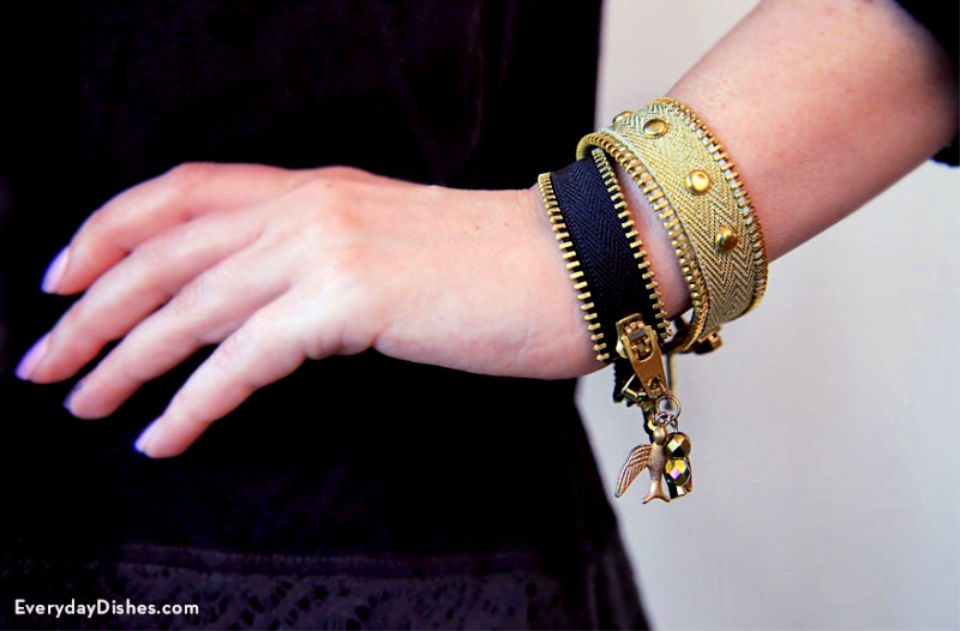 This zipper Friendship Bracelet is out of the box design you can add to your collection of bracelets! This very funky design requires a zipper, the length of your wrist, and some glue gun and voila! A very new and cool designed bracelet for you and your friends to flaunt on is ready! You can further customize it by drawing designs on it! everydaydishes
18. How to Make a Woven Findings Bracelet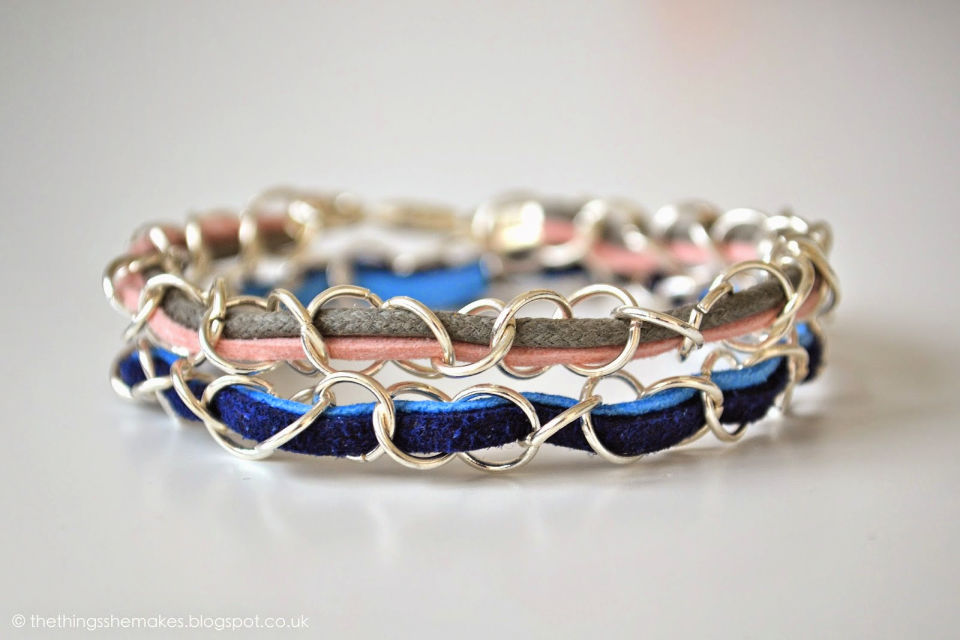 According to the length of your wrist, attach the bracelet clamps. Use some muted suede cords in the same length and pass them through the clamps until the length of the entire is bracelet is covered. Add stoppers to secure the ends of the brackets and clamp them to secure the ends together. thethingsshe
19. DIY Metal Stamped Pearl Bracelet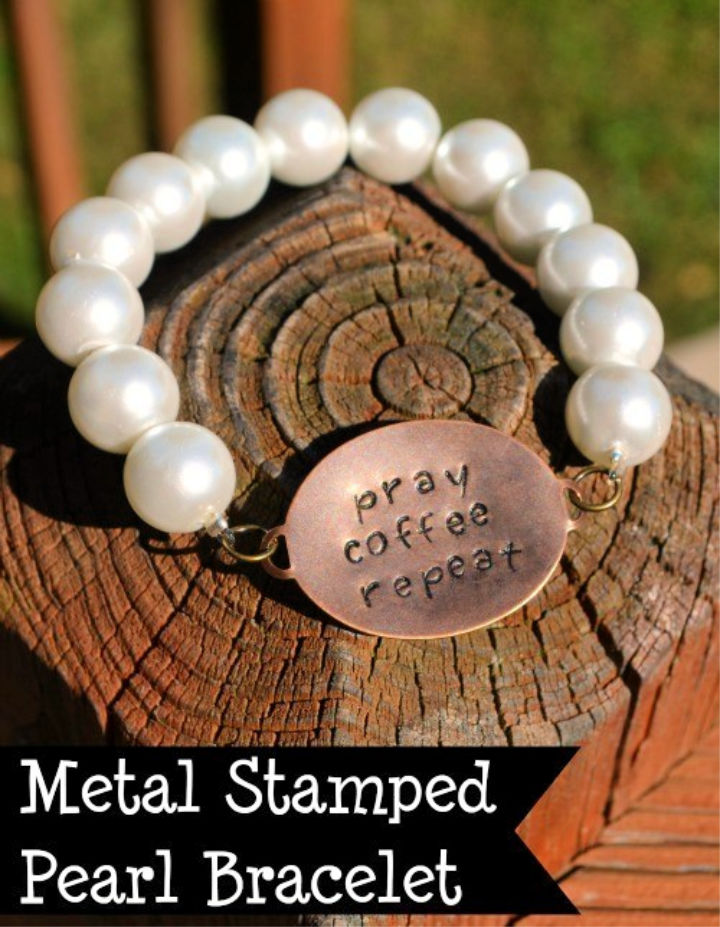 This DIY metal stamped pearl bracelet is the best design to try if you and your friends want something very personalized carved onto your DIY bracelets! This is a very sweet and sentimental design to try and requires a wire, some pearl beads, and a customized metal stamp of your liking! amylattacrea
20. Beaded Two in One Necklace & Bracelet
This beaded two in one necklace and bracelet is the best design to try if you love layers! This necklace & bracelet is the perfect example of intricacy combined with elegancy! All you need is elastic, beads, and wire! You can choose beads appealing to your preferred color scheme! sisoo
21. Unique Beading Ball Friendship Bracelet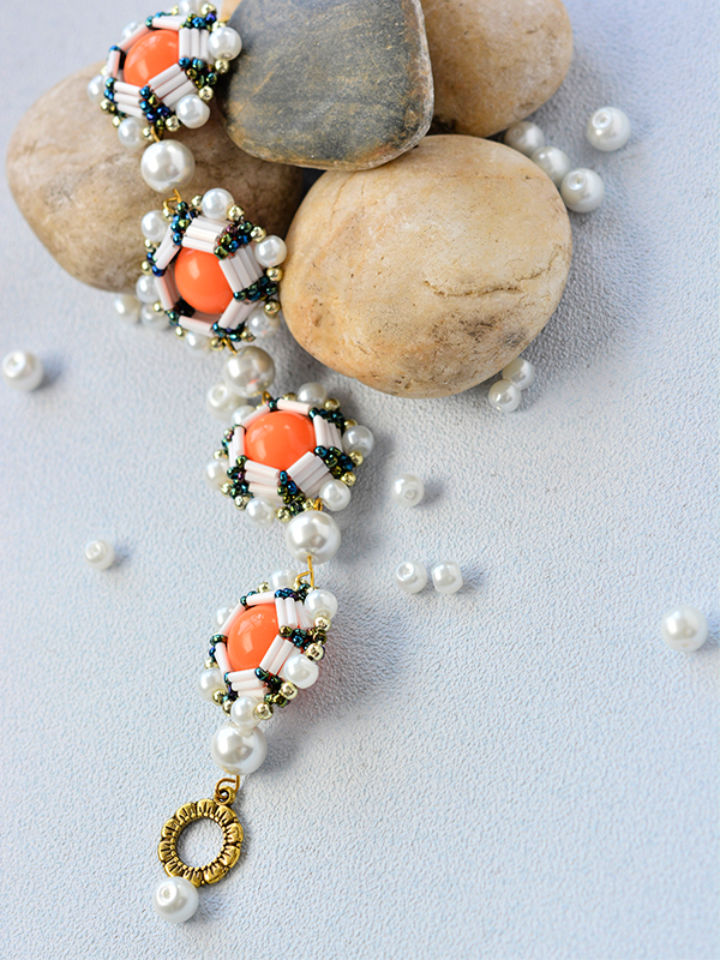 How to make a friendship bracelet easily? Every friendship is certainly unique in its own way! So celebrate it by handmaking this unique beading ball friendship bracelet by yourself! All you need is some pearl beads, wire, and the arts and crafts supply kit! pandahall
22. DIY Fitbit Leather Cuff Bracelet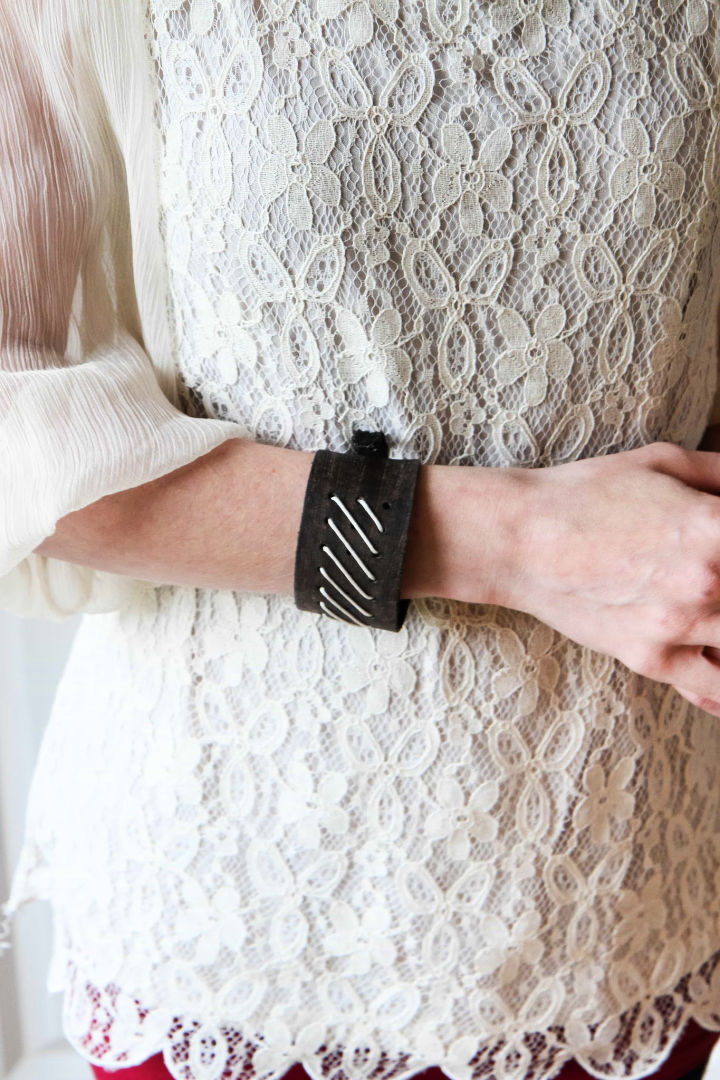 It is always a good idea to protect and simultaneously customize your electrical gadgets! This DIY fitbit Leather Cuff Bracelet made of fabric is the perfect design to elevate your Fitbit device. Adding a little funk to both the gadget and your overall attire! momadvice
23. Up-cycled Denim Bracelet
Up-cycle your old denim jacket or jeans into a very sturdy rustic looking bracelet! Get the best of both worlds and customize your creation even further by painting several or specific colors on your bracelet to fully customize it! amylattacrea
24. Tassel Friendship Bracelet Pattern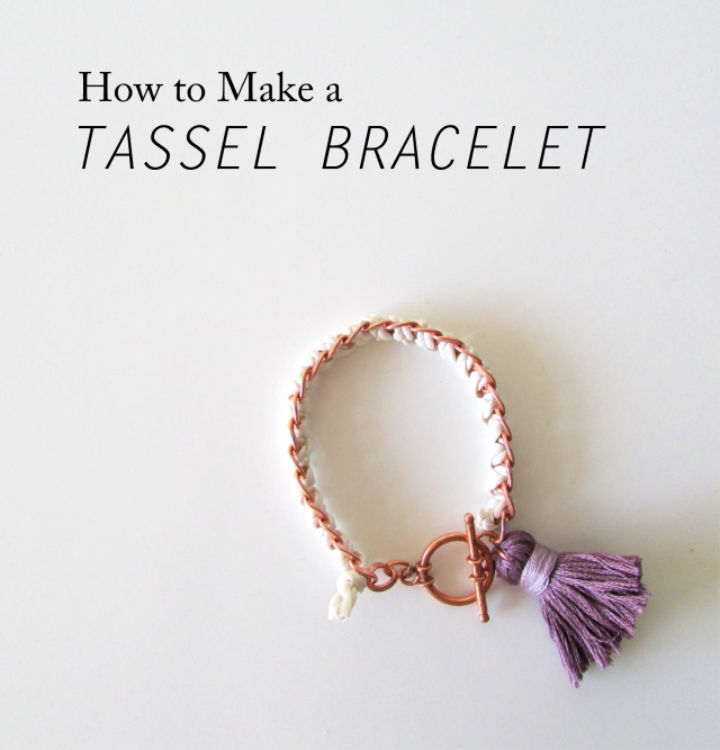 This tassel friendship bracelet pattern is the best design for you to try! Requiring wool, scissors, and the usual arts and craft materials, this design is straightforward to accomplish!  Flaunt the end result together with you and your friends! francoisetmoi
25. Metallic Flowers Bangle Bracelet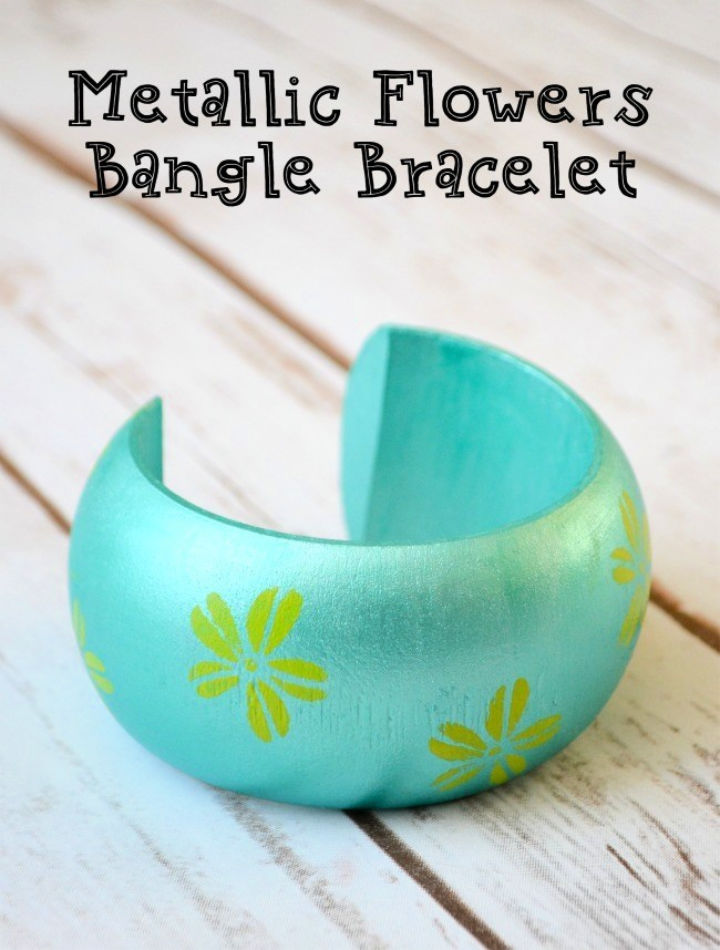 Add a little funk try something different by crafting this metallic flowers bangle bracelet for you and your friends! Celebrate your long-lasting friendship by custom, making this design for you and your friends! The flower will only add to the beauty of the bracelet! amylattacrea
26. Classic Chevron Friendship Bracelet Pattern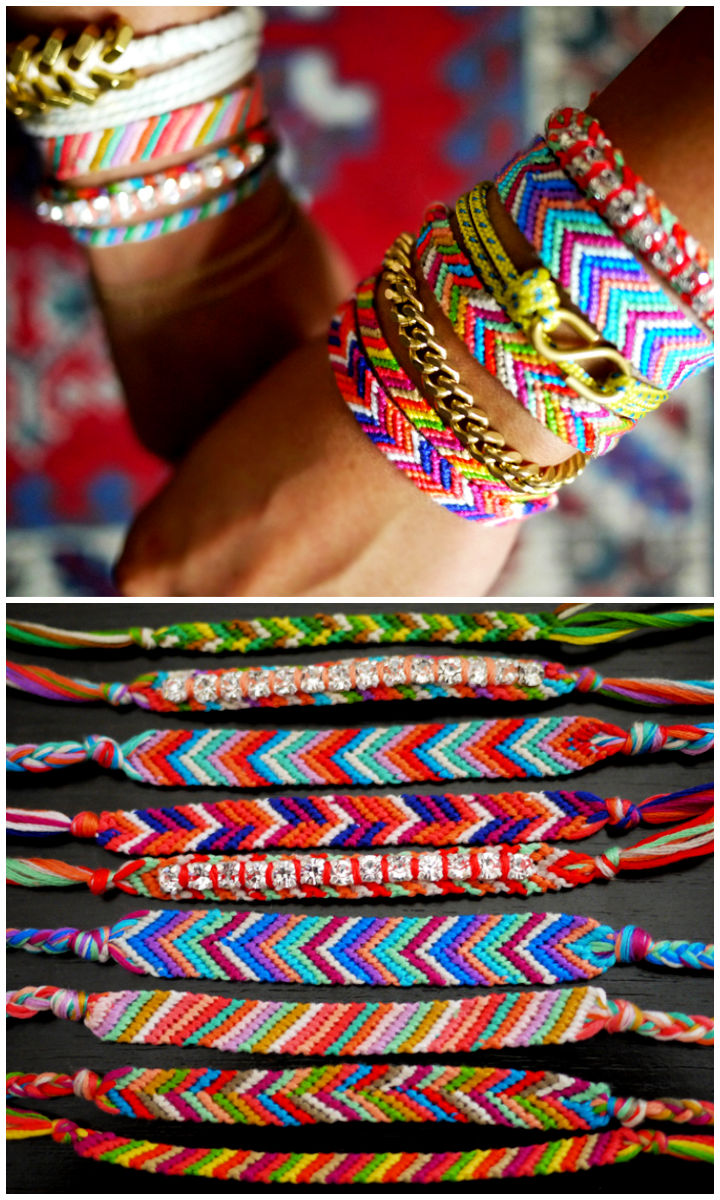 Who doesn't like a timelessly designed bracelet? If you and your friends gravitate towards the timeless and ever so classic bracelet designs, these classic Chevron friendship bracelet patterns is the perfect design for you to try! This design only requires some embroidery thread and scissors! honestlywtf
27. Braided Thread and Rhinestone Bracelets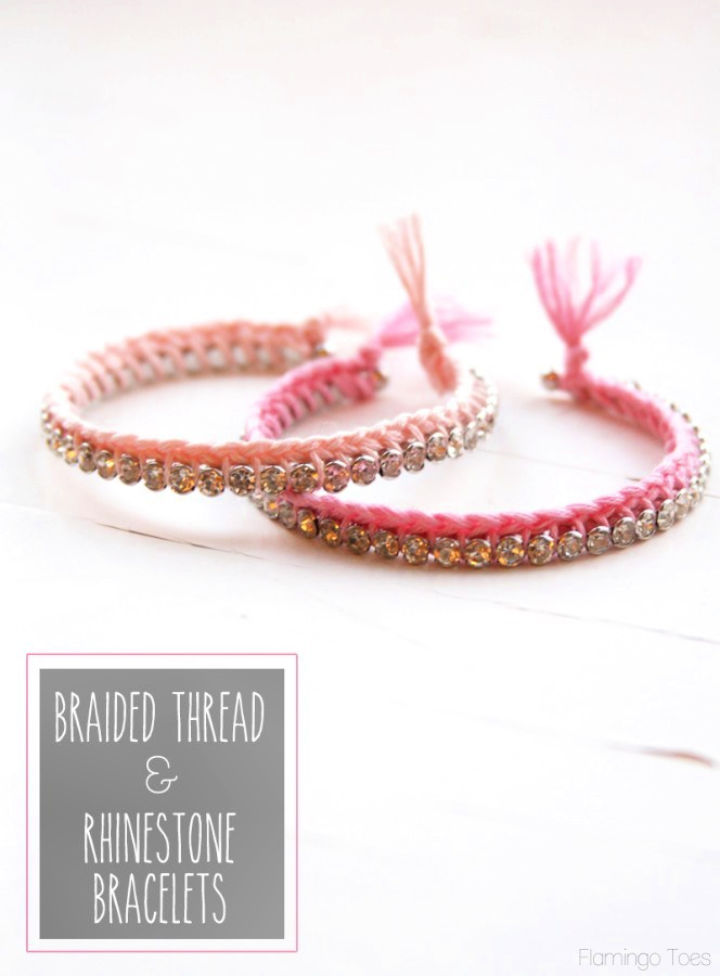 This Braided Thread and Rhinestone Bracelets is the best design to craft if you have a keen interest in braided patterns! You will need some yarn, bracelet, and scissors to accomplish this design. You can customize this design by choosing yarn of your own liking! flamingotoes
28. Easy Friendship Bracelets Macrame Pattern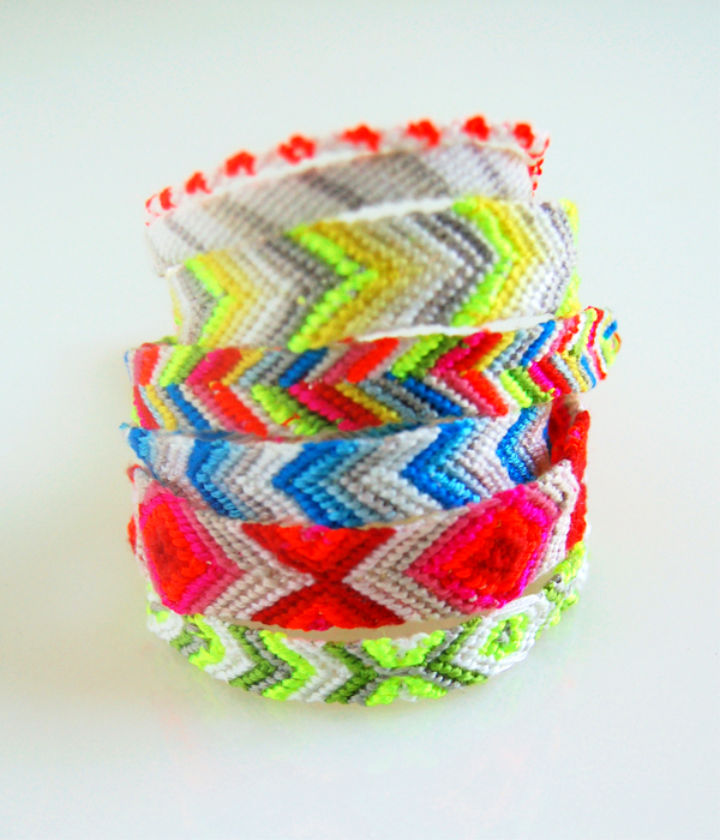 Macrame patterns are always fun to try out! Thus this easy friendship bracelets macrame pattern is the next best design you can DIY for you and your best friends to wear and flaunt publically! purlsoho
29. DIY Heart Friendship Bracelet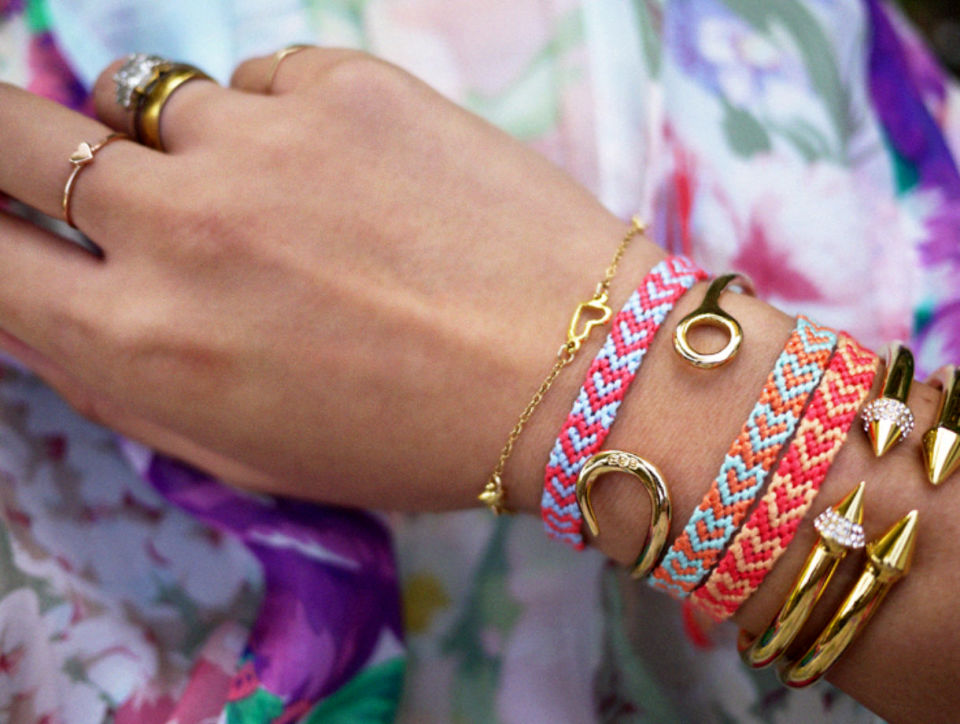 A heart signifies love! So Embrace it and celebrate it by hand making this DIY heart friendship bracelet! All you need is two different colors of embroidered floss. Some tape and some scissors! Customize this bracelet to your own liking by using different colored embroidered floss for the bracelet! honestlywtf
30. Handmade Multi-strand Bracelet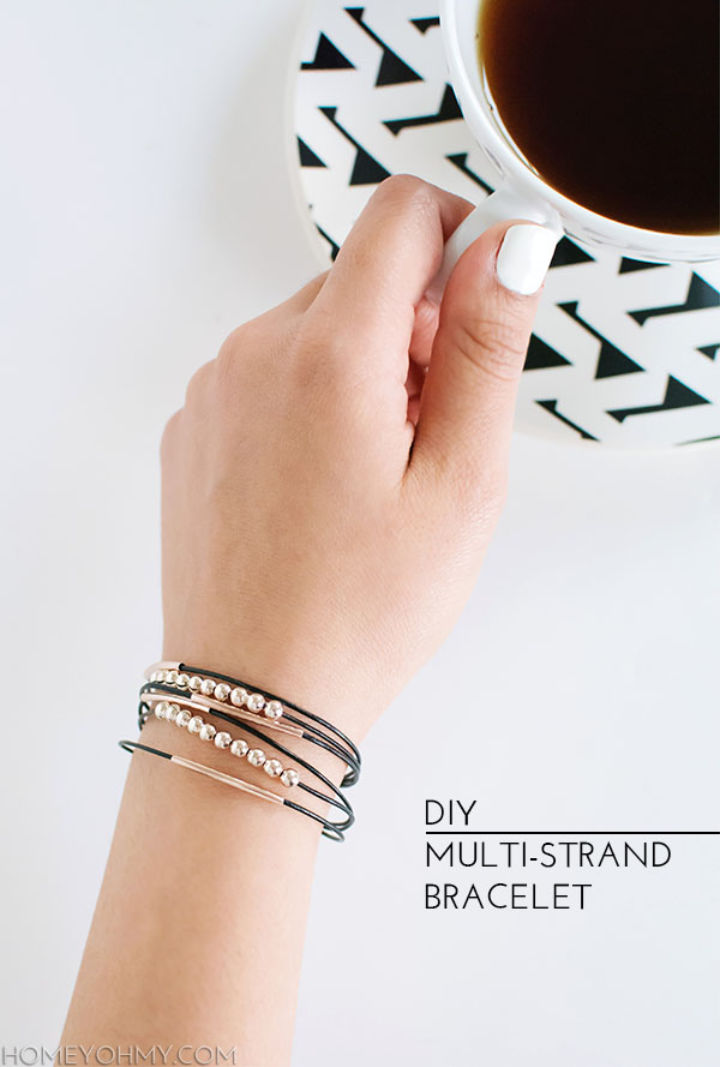 This handmade multi-strand Bracelet is an exquisite design for you to try out and make for your friends as well! All you need is –round leather lace, needle nose pliers, metal beads, Mod Podge, and a whole lot of love! homeyohmy
31. Easy Button Friendship Bracelets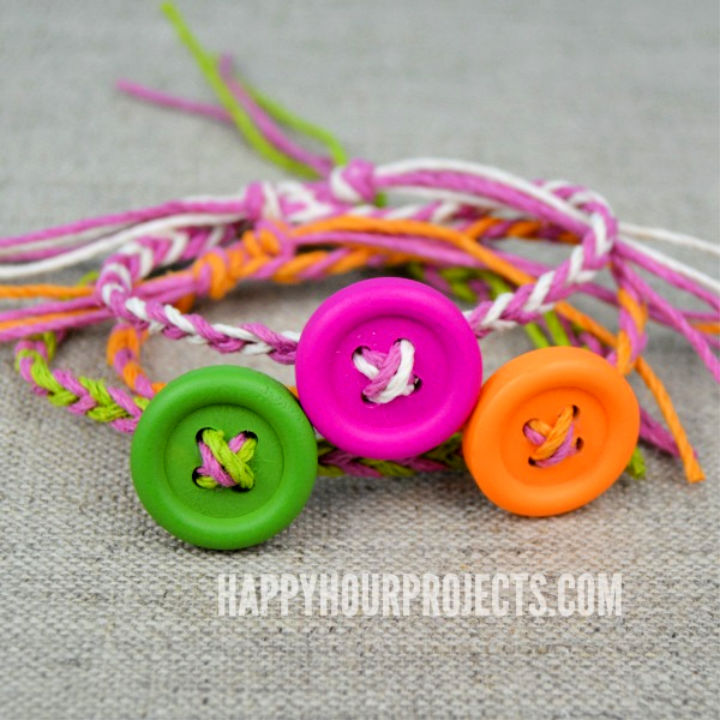 As friendship is a beautiful relation between two people, so how about getting it stronger with something beautiful? Like these lovely friendship bracelets. Make this friendship bracelet with just wooden buttons, hemp cords, scissors, and a ruler. It is super simple to craft it all in just one go. happyhourproj
32. Polka Dot Friendship Bracelet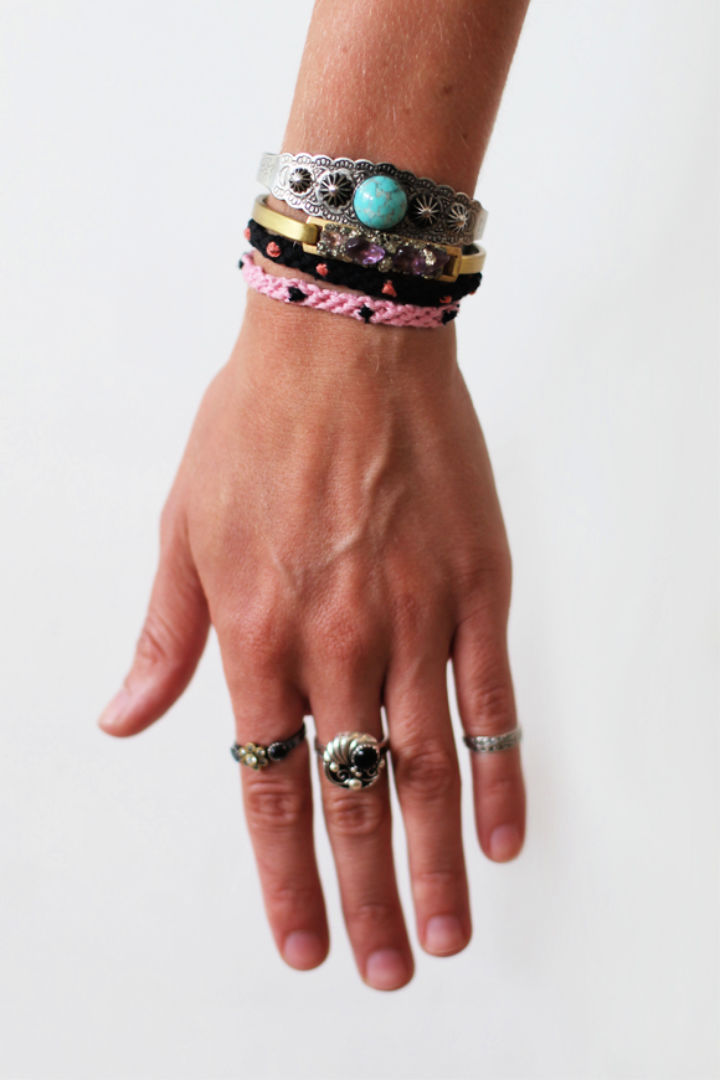 Friendship bracelet has always been a beautiful source of conveying a silent message of love and support to your friends. It will help you out to strengthen the friendship bond! Add an additional pinch of affection by crafting it yourself! Grab embroidery thread, scissors, needle, and tape to finish off. freepeople
33. Beaded Tassel Friendship Bracelet Pattern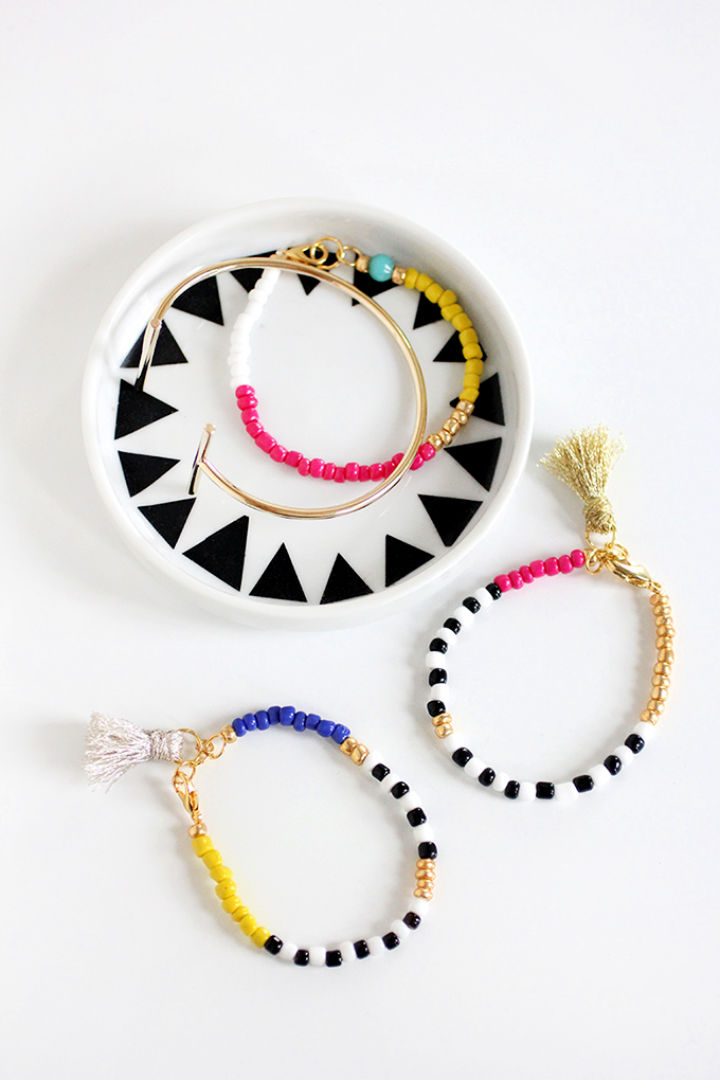 How to make a bracelet with beads? Finding something that will help you to reunite with your angry friend again? Here are the full-fledge instructions with a pattern to make you able to craft a friendship bracelet all by yourself. You will need seed beads, lobster clasps, jump rings, jewelry pliers, and monofilament, and you are all set to make one. ispydiy
34. DIY Rainbow Friendship Bracelet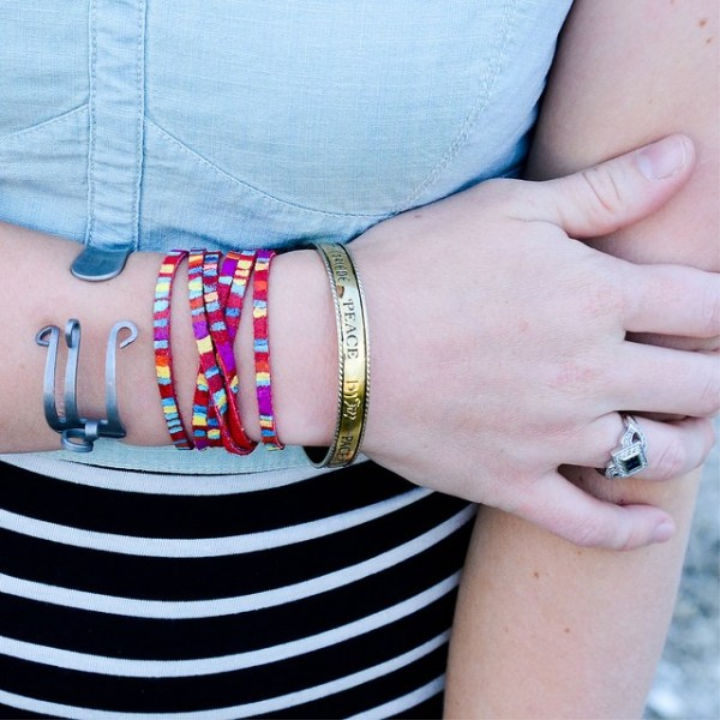 Have you been looking for some DIY friendship bracelets patterns to craft friendship bands for your whole group? Check out this fast and easy way of crafting this rainbow friendship bracelet! You can make so many pairs of this bracelet in no time. It is super quick and straightforward to make. Grab leather cording, rainbow color paint, and beads to get started. starsforstreetlig
35. Breezy Friendship Bracelets Pattern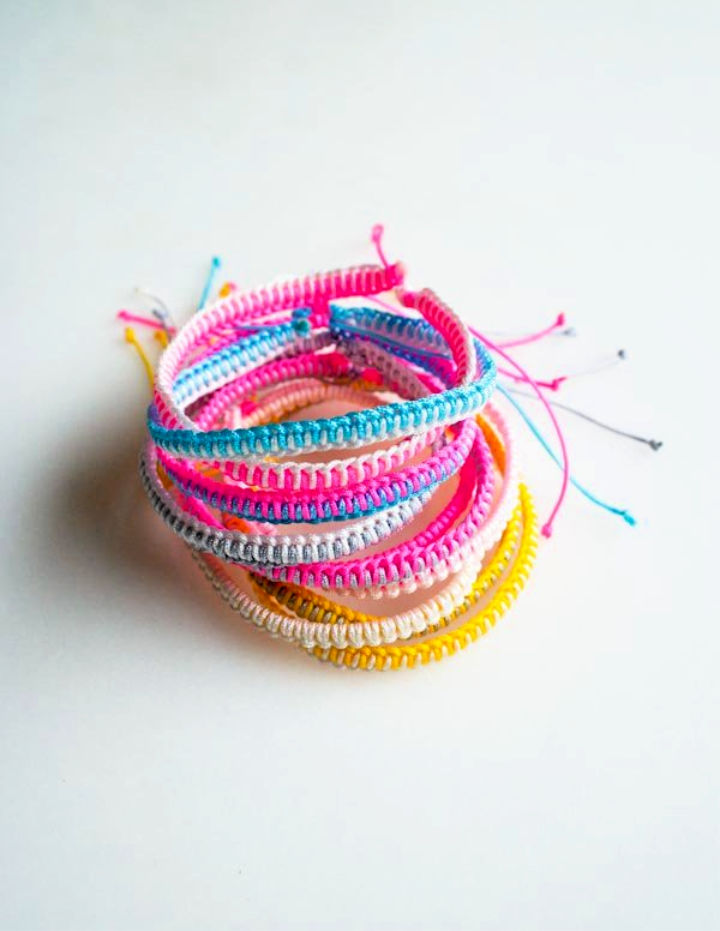 Looking for a friendship bracelet that is super breezy to craft? This Breezy friendship bracelets are right here at your disposal to use it and to craft a vibrant collection of DIY bracelets! To keep it for yourself or gift it to your best friends. Enlist the supplies you needed to make this bracelet and start already! purlsoho
36. DIY Woven Yarn Bangles – Fun Accessory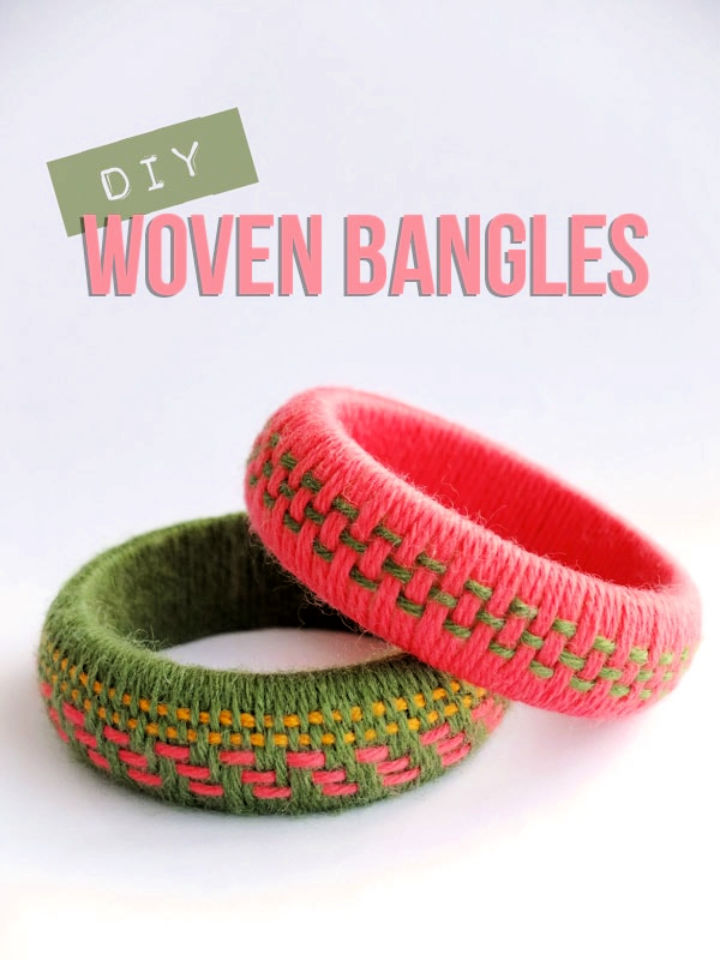 Who does not love wearing bangles? They make you look chic in all of your outfits. Plus, you can pair them with your formal or informal outfits alike. Moreover, it's a perfect addition to your accessories. Here's what you will need to whip up this one. Wooden bangles, double-sided tape, assorted yarn, needle, and scissors. mypoppet
37. Petite Fishtail Friendship Bracelet Pattern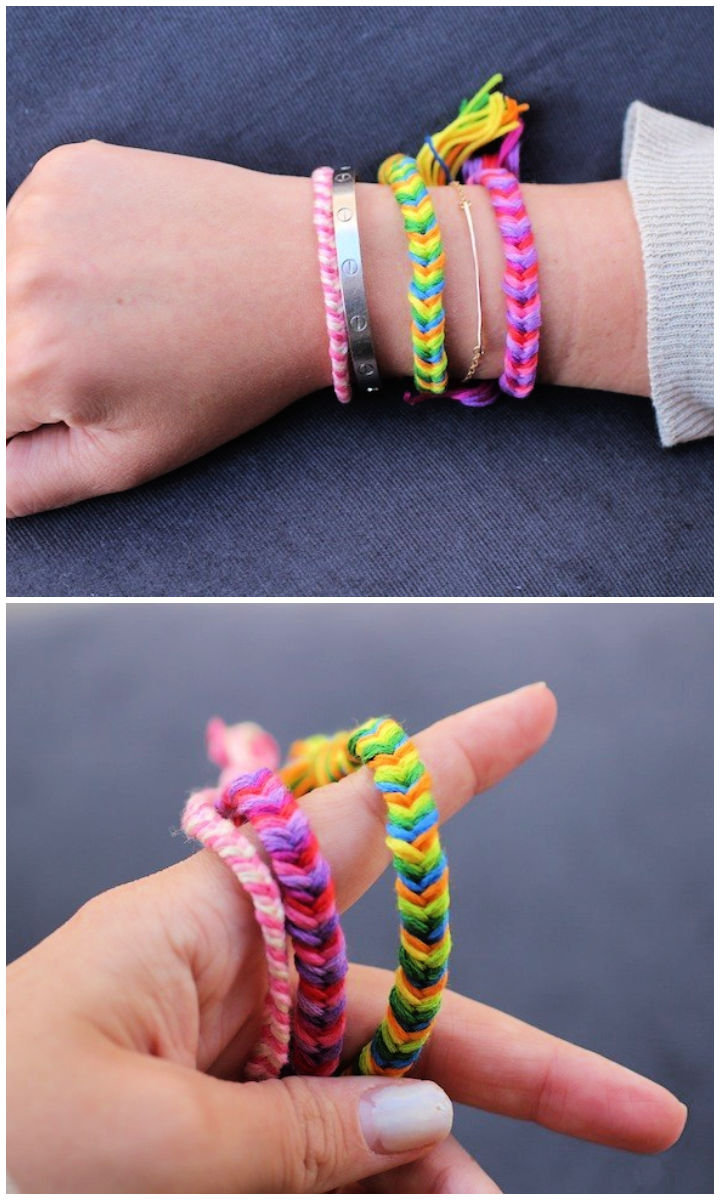 If you love flaunting braided hair, you will certainly love making this fishtail bracelet also! It is super quick and fun to work up. The tutorial is all equipped to guide you through all the steps in detail! A combination of colorful threads is what you need to whip up this beautiful piece! thestripe
38. DIY Sea Glass Bracelet + Earrings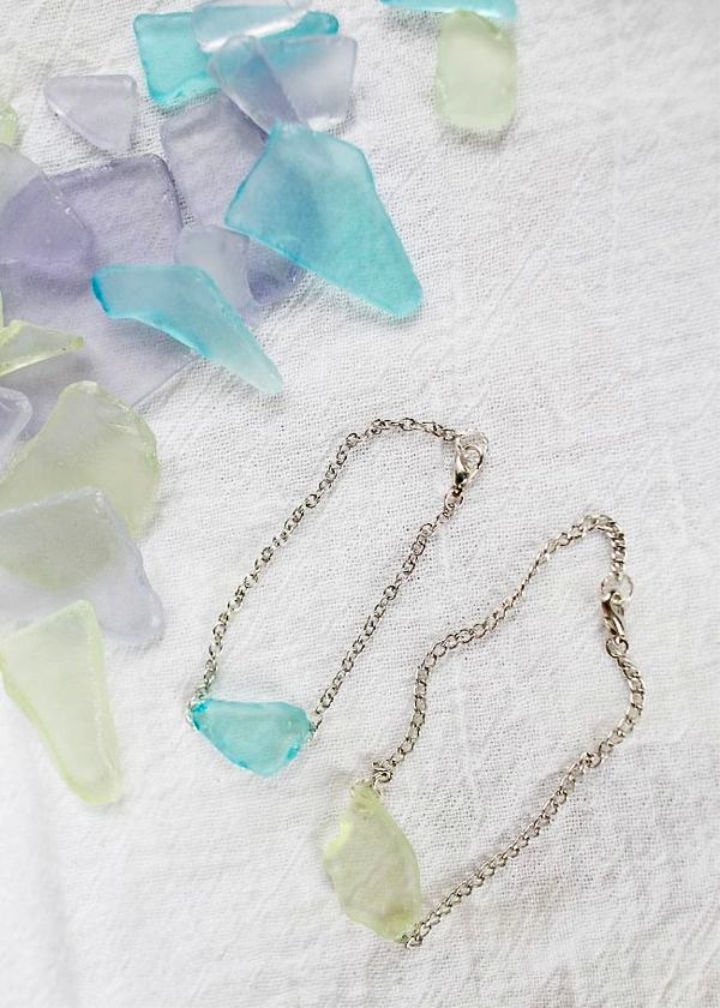 Make an appealing addition to your friendship bracelet family. This darling sea glass bracelet is surely a vision to even look at! You can find these soft hues and colors of the sea glass in the mosaic section of any craft store! They are perfect for giving a lovely look of delicate bracelets. thesweetest
39. Brass and Rope Bracelet Jewelry Pattern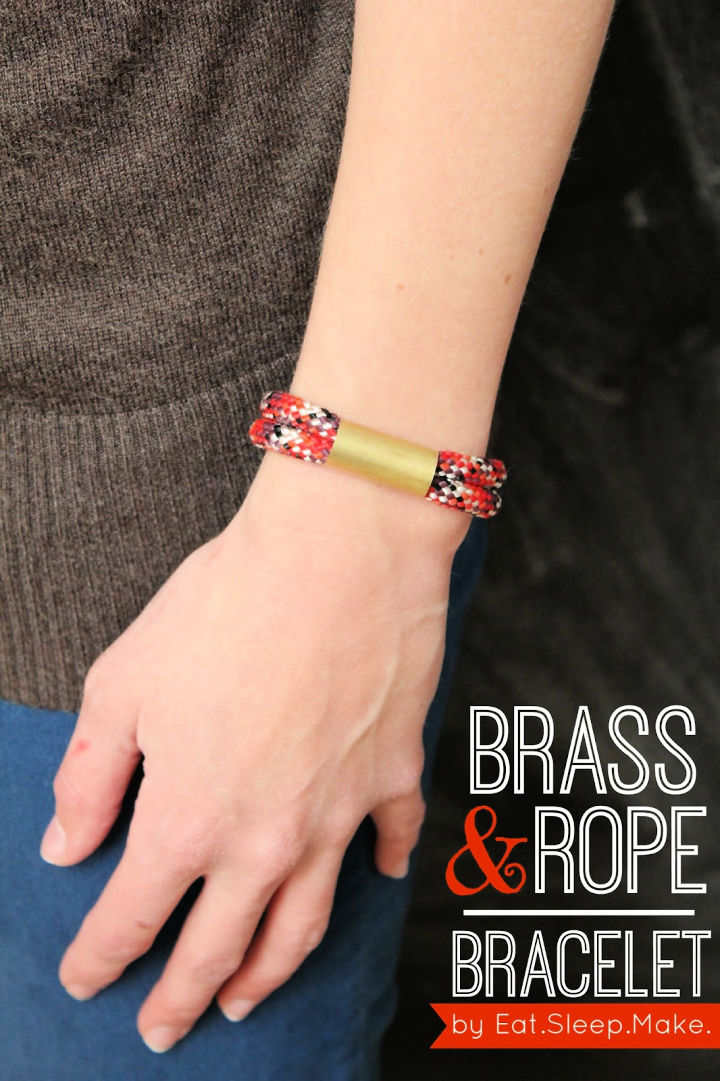 Can't think of a perfect Valentine's day gift for your friend? Just make this brass and rope bracelet for her. She is going to love it by heart! You can easily find a brass tube and rope at any hardware store. This project doesn't require a lot of investment, either in terms of time or money. So it is a much inexpensive but lavish gift! eatsleepmake
40. DIY Stamped Initial Bracelet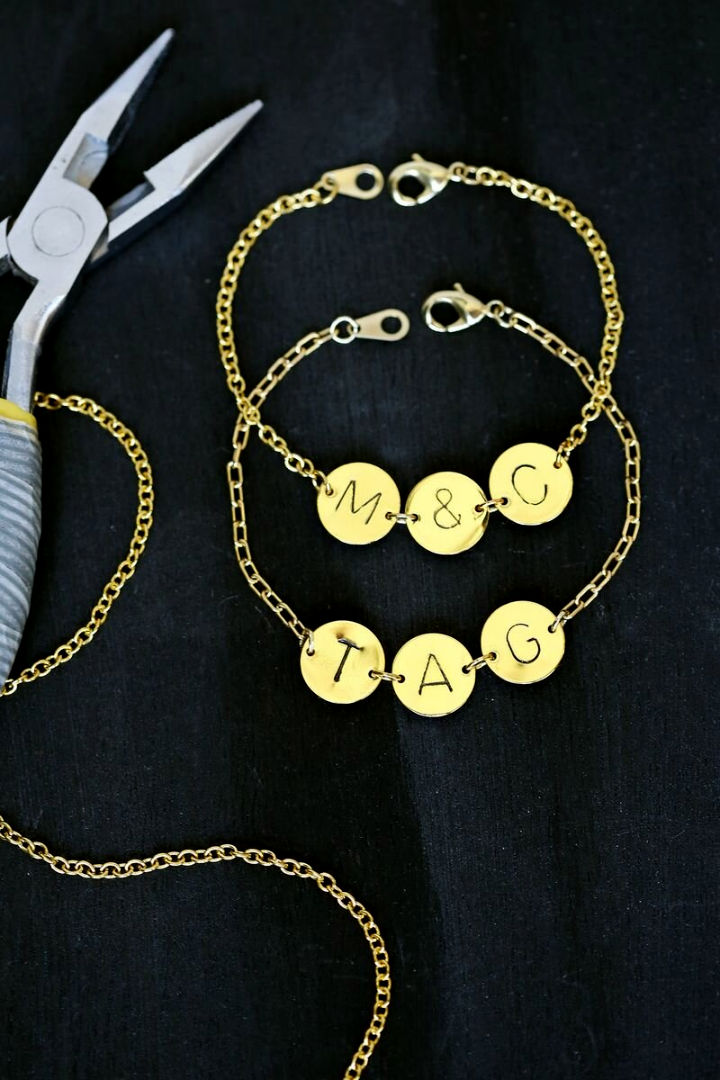 Now you can make this stamped initial bracelet all at home and all by yourself. It won't cost or take much of your time or effort. All you need to have is a few gold coins, gold chain, jump rings. Lobster claws, stamp punch, hammer, tape, needle plier, jewelry plier cut to grab, and you are all set to get started. abeautifulmess
41. Valentine's Day Friendship Bracelet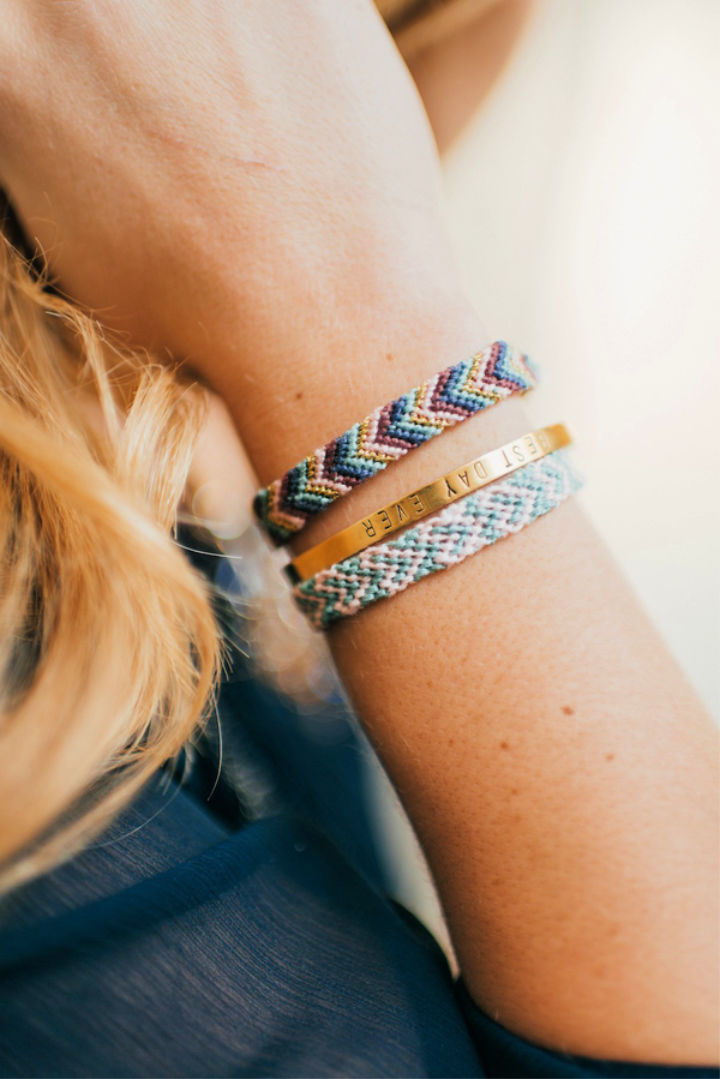 So Valentine's Day is coming up with all the love in the air! You must be finding something as a token of love for your beloved friends, too! Pick up some embroidery threads, scissors, and clipboards (for extra help). Also, what is better than making a bracelet for your loved ones? An easy to wear accessory for all times. ruffledblog
42. Fabric Bead Bracelet Pattern
Fabric beads are super trendy and lovely to make and wear too! This V-day, spend some time with your family making these beautiful little diy friendship bracelets. Make it for yourself or for your little girl. You can customize the size too. Supplies needed are fabric glue, pliers, crimps, crimps covers, skewer, and fabric cuts. helloglow
43. DIY Jeweled Ribbon Bracelets
Check out this chic jeweled ribbon bracelet. To embellish your arms with something sparkling and shining! It looks so darn, pretty! To get started on this project, you will need cotton ribbon, Rhinestones, a skewer, end clamps, glue, jump rings, and lobster clasp. collectivegen
44. Make Your Own Trendy Bee Cuff
You must have spotted a lot of buggy jewelry at marts or at jewelry stores. But they are always too expensive to buy yet getting trendier each day. So why not craft one by yourself? This one is insanely cheap and promises way more durability! Hit the tutorial for details! helloglow
45. Summer Statement Jewelry using Fresh Flowers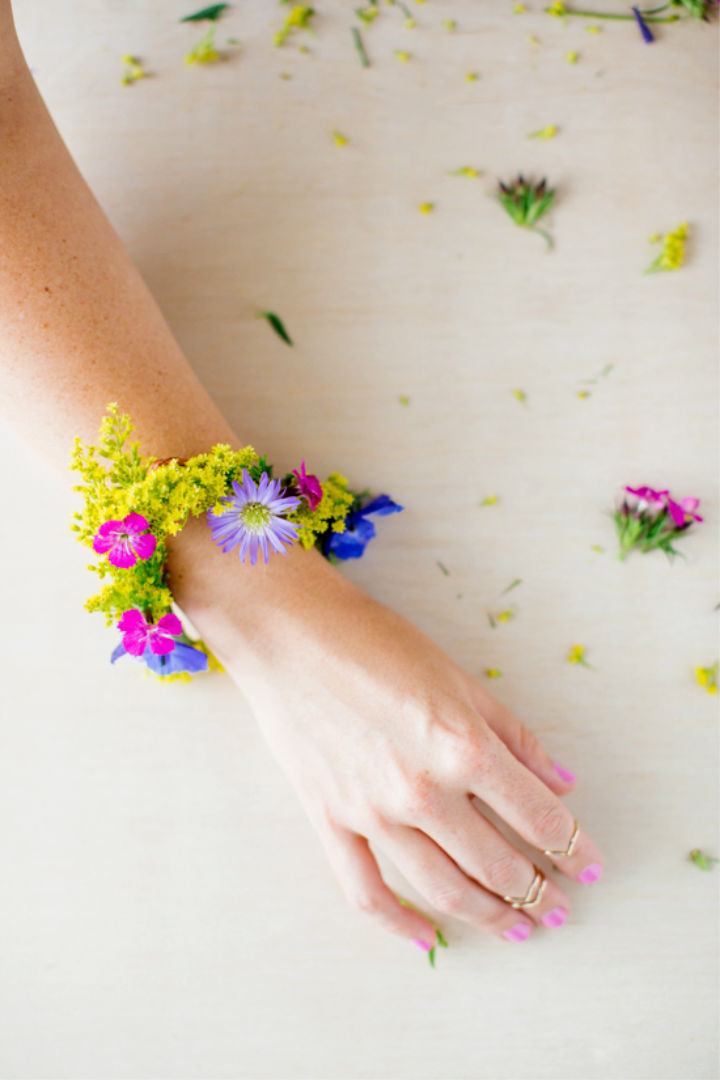 Spring and the celebrations it brings along! Make sure your arms have something that depicts the most authentic beauty of spring. Like this lovely summer statement jewelry! Here is what you will need to make this geometric flower bracelet. You will need floral wire, floral tape, scissors, plus wire cutter and fresh flowers. papernstitch
46. Fastest Friendship Bracelet Ever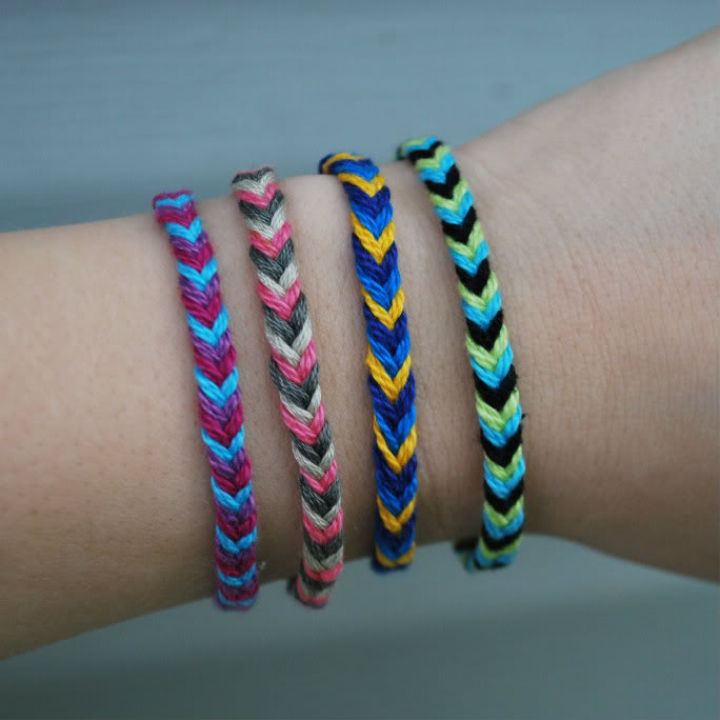 Never make your friends angry. But if you do, sort things out and patch them up by making this lovely and fastest to whip up friendship bracelet patterns ever. All you need to have is embroidery thread, wooden beads, and scotch tape to finish off this bracelet. And reconcile your friendship again in just about an hour or so! heywanderer
47. Macrame Bracelet Gift Pattern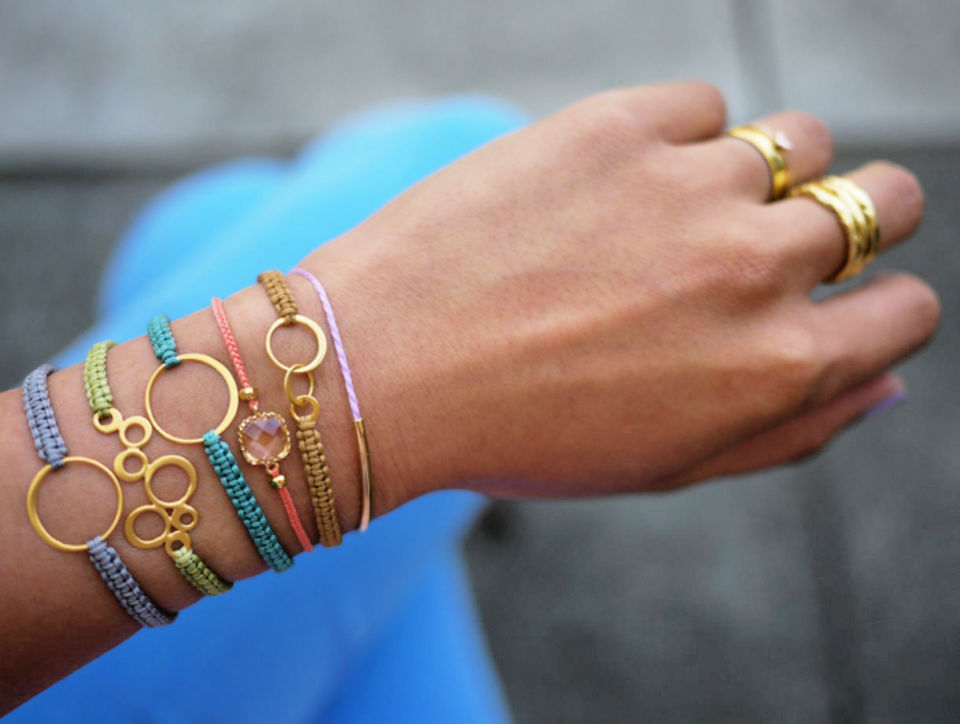 What is more satisfying than to craft an accessory by yourself like these DIY friendship bracelets patterns? And when you find the full-fledge written instructions at your disposal, then why wait for more. To make this macrame bracelet, you will need supplies like knotting cord, a connector, a pair of scissors, a lighter, nose plier, and a needle. honestlywtf
48. Make Trendy Rope Friendship Bracelets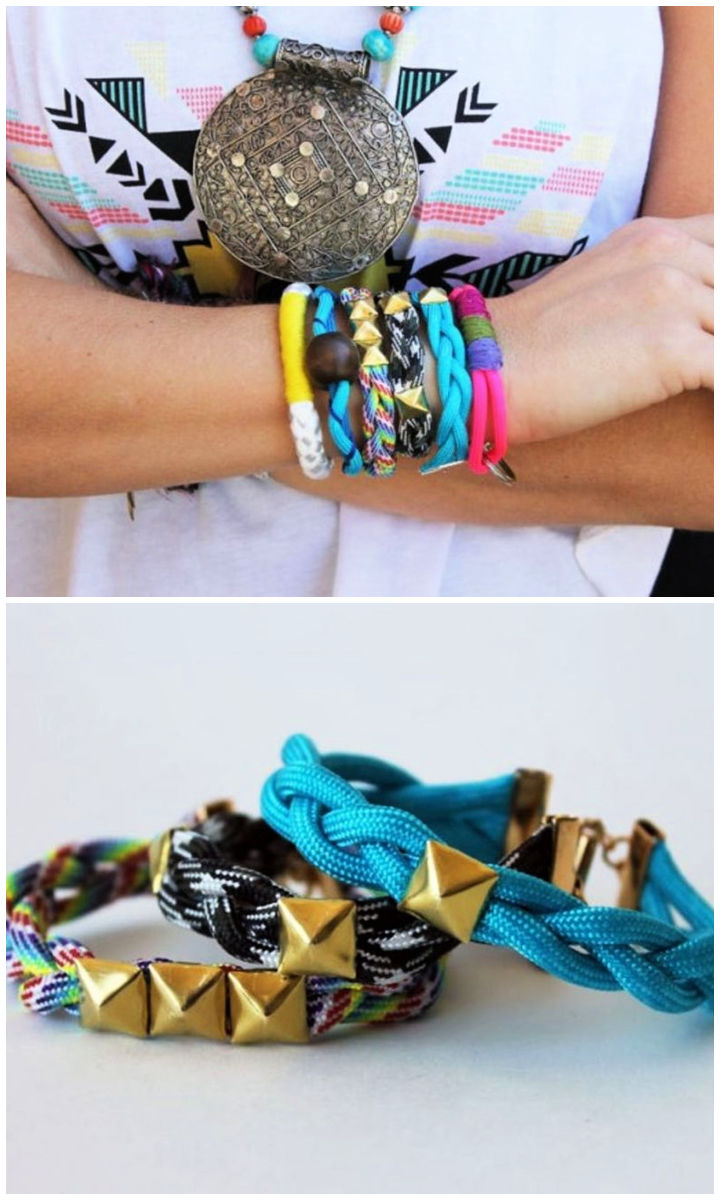 Making rope out of the embroidery thread is just a piece of cake. And turning it into a trendy friendship bracelet is also too easy peasy. A perfect way to thank your friend for their help through all the tough times by gifting this friendship bracelet. Head over to the tutorial for details. brit co
49. Monochrome Friendship Bracelets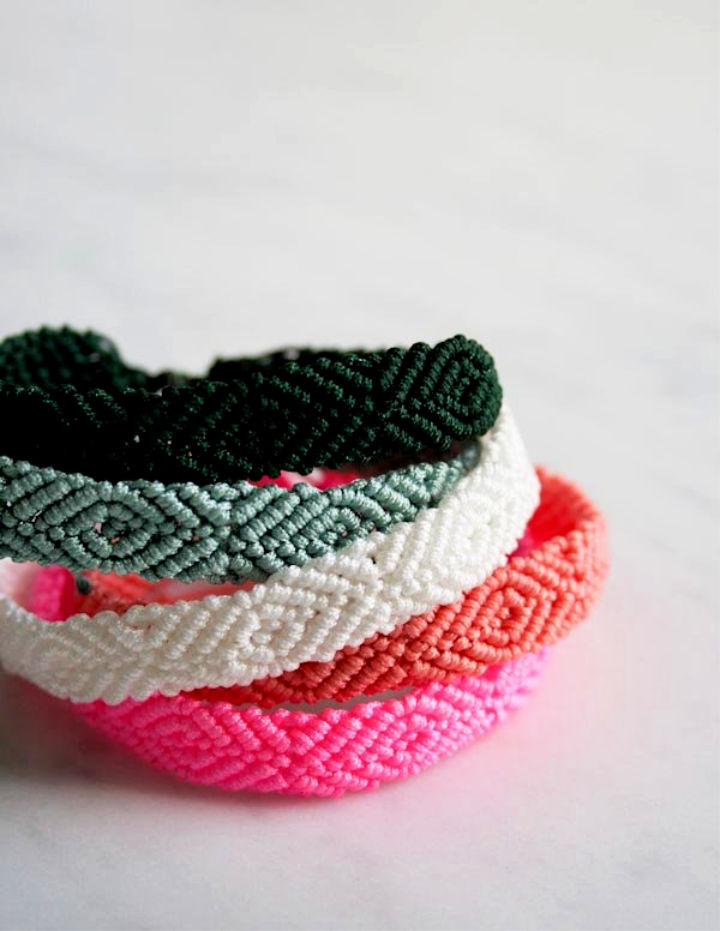 No matter how many colors you throw in but nothing beats the true beauty of monochrome delights! These super pretty monochrome friendship bracelets are lovely to pair up with your girlfriends. All the wonder of Chinese knotting cord. purlsoho
50. Bracelet with Half Hitch Knots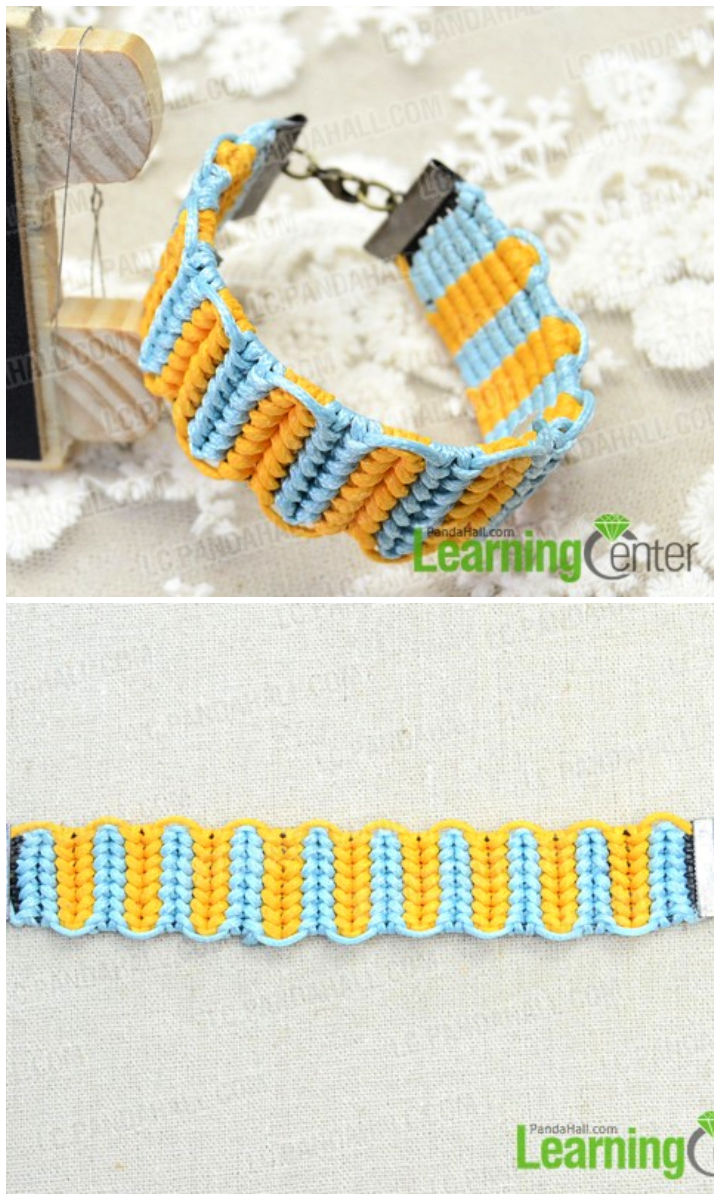 Bored of the same old simple bracelet knots? How about we interest you into making something new like this half hitch knot! You will need a polyester cord, wax cord, lighter, scissors, jump rings, and lobster claws to whip up this beauty! pandahall
These easy to make friendship bracelet patterns can be some ideal tokens of friendship, love, and appreciation for your girls! And, we can't think of anything better than a lovely little bracelet as a thoughtful Valentine's day gift for your girls! So, go crazy, making these either on a slumber party or alone by yourself. The supplies are easily available. Each one of these has this exciting new charm to add. Happy crafting, girls!