Do you wish to bring a great order in your bedroom? Then must first learn to organize your jewelry. So, create an eye-catching display of your bracelets with these 20 easy DIY bracelet holder ideas that are a breeze to make. Bracelets are often to find tangled in your dresser drawers, and they are always begging for neat storage and display. Just like necklaces, you can leave them randomly twisted so they will lose charm; even the accent stones and beads will get removed with consistent hits.
To get all enough solutions to tidy up your bracelets, just browse this compilation of 20 DIY bracelet holders that are sure to make you happy with the price tags and with the lovely enchanting designs. You just need the longer round arms set on a height to hold your bracelet in the untangled form. So, you can think of lots of unique options for this, and some amazing ones have been shared here.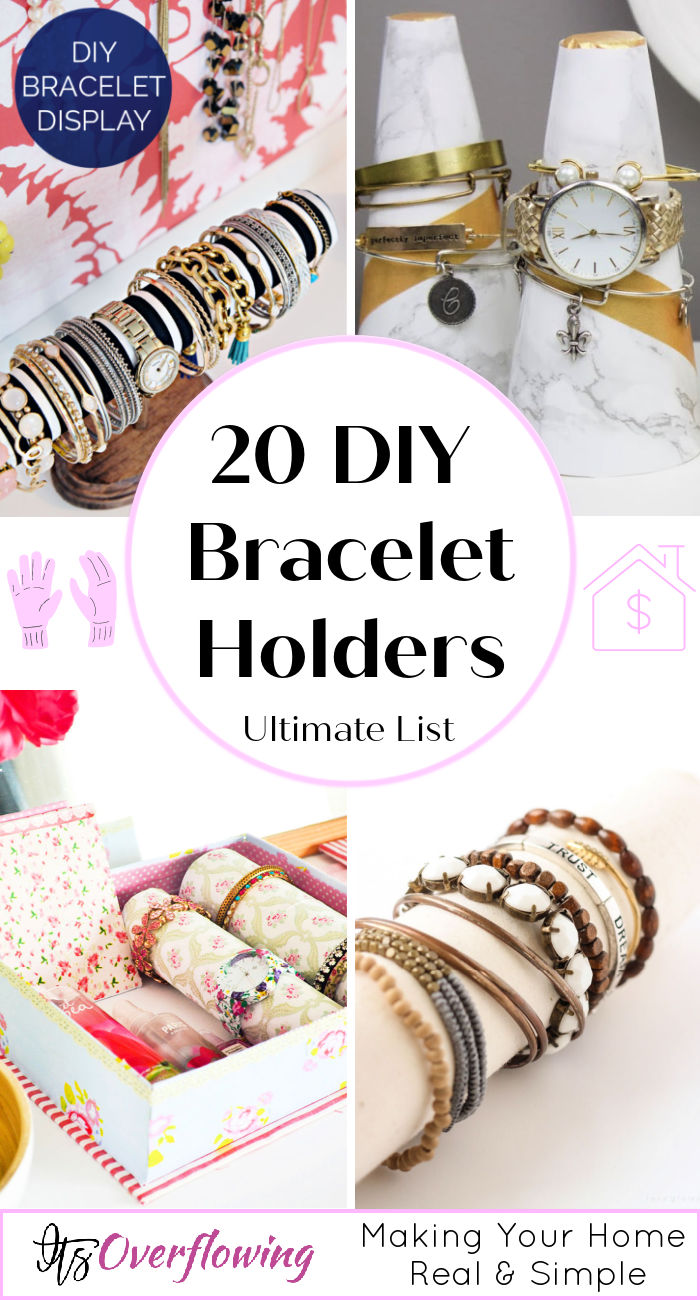 The paper towel rolls and wood dowels will be the ideal choice to make a bracelet holder. Paint them or decorate with a wrapping paper or decorative paper and set on a candlestick or any base and gain a quick bracelet organizer. Fix the wood dowels in the wood plates and get vertical bracelet holders and also cover the foam cones in marble contact paper to make a vertical self-standing bracelet and watch holders.
Use all from popsicle sticks to soda crates to glass bottles to make quick, lovely, and cost-efficient bracelet holders. See a lot more enchanting designs by browsing the entire collection of these DIY bracelet holders shared to make your life easier.
1. DIY Jewelry Display Stand
Get your bracelets organized nicely with this jewelry display stand that is quite something inexpensive to make at home. You need a 7/6" dowel, and unfinished 3" x 5" wood plaque, a piece of scrap fabric, a paper towel roll, mod-podge, wood glue, and stain. Full details here iheartorganizing
2. Marble Cone Bracelet Holders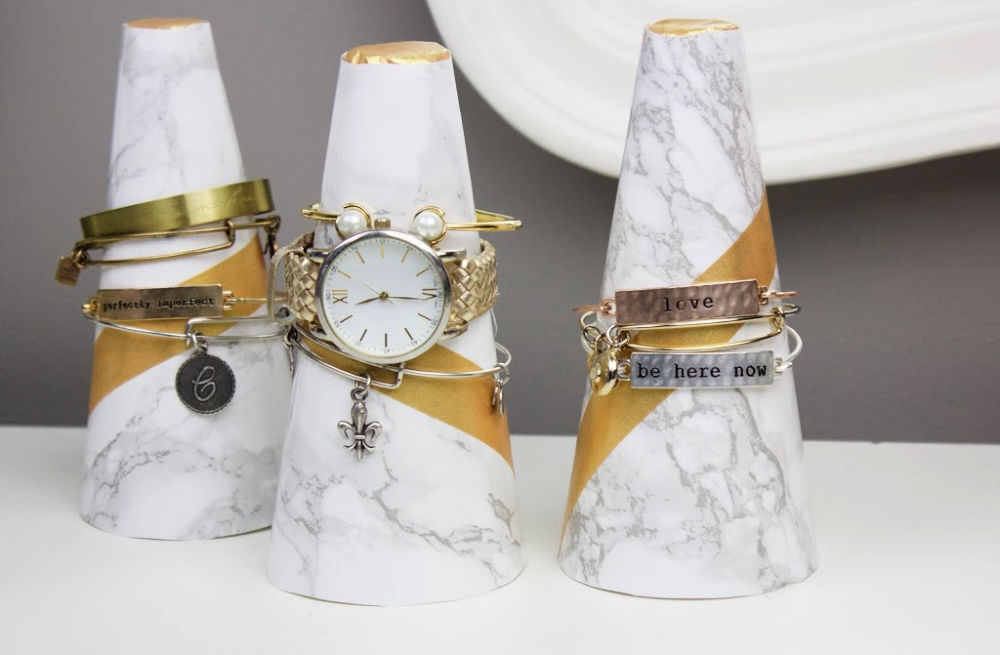 Make it fast and easy to organize your bracelets using these marble cone bracelet holders, which will provide super-easy of pick too. Just grab the foam cones and get them marbleized using a marble contact paper. Cover the top with gold washi tape and then make them hold your bracelets. alittlecraftinyour
3. Bracelet Organizer
One more self-standing bracelet organizer is here, will create an enticing display of your bracelet collections. Make this bracelet organize using a thick tube, decorative paper, decorative string, the bottom part of a plastic CD container, and a hot glue gun to make this bracelet organizer. Details here diydao
4. Bracelet Holder from Paper Towel Tube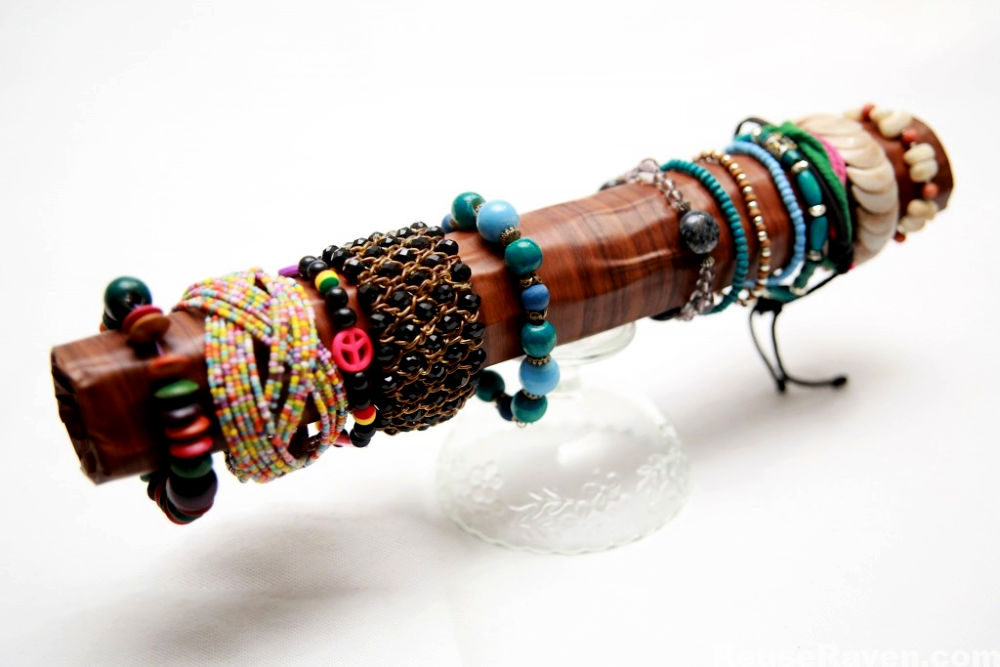 Make this precious bracelet holder using a paper towel tube or cardboard tube, a candle holder, or an ice-cream glass base. Wallpaper sticker, fabric, glue gun, and masking tape. One of the best decorative bracelets holders to make in no time. Experiment with different decorative papers. reuseraven
5. DIY Bracelet Holder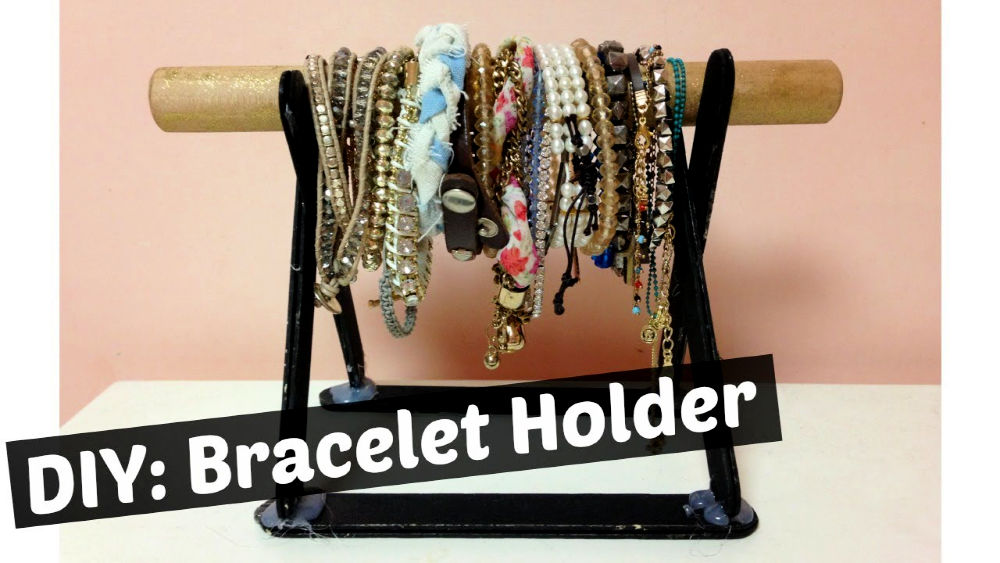 Put together also the popsicle sticks to make a quick bracelet holder, will be loved dearly by all jewelry wearers. Here you make an X-frame base stand of bracelet holder using painted popsicle sticks. Next, make it hold a wooden rod spray painted for a shiny decorative appeal. Details here youtube
6. Bracelet Display from Recycled Materials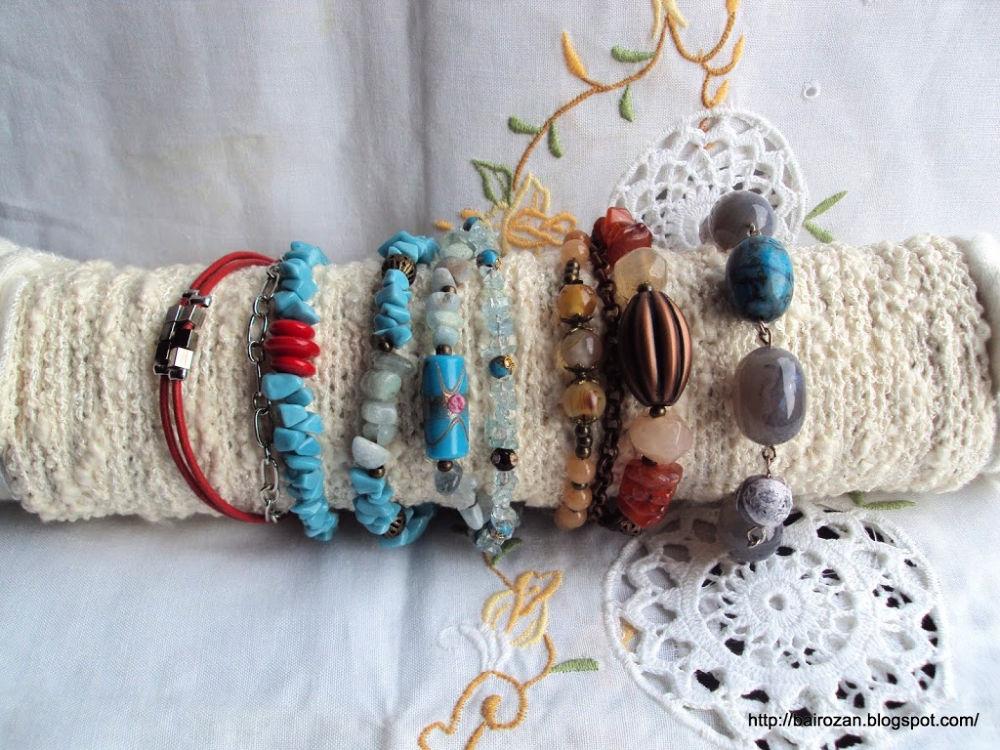 Let this hack make organizing your jewelry super easy. The hack involves building a bracelet display from recycled materials that are often lying around. You need hot glue, some yarn, ribbon, 1 cylinder, and custom decorative objects to make this superior bracelet display. Details here cutoutandkeep
7. Wooden Bracelet Holders
Wow everyone with the unique ways of displaying and organizing your jewelry. Build these wooden bracelet holders will work up super quickly. You need a round wood dowel, hardwood dowel, 2×6, 2×10, paint, stain, and glue to build these wooden bracelet holders. Details here instructables
8. Bracelet Display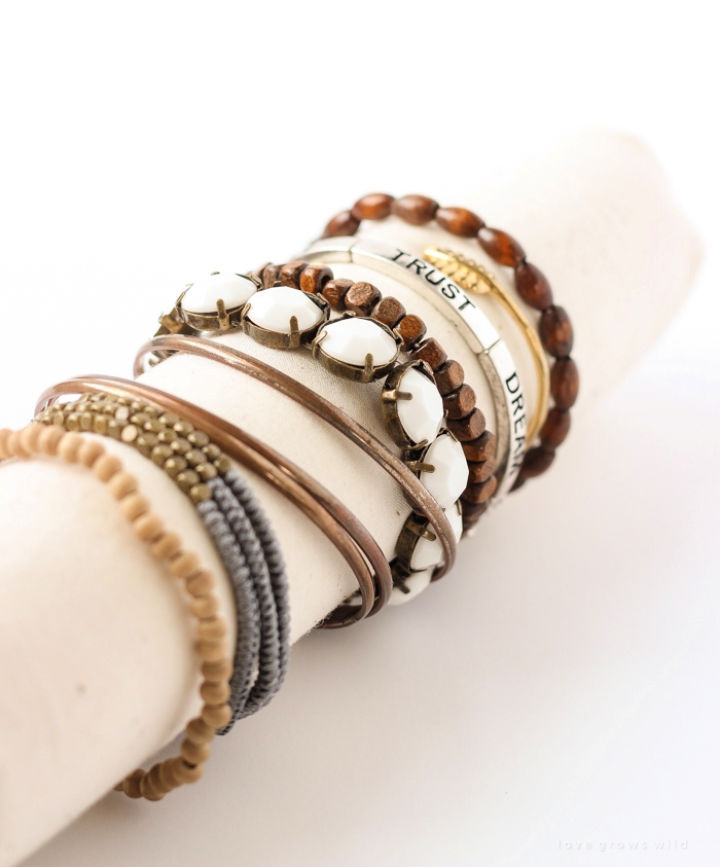 Think the things lying around in different ways for different purposes of making functional items of need. Use a paint roller cover to build this bracelet display. Wrap the decorative fabric around the cover for a graceful appeal and next start using it to organize your bracelets. Details here lovegrowswild
9. Easy Necklace & Bracelet Holder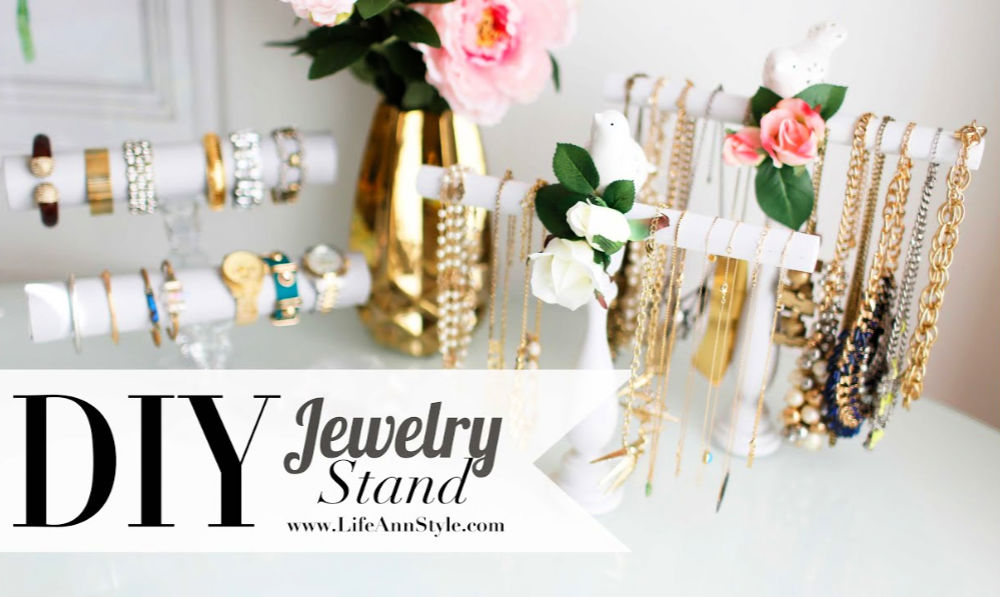 Make this lovely wooden bracelet holder using both, the wooden dowel and paper towel tube roll. The best bracelet holder to make with thrift store supplies. Use the decorative candle holders to make the base of the stand. Glue the wooden dowel on candlestick, paint, and decorate with a bird cutie and flower. Details here youtube
10. Jewelry Holder
Build this other gorgeous jewelry organize out of a recycled paper towel tube. It will surely impress at a very first look. Just decorate the paper towel tube in a fun way using washi tape and paint. Next, make them sit on a cardboard base using hot glue. Next, organize your bracelets. youtube
11. Cute Little Bracelet Display Stands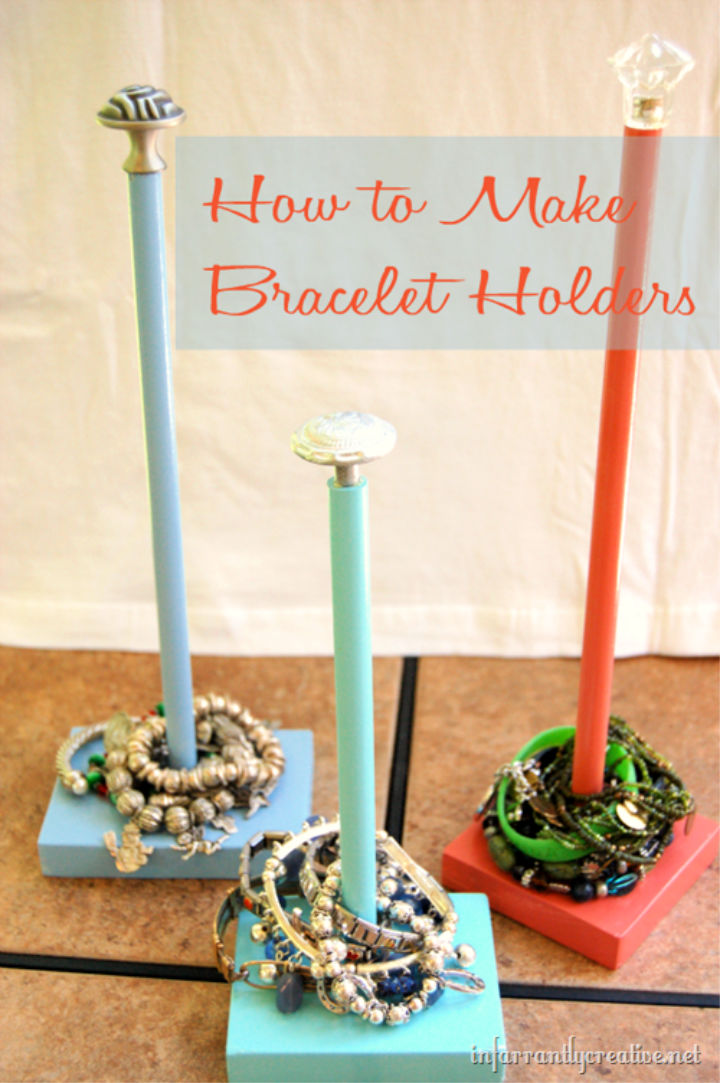 Spice up your bracelet organization game using this cute little bracelet display stand. Just fix the 1/2" wood dowel on the recycled wood squares and add the decorative knobs on the top. A great DIY Bracelet Display Stand to make out of recycled items. Paint for the desired look. infarrantlycreative
12. DIY Soda Crate Bracelet Holder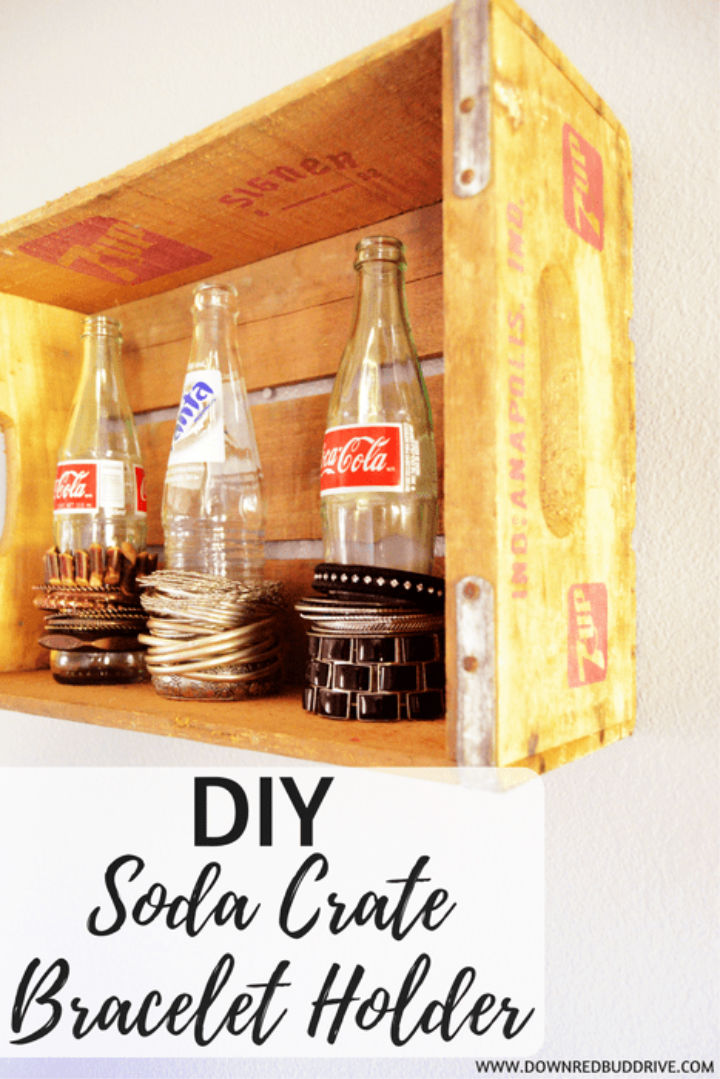 Upcycle the old wooden soda crates also to build a quick bracelet holder. Just grab some glass soda bottles and glue them to the inside of a soda crate and make this bracelet holder. Mount it on the wall and gain a fantastic bracelet holder in just no time. Details here downredbuddrive
13. Bracelet Holder Or Jewelry Organizer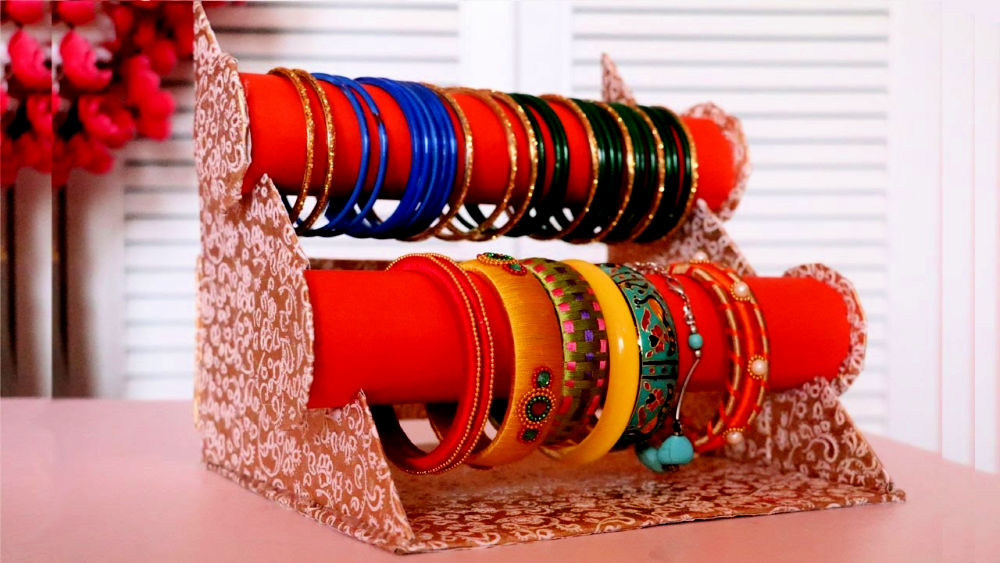 Get organized in your jewelry room by building this quick bracelet holder. Use the cardboard, empty paper rolls, strong adhesive, and decorative materials to make this cool bracelet holder. One of the quickest DIY Bracelet Holder Projects to do inexpensively. youtube
14. Dollar Tree Wooden Bracelet Holder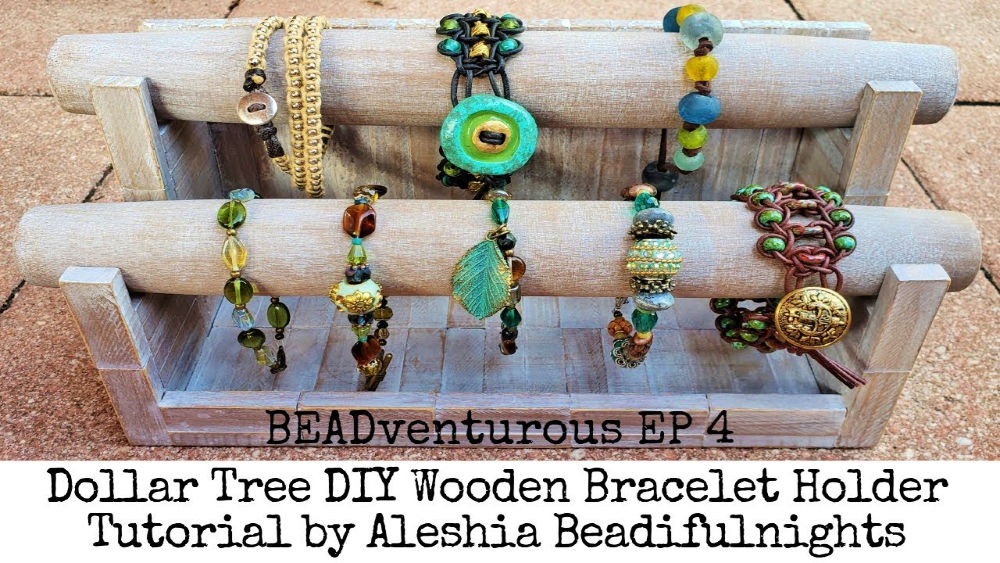 Head over to dollar tree to make a quick tiered wooden bracelet holder. Get inspired by this sample jewelry organizer, have the entire base frame made of popsicle sticks or wooden sticks. Next, just set the wooden rolling pins on the tiered levels to organize your bracelets and necklaces. youtube
15. Bracelet Stand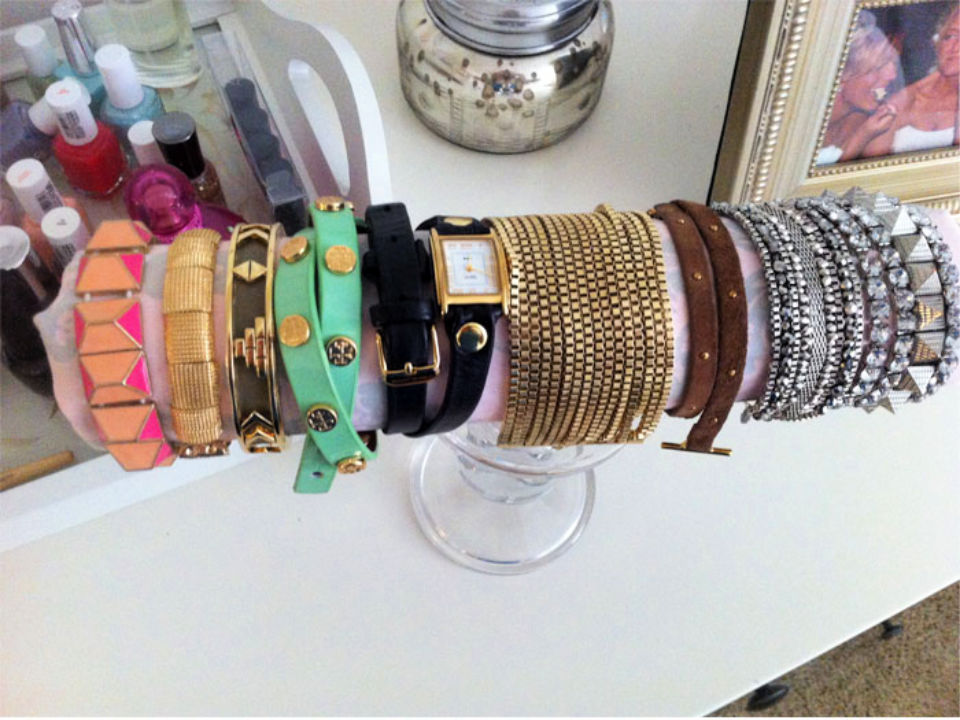 Bring tons of visual details to your jewelry room by adding this bracelet stand. It will dazzle the audiences along with tidying up your bracelet collections. Grab empty paper towel roll, a candlestick holder, wood bottle cork, decorative fabric, and a small bracelet to make it. Details here apaperproposal
16. Hair Tie Bracelet Holder
Tidy up your bracelet collection also with this hair tie bracelet holder that is to make with decorative scrap fabric, 2×4 wood panel, and wood dowels. Cover the cut to size 2×4 wood panels with the fabric of choice. Next, glue the spray-painted wood dowels on it to get a tiered bracelet organizer. Use photo anchors to mount it on the wall. Details here placeofmytaste
17. How to Make a Bracelet Holder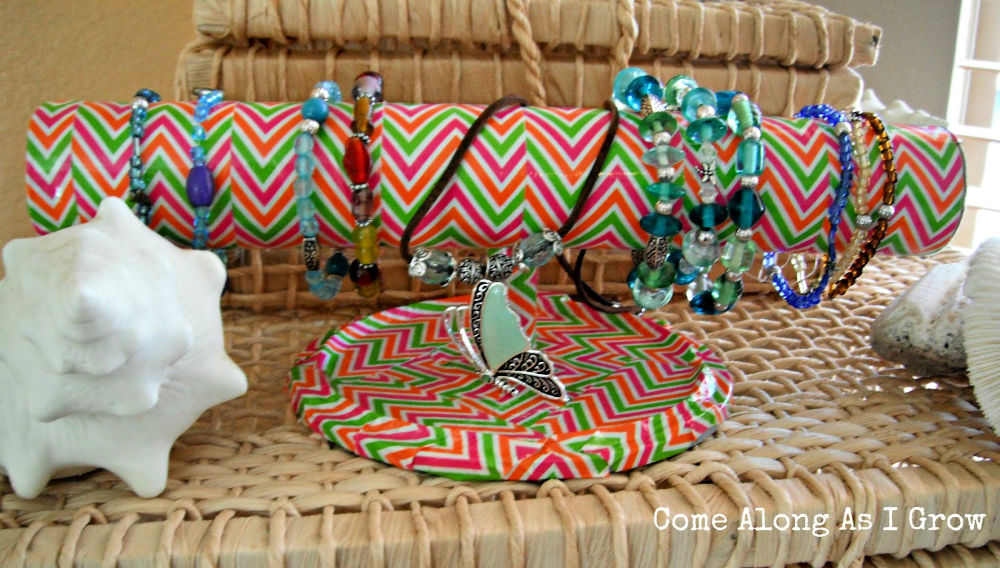 Spend much less from your pocket and make this quick bracelet holder. Grab a CD holder, paper towel roll, and duct tape to make this decorative and colorful bracelet holder will perk up the entire jewelry dresser. A one of the smartest DIY Bracelet Organizer Project. comealongasigrow
18. Paper Towel Roll Bracelet Holder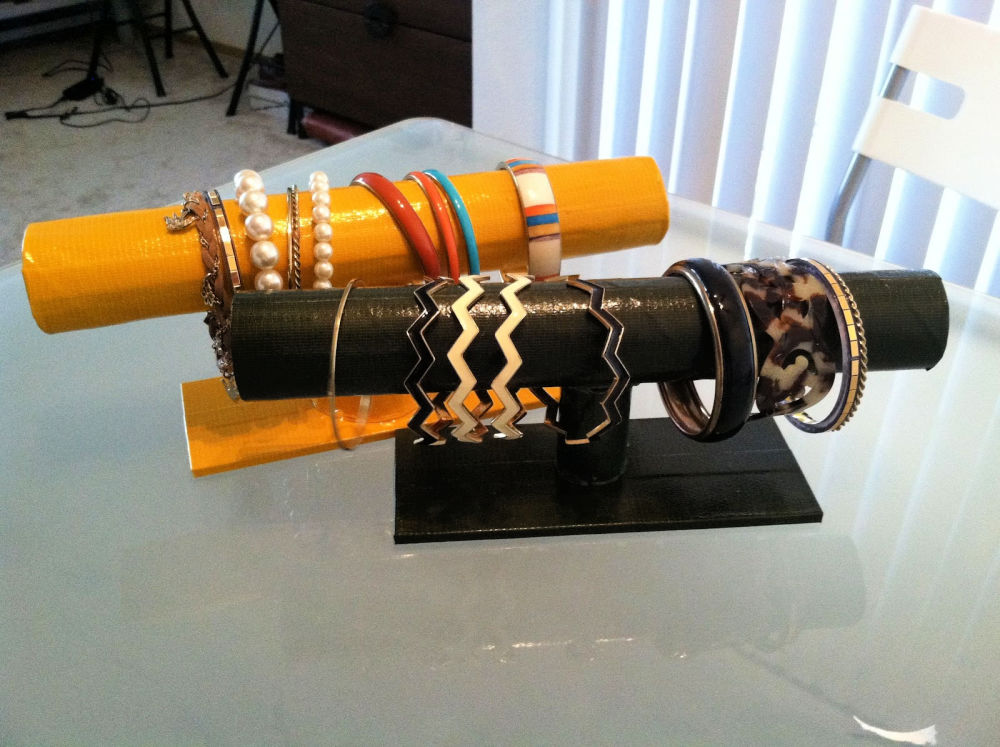 A jewelry lover will surely fall for this paper towel roll bracelet holder that will create an enchanting display of your bracelets. You need wood stands, colored duct tape, spray can, paper towel roll, and hot glue to build this paper towel roll will surely impress a big jewelry wearer in the home. Details here caaarolineilee
19. Super Pretty Bracelet & Watch Storage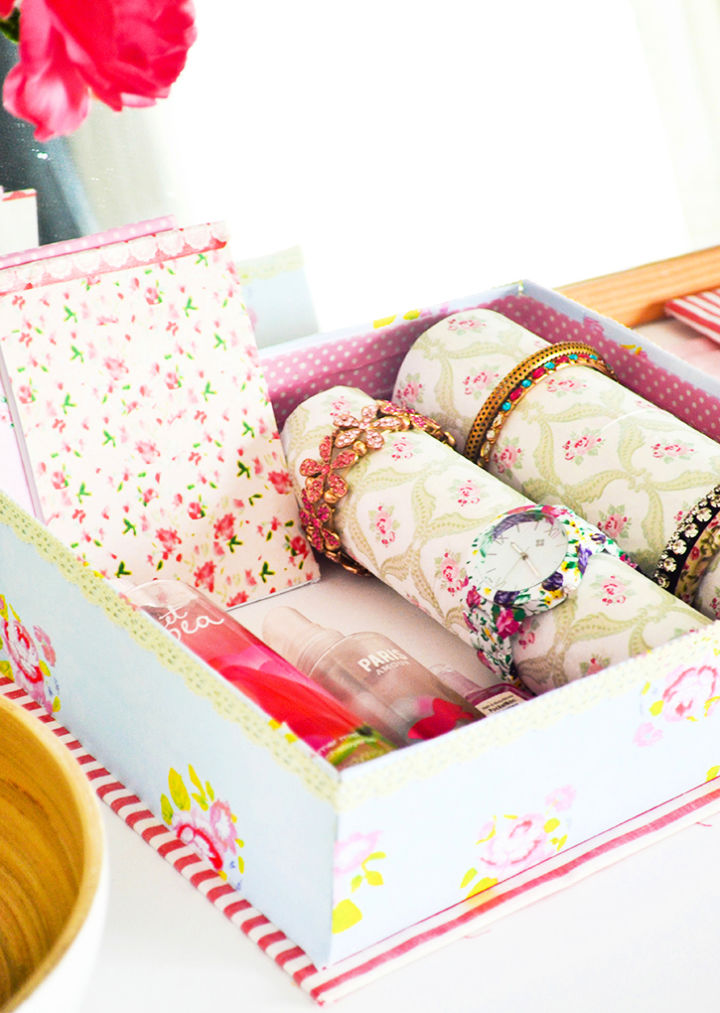 Fall in love with this pretty bracelet and watch storage, will be the smart jewelry organize to make at home. Grab a cardboard box, discarded toilet paper, scrapbook paper, double-sided tape, and Velcro to make this fantastic bracelet and watch organizer. Details here onceuponherdr
20. DIY Bracelet Holders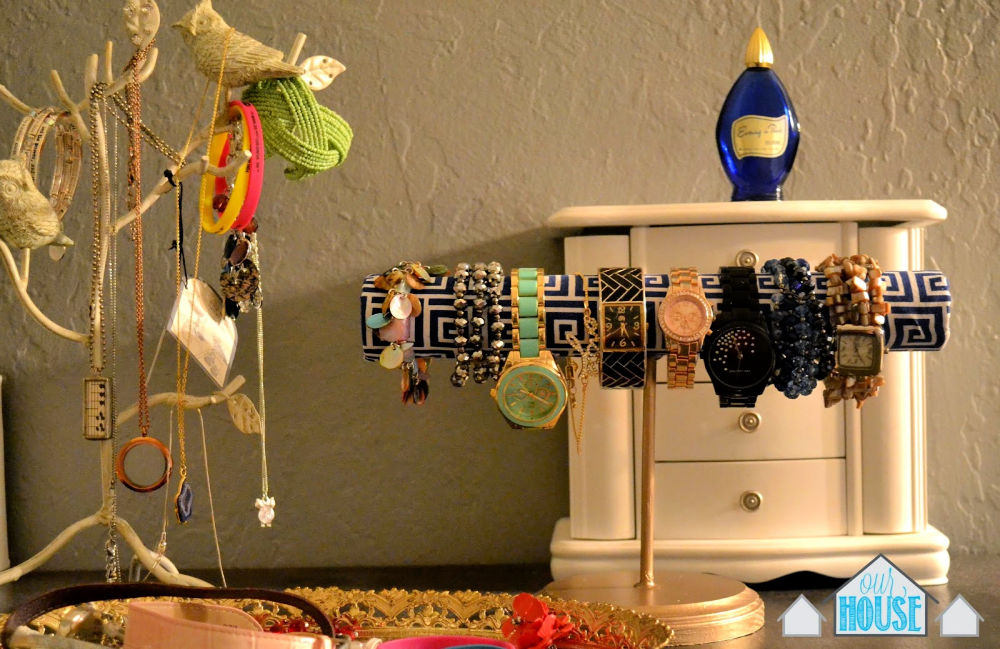 Once again, a lovely DIY Bracelet Holder is here to gain your attention. You need a paper towel tube, wood plaque, wooden dowel, fabric, mod-podge, and gold paint to make this bracelet organizer will be the quickest gift to make for a style and fashion lover in the home. Details here rogstadhouse
Conclusion:
The jewelry items are delicate and come decorated with accent shiny metal stones, beads, and other lustrous materials. So, if not stored well, they will lose some of the accent and decorative components and enhancements and will no longer be a stylish adornment for you. So, learn to make your own lovely DIY jewelry organizer that will hold those delicate items of jewelry in a stylish manner along with providing lots of protection.
In the case of bracelets, these DIY bracelet holders will make an ideal choice, and they are quite inexpensive to make. Most of them are to make with recycled materials and will be there to hold your bracelets in no time. Time to reuse those leftover wood supplies and cardboard tubes to make bracelet organizers. Browse the entire collection of ideas to see lots of dollar store hacks too to build stylish bracelet displays.