Take care of your skin in the most natural ways with these 25 best ways to make soap at home. Although it might sound like quite a challenging game, in reality, making homemade soap is quite an easy peasy affair! Plus, you get to scrub your skin in the most natural ways! At the same time, taking care of yourself with natural and lovingly handmade soaps. An added benefit that you can get by landing on this post is that you get to explore the most unique and natural homemade soap making ideas to make your loved ones feel extra loved these holidays! You can choose different suiting soaps for their skin type and surprise them with all the thoughtful and sensational gestures so learn using this how to make soap guide.
It is quite easy, stress-relieving, and fun to make soaps at home! All you need is just a bunch of your favorite fragrances, some essential oils, textures, colors, and shapes for your homemade soaps. With these glorious and easy ways to make soap using 100% natural ingredients, you can take care of your skin in the most natural way.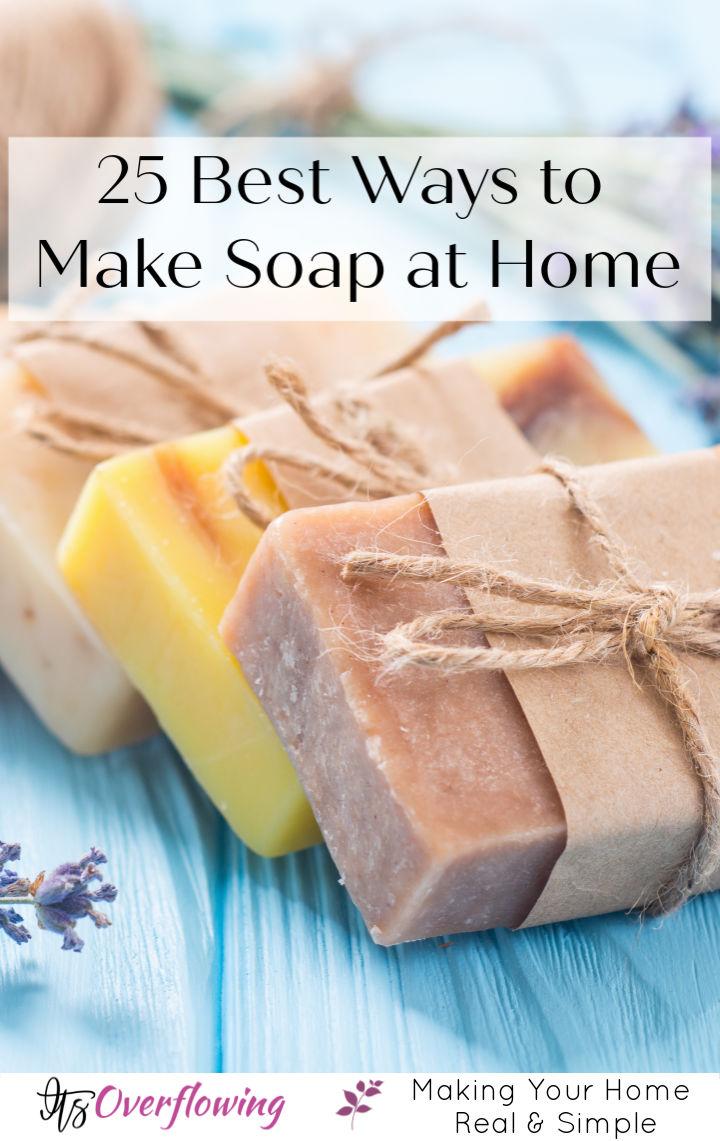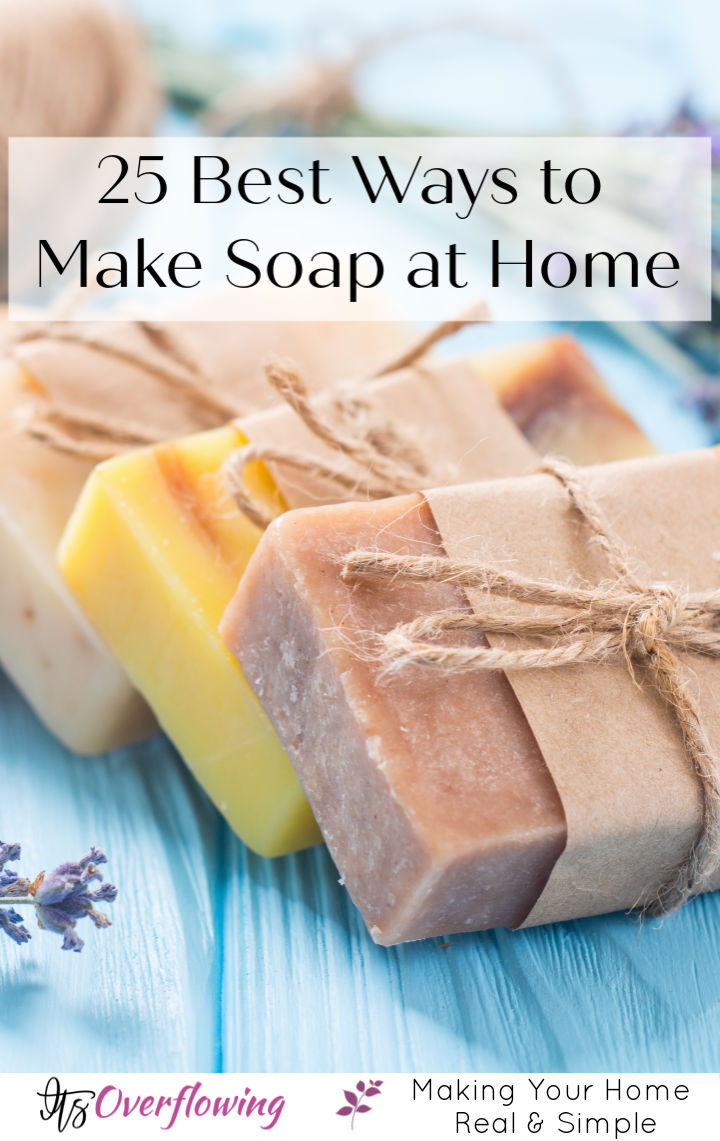 We have got many refreshing and lovable homemade soap making ideas for kids and adults, both! You would love to get your kids on with our rainbow soap! Don't forget to check our vegan soaps, refreshing herbs, soaps, and oatmeal soap! Learn how to make soap at home using these DIY soap making guide, you can even learn how to use coffee extracts to make soap. That's right! So, get together your favorite oils, essentials, and start making some soaps!
1. Beginner's Guide to Making Cold Process Soap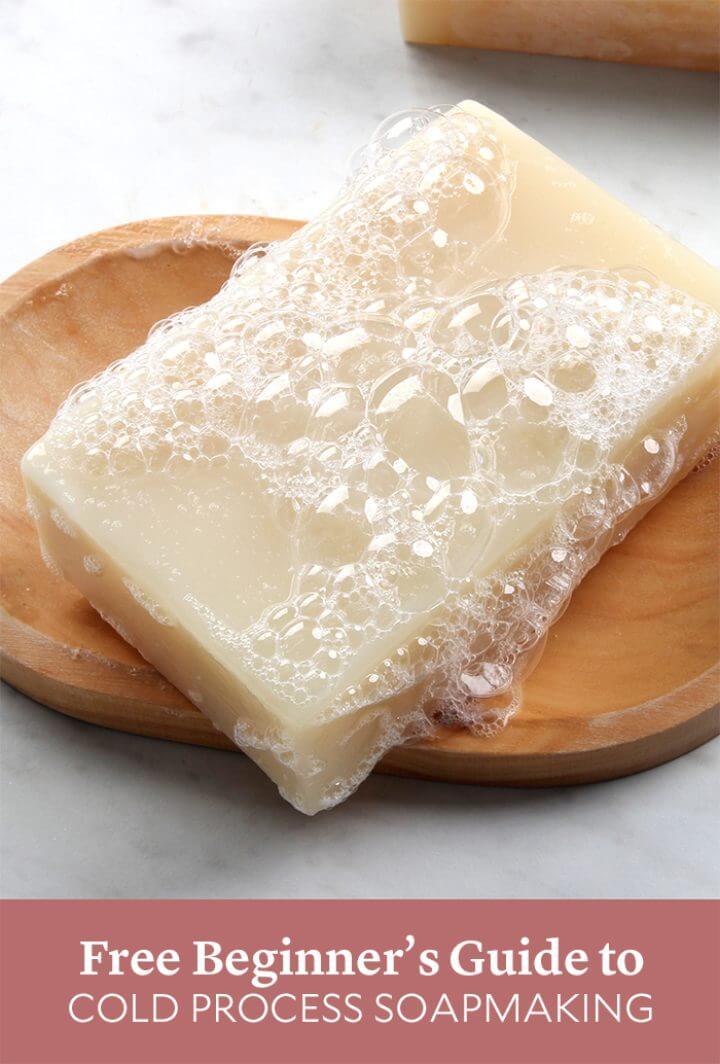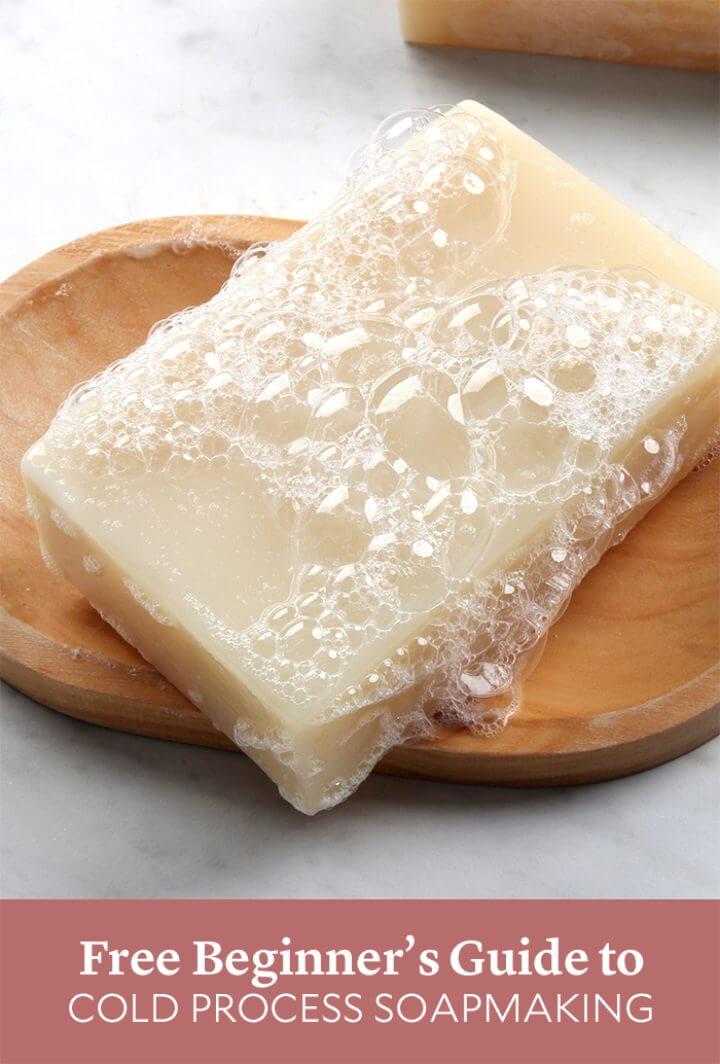 Save your money with this Beginner's Guide to Making Cold Process Soap by using a natural ingredient that will be less wasteful and inexpensive. The ingredients you would require to make this homemade soap will be coconut oil, Olive oil, Lye (sodium hydroxide), Coffee, coffee grounds, and oat bran soapqueen
2. Homemade Soap Recipe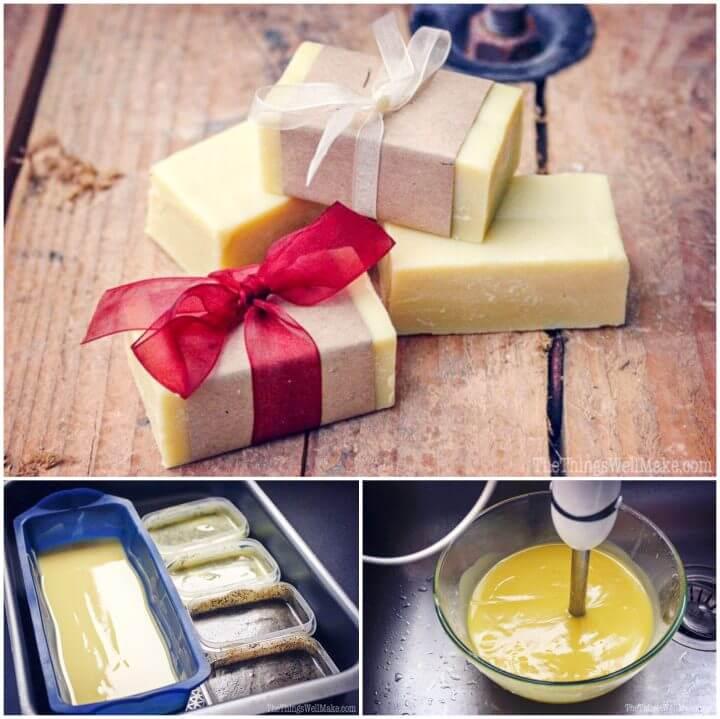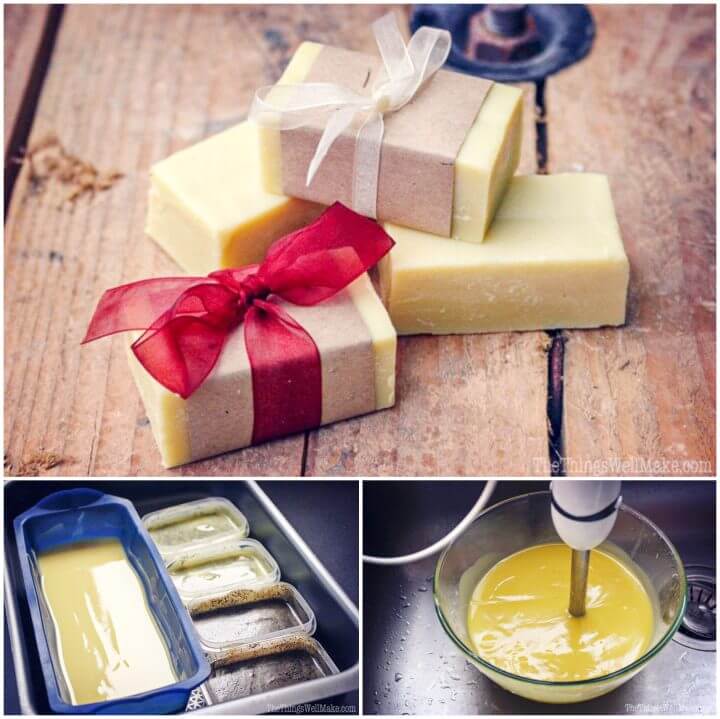 Learn this Homemade Soap Recipe and make your own soap that won't affect your skin and give you a much better result than the commercial soap. Use ingredients like lye water, Solid oil (coconut oil), Liquid oils (sunflower oil), essential oil, and any fragrance of your choice. thethingswellmake
3. Make Soap for Hand and Body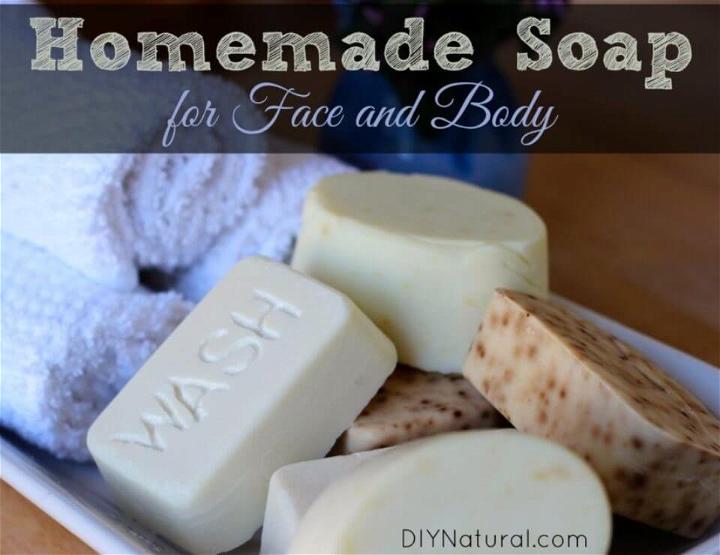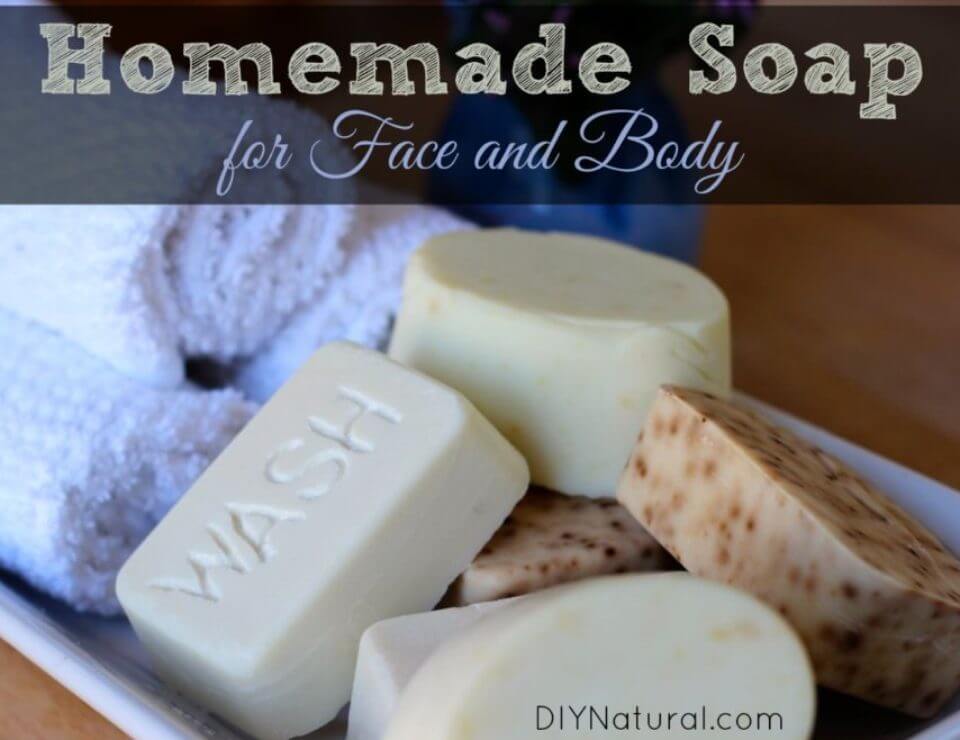 Make homemade soap for hand and body at home without involving any hazardous ingredients and using equipment and material entirely available at your home. You would need a hand blender, steel pot and spatula, soap mold, Lye, Shea butter, sunflower oil, and lavender essential oil. diynatural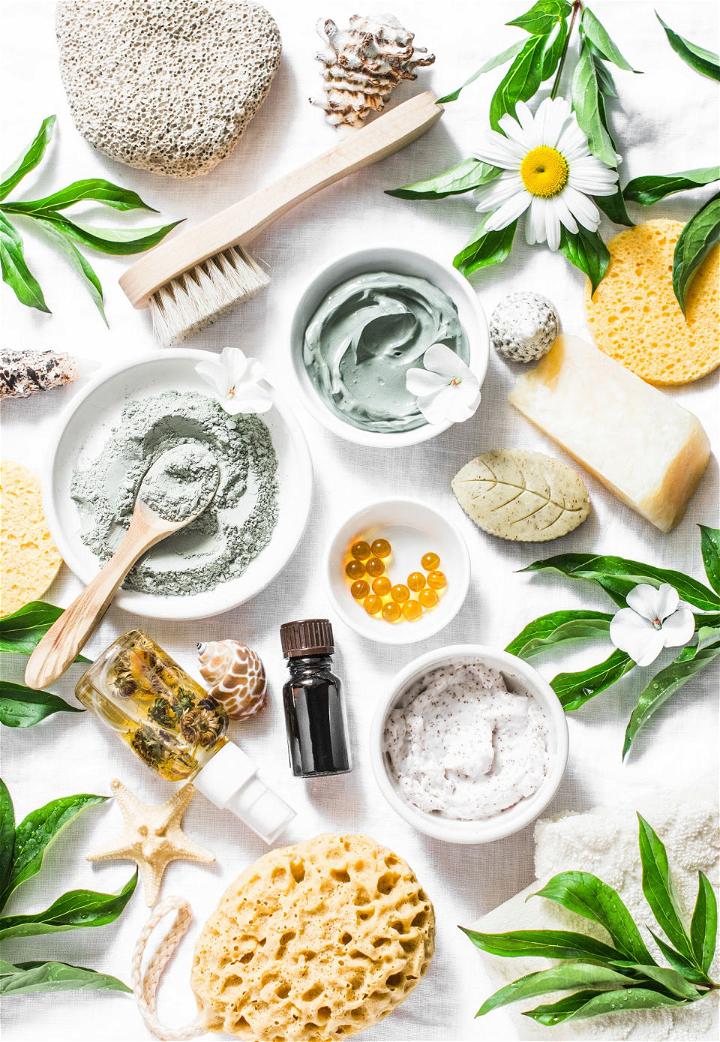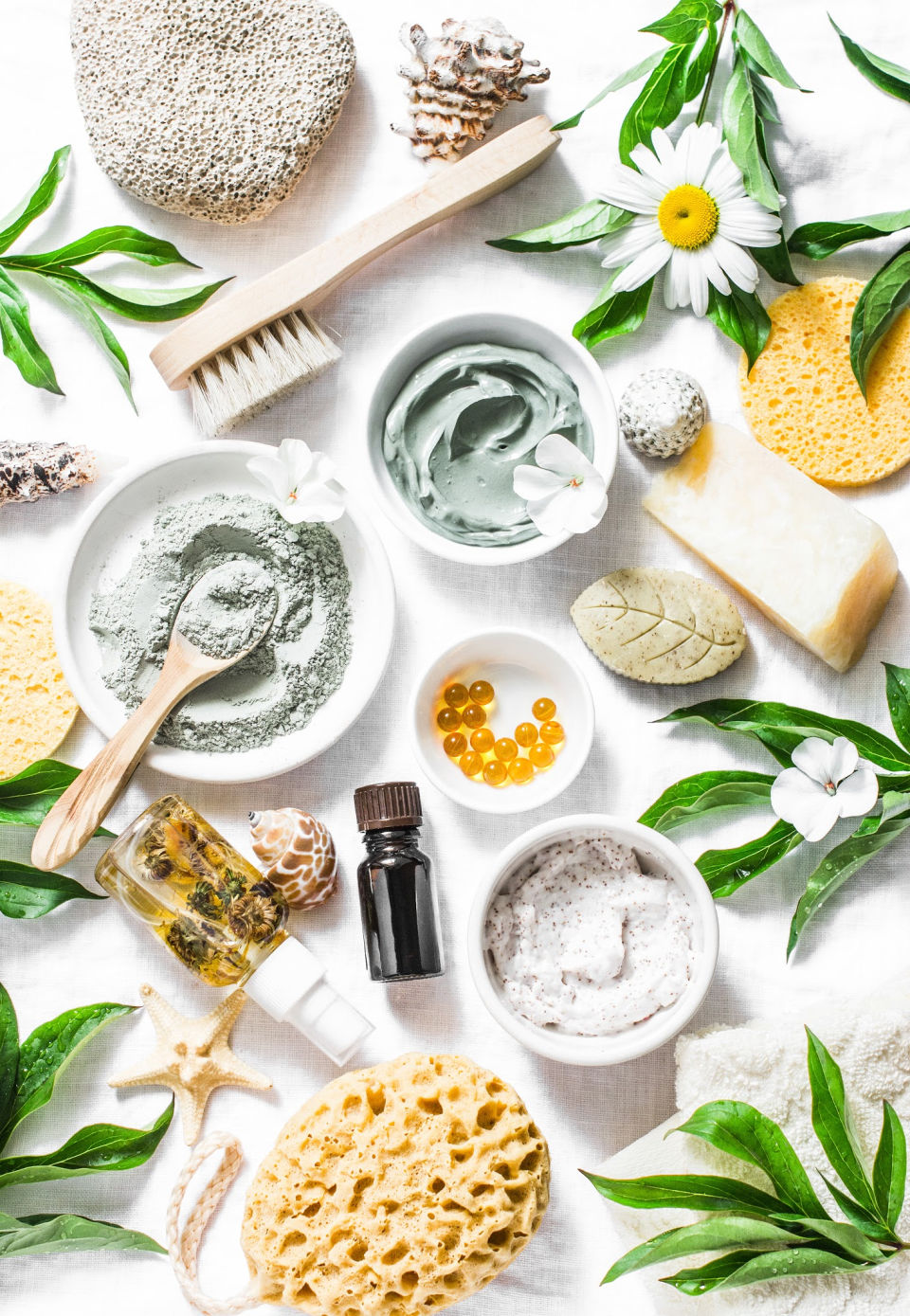 We all love a good face mask, but don't always love the price tag that comes with it. Learn how to make a homemade face mask made with natural ingredients you have in your home for your skin type, that can help you to get rid of many skin problems with great smell at no cost.
4. Homemade Soap in a Crockpot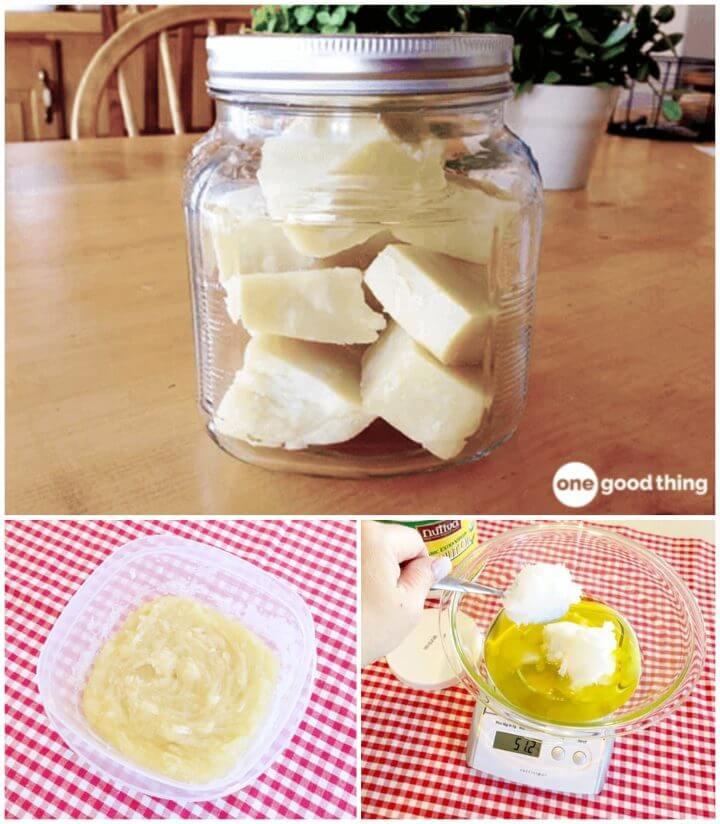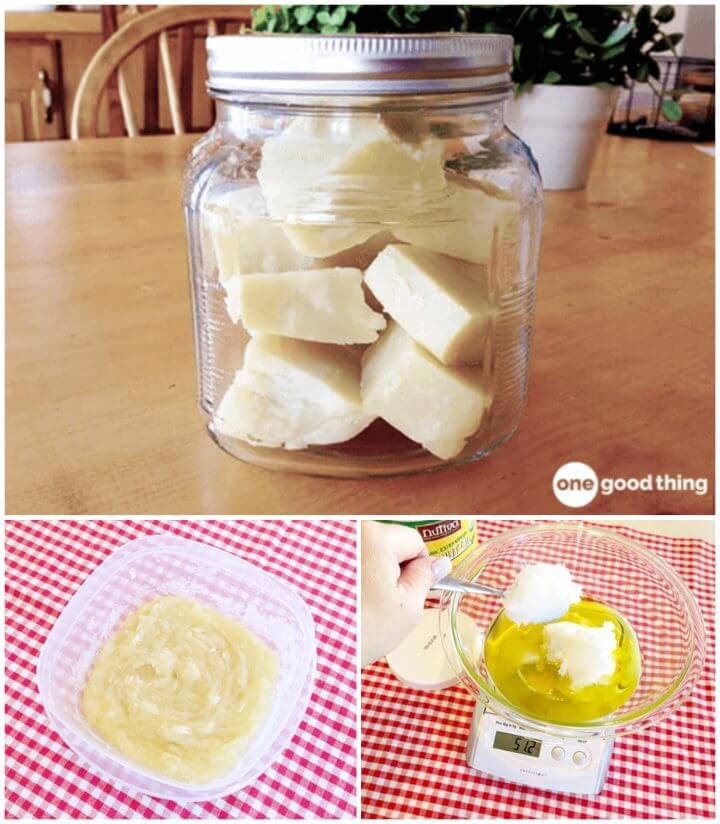 Create your very own Homemade Soap and keep it in a Crockpot for later use. To start making this soap, you'll need to unclutter space with a heat source. vegetable oils, lye-water, synthetic colorant, fragrance, a mold to pour the soap and cool place to let the soap dry. onegoodthingby
5. How To Make Soap With Lye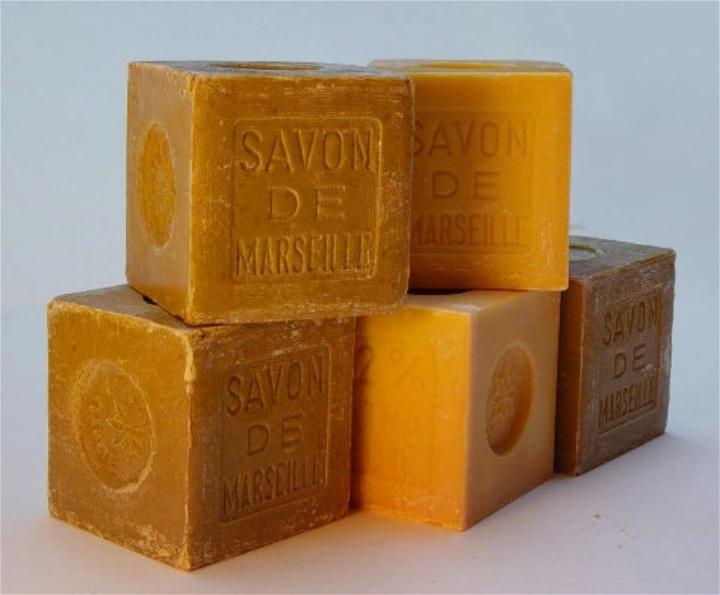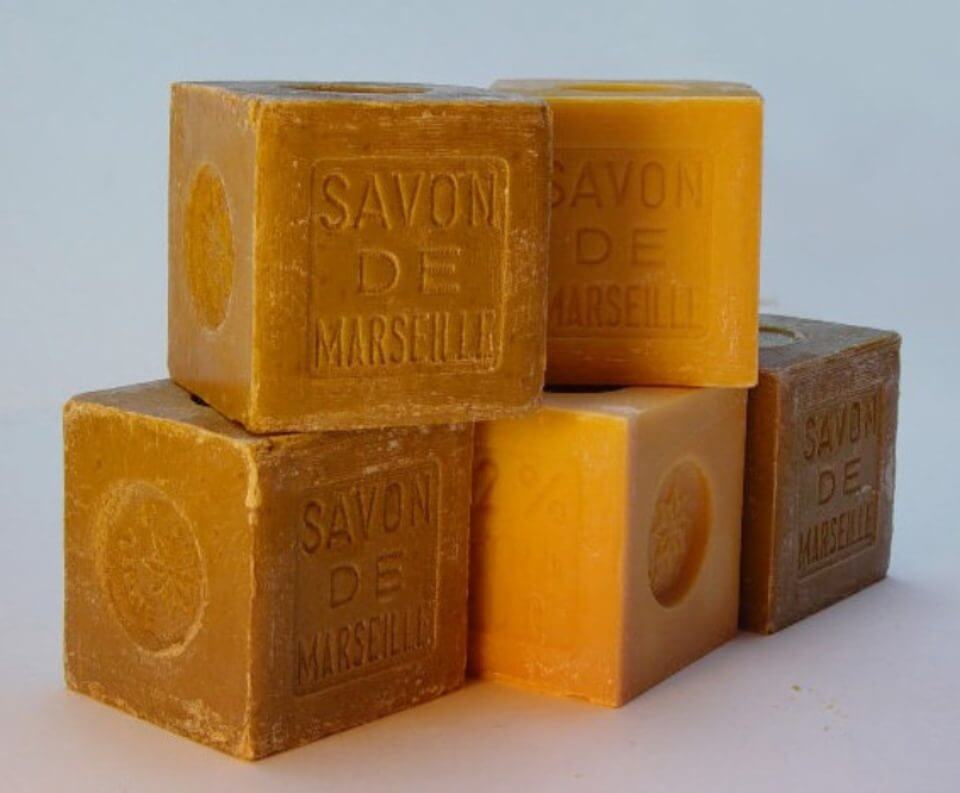 Here is a cool recipe for making homemade soap with lye. Start over by melting the fat in a large pot and adding Lye and water into it. Prepare the mold by adding essential oil and any color. When fat and Lye reach 100 degrees, F. Pour the mixture in a pot and stir, then incubate it for 24 hours. countryfarm lifestyles
6. Beginners Guide To Make Soap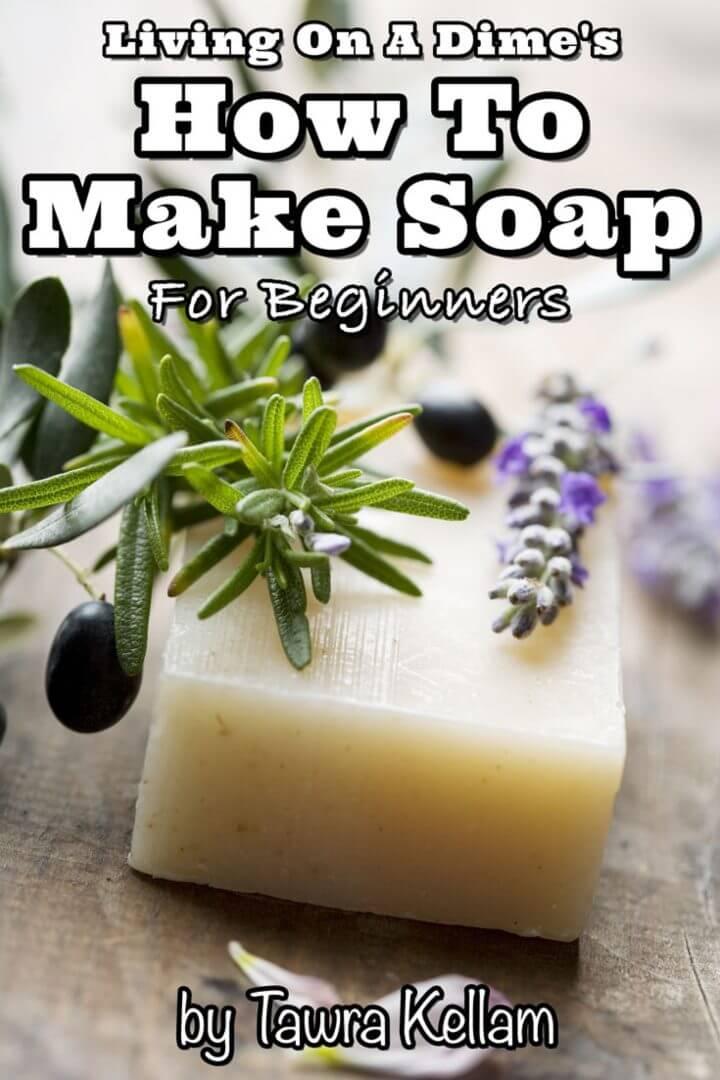 Never tried to make an inexpensive homemade soap? Make this Soap for beginners and be an expert on it. You'll need Lye, water, Castor oil, Shea and kokum butter, Lime and cedarwood essential oil, kaolin clay, and any natural color. livingonadime
7. How To Make Homemade Soap Step by Step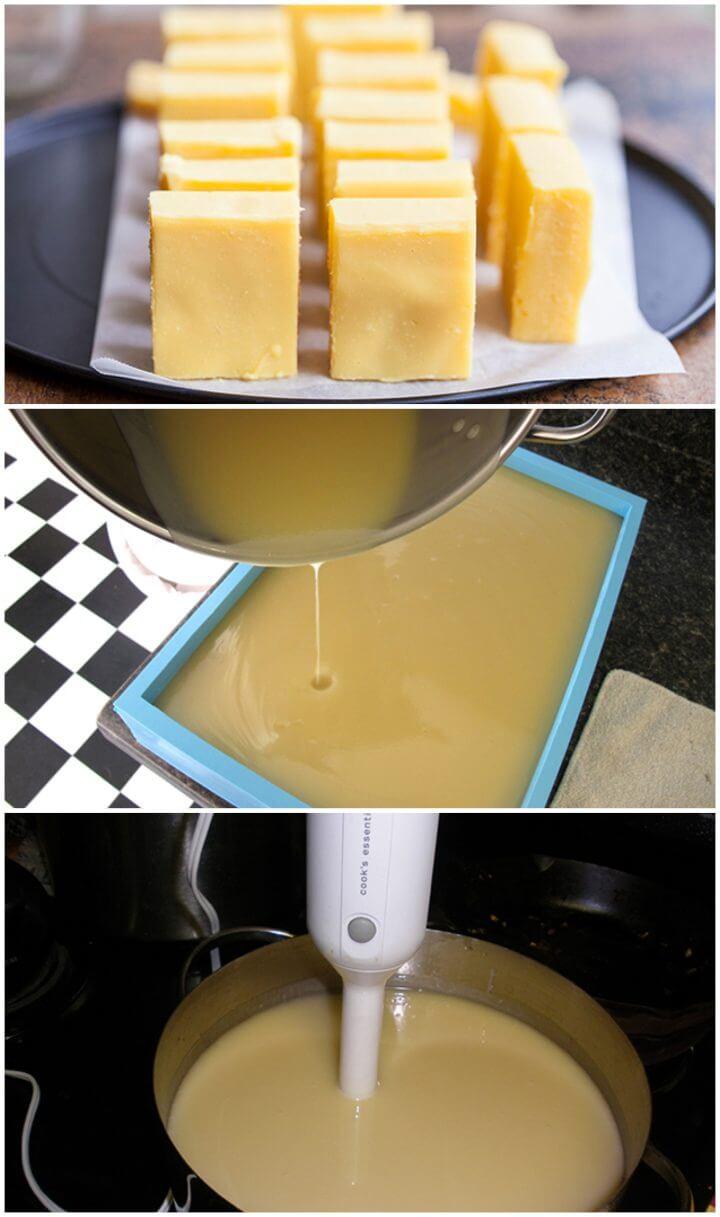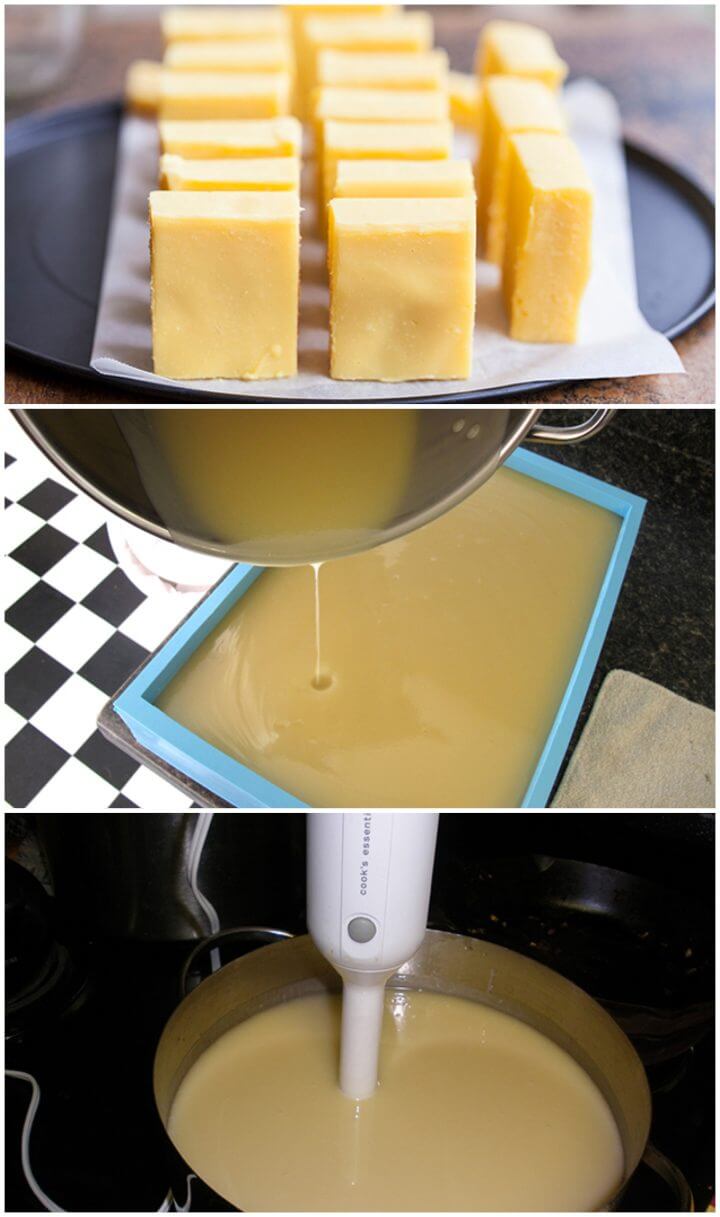 For all the clumsy beginners out there, this handmade soap and its step by step tutorial recipe is for you all. Take a steel pot on heat and melt fat, add Lye and water and essential oil to it, blend the mixture for 5 minutes, add any natural color and pour it to a mold and incubate for 24 hours, remove the mold and cut the soap. lifed
8. 10-minute DIY Milk and Honey Soap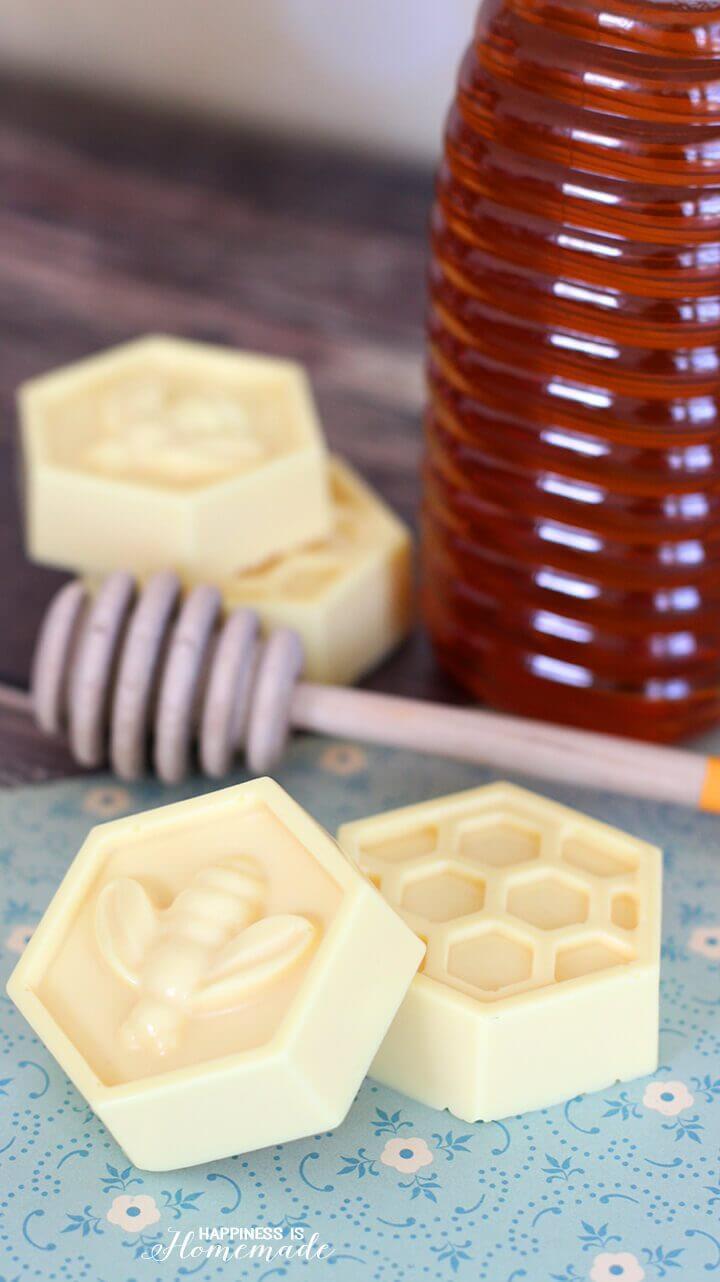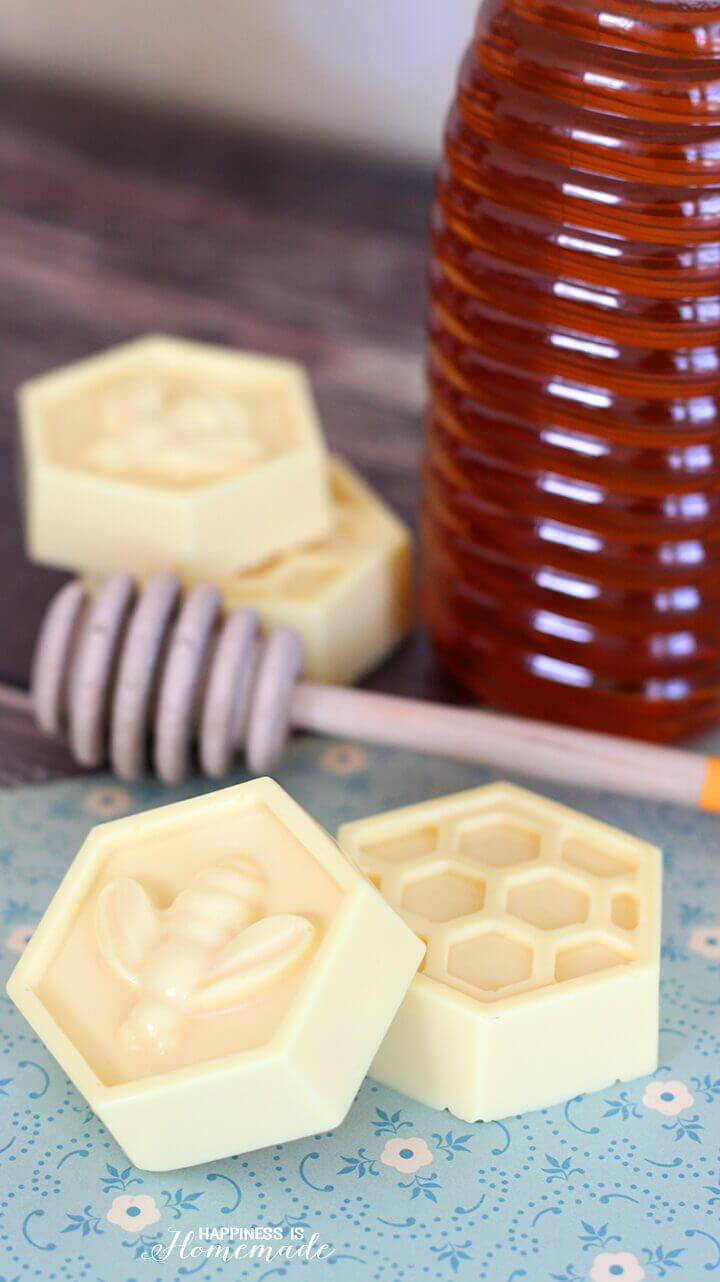 Bringing you this 10-minute DIY Milk and Honey Soap recipe that will smooth your skin by eliminating the dryness. Use ingredients like goat milk, honey, capsules of vitamin E, body oil or almond oil, fragrant oil, and colorant happinessishomemade
9. How to Make Manly Bar Soap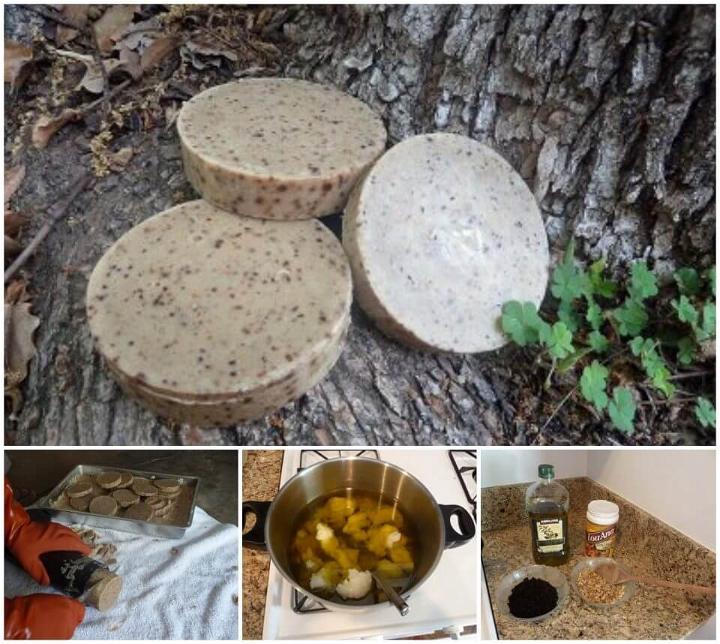 Learn How to Make Manly bar Soap in a few swift processes. Start by heating the oil in a steel container and mix liquid base and Lye, add any oil like coconut or olive oil and lye solution into it, exfoliate the mixture and pour it to mold, wait to cool it down, after that cut the soap. artofmanliness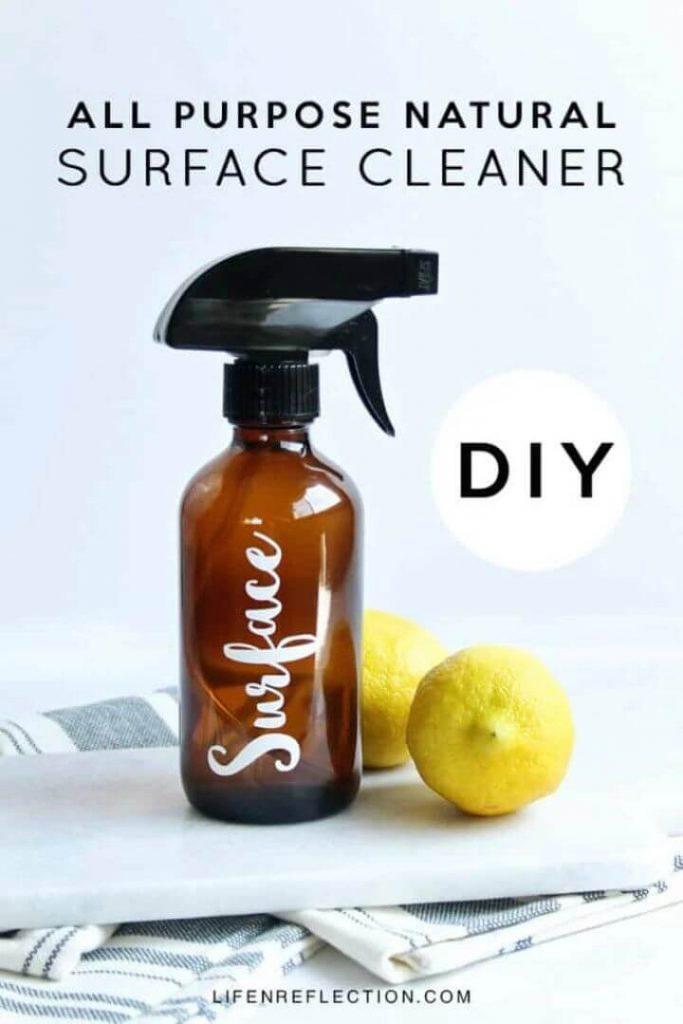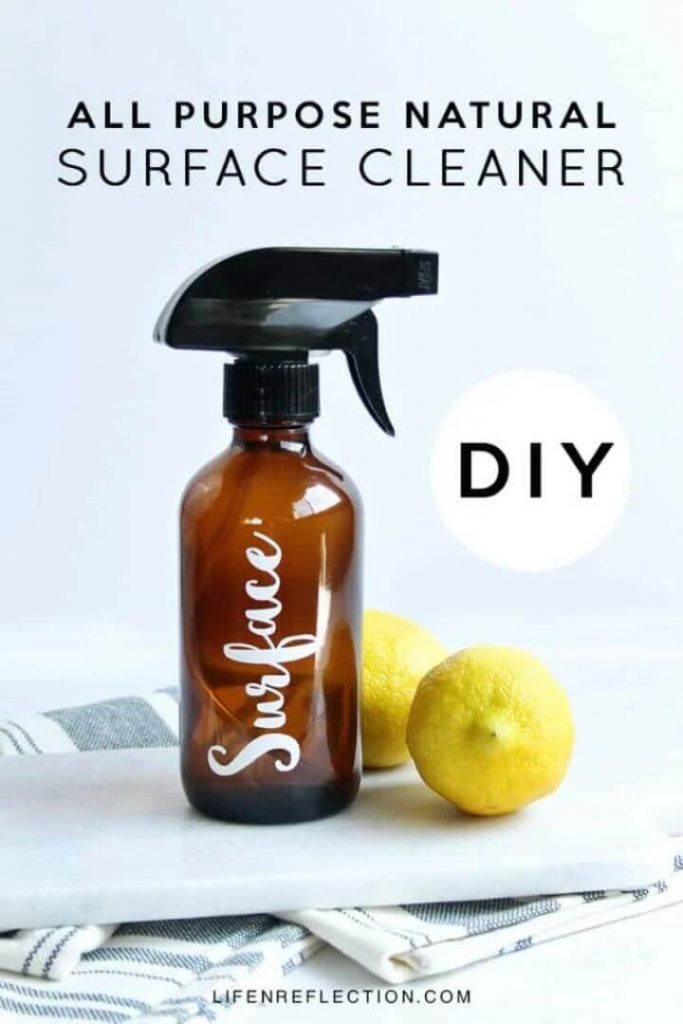 10. Zero Waste Coffee Soap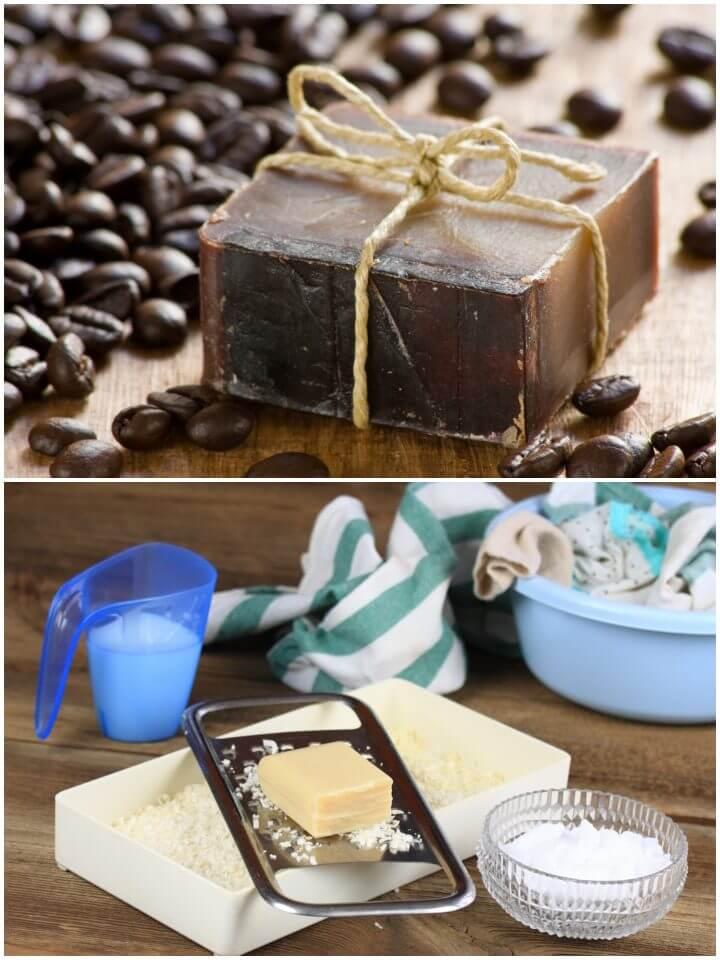 Don't waste the ends of your soap; instead, make this Zero Waste Coffee Soap out of it. It will definitely save your time and money. So, the things you would need to make this are soap ends, 1 soup mold, coffee grounds, 1 old jar that can be washed and dried, a household cheese grater. 1millionwomen
11. How to Make Soap Without Lye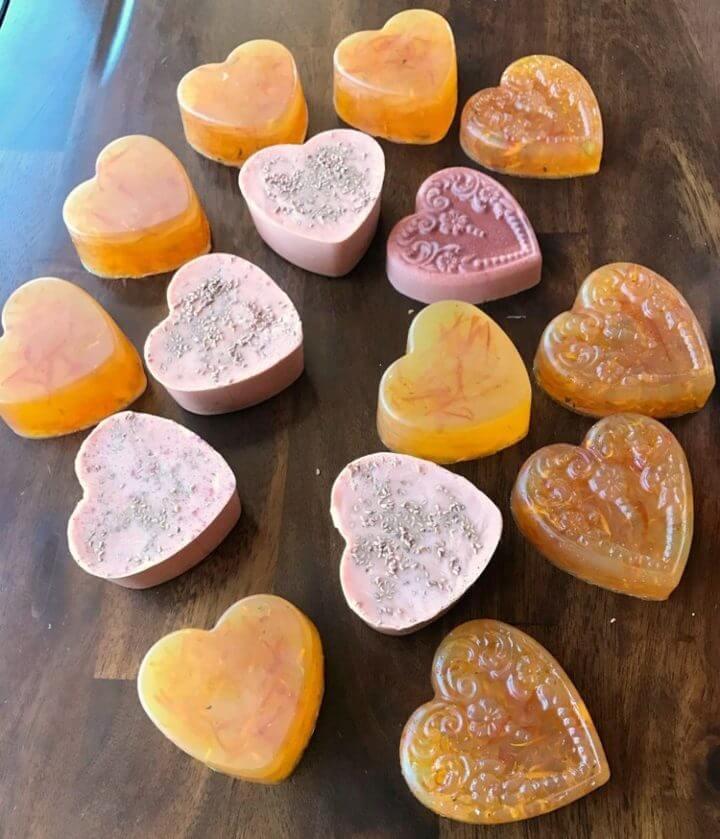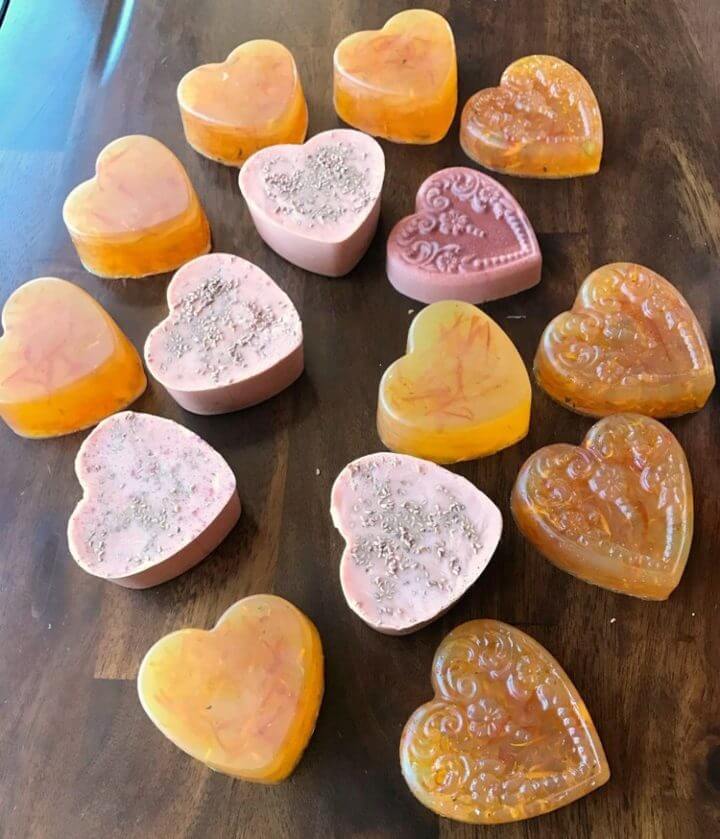 This is a fantastic and easy way to make Soap without Lye in a few steps. Start over by cutting up the soap block, put in the double boiler and melt it down, add your favorite color and scent into it and pour it into the soap mold, spritz the top of the soap with alcohol. Remove it from the mold and Enjoy it! healingharvestho
12. Homemade Kefir Soap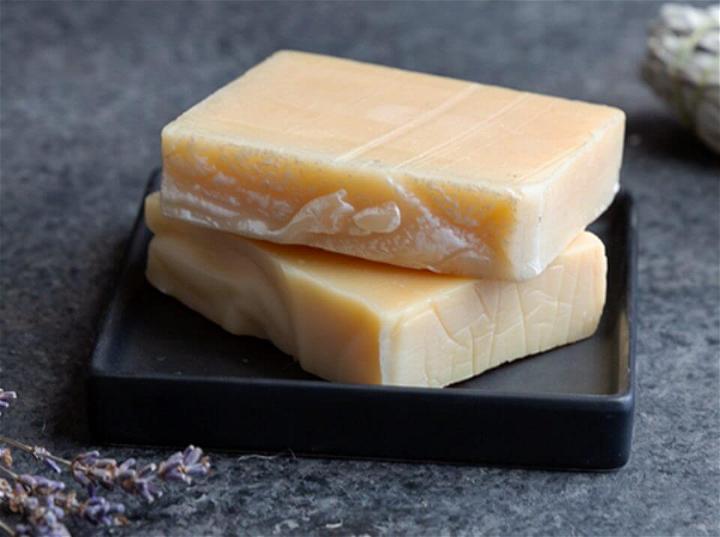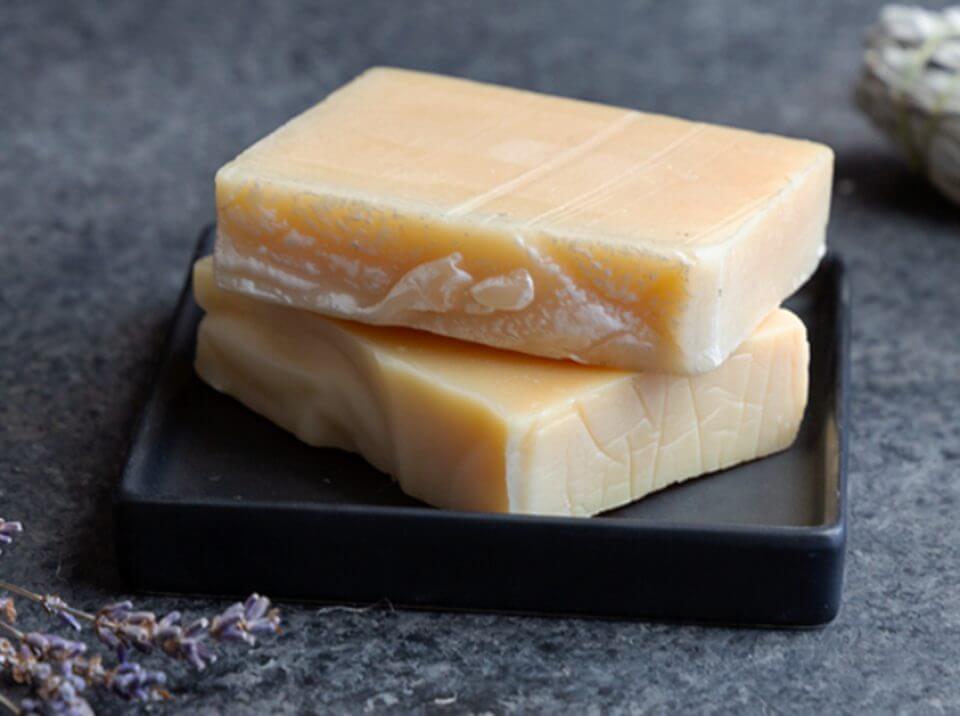 Make this super easy and most economical Homemade Kefir Soap with just a few ingredients. Use 1 cup low-fat plain kefir, ¼ granulated Lye, ½ olive oil, ½ cup coconut oil, 1 cup vegetable oil, 1 ½ cup of lavender essential oil and an immersion blender. lifewaykefir
13. Best Melt and Pour Soap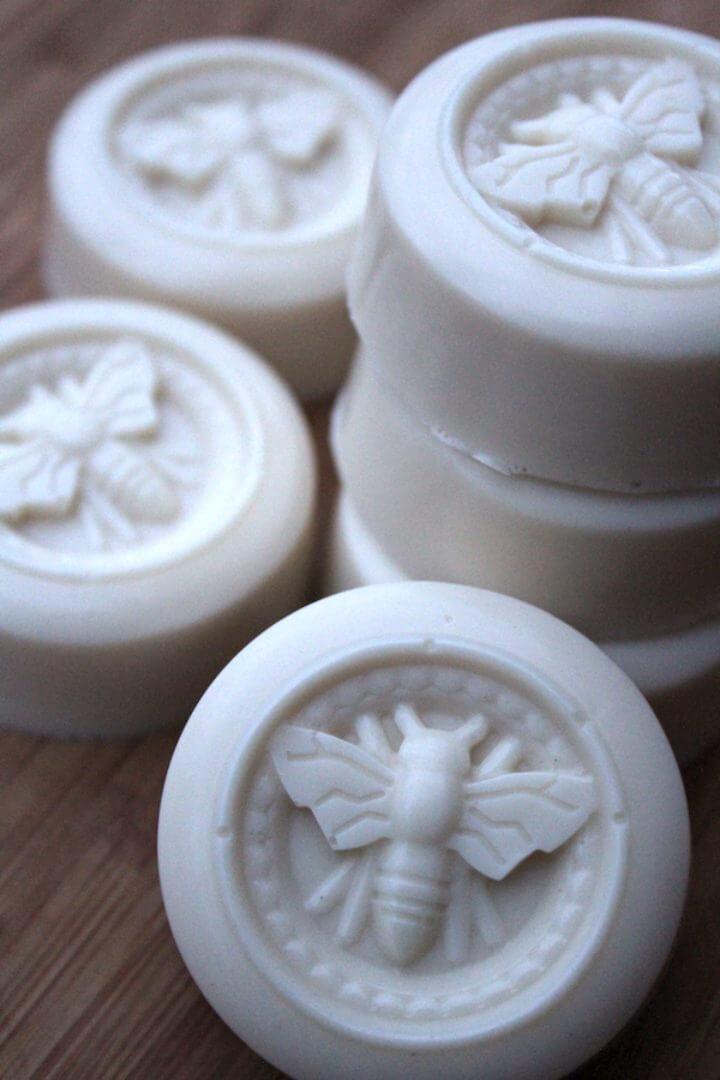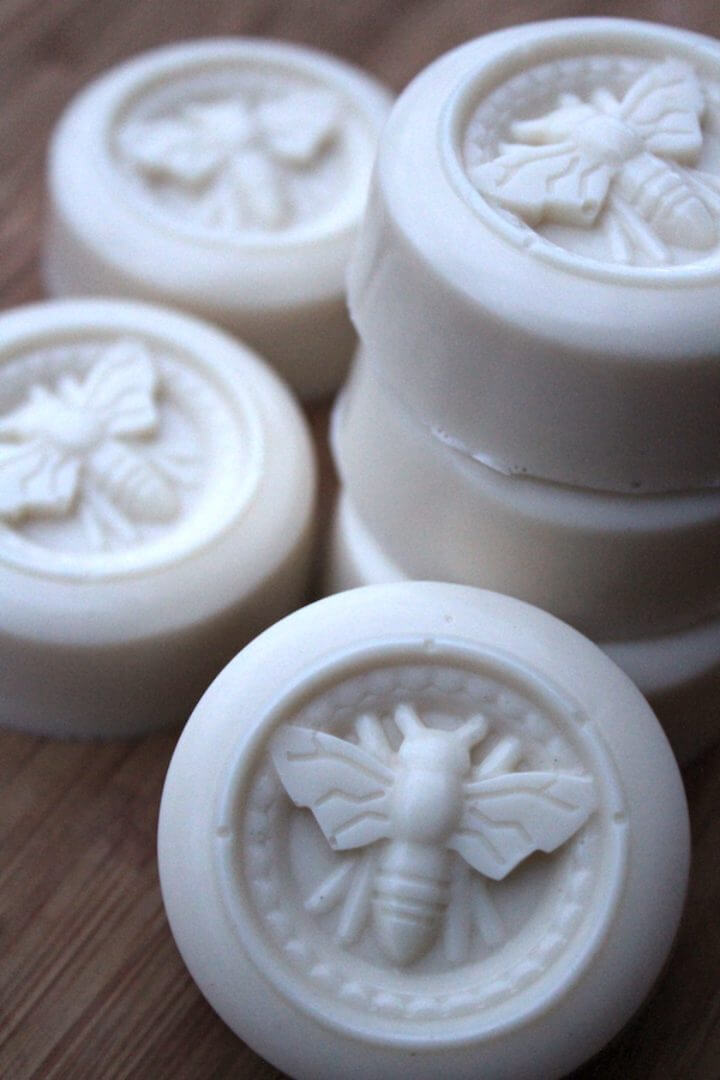 Out of all the soap making methods, this Best Melt and Pour Soap Recipe is the easiest of them all. Buy a melt and pour base, cut the soap base into 1 inch and microwave it to melt that down, cool the soap base to 120 degrees F. Stir in soap making dye, color, and fragrance to it. practicalselfreliance
14. How to Make Oatmeal Soap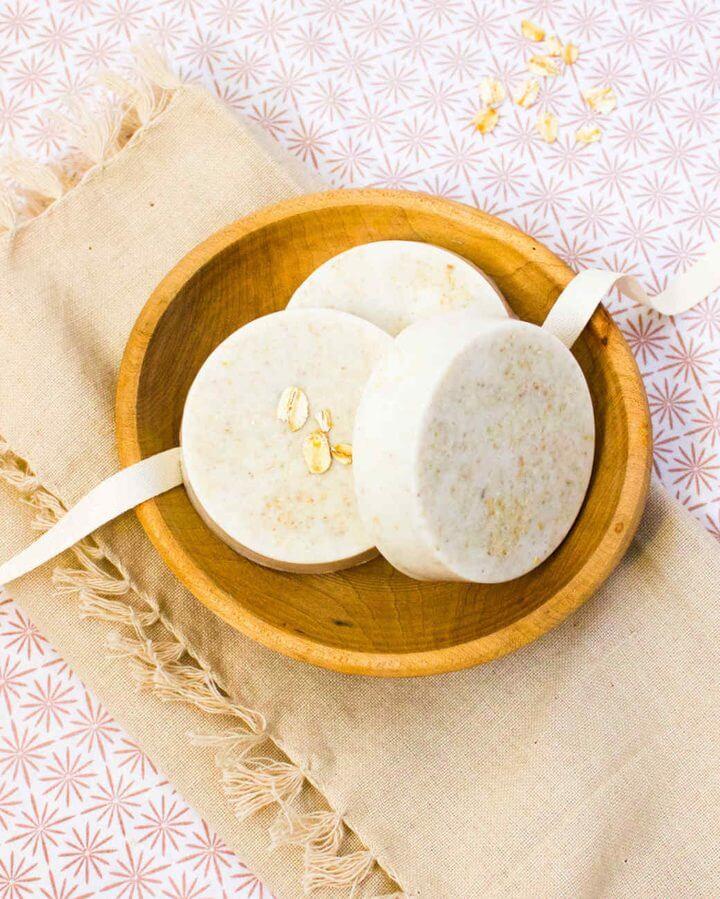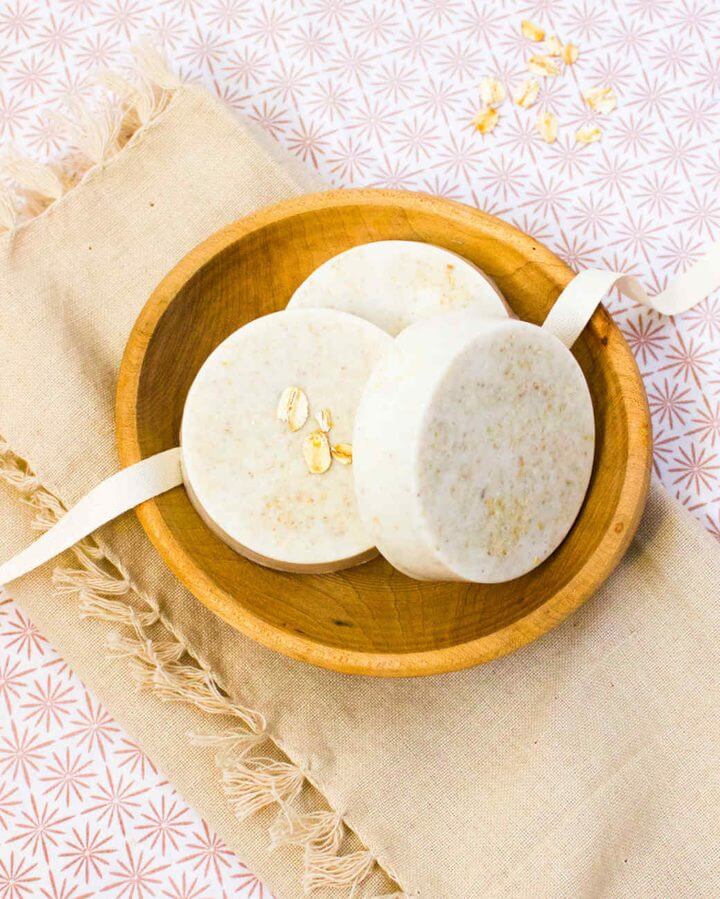 Oatmeal soap is a very nutritional product to use it externally on your body and face to keep your skin smooth and healthy-looking. Follow the steps, take powdered oatmeal, and add honey, shea butter glycerine into it, combine the mixture on heat and pour it to the mold. marthastewart
15. Make Soap with Herbs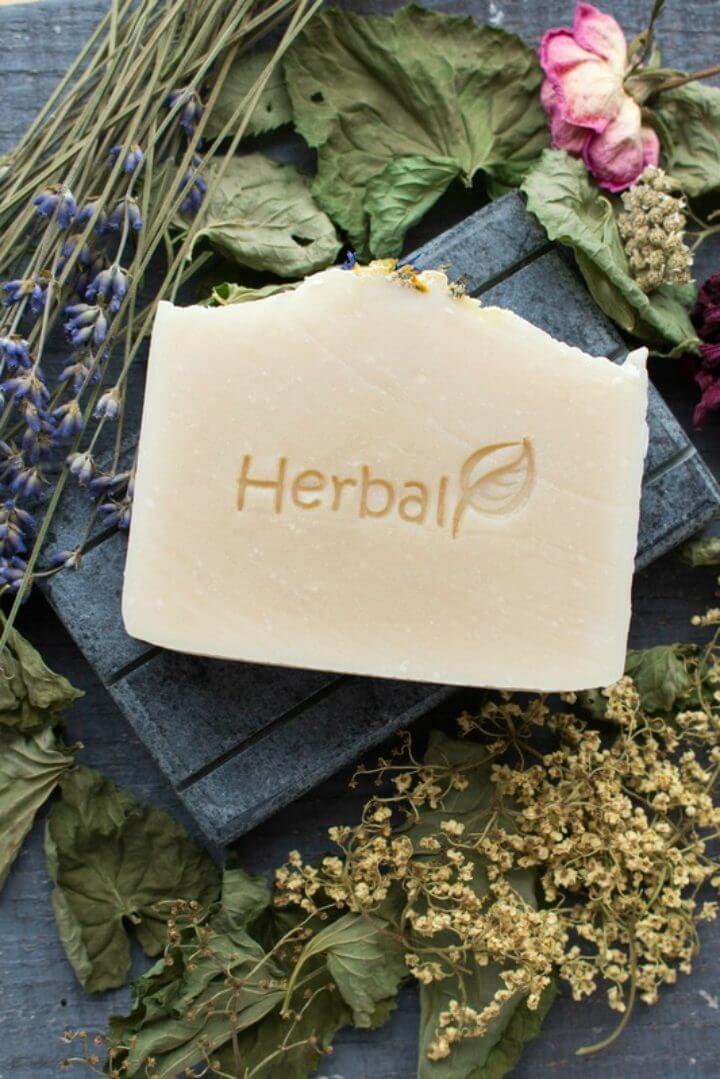 You would realize how herbal products nourish your skin and scalp. Learn to make soap with Herbs. Start by melting the glycerine soap and add the minced herbs, citrus zest, and two drops of essential oil. Pour the mixture into a mold, and your herbal soap is ready. mountainroseherbs
16. Vegan, Palm Oil Free Soap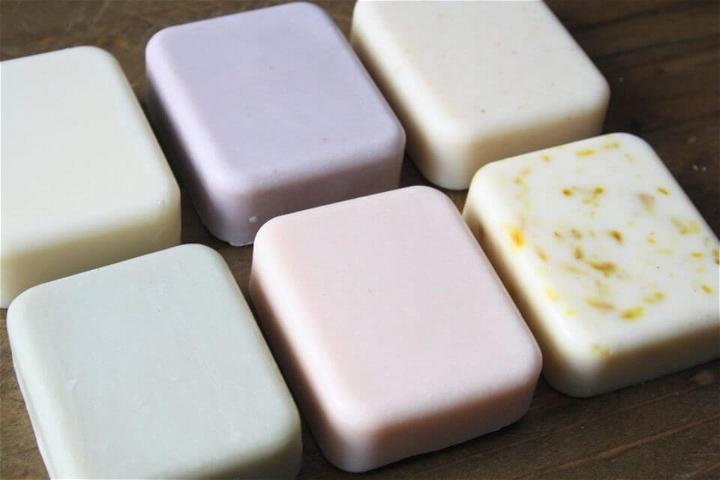 Don't be a part of the deforestation problem and take a stand to try to help the environment by ensuring not using palm oil. Vegan, Palm oil free soap is a prototype for all the soap makers. This soap is entirely made of coconut oil, canola oil, Caster oil, olive oil, Lye, Distilled water. bottegazerowaste
17. Natural Homemade Soap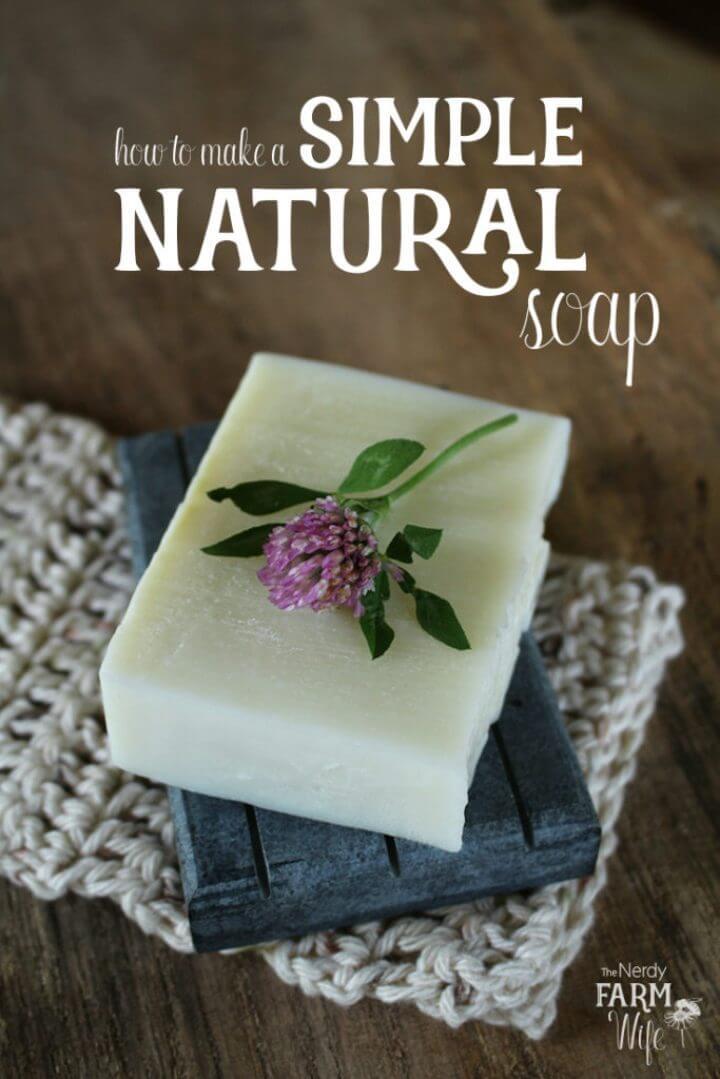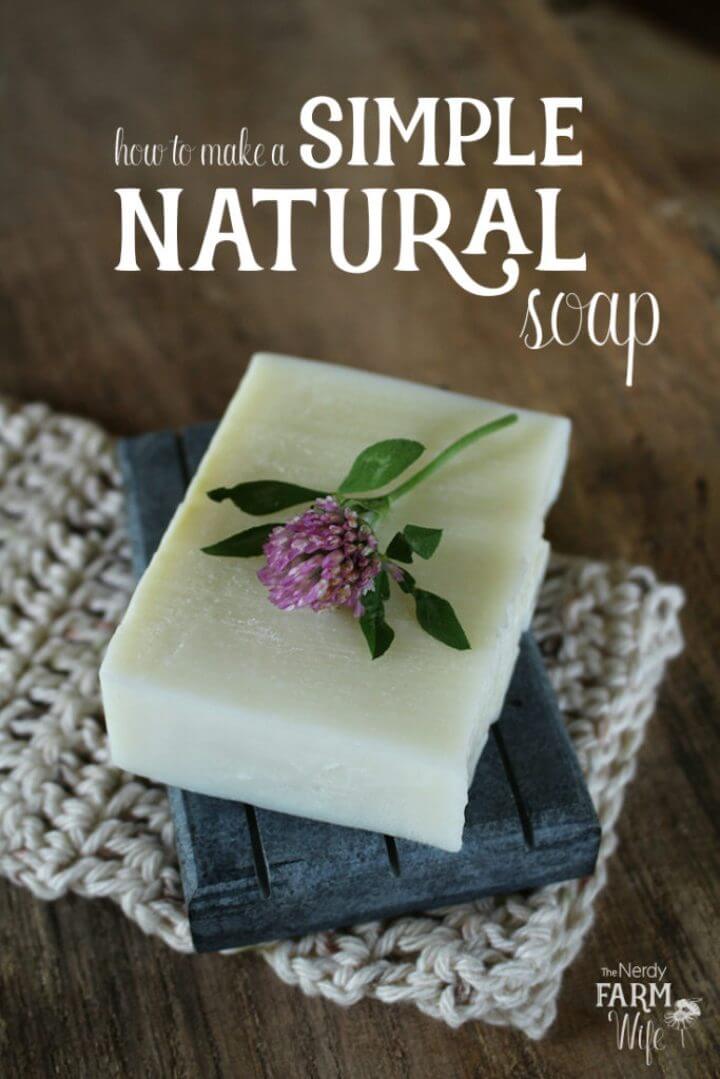 Don't risk your skin by using any commercial soap that might contain any infectious ingredients. Make one Natural Homemade soap for your family because you care for them. Take 2/3 cup coconut and olive oil, 2/3 cup of almond and grape seed oil, few drops of safflower, and essential oil. thenerdyfarmwife
18. Coconut Oil Soap for Cleansing and Laundry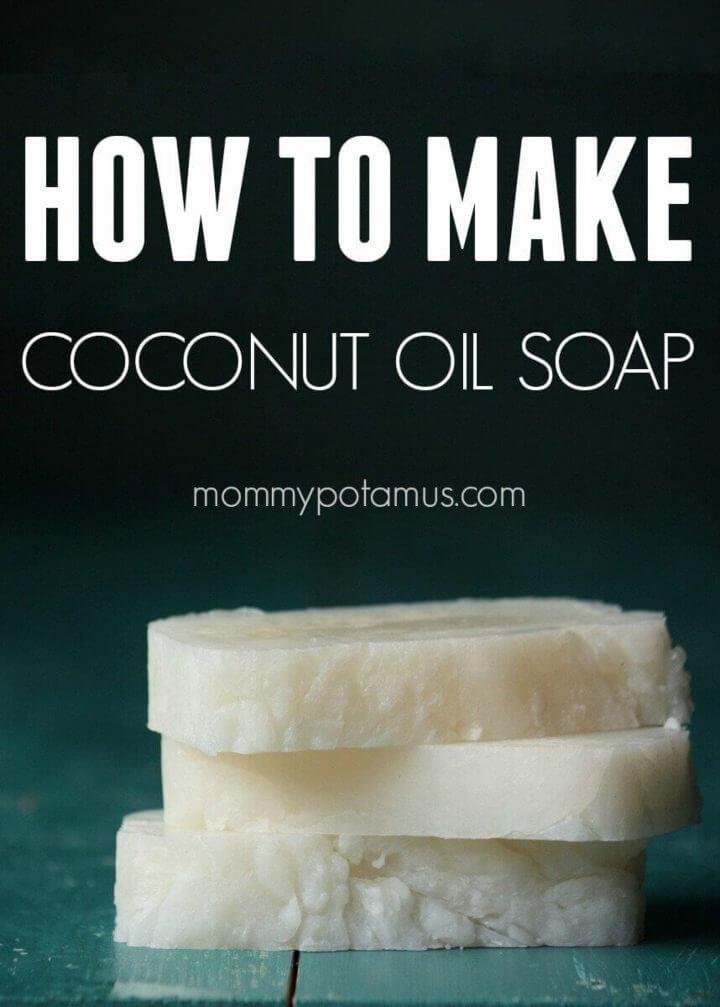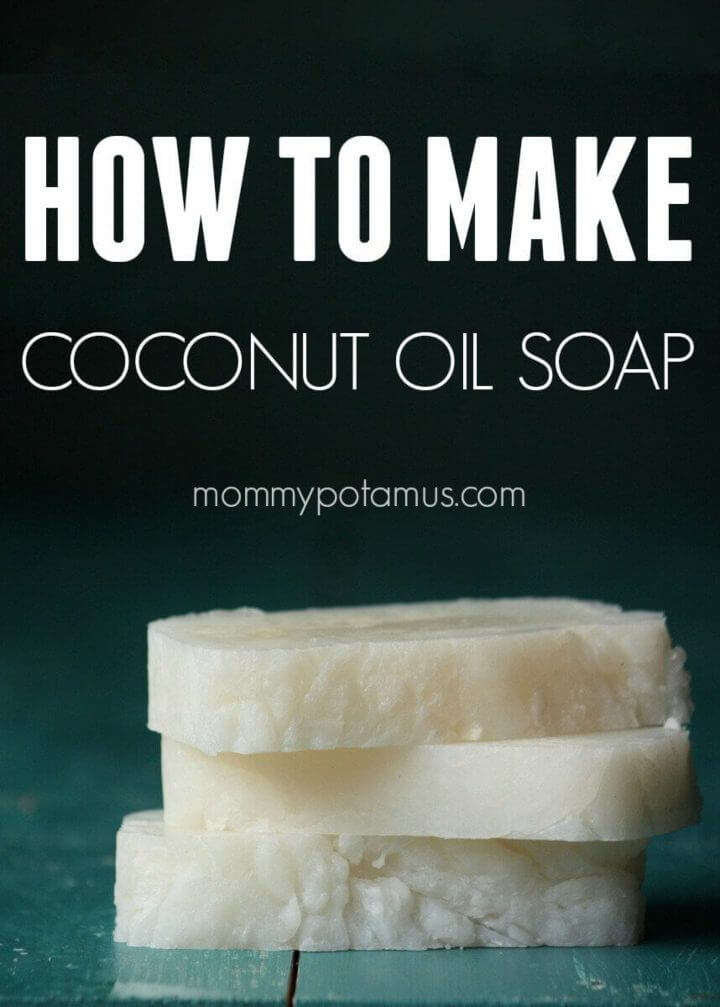 Coconut oil helps reduce inflammation to your skin and moisturizes it well. Make a low-priced coconut oil soap for cleansing and Laundry at home by using few ingredients like coconut oil, Sodium hydroxide, and water. mommypotamus
19. Easy Homemade Soap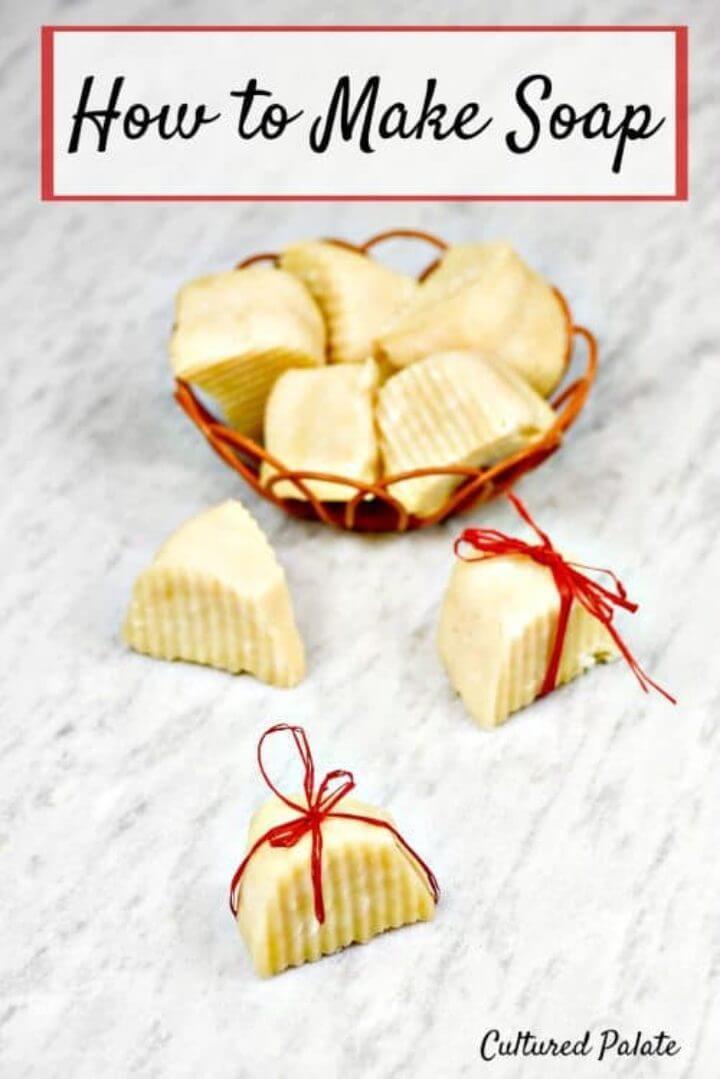 Be an expert in making low-priced soaps at home and then customize it by starting your very own homemade soap business. Use this Easy Homemade Soap recipe by utilizing some ingredients like olive oil, Lye, distilled water, and color to texture the soap. myculturedpalate
20. Simple Ingredients Soap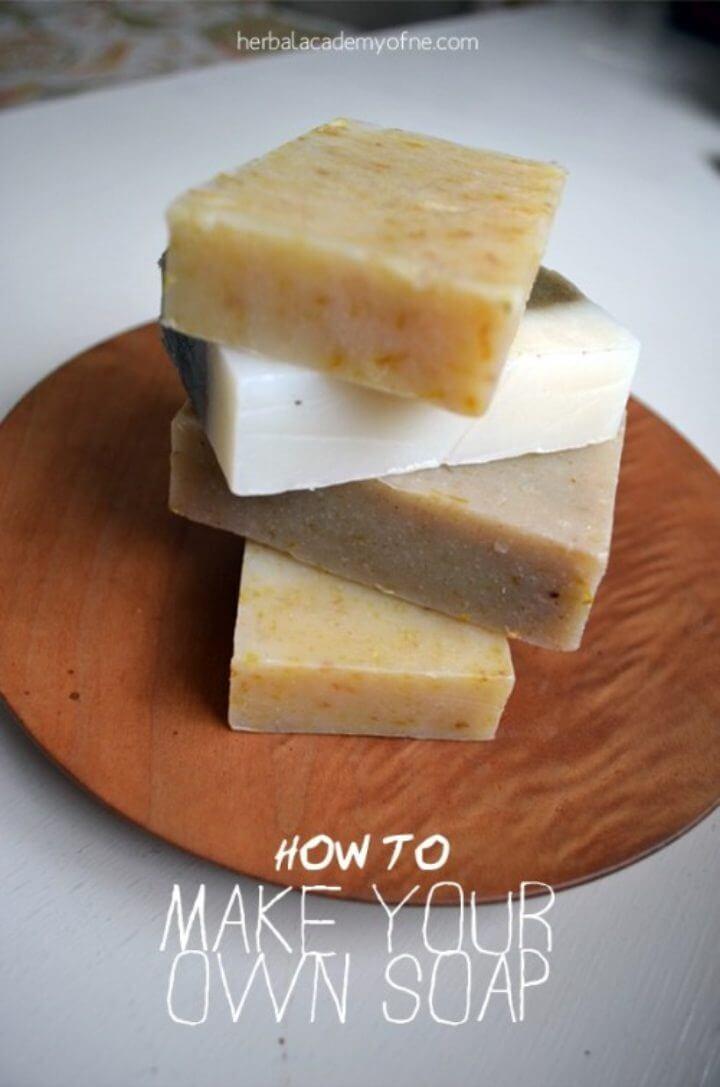 Learn to make this super Simple Ingredient Soap by using few ingredients! These include 500g extra virgin oil, 100g coconut oil, 10g lavender essential oil, 80g lye sodium Hydroxide, and 195g water. The utensil you require would be steel pot and spatula with hand gloves and a mold. theherbalacademy
21. Homemade Rainbow Soap with Kids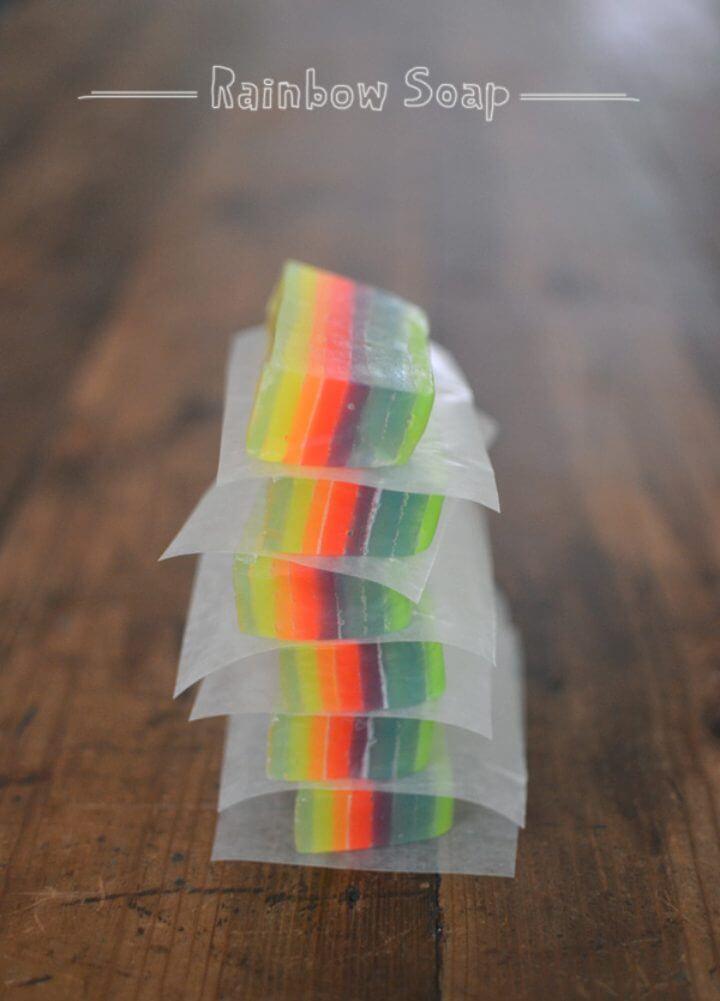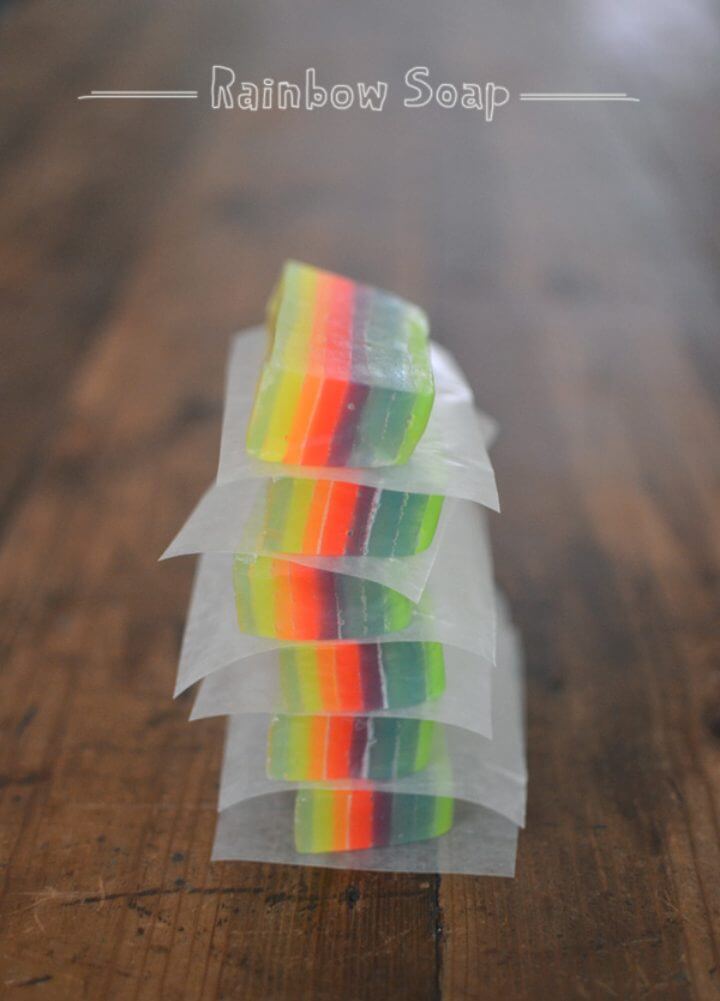 Get your kids to help in making this super cute rainbow soap! With kids, it is all about Rainbows and unicorns! Make this homemade rainbow soap with kids using some essential oils, clear soap base, and soap dyes with other supplies. artbarblog
22. Flower Infused Milk Soap

Take your skincare routine to another level with this creamy and nourishing milk soap! Not just that, but also an added infusion of pretty flowers to make you feel even more refreshing. Don't forget to freeze the milk for making a bar of milk soap. reformationacres
23. How to Make Soap at Home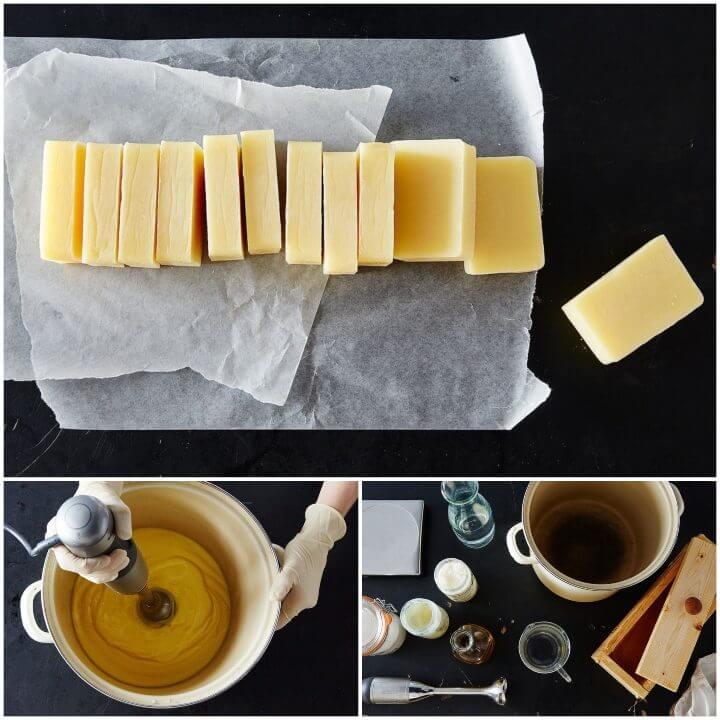 If you have any concerns about the materials or chemicals used in the soaps that you can get from the market, worry not. With us, learn how to make soap at home using natural ingredients. What you will be needing are some soothing oils and a few more essentials. food52
24. Make Cold Process Soap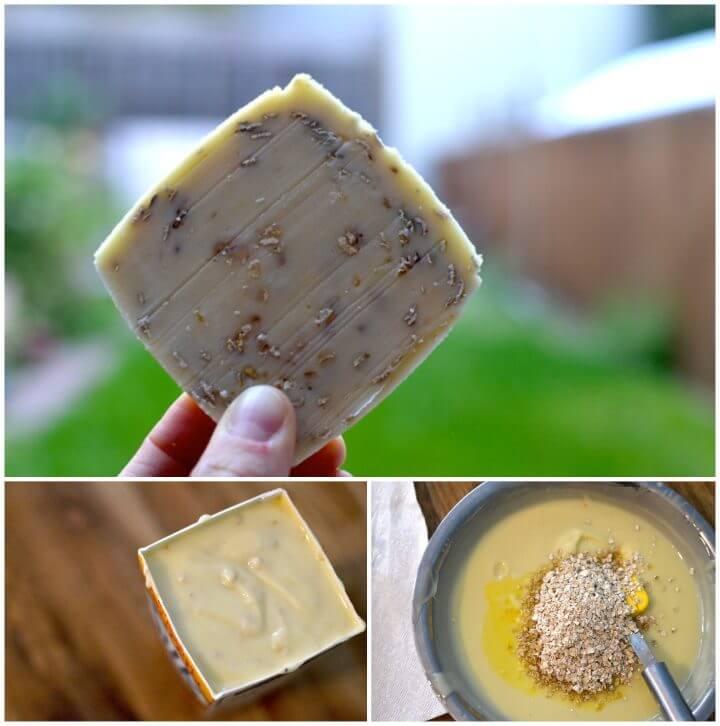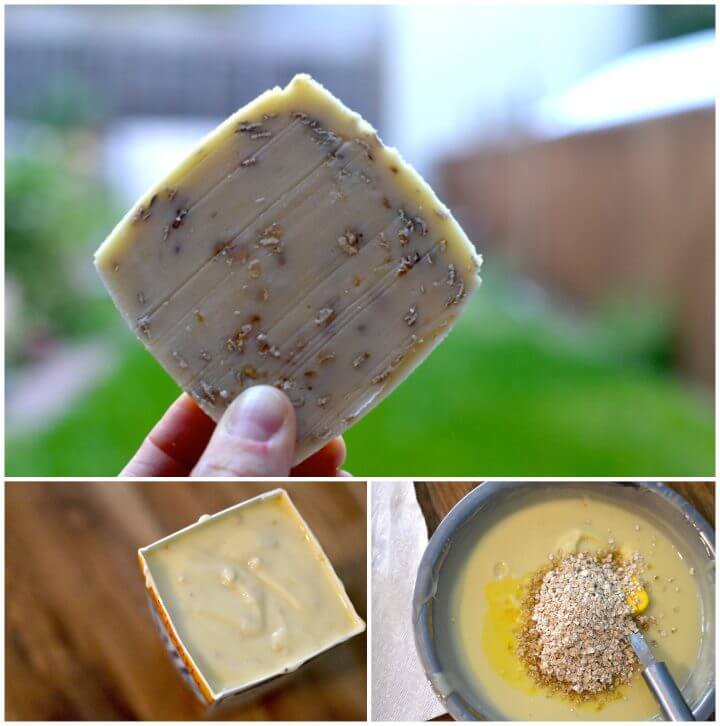 With Christmas and holidays reaching us, what's the best gift to give to your loved ones than the sensational handmade luxuries? Make this perfect caretaking cold soap for your people, and this Christmas, get creative with your gifts. brooklynbrainery
25. Best Traditional Homemade Soap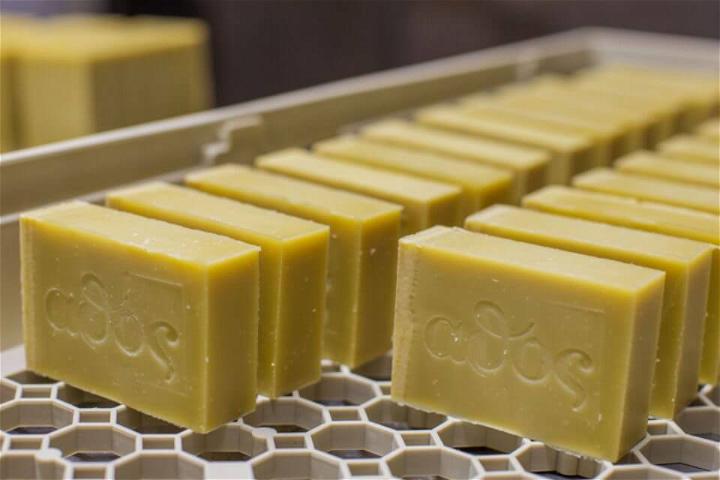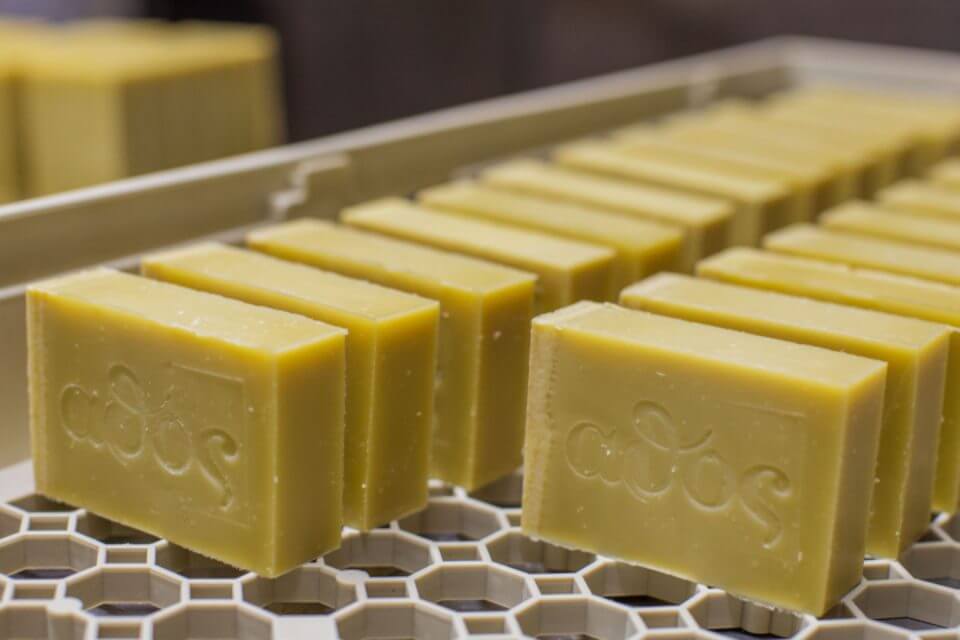 Crete is one of the ancient ingredients used for making soap! And no matter how advanced the world could get but nothing really beats the charm of the old traditional soap! Hit the tutorial now for taking a walk down the #basics lane. geographical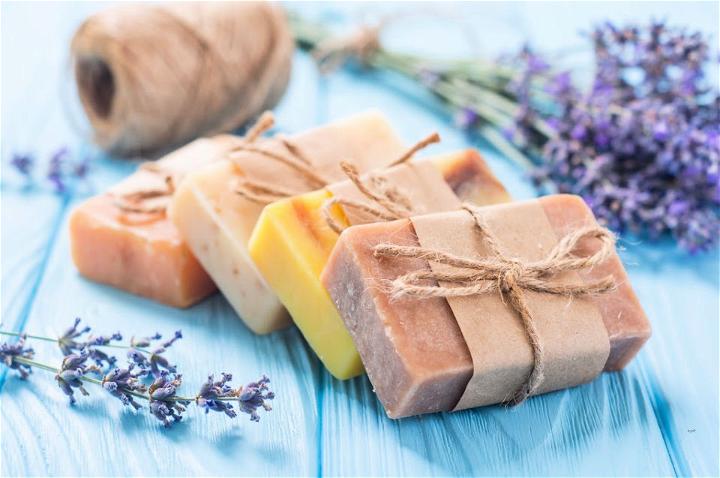 Why buy when you can DIY your own soap, right? That's the spirit we go with how to make soap, and these easy peasy ways to make soap using natural ingredients at home guide you, and you are so not going to stand at the soap section anymore while grocer-ing! One more way to save money and add more love to your life filled with self-care.