Take your crafting obsession to the next level and start making jewelry items at home. Whip up instant beautiful bracelets with these 15 free DIY macrame bracelet patterns that will involve your art of knotting and will be your next most amazing wearable crafting art. Making these yarn or hemp bracelets using the art of crocheting will fit best to all ages, abilities, and skill levels. One can easily learn, giving smart knots to twine to get master hands in the art of knotting.
Want to see which type of wonders you can do with this art? Then learn how to make a macrame bracelet with these 15 free macrame bracelet patterns are the best crafting gifts to give to big jewelry wearers in the home. A twine, hemp, or cord is one of the common home materials, and you can really get a lot out of this all-time available home material.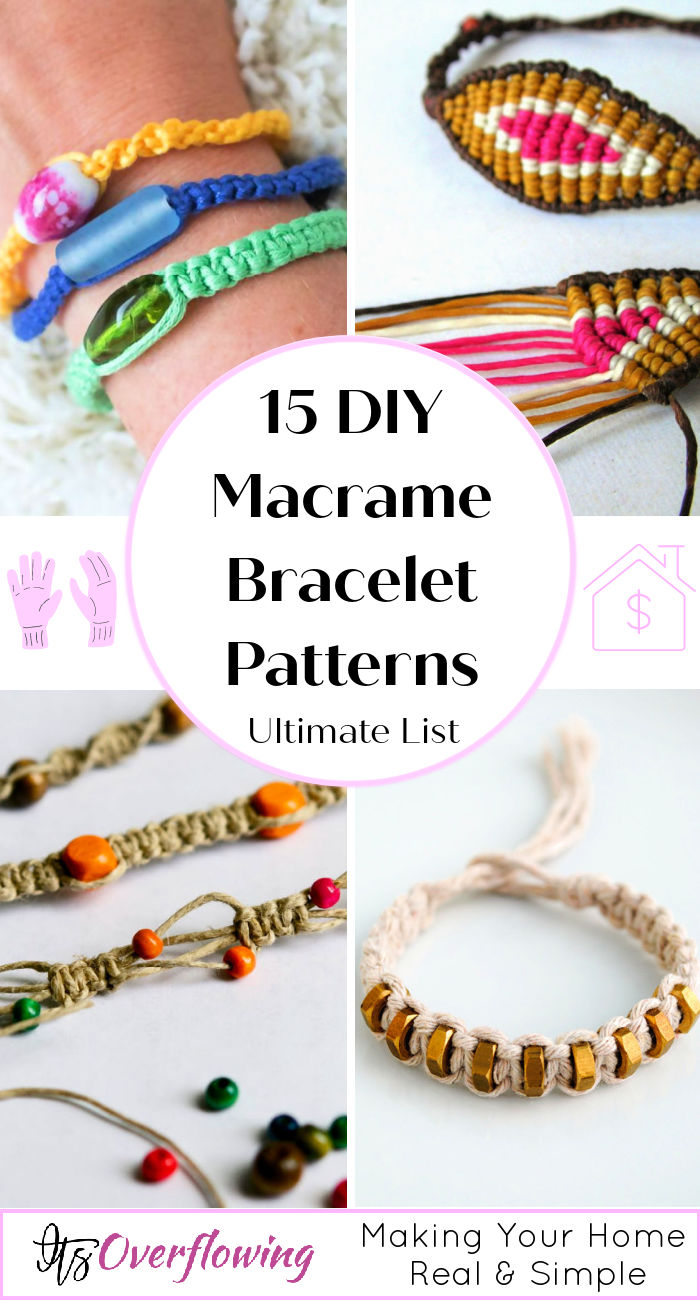 This list of DIY macrame bracelet patterns is sharing a huge variety of bracelets that you easily knot at home. Knotting the twine for so many different design patterns will adding the beads, accents, and custom charms will be all about to make most of these DIY macrame bracelets. These macrame bracelet patterns will allow you to make a bracelet at any time, and you only need to have a cord or hemp in your pocket or bag. Try these hemp or cord bracelets with custom antique stones, rhinestones, crystals, beads, and other decorations of interest. Take a short tour of all macrame bracelet patterns to get tons of unique inspirations.
1. DIY Macrame Friendship Bracelets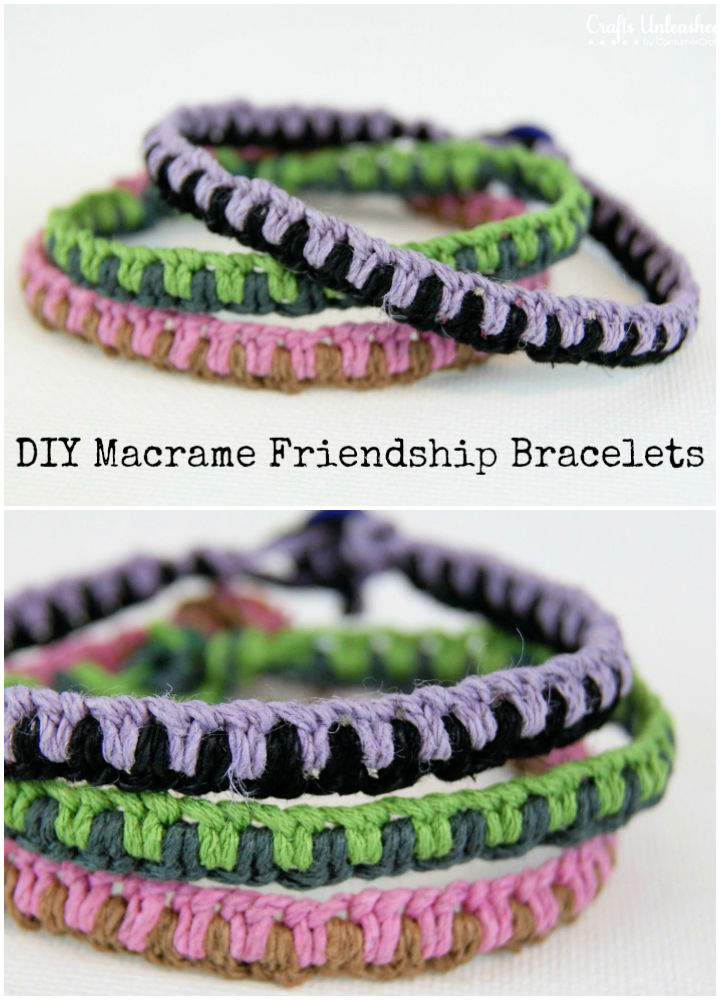 Turn the ordinary twine into something worthy using your art of knotting. Grab the hemp twine in your favorite colors. Take the lengths of twine and then just tape them off on a flat surface and start knotting them nicely to make this macrame friendship bracelet. Finish it off with a button accent. Find the macrame bracelet tutorial here! consumercrafts
2. Stretch Macrame Bracelets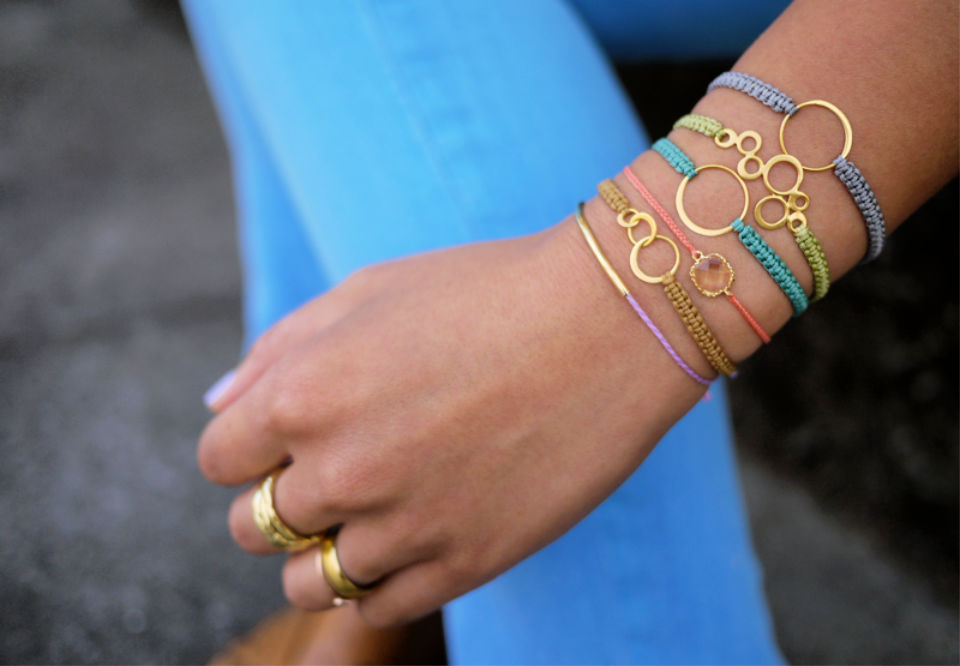 Here you only need 4 yards of 0.5mm Chinese cord to stitch this macrame bracelet, something incredibly beautiful and long-lasting. Tie this cord onto both sides of a connector or charm and start giving the knots to both sides until you get a cool macrame bracelet with a center charm. Details here honestlywtf
3. Macrame Bracelet TutorialWith Diamond Motif
Make this DIY macrame bracelet with a diamond motif using a #10 crochet thread. Grab the cord board panel and to fix the cords in place to braid and knot together until you get this DIY macrame bracelet with a cool diamond motif. This yarn macrame bracelet will be one of the coolest accessories to add to your fashion wardrobe. howdidyou
4. DIY Charm Macrame Bracelet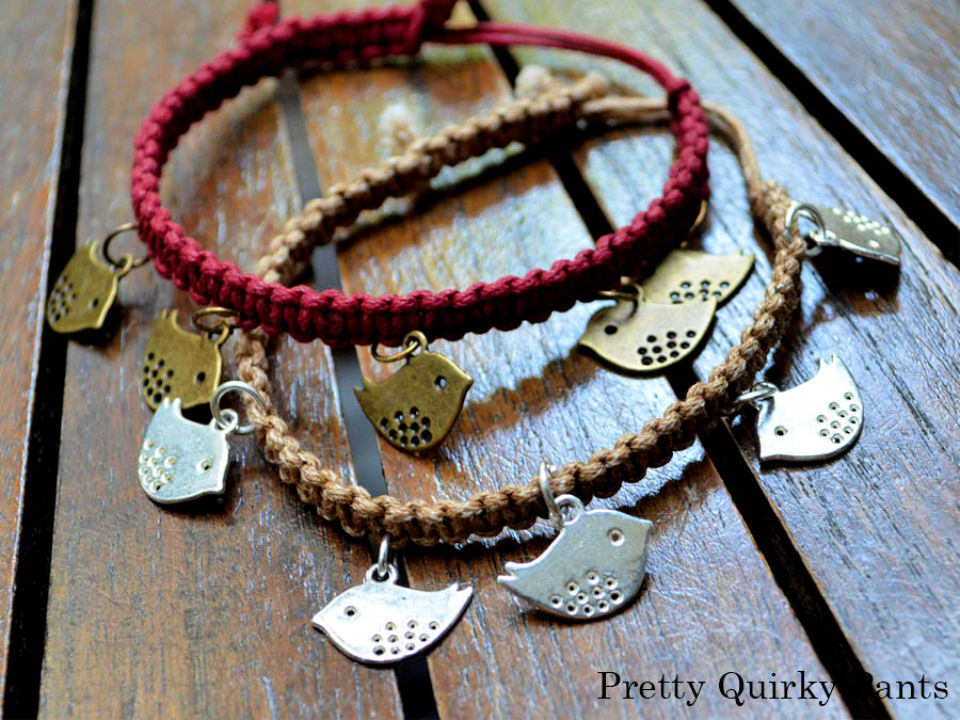 Create an adorable personality of your wrist by making this charm a macrame bracelet. The project includes making a simple bracelet using the waxed linen and your art of knotting. Next, you can add the metallic charms to the yarn bracelet using jump rings. Details here prettyquirky
5. Handmade Jewel Macrame Bracelet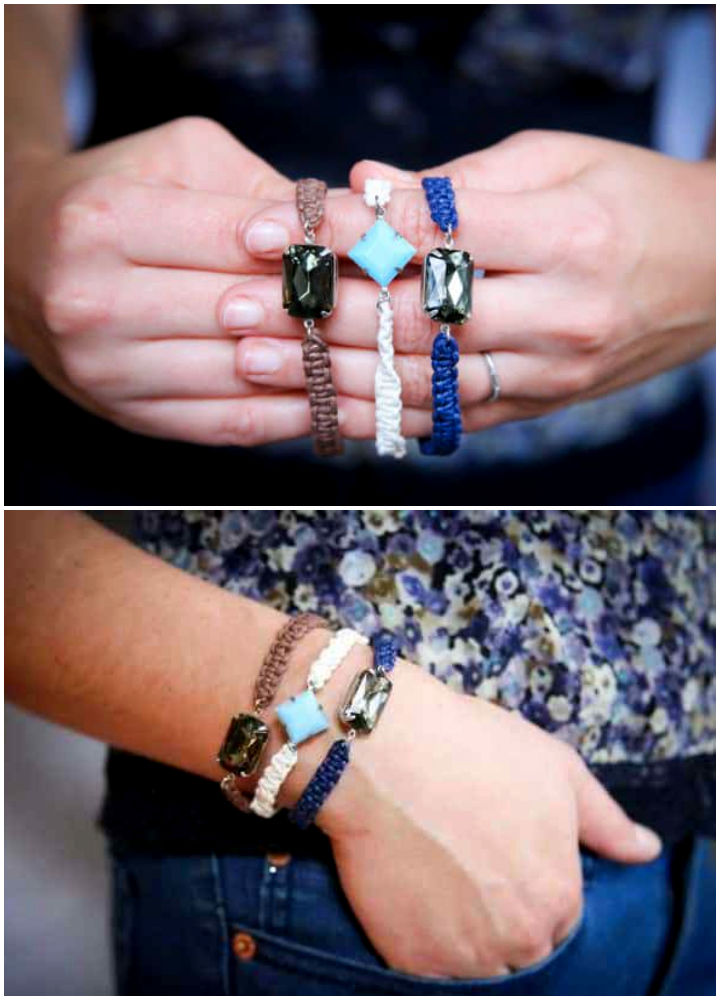 Adorn yourself more with these jewel macrame bracelets that are quite easy to make. Tape off the natural braiding cord and then start knotting the strands together to make the bracelet featuring a lovely design pattern. Finish the bracelet with antique jewels using jump rings. Details here helloglow
6. String and Hex Nut Macrame Bracelet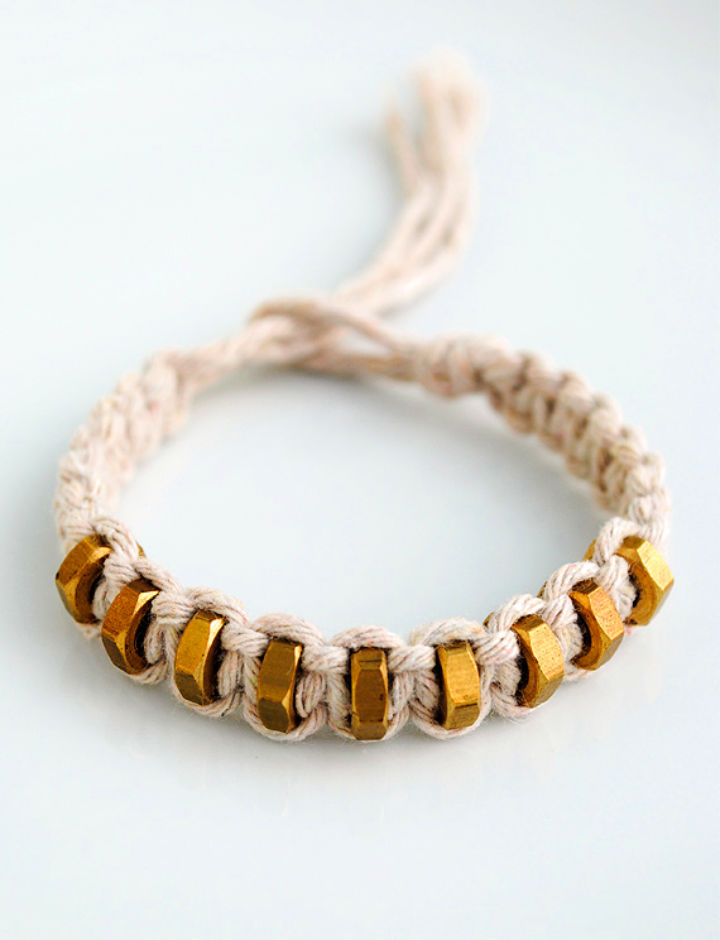 A mind-blowing bracelet achievement done with the hex-nuts and strings. Just give your favorite bracelet string smart knots while adding gold hex-nut on the same string to make this string, and hex nut macrame bracelet will surely make an impressive handmade gift. Details here minieco
7. Devil's Eye Macrame Bracelet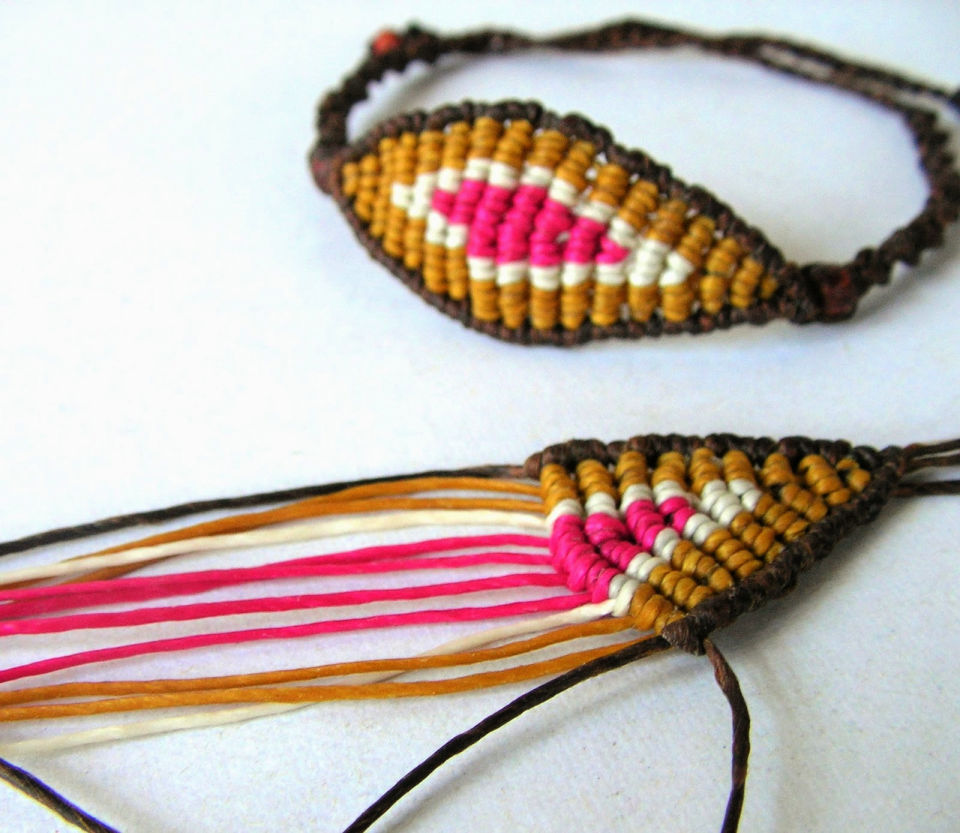 Just like crocheting and knitting, the art of knotting also allows you to macrame every shape and design while using your favorite colorful yarn. Check this one of the best macrame bracelet patterns on our list. This time make this Devil's Eye macrame bracelet, a coolest handmade gift to whip up in no time. Grab the brown, yellow, pink, and white cords and decorative beads to make this bracelet. ecocrafta
8. Leather + Climbing Rope Macrame Bracelet Patterns
Get crafty with the super durable climbing rope to make lasting longer macrame bracelets. Grab the climbing rope, deerskin lace, and an end cap with a hook to whip up this leather and climbing rope macrame bracelet. A durable macrame bracelet to craft for fashion lovers. thestripe
9. Simple DIY Macrame Bracelets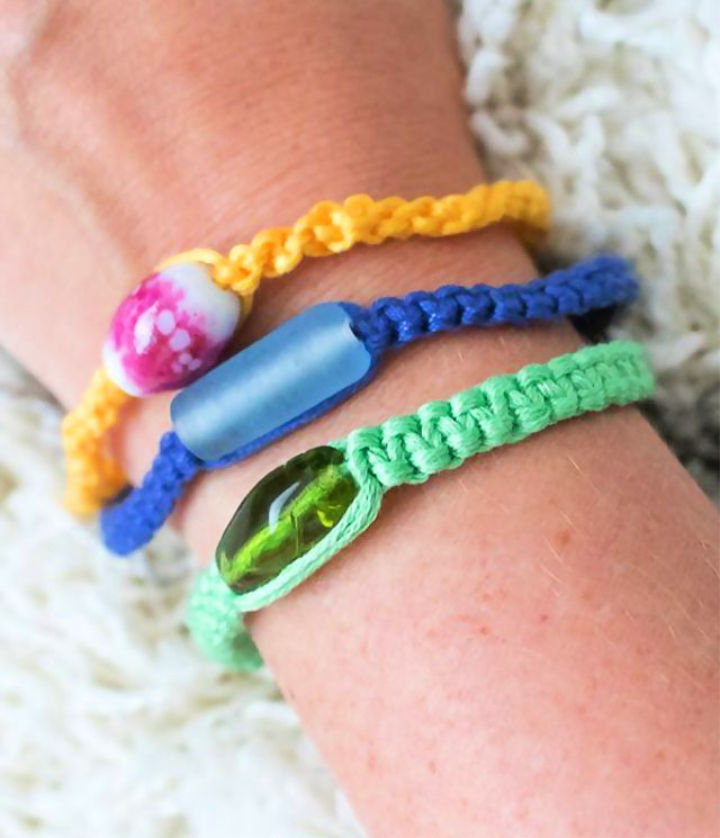 These boutique bracelets will work up super quickly and are to make with a handful of supplies. Grab the embroidery thread in color of choice and beads to whip up these items of jewelry. Learn different macrame knots to come up with lots of exciting design texture. momtastic
10. Cowrie Shell Macrame Bracelet
You only need 3 ingredients to cook this gorgeous bracelet recipe, the cowrie shell macrame bracelet, will be making a cool handmade gift. Grab the cowries shell with cutbacks and thread them onto the Nylon knotting cord along with some seed beads to make this special macrame bracelet. theneonteaparty
11. Macrame Bracelets for Women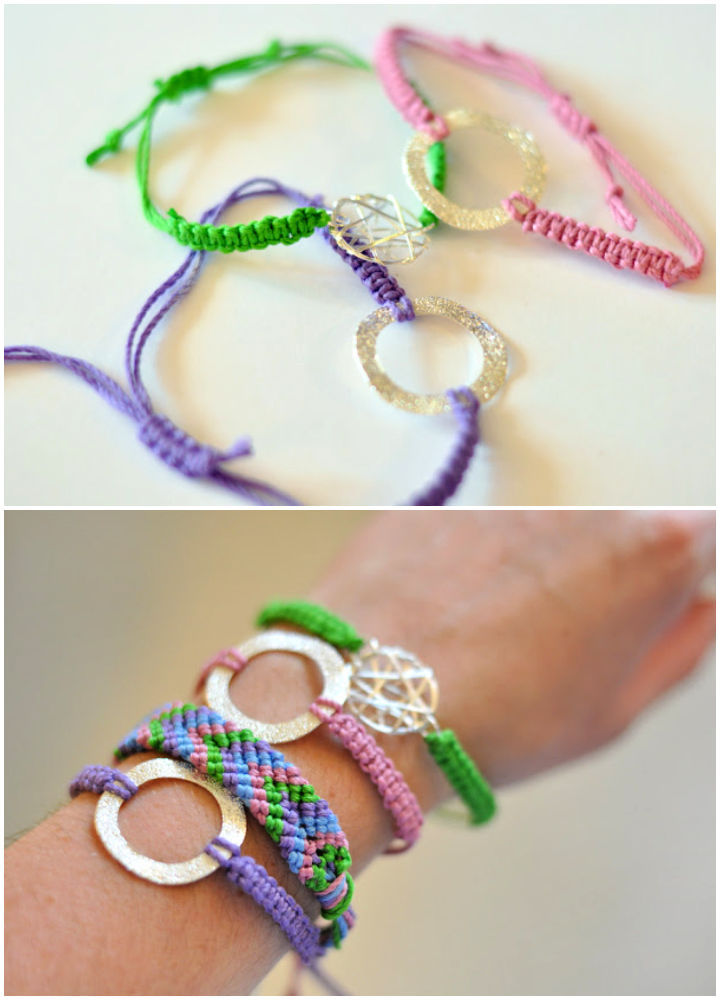 Help a beloved lady to be more stylish by making this macrame bracelet. The beginner-friendly macrame bracelet patterns will complete in no time. Here you need a circular charm, and yarn in your favorite colors to make this macrame bracelet will make a cool handmade gift. Details here darkroomand
12. Macrame Spiral Bracelet for Couples or BFF's
You will surely fall in love with this macrame spiral bracelet, will make a cool handmade gift for couples. Grab a clipboard and make it hold the waxed cotton cords that you can knot together to make this macrame spiral bracelet. Finish your completed spiral bracelet with custom charms. Details here craftifymylove
13. Simple Macrame Bead Bracelet
Knot together your favorite chunky strings or cords to make this simple macrame bead bracelet. It will surely impress a jewelry wearer and is quite something easy to make. Here this bracelet comes with crystal beads and is just looking damn beautiful and gorgeous to look at. Details here lesliereese
14. Homemade Macrame Bracelet
Do this bracelet project using a nylon cord. Cut the lengths of nylon cord selected in your favorite, tape them off in place. Start braiding them, creating a gorgeous macrame bracelet, and keep on adding the pearls after equal intervals. Next, finish these bracelets with ribbon ends, lobster clasp, and jump rings. Details here lc pandahall
15. Free Macrame Bracelet Pattern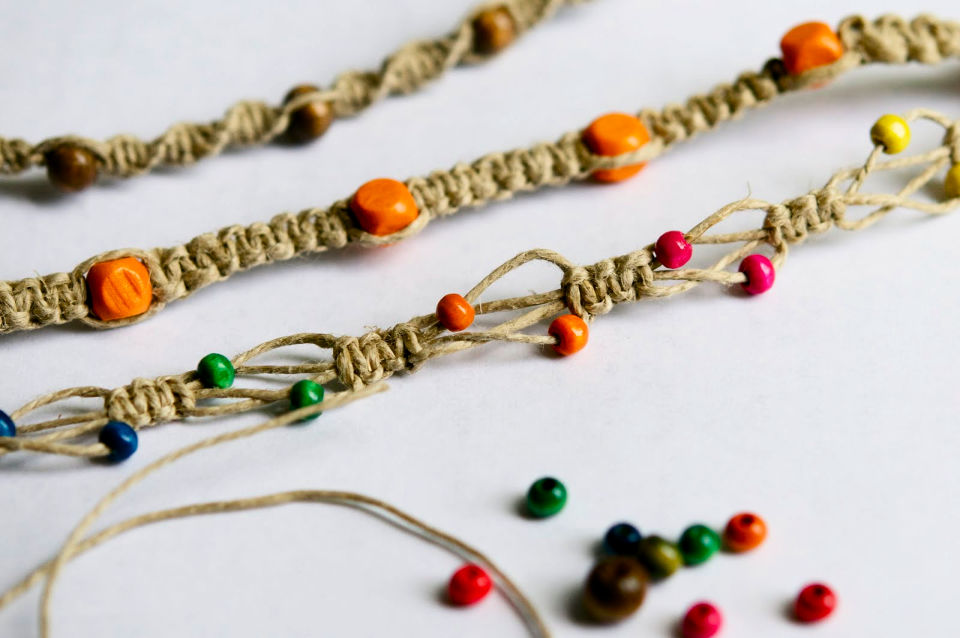 How to make a macrame bracelet? Take the art of macrame-ing to the next level by whipping up this macrame bracelet, will work up super quickly. Tie a basic knot on to the backside of a pencil using your favorite yarn or twine. Keeping on adding the beads while knotting the yarn to make this DIY macrame bracelet. Details here leslieunfinished
Conclusion:
These macrame bracelet patterns will inspire you to learn the art of macrame-ing. It will help produce fabulous bracelet gifts that will make the best make and sell crafts too. So, you can start a business without investing a lot. Not merely for jewelry making, the art of knotting can help you out making lots of home decors like macrame plant hangers, wall hangings, and various other home ornaments.