Mason jar is one thing that is to find in abundance in everyone's home. The glass containers, when they get empty, can be recycled to do various craft projects and even for making gifts. So, Do you want last minute gift ideas? Check out these 30 DIY mason jar gifts that are going to be the best mason jar gift ideas for the last few minutes.
What can you put in a mason jar as a gift? There is only one rule for making Mason jar gifts. Just pack them with any type of gift and then finish with the matching DIY tags and labels, for your teacher, mom, dad, and friends. From single treats to whole pampering or spa gifts to custom food mixes, you can put anything in the Mason jar to make a gift at the last minute for any special event. For amazing inspirations, explore this list of 30 DIY mason jar gift ideas and see a variety of gifts in a jar made for so many different events and occasions. The blasting good news is that all these gifts are going to be super budget-friendly.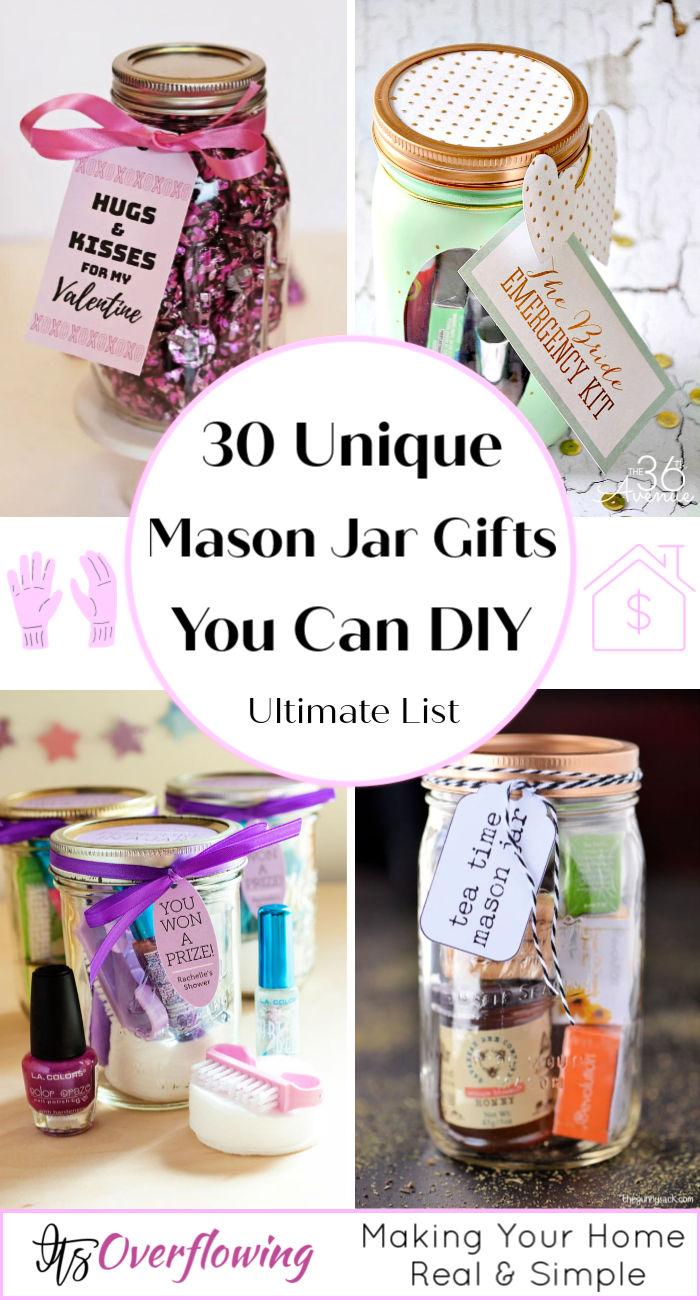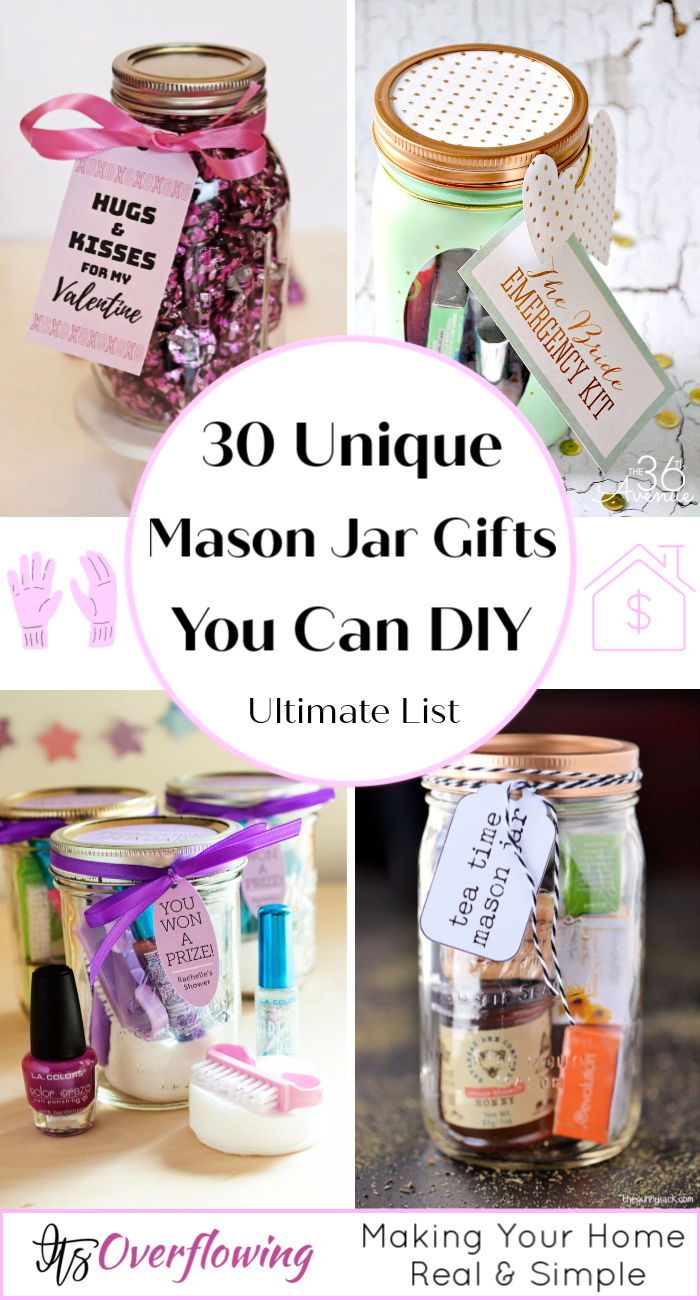 Transform your Mason jar into cute photo vase, will be the best gifts to make for Memorial Days. Fill the Mason jars with bridal essentials to make amusing bridal shower gifts and create the baby shower gifts, too, in the same manner. Moreover, paint your Mason jars and also adorn with vinyl letters for a more graceful appeal.
Explore the entire list of mason jar crafts that will make your fall in love more with the Mason jars. These mason jar gift ideas will make great inspirations for making instant gifts for beloved ones.
1. Welcome Baby Gift In A Jar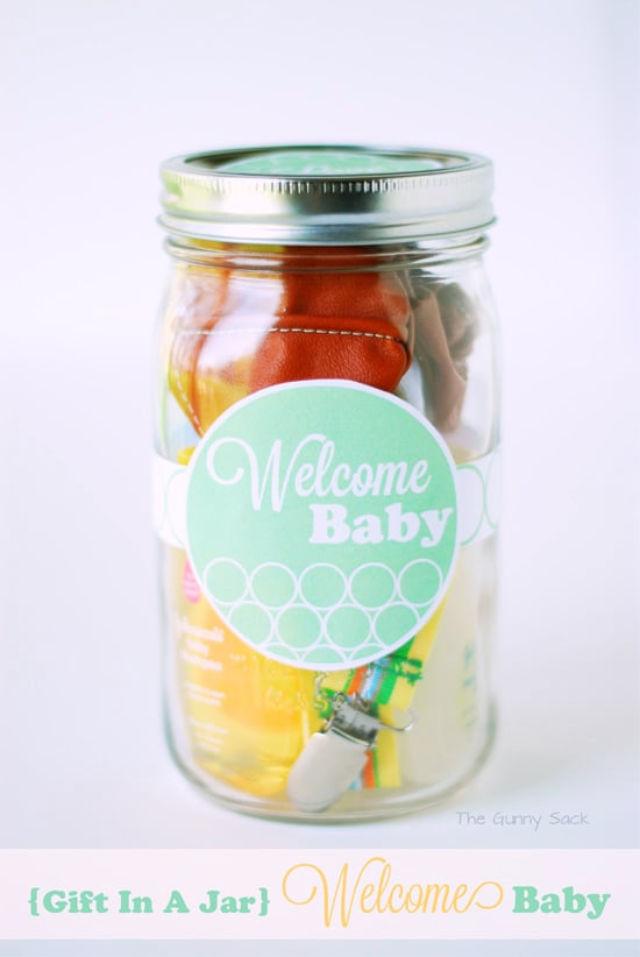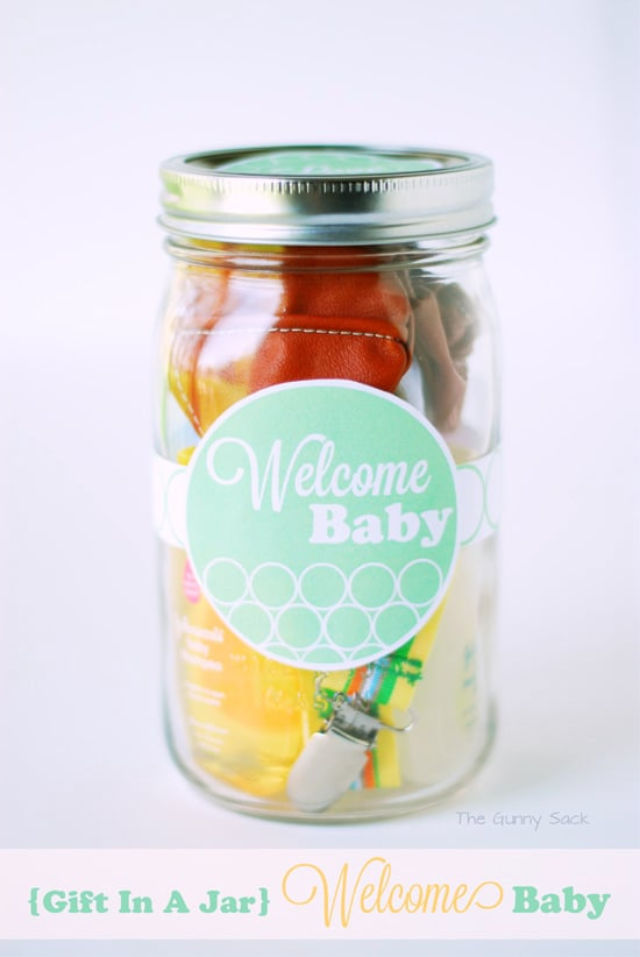 Want to give the best gift on a baby shower? Then why not pack the baby care products to give as an epic baby shower gift. So, consider making gifts in a jar having all newborn essential stuffed inside. Adorn the completed gift with a free printable label or tag. Details here thegunnysack
2. Mason Birthday Gift Idea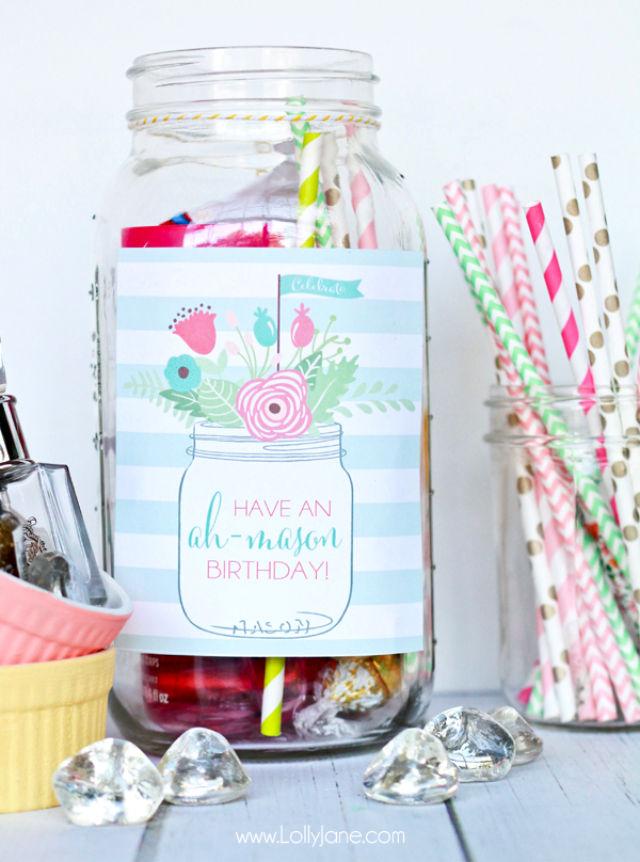 Consider making the best mason jar birthday gifts too, using the free available Mason jars. The idea is to pack all you want to give to your friend, in a Mason jar, and then to give a nice gift wrap to Mason jar. Here you are all free to fill the Mason jars with anything like treats, craft supplies, paper straws, and beauty products your friend will like. Details here lollyjane
3. Mason Jar Shower Gift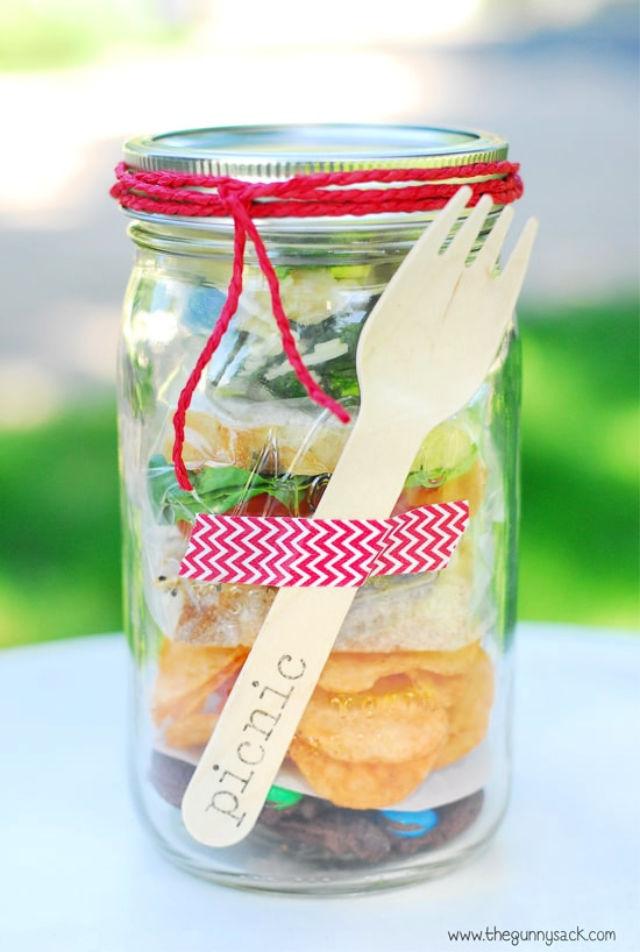 There are tons of things you can pack in the Mason jars, and hence they would be countless different ideas for gifts-in-a-jar. pack the picnic essential also in the jars to make lovely Mason jar shower gifs. Choose your own food and picnic essentials to pack. Use washi tape and twine for a nice gift wrap. Details here thegunnysack
4. Last Minute Mason Jar Gifts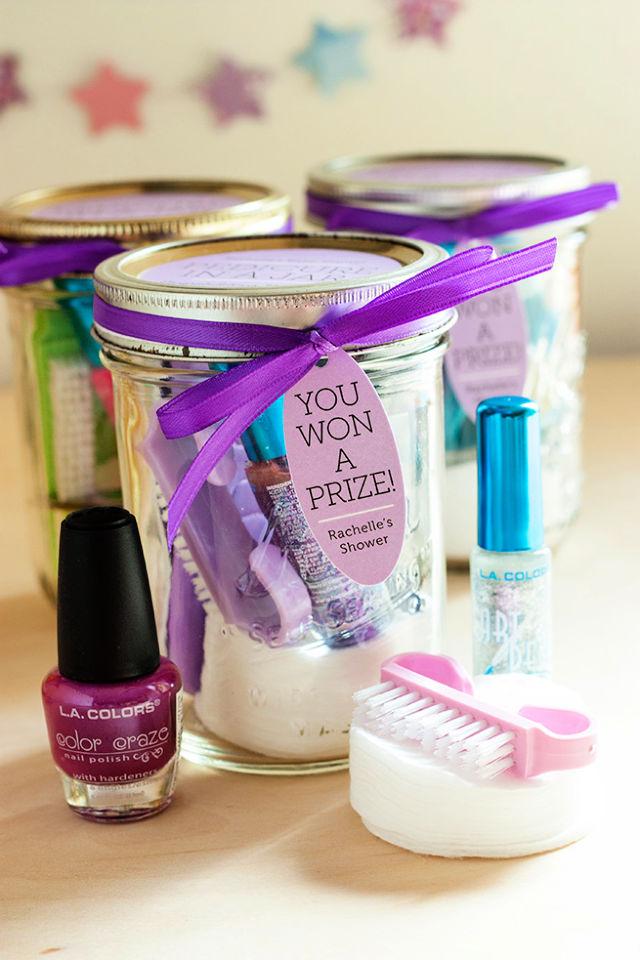 The Mason jars are often to lying around. They are prone to dangerous breakage so it will be great to recycle them to make some DIY gifts. This time make this shower gift-in-a-jar quite inexpensive. Pack the entire pedicure in the jar and then finish it up with custom labels and ribbon wraps. Details here evermine
5. Cupcake Gift In Mason Jar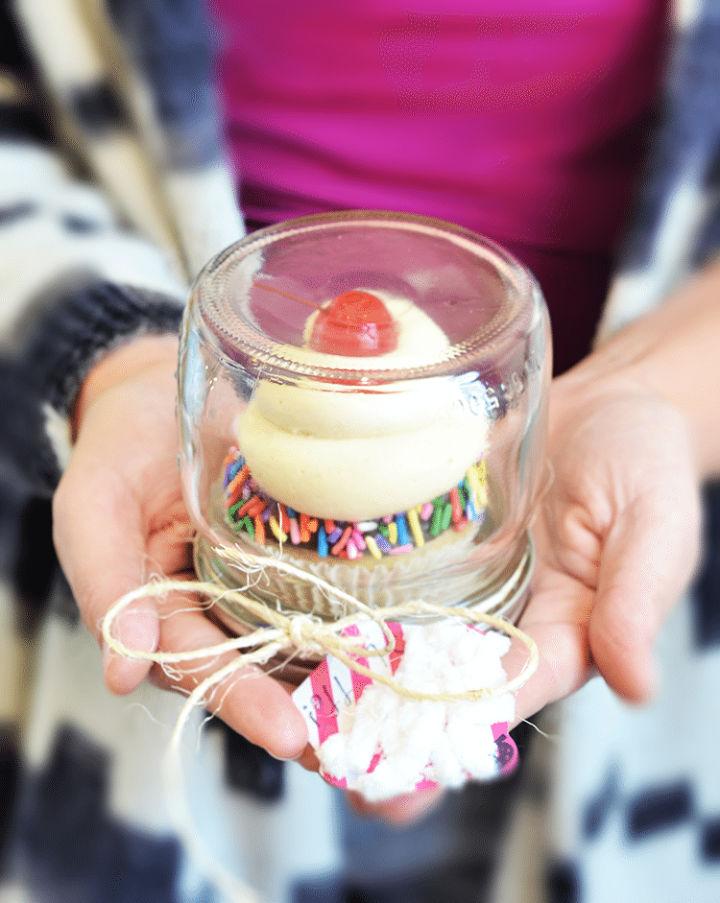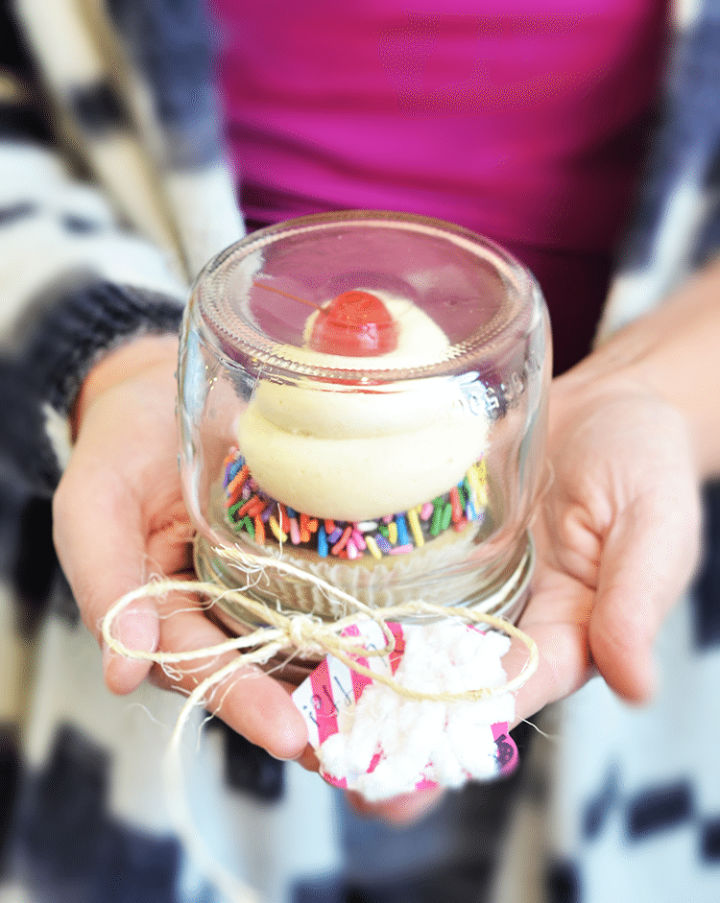 Please a friend who is crazy for the cupcakes with this cupcake gift in a Mason jar. This gift is all about to pack a single cupcake in the jar. A nice way to spread the sweet love to all you care. Just place the cupcake to the inside of the lid and then tighten the Mason jar over it to gain a showcased cupcake gift. Finis with decorative twine and labels. Details here nelliebellie
6. Tea Time Mason Jar Gift

A better gift to give to your teachers, neighbors, and all beloved ones who are great tea lovers. Pack all the tea essentials in a Mason jar and then finish with custom labels, tags, and twine wrap to make the gifts. Pack the honey, shortbread cookies, a mesh tea infuser, and tea in the jar to make it. Details here thegunnysack
7. Jar of Sunshine – Teacher Gift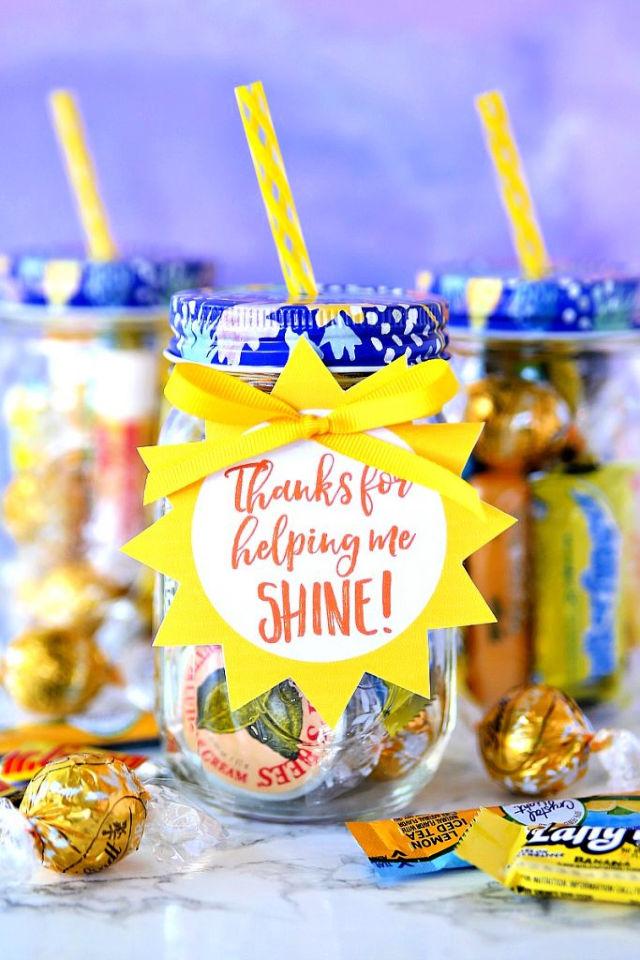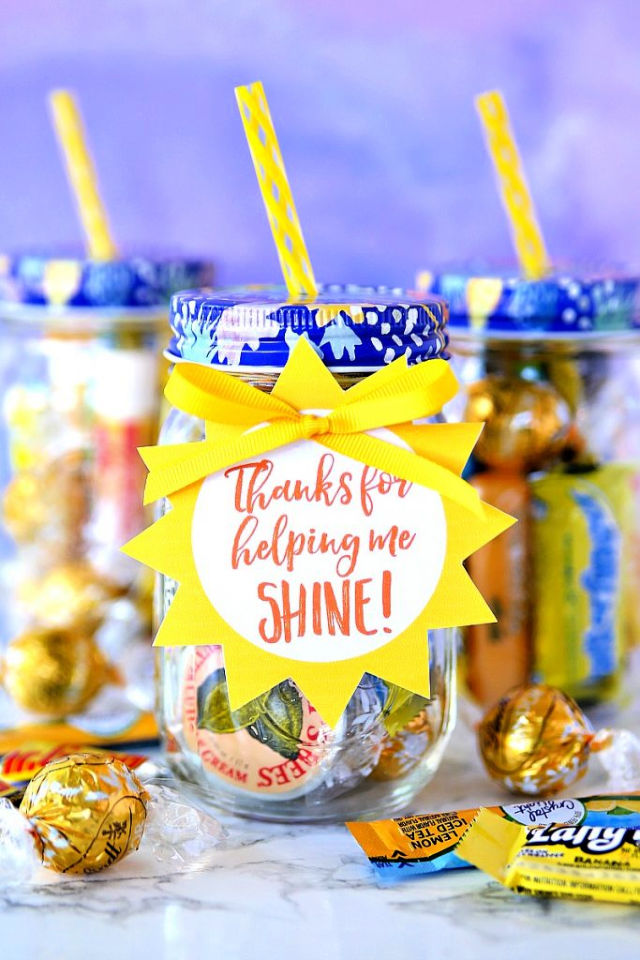 Upcycle the Mason jar to make great teacher appreciation gifts even in the last few minutes. So, make this jar of sunshine for your favorite teacher by stuffing the sticky notes, lip balm, candy, hand sanitizer, lotion, and various other items in a Mason jar. Don't forget to tuck a gift card inside. Finish with printable gift tags and labels. Details here happygolucky
8. Homemade Strawberry Lemonade Candle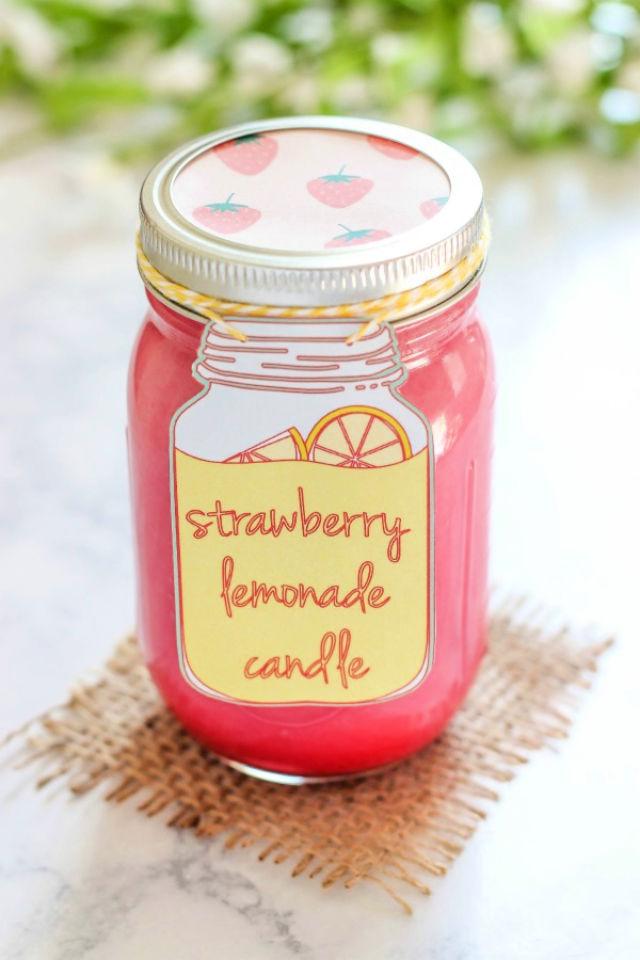 More amazing gift ideas using the recycled Mason jars. Make lovely DIY candles too in the jars and give them as epic handmade presents to your beloved ones. Make this strawberry lemonade candle using a Mason jar, candlewick, strawberry lemonade candle fragrance oil, glue, crayons, and free printable tag. Details here purelykatie
9. Chalkboard Mason Jar Vases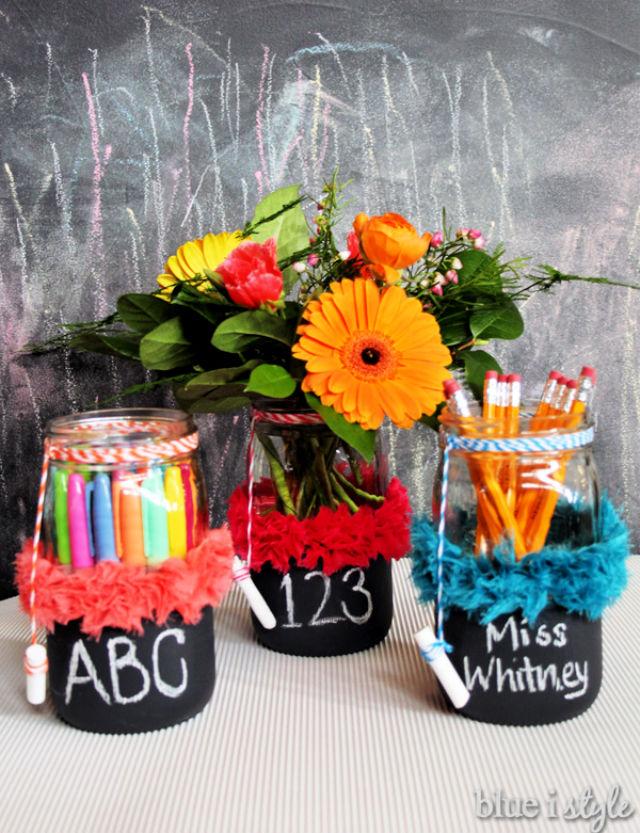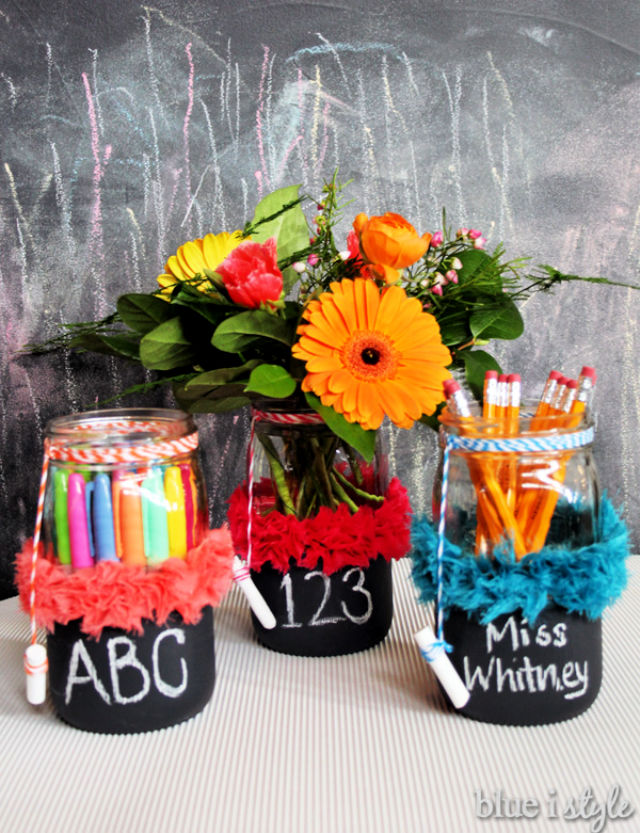 Say a big thanks to all the teachers by making these chalkboard Mason jar vases, will make a great appreciation gift for the kids to make at home. Grab the large Mason jars, give them sticking primer coat and paint with chalkboard paint. Finish with decorative ribbon and write custom quotes with chalk. Details here blueistyle
10. Picture Display Frame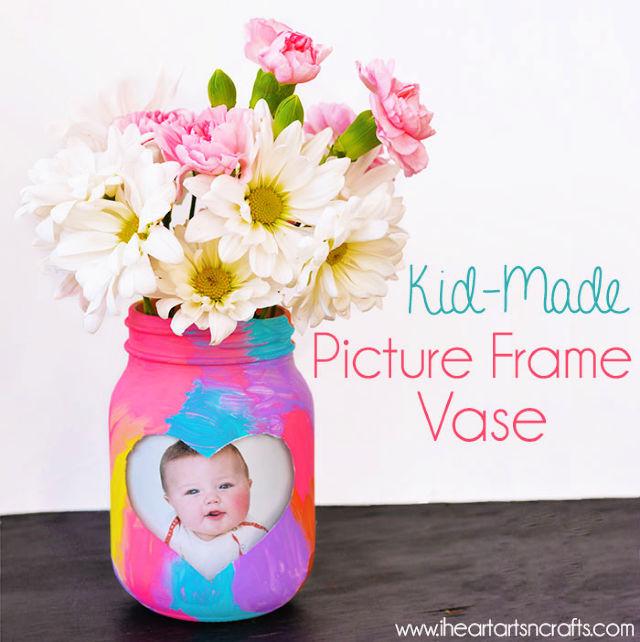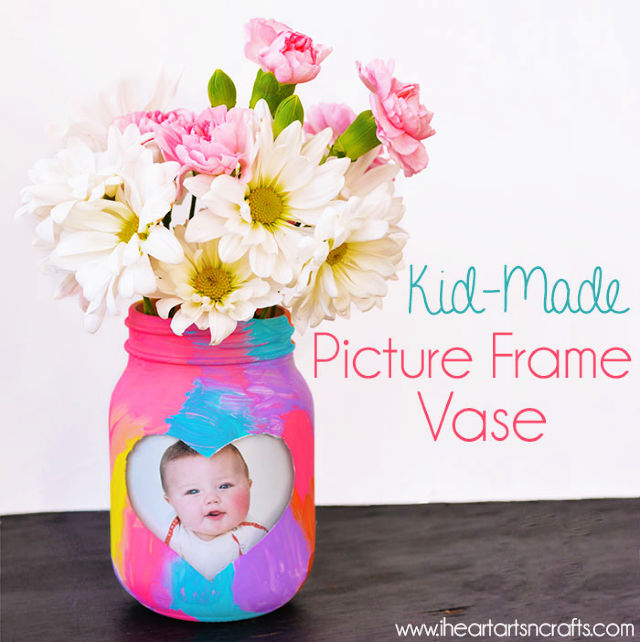 Craft the photo Mason jars, too, will be the coolest gifts to please your beloved ones. Even a kid can make this picture display frame quite easily and inexpensively. You need Mason jar, acrylic paints, contact paper, primer, and clear spray paint to make this picture display frame. Details here iheartartsncrafts
11. Mason Jar Father's Day Gift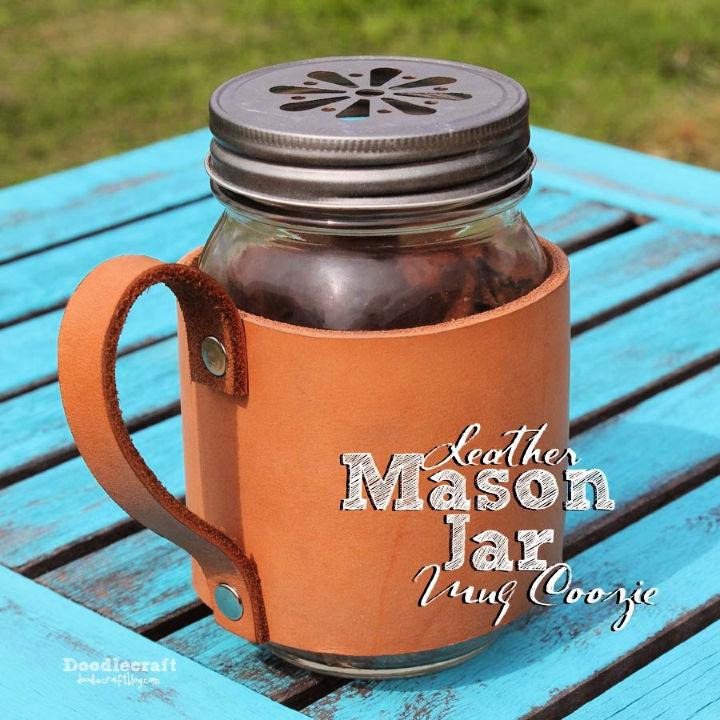 Appreciate the supervision, guides, and never-ending love of your father on Father's Day by making this Mason jar Father's Day gift. This gift-in-a-jar is super quick to make. You need pint-size Mason jar, leather, rivets, leather hole punch, needle, thread, and a hammer to make this leather Mason jar coozie. Details here doodlecraft
12. Flower Garden In A Jar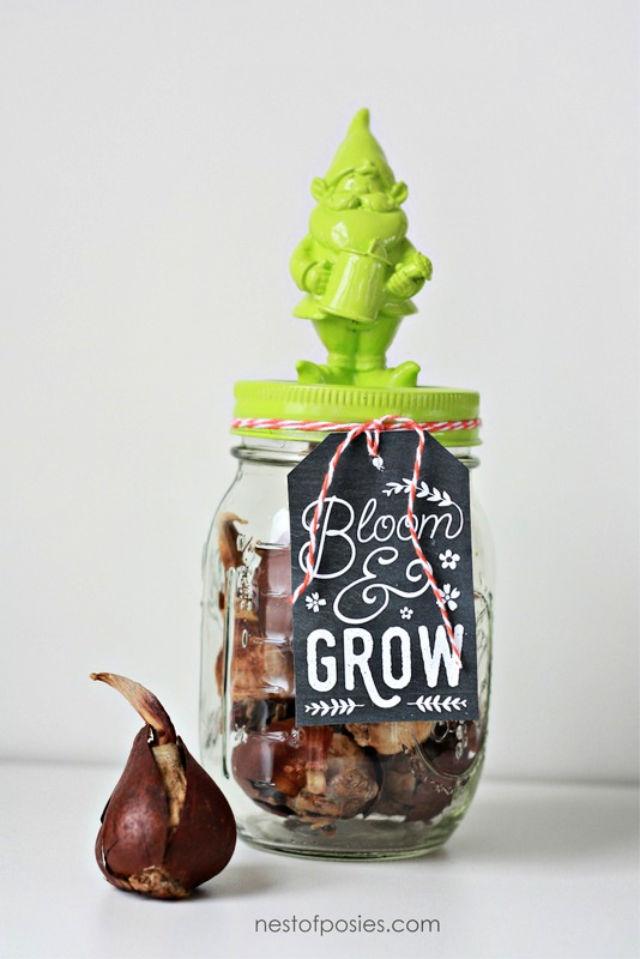 For a friend who is a big fan of gardening, this flower garden in a jar gift will really rock. Make it using a handful of supplies like gnomes, flowers, printable tags, and seeds. Glue the gnomes on the top of the Mason jar lids as cute mini figurines and stuff the rest in the Mason jar, finish with tags. Details here nestofposies
13. Bride Emergency Kit – Gift Idea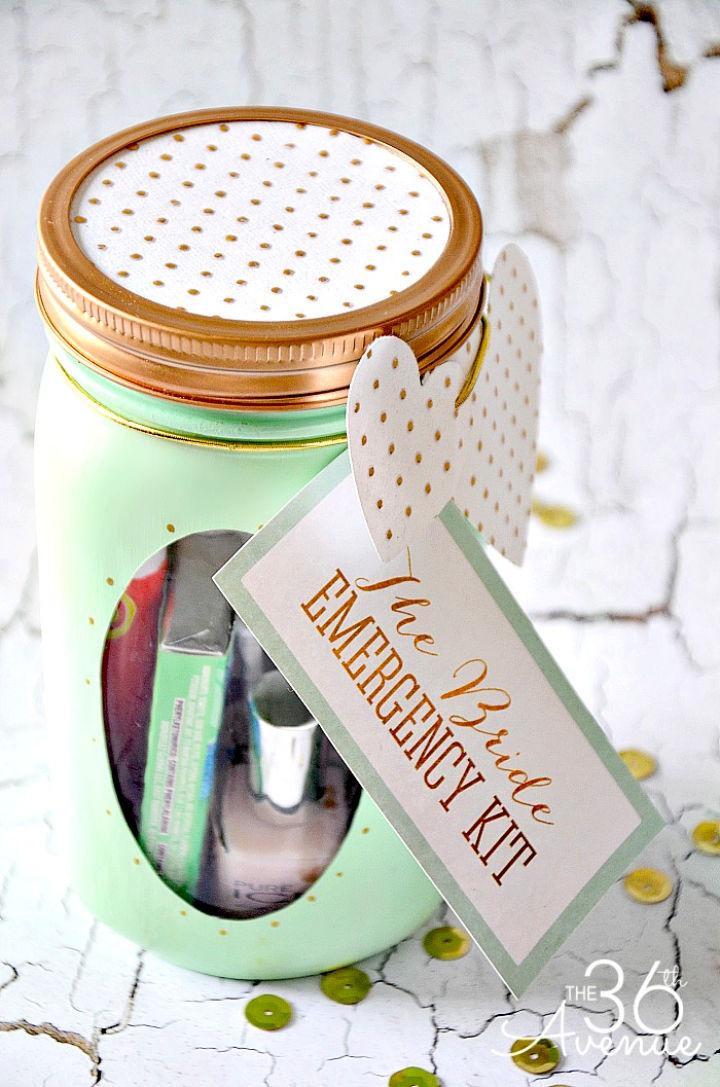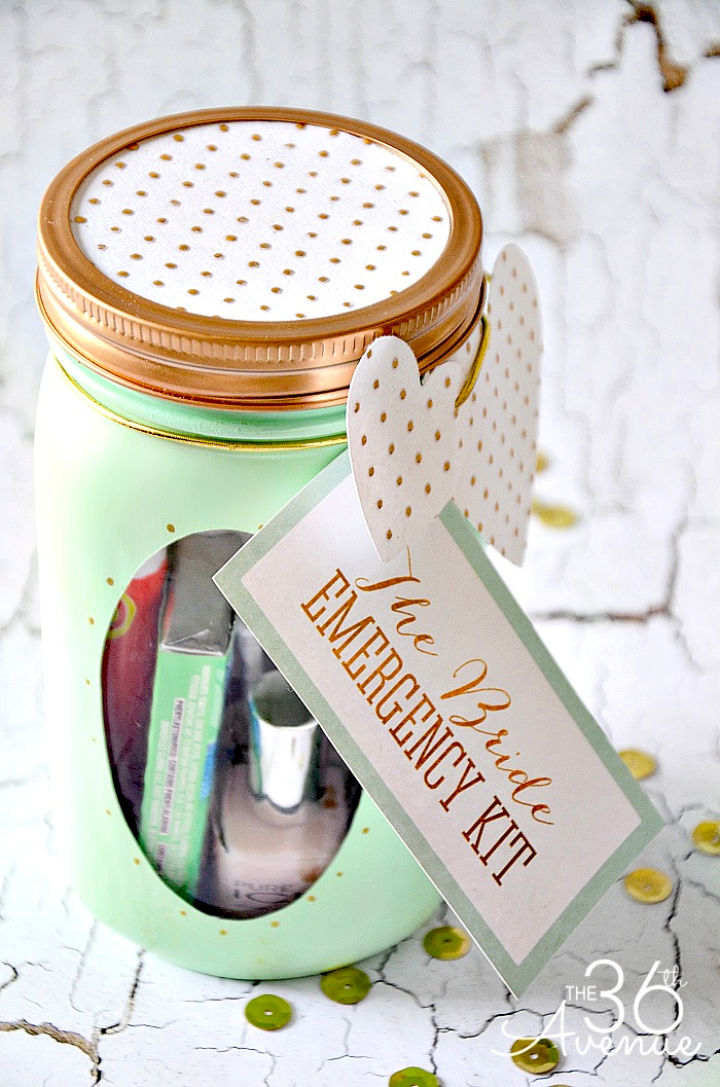 Make also amazing bridal gifts in a jar, like this Mason jar bride emergency kit gift. Just pack all the bride essentials in the Mason jar and then finish with a decorative gift wrap to make this gift. You need a large Mason jar, white paint primer, gold spray paint, acrylic paint, permanent gold marker, gold ribbon, and craft paper for this project. Details here the36thavenue
14. Minibar In A Jar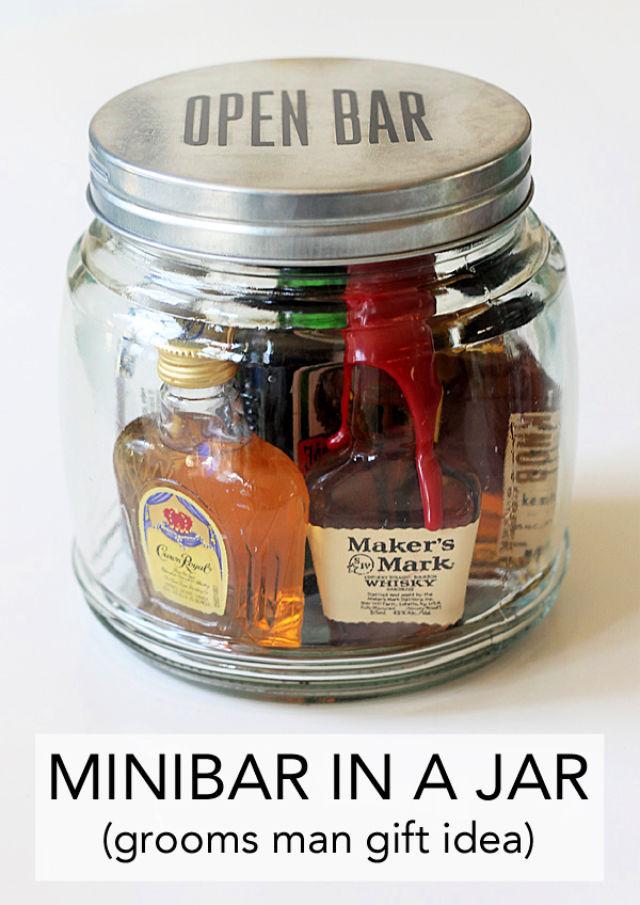 Win the heart of a bar lover, by just using a Mason jar. Just put all the bar essential in the mini and compact sizes in a large Mason jar to make this mini bar in a jar gift. Don't forget to add the letters "OPEN LETTERS" on the top of the lid. These mason jar gift ideas involve using the silhouette machine to make vinyl letters and labels. Details here theshabbycreek
15. DIY Mason Jar Pin Cushion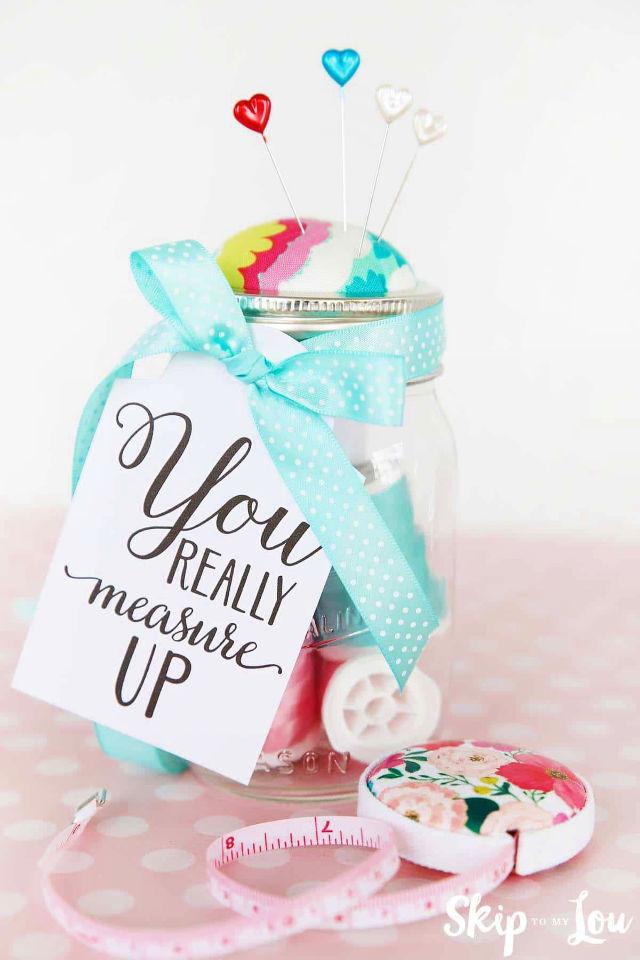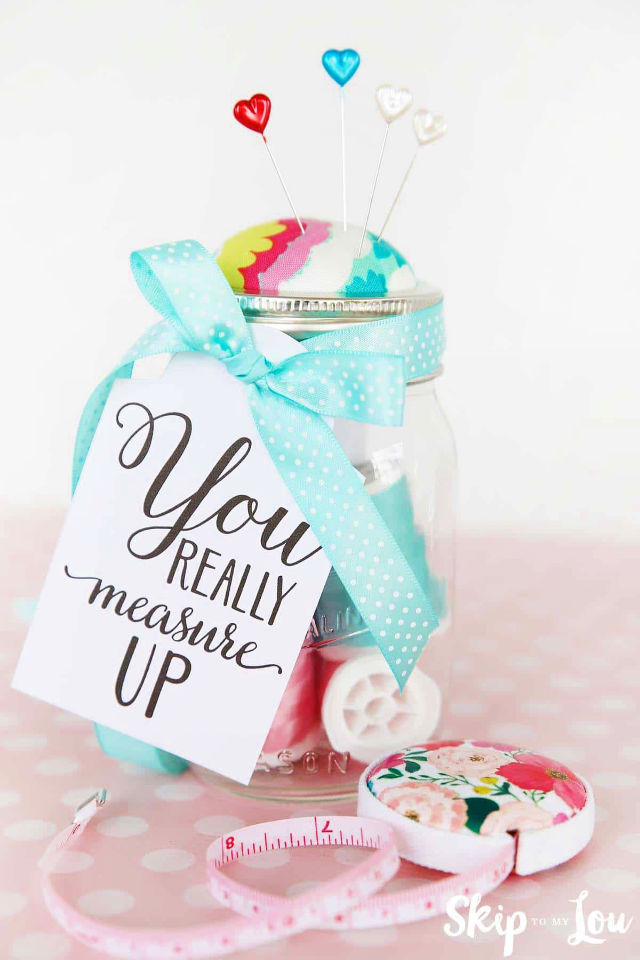 Pack anything special in the Jar to make the respective type of gift-in-a-jar. This Mason jar pin cushion will make a great handmade gift to avid sewists in your home. You need fiberfill, Mason jar, fabric, glue, ribbon, gift tag, and sewing notions to make this Mason jar pin cushion. Details here skiptomylou
16. Spa and Pampering in a Jar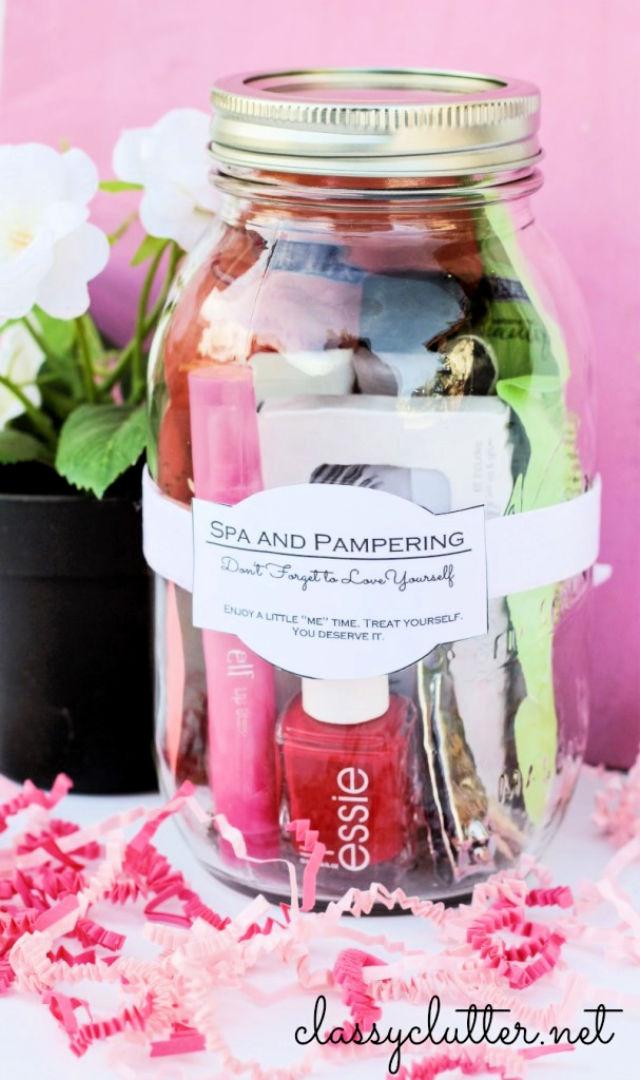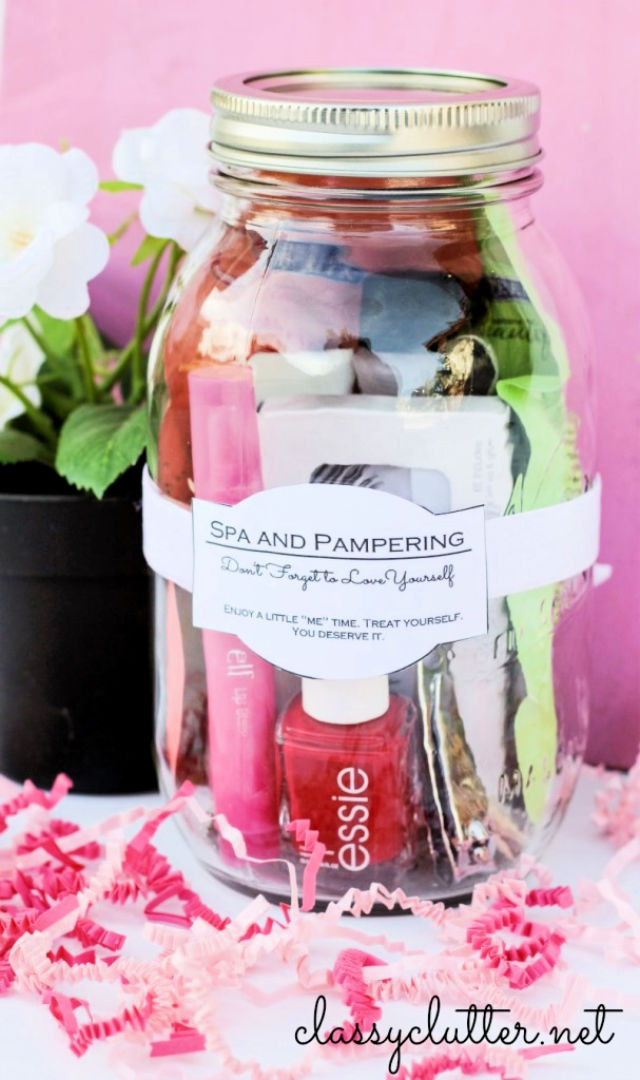 Check out here another great Mason jar gift inspiration. Stuff the Mason jar with pampering and spa products too for making adorable gifts-in-a-jar. Just add the nail polishes, hand lotion, lip strain, nail polish remover, eyelashes, manicure toolset, body scrub, face mask, and other items of this kind in the Jar. Details here classyclutter
17. Mason Jar Valentine Gift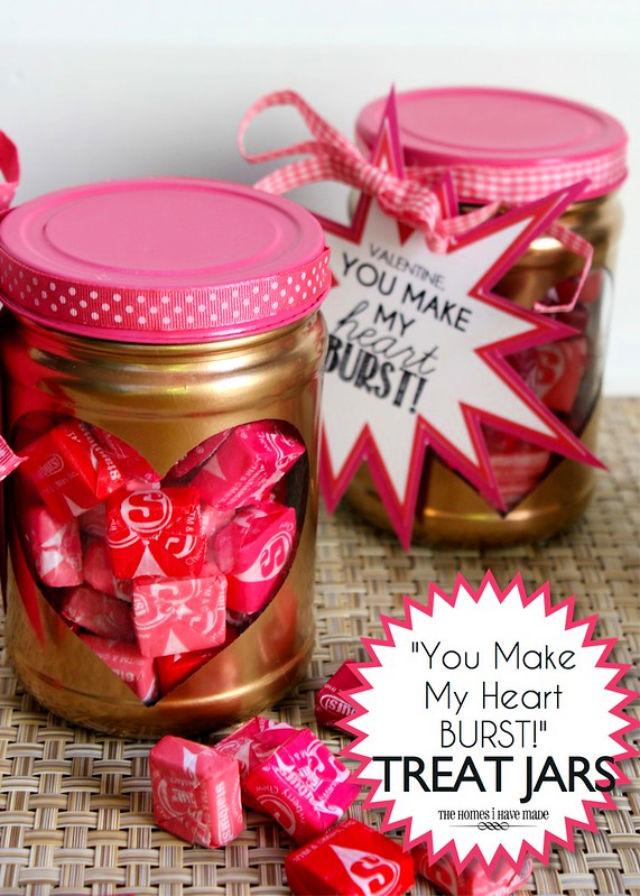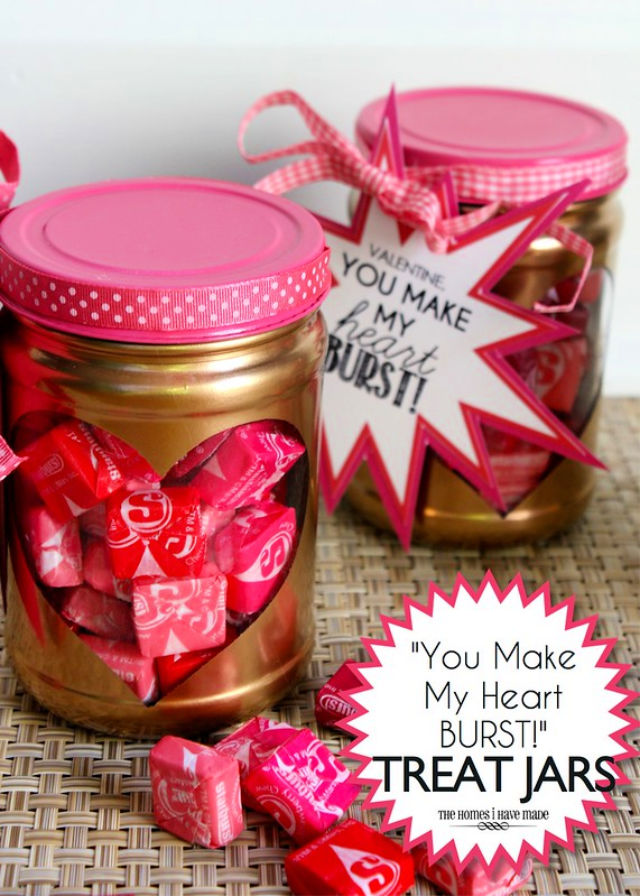 The gifts look just amazing in the Mason jars. So, upcycle the old and empty Mason jars to make some love gifts too for the big love day. Get here instructions about how to make a Mason jar Valentine Day gift. Paint the Mason jars using heart shape stickers to get unpainted heart motif, and then fill them with love candies. Print free tag printable for a nice gift wrap. Details here thehomesihave
18. Mason Jar Pineapple Gift

Get the mason jar gift ideas about how to transform the ordinary Mason jars into a fruity pineapple gift. Use paint, markers, and faux succulent for pineapple makeover of the Mason jar. Use a big cardboard circle to get some area unpainted in front to see the stuffed items inside. Details here yesterdayontues
19. Homemade Milk Bath Recipe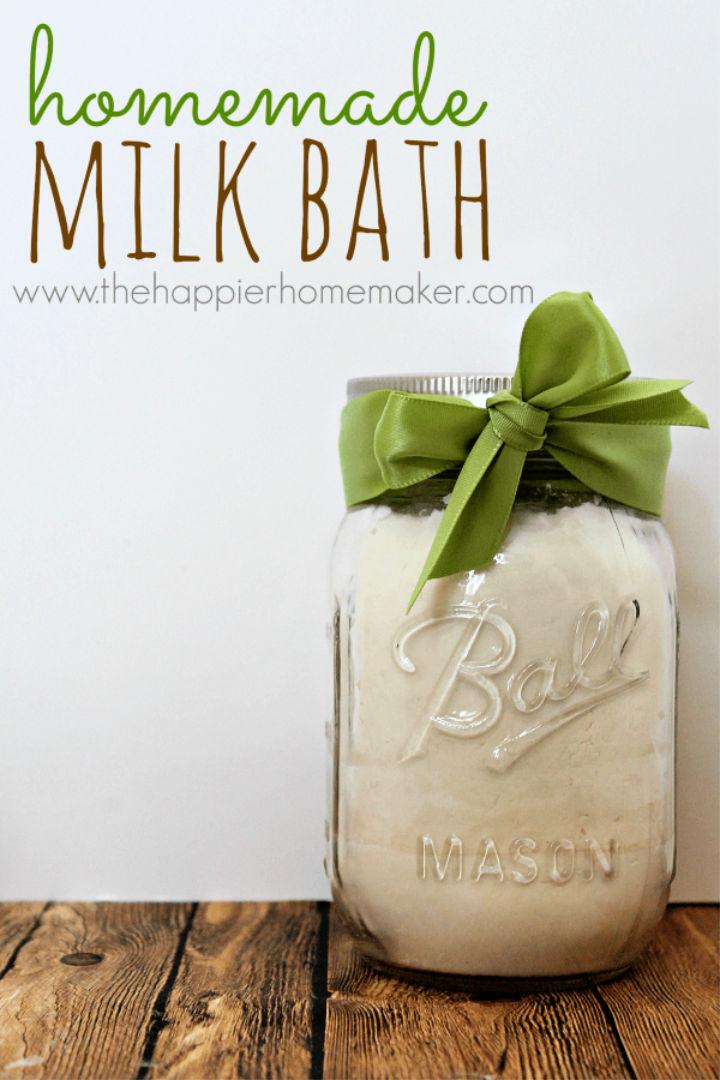 Fill the Mason jar with custom bath and kitchen recipes too for making adorable mason jar gifts. Get here instructions to make a milk bath Mason jar gift. The recipe involves baking soda, corn starch, and milk powder and will work up super quickly. One of the best mason jar gift ideas. Details here thehappierhome
20. Mason Jar Pampering Gift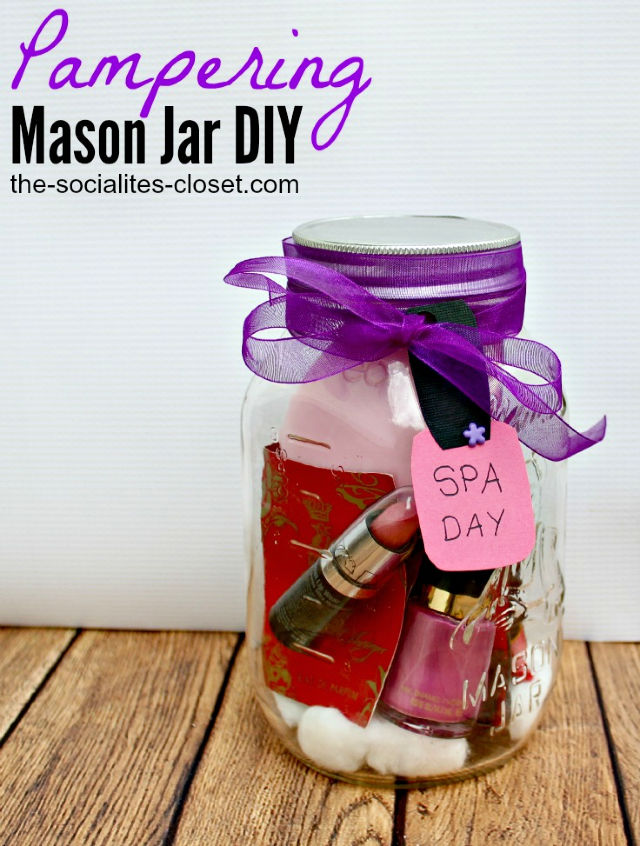 It is just super easy to make gifts out of recycled Mason jars. Just fill them up with the related items and essential, paint, decorative, and finish with a nice gift wrap and gain a lovely gift. Stuff the Mason jar with pampering essentials to make this gift-in-a-jar. A best mason jar gifts for the ladies. Details here socialites closet
21. Apron in a Jar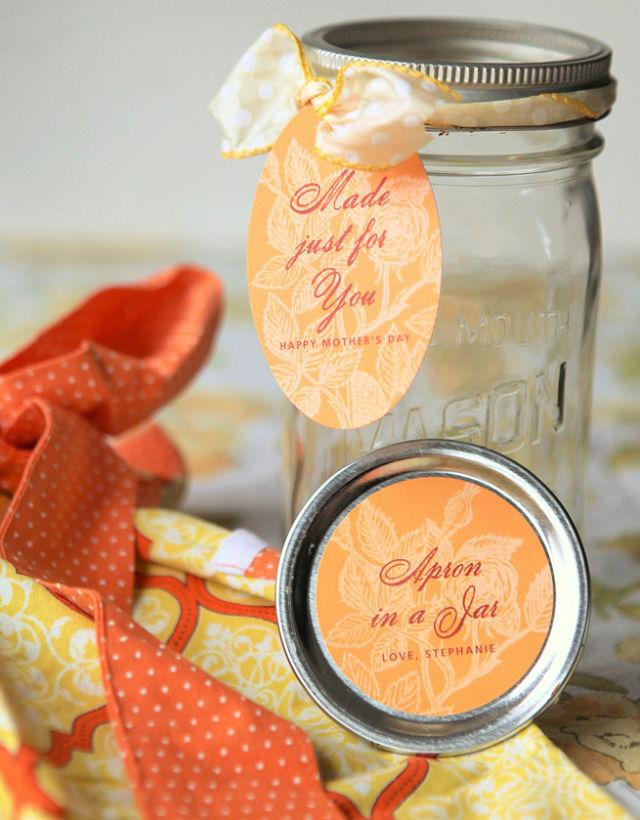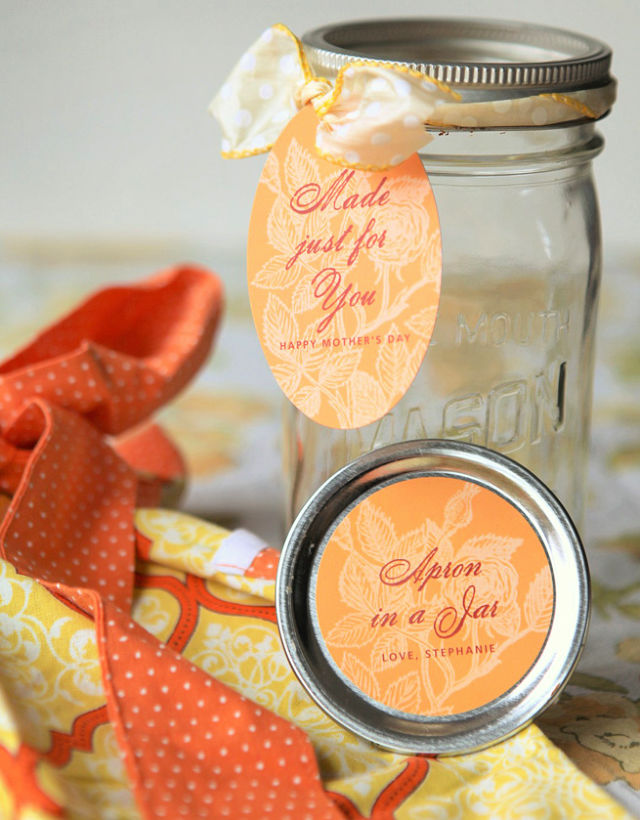 Win more love of your mom on Mother's Day by giving this gift in a jar. Stuff the Mason jar with any of your decided gifts and finish it up with an accent bow and tag that you can easily print out. This Mason jar comes filled with an apron and will be a special gift for Mother's Day to make in no time. Details here evermine
22. Summer In A Jar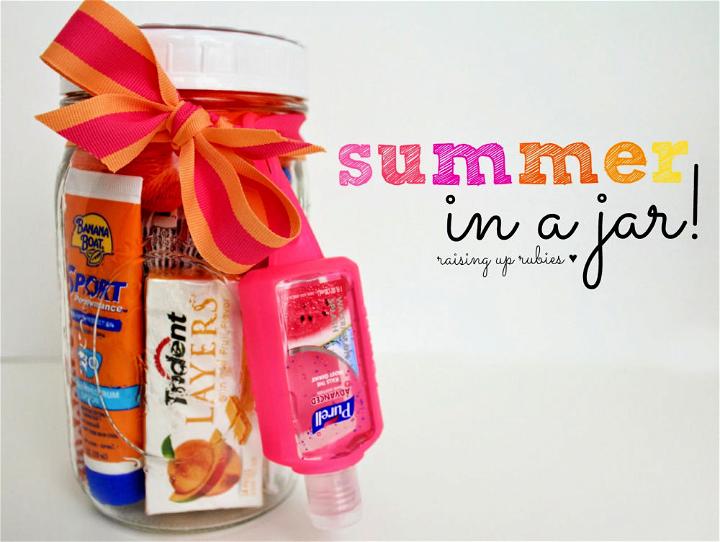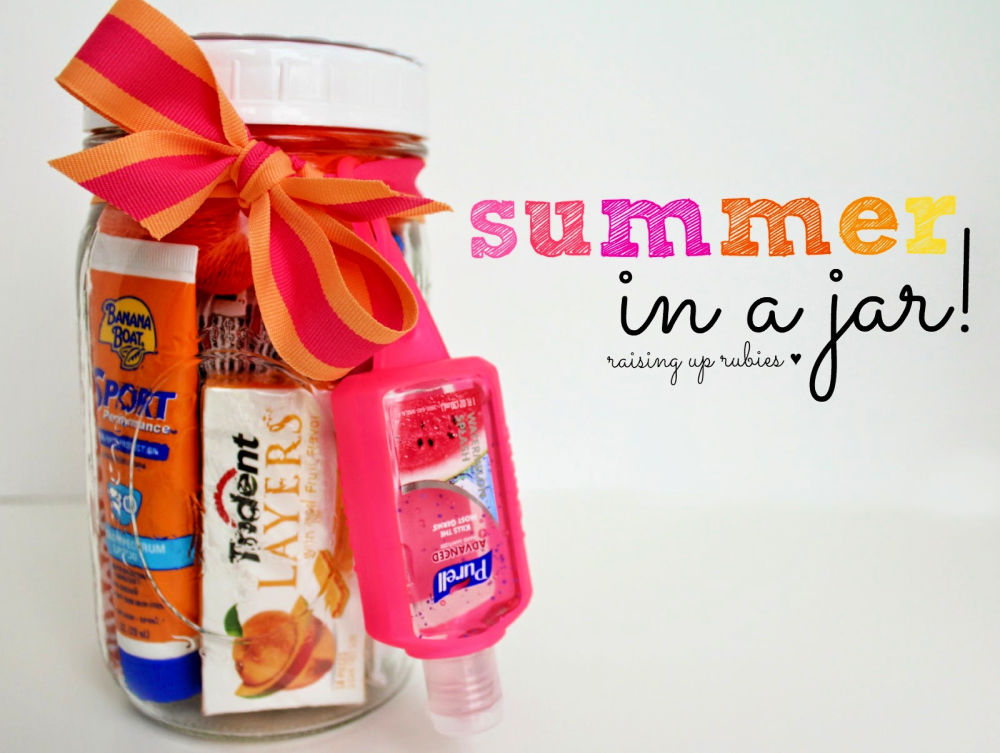 Sorting out the best mason jar gifts to give to your friends? Then get here an inspiration for great summer gifts in a jar. Stuff the Mason jars with your own chosen summer essential and make an instant Mason jar summer gift. Choose the custom drink mixes, spa, and pampering products to stuff in the Mason jar. Details here raisinguprubies
23. Sweetest Valentine's Gift Jar With Cricut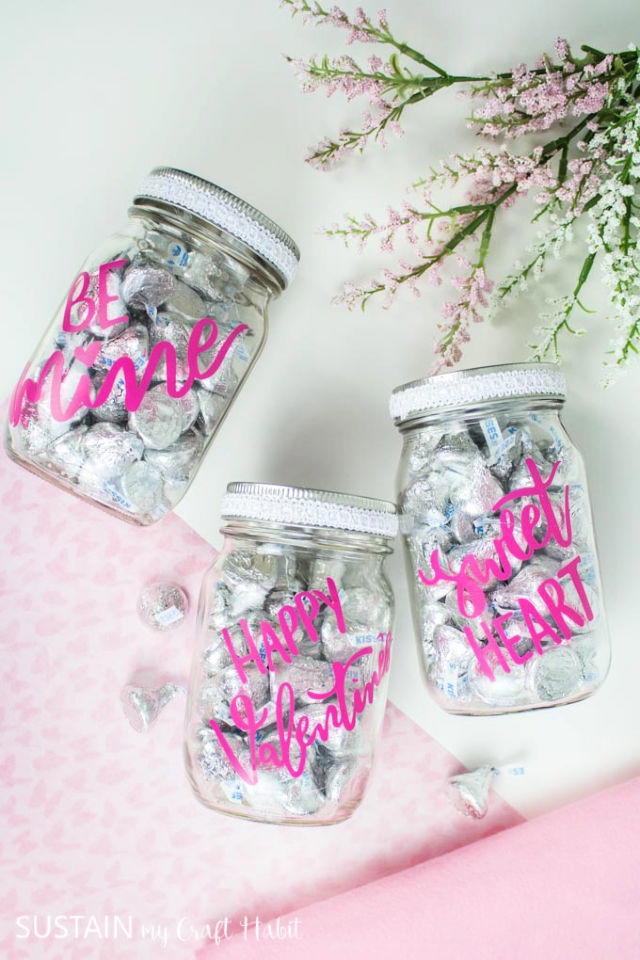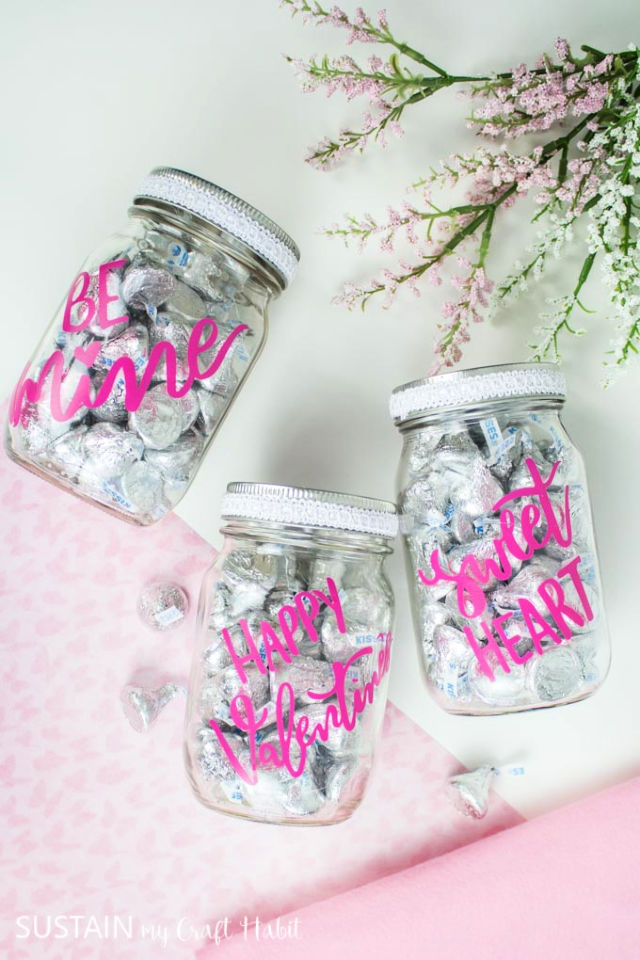 Pack the treats too in the Mason jars to make amusing, sweet mason jar gifts for friend's birthdays and for any other special occasion. Make this Valentine's Day candy jar gift by filling the Mason jar up with sweet candies of choice. Finish the Mason jar with Circuit" Sweet Heart" letters. Details here sustainmycraft
24. Hugs & Kisses Mason Jar Gift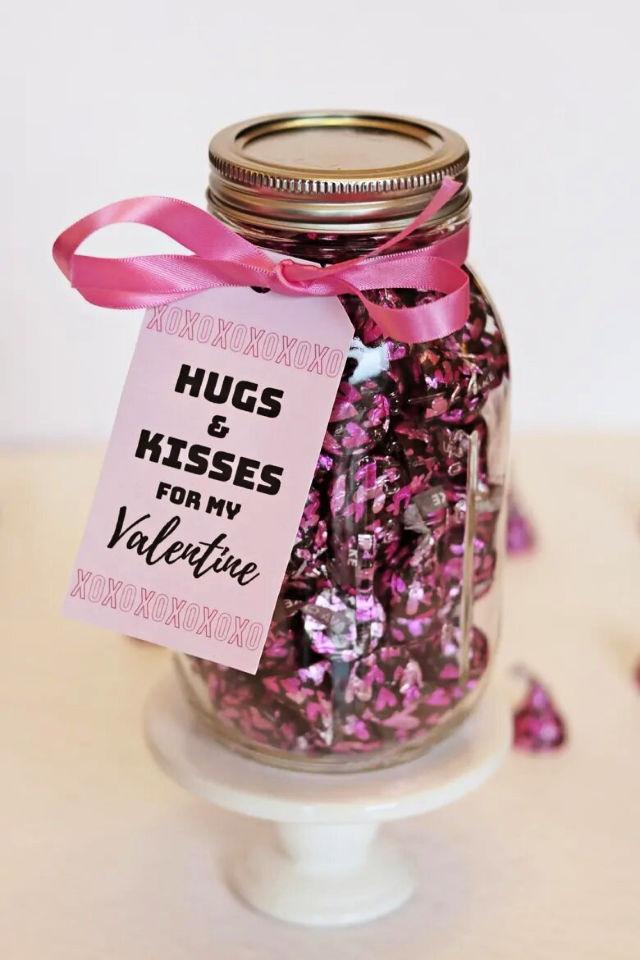 Another great Mason jar gift to make instantly for your mom or girlfriend. Just fill the Mason jar up with the candies of choice and make outstanding sweet treat gifts for kids and also for Valentine's Day. This candy-filled Mason jar gift comes with hugs and kisses tag and is sure to be loved by all. Details here crayonsandcra
25. Bath Salts with Herbs and Essential Oils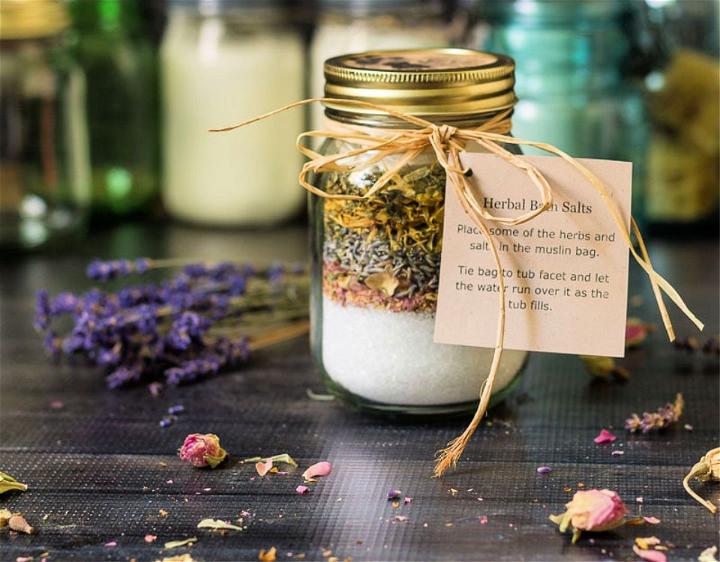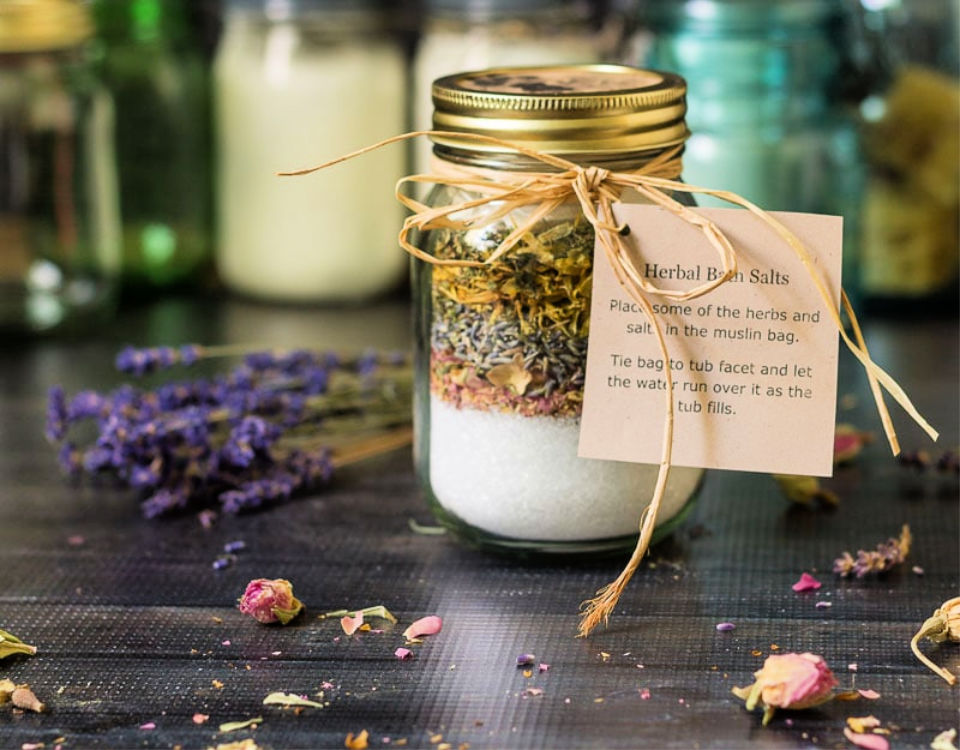 Willing to make some instant beautiful mason jar gifts that will be easy and inexpensive? Then consider making this bath salts with herbs and essential oil Mason jar gift. And you can make this professional bath bomb recipe too. It comes with a nice tag and will surely work up super quickly. You need Epsom salts, lavender essential oil, lavender, calendula, peppermint, rose petals, and muslin bags to make this gift in a jar. Details here hearthandvine
26. Mason Jar Tea Kit – Mason Jar Gifts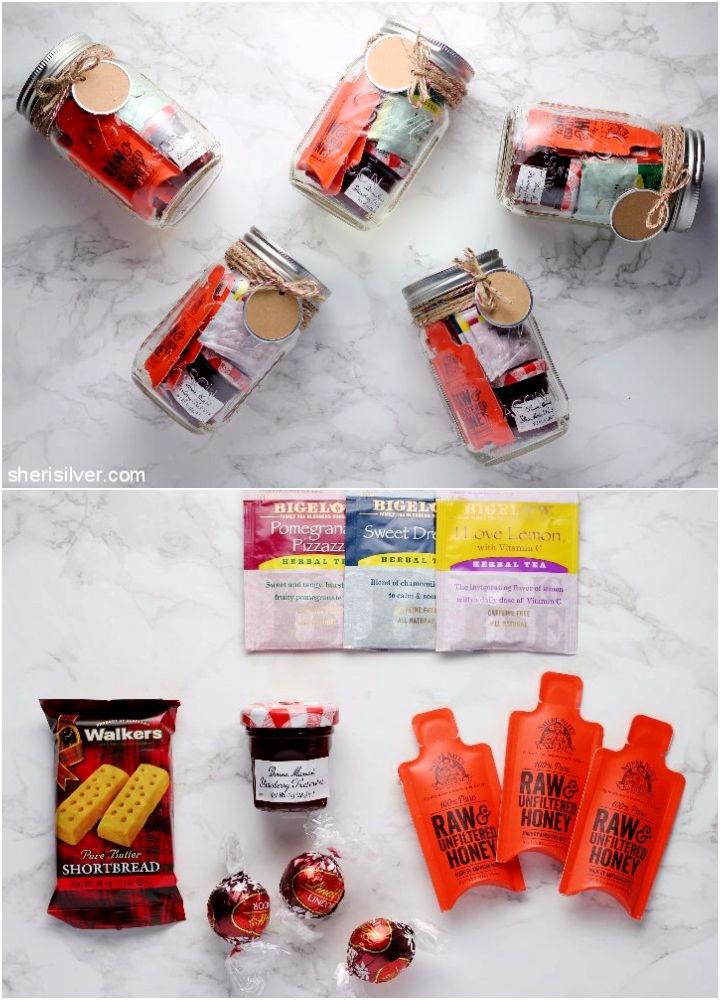 Please call the tea lovers in your friends' circle by making this Mason jar tea kit, will work up super quickly. Just pack all the tea essentials in the recycled Mason jar and make a cute handmade Mason jar tea kit gift. Make your own tags and labels to finish the complete gifts in a jar tea kit. Details here sherisilver
27. Zombie Mason Jars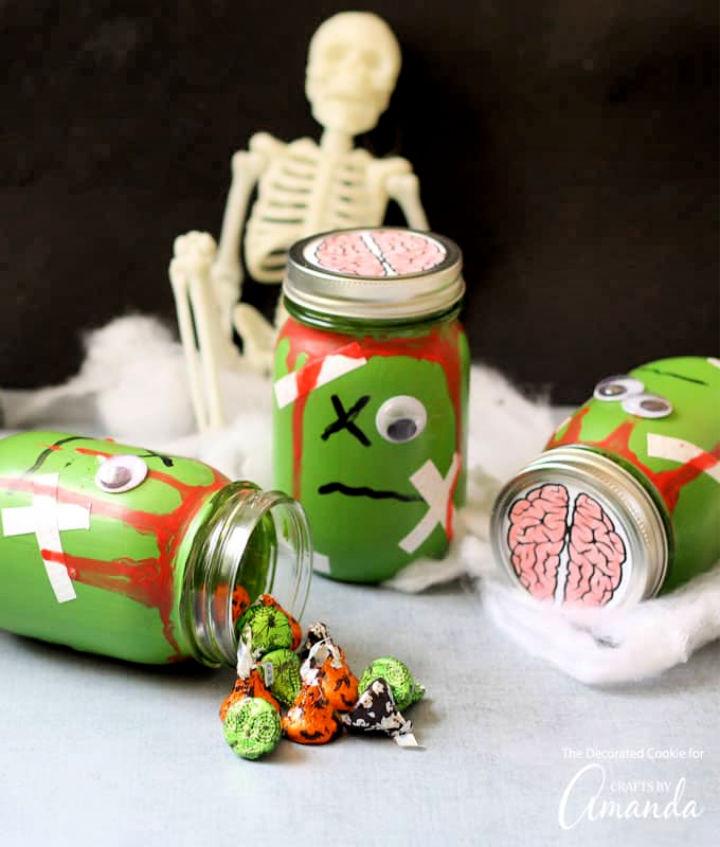 Do you want some unique mason jar gifts for kids? Make this scary Mason jar monster and zombie gift super quickly, and it will rock for Halloween and can be given as a sweet handmade gift too. You need Mason jars, green craft paint, large googly eyes, glue, craft paint, red craft paint, glue, lollipop stick, paintbrushes, white duct tape, and paint, etc to make it. Details here craftsbyamanda
28. Pot of Gold Rainbow Painted Candy Jar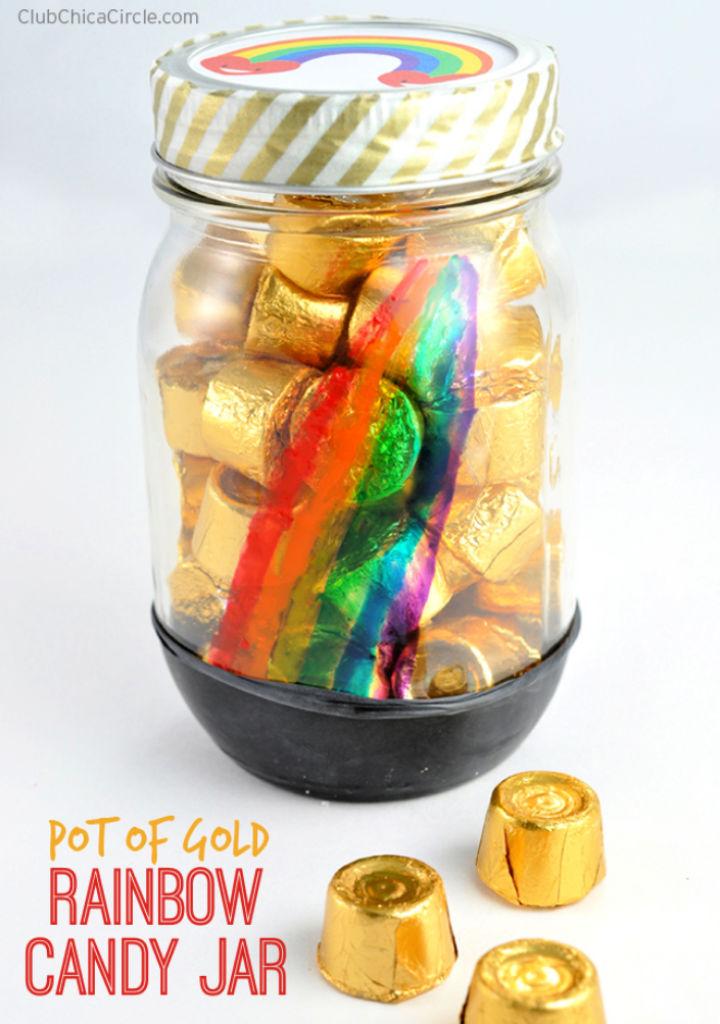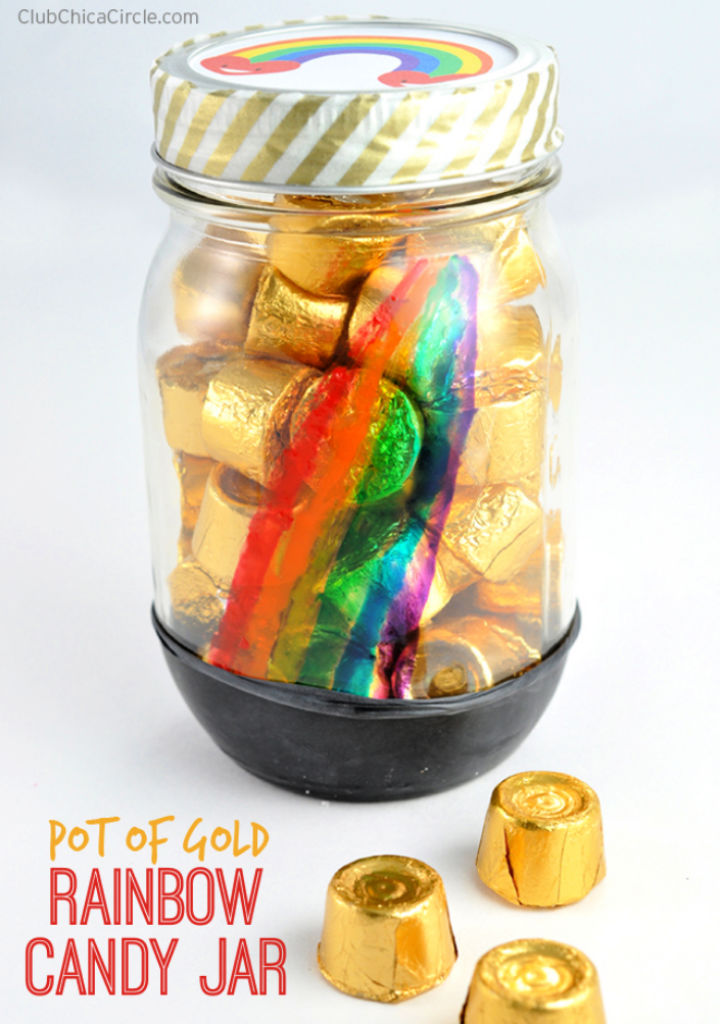 This Mason jar gift will make a great gift for holidays and will be a pleasure to make for sure. It will work up super quick, and most of the project is all about to draw the rainbows on the Mason jar. Next, fill the Jar with gold-wrapped chocolates. You also need a rainbow printable and black ribbon for this gifts in a jar. Details here club chicacircle
29. Map Mason Jar Bank for a Wonderful Gift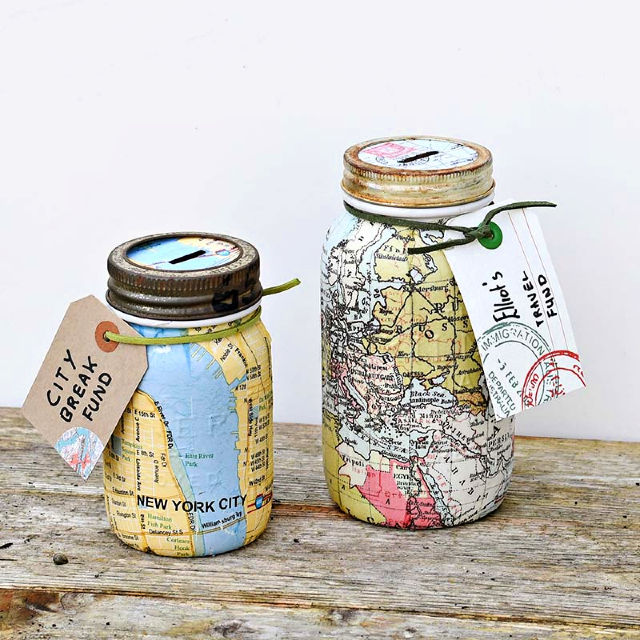 DIY piggy bank gift to make with Mason jar will promote the money-saving in the kids. Make these travel themed Mason jar banks, will come in handy to save the money for a custom purpose. You need empty Mason jars, map paper napkins, mod-podge matte, foam brush, a small piece of cardboard, travel tag, and white spray paint to make it. Details here pillarboxblue
30. Mason Jar Mother's Day Gift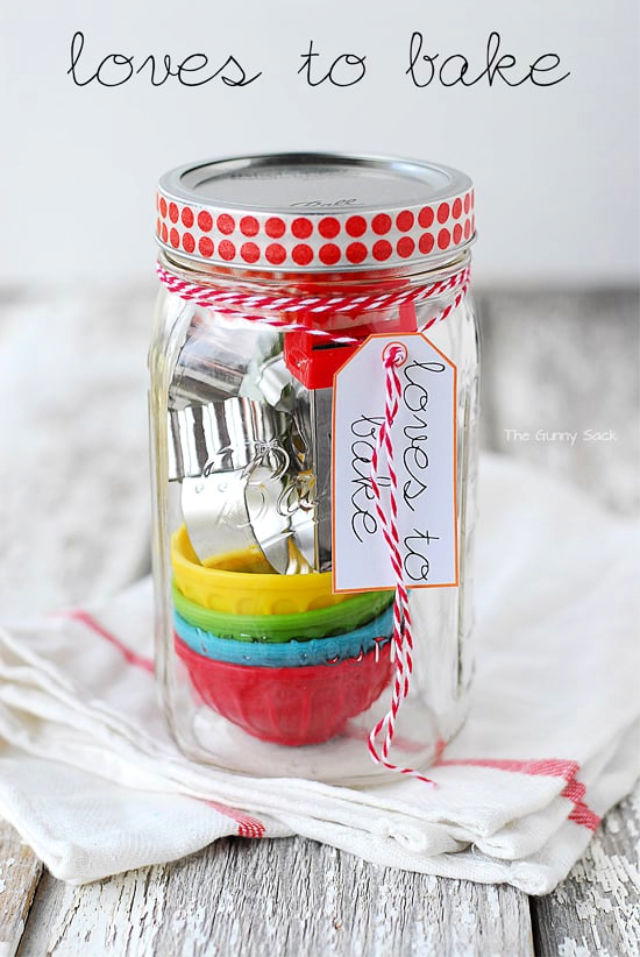 Appreciate the motherhood on Mother's Day by giving this outstanding Mason jar gifts, made for the Mother's Day. Just pack the baking essentials in the Mason jars and make this baker's gift in a jar. Finish the Mason jar gifts with twine and a gift tag of choice. Details here greatmothersday
Conclusion:
It is hard to decide on a special gift for a friend or family member. If you finally choose a one, then the second step is more challenging, that is, to find a nice gift box or wrap. Solve it with the Mason jar gifts, the glass containers always lying around.
Mason jar will rock as the readymade glassy gift packing and make the things visible through for cute statements. Explore this grand collection of 30 unique Mason jar gifts and see what type of wonders you can do with mason jars in the gift-giving culture. These mason jar gifts packing will be available for free, another big bonus you will get while making these gifts in a jar.
Related DIY Ideas
Follow our step-by-step advice, How-to videos & cost breakdown for DIY wood projects by Its Overflowing. Discover more ideas at Its Overflowing.