So growing up, my parents always taught me to save money in the most creative ways they could find. And I really love them for it, because I`ve grown up into a responsible person and a person who knows how to handle their money, which is a really important skill in everyone's life. So I decided that this post should be all about new and creative ways to save money, and also, if you have tons of mason jars, just lying around this might be your lucky day.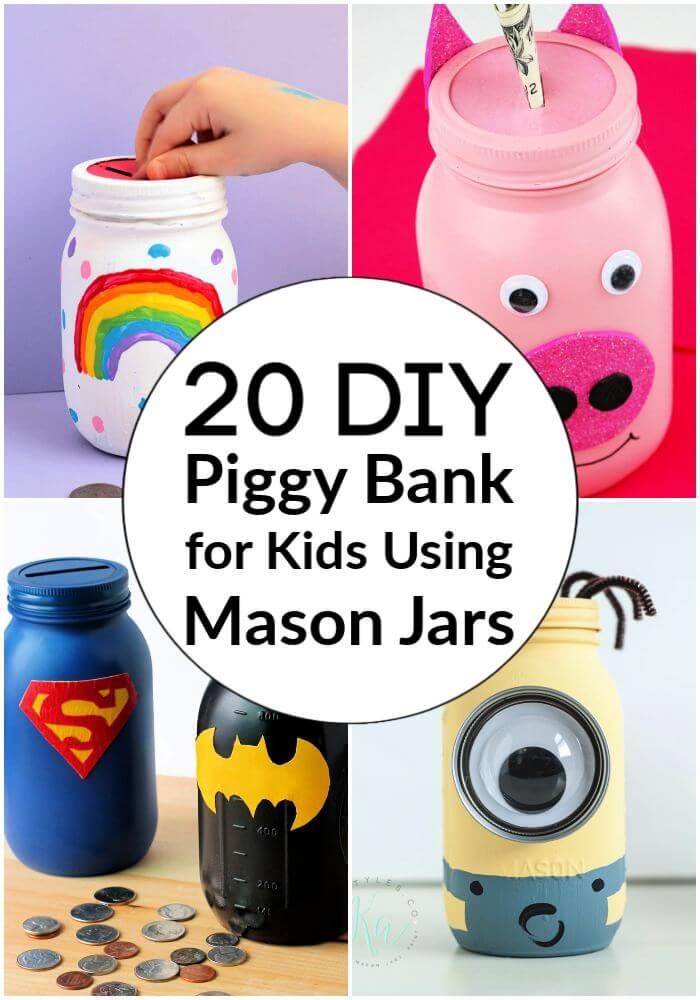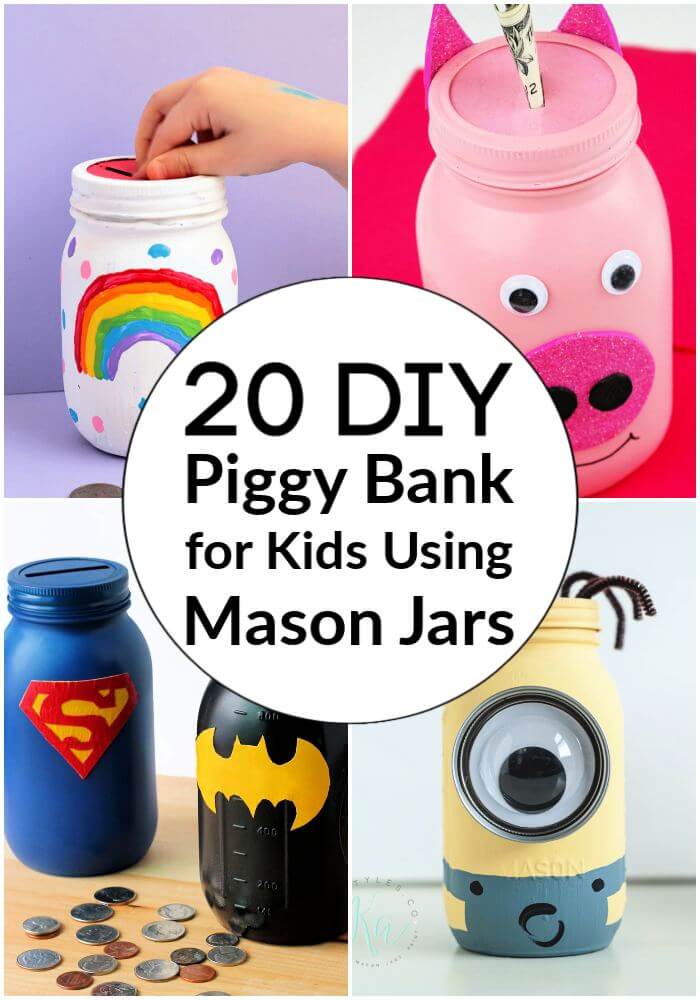 I have compiled 20 DIY Piggy Bank for kids Using Mason Jars, and the best part is that you will most definitely have fun making these piggy banks while finally finding a way to repurpose those mason jars you have. Also, this article is important for other reasons, and that is it will be a big part of your kid's way of learning how to save money and making it a great part of their life. So pull up a comfy chair, pick the piggy bank you think your kids will love the most, and get to it.
These easy to make kids crafts are really super fun and simple to make that you shouldn't have any problems finishing any of them. But in case you do get stuck, there is a well-written tutorial following each design. You can follow it step by step and also have fun in the process, which is also a very important part of the art of DIY. So no time to waste, it is time to save some money with these amazing DIY Piggy Bank Using Mason Jars.
DIY Ice Cream Fund Mason Jar & Printable Art

This fun ice cream fund Mason jar idea is superb to let your kids save money and enjoy their favorite items until they have gathered the apt amount! So grab a mason jar, paint it in your favorite color with some chalkboard paint in the center to write Ice Cream Fund on it! A cute ice cream printable makes it more fun and cool! yesterdayontuesday
How To Make a Disney Savings Jar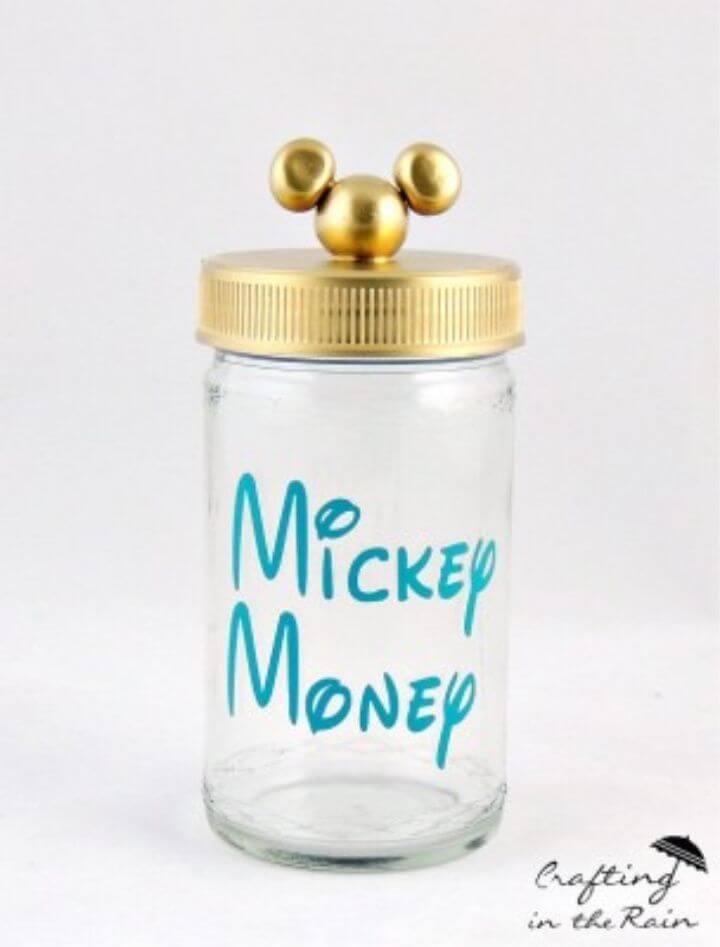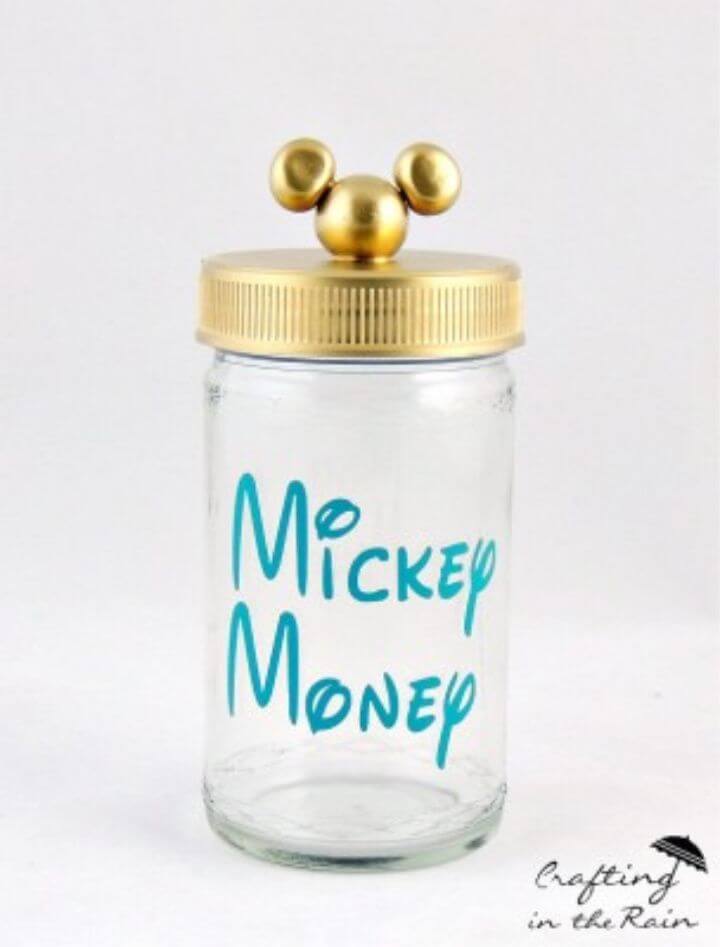 Disney land is the dreamland of the kids, and they want to go there even if it is for once! So here is the idea of making this lovely Disney saving jar in which they can collect some money to sponsor their trip to their favorite place! So take an empty mason jar and add some cute text to the jar with clay made Mickey Mouse face on the lid! undercovertourist
Awesome DIY Piggy Banks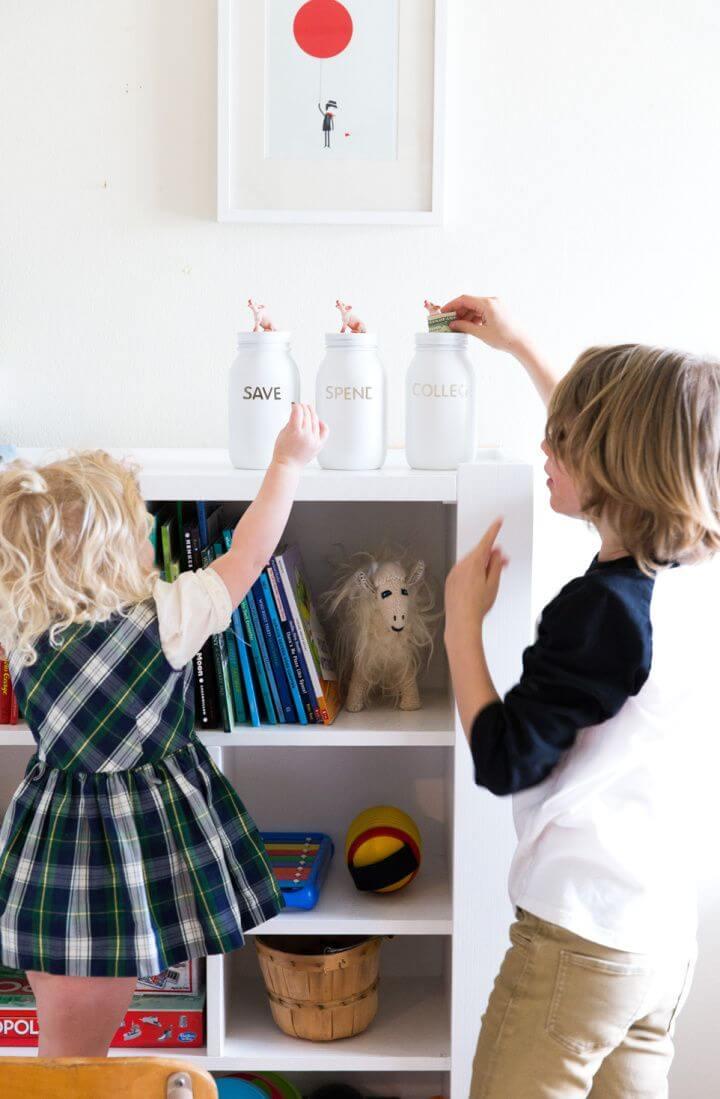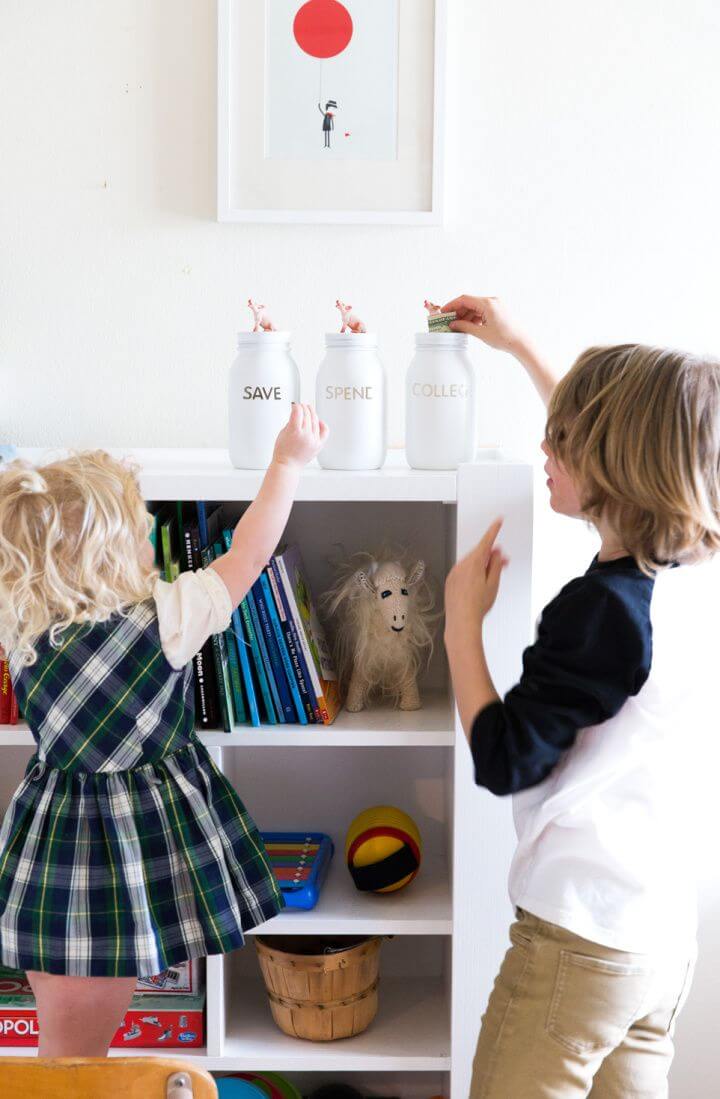 We are always left up with some coins when getting change for your dollar bills on buying something, so the best way to put the coins in a functional use is to save them! To pour in your coins, you can make these gorgeous and fun piggy banks out of the painted mason jar, and you can write up the use of the savings on the jar like to Spend, Save, or for College! sayyes
Sparkle & Shine DIY Mason Jar Coin Bank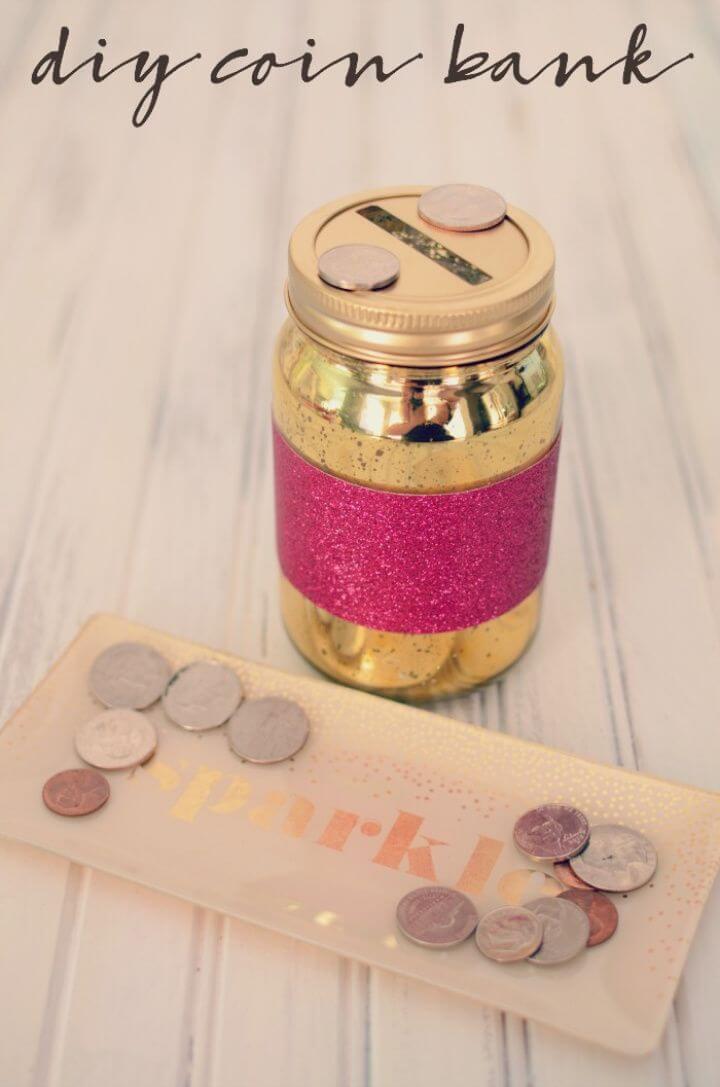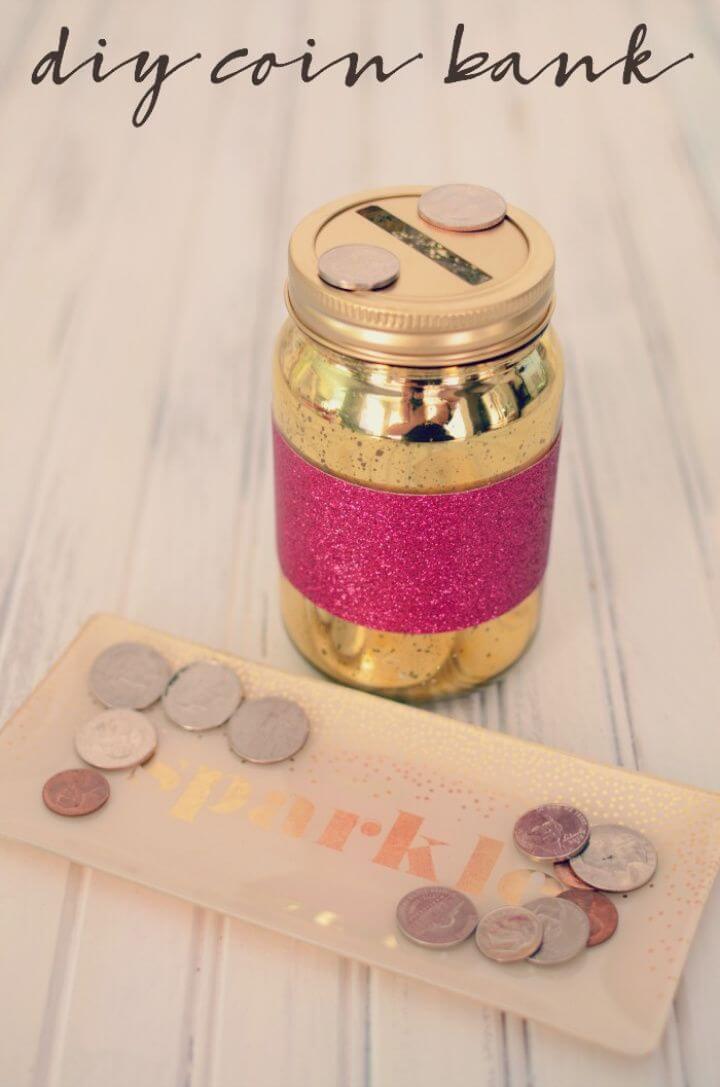 Little things make big things happen, and so is the case of collecting your daily coins and buying something big and useful when the collections are huge! So to save your coin collection, you can make this utterly cute, and fun looking sparkle and shine DIY Mason jar coin bank and start throwing your coins in it until it's full! taylorbradford
DIY Minnie & Mickey Mouse Mason Jar Money Banks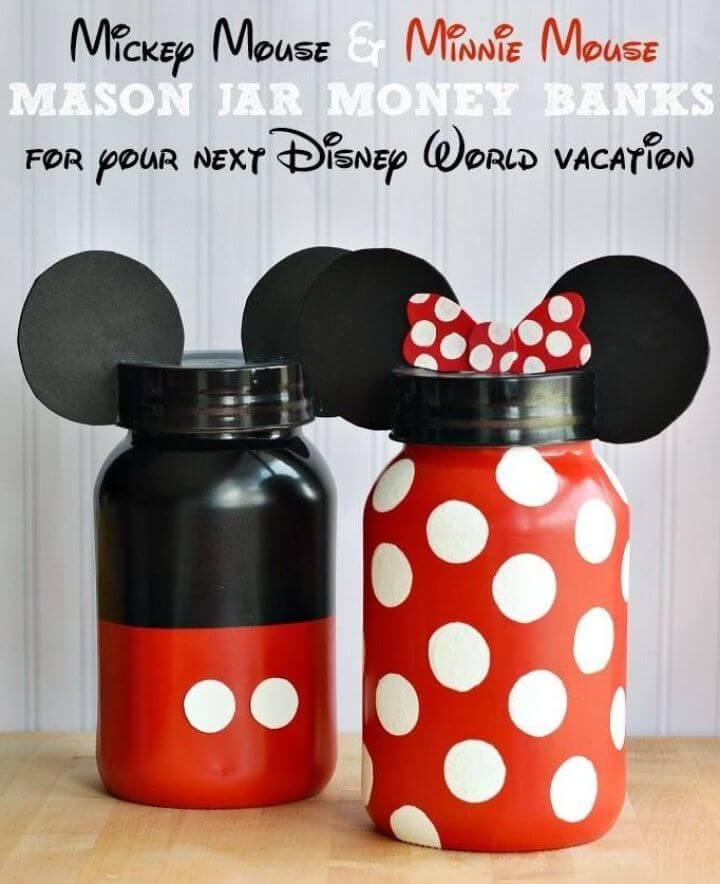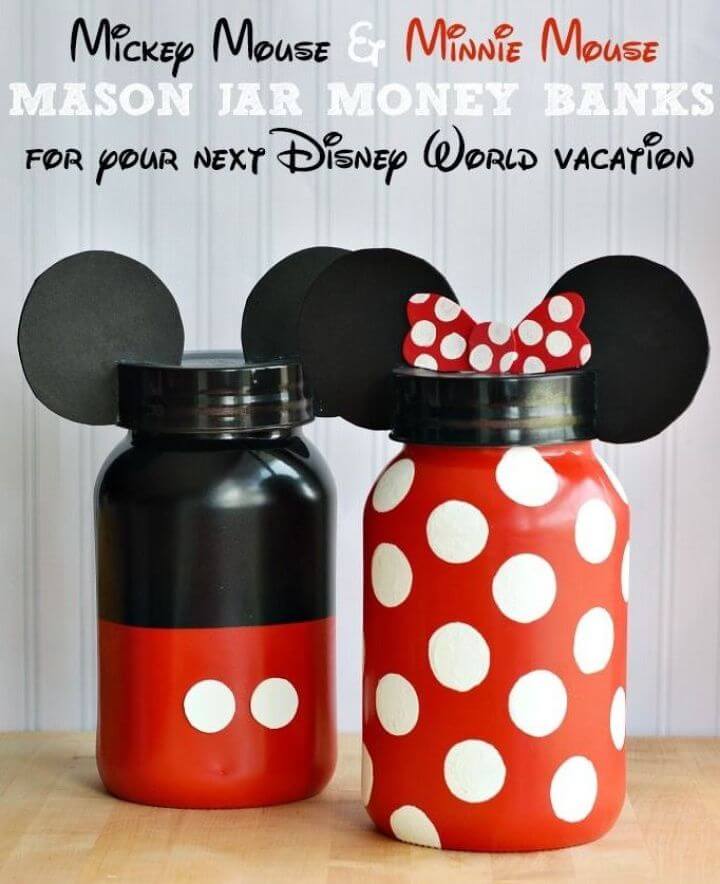 If you want to promote money-saving habits in your kids, then you really have to bring them a lovely piggy bank, and now you can make one at home! And if they want to save money for their Disney land trip, then this pretty Minnie and Mickey Mouse mason jars are just perfect for getting your hands on and gifting to the kids! Details here kimberleymarriott
Easy DIY Minion Mason Jar Coin Banks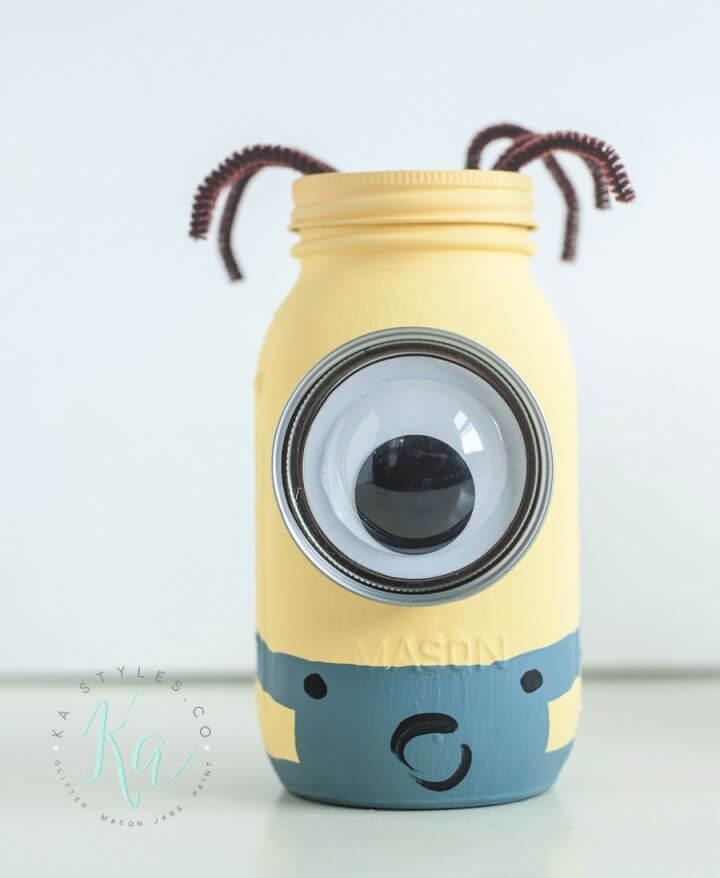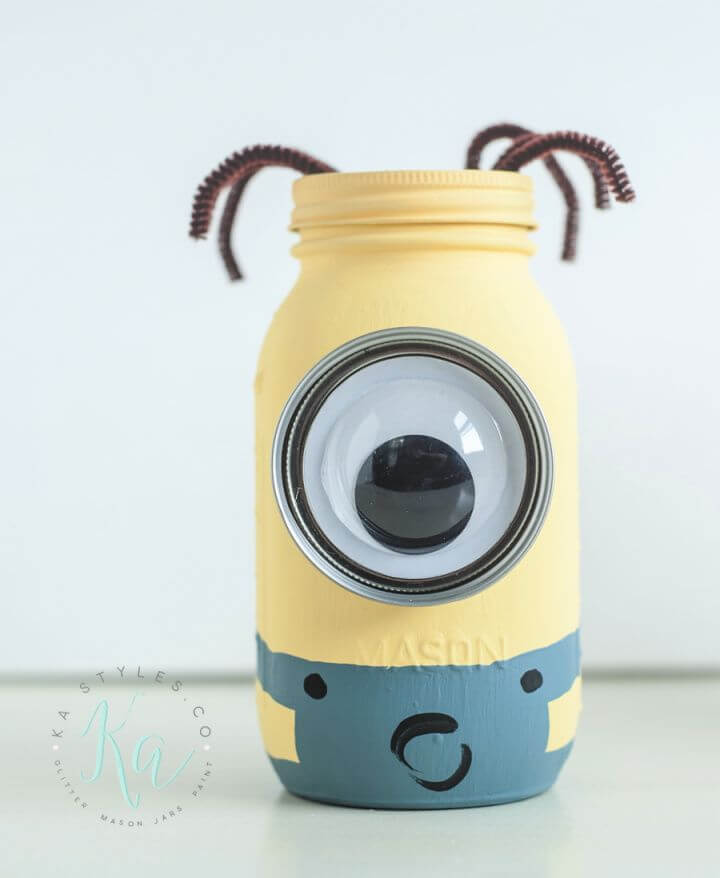 The kids are in huge love with the minions, so if you are planning to make anything for them, the minions are a huge inspiration for you! This fun minion mason jar would not only let your kids save his coins in it but also create a very pretty look on tables or other display spots of the kid's room! Follow the details of the idea here kastyles
How To Make Piggy Banks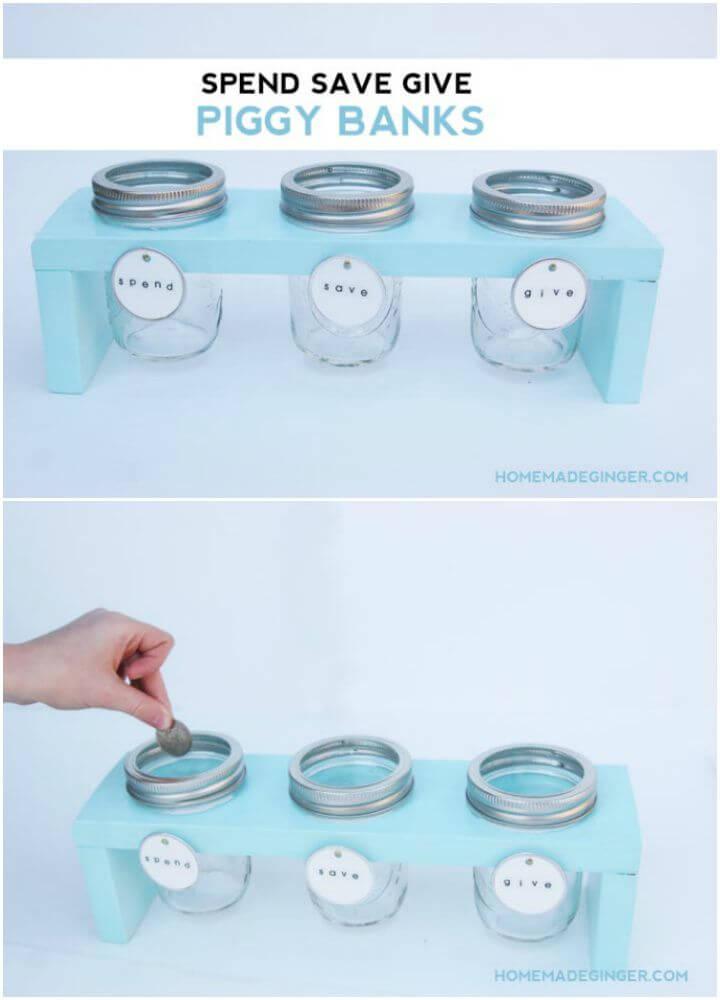 Let your kids learn the value of the money in the most pretty and fun way with the help of these adorable piggy banks, which are super easy and fun to make at home! So grab the mason jars and some pieces of the wood to make this three in one piggy bank stand! The first one is to save, second to spend, and the third one to give away! homemadeginger
DIY Autospardose Mason Jar Coin Banks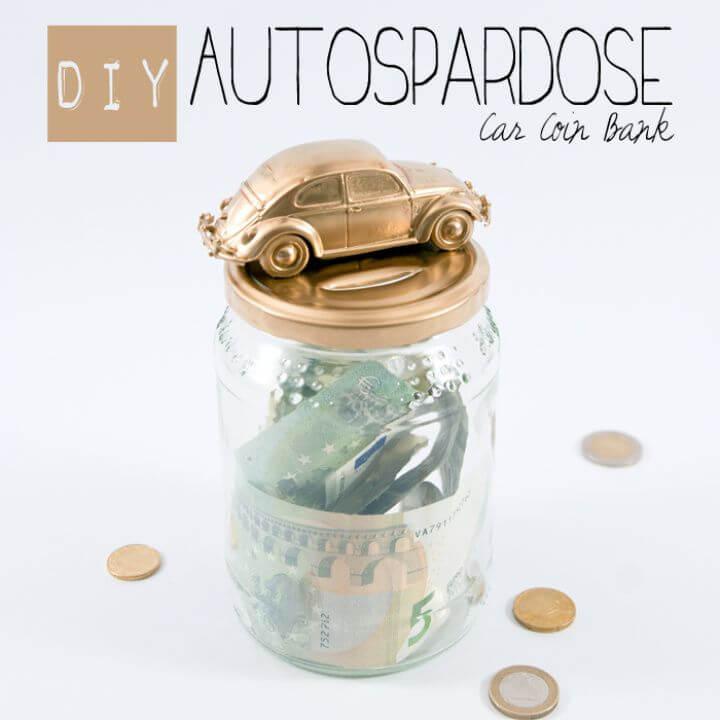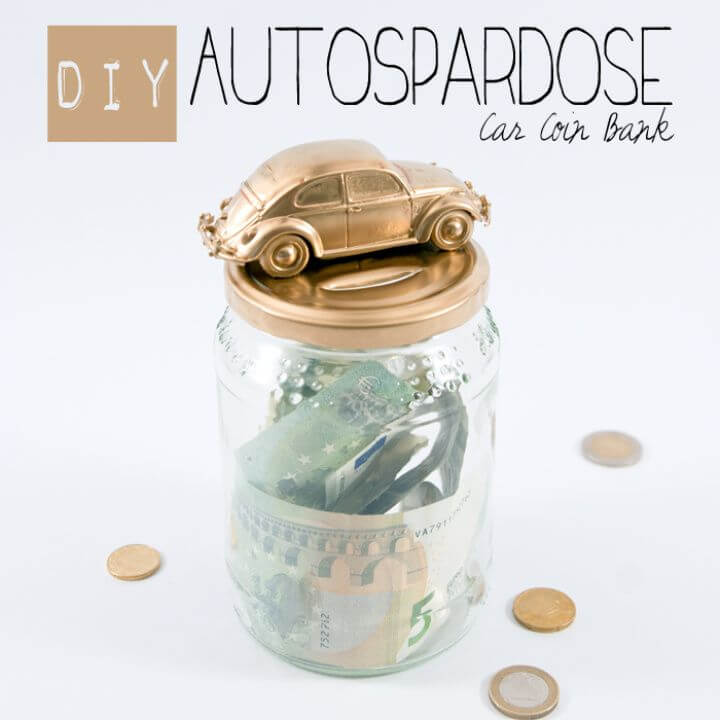 When you start a family, you really start saving to come up to your family's needs like a family car! So to save money in a piggy bank would be a great idea, and making fun Mason jar piggy banks is just so damn cool and fun! So while you are saving money for a card, you can add a painted car on the lid to make it look totally customized! johannarundel
DIY a Mason Jar Superhero Bank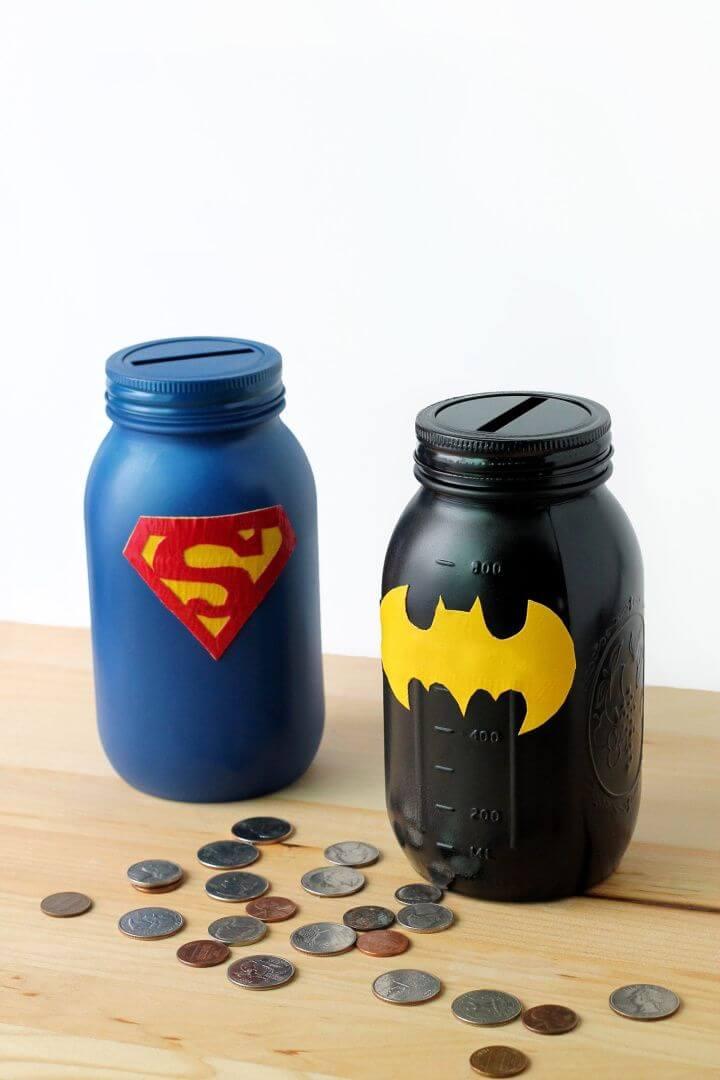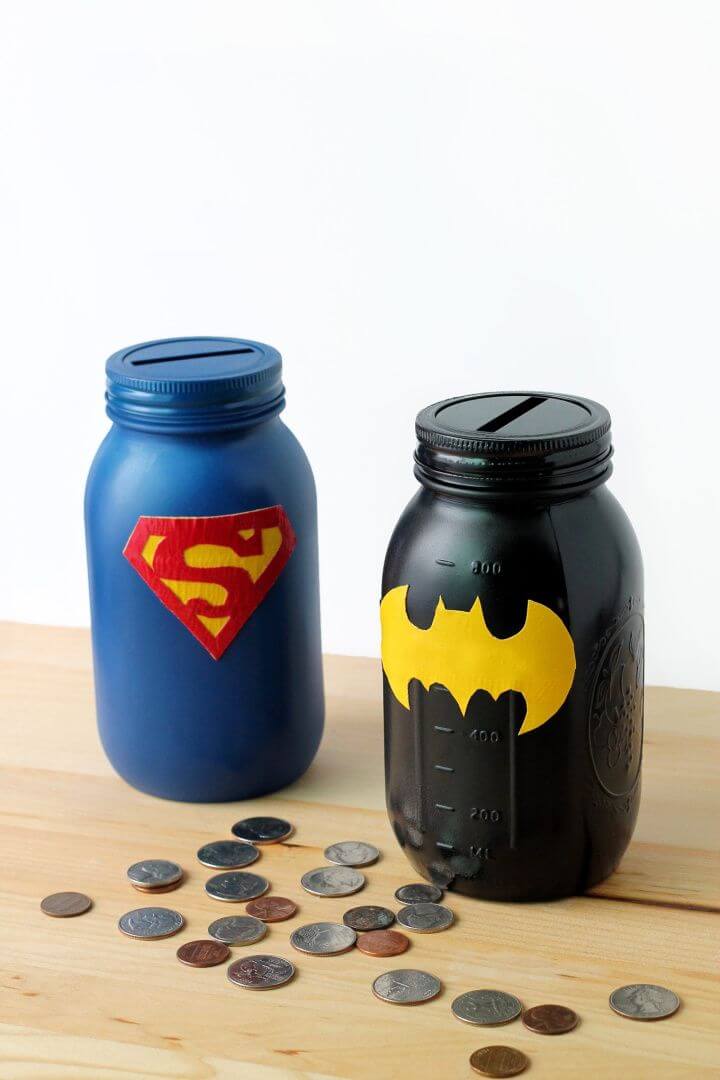 The kids are so excited when they start earning some money and to save them for the purchase of their dream possessions! So to motivate them for the savings, you can make them these adorable and fun looking superhero banks on your own! So grab the Mason jar, make a coin slot in the lid, paint the jars like superheroes of Batman and the superman, and you are done! firefliesandmudpies
How To Make a Mason Jar Piggy Bank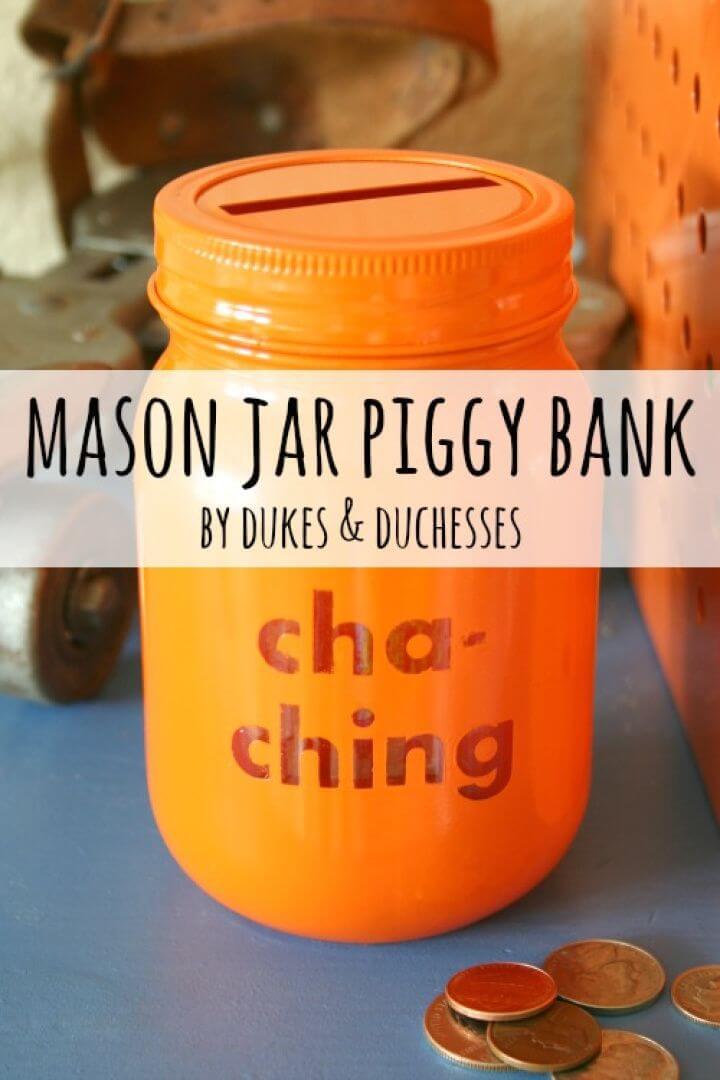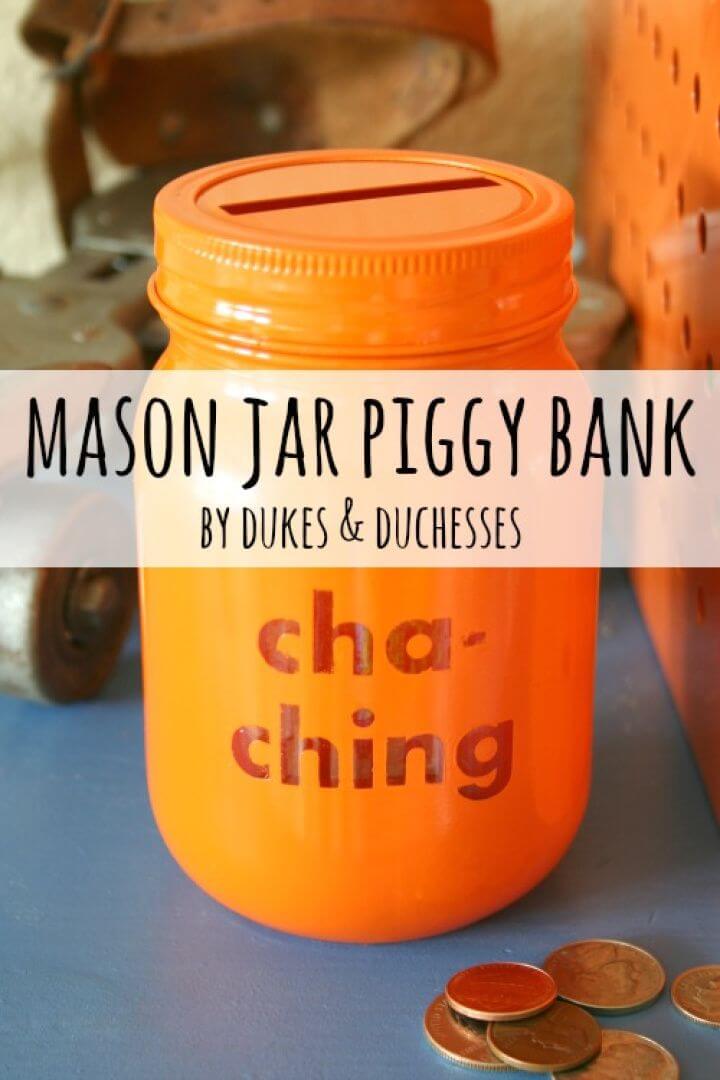 This lovely mason jar piggy bank seems to be inspired from the lovely fall season for being so nicely displaying the color of orange and thus would be a perfect gift for your kids in the fall! Here are the details of making it dukesandduchesses
Amazing DIY Coin Bank – Free Tutorial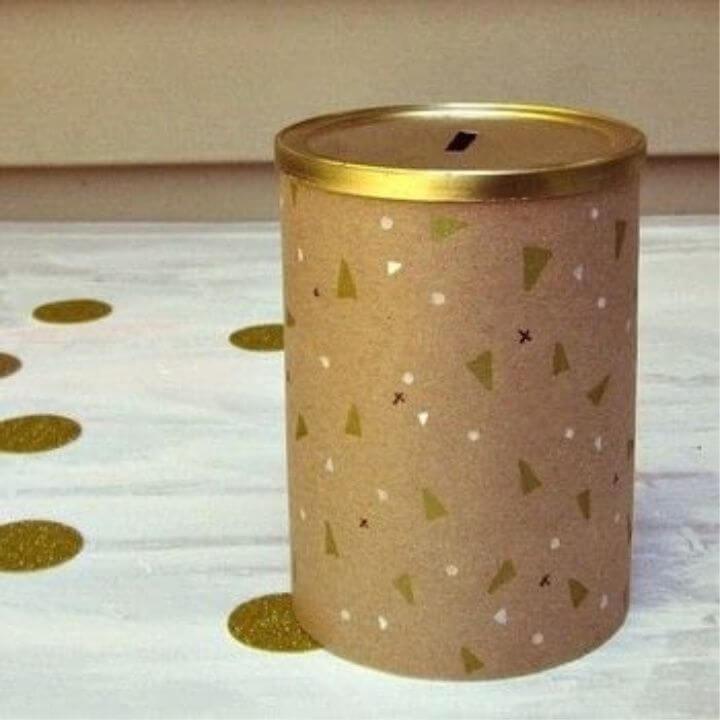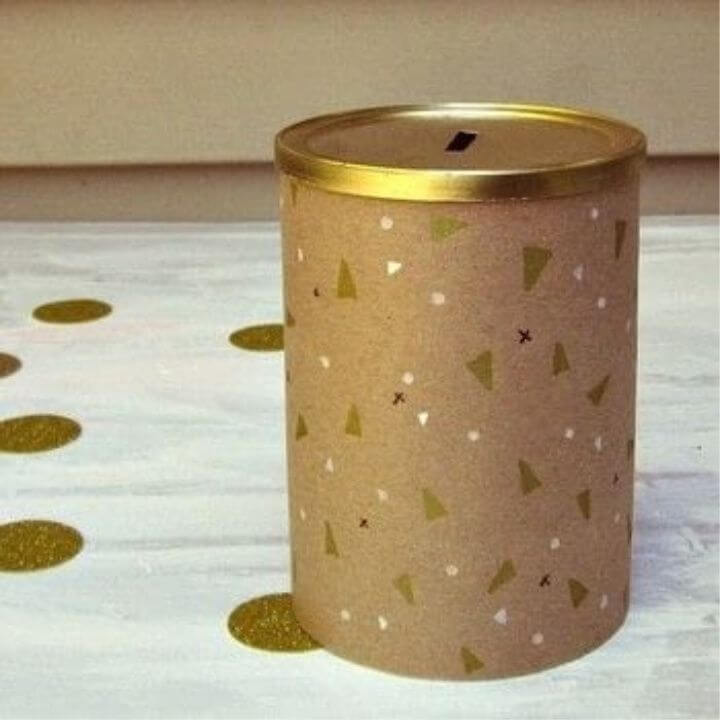 Turning the empty jars into the fun piggy banks is just so much fun, and now you can do it with more fun and style! Here is this fancy piggy bank having been made from the colorful cover-up of the jar with some fancy cover! Glitter pencils have been used to design up the paper, and here are full details! cutoutandkeep
DIY Piggy Bank Out Of A Mason Jar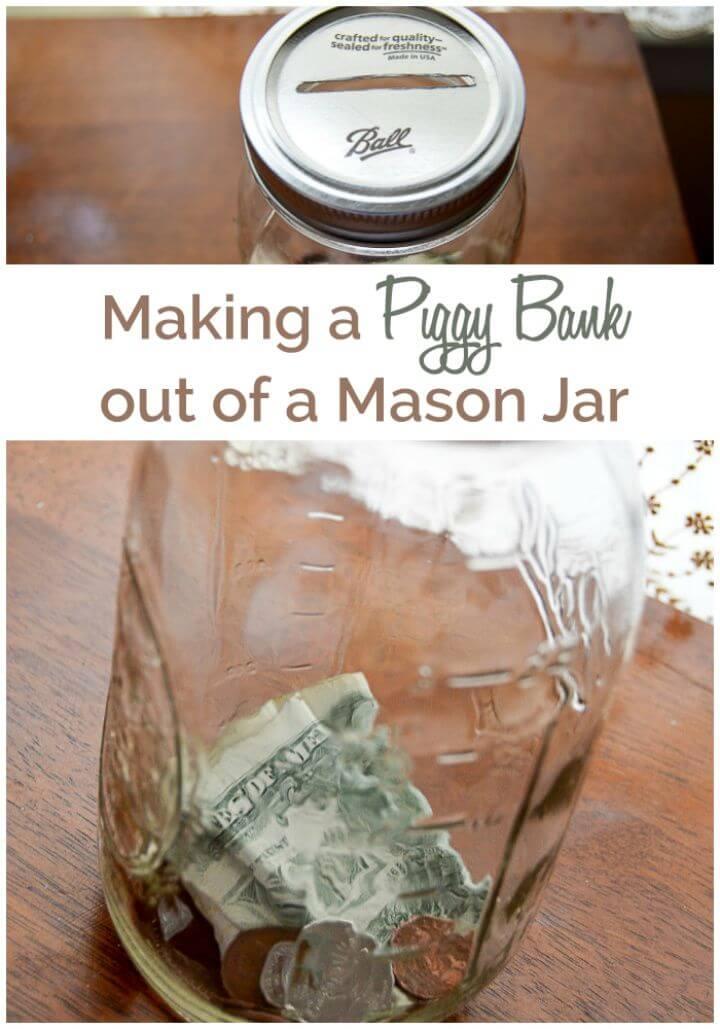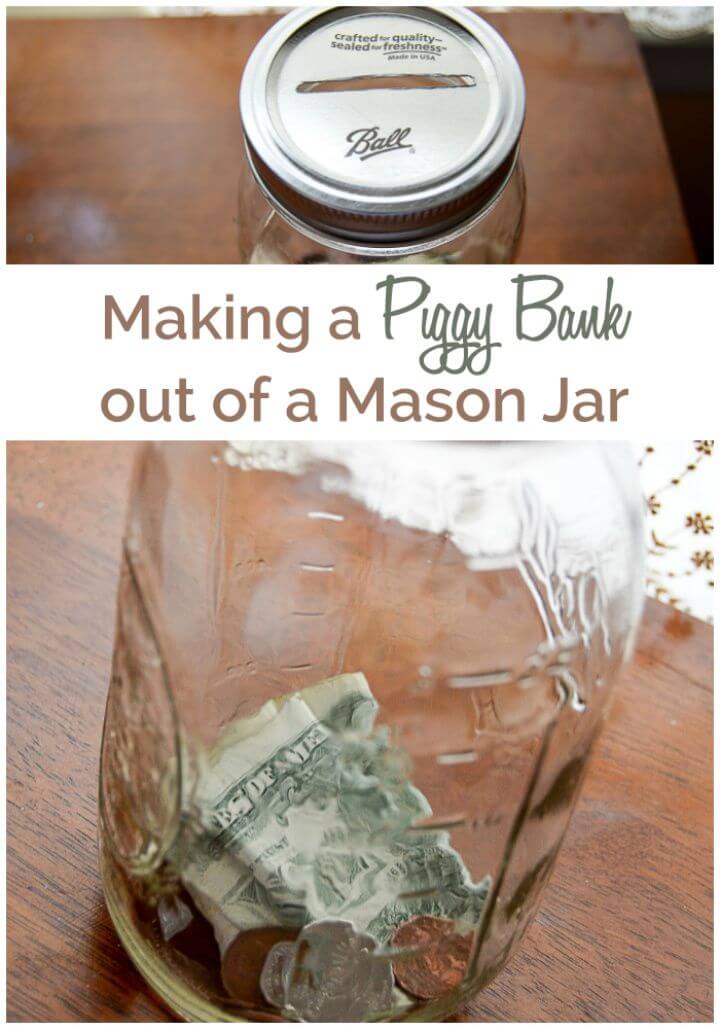 Even if you do not have time to get your hands crafty with the mason jars and make it look all fancy and fun, you can simply change it into a piggy bank! Yes, by creating a slit in the Mason jar lid, you can easily turn into a simple piggy bank to save your loose change it! Details here shawnann
How To Make Rainbow Mason Jar Piggy Bank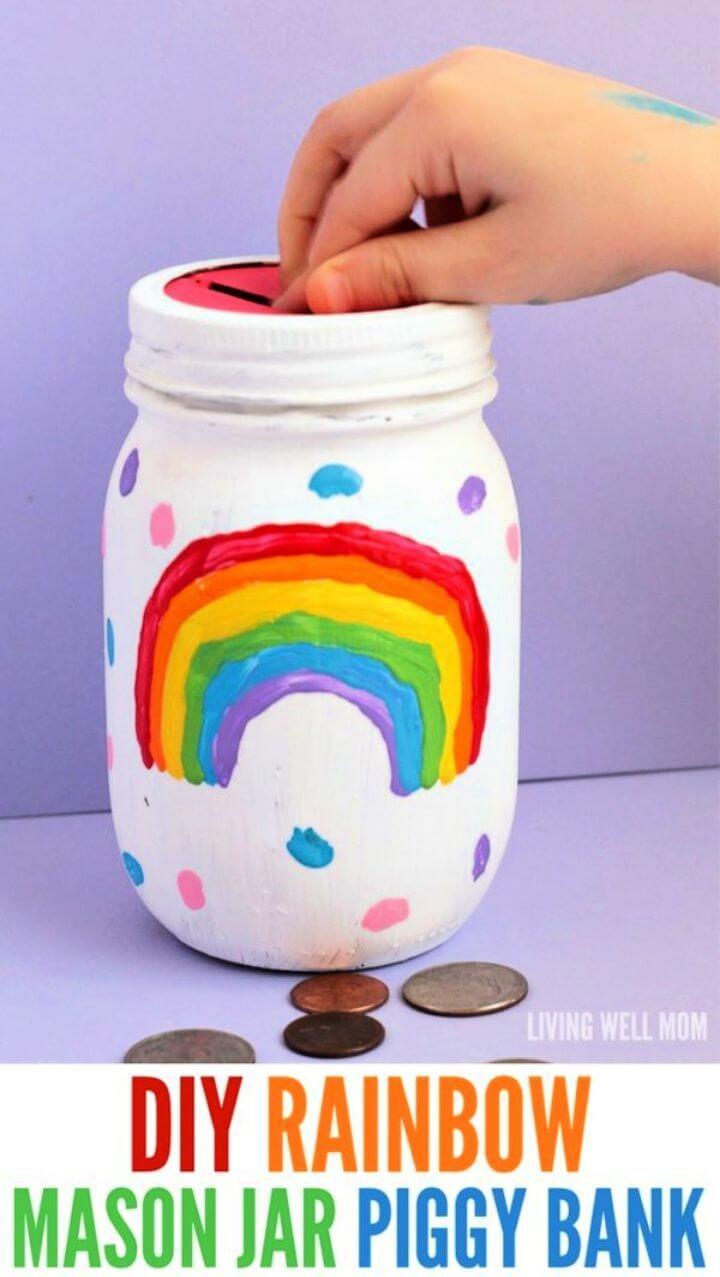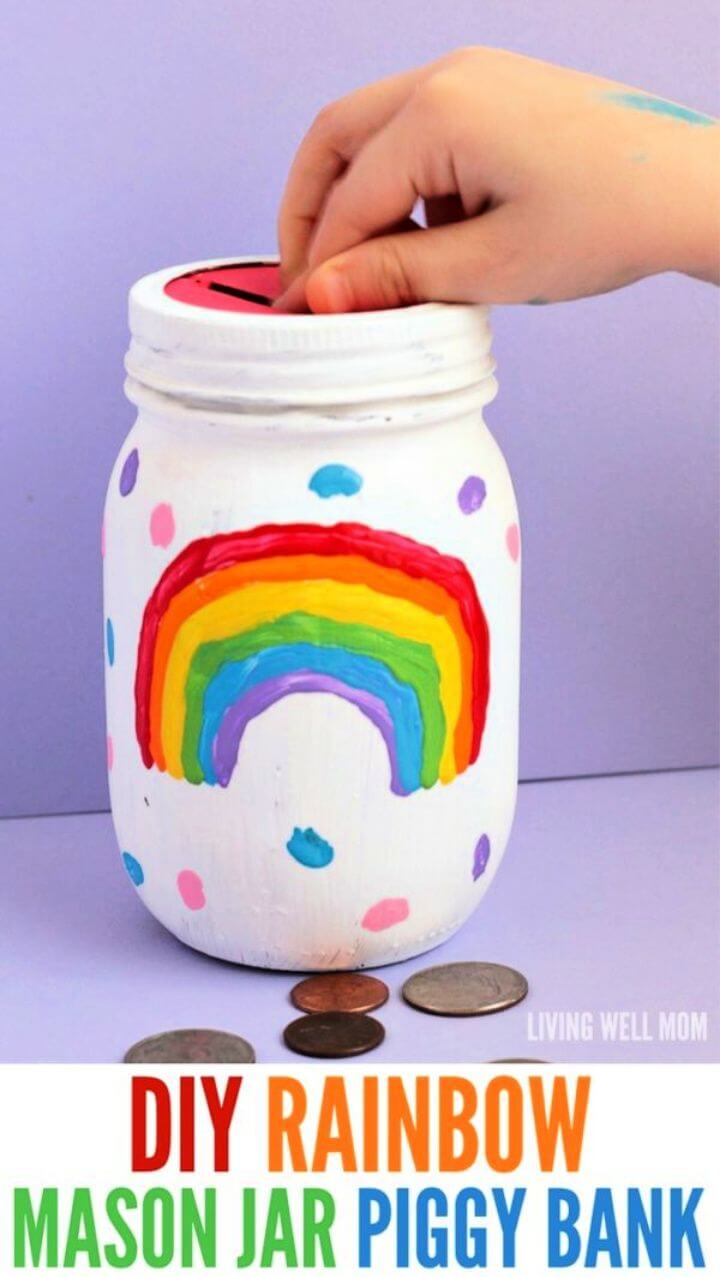 The kids can make a lovely and cute Mason jar piggy bank too and have so much fun making it as it involves colors to its making! So here is the idea of painting this lovely jar into white and then painting the pretty rainbow colors on it and thus making it look all fancy and fun and kiddish at the same time! livingwellmom
How To Decorate a Mason Jar Bank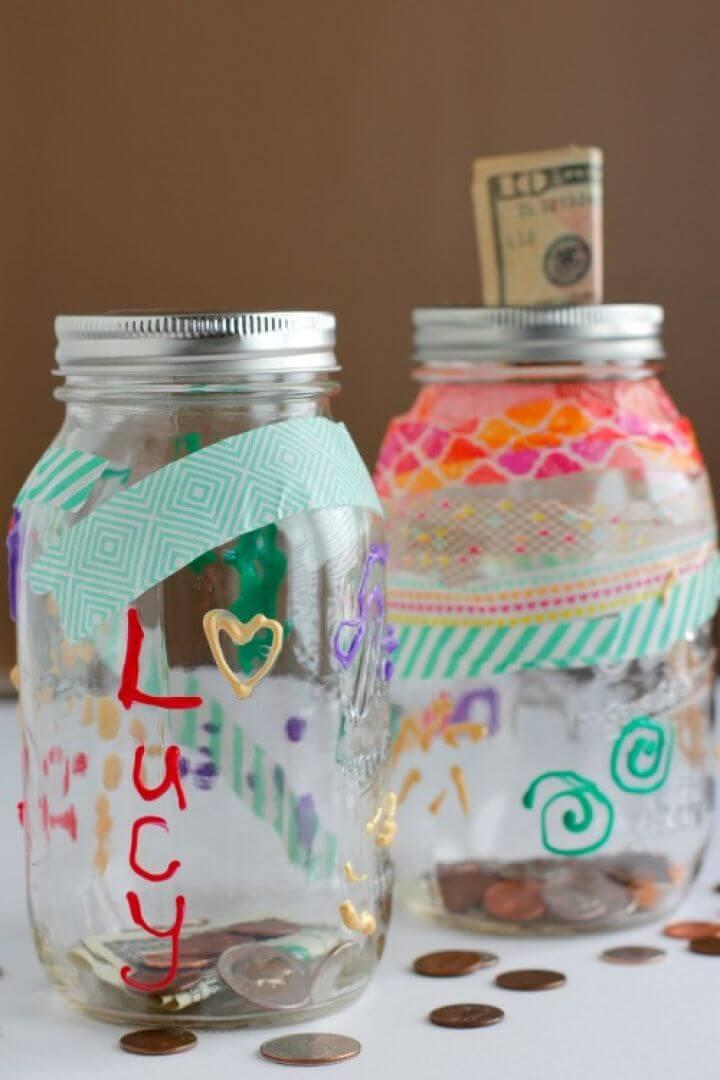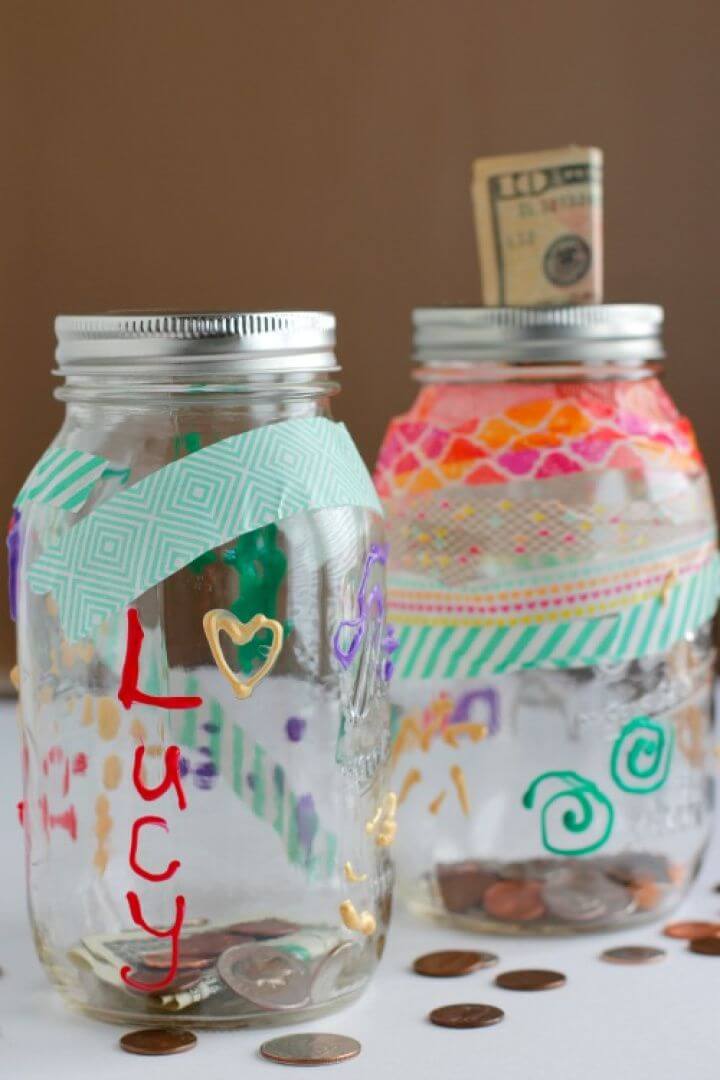 Get your hands on the crafty drawer and let all the craft scrap come out, be it paint, colored pencils, and the ribbons as we got the perfect idea for you to use it for! Here is the idea of creating this lovely piggy bank out of the mason jars and use all your embellishments on it and let kids use it for the coin saving! makeandtakes
Awesome DIY Mason Jar Piggy Bank Craft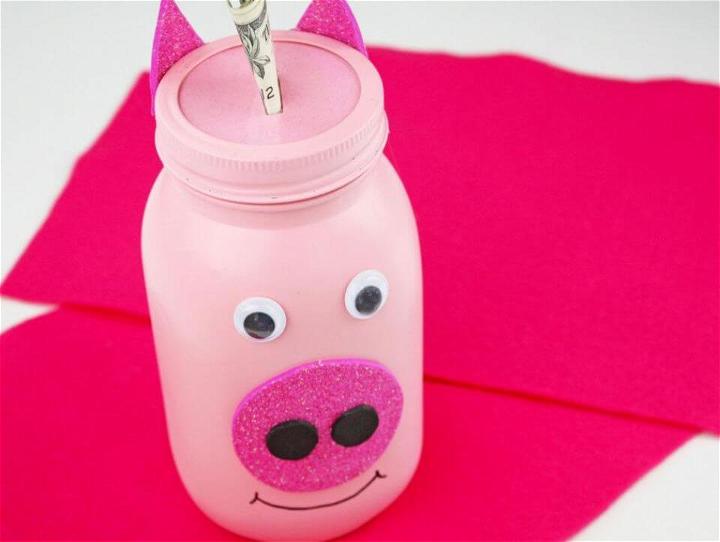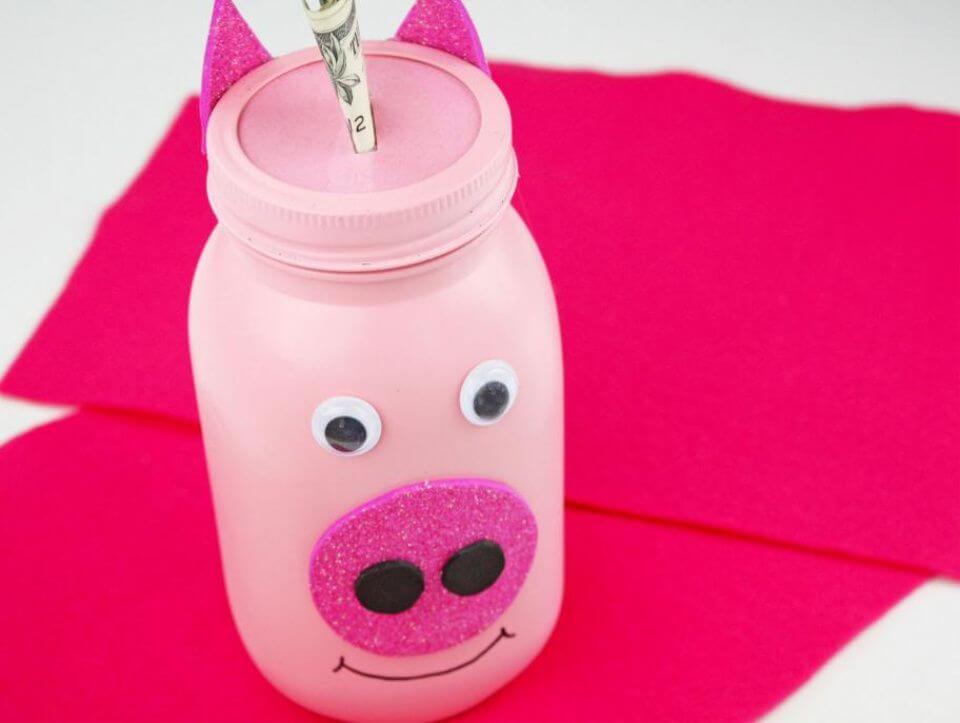 Turn a simple and empty mason jar out of your kitchen into this absolute and chic piece of the piggy box! So paint the jar in pink and add eyes, nose, and the ears to it, and your gorgeous piggy bank in complete piggy style is just ready to rock kid's room shelves! fun365
Easy DIY Jam Jar Piggy Bank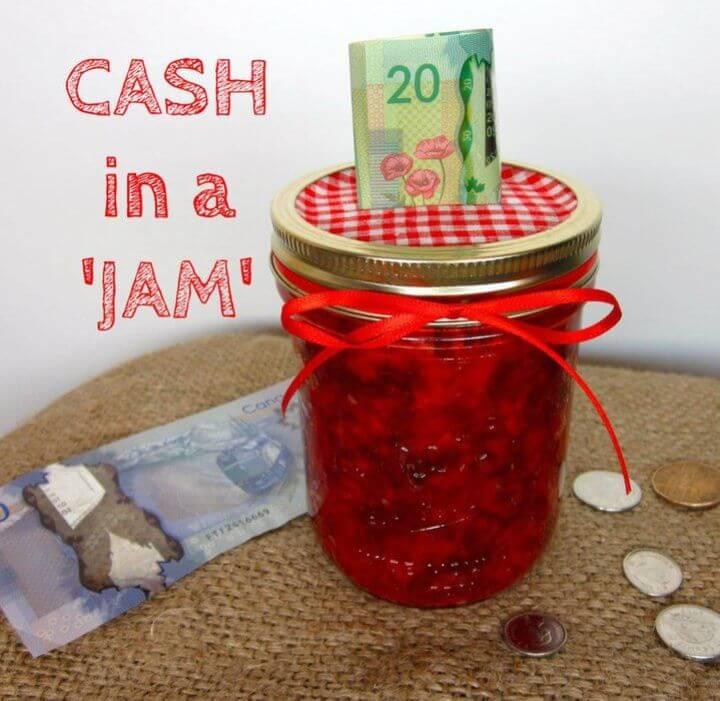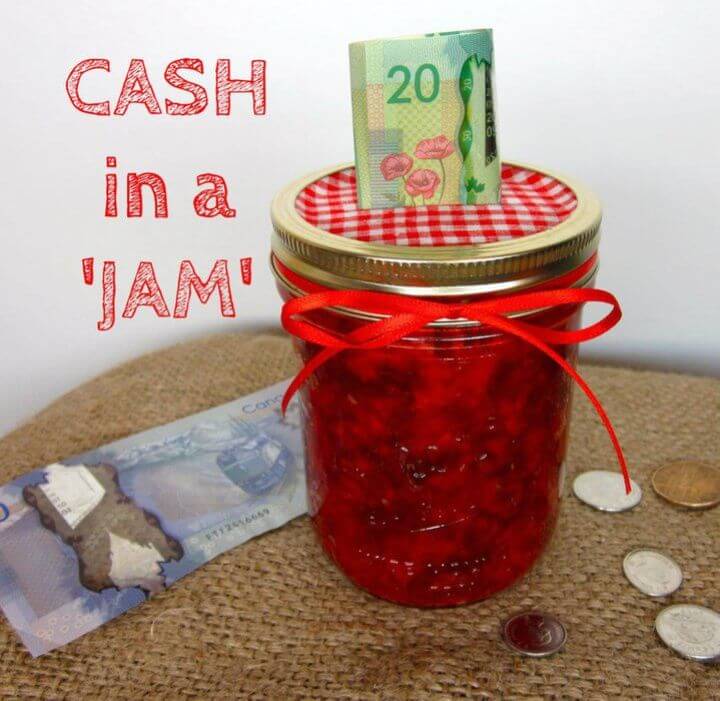 The more a piggy bank is unique and fun, the more kids are going to fall in love with it! So here is the idea of creating this lovely jam jar styled piggy bank using the red tissue in the jar for the jamming effect and the green cash on the top for a complete strawberry look! It would make a perfect gift for your kids! instructables
DIY Travel Themed Mason Jar Bank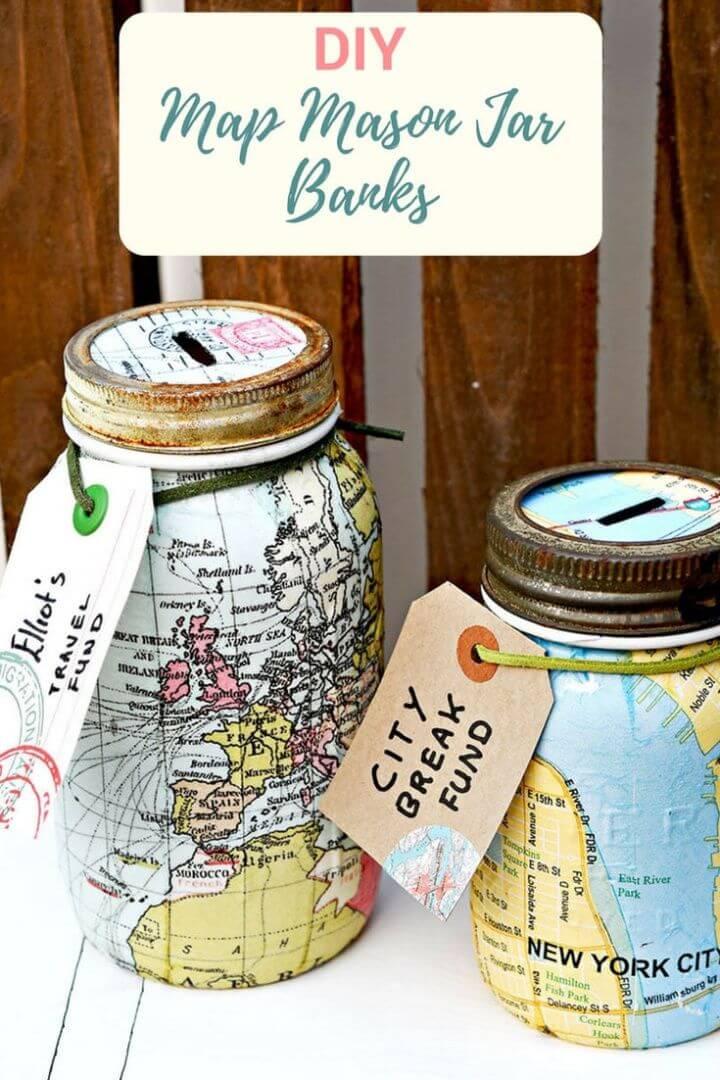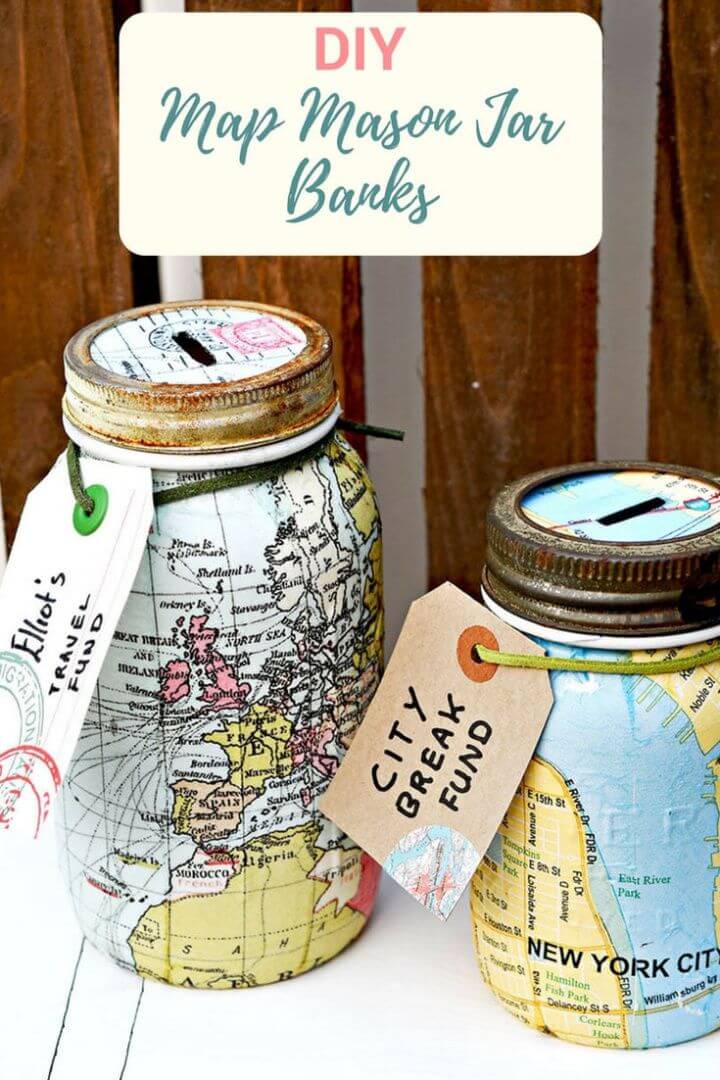 Making your kid save for their favorite trip is the best way to let them learn the value of saving, and we got perfect money savers for the purpose! Yes, you can gift them these travel-themed mason jar banks, which have been covered with the map and thus would look super adorable to save for the traveling! pillarboxblue
Cute DIY Mason Jar Piggy Bank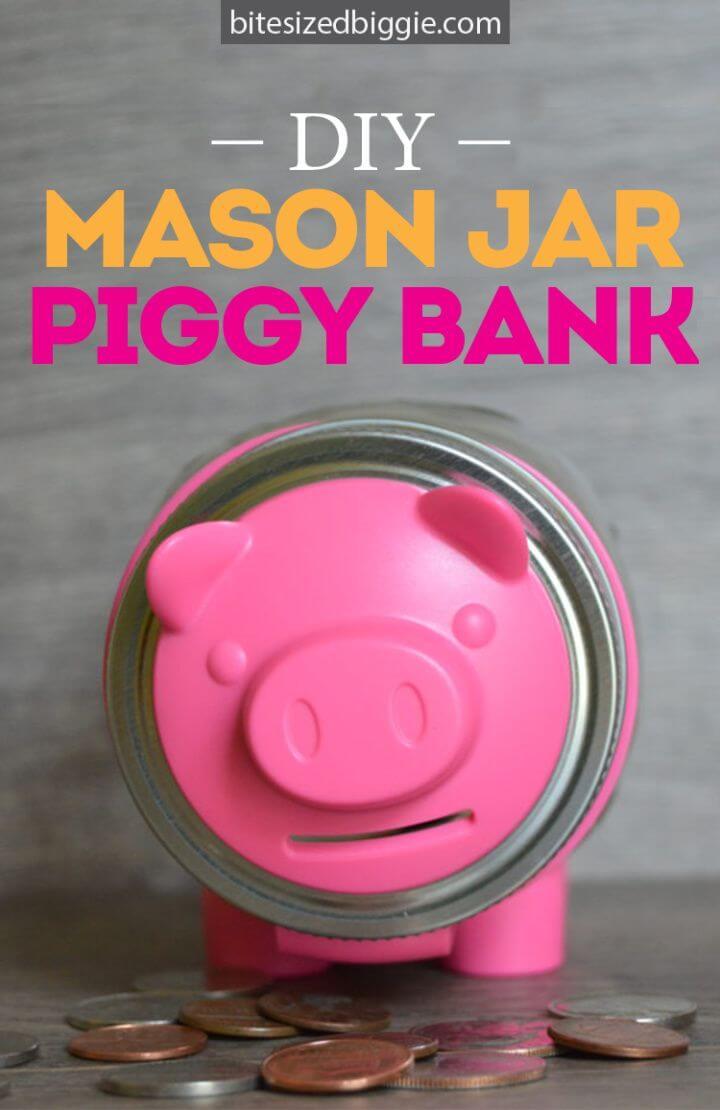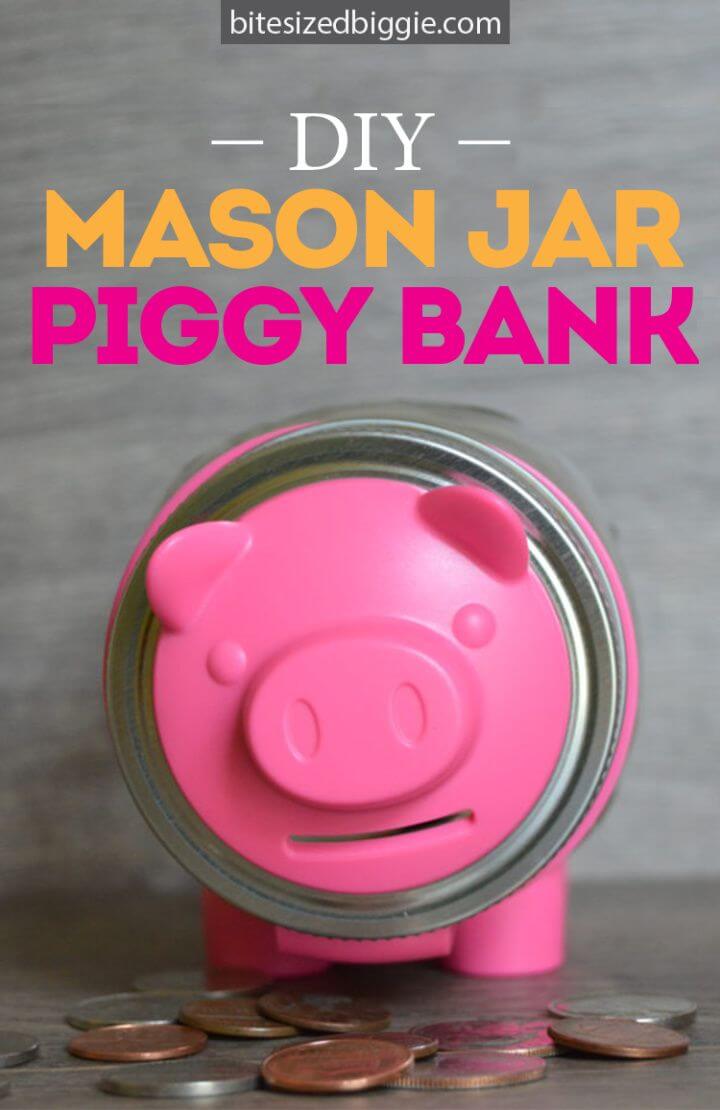 Here is one of the simplest and the cutest way to create an instant and cheap piggy bank for your kids or any other kid around to use as the perfect frugal gift! So grab the pig face and legs from any toy store in plastic and add it to the lid and the bottom of the jar, and your mini piggy bank is ready to save coins! bitesizedbiggie
Awesome DIY Mason Jar Piggy Banks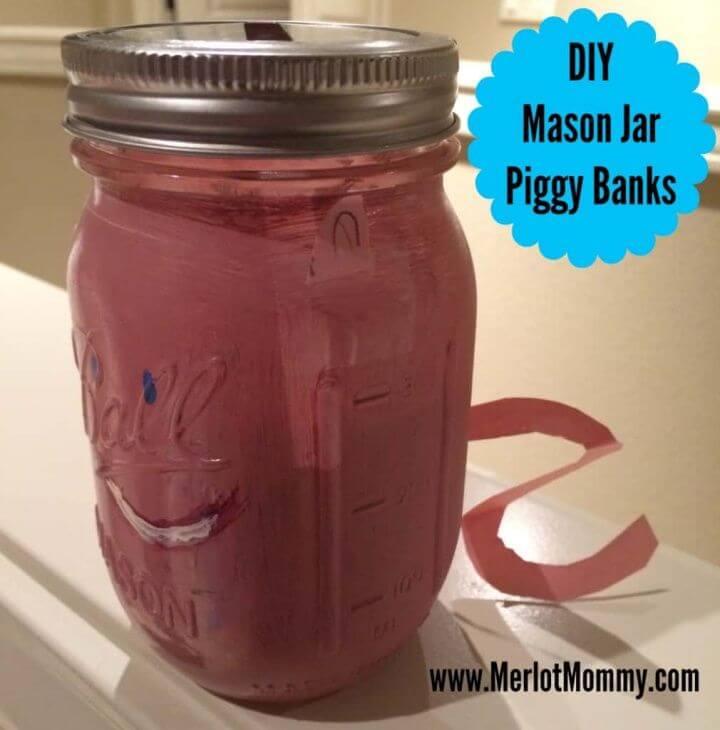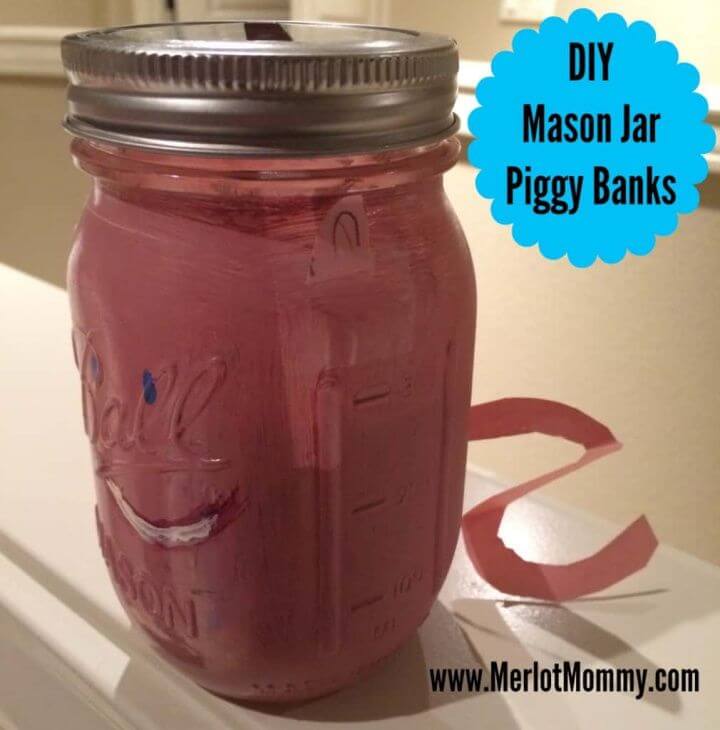 This Mason jar piggy bank is also simple and would super easy and quick to make with your kids! All you need to do is just create a slit in the lid of the jar to let money get in and then paint the jar in your favorite hues to look some fun and interesting! Details can be grabbed here whiskynsunshine
DIY Ball Mason Jar Piggy Banks For Under $5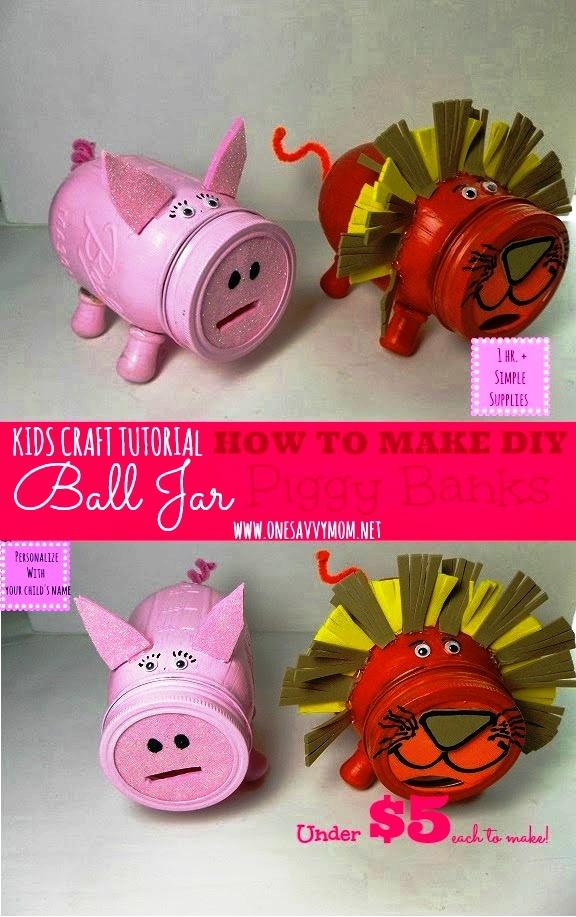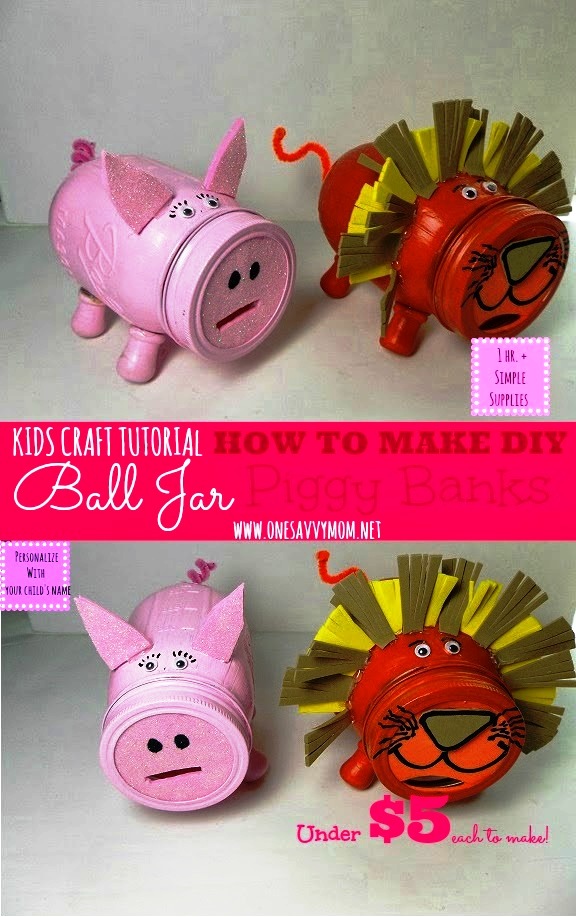 You are going to fall in love with these adorable Mason jar piggy banks that you can make fewer than five dollars with lots of fun and excitement! Paint and the colorful craft paper has been used to make these jars look perfectly like the piggy banks, and you can check out the details right here onesavvymom
Mason Jar Crafts And Decor: