If you live in a crowded space and have tons of mason jars, this article is just perfect for you if you are looking for a way to finally repurpose all those mason jars. We have compiled 25 DIY Mason Jar Herb Garden projects for indoor that you will simply enjoy making. And if you are like me a person who really likes to pick fresh spices while cooking this might be your lucky day. All these projects are super easy to make, and you will have your herb garden ready in no time.
The biggest problem for me was deciding which design I like the best so I went with several designs, and I even did a few of my own, by combining a few of the ideas from the articles with some of my own ideas, and the results were phenomenal.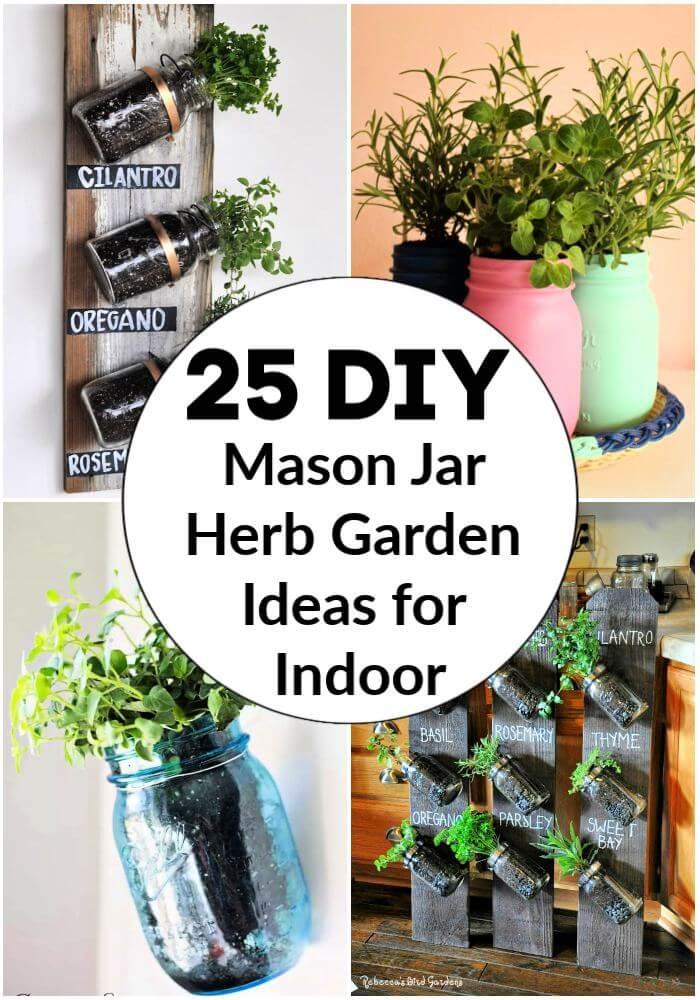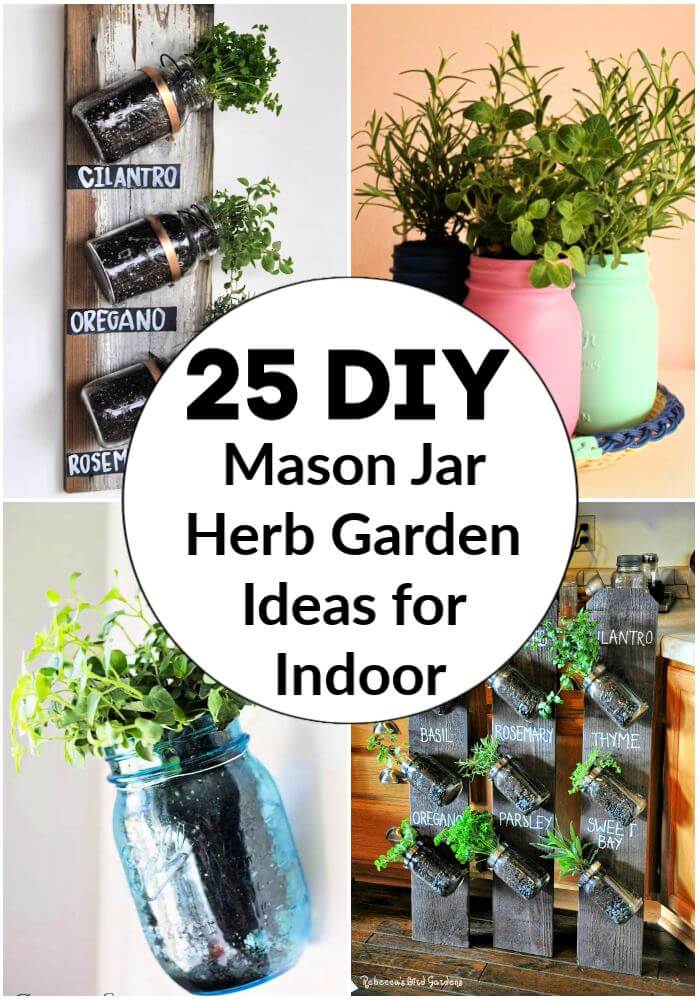 Try these mason jar garden ideas and make your own at no cost:
I believe that one of the best ways to repurpose your mason jars is exactly this, a mason jar herb garden because we can all you some fresh herbs while cooking, or even if we decided to redecorate our home, mason jar planters is a great idea to bring that extra life into a space we live in. They are also good for office spaces because every space needs plants, it's much better for our environment as well as our lungs.
So grab a chair and go through this article, pick the best designs and get to it. If you are not a veteran in the art of DIY don`t worry, we got you covered. Every example comes with an amazing and well-written tutorial. You can follow it step-by-step and simply make the best planters you ever saw right from your home. And these guys make an excellent housewarming gift, so if you have some extra time on your hands why not make several of these planters, giving you a chance to practice your DIY skills, and at the same time making a perfect gift for the people you love or you can also try these Raised Garden Bed Plans To DIY Your Own Garden Bed.
Making a unique gift really tells a different story and you can never go wrong with DIY Mason Jar Herb Garden. If your friends are also fans of DIY crafts, maybe consider recommending this article to them and helping them to decide or even make their own herb garden, it`s double the fun and doubles the pleasure. And as usual, the most important part about this project is really to have fun in the process, so enjoy it!
Easy DIY Painted Mason Jar Herb Garden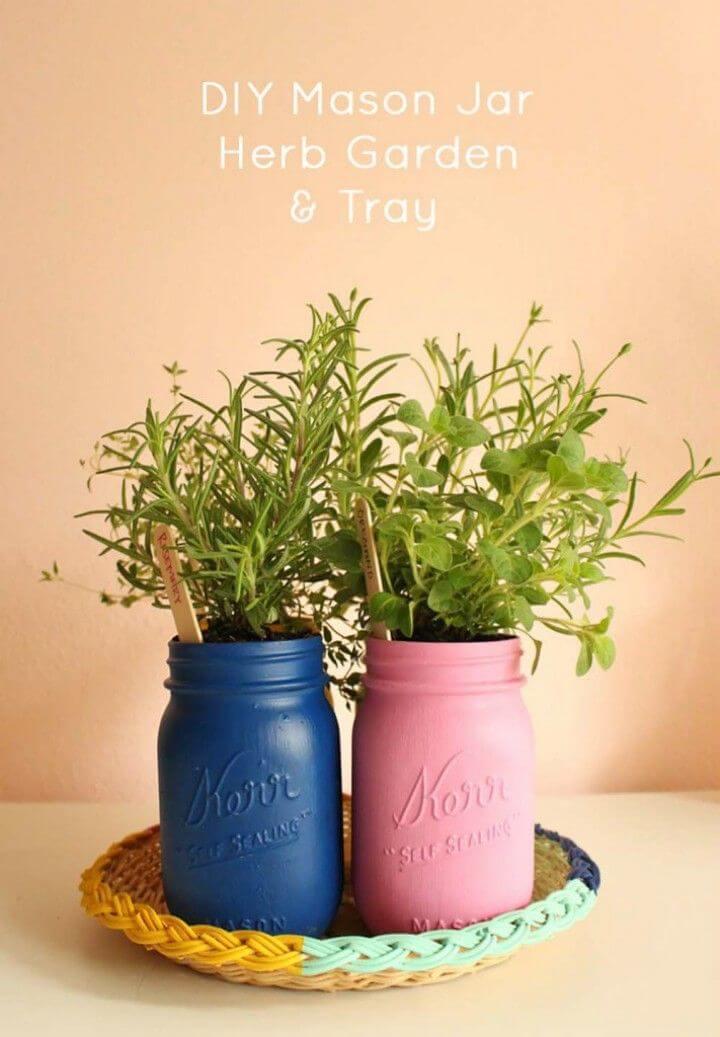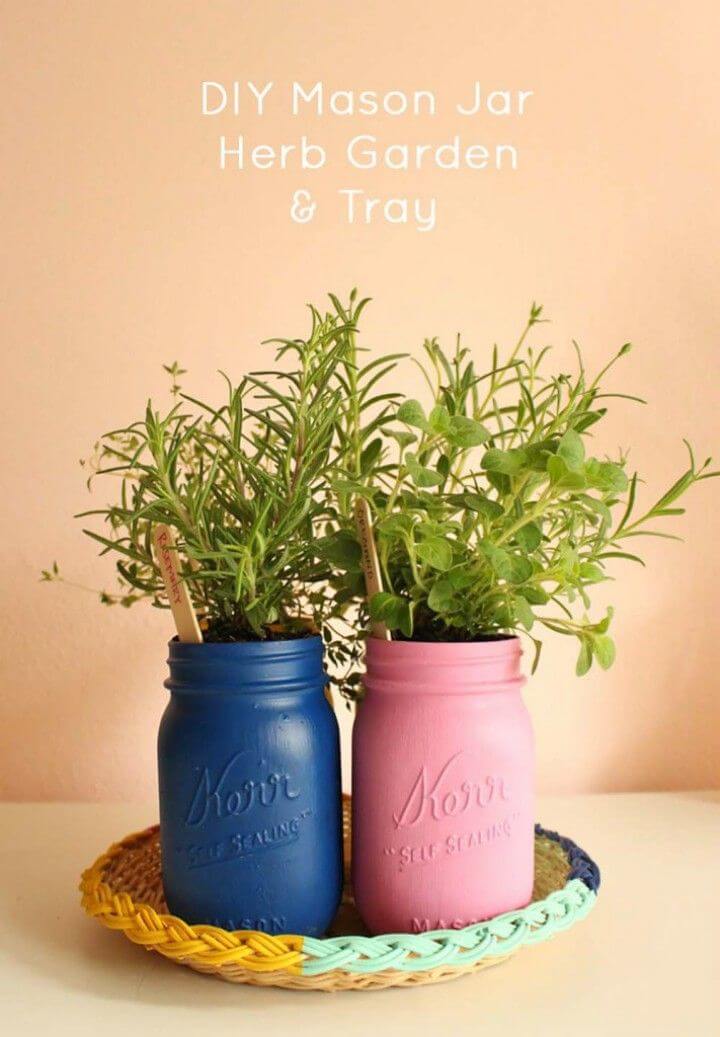 Do the natural garnishing of your home with these homemade Mason jar herb gardens, will also be an easy source to get fresh herb for your daily diet plan! Paint your selected Mason for an enchanting appeal and next fill them with potting soil and plant your favorite herbs, will also bring natural decor vibes to your home! goldstandardworkshop
Make Mason Jar Herb Garden

If you want to install some herb garden to minimal indoor spaces, then here is the design you can follow, the wall-mounted herb garden that is super easy to achieve using pallet wood and some Mason jars! Hold the Mason jar on the wood using hose clamps and then chalkboard paint the name labels on the wood! camillestyles
How to Make Mason Jar Herb Garden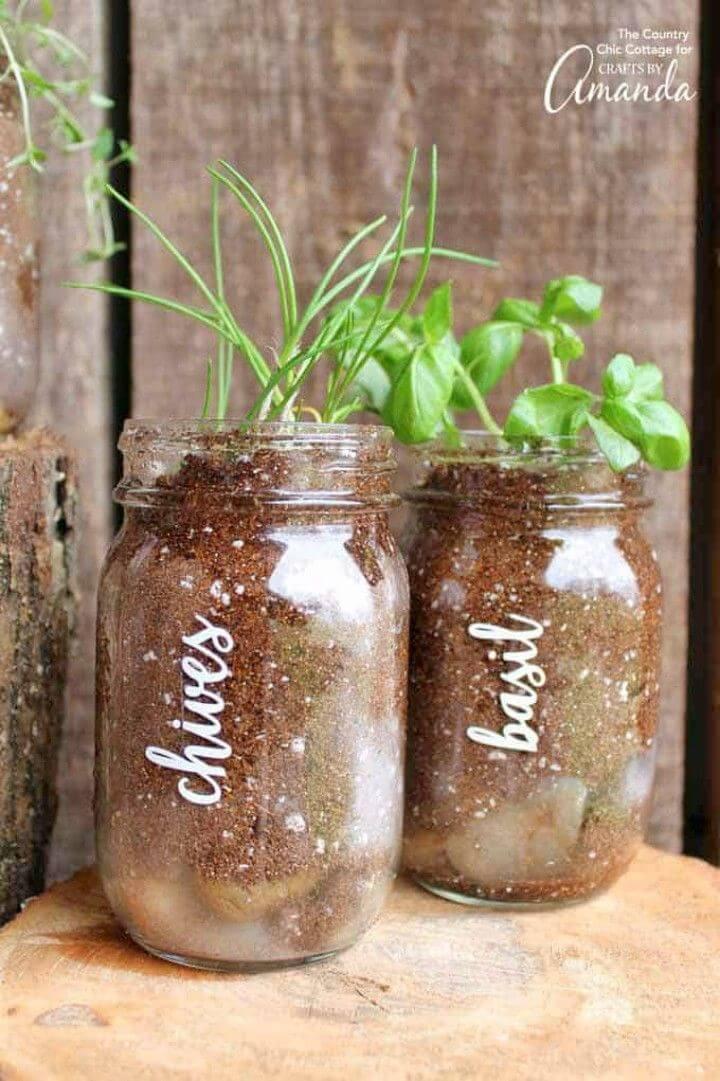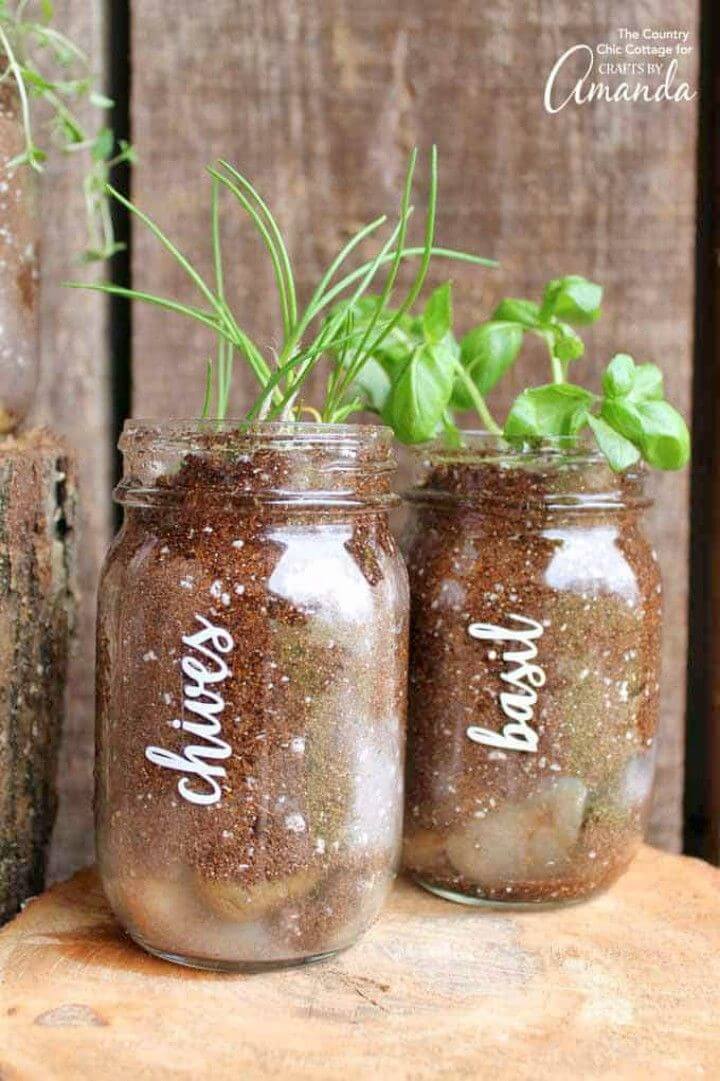 Rock also your outdoors with these personalized Mason jar herb gardens that be ready in no time! Personalize the yarn using Cricut vinyl lettering and then fill the Mason jars with rocks, potting soil and plant your favorite herbs and that's it! Another great and smart way to turn the Mason jars into fantastic herb gardens! craftsbyamanda
DIY Indoor Mason Jar Herb Garden

Perk up your indoor spaces with the natural decor vibes that will come from this indoor Mason jar herb garden, pretty easy and quick to make! Fill your selected blue Mason jars with marbles or stones, fill potting soil in them and then plant your favorite herb, next put your 4 Mason jar herb planters in a metal carrier to gain a lovely herb garden! onsuttonplace
Make Mason Jar Vertical Herb Garden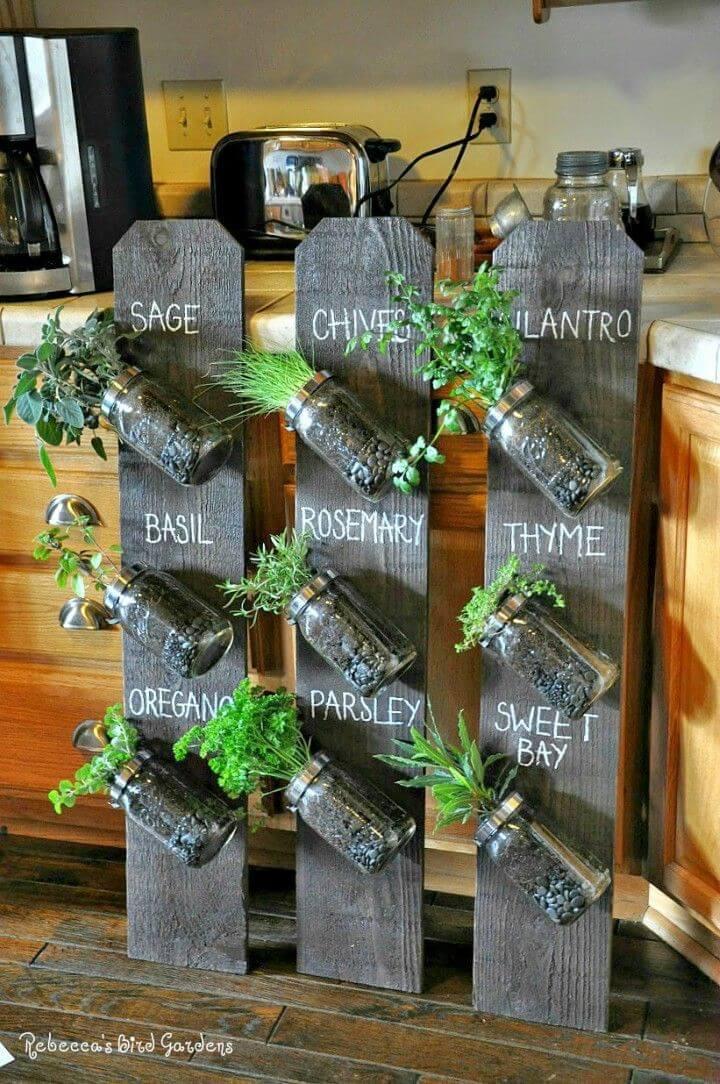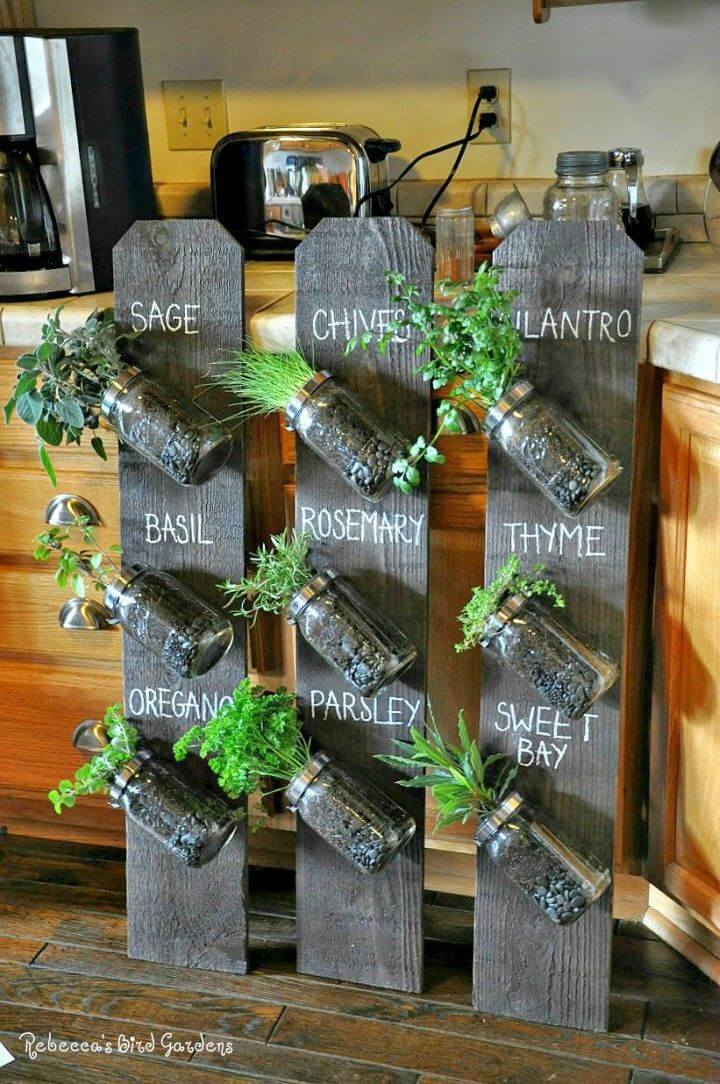 Big trash to treasure project is here, a glam vertical herb garden, made of recycled cedar fence wood planks and reclaimed Mason jar! Here the Mason jar herb planters stay on the vertical wood planks through metal hose clamps and finally the names of the herbs have been written over using chalk! Another great Mason jar herb garden to make at home! rebeccasbirdgardensblog
Easy DIY Patriotic Mason Jar Herb Garden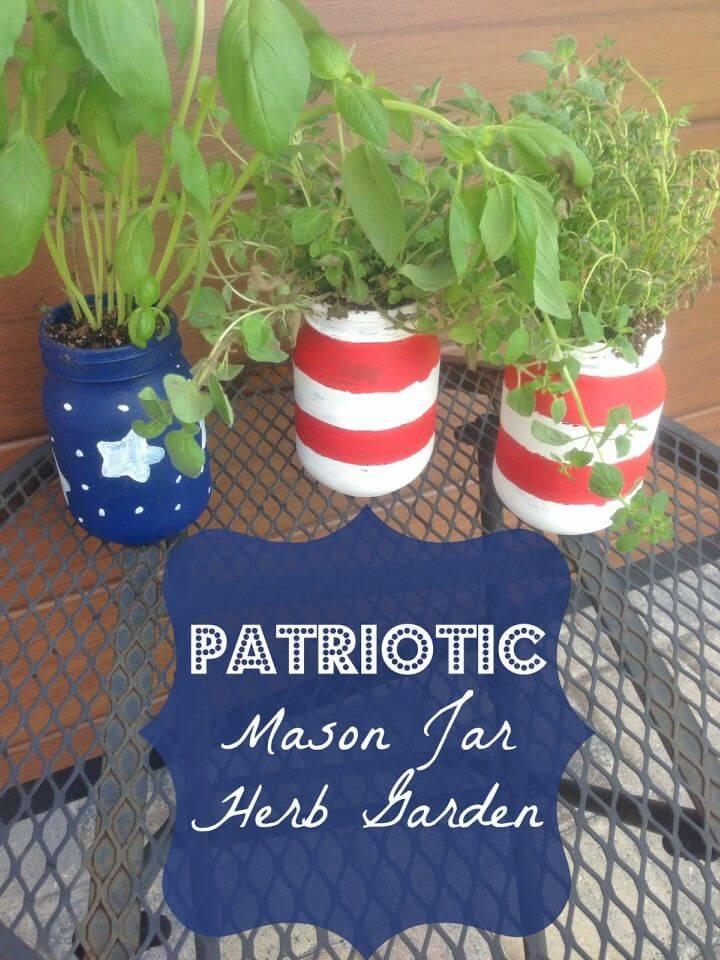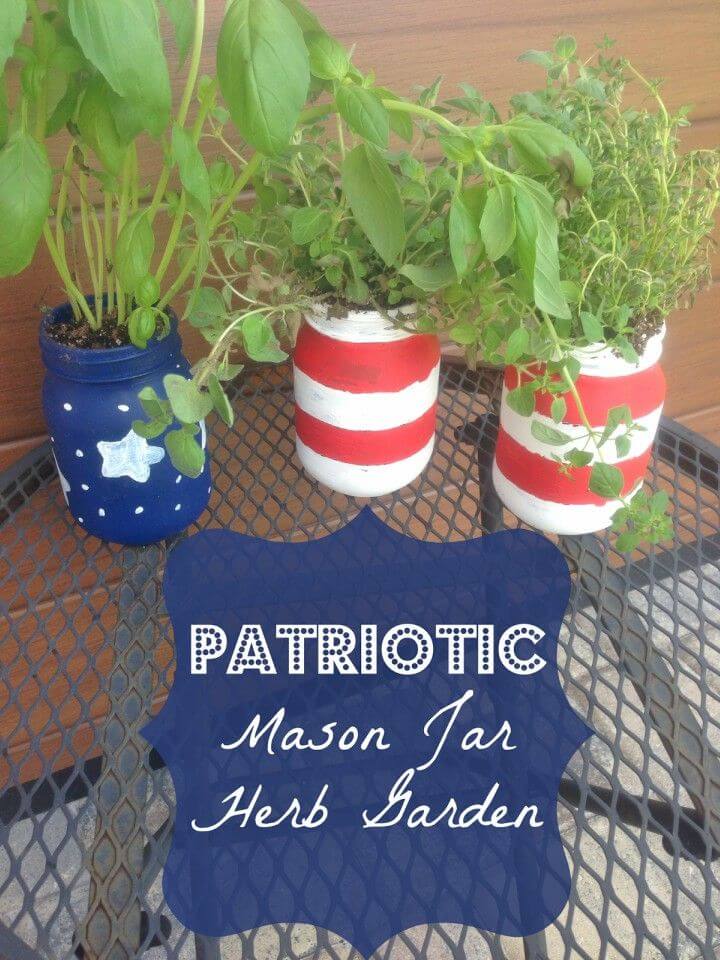 Express your country love and patriotic emotions also by duplicating this lovely patriotic Mason jar herb garden! Paint the Mason jar in country flag colors and then plant the herb in them, here these 4th July patriotic Mason jar herb planters have been painted in blue, red and white and have been put together for a patriotic herb garden! outnumbered3-1
Quick DIY Space Saving Mason Jar Herb Garden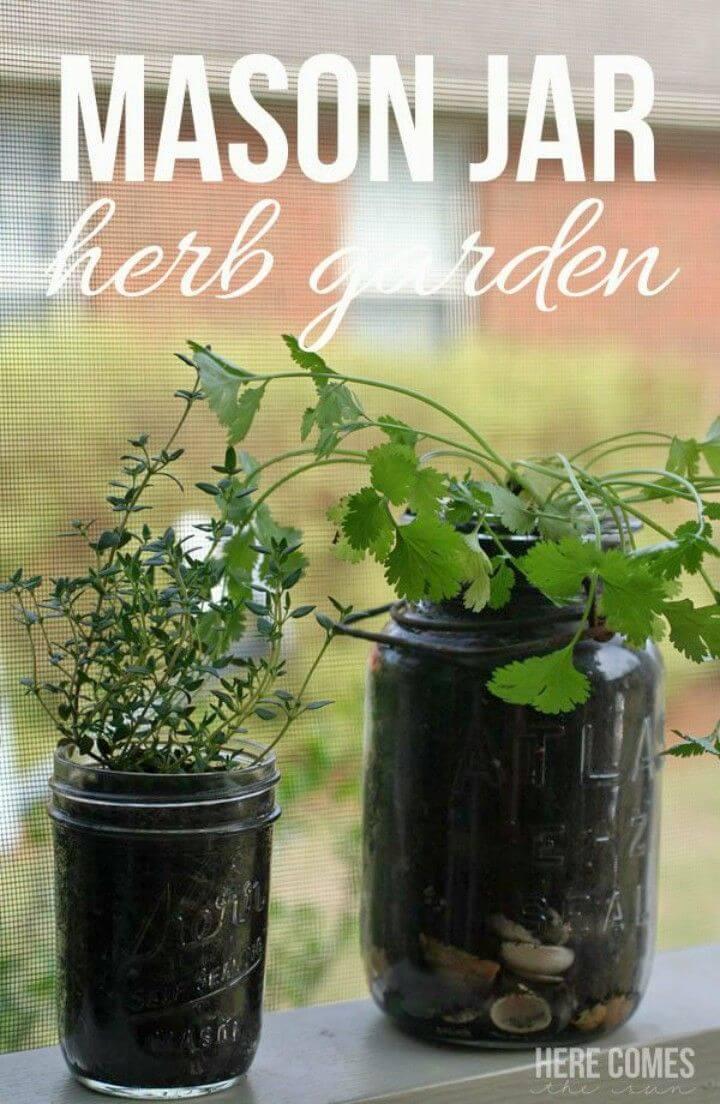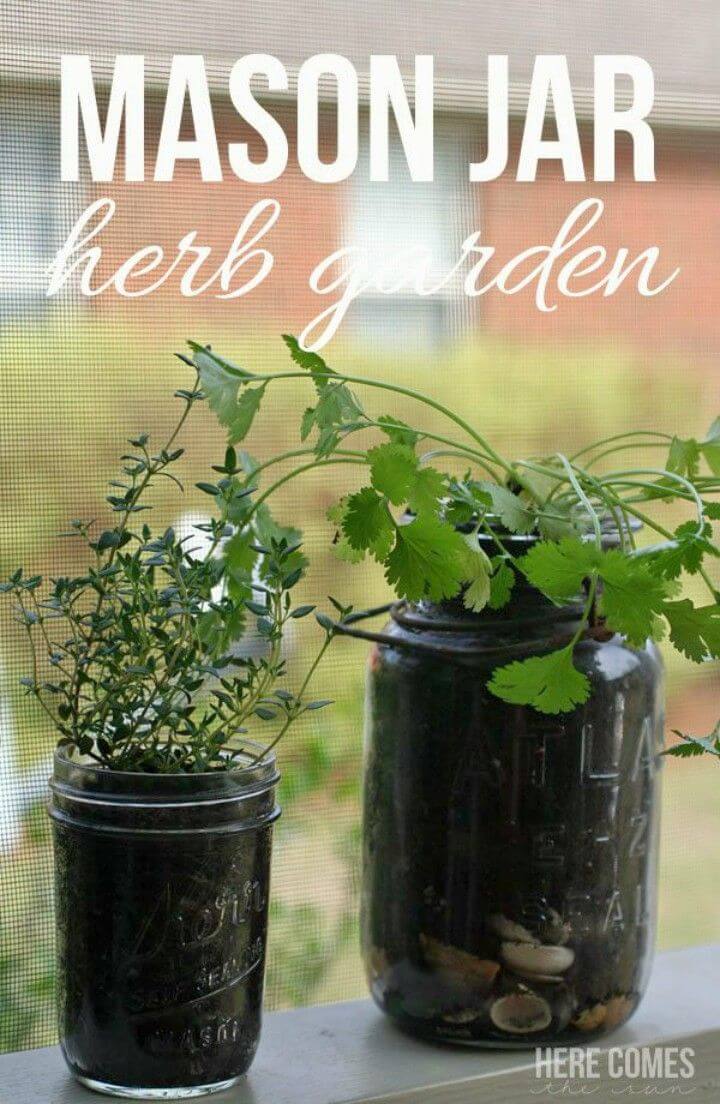 It is expensive to buy the hard to find herbs, so why not install your own herb garden to grow your favorite herbs at home? You can also do so using a very small space by following this space-saving Mason jar herb garden! Make the Mason jar herb planters and then place them anywhere in your home at minimal spaces, will also make lovely and natural home decor pieces! herecomesthesunblog
How to DIY Mason Jar Herb Garden

Freshen up your spaces with this homemade Mason jar herb garden and also get the daily fresh supply of your herbs at no-cost! Turn the Mason jars into herb planters, place in a caddy or basket and make lovely herb gardens! Check out the lovely given sample, will also make a great natural decor centerpiece! sometimes-homemade
DIY Wall-mounted Mason Jar Herb Gardens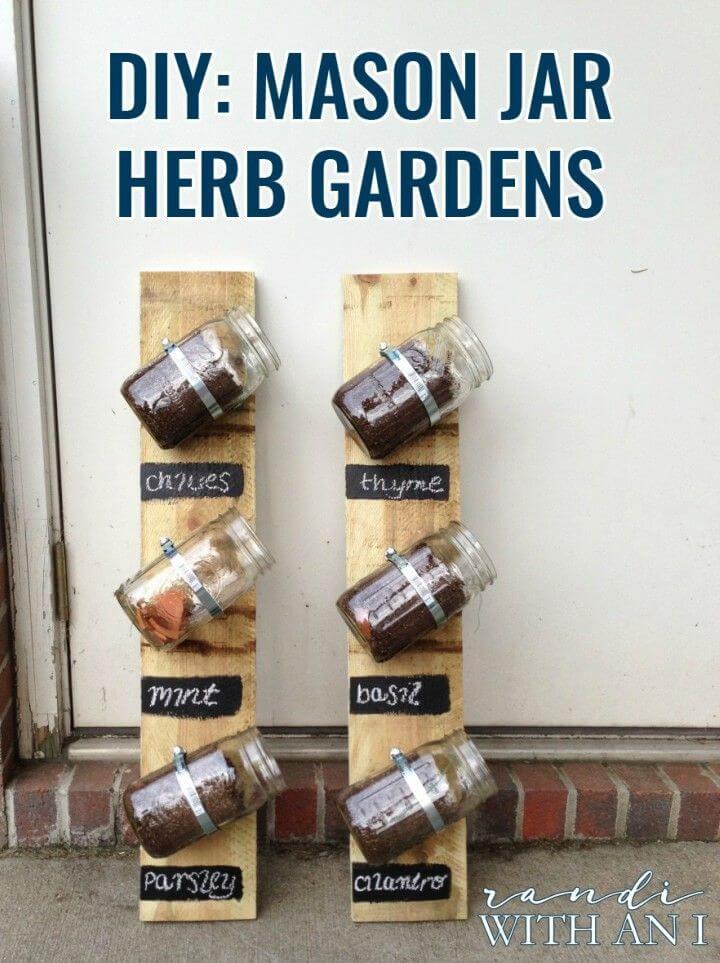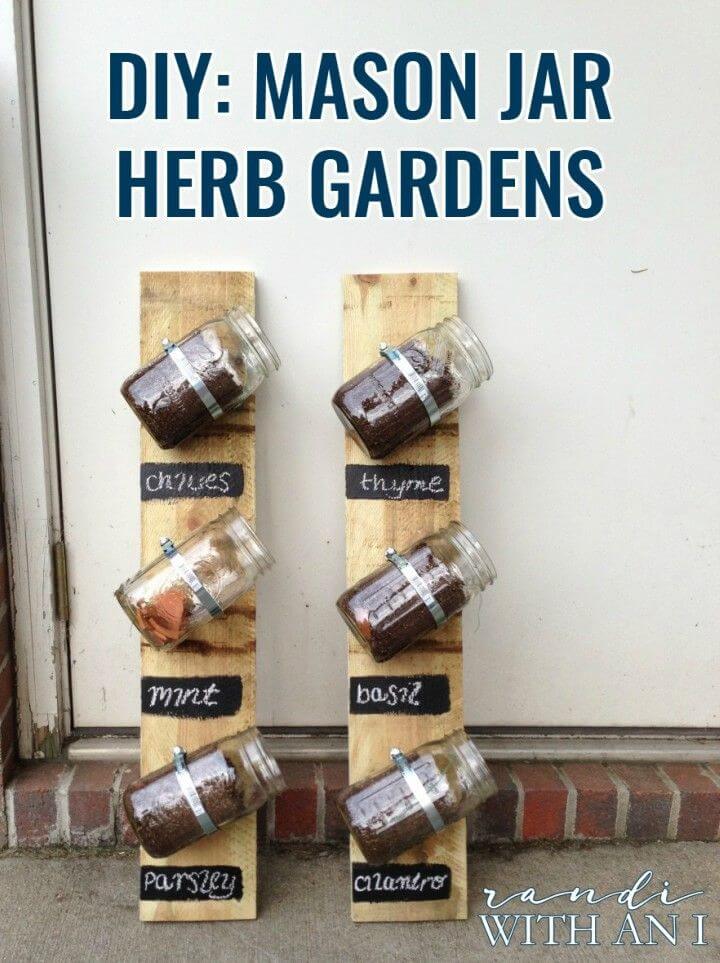 Another super space-saving way here to grow your hard-to-find herbs, make the wall-mounted Mason jar herb garden that can be installed easily to any wall without using an inch of floor space and will also make a glam wall decor! Grab your wooden slats, mount the Mason jar herb planters on them using hose clamps and then chalkboard paint the name labels and write the name of herbs with chalk! randiwithani
DIY Mason Jar Herb Garden

Make also adorably cute Mason jar herb gardens at home that everyone will love to look at twice! Fill the potting soil in the Mason jars, bow the herb seeds and then also add the chalkboard stake markers in them so they will look extra cute and beautiful! Do stare at the given below samples! fabulesslyfrugal
Easy DIY Pallet Mason Jar Herb Garden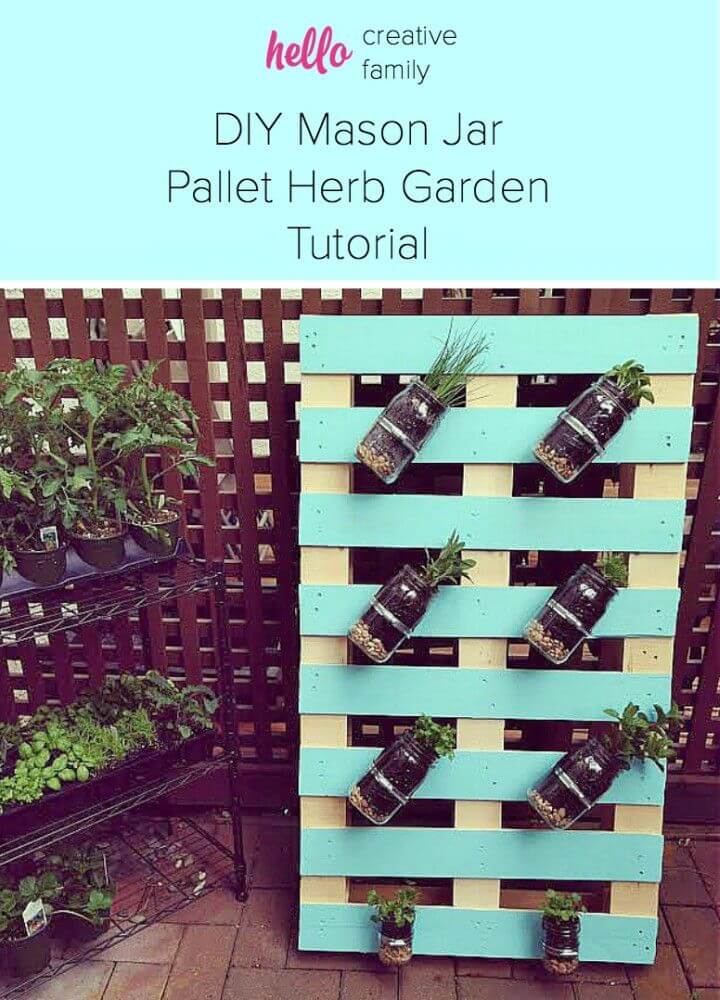 Also, grow your hard to find herb on a large scale with this wooden pallet vertical herb garden that will be a piece of cake to make! Grab the custom wooden slats and planks and build the durable looking pallet style structure, make them hold the Mason jar herb planters using steel hose clamps! Paint your vertical pallet herb garden and also write the names of the herbs! Get inspired by the given lovely sample! hellocreativefamily
How to Make Windowsill Herb Garden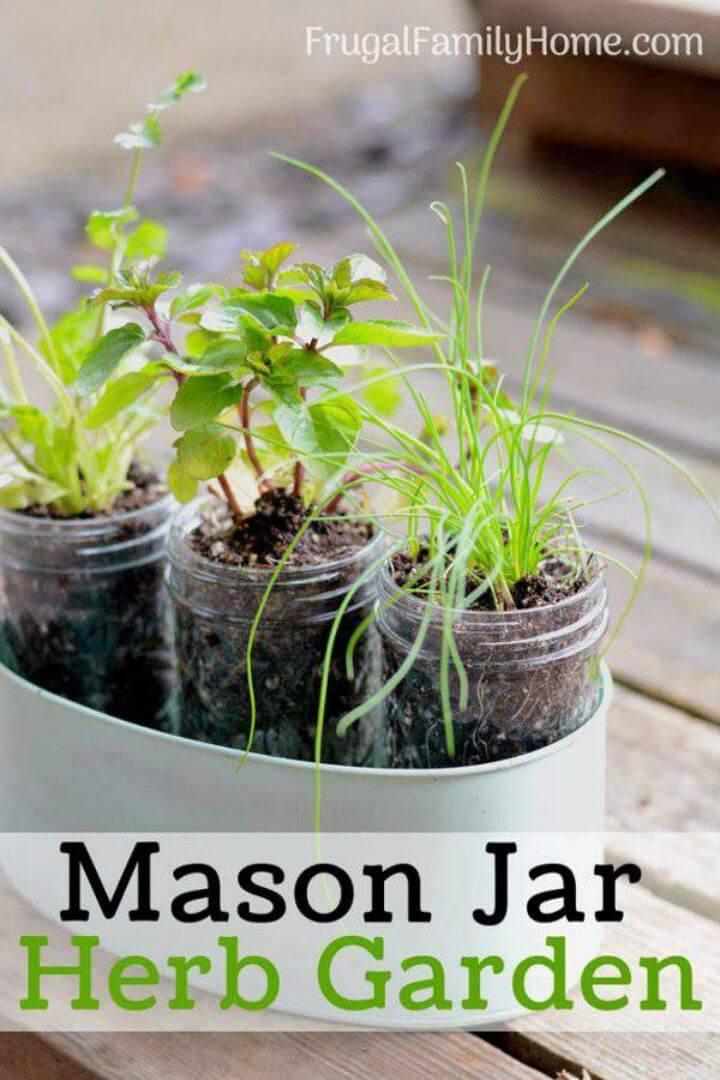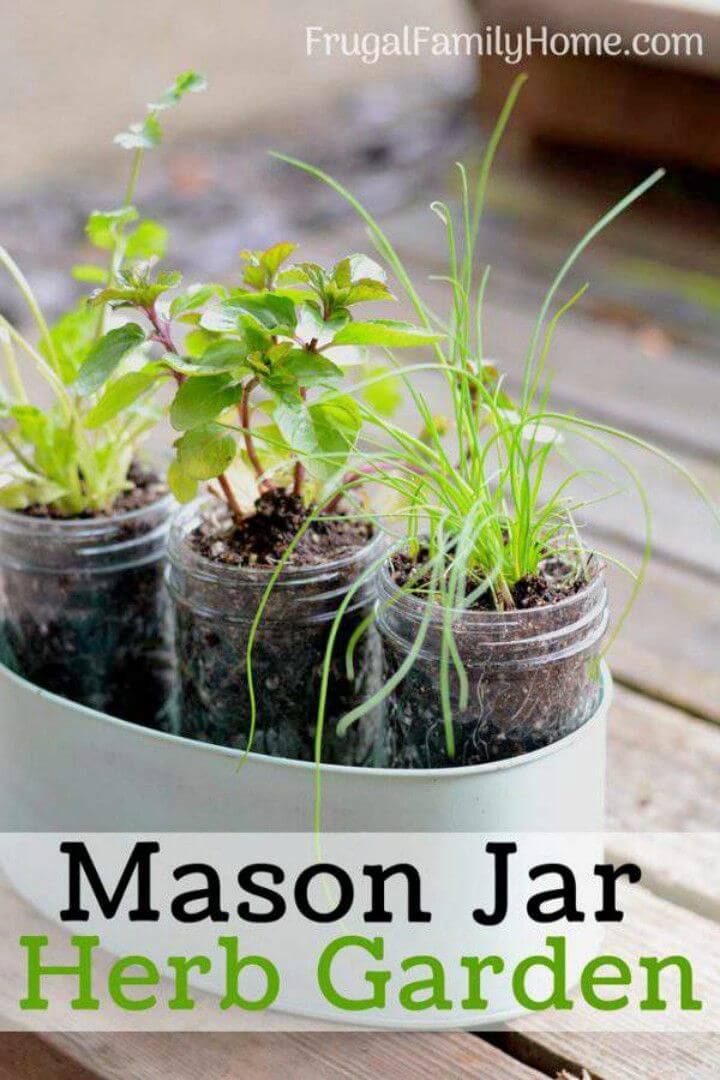 Perk up your tables, decorative mantles and shelves also the window sides with this windowsill herb garden that is pretty easy and simple to make also! Grab the decorate boxes with flat bottoms and then fill them up with the Mason jar herb planters and gain min herb gardens that can be placed anywhere you like! frugalfamilyhome
DIY Hanging Herb Mason Jars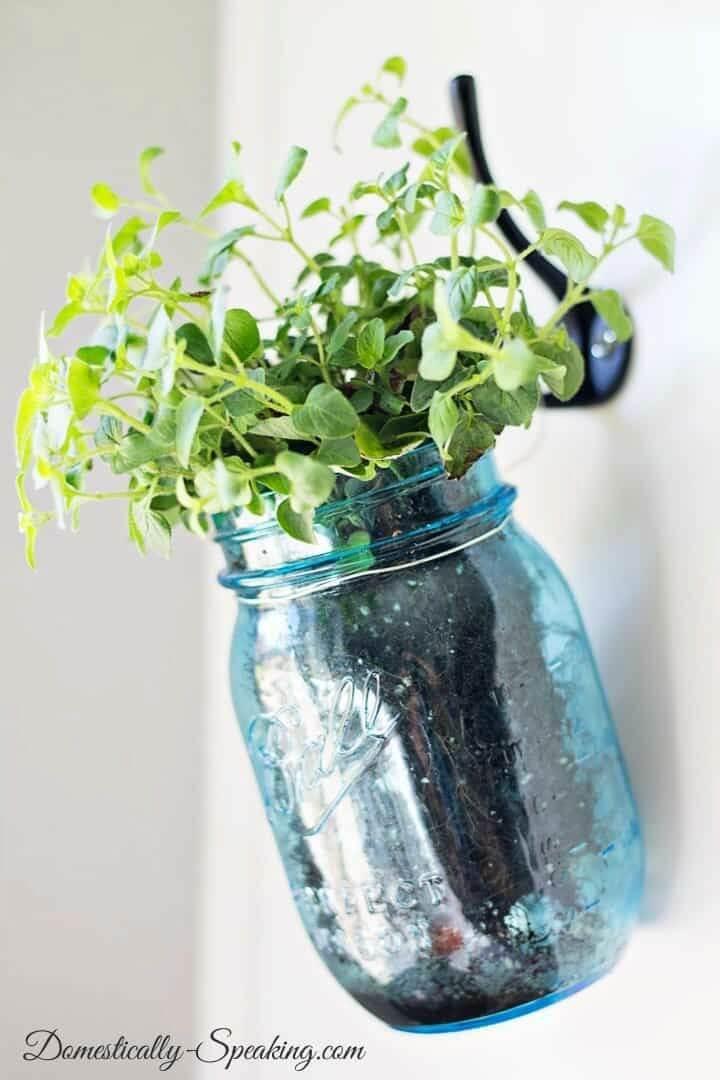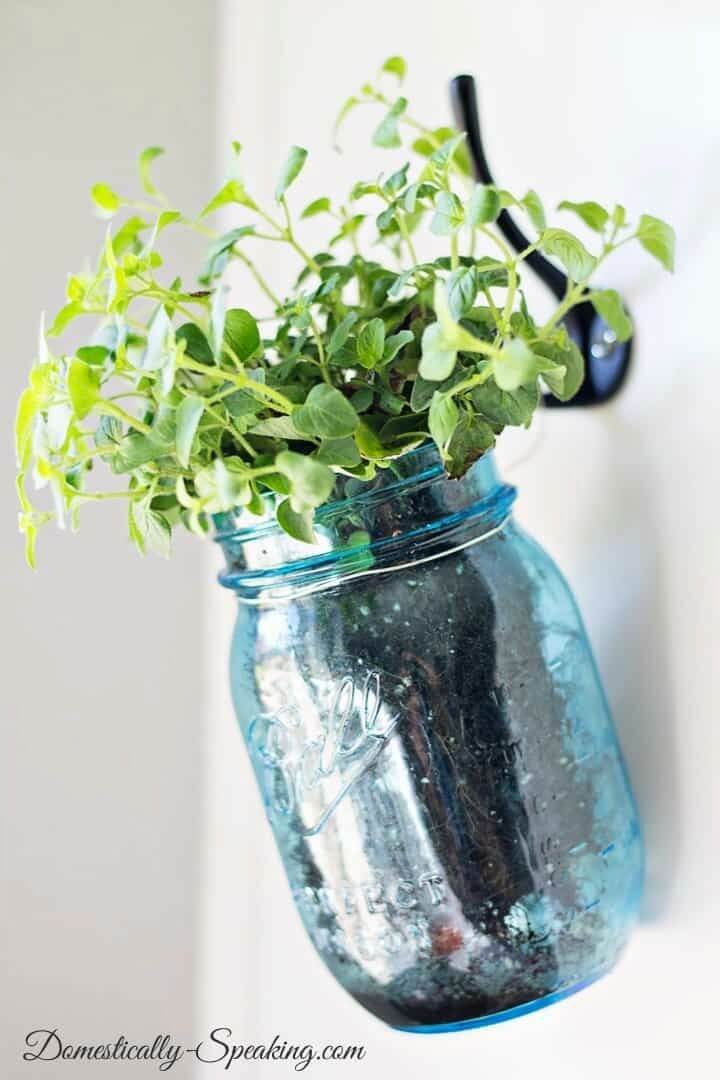 Grow your favorite kind of herb right in your kitchen without sacrificing the style of your kitchen! Grab the blue and green Mason jars herb planters, install them to your kitchen walls using custom hardware, the window side will provide the suitable weather conditions and hence will be ideal! Get inspired by the sample arrangement of kitchen Mason jar hanging herb gardens! domestically-speaking
Make Indoor Mason Jar Herb Garden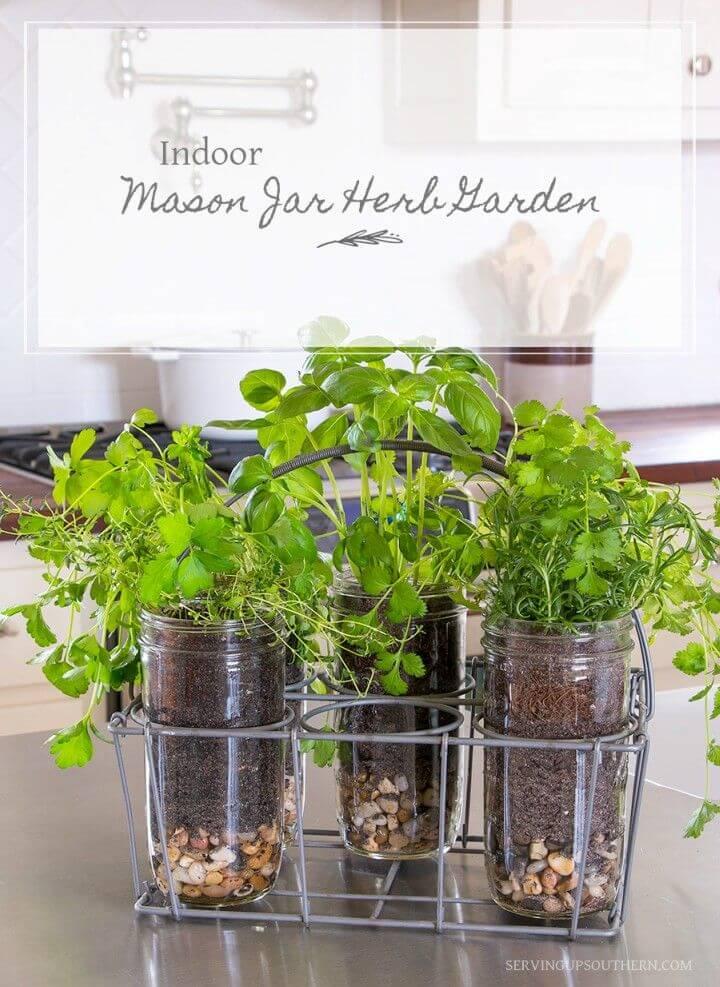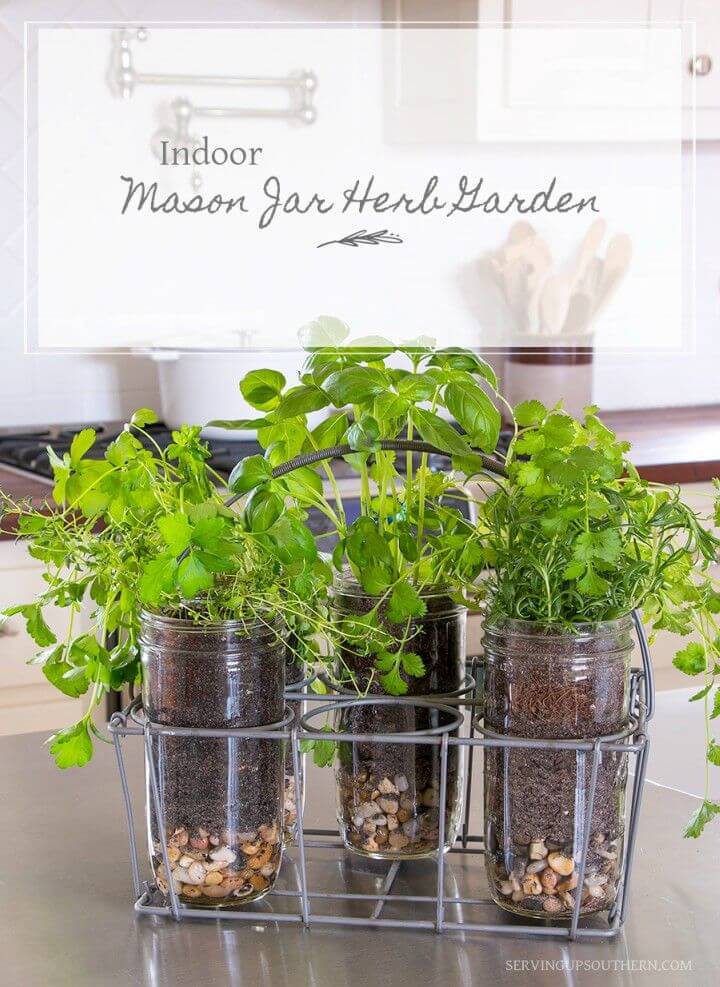 Grab also a set of Mason jars and also place them in a metal carrier! Fill them up with potting soil, bow seeds of your favorite herbs and then put them together in the metal basket or carrier and gain a lovely mini herb garden that will also be a centerpiece worth! servingupsouthern
Cute DIY Mason Jar Herb Garden

At a very first look, you will fall in love with this extra-long and vertical herb garden that is also pretty easy and quick to make! Put together the custom wooden slats together using metal plates and gain a vertical frame, next add long screw hooks on it and add the Mason jar herb planters on it along with chalkboard hangers using the rope or twine! Peek into details of the given sample vertical garden! homeremediesrx
DIY Mason Jar Wall Planter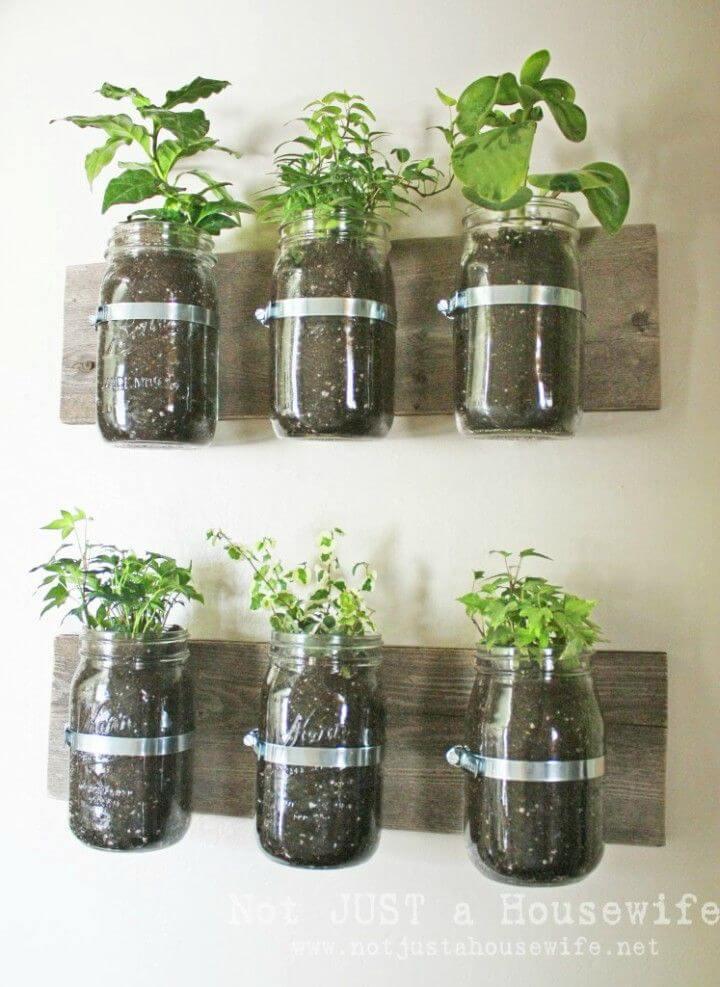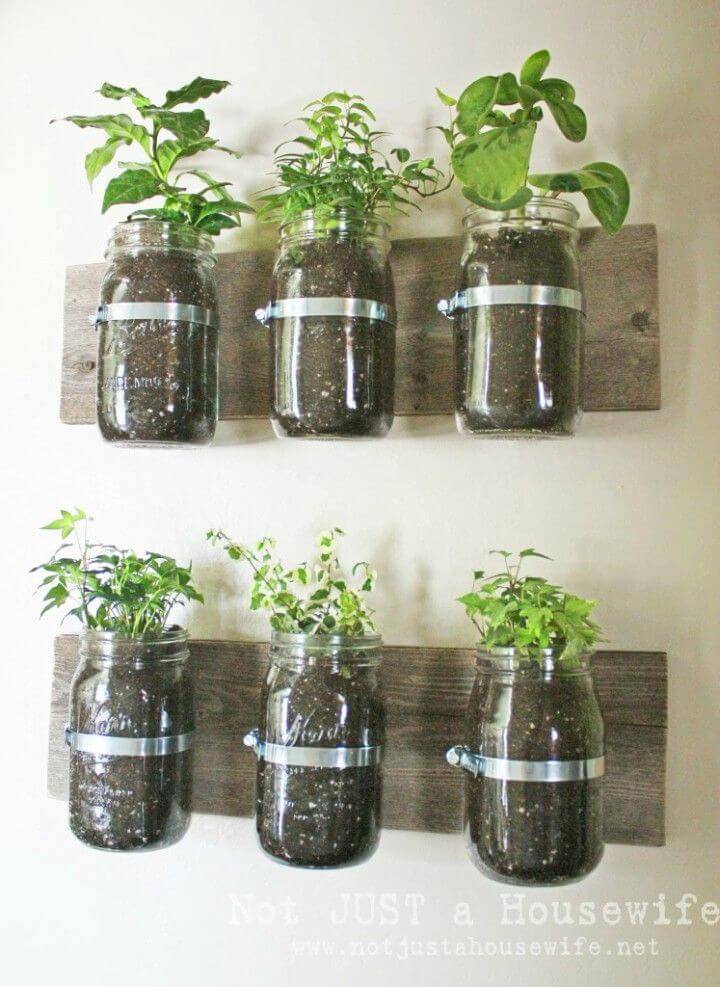 Grace up your walls instantly with this rustic Mason jar wall planter that comes with a rustic wooden background! Grab a recycled wood slat, mount your mason jar herb planters on using custom hardware and then install it to your favorite wall! Here you can also use this wall planter as an accessory organizer! notjustahousewife
Make Indoor Herb Garden Using Mason Jars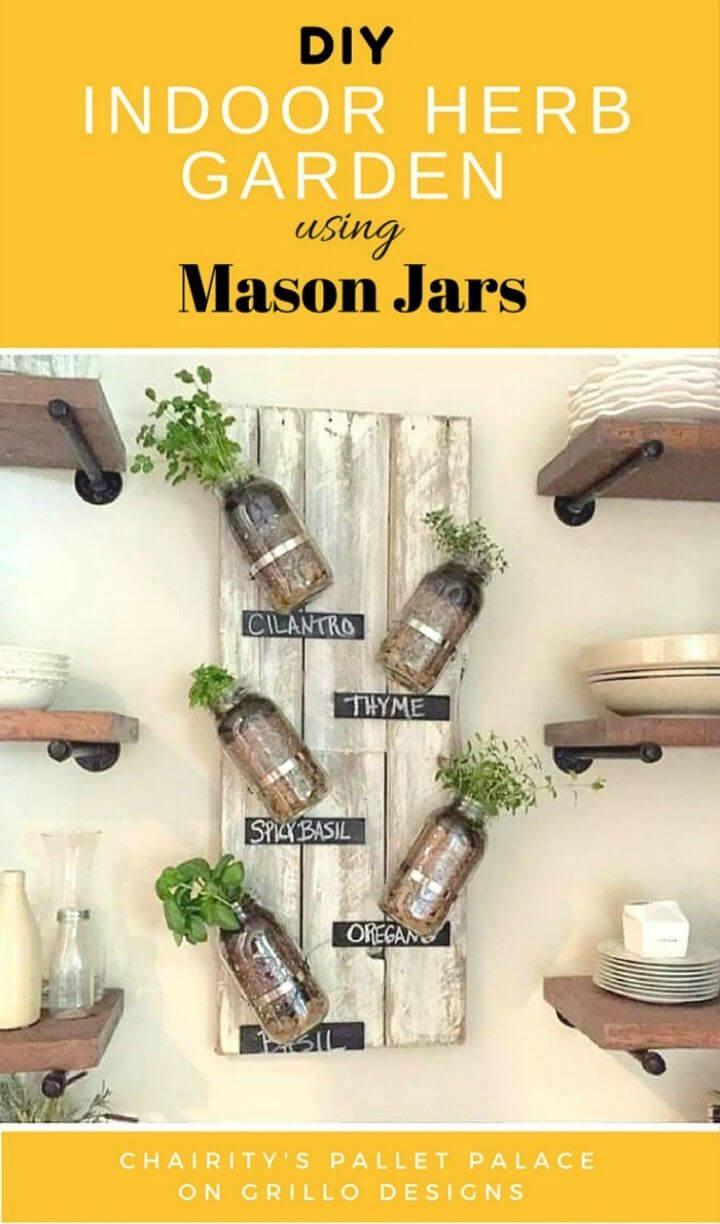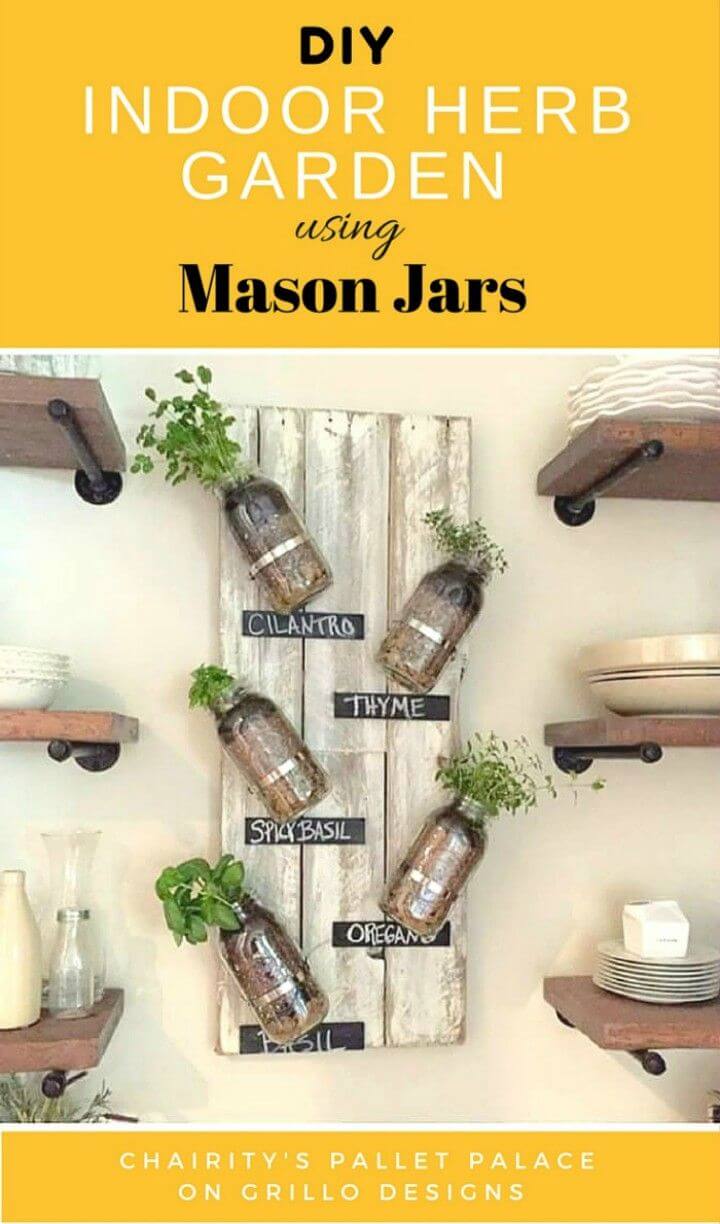 Another big surprise and Mason jar crafting wonder is here to amaze your senses, the vertical indoor Mason jar garden that will be the cheapest every way to grow your herbs! Make a wooden vertical frame using scrap wood pieces, next install your Mason jars on it using a hose clamp, set them an angle and write down the names of the herb insides! grillo-designs
Easy to Make Mason Jar Herb Garden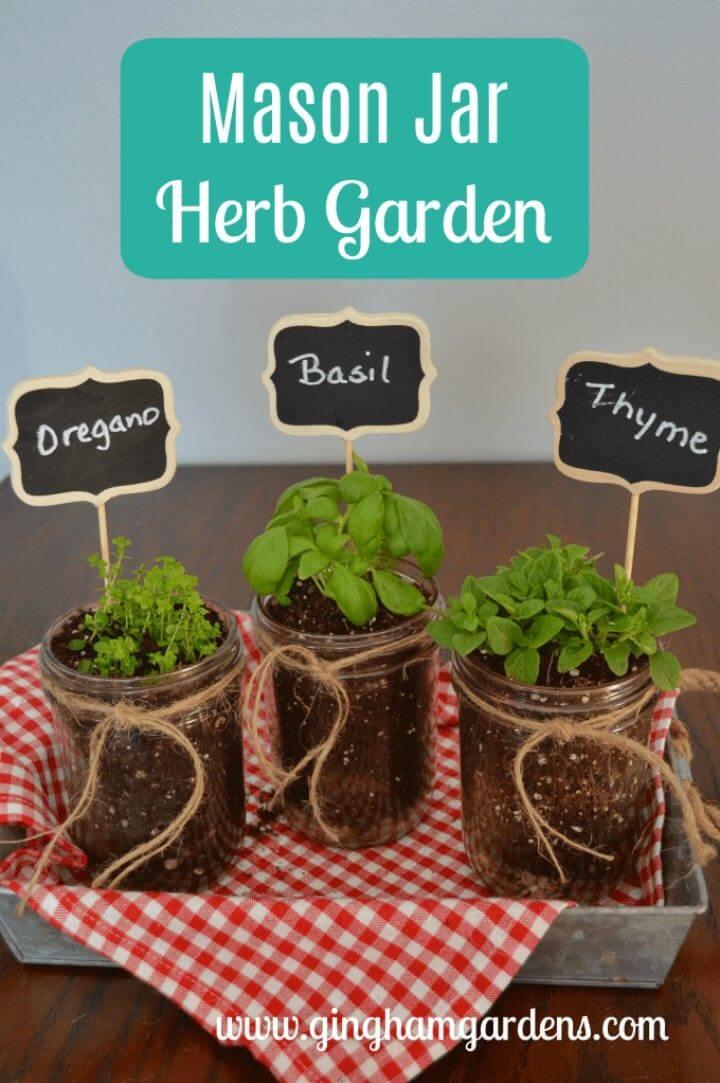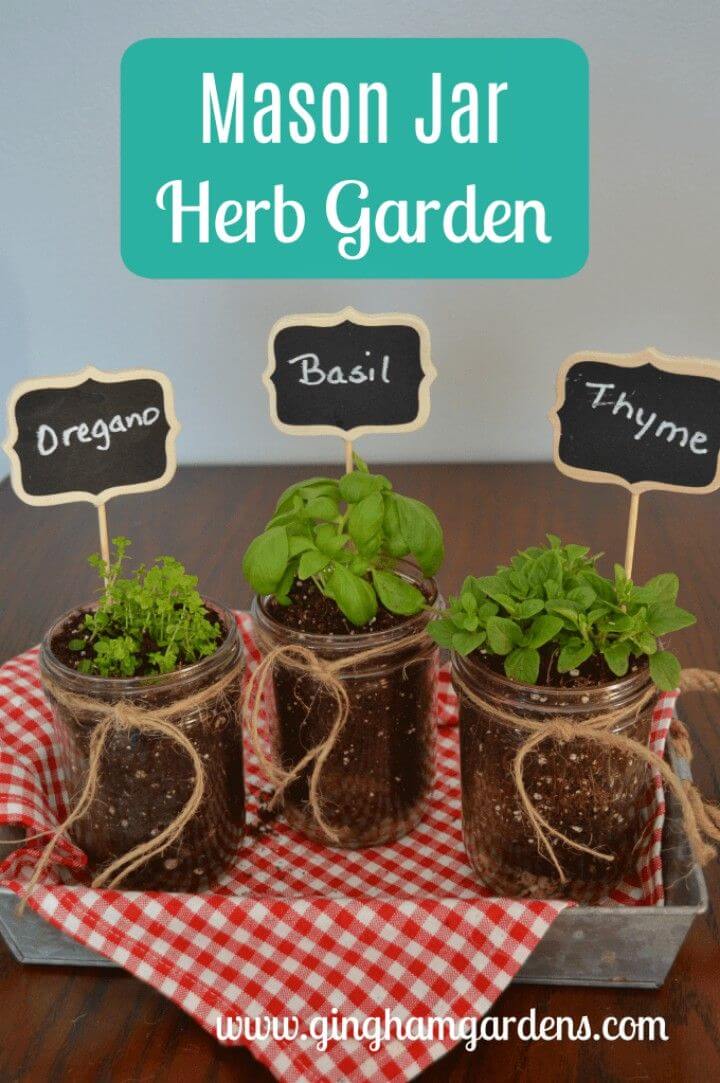 It is super easy to make an adorable herb garden using the recycled Mason jars and here is another great one that is a trio of Mason jar herb planters! Place your Mason jar herb planters in a tray or dish and make enticing Mason jar herb garden, will spruce up any of your space instantly! ginghamgardens
DIY Hanging Mason Jar Herb Garden Tutorial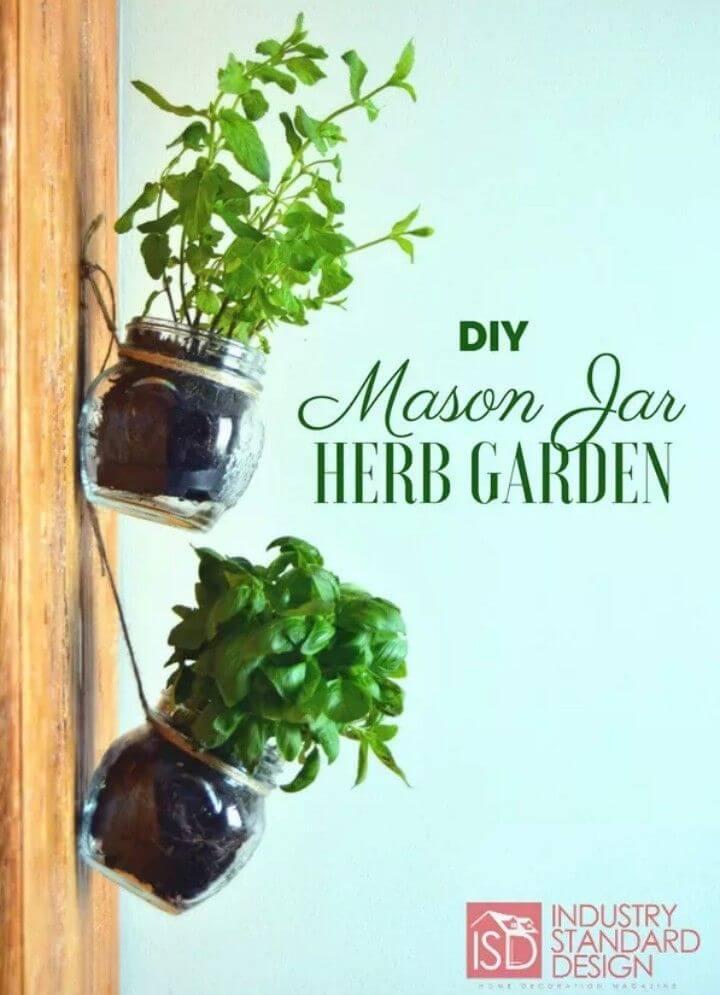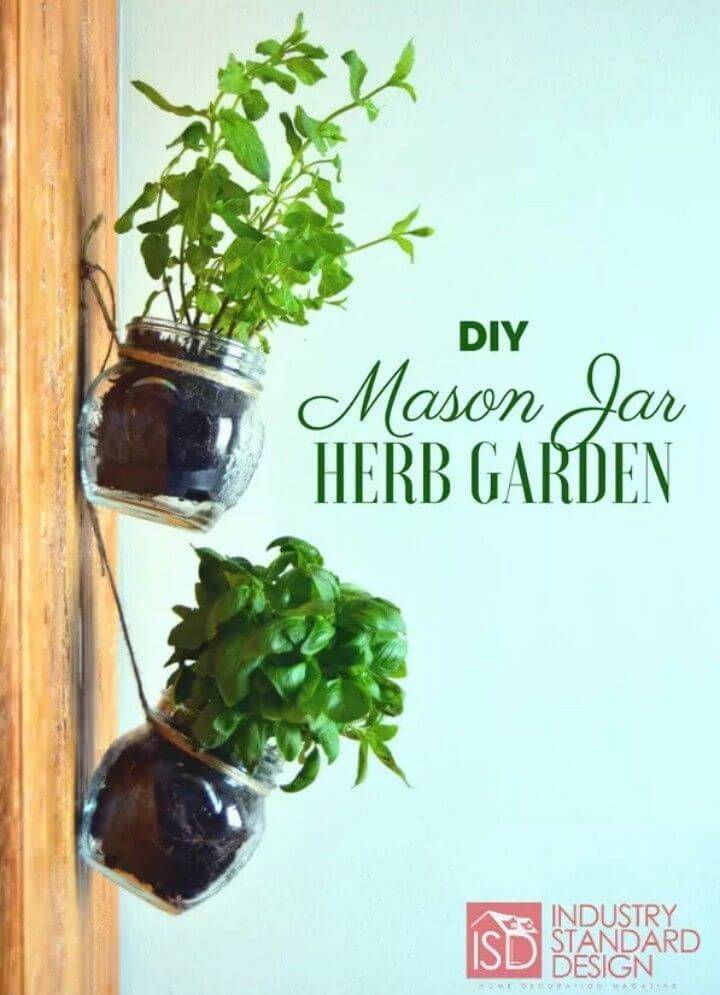 Give also a glam finishing touch to your modern indoor decors with this natural decor centerpiece, the precious looking hanging Mason jar herb garden, will be a big pleasure to make using Mason jars, a piece of wood and some rustic twine or jute! Add marks and labels for more grace and charm! homeisd
Simple DIY Mason Jar Herb Garden

You can vary the style of Mason jar and their labels and can create more amusing, stylish and awesome herb garden! Check out here another interesting sample, the Mason jar herb garden, made by painting the Mason jars in copper and grey and then have been finished with custom round hanging labels! Use wire hangers or rope to hang this Mason jar herb garden to wall hooks! sincerelysarad
Easy to Make Mason Jar Herb Garden

Check out here the rustic yet modern Mason jar herb garden, made of 4 Mason jar herb planters that have been put in a wooden caddy! The wooden caddy or basket also comes with rope handles that bring the glam rustic touch and also help in easy handling of this Mason jar herb garden! Another great Mason jar herb garden to make at home! threeclementines
Easy DIY Herb Garden and Plant Markers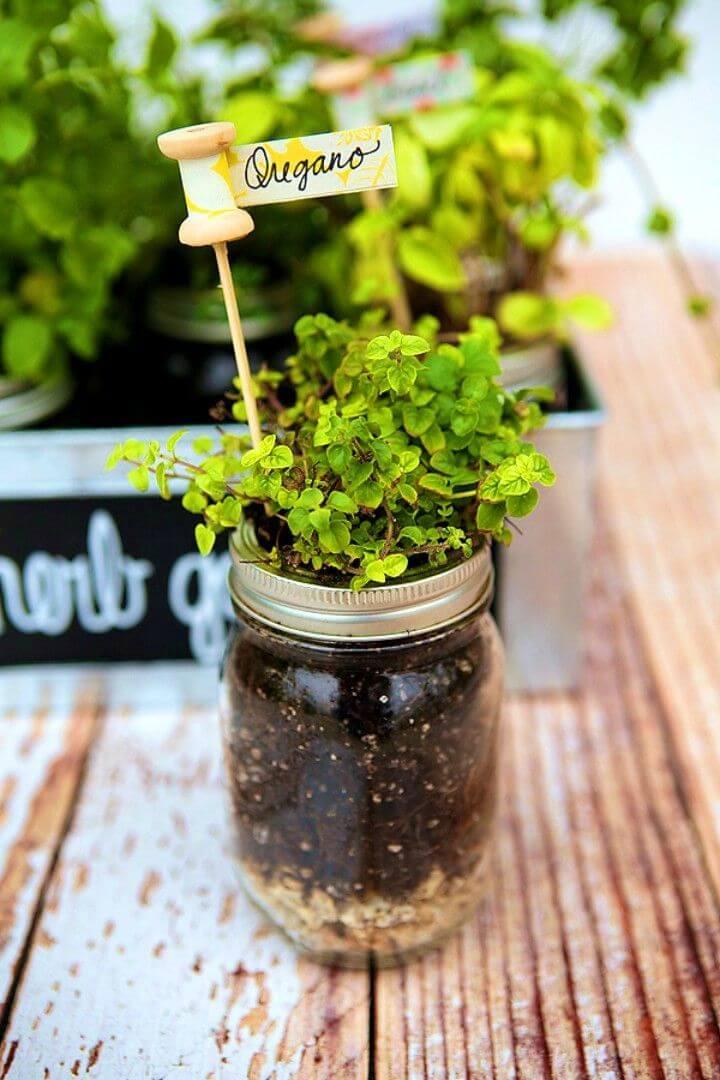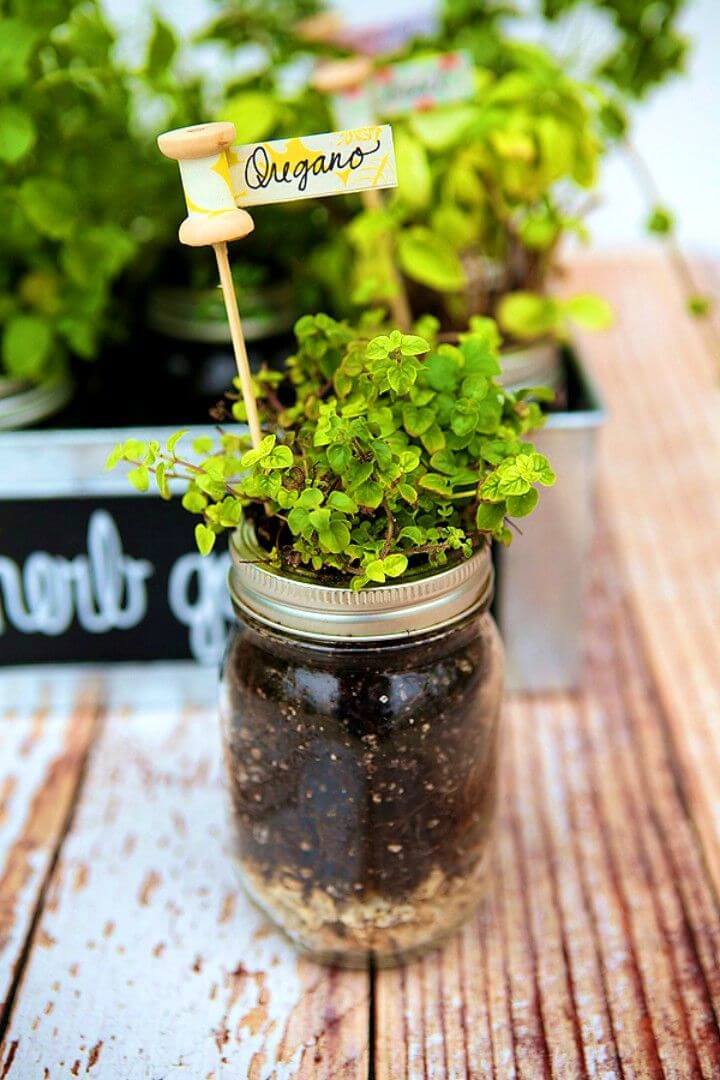 Here is something you will definitely call exceptionally beautiful, a lovely Mason jar herb garden that also comes with precious plant markers! Here the markers have been made of wooden spools and scrapbook paper while have been overwritten using sharpies! Finally finished Mason jar herb planters have been placed in a galvanized metal bin that comes with chalkboard front! eighteen25
Easy DIY Mason Jar Herb Garden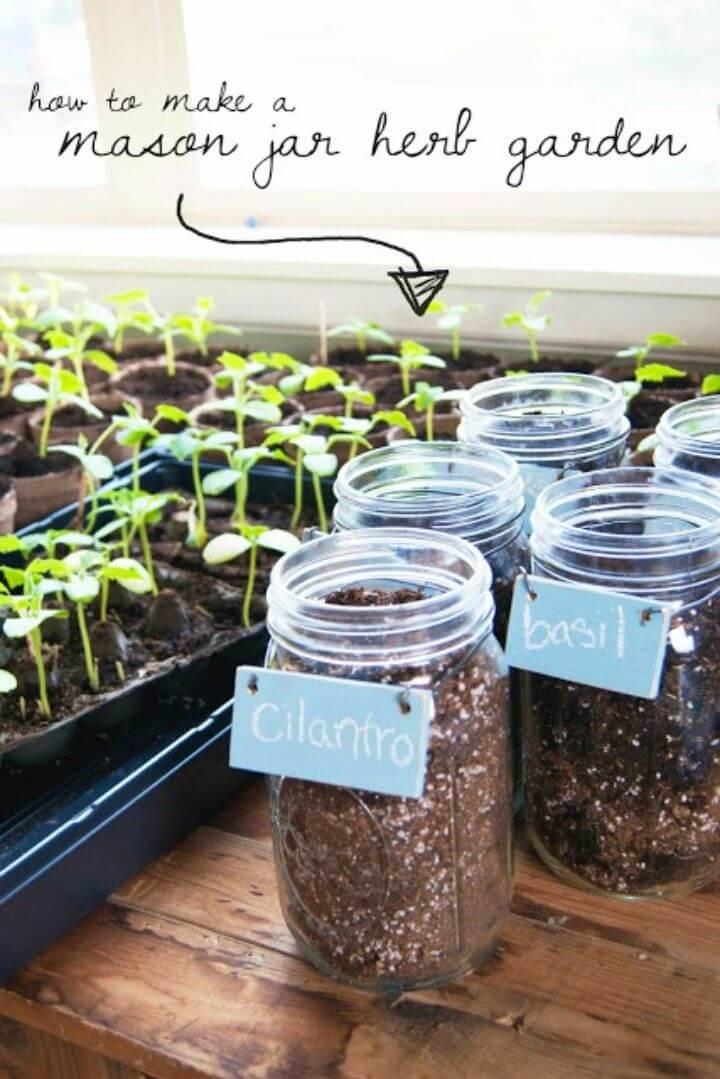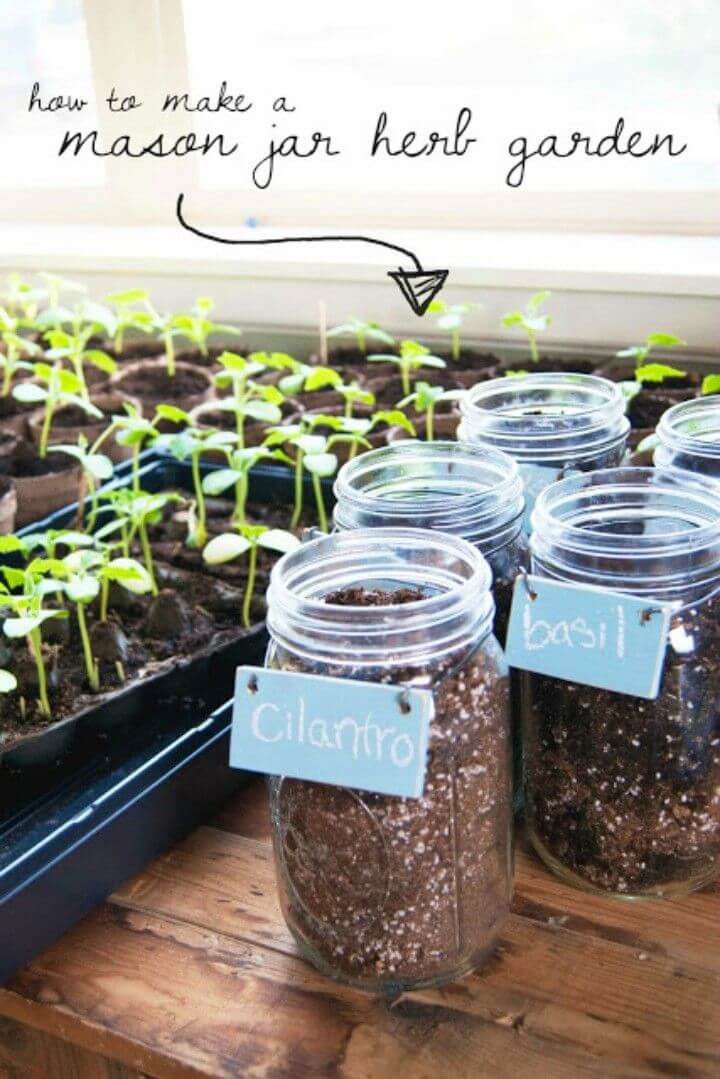 If you want to learn how to make outstanding looking Mason jar herb garden step-by-step then you are going to get all the details from here for free! Grab your favorite Mason jars, clean them well, fill with rocks and potting soil and next add herb seeds in them! Decorate with custom markers and labels and also put them together in custom configurations for enchanting herb gardens! averielane
How to DIY Mason Jar Hanging Herb Planter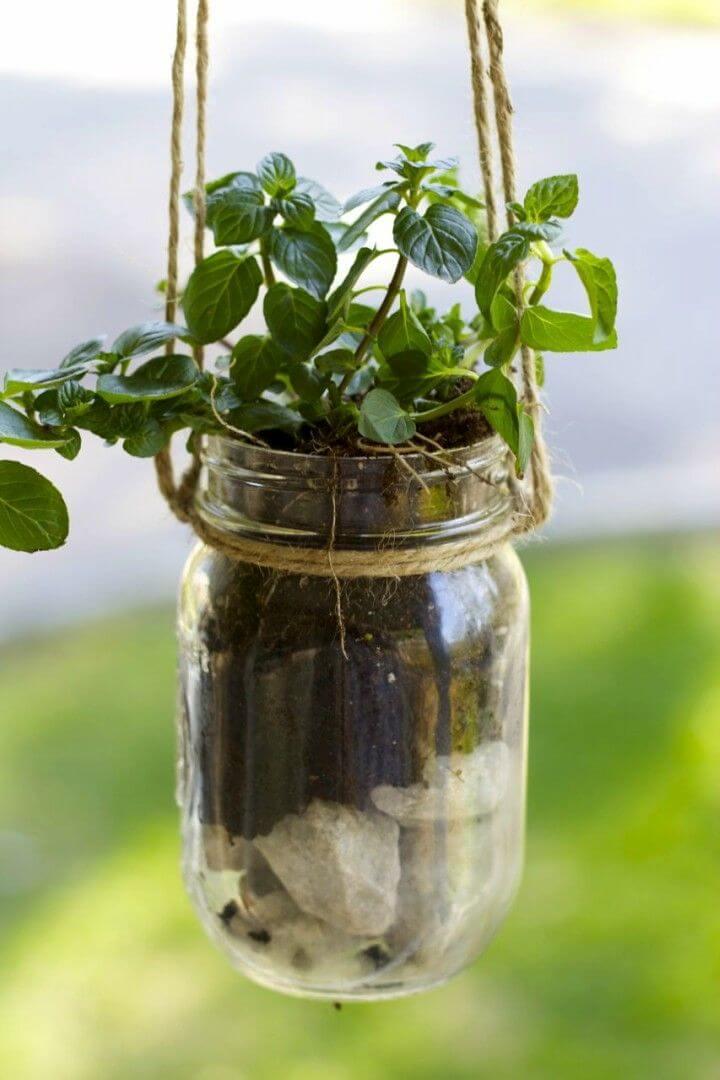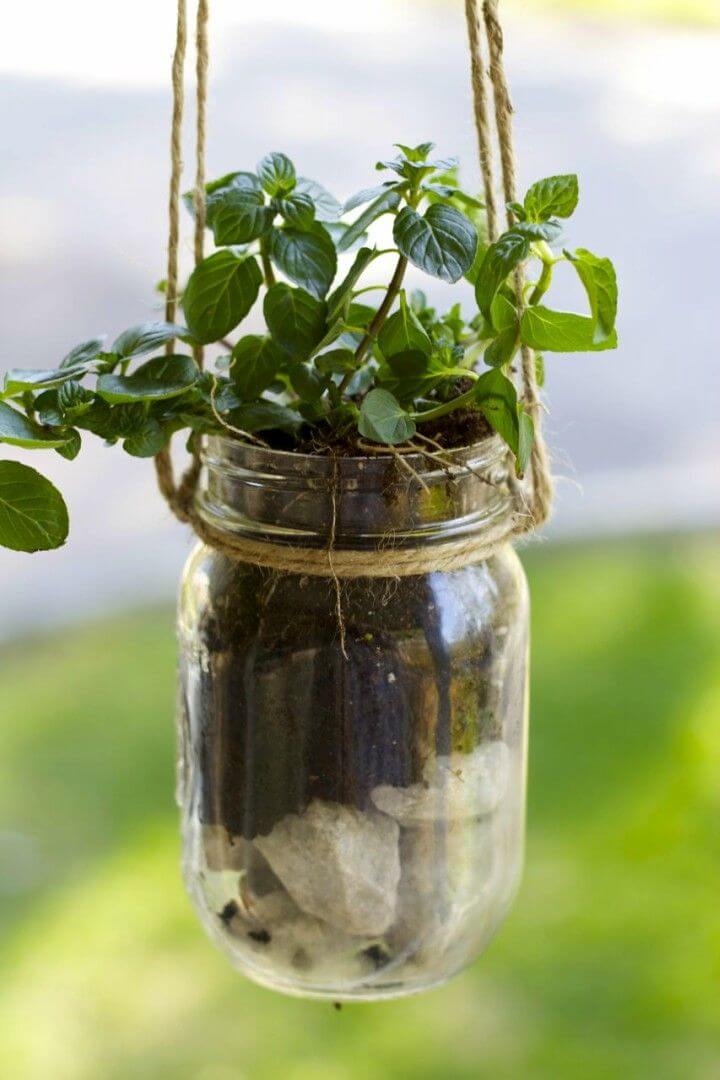 The hanging decors go more visually attractive so why not duplicate this very beautiful looking hanging Mason jar herb planter that will also make beautiful outdoor home decor! Here again, you have to make a herb planter out of Mason jar which you can then easily hang wire hangers, twine or rope! This will just cost you nothing! ramshackleglam
Awesome DIY Mason Jar Herb Garden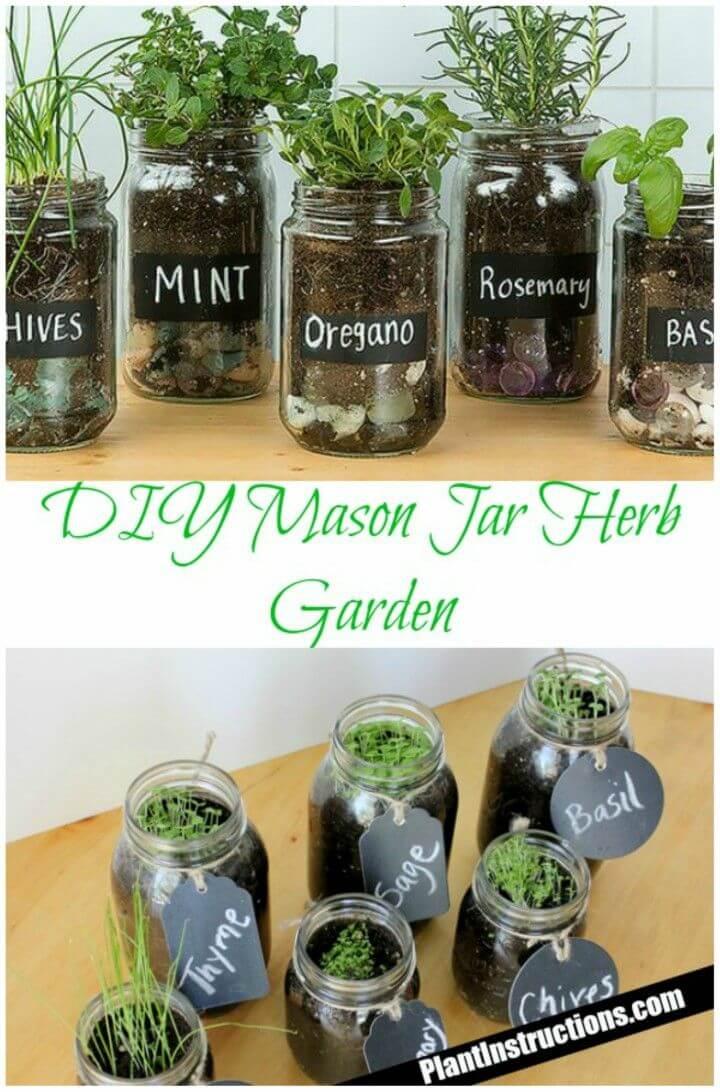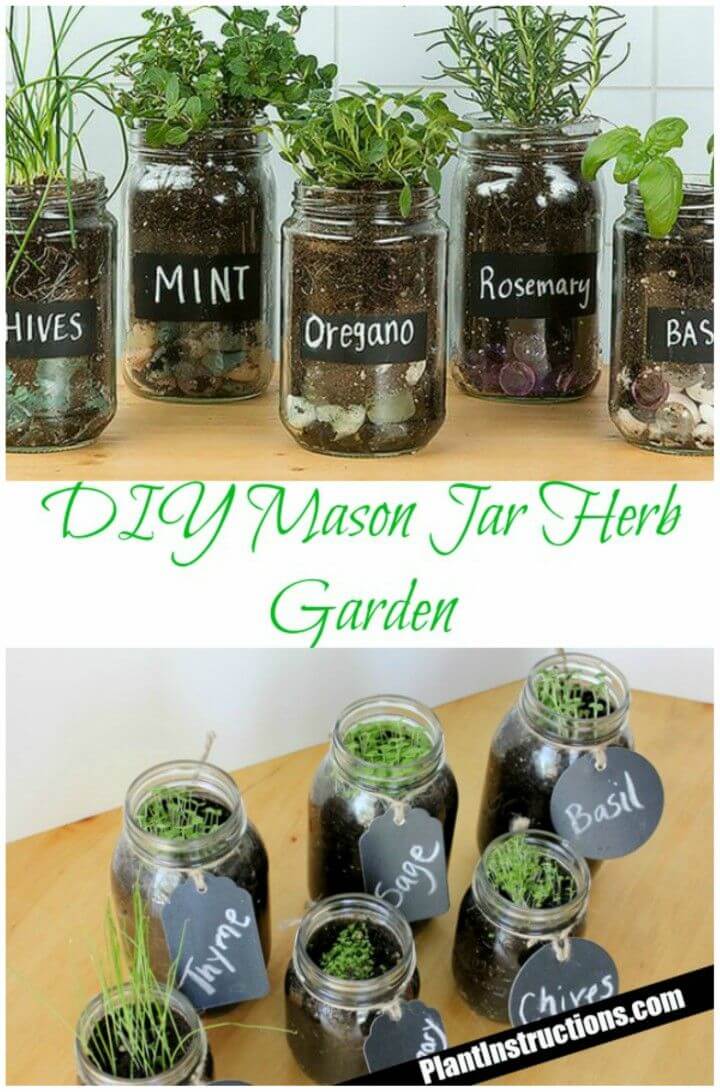 It is a great way to reuse the Mason jars to make outstanding planters and vases out of them! You can also quickly grow herbs in them that will provide a daily supply of fresh herbs! You can make adorably cute Mason jar planters in numerous different ways and here is another great one to inspire your creativity! Fill potting soil in the Mason jars, plant herbs and then finish them up by adding lovely labels in front! plantinstructions
Make Hanging Herb Garden with Mason Jars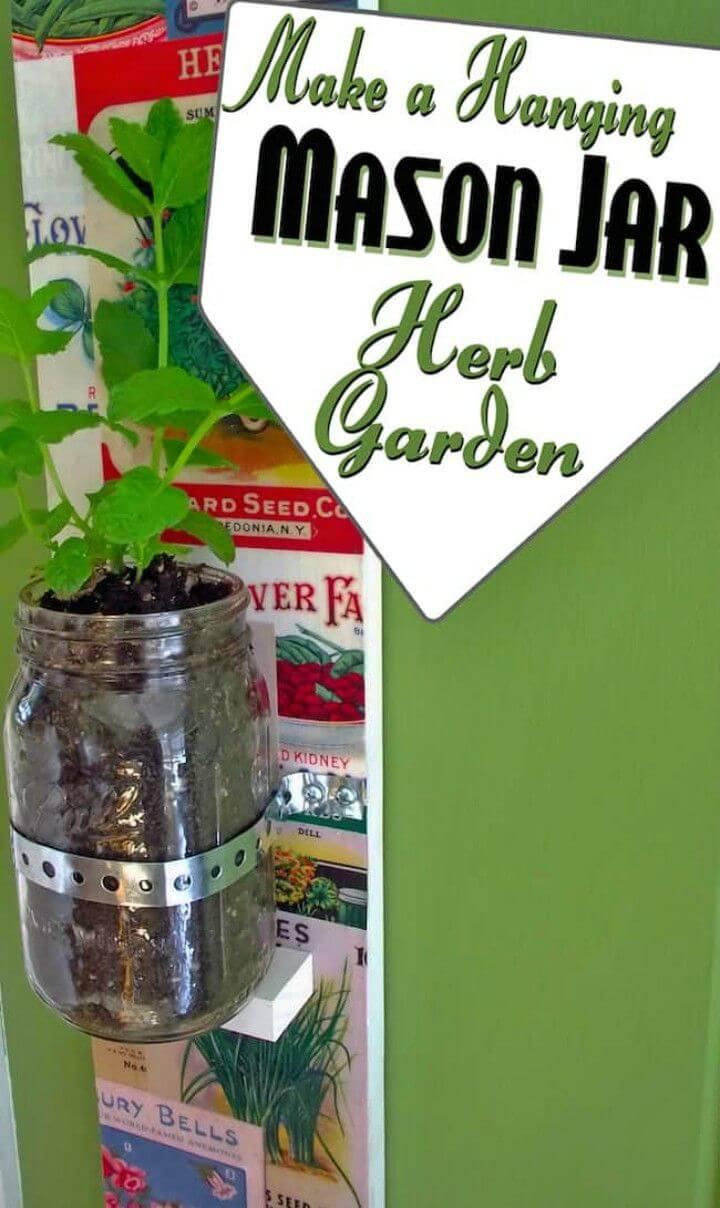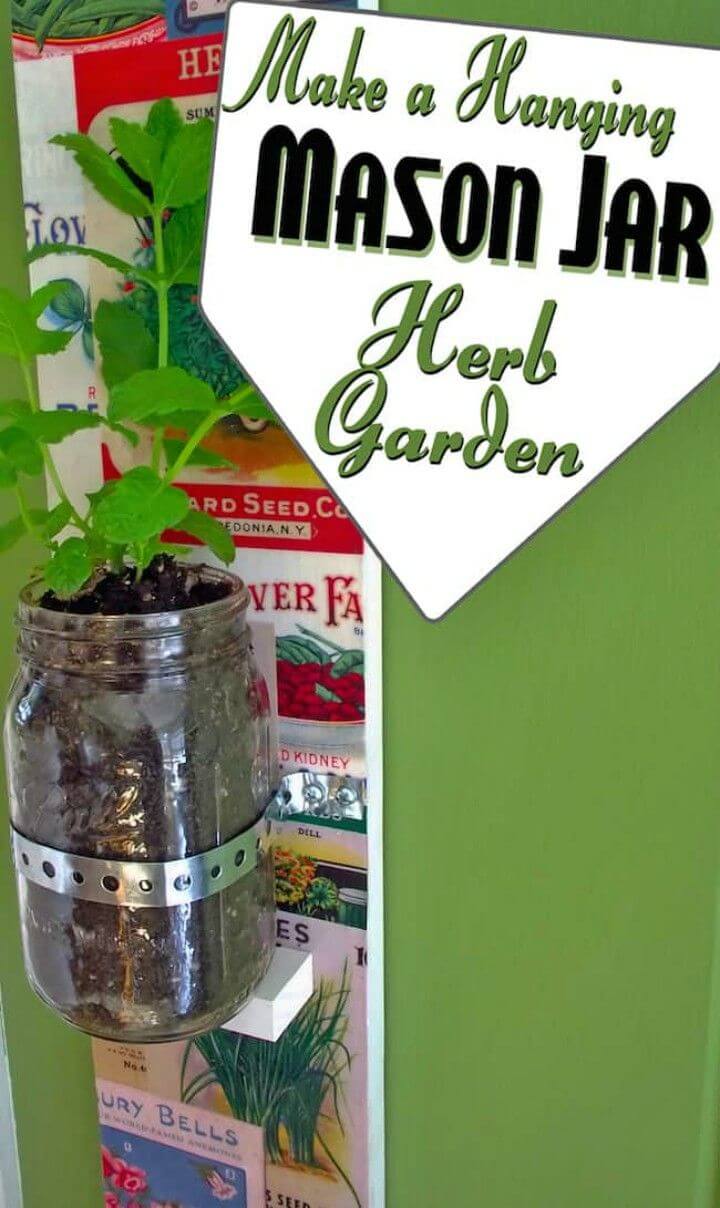 Make the vertical wooden units with miniature shelves using pinewood slats and lengths and then make them hold the Mason jar herb planters using metal clamps and make adorable vertical planters! Peek into details of this given sample that comes painted in white and has beautifully been decorated! modpodgerocksblog
Mason Jar Crafts And Decor: