When you are feeling patriotic, you know that Independence Day is just around the corner, Yes, the 4th of July. One starts to wonder what fourth of July food ideas to try. In this article, You can find 60 quick and easy 4th Of July food ideas and 4th of July recipes that you can try with confidence. To Independence Day spread, there can be a bunch of cakes, cupcakes, or anything else that yells celebration can be tried. You just have to keep everything simple, yet it must be delicious so that your family and friends can enjoy it. Keeping the budget in check is also one important thing, so everything combined can be quite exhausting. The key is to try quick and straightforward 4th of July recipes and also be a part of the whole celebration.
There is a lot going on in life, so pressing the easy button can be quite helpful once in a while. The 4th of July is sure a busy time for everyone. There is a lot of family time, pool parties, fireworks, and celebrations. Follow our 4th of July crafts and decoration ideas to celebrate your day with great parties. While everything is a lot of fun, it's also a time to get organized and be ready to throw dinner parties. Make a poke cake with the theme of the fourth of July, and you can also make a swirl cake with particular red, white, and blue colors. You must also try our list of 4th of July party ideas.
Take our fourth of July food recipe to make a flag cake and try making chocolate chip cookies using M&M's oatmeal and many more delicious recipes for your pleasure. Also, try the Barbeques at night. Follow our given below 60 unique 4th of July recipes that you can make under budget.
1. Red White and Blue 4th of July Cupcakes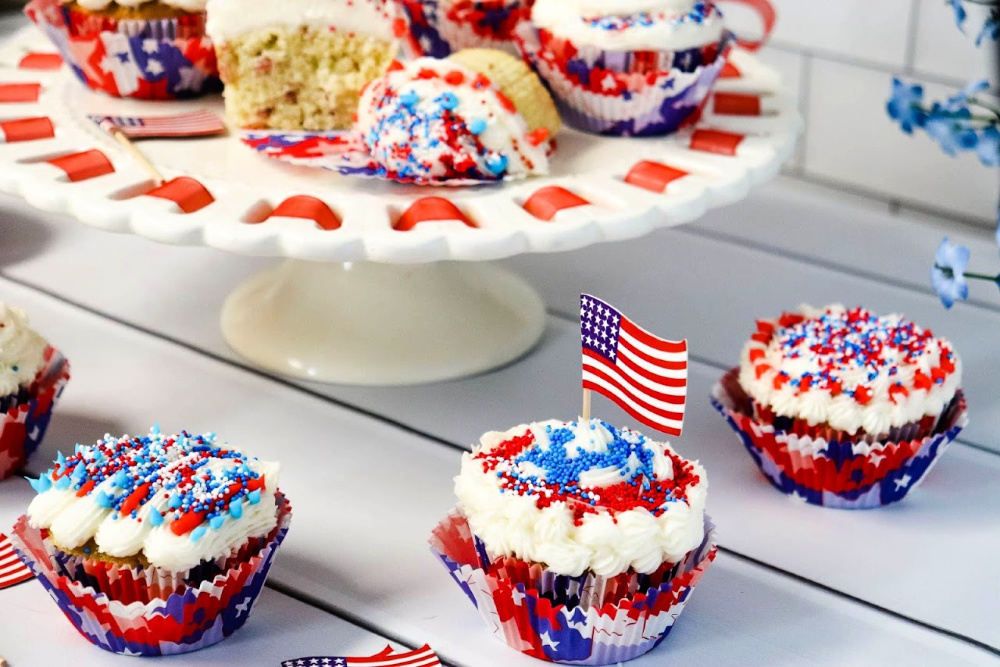 Celebrate the 4th of July by baking patriotic cupcakes. Besides the regular ingredients for a cupcake, you will need sprinkles and liners for the patriotic feels. Toothpick, liners, frosting tools and stand will be needed. brooklynactive
2. Firework Cake For 4th of July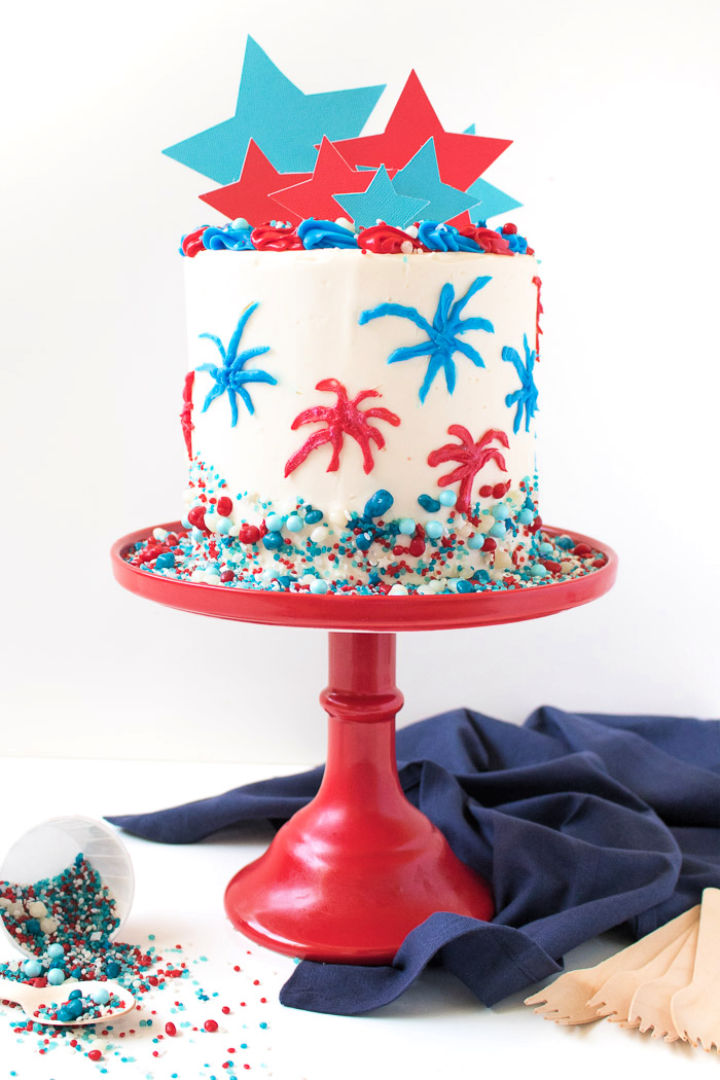 Fireworks are a necessary part of the 4th of July. Make a cake with the theme of red, white, and blue fireworks on the 4th of July food. You will need frosting in a piping bag. Make fireworks with the frosting and use sprinkles. clubcrafted
3. Crack Chocolate Cookie Bars Recipe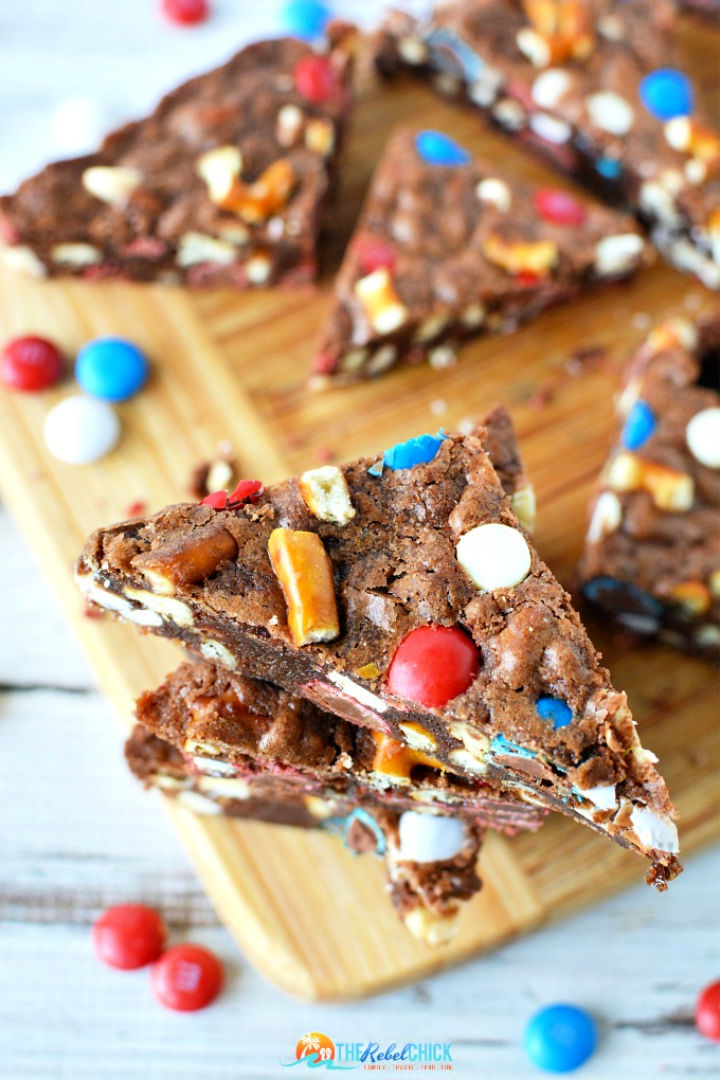 Make cookies with red, white, and blue embellishments to enjoy patriotic feels. This 4th of July recipe for cookie bars is from scratch. Ingredients needed; flour, cocoa powder, salt, butter, egg, vanilla, and M&Ms. therebelchick
4. 4th of July Puppy Chow
Puppy chow is a dessert made up of rice, cereals, and sugar. You can make it on the 4th of July and add some ingredients (pretzels and M&Ms) to go with the day. vanillabean
5. Fourth Of July Carrot Dogs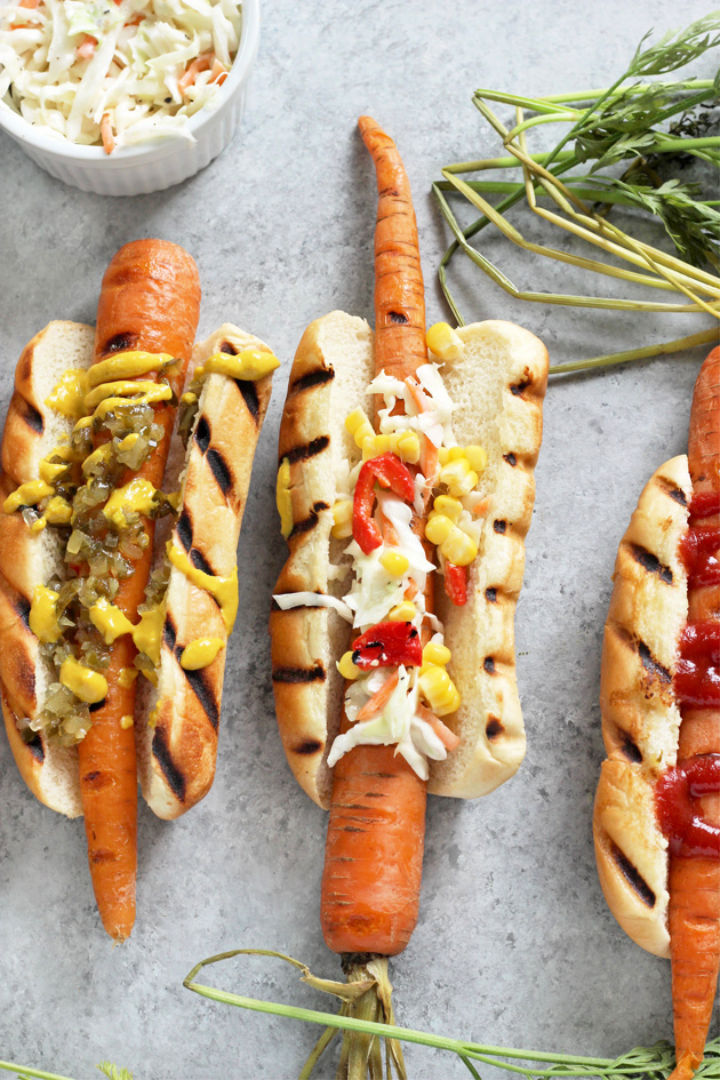 Try out different 4th of July recipes this year. Make carrot dogs and equip them with sauces of colors that go with the theme. Perfect cuisine for vegetarians as well. neuroticmo
6. 4th of July Poke Cake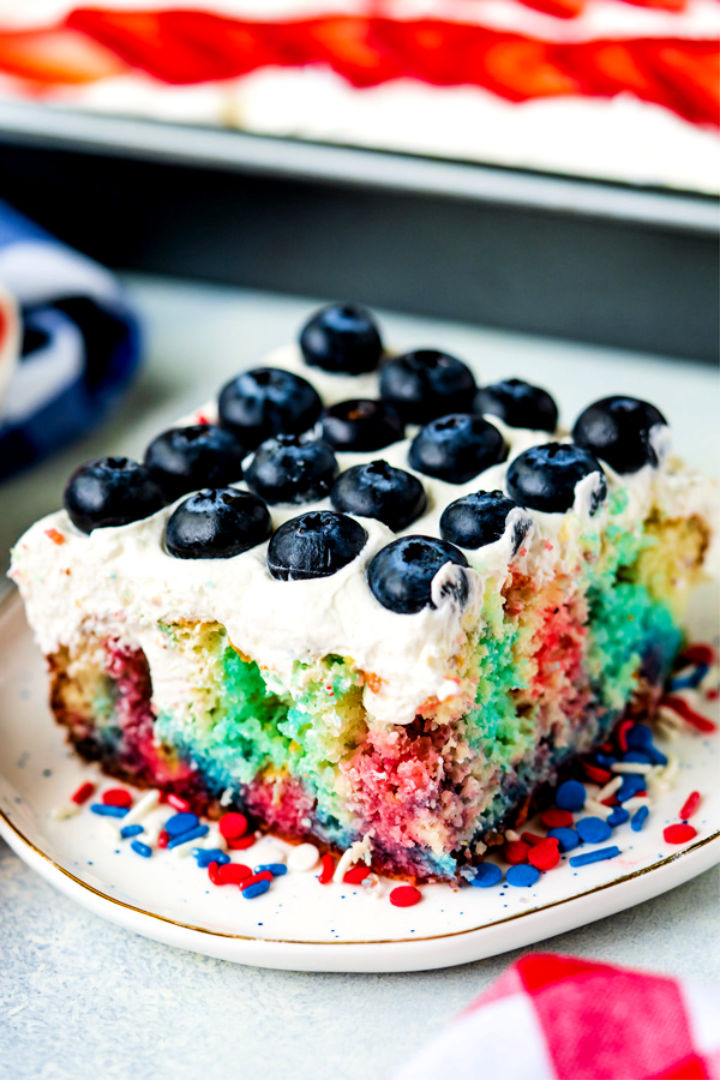 Enjoy the holidays and save time and energy spent on a lot of cooking. Make a poke cake that is so light and refreshing that no one would be able to deny a bite. easybudget
7. Red, White and Blue Swirl Cake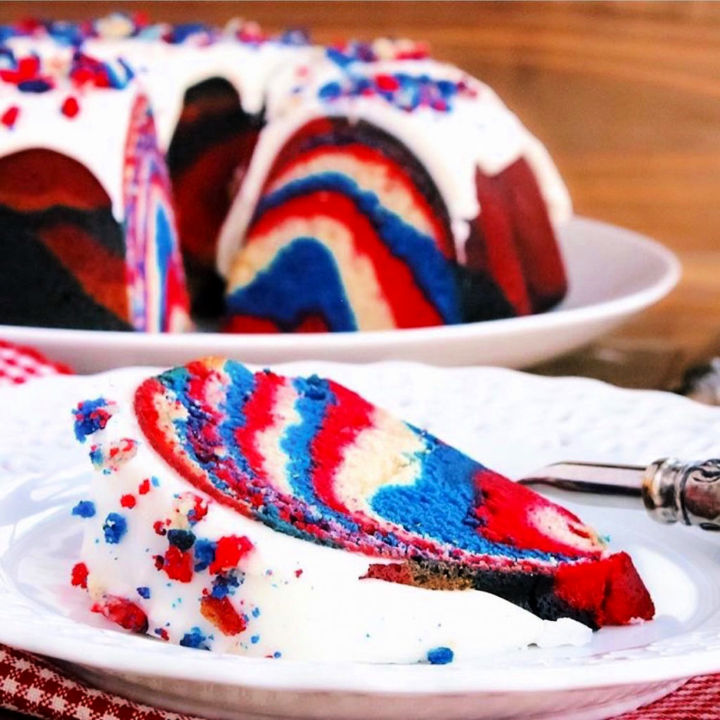 Make a swirl cake in accordance with the Independence Day celebrations. A swirl cake with a rose of blue, white, and red colors works perfectly and tastes great to woo your guests. Use buttercream for frosting. buttercream
8. How to Make Flag Cake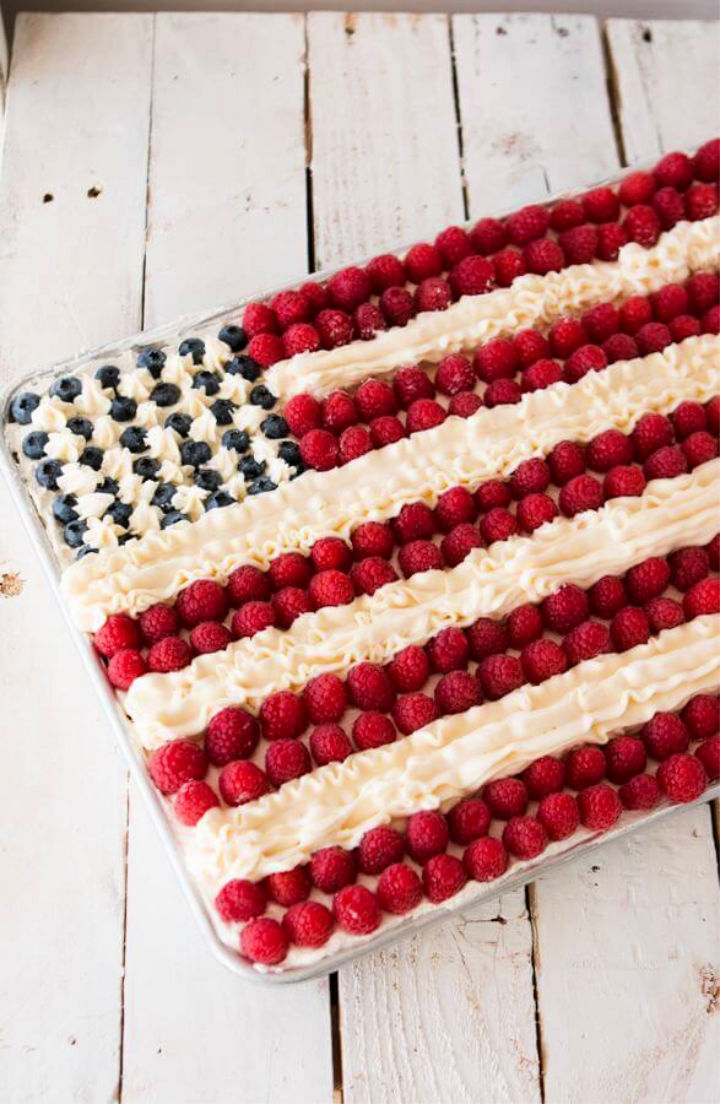 Be a foodie hero during the 4th of July celebrations. Add this flag cake recipe your 4th of July food ideas! Make a flag cake with a perfect frosting that is light but has a variety of colors. One little bit is a combo of a whole flag. ohsweetbasil
9. M&M's Oatmeal Chocolate Chip Cookies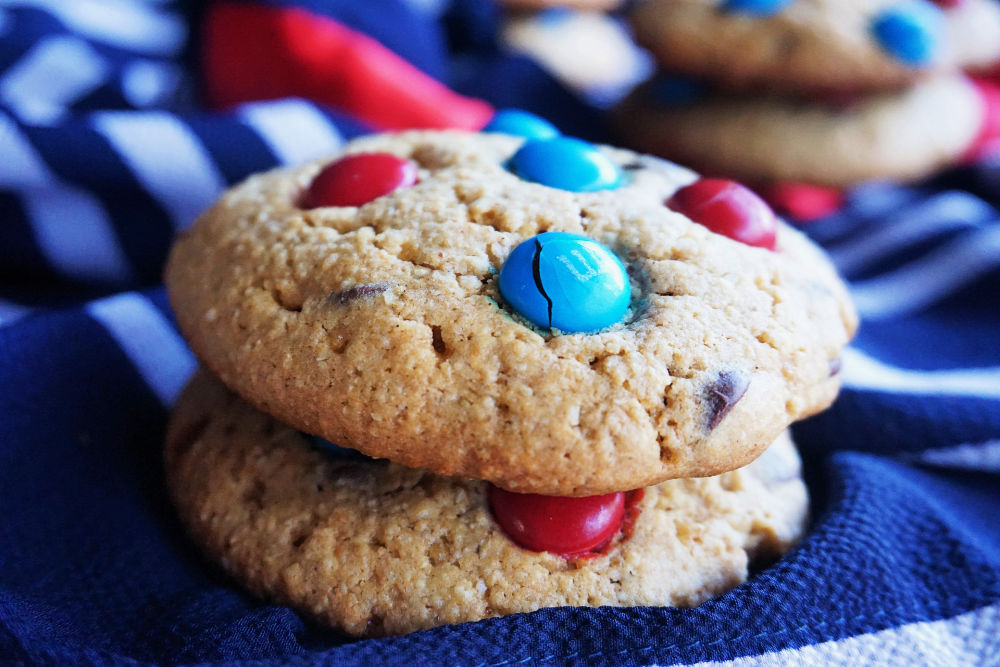 Try chocolate chip cookies that are loaded with M&M's and chocolate chips in every bite. They are soft and chewy and yet non-fussy and uncomplicated to make. You need an egg, unsalted butter, brown sugar, vanilla essence, etc. livelaughlo
10. Reese's Firecracker Oreos
Around the 4th of July celebrations, everyone loves fireworks. So try a recipe that bursts in taste just like fireworks. Oreos dipped in red, white, and blue candy melts are perfect for everyone to try. ohsweetbasil
11. 4th of July Blueberry Jello Salad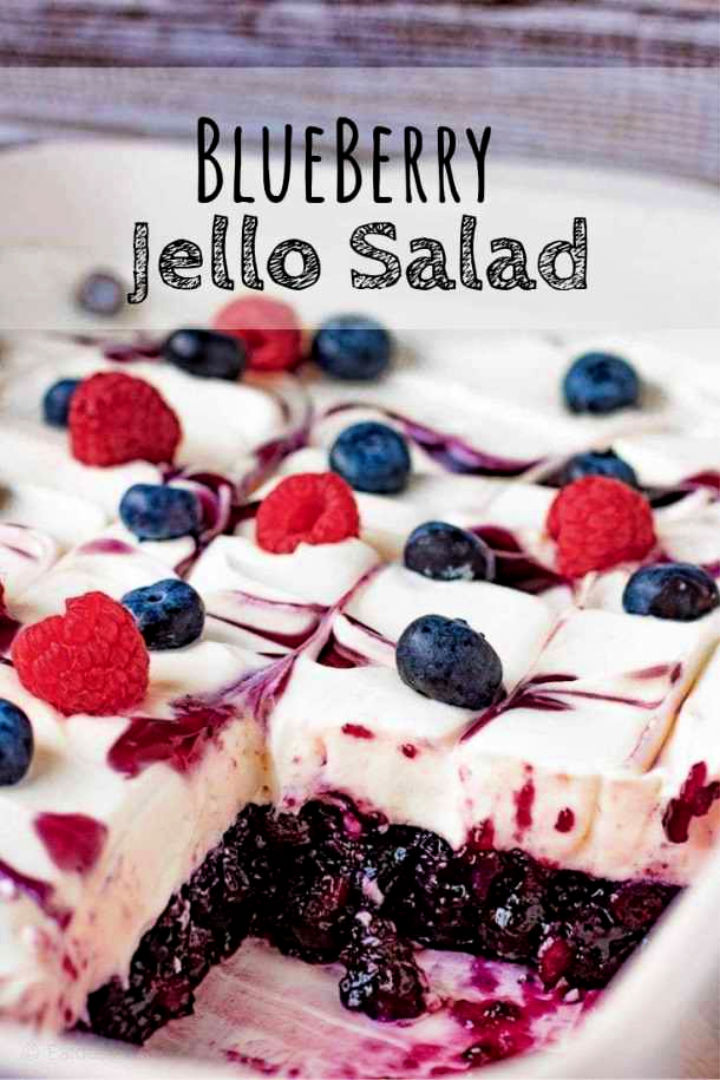 Make a jello salad that will liven up your 4th of July parties. Use it as a side dish and prepare it ahead of time. Add lots of fresh berries on whipped cream and cream cheese topping. eatdesserts
12. Velvet Cookies Recipe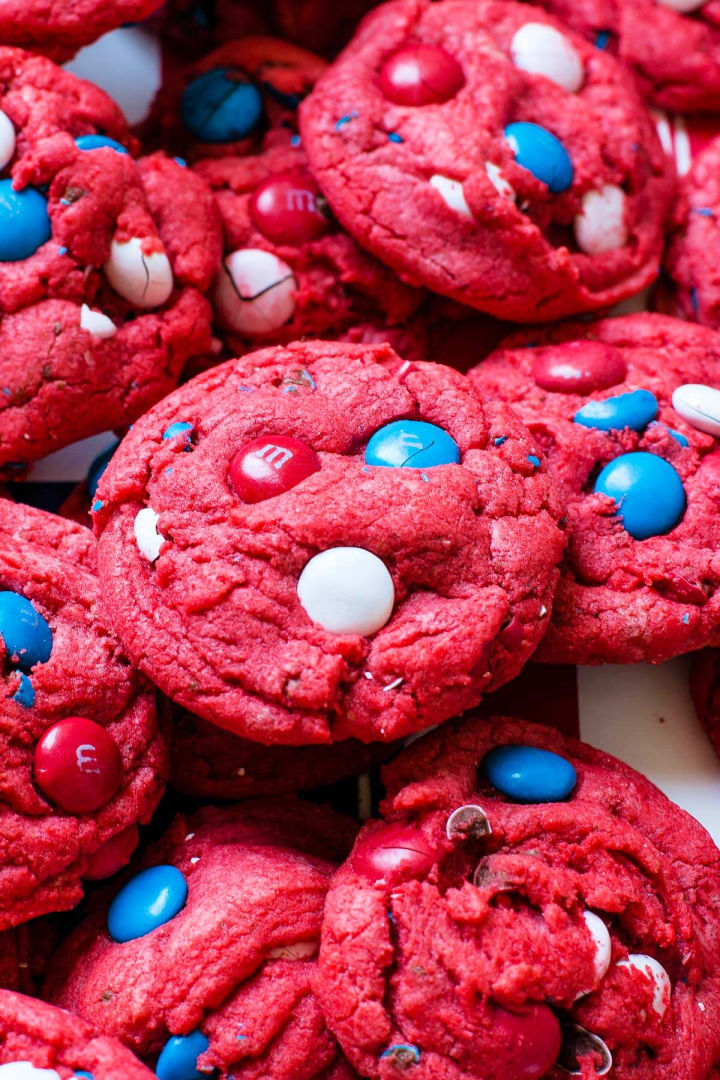 A perfect recipe to try on the 4th of July are velvet cookies. Fulfill your dream of an all American spread of food. Use red, white, and blue M&M's for cookies that are a cinch to make. ohsweetbasil
13. Patriotic Dessert Tart
Patriotic desserts are great to make for the 4th of July parties. A perfect pick for that day would be a dessert tart, and you can make a spangled star design using berries to complete the look. centercutcook
14. Fireworks Pretzel Snaps
Use traditional ingredients like sugar, yeast, salt, and flour to make fireworks pretzel snaps. Just add white chocolate, caramel, and a few pretzels, and your guests are ready to enjoy the 4th of July treats. ohsweetbasil
15. Easy BBQ Beef Brisket for Fourth of July Food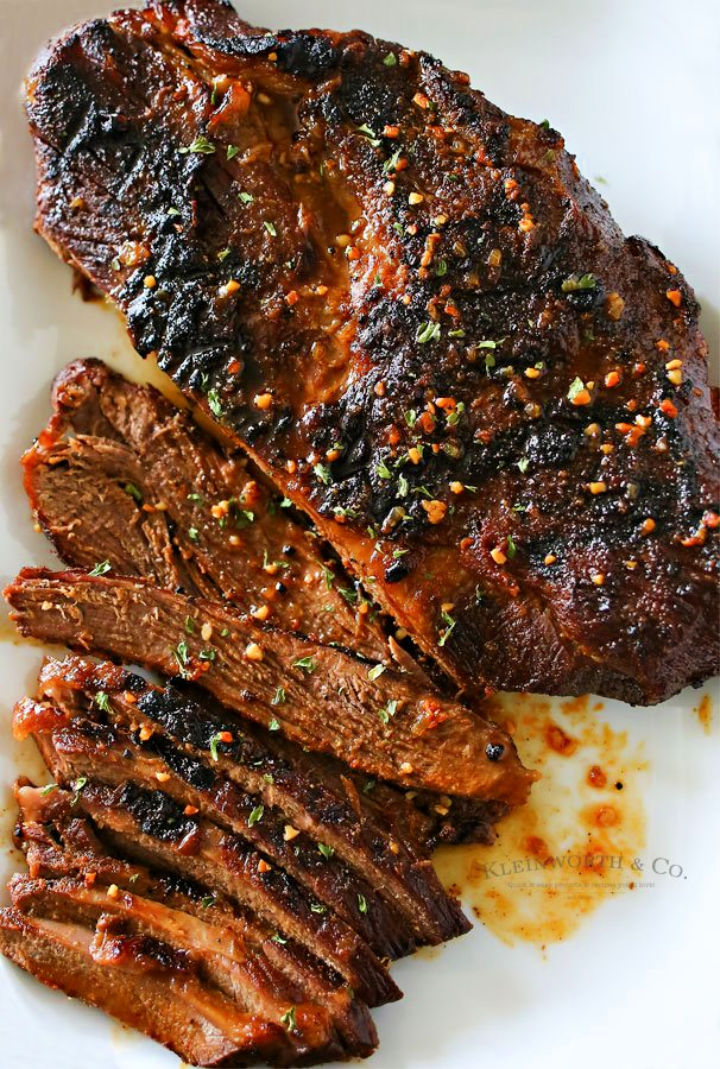 A perfect grilling recipe to enjoy all summer long is a BBQ beef brisket. This 4th of July food is super easy to make and delicious to eat. It is tender and juicy and will be only what your guests will be craving. kleinworthco
16. Ultimate 4th of July Dessert
In the traditional 4th of July foods list, we tend to become super patriotic and want to try everything under the sun. An ultimate dessert to make that day is something that depicts the importance of this day by using the three colors. ohsweetbasil
17. Taco Dip Flag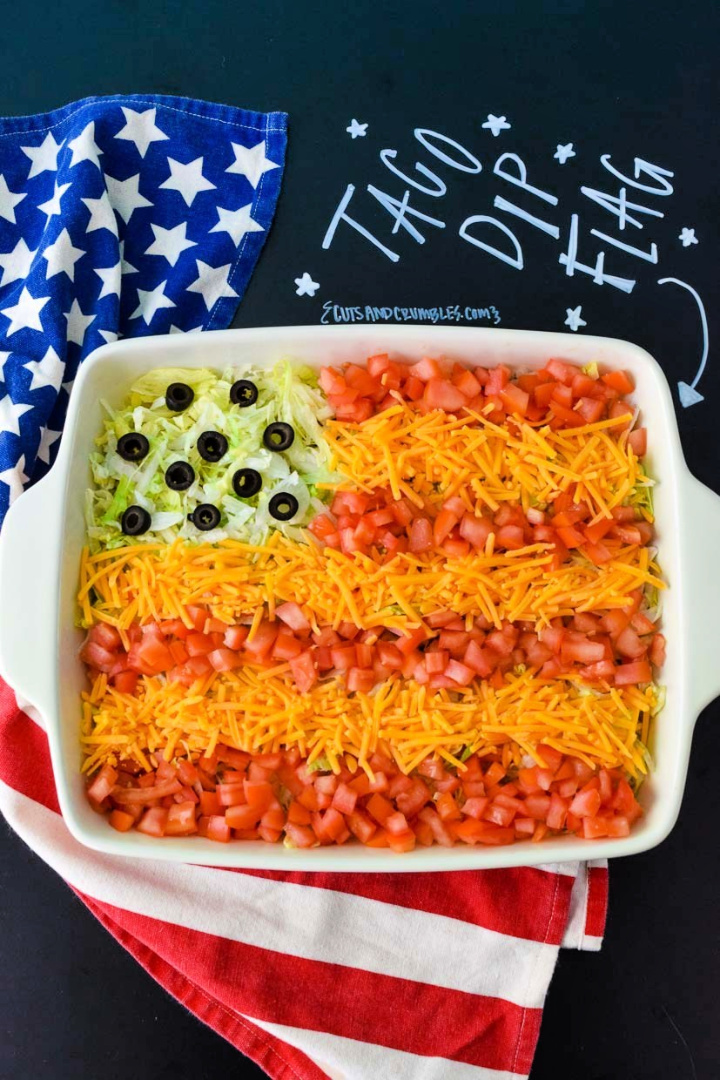 Save your time on the day of the party and make this simple taco dip flag a day before. It is quite yummy that your guests will scrape the dish clean in no time. Use beef, water, taco seasoning, etc. cutsandcrumbles
18. Angel Food Cupcakes
A summer dessert must be as light as air and refreshing as the cool summer breeze. Try making angel food cupcakes and top them with fluffy whipped cream and berries, and hence it becomes the epitome of summer sweets. bsweetdess
19. Patriotic Edible Cookie Dough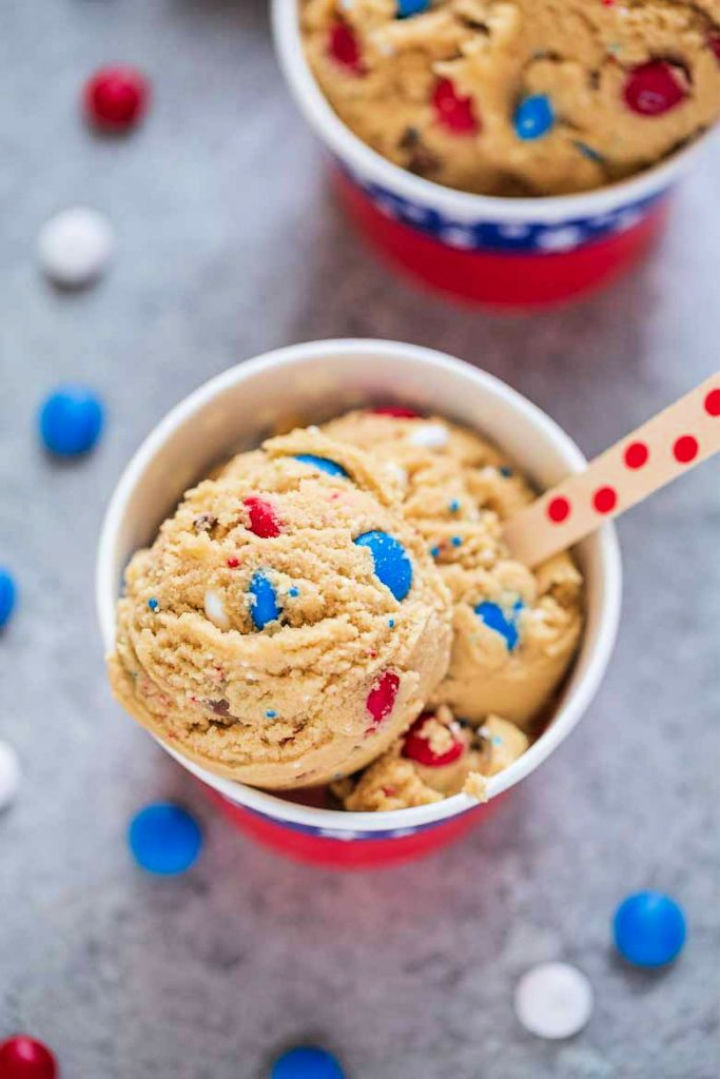 A delicious yet a no-bake festive way to enjoy dessert is this patriotic edible cookie dough. Since you don't use eggs in this recipe, it is perfectly safe for everyone to enjoy, especially when you have a big shindig. strawberry
20. 4th of July Patriotic Marshmallow Pops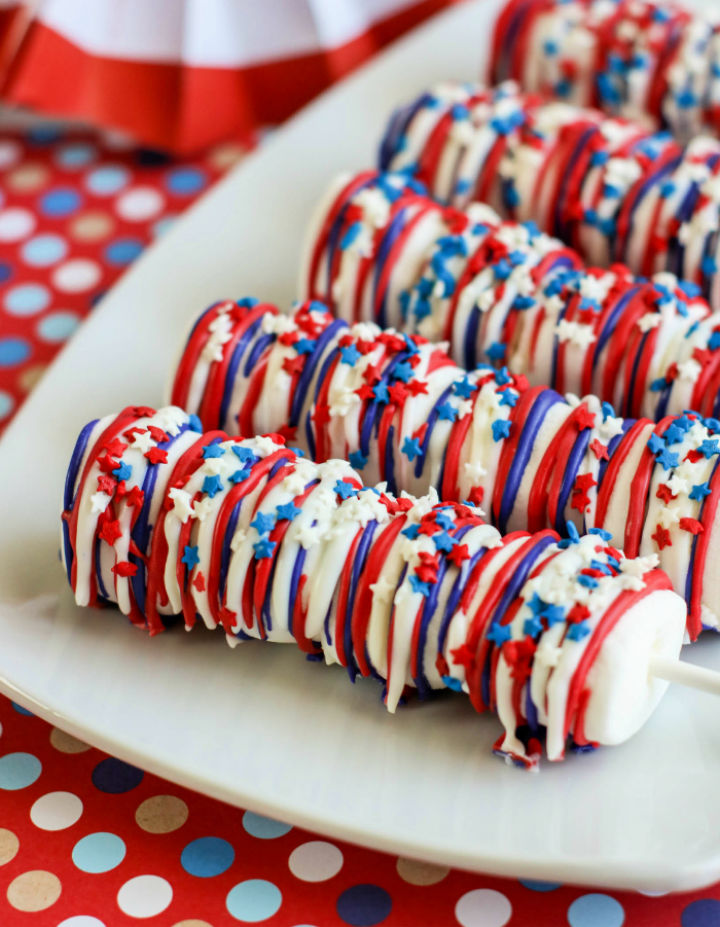 Love the holidays and all the festivities that go with them. Make patriotic marshmallow pops in your 4th of July food ideas. They will add a lot of color and fun to celebrations, and kids of every age will love them. shesaved
21. Smoky Roast Potatoes
Savory dishes are always enjoyed more on dinner parties or any other celebration. Make smoky roast potatoes that are super easy to make and super delicious to taste. Roast them until crispy on the outside and creamy from inside. theendlessm
22. 4th of July Smoothie Recipe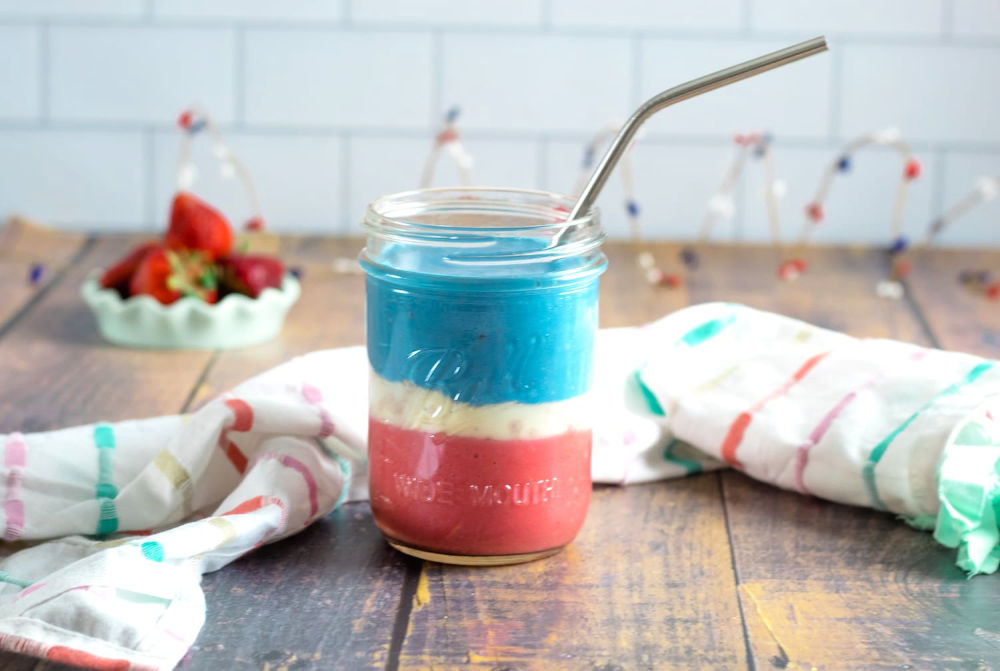 Follow our 4th of July food ideas and Try a super delish yet patriotic smoothie that turns out to be a great healthy breakfast or snack on Independence Day. Adding red, white, and blue colors make it more fun. You need bananas, strawberries, coconut cream, blue spirulina. brooklynactive
23. American Flag Pie
Any patriotic celebration calls for the perfect dessert with funky colors. An American flag pie is perfect for that day as you can add red and blue fruits with stars and stripes. Use blueberry and cherry filling. houseofnasheats
24. Stars and Stripes Frozen Yogurt Cups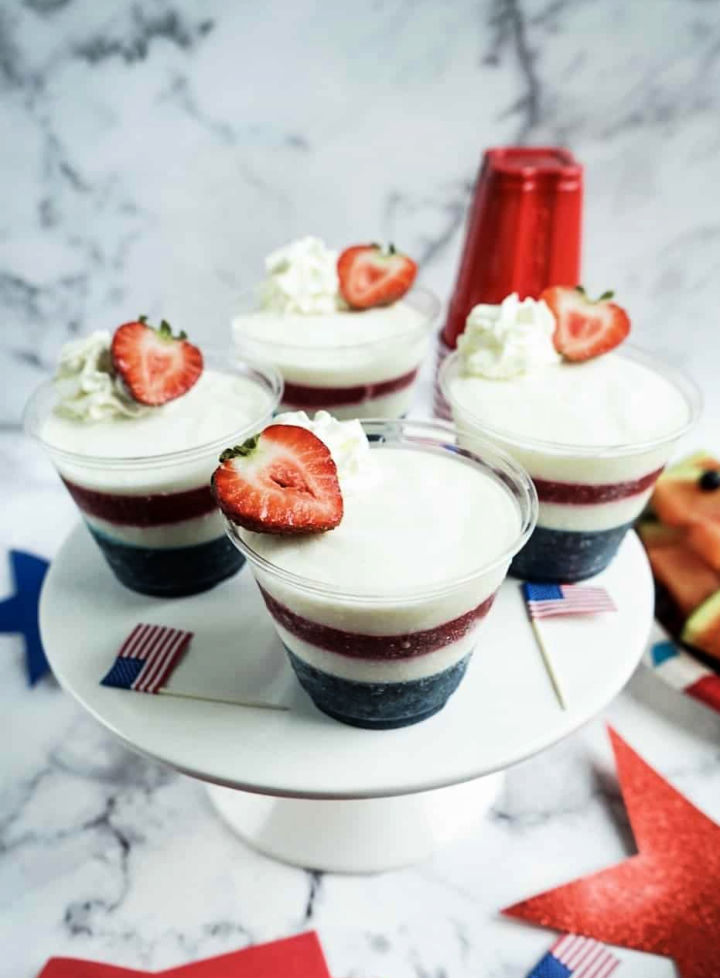 Make your life sweeter with yummy frozen yogurt and enjoy the great taste. Enjoy the nostalgia that hits with eating this frozen yogurt on any patriotic holiday. You can add stars and stripes as toppings. windycitydinner
25. 4th of July Pretzel Bites
At your 4th of July party, serve these simple, quick, and easy to make pretzel bites using just three ingredients. You need square snap pretzels, Wilton candy melts in red, white and blue colors and M&M's candies. crayonsand
26. Easy BBQ Chicken
Have fun at your celebrations with this super delicious BBQ chicken recipe that will surely be a crowd-pleaser. It is very flavorsome and succulent yet very quick and easy to make, too—rub coating on both sides of chicken. cookiesforen
27. 4th of July White Chocolate Fudge
A tie Dyed fudge is a super fun recipe to try on the 4th of July celebrations. It's white chocolate fudge that turns out to be a tremendous patriotic dessert. This fudge sets up pretty quickly. tasteandtell
28. DIY Argentinean BBQ
Flavors will come together to sing in this yummy Argentinean BBQ and will be everyone's favorite meal. Just set a nice bed of rice with chorizo, which will cradle everything else. Heavily season grilled chicken and veggies. funnylove
29. Patriotic Sprinkle Dipped Waffle Cones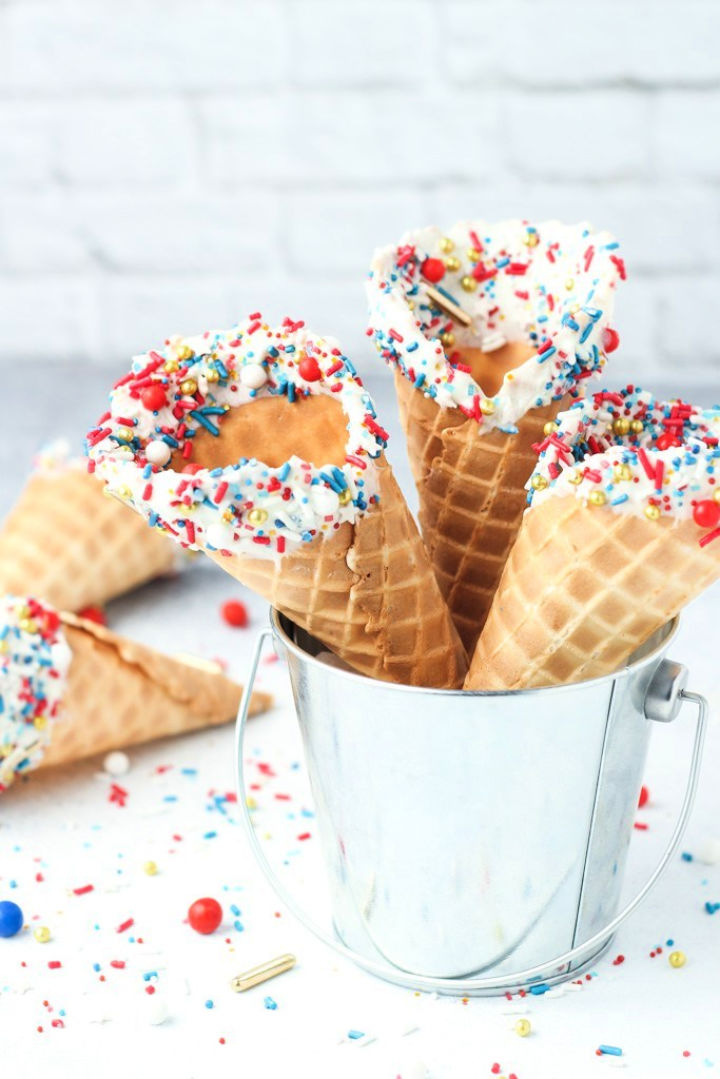 A unique recipe in our 4th of July food ideas! A very easy treat for the 4th of July celebrations is sprinkle dipped waffle cone. Use red, white, and blue sprinkles to give the patriotic touch. This recipe is simple, as that's what 4th July is all about. thesaucyfig
30. Red, White, and Blue Watermelon Flag Salad
Patriotic themed cookouts are super fun. Make a watermelon flag with red, white, and blue colors that will easily feed a large crowd. The 4th of July becomes the perfect food holiday for everyone with this patriotic salad. sweetcaye
31. Broccoli Salad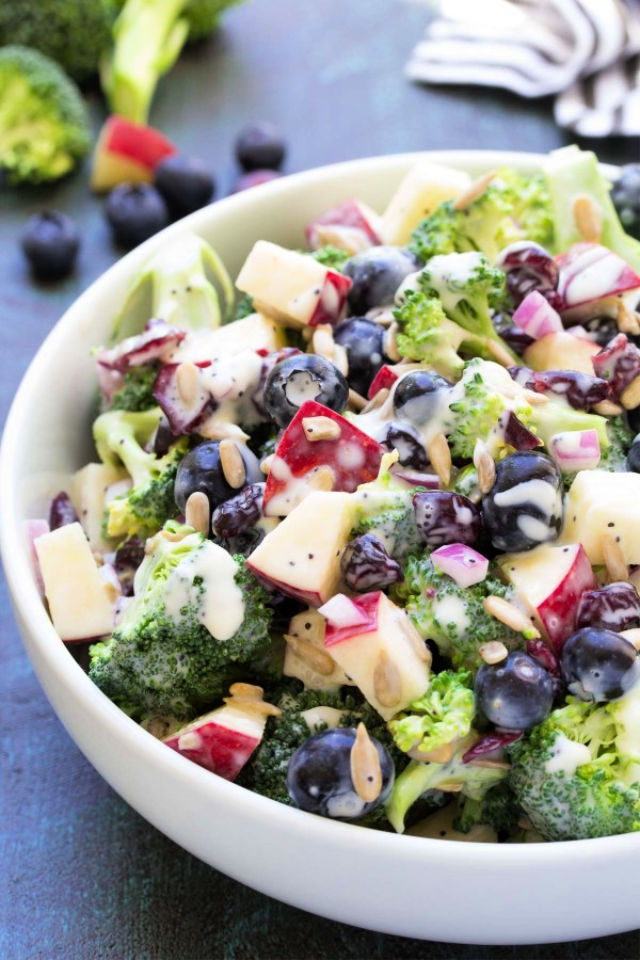 The fourth of July is certainly the perfect occasion for this amazing broccoli salad! It is light and healthy – works perfectly as a side dish! The best part of this 4th of July food ideas is that super easy and quick! kristineskit
32. Mini Fruit Skewers Recipe for 4th of July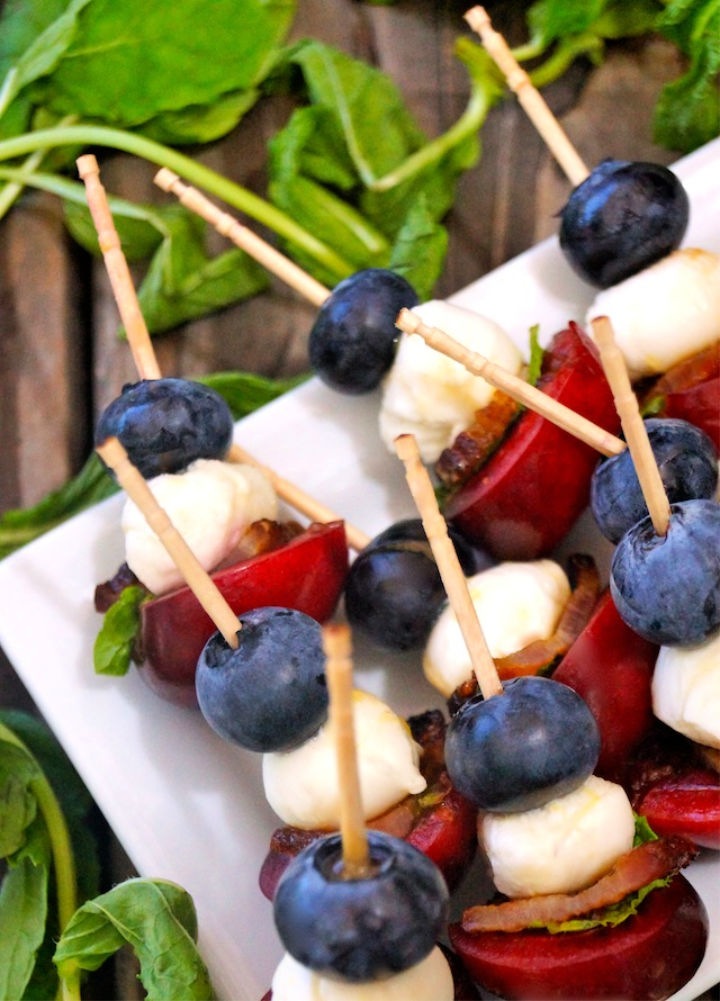 Add some color and beauty to the table by making these amazing mini fruit skewers. You can use them perfectly as appetizers! Fruit and bacon together – who knew it could be this good? cookingonth
33. Fourth of July food – Cookies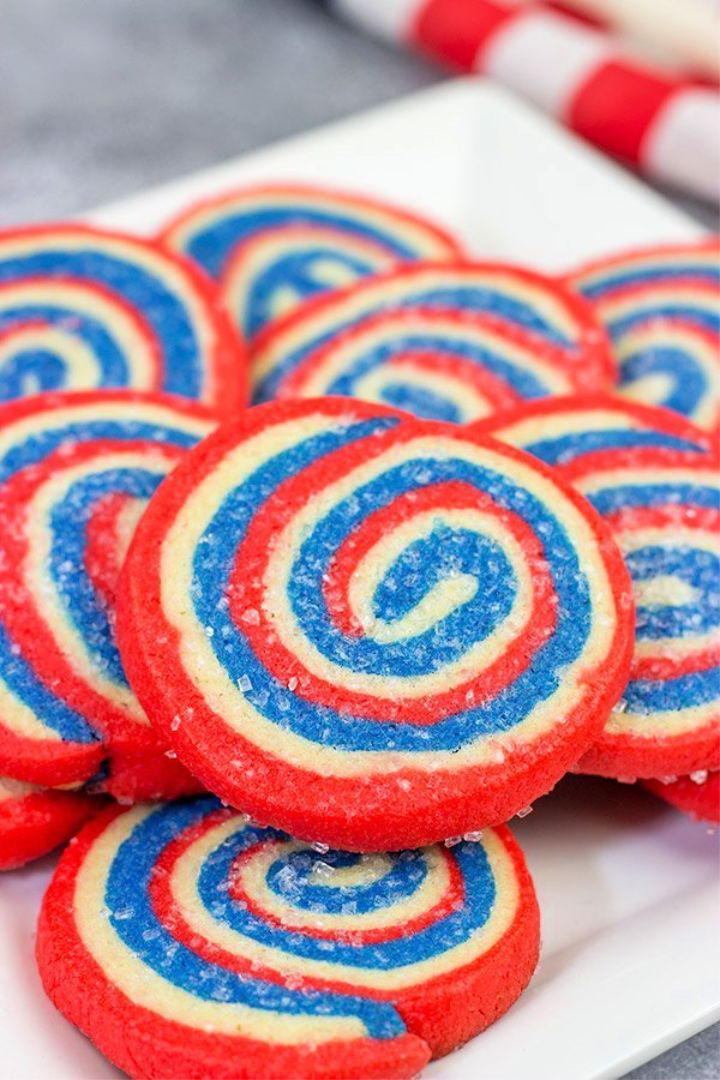 When hosting a 4th of July themed party, you need to keep the colors in mind. These delicious sugar cookies are perfect for that! Use a combination of red, blue, and white food coloring. spiced
34. Boozy Snow Cones for 4th of July
What's better than something sweet and boozy when you're celebrating in the summer season? Here is an amazing recipe for you to try out – boozy snow cones with real fruit syrup! clubcrafted
35. Red White & Blue Chocolate-Dipped Sugar Wafers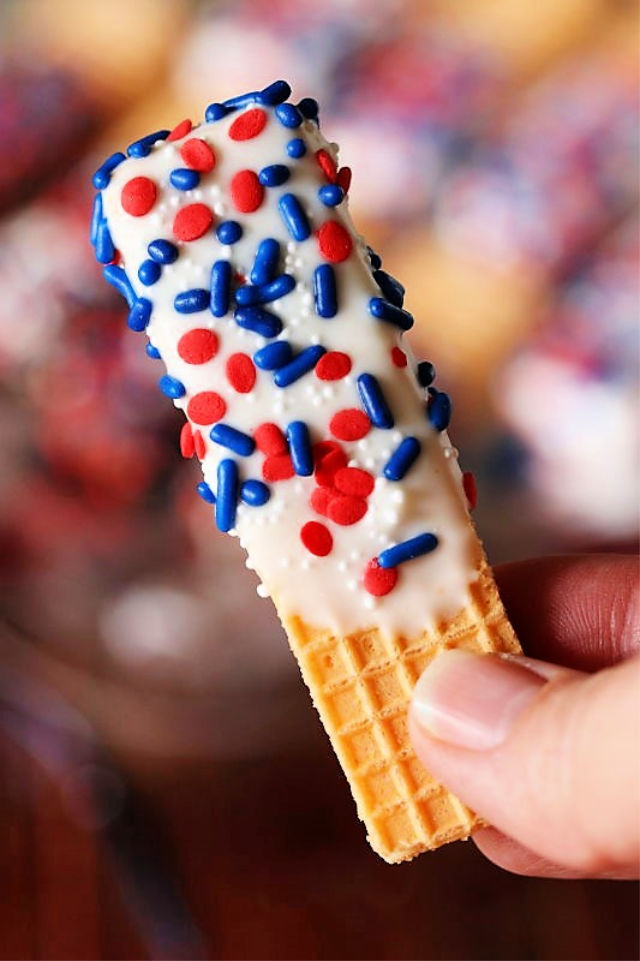 You're looking for a treat that will be suitable for any age group, you should definitely go with wafers! It won't take you too long to prepare them, as well, which is just perfect! thekitchenis
36. 4th of July Cookies With M&m's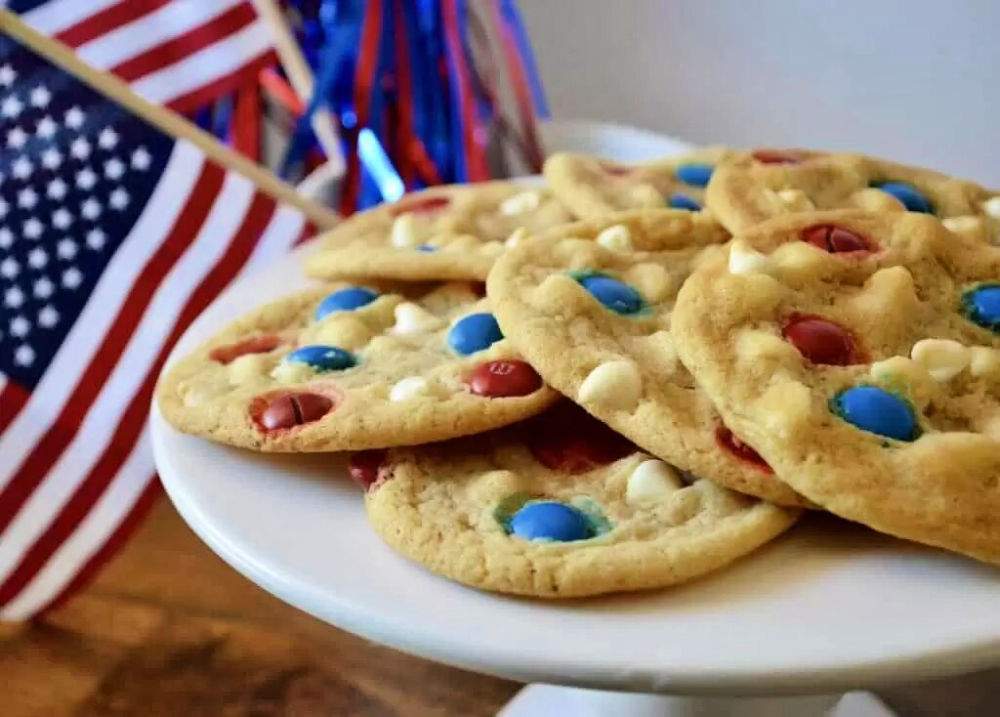 Cookies are loved by everyone! They're so sweet and delicious. You can match them perfectly to the theme of the occasion by using red, white, and blue M&M's! They turn out looking amazing. thisdelicio
37. Barbecued Baby Back Ribs
Cookies are loved by everyone! They're so sweet and delicious. You can match them perfectly to the theme of the occasion by using red, white, and blue M&M's! They turn out looking amazing in your 4th of July recipes. thecomforto
38. Cocktail for 4th of July Parties
If you're having a summer celebration related to any event, this is a great drink to serve. Any food coloring can be used to match the theme of the event. Cocktails are just so much fun! missintheki
39. July 4th Cookie Cake
4th of July recipes should be easy and quick as no one wants to make something complicated for a huge number of people! A cookie cake is much easier than a basic cake, so this is amazing. thecakechica
40. White Chocolate Covered Cherry Bombs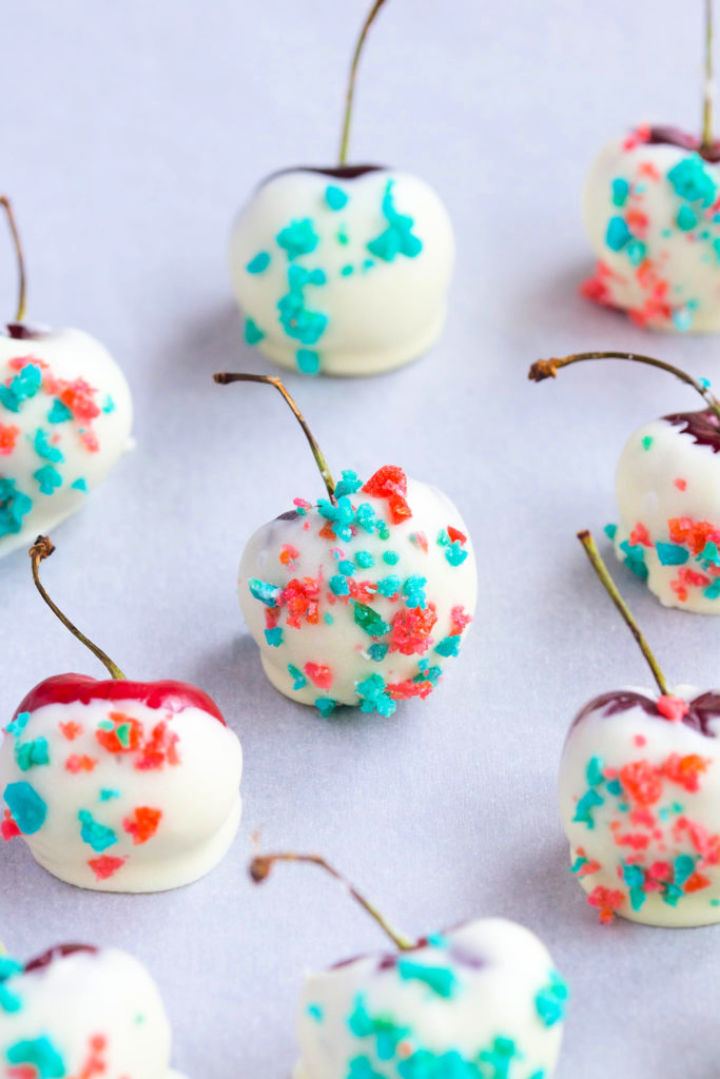 Can you imagine the flavor of fresh cherries topped with white chocolate? It would taste heavenly! The best part is that it's super presentable, as well. A win-win situation for the 4th of July recipes! slimpickins
41. Red, White And Blue Bundt Cake Recipe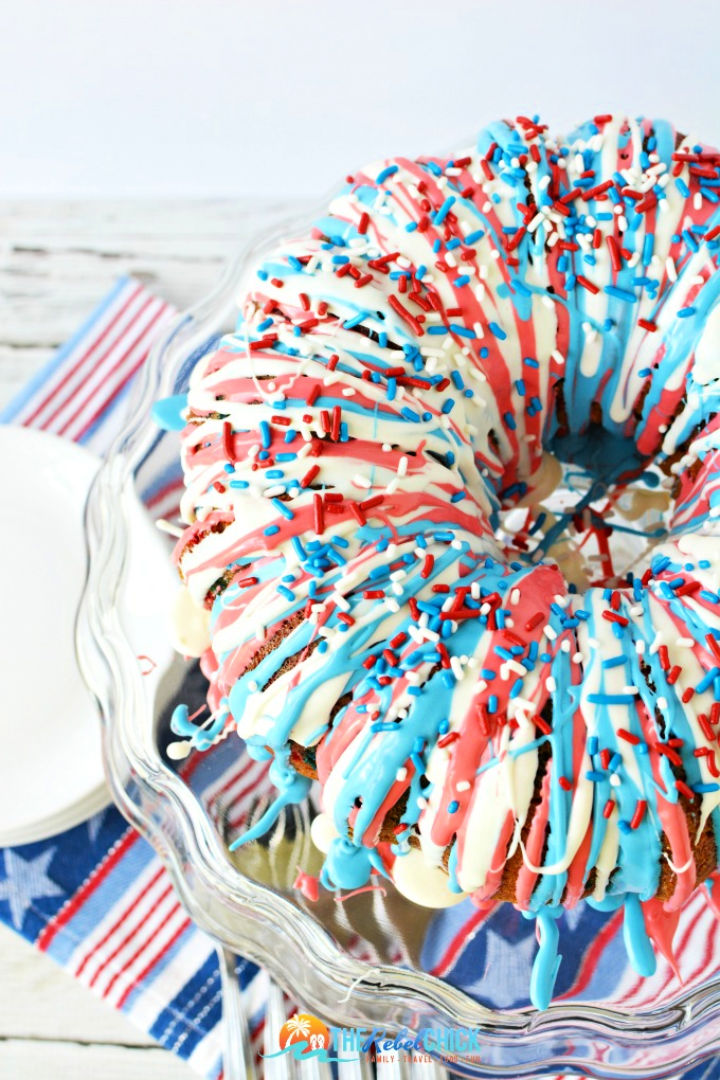 Here's another beautiful cake recipe in our traditional 4th of July food ideas that has a very unique shape to it! Cake mix, vanilla frosting, sprinkles, food coloring, and a few other ingredients will be required for this recipe. therebelchi
42. Red, White, and Blue Popcorn
Popcorn is quite healthy if you don't add excess butter or caramel to it. This healthy recipe is perfect for your summer plans! You can also make them for the Fourth Of July and use some food coloring. cheaprecipe
43. Grilled Fiery Habanero Apricot BBQ Ribs
A fan of spicy food? Well, here's a great recipe that you should follow – habanero grilled ribs! The habanero will add some spice, while the apricot will tone it down a little. halfbakedh
44. Red White & Blue M&ms Flag Cupcakes Recipe
Cupcakes are the perfect way to celebrate a happy occasion! You only need a few basic ingredients for this recipe – cake mix, white frosting and M&M's! You will love how this will turn out. therebelch
45. Fourth Of July Cocktail
Hot summer days call for refreshing and cold drinks! A cocktail with a ton of ice and fruits would be perfect for an occasion like this. It's inexpensive and quick to prepare. thetoastyki
46. 4th of July Ice Cream Cone Cupcakes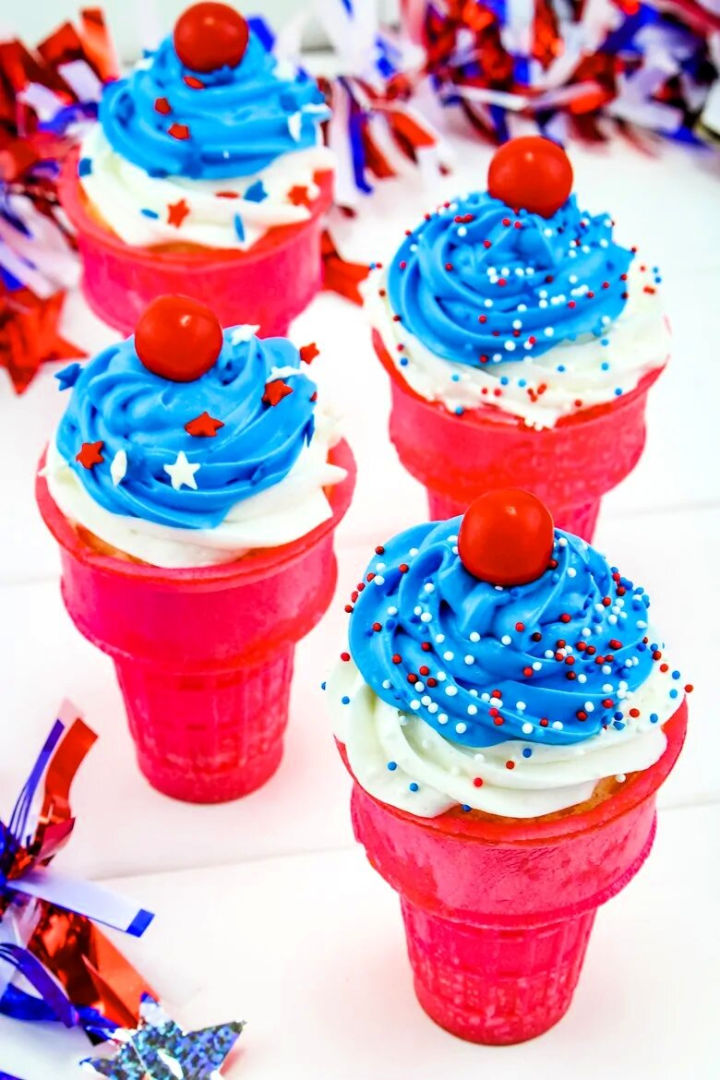 Aren't these ice cream cone cupcakes just so adorable? They're perfect for decorative purposes! Make sure to do the correct measurements of your ingredients for the best results. crayonsand
47. Patriotic Fruit Kabobs
It doesn't have to be meat kebabs always! Here's how you can have a healthy approach towards them and make some fruit kebabs! Make sure to use fresh fruit for a delicious outcome. cleaneating
48. Cookie Ice Cream Sandwiches
Ice cream sandwiches have been all the hype lately! If you're looking for a delicious and quick recipe, this one is perfect to follow! Use colorful sprinkles to make it stunning! amazingpa
49. 4th of July Breakfast Parfait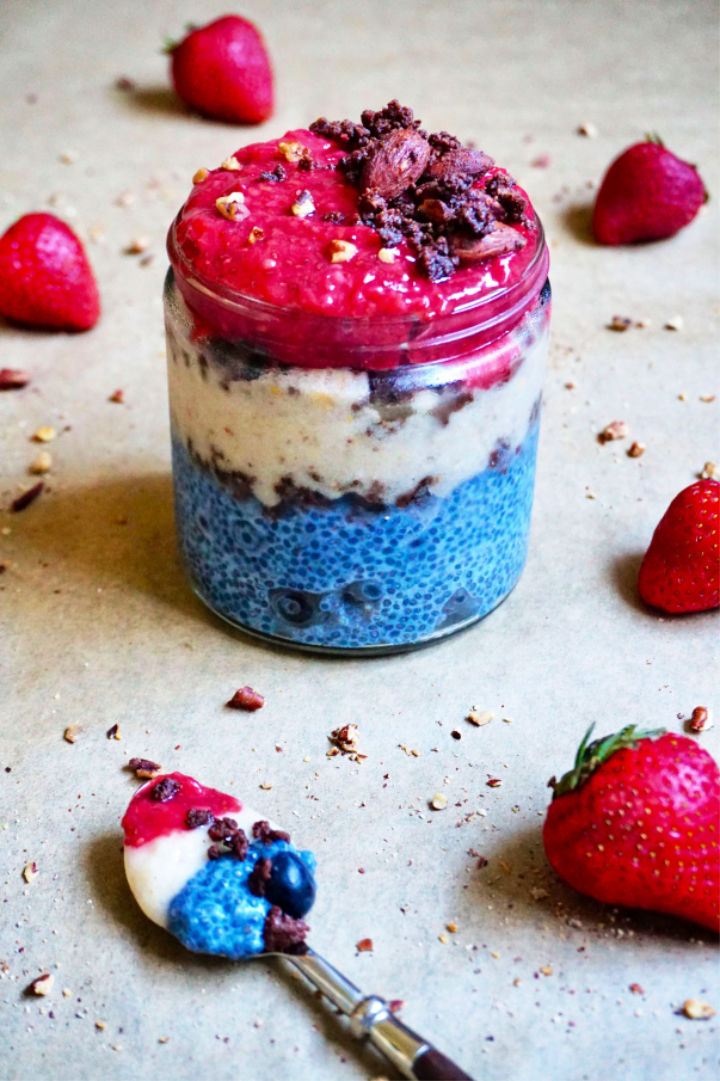 Tasty food doesn't have to be unhealthy! The sooner you realize that the better your diet will be. Here's a very healthy and flavourful recipe for you! Chia seeds will give it that cooling effect. animaguse
50. Delicious 4th of July Cupcakes
Mostly 4th of July recipes tend to be sweet. What's better than cupcakes when it comes to celebrations? Preheat your oven, gather the ingredients, and get started! atablefullo
51. Red Velvet Whoopie Pies
Check this best recipe in our 4th of July food ideas! Consuming some cream and butter is alright when celebrating! Make these amazing whoopie pies that will leave you craving for more! They will melt into your mouth! bostongirlb
52. Banana Blueberry Smoothie Bowl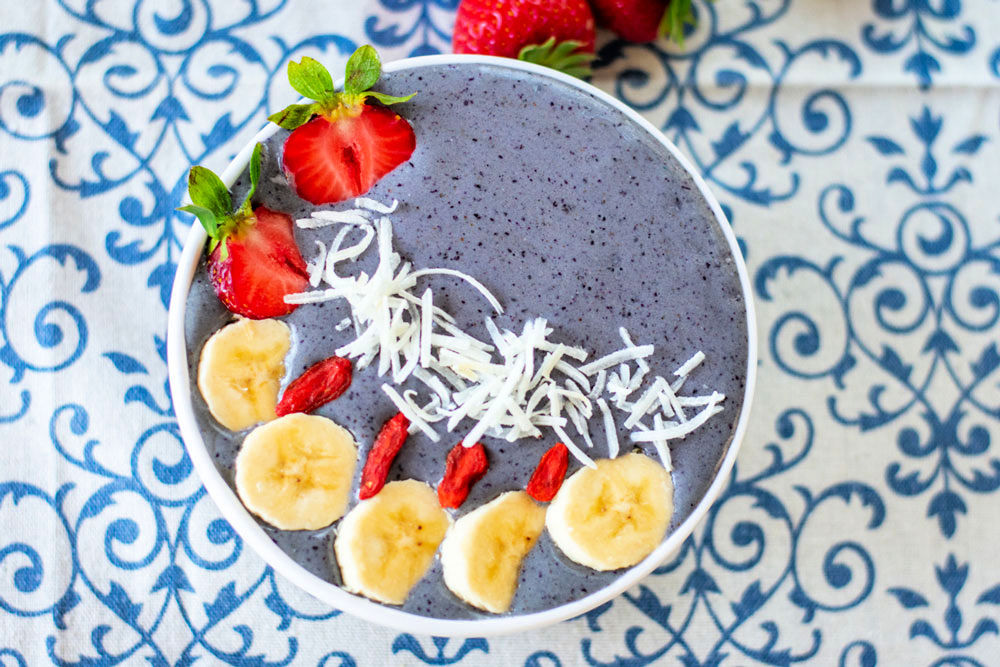 Smoothie bowls are very healthy, delicious, and just perfect to give you a ton of energy. This will be the perfect breakfast for the Fourth Of July to keep you active all day long. cookinghe
53. Easy 4th of July Drink Recipe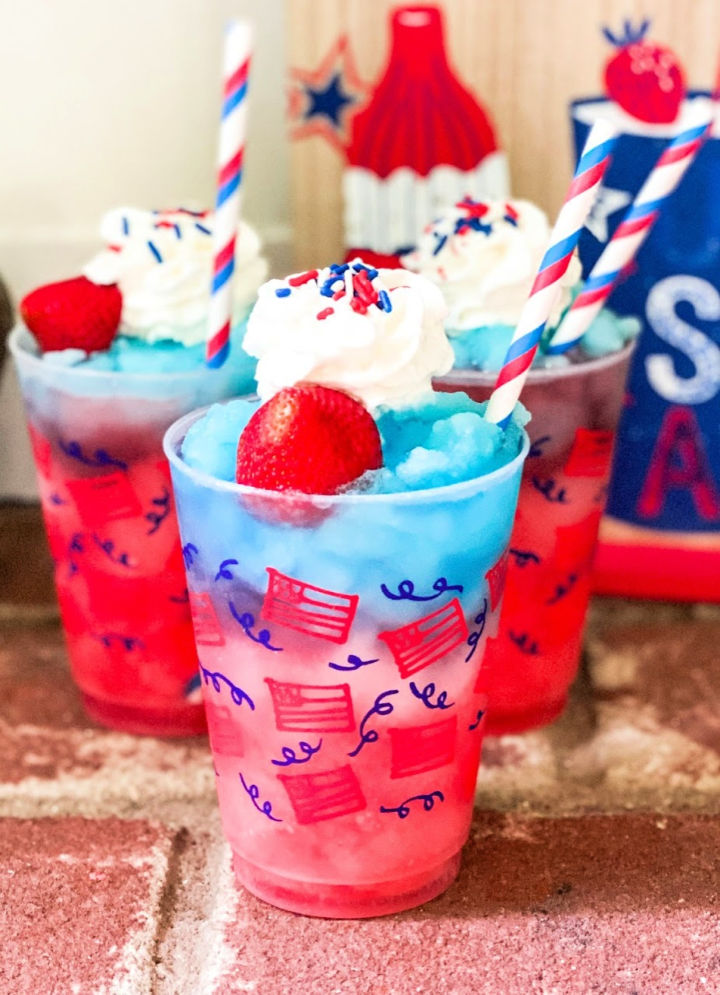 What's more festive than making some drinks and treats? Here's a great 4TH of July recipe that you can make to cool down when carrying out all of those festivities! You will love how it will taste! everydaypa
54. 4th of July Snack Mix Recipe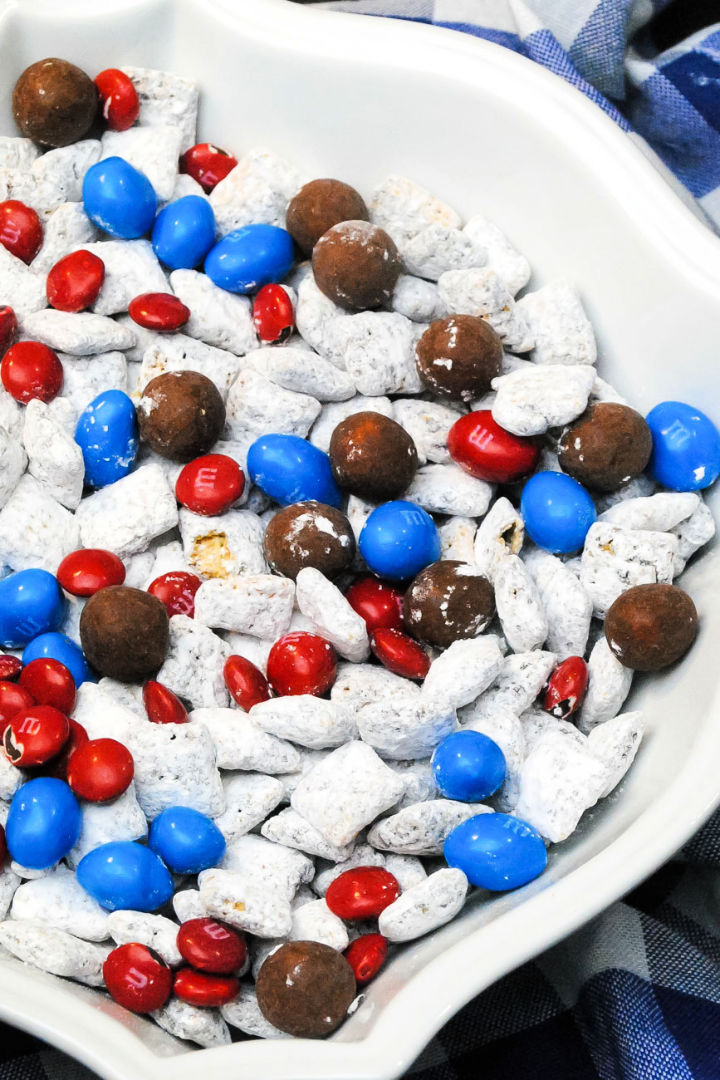 Are you trying to make sure that no one is walking around with an empty stomach? Placing party snacks like these around the party would be great! You won't have to hurry up for lunch! babysavers
55. Patriotic M&M's Cookie Bars
Cookie bars are perfect for any person of any age group. This 4th of July food ideas quick and easy to make and everyone will love how they taste. Butter, sugar, M&M's and a few other ingredients required. kleinwort
56. 4th of July Layered Pudding Dessert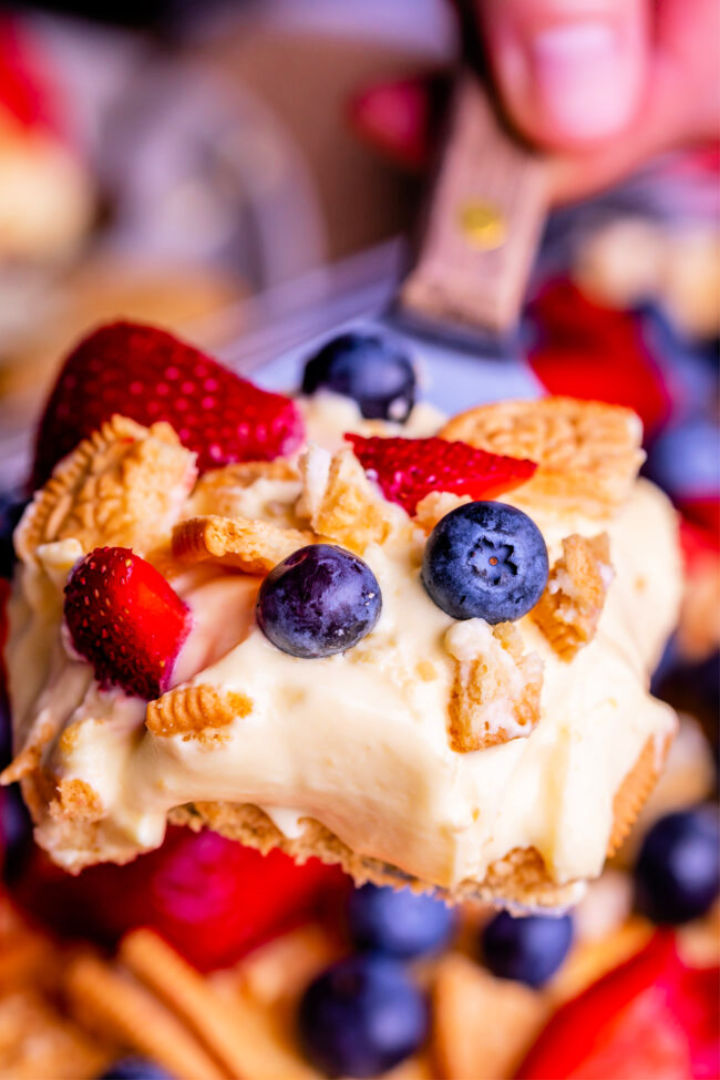 Oreo biscuits have played a huge part in making sweets for a long time. Well, here's another pretty cool snack that combines Oreos, pudding, and fruits together! thefoodch
57. Easy 4th of July Cake
You can't go wrong with sugary treats when it comes to celebrating. White frosting, blue gelatin, and some other little details make it look super stunning and quite aesthetically pleasing. thenovicec
58. 4th of July Angel Food Cake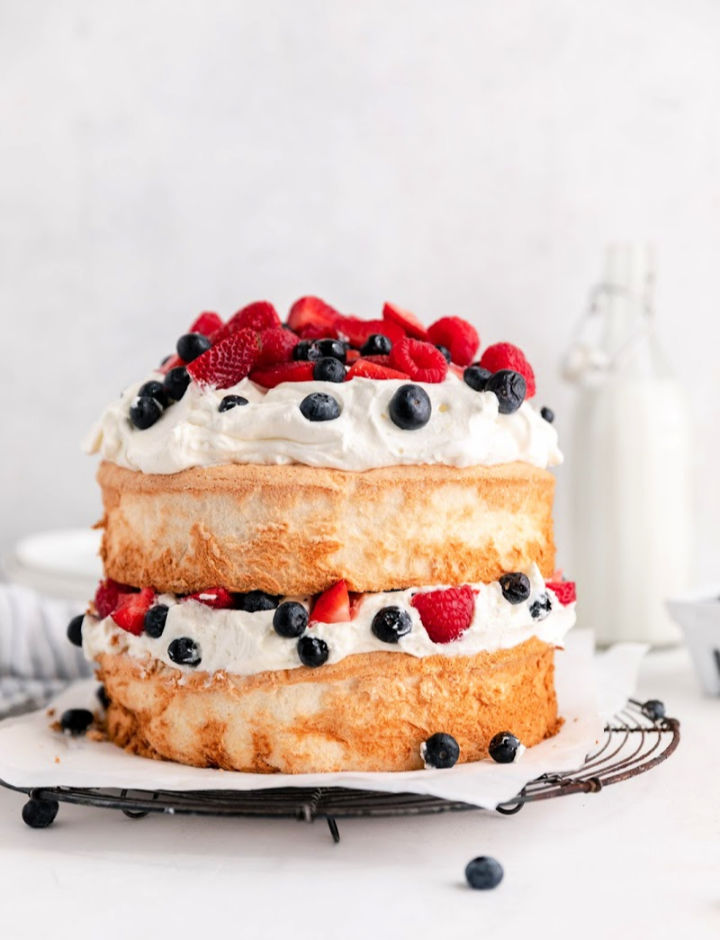 This cake recipe isn't named "angel food" for no reason! It's so delicious and melts in your mouth just perfectly! You will not get enough of it and maybe even want to bake some more! bromaba
59. Glazed Chocolate Donuts
4th of July recipes can be sweet or sour; however, nothing can work more perfectly than a glazed doughnut! The beautiful frosting on top can be in many different colors to match the occasion. lordbyrons
60. Patriotic M&M Party Cookie Bars
What's the perfect snack for kids and adults? Cookie bars! They're so easy to eat and taste heavenly! Decorate them with some extra sprinkles and chocolate chips! You will love the final product. thebakingc
Conclusion:
4th of July recipes are great fun, especially because your blood is surging with patriotism, and you feel like cooking up a storm that day. Better late than never to try out new recipes that are super fun and simple to make. If your love for cookies is undying, then you must try out various cookies that go with the flag theme. Enjoy the chewiness of the cookies that are also perfect to be served on the patriotic day parties.
A great part of celebrations are fireworks, which the kids simply love because there's something magical about watching the sky light up while little ones jump with joy at every burst. So a slice of your tasty pie or yummy Oreo cupcakes will help your inner joy even more. Float away with every bite of your yummy 4th Of July Desserts and knock off the socks of your guests by following given 4th of July food ideas.