You will SO love these 50 easy 4th of July Desserts recipes as they are easy, delicious, and super fun to make! The 4th of July, patriotic day is around the corner, which means that you need to start preparing for the day of independence! This is a great time to collect the 4th of July food ideas and save your favorite recipes! People like to celebrate this day in different ways, but what's a better way to celebrate than making some delicious treats? These 50 easy 4th of July desserts recipe will leave you and your family craving for more! You will be surprised by how good these taste and that most of them do not require any complicated ingredients.
The best part is that most of this 4th of July desserts can be kept in the fridge for up to 7 days! Even if you end up making too much, they will not be wasted! Are you ready to enjoy some amazing treats this 4th of July? This article will cover a range of 50 easy 4th of July Desserts, from apple pies to cheesecake tarts; from sugar cookies to carrot cakes; or fruit pies to ice cream sandwiches; plus s'mores to cookie bars. There's a lot 4th of July desserts to choose from! You can find the perfect dessert to serve at your events from these many options.
1. Skillet Berry Cobbler With Lemony Biscuit Topping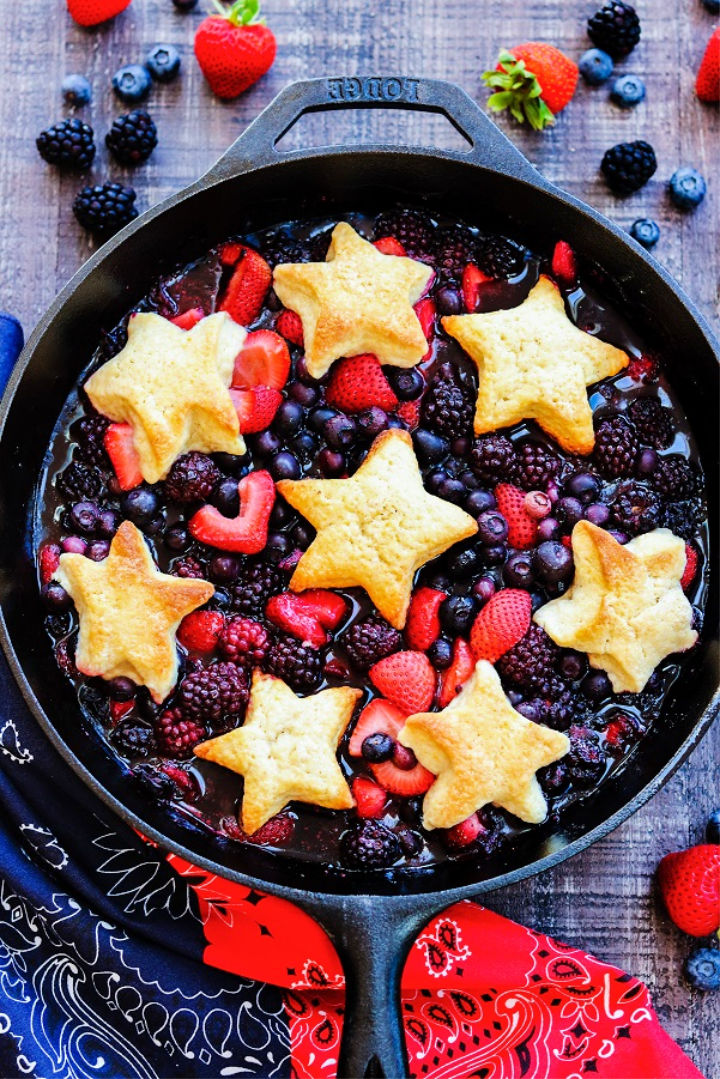 The 4th of July is undoubtedly important to every American! Check out this yummy recipe of skillet berry cobbler with the lemon biscuit topping, ready to get your guests drooling just by looking at it. giveitsome
2. American Mixed Berry Pie for The 4th of July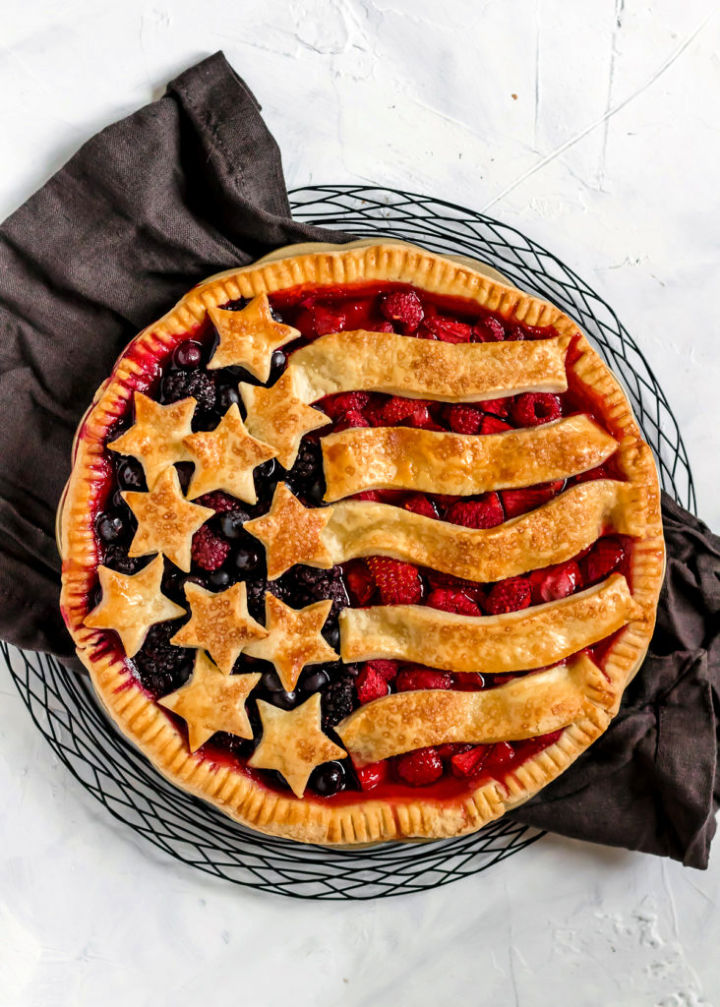 Are you excited to make the fourth of July desserts? 4th of July a national holiday, with loads of festive celebrations in every home. Make this easy American mixed berry pie to celebrate this Independence Day with some sweet munching. bakedambr
3. Angel Food Cupcakes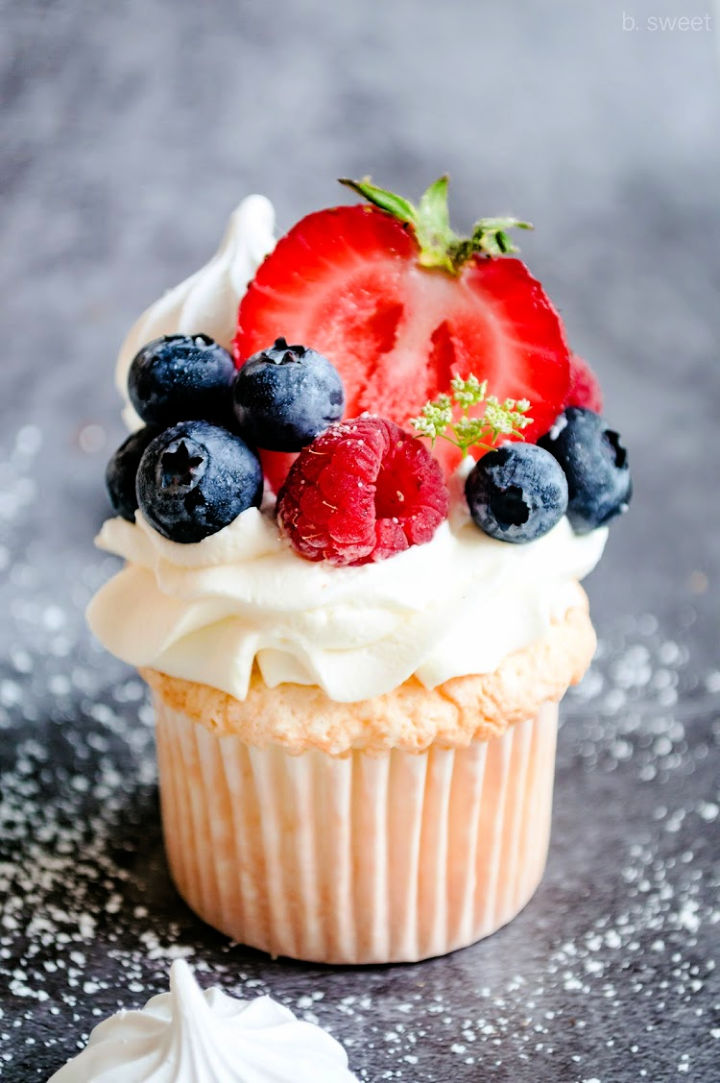 Forget about the fireworks this 4th of July and celebrate this time with angel food cupcakes. So mouthwatering, right? Gather ingredients like granulated sugar, flour, vanilla extract, eggs, and lemon juice. bsweetdess
4. Tres Leches Bread Pudding
Your dinner table isn't complete without this scrumptious Tres Leches bread pudding on this 4th of July desserts collection. The recipe for this dessert not only makes it easy to whip up but also perfect last-minute dessert! creolecont
5. Patriotic Pavlova
This patriotic pavlova dessert is sure going to be a classic hit for celebrating the 4th of July. The combination of fruits on the topping is just the same as the colors of our flag! Such a lovely 4th4th of July dessert idea. giftofhospi
6. Angel Food Cake
With just a few simple ingredients and your basic skills, you can totally make this angel food cake yourself. It's lightweight, spongy cake and diet-friendly option to satisfy your sweet toothache this July! bakingamo
7. 4th of July Cupcakes
Like our fourth of July desserts roundup? Gather supplies like cake mix with butter, egg whites, white chocolate, and instant pudding and let it bake for 15 minutes. No one can say no to a welcoming corner of delicious looking cupcakes ever! atablefullo
8. Red Velvet Whoopie Pies
This 4th of July treat is certainly mouthwatering! Try making this red velvet whoopee pies, and your party is going to be a hit! These whoopee pies look like macrons, but actually, they are sandwiched with cream cheese icing. bostongirlb
9. 4th of July Breakfast Parfait – 4th of July Recipes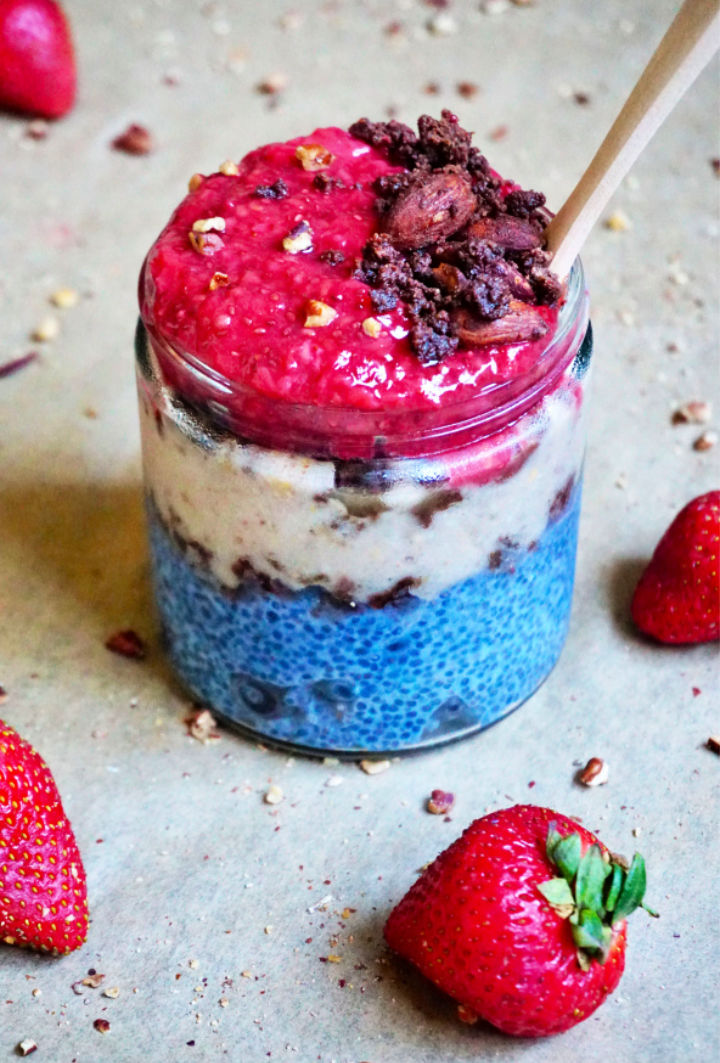 Looking for another exciting fourth of July desserts? Check out this breakfast parfait. Looks fantabulous with red, white and blue layer! Definitely going to be finger-licking good. The prep time is barely 25 minutes. animaguseats
10. Berry Cheesecake Ice Pops
Cheesecake ice pops? Yes, please. Berry flavored? A big yes! These will look eccentric than any other traditional dessert that you usually make every year! These popsicles are going to win a few hearts! ifthespoon
11. Grandma's Blueberry Pie
This grandma blueberry pie is going to spruce up your 4th of July desserts selection to a new level! Get ingredients like flour, sugar, salt, eggs, cornstarch, butter, and blueberries to get started right away! coleycooks
12. Petite Berry Macaron Cake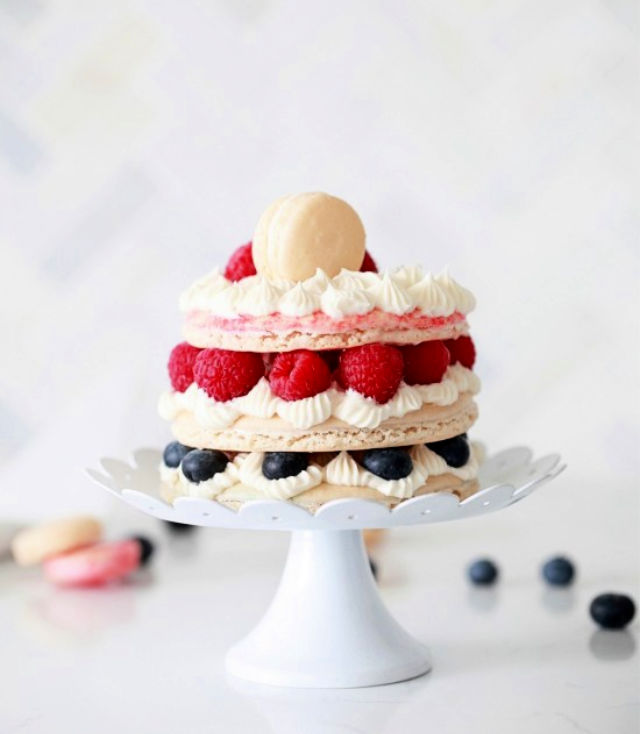 The 4th of July is just around the corner. We bet this petite berry macaron cake is going to amplify the celebrations spirit! The layers of macron cake with blueberries and red berries are surely mouth-watering. poshlittlede
13. 4th of July Cheesecake
Still, hunting the perfect 4th of July dessert idea? Here, check out this taste enriched cheesecake. You will need crumbs, sugar, and butter for the crust, cheese, eggs, vanilla for the filling and get toppings here! freshfoodi
14. Blueberry Hand Pies With Cardamom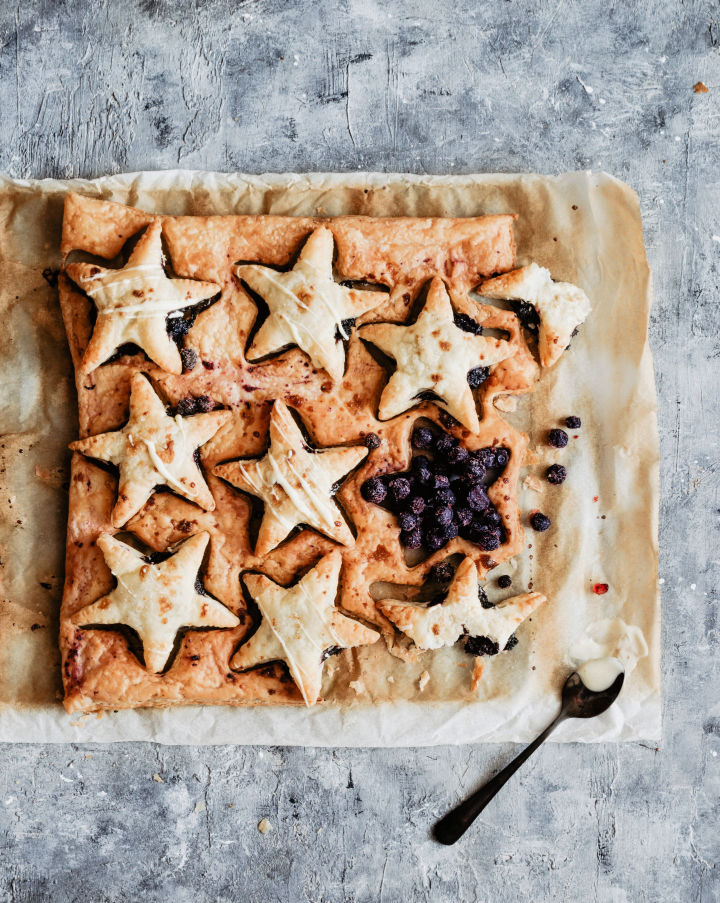 The incredible taste of cardamom with no refined sugar in a blueberry hand pie? Please do try! We bet these pies can be your ultimate, foolproof 4th of July dessert idea! Check below the recipe to get started! healthylittlec
15. Red, White, & Blue Balsamic Cherry Pops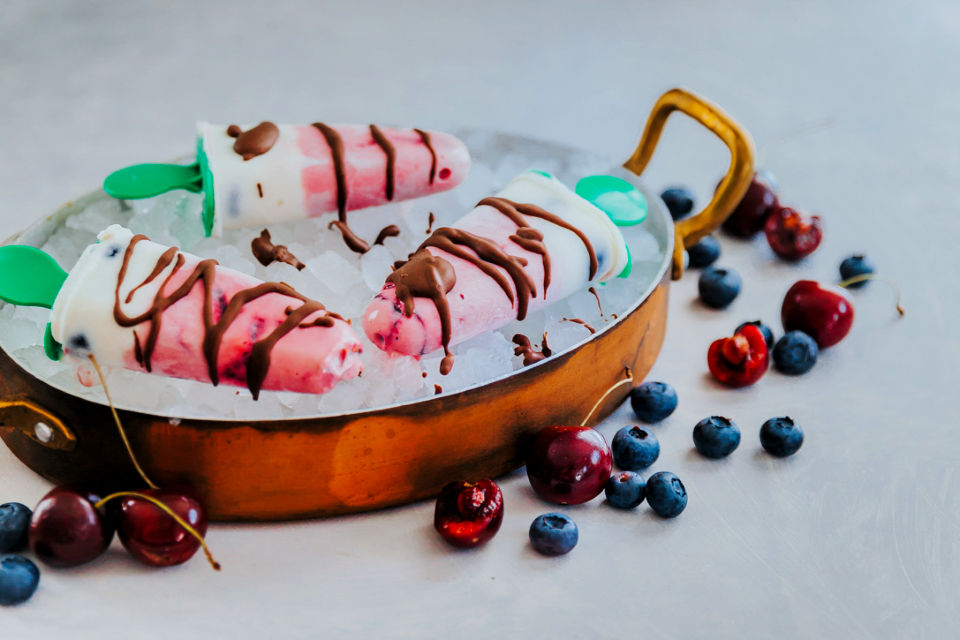 5 ingredients and such promising-looking cherry pops! The recipe is pretty simple too! The ingredients are Greek yogurt, honey, blueberries, cherries, and balsamic vinegar. Get started now! ayokitchen
16. Red White and Blue Mini Cakes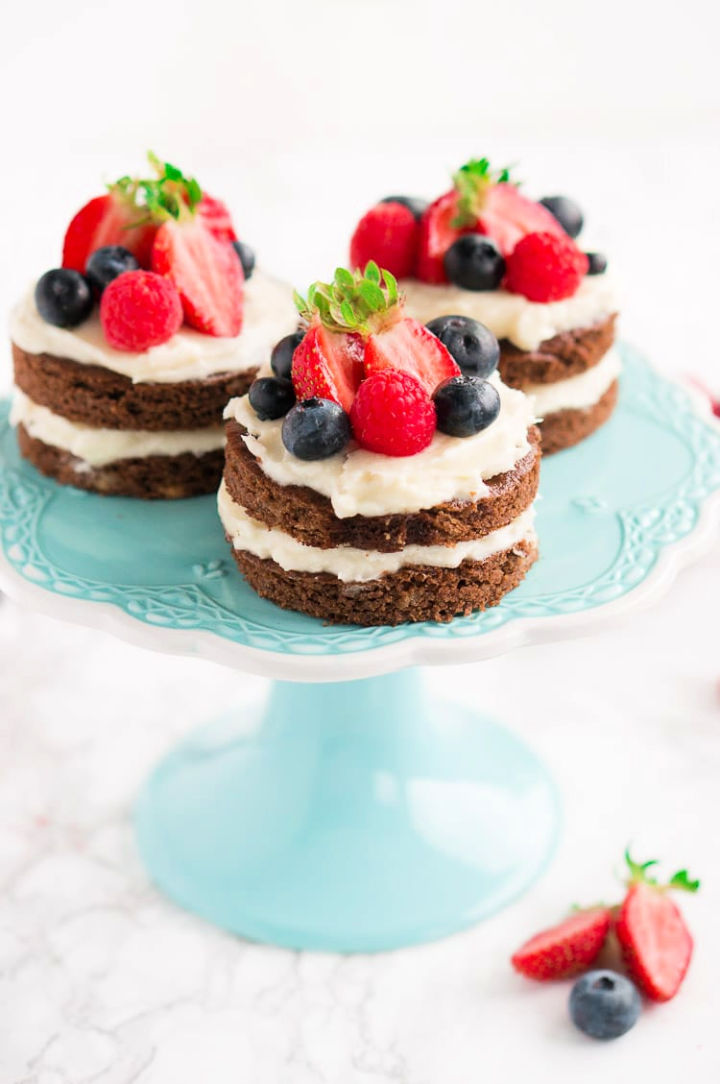 Mix up the celebrations with a toast of these red, white, and blue mini cakes. They will be a colorful and mouthwatering addition to your celebrations platter this year. Just an hour to get them ready! deliciousme
17. Chocolate Ice Cream Cake Recipe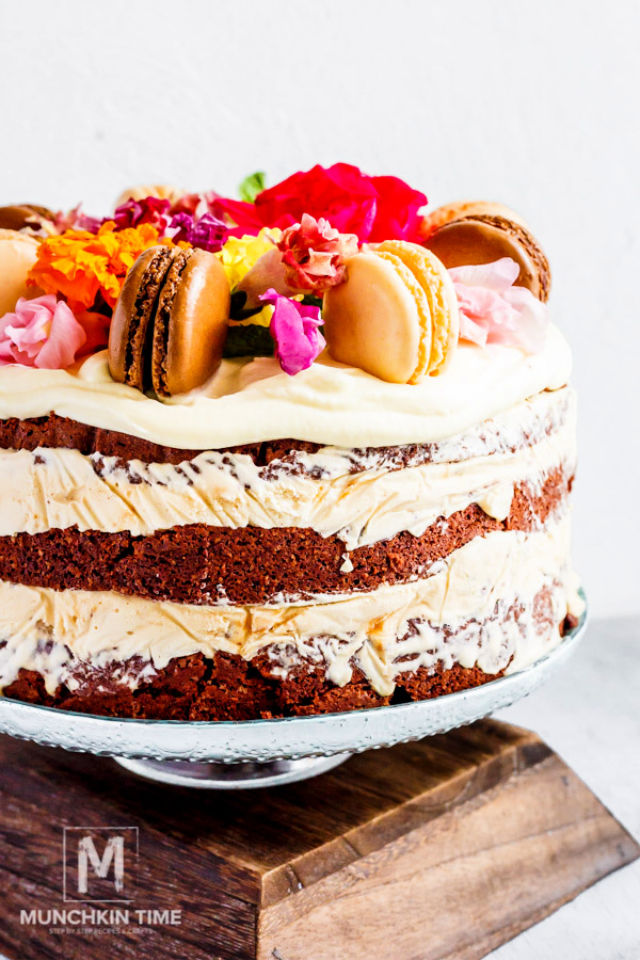 The irresistible combination of chocolate and ice cream! This sweet treat has a mixture, whipping cream, and layering of the cake! Go ahead and melt in love with this superb combo. munchkintime
18. Cherry Almond Pie
Anything yummier than the combination of cherries and almonds in a pie? Savor into its creamy and chunky layers. All you need is sugar, salt, lemon juice, butter and cherries, and almond extract. bunsenbur
19. Homemade Cookie Dough Protein Bars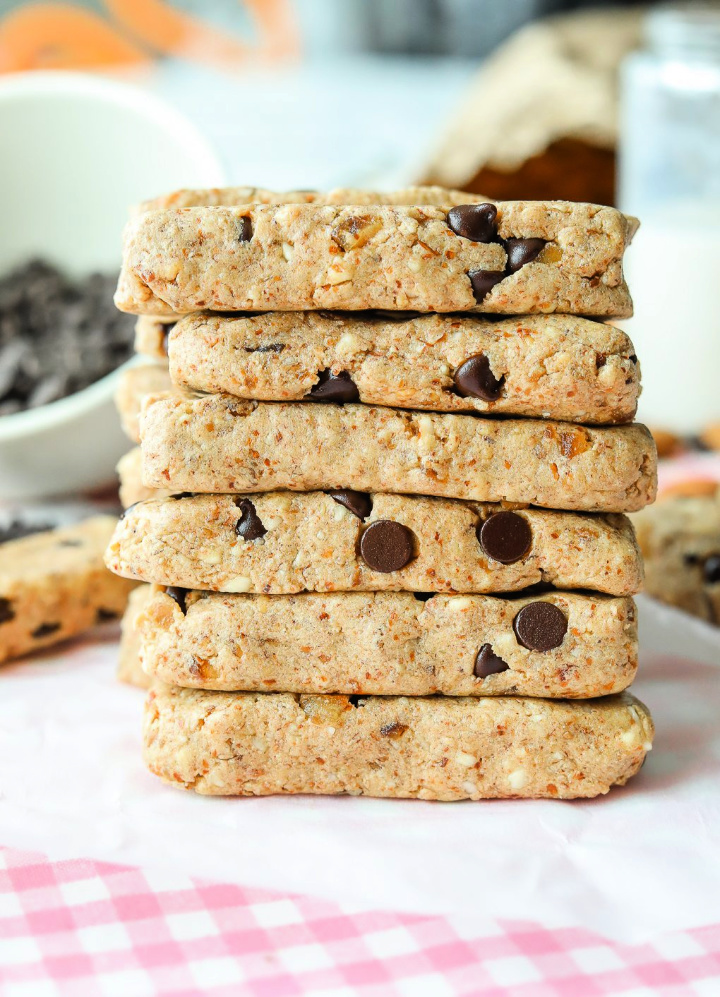 Six ingredients to do the magic! For the love of homemade cookie dough protein bars. They are full of protein, gluten, grain, vegan, and dairy-free. Each crunchy bite of these is going to delight your day! simplytaral
20. Firecracker Vanilla Cupcakes
Surprise filled desserts are the best! Such as these firecracker vanilla cupcakes. Bite into them to get a creamy, sour-y texture and to satisfy your dessert cravings! Bake these bad boys using these ingredients. thelifejolie
21. How to Make Perfect Pie Crust
The 4th of July is incomplete without a pie! We know, right. If you have been struggling with how to make a perfect pie crust, look no more. Wholefully has got a wholesome recipe for you! Check below. wholefully
22. Pina Colada Cake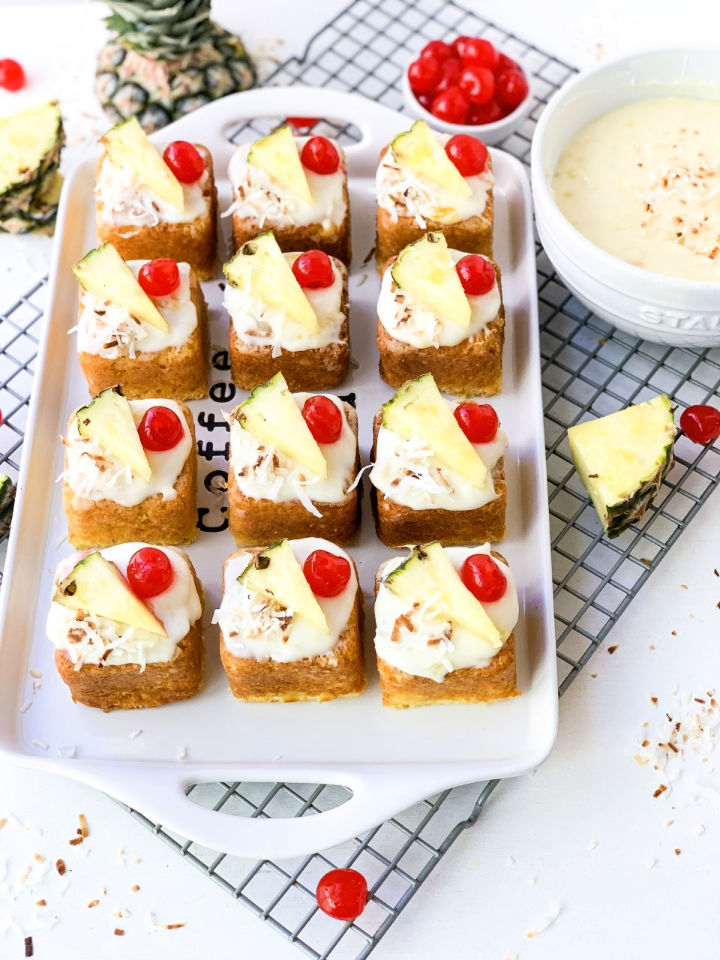 Anything that comes with the ravishing taste of Pina Coladas is LOVE! Imagine that in a cake. Sounds like a haven, right? Get ready to bite in with this detailed and easy to follow the recipe. creolecont
23. Soft and Puffy Greek Yogurt Sugar Cookies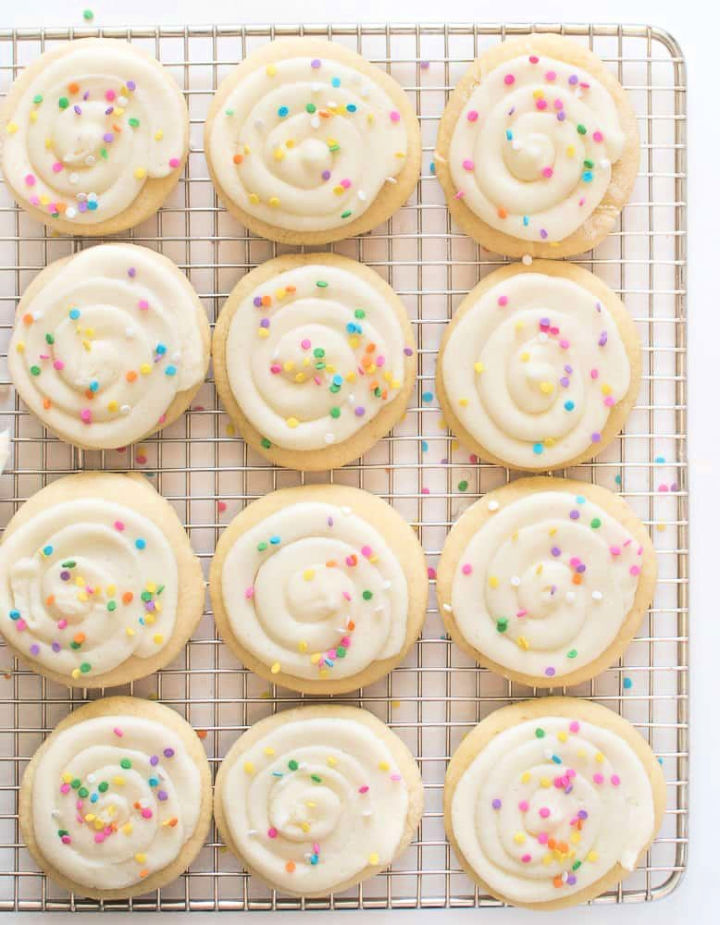 For anyone who bakes cookies should know the trouble, it comes with keeping their shape just the way you want! These Greek yogurt cookies are going to be your dream 4th of July dessert idea. blessthisme
24. Mango Margarita Cheesecake
Margaritas paired with Mango in a cheesecake? Who could say no to that? Holding an independence day special dine over? This is your go-to dessert recipe, easy tow hip up oo delicious to resist. sweetteaan
25. Buttermilk Blueberry Almond Cake Recipe
Cherish the taste of this buttermilk blueberry almond cake this 4th of July! Your dessert has to be the king of the entire food menu, right? With this cake, we bet nothing can go wrong there. thesugarcoa
26. Patriotic Fruit Kabobs
Patriotism can be of many flavors and forms! As long as its cherishable, like these delicious looking patriotism fruit kabobs. Celebrate your country with love, taste, and freshness! All it has brought to you. cleaneatingki
27. 4th of July Desserts – Ice Cream Cone Cupcakes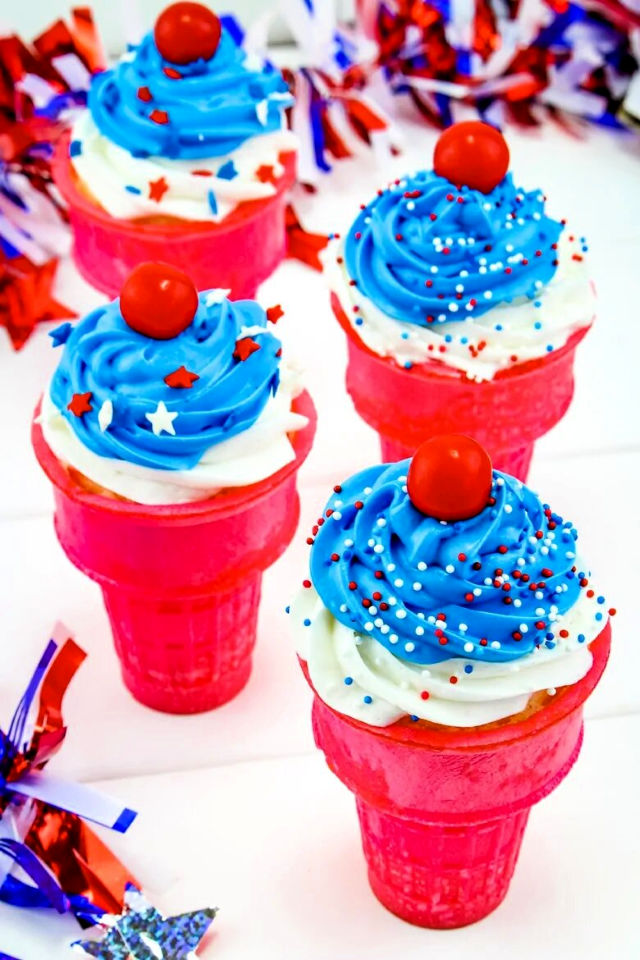 No matter how old we get, the idea of ice cream cone cupcakes is still the same exciting! These bundles of festivities can be easily made using cake mix with a few more ingredients. Get ready to relish the taste! crayonsandcr
28. Red White and Blue Rice Krispie Treats Recipe
Okay, we mean, who doesn't love Krispie rice? And imagine when they come in colors of your patriotic spirits! Marvelous, yeah? It's a magic of butter, marshmallows, Krispie cereal and frosting! therebelchick
29. Red, White, and Blueberry Cream Pie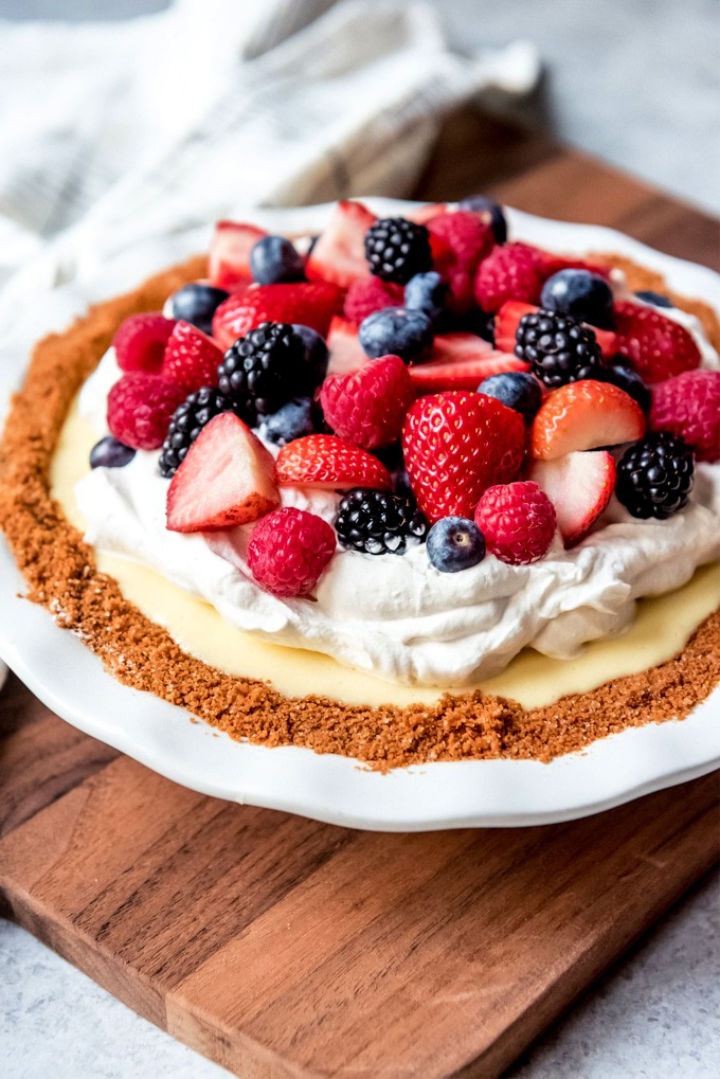 Here's another one from our delicious 4th of July dessert selection! The oh so tasty looking the red, white, and blueberry cream pie. It's homemade, it has a creamy taste and offers the right patriotic feels! houseofnash
30. Red White and Blue Cake Bars Recipe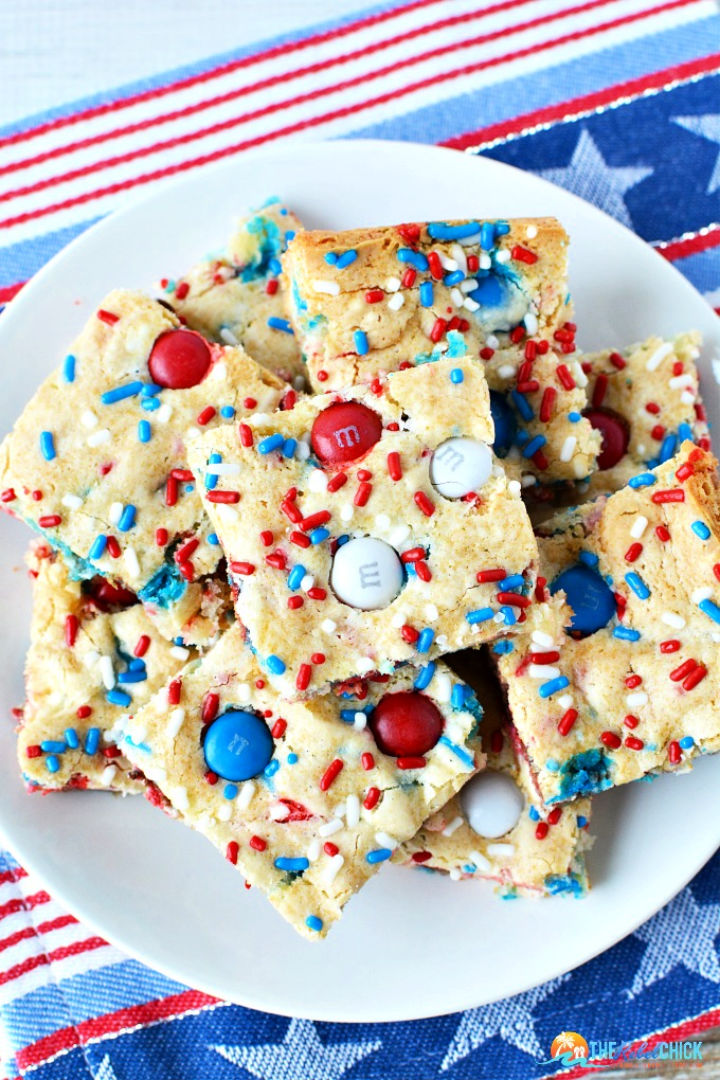 What's a better way of celebrating a holiday than making something sweet? This amazing cake bar recipe is perfect for showcasing your patriotism, this 4th of July! It's very delicious! therebelchick
31. Paleo Patriotic Teacakes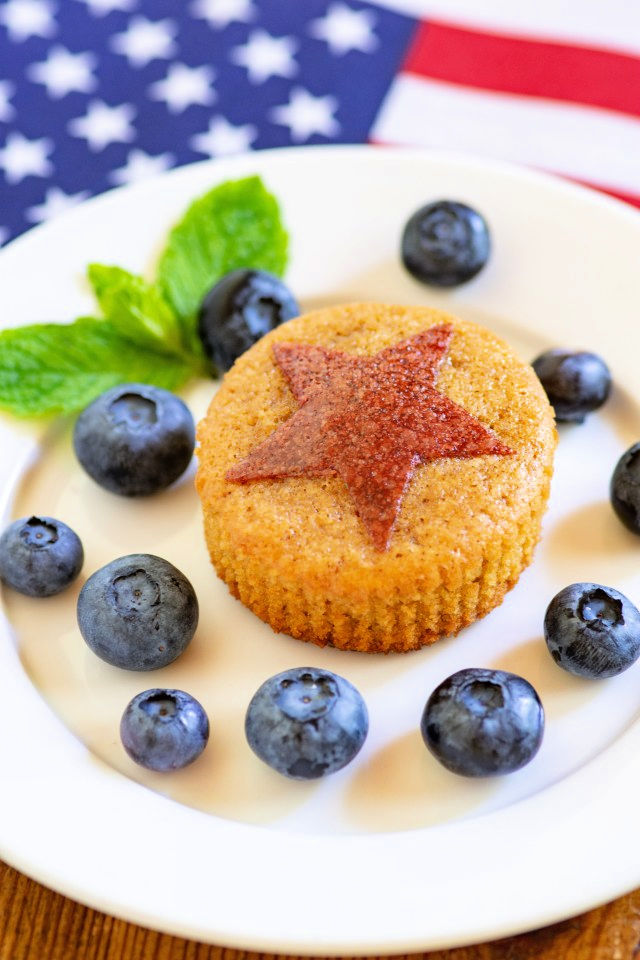 How adorable are these Paleo Patriotic teacakes? They can be served after in the evening with tea after your long day of fun activities on the 4th of July. A great way to relax! queenofmyk
32. Stained Glass Jell-O Recipe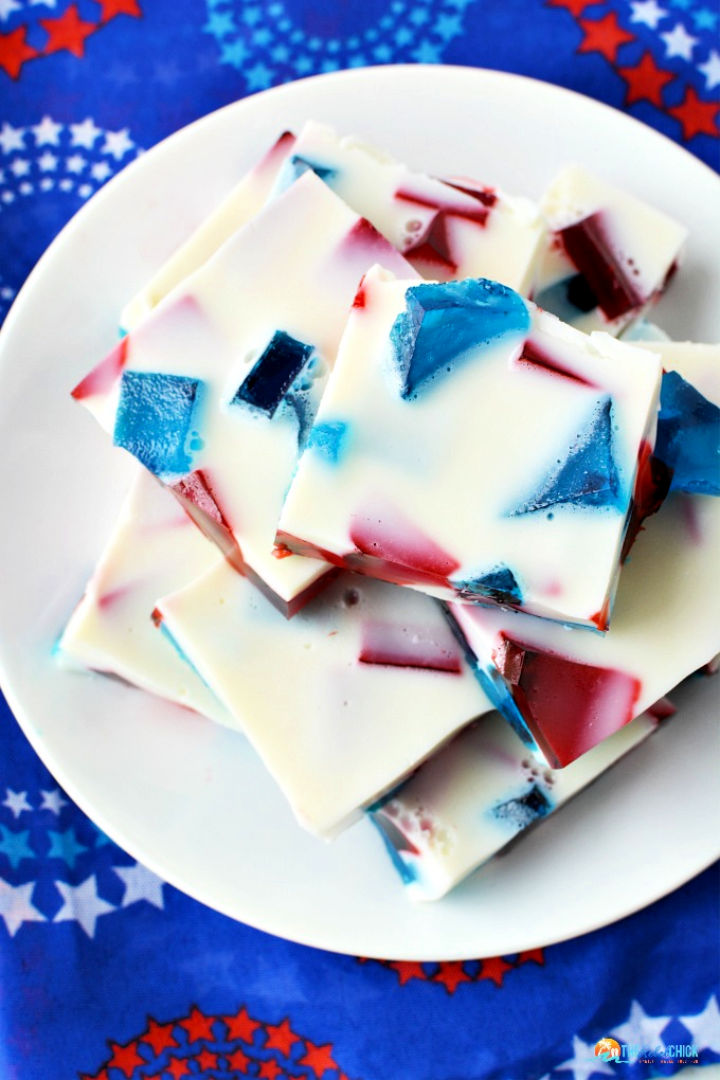 This dessert looks so professional! It looks like you got it from the bakery since it's so aesthetically pleasing to look at and delicious at the same time! JELL-O recipes are always the best! therebelch
33. 4th of July Cookies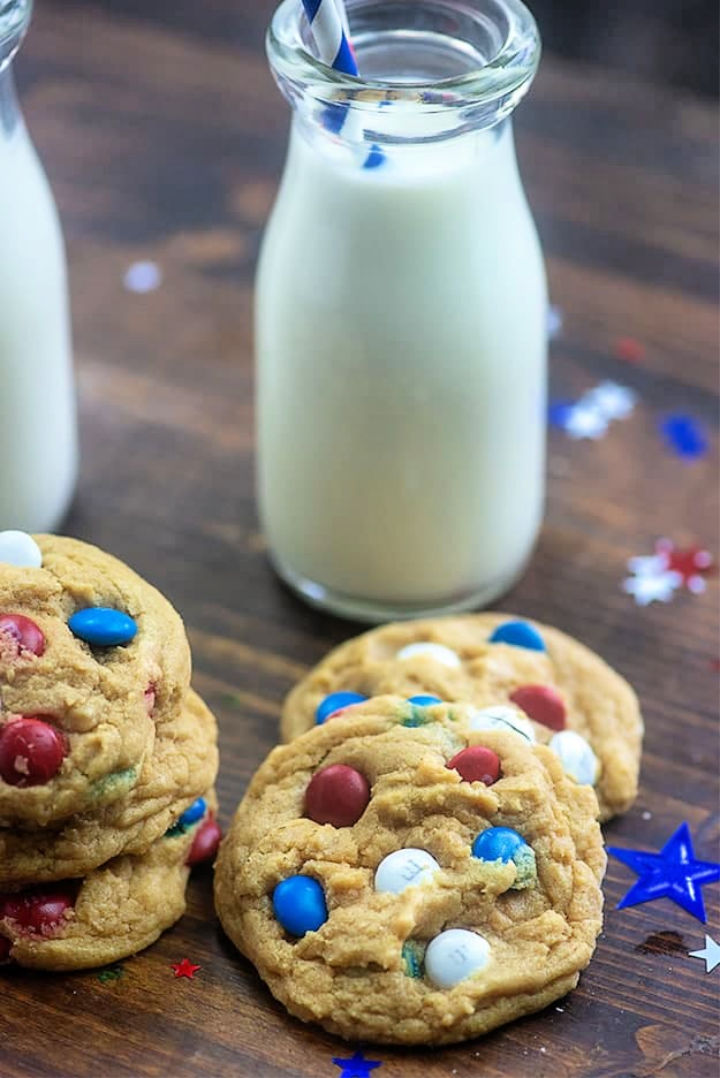 If you can't decide what to go for, remember that no one can go wrong with some good sugar cookies! This recipe is just perfect with not too many ingredients! Definitely worth a try. bunsinmy
34. Best New Chocolate Cookies Recipe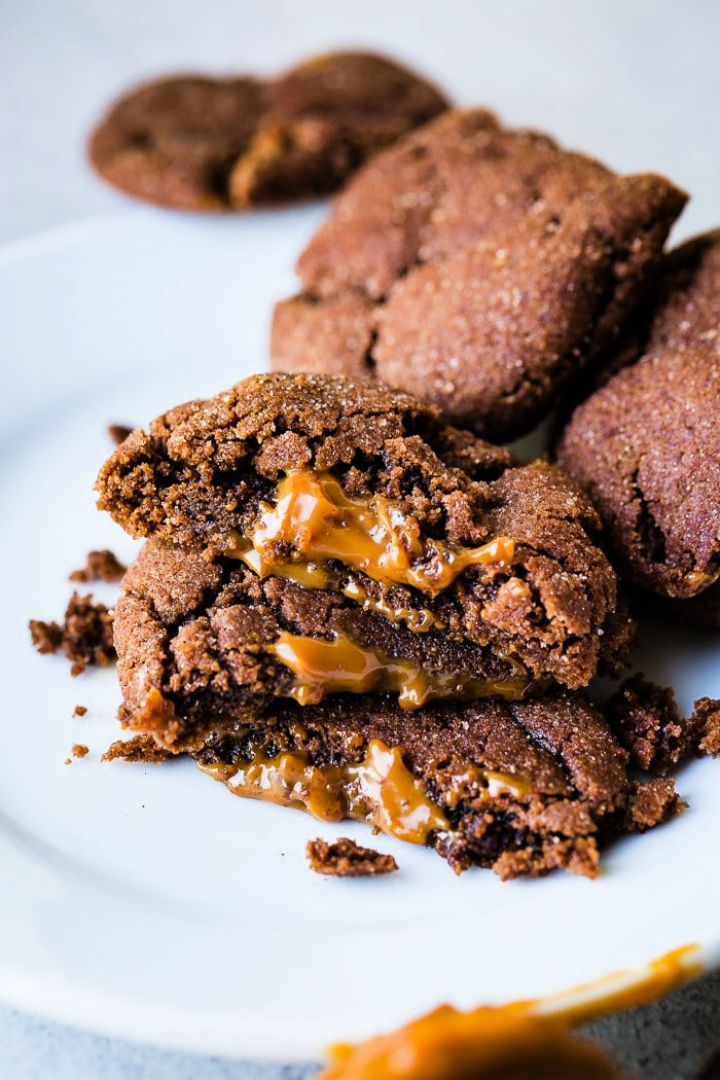 These cookies look so soft, gooey, and delicious! They are filled with caramel and rolled in cinnamon sugar! Can you even imagine how heavenly they would taste? They will leave you craving for more! ohsweetbasil
35. Jam Cinnamon Sugar Donut Muffins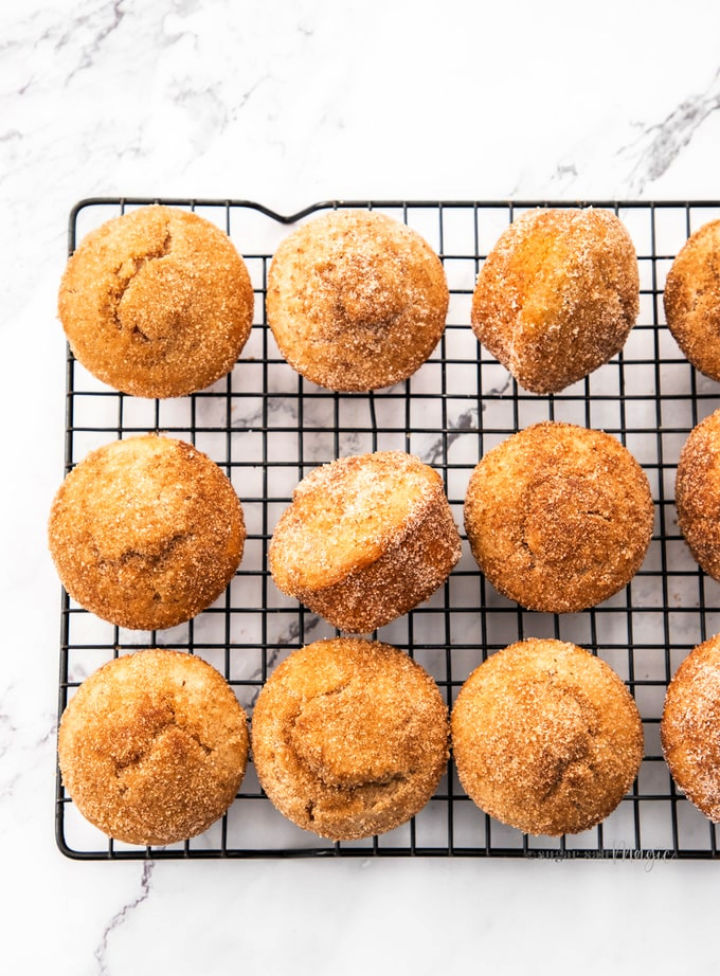 People tend to love muffins as they are soft, warm, and the texture is just amazing. These amazing raspberry muffins will take that to the next level! The sweet raspberry jam is the best part! sugarsaltm
36. 4th of July Cookies With M&m's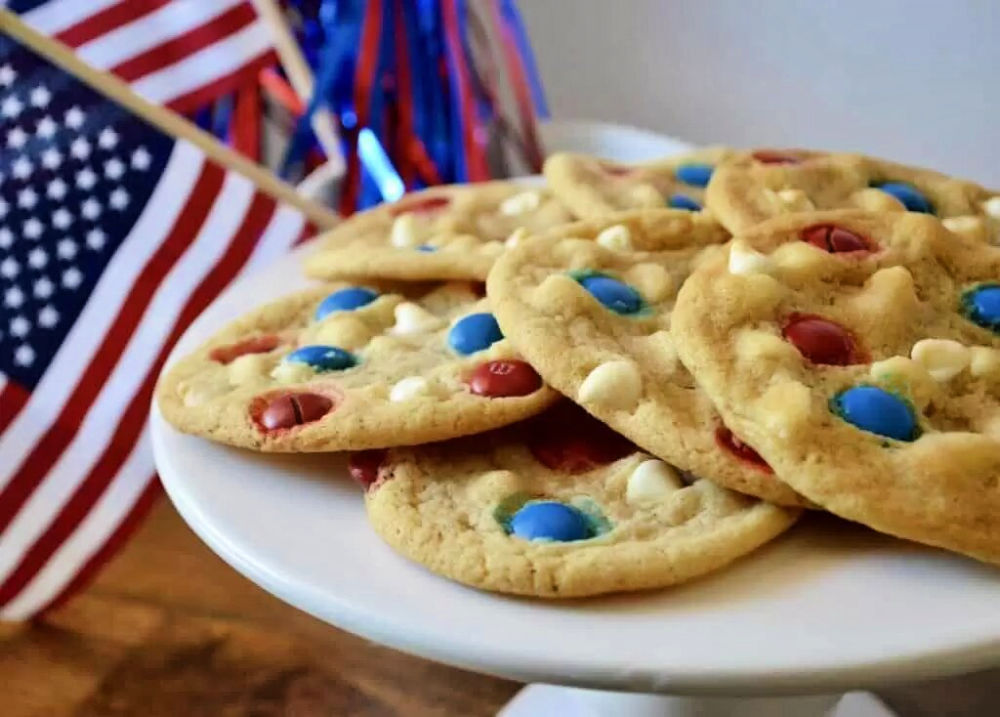 Cookies are loved by everyone! They're so sweet and delicious. You can match them perfectly to the theme of the occasion by using red, white, and blue M&M's! They turn out looking amazing. thisdelicio
37. Strawberry-peanut Butter Tart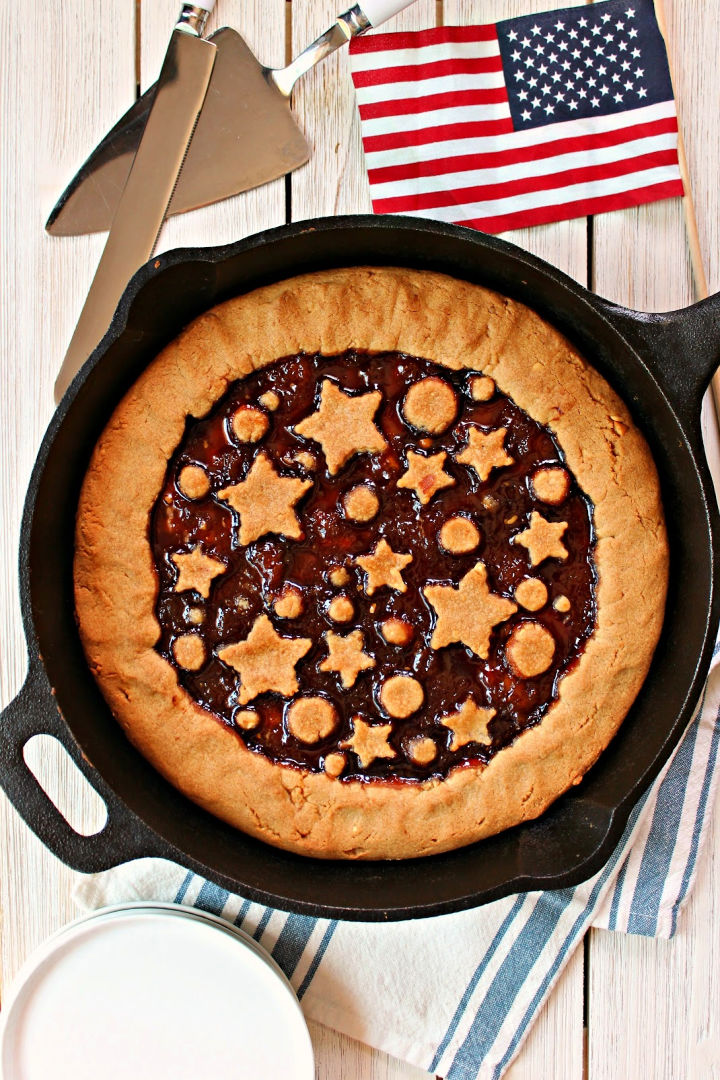 Tarts are very underrated, and many people forget just how good they are! Surprise all of your friends by making this amazing dessert that will make everyone's mouth water! thekitchenp
38. Mini Cheesecake Fruit Tarts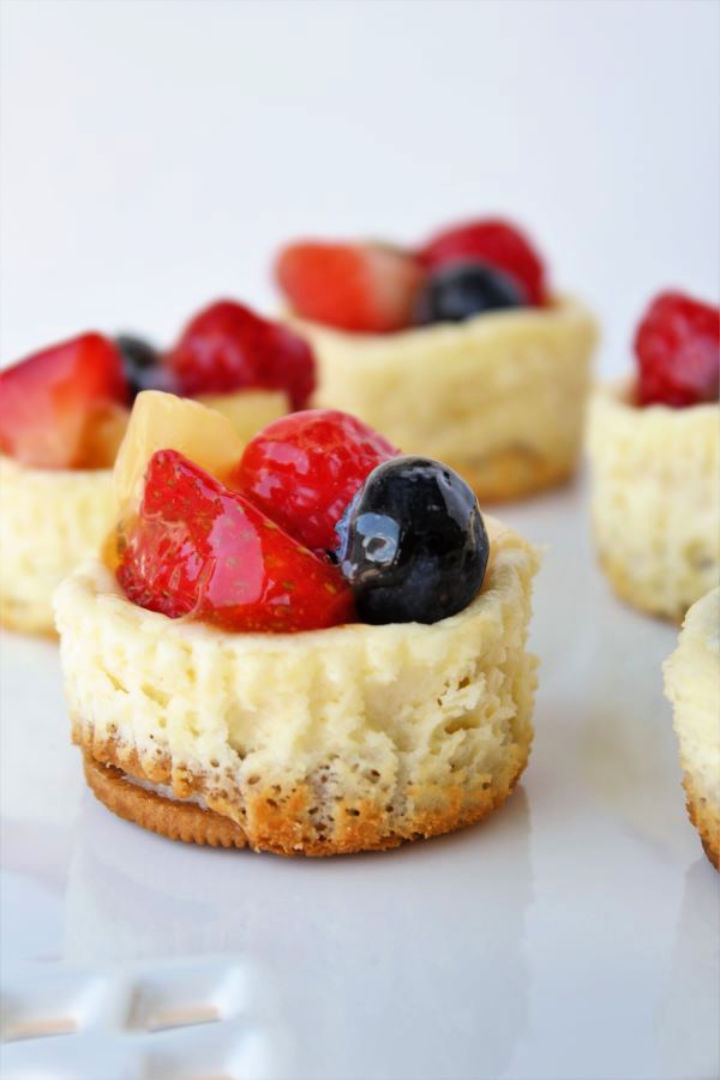 4th of July desserts are special, and making something unique should be your goal! This recipe is perfect for making a great one-bite snack! Mini cheesecake fruit tarts definitely win the prize of bringing unique. waystomy
39. Banana Blueberry Smoothie Bowl
Smoothie bowls are very healthy, delicious, and just perfect to give you a ton of energy. This will be the perfect breakfast for the Fourth Of July to keep you active all day long. cookinghea
40. Red White and Blue Cookies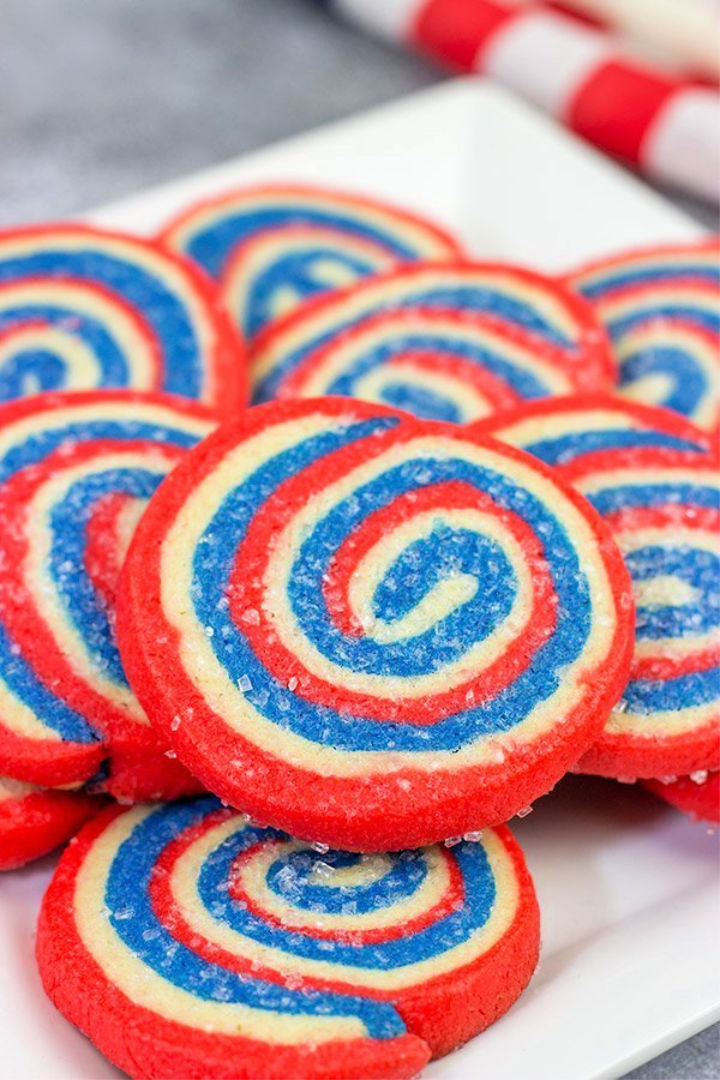 When hosting a 4th of July themed party, you need to keep the colors in mind. These delicious sugar cookies are perfect for that! Use a combination of red, blue, and white food coloring. spiced
41. Old Glory American Flag Pie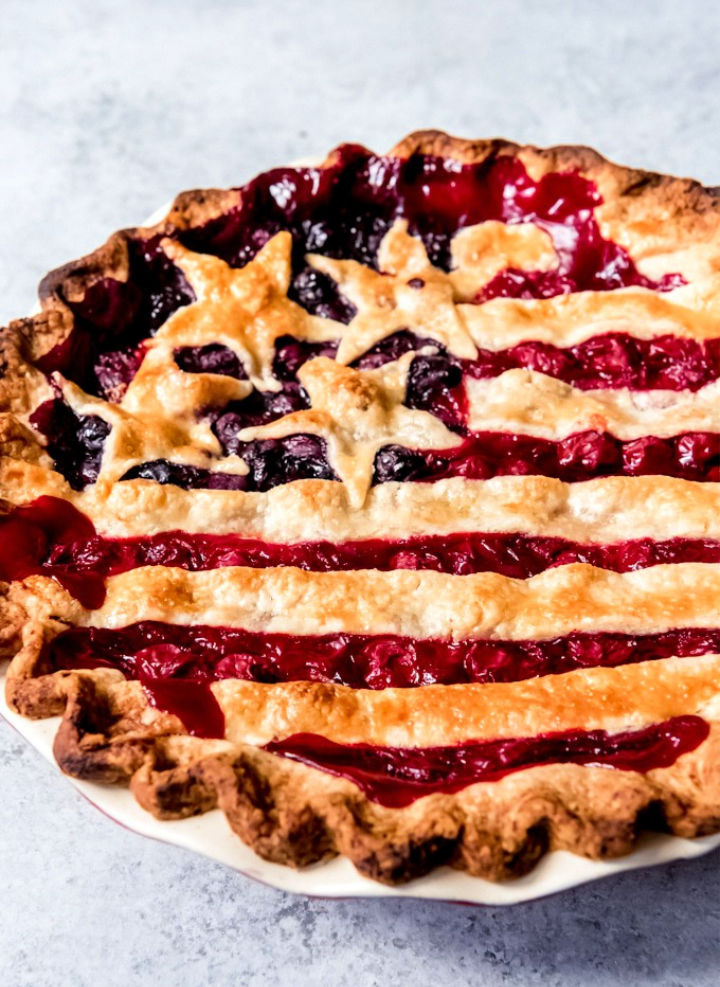 The secret to a good pie is having a golden brown and crispy crust! This pie is so beautiful to look at, and it will taste heavenly because of that sweet blueberry and cherry jam! houseofnas
42. Skinny Buttermilk Berry Cake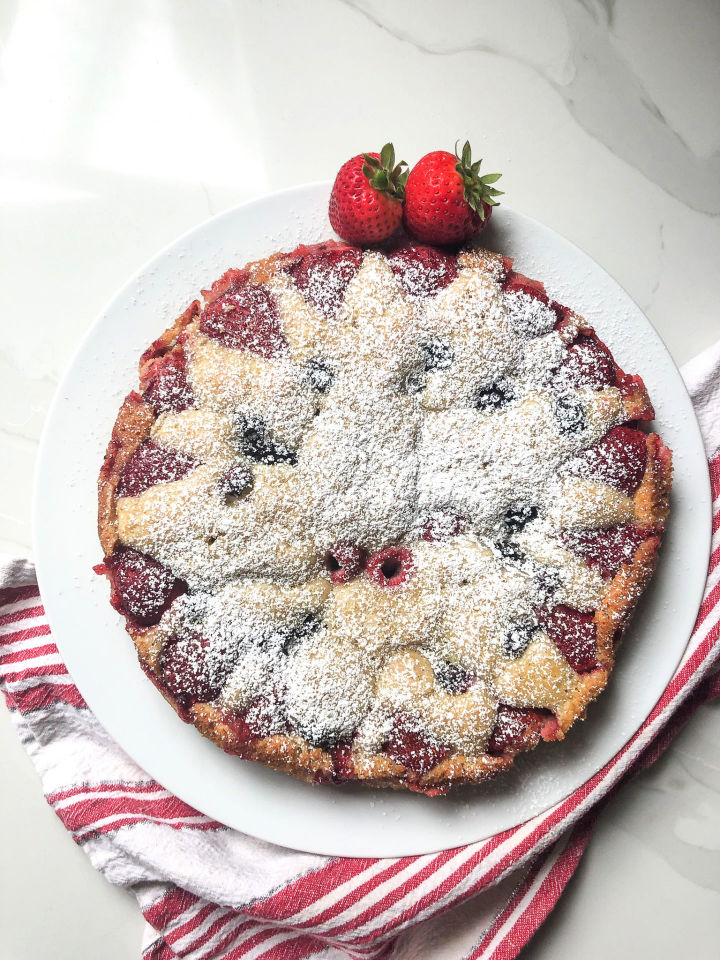 Moist berry cake with skinny buttermilk! Can you even imagine how good that would taste? Powder sugar, all-purpose flour, butter, Himalayan salt, and a few other ingredients will be required. malibukitch
43. Gluten-Free Carrot Cake Bars – 4th of July Desserts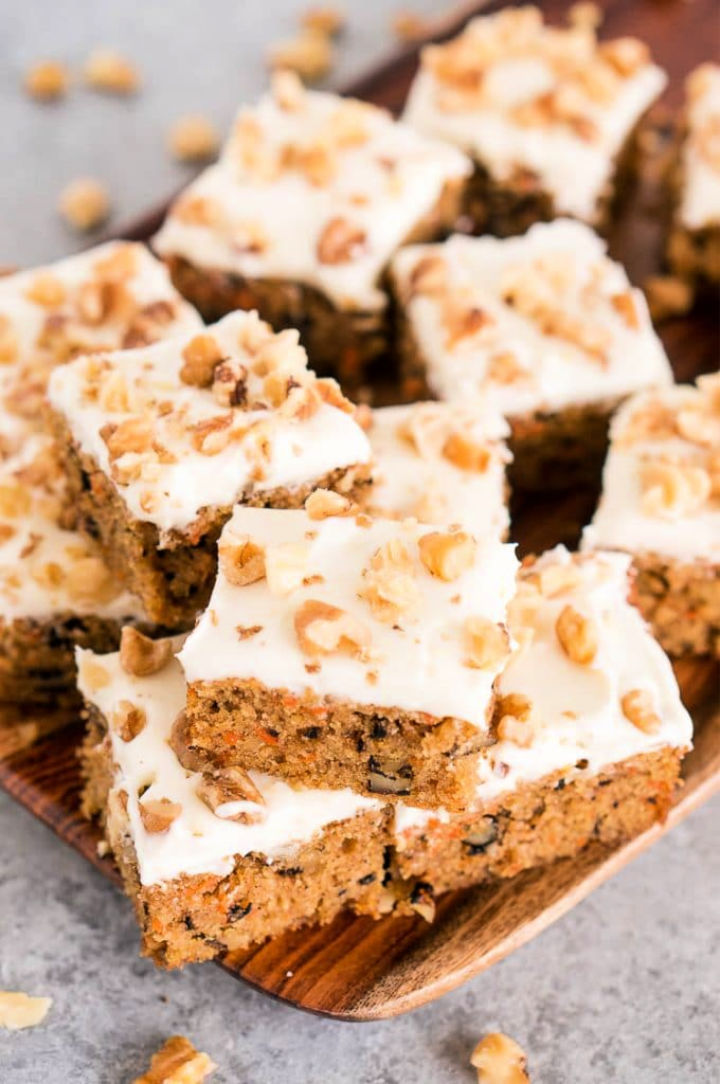 Carrot cake is healthy and delicious, and the best part about this recipe is that it's gluten-free! Parchment paper, baking dish, and a few other supplies will be required for this amazing recipe! deliciousm
44. 4th of July Dessert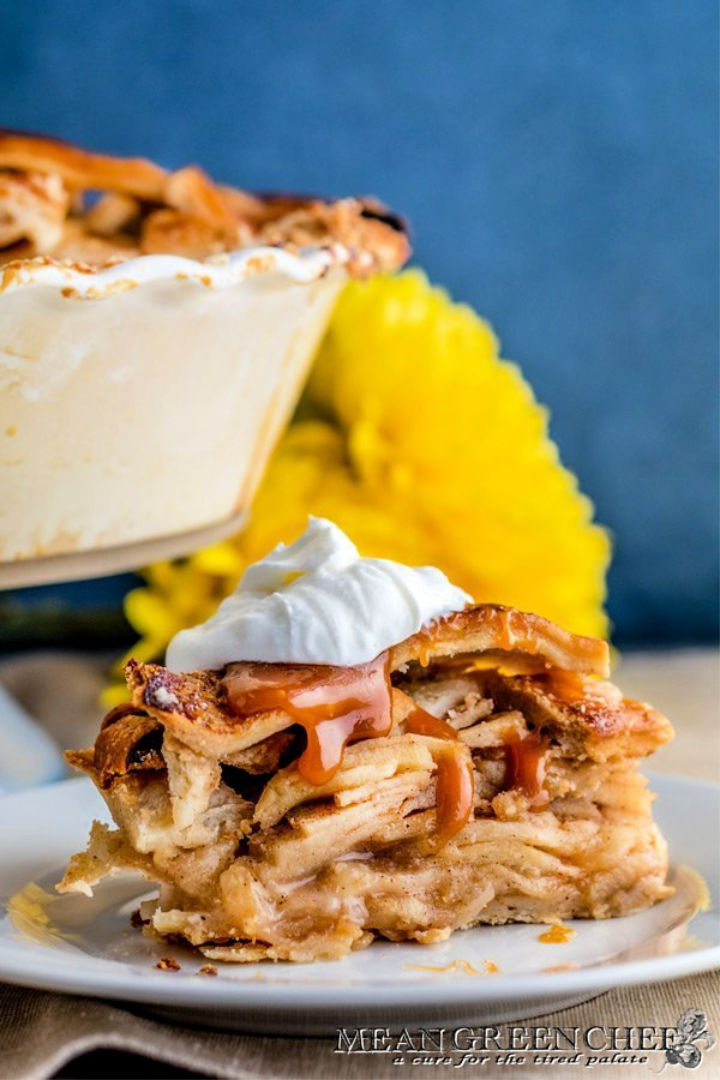 4th of July Desserts will just be perfect if they're traditional, as well! What's more traditional than apple pies? Rich caramel sauce combined with apples may remind you of your childhood! meangreen
45. Star Studded Summer Fruit Pie
You just can't find fresh fruit pies at the bakery. It's best if you make them on your own as they are easy and will help you save some money, as well! sisterchives
46. Mini Ice Cream Cakes
Ice cream cakes are one of the best inventions ever! You can take a spin on the normal cake and make this one instead! You can use a cake mix to make the process faster! whitneybo
47. Red White and Blue Red Velvet Cookies Recipe
Pudding cookies are very soft and squishy. They do have a different texture than normal cookies, which some people love! Butter, sugar, eggs, and a few other ingredients will be required. ohsweetbasil
48. 4th of July Ice Cream Sandwiches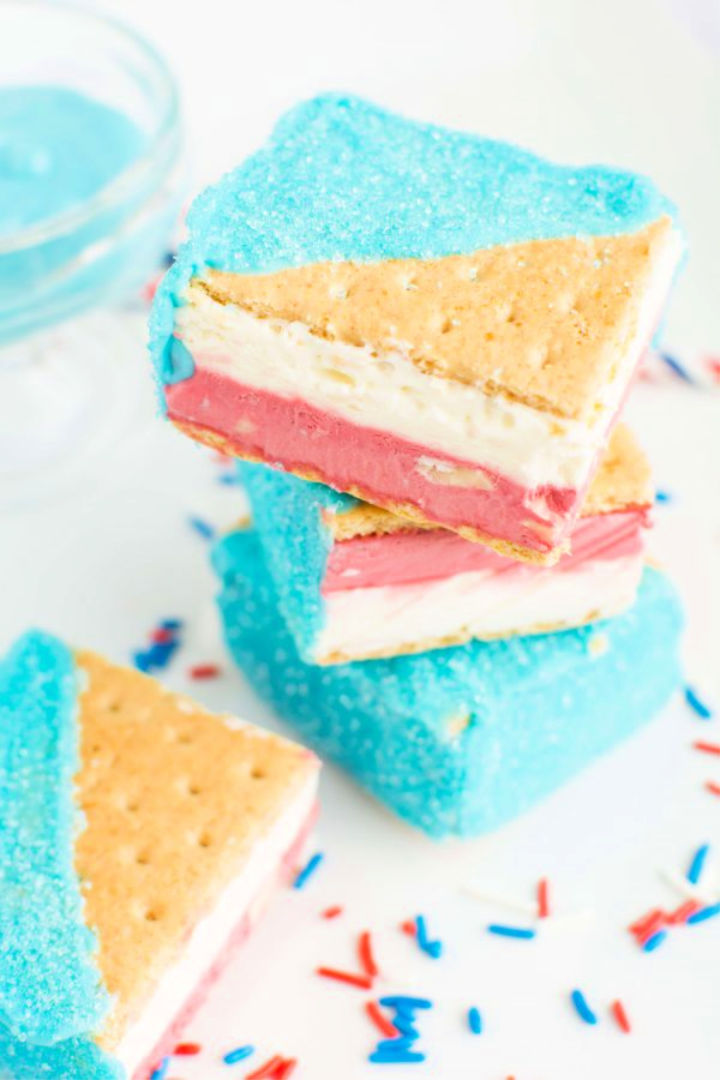 S'mores are just perfect for dessert after a good beach barbeque day! The blue, white, and red colored icing are just perfect for making it look very festive and cute. ohsweetbasil
49. Peanut Butter S'mores Ice Cream Sandwiches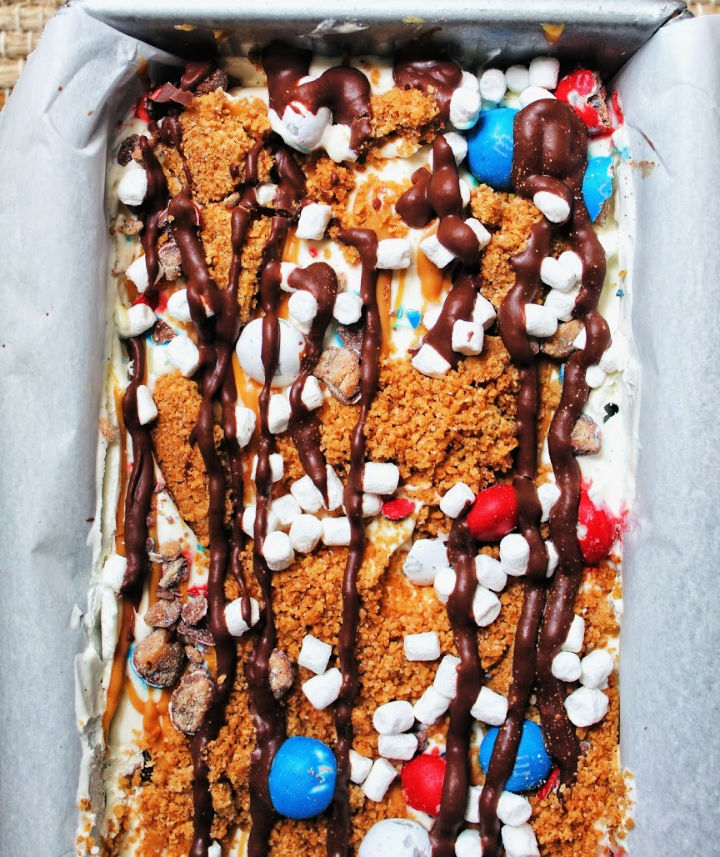 Ice cream sandwiches have been all the hype lately! Everyone is making them, and people seem to love how they look and taste. Here's an excellent recipe for you to follow! missfingerf
50. Crack Chocolate Cookie Bars for The 4th of July Desserts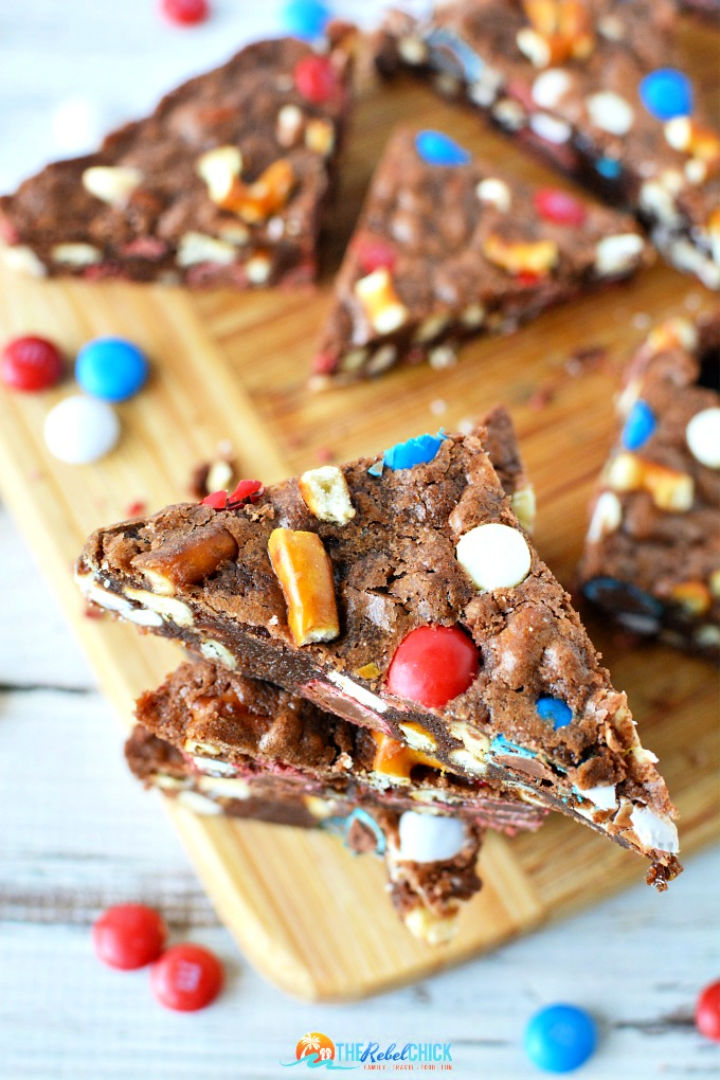 4th of July Desserts should be perfect for all ages. This is because many adults and children may visit your party, so a recipe like cookie bars is just perfect – delicious and easy! therebelch
Patriotic 4th of July Party Ideas That'll Help You Celebrate America.
We've rounded up some simple but impressive crafts that are sure to get the family in a patriotic mood. Get into the patriotic spirit by making excellent 4th of July crafts and decorations with your kids.
Conclusion:
Excited to try out some of these easy 4th of July desserts Well, now is the time to get started! You should look through the 4th of July recipes and make your favorites. If you're going to throw a party, make sure that you choose the recipe that lights up your celebration even more!
Once you're done with deciding the dessert you're making, it's time to head to the market and get the ingredients! The ingredients in this 4th of july dessert recipes are very easy to find, so you should be good. This year, celebrate the 4th of July like never before. Flooded with oh so much sprinkles and sweetness!