Who doesn't love cookies? They can be the quick mood boosters to make any dull day shine a lot better. If you are not someone who likes the "too sweet" taste, then these 15 quick salted caramel cookies recipes are going to be your personal favorite. So, how to make salted caramel? They can be a balanced combo of sweet and salt, both. Baking is quite therapeutic itself, and you can make yourself feel better by making a batch of these scrumptious delights! Make them for yourself, your kids, or even for a neighbor. They don't just taste good but also are drool-worthy to even look at! If you have been having any sweet toothaches lately, these salted caramel cookies are your go-to option.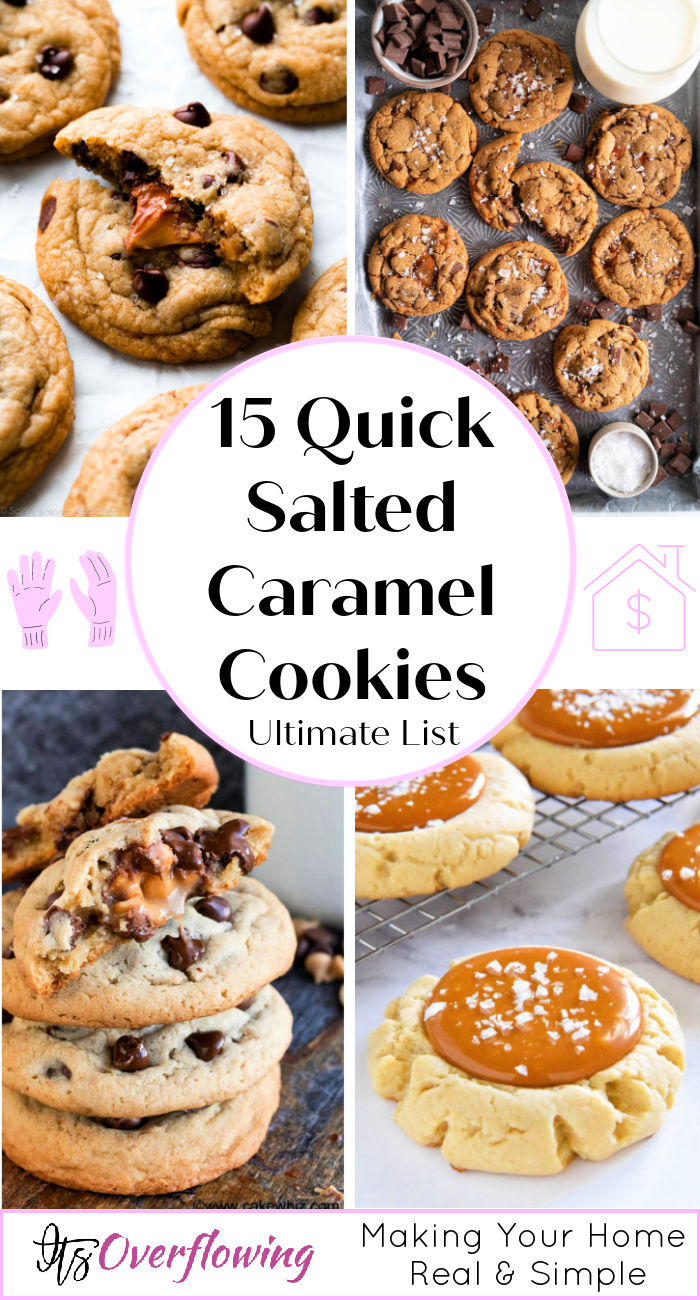 The recent trend of hot cookies has been returning a lot lately! The #cookie love is now not just limited to Christmas or Easters; in fact, they are now part of everyday life! Even if you have never baked once in your life, these tutorials below have got the detailed recipes. For not just the list of ingredients but also the exact quantity to use them in. All you need is some measuring cups and spoons, and you can easily whip up these delightful salted caramel cookies at home. Make a gooey center with caramel oozing out of it or put little pieces of caramel cut into small pieces. Grab your aprons and mittens, and let's bake some real dreamy cookies.
1. Salted Caramel Chocolate Chip Cookies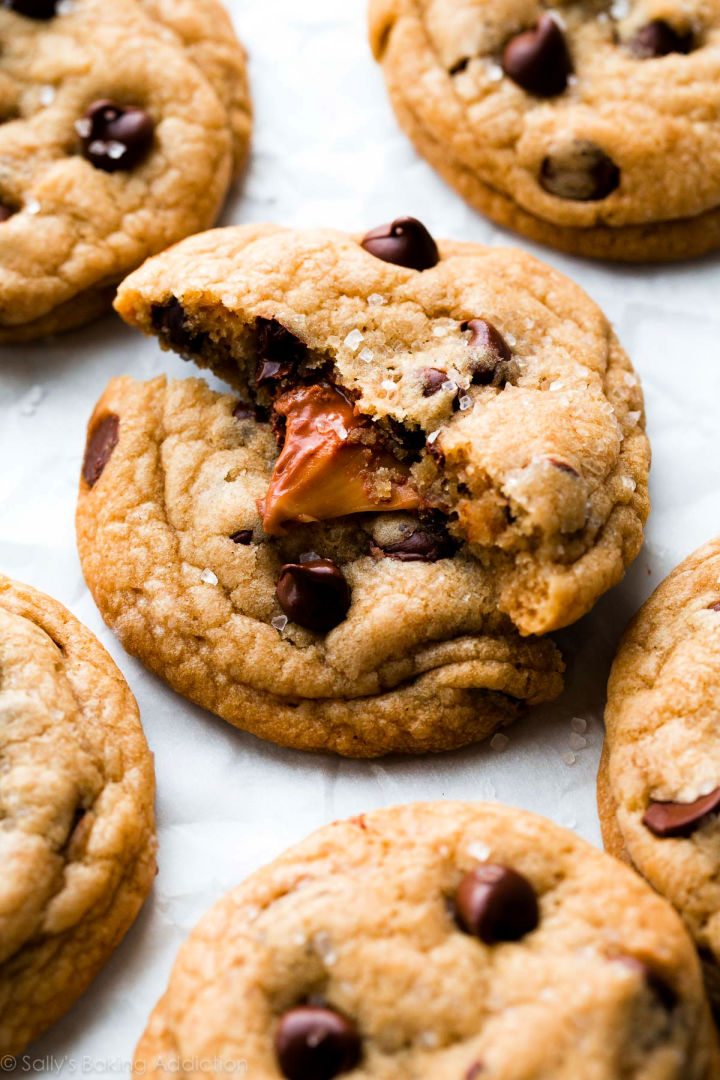 Any bad day can be made good by just adding a little bit of cookie love into it! We can't stop drooling over these scrumptious salted caramel chocolate chip cookies! The perfect mood-elevating delight. Plus, these are oh so easy to make with no mixer required either. sallysbakingad
2. Salted Caramel Chocolate Chunk Cookies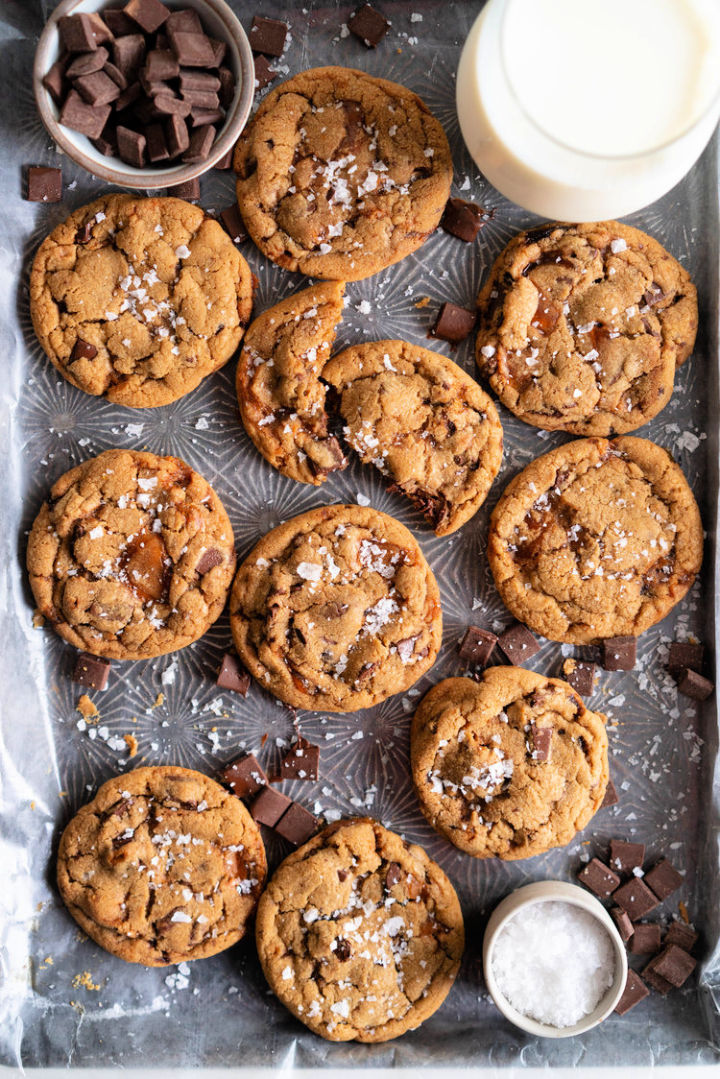 Do you like a little more chocolate than a chocolate chip in your cookie? How about we interest you in trying these chocolate chunks cookies for your next bake day? You just need some unsalted butter, granulated sugar, dark brown sugar, eggs, and a few more ingredients. cloudykitchen
3. Salted Caramel Pecan Chocolate Chip Cookies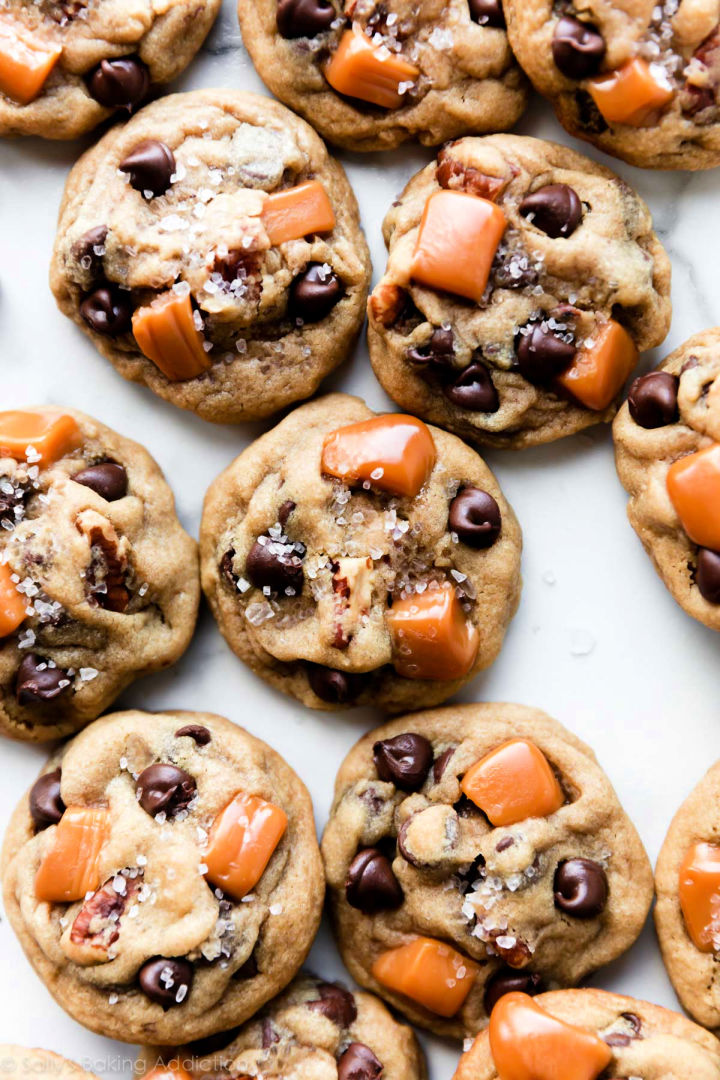 Just take out around an hour and a few more minutes to whip up these extra delicious salted caramel cookies! One pro-tip is to cut and put the caramel on the top of your cookie dough! Instead of anywhere closer to the butter paper. This way, you can avoid burning it! sallysbakingad
4. Delicious Salted Caramel Cookie Recipe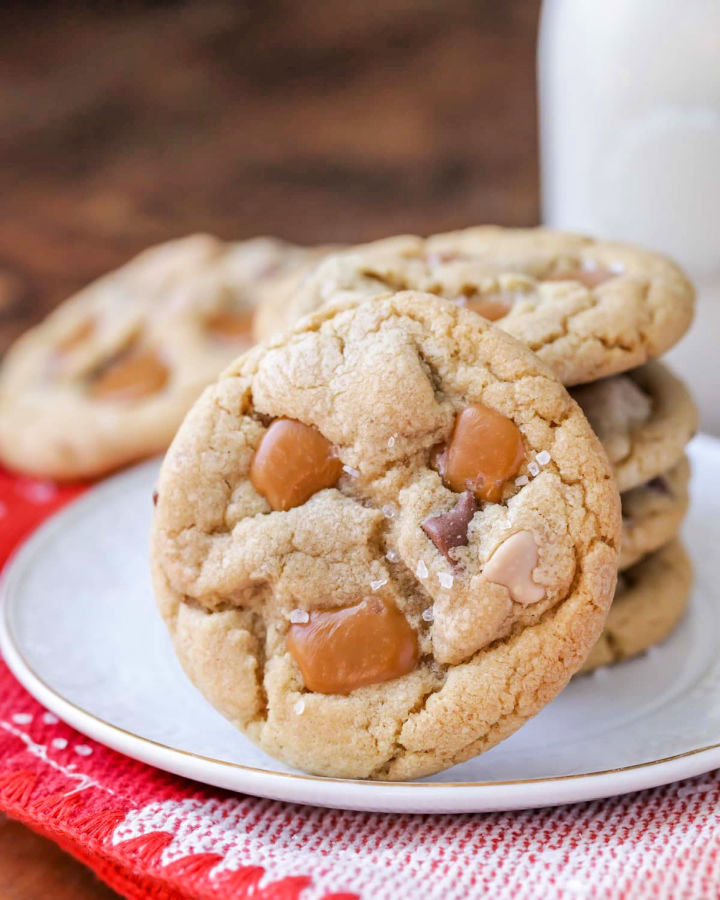 A combination of salted caramel cookies with a little bit of pleasing sweet is all you need to satisfy your sweet tooth! This recipe can come in really handy during the summer break. After all, kids love the gooey caramel and a hint of salt and sweet cookie love! lilluna
5. Salted Caramel Chocolate Chip Cookies Recipe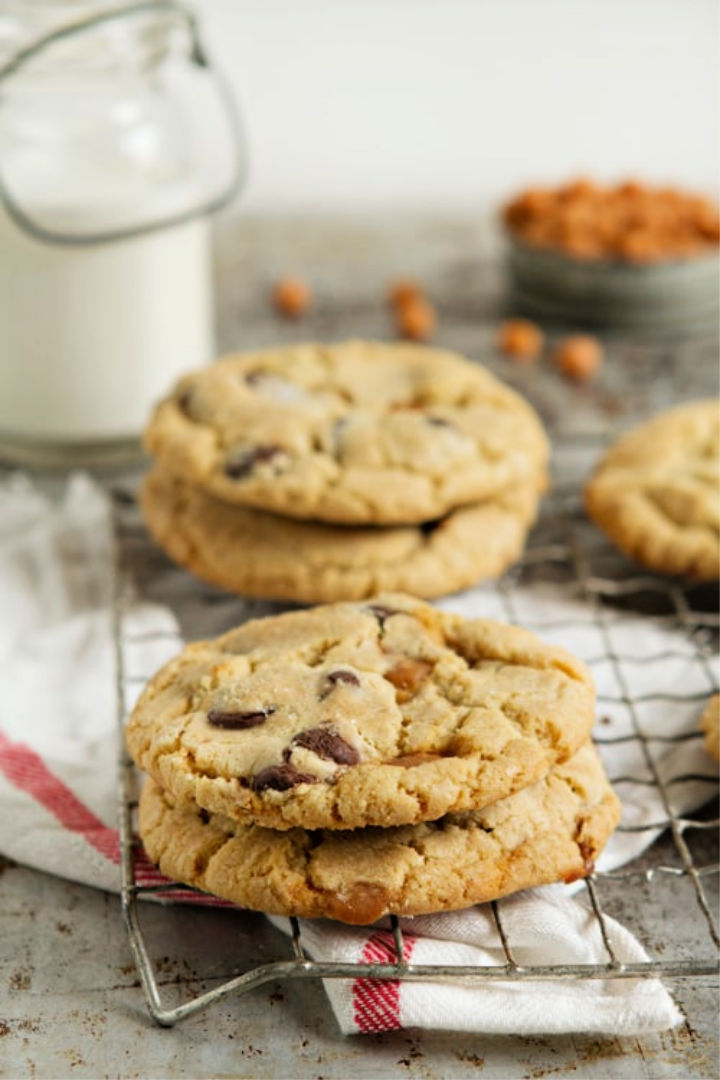 Even if you have never baked cookies in your life once, you will know they are not difficult at all! You just need cake flour, bread flour, baking soda and powder, coarse salt. Along with unsalted butter, granulated sugar, eggs, vanilla extract, and chocolate chips, of course! mybakingaddic
6. Salted Caramel Cookie Recipe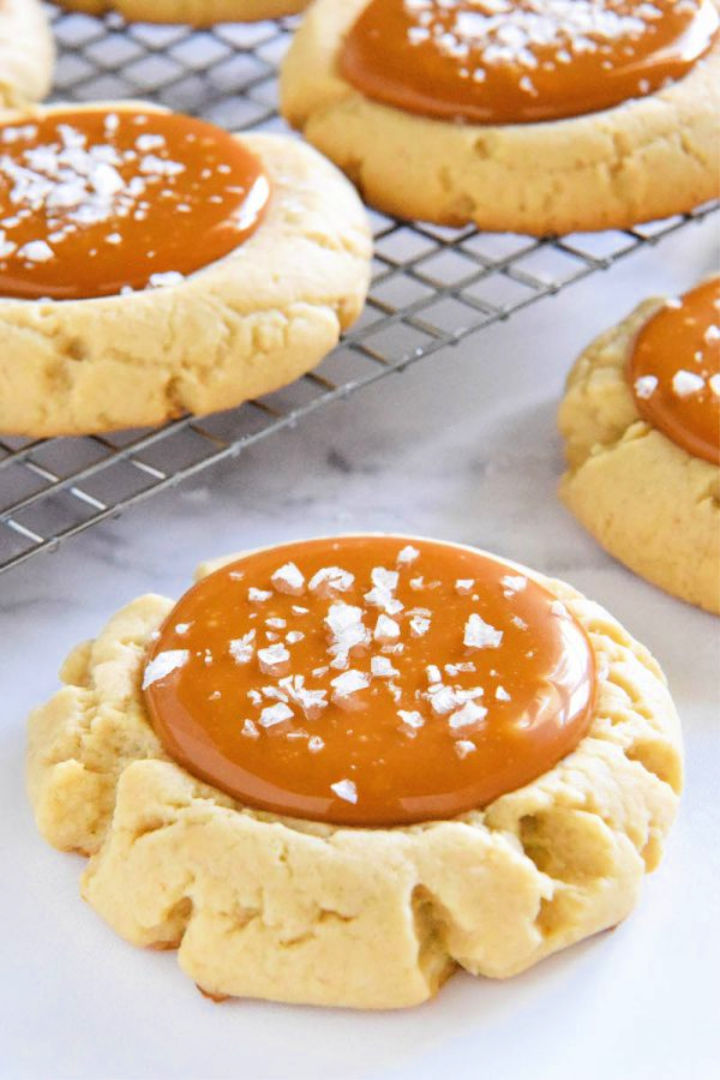 Well, well, we can't take our eyes off these perfectly salted caramel cookies! Look at how perfectly round the caramel topping looks. The base of the soft cookies is baked first and then later filled with this drool-worthy caramel! Get the detailed recipe here. thenovicechef
7. Chewy Chocolate Chip Salted Caramel Cookies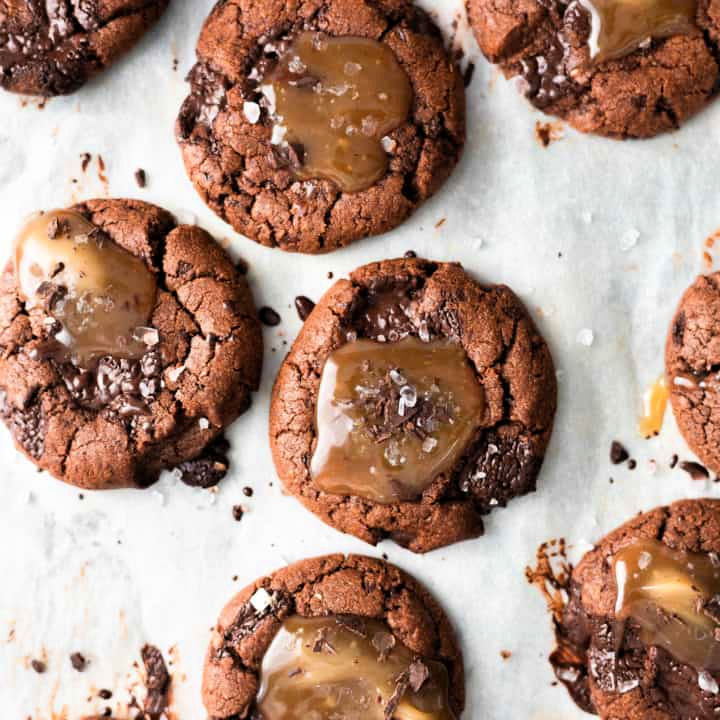 For the love of chocolate! We bet you can hardly name anyone who doesn't love chocolate chip cookies. Pair that with salted caramel and you can bring the most liked house warming gift. You don't even have to refrigerate the cookie dough here, just make it roll it and bake it! cupfulofkale
8. Salted Caramel Cookies Recipe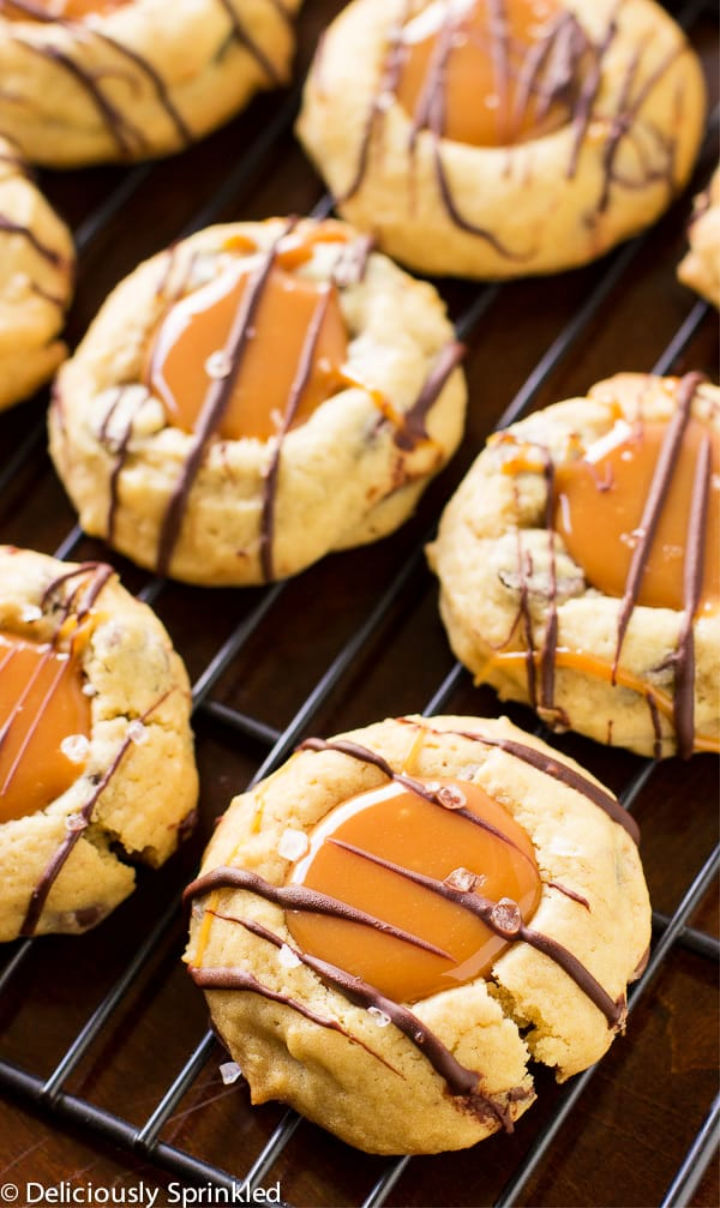 Here's another one from our collection of salted caramel cookies! Along with the salted caramel topping, the recipe also suggests using the melted chocolate stripes on the top. It is hardly going to take 25 minutes to whip up these mouthwatering cookies for any day! therecipecritic
9. Soft Batch Salted Caramel Chocolate Fudge Cookies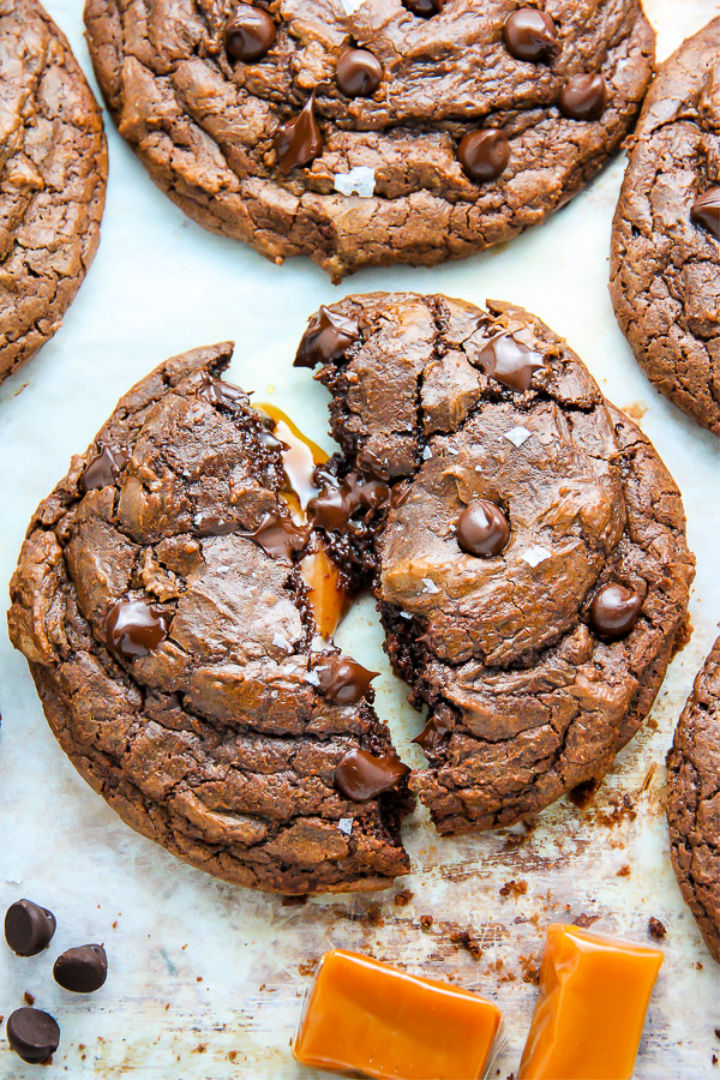 Now, this is something that no one can resist! On a diet or no diet! A salted caramel cookie with a soft chocolate fudge base can make anyone feel better! They look super soft and just perfect! You merely need flour, cocoa powder, chocolate, baking powder, salt, milk, and vanilla. bakerbynature
10. Chocolate Chunk Cookiess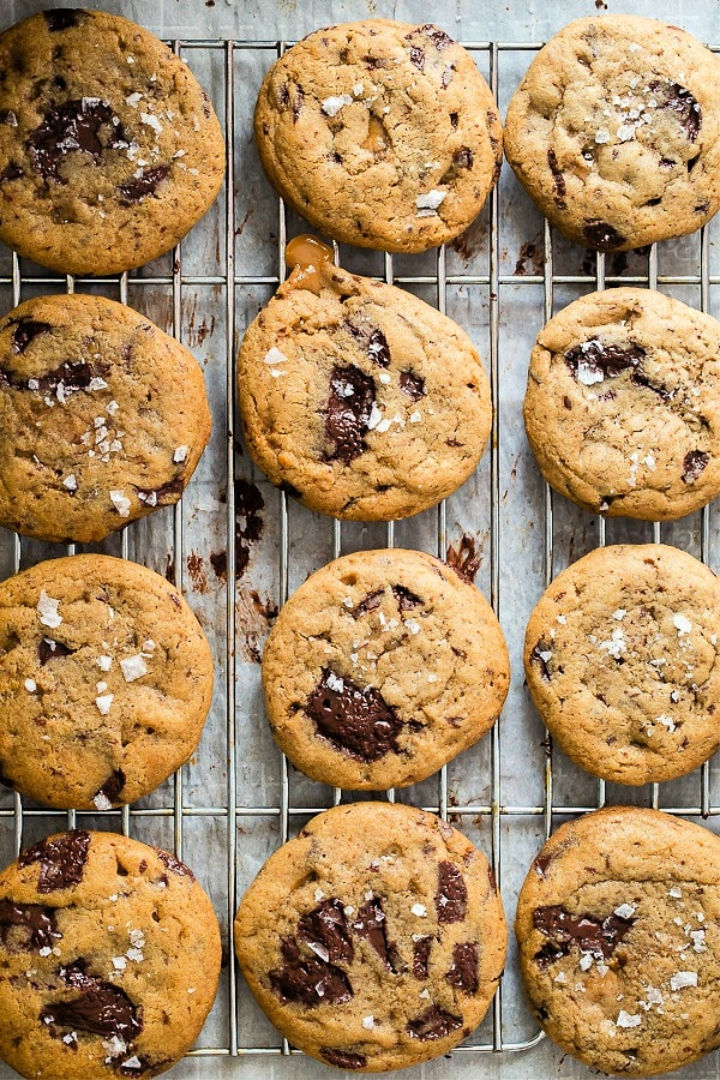 Salted caramel paired with chocolate chunks, name a duo better than that! Some roaming sea salt on the top and gooey caramel coming out of the middle, all you need to plan for this weekend! The tutorial has the recipe which can serve around 12 cookies in just 23 minutes! foodnessgracio
11. Chocolate Chip Salted Caramel Cookies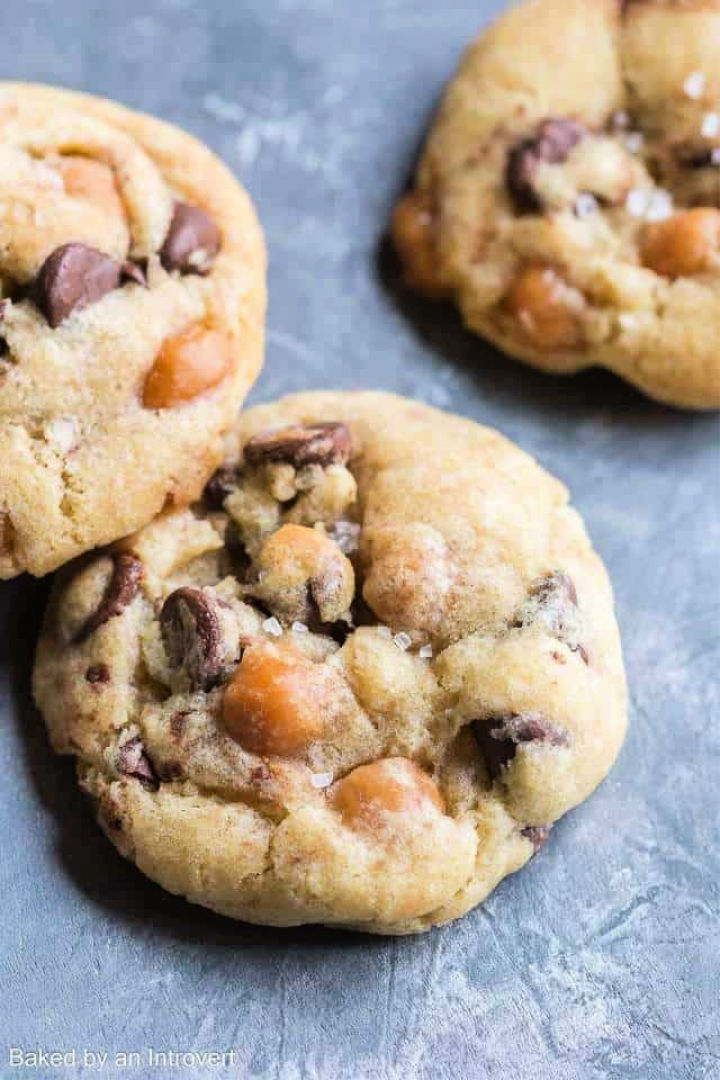 Have you been feeling low lately? What if we interest you in cheering your mood by adding a hint of sweetness and salt in your life? Like these delightful chocolate chip salted cookies? Head over to the link below to get the full recipe! bakedbyanintr
12. Soft and Chewy Salted Cookies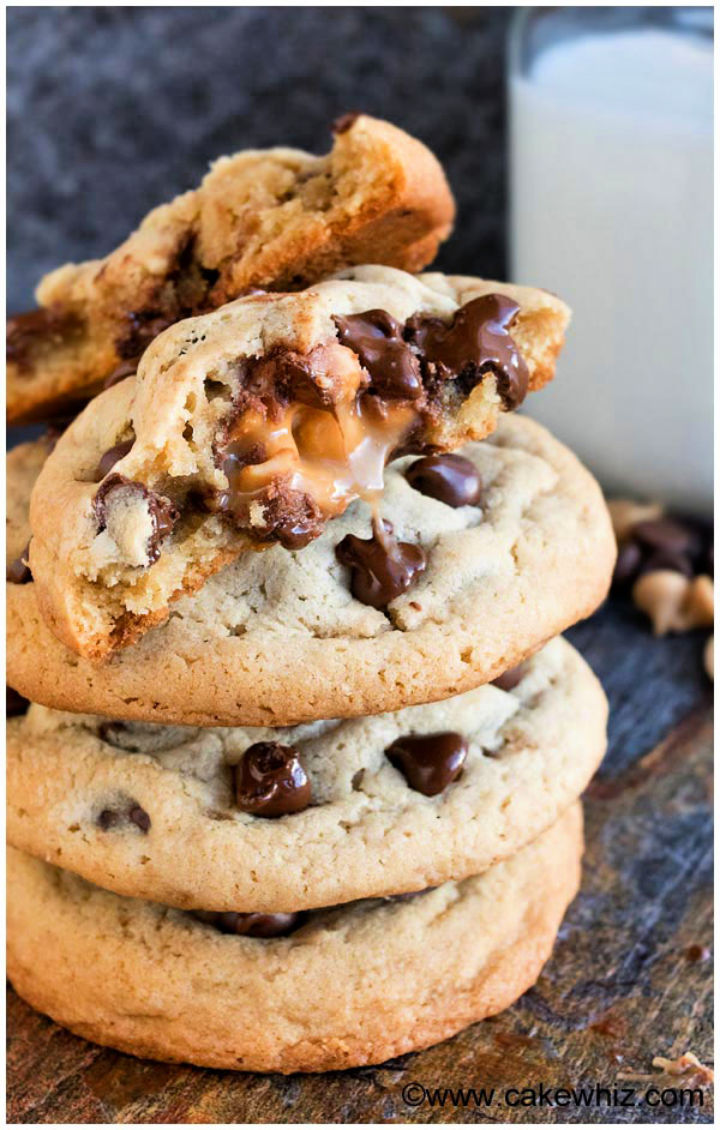 Have you been getting tempted by the huge bakery cookies? Well, if yes, then you are in for a treat! These salted caramel chocolate chip cookies are as huge as the bakery cookies. They have this super yummy and gooey caramel center in the middle. cakewhiz
13. DIY Salted Crunch Cookies
Introduce some salted caramel cookies love into your life with The Novice Chef Blog. All you need is twenty minutes of your day! Chopped pecans and brown sugar cookie with some chopped caramel toffee bits in the middle. thenovicechef
14. Salty Cashew Caramel Cookies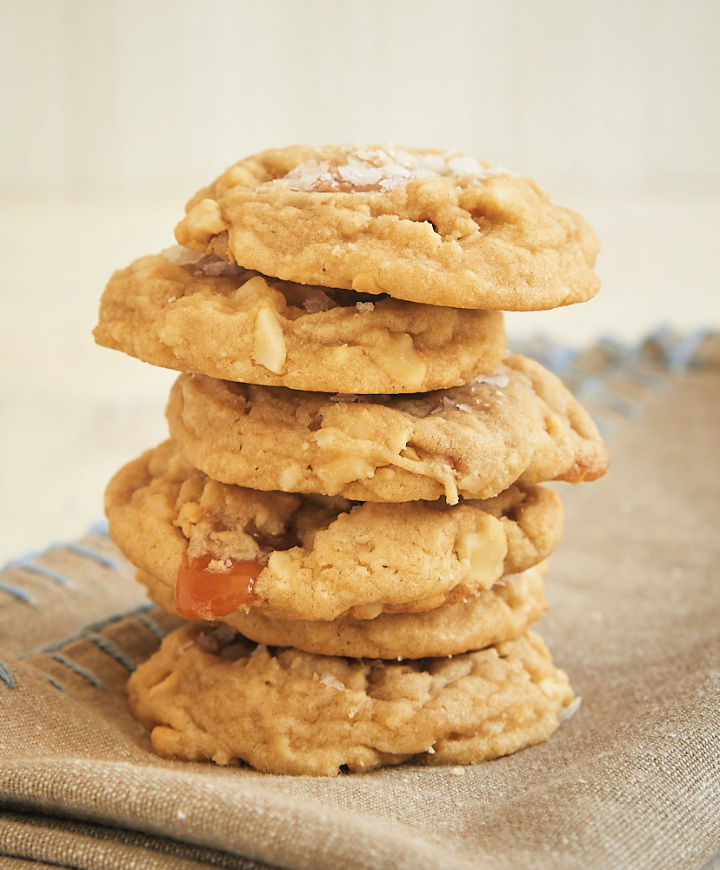 A combination of caramel and crunching cashews can add quite a lovely evening tea factor to your any dull day! You need all-purpose flour, baking powder, baking soda, teaspoon salt, brown sugar and eggs, and granulated sugar. With caramel cuts in small pieces. bakeorbreak
15. Caramel Cookies Dessert Recipe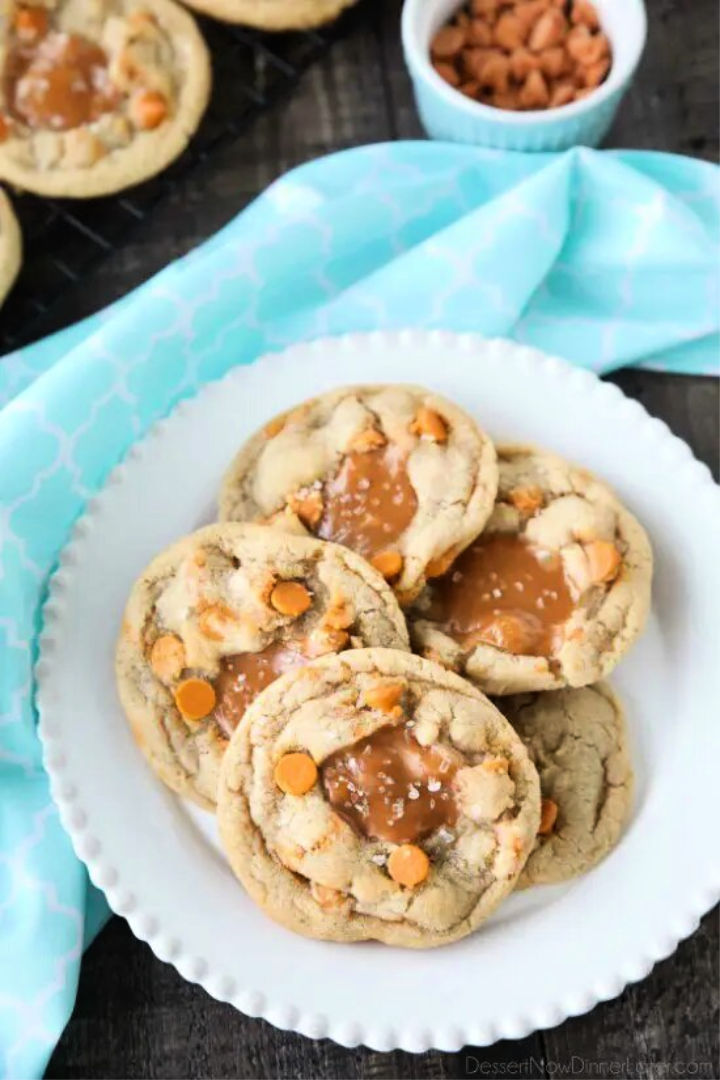 Sweet and salt cookies with oozing caramel and soft brown sugar cookies base! You can start by getting all the ingredients in one place. And preheat the oven at 360 degrees. Make these scrumptious delights for your neighbors and win their hearts! dessertnowdin
Conclusion:
You deserve to treat yourself and your loved ones with all the little best things in life! And nothing says love like some home-baked, fresh from the oven salted caramel cookies. A blend of find sweet with flaked salt on the top. Be the talk of the town by bringing the most delicious house warming gift! Happy baking, folks.
More Quick and Easy Recipes