Having the 4th of July decorations and planning on your brain all the time? Then go with this 4th of July Crafts and 4th of July decorations, allowing you to give a touch of 4th of July to your patriotic holiday activities, party food, outfits, and accessories. Countless different ideas are waiting for you here to express you, country love, in a unique way on this Memorial Day. Whether you are wishing to enjoy the city parades, backyard BBQ parties, or waiting for the Independence Day fireworks, these ideas will help feature the country's love in every of your activity. Explore this collection of 50 easy 4th of July crafts and decorations to see all the unique and popular ways to express your love for freedom and for your country.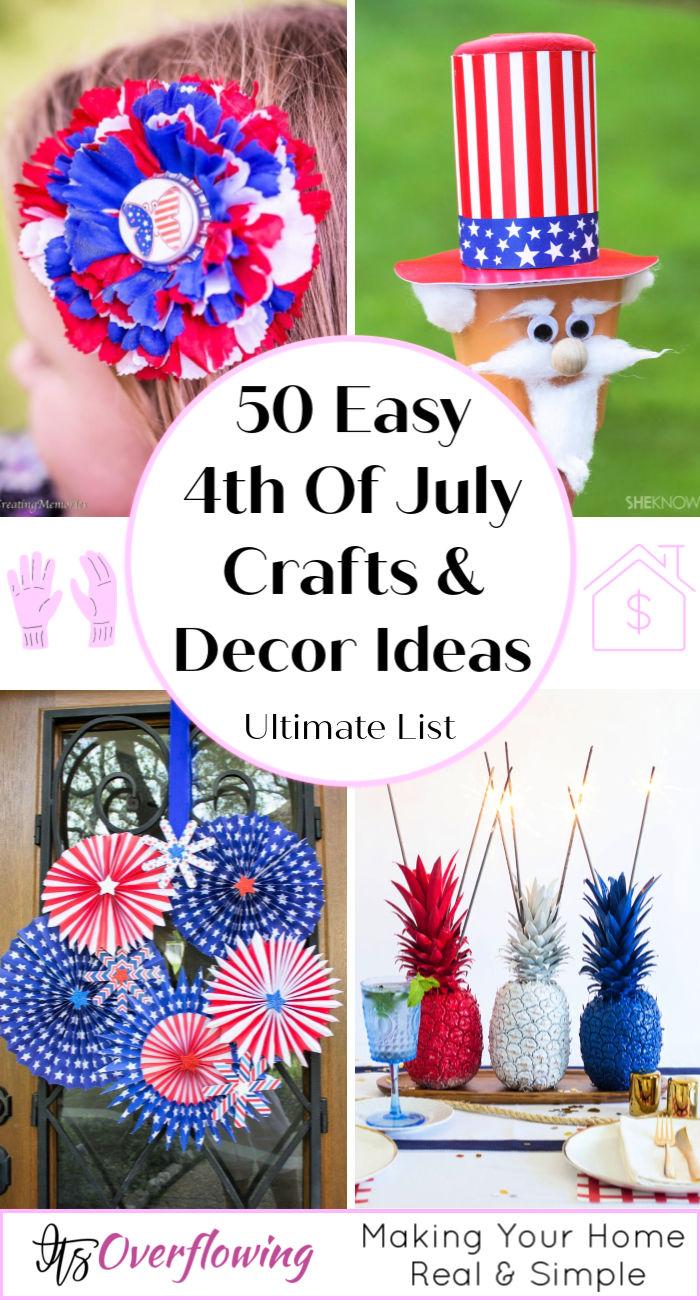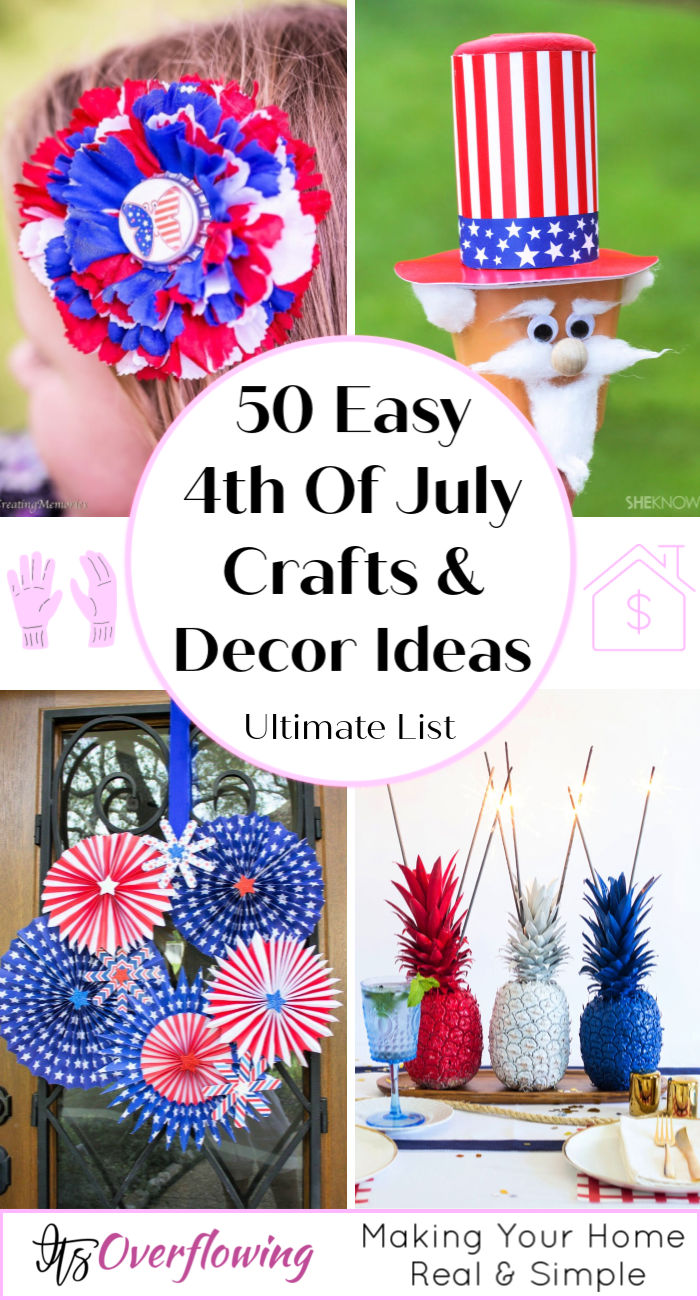 Along with designing your outfits and decorating your homes for 4th for July crafts, you will get here free 4th of July recipes too for the Independence Day party foods, mostly appearing in the 4th of July flag.
Fancy up your outfits and t-shirts with state map logos and country flag appliques and get the best 4th of July costumes. Make the outstanding patriotic hair accessories for little girls and celebrate Independence by making outstanding firecrackers and poppers at home. Get here 4th of July crafts about how to make 4th of July blankets, crowns, and sparklers and learn here making the best outdoor and outdoor 4th of July decorations too like garlands, wreaths, buntings, and other stuff of this kind. Explore all these DIY 4th of July crafts and decor projects to see a lot more unique stuff.
1. Patriotic Hair Clips for Girls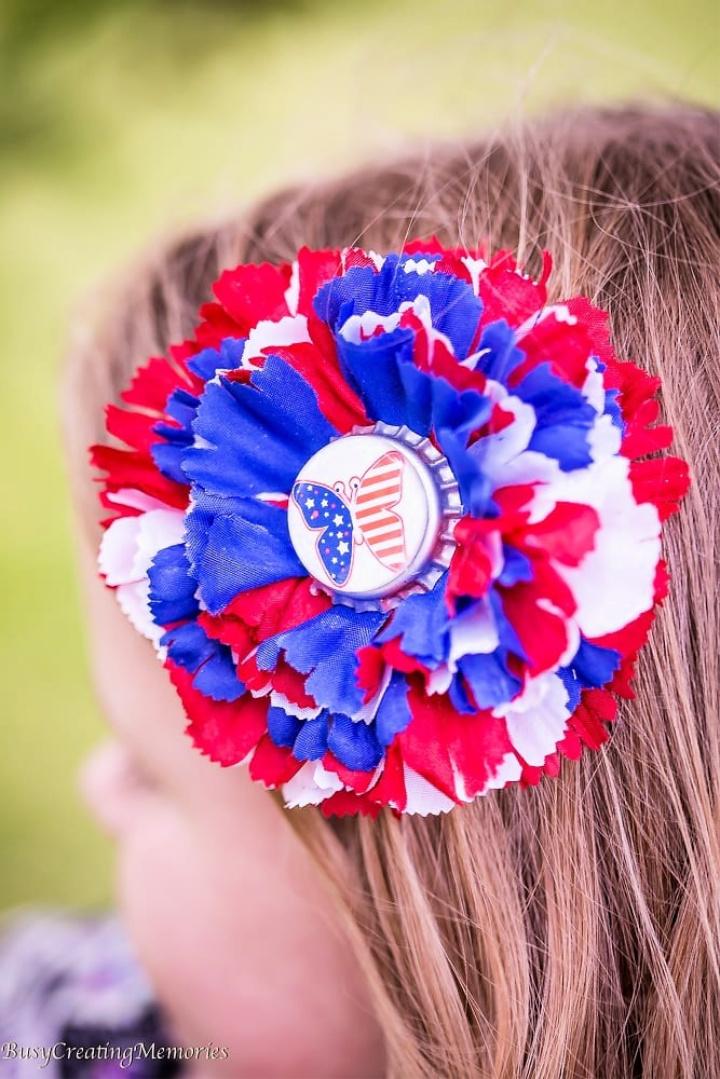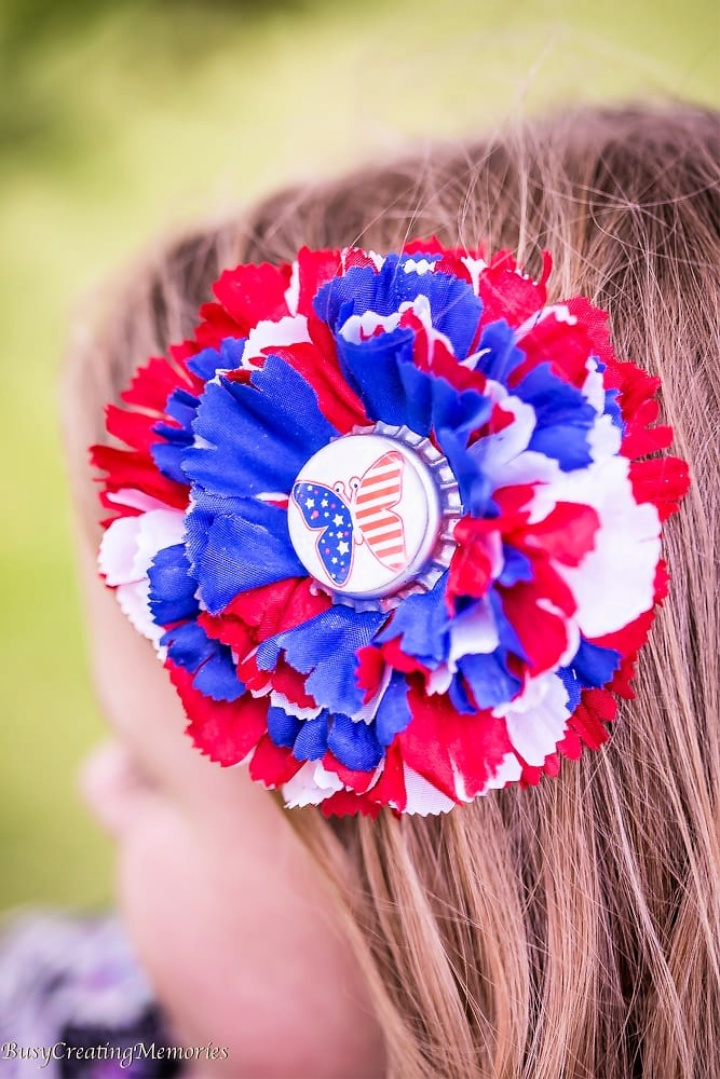 Soon you will be celebrating the 4th of July, Independence Day. So, make custom accessories to dress up in flag colors by just following our 4th of July crafts. Take a start by making these patriotic hair clips, a lovely gift to give to little girls at home. It will only take 5-10 minutes to make this hair clip. You need red, white and blue carnation silk flowers, alligator clip, button, and glitter dust to whip up this patriotic hair clip. Details here busycreati
2. Yankee Doodle Dessert Cups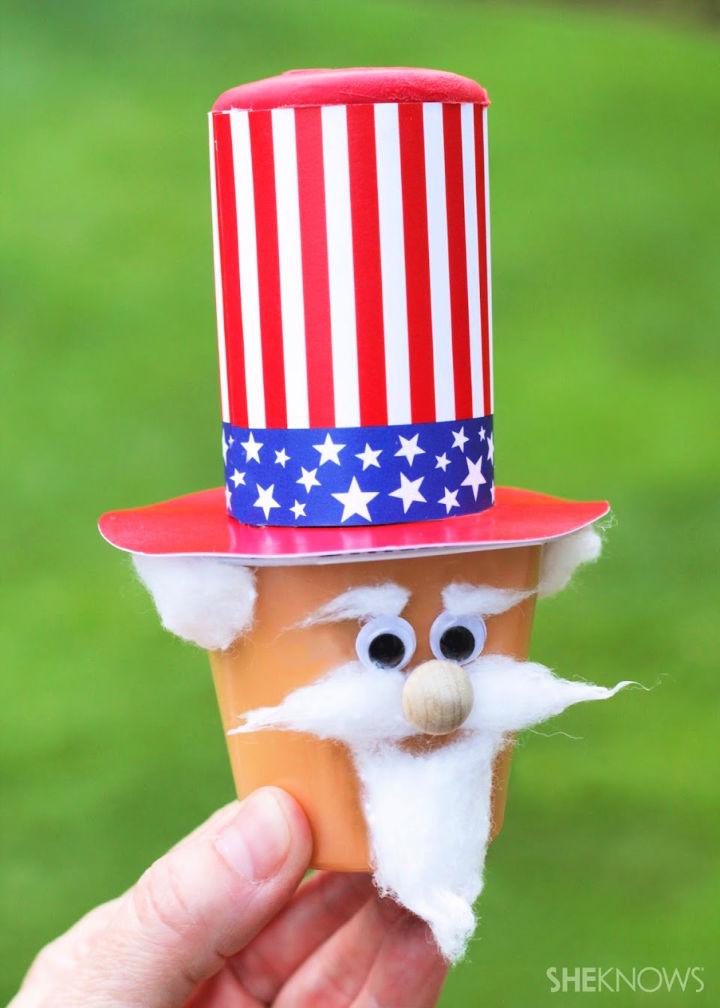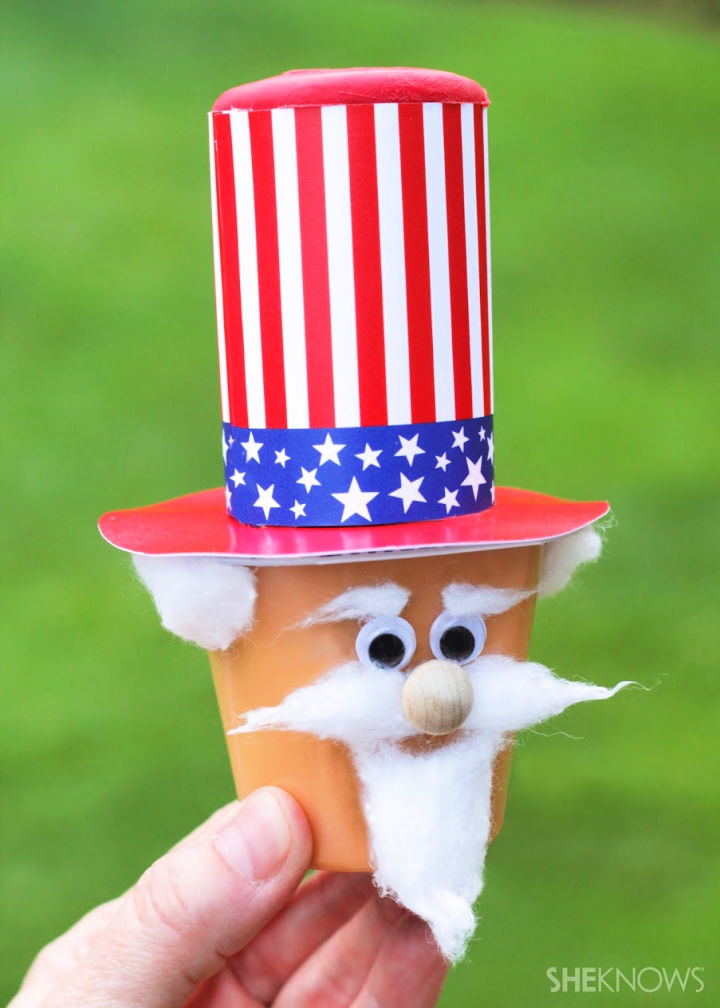 Kids will surely go crazy for these Yankee doodle dessert cups, will rock the entire 4th of July party dessert table. To make these Yankee doodle dessert cups, you need butterscotch pudding cups, golden oreo cookies, red candy melt wafers, patriotic cardstock hats, glue, small googly eyes, wood plugs, and cotton balls to make these dessert cups. Details here sheknows
3. Firecracker Tie Dye Patriotic T-shirt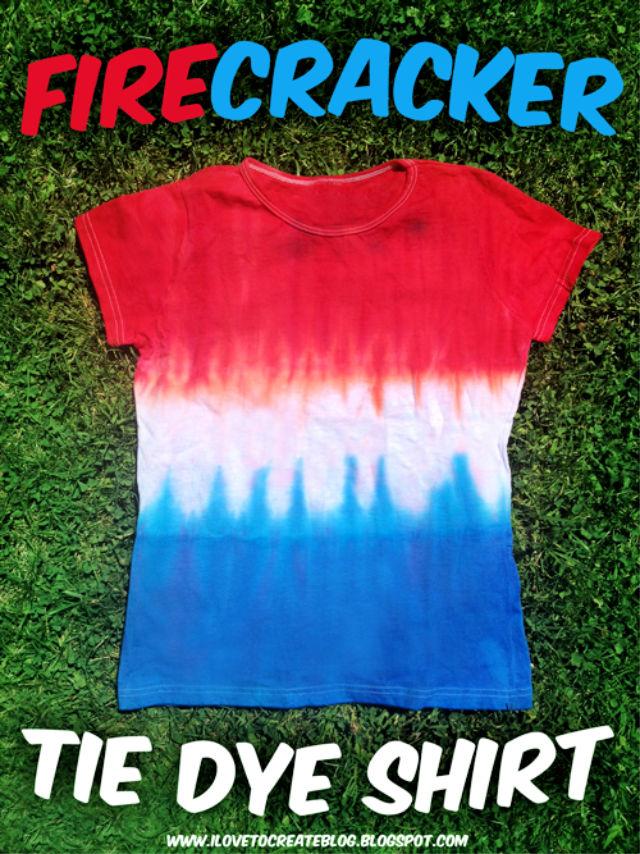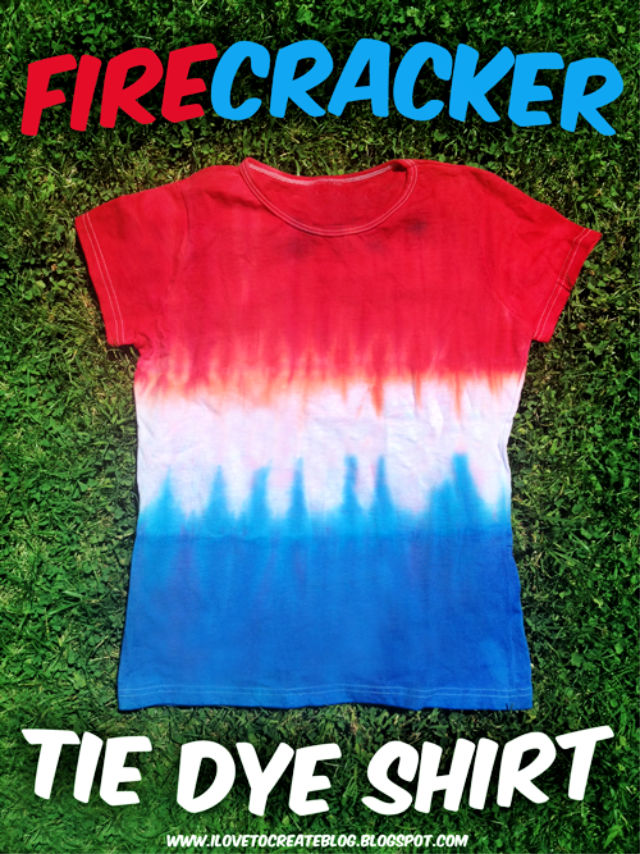 Dress up nice on the Patriotic day by wearing this patriotic t-shirt. It is to make at home using the tie-dye technique. You need tie-dye in red and royal blue, zip ties, surface cover, white cotton shirt, and pliers to do this 4th of July crafts at home. This t-shirt appears in white, blue, and red color and will make sweet handmade patriotic gifts. Details here ilovetocreate
4. Pinwheel Wreath for Fourth of July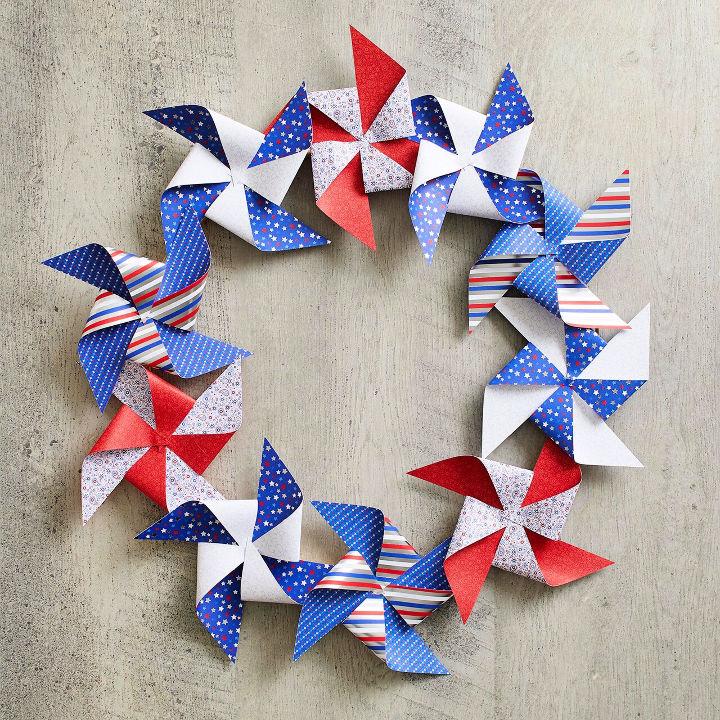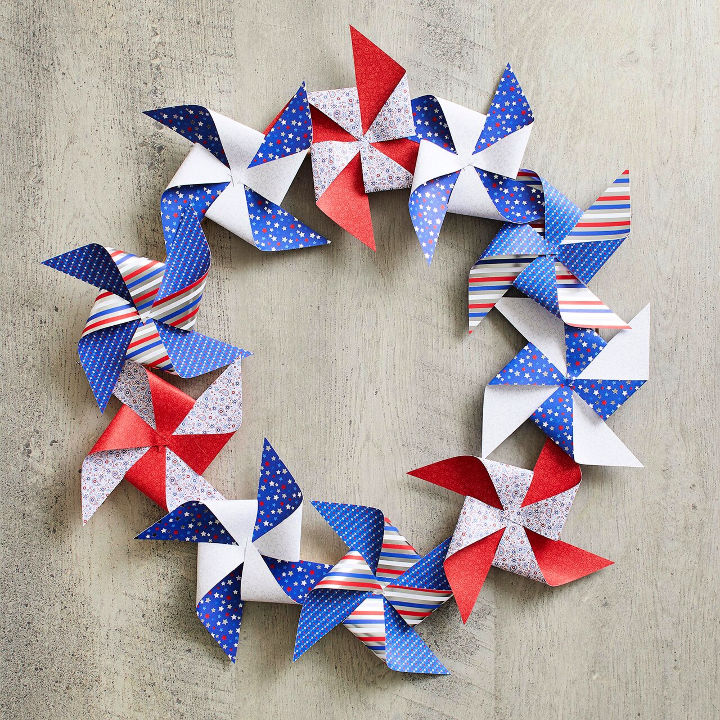 Willing to celebrate the patriotic holidays to fullest, then do make the fantastic looking patriotic decorations for the celebrations. Take a start by making this pinwheel wreath for fourth of July. Make the pine wheels featuring red, blue, and white colors and then put them together to make a beautiful instant wreath. Details here bhg
5. 4th Of July Paint Stick Garden Flags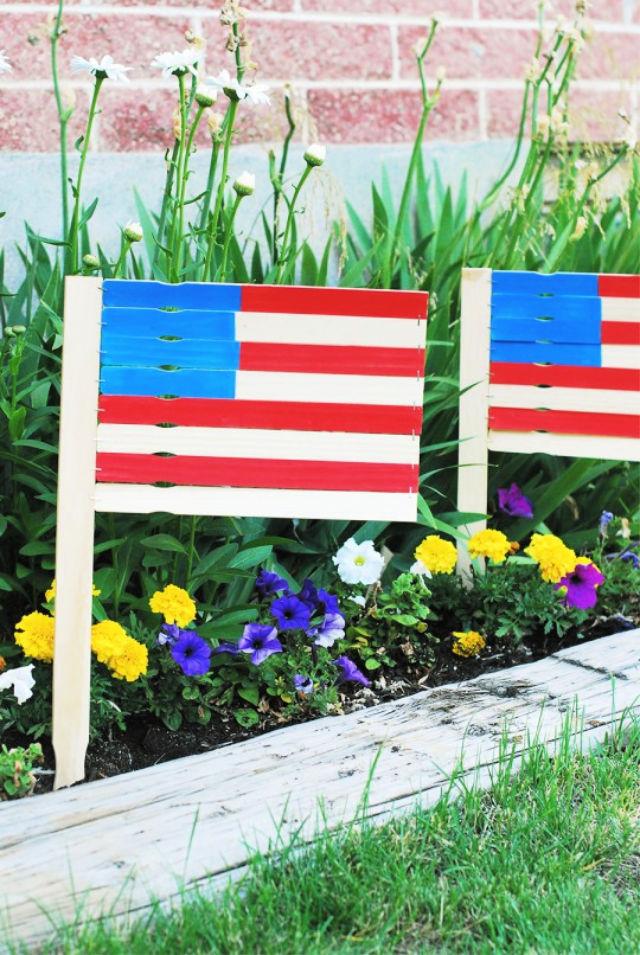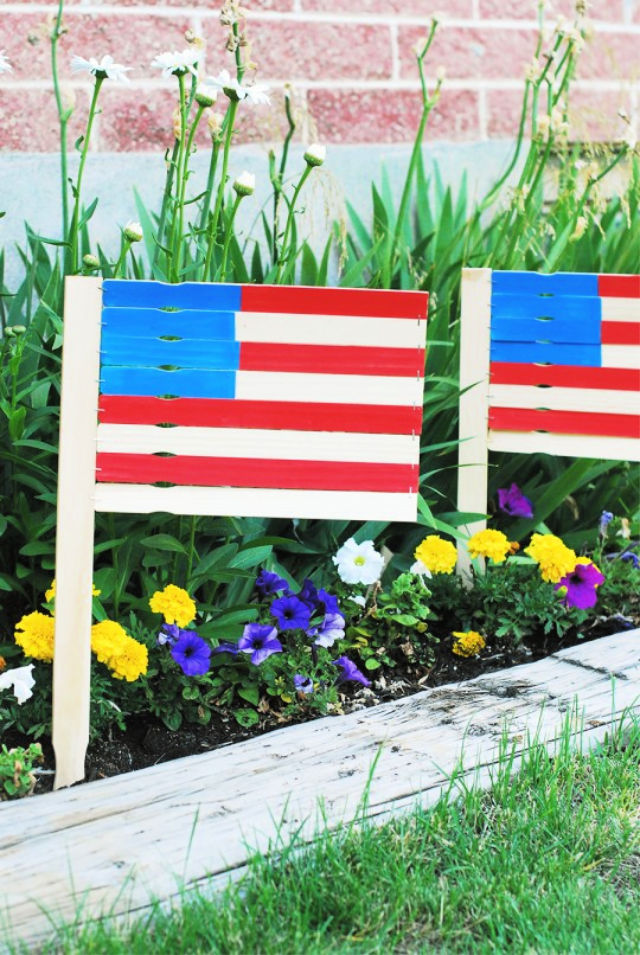 Spread the country love in your garden too by making these enchanting country flag garden decorations. You need wooden paint sticks, red, blue and white acrylic paint, diet coke, staple gun, and paintbrushes to make these outstanding country decor flags. They will surely stimulation your patriotic emotions. Details here theproper
6. DIY Uncle Sam's Straw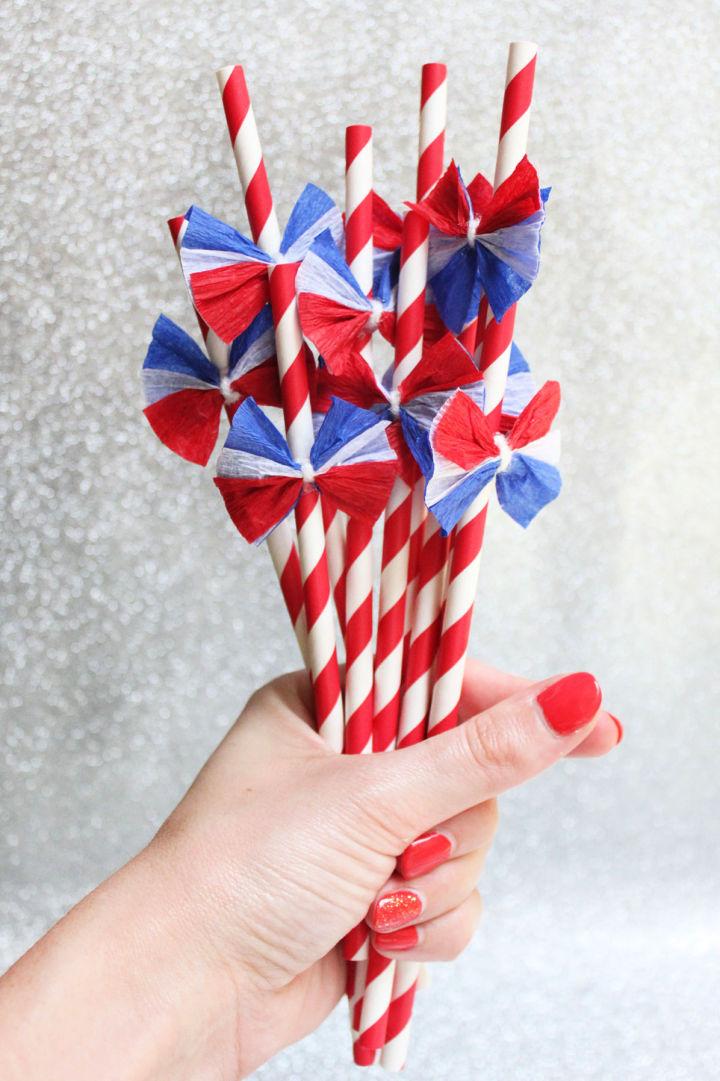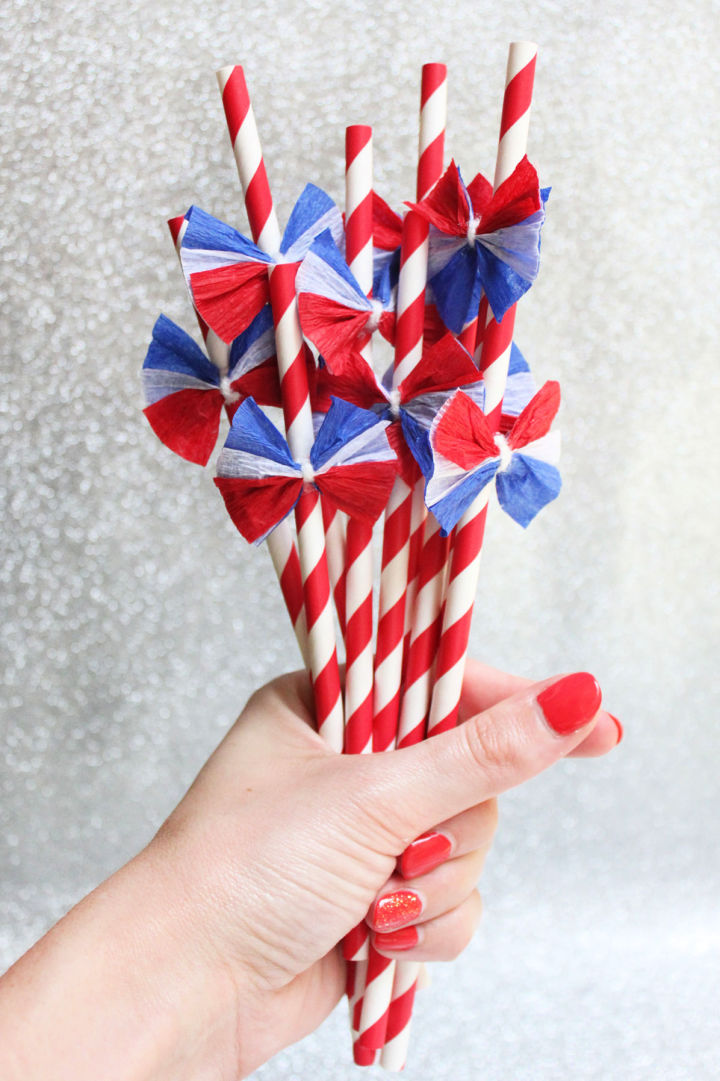 Looking for outstanding decorations more for the 4th of July holiday parties? Then bring the country love to your party tables too by making this uncle Sam's straws appearing in the country flag. They will be a pleasure into chilled party glasses to celebrate Independence Day. You need crepe paper in united state flag colors, paper straws, string, and glue to do this project. Details here paintthegow
7. 4th Of July Sign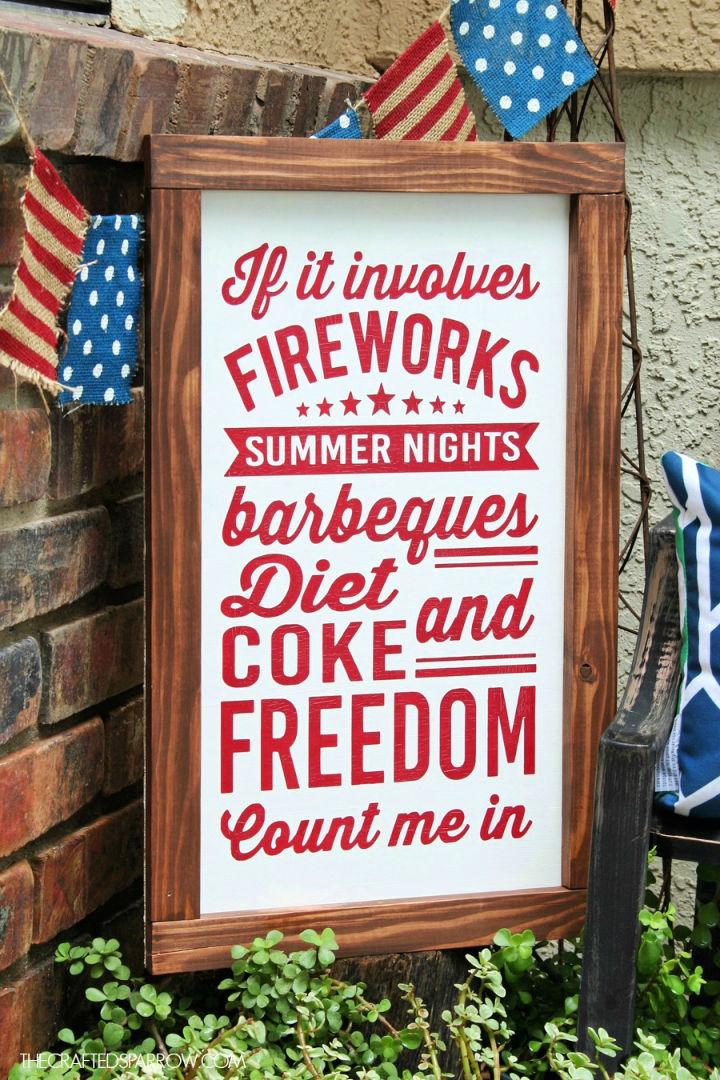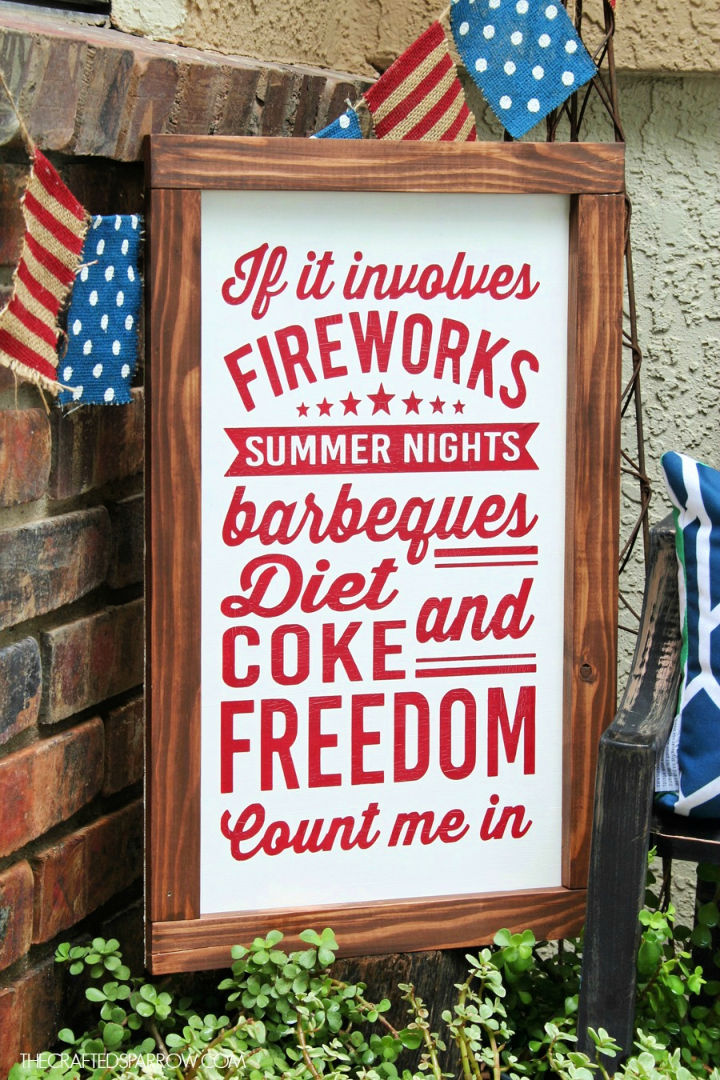 Bring the country love in the air by making custom country love quotes signs too. It is going to be the best patriotic decor that all the guests are going to love on holiday. You need a piece of MDF board, 1x2s, chalky finished paint in patriotic flag colors, vinyl stencil, and Cricut machine. Finish the border with stain and wax. Details here thecraftedsp
8. Fourth of July Poppers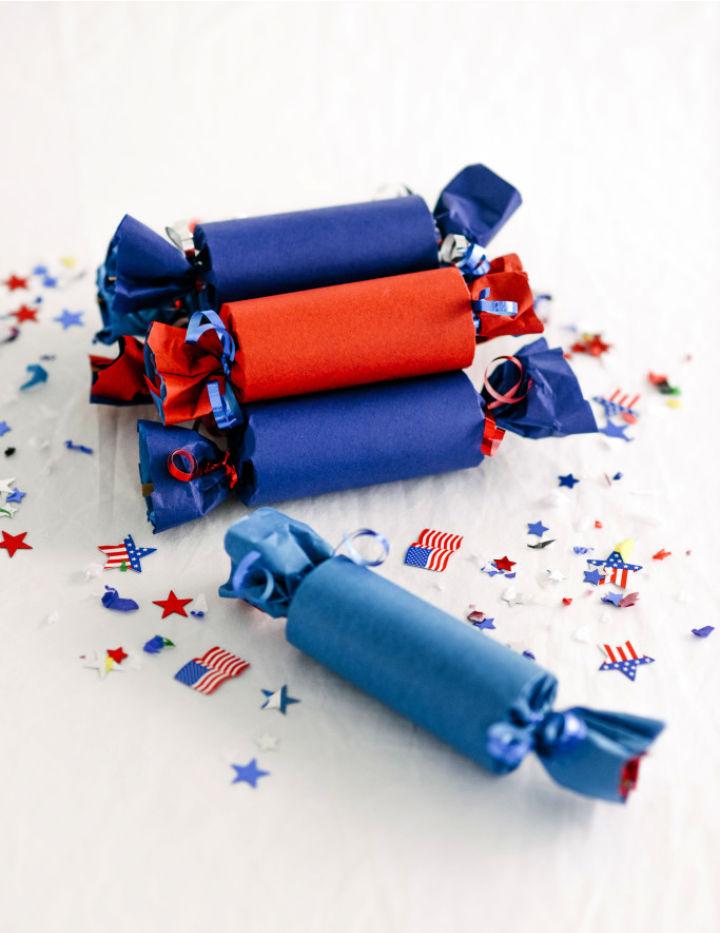 There is a lot you can make for the upcoming 4th of July party. Need some inspirations? Then double up the party fun by making this 4th of July poppers, will be a big craze of kids. You need the tissue paper, empty toilet paper rolls, confetti, rape, curling ribbon, and cracker snaps to make these Independence Day poppers. Details here letsmingle
9. Patriotic Crown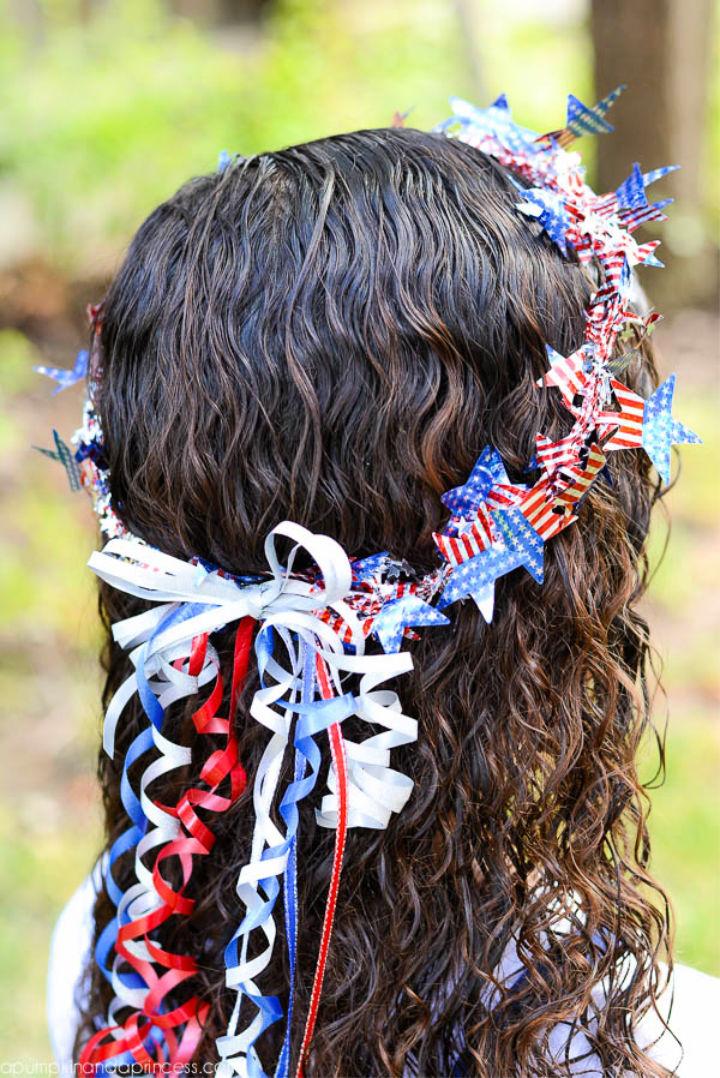 A great crown project in our list of 4th of July crafts! Make this patriotic crown to watch the Independence Day parade floats, kids will love to wear them to celebrate independence. One of the cutest 4th of July accessories that will make kids look double cute on the Independence Day. These patriotic fairy crowns will pair up beautifully also with the 4th of July outfits. One of the best DIY 4th of July Decorations. Details here apumpkina
10. Reclaimed Wood American Flag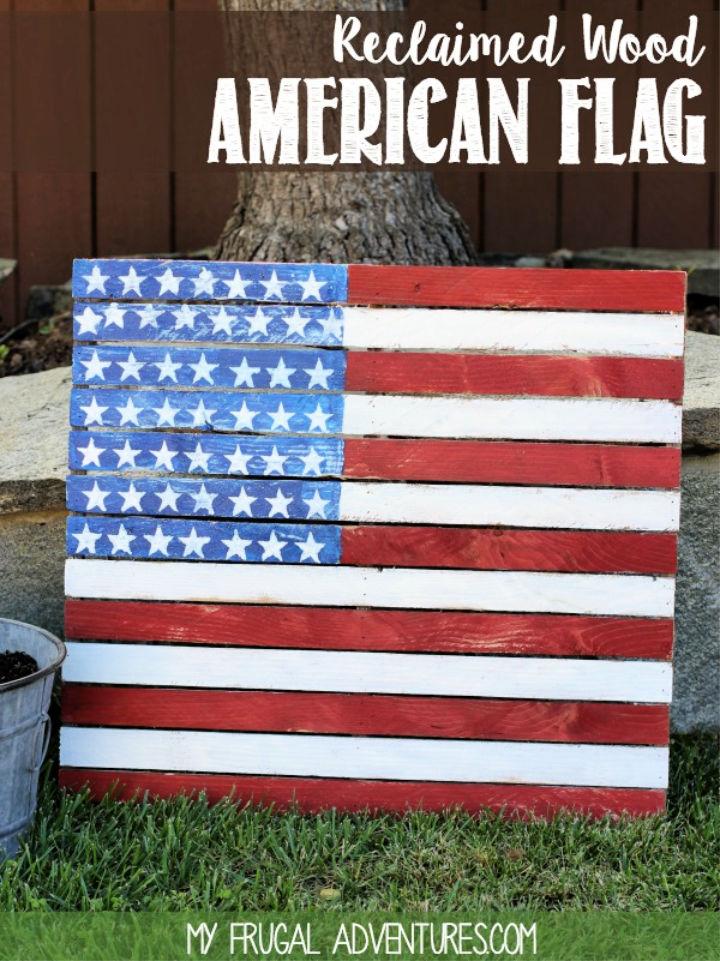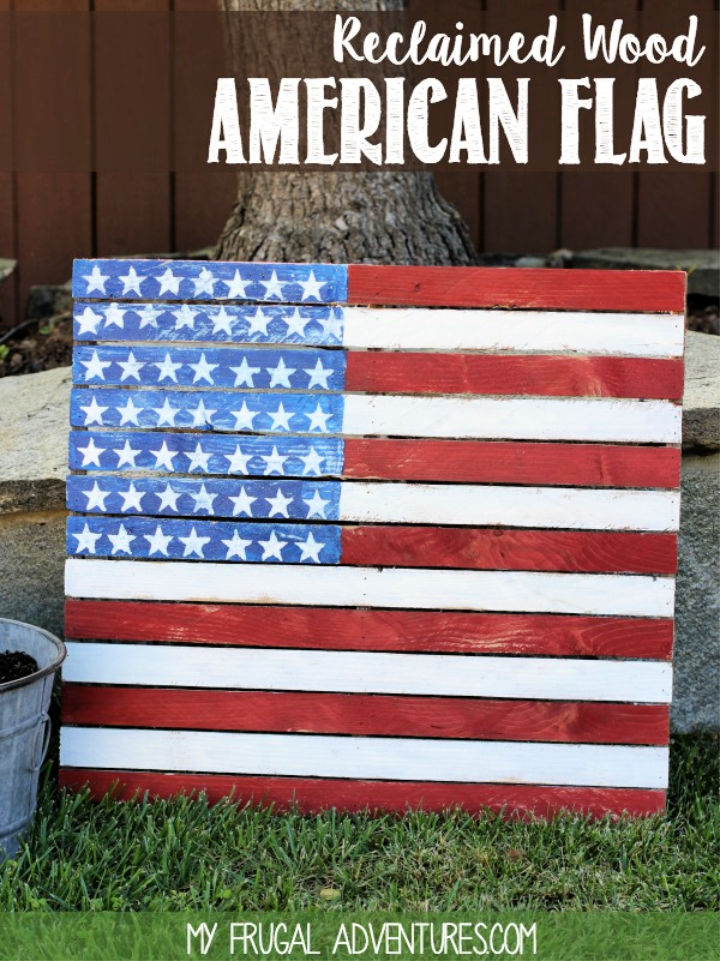 Sorting out the best projects to do for the 4th of July? Make this American flag out of reclaimed wood and feature them in your 4th of July party decorations for bigger statements of patriotic decor. Making this American wood flag will cost you just $1 and will be there on your decided location just in 30 minutes. Make this country flag using the free pallets. Details here myfrugaladv
11. DIY Fourth of July Tee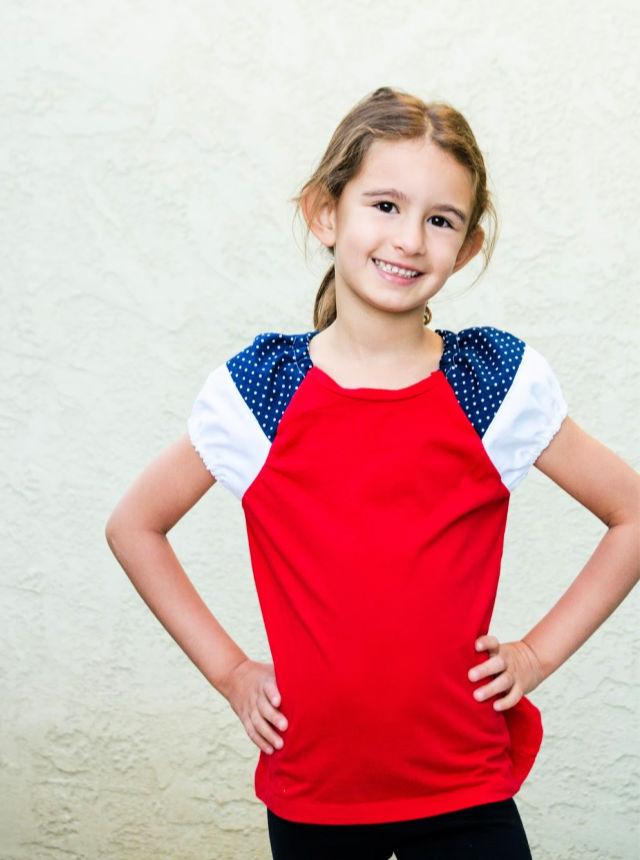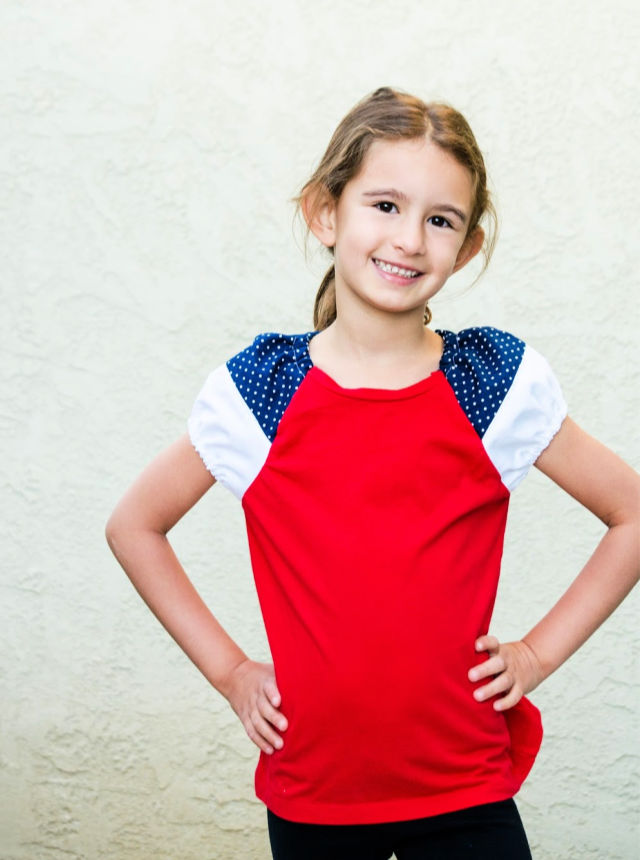 Celebrate Independence Day by wearing special outfits, and you can design them at home too. Make this 4th of July tee that comes with white and blue shoulders and majorly appear in red color. This easy sewing project involves removing the old arms and shoulders and to add the new blue and white shoulders. Kids are going to love these patriotic t-shirts if given as a gift. Details here snugglebug
12. Red White and Blue Bandana Quilt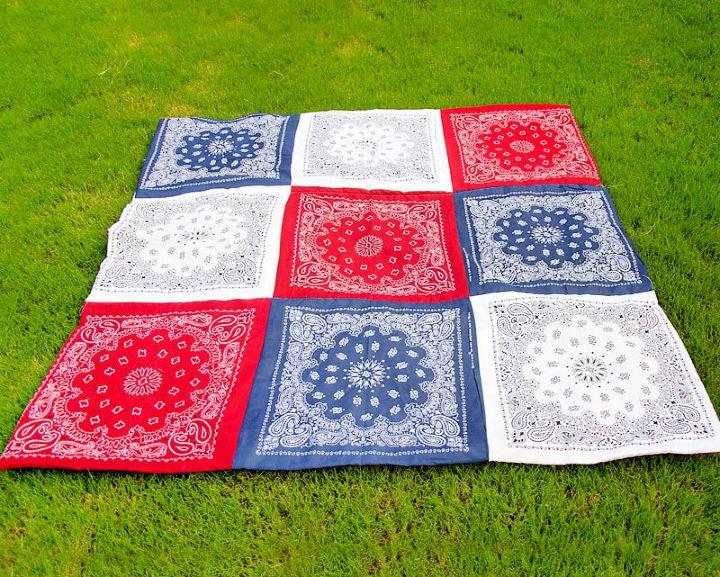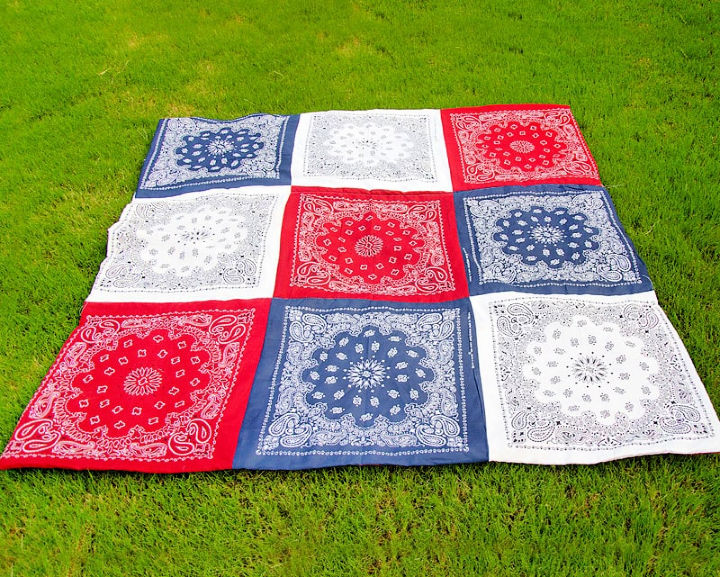 Enjoy the fourth of July picnics more using this bandana quilt that appears in the motherland flag shades. This picnic quilt will also be a smart choice to hangout at outdoor while waiting for the Independence Day firework. Just grab the bandanas in the country flag and then make this bandana quilt out of them, and easy sewing project. Details here scatteredtho
13. American Flag Tank Top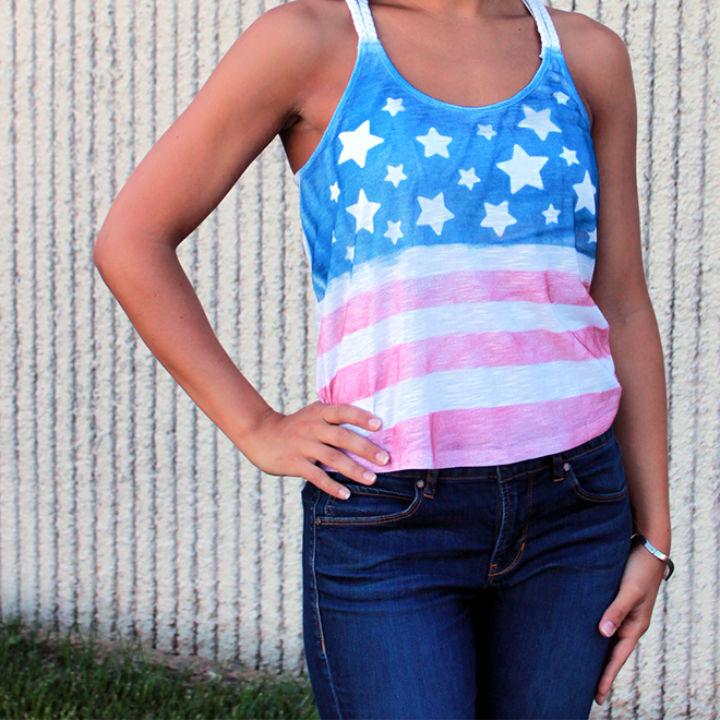 There are tons of different ways to celebrate Independence Day, and making this American flag tank top can be another coolest way for sure. Make this tank top featuring country flag using the white shirt or tank top. You have to spray paint the white tank top to paint the flag on it. You also need a few pieces of cardboard for this project. Details here sunglasswa
14. Red, White & Blue Snow Cone Garland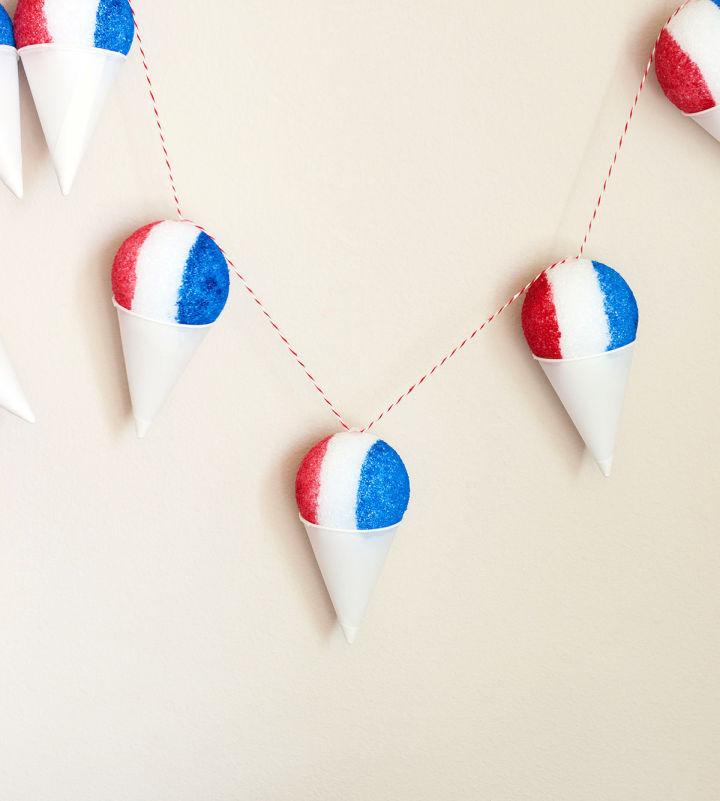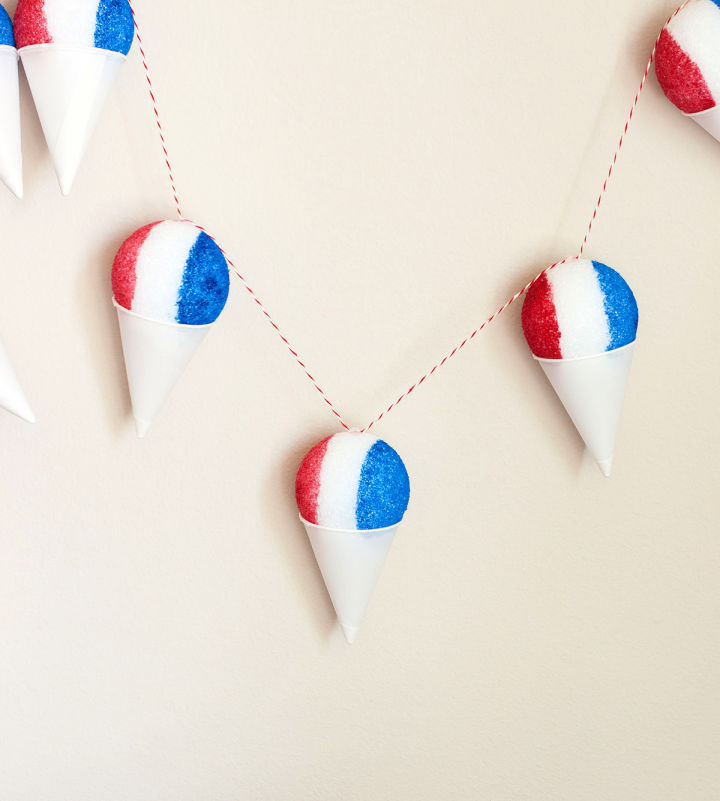 It is always amazing to feature garlands in the party decor. For the Independence Day party, this snow cone garland featuring red, white, and blue color, will make a smart choice. Add up the paper cones with foam balls painted in flag color and then string them up to make this garland. The baker's twine will make a durable string. Details here paintthego
15. Cream Roll for the 4th of July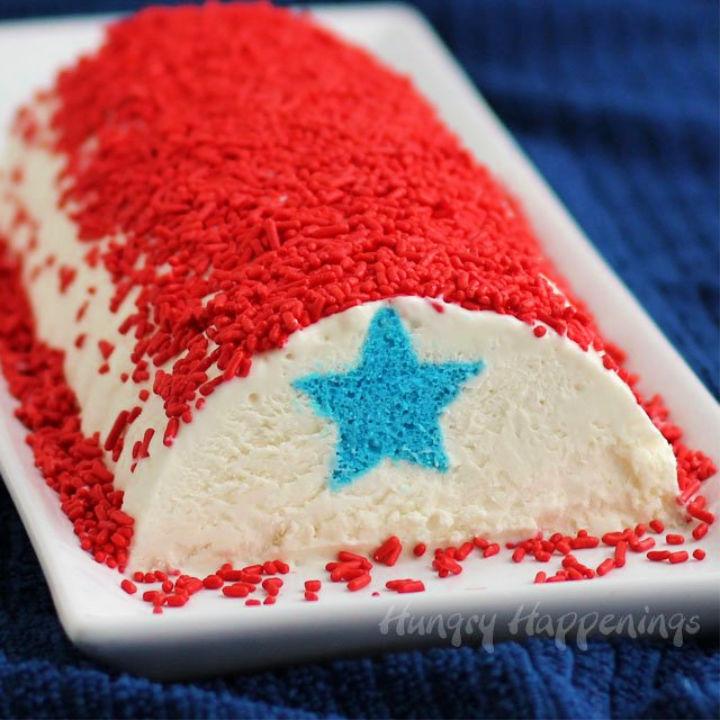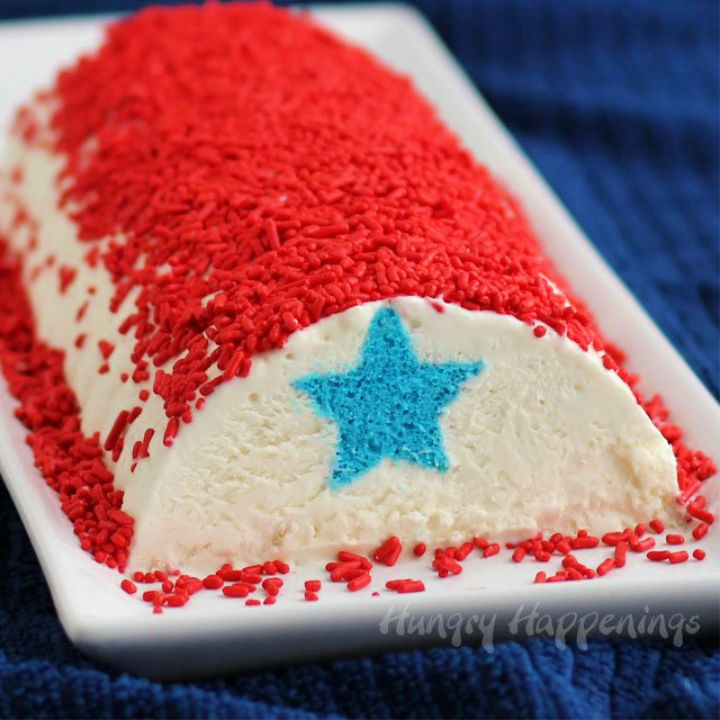 Stimulate the patriotic emotions of every guest on the 4th of July party by making this 4th of July cream roll, will be a big love of everyone. The frozen treat to make for the family this Independence Day. First, make the blue start cake that you can freeze after baking and cooling. Next, make the ice cream all around it and finish the white ice cream role with red sprinkles. One of the best 4th of July desserts ever made at home. Details here hungryhap
16. 4th Of July Patriotic Star Wands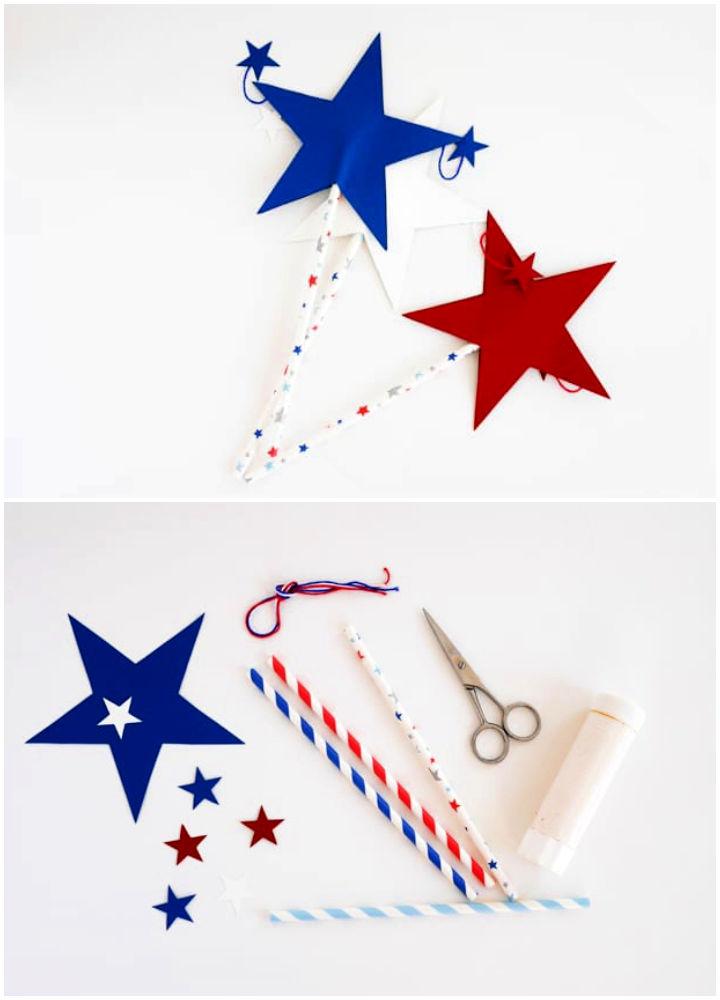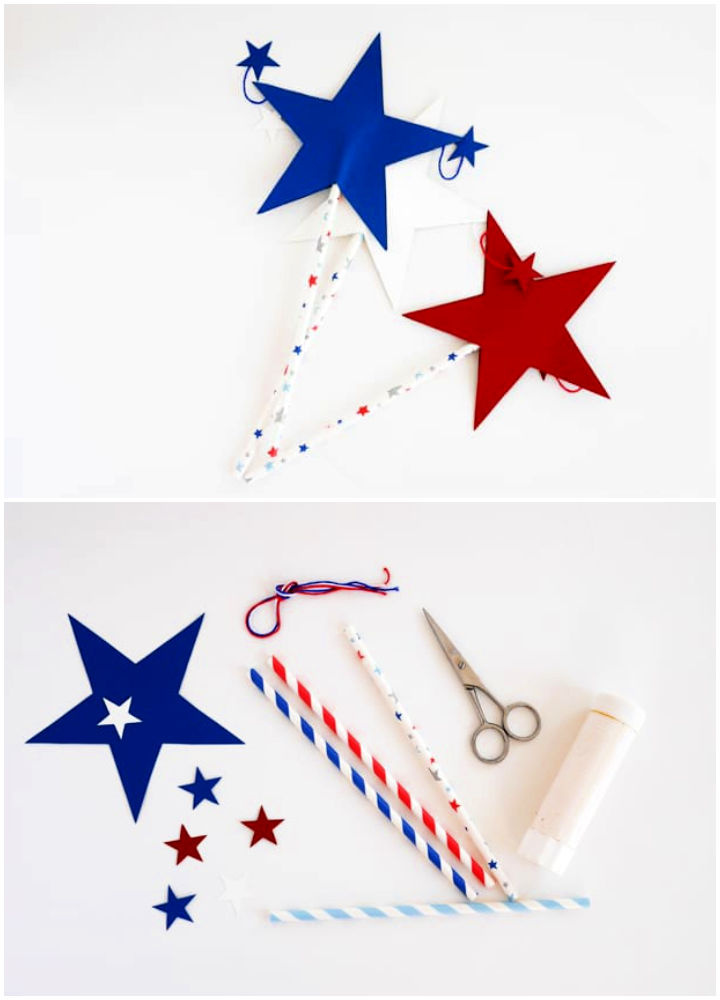 Looking for the best 4th of July crafts for kids? Let your kids make this 4th of July patriotic star wands. It will be a great pleasure for them to hold in their hands. You need letter paper in country flag colors, paper straw, glue, embroidery string or twine, and tape to make these Independence star wands. Pint the stars out and then cut them out. Details here hellowond
17. 4th Of July Garland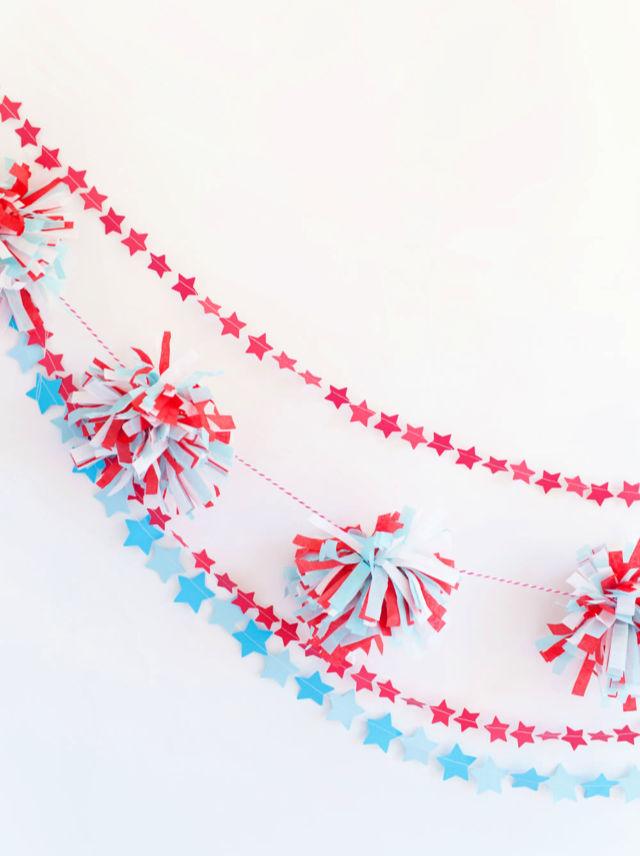 Take your Independence Day decorations to the next level by whipping this 4th of July garlands will be a big love of all country lovers participating in the event. You need red, blue, and white tissue paper, baker's twine, tape, and scissors to make this garland. Layer the tissue papers selected in country flag colors together and then cut fringes in them. Make pom-poms out of them and then string them up to make this 4th of July garland. Details here tellloveandp
18. DIY 4th of July Shirts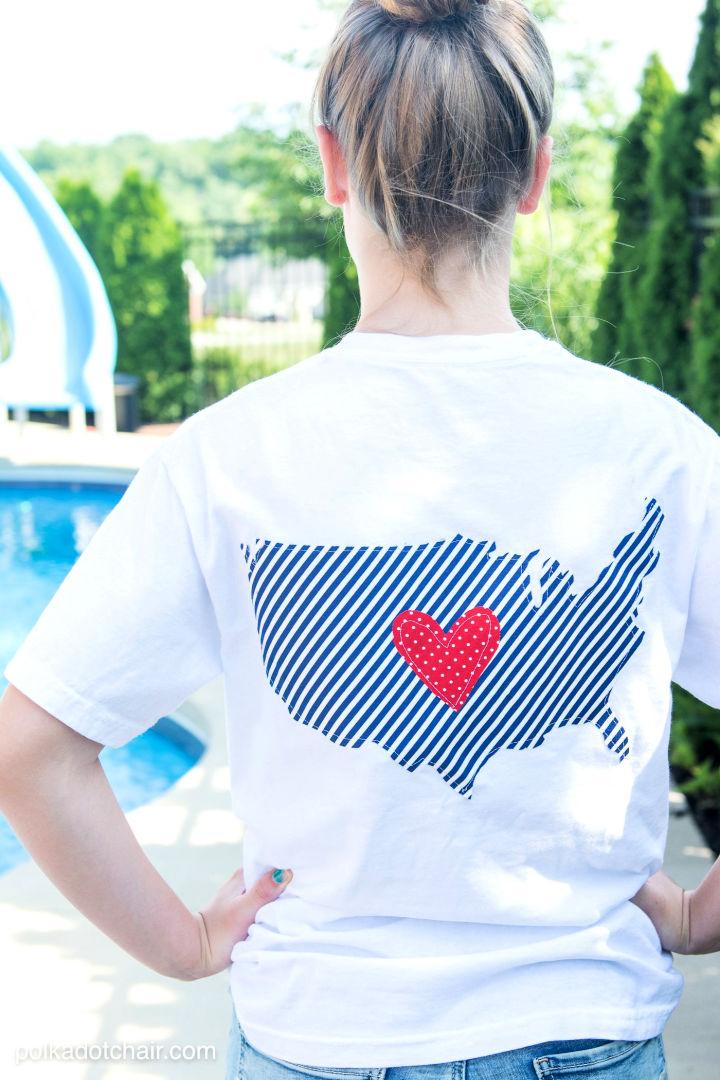 Design your own special DIY outfits to celebrate the 4th of July to the fullest. Take a smart start by making this 4th of July shirt. Just follow our 4th of July crafts and learn here how to make special appliques like the country flag pockets and United States map applique with a red heart center. Here you need the respective templates, sewing machine, fat quarters in flag colors, paint tees, paper-backed fusible web, and silhouette machine to do this project. Details here polkadotchair
19. Red White and Blue Tassels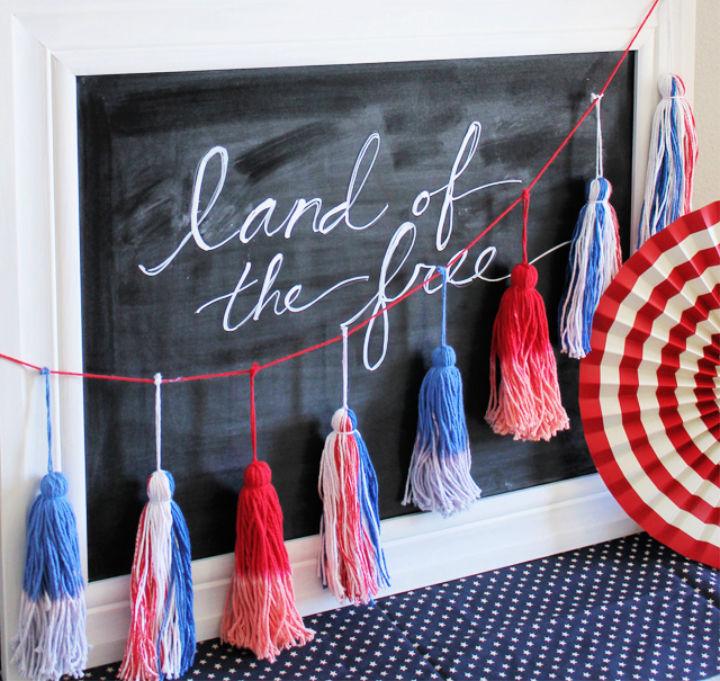 Satisfy your country love-obsessed by doing this smart decorative craft, will be a great addition to your 4th of July party ideas. This is here a tassel garland featuring the tassels in red, white, and blue yarn colors. First, make the tassels using red, blue, and white yarn and then dip them in the bleach and string up to get the decided decor. Details here sisterssuitca
20. Handmade Patriotic Wreath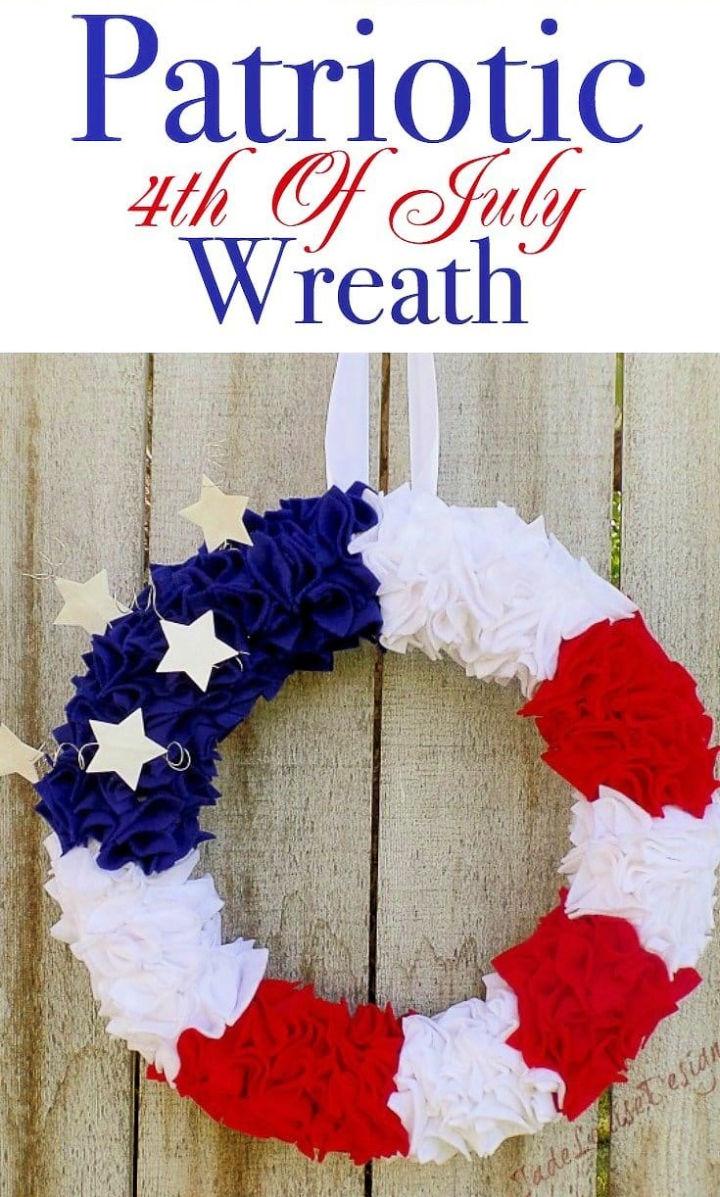 The wreaths are one of the most desired party decorations, and you can make special wreaths for Independence Day too. Make this wreath using the floral foam wreath form, felt sheets selected in-country flag, silver wire, glitter paint, small stretch ribbon, glue, and a staple gun to make this wreath. Details here busycreatin
21. Patriotic Bunting from Baking Cups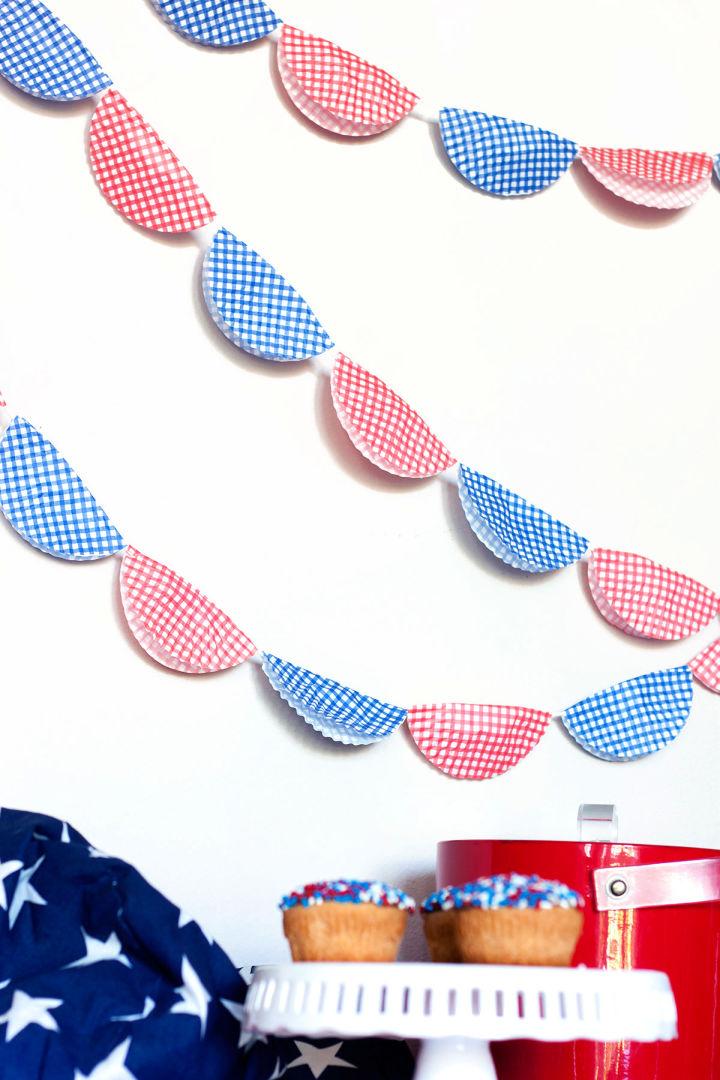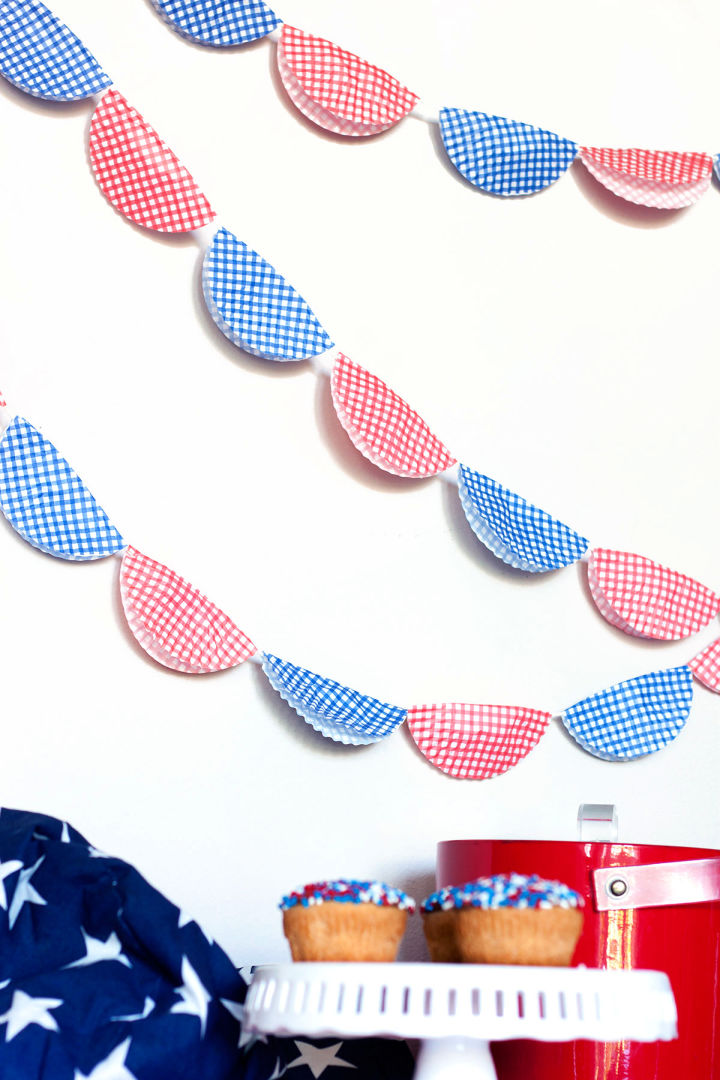 When choosing the decorations to bring festive vibes to space, the buntings always come at the top of the list. So, make these patriotic buntings from the baking cups. The idea is to cut the circles out of the baking cups, selected in white, blue, and red colors, and then to fold them over a piece of string. An easy to make DIY patriotic day decor idea. Details here paintthegow
22. Fourth Of July Painted Flower Vase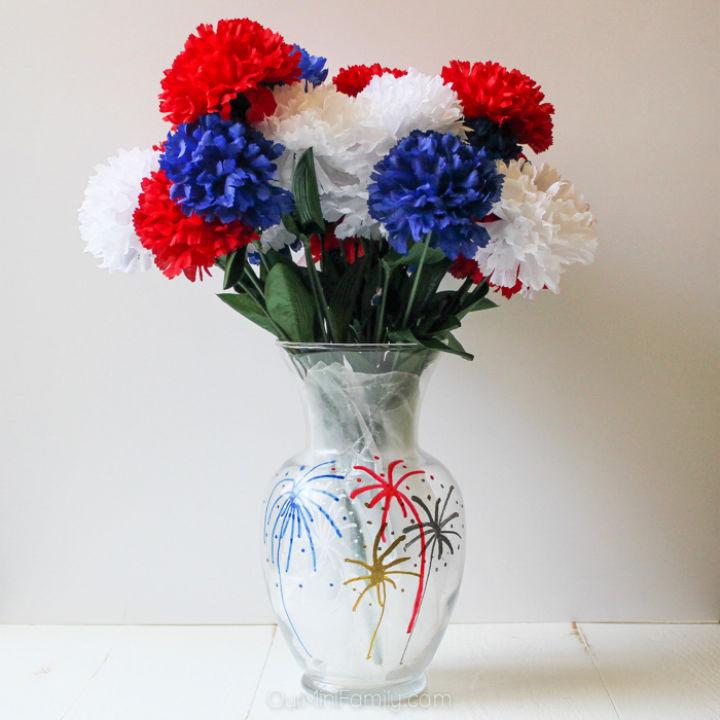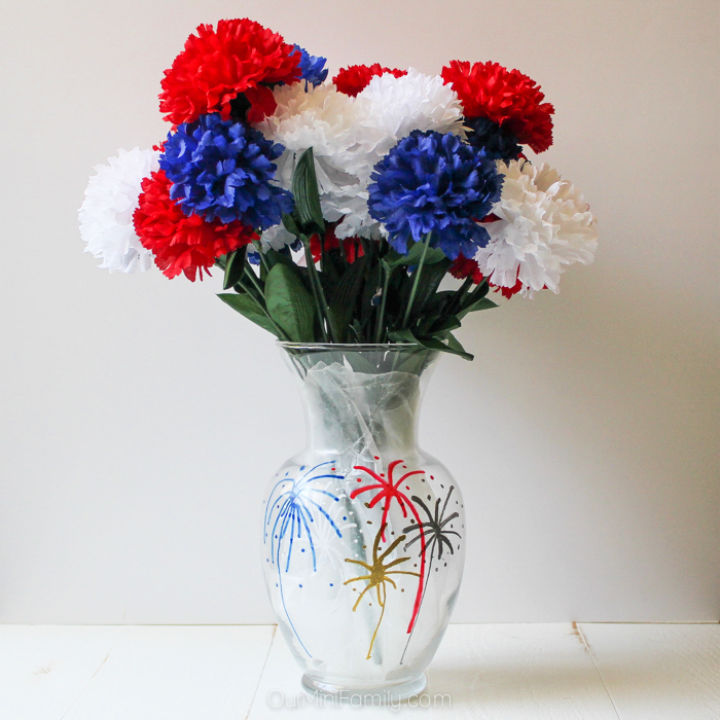 Celebrate Independence day also by making this painted flower vase, will make a centerpiece for the 4th of July party decorations. Grab a glass vase and paint the fireworks on it using glass paint markers and then fill it up with the silk flowers selected in white, blue, and red colors. Set this vase on a coffee tablet o to bring the country love in the air, it will rock for a dining table too. Details here ourminifa
23. 4th of July Pineapple Sparkler Centerpieces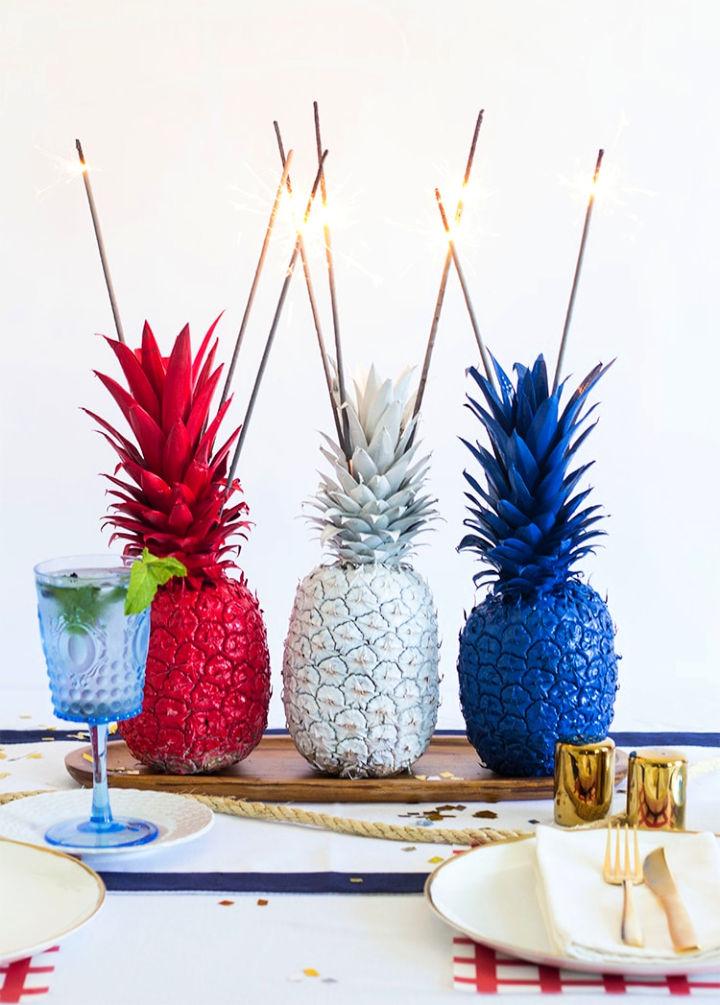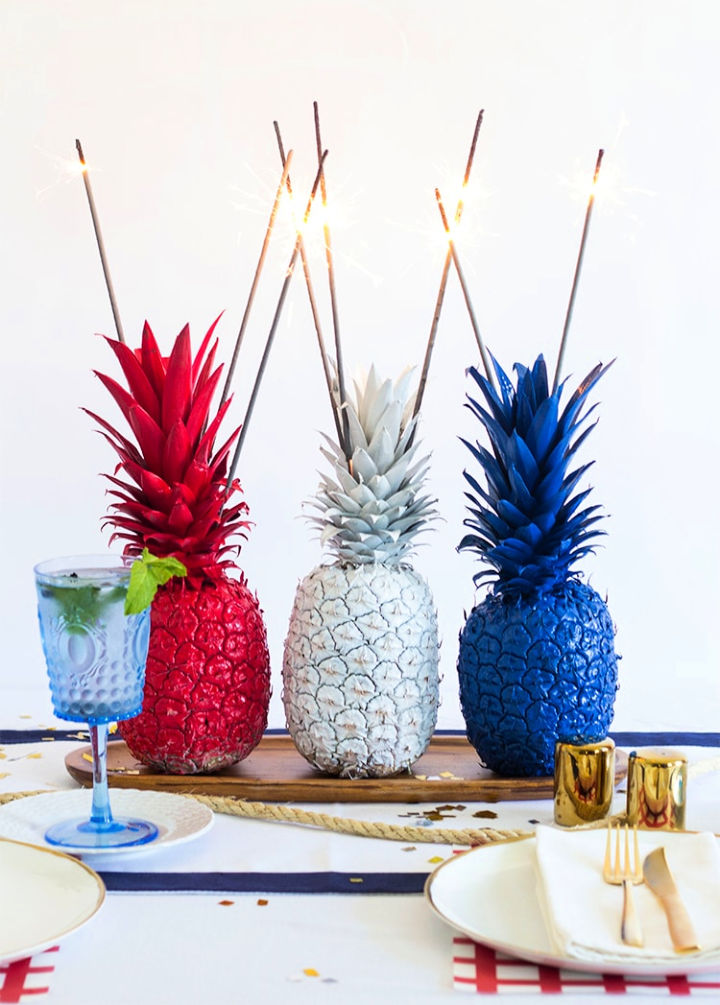 Get your 4h July party decorations and setting praised by making this very interesting sparkler centerpiece appearing like a flag. You need pineapples, spray paint in motherland flag, sparklers, and some creativity to make this quick Independence Day party centerpiece. Use a wooden caddy or box to display the fabulous trio of these patriotic sparkler pineapples. Details here freutcake
24. 4th of July Party Favors – Firecrackers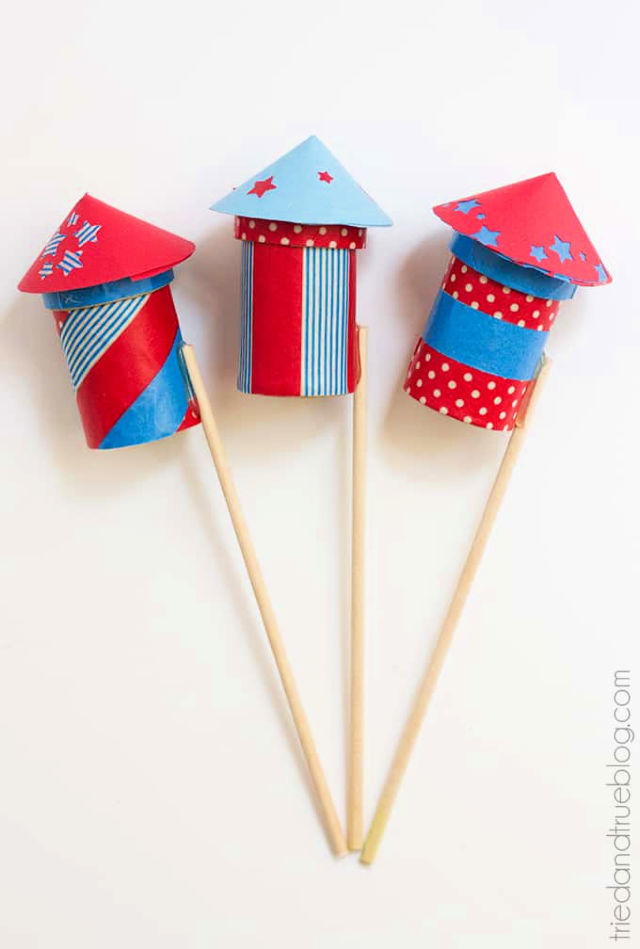 The celebrations of the 4th of July looks like missing something if there is no firework or firecrackers. So, make your own firecrackers at home to take the happiness of the patriotic day to the next level. Make these favors crackers using paper mache tubes, washi tape, scrapbook paper, double-sided Hercules tape, Starry night decorative edge punch, glue, and wooden dowel rods. Details here triedandtrue
25. Mini 3D Star Garland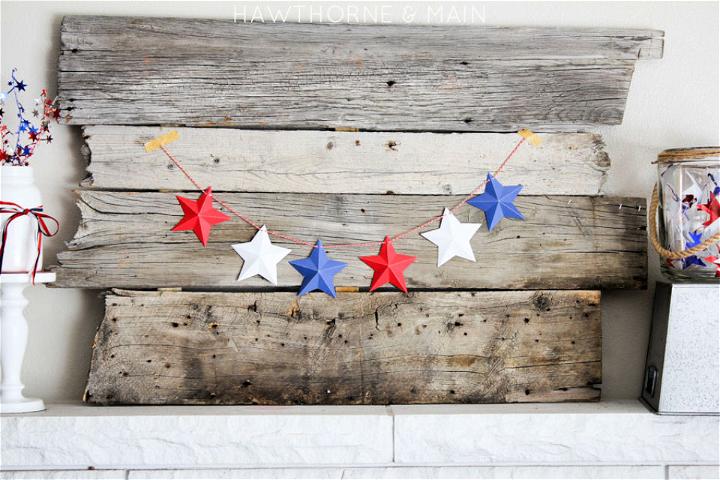 Spruce up your party environments with this mini 3D start garland that comes with a rustic wooden background. Print out your stars and then string them up using baker's twine to make the garland. Next, hang them on rustic wooden background, make a one quickly using recycled wood planks. Further, you need gold washi tape, small hole punch, and scoring board. Details here hawthornea
26. How to Make Paper Pinwheels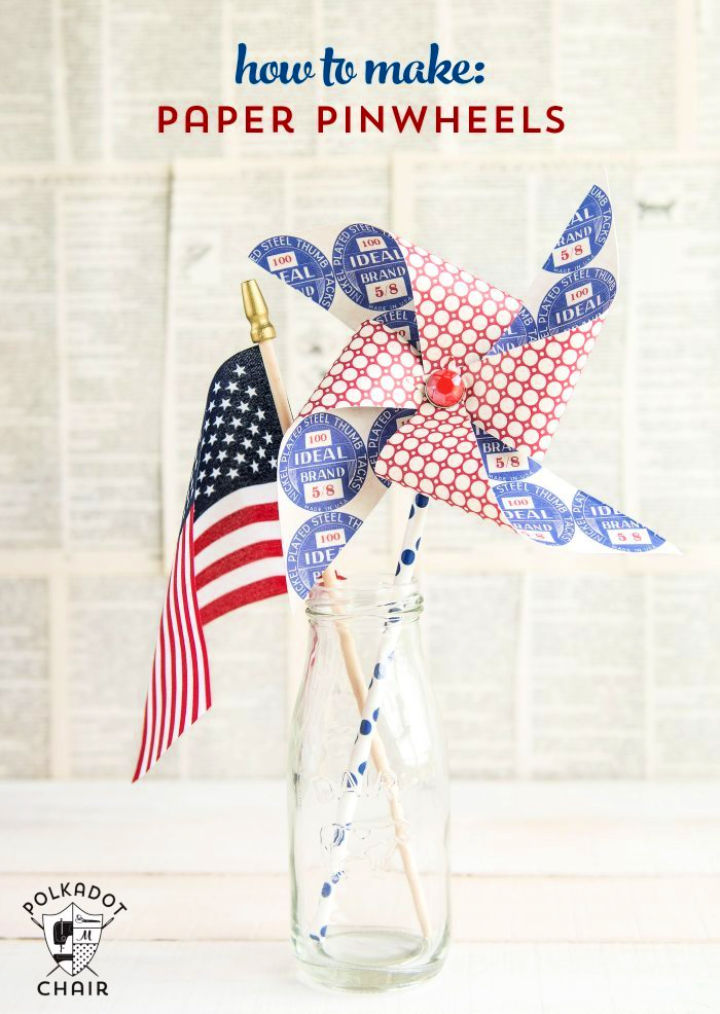 The pinwheels are the best kids crafts that are super easy to make according to any party theme. Celebrate the independence by making these 4th July pinwheels, sure to impress. Make this patriotic pinwheel using the square of double-sided cardstock weight paper, paper straw, hole punch, large brad, and scissors. Details here polkadotc
27. Star-spangled Fourth Of July Garland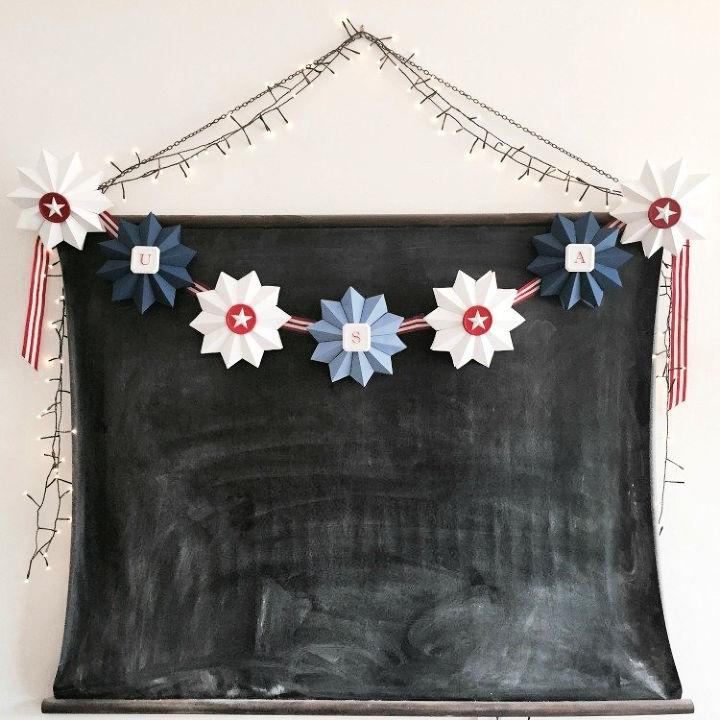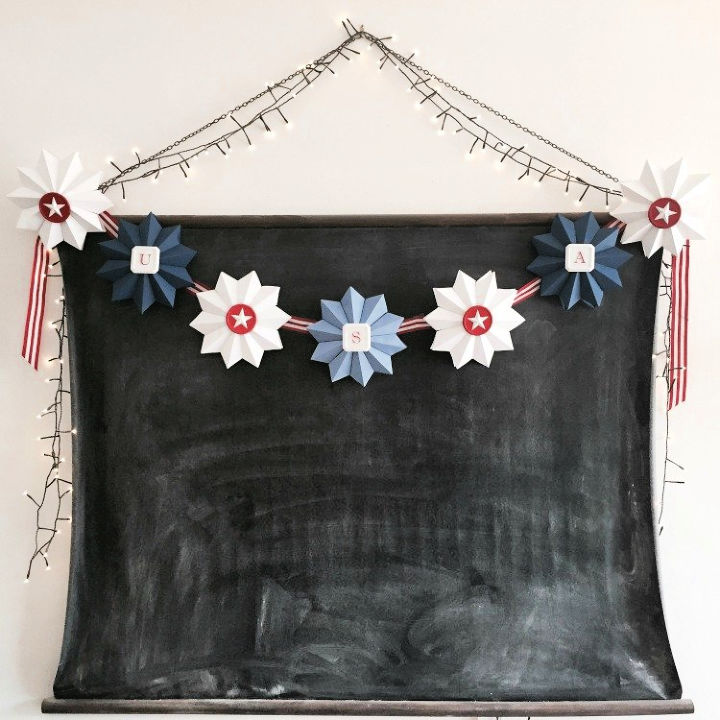 The stars are a prominent party of the glory of the national flag, and hence they are to feature in the patriotic decor. The best way to feature them in the party environments can be to make this star-spangled 4th of July garland, a crazy quick Independence Day project. Make the stars out of red, blue, and white cardstock, glue them on the red and white striped ribbon. Finish the stars with aluminum emblems letter centers. Details here sparklelivi
28. Watercolor Fourth Of July Temporary Tattoos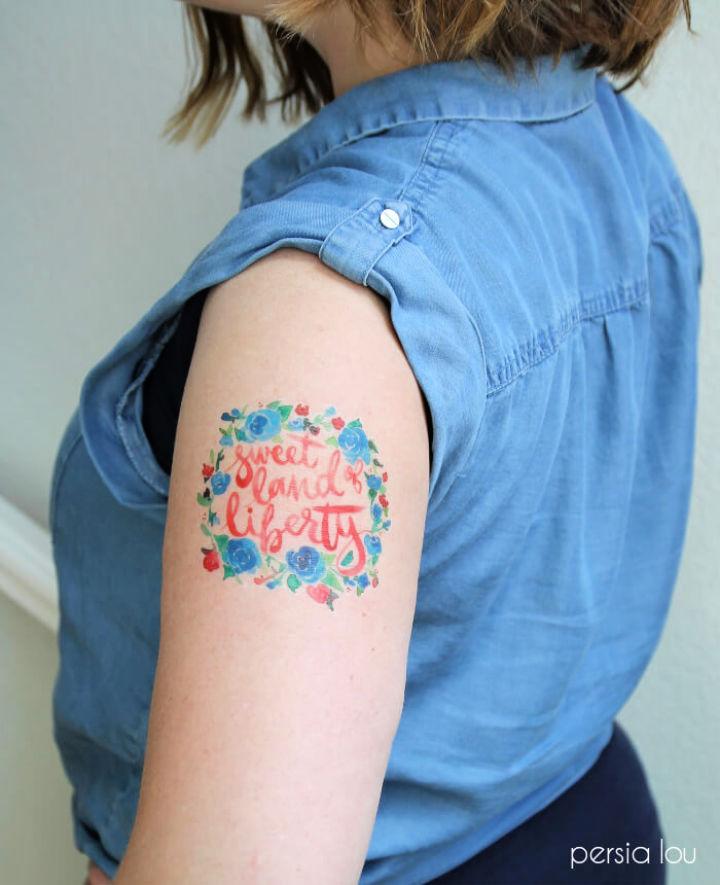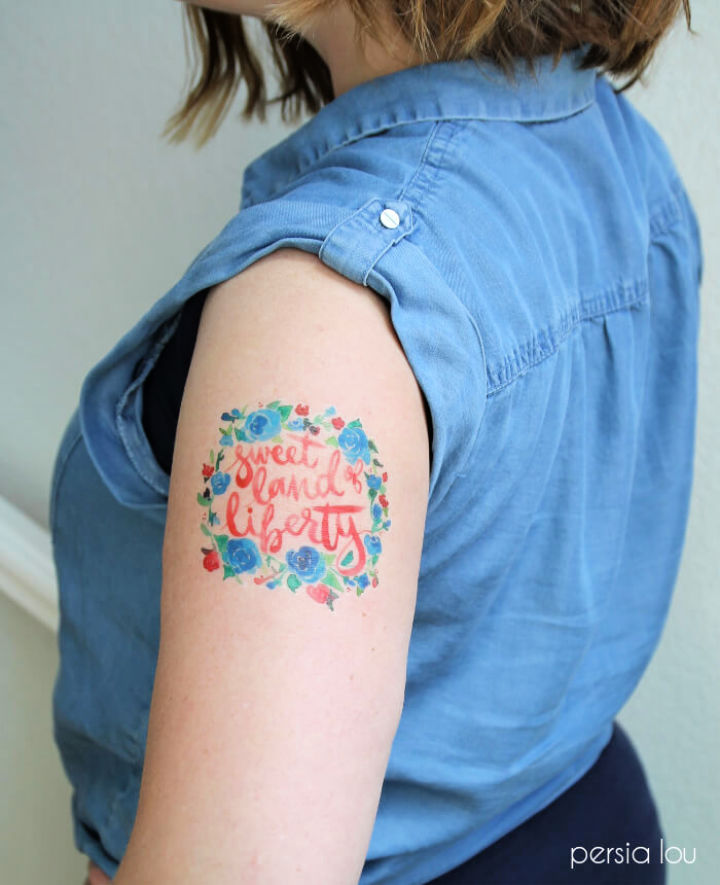 Take your Independence Day craze to the next level by making the patriotic tattoos on the body. Learn here how to make these temporary watercolor tattoos on the body feature state map and other country love quotes. You need temporary tattoo paper, color printer, scraper tool, and 4th July tattoo printables to do this project. Details here persialou
29. Outdoor Patriotic Tassel Garland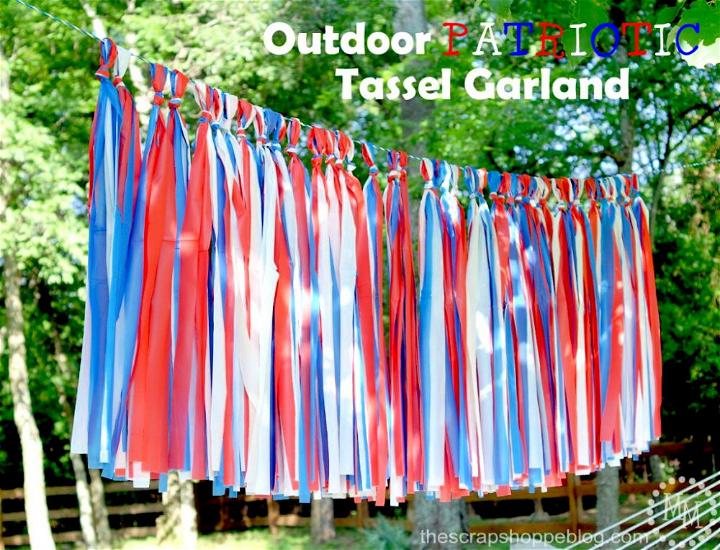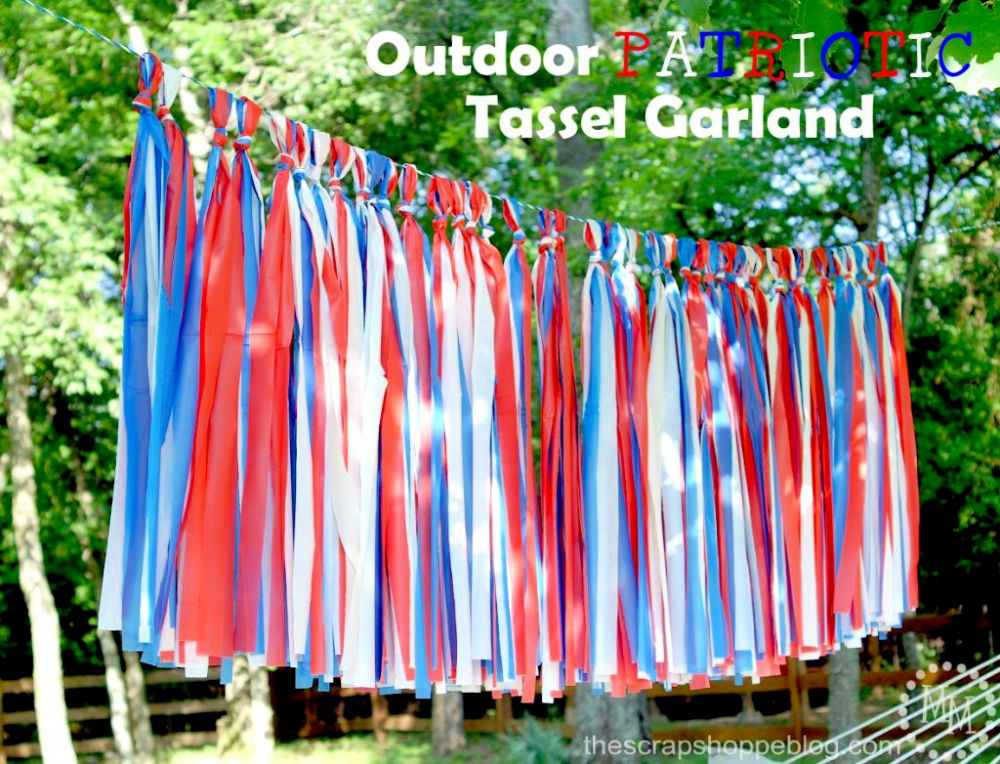 The tassels garlands are the fun decor that you can customize easily into any party theme. You need the plastic rectangular tablecloths in red, white, and blue colors and a clothesline to make this outdoor patriotic tassel garland. The idea is to take the tablecloths into 1" stripes that you can use to make the tassels easily. Next, tie them onto clothesline to get the patriotic tassel garland. Details of 4th of July decorations are here thescrapsho
30. Firework Rocket Photobooth Prop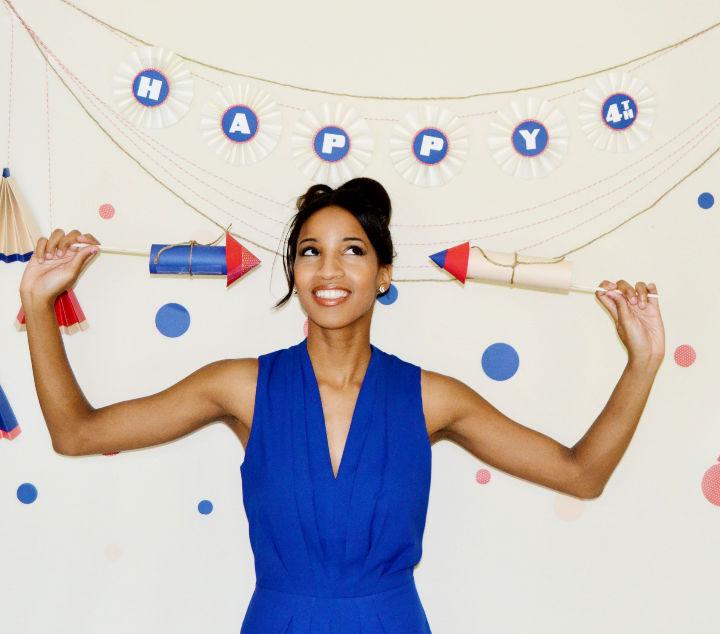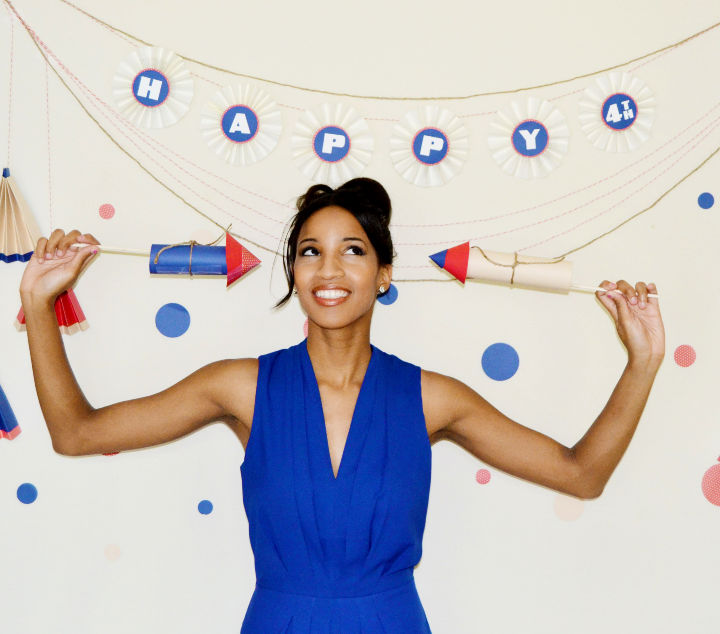 Do you love to take the photos at the end of every celebration and party? Have you planned a photo booth for the upcoming 4th of July holiday party? If yes, then do make this firework rock photo booth prop, will help take the memorable photos of the events, will make sweet keepsakes. You need scrapbook paper, toilet paper rolls, jute, wooden dowels, tape, and glue to do this project. Details here sparkandch
31. 4th Of July Hat + Scarf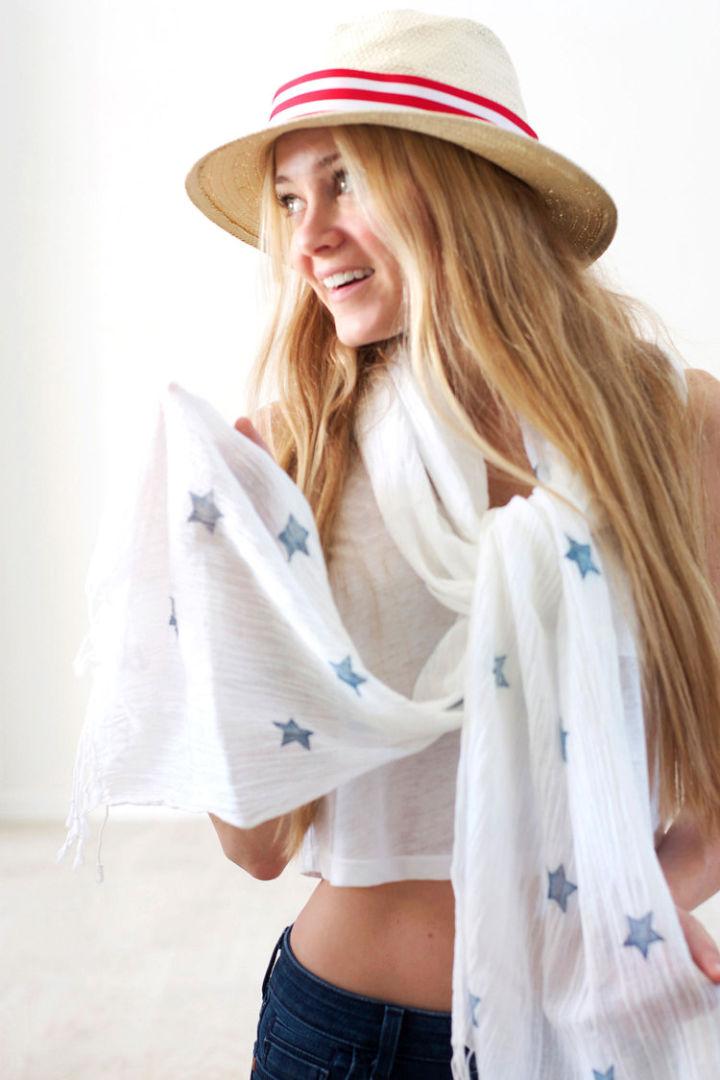 Are you sorting out the best hacks to design your own special and elegant outfits and accessories for the 4th of July decorations? Then learn here how to make a patriotic hat and scarf for the Independence Day. Adorn a summer hat with red and white striped ribbon to get a patriotic holiday special hat. Take the white scarf and stamp it for blue stars to transform into the 4th of July special accessory. Details here kristimur
32. Glittery All American Princess Shirt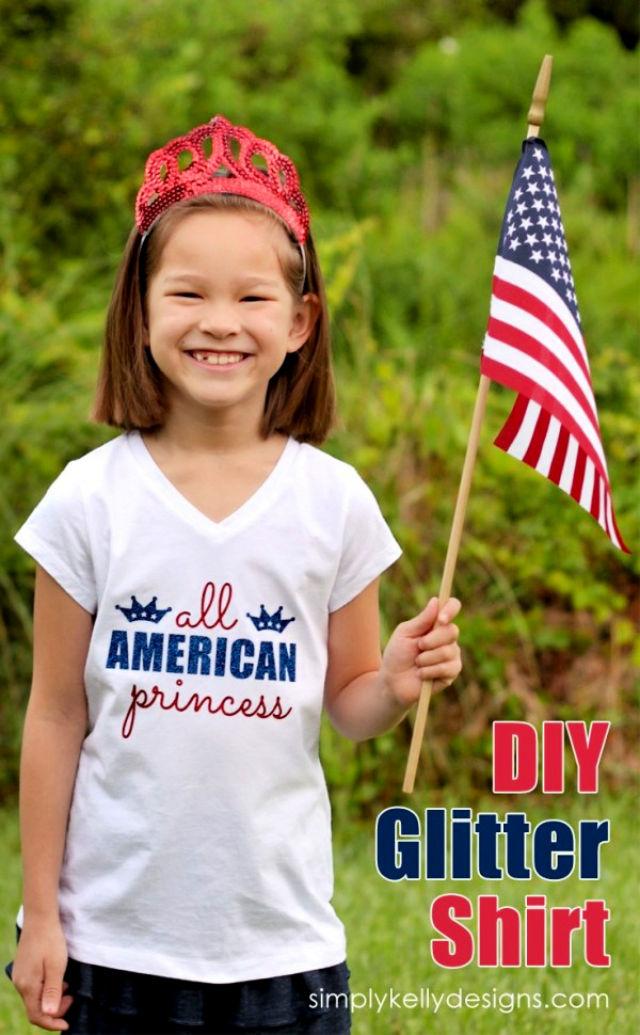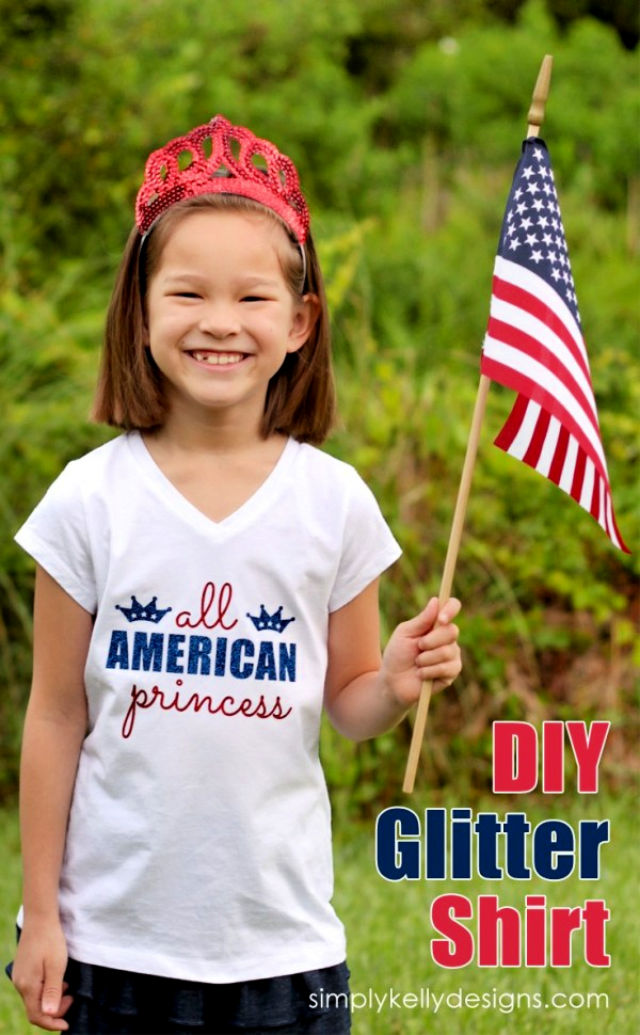 Let your kids celebrate the Independence Day wholeheartedly by wearing this glittery All American princess shirt. The idea is to use the silhouette machine to cut the country love quote vinyl that you can easily transfer on the shirt. Choose the white shirt for this project. You need blue and red glitter heat transfer vinyl for this project. Details here simplykelly
33. Patriotic Wreath with Cheap Neckties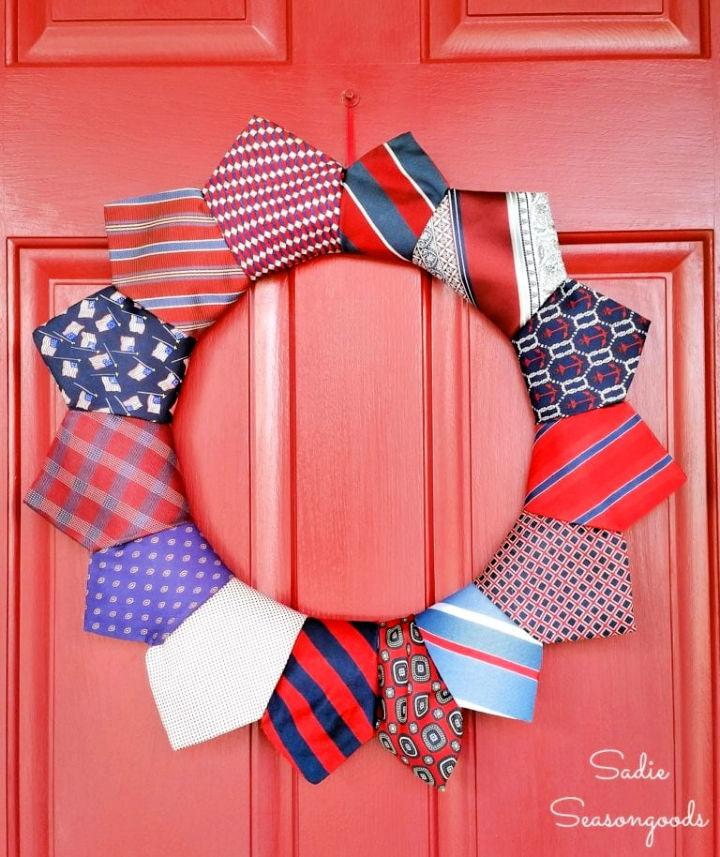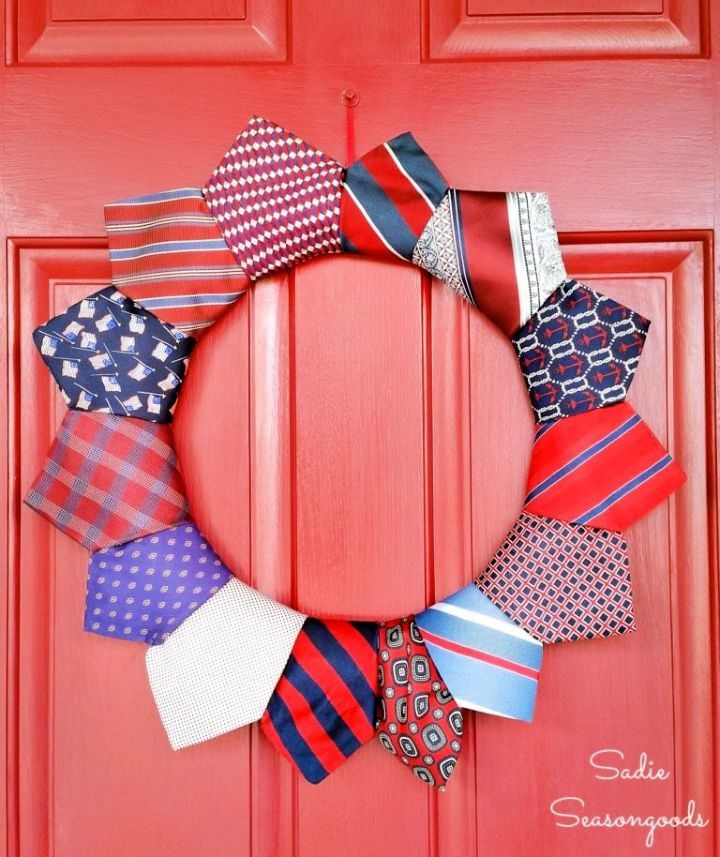 having nothing to do with your old neckties? Then do put them together to make this cheap but elegant 4th of July wreath. It will hang nicely on your front door decor and will be a pleasure to make for sure. You need a bunch of old ties featuring country colors and a wire wreath form to make this patriotic wreath. Details here sadieseas
34. 4th of July Picnic for Kids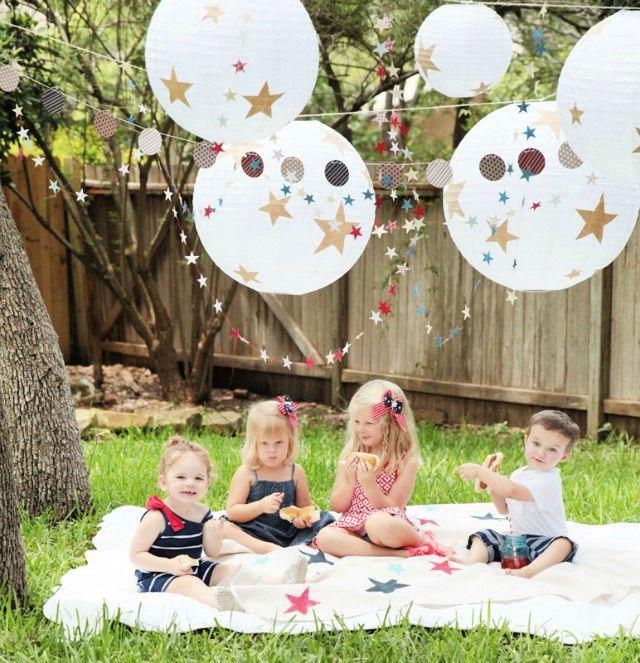 Are you willing to organize the 4th of July picnics with your kids? Then get here instructions about how to make the patriotic decor and other stuff for the patriotic holiday parties. Learn here how to make the start garlands, paper lanterns, treats, and other stuff. The kids will love shared in this patriotic decor and craft project. Details here designimpr
35. Patriotic Boom Boxes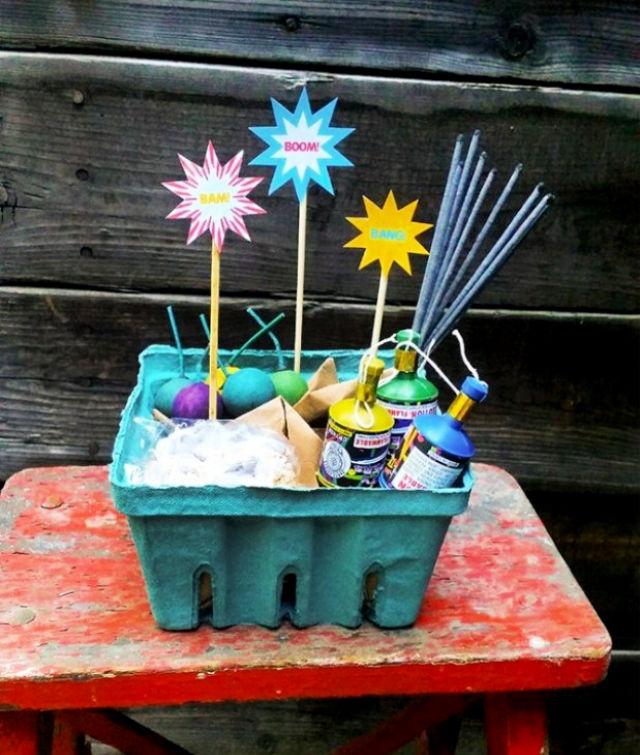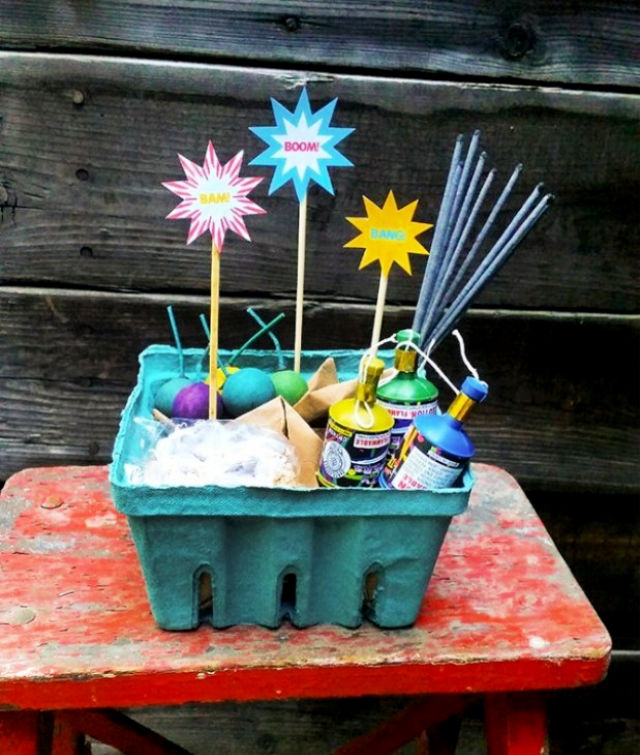 Are you love to celebrate an event with the crackers and fireworks? Then you will surely love to make these patriotic boom boxes that will double up the fun of Independence Day celebrations. You need the berry boxes, craft paper, fireworks, and skewers to make these patriotic boom boxes. Another quick project to do on the upcoming 4th of July. Details here ajoyfulriot
36. Washi Tape Silverware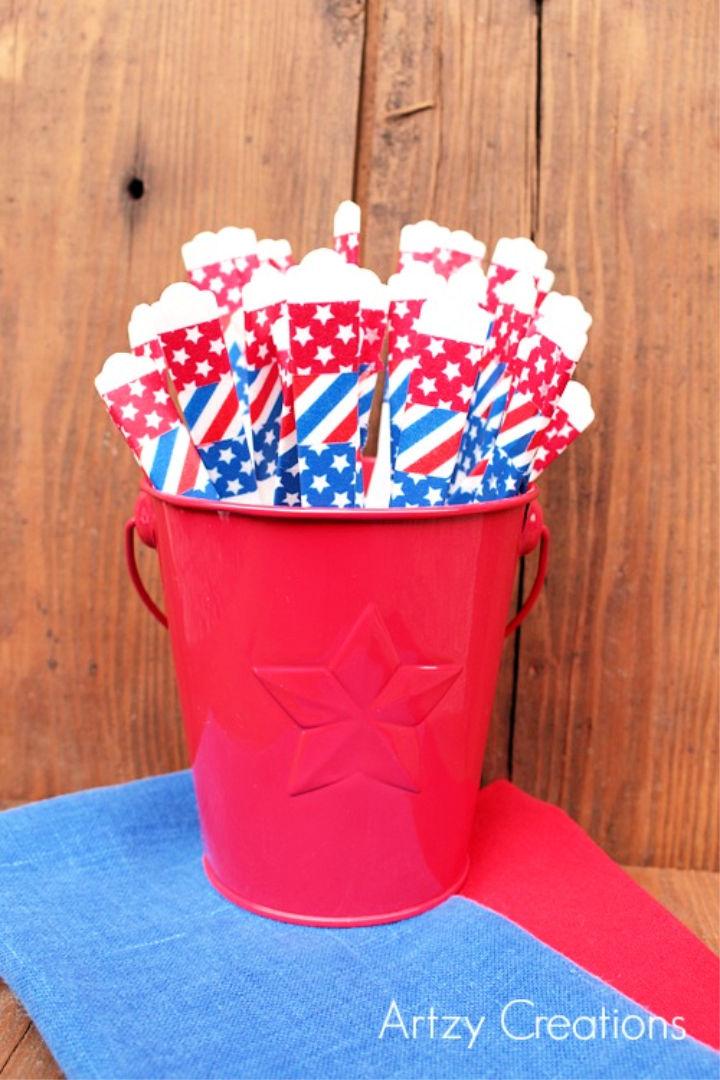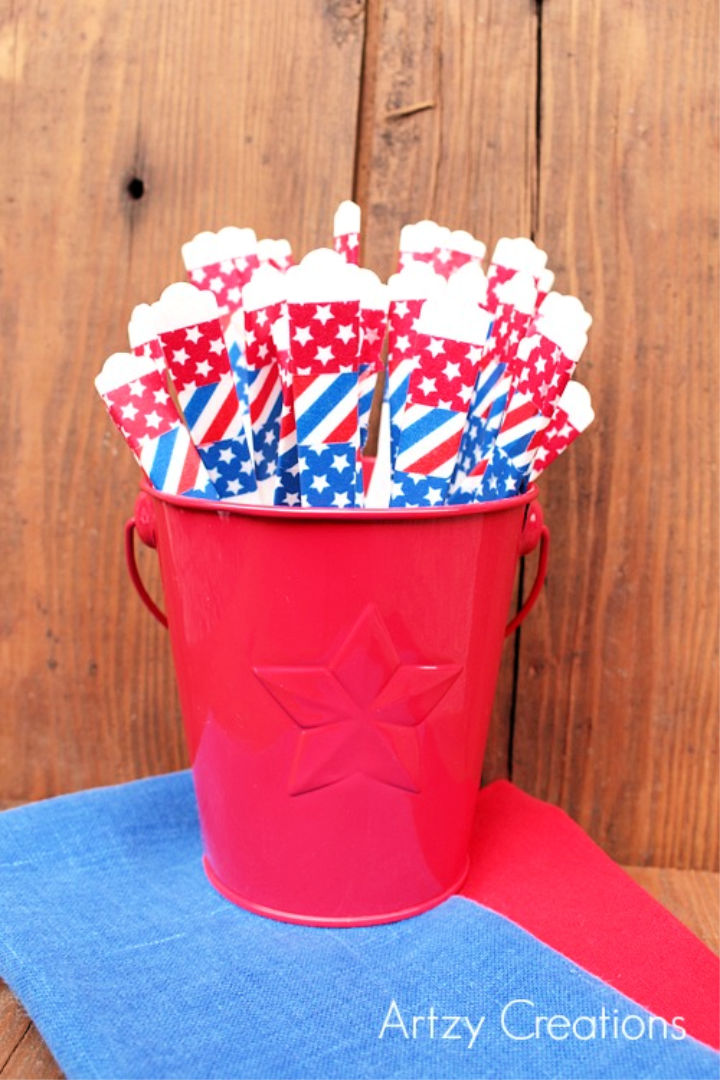 Are you to use the silverware on the upcoming 4th of July holiday party. Then learn here how to decorate that all the silverware for the 4th of July party theme. Learn here how to create the 4th of July special avatar of the silver buckets, forks, spoons, and other items of this kind using the washi tape selected in-country flag prints and patterns. Details here artzycreati
37. Patriotic Street Number Banner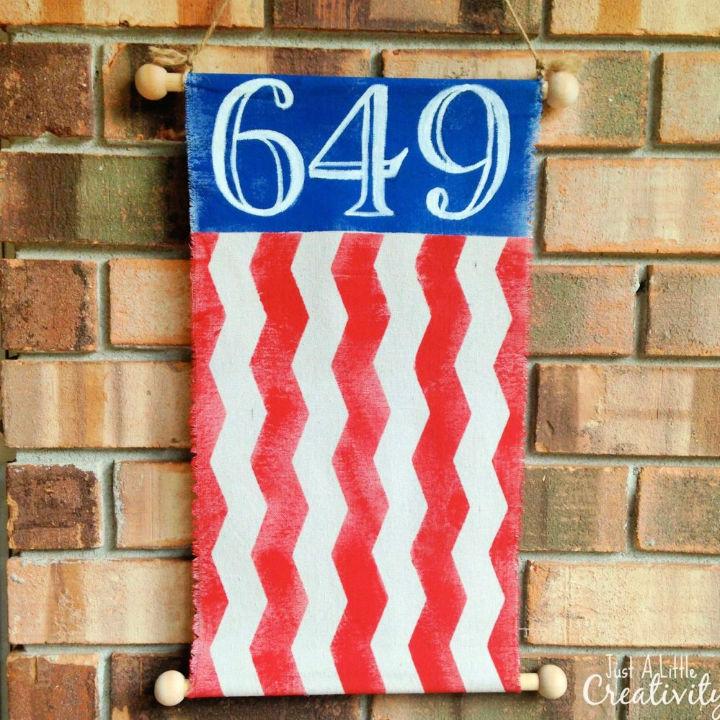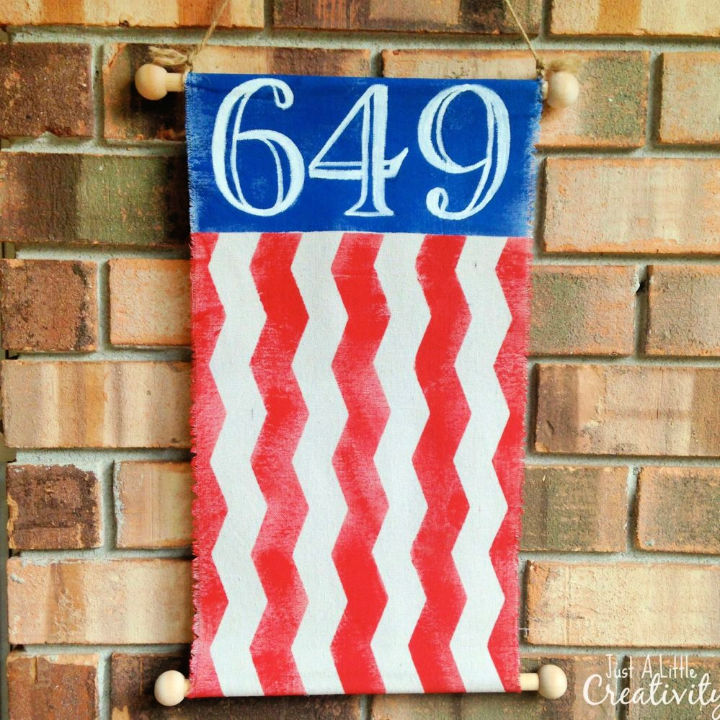 Want to celebrate Independence Day to fullest, then start decorating your environments. Start it from the street by making this patriotic street number banner. A precious country flog featuring your house numbers. Make it with canvas, blue painters tape, chevron frog tape, carbon paper, craft paint in flag, white glue, wooden dowel, dowel cap, rope, and ultra hold Heat N Bond. Details here justalittlec
38. DIY 4th of July Fireworks Wreath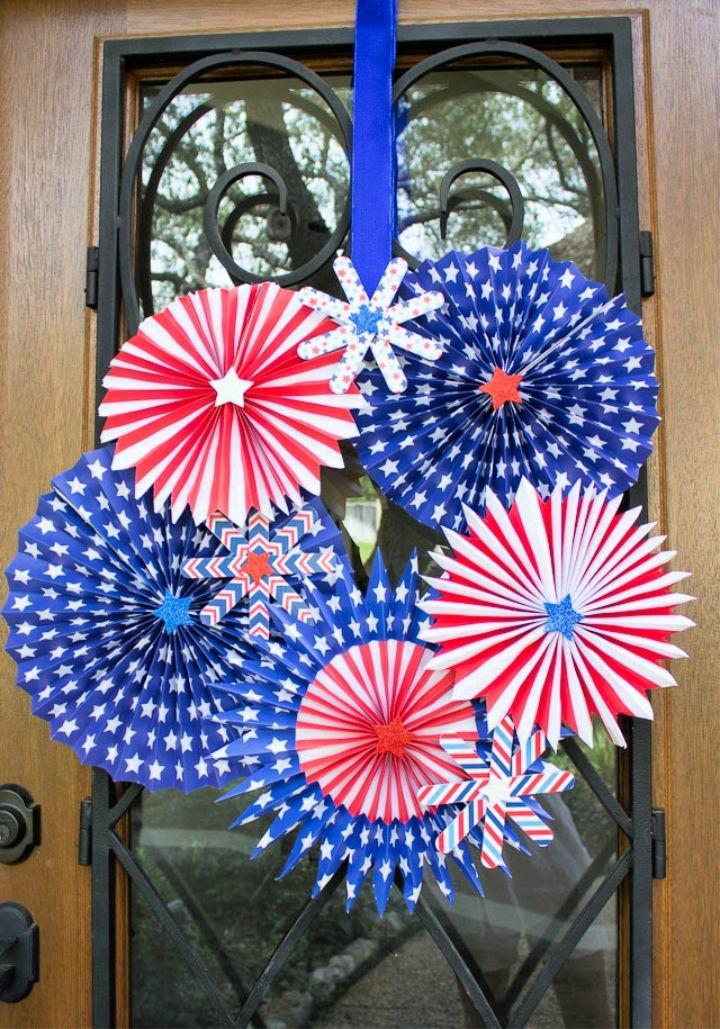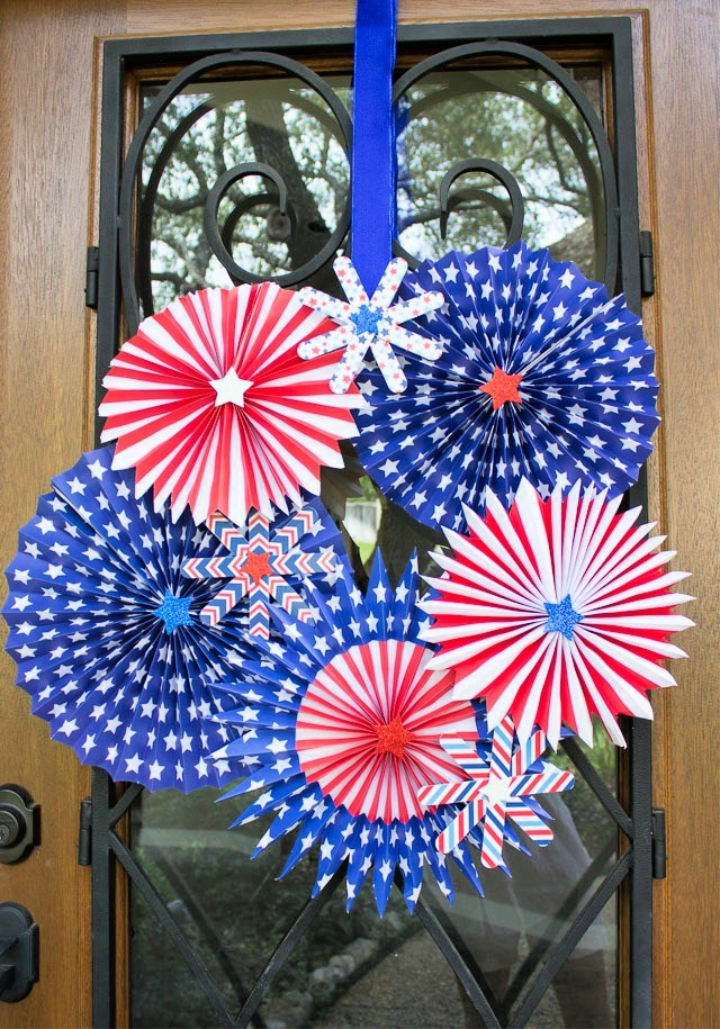 Do you love to see the Independence Day fireworks often a part of the celebration? If yes, then why not feature the 4th of July fireworks on your front door using this fireworks wreath. You need foam wreath forms, paper pinwheels, patriotic popsicle stickers, and glue. Select the paper wheels in the red, white, and blue colors. Details here designimpr
39. Stars and Stripes Bunting With Free Printable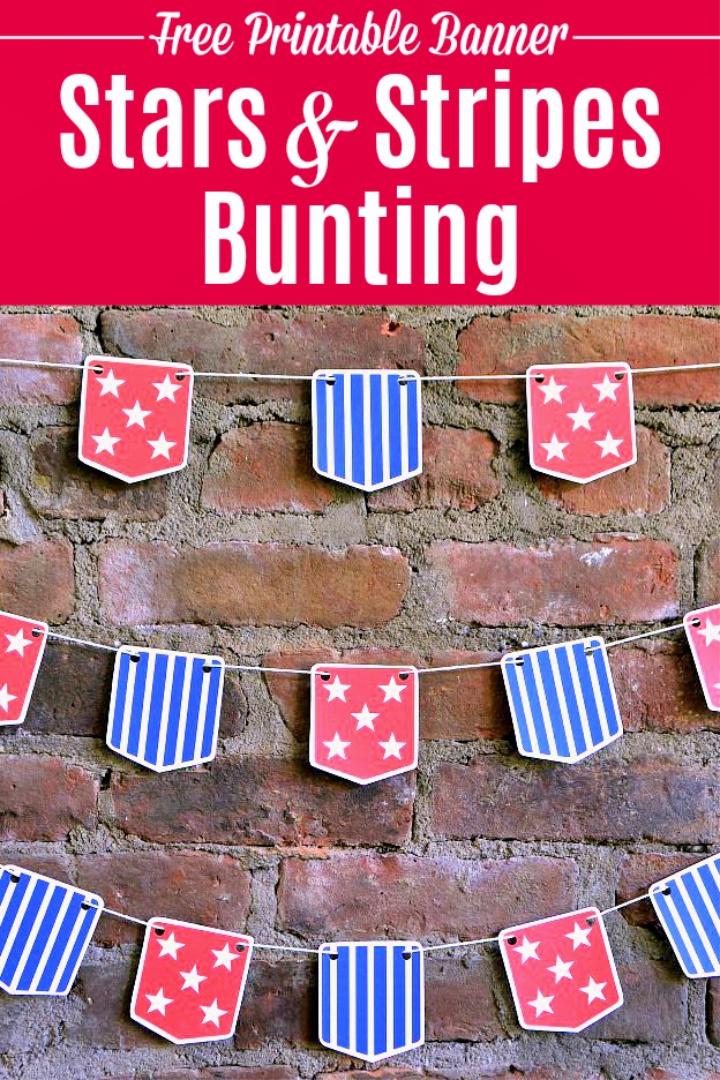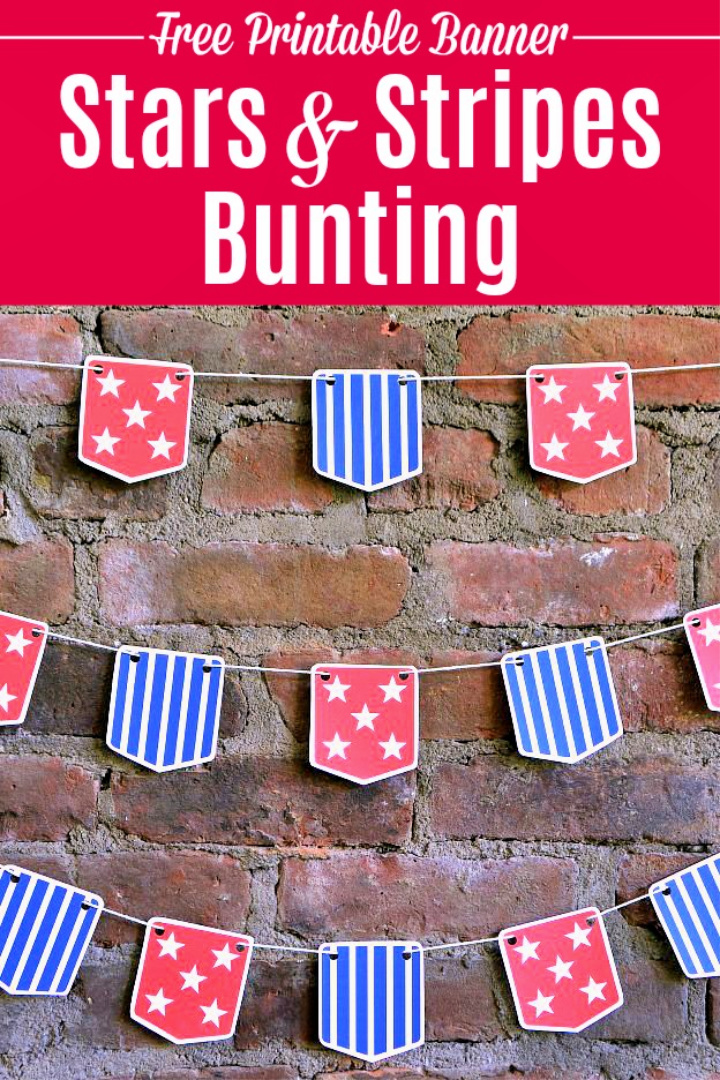 Bring the instant festive vibes to your spaces and wall on this Independence Day using these stars and stripes buntings. Get here the free bunting printable that you can download, cut out and string up to make lovely stars and stripes 4th o fJuly buntings. Use a hole punch to make holes in the buntings and use the baker's twine to string them up. Details here hellolittleh
40. 4th Of July Candle Holders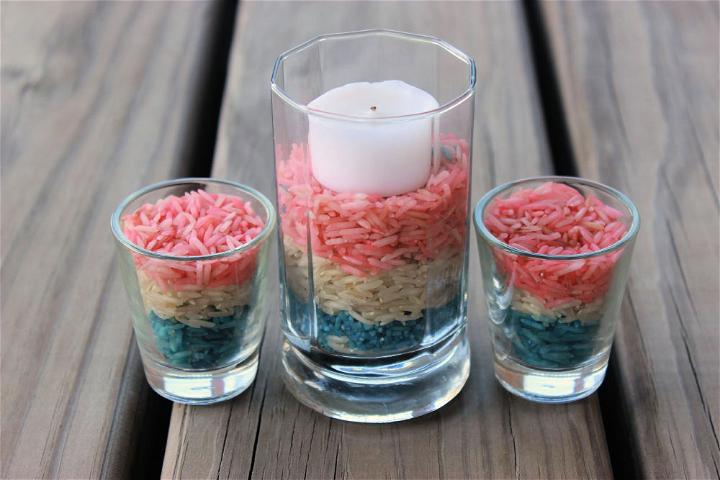 Willing to add some precious light decor on your 4th of July party tables? Then opt for these DIY candle holders, which will definitely get appreciated. Moreover, they will bring a gorgeous festive touch to your tables. Use the food coloring and color the rice in flag shades and then layer in a choose glassware. Top up the filled rice with a light tea candle and gain a lovely 4th July candleholder. Details here cutediys
41. 4th of July Dessert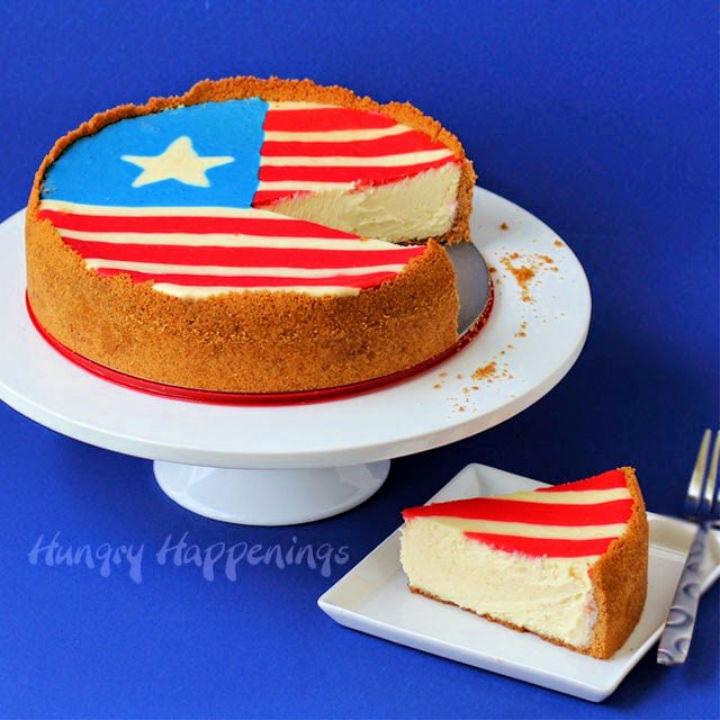 Rock your 4th of July parties too by making this outstanding 4th of july flag cheesecake, going to be the best party dessert and is also quite something quick and easy to make. You need the graham cracker crumbs, a pinch of cinnamon, butter, cream cheese, sugar, eggs, sour cream, vanilla extract, and food coloring to make this 4th of July party dessert. Details here hungryha
42. Patriotic Crafts for Kids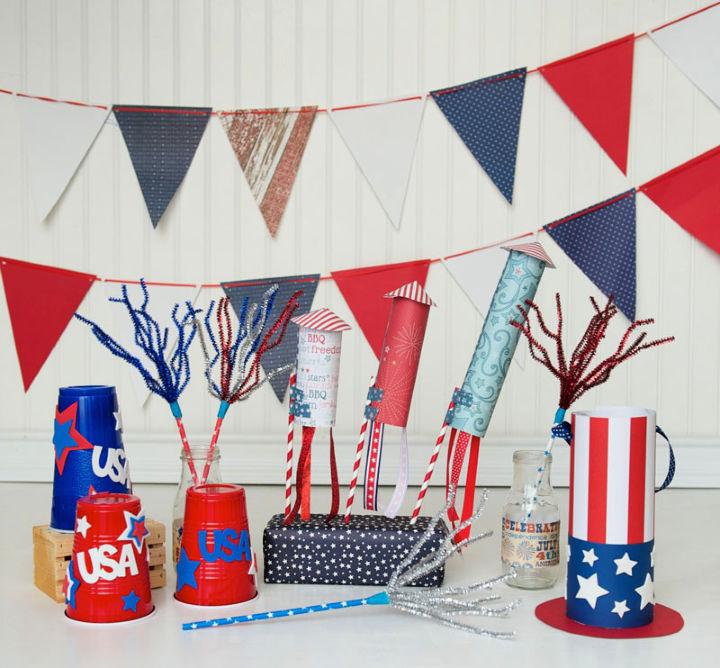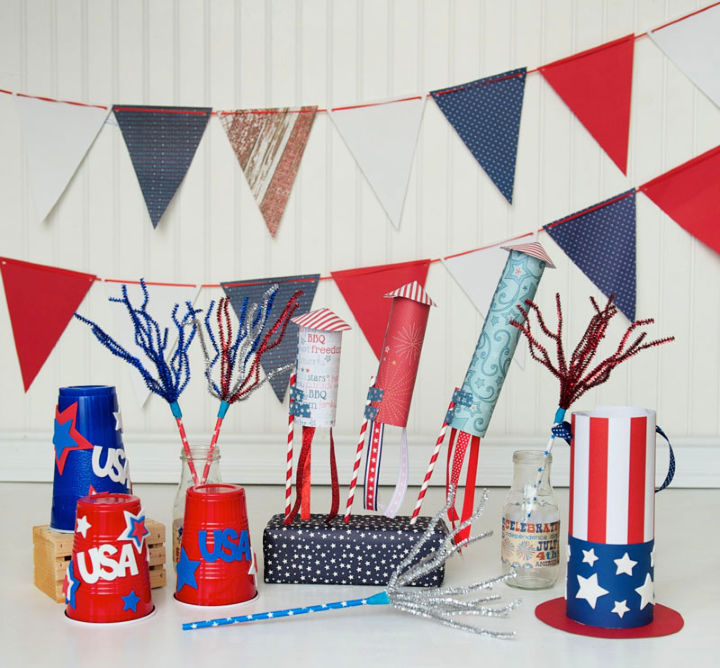 Let the kids take part in the decoration of your spaces too on the big day of the 4th of July. Presenting here the best 4th of July crafts for kids can do with you, lending you a big helping hand. Kids can make the buntings, firecrackers, patriotic party glasses, and sparkler holders. Get here supply lists, directions, and instructions for all. Details here kixcereal
43. Eraser-Stamped 4th of July Shirt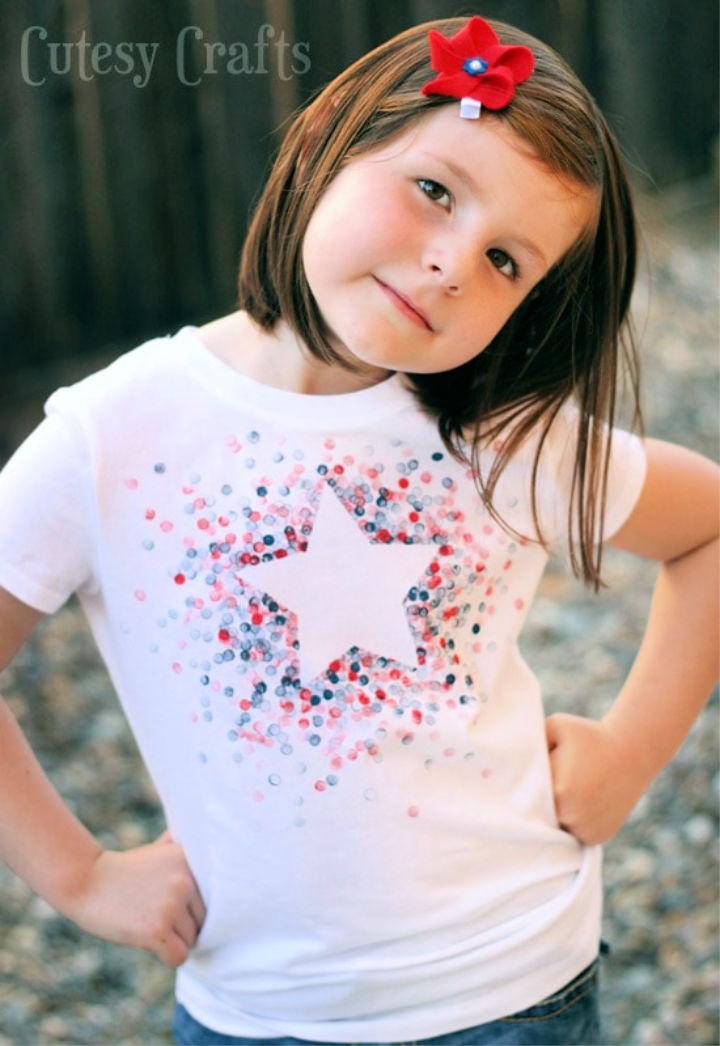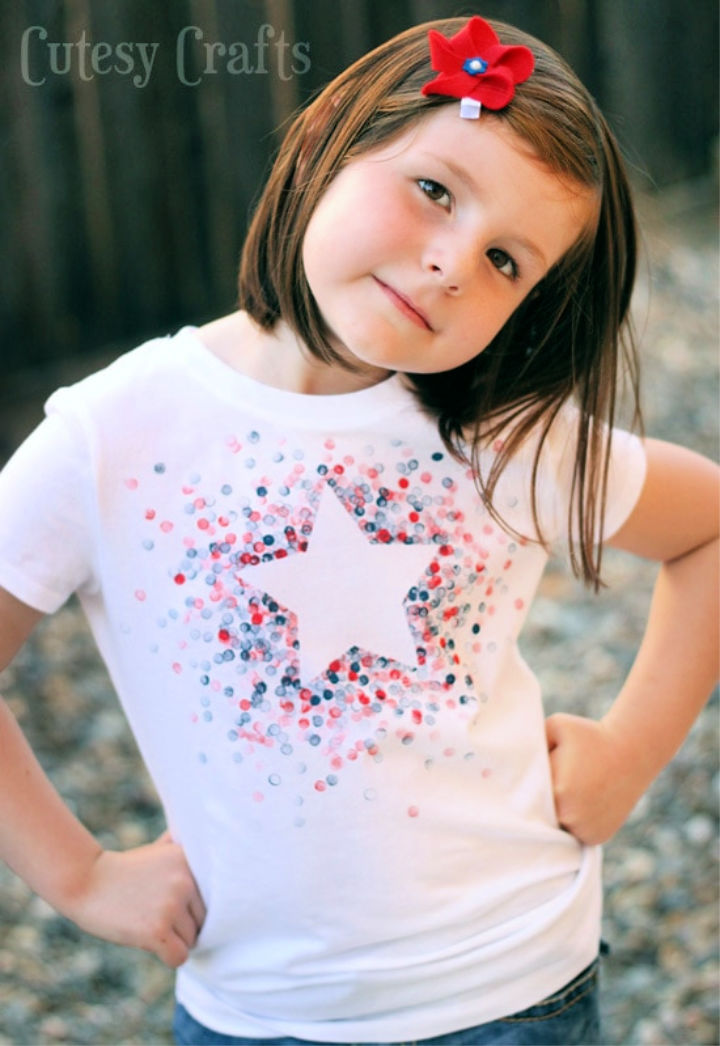 Make the cute 4th of July outfits too for the kids without getting expensive. Go with the stamp technique and stamp the white plain t-shirts of the kids for any 4th of July print. Here this t-shirt comes with a start print and has been stamped with a pencil eraser. You need a start pattern, a shirt, freezer paper, fabric paint an pencil with an eraser to do this project. Details here cutesycrafts
44. Burlap Flag Silverware Holders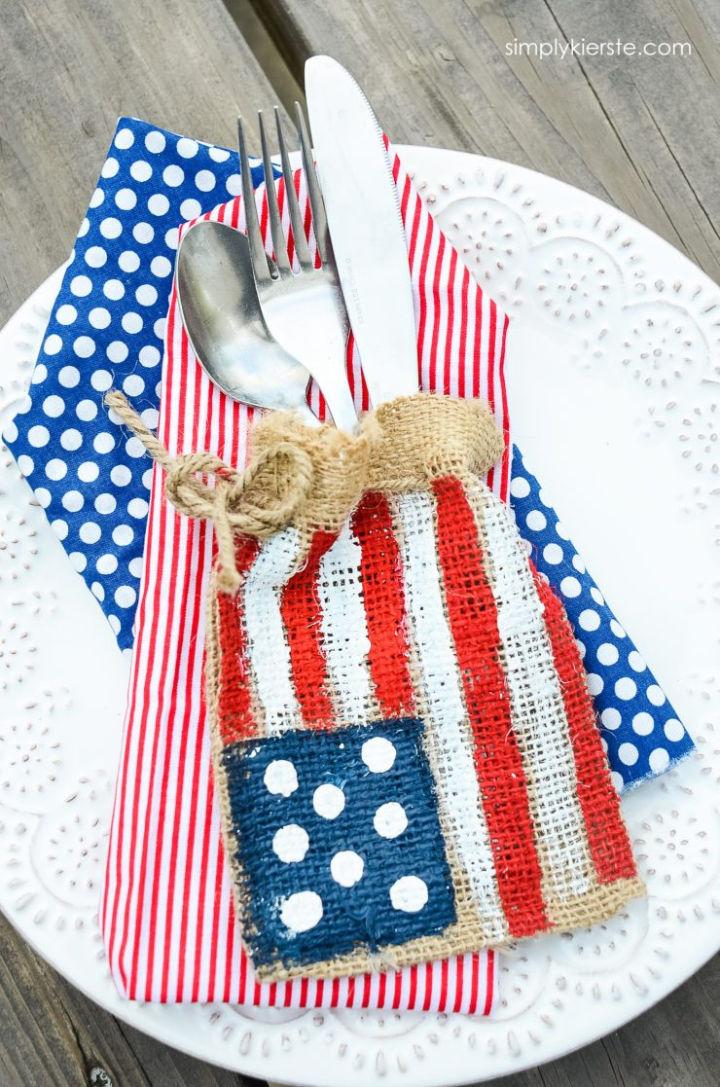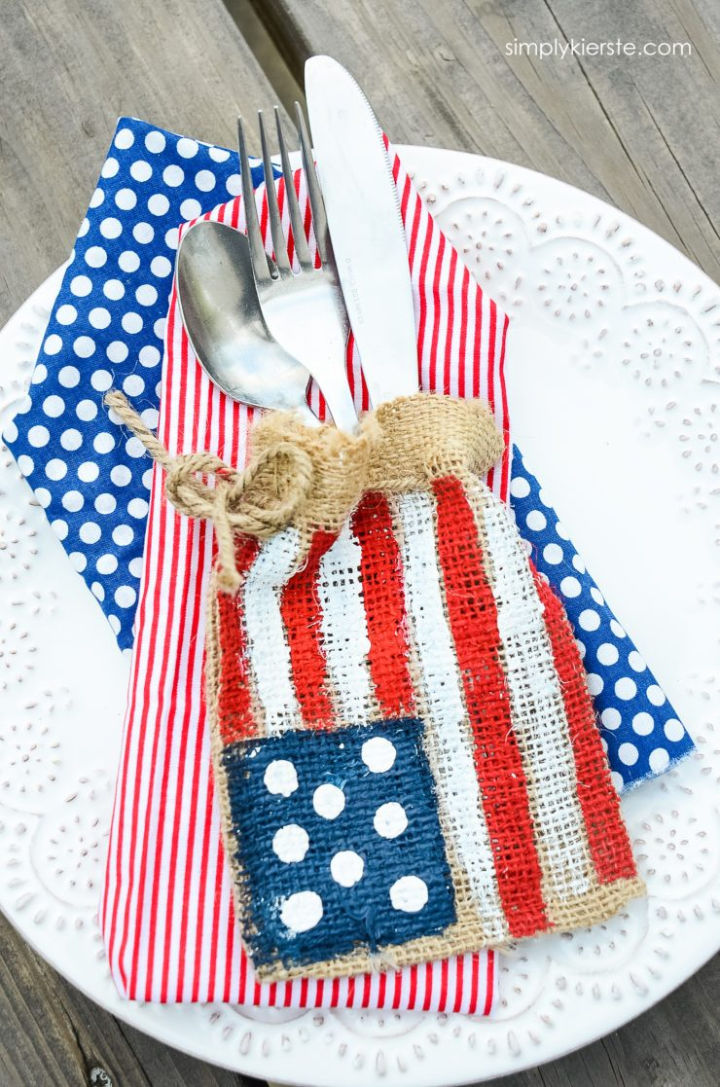 Bring the festive vibes to the 4th of July party and dinner tables by making this burlap flag silverware holder. An expensive but great looking decor that everyone can make with great ease. You need burlap bags, craft paint in the country flag, painter's tape, and a skinny foam brush to make it. Details here oldsaltfarm
45. Stars + Stripes Patriotic Flower Pot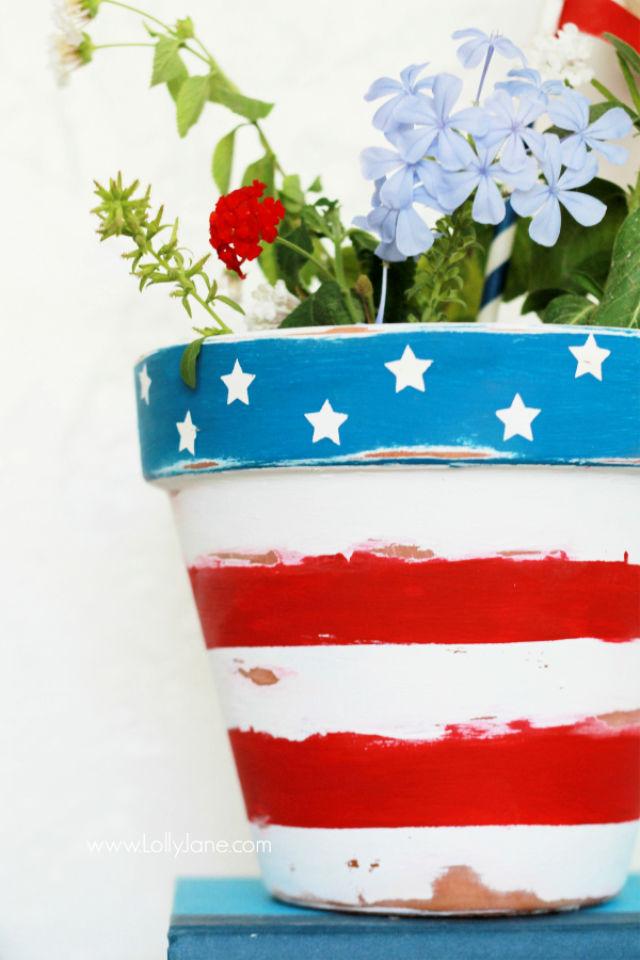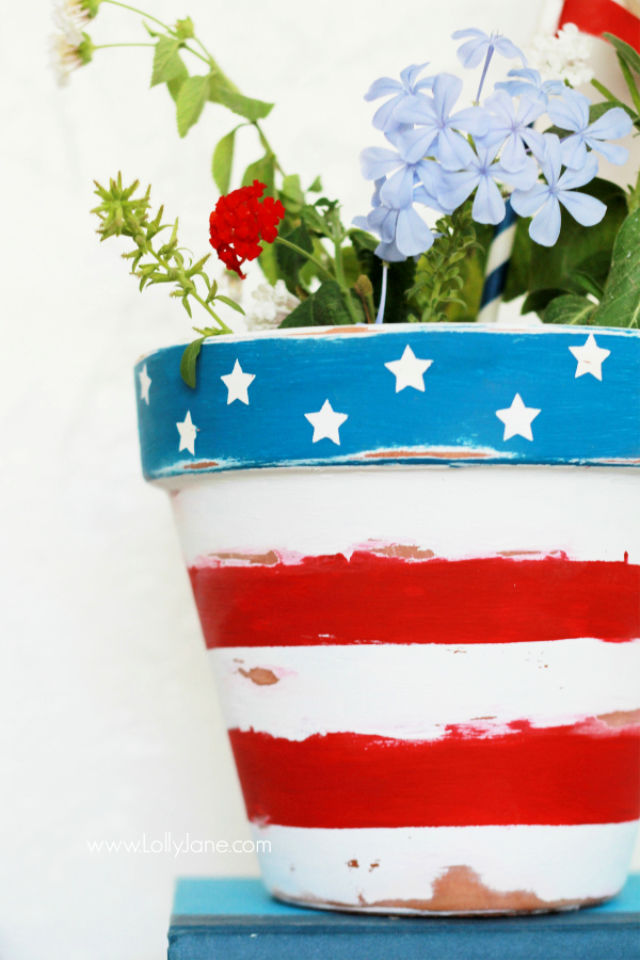 Start painting your pots too to speak volumes for country love. Yes, update them by painting the loving country flags on them, and this will not take much of your time and budget. Give a white base coat to your terracotta pots, and then paint for the red stripes using red paint and masking tape. Pain the top rim in blue with white stars. Details here lollyjane
46. DIY Patriotic Wreath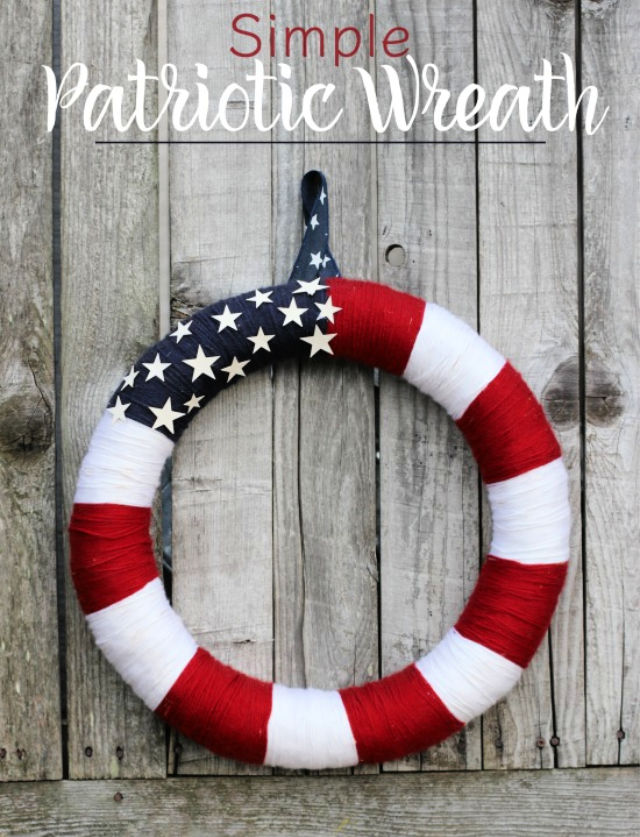 Celebrate the arrival of 4th July by hanging this patriotic wreath on your front door. Wrap the red, blue, and white twine around a foam wreath form and then finish the blue portion with the white paper stars, can be glued on. This will make you get with a lovely patriotic wreath, will be the best patriotic holiday decor. Details here myfrugaladv
47. DIY Firework Sunglasses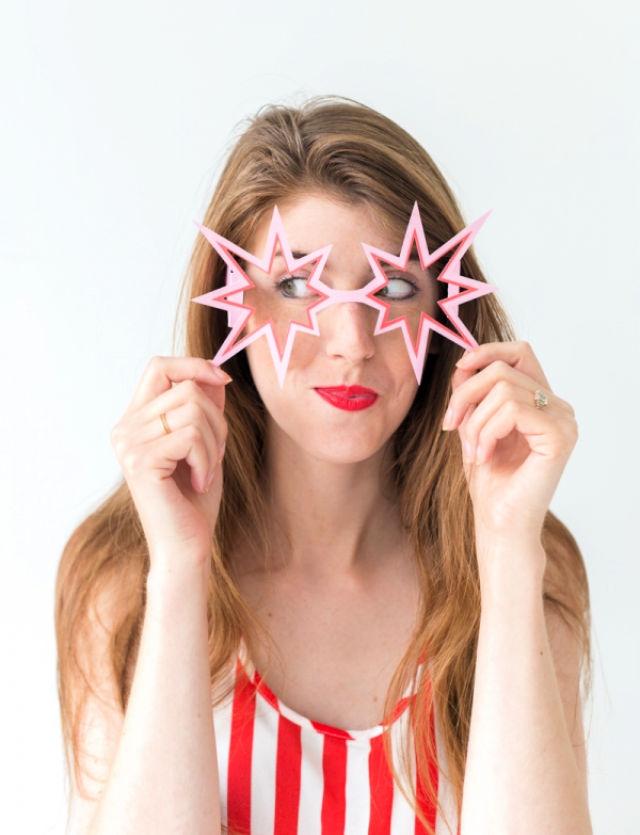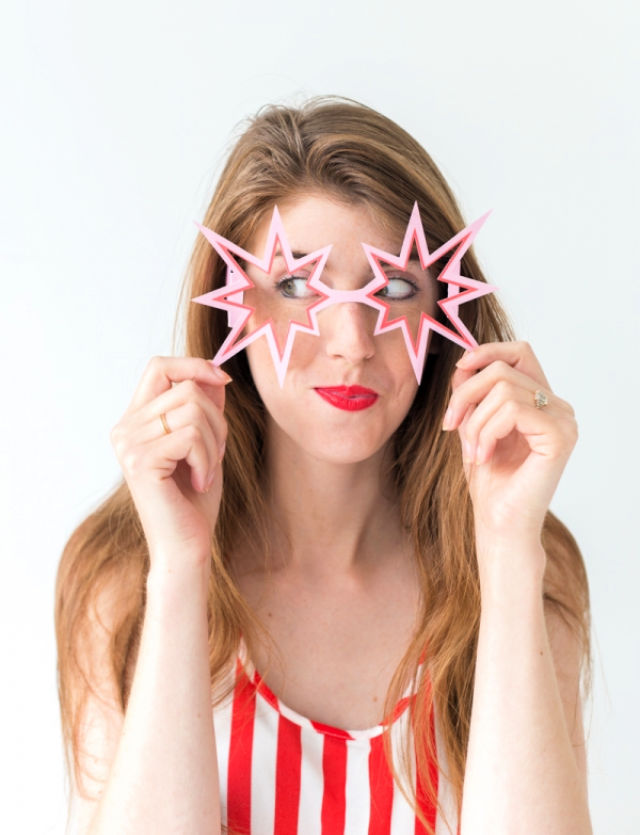 Are you deeply in love with the Independence Day fireworks and waiting for it passionately? Then time to show your love for the 4th of July fireworks by making these firework sunglasses, one more amazing patriotic day craft idea that everyone will love. You need Cricut explorer, thick white cardstock, printer, firework sunglasses design, and glue to make these glasses. Details of 4th of July crafts are here studiodiy
48. DIY Patriotic Windsock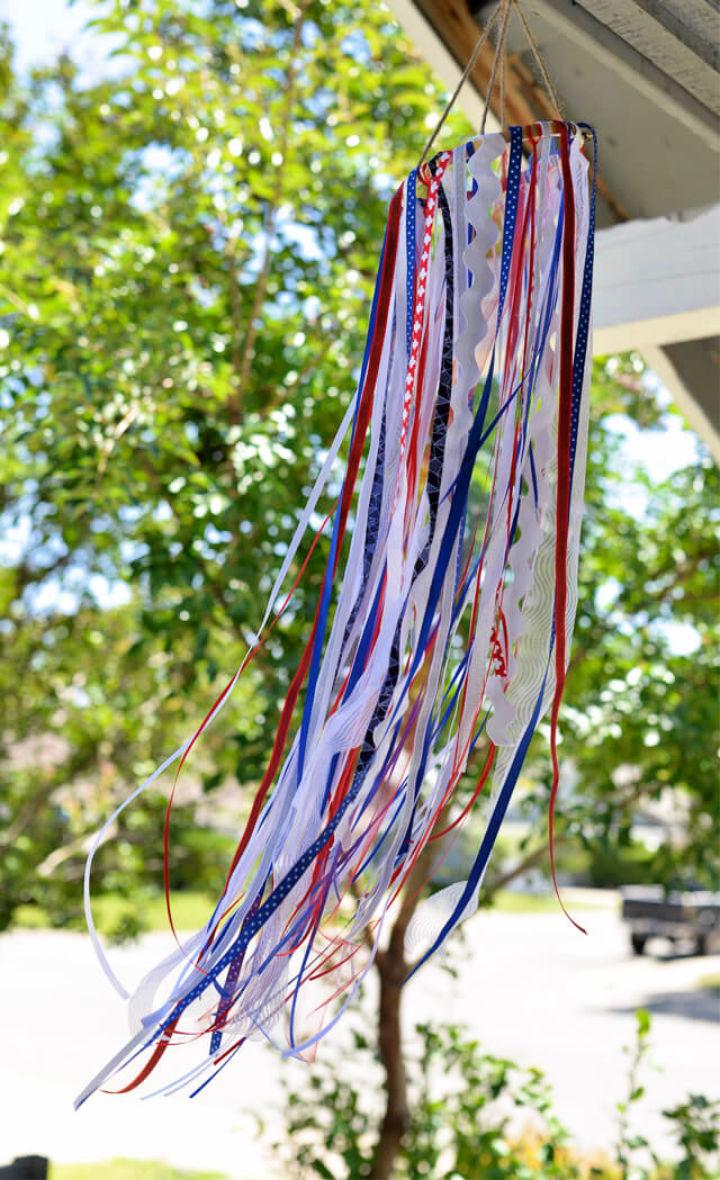 Choose the best fourth of July decorations to feature in your outdoor environments on the upcoming Memorial Day, the 4th of July. Making this patriotic windsock is recommended will work up super quickly. You need a wooden embroidery hoop, swivel clasp, skinny ribbon, thicker ribbon, jumbo ric rac, tulle, glue, twine, and fabric scraps in red, white, and blue color to make this windsock. Details here heyletsmak
49. DIY Patriotic Shutter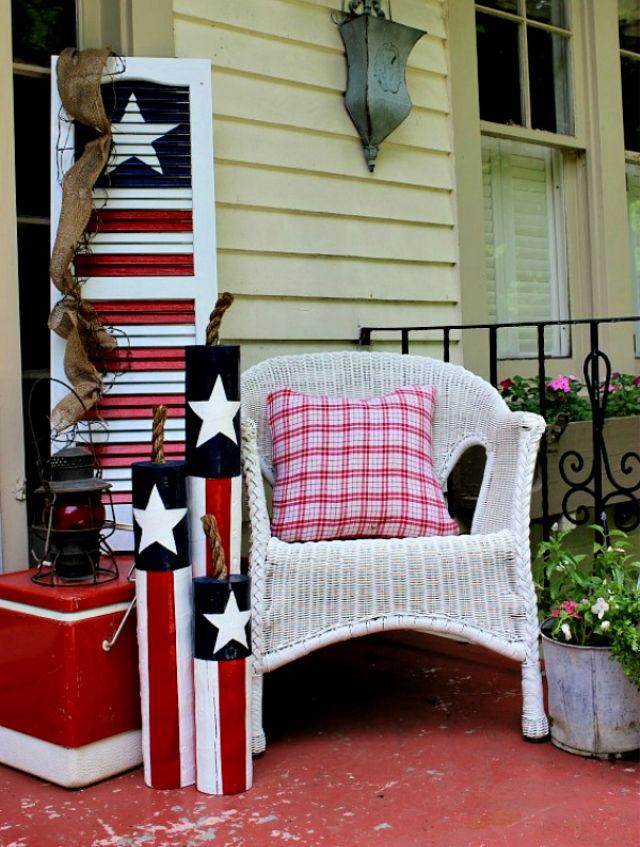 Make bizarre front porch patriotic decorations out of old shutters too. Yes, paint those old shutters to look like a big vertical country flag and feature them in the 4th of July decorations for the porch. A mind-blowing idea to show your country love using some paint and old shutters. You need primer, paint and painter's tape for this shutter to country flag makeover. Details here hoosierhom
50. Crochet American Flag Wreath Pattern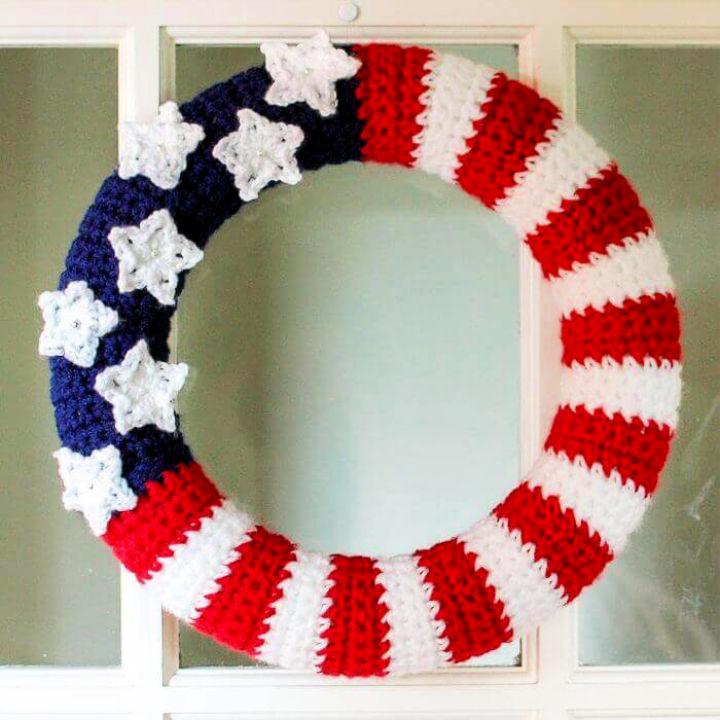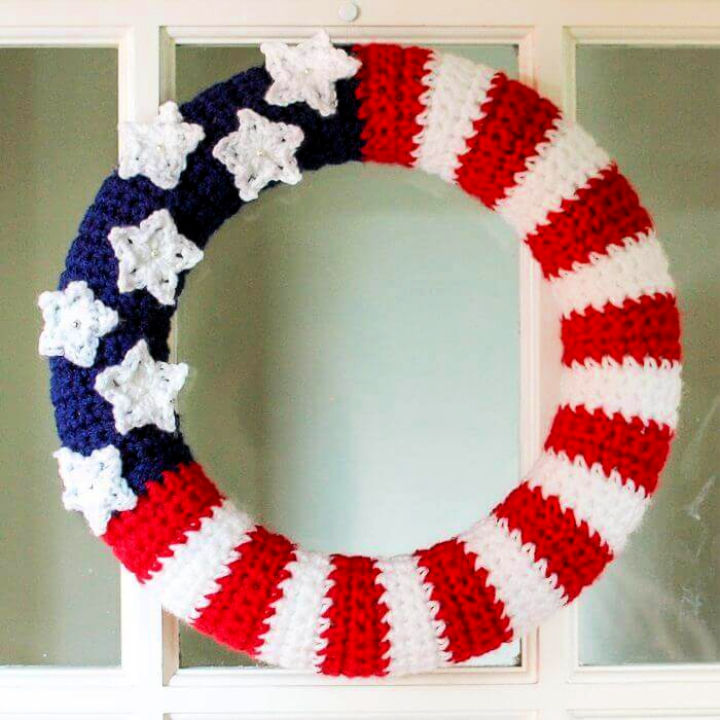 Get the free crochet patterns for an American flag wreath, will hang on your front door to give a warm welcome to the upcoming 4th of July, Independence Day. Work with H hook to crochet the country flag sleeve for foam wreath form and use the G hook to crochet stars. You need brave worsted yarn in respective colors and a 12" Styrofoam wreath for this project. Details here petalstopi
Conclusion:
Show your love for your country on this Independence Day by making 4th of July desserts, t-shirts, party decorations, and 4th of July decorations. Explore the entire collection of 4th of July crafts with the smartest ways to express your love for your country in a unique way. The 4th of July craft ideas are too creative to leave you stunned, and they will not cost you big.
With the help of provided free 4th of July crafts, step-by-step instructions, and visual guides, you will be able to do each of the listed projects like a pro. These fourth of July crafts are for every budget and skill level and will give a creative spark to your thinking to come up with more unique patriotic decor ideas too.