Making a list of activities you should do on the 4th of July Party? Then just go with these 30 best 4th of July party ideas to learn more. Your party theme is already decided, and hence it will be easier to make the appropriate snacks, drinks, party decors, and party foods. The stars and stripes will be much easier to feature in the party food and decorations. Furthermore, you will get here the ideas for making perfect 4th July inspired yard games and photo booth props too. You will get here instructions to have all the patriotic day party fun with going out of the 4th July theme. Explore this 30 4th of July Party Ideas and get a whole bag of tricks to throw a perfect 4th July party theme.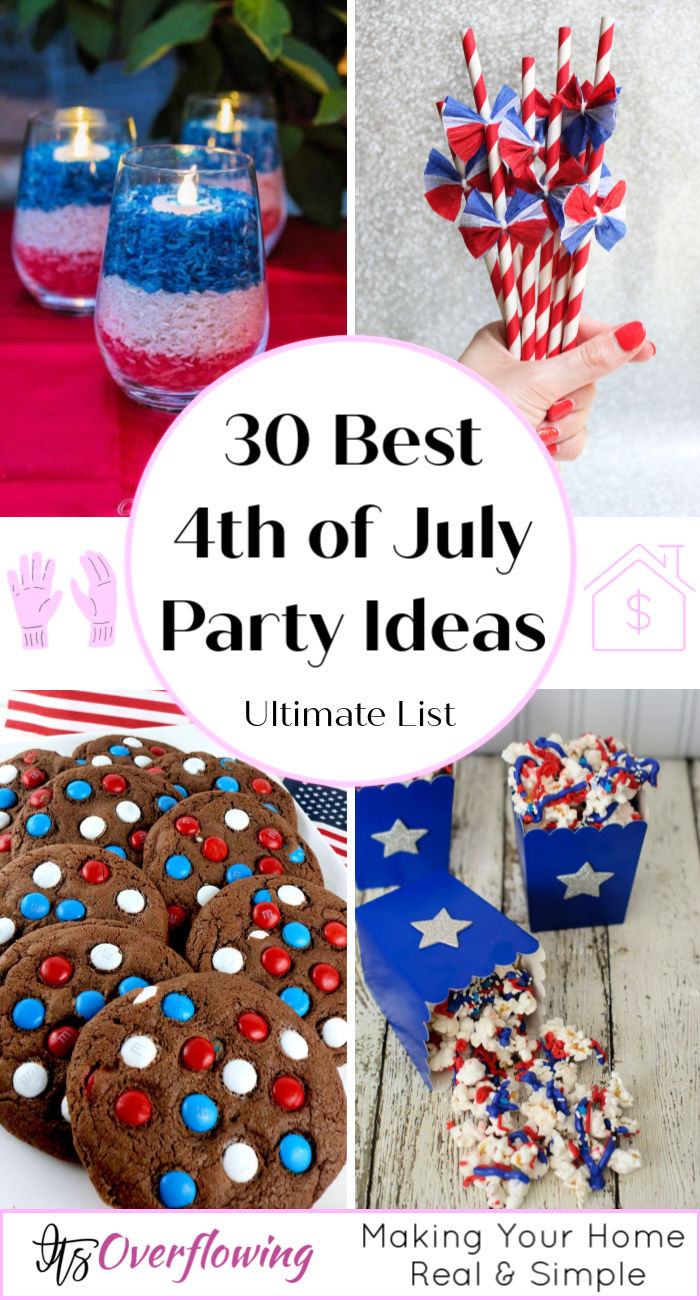 These 30 best 4th of July party ideas will cover making the party foods, drinks, and even the straws to make in the 4th July theme. Next, you will get tons of 4th of July party decor ideas featuring stars and stripes and will include all from garlands to wreaths to tablescape centerpieces. Check this article to find 60 easy 4th of July food ideas.
Get easy 4th of July party ideas about how to enjoy the patriotic holiday movie nights and fireworks without going out of the blue, red, and white. For party table arrangements and settings, learn how to make 4th July inspired placemats, table runners, even the candle holders.
Find food for 4th of July party ideas:
For 4th of July party food, grab here instructions about how to make patriotic pies, Jell-O ice cubes, cookies, bomb pop cocktails, and easy 4th of July desserts. And for party decors, learn to make fabulous 4th July inspired buntings, garlands, pinatas, and even the lovely 4th July pom-pom balloons. Explore the grand list of this 4th of July party ideas that will make you enjoy more Independence Day.
1. Red, White and Blue Candle Holders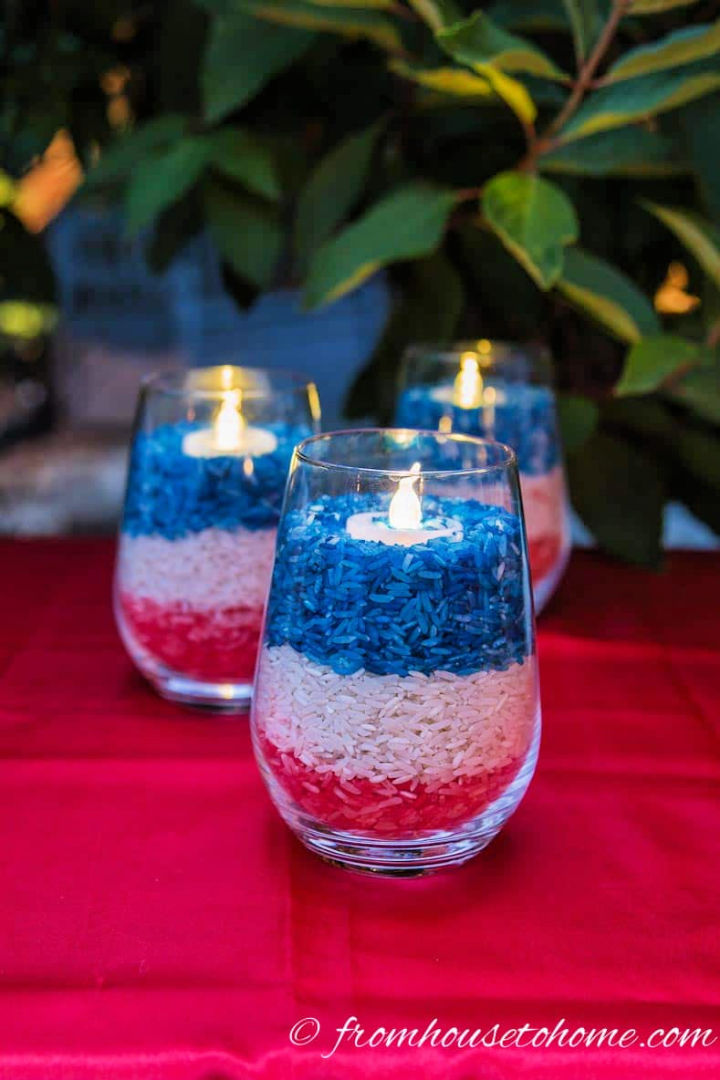 Make the special candlelight decors for your4th July dinner party tables using the cheap supplies. Make these red, white, and blue candle holders with your kids will be a big center of attention, and rock your Memorial Day celebration. Details here fromhousetohome
2. Red, White & Blue Jell-o Ice Cubes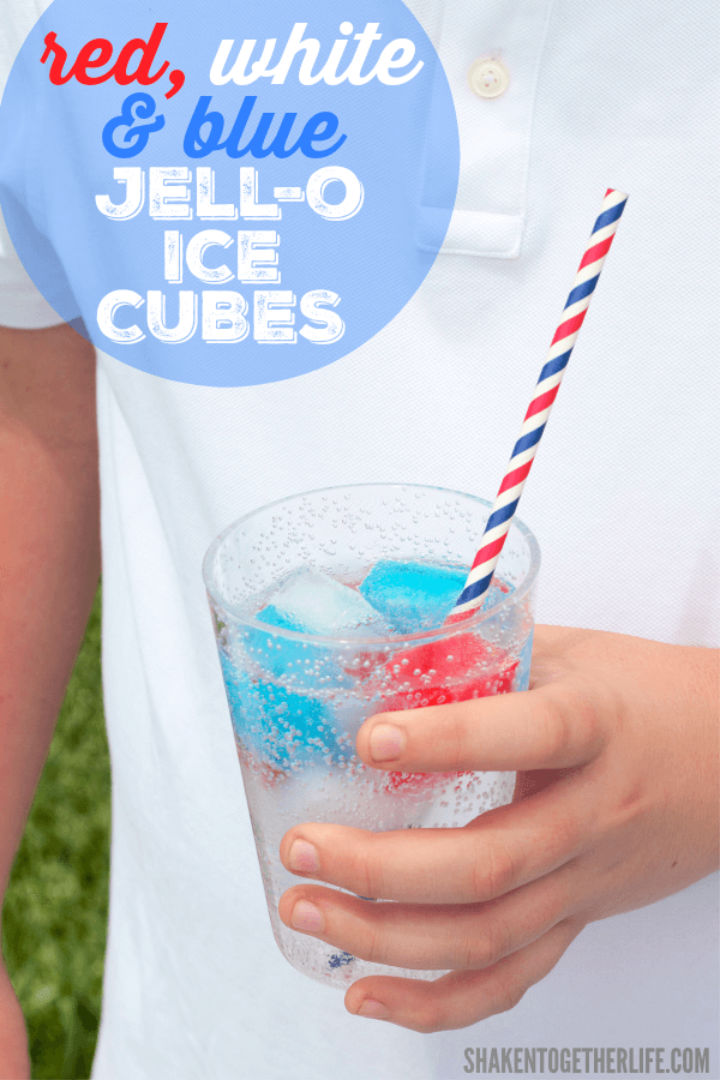 Are you planning to give some cocktail parties on the 4Th of July party theme? Then must make the Jell-O ice cubes in the country flag colors, it will be a great pleasure to look at too. These frozen cubes are tasty and colorful and will not melt. Grab the IKEA cube trays and berry blue strawberry Jell-O to make these cubes. Details here shakentoge
3. Patriotic Popcorn
Celebrate Independence with these patriotic popcorns, will make the best 4Th July snack. They will rock for the 4th July movie night too and will be a pleasure to eat with family and kids. You need popcorn popped, blue and red candy melts, and also the red and blue sprinkles to make these popcorns. Details here jamonkey
4. Confetti Poppers for 4th of July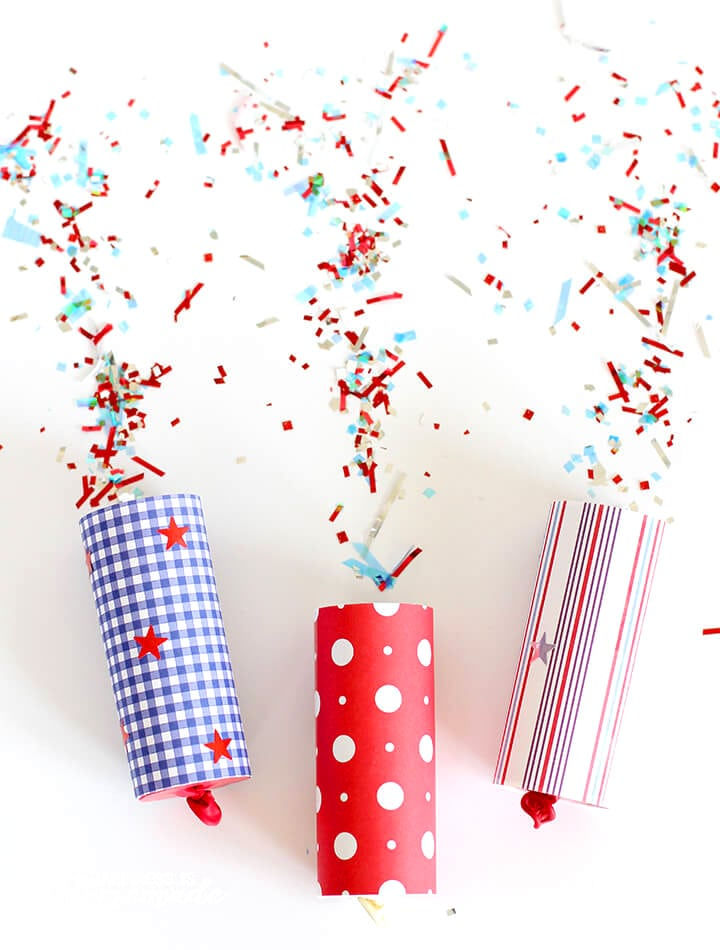 If you feel the Independence Day celebration is incomplete with the scenic firework and poppers, then get here instructions to make confetti poppers for 4th July at home. You need 9" balloons, empty toilet paper tubes, packing tape, glitter, and metallic tissue paper to make these poppers. Details here happinessis
5. American Flag Snack Tray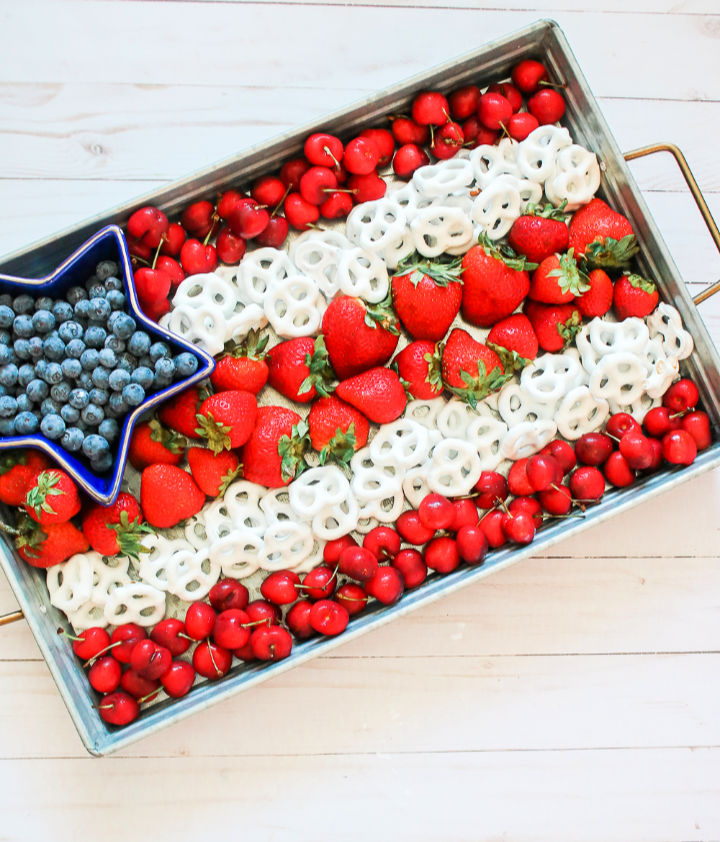 Sorting out the best snacks to serve on the 4th July parties? Then do make this American flag snack tray will be a child's play to whip up. You need blueberries, strawberries, red cherries, yogurt covered pretzels, and a nice patriotic tray to make this Memorial Day snack. Details here thediaryofade
6. Red White and Blue Chocolate Cookies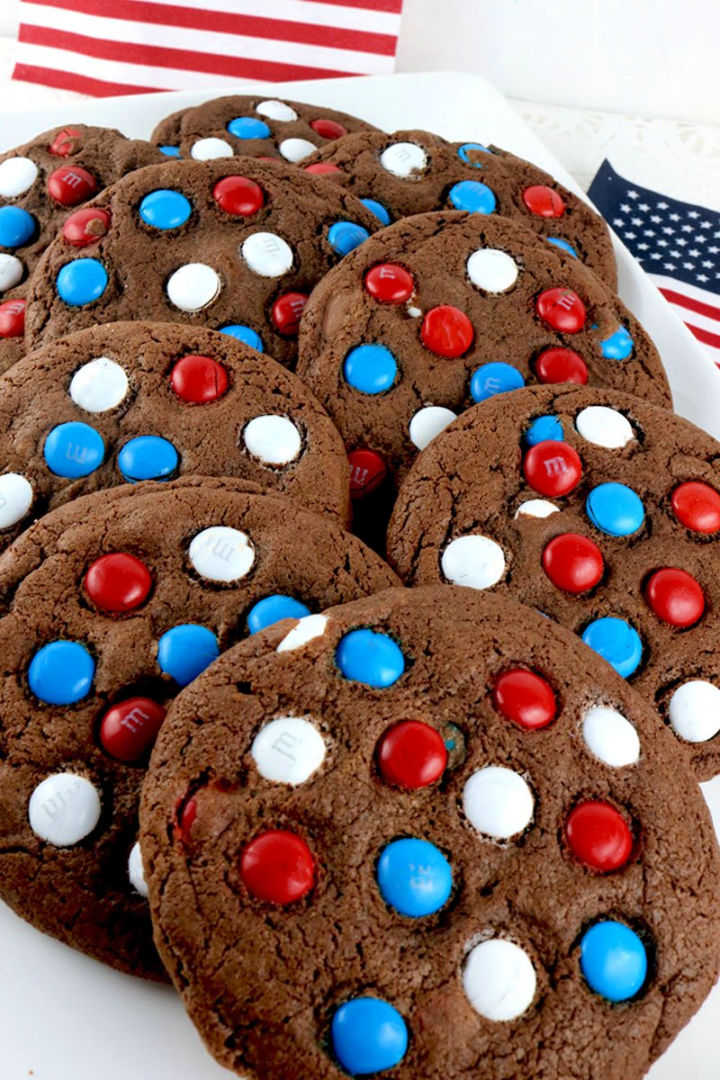 Bring tons of patriotic love to your patriotic day milk and cookies parties by making these 4th July special chocolate cookies. These cookies feature the red, white, and blue chocolate buttons and will be a big Memorial Day treat for sure. You need butter, granulated sugar, brown sugar, eggs, vanilla, flour, cocoa powder, baking soda, sad, and M&M Mix in country flag colors to make these cookies. Details here twosisterscrafting
7. Patriotic Denim Banner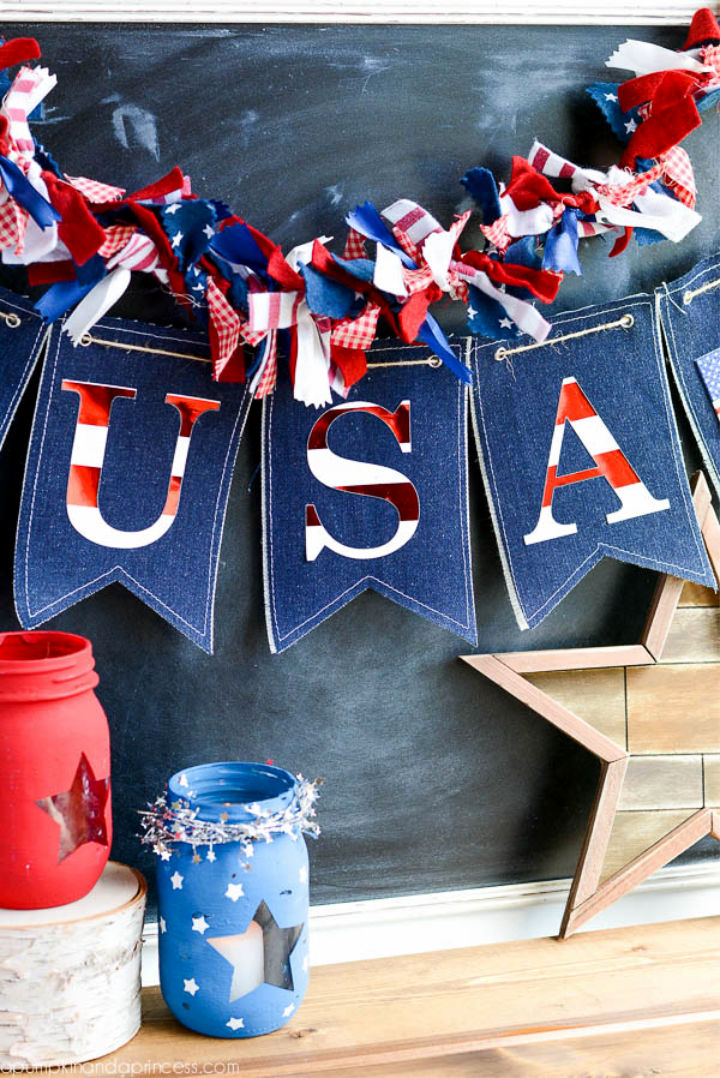 Banners, garlands, and wreaths are the most common decors for the 4th July celebration. So, learn here how to make the patriotic denim banner, will bring the festive vibes to any targeted space. You need baker's twine, cutting machine, Heidi Swapp Minc 12×12 paper pad, denim buntings, and small flags for this project. Details here apumpkinanda
8. DIY 4th Of July Party Poppers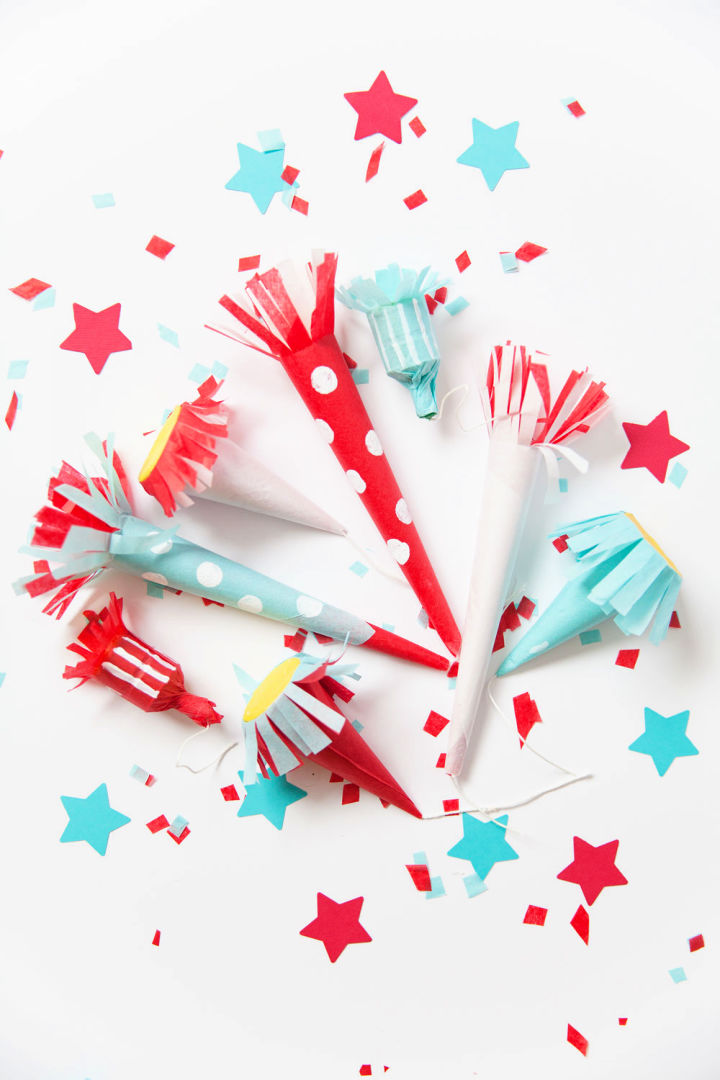 The 4th of July is coming soon, and country lovers are all in the air. So, if you are crazy by thinking about the celebration fun, then why not make these party poppers that will double up the fun of the celebration. Get here guides to dressing up the basic party poppers for a 4th July special appeal. Details here tellloveandparty
9. 4th of July Sparkler Favors
Brainstorming for the unique snacks, drinks, and favors that will make the 4th July celebration and parties unforgettable? Then must make these 4th July sparkler favors using a handful of supplies. You need sparklers, circle tags, matchboxes, custom labels, construction paper, and hole punch to make them. Details here evermine
10. 4th of July Picnic for Kids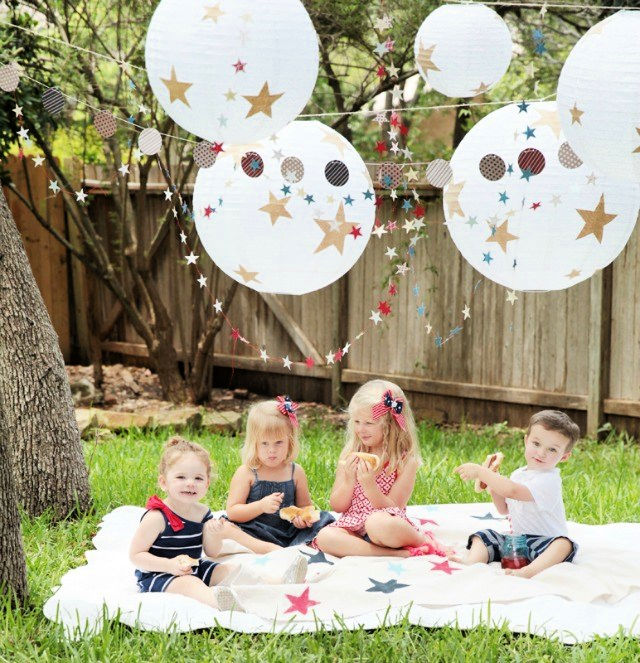 In the most enjoyable 4th July activities, the picnics, seeing the fireworks, and watching the parades are the most common. So, get here an idea to throw a 4th July theme on your patriotic holiday picnic parties. Learn here how to make the 4th July special decors, picnic accessories, and even the picnic treats. Details here designimprovised
11. Bandana Berry Baskets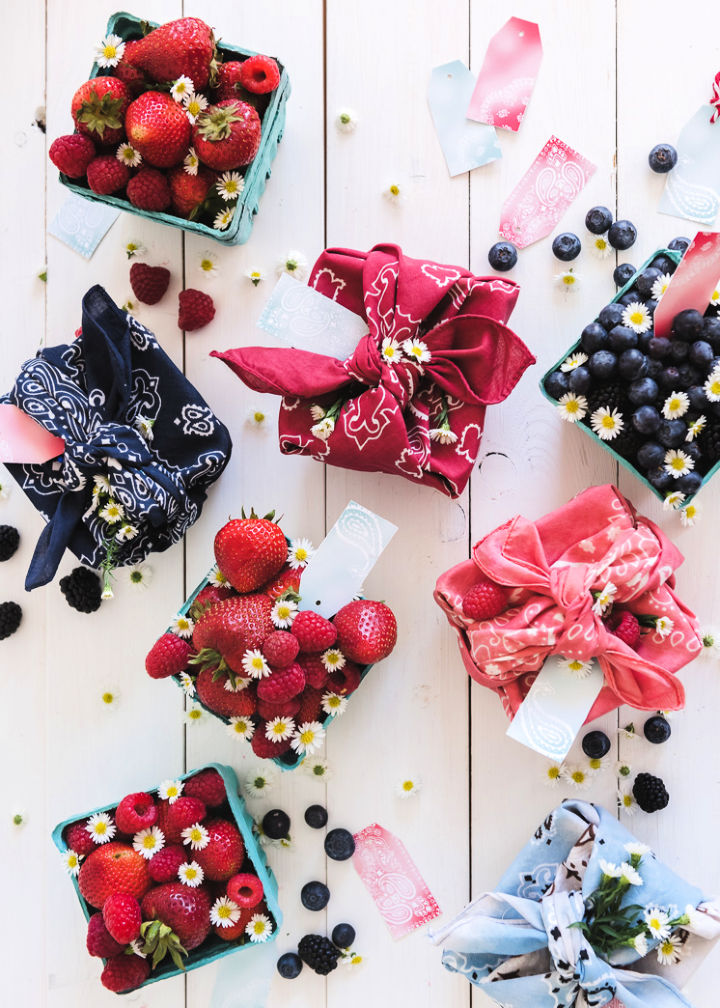 Are you sorting out the best gifts to send to your guests with 4th July invitations? Then these bandana berry baskets will make a lovely choice for sure. You need paper molded pulp berry baskets, bandanas in country flag colors, berries, white flowers, and custom tags to make these gift baskets. Details here thehouseth
12. DIY 4th Of July Goodie Bag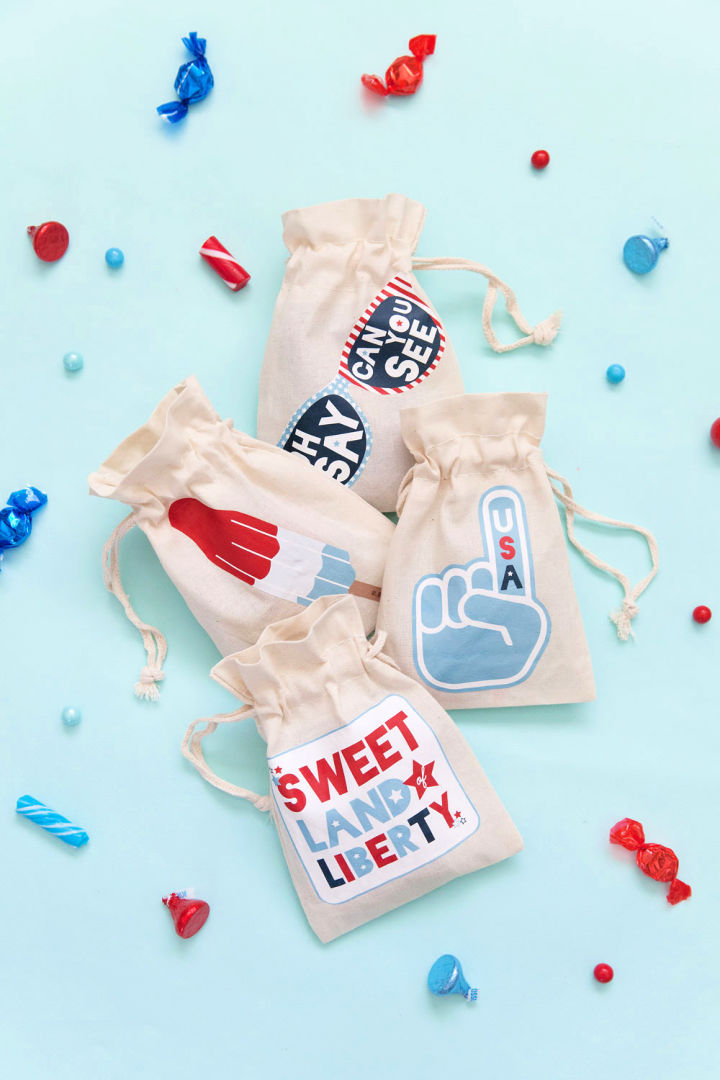 There is a variety of gifts to make for the 4th of July for the kids. However, these goodie bags will make a smart choice, and they are to give to the kids when waiting for the fireworks. Make them using cotton muslin bags, iron-on sheets, and free 4th of July printable. Details here tellloveandparty
13. Tissue Paper Star Piñatas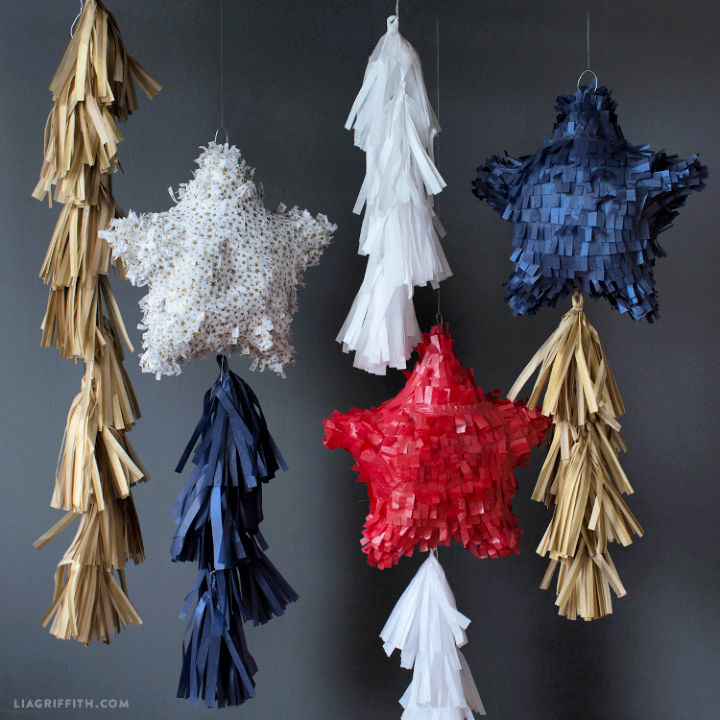 The parties and celebrations for the fun-loving kids are all about looking at the Pinatas. So, bring tons of fun more to your 4th July party by making these tissue paper star pinatas, will work up super quickly. You need tissue paper, star balloon, steel wire, white twine, wheat paste, mod-podge, newspaper, and acrylic paint to make these start pinatas. Details here liagriffith
14. Stars Wars Movie Night Ideas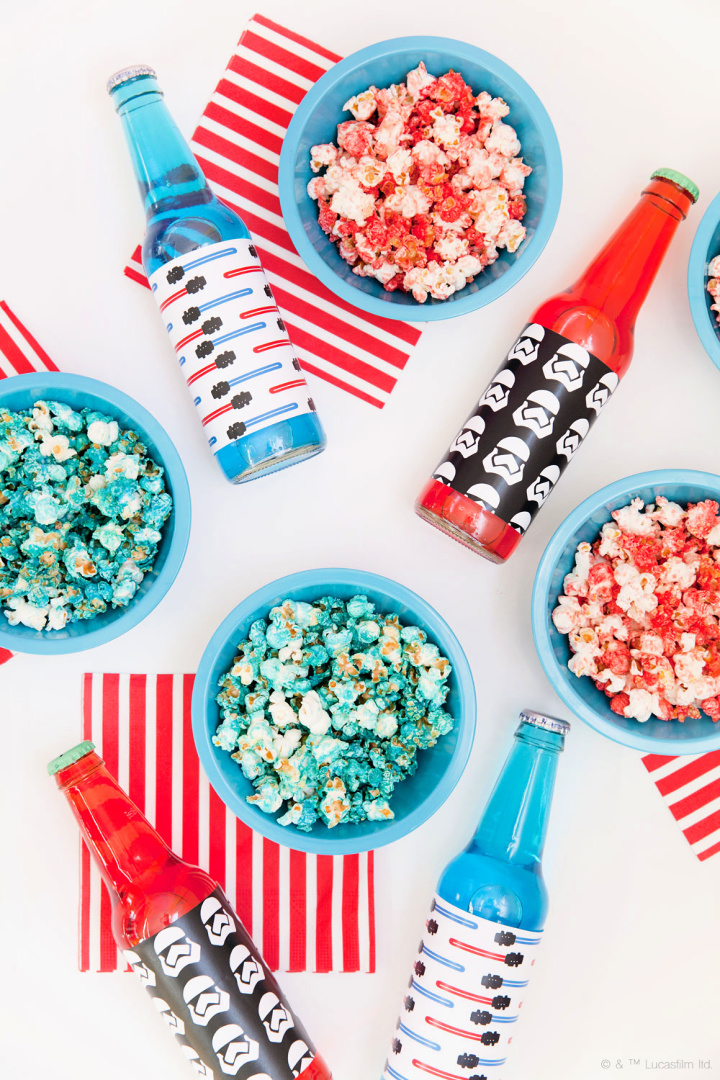 If watching a movie is also in your to-do list of 4th July fun activities, then check out here these stars wars movie night ideas. The ideas will allow you how to design 4th July special drinks, popcorns, and star war outfits. These ideas will surely make your movie night and will not cost you big. Details here tellloveandparty
15. Abstract Printable Firework Labels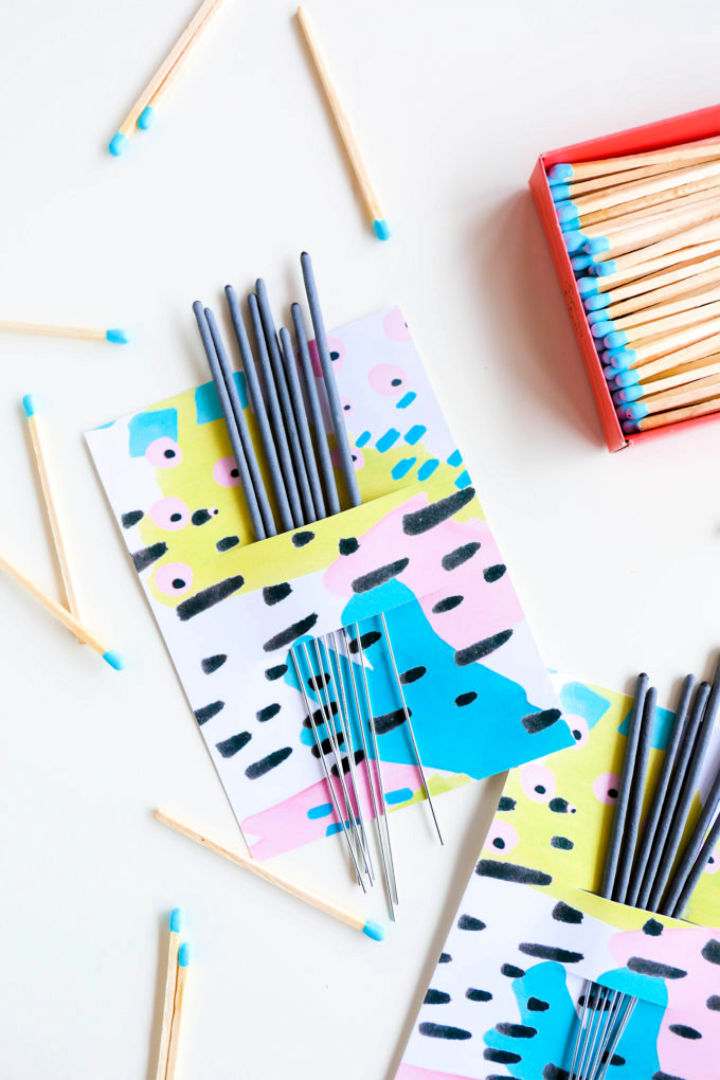 Are you planning to celebrate the 4th of July with the firework fun? Then check out here how to design and make the perfect 4th July fun for the kids by making the custom abstract printable fire labels. A better to bring the country love to kids' firework fun, and this project will complete super quickly. Details here theproper
16. Patriotic Bunting from Baking Cups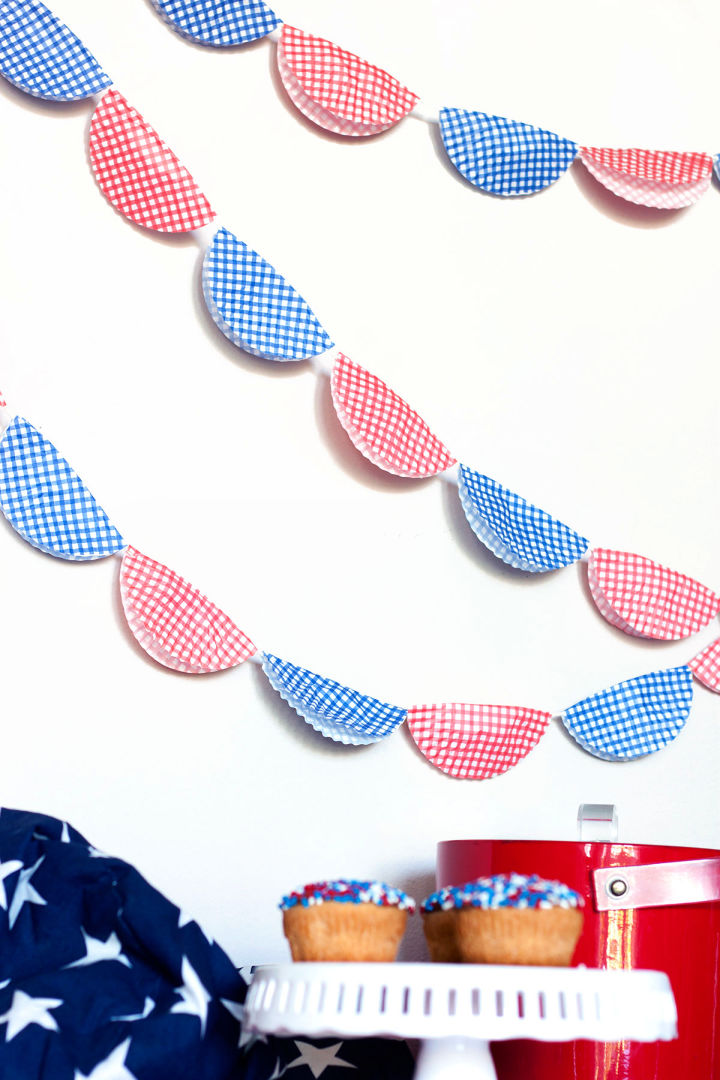 Sorting out the best buntings to cast a patriotic theme to your home decors? Then must make these patriotic buntings out of baking cups. Grab the baking cups in red, white, and blue colors, and then fold them in half. Next, string them up and tape in place to get the lovely patriotic buntings. Details here paintthego
17. DIY Fireworks Table Runner
Go for impressive settings of your 4th July party feasting tables by making this outstanding firework table runner. It will bring the celebration craze and love in the air. Use the forks and paint in patriotic colors to print the firework on a plain table runner so it will be 4th July special. Details here letsmingle
18. Easy Bomb Pop Cocktails
Boost the fun of your 4th July cocktail parties by making this very special cocktail party drink. It will work super quickly. Here you need champagne, prosecco or sparkling water, and the bomb pops to make these cocktail drinks. Make sure you are selecting the bomb pops in red, white, and blue colors. Details here freutcake
19. Red White and Blue Tassels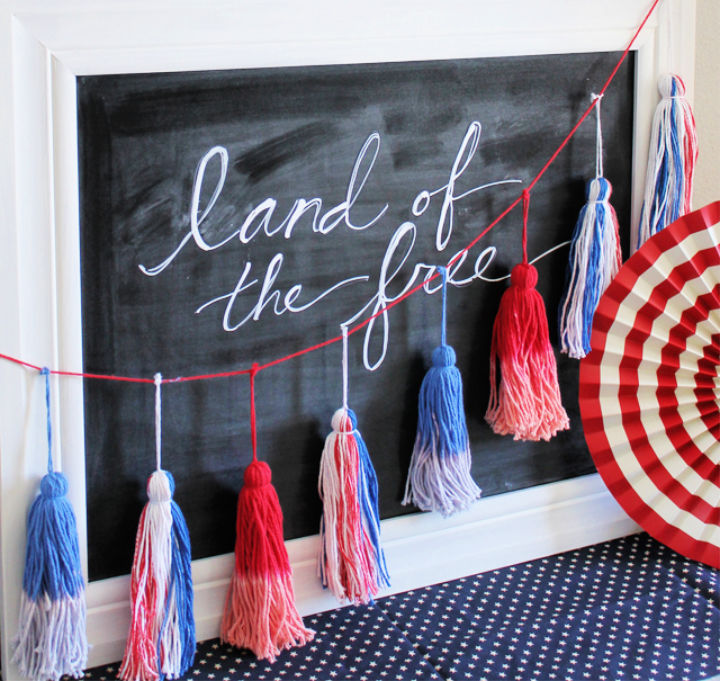 Give any party space a glam touch of 4th July by whipping up this 4th July tassel garlands. This 4th of July part project is all about making the tassels using red, white, and blue yarn and then to string them up. Don't forget to bleach the completed tassels. Simply dip them in a jar filled with bleach. Details here sisterssuitc
20. 4th of July Pineapple Sparkler Centerpieces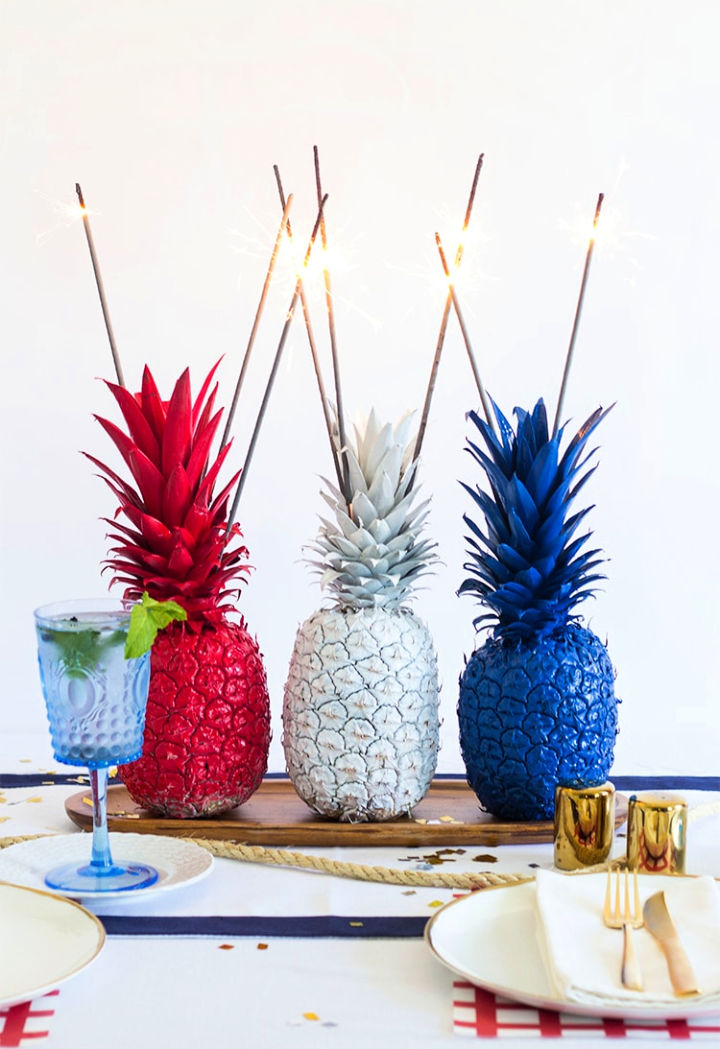 A one of the best centerpiece to make for your 4th July party tablescape, the pineapple 4th July sparkler centerpiece. Spray paint your pineapples in red, white, and blue and then make them hold the sparklers. Next, put the finally completed pineapple sparklers on the accent wood base. Details here freutcake
21. 4th Of July Garland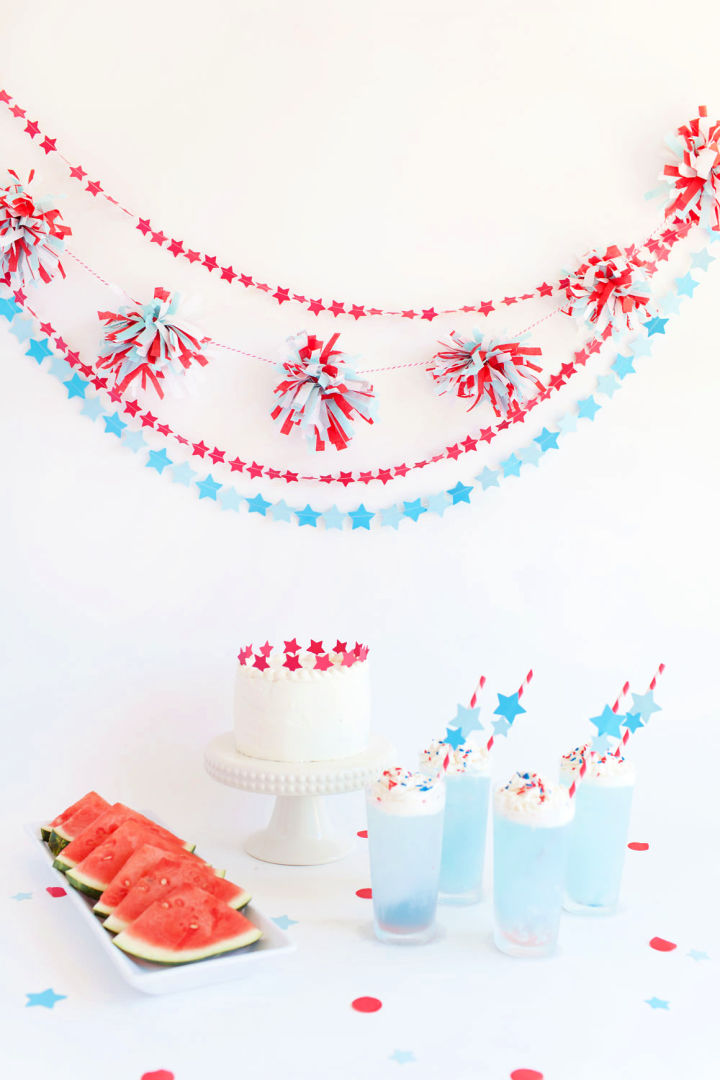 Give your home a spangled star treatment on this 4th July party by making this fantastic garland. It will bring both the stars and stripes to your home decor. Layer the tissue paper having patriotic colors and cut fringes in them to make striped pom-poms. String them up and enclose with star garlands. Details here tellloveandparty
22. Making 4th Of July Wreath
Make your front entrance speak volumes for the arrival of 4th July by making this outstanding 4th of July wreath. It features blue and red buntings and hangs with a red ribbon too on the front door. Make the buntings and white flowers out of felt selected in patriotic colors. Further, you need an interchangeable wreath, white baker's twine, clothespins, and red ribbon for this 4th of July party project. Details here vickybarone
23. Outdoor Patriotic Tassel Garland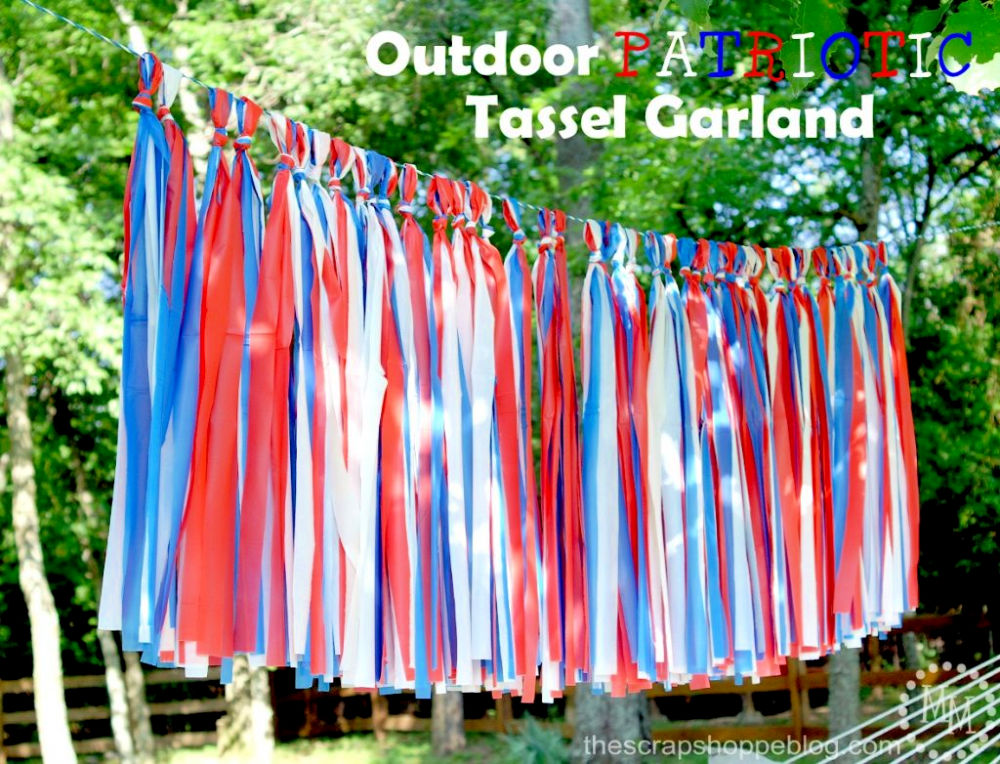 Make these lovely outdoor tassel garland too to bring the patriotic vibes to your garden and patio areas on the 4th of July party. Grab the rectangular tablecloths in the patriotic colors and take them into 1" strips. Combine, blue, red, and white strips to make the tassels that you can string up for whipping up the tassel garland. Details here thescrapshoppe
24. Uncle Sam's Straw DIY
Are you on a mission to spread the country love everywhere on this Memorial Day, the 4th of July? Then start by making these special patriotic straws for your Independence Day parties. To make these Uncle Sam's straws, you need crepe paper in country flag colors, paper straws, string, and glue. Details here paintthego
25. 4th Of July Boom Boxes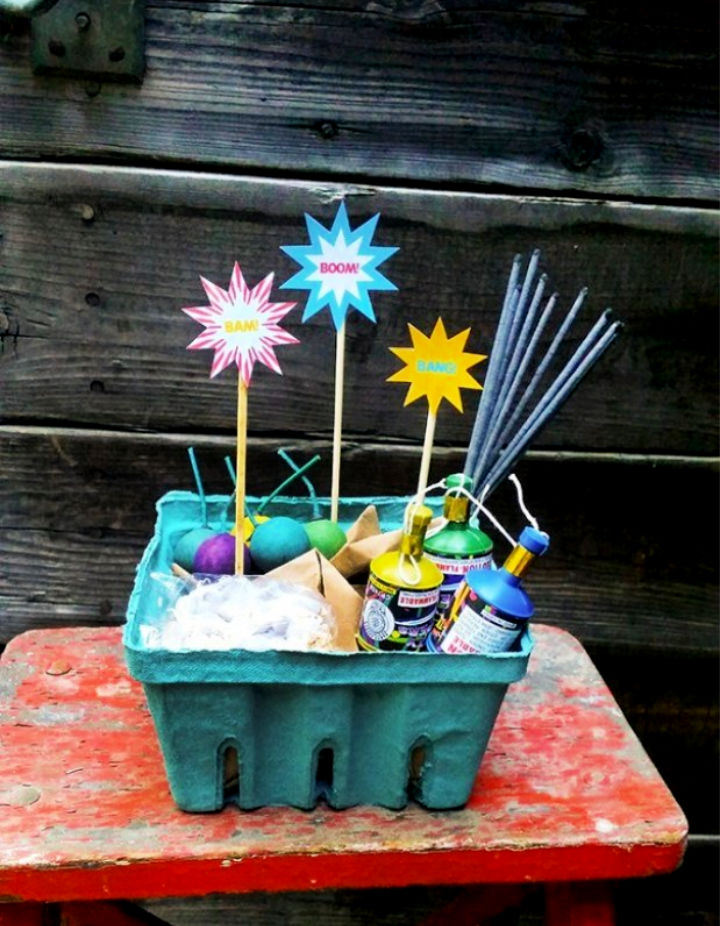 This is here a special 4th July box with the name " BOOM BOX" as it comes with the items that will go boom on the patriotic holiday. A must-to make the type of box for the 4th July firework celebration. You need berry boxes, kraft paper, decorative filling, fireworks, skewers, and custom boom boom printable for this project. Details here ajoyfulriot
26. Yo Yo Silverware Holder
Are you in the planning to organize a 4th July party? Sorting out the best table decor ideas to throw a patriotic party theme? Then start making these yo-yo silverware holders. You need thicker white fabric, fabric in country flag colors, sewing machine, iron, cup, needle, and thread to do this project. Details here themerrythought
27. Star Table Runner and Place Mats
Give a glam touch of patriotism to your 4th July party tables by making lovely star table runner and placemats. Look at the given lovely samples, which are quite easy to make. You need the big and small fabric stars that you can put together for making both table runners and placemats. Button, the fabric stars together to make the star table runner. Details here our everyday art
28. Pom-Pom Balloons
Balloons are a big party decor staple, design and make special balloons too for the 4th celebrations. Need inspiration? Then go ahead with the pom-pom balloons, which will be quite cheap and quick to make. You need clear latex balloons, small pom-poms, hot glue, baker's twine, personal helium tank for this project. Details here designimprovised
29. Mini Stars Berry Pies
Let the sweetness of these berry pies wish your guests a very Happy Independence Day. These patriotic pies feature stars and country flag colors and are a breeze to whip up. You need refrigerated rolled piecrusts, eggs, tablespoon sugar, fresh blueberries, chopped strawberries, fresh raspberries, cornstarch, salt, and vanilla ice cream to make these pies. Details here countryliving
30. Homemade Cornhole Boards Game for 4th of July Party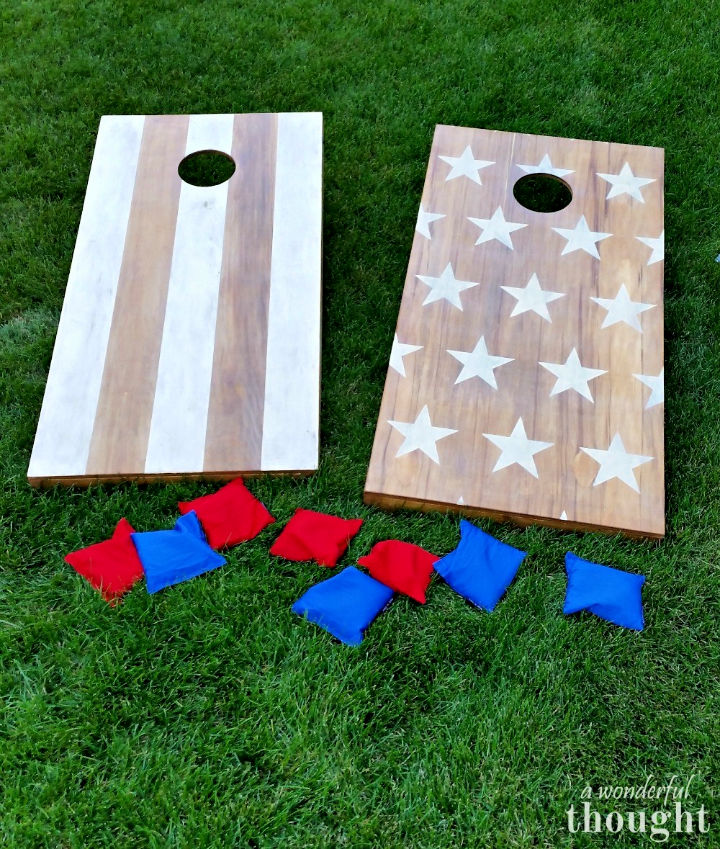 Have you added the fun gameplay in the 4th of July games and activities? Then do make these cornhole boards for playing fun games at outdoor. Make the cornhole boards using plywood, 2×3 studs, and then make the bean bags in red and blue colors to play the game with. Details here awonderfulthought
Conclusion about 4th of July Party Ideas:
The 4th of July, Independence Day, is a big event. A few days before, you will get your country love stimulating that will make you think of some unique and outstanding patriotic holiday party ideas. We have already done it for you, just go with these DIY 4th of July party ideas and spice up your Memorial Day celebration.
These 30 easy 4th of July party ideas will help make outstanding party stuff, including party decors, drinks, food, and snacks cheaply and are super unique too. So, you must jump on the list if wishing to make your 4th July party unique. Get here all the 4th of July crafts and decorations about how to make the normal party stuff with a 4th July special appeal.