Do you know how to make a flower crown? Enjoy the spring outings, raves, and wedding parties with these 25 simple DIY flower crown ideas that are the best personal adornments to create out of both fresh and artificial flowers. Wearing flowers over your head will create an aesthetically pleasing queen look of you. Moreover, make these flower crowns for a birthday girl and bridal shower too will instantly transform her into a princess.
Long story short, these flower crowns are the best DIY craft to do for the summer and spring festival and gorgeous casual looks. Time to show some more respect to flowers by wearing them over the head. So, choosing your custom flowers, foliage, and flower fillers, you can compose unlimited different flower crown designs. Learn how to make flower crowns! See the most amazing compilation of 25 easy DIY flower crown ideas that will match up beautifully with all your spring and summer outfits, especially with those sleeveless dresses. Where this flower also crowns when going to attend an art or music festival.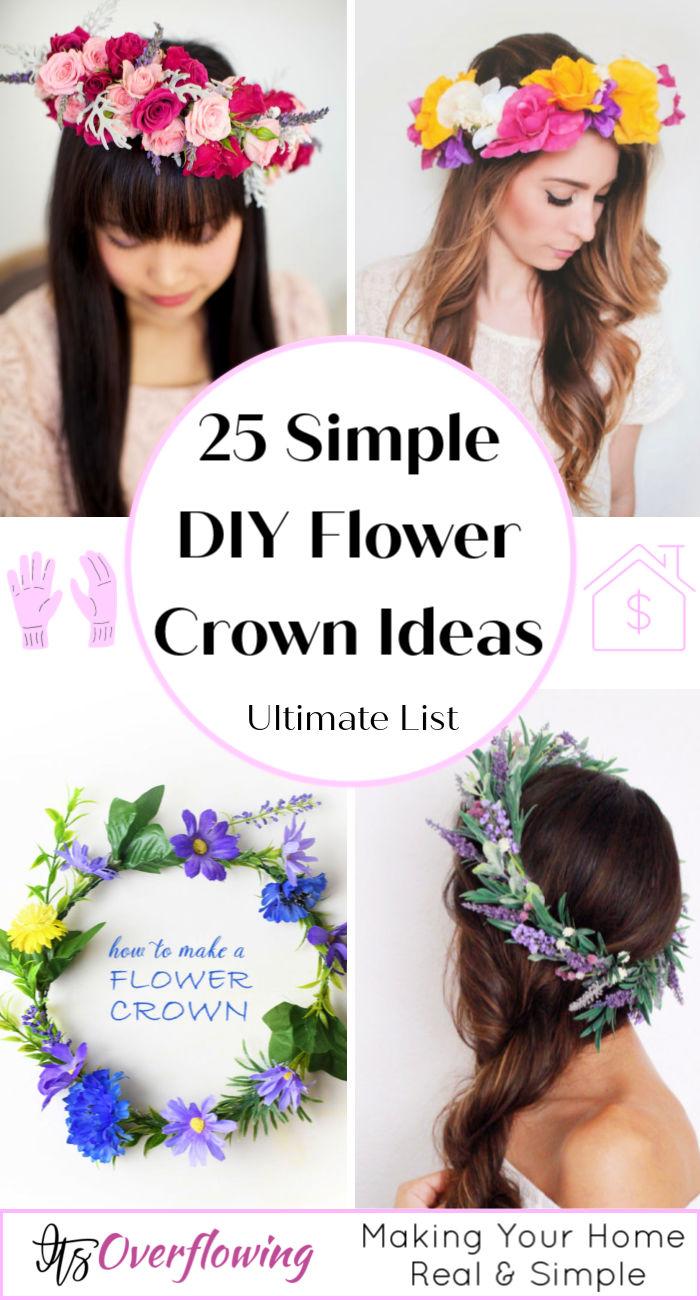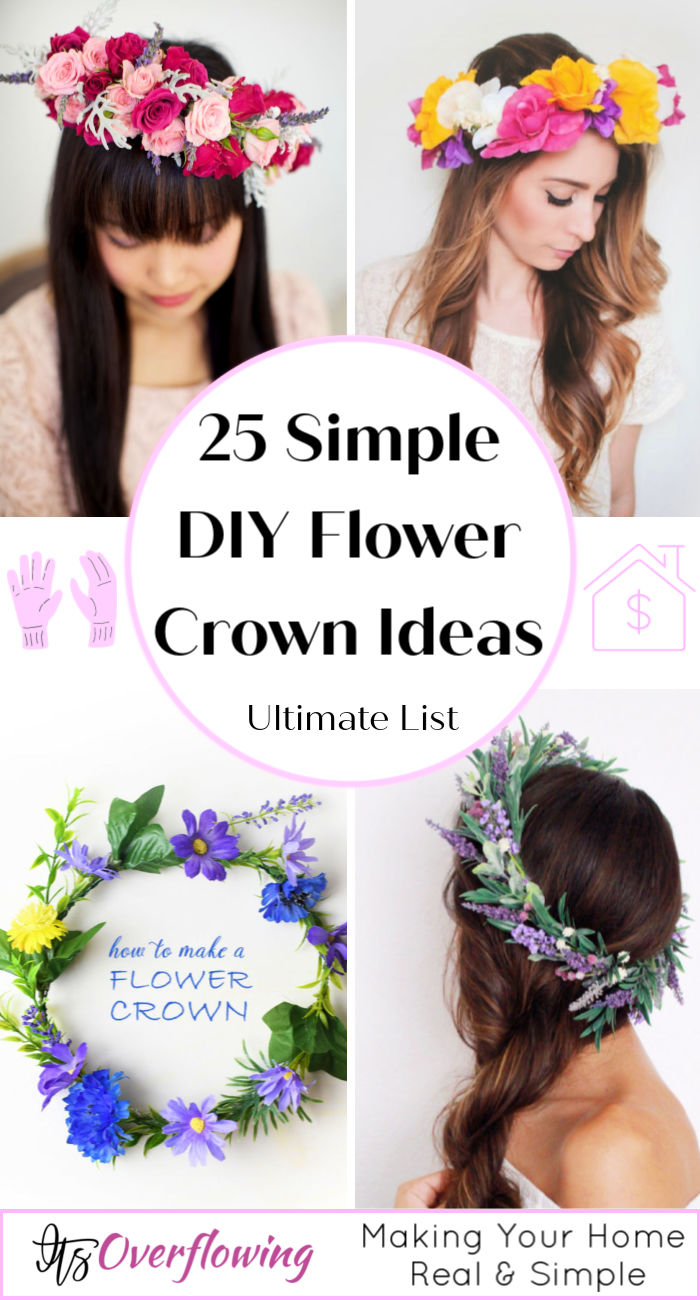 If talking about making these flower crowns, they are one of the easiest DIY projects ever. Involve your kids, friends, and family members to turn to make these crowns into a great fun activity. Make these crowns for some great photoshoot of you. Along with being the best photography prop, they will make sweet handmade gifts also for friends. Moreover, you can try out these DIY Flower Crown Projects by making your own felt flowers too. These floral crowns are the best hair accessory to whip up quickly when summers are just about to come.
1. DIY Flower Crown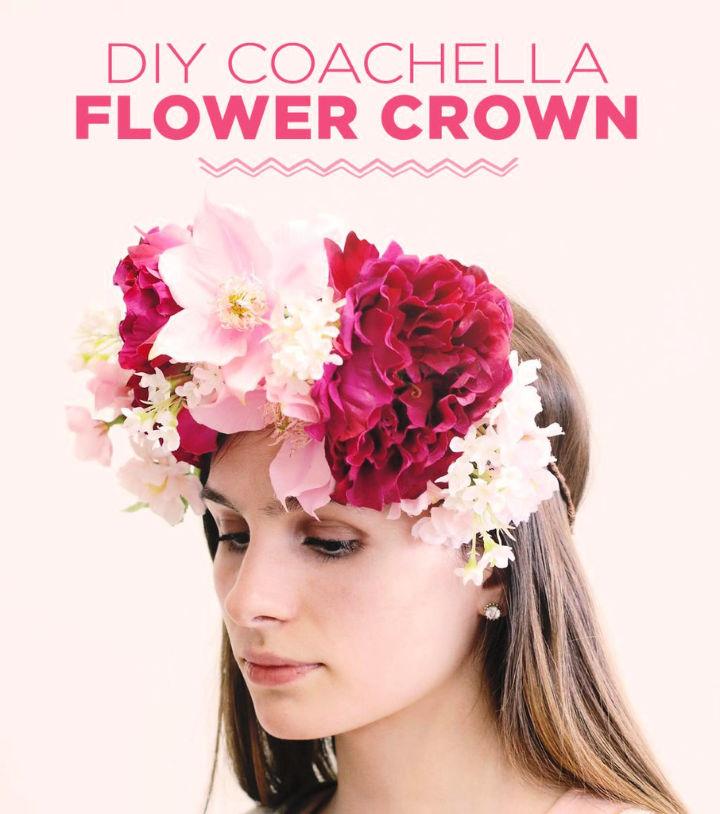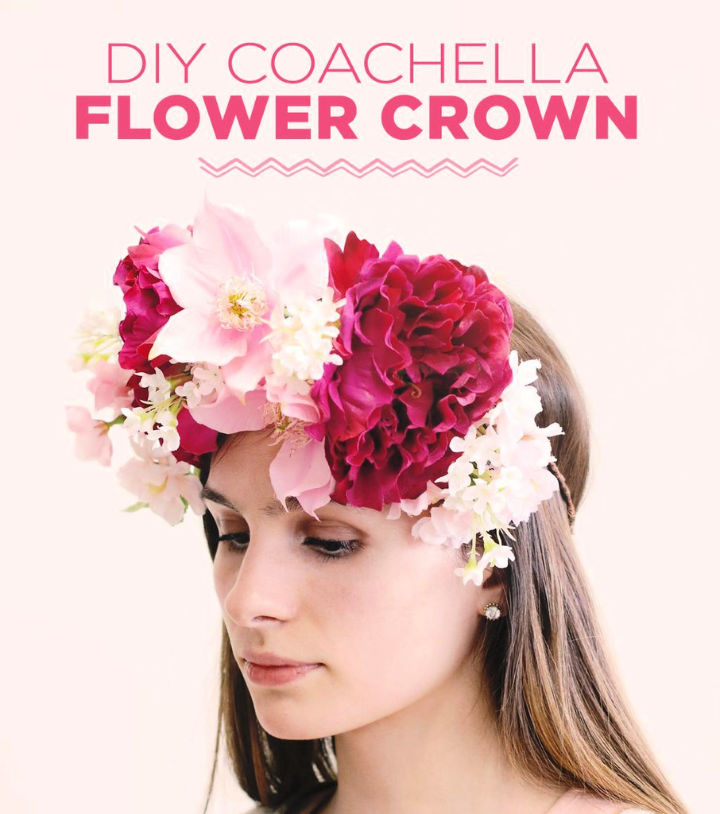 Willing to dress up nicely for the Coachella Valley Music and Art Festival that is catching fame all around the globe? Then you must look like a queen at the event by wearing this flower crown, will create that festival specific look of you. 2 peony blooms, Helleborus spray, cherry blossom spray, waxflower sprays, ribbon, wire, and floral tape to make this fantastic crown, will make a sweet handmade gift too for a friend. Details here afloral
2. How to Make a Flower Crown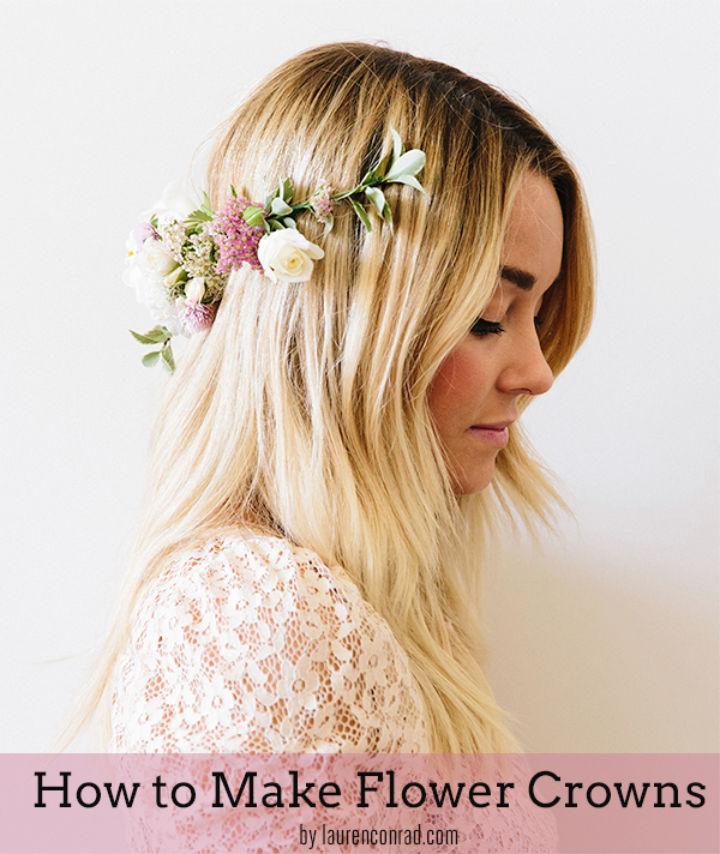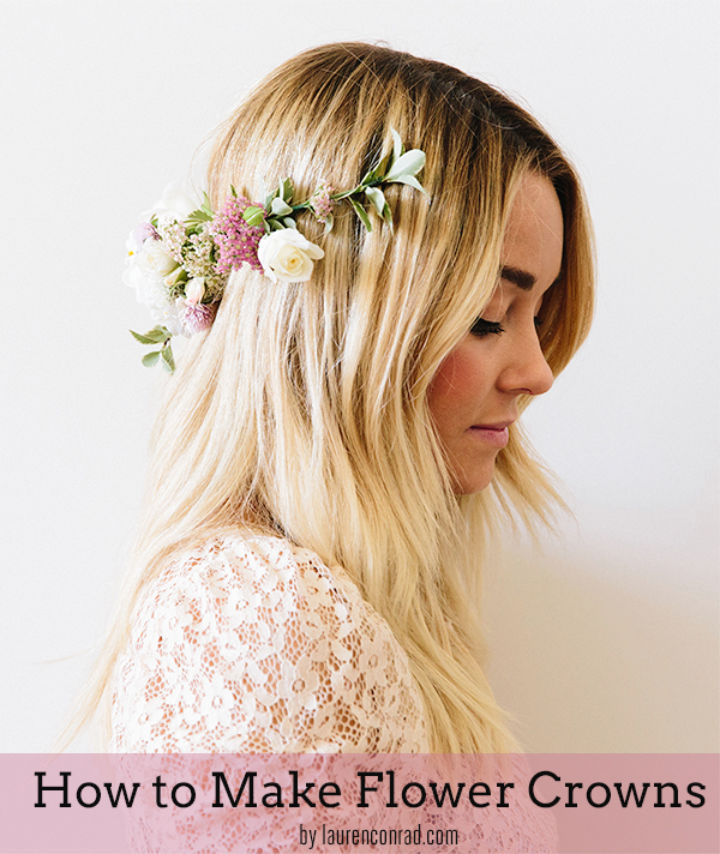 Willing to wear something whimsical and oh-so-girly over the head while going out for the party with the besties? Then this DIY flower crown is something you are looking for. This DIY floral crown will make a sweet part of your dress while going out for a music festival and a wedding ceremony. You just no need to buy one of your choices. How to make a flower crown? Make this fantastic flower crown at home using floral wire, floral tape, greenery, and some real or faux flowers. The best tool to use in these DIY floral crown projects will be floral wire cutters. Details here laurenconrad
3. Making A Flower Crown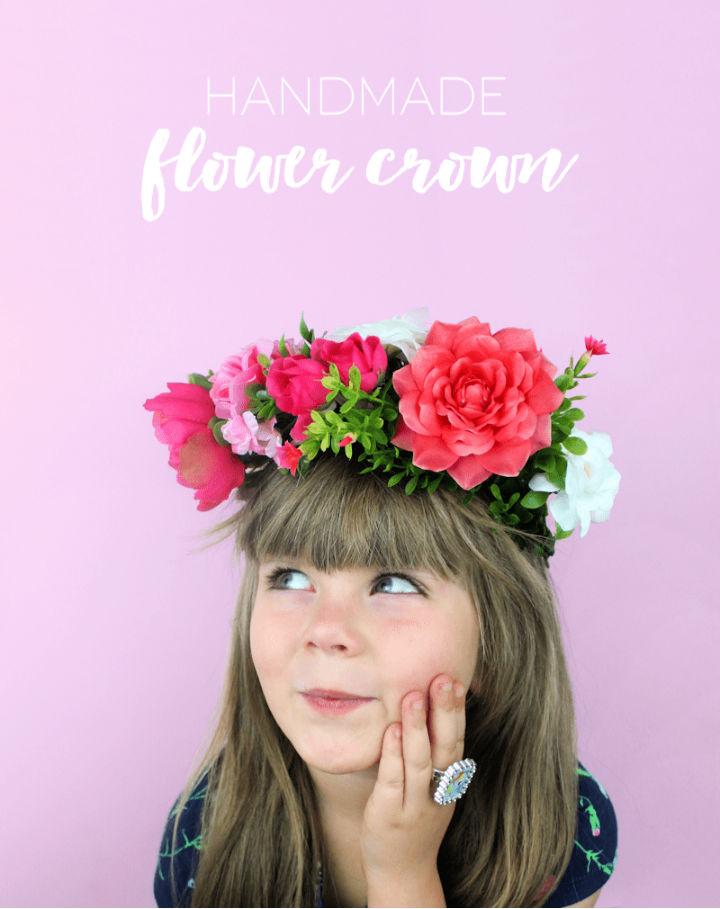 Willing to do some this exciting and lovely with the flower this weekend? Then accept this challenge of making this sweet flower crown, will be a pleasure to wear on different festivals, events and also on parties. This floral crown is not fully filled densely with flowers and greenery. Here you need flowers, greenery, flower wire, floral tape, wire cutters, and some creativity to build this fantastic flower crown like a pro. Time t fancy up your hairstyle with a glam floral touch. Details here linesacross
4. Make Your Own Flower Crown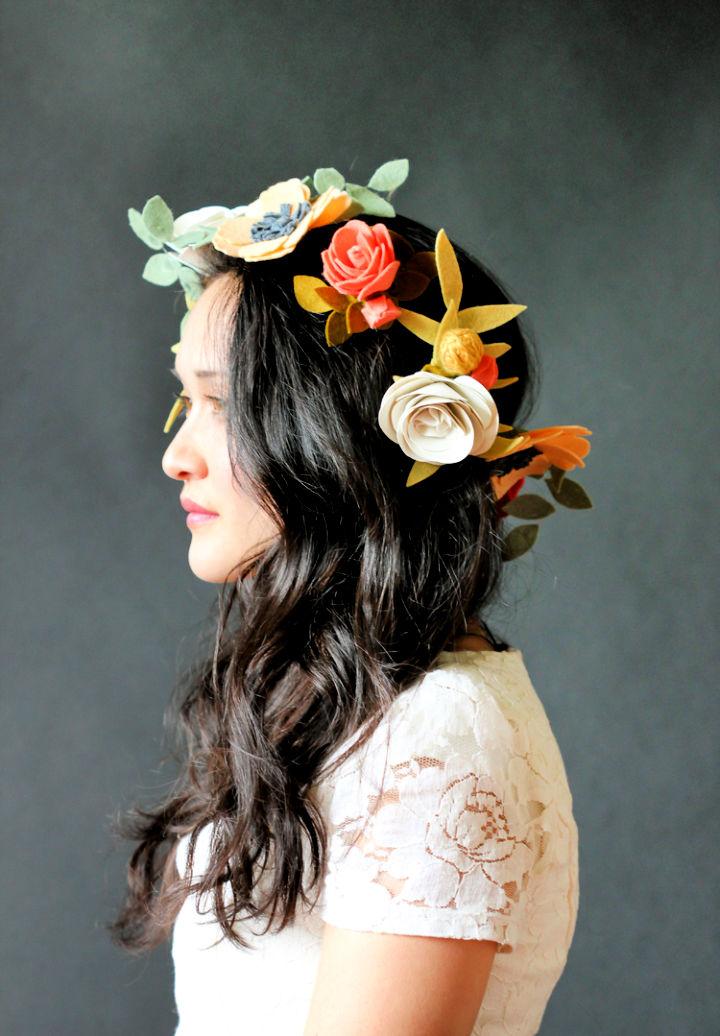 Are you ready for the instant princess transformation. You only need 1 ingredient like this handsome flower crown, will be nicely over your head, creating a stunning appeal of you. Time to welcome the flower season by wearing flowers will represent those flower sidewalks that make you happy. Learn making the flowers with felt and then use felt flowers and floral wire to make this brilliant flower crown. Use the clips to get the flowers on the crown wire. Details here deliacreates
5. Flower Crown Making

Make this flower crown for the fairy costume of your baby, and it will rock for a special get up you want to gain at a music festival. Here you need a printed flower pattern, a headband, black embroidery floss, 50" ribbon, wood blend felt, marker and 1/4" wood beads to make this fantastic flower crown, will definitely grab attention at first glance. Use the scissors or Cricut maker as cutting tools and use the glue for all your adhesive needs. Details here liagriffith
6. DIY Floral Crown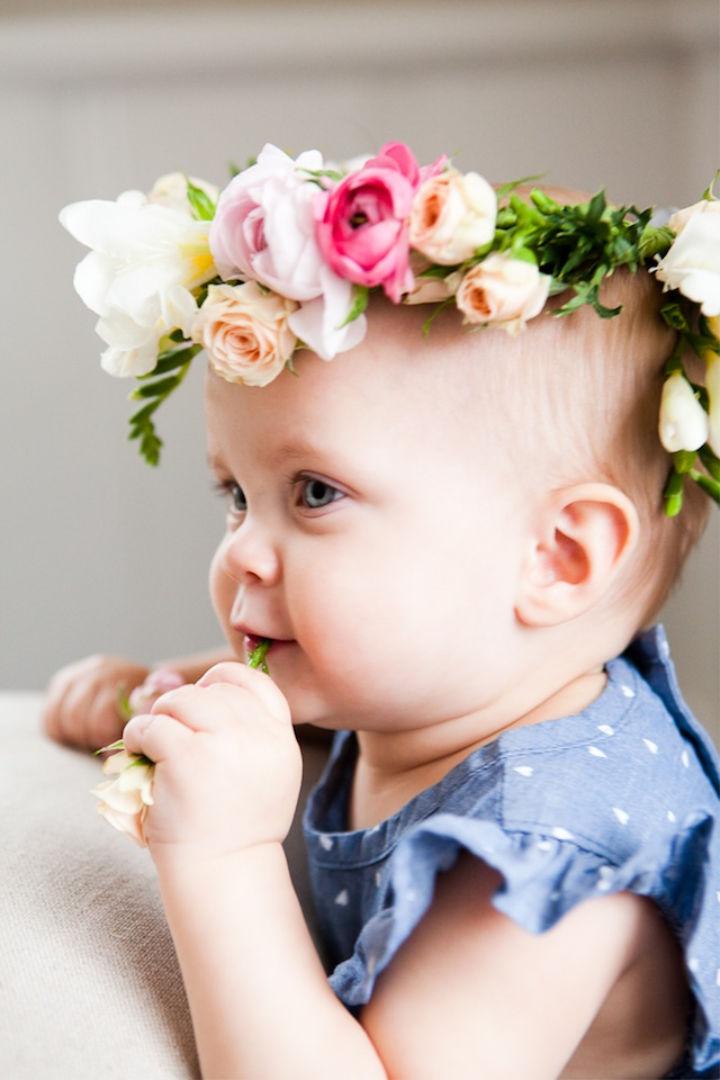 Willing to styling up those little babies for a photoshoot? Then consider making this DIY flower crown will double up the beauty of your little ones. This flower crown is the perfect accessory for the parties, weddings and other fairy festivals and beautiful blooms will enchant everyone. Make it for a birthday party of your baby, too, the super beautiful floral wreaths that will work up super quickly. Gab the floral wire, floral tape, plenty of beautiful blooms, ribbon, and scissors to make it. Details here theeffortlesschic
7. Flower Crown Tutorial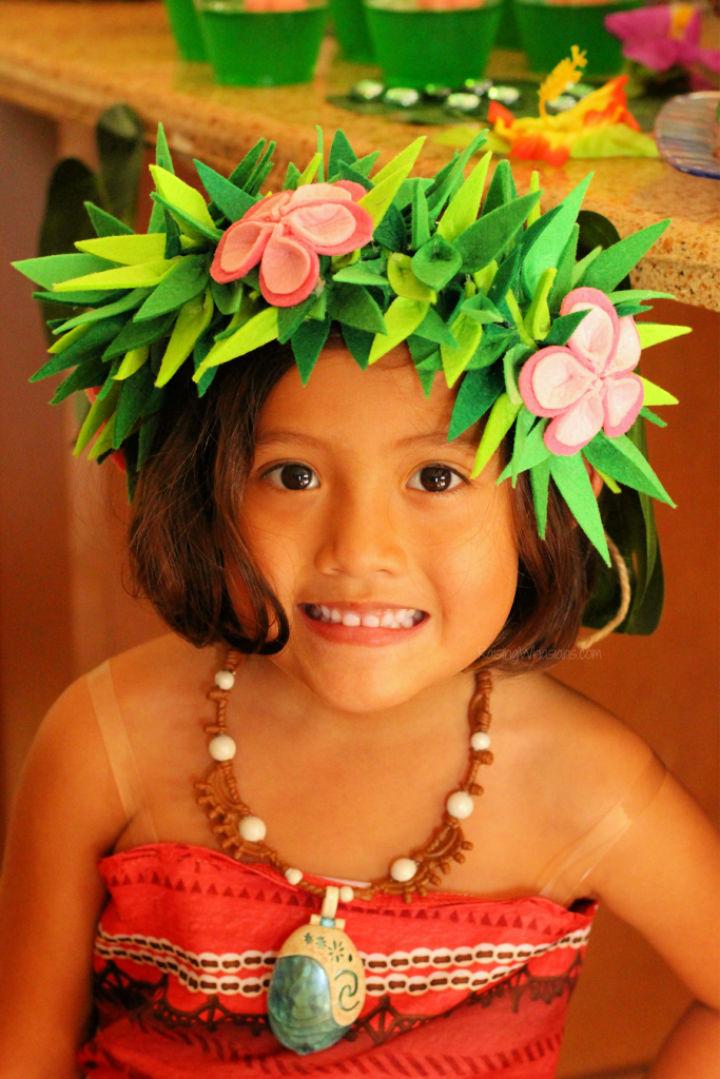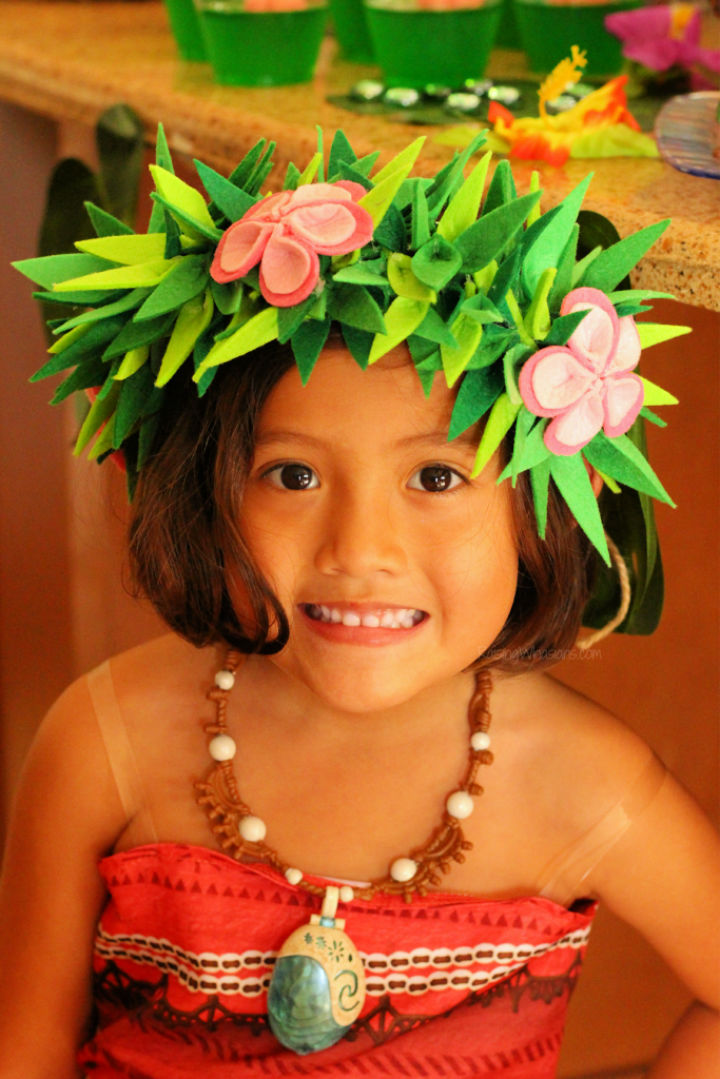 Every kid is highly obsessed with the Disney world. So, make your kids like the Disney princess or queens by making this DIY flower crown, inspired by the Disney world flower crown tutorial. This Moana crown is just perfect to wear with a Disney costume. Get this crown made using green construction paper, stiff green felt, stiff pink felt, hot glue, jute, tape, and scissors. Cutting leaves and petals is a whole you need to do in this project. Details here raisingwhasians
8. How to Make a Floral Crown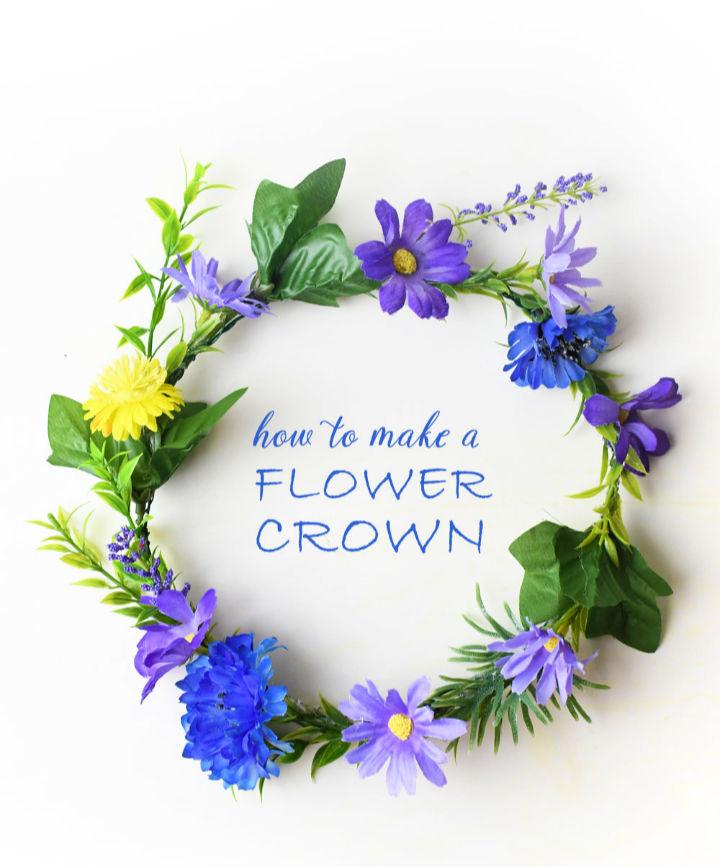 Get here step-by-step guides for making a unique flower crown, will transform any girl, lady, or little girl into a princess. This crown with silk flowers is going to be the best addition in your flower hair accessories and will rock for a special spring photoshoot too. This gift-worthy flower crown is too quick to make, like in 20 minutes or less. Grab the silk flowers, hot glue gun, and floral wire to make this accent flower crown. Details here createplaytravel
9. Simple Flower Crown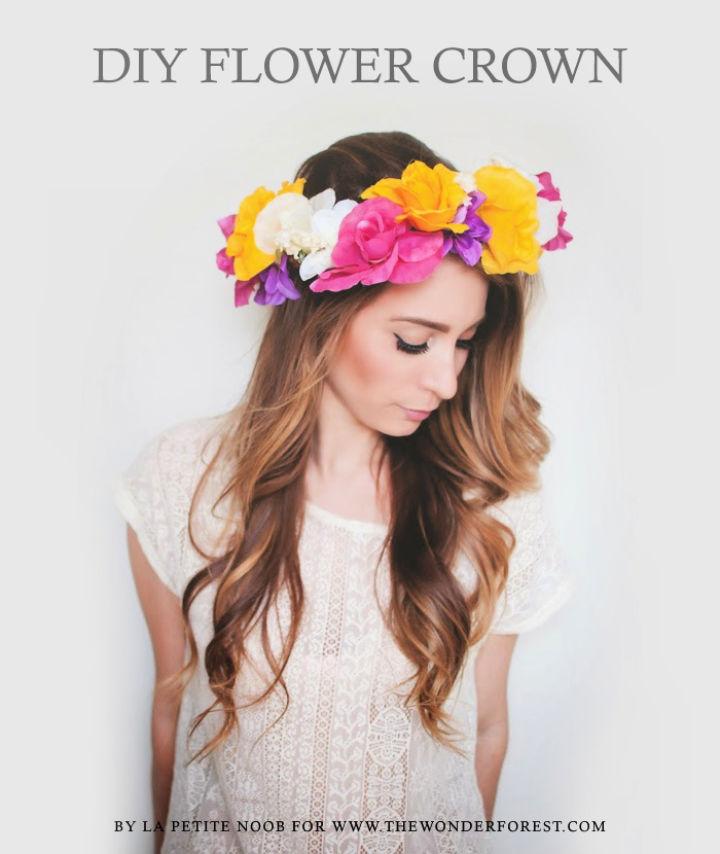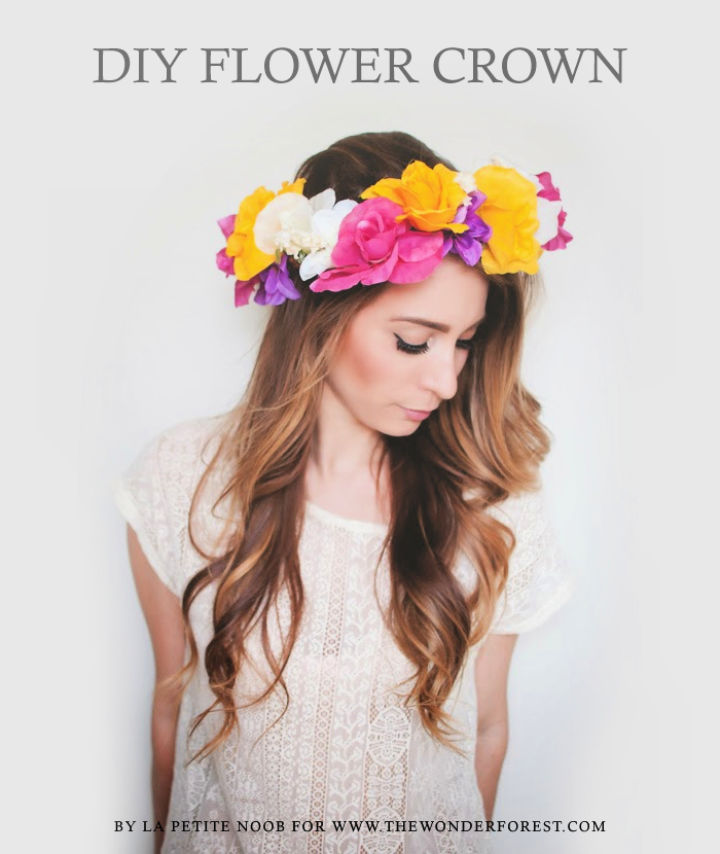 Create an exciting new look of your this spring or on the upcoming music festival by wearing this interesting DIY flower crown. So, follow our tutorial for flower crown making at home will save a lot of costs, and it will nicely pair up with the summer outfits too. So, rock your raves, outings, and summer festival with this fab flower hair accessory. Pick up the silk flowers in colors of choice and then load them onto a thick floral wire using a glue gun. Further tools you need are scissors, glue guns, and electrical tape. Details here thewonderforest
10. Bridesmaid Flower Crown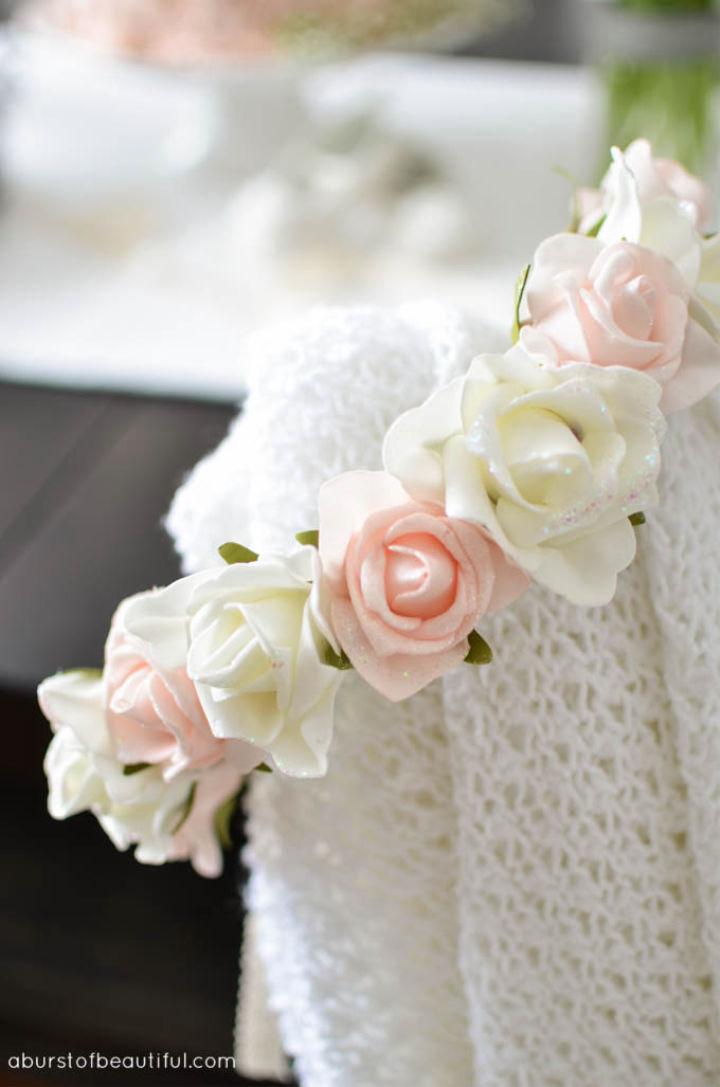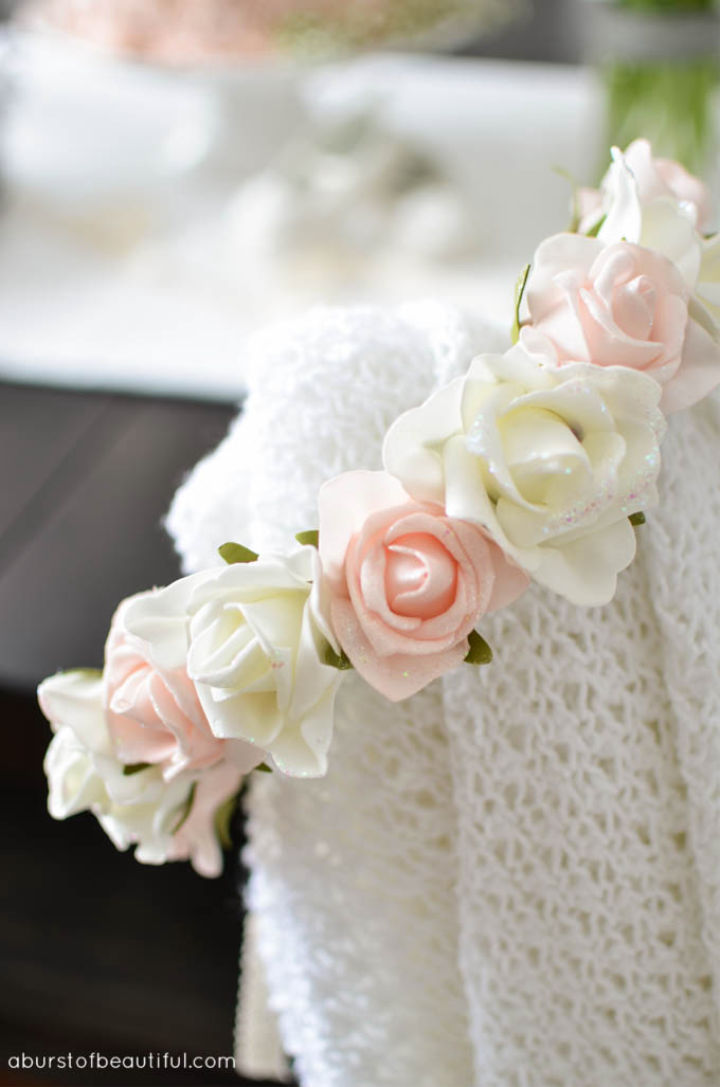 Create this fabulous new fashion for the upcoming birthday party of your little girl, the bridesmaid flower crown, will grab the attention of all with its exciting colors. The flowers a pleasure to look at and now will be a beauty to wear too. Grab the floral wire, floral tape, and faux flowers of choice to make this floral crown. First, measure the circumference of your head accurately and then make a circle of that circumference using floral wire. Load flowers on it, and here you go. Details here nickandalicia
11. DIY Flower Headband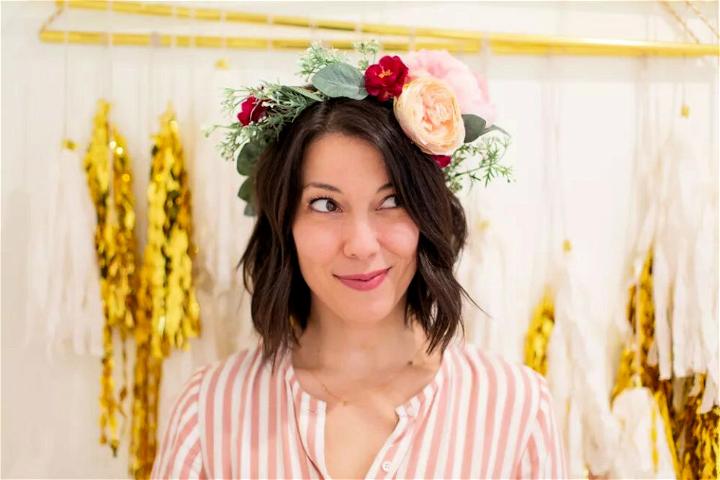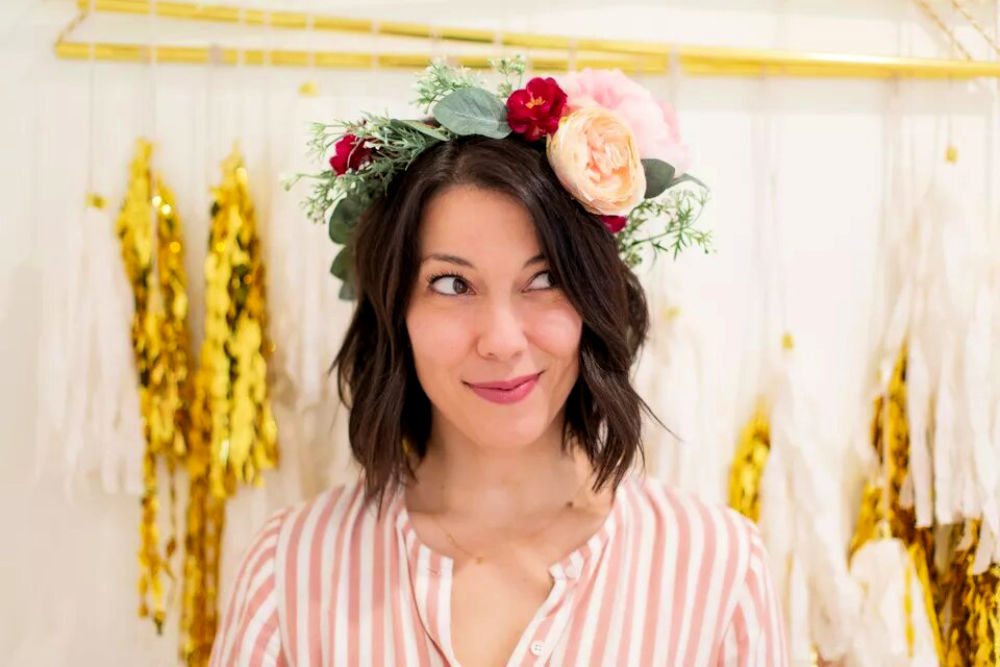 Now you just no need to invest a lot to be in the flower headband trends. Follow the guides here and DIY a flower crown cost-efficiently will be too beautiful to create a fab queen look of you. From raves parties to wedding showers to adorable musical festival fashion, this flower headband will rock for all. Grab the faux flowers in different sizes and ad them on a floral wire circle having circumference equal to your head. Now, wrap the floral tape all around the wire and glue your flowers in place. Fill the crown more using faux greenery. thesprucecrafts
12. How to Make a Flower Headband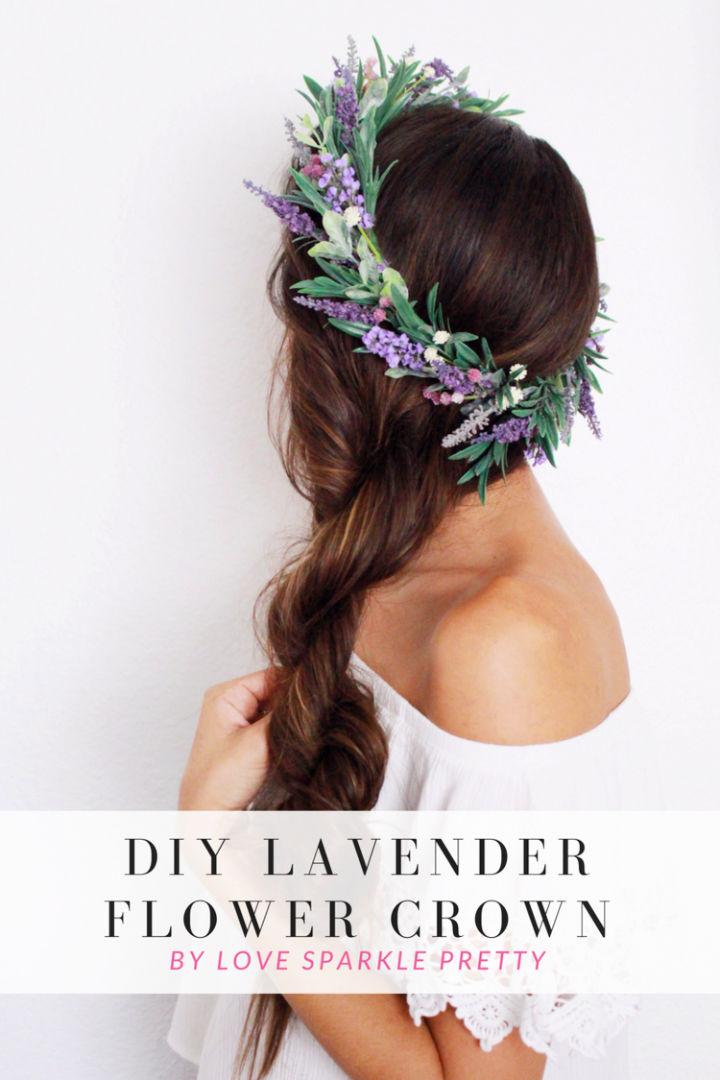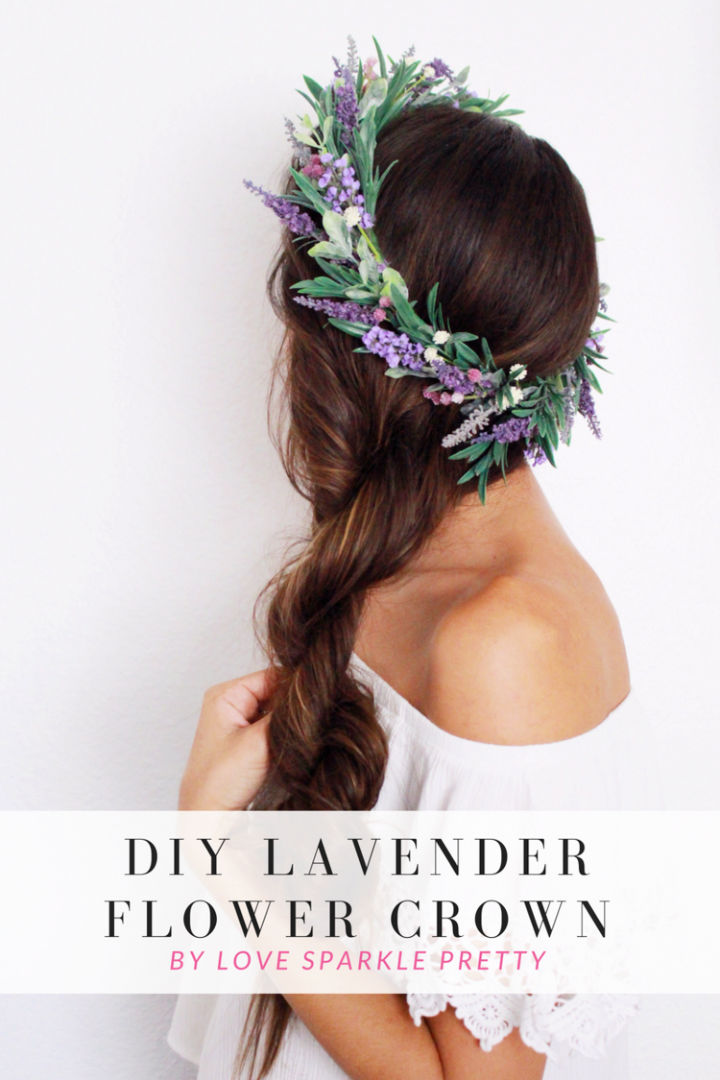 Making this flower headband involves using 5 different floral stems and greenery. Grab the lavender, wildflower, and greenery to make this flower headband. Grab the barked wrapped wire, wire cutters, floral tape, and some creativity to build this flower headband. Turn yourself instantly into a cute princess by making this lovely flower headband. Give it as a gift it makes for a music festival fashion. One of the best DIY flower crowns to make at home. Details here lovesparklepretty
13. How to Make a Flower Girl Crown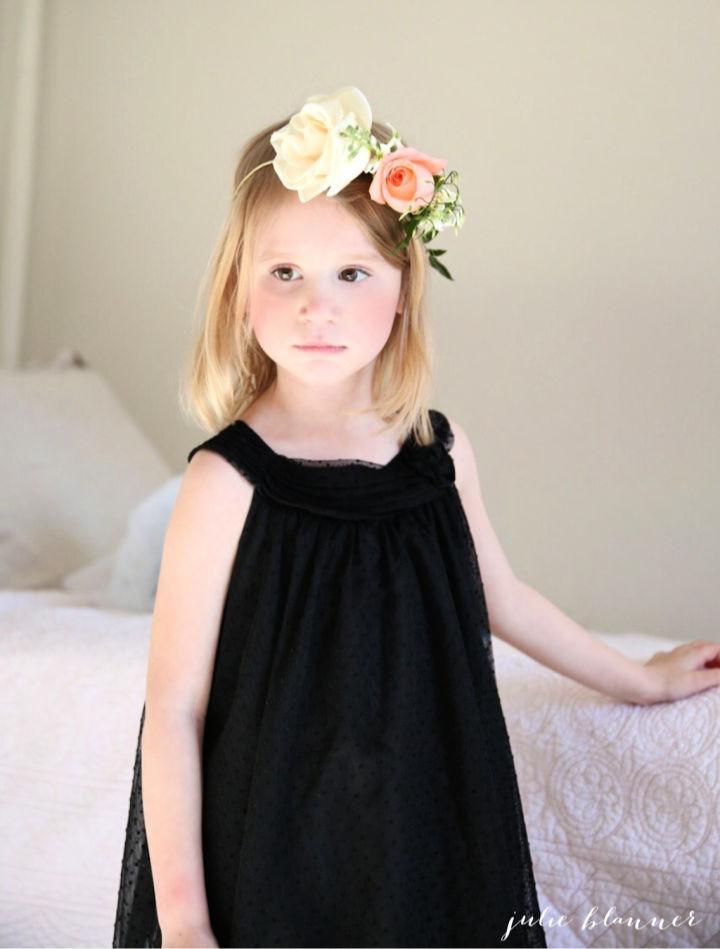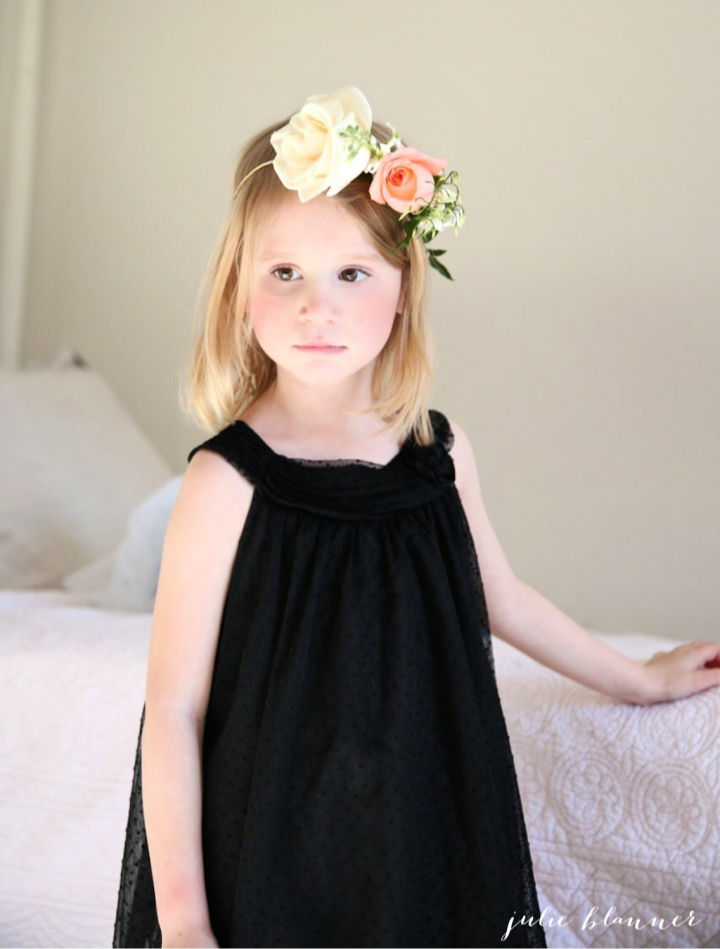 Cute up your little girl more by whipping up this flower girl crown, the best gift for your little girl's birthday. Making this flower crown is pretty simple and quick, and you need the very basic supplies to make it. Grab flowers of choice, floral wire, and floral tape again to work up this flower crown, will rock for the music festival fashion. This crown features pink and white roses and hence becomes a big center of attention. Details here julieblanner
14. Bunny Ears Flower Crown Making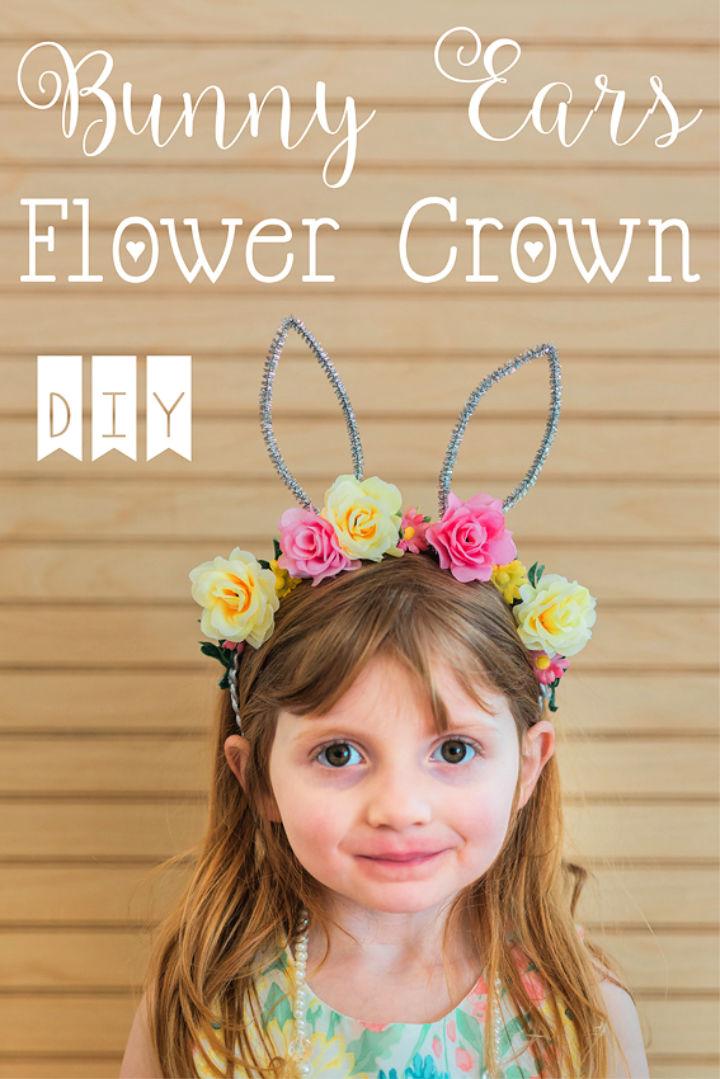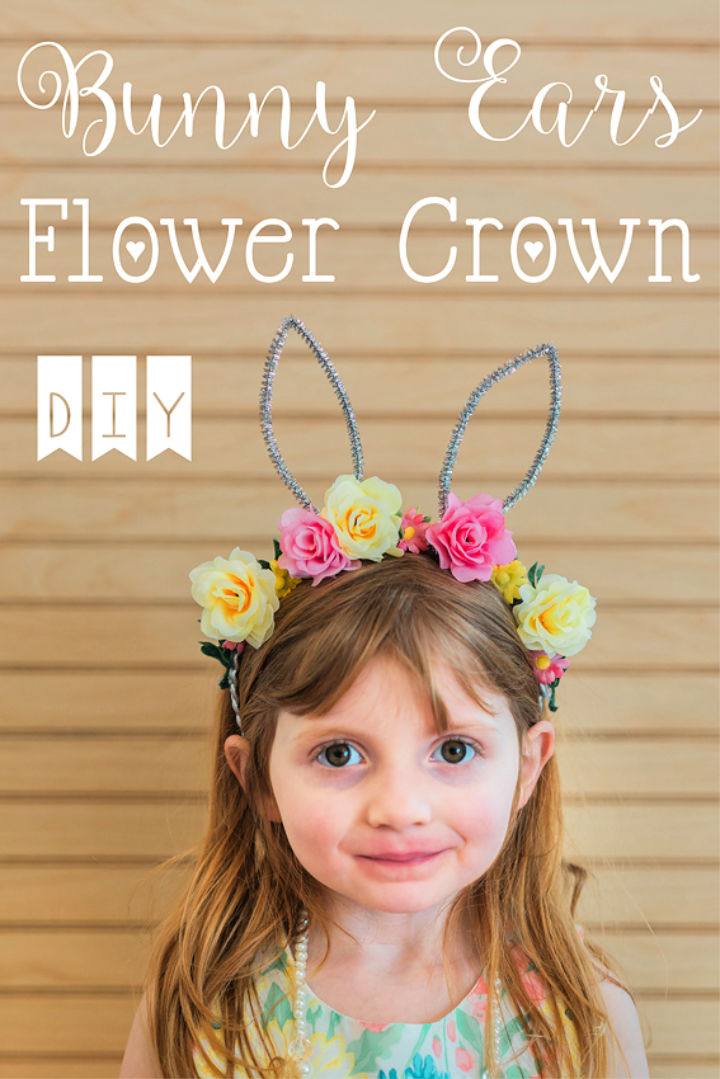 Make this flower crown with plastic headbands, will cute up any little girl, willing to ready for the party and birthday. The bunny look will double up the cuteness of any kind, and here you need plastic headbands, silver spray paint, fake flowers, glue gun, scissors, pipe cleaners, and florist wire to whip up this bunny ear flower crown. Use the pipe cleaners to make the bunny years. They will be easy to make and easy to attach. A one of the best DIY Flower Crown ever made for the kids. Details here bebehblog
15. Wild Roses and Lavender Floral Crown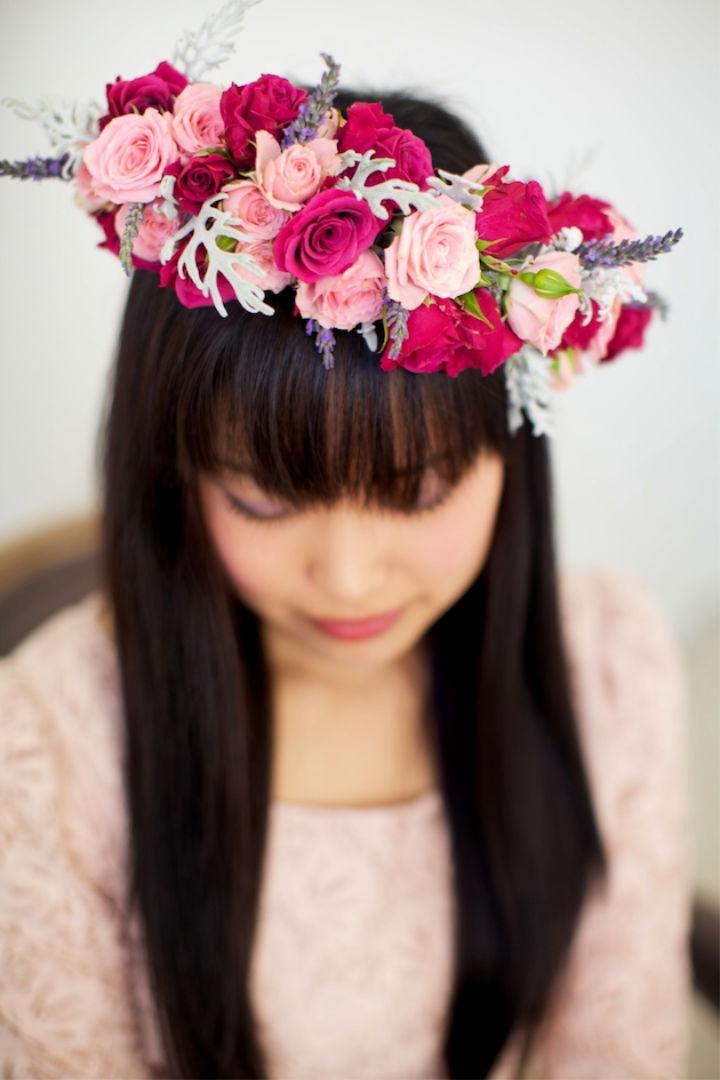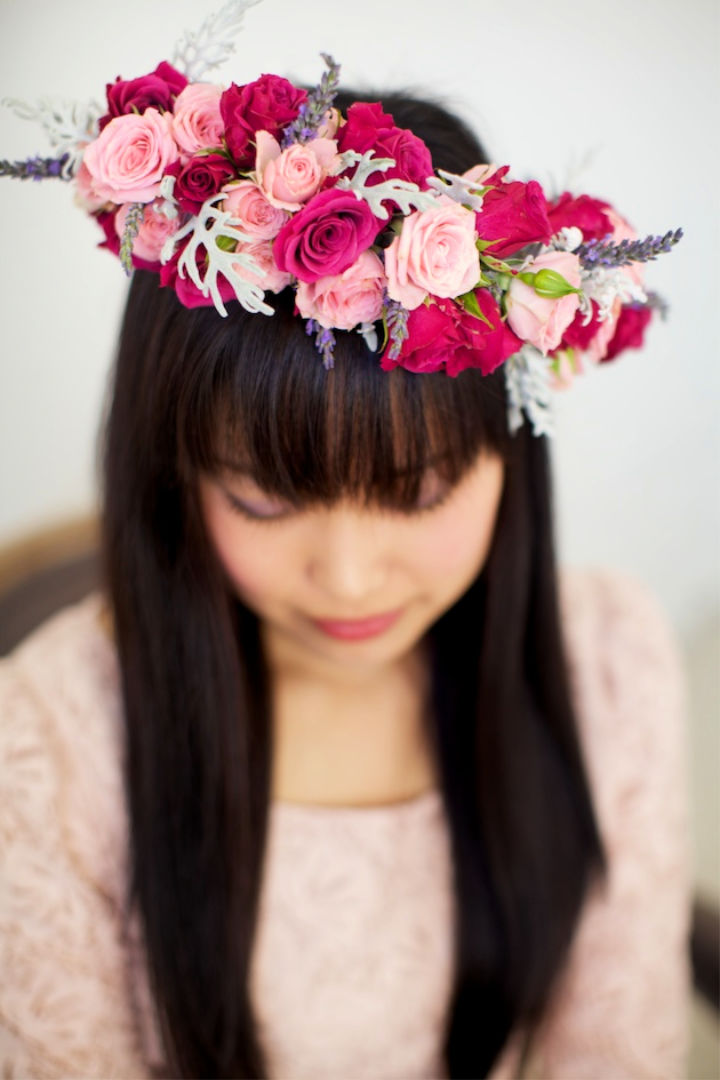 Are you a big fan of the lavender and wild roses? Then time to wear them over the head, will be an amazing part of your fashion look and dress up. This floral crown will rock for any party and music festival and will be a pleasure to make. Grab the floral wire, floral tape, wire cutters, clippers, 2 bunches of roses in the dark pink and pink, 1 bunch of dusty miller, and 1 bunch of springs of lavender to make this bridesmaid flower crown. bridalmusings
16. How to Make a Flower Crown With Fake Flowers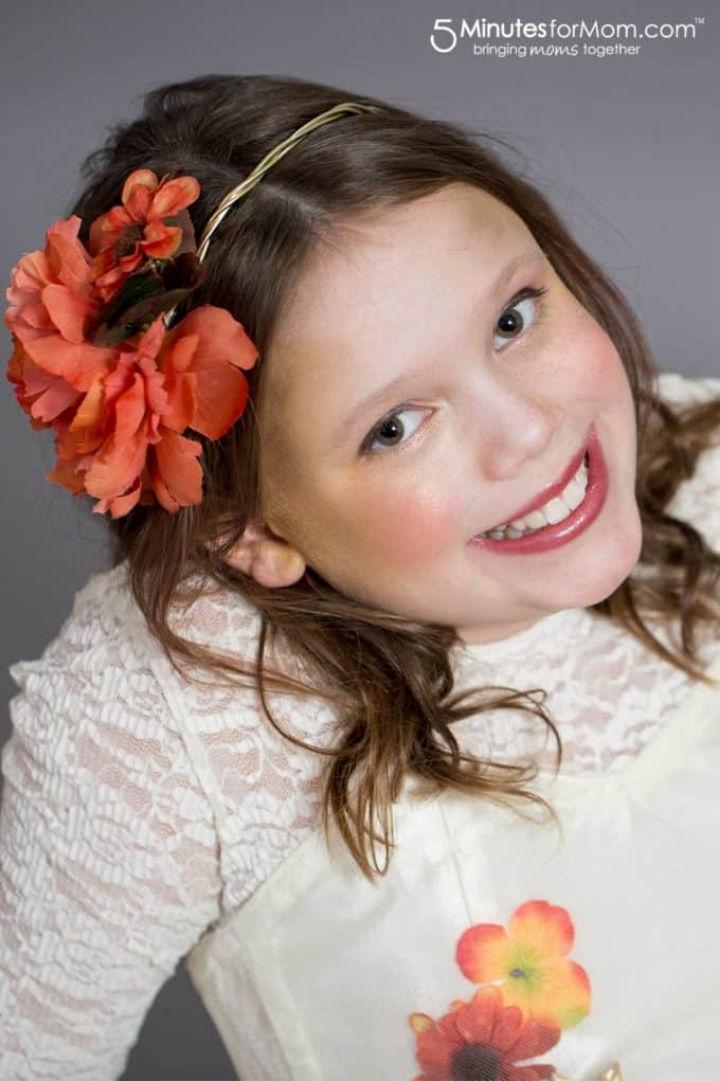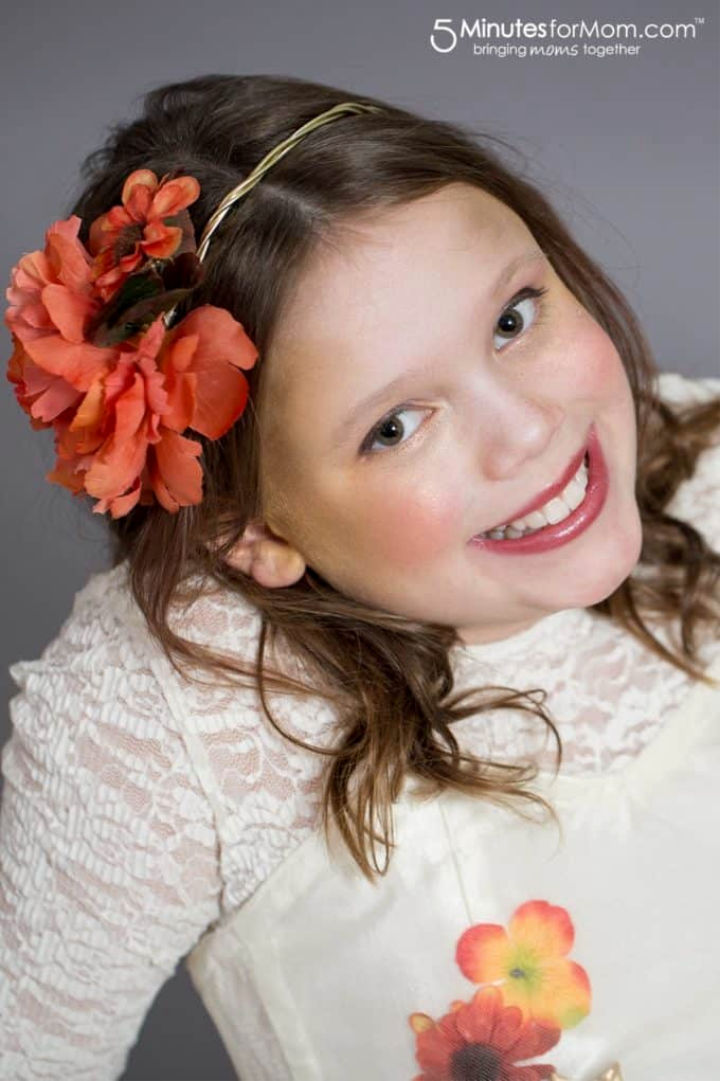 It will only take 20 minutes or less to make this flower crown, features grace, and tons of visual charm. It will pair up beautifully up with the fall fairy dress, and little can work it with the Halloween costume too. Grab the 12 or 14 gauge floral wire, artificial flowers of choice, glue gun, and wire cutters to whip up this enchanting flower crown. Head over to dollar store to buy the faux flowers for cheap and use the glue for all your adhesive demands. Details here 5minutesformom
17. How to Make a Flower Crown With Real Flowers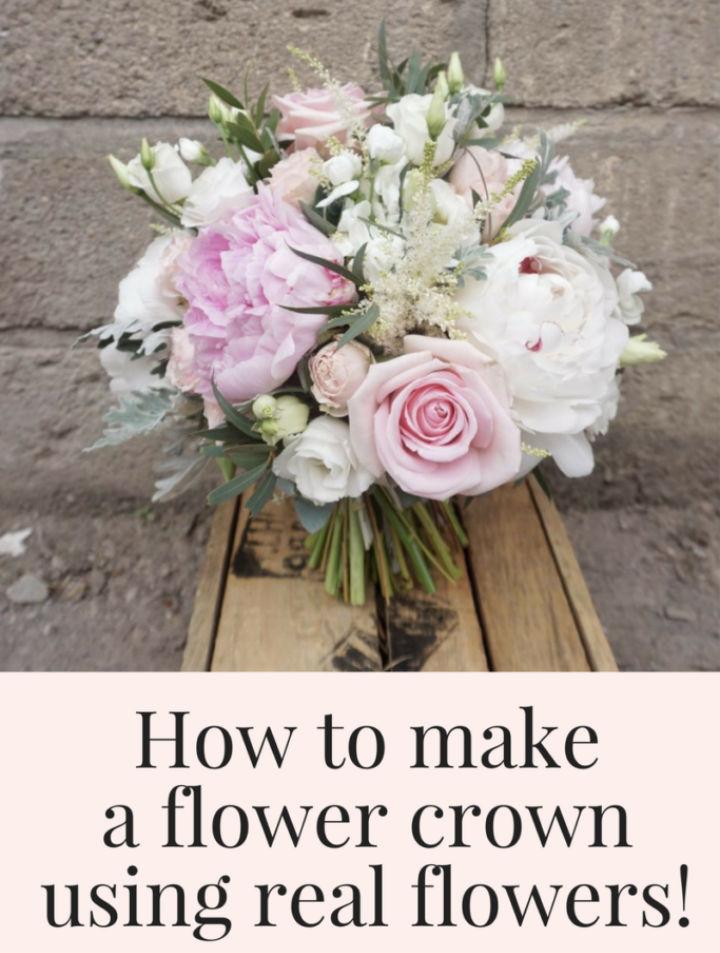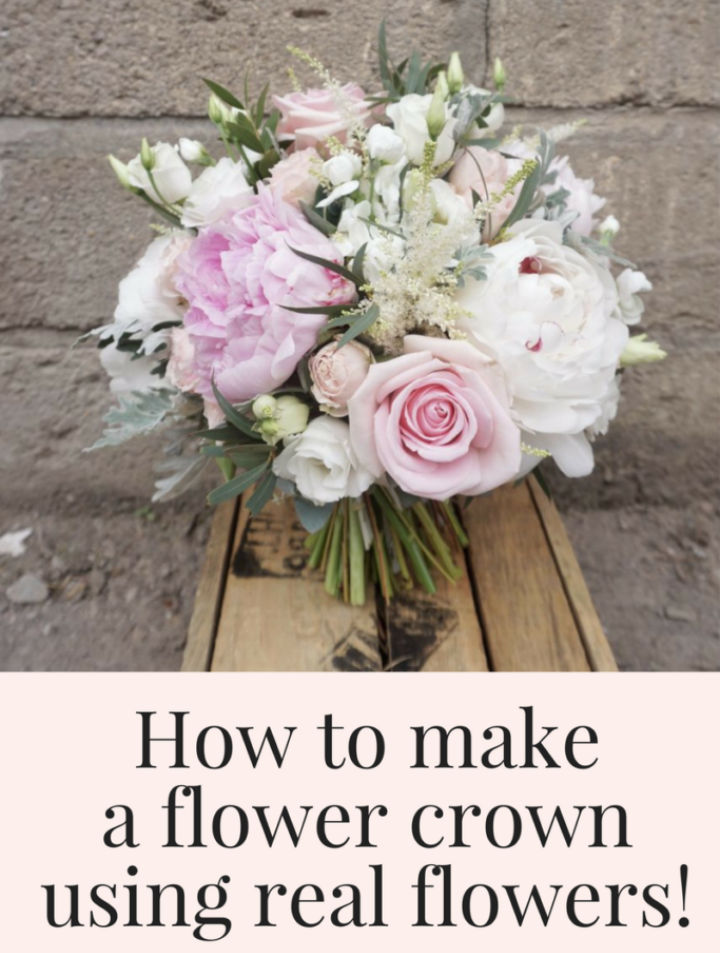 Having a garden of fresh flowers allowing you to pick a good supply of flowers every day to put in your bouquets and other home decorations? Then do use those real fresh flowers to make a lovely flower crown too. How to make a flower crown out of real flowers? Take a look at this real flower crown, darn easy to make, and features the pink and white roses majorly. Here you need both oasis wire and floral wire to whip up this graceful version of the DIY flower crown. Try this DIY crown also with the faux flowers, which will be equally beautiful. Details here mypixieblog
18. DIY Fresh Flower Crown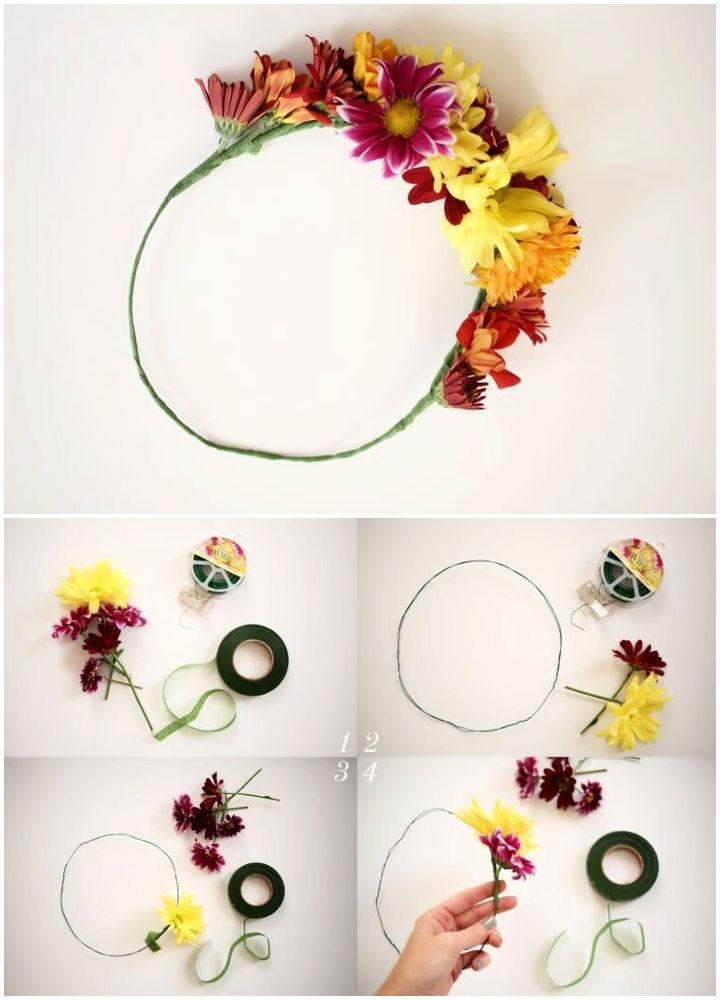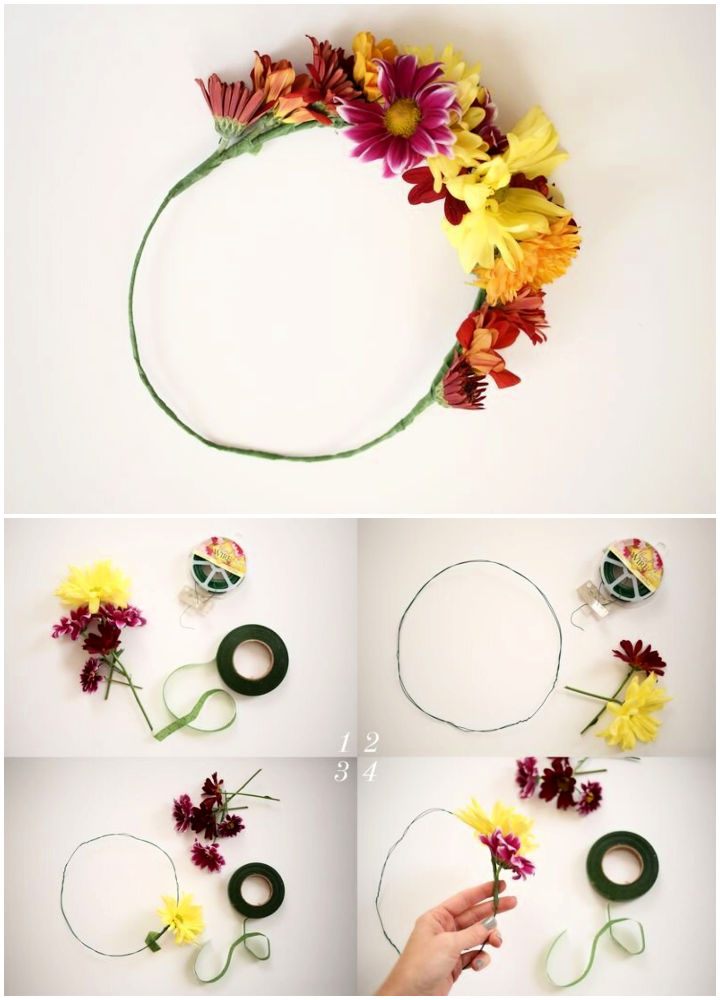 Rock your beach outings, spring parties, and other art and music festival fashion with these flower crowns. One of the easiest DIY projects ever that everyone can do with great ease. If you make this fresh flower crown with friends or family, it will be a great fun activity, too, for a happy pastime. Grab the fresh flowers, scissors, floral tape, floral wire, and take the flowers into 1 1/2" long stems to get this crown made. It will also make a sweet handmade gift for a friend. Details here abeautifulmess
19. DIY Flower Crown Headband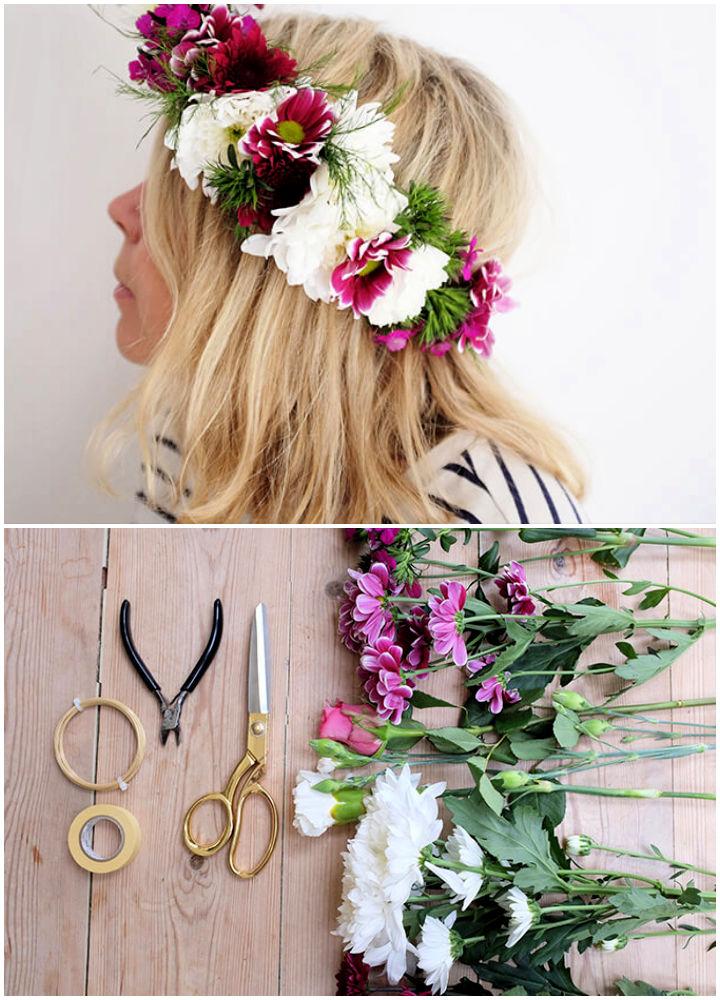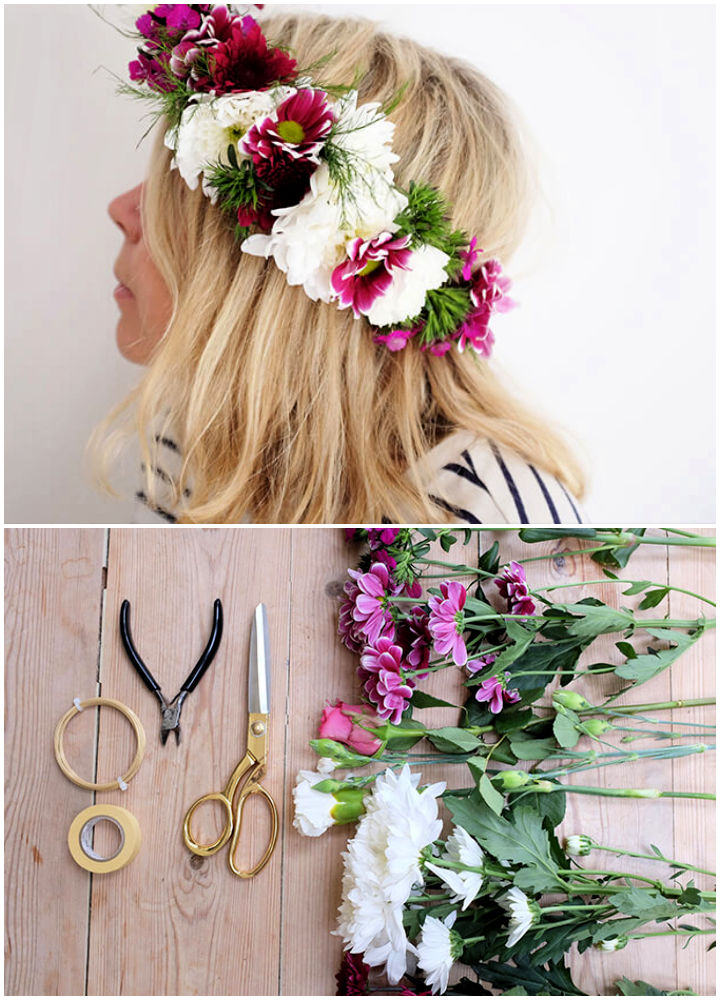 How to make flowers headbands? One more amazing DIY flower crown inspiration is here to grab your attention. The handsome flower crown design features white and purple flowers, but you are all free to use your own custom flowers. Making this crown headband is a fun project to do with kids in the summer. Do make it to rock your beach outings, raves, and other music festivals. You need a bunch of flowers of choice, cutters, scissors, tape, and wire to make this bridesmaid flower crown. Details here wearethought
20. How to Make a Flower Crown Headband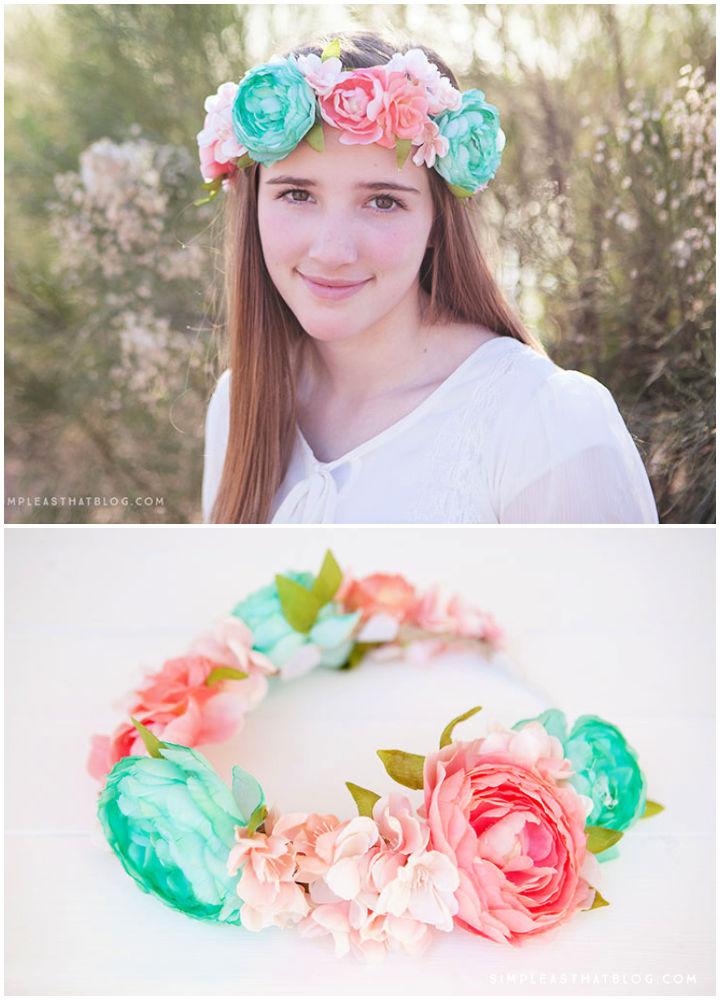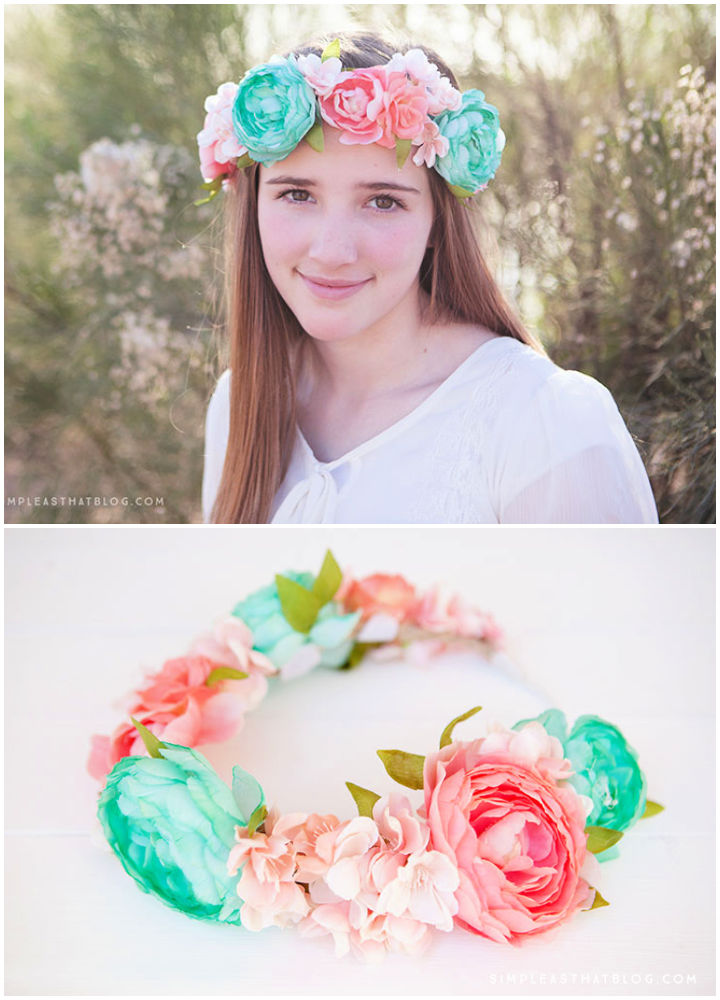 Look great this summer or spring season by wearing this simple flower crown with your favorite outfit. Wear it to make your photo shoot memorable and also rock your summer outdoor parties by having it over the head. Something quick and amazing to make for a fancy hairstyle. Grab the spring flowers, glue gun, scraps of ribbon or lace, elastic, felt, and leather suede cord to whip up this enchanting flower crown headband. A quickest DIY project. Details here simpleasthatblog
21. How to Make a Flower Crown With Just Flowers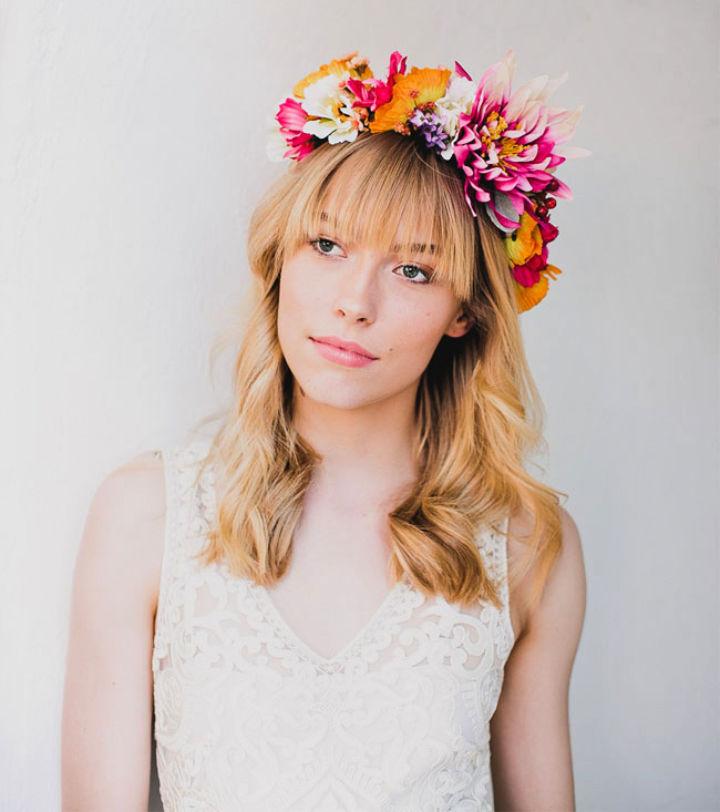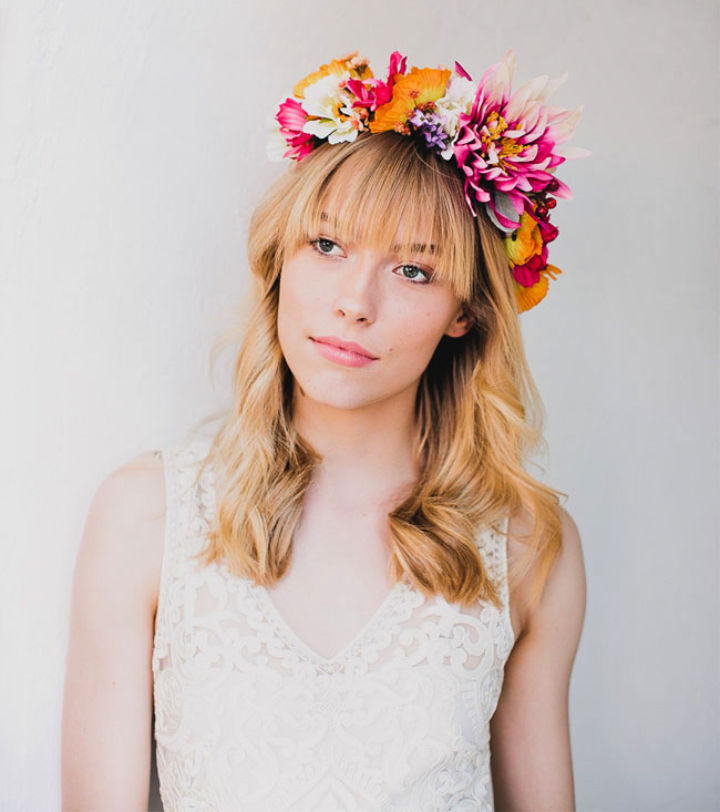 Looking for an easy flower project that will make you get a cool flower hair accessory? Then start making this adorable flower crown, which will be live for a long time due to being made of artificial flowers. Making this floral crown will be a pleasure when kids and friends are involved, and they will make hearty personal adornment for the different festival. A must make a decoration to get an instant queen or princess avatar. Get busy with floral tape, silk flowers, floral wire, and scissors to make it. Details here greenwedding
22. How to Make a Flower Crown With Real Flowers No Wire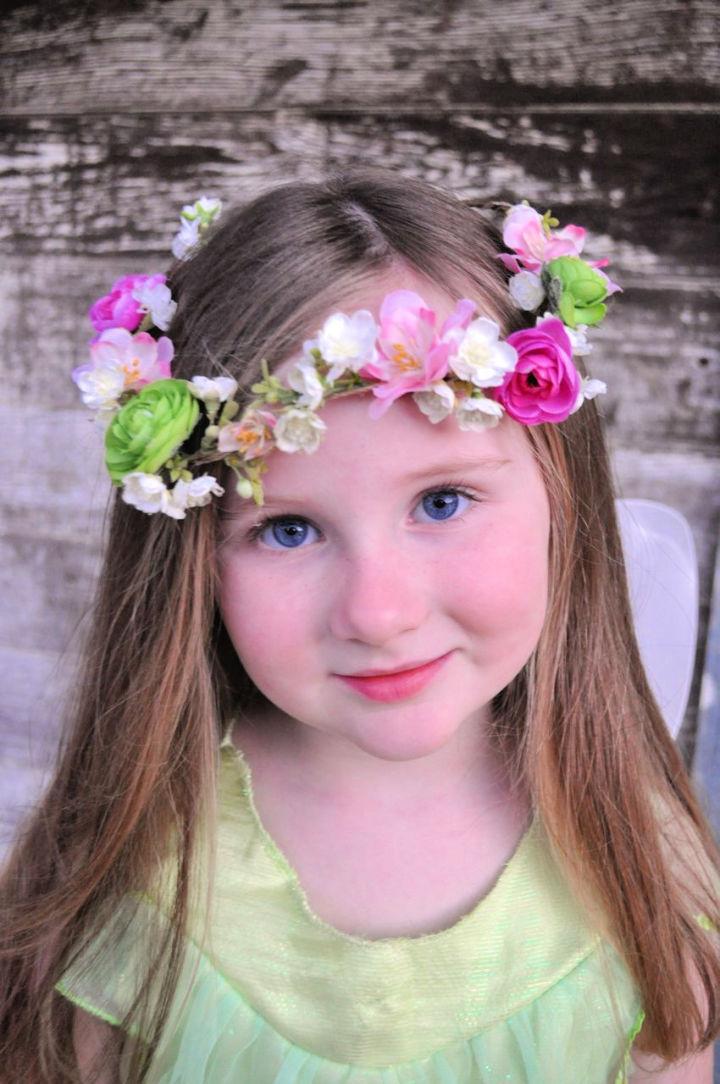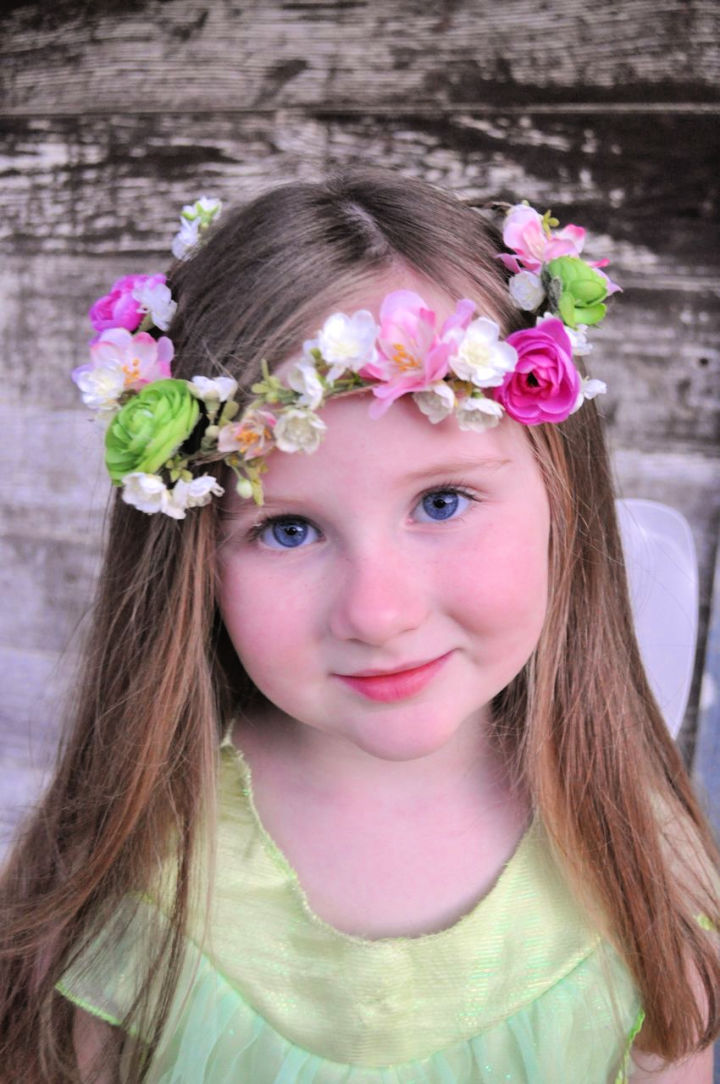 How to make a flower crown without wire? Floral wire is mostly a crucial ingredient when willing to make some flower crowns. But you can go without it also to make adorable flower crowns like this given one. Here you have to fulfill the needs of floral wire with the twine that you can wrap around the strand of small flowers multiple times. Wrap also the twine around your head to get an estimated circumference for your crown that will fit your head nicely. One of the best DIY Flower Crown Idea. Details here makelifelovely
23. Roses Flower Crown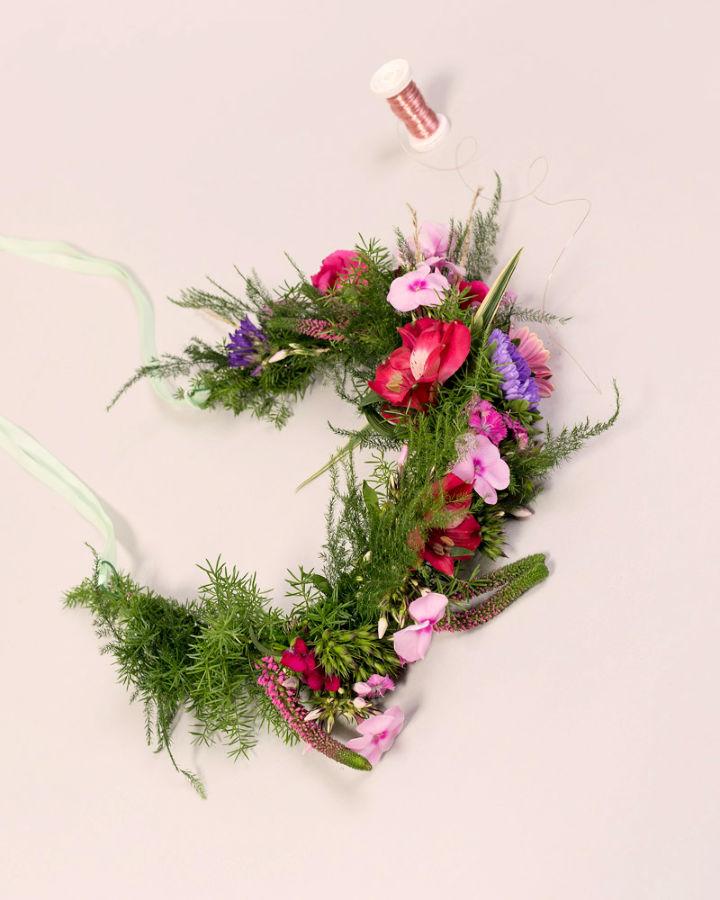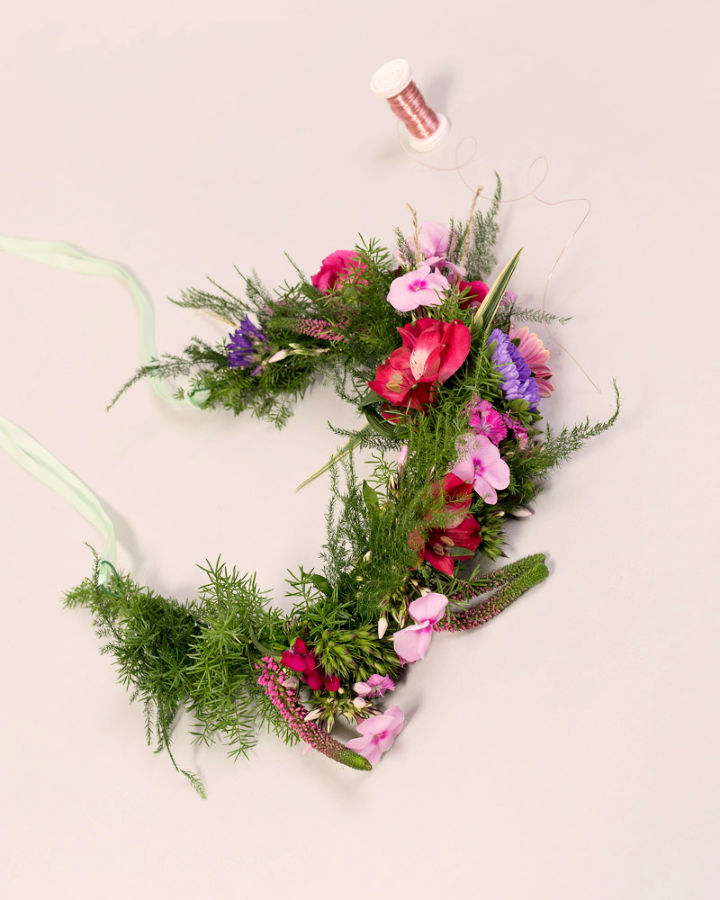 The flower crowns are becoming a hot trend in the fashion runways, and these pretty flower decorations are to make at home quite inexpensively. This crown is to make with a number of flowers like spray carnation, phlox, veronica, campanula, and miscanthus, etc. and in the foliage, the asparagus fern and carex green sparkler will really rock. Furthermore, you need floral wire, floral tape, and ribbon to complete this flower crown. Details here bloomon
24. Spring Flower Crown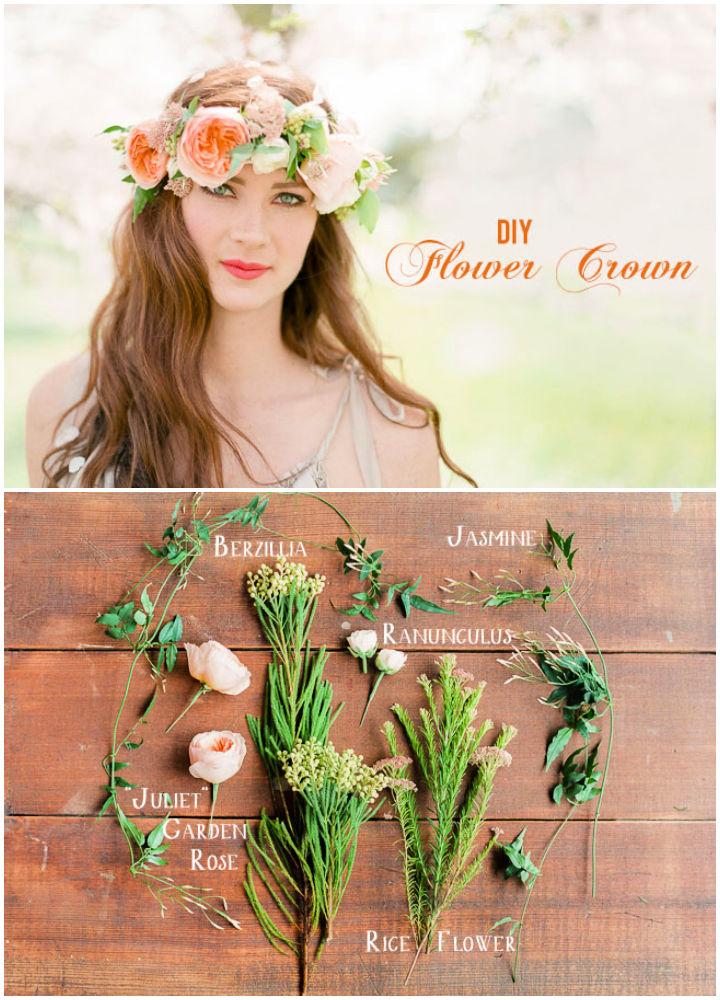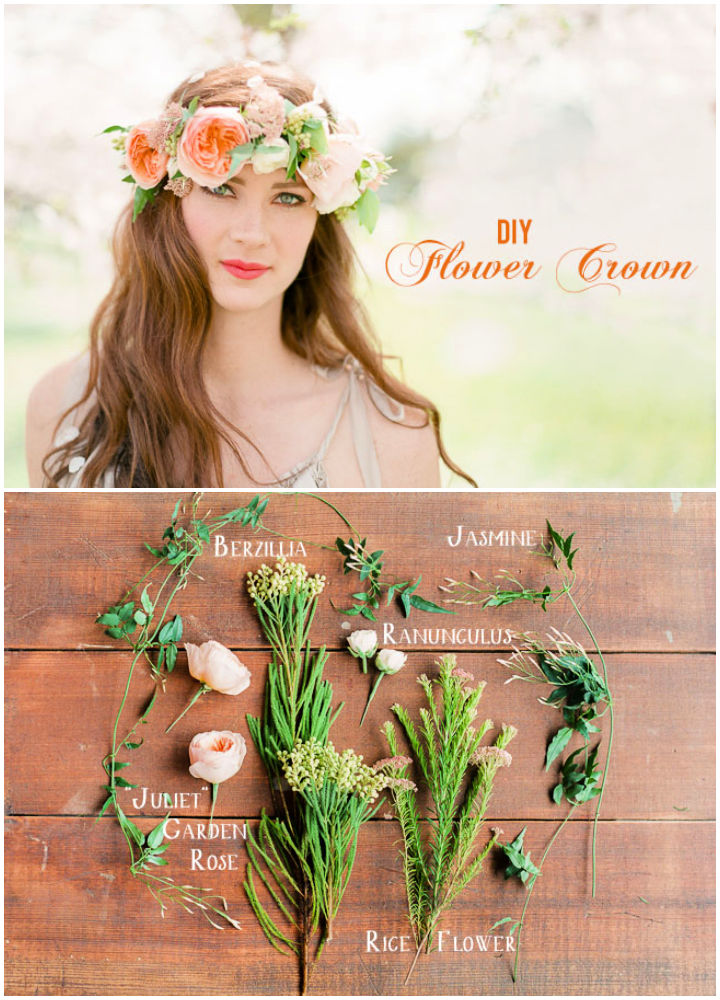 Give your personality a glam touch of flowers by wearing this DIY flower headband and create an amazing spring queen look of you. This homemade flower crown features Berzillia berries, garden roses, jasmine, ranunculus, and rice flowers. Other materials used to make it are the double satin ribbon, green florist tape, 16 gauge wire, ribbon shears, and bonsai shears. The best decoration to make for spring outings and raves. Willing to duplicate it now. Details here greenwedding
25. Multi-colored Crown With Berries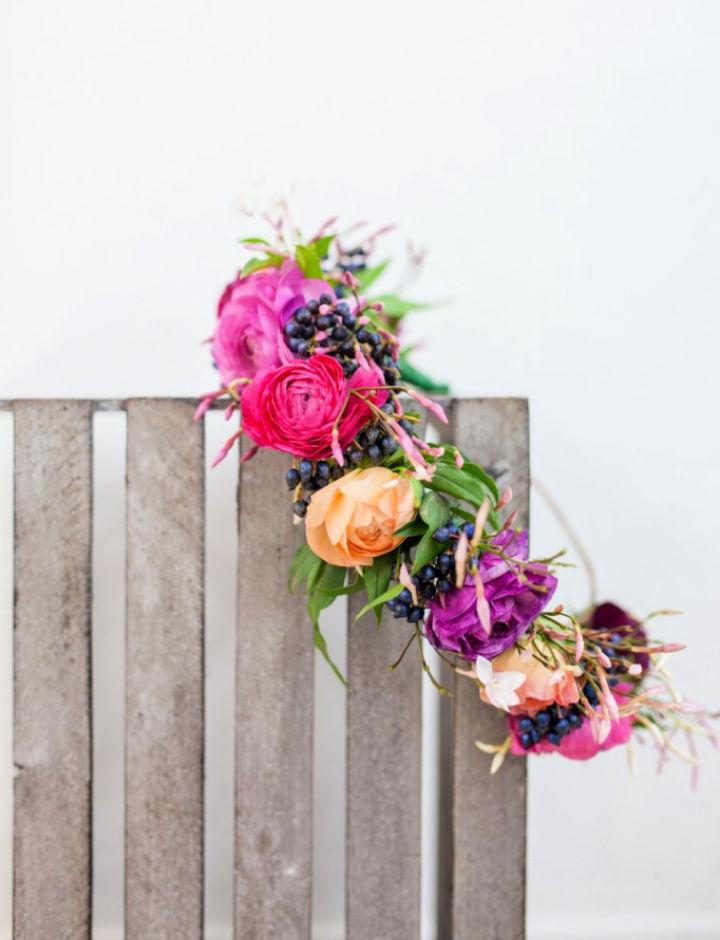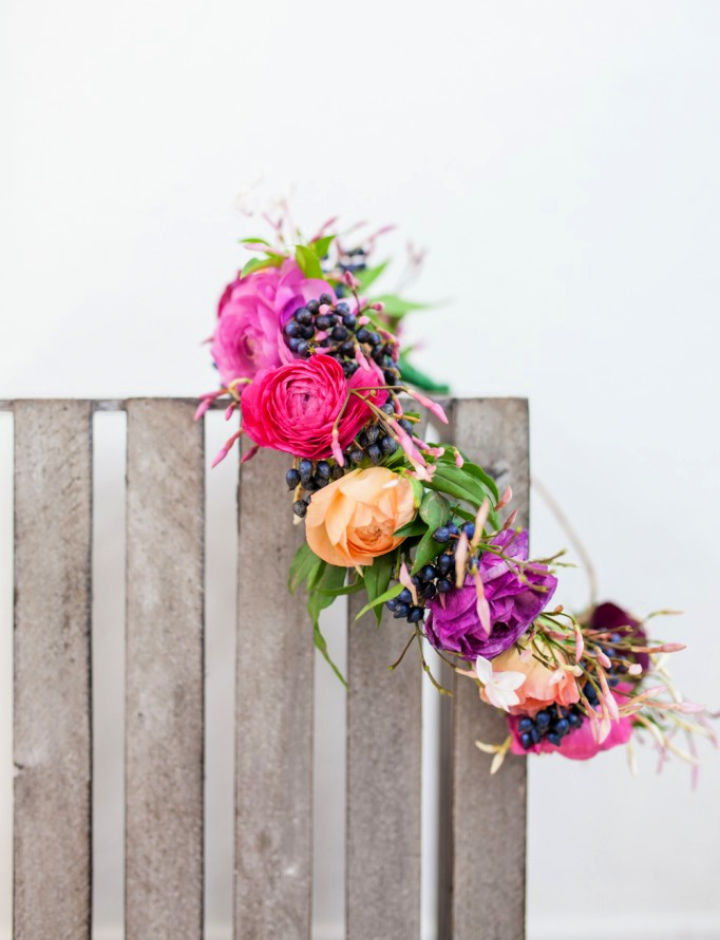 Are you addicted to colors and colorful things? This multi-colored DIY flower crown will be a big obsession with you. It features both flowers and berries in an enchanting color combination. This DIY flower headband features Hellebore, viburnum berries, ranunculus, and jasmine vine. For making the base of the crown, you need floral grapevine wire, floral wire, floral tape, wire cutters, and floral clippers. One of the best floral crowns to make at home. Details here bestfriendsforfro
Learn how to make your own wedding bouquet with these 20 simple DIY wedding bouquet ideas by It's Overflowing! We make these DIY wedding projects so easy. We break down what flowers to use, how to organize them into a gorgeous bouquet, and how to wrap the stems in a fashionable way.
Conclusion:
Celebrate the summer and spring season more with these cheap and simple DIY flower crown ideas. Get here all the genius ways to make a flower crown at home like a pro. This list of DIY flower crown covers all the projects using both faux and real flowers. They are to wear with the summer outfits and will fancy up your personality for the beach, shower, and birthday parties too.
The best part is, you need fewer quick and inexpensive supplies to make these super colorful and enchanting decorations are highly in trends. Make the base of the flower crown with floral wire and then fill it up with the flowers of choice. Use foliage of choice for filling the crown dense, and that's flower crown making easy.