Sitting in a warm water tub can be the best way to de-stress and relax. Turn-taking a bath into a luxurious spa treatment with this list of 17 DIY Professional Bath Bomb Recipe that produces great fizz and fun in the bathtub, too, due to adding enchanting color and fragrances. With or without citric acid, this collection of 17 DIY Bath Bomb Recipes provide all types of recipes, plus you will get some great organic bath bomb recipes too to go all-natural. By adding custom flavors and essential oils, you can come with lots of interesting flavors of these bath bombs. Some recipes involve using dried and blended fruits too. Take a short tour of the entire professional bath bomb recipe collection and pick your favorite recipe to try out at home.
Time to take your taking bath to the next level by getting aromatherapy, therapeutic essential oil treatment, and skin-softening agent care at the same time by adding one of the simple and professional bath bomb recipe to your bathtub. They can be made in a number of different ways and can be experimented with different flavors and fragrances.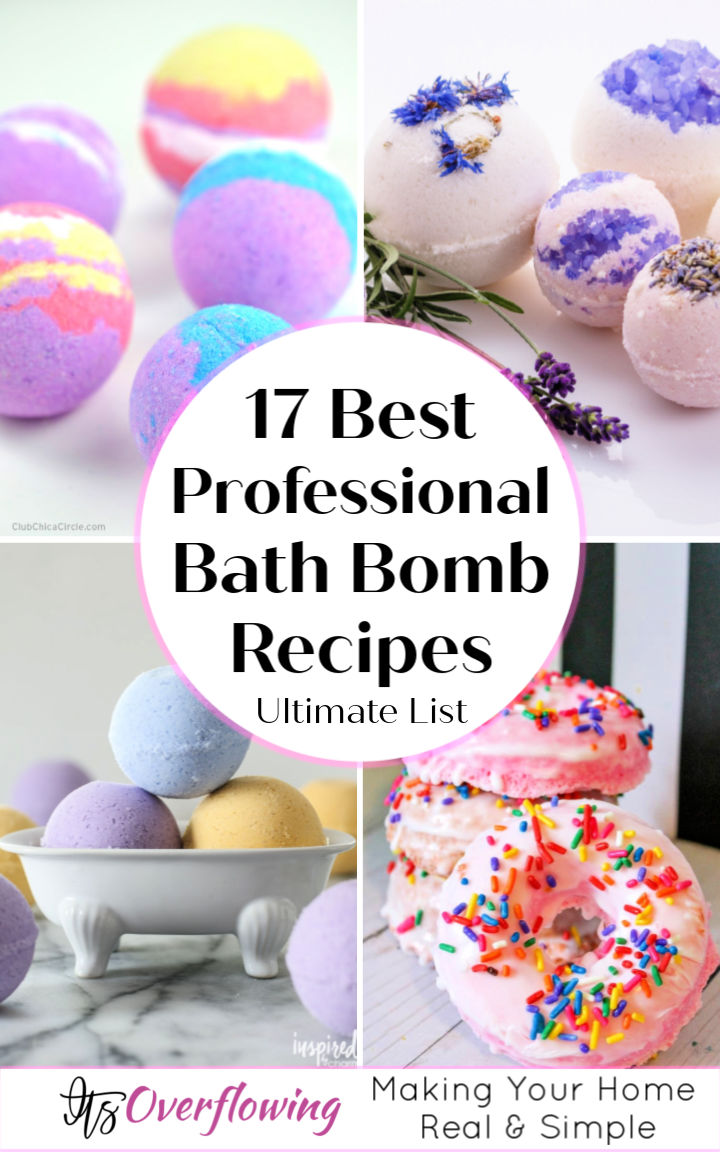 Furthermore, you can make them in so many different shapes using custom molds; the heart-shaped bath bombs will rock as a Valentine's Day gift. The rainbow sprinkles bath bombs, and doughnut bath bombs will rock for the kids. Taking a short tour of the entire collection of these DIY professional bath bomb recipe is recommended to see all unique and amazing recipes.
1. Homemade Bath Bombs without Citric Acid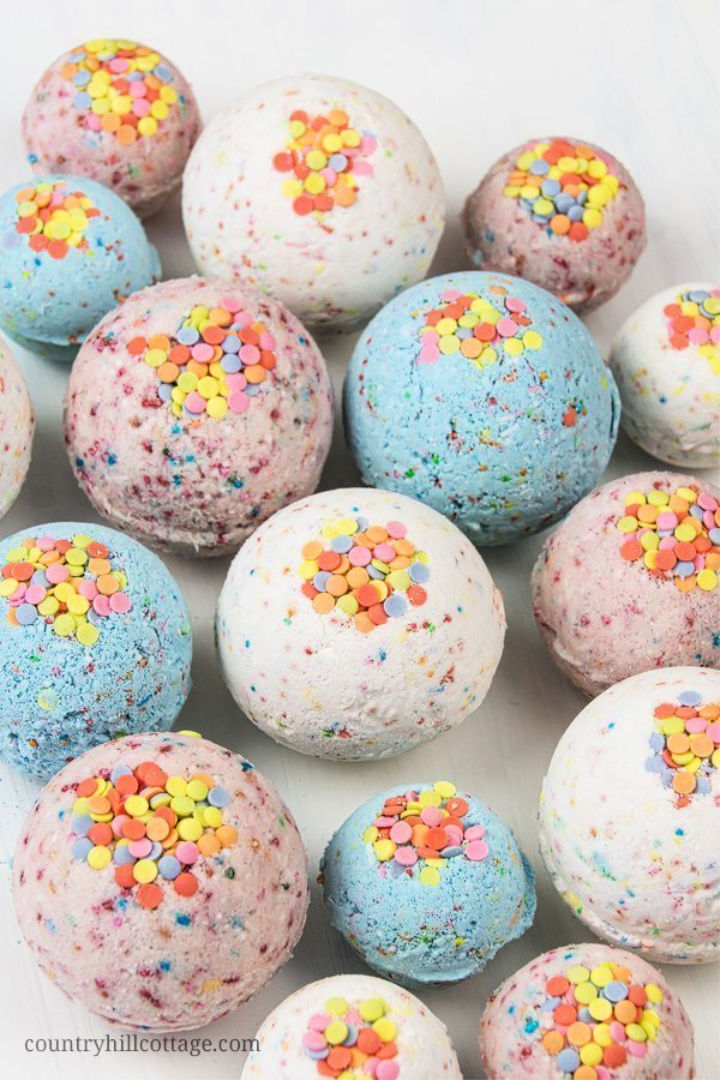 Turn-taking a bath into a big entertainment using custom bath bombs. If you love making your own bath bombs with citric acid, it will produce a great fizz and will be safe for kids. Just grab the baking powder, apple cider vinegar, and sweet almond oil to cook this bath bomb recipe. Details here countryhill
2. Professional Bath Bomb Recipe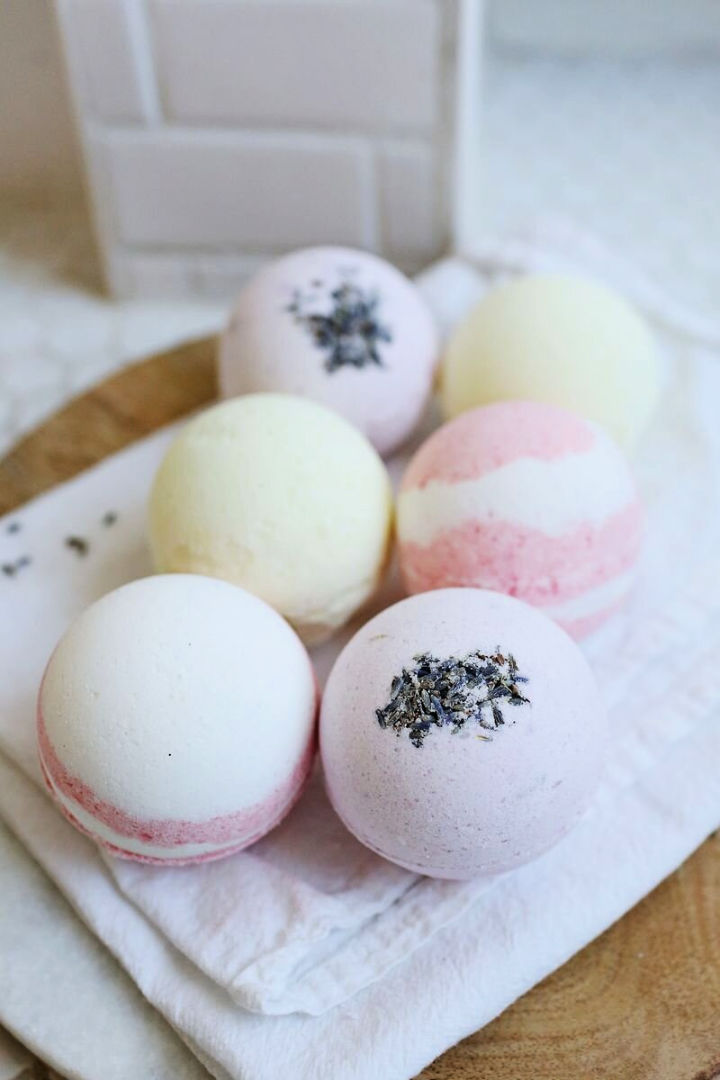 Add great skin nourishment to your bathtub water using these DIY Professional Bath Bombs that are quick to cook. This bath bomb recipe is with the citric acid. Further, you need the baking soda, corn starch, Epsom salt, essential oil, coconut oil, and food coloring. abeautifulmess
3. No-Fail Coconut Oil Bath Bombs
If you tried making bath bombs a lot of time but have not succeeded, then do try out this no-fail coconut oil professional bath bomb recipe. Adding this to your bathtub will bring great comfort to you, for sure. These bath bombs will hydrate your skin and will also help soothe achy muscle due to coconut oil and an Epsom salt as the main ingredients. helloglow
4. Bath Bombs With A Toy Hidden Inside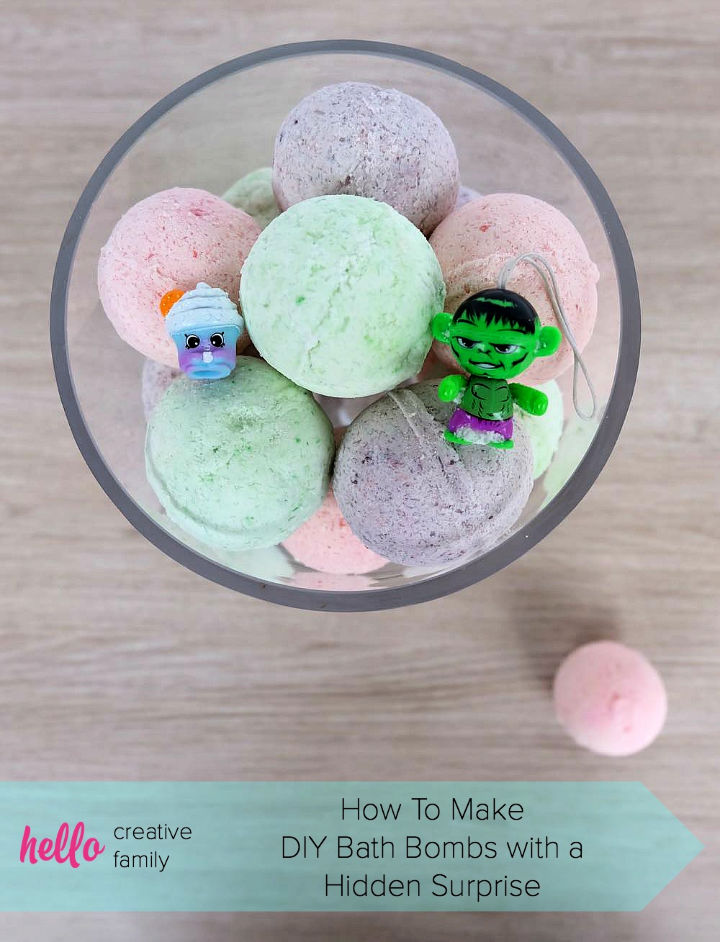 Take your bath bomb game to the next level and also let them boost the fun of your kids. Just make the bath bombs with a hidden toy inside, will be a big surprise for the kids. Mix together the baking soda, citric acid, Epsom salts, corn starch to make these bath bombs. Hide a little toy inside. hellocreative
5. Exact Lush Bath Bomb Recipe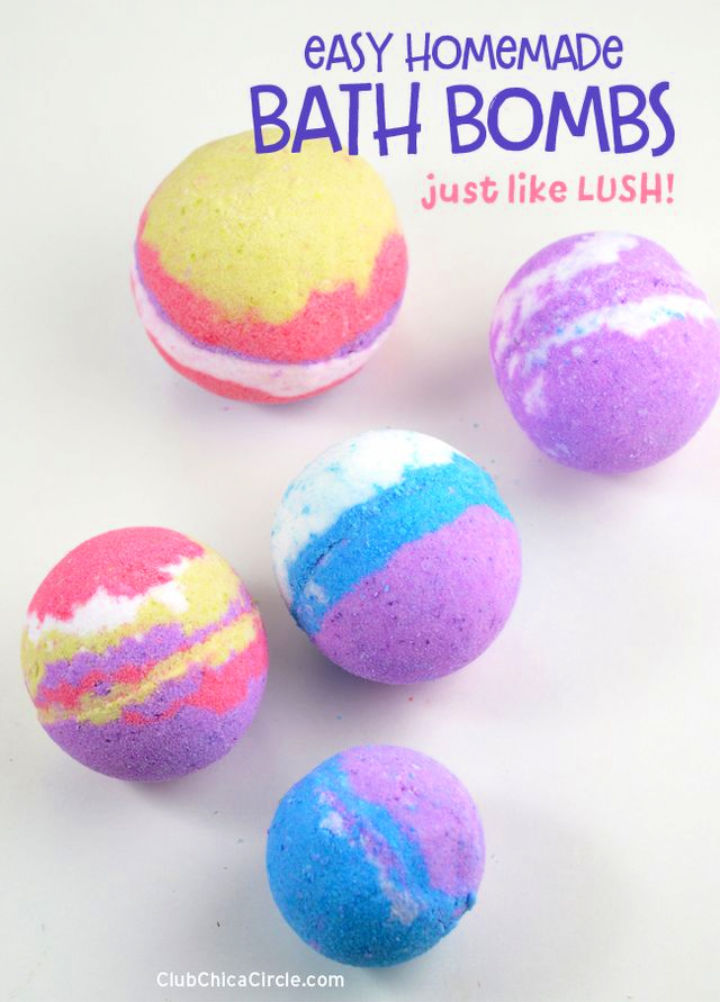 Mix together, gain a handful of ingredients to make these DIY bath bombs. Grab the baking soda, citric acid, coconut oil, scented essential oil, and food coloring to make these extract lush bath bombs. They will be a cool way to add the skincare to your bathtub water. The coconut oil will surely hydrate your skin. bloglovin
6. Homemade Rose Bath Bomb Recipe
The fun and creativity both come into play to make these rose bath bombs. Time to moisturize and indulge your skin in a fun way by making these homemade rose bath bombs. Along with baking soda, citric acid, Epsom salt, and coconut oil, you also need cocoa butter, cream of tartar, mica powder, polysorbate, and rose. cutoutandkeep
7. Natural Bath Bomb Recipe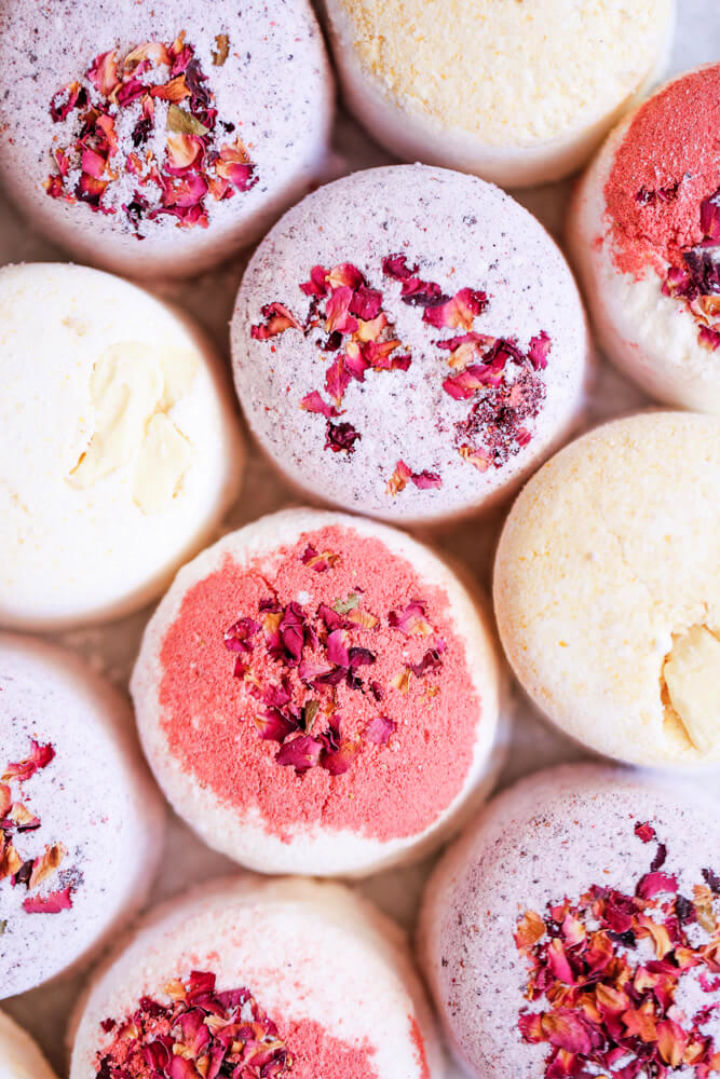 Make it super fun to add the emollients and softeners to your bathtub water using this natural and professional bath bomb recipe, will make sweet homemade spa gifts too. Here are you are going to use the fruits to make these natural bath bombs. Along with base ingredients, freezed dried fruits blended into powder, buttermilk powder, and essential oil. littlegreendot
8. Homemade Milk & Honey Bath Bombs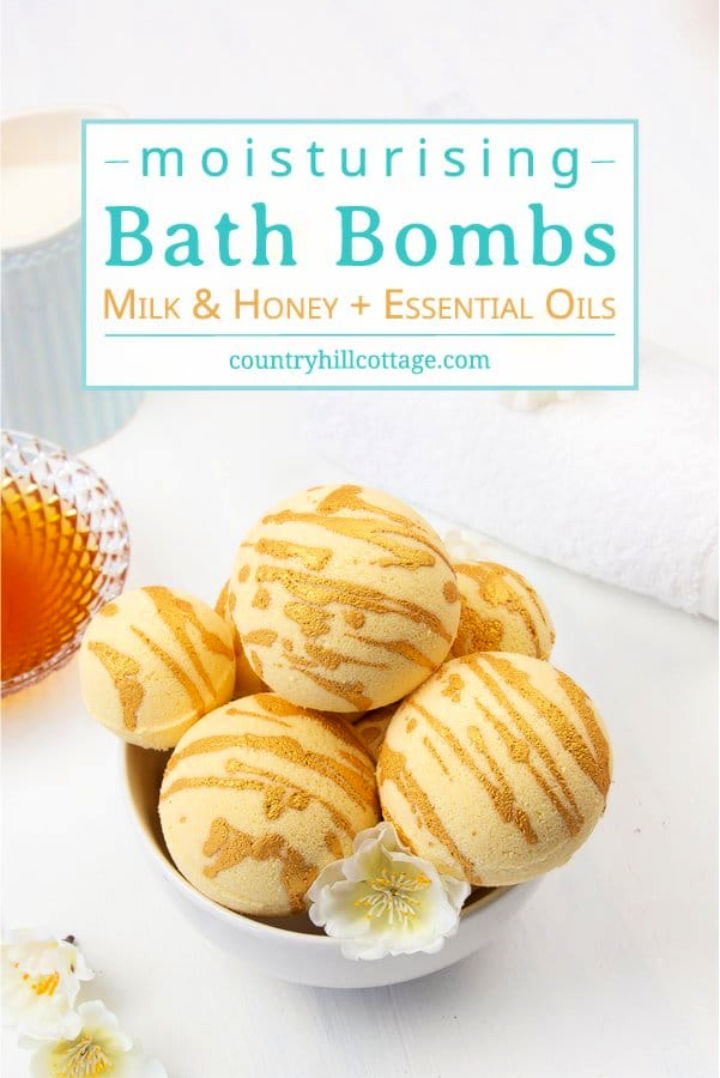 If you need a moisturizing skin treatment to regain your healthy skin back, then simply opt for these milk and honey bath bombs. The milk and honey formula will provide the required moister to your skin. The best bath bombs recipe to make with milk & honey and with custom essential oil. Details here countryhill
9. Lemon Vanilla Bath Bomb Recipe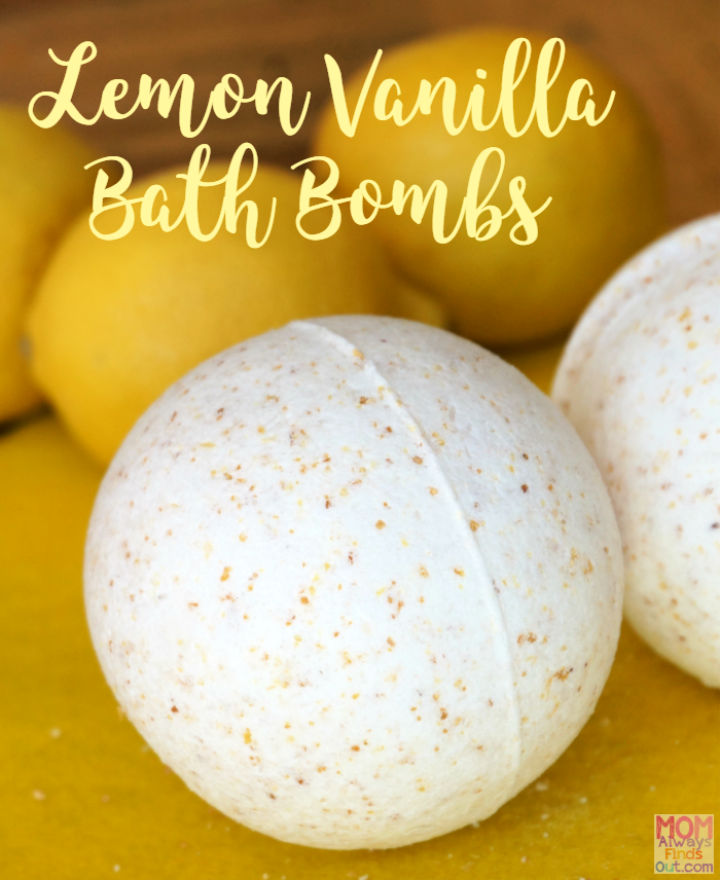 Making the DIY Professional bath bombs at home allows you to come up with lots of flavors along with adding your custom emollients. So, time to have a great bath in vanilla flavor while getting the citrus freshness of lemon using this lemon-vanilla bath bomb recipe. It is quite easy to mix up. momalways
10. Organic Bath Bombs
Don' t like those chemical products? Then go all-natural and make these organic bath bombs using this professional bath bomb recipe, will turn taking a bath into a fun way to gain more health. Just compose your bath bombs with the base ingredients like with baking soda, citric acid, essential oils, and pure witch hazel. Next, get the tips here on how to add natural colors and fragrances. gardentherapy
11. Bath Bombs with Eucalyptus and Organic Blood Orange Essential Oils
You will surely fall in love with the fragrance and soft touch of these special bath bombs that feature organize blood orange essential oils and eucalyptus. Along with eucalyptus and blood orange essential oils, you need the base bath bomb ingredients, including citric acid, to prep these bath bombs. auracacia
12. How To Make a Bath Bomb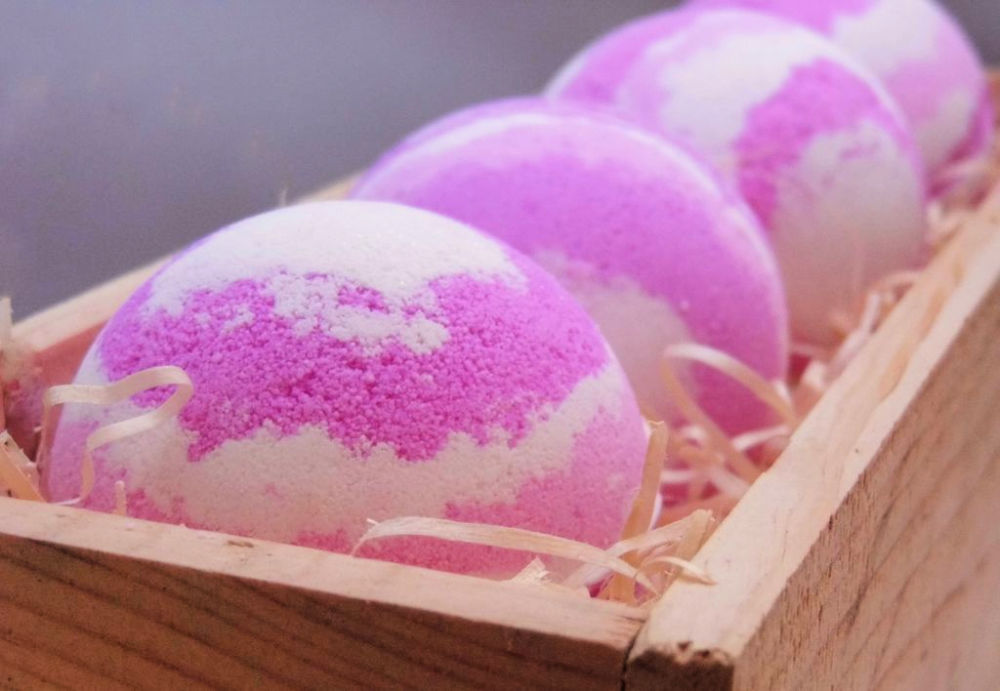 Turn-taking bath into luxurious spa treatment using these bath bombs that are quite something quick to prep at home. You need 300g of baking soda, 150g of citric acid, 5ml of sweet almond oil or olive oil, and food color to make these bath bombs. The best spa gift idea. Details here instructables
13. Homemade Bath Bombs
Make these bath bombs at home, and they will add the therapeutic essential oils, skin-softening agents, and pleasing fragrances to your bathtub and will be a great relaxing spa treatment. Along with the base ingredients, you need witch hazel in a spray bottle to make these bath bombs. Details here swansonvit
14. Rainbow Sprinkle Bath Bombs
One of the best Valentine's Day gifts to make at home, the rainbow sprinkle DIY Professional bath bombs in super cute heart shapes. Here you need baking soda, citric acid, Epsom salt, cornstarch, fragrance oil, food coloring, and custom molds to make these rainbow sprinkle bath bombs. bitzngiggles
15. Colorful Doughnut Bath Bombs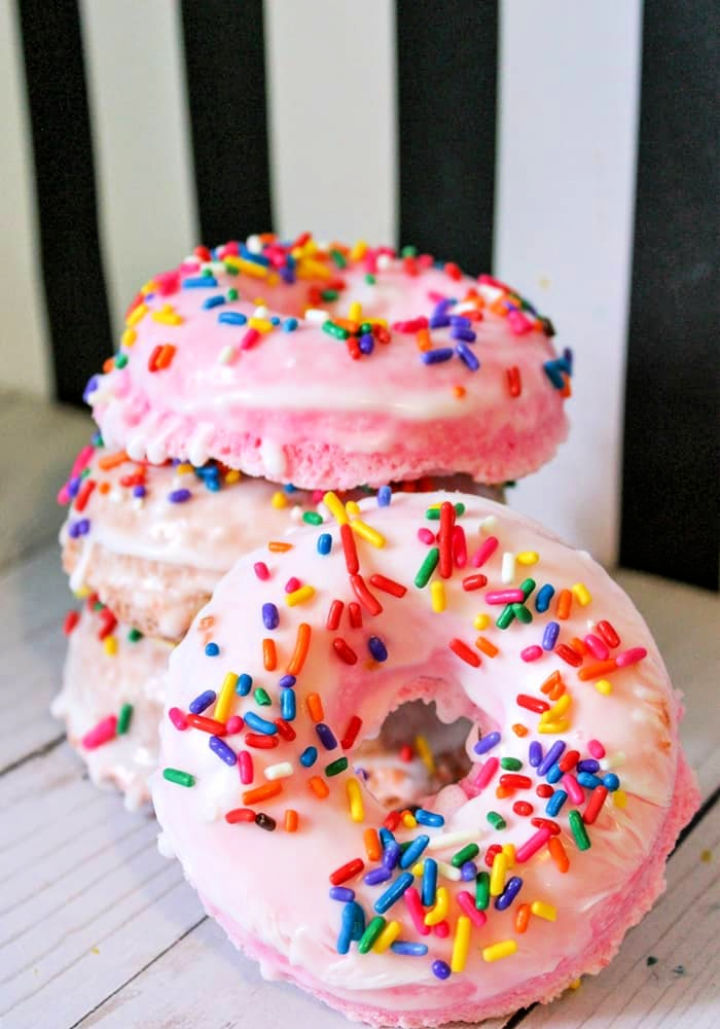 Relax with great aromatherapy and with an amazing spa treatment using these doughnut bath bombs. They look like the perfect doughnuts and will be the sweetest handmade gifts for sure. Along with base ingredients, you need goat's milk soap base, sprinkles, and witch hazel in a spray bottle. Details here crayonsand
16. DIY Bath Bombs with Rings Inside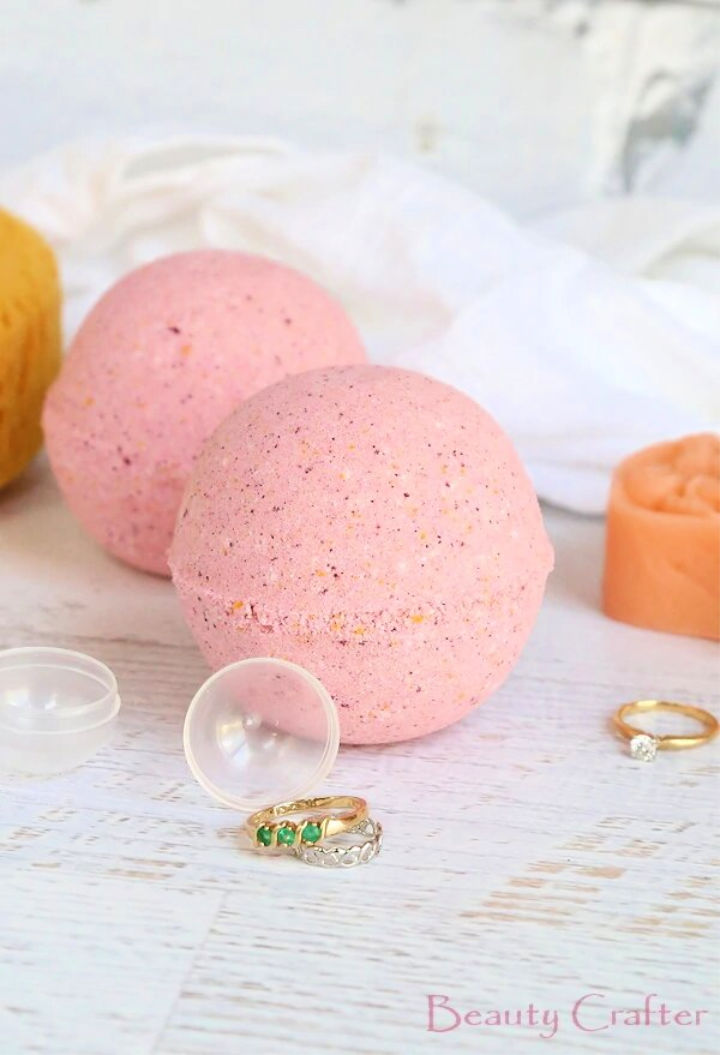 These bath bombs will surely impress with the inside hidden surprise. They will be the best gift-in-a-gift surprise for your beloved ones. Grab the 3 base ingredients like baking soda, citric acid, cornstarch, you need the rosehip oil, jojoba oil, vanilla essential oil, bergamot essential oil, get food coloring, and polysorbate to make these bath bombs with rings inside. beautycrafter
17. Professional Lush Bath Bombs Recipe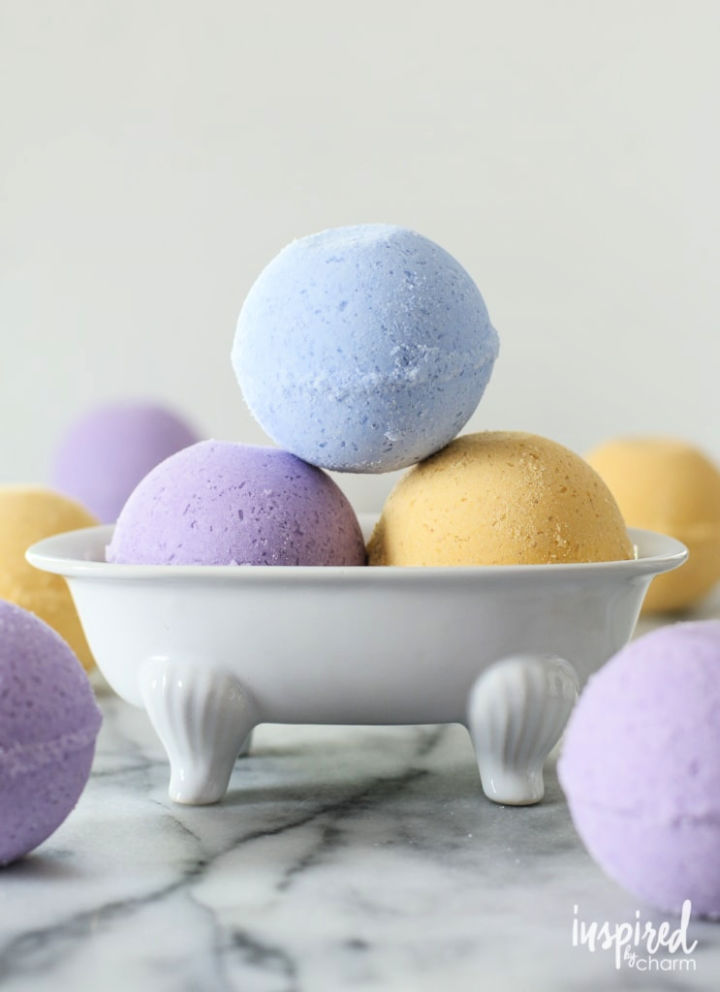 Sooth your achy muscles with the Epsom salt, relax with the skin-softening agents like with almond oils and feel the heaven with the pleasing fragrances. Get all these treatments by making these DIY Lush Bath Bombs, will surely impress if given as a cool spa gift. Details here inspiredby
Conclusion:
Spice up your taking bath fun with these DIY Bath Bombs that will be a super enjoyable way to add moisturizers and other emollients to your bathtub. Buying the bath bombs is always expensive by mixing and making your own DIY bath bombs at home will trim down your shopping and spa treatment expenditures for sure. Soak up in a warm water tub will be a true luxury if you are using these bath bombs that may also come in lots of enchanting colors. Consider them giving as sweet homemade spa gifts, and here you will get lots of free professional bath bomb recipe list to quickly make your bath bombs at home with custom added fragrances, flavors, and therapeutic essential oils.