If you are often traveling in a plain and have a problem in finding your luggage during airline carriers to route checking, then you must go with these 20 best DIY luggage tags that will help in easy recognition of your luggage bags. Along with adding a personal statement to your luggage bags, these tags will also help to easily identify your bags that are difficult for most travelers. As you are to make these tags at home so you can your own personal preferences. See all designs by browsing this list of 20 best DIY luggage tags that contain all famous tag designs to inspire your creativity. From old fabric scraps to leftover leather to discarded wood pieces, these DIY luggage tags will use all to make fabulous tags that will spice up your traveling game for sure.
Using these DIY luggage tags will provide several different benefits too. Adding these tags to your bags will help you easily identify your luggage, and this easy recognition will also help to prevent your luggage theft. Moreover, if you have faced problems with a mistake pickup, then using these tags will keep you away from this kind of problem. Moreover, if you lost your luggage accidentally, these personalized DIY luggage tags will help redirect your luggage to you. Prefer the monogram tags to differentiate your luggage from others.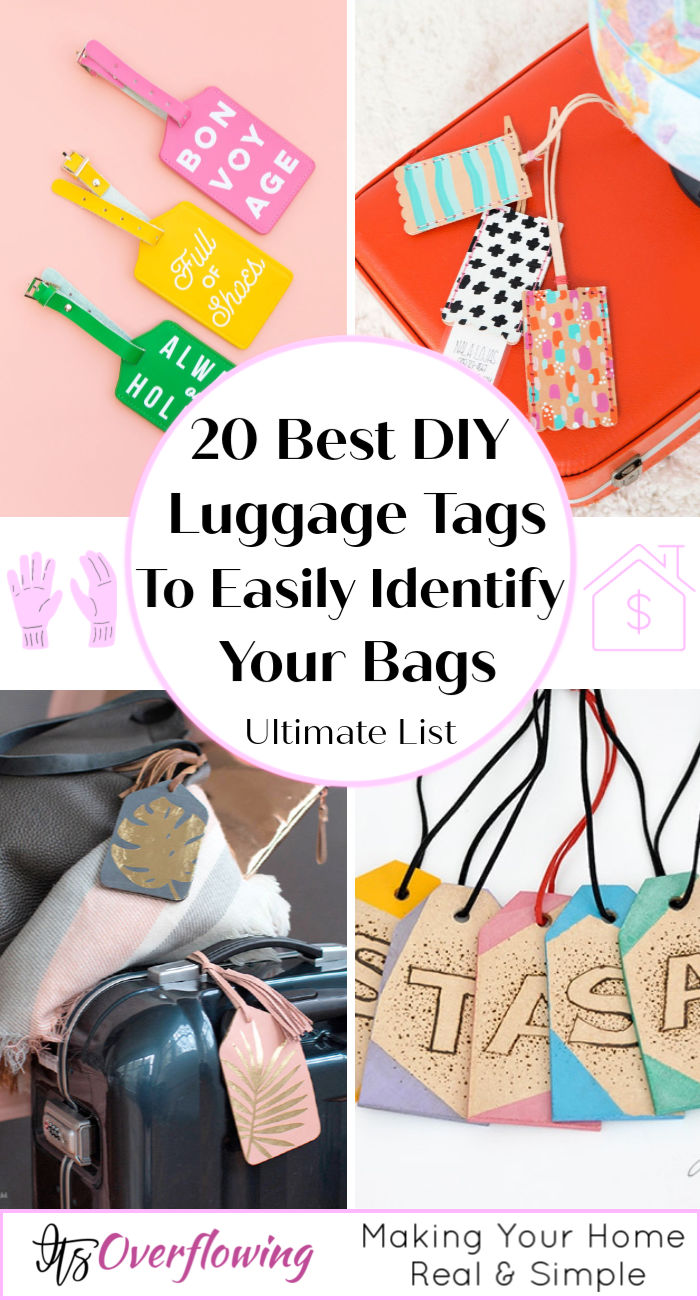 Making these tags can be taken one of the easiest DIY craft projects. For writing custom notes on the tags, you can make use of different materials. Use a pen to write custom notes or make use of letter stickers to personalize them. In case of a wooden or leather tag, use the alphabet stamping kit. Take a tour of all the DIY Luggage Tag Ideas to see a lot more enchanting samples.
1. DIY Shrinkable Plastic Luggage Tags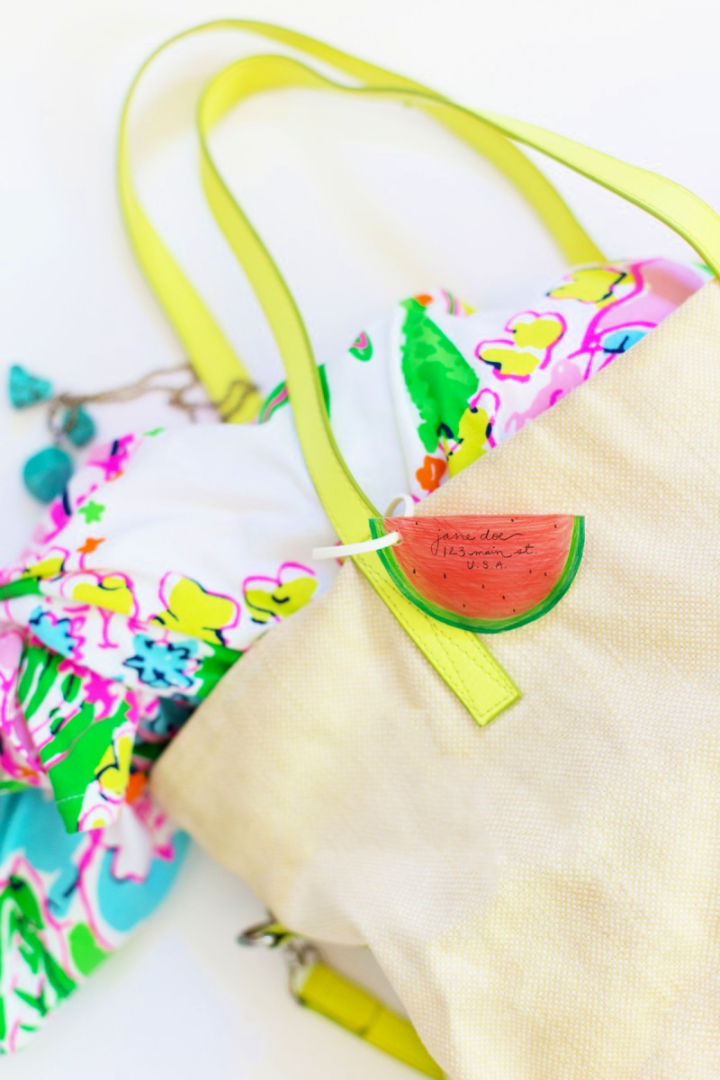 It will only take 30-minutes to make this shrinkable plastic luggage bag. The project is all about to get crafty with a shrinkable paper. Cut it into the shape you like, next paint, and finish with custom overwritten letters. Next, you also need a hole punch a baking tray to make it. lovelyindeed
2. Typographic Luggage Tags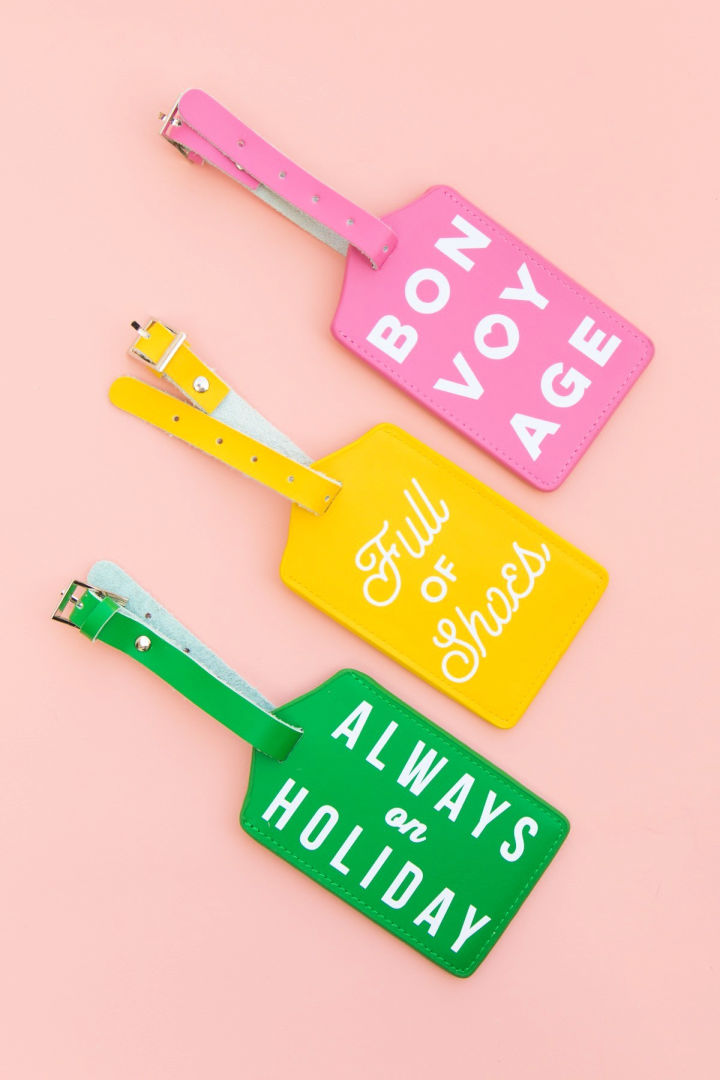 These luggage tags look like mini cutting boards and will enchant with their colorful hues. They will display the owner's name and will help to avoid getting your bag lost. Gab the leather luggage tags and transfer the SVG tag cut files on them using the heat transfer vinyl. Next, you need a mini iron and weeding tool. sarahhearts
3. How to Make Luggage Tags
Get here easy instructions about how to make the luggage tags like a pro. These luggage tags are too beautiful to get ten out of ten from you. Grab the 12″ x 12″ paper and gold glitter circles to make these luggage tags, will make cute handmade gifts for friends and fellows. Details here maggieholme
4. Watercolor Luggage Tags
Do you love to play with watercolors? Then you will surely fall in love with these watercolor luggage tags that are quite easy to make. Grab the leather rounds and then paint them with the watercolors. Next, finish them with a keychain clasp and with a decorative tassel. Use a gold pen to write the letters on the tags. Details here abeautifulmess
5. Cute Luggage Tags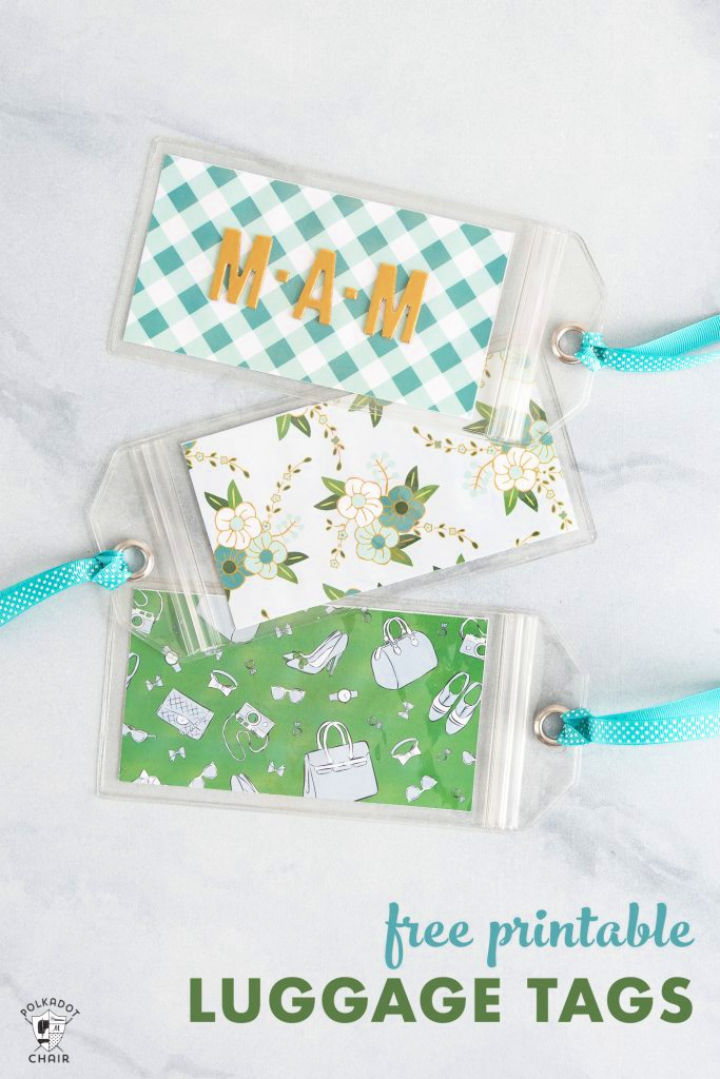 Check these printable luggage tags to Bring tons of uniqueness to ownership of your luggage by adding this fun and unique luggage tag. Print out the luggage tags then glue them on the luggage tag plastic sleeves to make these fun luggage tags. Next, write custom words or name letters on them using letter stickers. Details here theidearoom
6. Sweets-Inspired Luggage Tags
Make it sweet to carry your goods with you by adding these sweets-inspired luggage tags to your luggage bags. Get the felt in colors of sweets you are willing to make as tags. Next, you need sheets of white cardstock, needle, and thread, and pen to make these fab tags. thesmalladven
7. Monogrammed Luggage Tag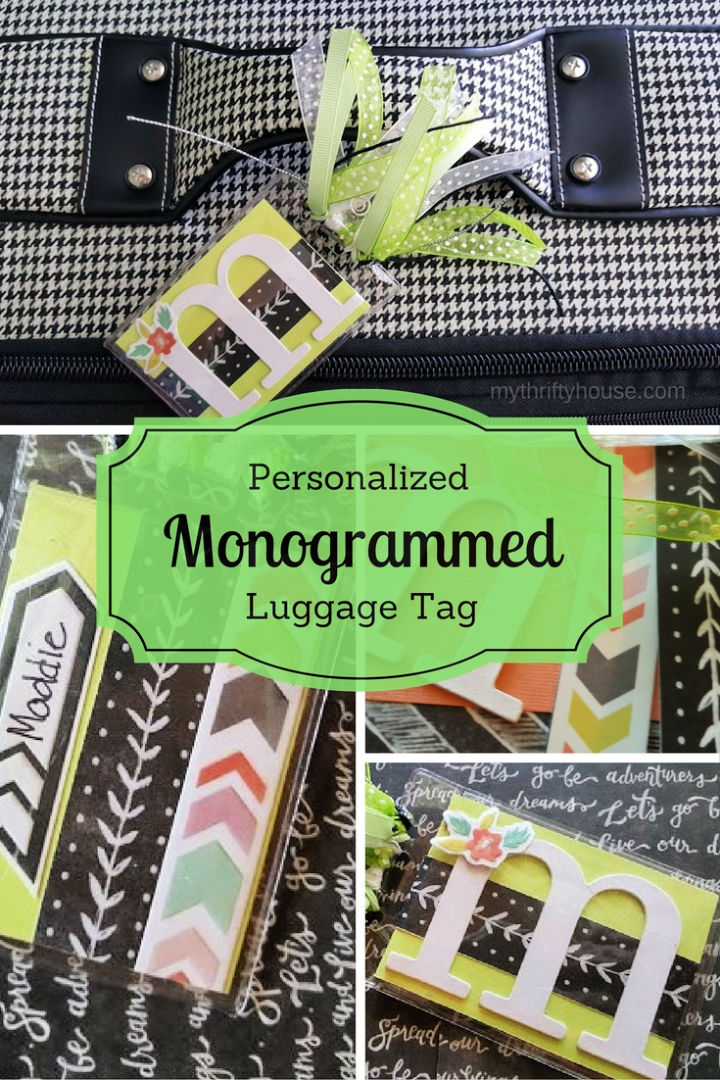 Making these DIY luggage tags will be equal to add precious monograms on your luggage bags. You need monogram note cards, clear plastic name badge holders, steel wire loop, and memory keepers pattern papers to make these personalized monogrammed luggage tags. Details here mythriftyhouse
8. Leather Luggage Tags
Get busy with your Cricut machine also to make sweet leather luggage tags. Use the deep Cricut blade to cut the luggage tags out of leather. Stitch the sides of both layers and then let your paper tag comes out from the leather tag. Use the leather tags to adorn them more. Details here damasklove
9. Beginner Wood Burning Project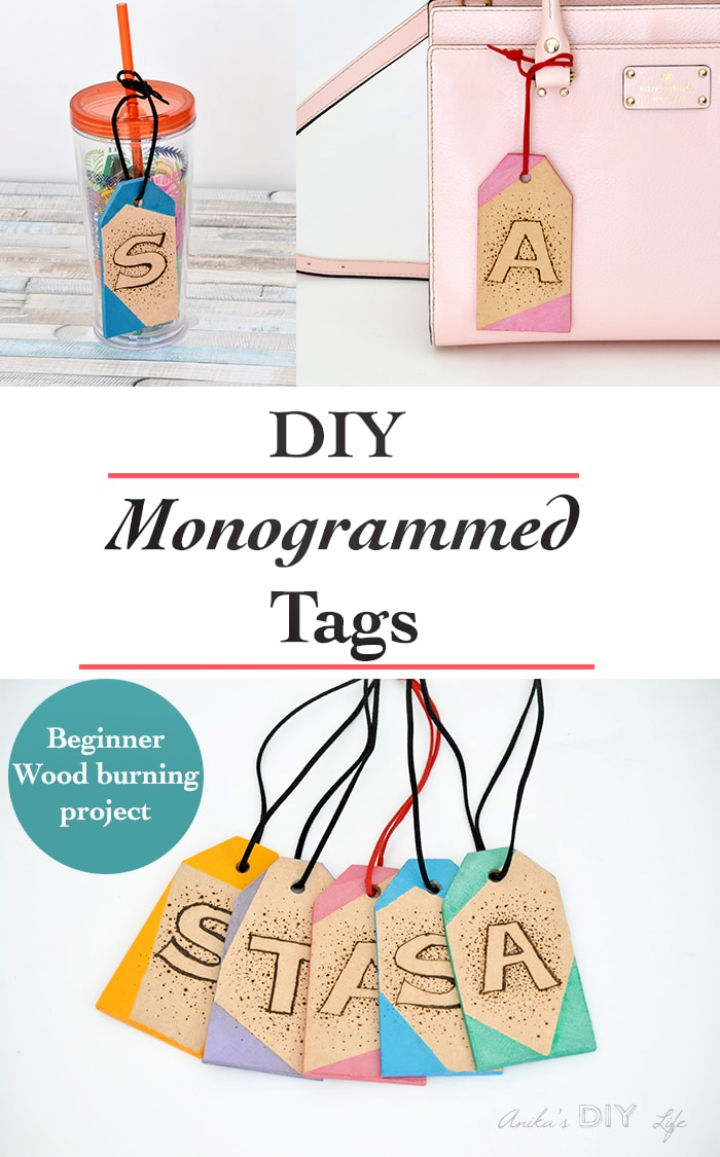 Make it easy to identify your luggage bags by making this wooden luggage tag. It will not break or curled even if you put a lot of weight on it. Grab the 1/4″ scraps and cut them into tag shapes. Next, bur your name letters on them using wood-burning tools and finish with a faux suede cord loop. Details here anikasdiylife
10. Leather Cactus Luggage Tag
Make it visible that your luggage owns to you by adding this super unique leather cactus luggage tag, will work up super quickly. Just grab a cactus stencil and cut out a cactus shape out of faux or real leather. Just punch a hole in its top and finish with a leather cord loop. Details here weregoingto
11. Foiled Tropical Luggage Tags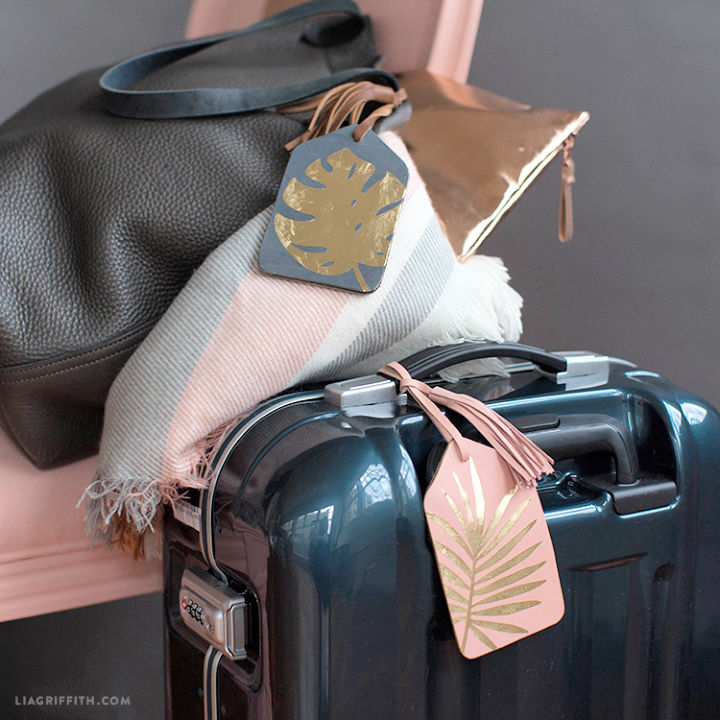 Do you love to be around a Cutting Machine? Then you will love to do this foiled tropical luggage tag project. Cut out the tag out of leather and use the gold paint pens to write custom letters or draw custom patterns on tags. You also need Cricut iron-on foil for this project. Free printable luggage tags here liagriffith
Are you planning for a vacation? Check out these great DIY backpacks that are simple to make for children and adults.
12. How to Sew Luggage Tags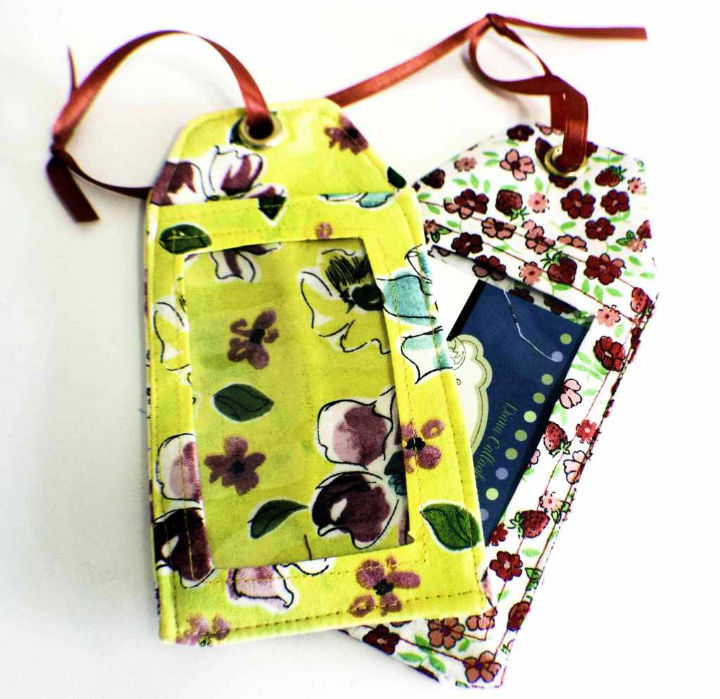 Put the fabric scraps to some good uses and make these diy luggage tags, the easiest sewing project ever. You need different pieces of leftover fabric, clear vinyl, interfacing, and a ribbon to make this easy to sew luggage tag. Use an eyelet kit to make the tag holes. Details here sewverycrafty
13. Wooden Tags
Bring tons of glam wooden rusticity to your luggage bags using these rustic wooden luggage tags. Make the tags out of 1/4″ plywood, sand them smooth, and then stamp your favorite letters alphabet stamps. Fill the stamped letters with paint. Next, make a hole in their top and finish with leather cording. Details here kenarry
14. Cute Luggage Tags That Make a Statement
These are also wood-made tags that will make a big statement if added to your luggage bag. Cutout a mini rectangle out of the MDF board and then make a tiny hole in the center of its top. Sand it down and adorn with cardstock, washi tape, liquid leaf and finish with jute twine. Free printable luggage tags here modpodgerocks
15. DIY Luggage Tag Using Duct Tape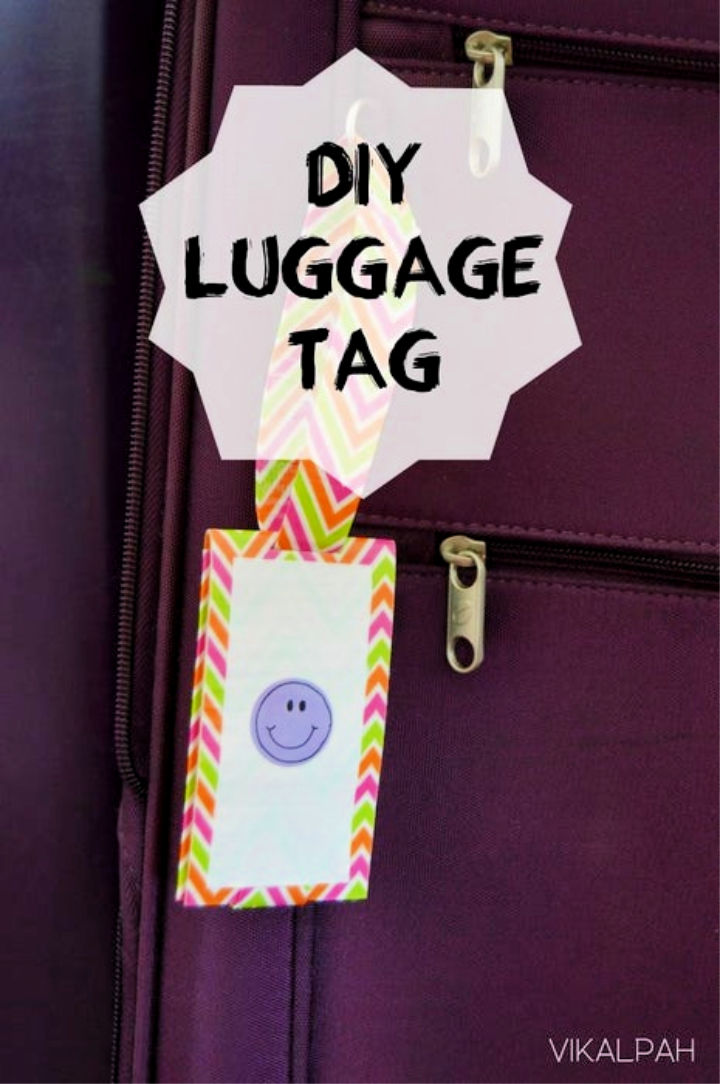 Use also the duct tape to make this luggage tag. It will be super quick to whip up. Here you need duct tape, cutting mat, clear plastic or shipping tape, and utility knife to make this luggage tag that is colorful. The best way to identify your bags whey they are going through the route checking. Details here instructables
16. Best Luggage Tags from Your Favorite Fabrics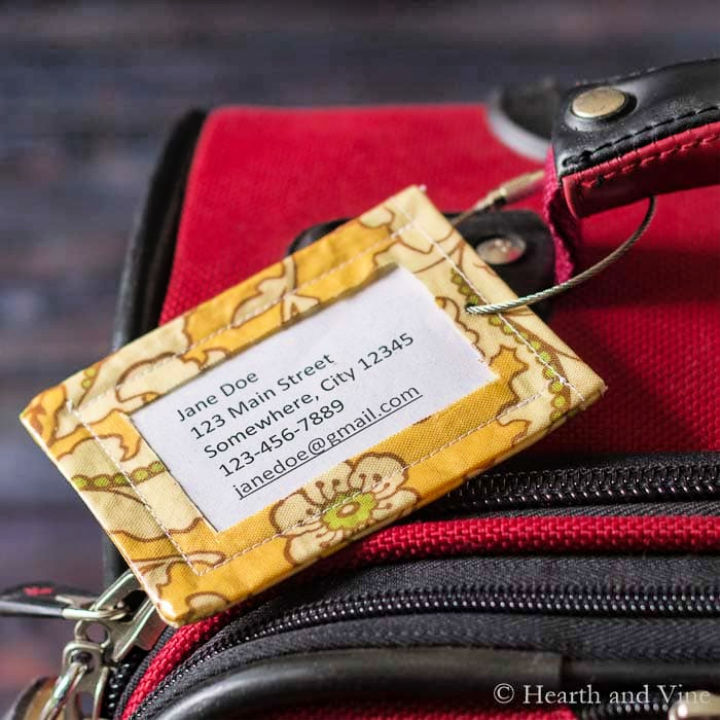 Check out here another lovely luggage tag choice. It offers a quick construction time and can be a smart gift choice too. Use this tag to identify your luggage easily. Making the DIY luggage tags is pretty easy and will just cost you nothing. You need wire keychains, clear plastic, fabric scraps, and thermowell iron-on vinyl to make these luggage tags. Details here hearthandvine
17. DIY Luggage Tags
Get these cool looking tags made using the leather in your own favorite colors. Grab your template and labels and cut your tags with the craft knife and scissors. Finish your tags with an embroidery floss loop so it can be added to any bag quite easily and quickly. Details here thehousethat
18. Pom Pom Leather Luggage Tags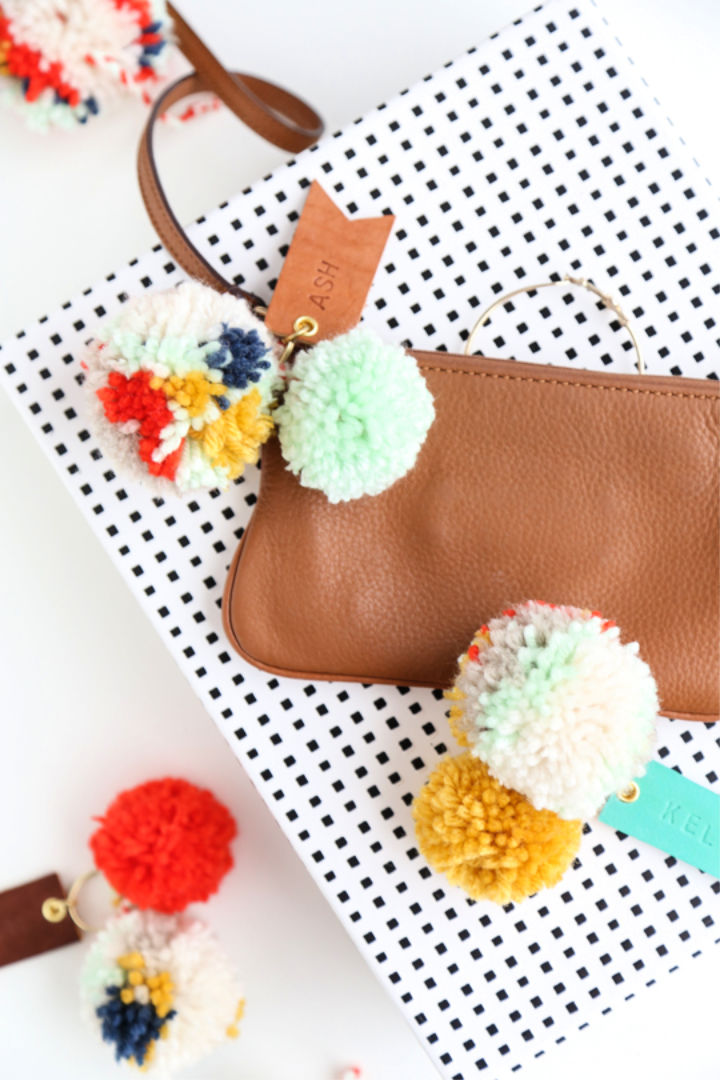 Get crafty with the leather remnant pieces to make these tags. Just cut your tags out of leather scrap pieces and then stamp your favorite letters on them using alphabet punch kit and a mallet. Next, just finish your keychain with pom-poms for making a cute pom-pom leather luggage tag. Details here sugarandcloth
19. Leather Travel Tags With Transfer
This is here an advanced travel tag making project, but the provided instructions will make it all easier for you to whip it quickly. Here you need acetone, leather, paper, computer, laser printer, and a cotton cloth to make this leather travel tag. The project is all about a smart transfer. Details here eclectictrends
20. Watercolor Luggage Tags
One will surely fall in love with the gradient watercolor appeal of these luggage tags that are to make using a printer with color ink. Further, you need a white paper, laminating sheets, a cutting mat, a double-stick tape, a hole punch, and a ribbon to make these watercolor luggage tags. Details here designsponge
Conclusion:
This episode of DIY projects is dedicated to passionate travelers that have been gone through some serious problems on the airport like luggage theft, mistaken pickup, or a to lose complete the luggage bags due to not identifying. These DIY luggage tags will be a single homemade solution to all these traveler problems and can be made in a couple of minutes using recycled, repurposed, and upcycled materials. So, these tags will be super inexpensive too.