As spring is around the corner, so is the fresh and therapeutic decor train! Display your favorite air plants to make your home look beautiful. Just explore these super cool DIY air plant holder ideas for more inspiration. Air plants are the ideal indoor plants as they require minimal care. It can be placed in any jar, even a wooden box, a clay embellished piece of art, a piece of driftwood, or pretty much anything! You don't also need to put them in any soil! This makes air plants the lovely and easily manageable green vibes anyone can have inside their homes. Since air plants can bring so much elegance and value to any decor, they have been trending quite a lot lately! We have gathered below these super easy to make DIY air plant holder ideas for your home decor.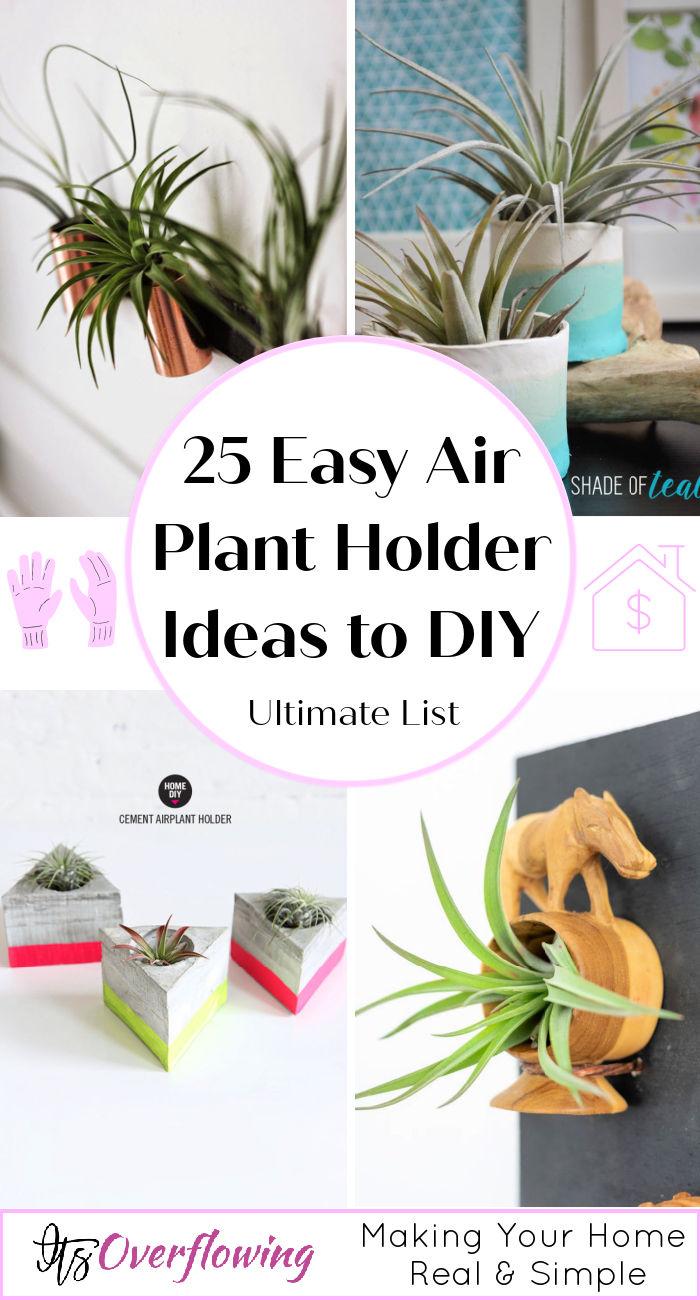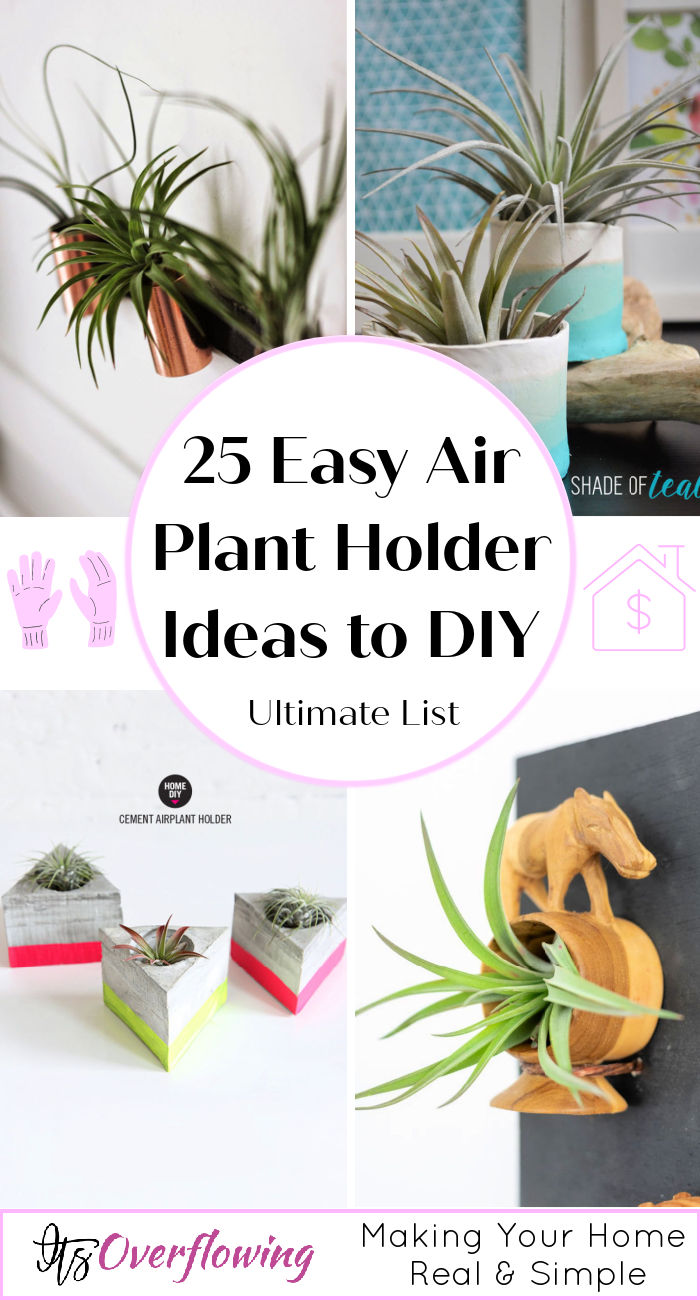 Lately, copper wires or copper pots are becoming a beautiful shade of subtlety in decors! You would love to explore through our floral wire air plant holder or copper air plant holder ideas! Not only this, but you can also even use some driftwood to put in some air plants and place the driftwood on a shelf or anywhere else. Along with that, you can also use a birch to make and hang up a minimalistic DIY air plant holder. Use bell cups, simple wood art in geometric patterns, or use macrame plant hangers! The options are quite many, and you can make great many DIY air plant holders. Make whimsical and enticing additions to your decor. Get creative with clay or crafty with wood!
1. DIY Air Plant Holder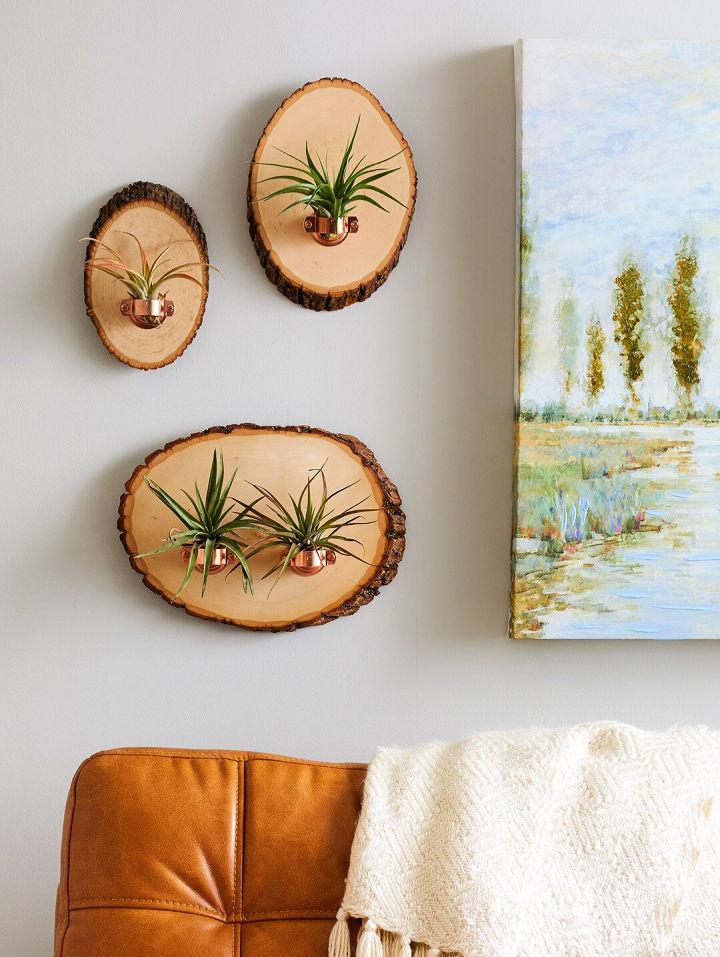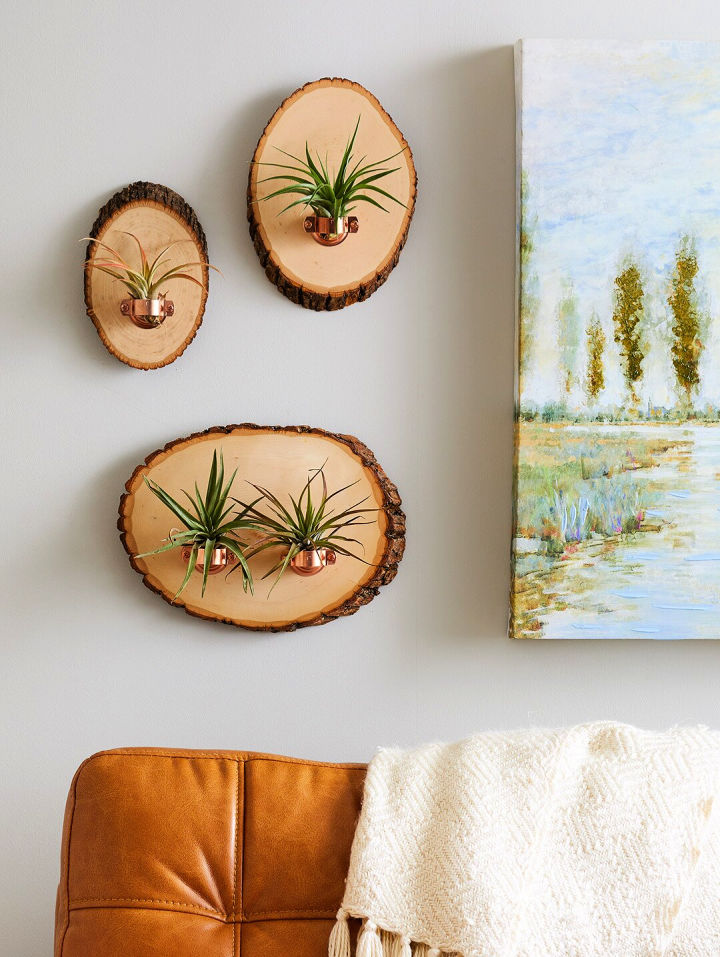 Make the white walls go green by displaying air plants in a cluster on them! And embellish your interior in a different way. This is not at all difficult!! All you need to have is a few items and supplies like a hammer, drill, wire cutter, sanding block, wood slice, air plants, and scrap wood to nail this beautiful DIY air plant holder. bhg
2. Minimal Copper Airplant Holders
Brighten up your workplace or your house with these minimal copper air plant holders. These can be whipped up with copper couplings, leather, super glue, copper elbow, and leather lace. They will fit anywhere and can be hanged at any wall. A perfect addition to your home decor and interior! poppytalk
3. Floral Wire Air Plant Holder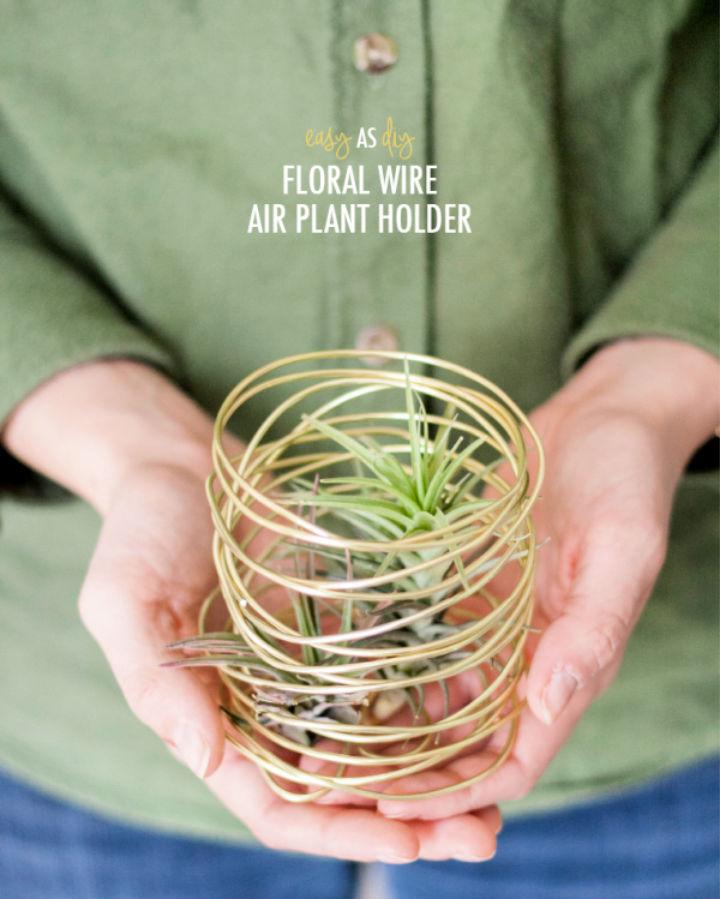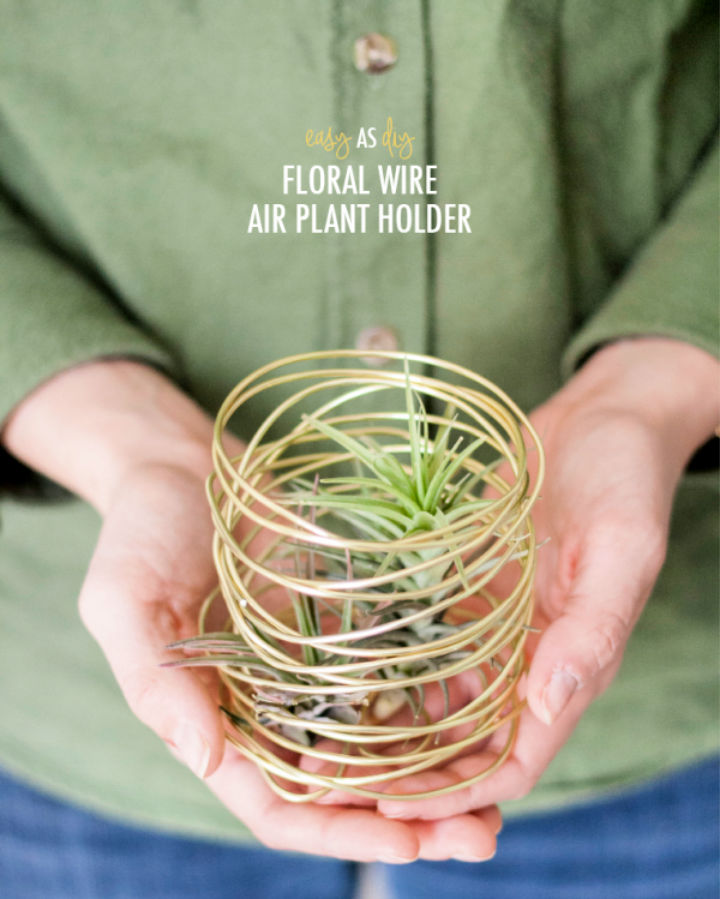 Floral wire air plants holder is pretty trending these days in the world of home decor! It will just cost you a few dollars to work upon it. All you need to have is a gold floral wire to make a spherical cage. You will love the final look! Also, you can put it up to spruce up any white wall look! dreamgreendiy
4. How to Make Ombre Clay Pots
Making clay pots at home is so much fun and insanely economical! Enjoy spending your time by creating something beautiful! The link below will walk you through the step by step guide. The dough of this pot can be prepared in just 15 minutes, dry it, and plant it. ashadeofteal
5. DIY Birch Air Plant Hanger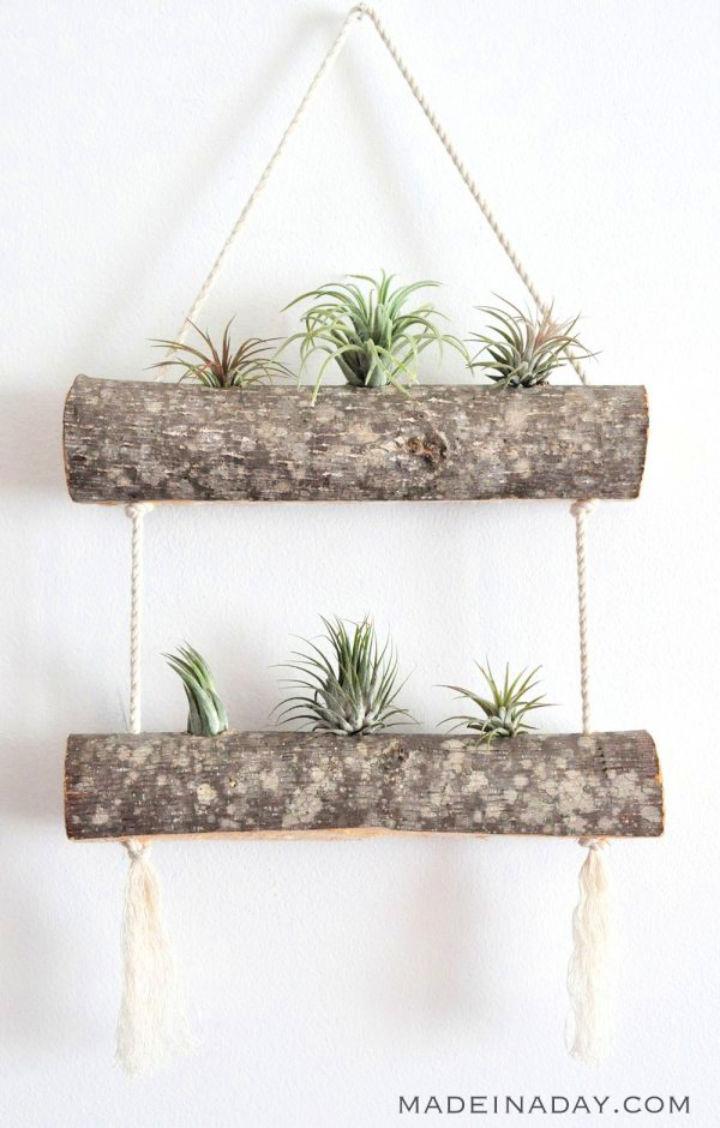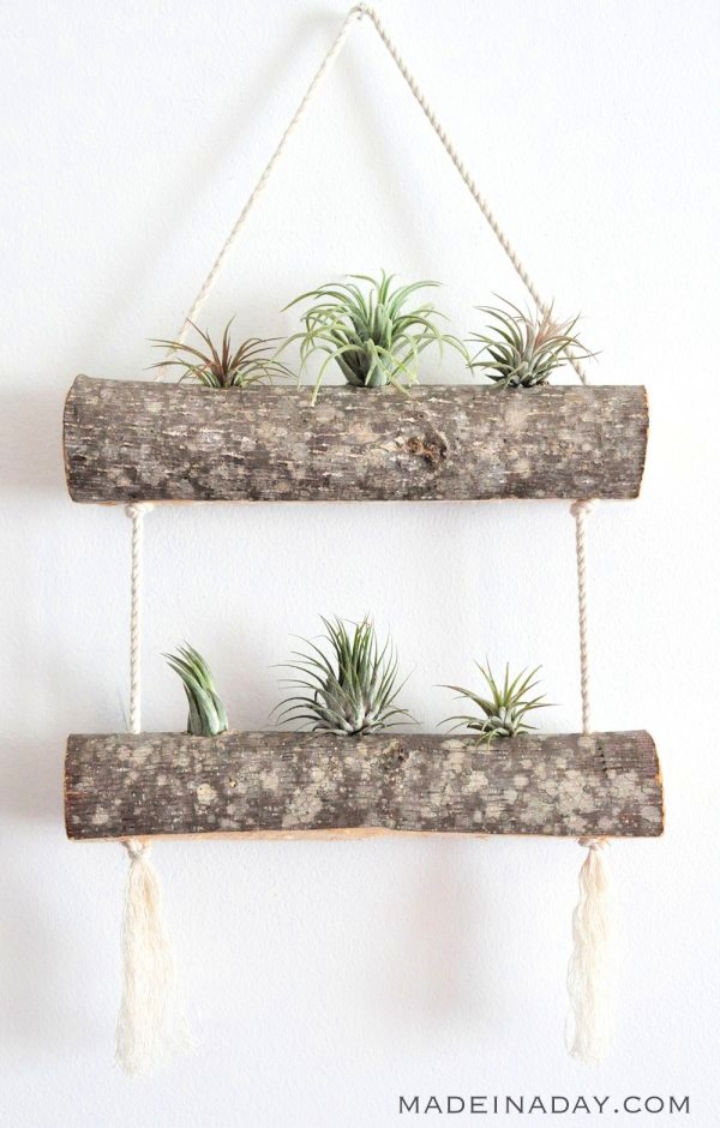 Follow our inspiring air plant holder ideas to give your indoor decor a touch of green by making this birch air plant hanger. A perfect embellishment for your hallway walls. For this amazingly great project, materials you will be needing are birch candle holders, craft rope, power drill, bit, masking tape, and hair comb. madeinaday
6. Mini Air Plant Stands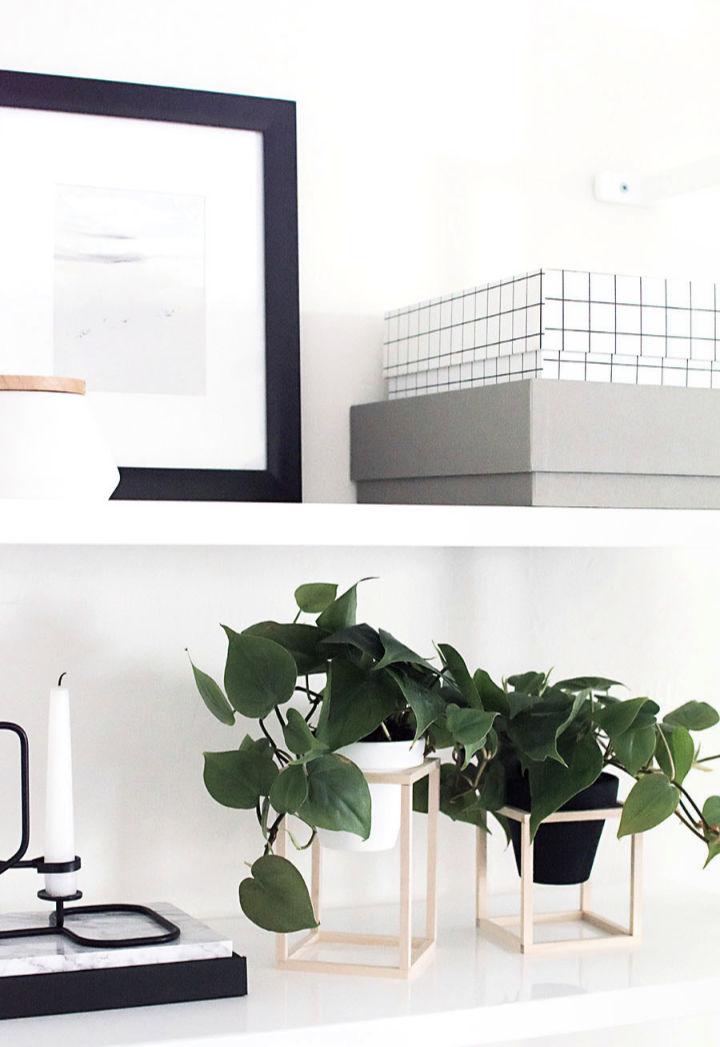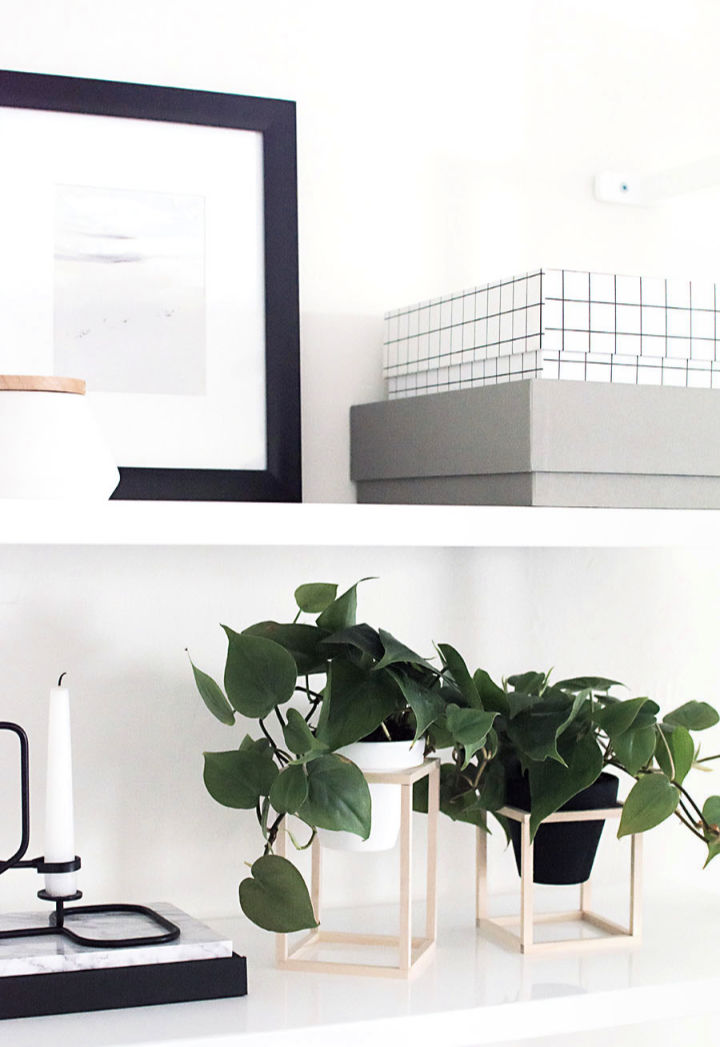 Bring the green vibes inside your home! By creating these mini plant stands for a whimsical decor show. It is a decorative but straightforward project that will adorn any space they can fit in. Materials needed are a saw, miter box, foam brushes, terra cotta pots, and basswood dowels. homeyohmy
7. Painted Air Plant Bell Cups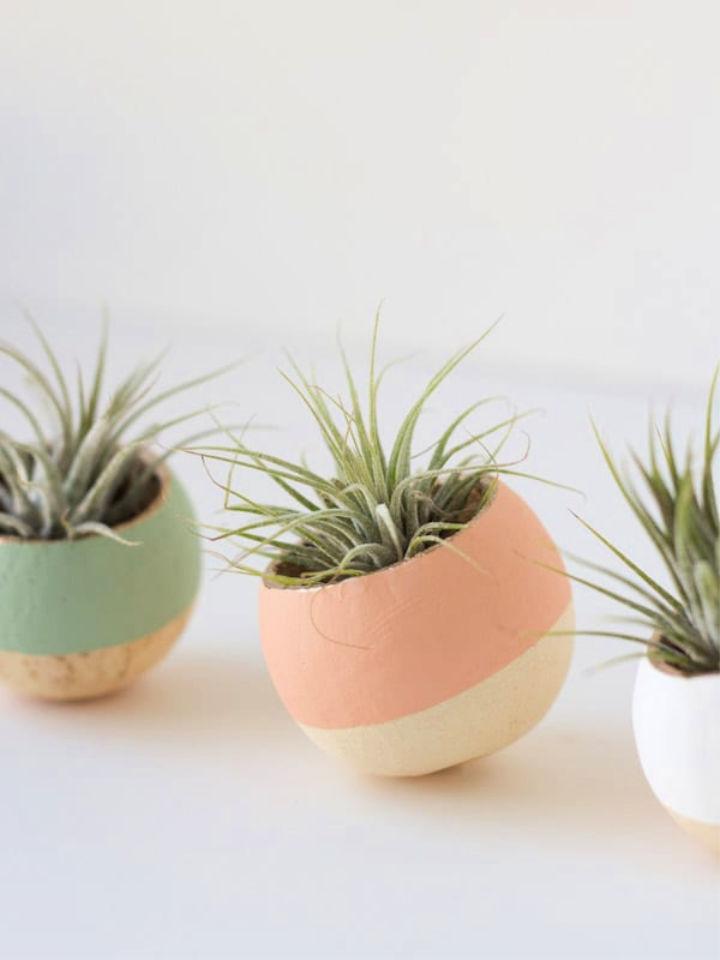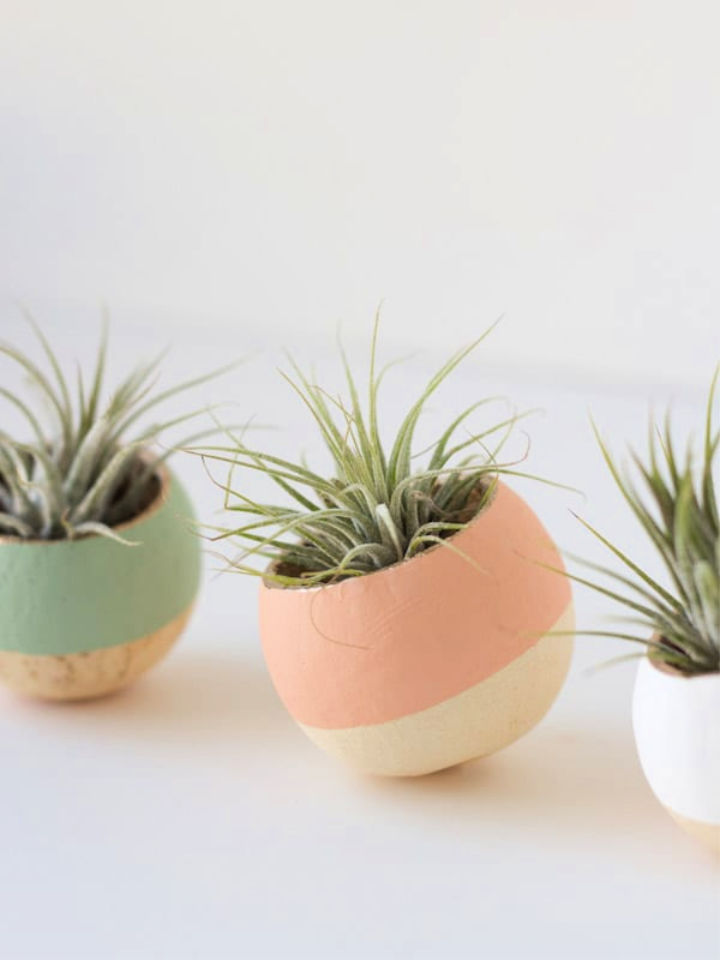 It's time to start making something different in a different way. You will love to make these little pieces! They are going to make great decor enhancers! You can make it in just 20 minutes with materials like tiny air plants, painter's tape, paintbrush, and bell cup. lovelyindeed
8. How to Make Air Plant Holders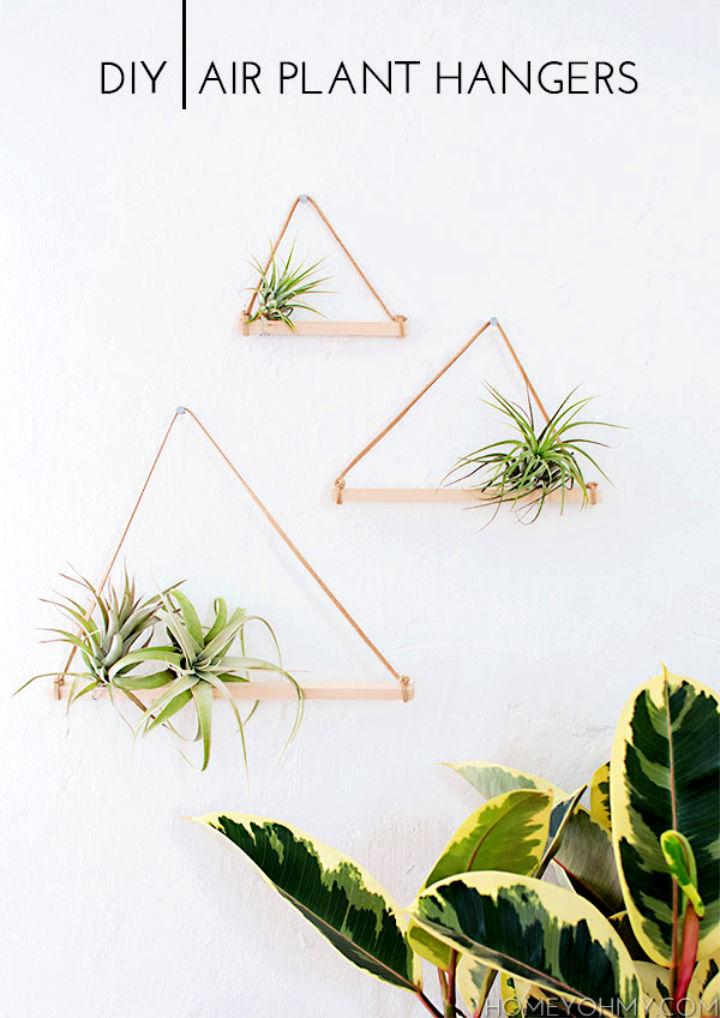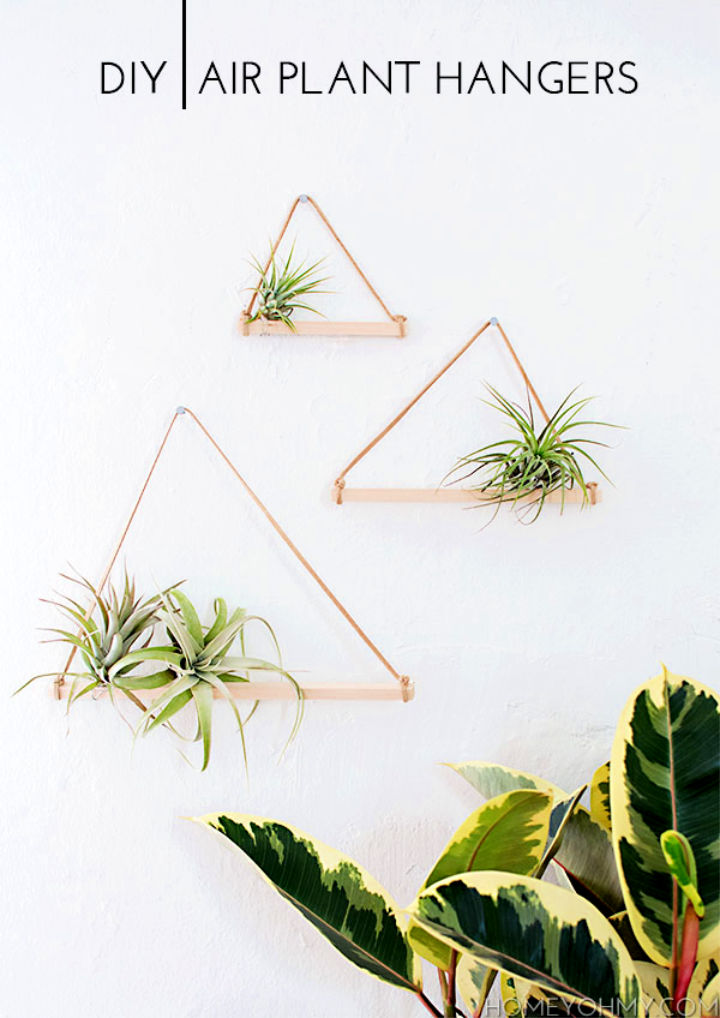 Make this perfect little spring gift for anyone you love. It is quite a simple idea that can be crafted in just no time. With supplies like basswood dowel, sued lace, scissors, air plants, wire, and wire cutter, you can nail this aesthetically. Give it a shot! homeyohmy
9. DIY Indoor Hanging Plant Holders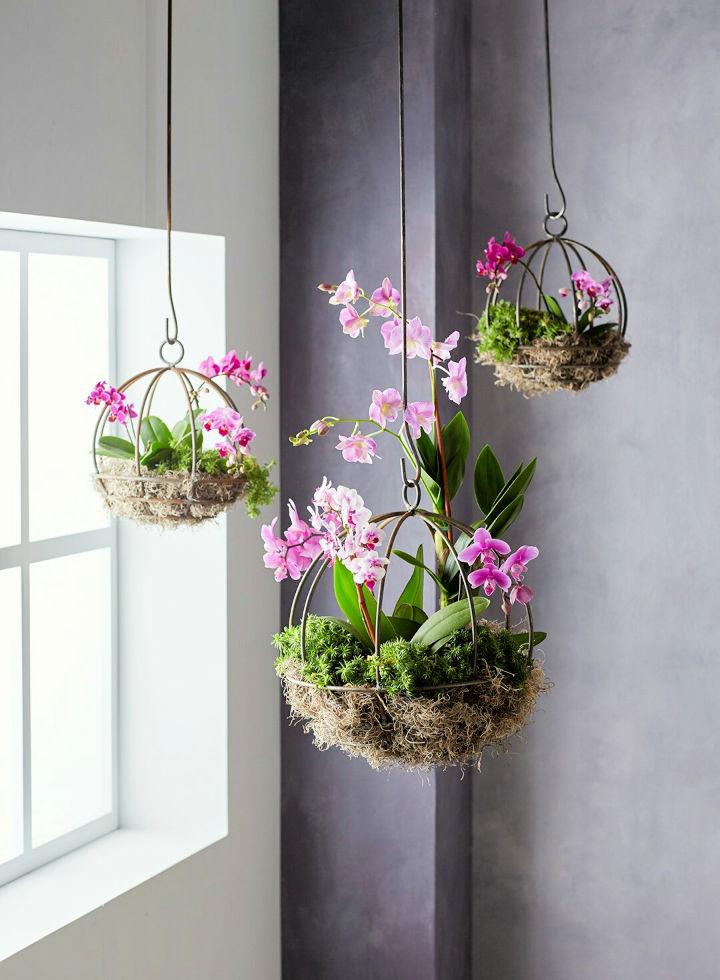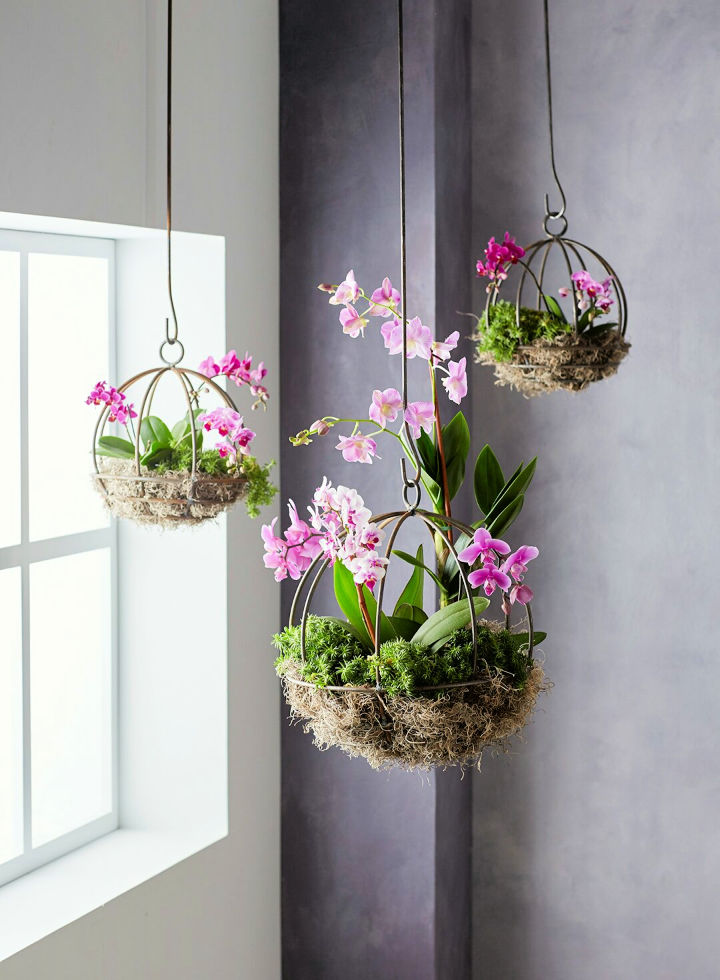 Check out this worth trying project and see how much beauty it can bring to your decor! This indoor hanging plant holder will provide your home interior with such a heavenly look. Also, it looks so appealing to the eyes. If you are wondering how to make it? The tutorial has got all the details you need to know! bhg
10. Mini Macrame Air Plant Holder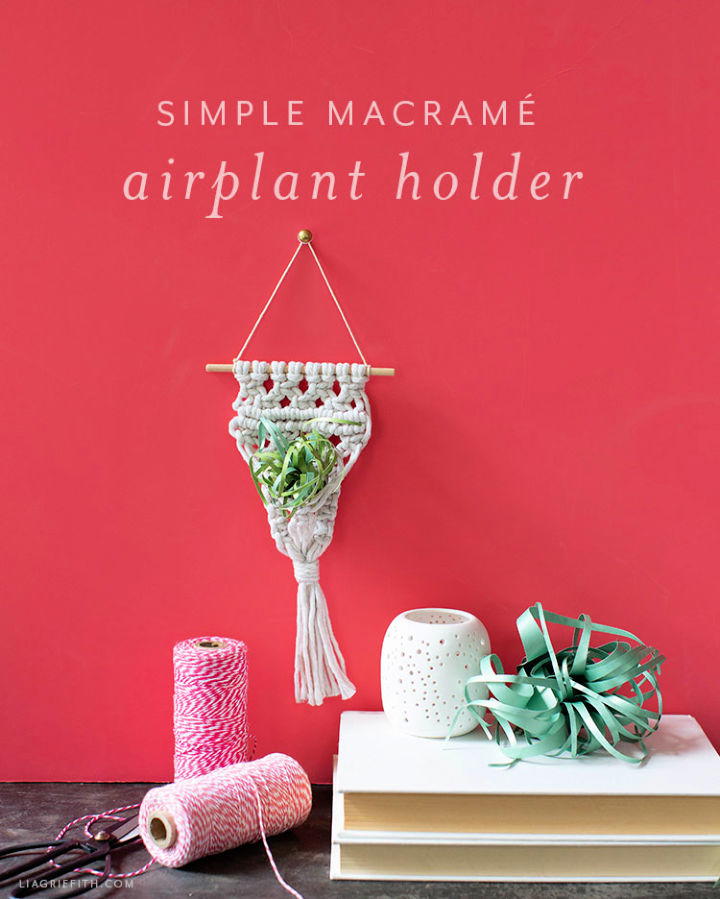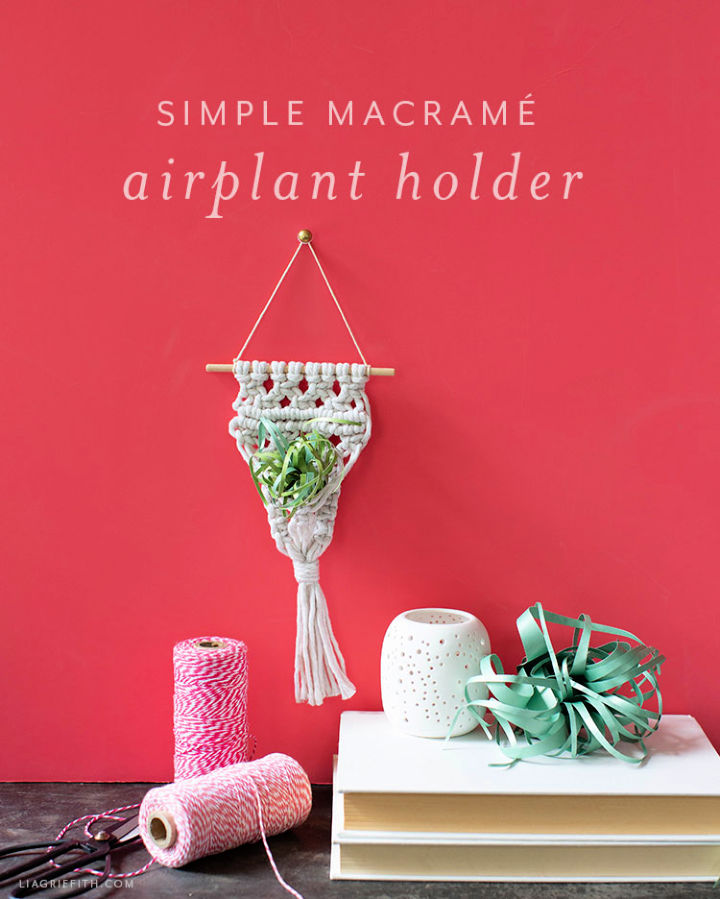 These mini macrame air plant holders are an easy way to add greenery inside your home. This is a great project that won't crowd your floor space or tabletops. You can whip up this project effortlessly. Once you accomplish this project, the craving to make more is bound to come! liagriffith
How to make macrame plant hangers? This simple DIY macrame plant hanger is perfect to display your air plant creatively.
11. Wire Air Plant Holders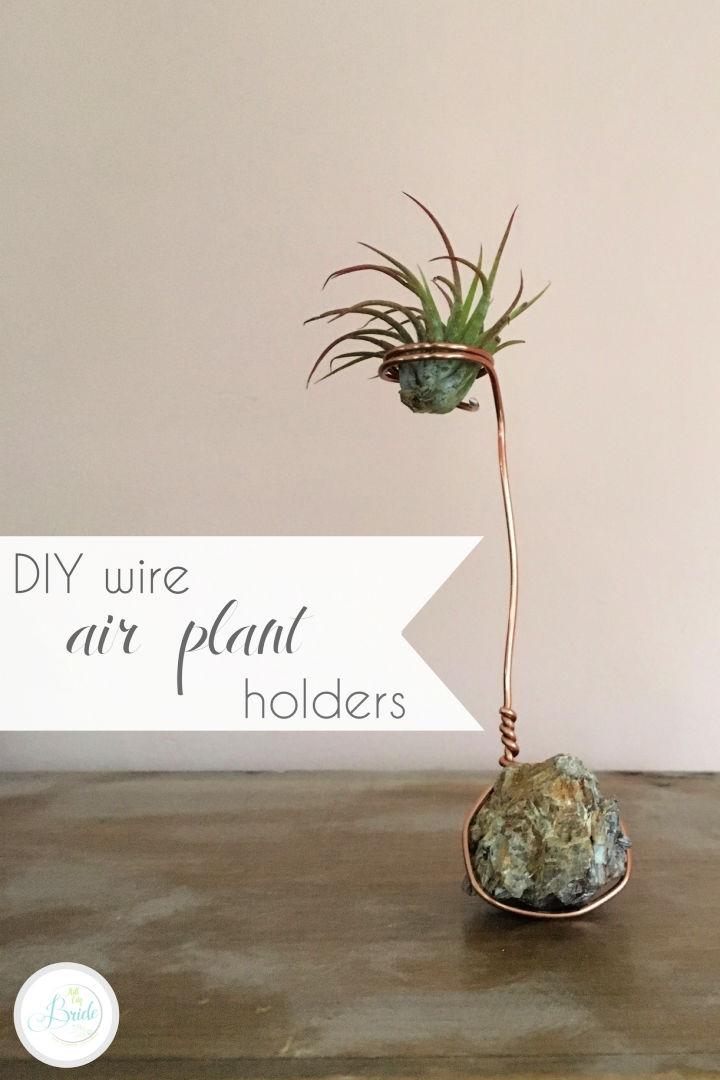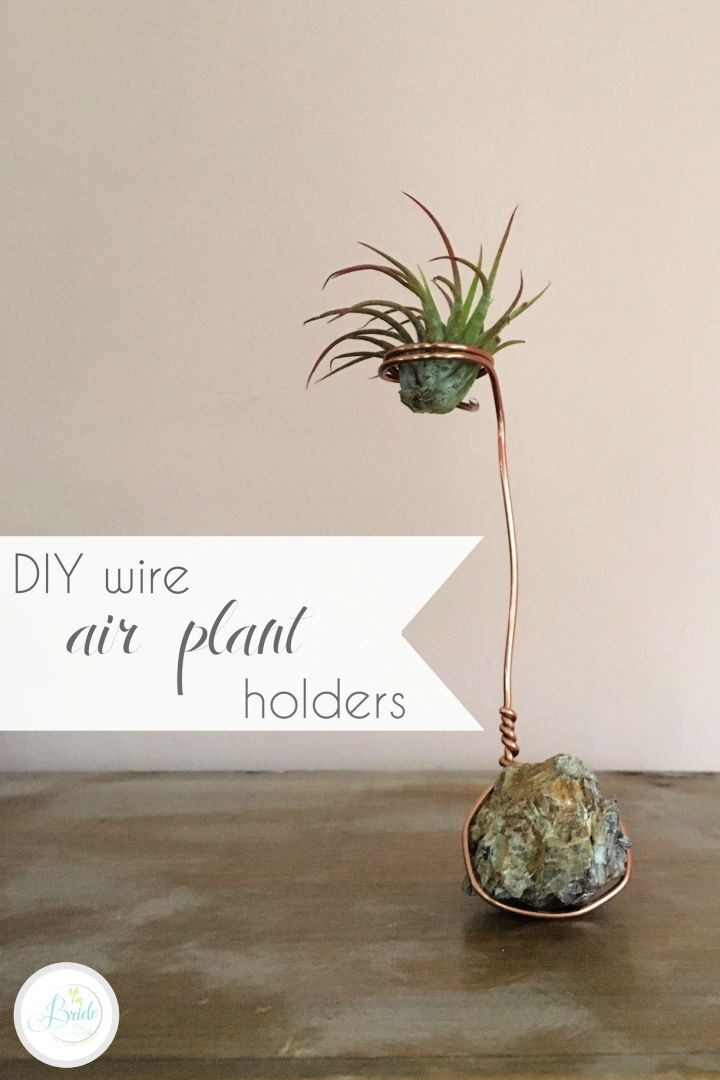 This air plant holder is straightforward to make and so much exciting to decorate your place with. You can place them anywhere on a mantel or shelf. Follow the tutorial right till the end to see how you can craft it all easily at home. Pliers, wire cutter, rocks, wood, and floral wire is all you will be needing. hillcitybride
12. Scrap Wood Air Plant Holder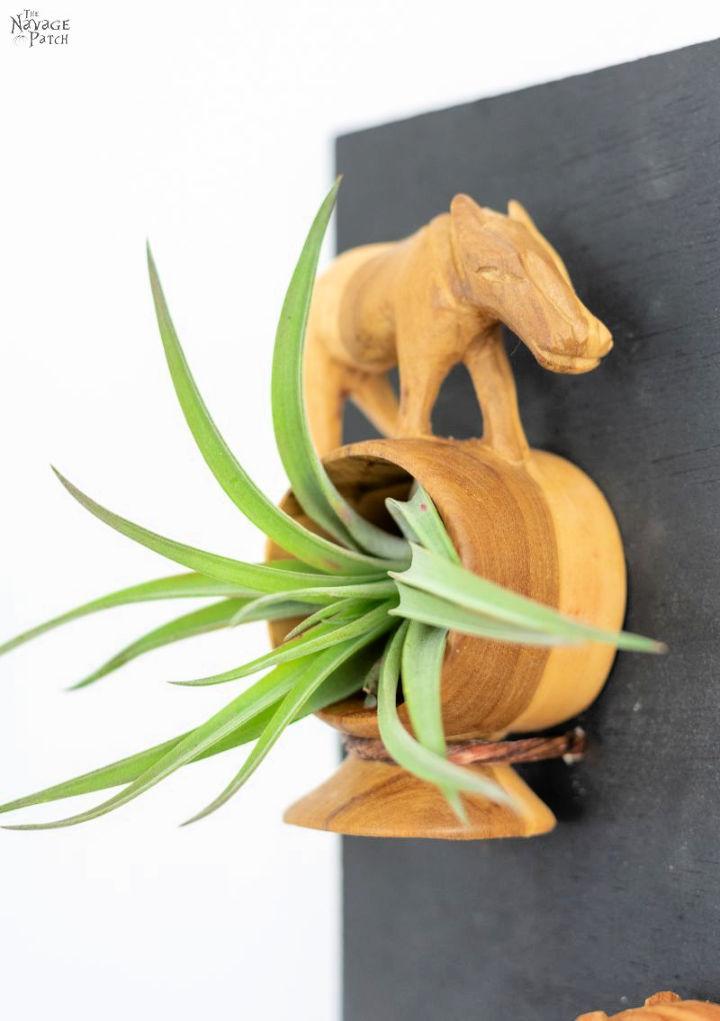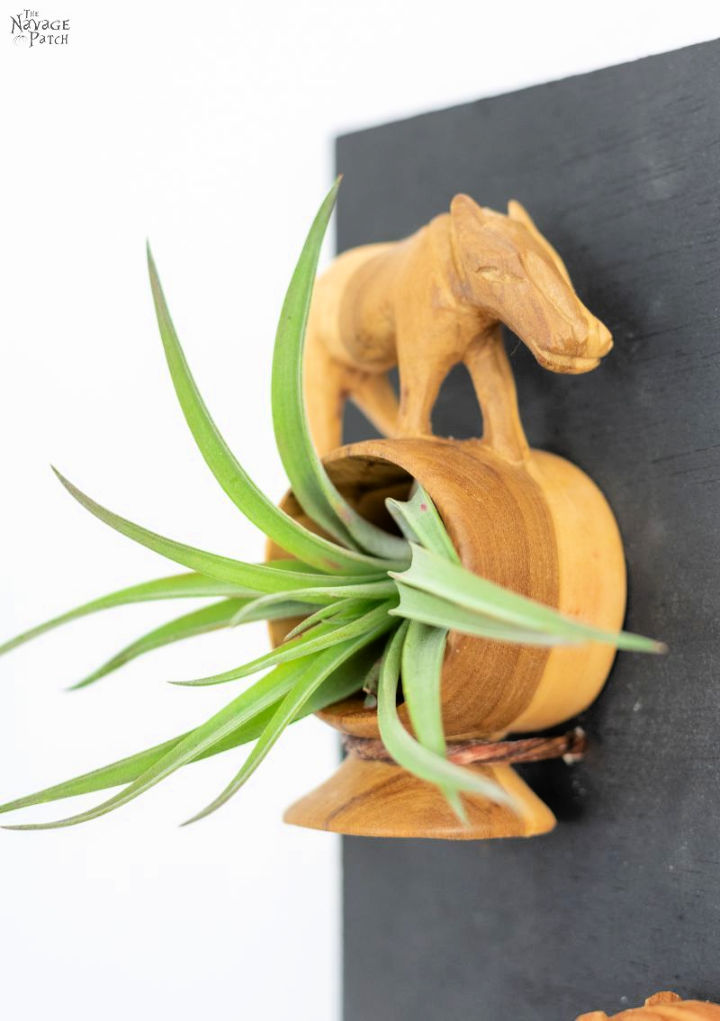 Freshen up your home with style and beauty by bringing greenery into your home decor. You will love this idea of making a DIY air plant holder, and you will love even more to see them hanging up on the wall. Check out the instructions to get a sense of nailing it like a pro! thenavagepatch
13. Orb Air Plant Holder
Are you up to making some cute little decor pieces for your home or give it away as a gift on your friend's birthday or something? This orb air plant holder is a perfect project to make something charming! Grab supplies like hot glue, hemp, cord, yarn, pliers, bezel wire, and click the link below for the complete guide. wildamor
14. DIY Air Plant Stand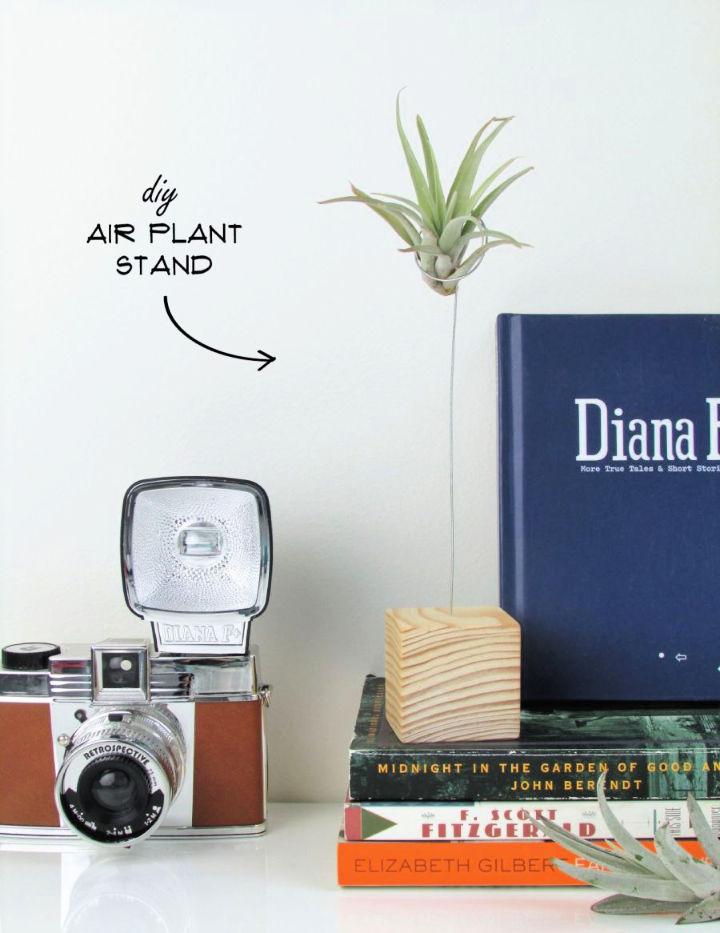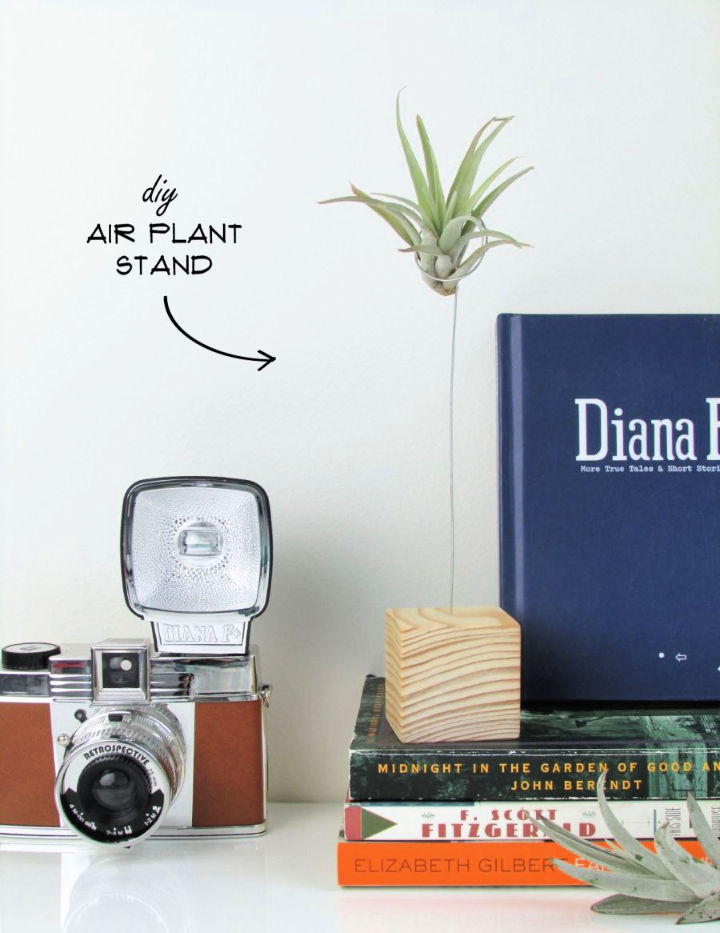 Have you ever thought that making air plants stands could be so much fun and easy? Plus, they are a perfect source to provide you with fresh oxygen even inside the home. Along with woodblock cubes, you will need wire cutter, drill, measuring tape, thread, floral wire, and pen to nail this particular one. homedit
15. House Shaped Air Plant Holder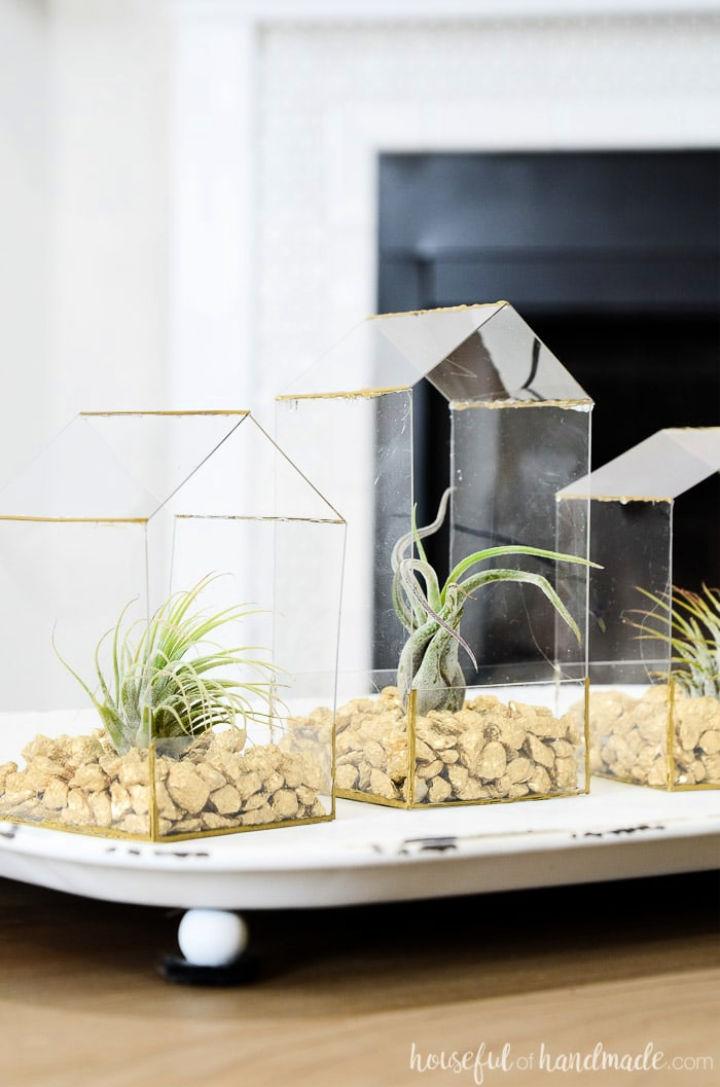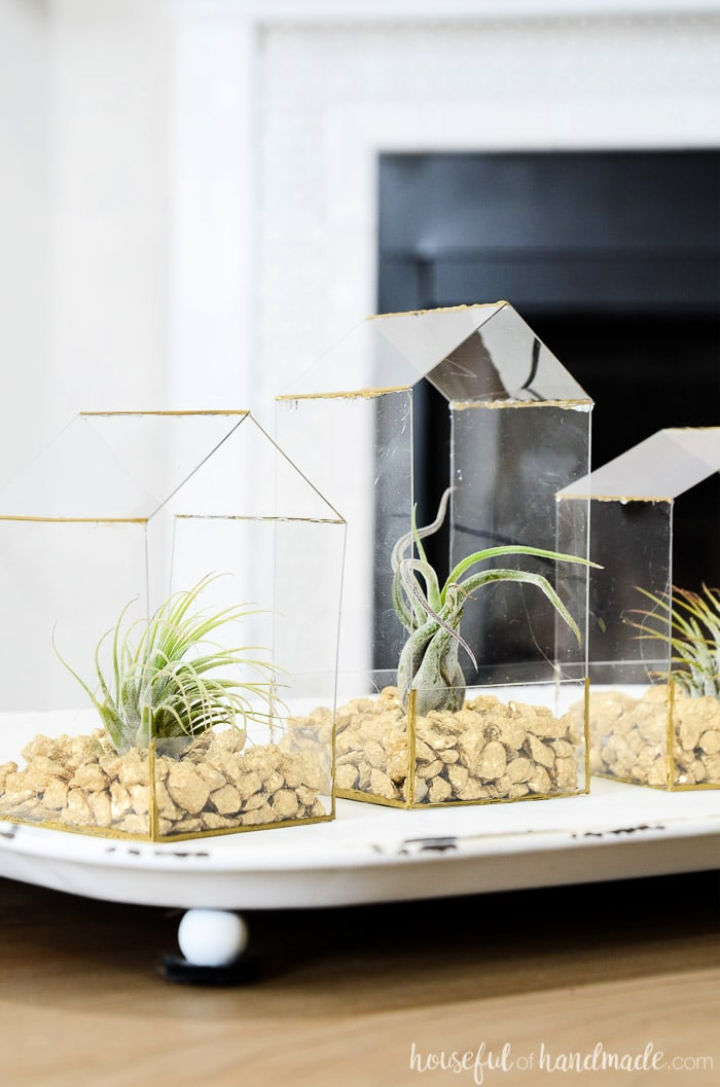 Do you love house-shaped home decors? If yes, then, this project is going to be your personal favorite. It will look alluring, charming, and stunning once you have ended up making it! This project can spruce up any space in just a few minutes, and you can create a bunch of these in just about an hour! housefulofh
16. Air Plant Holder with Rock and Wire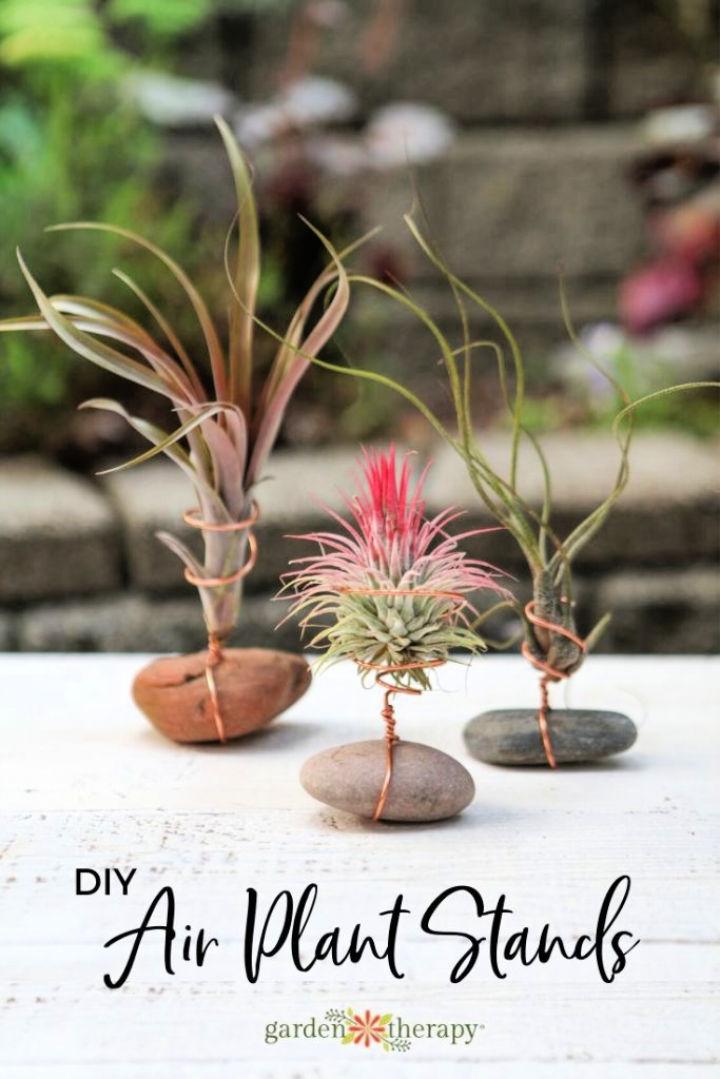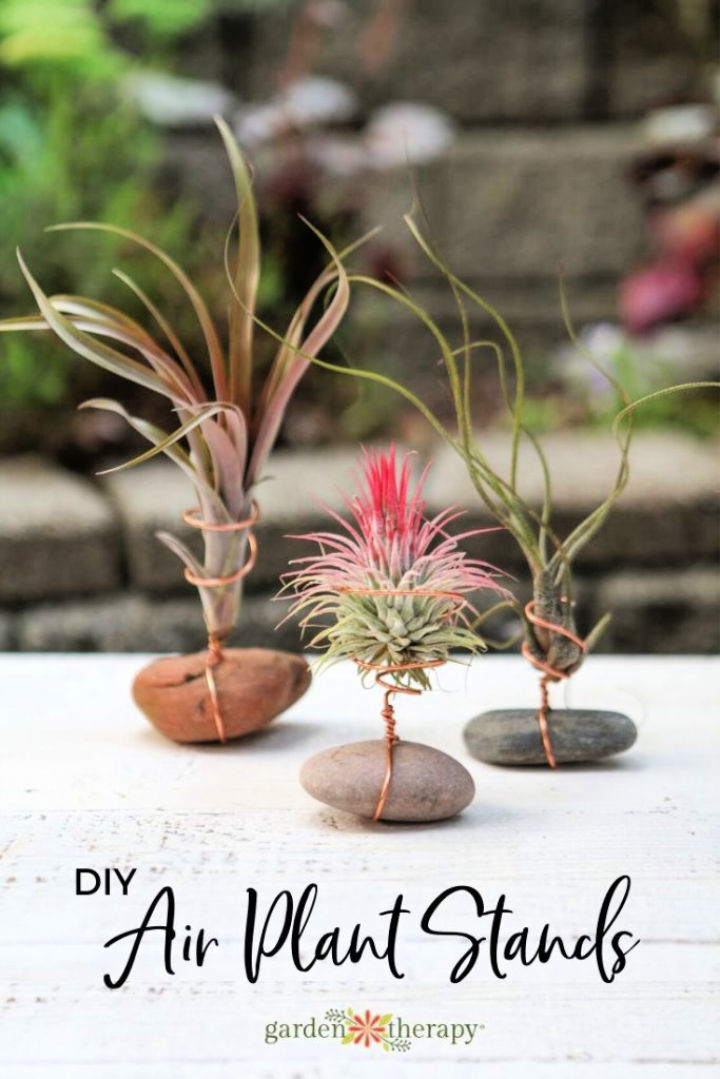 Give your home decor a twist with this project. This DIY air plant holder is the perfect thing to make as a paperweight or table decor. It is certainly very simple to create! It will require materials that you can already easily find around your home. Collect the materials and put this project together in a matter of minutes. gardentherapy
17. Make a Simple Air Plant Hanger
Inhale the fresh air now even inside your home. Create this simple air plant hanger with tools and materials that include an oven and baking sheet. With a biscuit cutter, scissors, stylus, ruler, wax paper, aluminum foil, and clay. Also, don't forget to take a quick look at the step by step instructions in the link below. diynetwork
18. Triangle Cement Air Plant Holder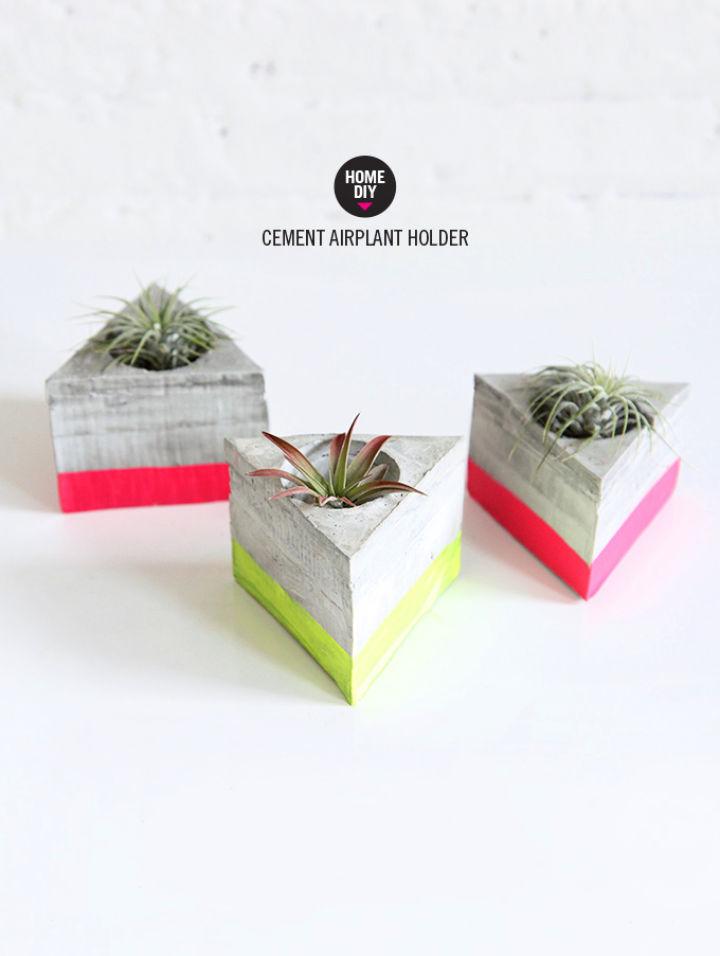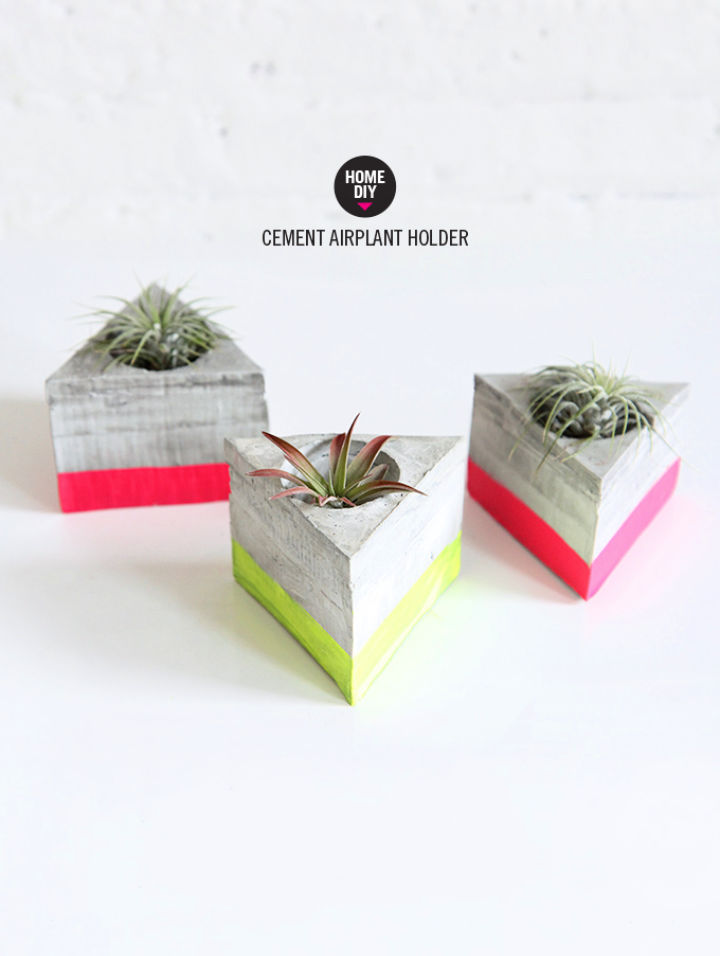 Look at these cuties! They will adorn every space you want to place these on, whether it is up on the shelf or on your study table. Make these triangle cement air plant holders as many as you want. They just need your little attention and effort to build them up. ispydiy
19. DIY Clay Air Plant Holders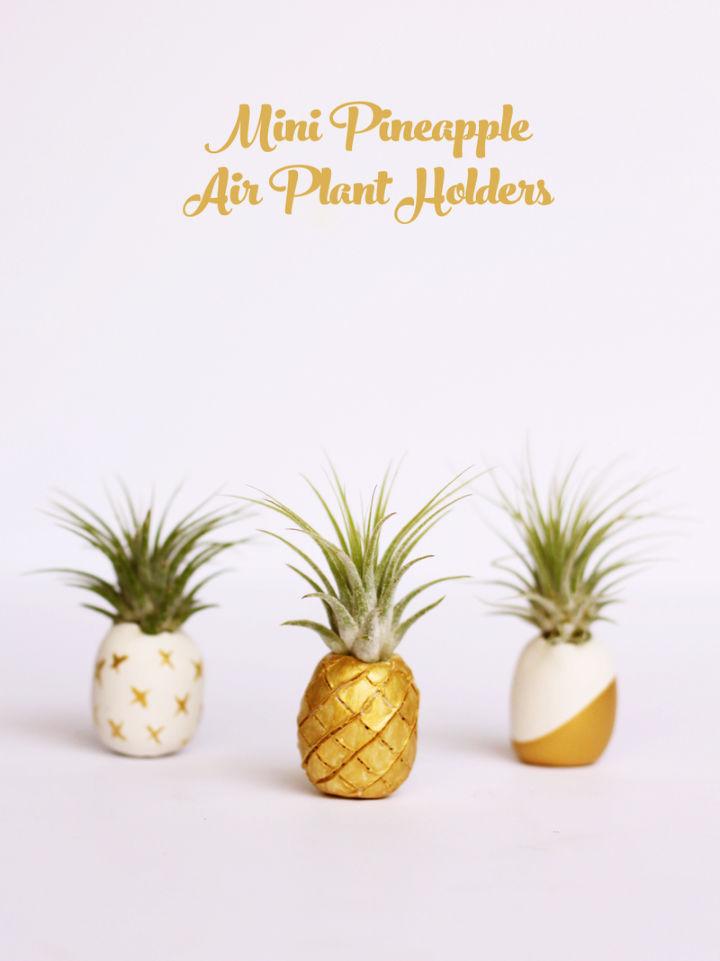 This easy and adorable little project can totally be accomplished in your stolen time between washing dishes to folding laundry. Plus, you can get help from your little ones too to give them a little knowledge about crafting. Make this clay air plant holder a group project to enjoy with your family! smallfriendly
20. Clay Hanging Air Plant Holders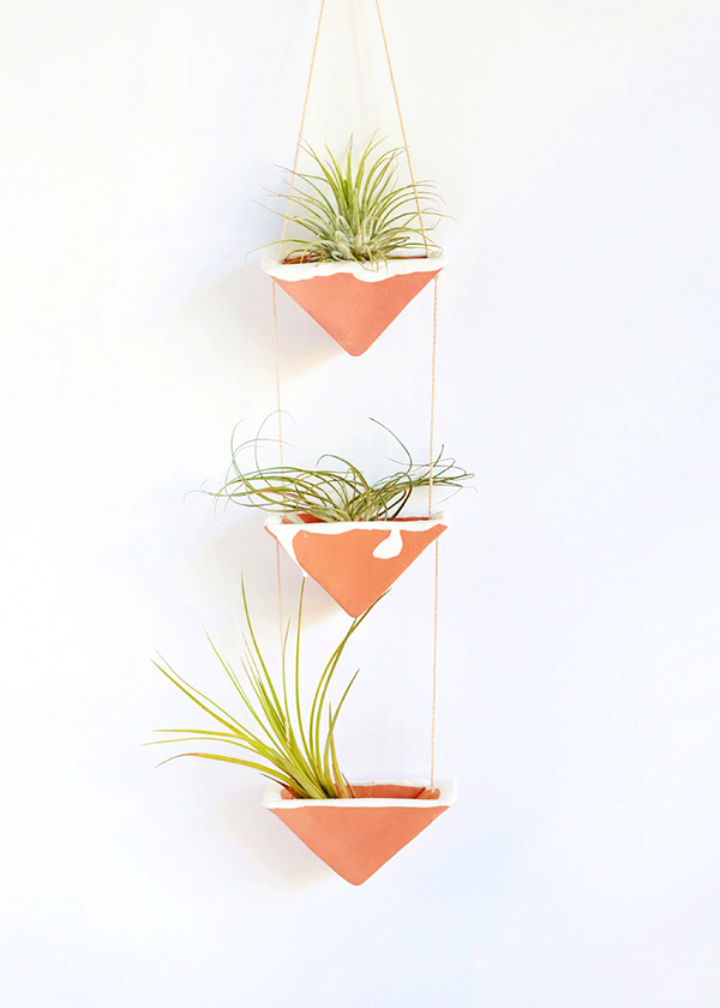 Get yourself ready to make this clay hanging DIY air plant holders. They will make very nice-looking hanging decor. Made out of clay in a tempting geometric pattern. Joined together and hung with twine, this can be the best decor option to be a minimalist and cover the all-white wall problems! squirrellyminds
21. How to Build Mounted Air Plants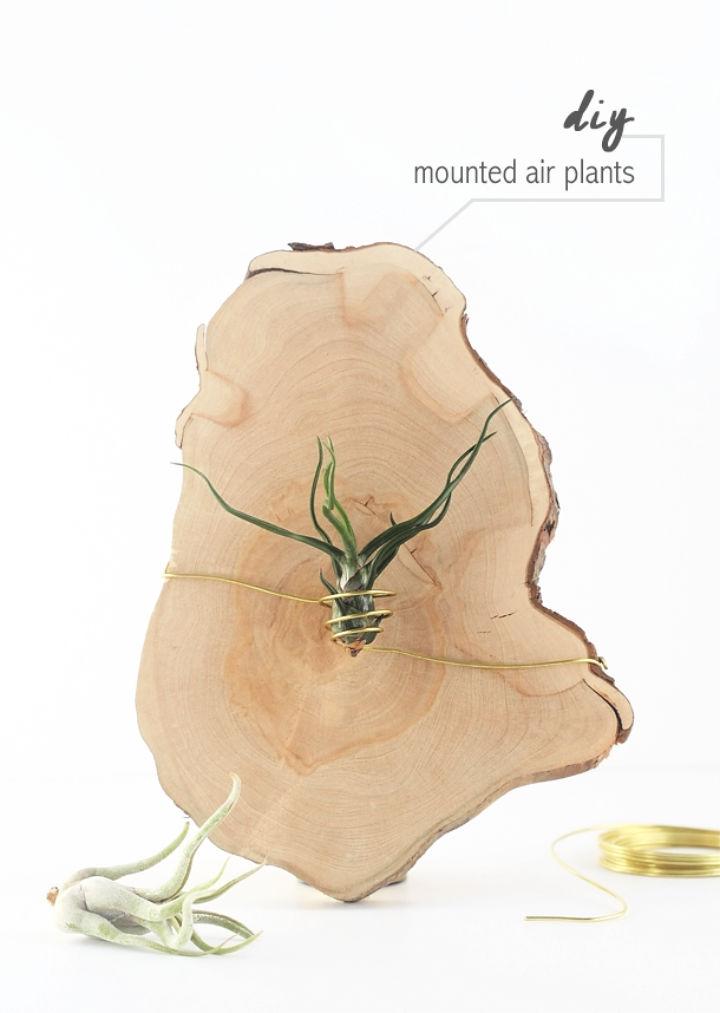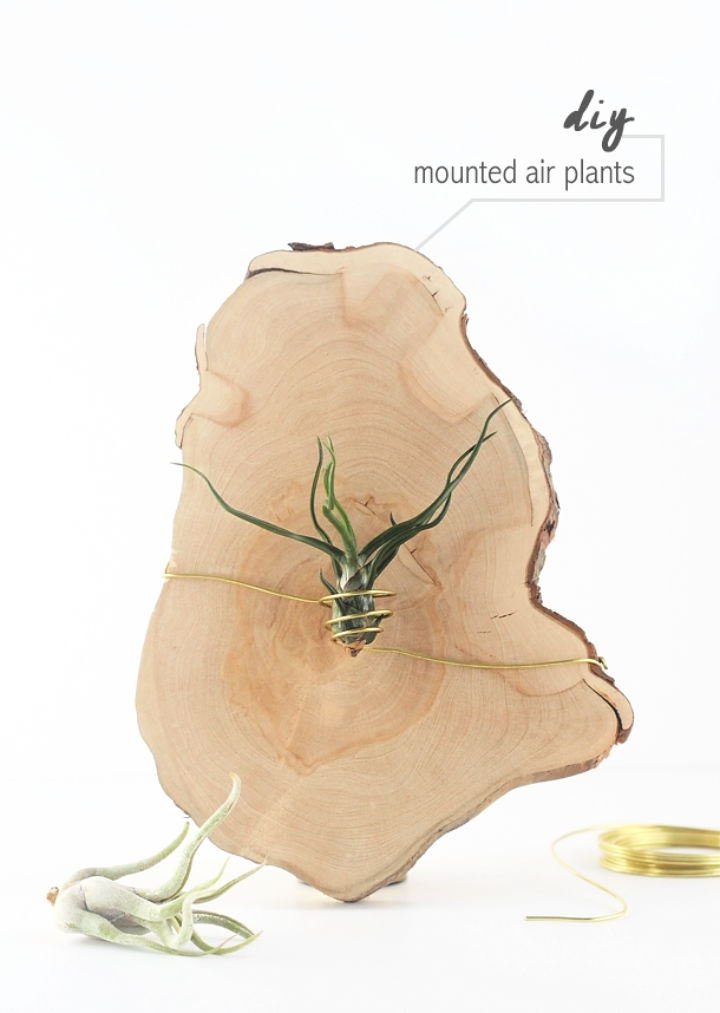 Bring spring inside with this mounted DIY air plant holder! It is the ideal mounted plan holder to get rid of any excessive white wall space. More than that, it is super simple to make. By using just a few supplies including brass wire, wire clippers, pliers, small brass nails, and hammer with picture hangers. idlehandsawake
22. Driftwood Air Plant Holder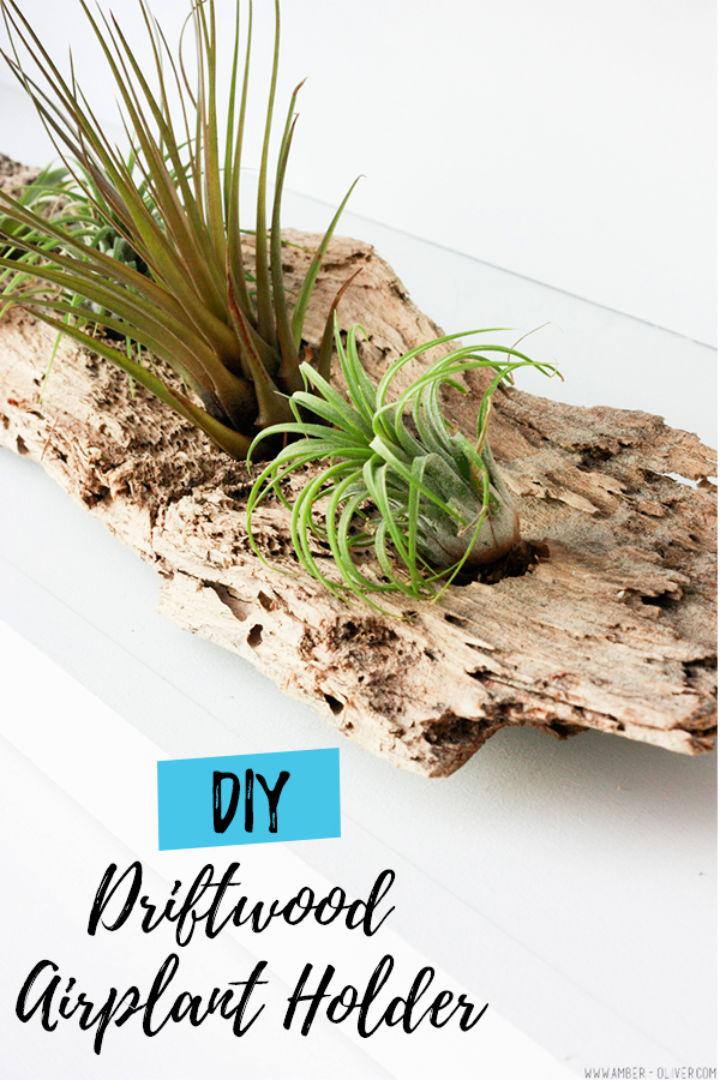 Do you love collecting things while on the beach? Transform your decor to a whole new level of breezy and refreshing with this driftwood plant holder. Driftwood is an ideal holder for an air plant. Head over to the link below for the complete guide. amber oliver
23. Homemade Hanging Air Plant Holder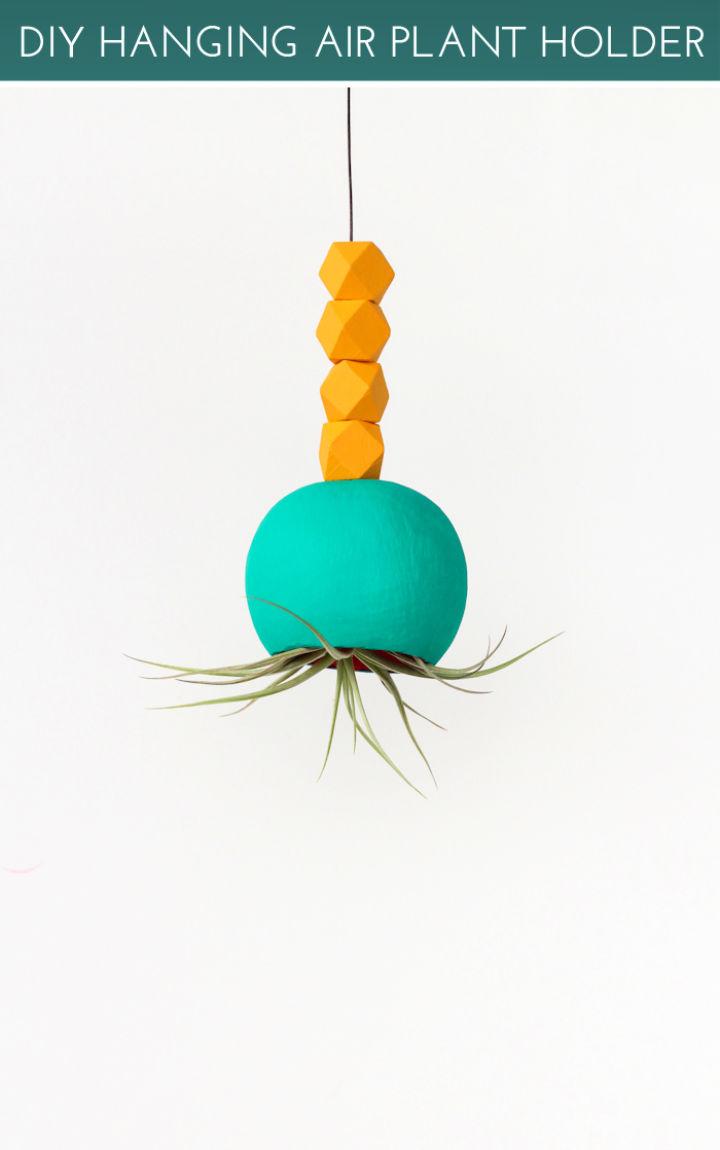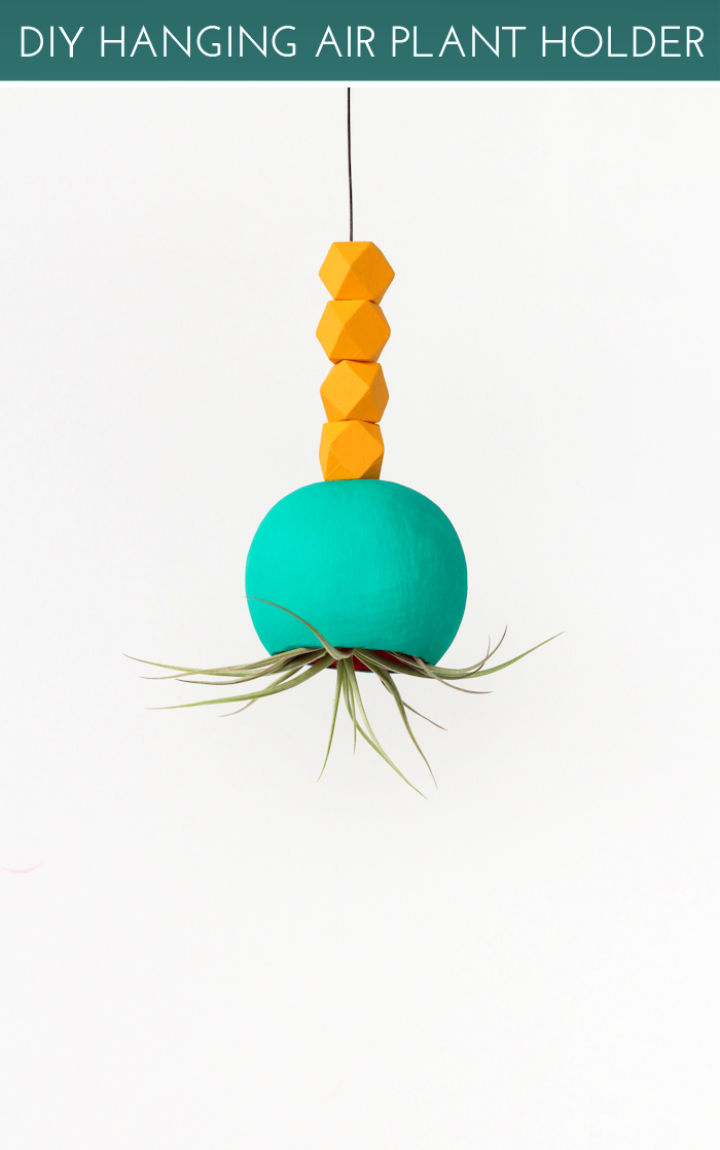 Check out this minimalistic and super whimsical DIY air plant holder. With subtle dark hues, the geometric orientation is making it quite a lovely decor enhancer for any room! Especially amidst all the white walls. All you need is a bell cup, hammer and nail, cord, wooden beads, and acrylic paint. thecraftedlife
24. Ceramic Planters to Display Your Air Plants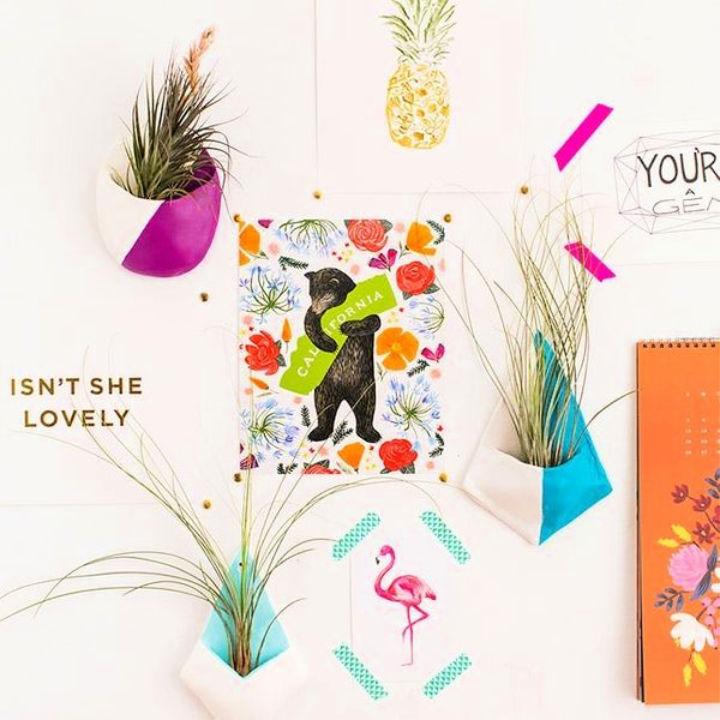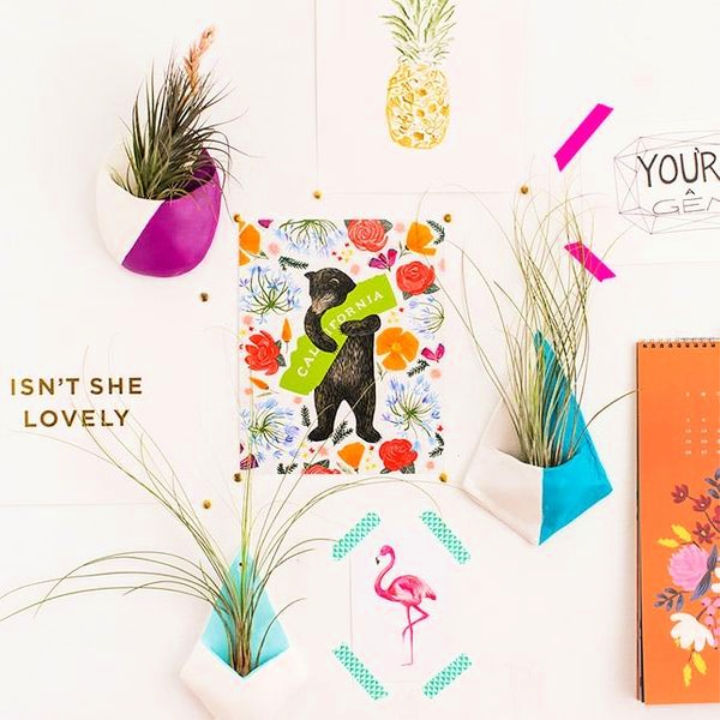 Get crafty with some clay! Whip up some real charming ceramic plant holders from scratch. Gather supplies including a rolling pin, Xacto knife, sandpaper, pencil, and paintbrush. Along with that, you will also need air dry clay, paper, and paint! Go crazy with this much mesmerizing art. brit co
25. How to Make a Wooden Air Plant Holder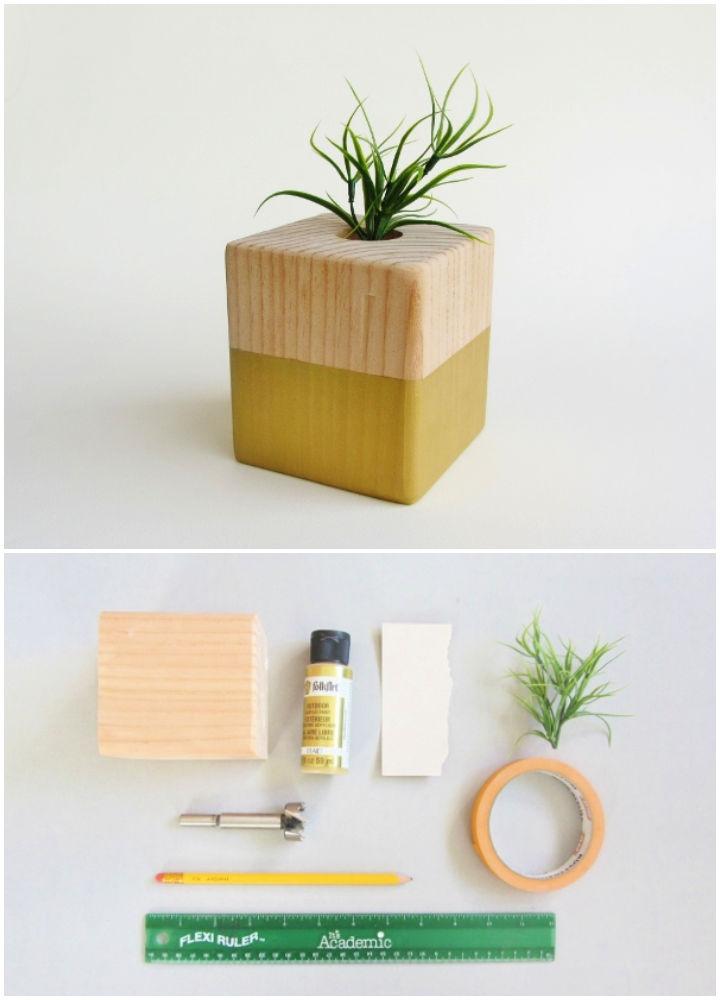 A wooden air plant holder is easy to place anywhere, more durable, and wood brings a pretty enticing texture to any decor. You just need about 10 x 10 cm and 15 cm long wooden box. Along with some acrylic paint and the basic craft supplies. crafts tutsplus
26. Best DIY Air Plant Pots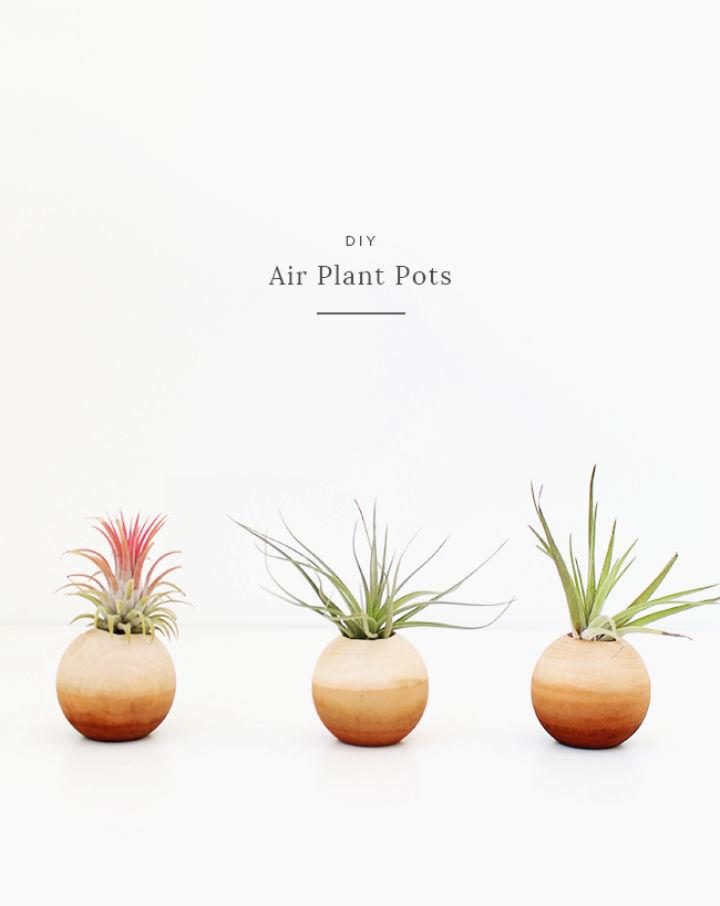 The best thing about opting for air plants is that they need minimal care and make great indoor plants! You can be as creative with the planters as you want! Like here, these teeny tiny planters are made up of wooden doll heads with flat bottoms, actually! Can't believe it? See for yourself, here. almostmakes
Conclusion:
These easy to make DIY air plant holder ideas can help you save many bucks on elevating your decor with otherwise the expensive decor items. Plus, planting itself is pretty therapeutic, and these lively planting incorporations with decor endeavors can be done in a snap! With so much more to cherish about life. A happy decor place means a happy life!
Related DIY Home Decor Ideas You May Like: