Do you think of yourself as a farmer or a homesteader? If yes, then raising chickens in your backyard can be one ideal way to keep your soil fertilized and keep your plants' pests free. How? By raising the natural pest controller in these chicken tractor plans. We have rounded up below a collection of 30 straightforward, highly functional, and easily portable free DIY chicken tractor plans. A chicken tractor is on the go chicken coop, it has wheels beneath and is easily portable from one place to another! This portable function of chicken tractor makes it darn ideal than any other regular chicken coop. You can actively not only raise chickens but also make sure a consistent supply of fresh and organic eggs! While at the same time, manage your farms and backyards green health! These predator proof chicken tractor plans will keep your chickens safe and secure, too.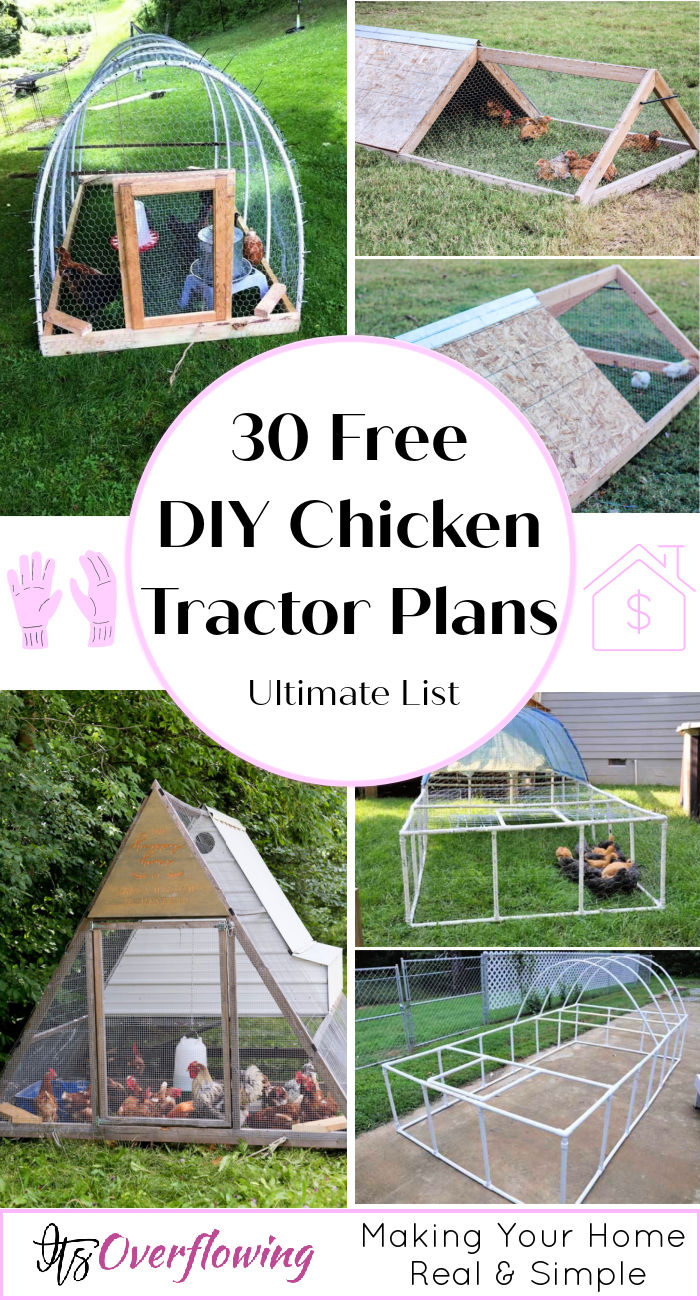 30 quick and easy chicken tractor plans for free:
These chicken tractor plans are ideal in every regard! You can raise chickens in a predator proof chicken tractor. You can easily move it around to new are you want your chicks to dig holes in! Or you can also easily customize the plan as per your requirements. Use recycled wood or lumber. Some of these chicken tractor plans even involve using PVC pipes with heavy chicken wire to make things secure, easy, and lightweight.
You can go for a frame chicken tractors if you wish to keep aesthetics in check while setting up a chicken coop! Or rather choose a huge chicken tractor to house and raise 20 hens or more easily at one time! With these simple chicken tractor plans free, you can not only raise chickens successfully at home but also do that quite economically!
1. DIY Mobile Chicken Tractor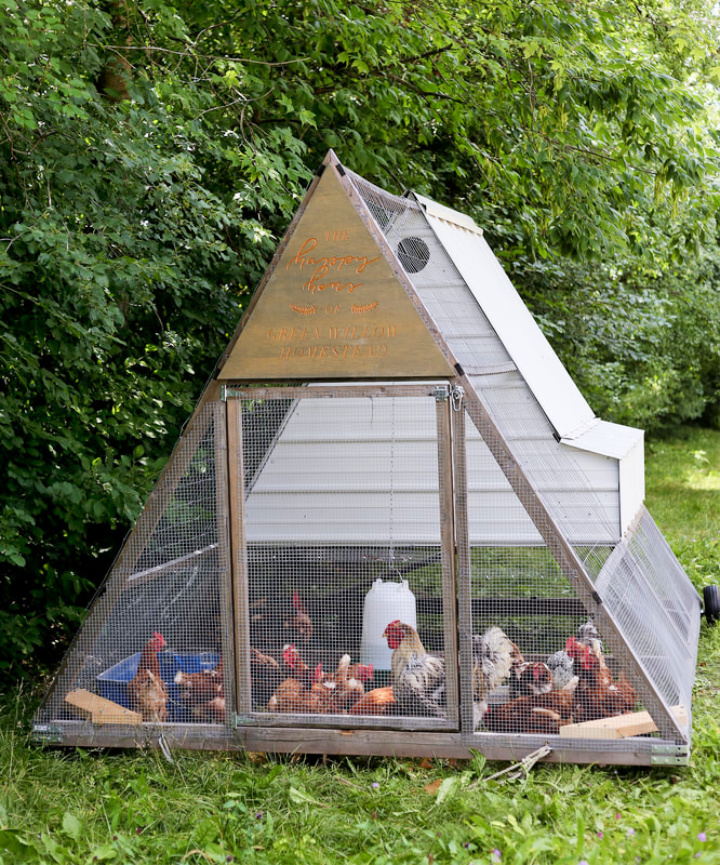 Chickens are not meant to survive only on grain! By leaving them on grass, they can hunt for some insects, which will provide them with protein. However, to not worry about them being everywhere, follow this chicken tractor plan! A free and detailed plan! greenwillow
2. Movable DIY Chicken Tractor
In order to make your chicken raising easier, and if you have a very huge farmhouse, you can follow this DIY chicken tractor plan! It will get you detailed instructions on how to make a movable chicken tractor! Save a lot of effort and time! Everyone needs that! longbournfarm
3. Build a Lightweight A Frame Chicken Tractor
Movable coops are just a great thing to invest your effort into! You won't have to rent a trolley to move it later on! This moveable chicken tractor is made up of lightweight material, so it won't be hard to move around. Save money and the effort of moving it around the farm by following this amazing guide. hobbyfarms
4. Plywood Chicken Tractor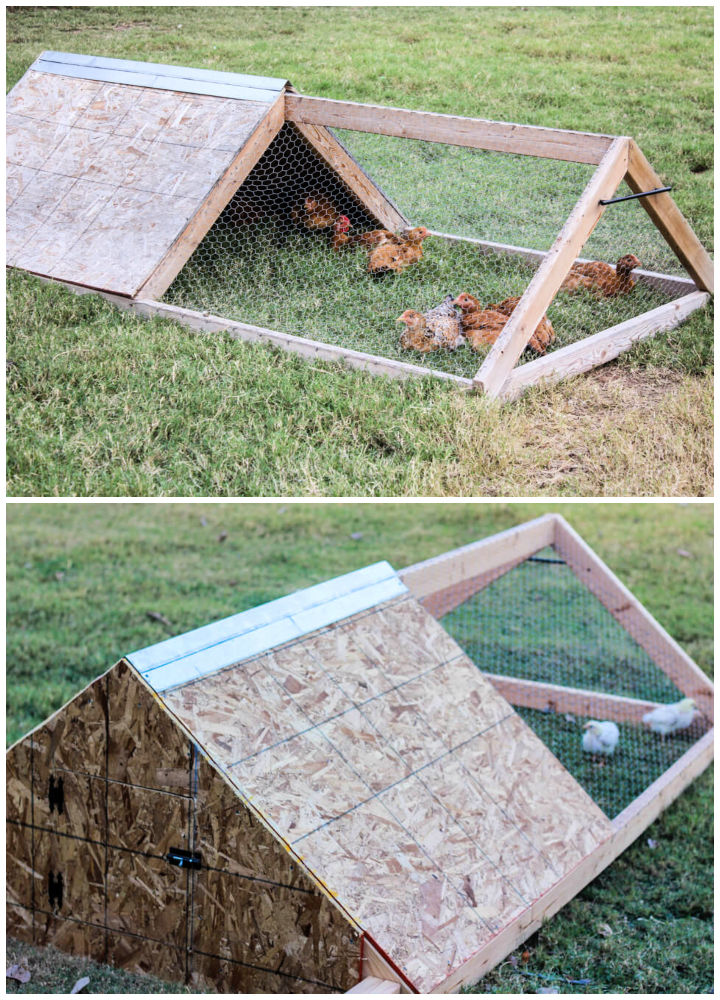 The main point behind going for a chicken tractor is to make sure easy portability to the new spot each day! This DIY chicken tractor plan uses plywood. It has about 32 square feet of space to offer! This will make a great addition to your chicken coop plans! It will be light but strong at the same time! Durability counts. weedemandreap
5. Larg Sized Chicken Tractor
If you have many chickens to be taken care of, the large-sized chicken tractor is perfect for it. The chickens will be able to move freely in it! This will profit you as because of good conditions, the chickens will lay more eggs! A very durable, strong tractor! backyardchic
6. A Frame Chicken Coop Tractor
A-frame pattern is always stunning while being simple. You can get this DIY chicken tractor plan for free! It is a very detailed step by step plan and has many images and measurements mentioned in it. You won't even have to worry about the dimensions in this plan as they are super detailed. ana white
7. Homemade Chicken Coop Tractor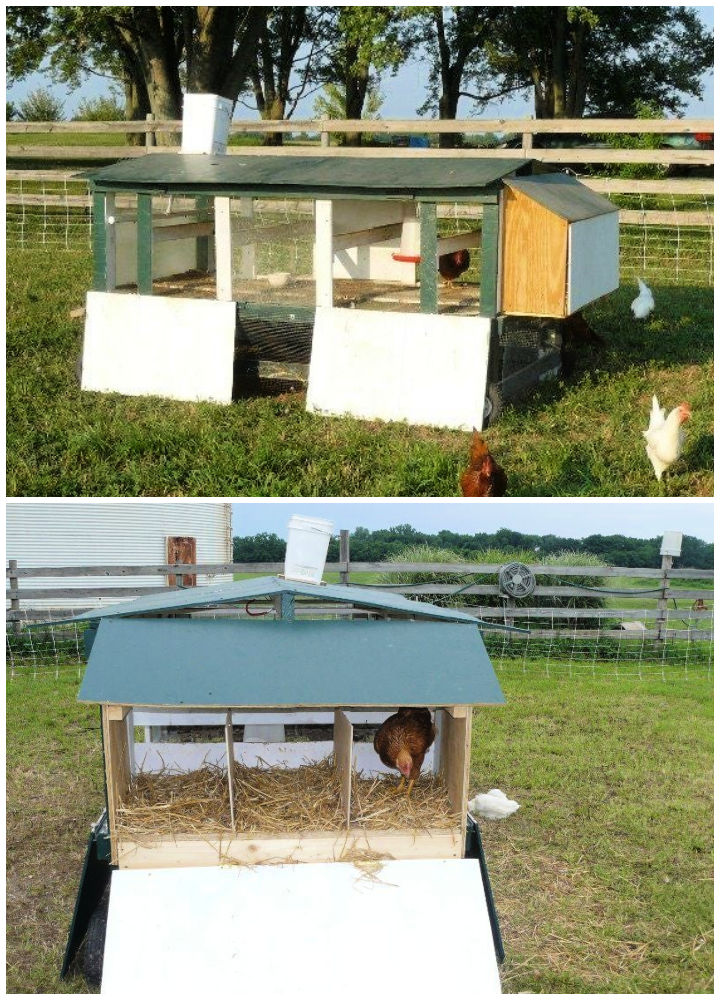 Get your hands on some pressure treated 4×4's, 2×4's, 1×4's. Along with sheets of 3/8's inch exterior plywood and 10-inch or larger wheels, bolts, washers, and nuts. For the final look, you will need primer paint and exterior paint, Plexiglas, and a few more supplies to nail this DIY chicken tractor tutorial! instructables
8. Modern Barn Chicken Tractor
Going for that modern farmhouse look? Here's the perfect chicken tractor plan for you! The contemporary barn chicken tractor is very aesthetically pleasing to look at! It is super functional, as well. The chicken coop with run plan provided is super detailed with all the dimensions and instructions you would need! Backyardchickens
9. Cattle Panel Chicken Tractor
A great addition, you can add to your farmhouse to make your life easier. You will be doing yourself, and your chicken's favor by making the cattle panel chicken tractor. If you happen to be a beginner, then Lazy B Farm has got the perfect guide, as it is very detailed and informative. thelazybfarm
10. PVC Chicken Tractor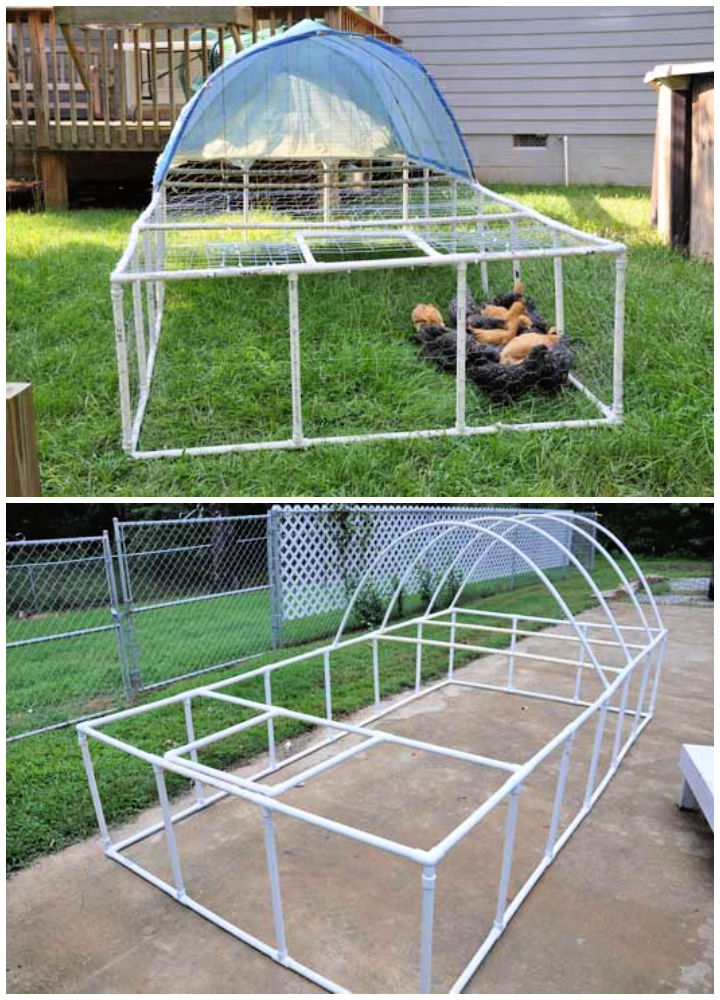 This is best one in our top list of free chicken tractor plans. A fantastic PVC chicken tractor plan which features a chicken tractor that is super lightweight, inexpensive, and easy to move around the farm. Don't waste a ton of money on the store brought chick tractors when you can make this in a few hours! A very simple and easy to make a tractor. grit
11. Build a Chicken Tractor at Home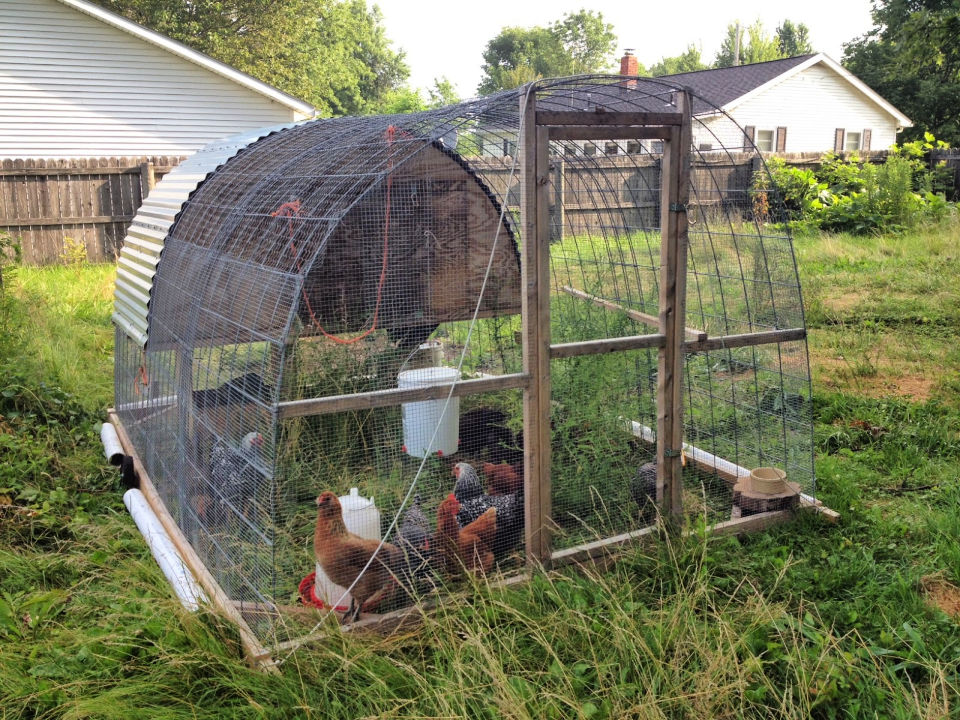 Build a chicken tractor for your chickens so that they can graze fresh pasture and bugs while being protected from the predators. Enlist the supplies and get started with cattle panels, plywood, chicken wire, staple, screws, washers, saw, paint, straps, and galvanized steel. littlecountryhouse
12. Hawk Hill's Collapsible Chicken Tractor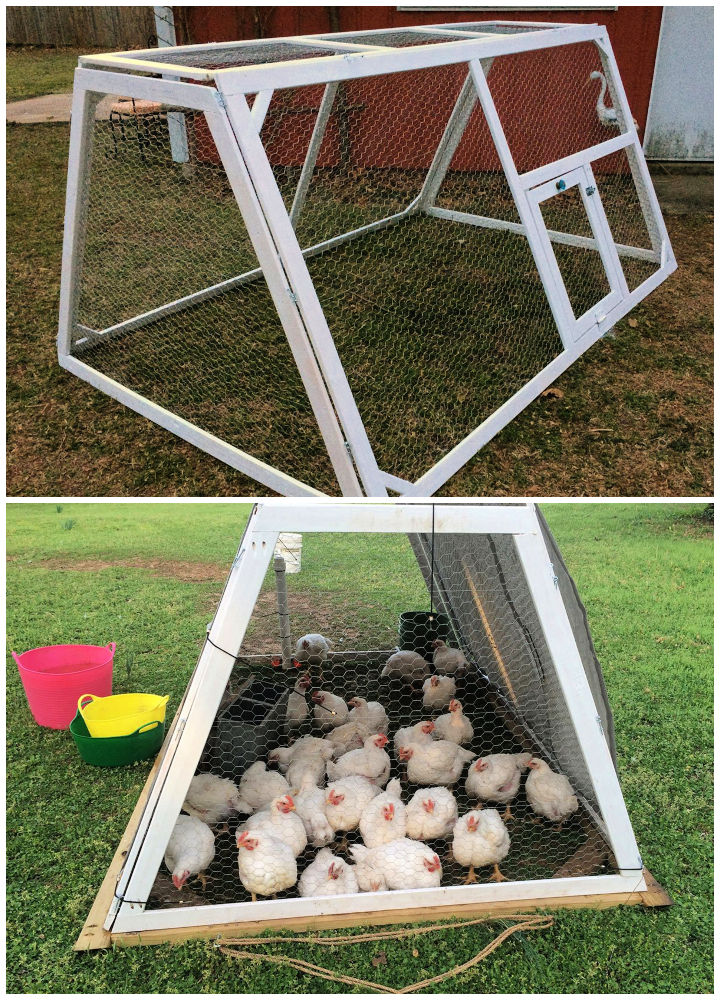 Start raising chicken at your home with this hawk hill's collapsible chicken tractor panels. That allows your chickens to get fresh air to breathe and fresh pasture to eat. Here is the perfect plan for you to get the step by step guide from it and start fostering the chickens easily at your home. hawk hill
13. Recycled Wood Chicken Tractor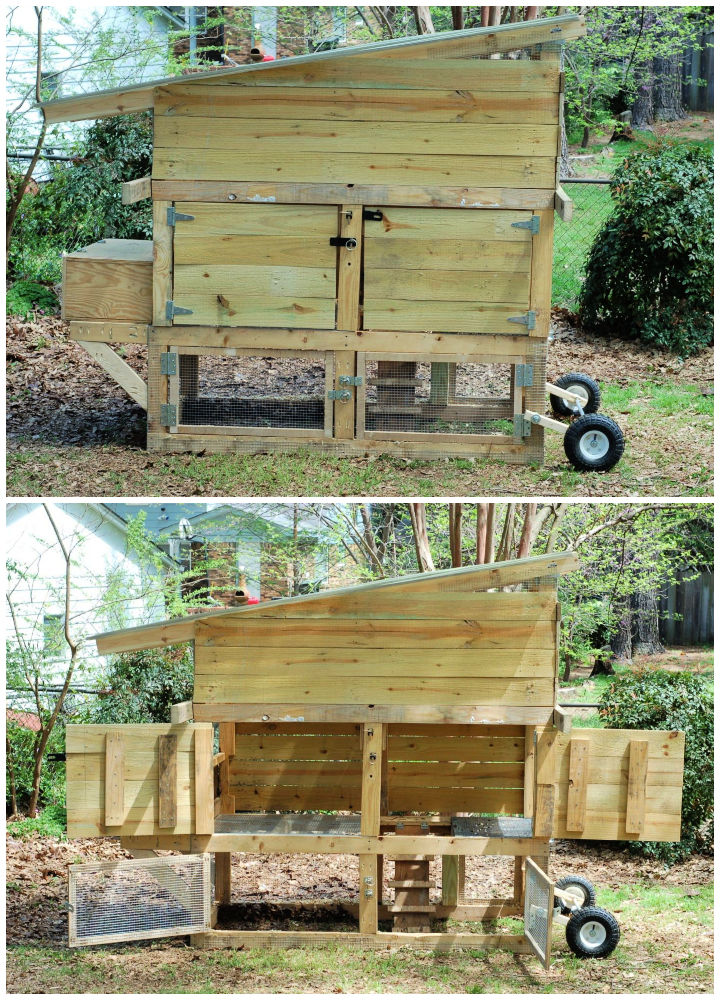 If you are really trying to get some organic food into your life, then you must start raising chickens yourself instead of purchasing eggs or meat from the store. You can do that quite easily by building this reclaimed chicken coop at home. It is neither a time-consuming project nor an expensive one. Backyardchickens
Build a functional DIY chicken coop at home with these 25 free pallet chicken coop plans that will help you to save money and build with free pallets.
14. Portable Chicken Tractor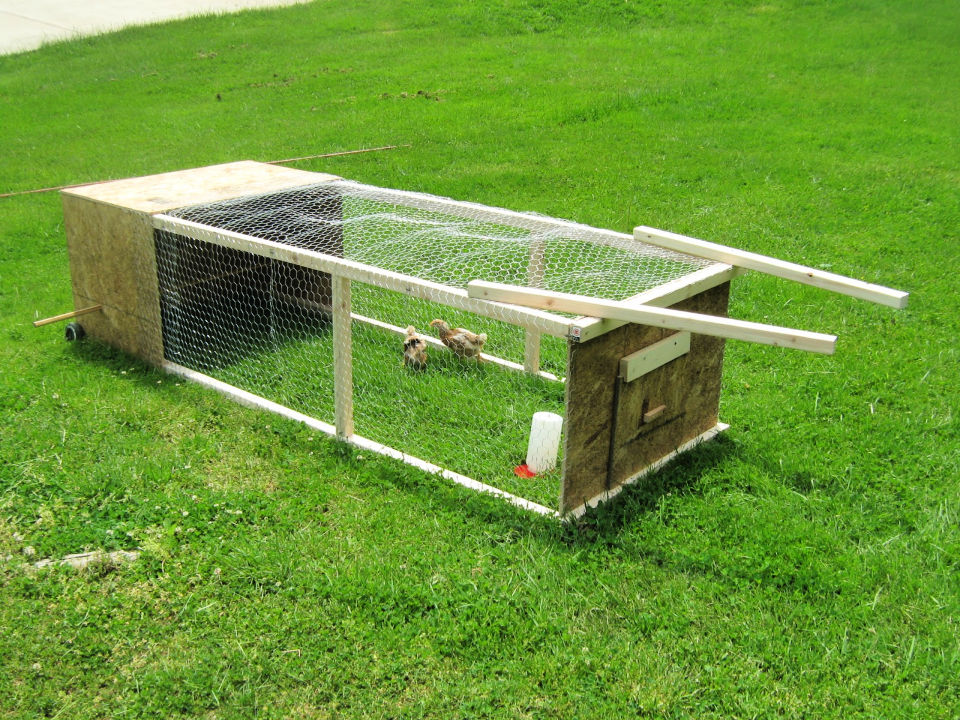 You never know what they feed the chicken to increase the pace of their growth! Construct your own chicken tractor for your chickens. It will just be two hours long work. Grab supplies like a dowel, screws, chipped plywood, and wire staple to construct this project accurately. simplyresourceful
15. Small Mobile A Frame Chicken Tractor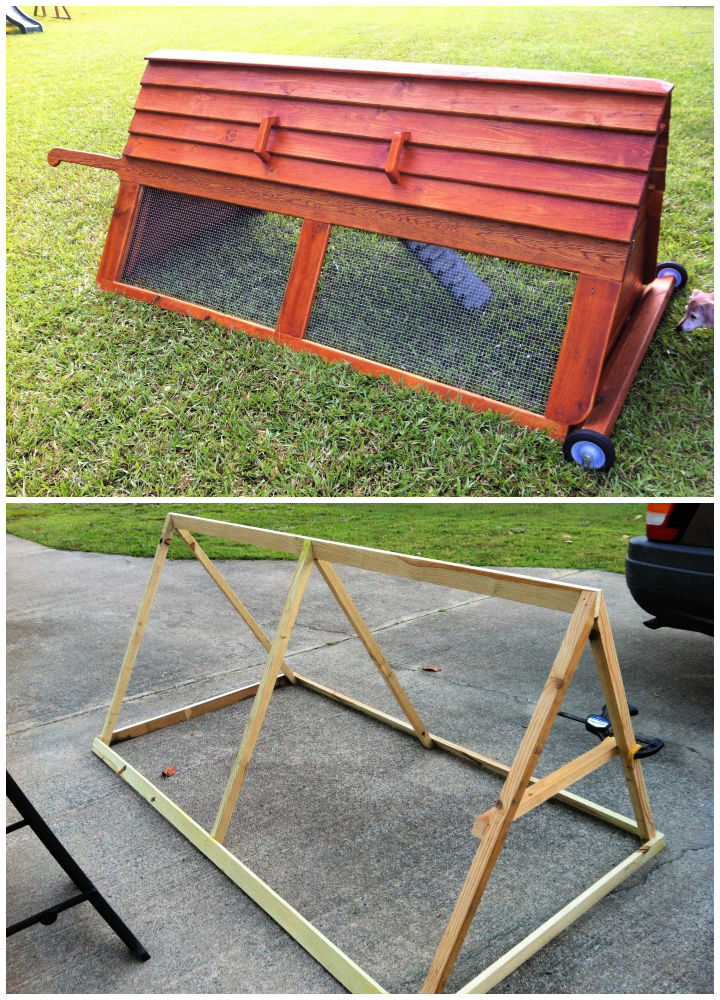 Healthy eating is important! And organic eggs are one of the great constituents of good health. Raise chickens in your backyard with this small and mobile chicken tractor plan! Head over to the tutorial below to get your hands on the free plan. This chicken tractor is totally portable, and you can move it anywhere quite easily! Backyardchickens
16. $30 DIY Chicken Tractor Built in 30 Minutes
Give your chickens a safe and sound shelter by building this chicken coop for your fluffy fellows! The tutorial is going to walk you through the step by step guide! This project is super-fast to work on, so much so that it can be completed in 30 minutes or so! Also, it is super-economical and will cost you like just $30. lumnahacres
17. Chicken Tractor Out of Recycled Wood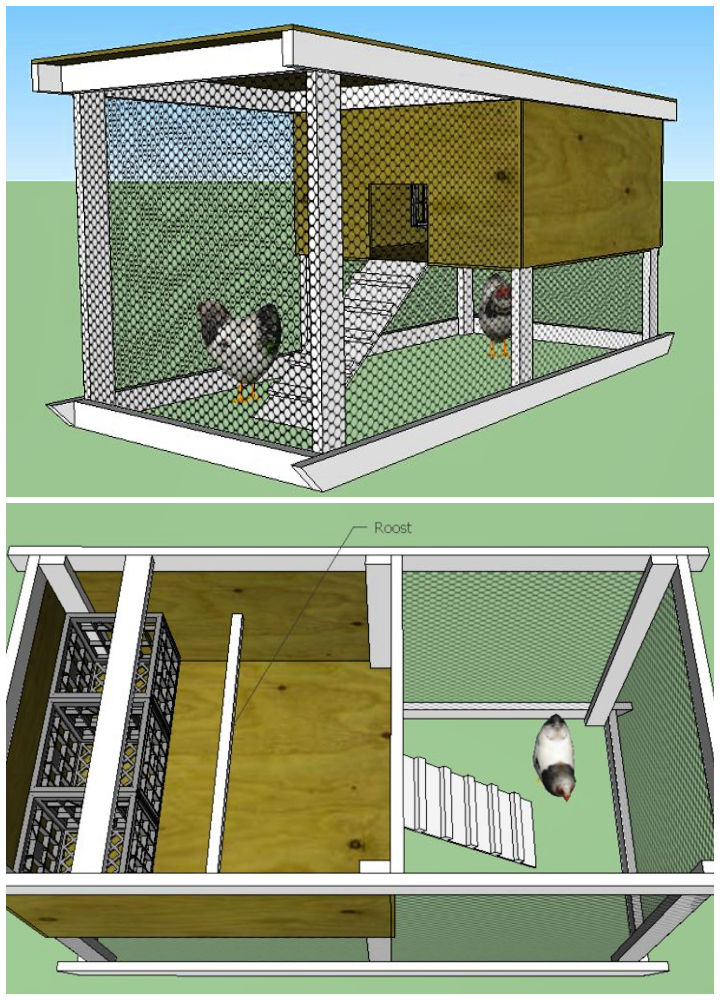 This wooden chicken tractor plan is ideal for raising 6 to 10 hens at a time easily. It is made out of recycled wood, and the tutorial also has to offer some cool tips to raise chickens! The required materials include lumber, plywood sheets, screw, chicken wire, wire staple, hinges, and you are all set to build this up! instructables
Learn the steps for designing and building a simple portable chicken coop suitable for either laying hens or meat birds.
18. Kycklingars 4×10 Chicken Tractor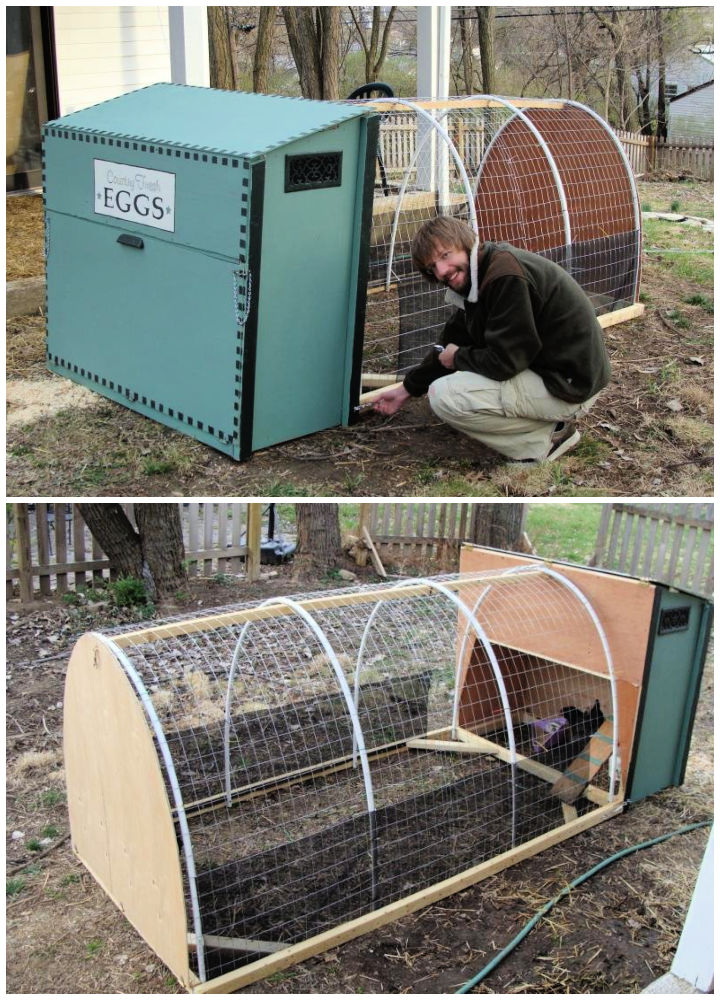 Even a small or limited backyard can still have an ideal chicken coop! This 4×10 chicken tractor plan is big enough to let your chickens have ample space! Let them eat fresh, breath fresh, and walk freely. The plywood is connected together using hinges, and they can be lifted up for a person to fit in too! Give it a complete quick look here. Backyardchickens
19. 4×8 Backyard Chicken Tractor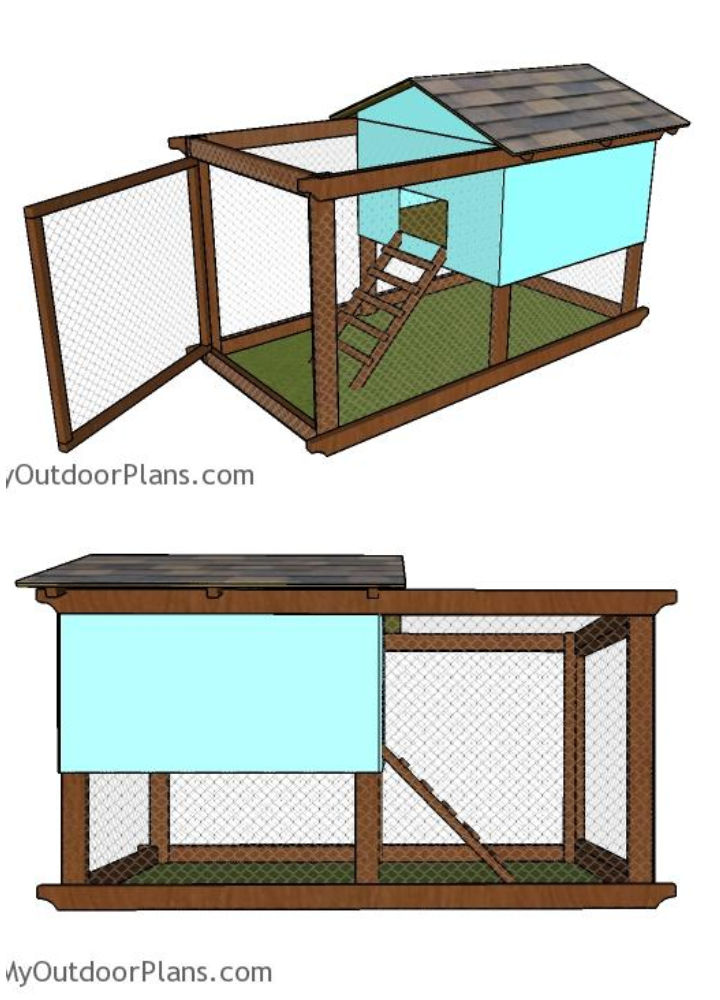 My Outdoor plans have got an ideal and cheap chicken tractor for you to successfully raise chicken in your backyard! This is a simple project, and it is bound to give your chickens the perfect place to roost, sleep, and lay eggs! The finished project will measure about 4 x 8, which means that it won't even occupy so much of your backyard's space. myoutdoorplans
20. DIY Classy A Frame Chicken Tractor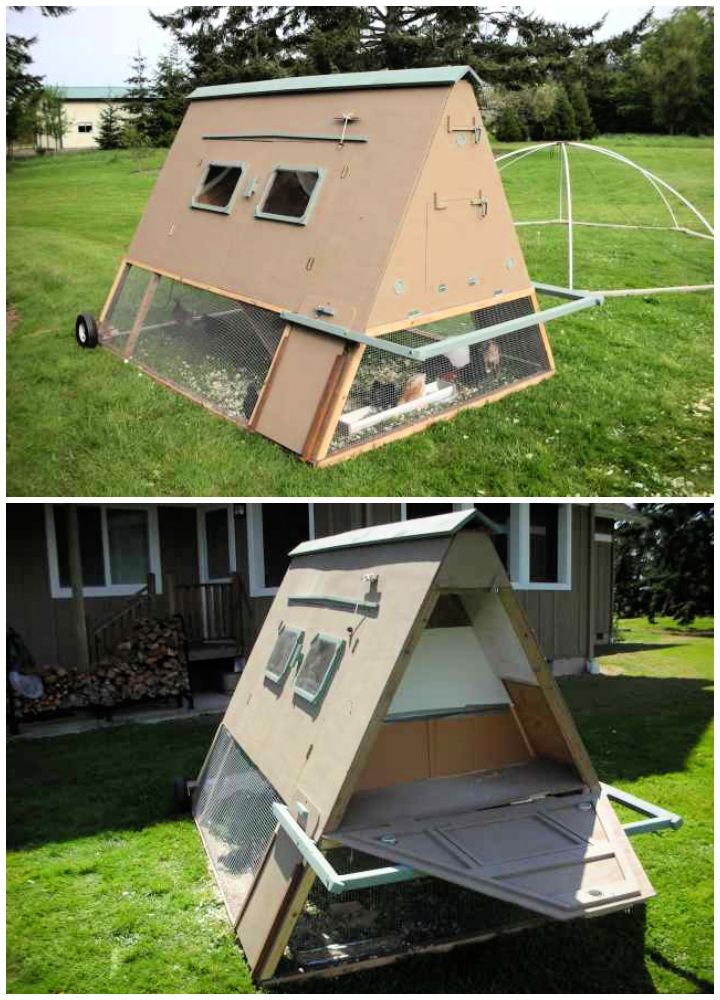 Looking for a comprehensive building plan for constructing A frame chicken tractor? The biggest worry for raising chickens outdoor is to make the coop predator free! And this chicken tractor has got that part taken care of! It is also easy to access and clean. Backyardchickens
21. How to Build a PVC Chicken Tractor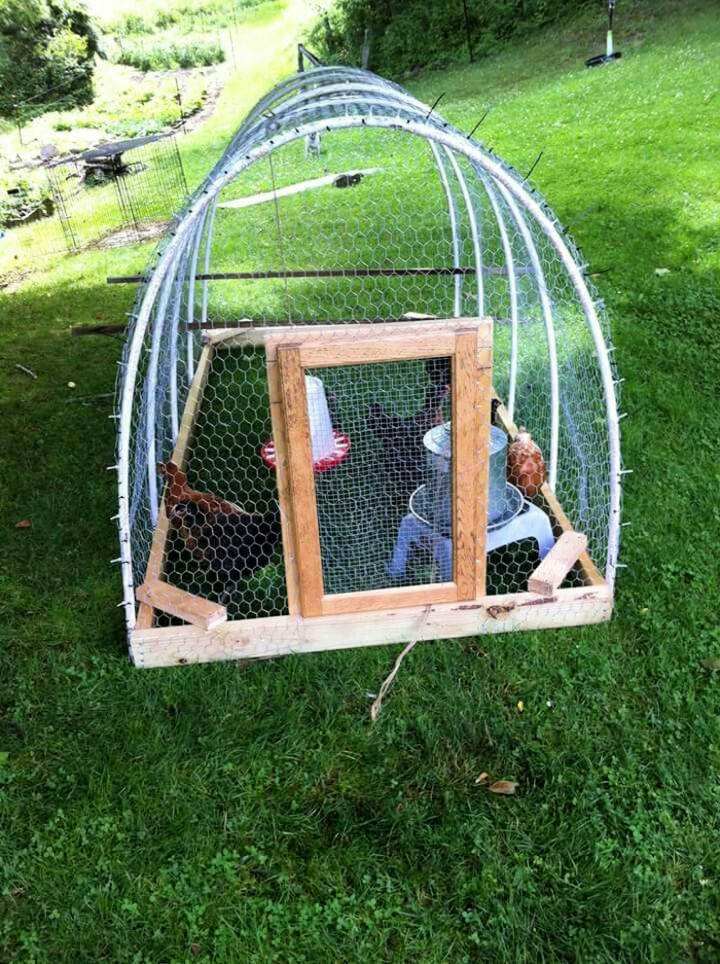 If you want a chicken tractor that is low maintenance and easy to move, then you can construct this PVC chicken tractor by using PVC pipes. Instead of hiring a handyman to build, you can use this plan to build it yourself! Another benefit with PVC pipes is that they make the chicken tractor much lightweight as compared to the one made of timber. theownerbuilder
22. Handmade PVC Chicken Tractor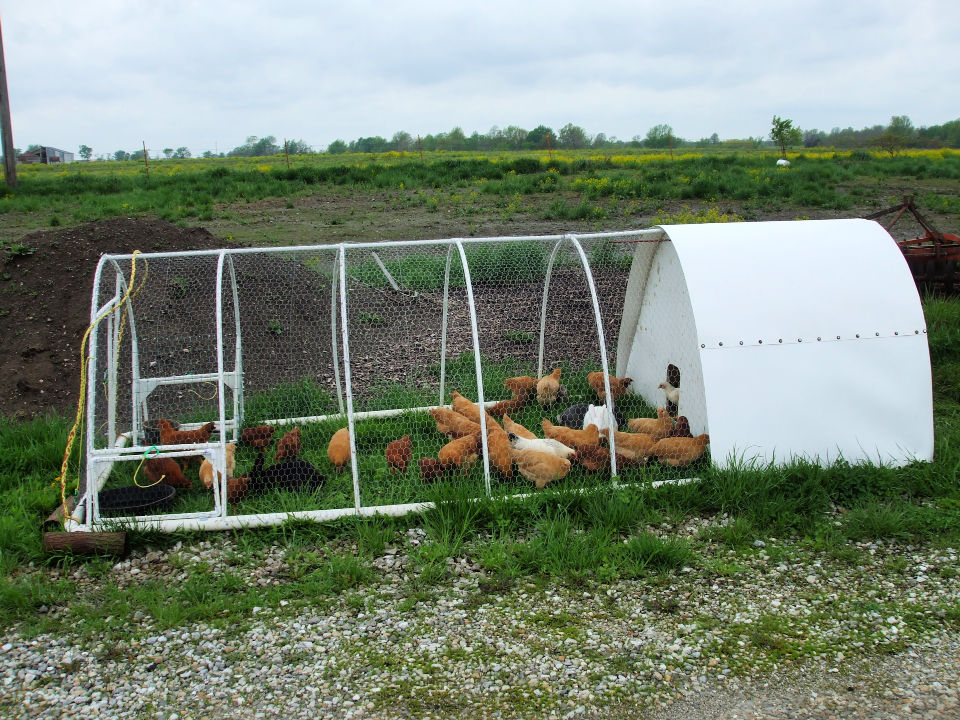 DIY chicken tractors are your safe zones to forget about predators swooping over your flock. All you need is a few supplies like coupling, elbows, treated wood, hinges, drywall screws, and utility wheels to build this predator-free chicken tractor. Now you can raise at least 15 to 20 hens at a time with this project but you may choose other chicken tractor plans too. jlmissouri
23. Hula Hoop Chicken Tractor
Building this chicken tractor will give your chickens constant access to dig up holes in the soil and live a natural life. Head over to the plan to construct this hula hoop chicken tractor, it is just the perfect size for about 10 to 15 hens to walk and graze freely without getting crowded! homesteadlifestyle
24. Build a $100 Chicken Tractor
Construct a chicken tractor that will cost you way fewer dollars than a commercial one. Materials required for this project will be staples, rope, washers, hinges, chicken mesh, chipboard, drill angles, and chisel. Also, don't forget to grab the free plan from the link below! instructables
25. PVC Chicken Coop Tractor
If your house happens to have a backyard, then you must try this idea of raising chickens at your home. This PVC chicken coop tractor plan will be a perfect home for them where they can live freely and happily. It is straightforward, quick, and simple to build in a bracket of 100 dollars. Backyardchickens
26. Backyard Chicken Tractor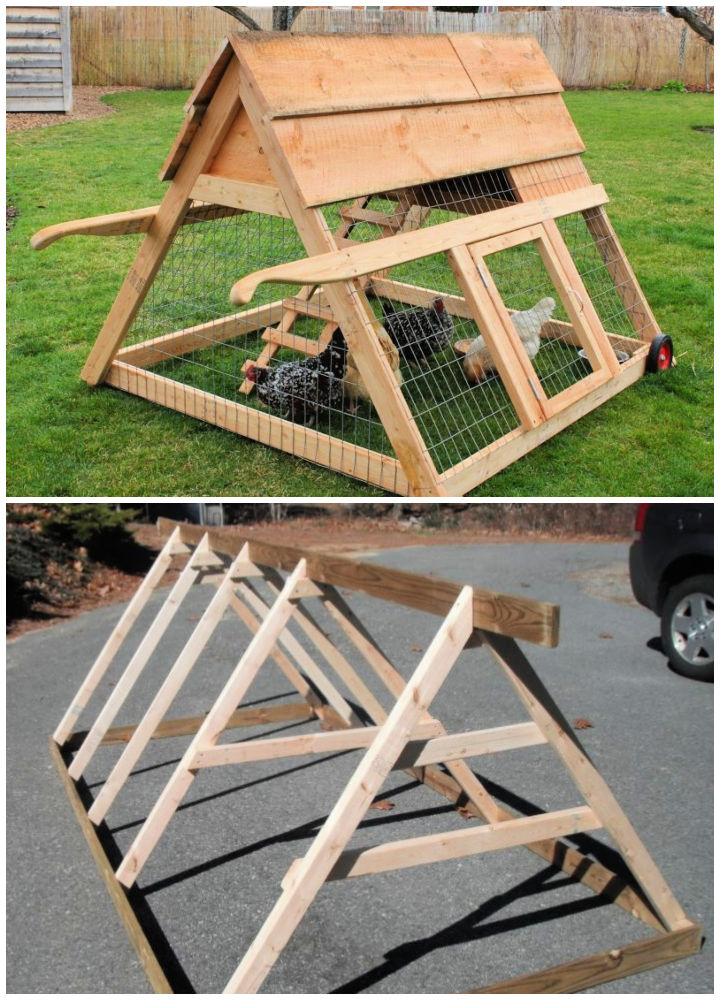 Now start poultry farming at the back of your home! Backyard Ville can help you raise healthy chickens in a predator-free and portable chicken tractor! Ultimately you will be getting healthy eggs and chicken without any harmful feed. Go ahead and check out the plan in the link below! backyardville
27. Budget-Friendly Framed Chicken Tractor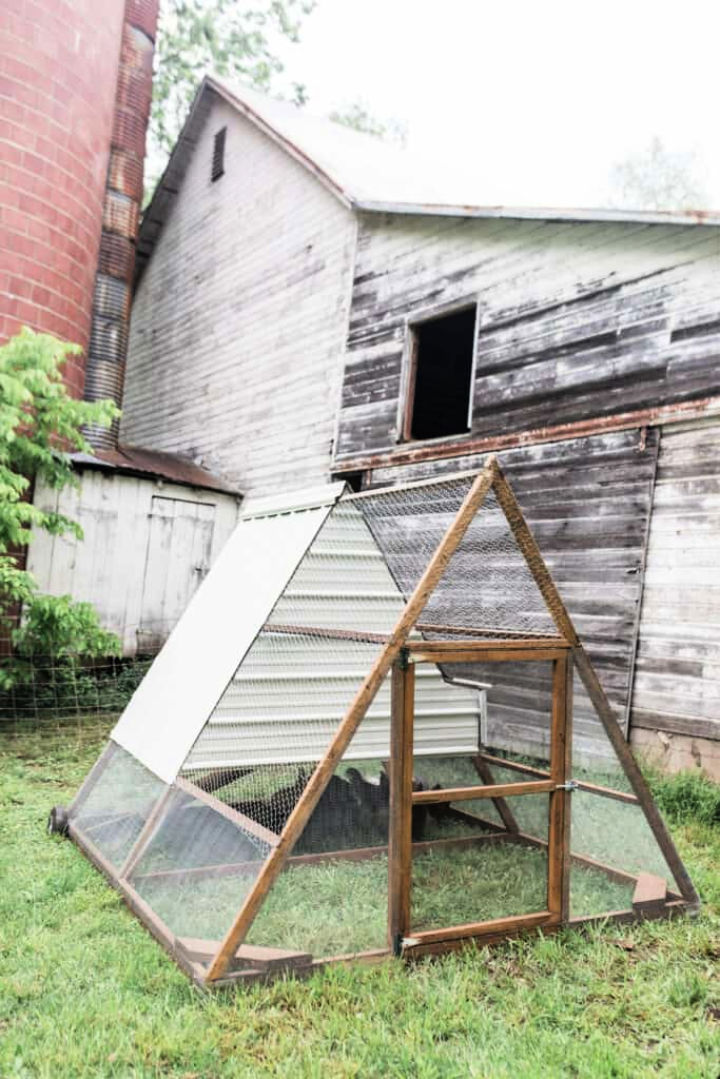 For a new person opting for backyard chickens, a chicken coop might sound a bit more challenging in terms of price, especially! But, learn to build a highly functional and budget-friendly A-frame chicken tractor for your chickens! It can house up to 20 hens. It is not only cool looking, but it is completely predator proof too! farmhouseonboone
28. Chicken Tractor for Less Than $200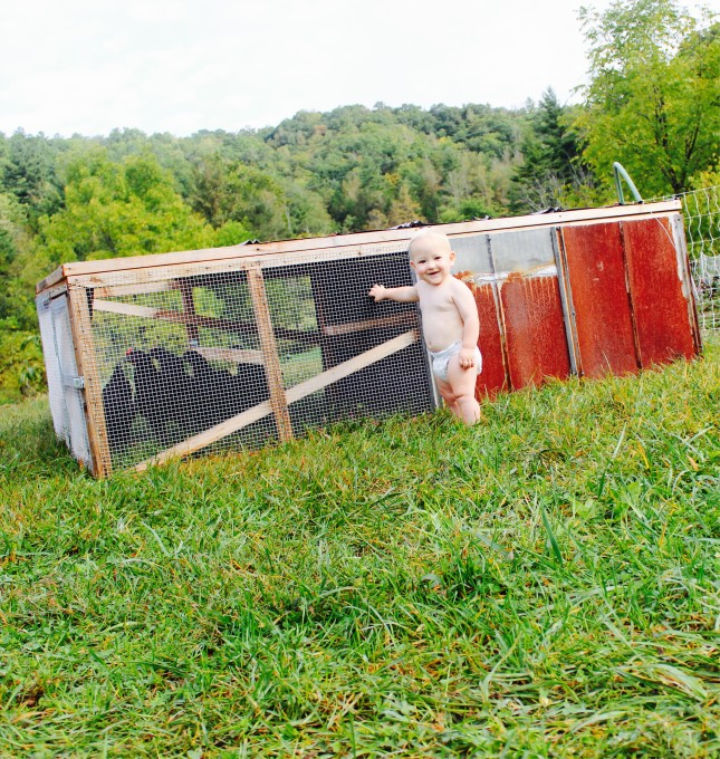 Give this chicken tractor a quick look and build one for your backyard chickens in just 200 dollars. This chicken tractor plan is ideal in countless ways, including the fact that it is totally economic friendly. No gasoline to run it but an unstoppable supply of delicious eggs and pure meat. abundantperma
29. Garden Ark Mobile Chicken Tractor
This garden ark mobile chicken coop is ideal in a lot of ways! You can move it around your garden to help around with your chicken's grazing. Roll it around your lawn easily. The tools required include a circular saw, sawhorses, power drill, tape measure, and pencil. The tutorial will walk you through the step by step guide in building this. thegardencoop
The Stress-Free Chicken Tractor Plan
Raising chickens at home might sound a bit intimidating at first! Keeping them safe from predators, providing them the perfect place to roost, live, and breed. Watch this tutorial on a stress-free chicken tractor plan. Collect the supplies like saw, sawhorses, measuring tape, a power drill, and wooden pallets to accomplish this project. youtube
Conclusion:
These quick and easy to build chicken tractor plans is your answer to all the chicken coop questions! If you love your backyard, love raising chickens, and would like to keep your garden at the top too, then these chicken tractor plans are the best ways to handle all of things together! Collect and enjoy fresh eggs in the morning, all the while taking care of your chickens to ultimately enjoy some fresh and healthy meat. Happy cooping, folks.