Raising the baby chicks may be intimidating for poultry lovers, but going with these 15 free DIY chicken brooder plans will make it super easy. Just set up some big containers or boxes, having most of the sides covered with hardware cloth that will allow the heat and air to enter in easily. Next, add it up with a DIY chicken feeder, a DIY chicken waterer, and a lovely wood shaving bedding. You can make DIY chick brooder in lots of different ways using a variety of market bought, recycled, and upcycled materials. So, explore this collection of 15 easy DIY chicken brooder plans to make chick brooder inexpensively.
Our chick brooder ideas are really creative ways to make the inexpensive, safe, and functional design of chicken brooders. The list will cover a lot of unique materials participating in making a lovely chicken brooder, and this will make you say a big wow.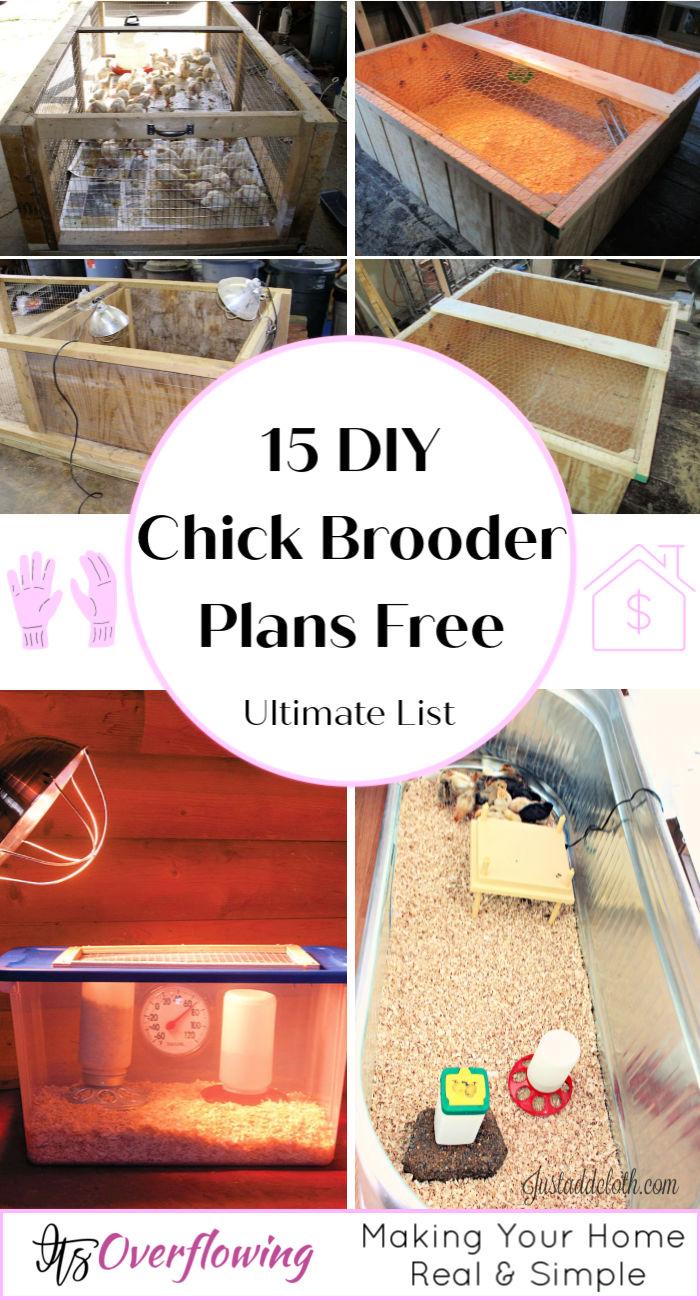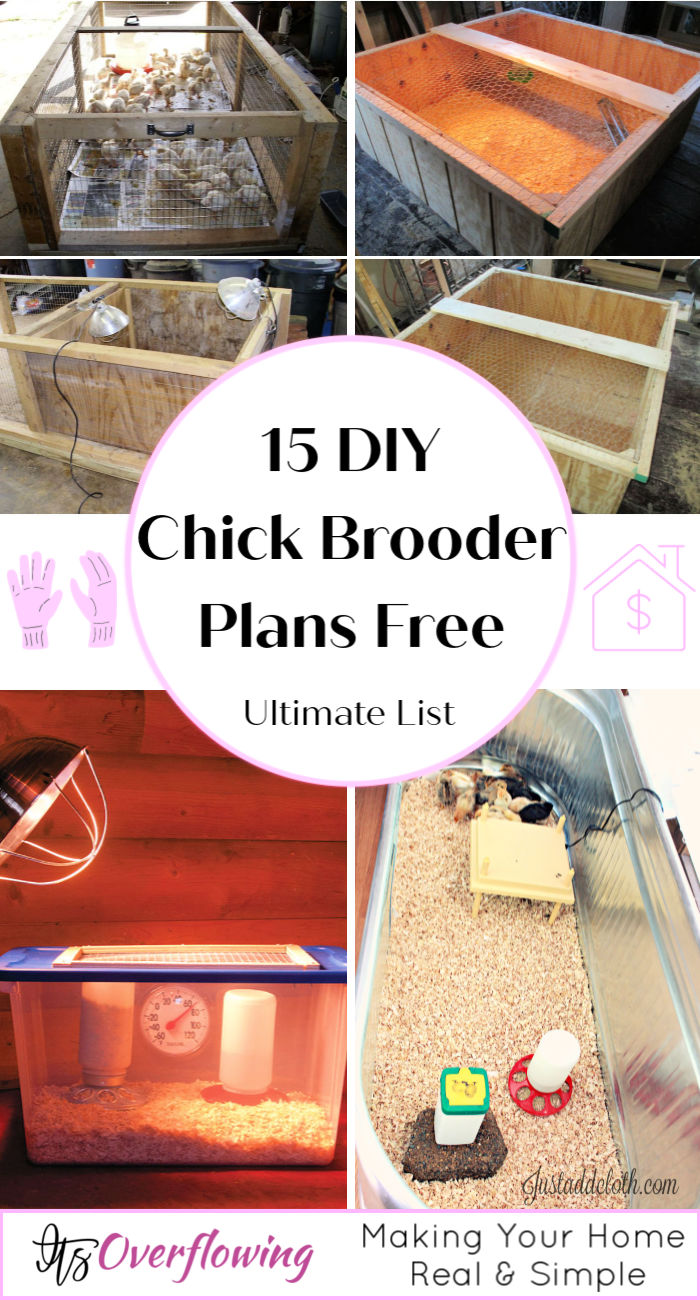 Take the hardware cloth in round shape and cover its top and bottom side with a kiddie pool making a lovely brooder. Grab the bigger opaque plastic containers and cut their lids out from the mid for a chicken wire patch to make a quick chicken brooder. Also, reclaim your old furniture items like dressers to make instant baby chick house and opt for a metal trough to build lasting longer and durable chicken brooder.
Moreover, you are going to look at various custom-built wooden designs of DIY chicken brooders. Build chick brooder manually in decided dimensions by following the step-by-step guides and instructions. Repurpose old bedsheets and curtains too to make gorgeous looking no-cost chicken brooders.
1. Plastic Container Chick Brooder Box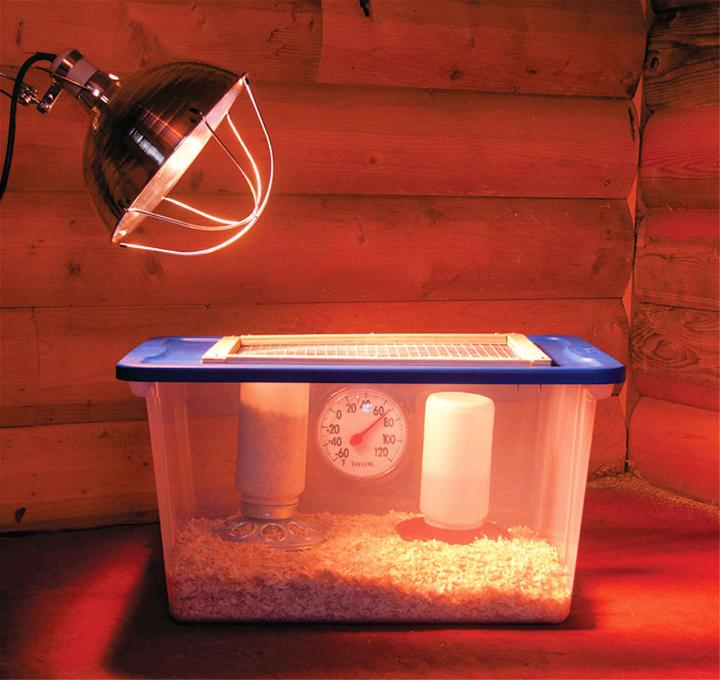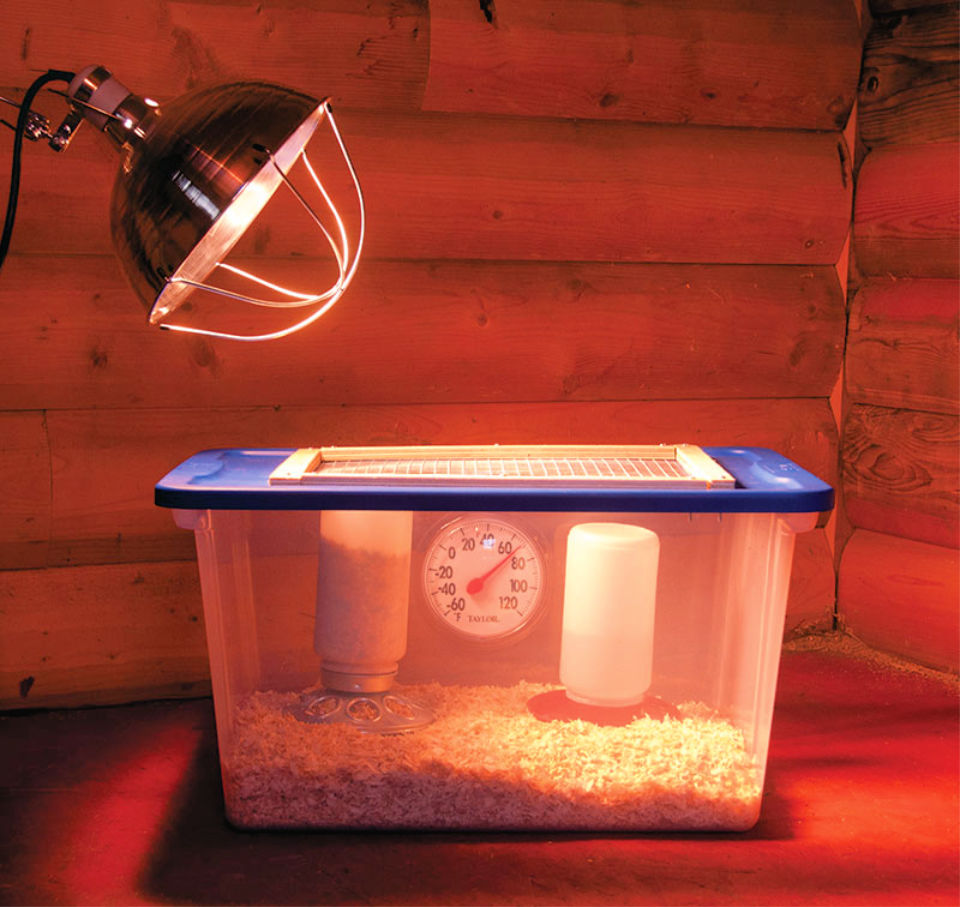 Raise your baby chicks in this homemade chicken brooder box, will provide the required amount of heat, and comes with a chicken feeder and a chicken waterer too. For getting heat inside, use an external brooder lamp having face bent down to the top of this chick brooder. It will rock for both newly hatched and young chickens. It will complete in 2 hours by an intermediate crafter. hobbyfarms
2. Building the Epic Chick Brooder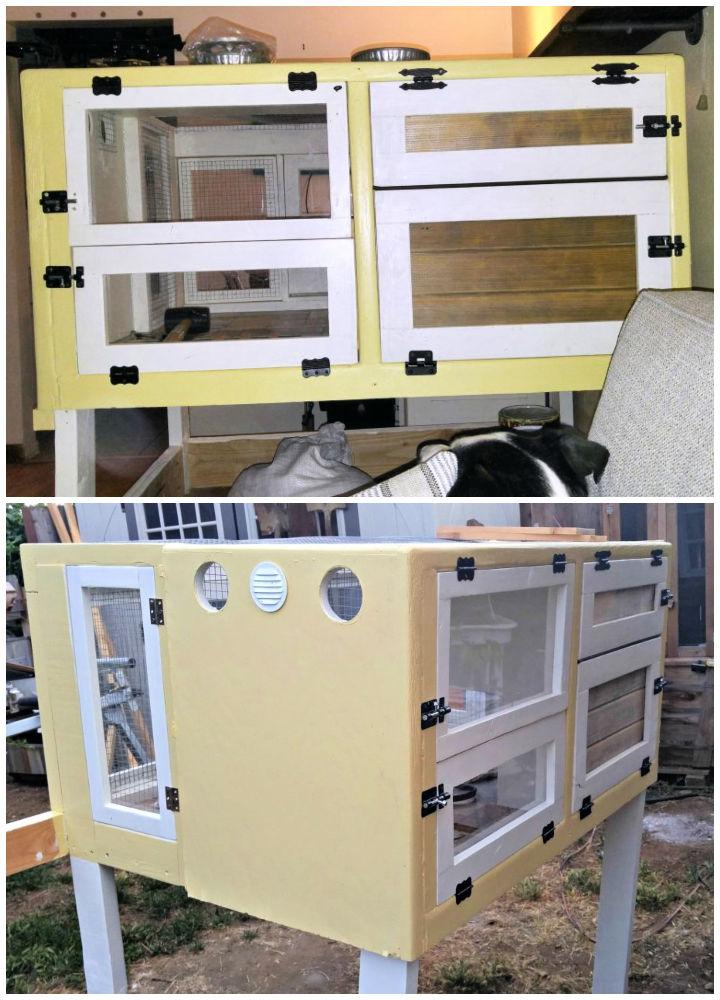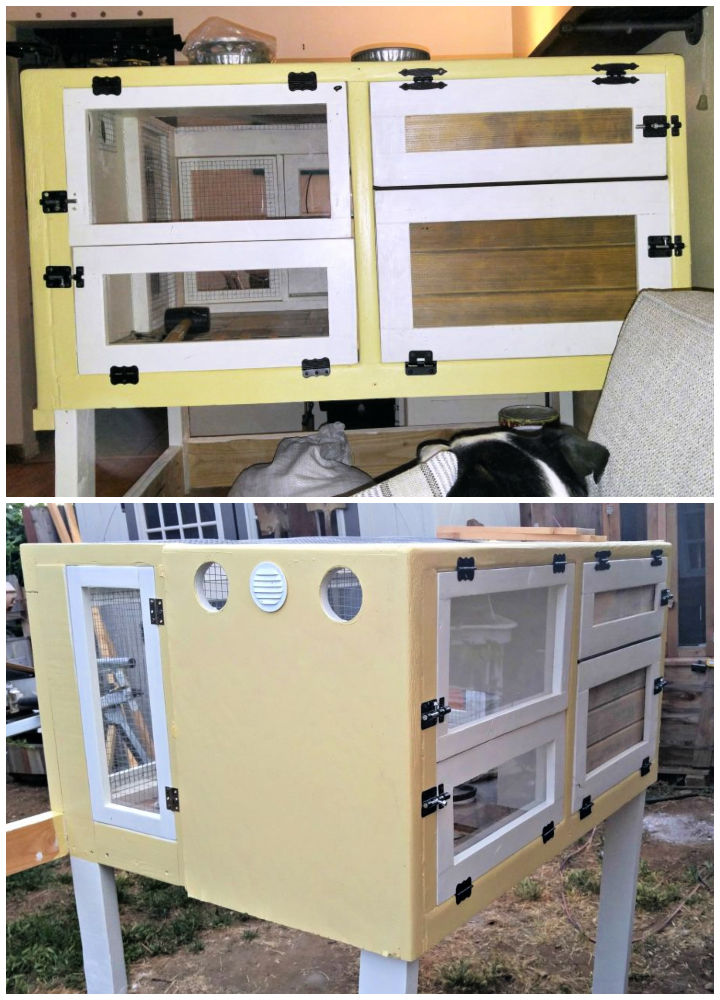 You will get ten out of ten to this epic chicken brooder. This actually a smart remake of an old wooden cabinet that has been added with extra wood components to serve as an exceptional chicken brooder. It comes on raised legs ending up with rolling casters. Detailed guides here littlefarmonthe
3. Wooden Brooder for Chicks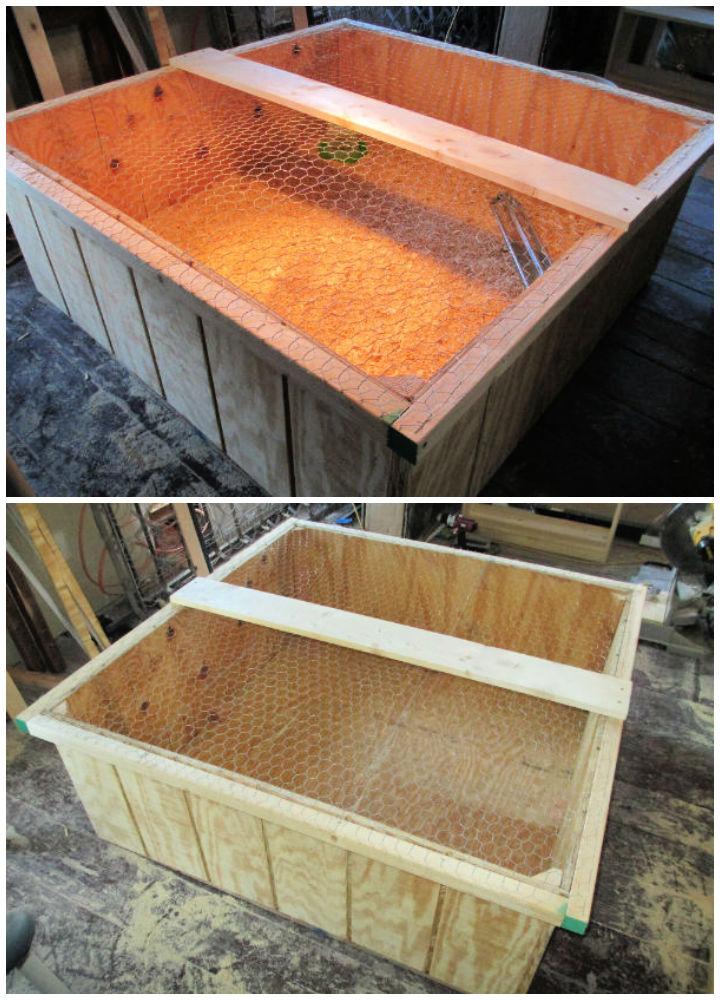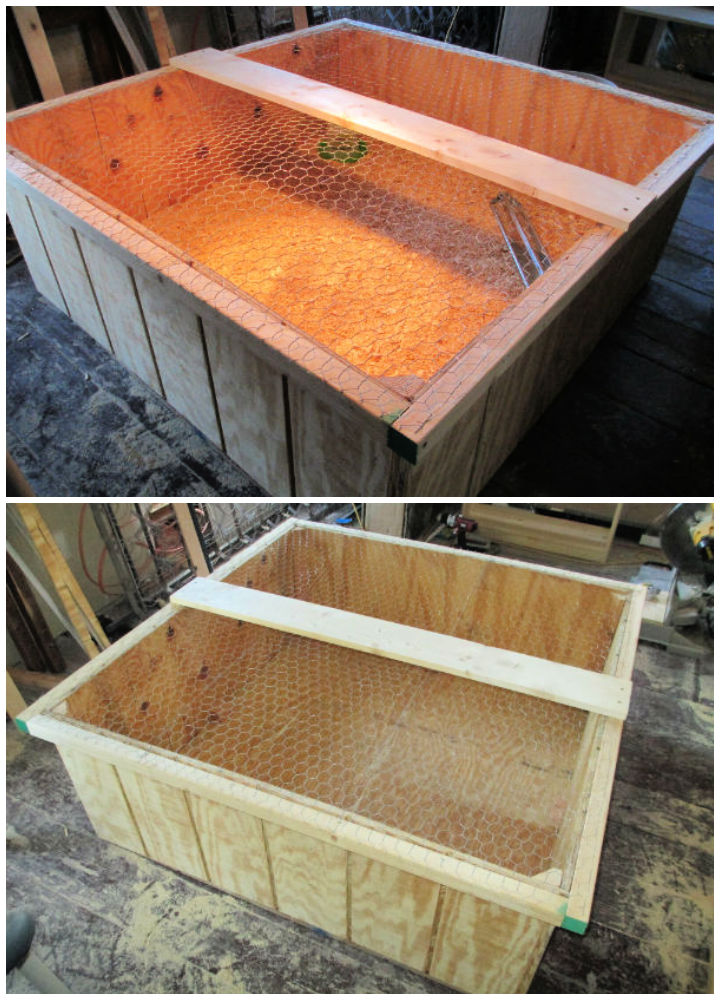 Build this wooden brooder for young chicks using leftover and recycled materials. To start brooding chicks just go with the recycled T11 sides having size 48inch x 18inch and use some triangular 2x2s scraps of 18inch length to install as corner braces. Add a solid bottom and chicken wire top lid. Finish this brooder house by installing an external self-standing pendant lamp as a heat source. scottfamilyhome
4. Upcycle An Old Dresser Into A Chick Brooder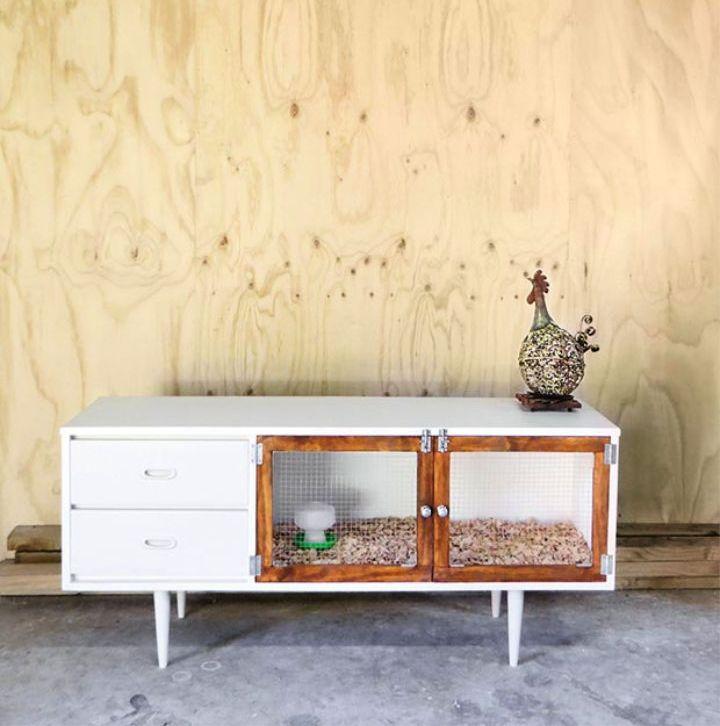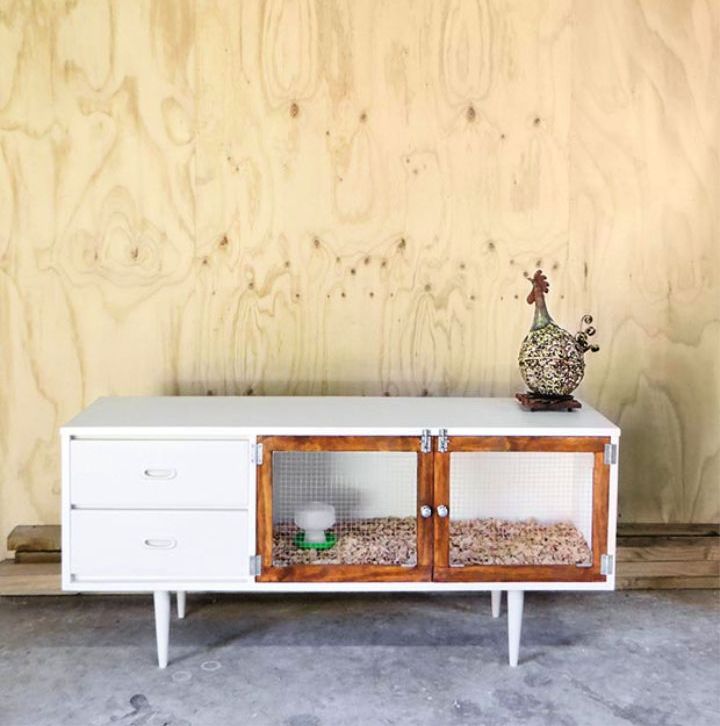 You will love this old furniture transformation that will provide ease in poultry. Just repurpose an old dresser and transform it into a chicken brooder. Just remove the back mirror and some drawers from the lower part. Add the chicken wire door to emptied out space and install a light or heat source. Find this brooder house with a free plan! thisnzlife
5. Build a Chicken Brooder in 3 Steps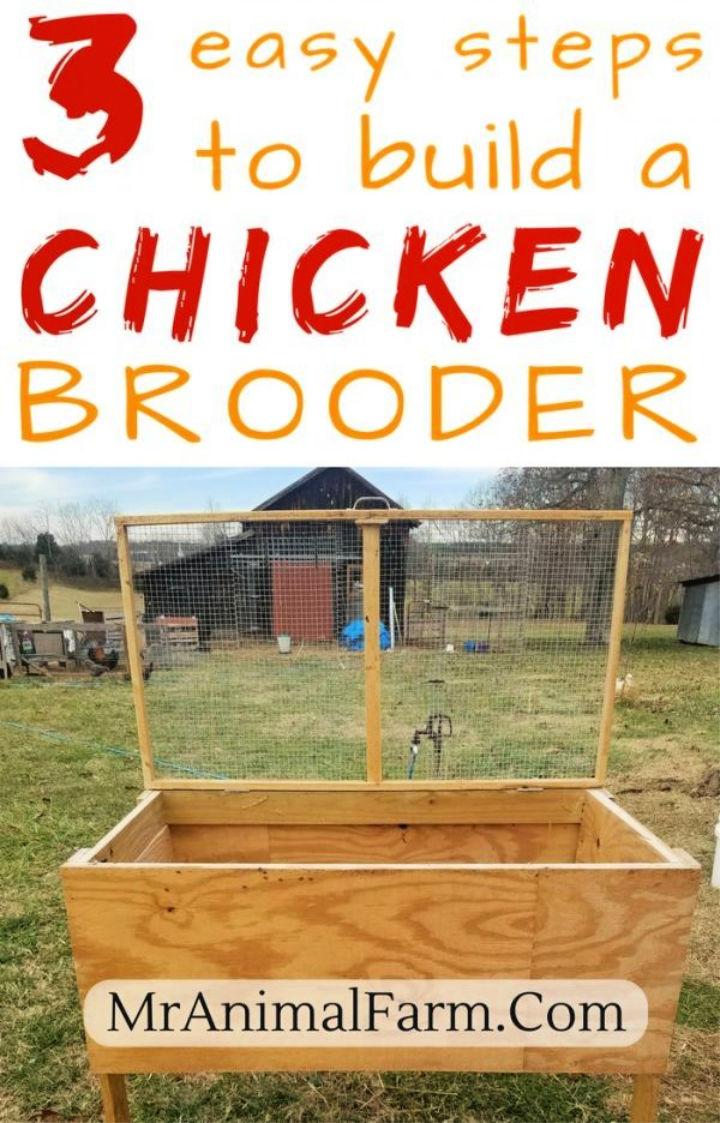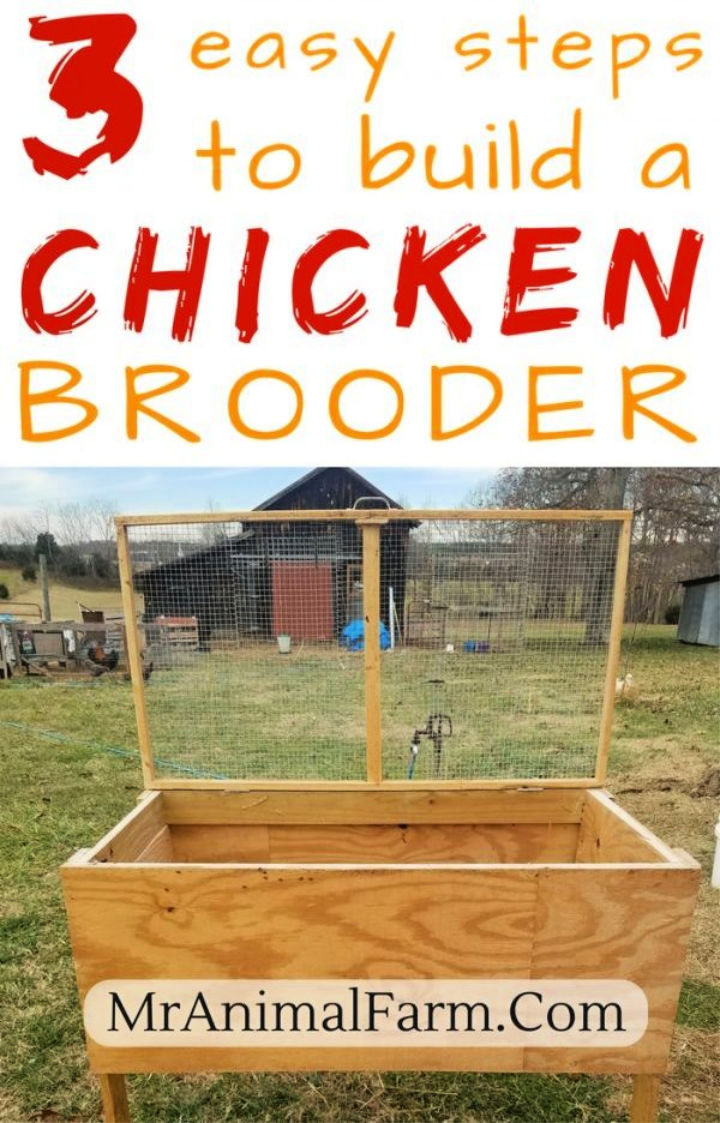 Get here free instruction to build a chicken brooder in 3 easy steps. Here you need custom wooden boards like 1×4, 1×2, and 2x3s and also the plywood to build this brooder. Use the galvanized steel hardware cloth for the lid and install an external light source. mranimalfarm
6. Brooder Box Or Rabbit Cage Combination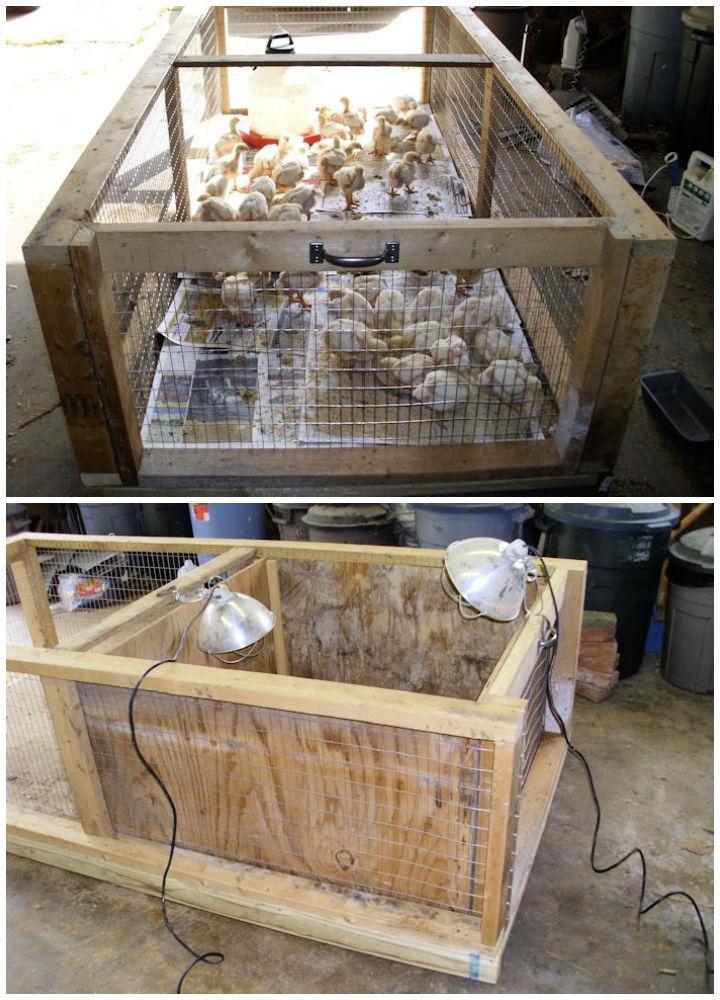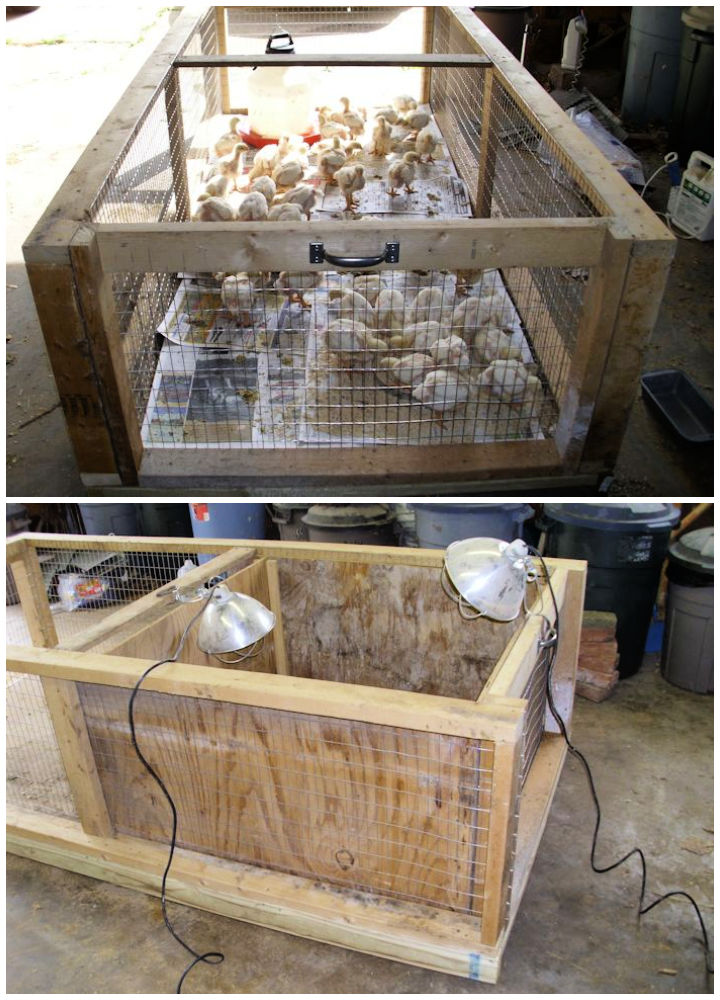 Are you looking for a baby chicken coop? Raise the baby chickens in this brooder box that will work great as a rabbit cage too. The completed size of this brooder box is 4'x8′ x 30" tall. Just use the lamp that you can easily fix on the top of the sides, which will be your light and heat sources there. Must make it start poultry. Details here johnmueller
7. Outdoor Chicken Brooder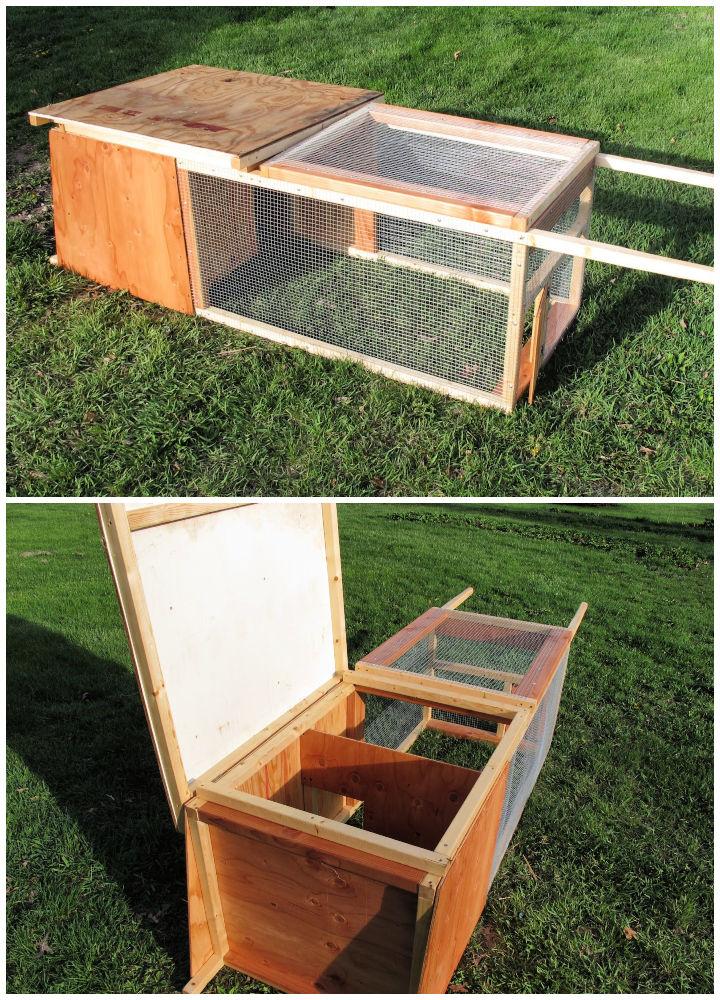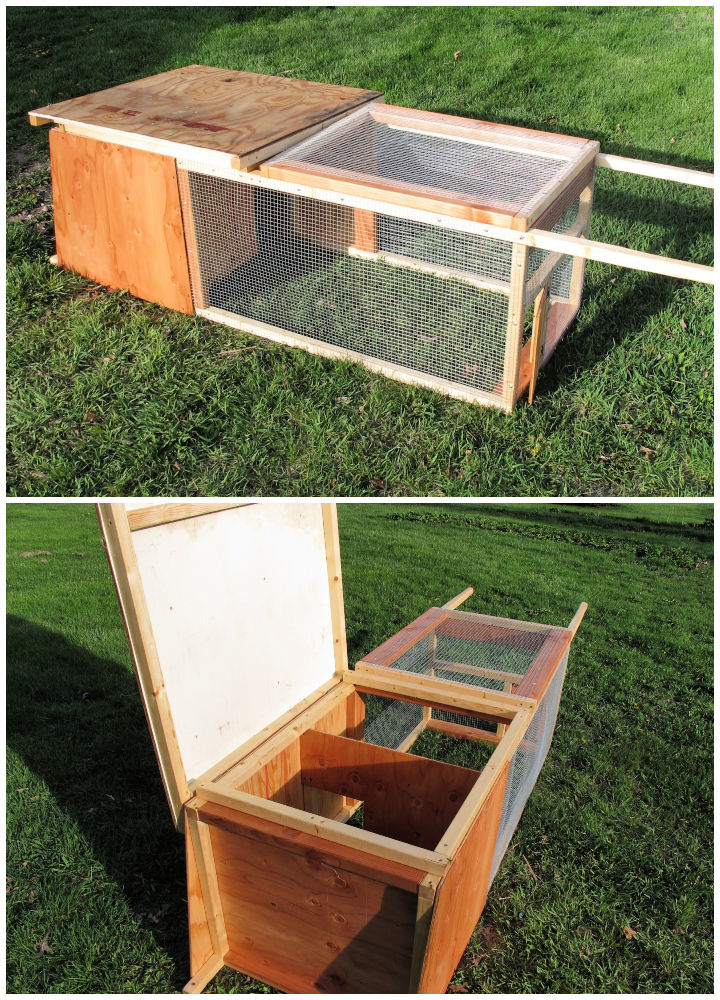 To build this DIY chicken brooder, you need 2×2"x8′ and 2×4"x8′ wood pieces. Next, you also need a 4′ x 8′ piece of 3/4" plywood to complete this outdoor chicken brooder design. Next, cover the sides using 12′ hardware cloth maybe 1/4" thick. Finish the design by adding 2′ pieces of the light chain. Note: you must use the chick brooder heater to brooding chicks in the winter. Details here wholeviewfarm
8. Homemade $125 Chicken Brooder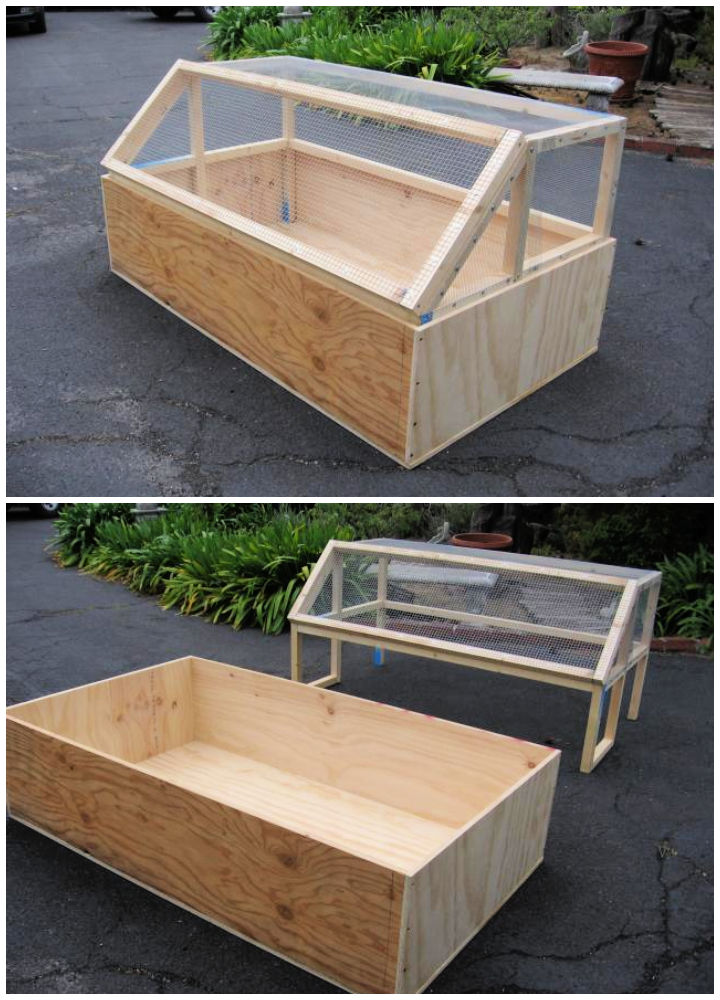 This the best one from our chicken brooder plans! Building this large chicken brooder will cost you $125, and it comes with a big plywood box in which the top frame can be rested upon. Build the big box-like bottom using 2 sheets of 4′ x 8′ plywood. Use the 2" x 2" x 8′ pieces and 1/4" mesh wire to build the top that comes with a sloped front lid. Details here backyardchickens
9. DIY Chick Brooding Cabinet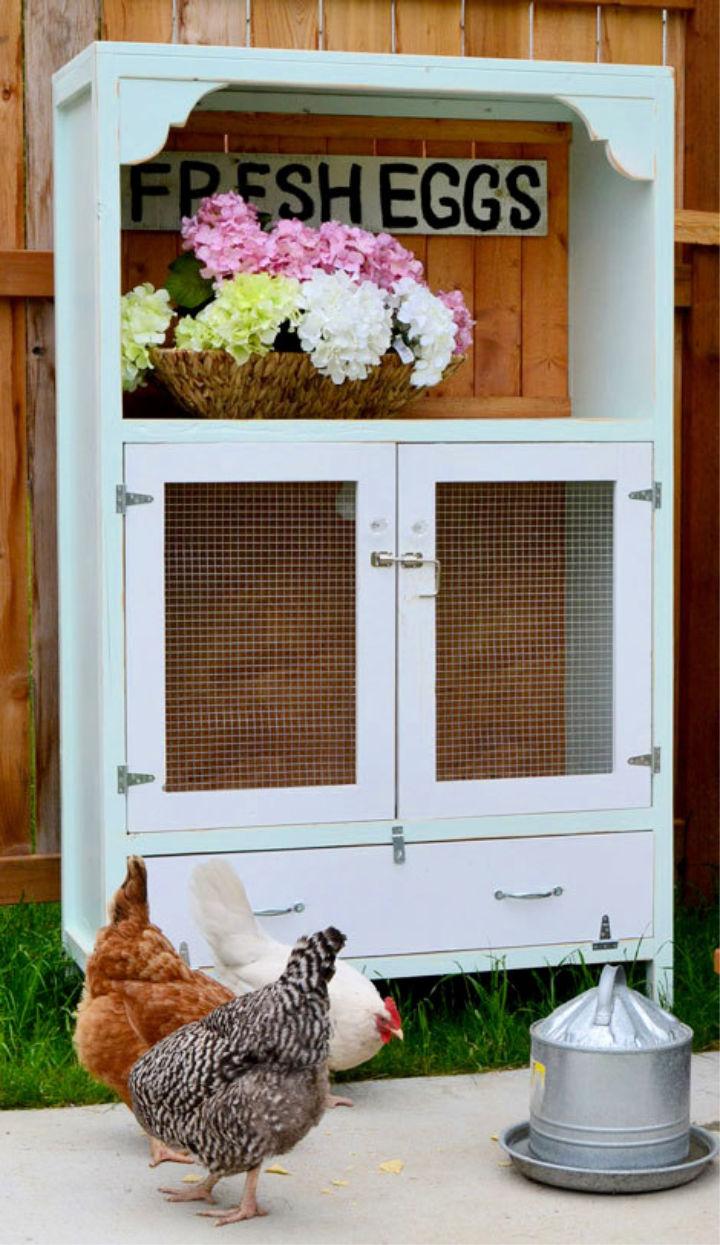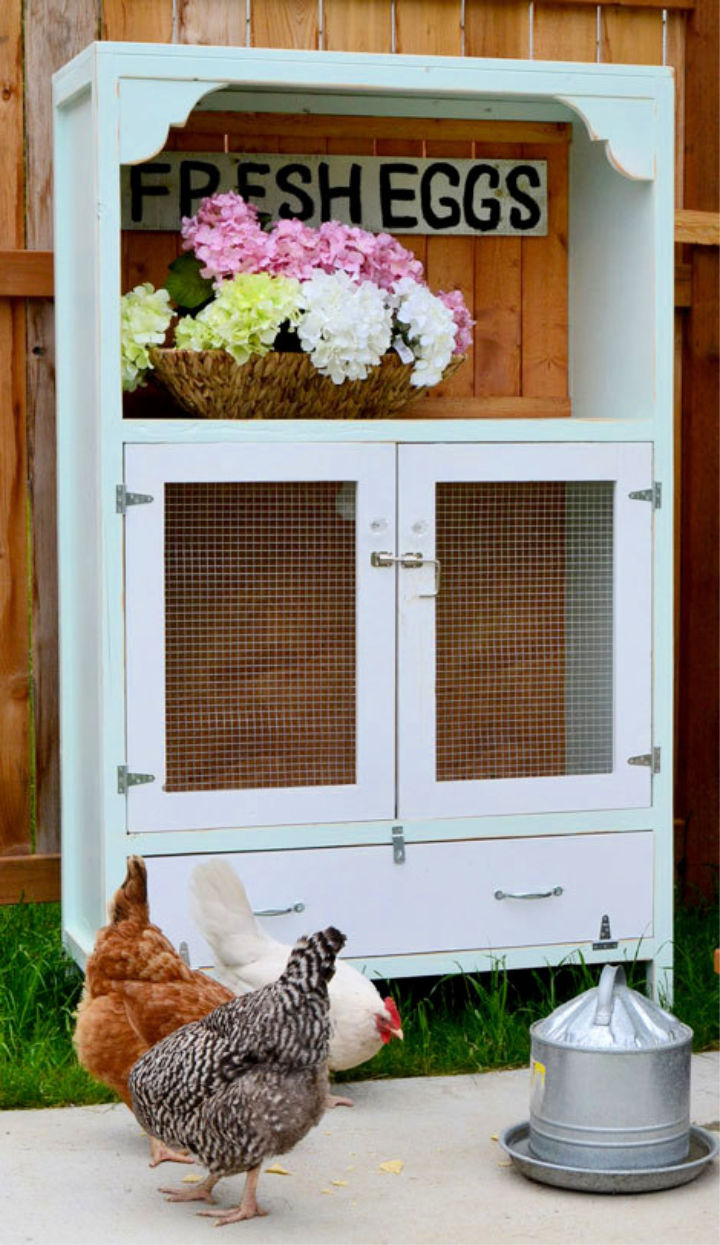 Get here the free chicken brooder plans for building a vertical cabinet style brooding cabinet. Grab a sheet of 3/4" plywood and 8′ pieces of 1 x 2, 1 x 3, 2 x2, and also 3 feet pieces of 1 x 8 to build this brooding cabinet. Complete this brooding cabinet using 36" wide hardware cloth or chicken wire. Details here Ana White
10. Kiddie Pool Chick Brooder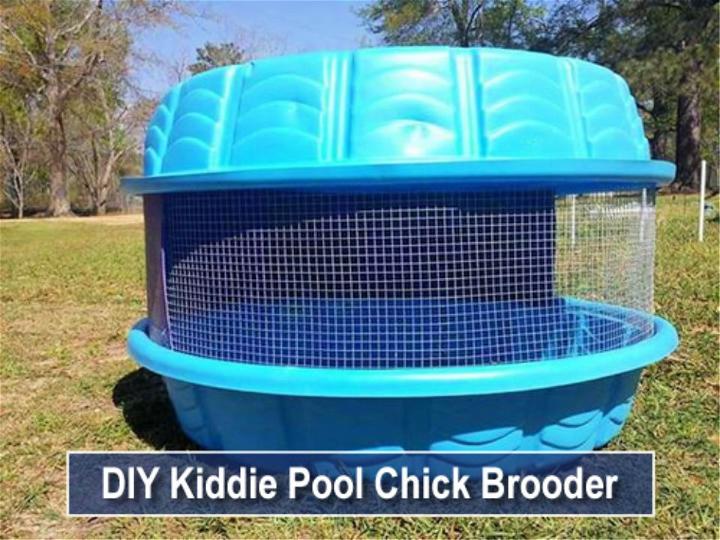 This chick brooder is cute like your baby chickens and just make it using 2 kiddie pools. Just put your washcloth around the perimeter of the bottom pool and use the zip ties to secure ends in place. Next, add the kiddie pool top and install a light source from outside to heat up the inside of the brooder. Details here homesteadlife
11. Best Chicken Brooder Box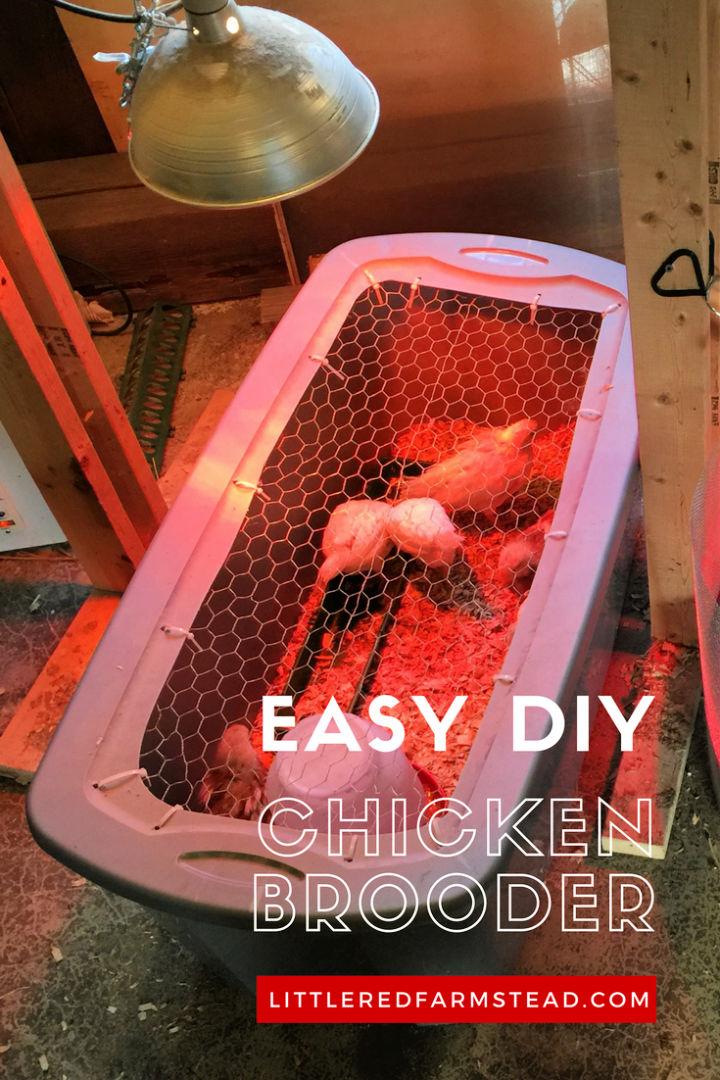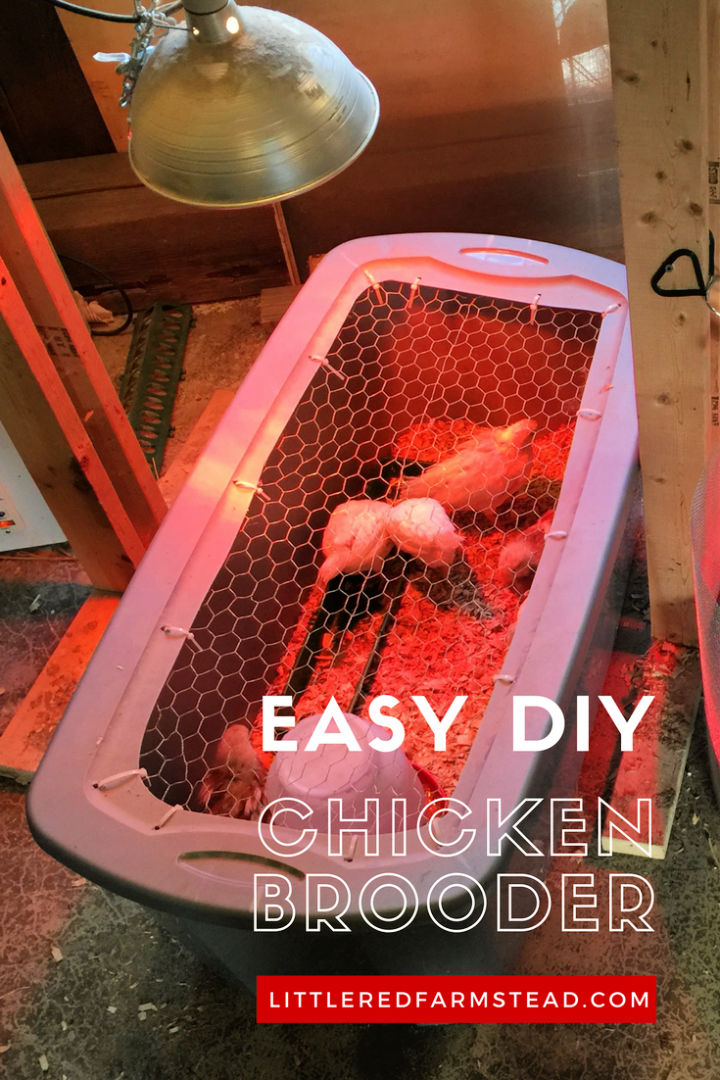 Raising the baby chickens may be tough but not with this chicken brooder box. This chicken brooder box is sweet and simple and is quite something quick to build. Grab a 50-gallon Sterilite tote and 25′ roll of chicken wire to make this best chicken brooder. Use the plastic zip ties to secure the chicken wire in place. Details here littleredfarmstead
12. Stock Tank to Chicken Brooder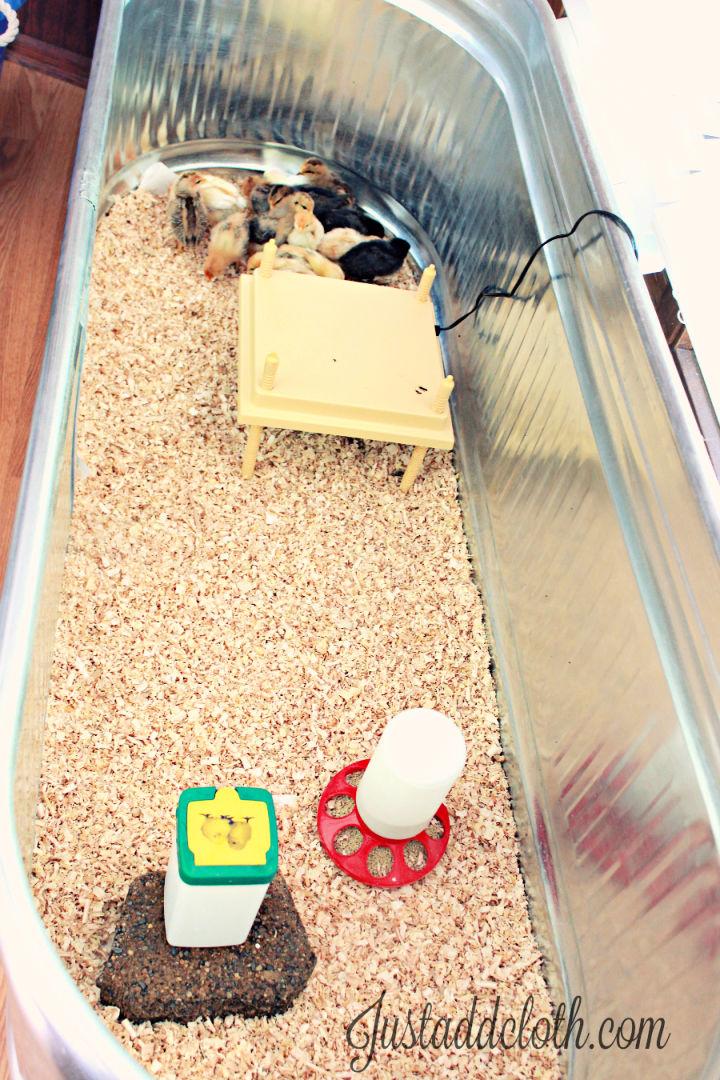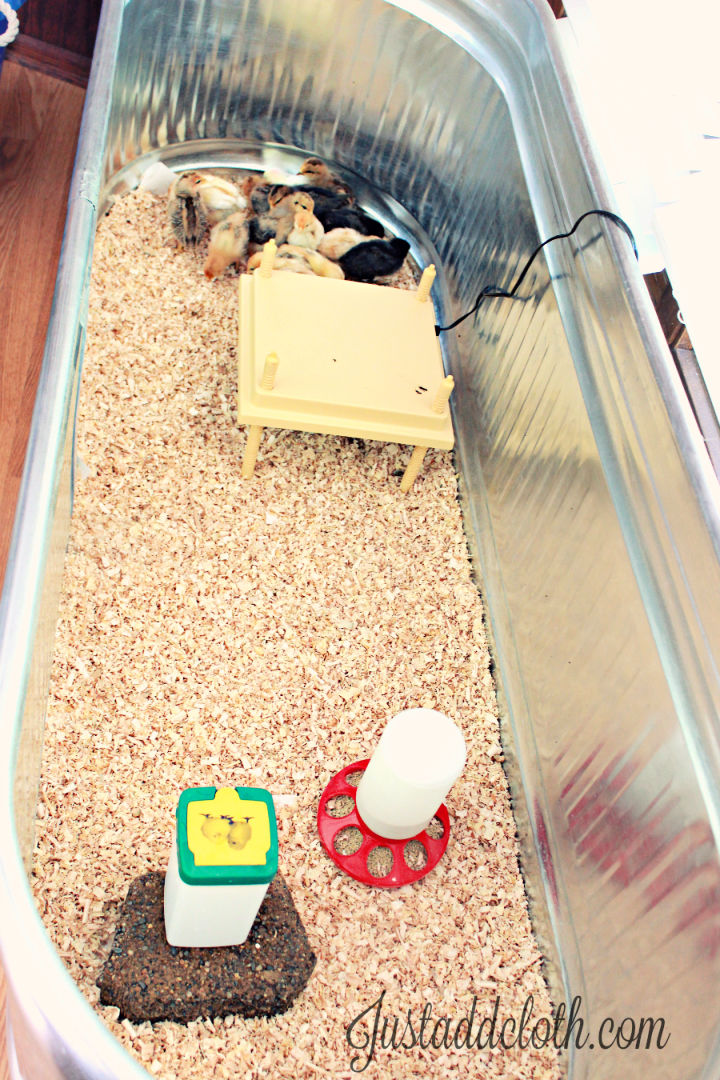 Build this quick and good looking chicken brooder with metal trough having size 2′ long x 6′ long and 2′ tall. Next, just install a heater, a chicken feeder, and a chicken nipple waterer to make this chicken brooder will make a sweet handmade gift to a poultry lover. Add the pine shavings inside and install the wire mesh cloth over the trough. justaddcloth
13. Expandable Chicken Brooder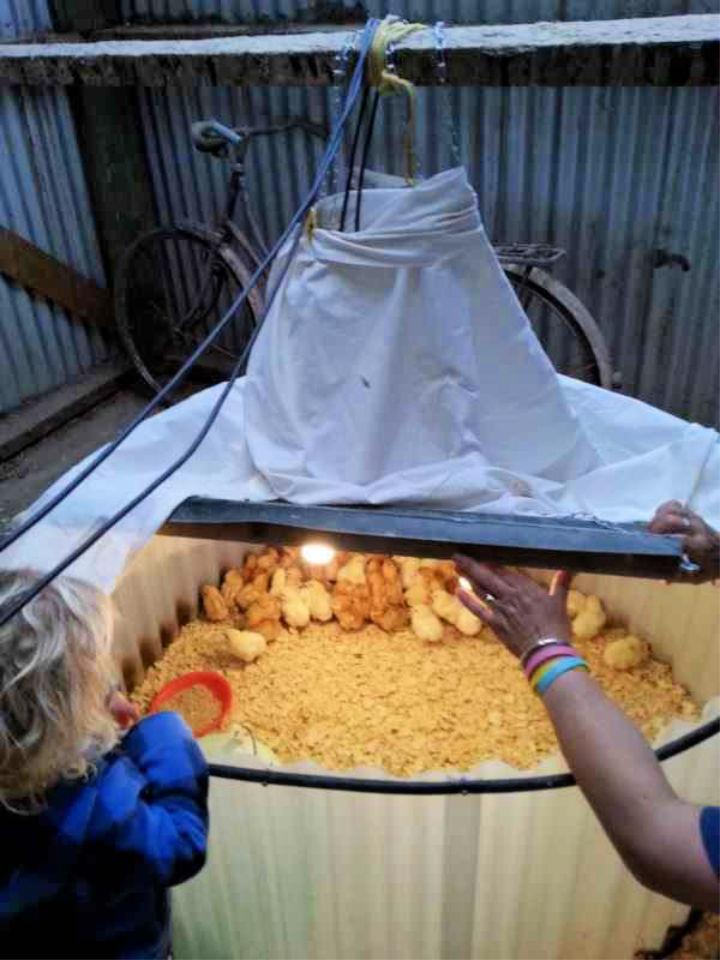 You will love this chicken brooder due to its expandable properties. Make it using a large bed sheet or an old curtain. Next, you need rope, 12′ of light chain 5 carabiner clips, or D bolts to make this expandable chicken brooder. Just add the wood shavings inside for extra comfort and heat to chicks. piwakawakavalley
14. Potable Chick Brooder / Baby Chicken Coop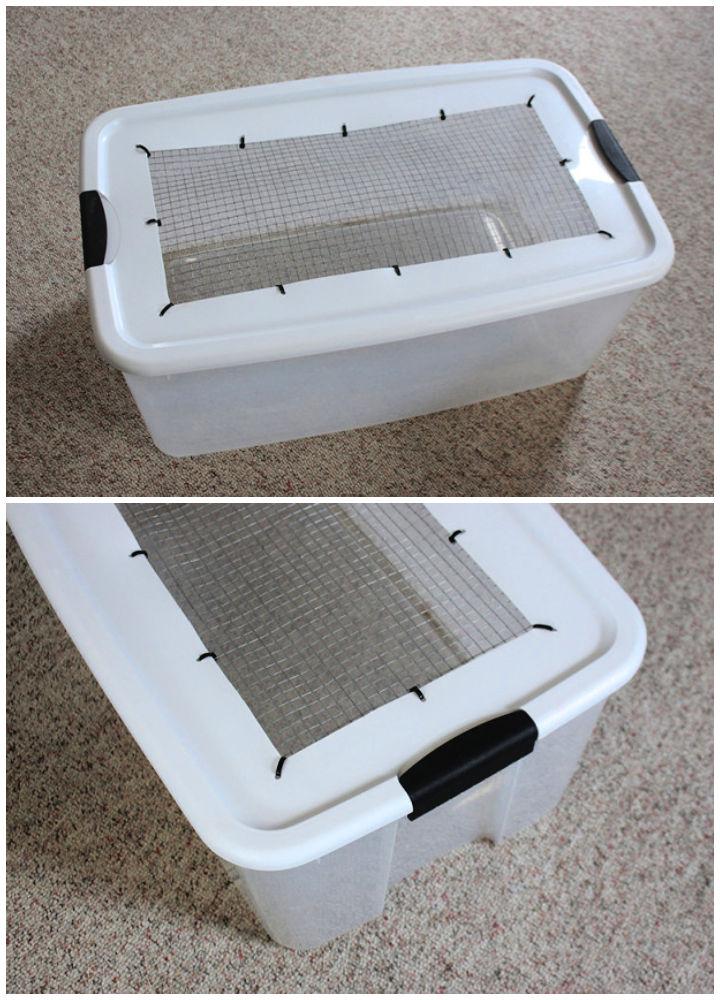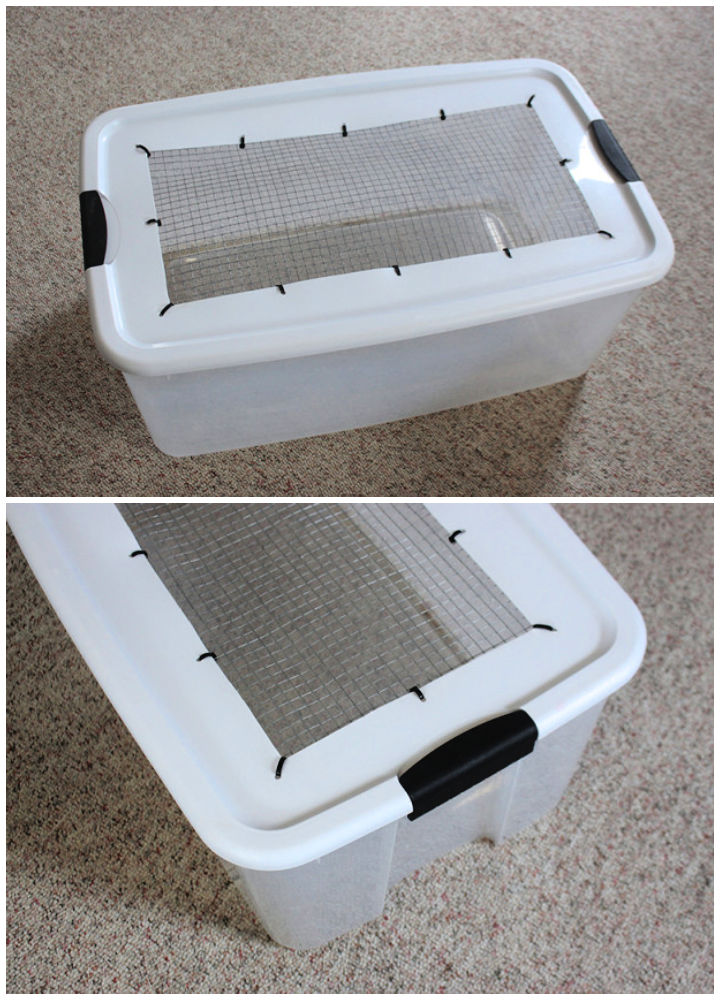 Build this chicken brooder using a large opaque plastic tote, just remove its lid and cut the inner part out. Fill the cutout game with chicken wire cover and get this potable chick brooder made. Just head it up by using an external lamp. Add some wood shaving, a chick waterer, or a feeder inside if needed. lifeatcloverhill
15. Build a Chicken Brooder at Home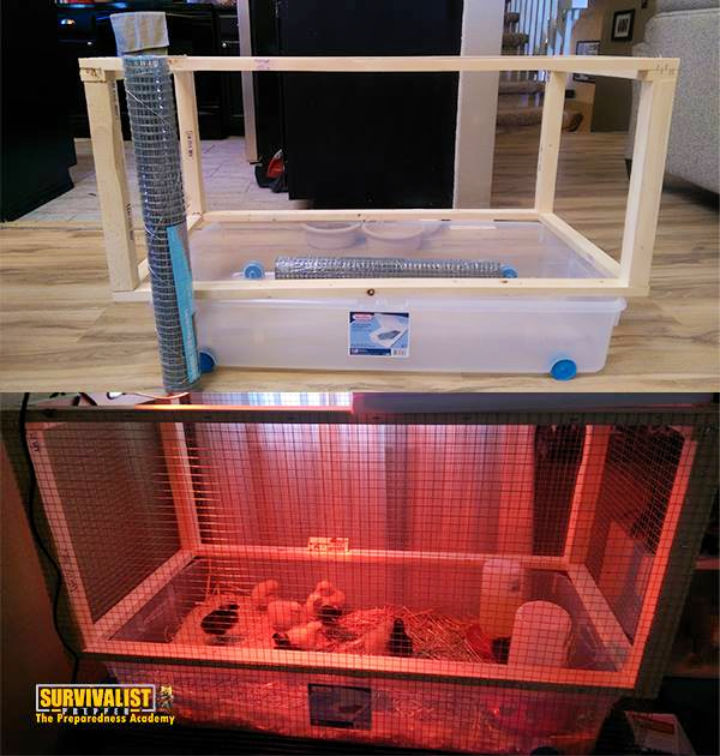 Get busy with your easy skill level and complete this chicken brooder design in 2 hours, having dimensions 39" long x 20" wide and 24" tall. Here you need a 40 x 20 x 7 plastic storage bin, 2 ' x 5′ hardware cloth, 1 x 2 x 8′, and 2x2x8' to build this chicken brooder. Details here survivalistprepper
Conclusion:
It is challenging to raise the safety of the newly hatched chicken. So, the DIY chicken brooders come for a big rescue, and they are expensive to buy at the same time when preferring designs with custom added features. So, try building your own custom designs of chicks brooder at home with these free chicken brooder plans that encircle a variety of items to use for making a brooder.
There are 15 chicken brooder plans for every skill level and for every budget.
Find Free Chicken Coop Plans
Learn how to build your own chicken coop with these most detailed free chicken coop plans and ideas. PDFs are included!