No need to panic anymore with a huge family just build a DIY octagon picnic table for your garden. The worry of entertaining a large family or guests over vacations will cease after you will explore these 10 free DIY octagon picnic table plans. It is very hard to adjust a large number of guests, whether friends or family, in one place. The hassle of arranging furniture for them to sit or rest is definitely too much. Therefore, these large round picnic table plans are perfect for accommodating big families. The best part about this round picnic table plan is that it requires very little place.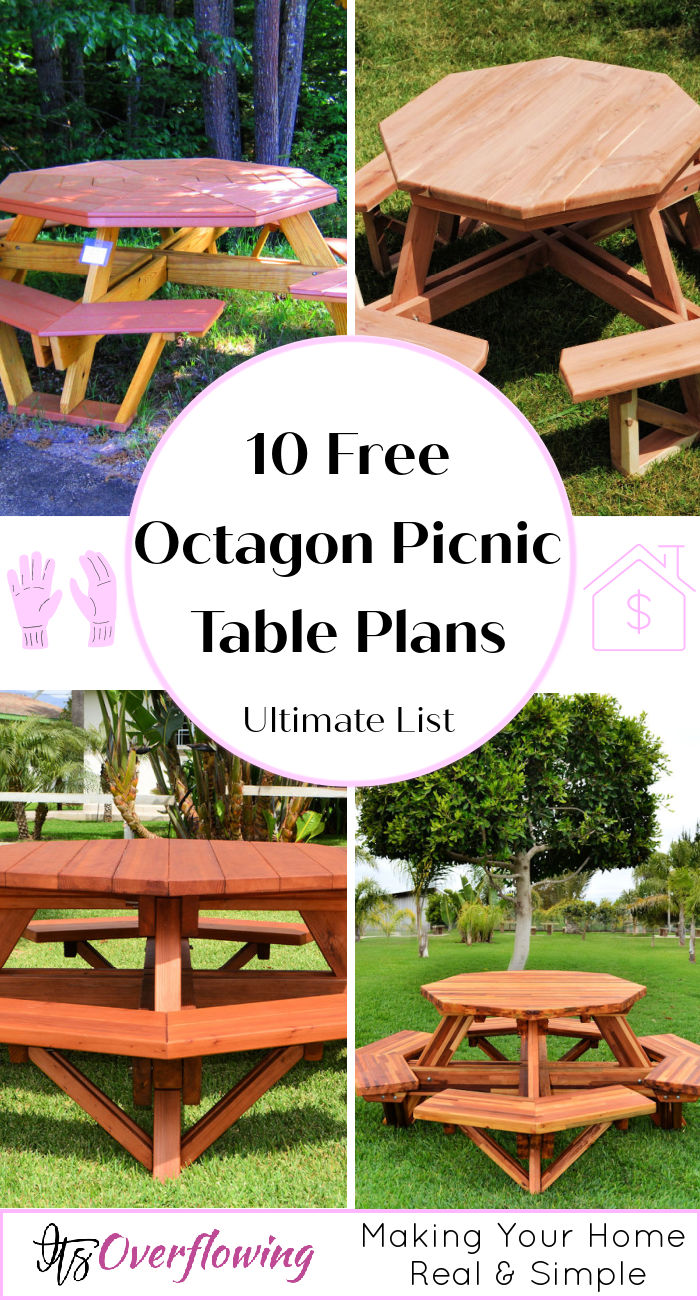 These octagon table plans are very simple to craft. You need little material and readily available equipment to make a spacious yet compact picnic table. The table has eight sides. Benches can be adjusted in different ways. Either place the bench at alternate sides or all around the table. All such picnic table ideas are explained in the tutorials below.
Hop on to them and choose the one which suits your requirements. You can construct this table at your backyard and enjoy the spring season with delicious BBQ. Or host as many playdates for your kids as you want! This octagon picnic table plans roundup has plenty of kids picnic table ideas too. Keep reading.
1. Build an Octagon Picnic Table
This eight-sided table will be perfect to gather your entire family at one table! Get started by hitting the link below and walking through the video guide. It's not that hard to make, all you need is your basic woodworking skills.
2. Ana White Octagon Picnic Table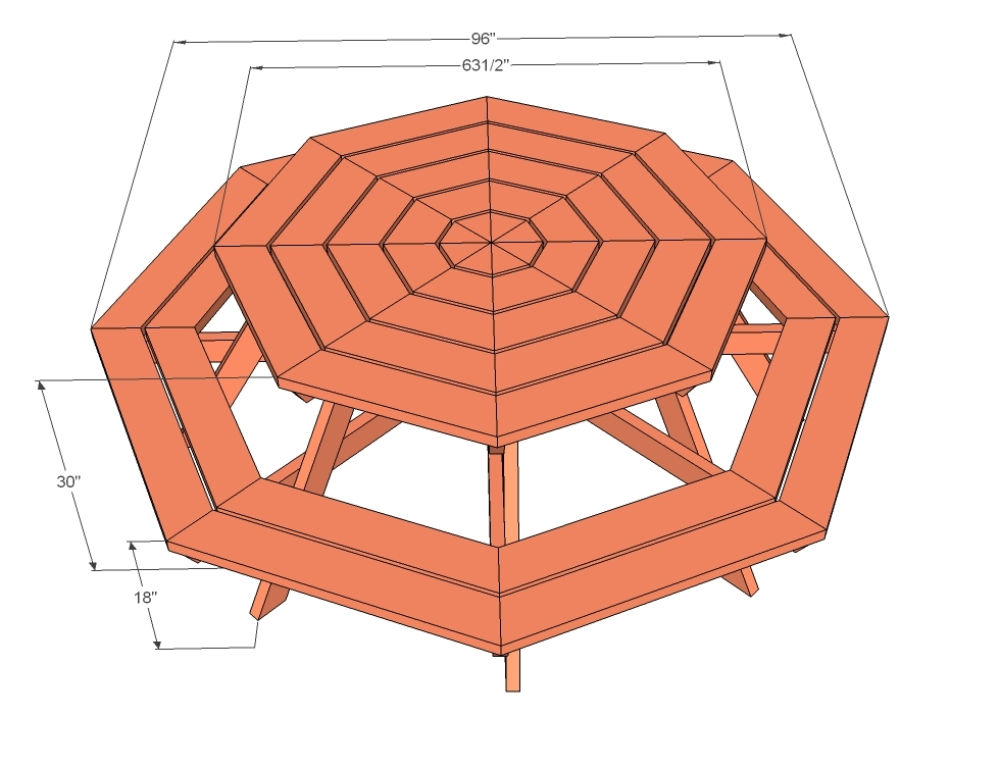 Collect your supplies for this Ana white octagon picnic table. You will need screws, wood glue, and filter, primer, hammer, sander, and drill for this project. It a fantabulous build, about eight feet wide. For any BBQ night, make it worthwhile with this table to host the party on. ana white
3. Octagonal Picnic Table Plans
This octagon picnic table can be a perfect picnic spot for your friends to enjoy the meal and the gossip. This project might look a little perplex to at first glance, but you can use the plan to build it up single-handedly. Along with lumbers pieces, you need a few more supplies. Check here myoutdoorplans
4. DIY Octagon Picnic Table
There is nothing greater than having a perfect dine out place in your backyard or front lawn. This octagon picnic table can be your very own picnic spot inside the comfort of your home. Gather supplies including lumber (for cutting list, click here), safety gloves, miter saw, drill machine, and a few more supplies. howtospecialist
5. Octagon Picnic Table with Attached Bench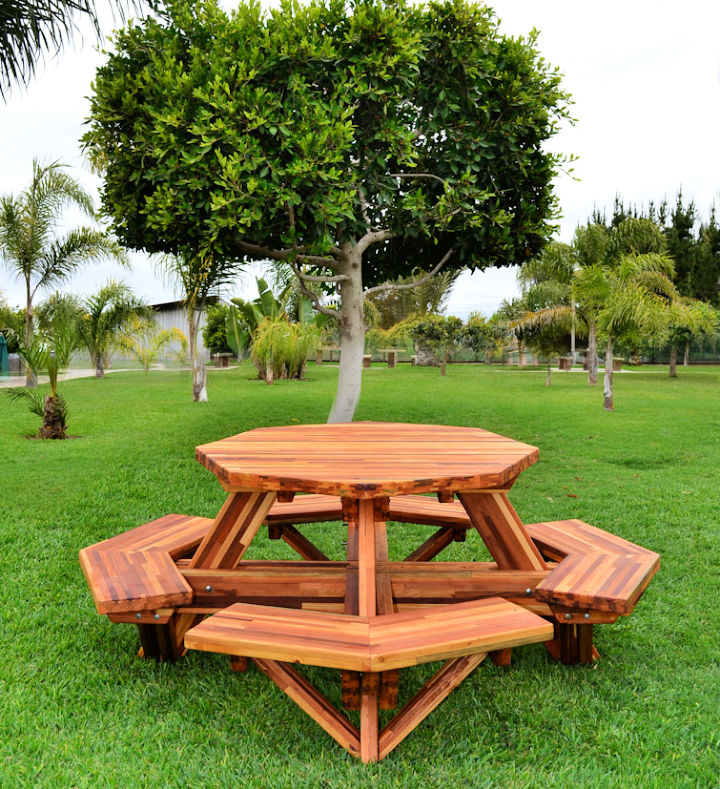 The benefit of an octagon picnic table with benches attached are many! No more dragging chairs in an out of the house, plus the shape octagon itself, gives the table more space. Gather supplies, including few pieces of lumber, saw drill machines and bits, screws, and nuts.
6. Wooden Octagon Picnic Table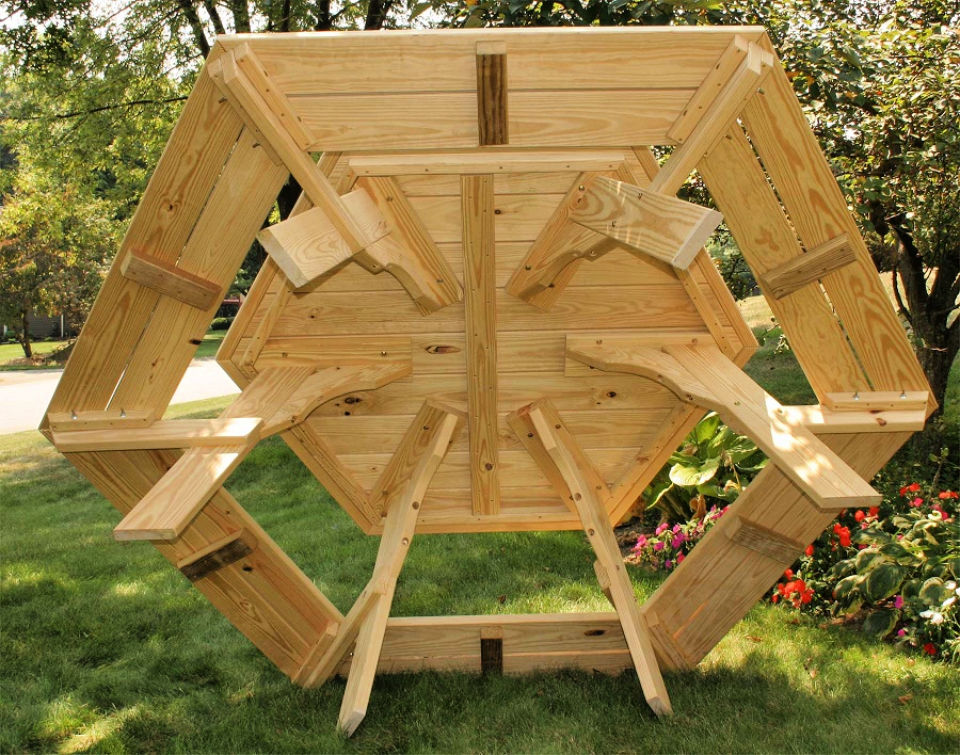 We find this table oh so exquisite, and well, it is huge to perhaps hold a large gathering outside easily. Investing time and effort in such a masterpiece is way more attractive than buying a pre-fabricated one. Use cedarwood along with drill, bolts, screws, miter saw, safety gloves and glasses to get started.
7. Octagon Picnic Table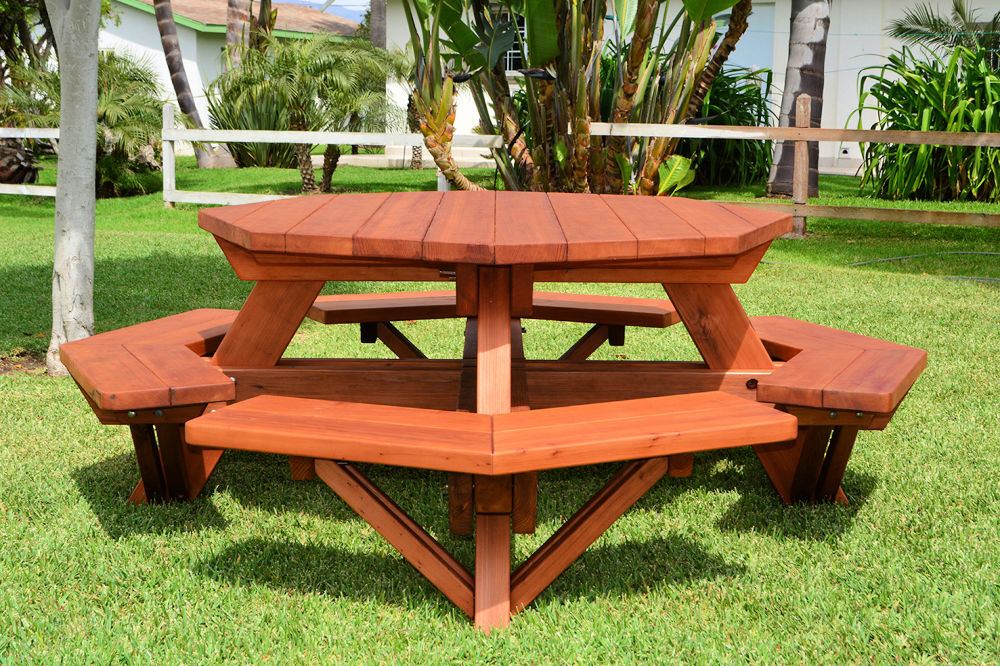 Summertime means a lot of outdoor activities and fun! The outside coloring book time with your kids can be made much memorable. Gather your supplies to assemble the frame, tabletop, legs, bench support, and benches to form it into a fantastic octagon picnic table and enjoy
8. Octagon Picnic Tables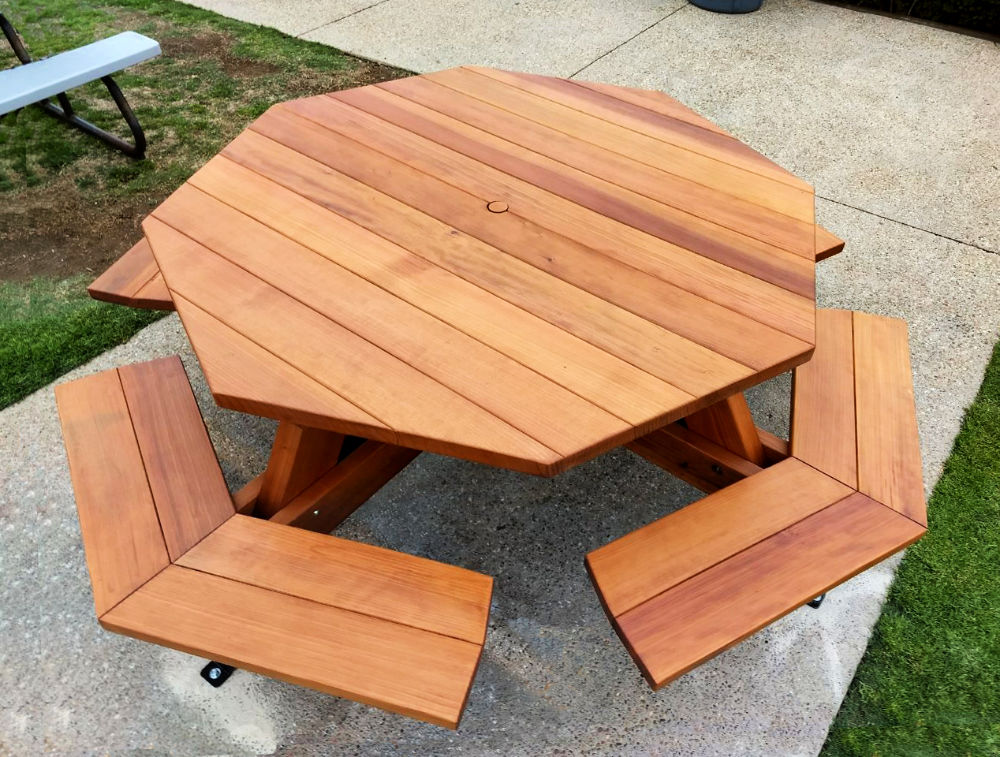 Well, for the record, you must invest in something that has to offer long-lasting benefits. Otherwise, what is the point of wasting money and time? That is why building this octagon picnic table at home is not just productive and freshening but also rewarding! Go and get started.
9. Hybrid Polywood Octagon Picnic Table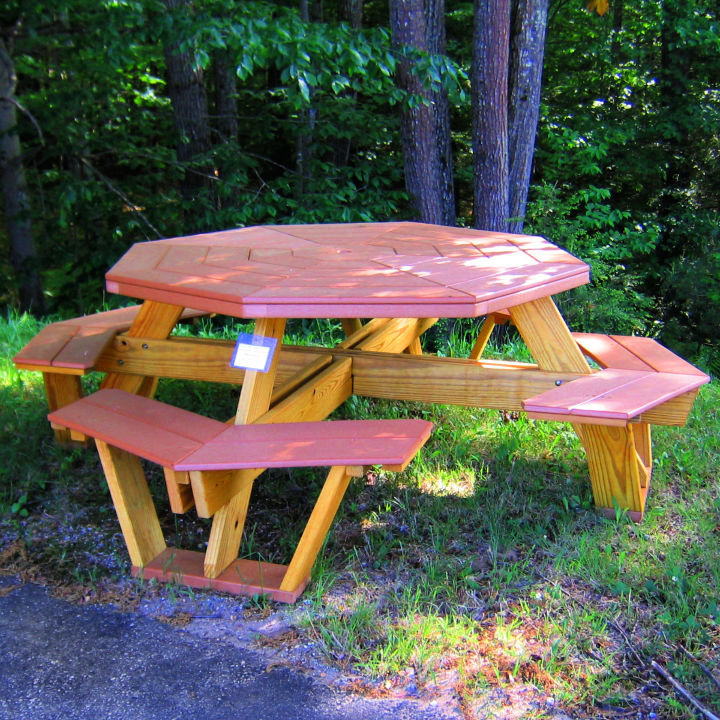 Make your backyard a place to host a barbecue party and have many more garden parties with your loved ones. Also, you can spice the party up with this hybrid poly wood octagon picnic table. It will let you enjoy more by gathering together to eat and chat in one place.
10. Kids' Octagonal Picnic Table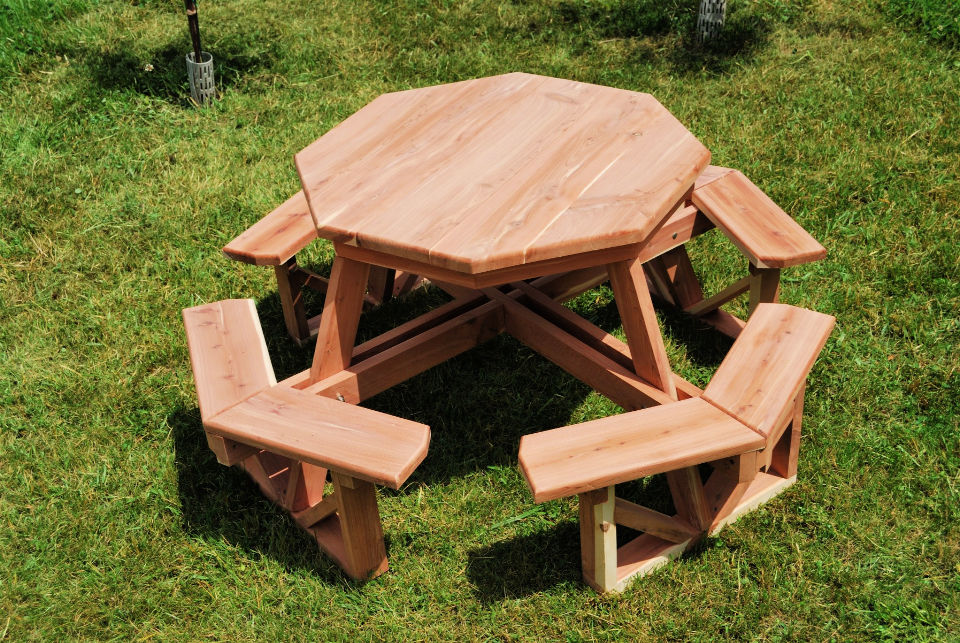 Kids outside time are the need of the hour! Amidst all the technological specters taking over our lives, it's time to change! This project will be an excellent source of teaching your kid's manners of sitting together, sharing food, and how to be nice to others outside the video games. It's a perfect place to start the outside, open-air life.
Conclusion
Time to equip the lawn of your home with a stylish and useful table. These simple octagon picnic table plans are perfect for hosting outdoor brunches and BBQ parties. Also, a relaxing sunbath can be taken in cold weather at these tables.
These picnic table plans are extremely easy to construct and are very useful throughout the year. Have a gossip session with your friends at this table and get appreciation from them on your creative side of personality.
Related DIY Ideas:
DIY Coffee Table: Want to build a coffee table? We've got our favorite DIY coffee table ideas to give you inspiration and give a try.
DIY Outdoor Furniture: Easy to make DIY patio furniture for your outdoor space! These patio furniture ideas includes unique outdoor furniture, bench, couch, table, planters, and more using tires, blocks, wood, and more.