Just as your car needs fuel to get started, the fuel for your body is a cup of coffee! By installing any of these 15 unique DIY coffee station ideas at your home, get your coffee bar up and running at all times. Caffeine is an addiction for all coffee lovers in the world. So, it's really inevitable to resist setting up your own coffee station at home. Setting up a coffee bar now is really easy to attain after following a stepwise process. All the while, transforming an area or spot that can be your comfort zone to set foot in, the first thing in the morning. It has to be functional, accommodating, and easy to maintain and afford. If anything, our roundup of these 15 DIY coffee station ideas that are easy to build at home.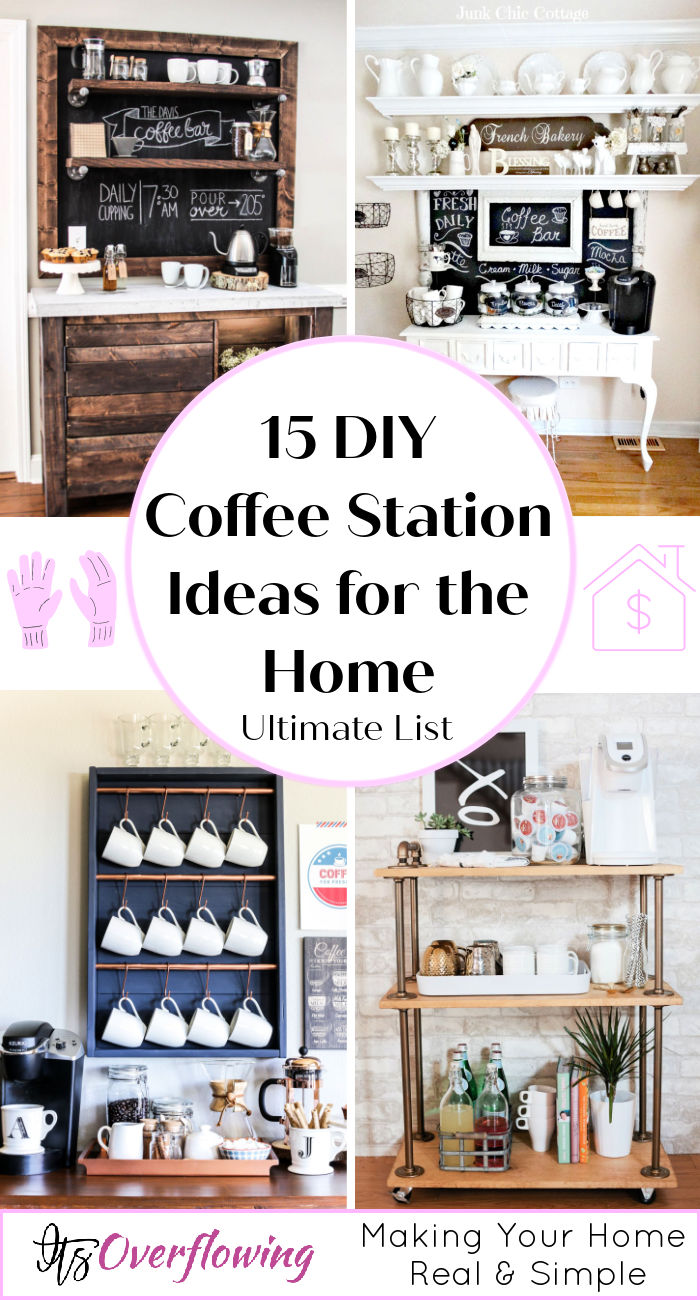 As they say, an apple a day keeps the doctor away. It is said about coffee that, "As long as there's coffee in the world, how bad can things be." Well, well, now isn't that just insanely true? Beat the Monday blues or any dull day vibes by pouring yourself a refreshing cup of coffee. That too from your very own coffee station, install these at home or at your office. Set up a stylish coffee bar or makeover an old one, there are quite many interesting coffee station ideas. All are easily DIY-able, so pour yourself a cup of coffee, awaken p your mind, and get started.
1. Black Pipe Coffee Bar Station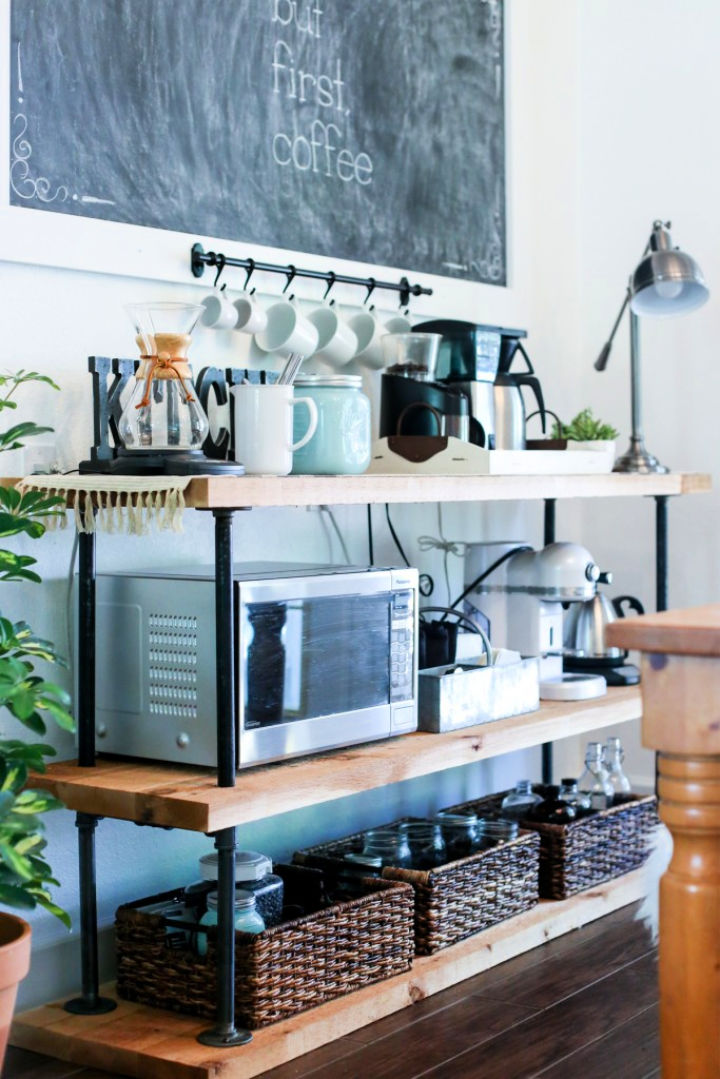 Start your day with a steaming cup of coffee with an elegant DIY coffee station. Start by measuring the size of the area first to make the cuts! Get the list of supplies and cutting details here. Once done, add some woven baskets or empty jars to fit everything with coffee stuff in one place! livesimply
2. Rustic Kitchen Coffee Station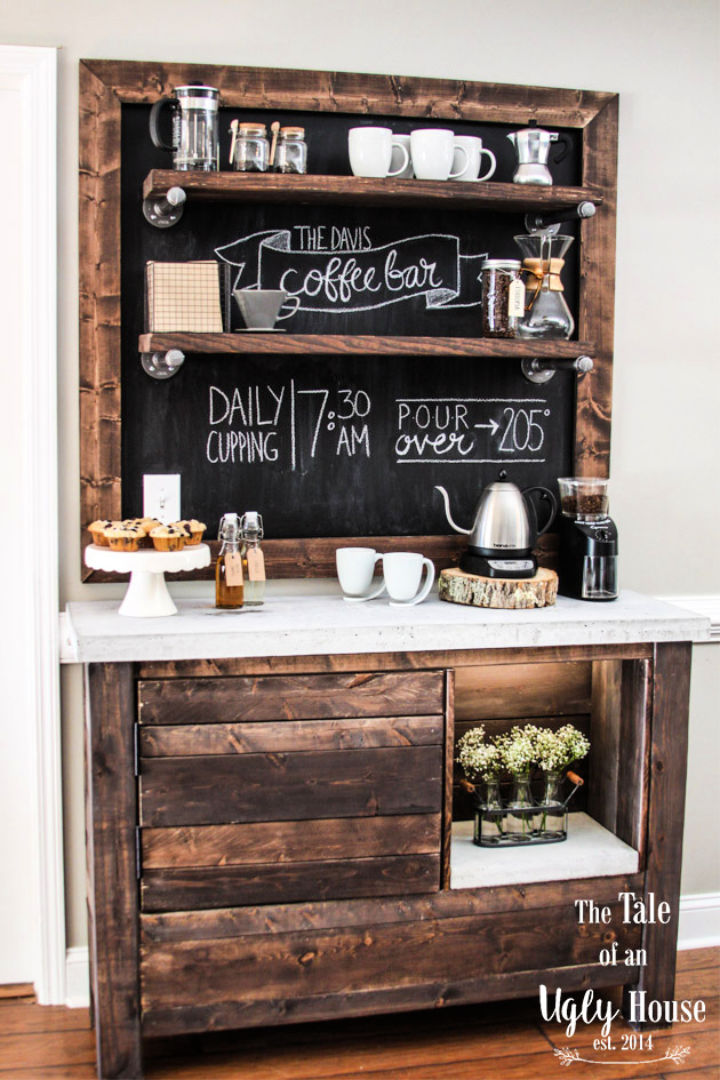 When the cold weather seems to be prolonged, the best part of staying indoors and getting an energy boost is a steamy cup of coffee. A rustic coffee station might be a nice idea as you can give an antique look through it whilst fitting a lot of kitchen appliances in it. Have a look! sincerelymaried
3. Large Coffee Station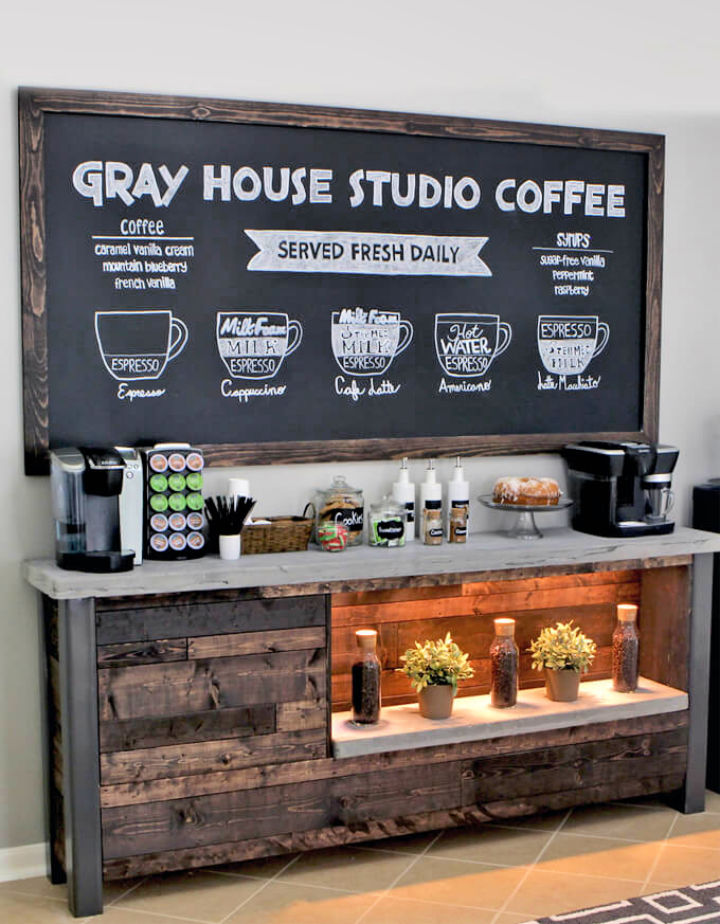 Dream BIG by building your own DIY coffee bar and binging the restaurant coffee to home! Store your K cups, cookies, or other coffee delights there too. Add a chalkboard, write down your favorites! Enjoy the complete vibe. grayhousestudio
4. Coffee Bar Stations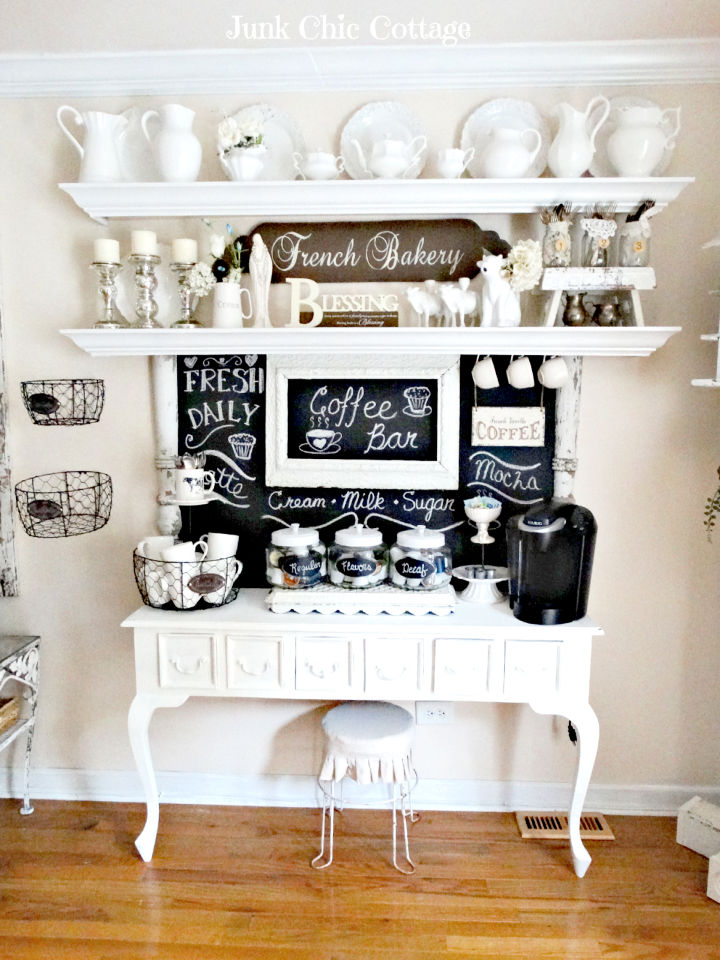 To be able to enjoy a steamy and frothy cup of coffee every day at home is easily possible now. All you have to do is set your own DIY coffee station at home and customize it according to your own needs and comfort. You can design a shabby yet chic background. Just add some magic of chalkboard paint and your creativity together! junkchiccottage
5. Build a Tea & Coffee Station Table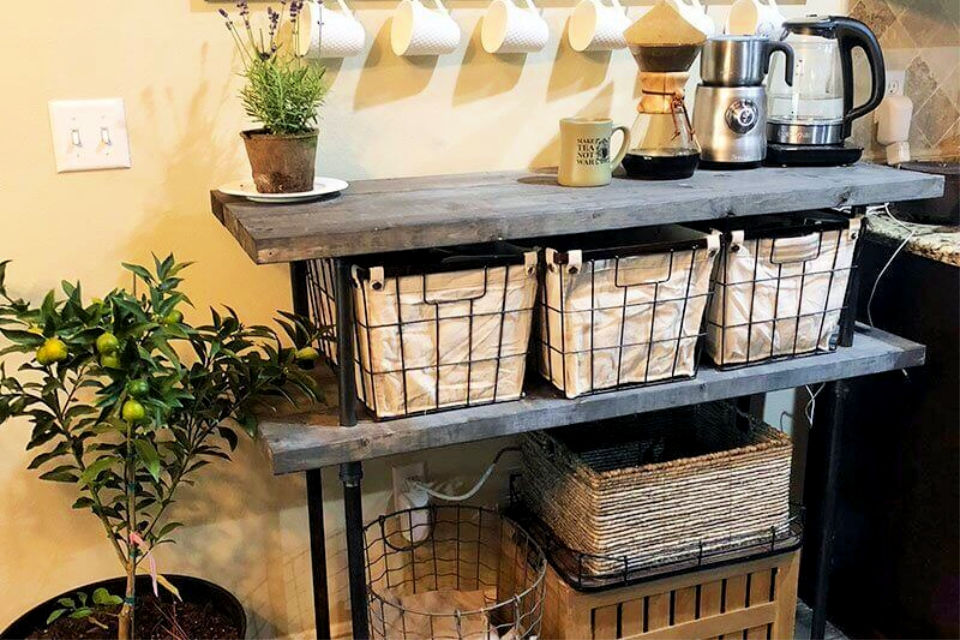 Designing your own coffee bar is now just a few steps away. It's within reach to DIY at home. Just measure out the width and height of the kind of wood you want to use and build your own coffee station table. Get all the help you need from Well Ness Mama!
6. Stylish DIY Coffee Bar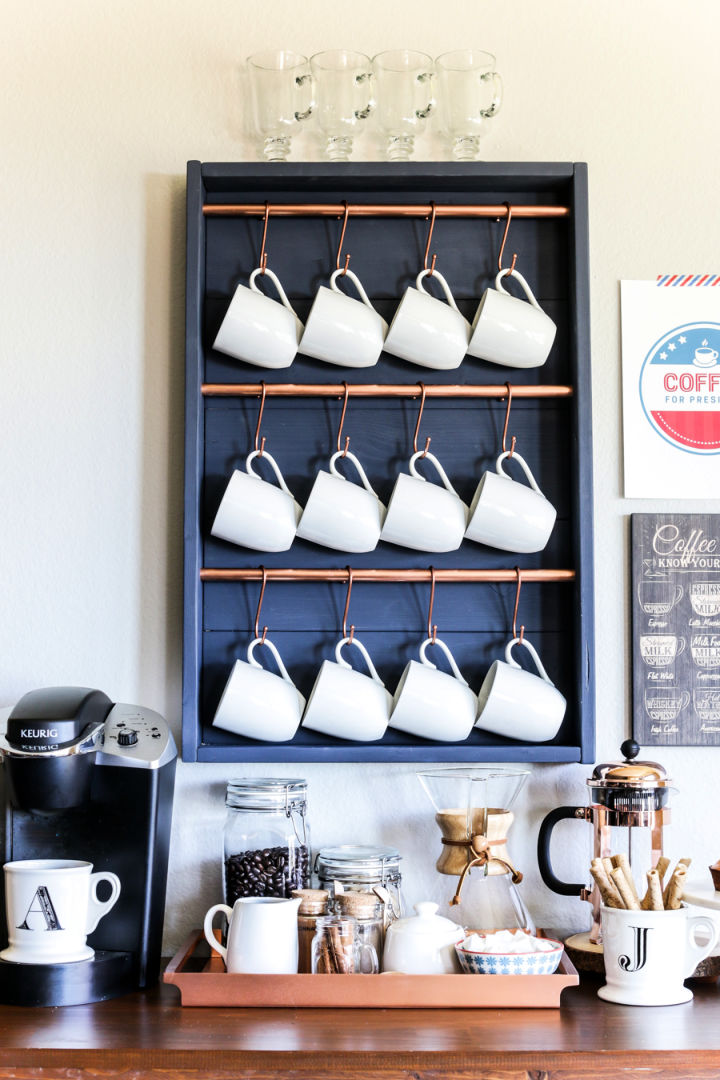 Now it's possible to set up your own DIY coffee bar at home and make it look stylish and modern too. Gather supplies, including tape measure, drill, hammer, pipe cutter, copper pipe, hooks, and a few more essentials. Create a chic self-service coffee station! hgtv
7. White Waxed Coffee Station Makeover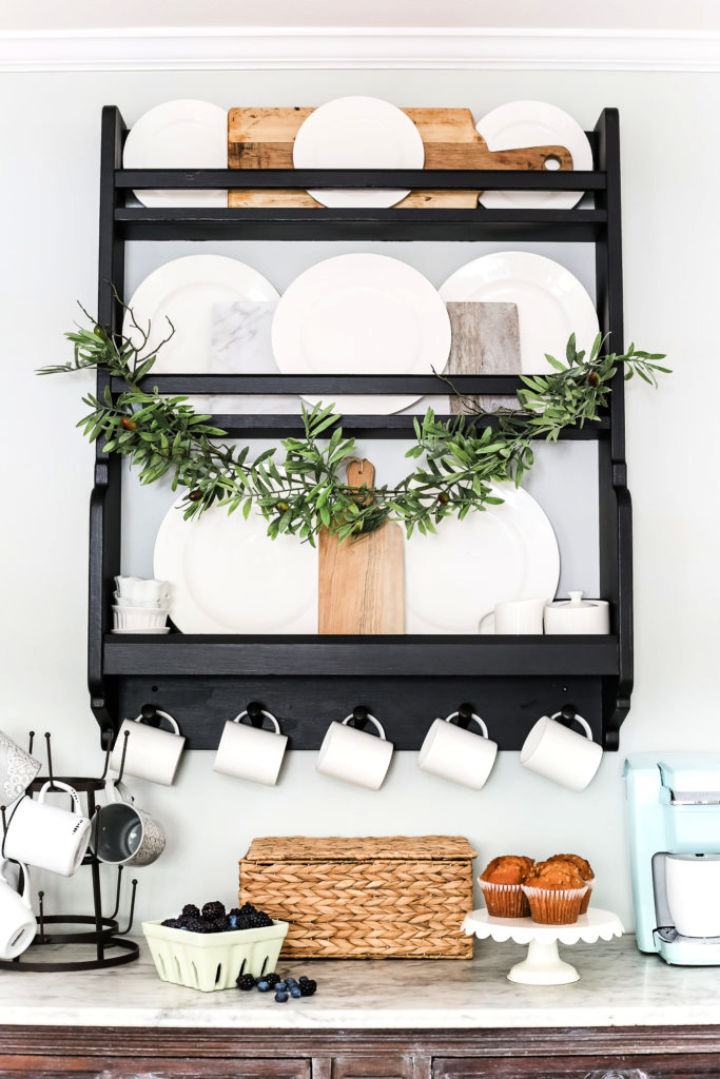 How about we interest you in a thrift-store furniture makeover? Renew your old furniture by using some white wax wonders! Then you can white wax the whole area by brushing on the wax and working it into details and corners by buffing with the dry rag. blesserhouse
8. DIY Coffee Bar Cart
DIY your coffee bar cart! Take wood from a store and cut it into boards of various sizes. Sand the wood and color it to let it dry. Wash and assemble the pipes and spray it according to your desired color. Get the rest of the details in the link below! freshmommy
9. Tea and Coffee Cabinet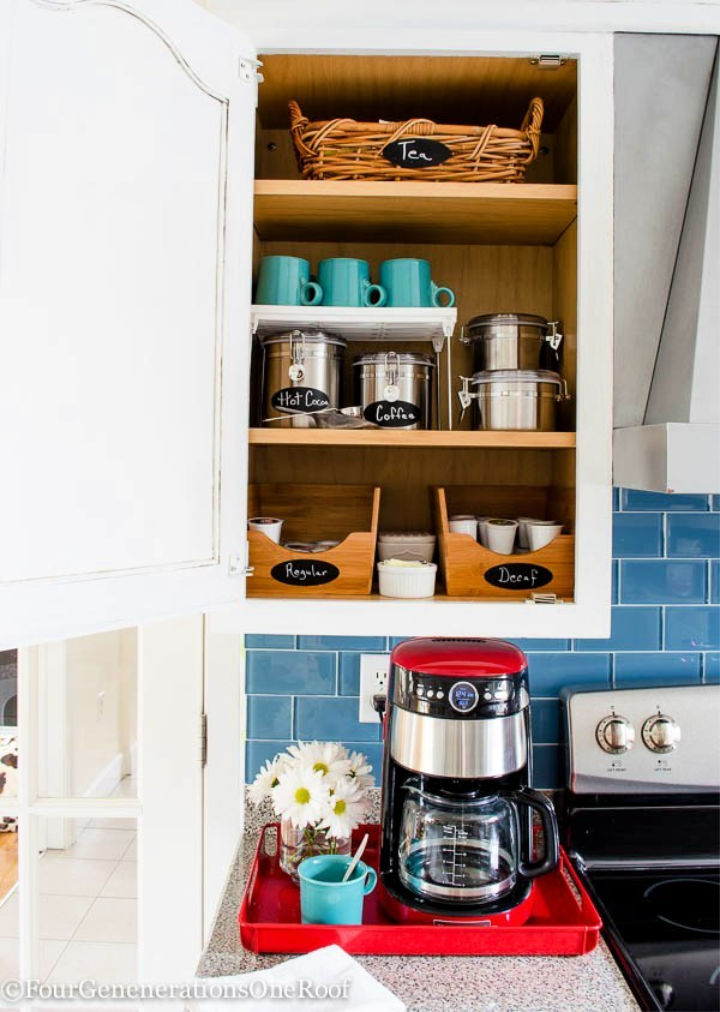 Make your everyday morning tea and coffee session much lesser of a hassle. Just dispose of all the coffee bags and boxes and arrange everything into bamboo bins, jars, baskets, and containers. Separate shelves for each coffee supply! fourgenerations
10. How to Build a Coffee Station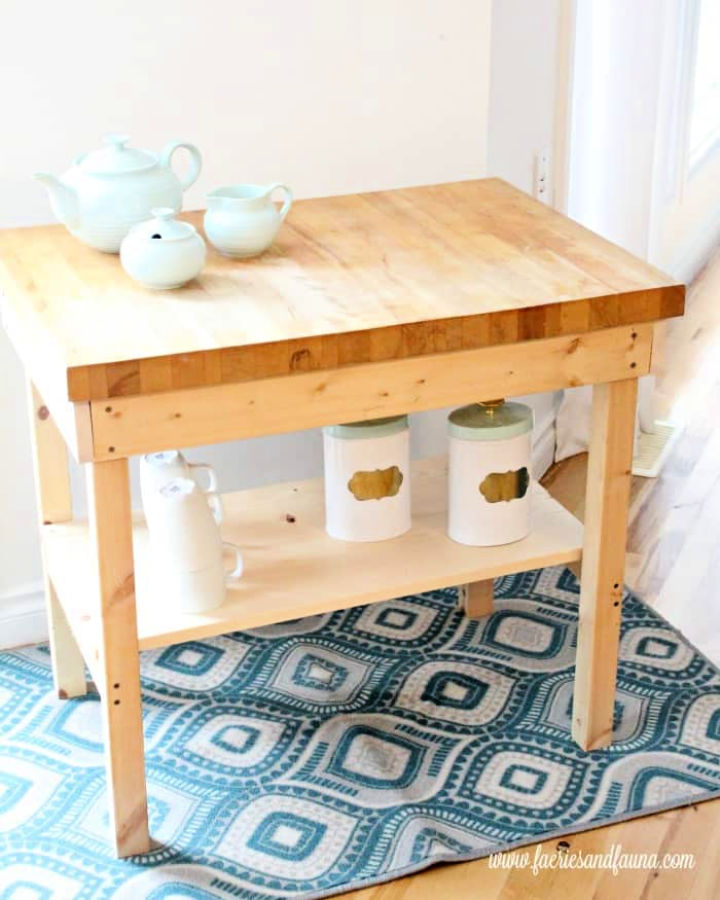 Get ready to build your own kitchen coffee station without it being a hit on your wallet. Even if you have to buy all the coffee equipment, it's still possible to afford it. DIY your coffee cart and then have a small arrangement to fit all your coffee mugs. Throw in some jars for coffee beans and have kettle and pots to complete the coffee station. faeriesandfauna
11. Splashing Color into Your Coffee Bar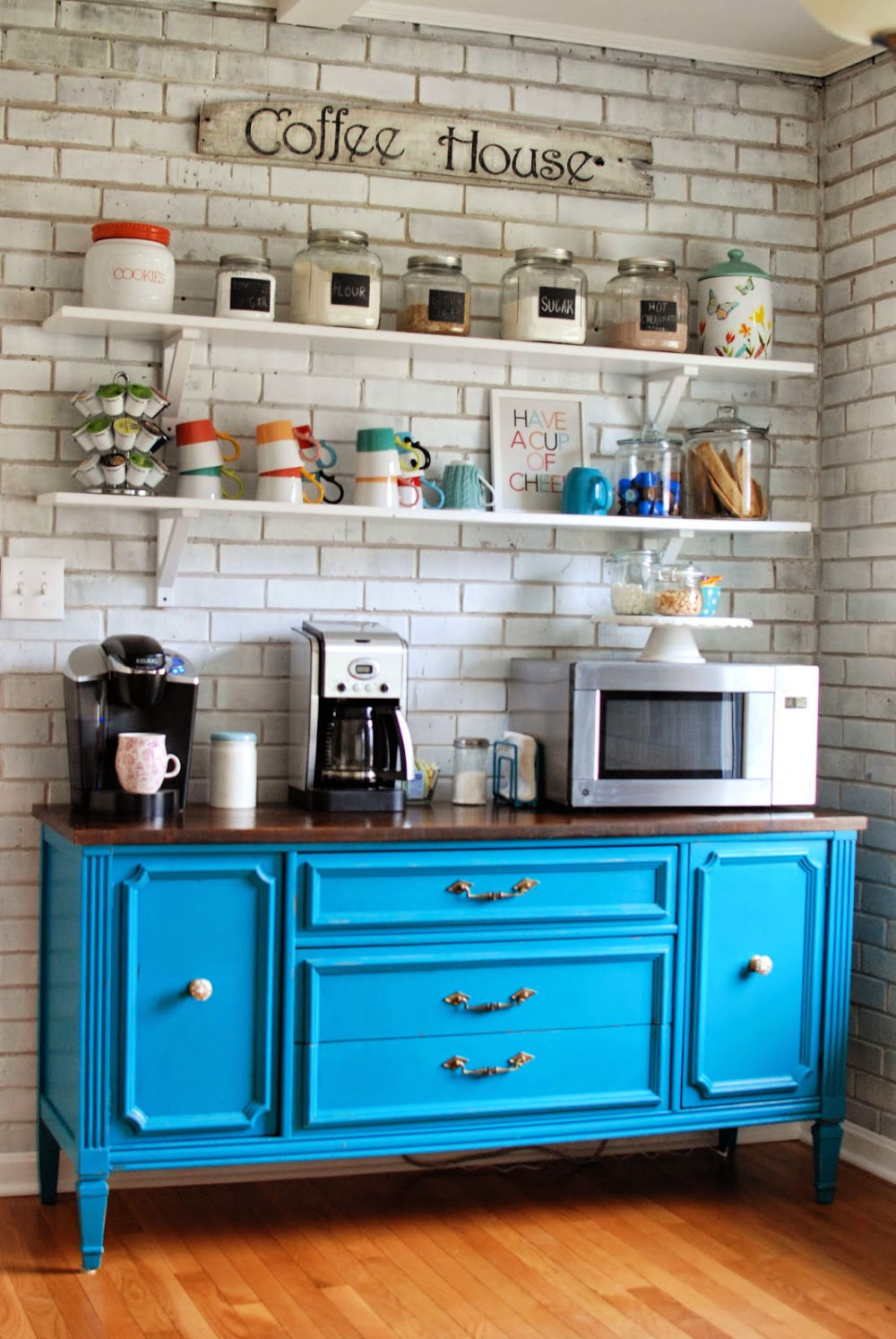 Got less space? A vintage sideboard can be highly functional for you then! It would be really nice to give the whole kitchen an additional buffet place! Fresher the look by adding a little funky color into your coffee bar. jaimescott
12. Free Coffee Station Ideas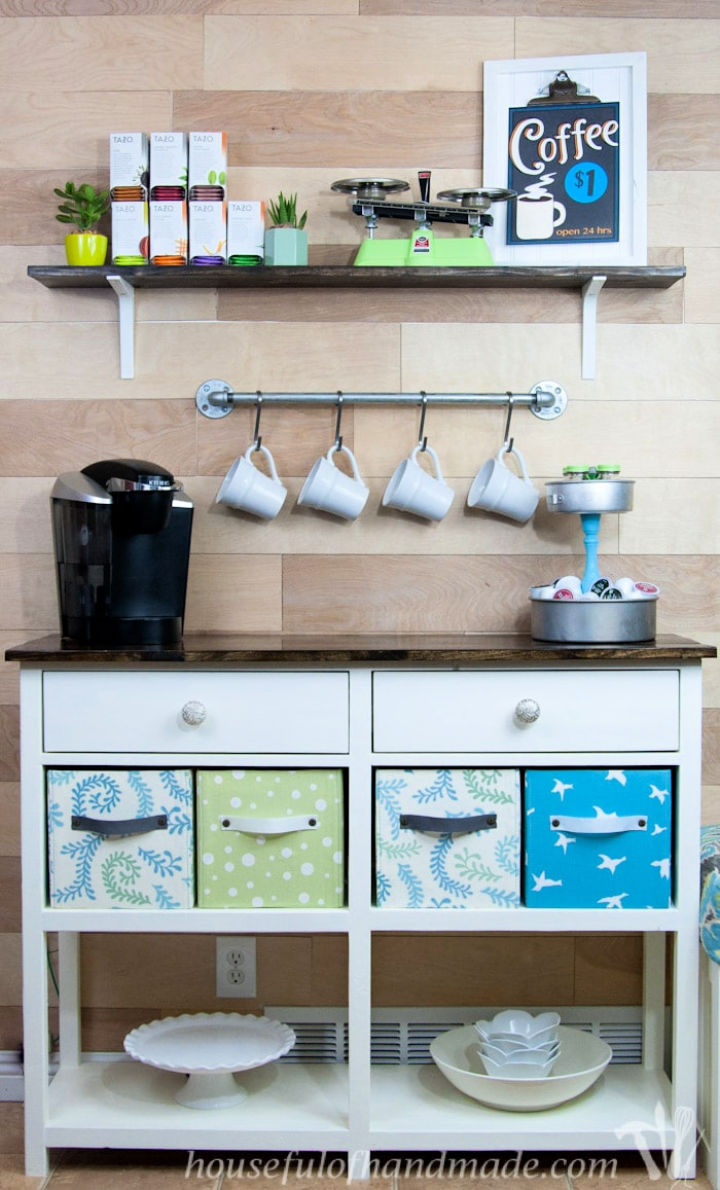 Get ready to build up your own coffee station ideas for the home easily now. All you need are different sized whitewood boards and build the sides of the console. Attach the different sized boards to the sides and attach the shelves. Sand the whole piece and then paint them according to your own desired color. housefulofhan
13. DIY Coffee Station At Home
It is now possible to DIY your own coffee station at home simply by following a few steps. You can have new cabinet hardware, new shelves, and hanging coffee mugs. Just throw in some old jars and baskets and voila! Your new coffee station is ready to use. youtube
14. How to Make a Home Coffee Bar
An easy DIY coffee bar is just a dream come true for all the coffee lovers. All you need is Masonite board and sheet, leveler, chalkboard paint, and a few more supplies. Prepare different sized boards, drill holes into the wall, and mount the boards into the wall to decorate with your own coffee equipment.
15. Easy DIY Coffee Bar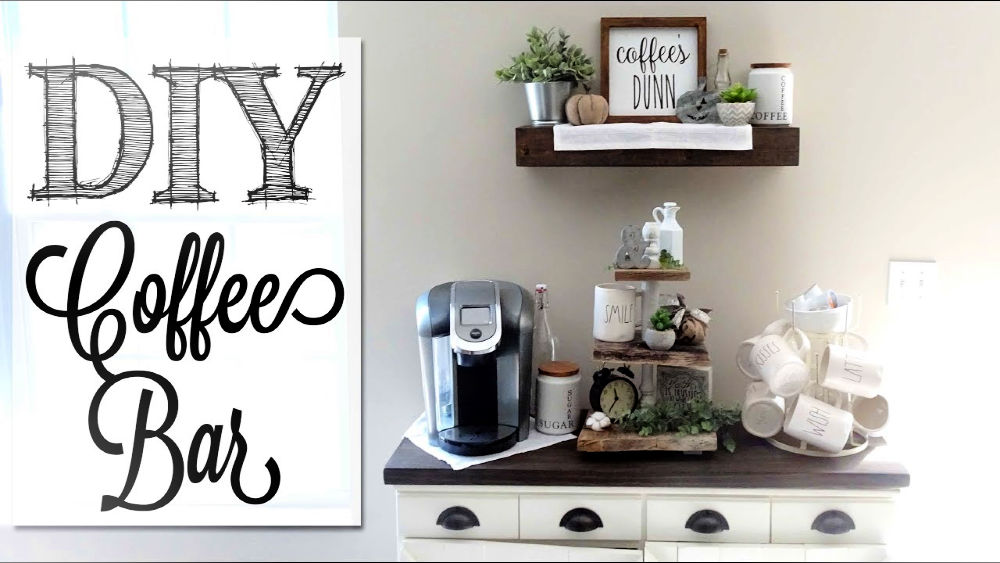 An easy DIY coffee bar is easily achievable at home while you are trying to set up a coffee station. Set up different sized boards into a chosen corner and mount them one by one into the wall. You can even design a small cabinet to place underneath to display your coffee equipment and other stuff. youtube
Looking to DIY a coffee table? Find out how you can turn used items found at home and thrift stores into a stylish and functional focal point for your living room. Here's how to make a coffee table.
Conclusion
In a nutshell, a DIY coffee station can be a part of any house which covers the minimum space but can contain a lot of stuff while giving it quite the chic look. So follow these coffee station ideas and enjoy the coffee shop ambiance from the comfort of your home! We bet, with such warming and welcoming coffee stations at home, you can be the talk of the town in no time!