Are you living in a small space? If yes, you're going to love these 15 inspiring DIY murphy bed with desk plans! If you have ever lived or are living in a small apartment or dorm room, you know what it feels like to live in a small place. It may have its benefits. However, there are many problems you have to deal with. One of the main problems includes a lack of space. You have to think of smart ideas to utilize the space you have! One way you can do so is by installing a Murphy bed with a desk! You won't regret making this decision!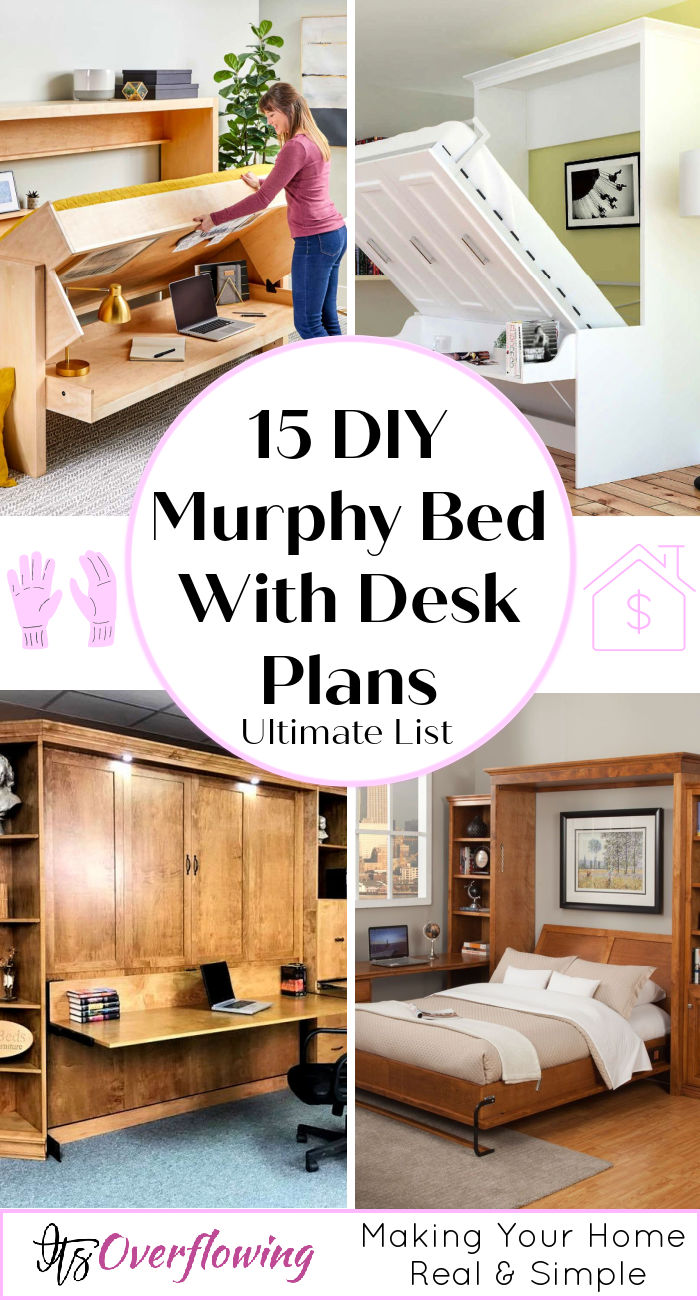 How does a Murphy bed with desk work? Well, it's super simple and easy to use! When it's time for you to work, you can turn your room into an office by stowing away the Murphy bed! When it's time for you to sleep or relax, you can turn the office back to your room by stowing away the desk and cabinets! This article will cover all types of Murphy beds with desks you would ever need. Ranging from modern to massive Murphy bed, from horizontal to twin-sized Murphy bed!
1. How to Build Faux Dresser Murphy Bed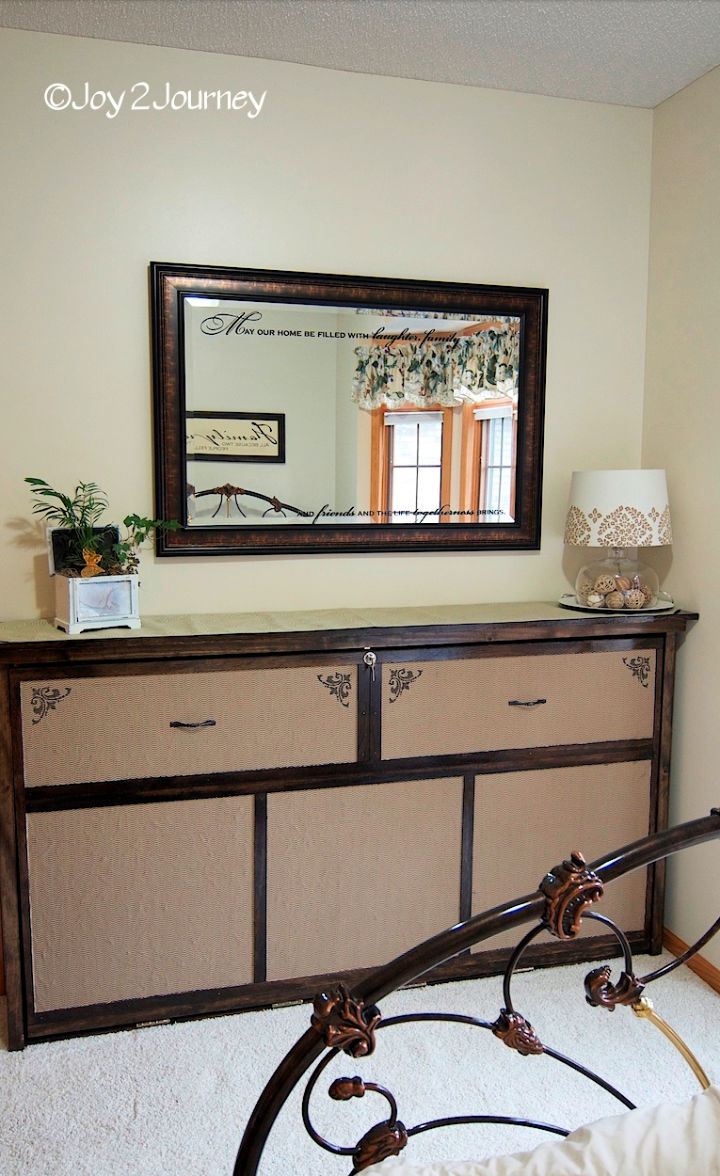 Isn't this dresser just stunning! It will make your room look like a hotel room! Hotel rooms tend to have this modern feel to them. This is exactly what having this dresser in your room would feel like! Definitely follow this fantastic guide to make a marvelous faux dresser! remodelaholic
2. Modern Murphy Bed With Desk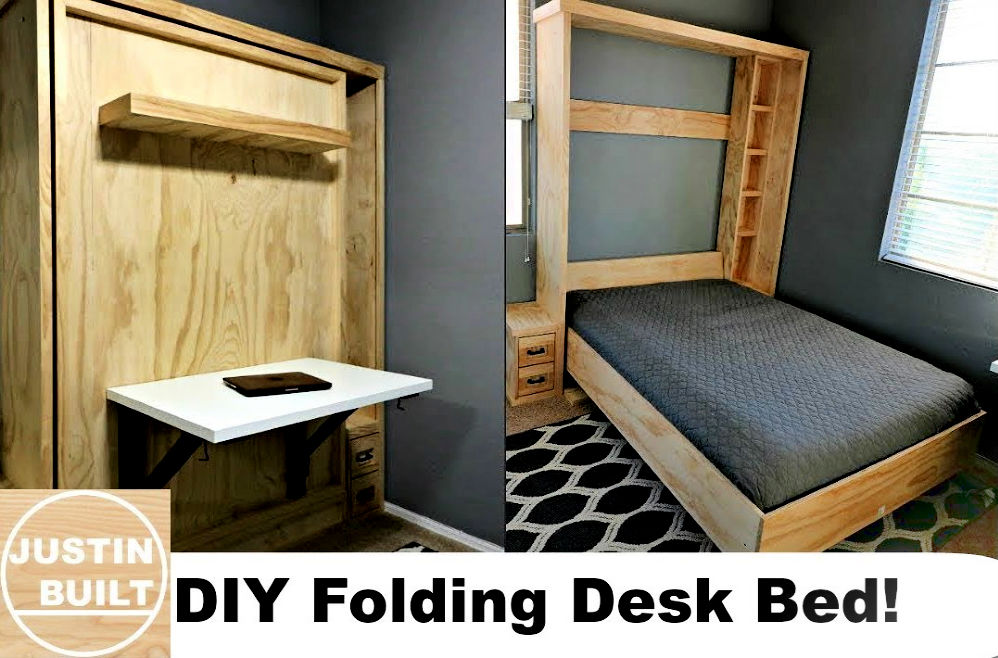 How cool is this idea! This guide features a Murphy bed with a desk. If you have a small space in your apartment, you can use this method to work from home! You can turn your room into your office by stowing the Murphy bed! And then turn it back into your room by stowing away the bed! youtube
3. DIY Murphy Bed With Desk and Bookcases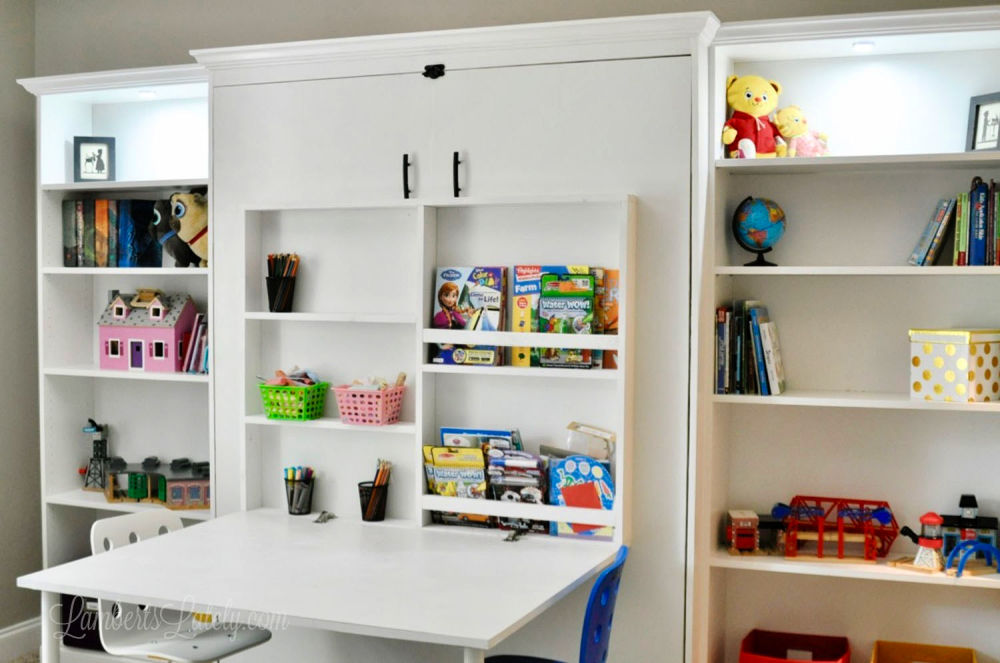 Want to level up your simple Murphy bed with a desk? Follow this guide to add some cabinets and bookcases, as well! You can use them for storage and decor! This is perfect for when you have friends over. You can have the functional desk out and place some decor in the open cabinets. lambertslately
4. DIY Murphy Bed With Desk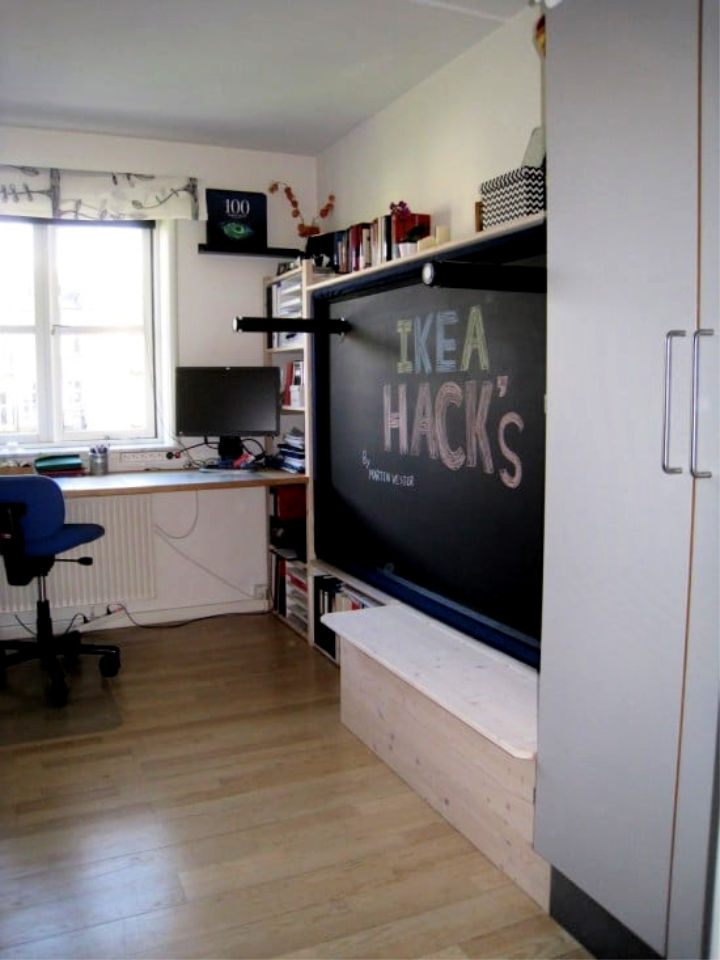 Sometimes, all we need is a quick hack. You may not have the time to hit the market and buy all the supplies. If that's the case, then you should definitely follow this guide! An old bed, a kitchen table, and a few other stuff will be needed for this quick hack! Don't worry! You can separate it later, as well. ikeahackers
5. Massive Murphy Bed with Stay Level Desk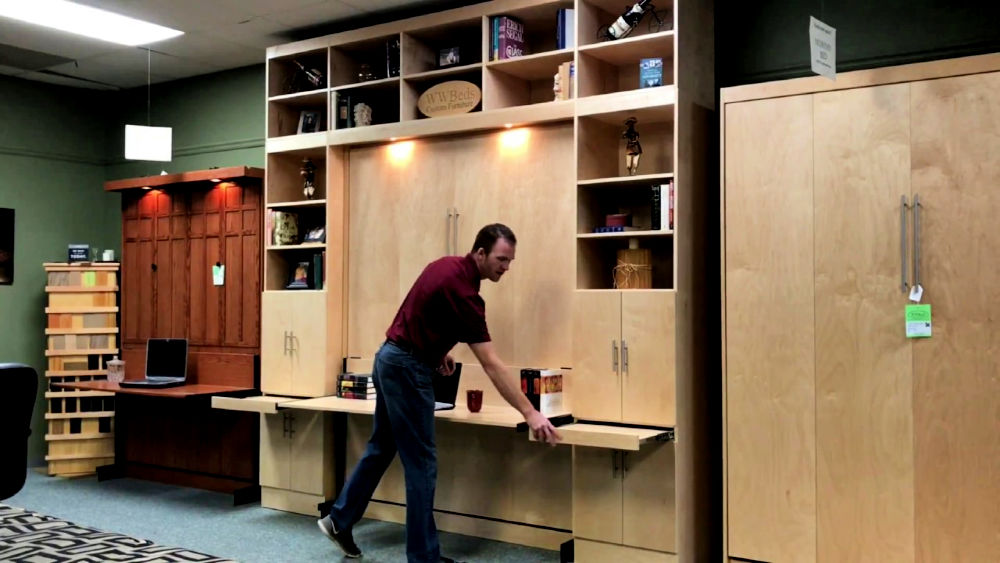 Want to make your Murphy bed with desk, ten times better? Add a stay level desk to it! This way, you won't have to clean up and put everything on the desk away before opening up the Murphy bed! You can just get up and start off your work where you left it. It will save you from a lot of effort! youtube
6. Murphy Bed With Desk Plans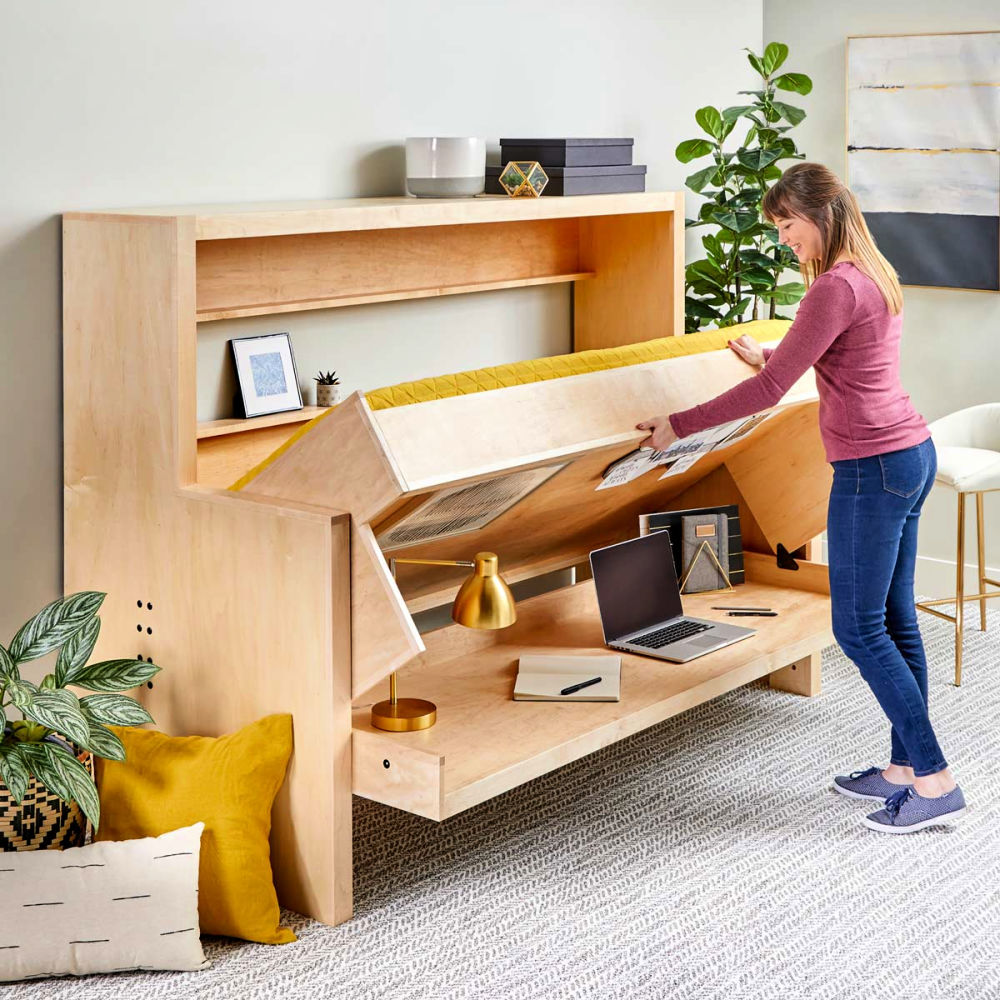 Living in small apartments can be hard. A great way to double up space is your guest room is by installing a Murphy bed with a desk there! You don't require much to make this. Circular saw drill, handsaw, and a few other basic tools are needed for you to nail this project! familyhandyman
7. Queen Murphy Bed With Desk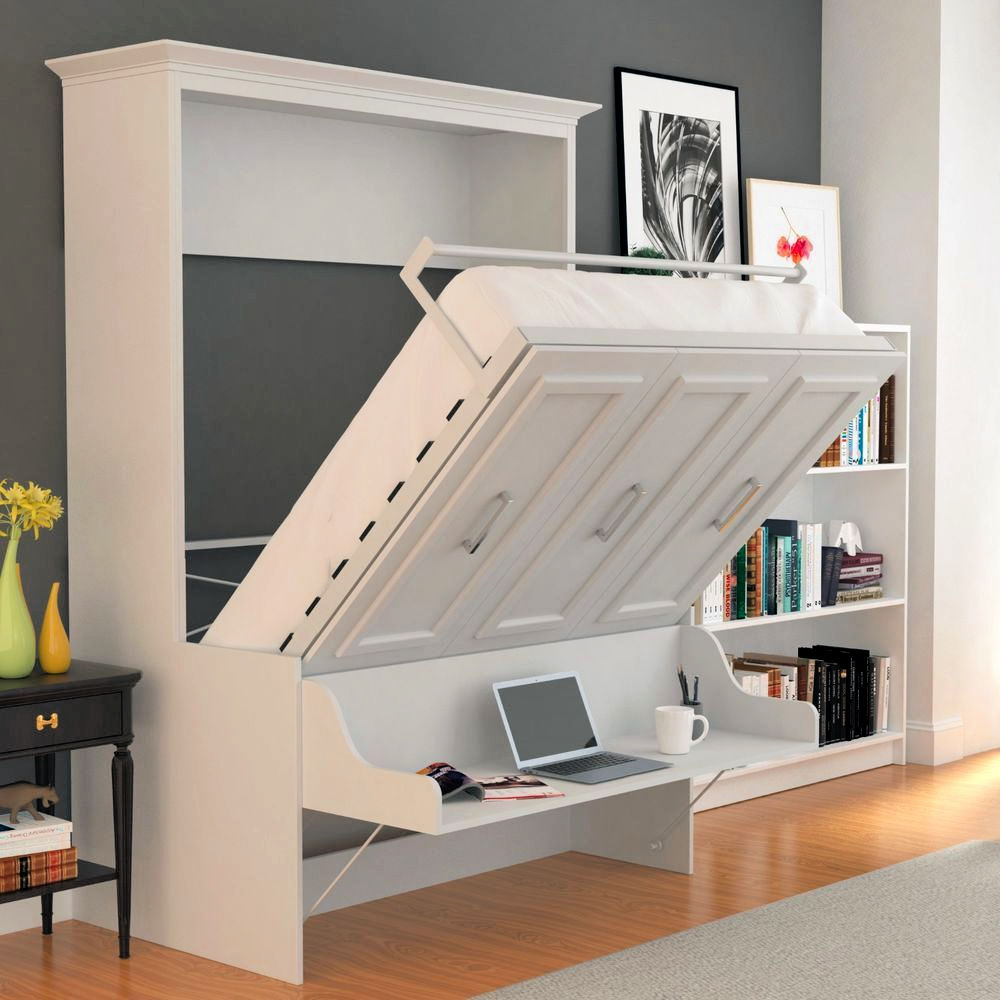 This is the perfect Murphy bed with a desk for all the minimalists reading this article! It is a one-color Murphy bed – all white! Perfect to match the aesthetic of the rest of your apartment. It comes with a. Stay level desk and a few cabinets for storage, as well!
8. Horizontal Murphy Bed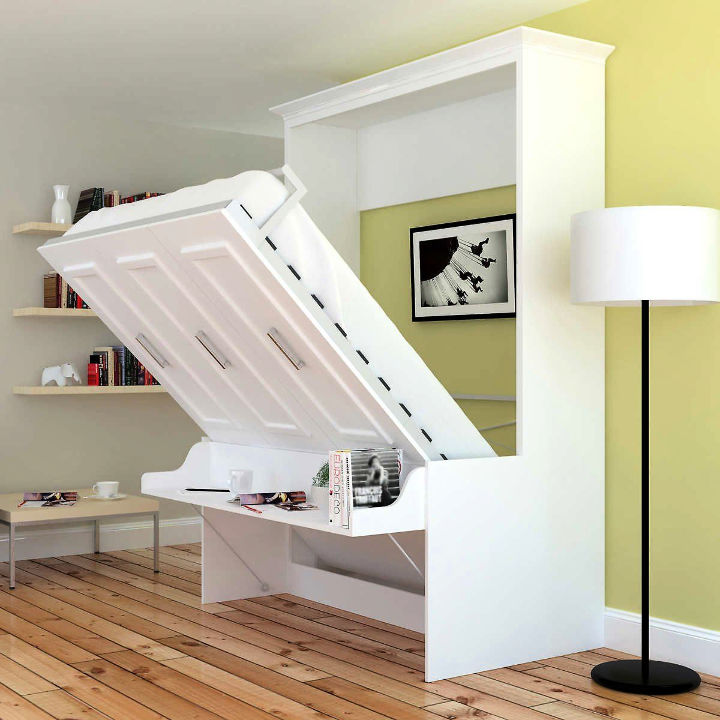 Check out how you can make a horizontal Murphy bed! Handsaw, miter saw, drill, and a few other basic tools are needed for you to nail this project! Are you ready to make the Murphy bed of your dreams?
9. Full Size Murphy Bed With Desk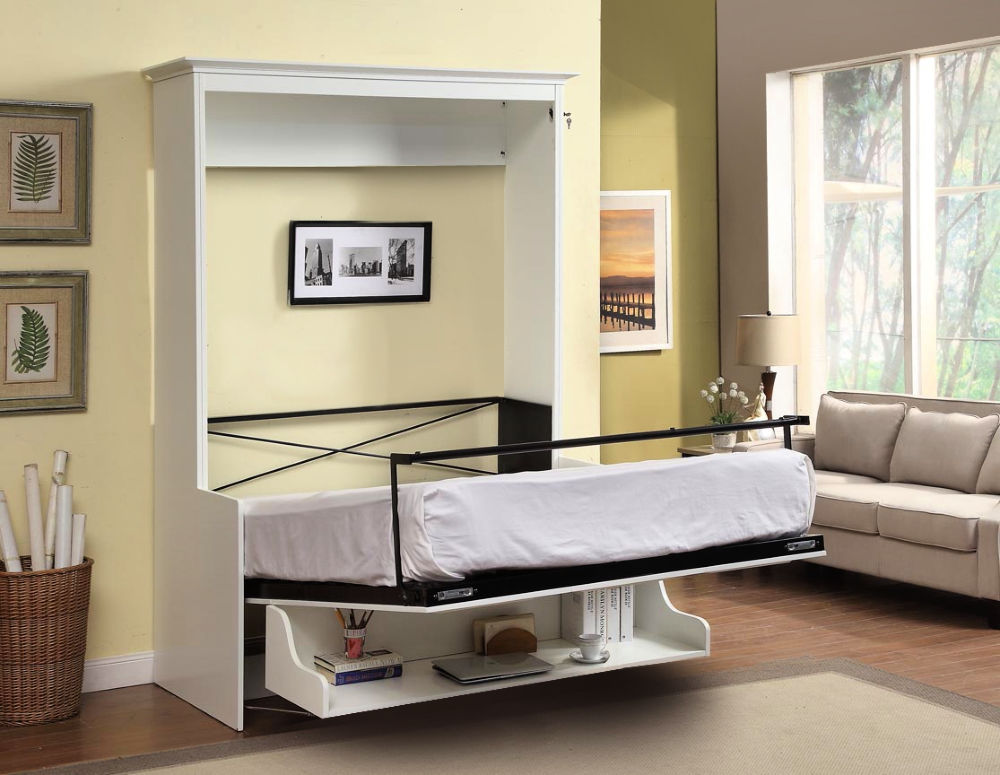 Here's a full-size Murphy bed with a stay level desk. In order to make it full-sized, you will have to exempt the cabinets. However, it makes the bed very comfortable, and you can place a full-sized mattress on it. Make your room look perfect in every way that there is!
10. Twin Murphy Bed With Desk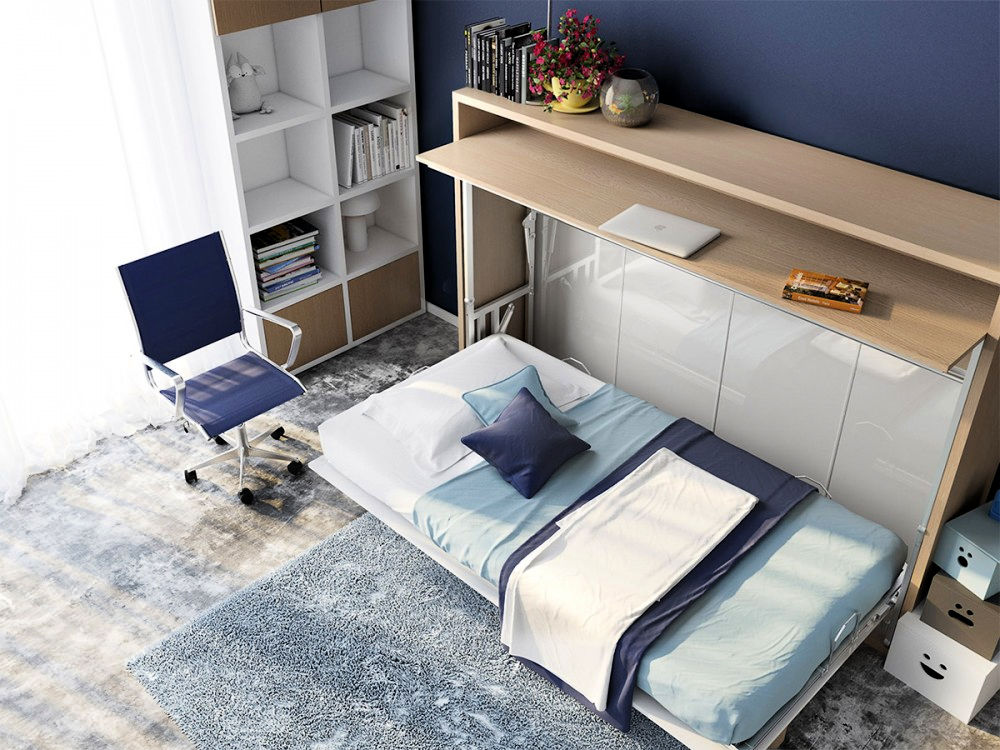 How about a twin-sized Murphy bed with desks? If you have a small apartment but many kids, this is the solution! A single room can have two of these. Which means – two beds and two desks! The best part about them is that they look super cool too!
11. Murphy Bed With Desk Costco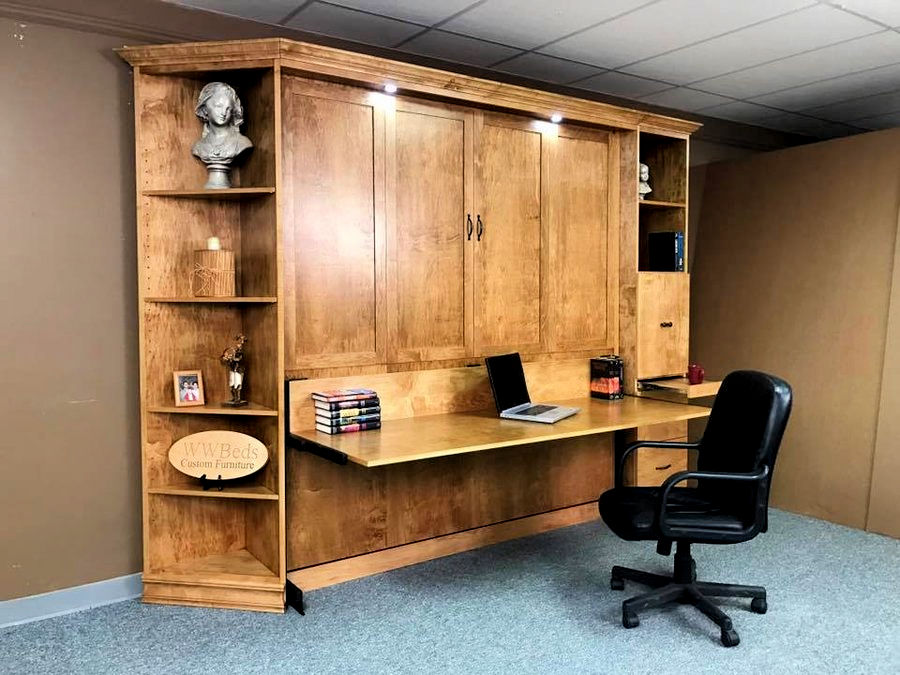 So are you ready to add that perfect office vibe to your guest room! When your friends are over, just stow away the desk and bring back the bed! Once they're gone, bring your office back! You won't have to worry about less space the next time your friends spend the night at your place!
12. Simple Murphy Bed With Built In Desk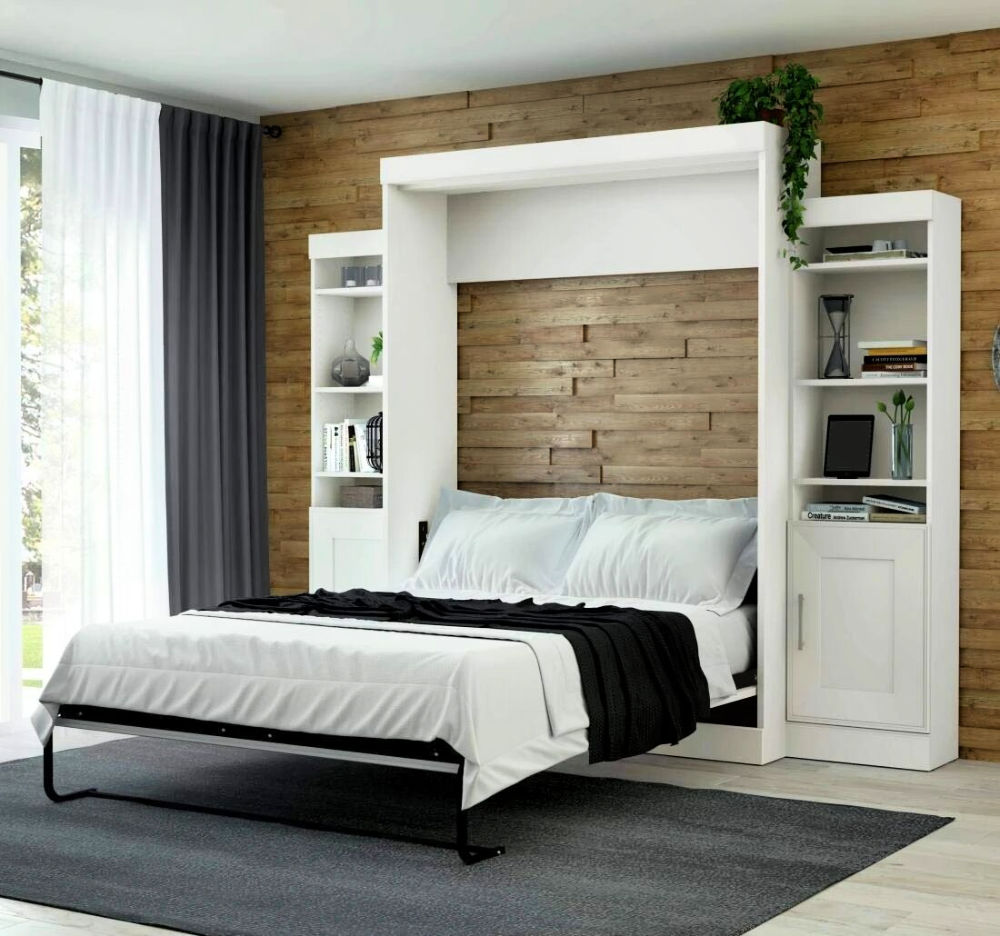 This super stunning Murphy bed will make your room like a hotel room. It adds that minimalistic, chic vibe to your house. It is perfect for all the minimalists and the people who like to have a clean and sharp feel to their house. You can have white spreadsheets to further make it look very fresh!
13. King Size Murphy Bed
A beginner? Don't worry! If you feel lost, you should definitely get inspired by the flawless details of this murphy bed! Since a real-life image of the final product is given, it makes it very easy to understand and have a good idea of how worthwhile this DIY project can be!.
14. King Size Desk Bed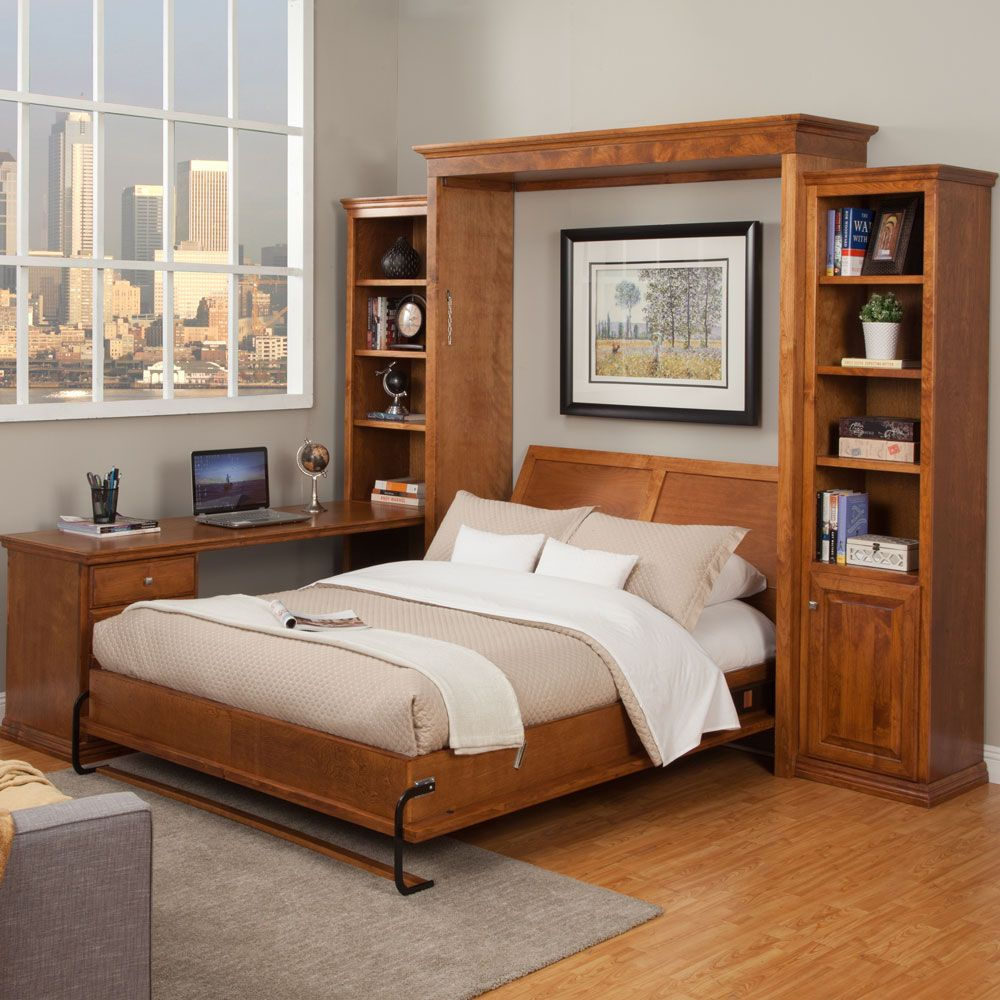 Doesn't this picture look like a hotel room? This type of bed is something you would find there. It looks so chic and aesthetically fulfilling. You can add some pastel-colored spreadsheets to make it look amazing. Circular saw, a drill, a miter saw, and a few other basic tools are required for this project.
15. Full Wall Bed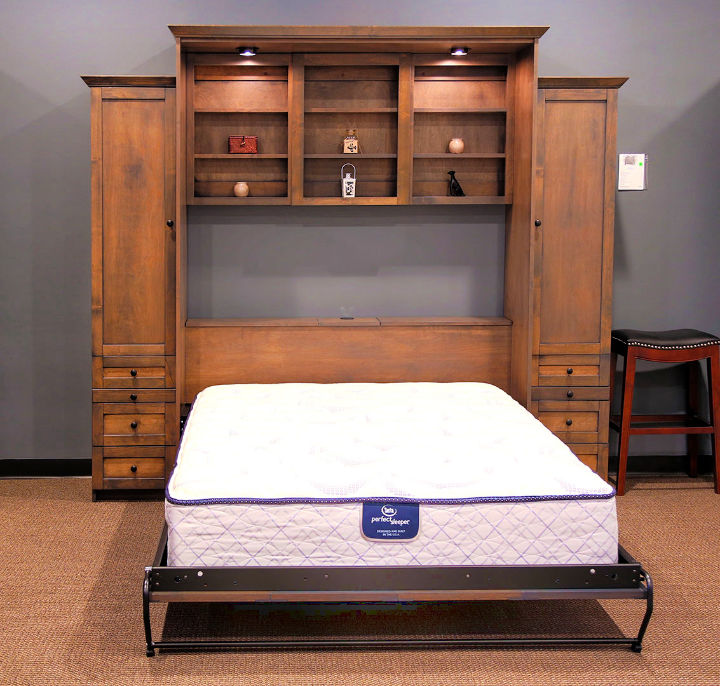 Sometimes all you need is a modern feel to your house. But the good news is you can also make it highly functional! You can never go wrong with such a bed with desk design Get ready to make your room look stunning!
Windup
Tempted to make yourself a murphy bed desk and utilize a lot of space? Imagine how much free space you could have! However, before jumping into the murphy bed desk plans, you should definitely do some more research and find out the way in which you can spend the least money possible. Seach up websites to find the cheapest available beds and tables. The lumber you're going to buy depends on how good quality you want your beds to be. It also depends on how much money you're willing to spend! It's never too late to start!
Related DIY Ideas
How to Organize Your Desk For Cheap: These little desk organizers would be so simple to make yourself.
DIY Lap Desk: A lap desk is a perfect piece for serving breakfast in bed or to work at the laptop right in bed. Here are DIY lap desk ideas to craft one.
DIY Bed Frame: Use these easy DIY platform bed plans to make a stylish bed frame with storage. The plans include dimensions for a twin, full, queen or king