It is a great experience to operate your laptop by laying half down over your bed or serving breakfast in the bedroom. So, go with these 15 inexpensive DIY lap desk ideas that are recommended for easy laptop operating while being on your bed. The best to get to transform your comfy bedroom into a mini office space. As you are always comfortable in your bedroom, this will help you to stay more focused and hence the output will be great. These DIY laptop desk ideas will rock for all who are working from home. Browse this list of 15 DIY lap desk ideas that come in a variety of designs and will take your laptop and iPad operating game to the next level. The list provides some fun lap desks design for kids too for reading and writing and also for drawing purposes.
They are not merely to hold your laptops on a comfortable height for easy operating, and these DIY lap desk designs will make the best breakfast trays too. They will make you live the luxury of eating your breakfast in bed, and there is nothing expensive and complicated in building these DIY lap desks.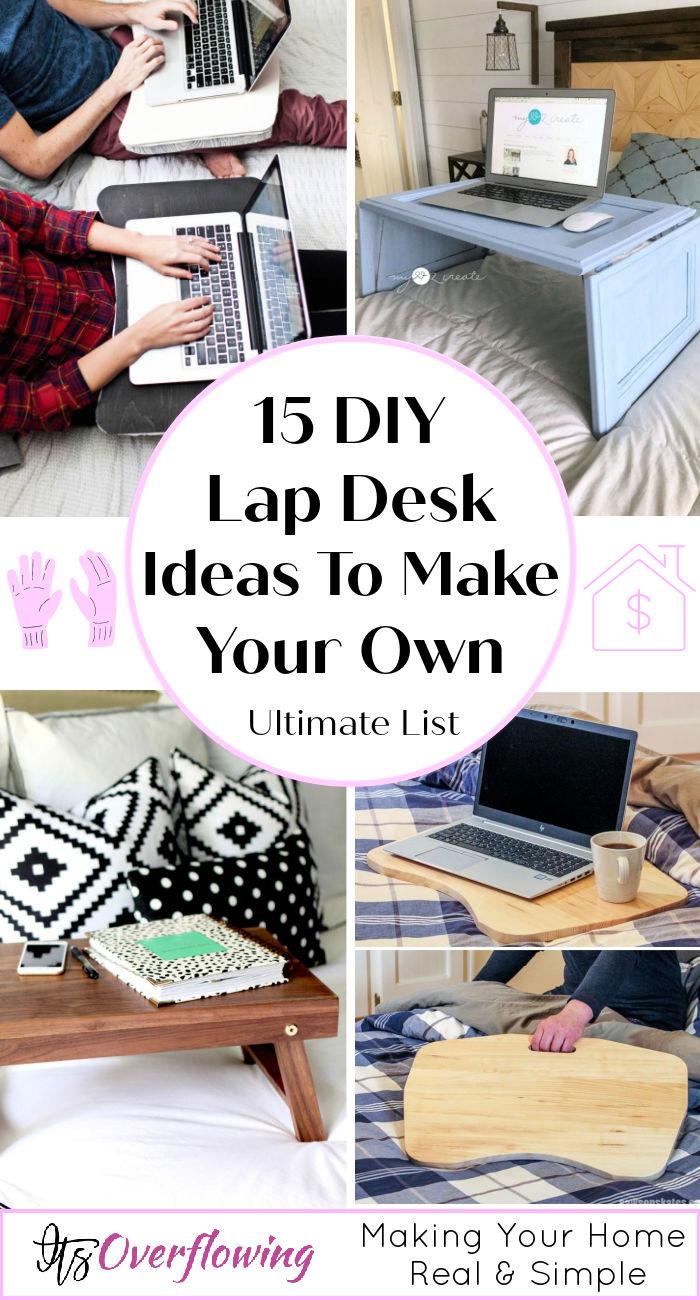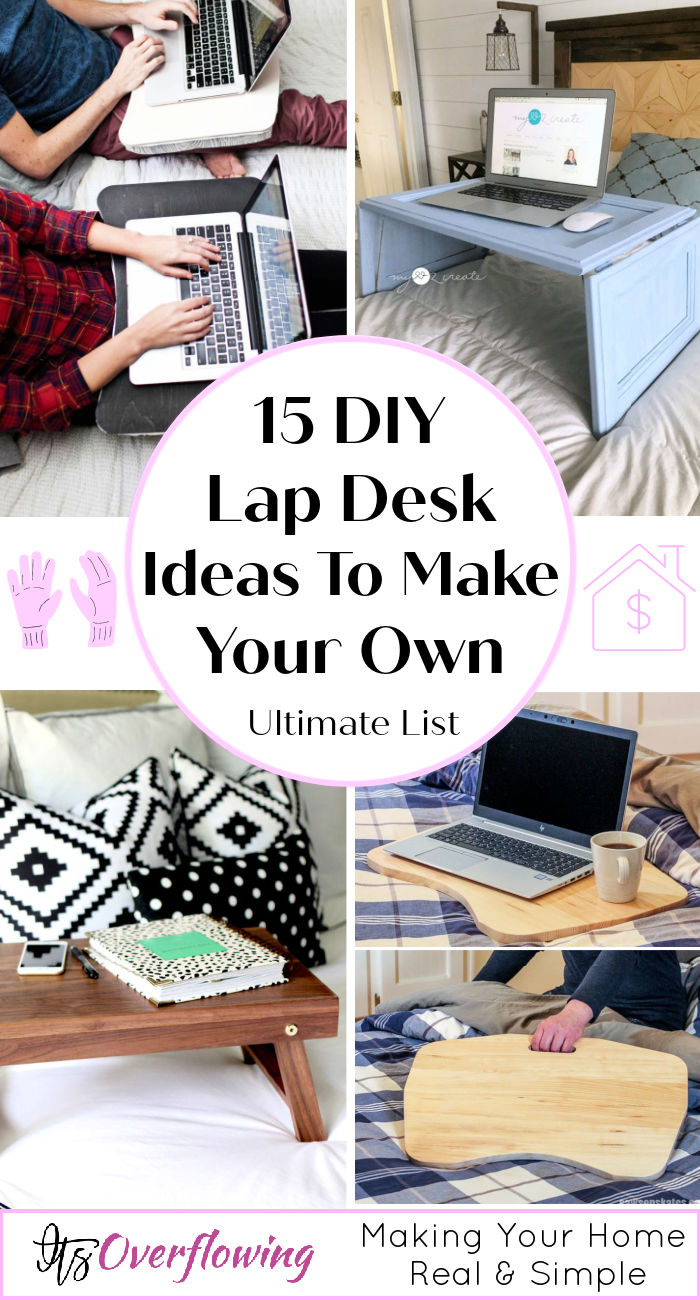 All you need is to reuse the leftover wood, old furniture doors, and even the cookie sheets. For the super-soft padded bottoms, grab a piece of foam board, foam piece, and your favorite fabric. The padded bottoms will make it soft to hold these desks on the lap for a long time. Take a short visit of these DIY lap desk roundup that provide both types of designs, one that comes with legs, maybe stable or folding, and other with the upholstered bottoms.
1. No-Sew DIY Lap Desks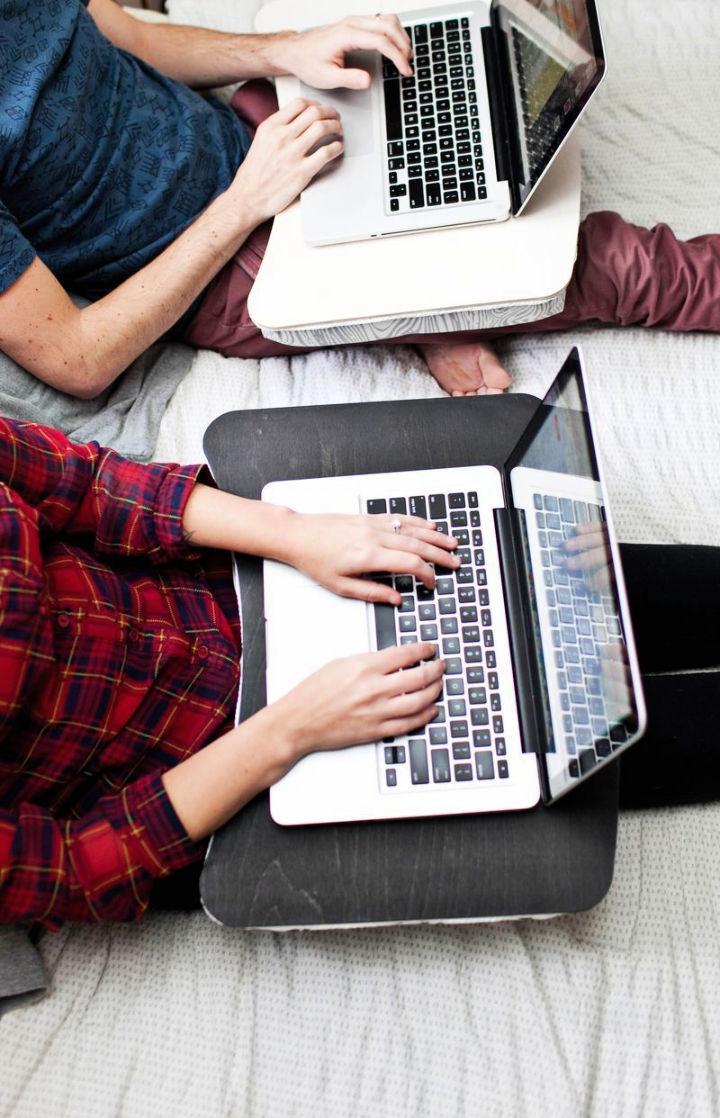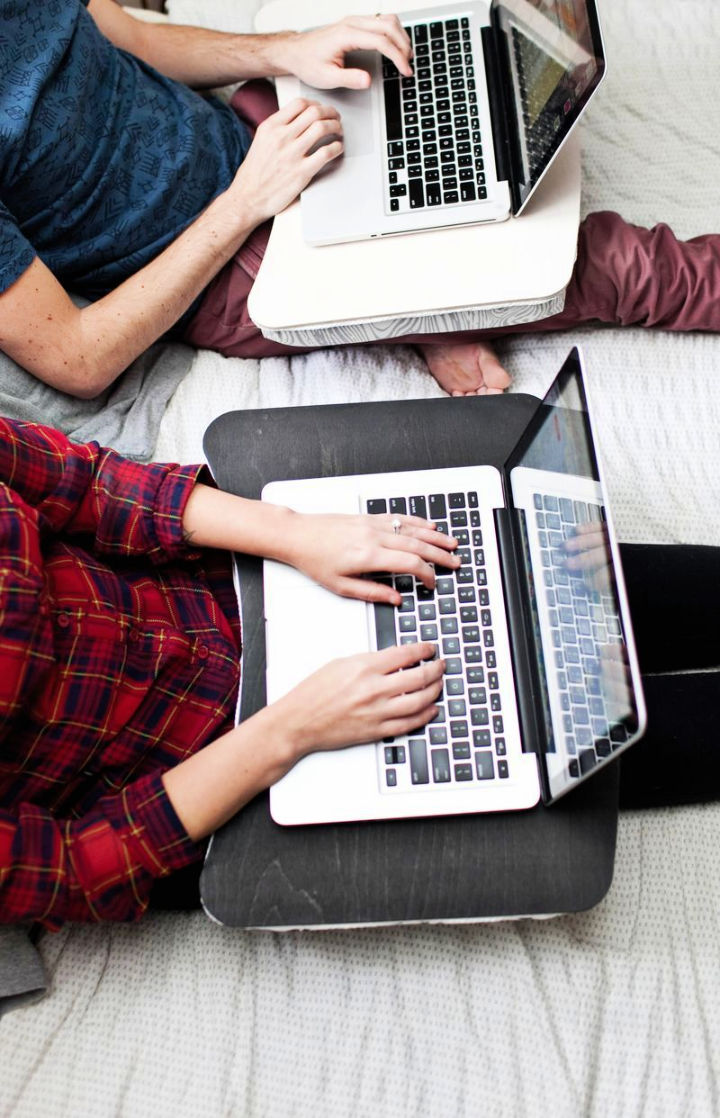 Enjoy an easy laptop operating on your bed using this no-sew lap desk. Just grab the wooden lap disks and then cover their bottoms with the plywood cut to size, and then finish with a cover, will hide then entire bottom foam. The best no-sew lap desks are ready to go soft on your lap. abeautifulmess
2. DIY Laptop Desk with Storage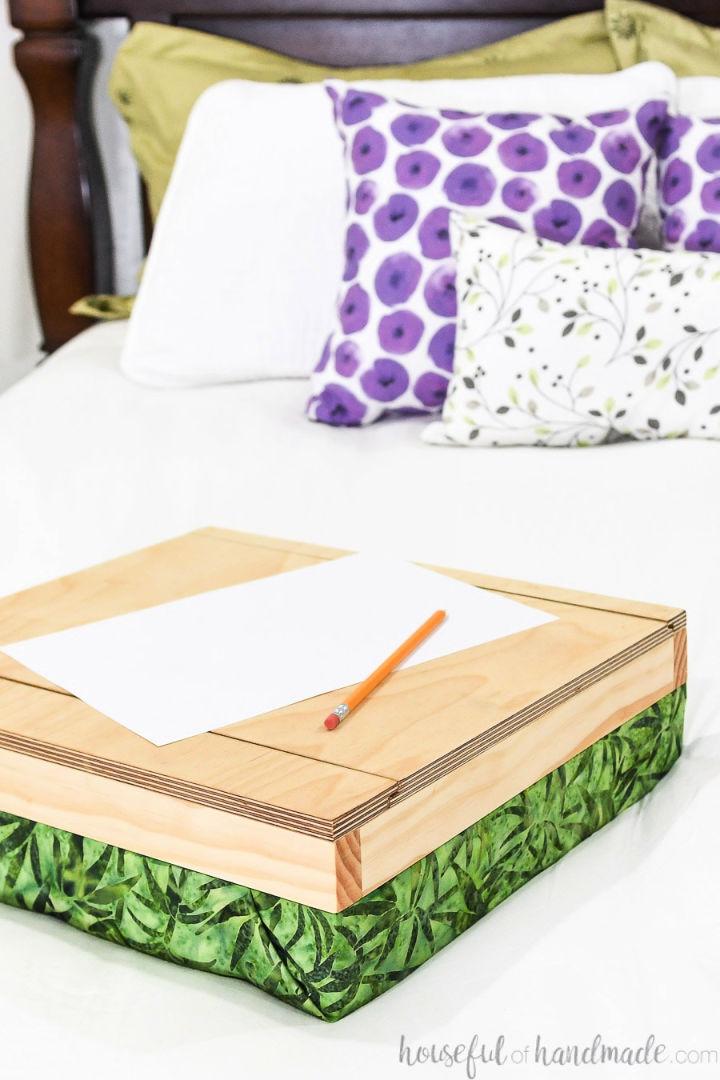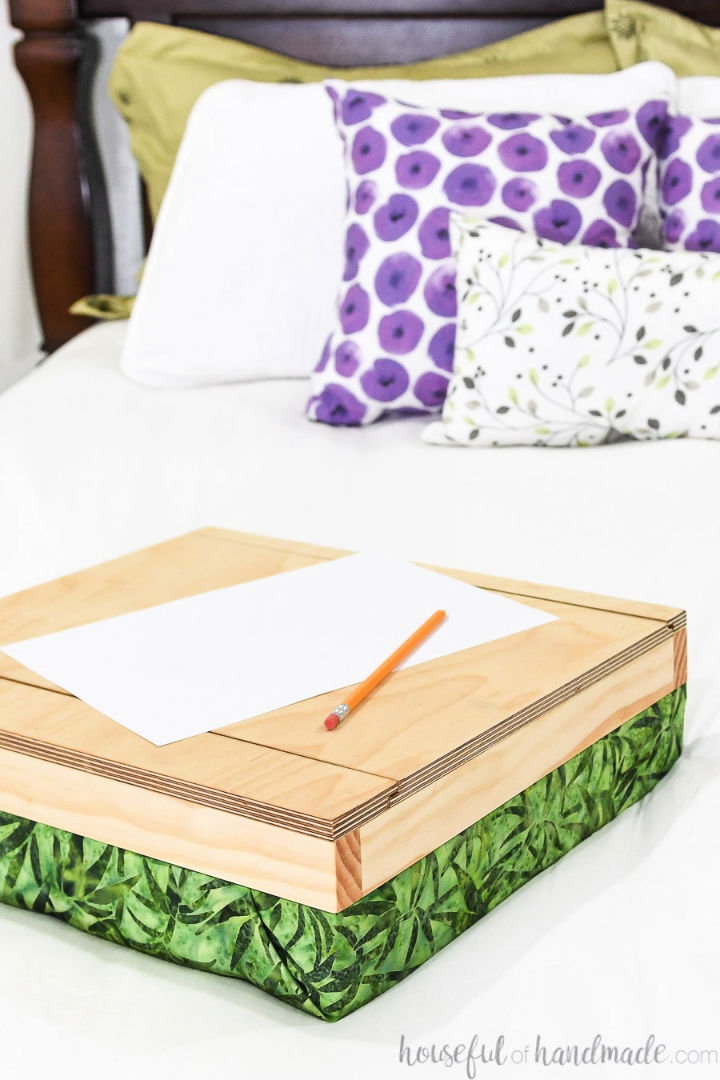 Get here free lap desk plans about how to build a laptop desk with storage. Build this DIY laptop desk using 1x2x8′ and plywood and then add the thick foam to its bottom side. Hide the foam bottom with fabric. Build the lap desk like a slim box with built-in storage compartments. Details here housefulofhand
3. DIY Lap Desk with Epoxy Resin Top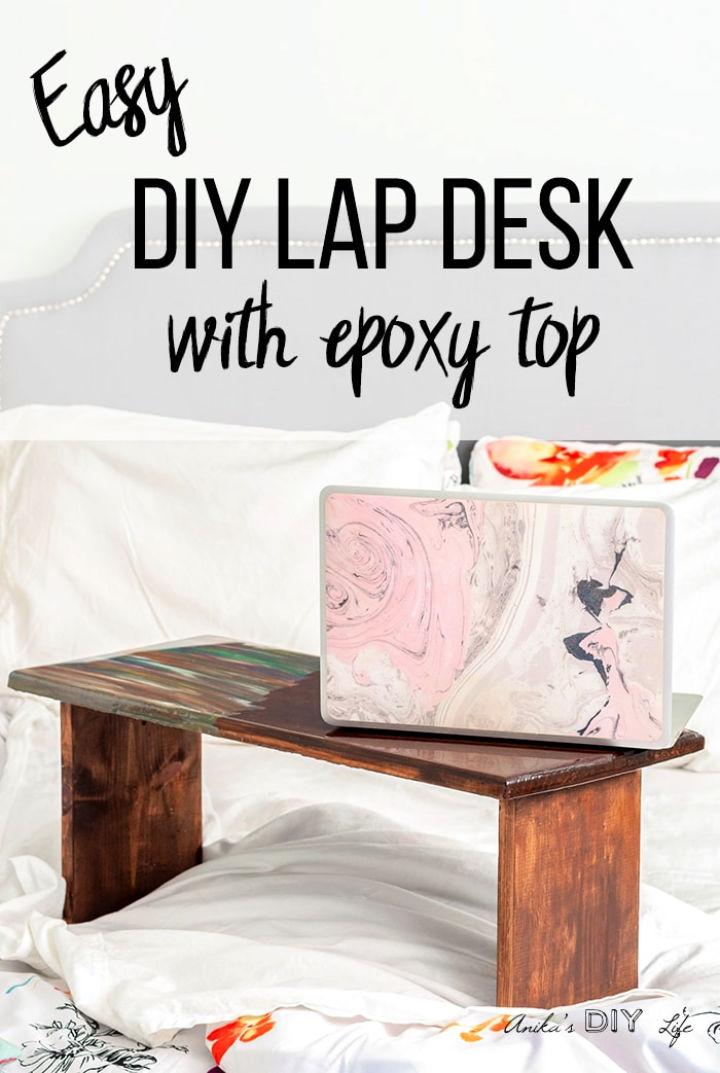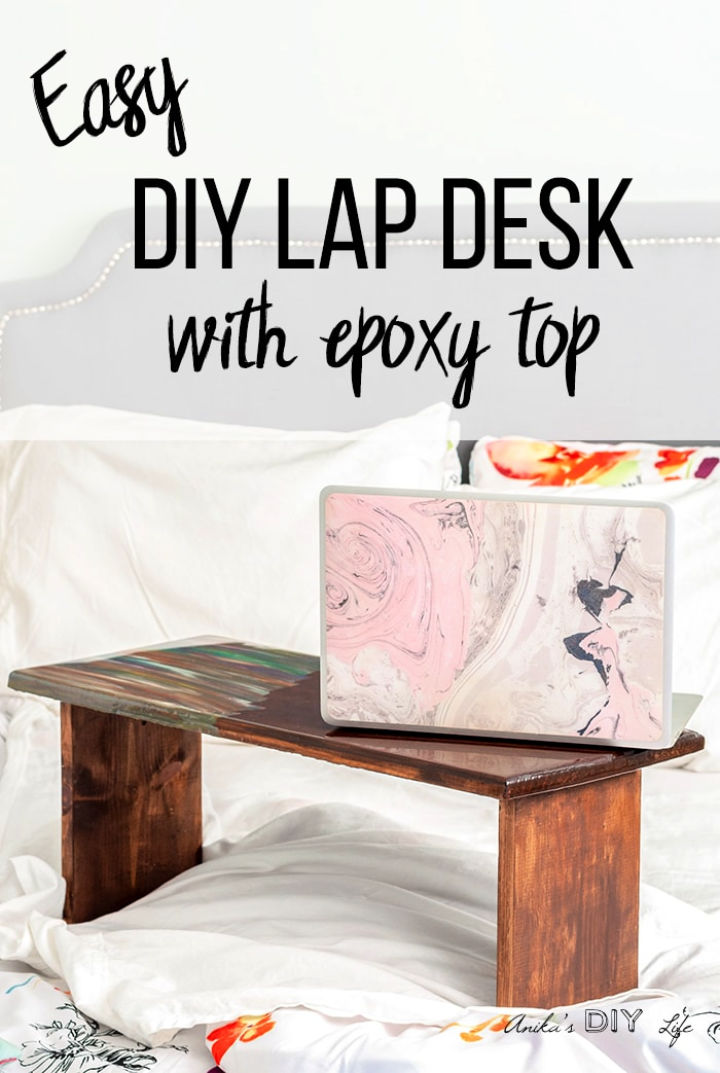 Build this super beautiful DIY lap desk using the lumber wood. Here you have to shape up a miniature bench-like structure that will sand over your legs while being on a bed for easy operating of your laptop. Just grab a bigger length and then add it up with two bottom legs and gain a lovely lap desk. anikasdiylife
4. Lap Desk from a Live Edge Slab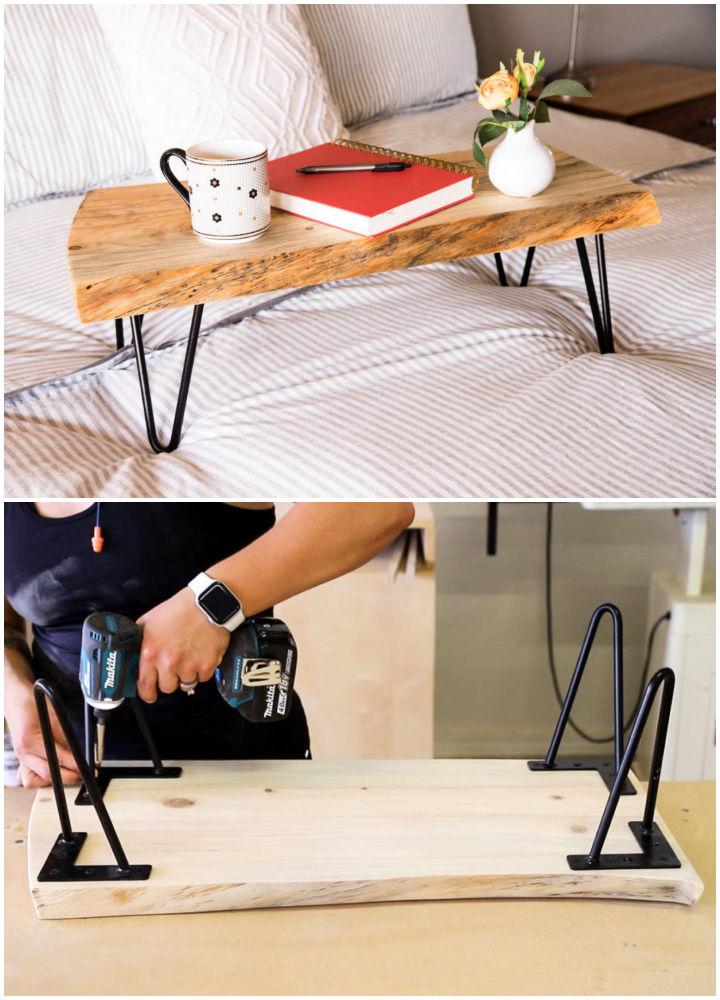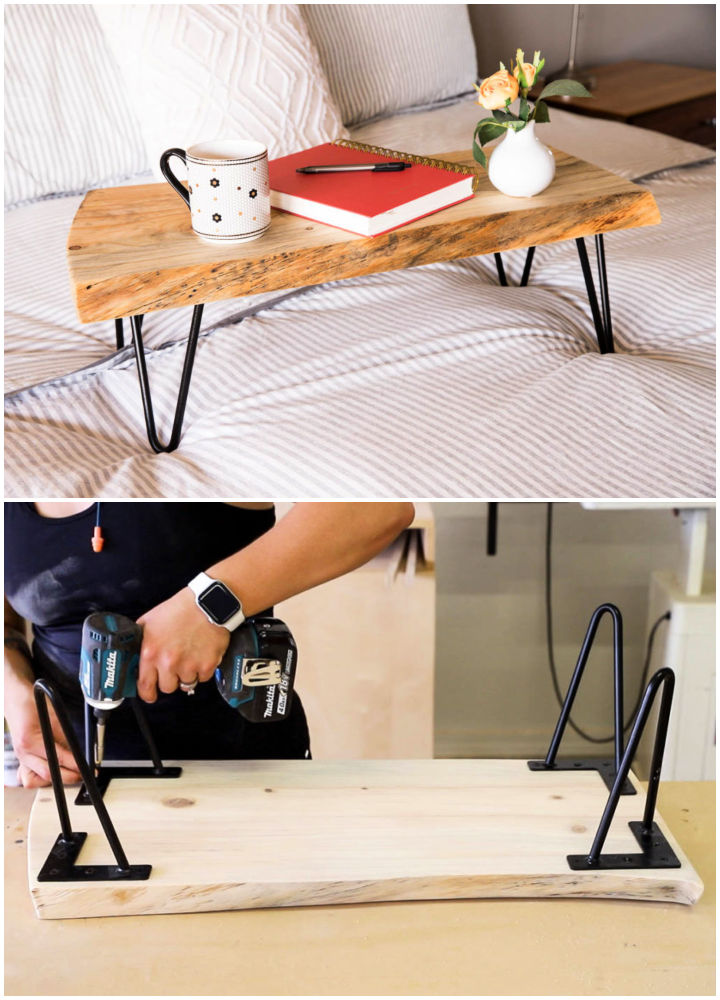 Bring an amazing wooden warmth to your bedroom by featuring a live edge of the wood. An ideal way to do so is to build this homemade lap desk that is made of a live edge slab. Just recondition the wood live edge slab and then finish with up with short metal hairpin legs to gain a lap desk as you can see. addicted2diy
5. Folding Lap Desk from One Board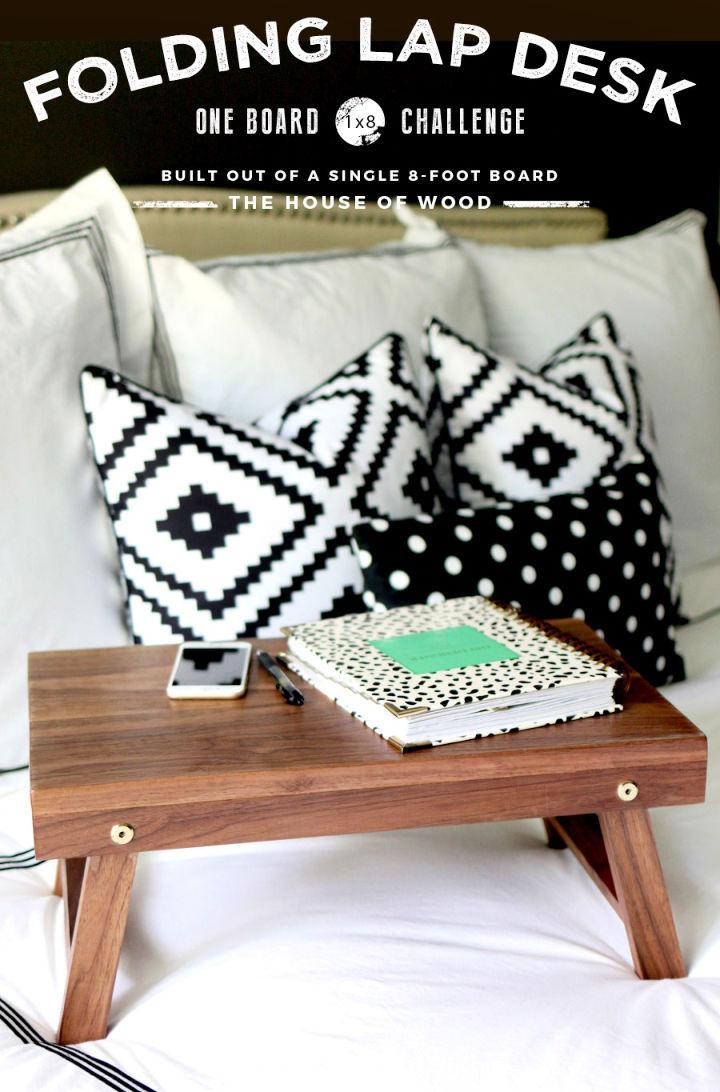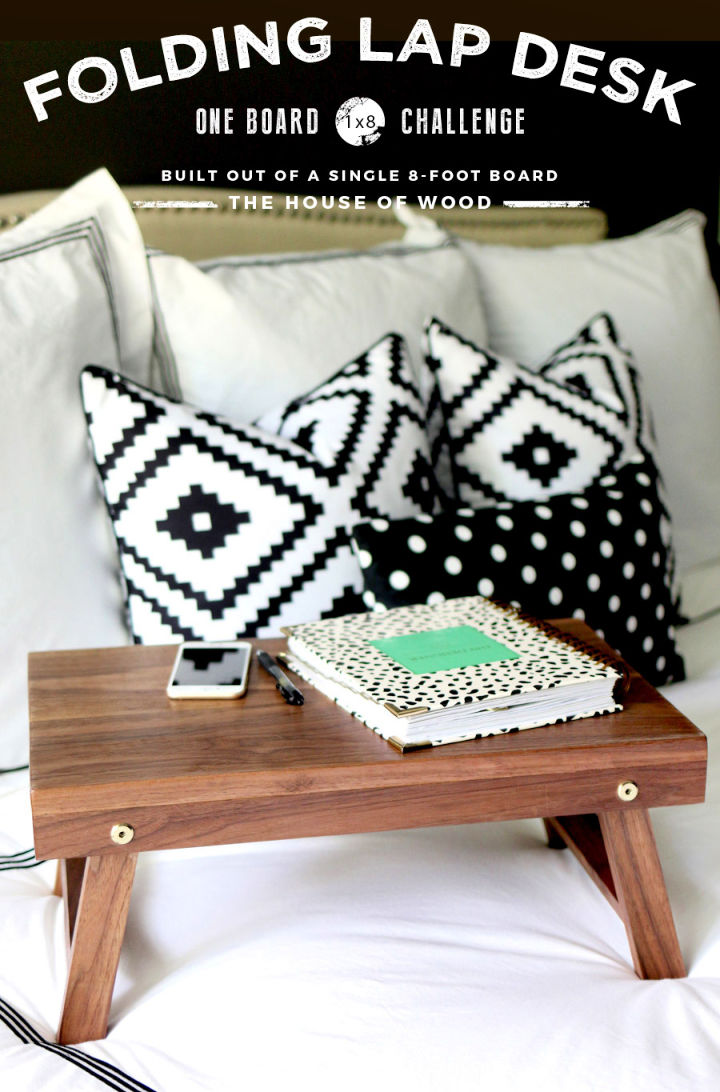 Build this folding lap desk out of a single 1x8x8′ board, and this will cost much less. It comes with neat folding legs. Just build the top with the biscuit joints and then build the folding leg frame using Kreg Jig pocket hole jig. Drill holes to fit in the longer bolts with caps will let the folding leg fun start. jenwoodhouse
6. Homemade Wood and Hairpin Leg Lap Desk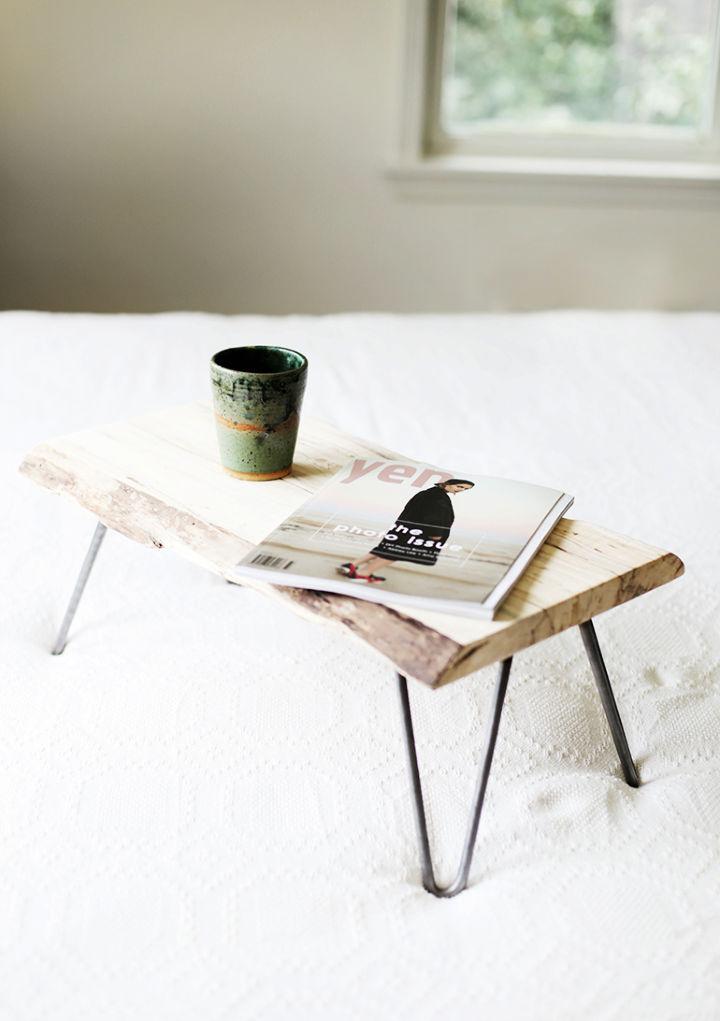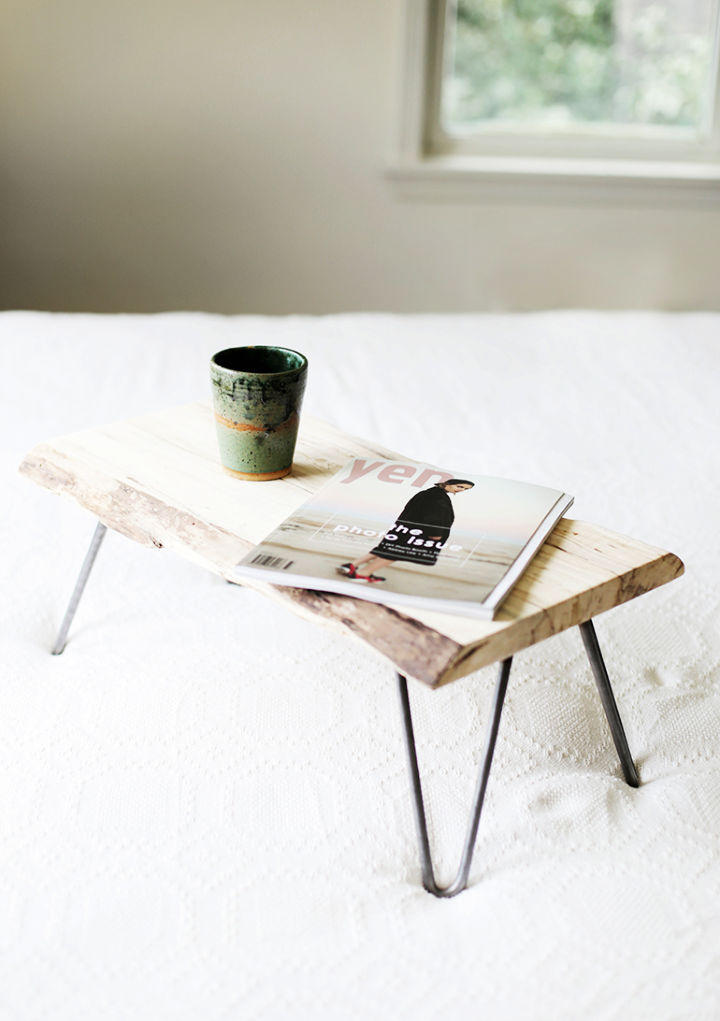 Bring a great wooden character to your home by building this outstanding wooden lap desk. Grab a wood slab featuring a least one live edge and then install the hairpin legs to its bottom side to build this fabulous lap desk, which will help in operating your laptop easily. Details here themerrytho
7. Make a Pillow Lap Desk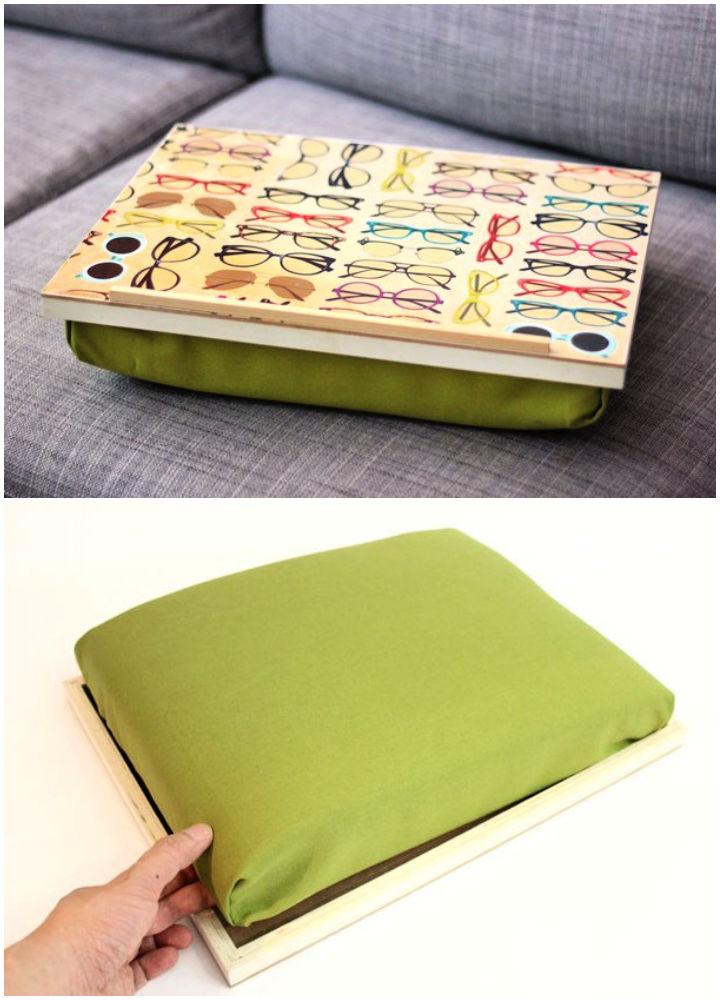 If you love your bedroom and don't come from there even to do the rest of the office work, then manage to operate our laptop there. This pillow lap desk will work great in this case. Make it using an artist's board 12" x 16", plywood, foam, fabric, square wooden dowel, decoupage medium, brayer, permanent adhesive, and wrapping paper, etc. ehow
8. DIY Lap Desk with Cushion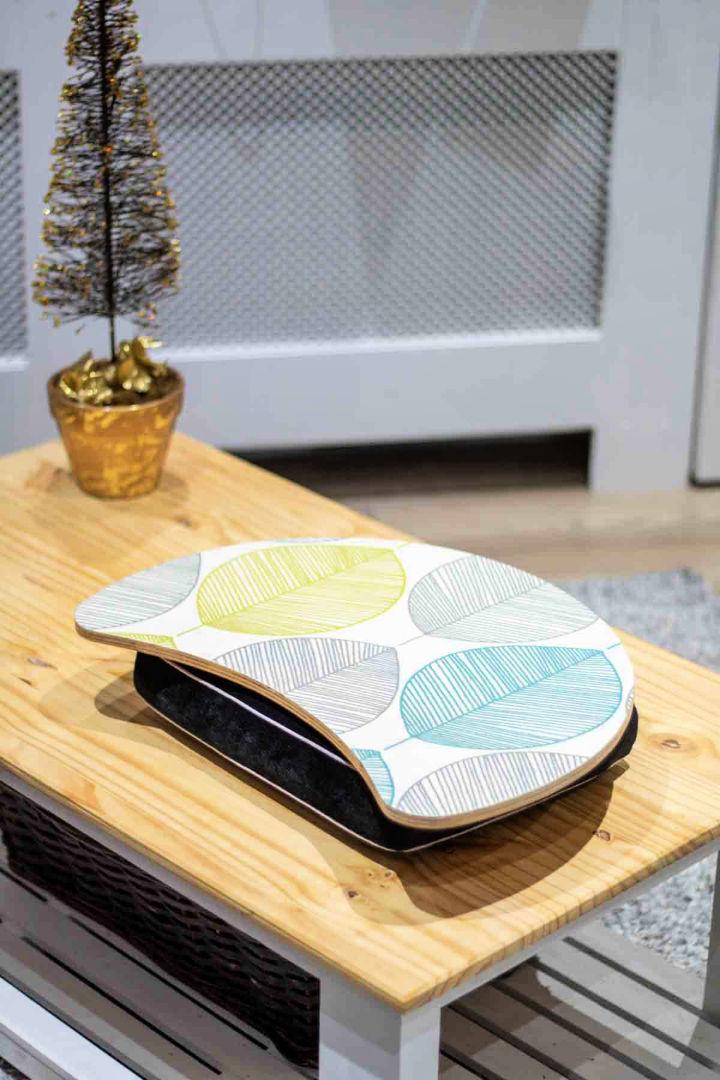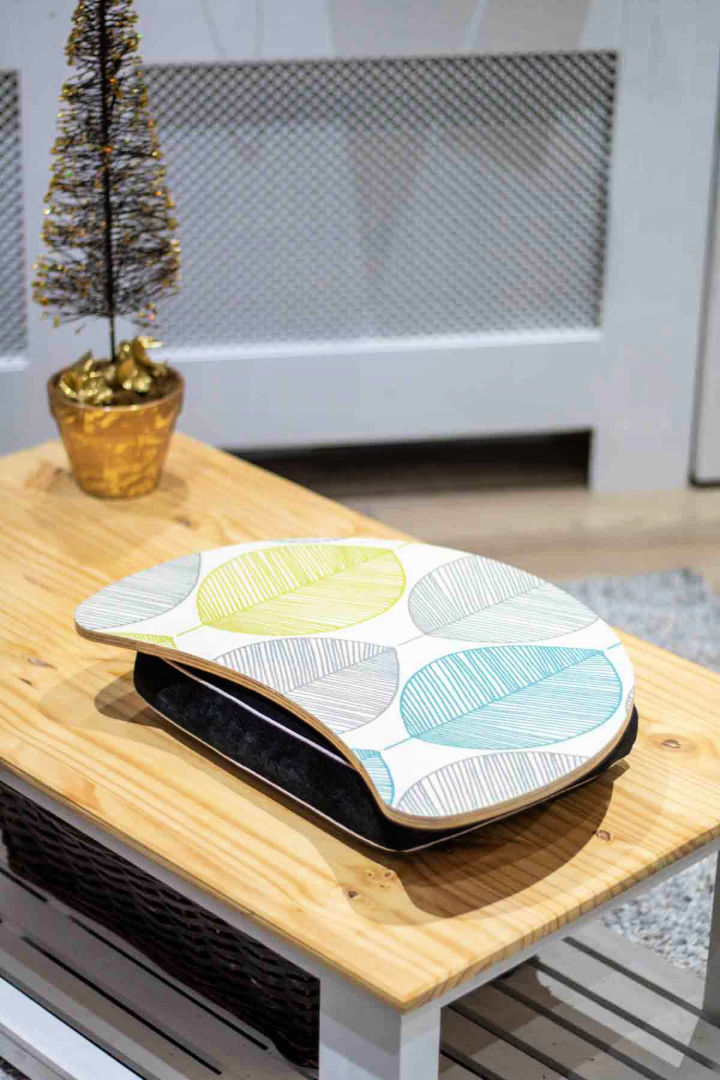 You will love to operate your laptop using this moon-shaped lap desk that comes with a cushion to its bottom side. Grab 12mm plywood hardwood, wallpaper, memory foam cushion, and other necessary tools, adhesive, and supplies to make this lovely lap desk. The best gift to plan for a laptop lover. thecarpenter
9. Magnetic Chalkboard Lap Desk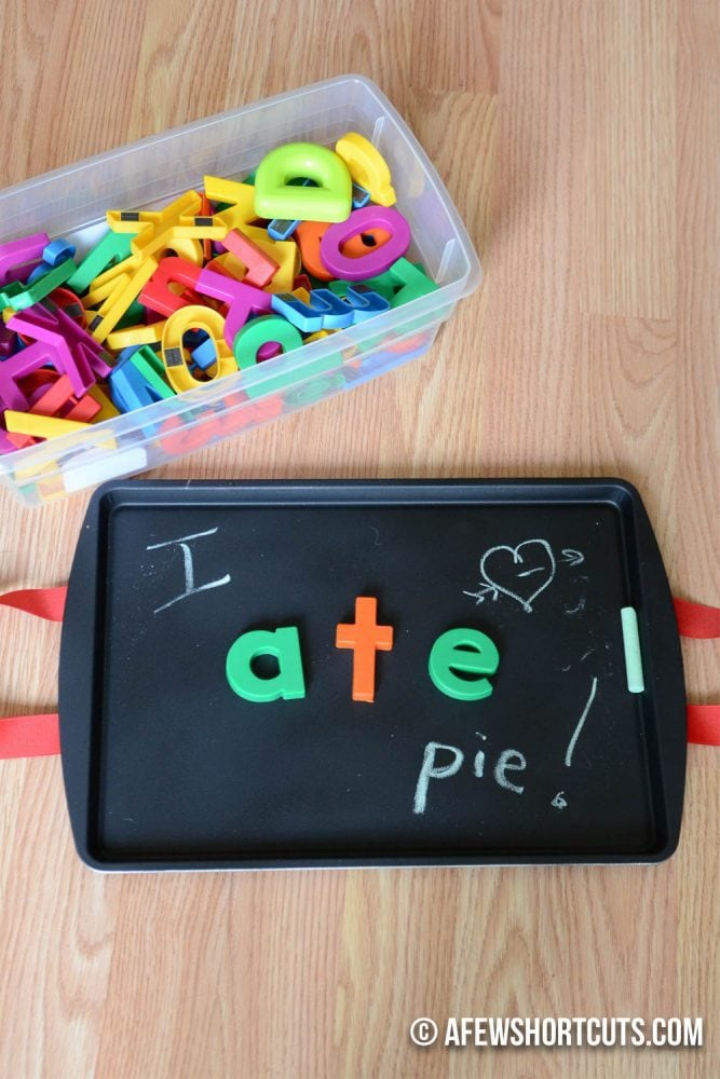 Make also best-looking DIY lap desk for your kids, will simply cost you just a few dollars. This is here a magnetic chalkboard lap desk that you can quickly make a cookie sheet. Further, you need chalkboard paint, ribbon, hot glue, magnetic letters, and chalk to build this lap desk like a pro. afewshortcut
10. Portable Road Trip Lap Desk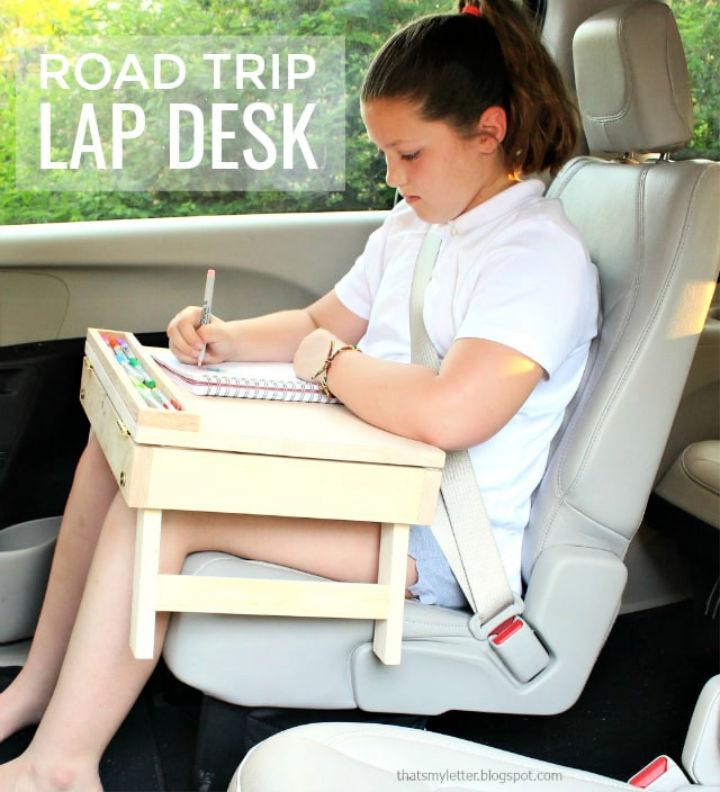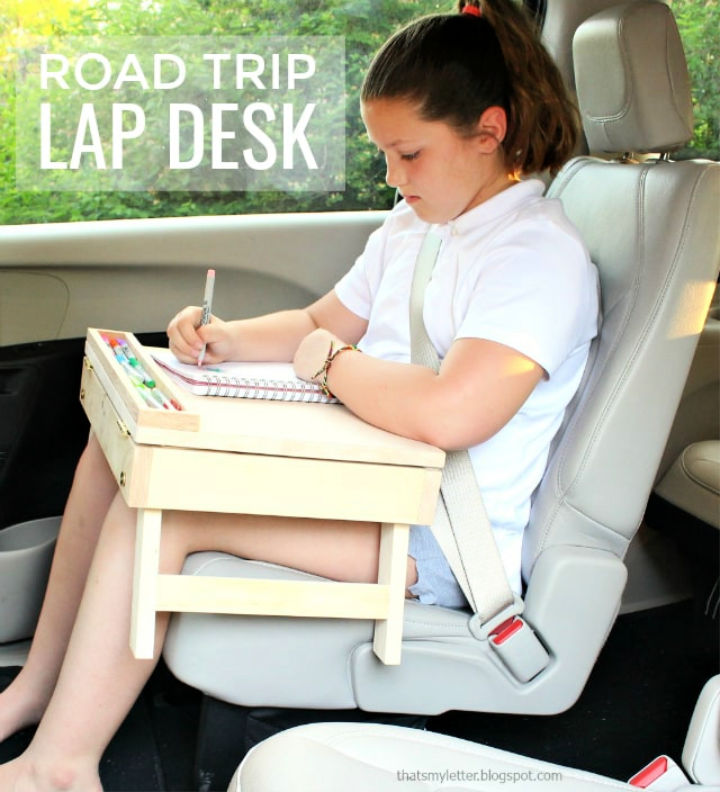 Build this DIY lap desk for kids that impresses with certain added features. It features a built-in storage compartment, collapsable legs, hard writing surface, and a carrying handle. It will fit nicely to the lap of a kid and will just provide a convenient surface for read, write, and drawing purposes. Details here jaimecostiglio
11. DIY Wooden Laptop Desk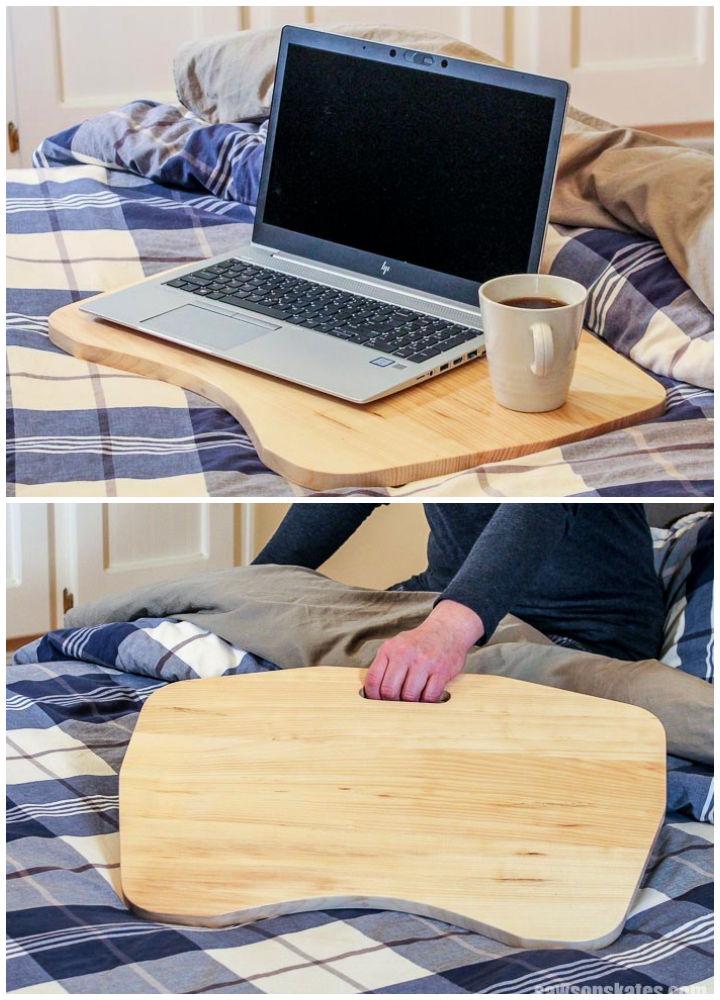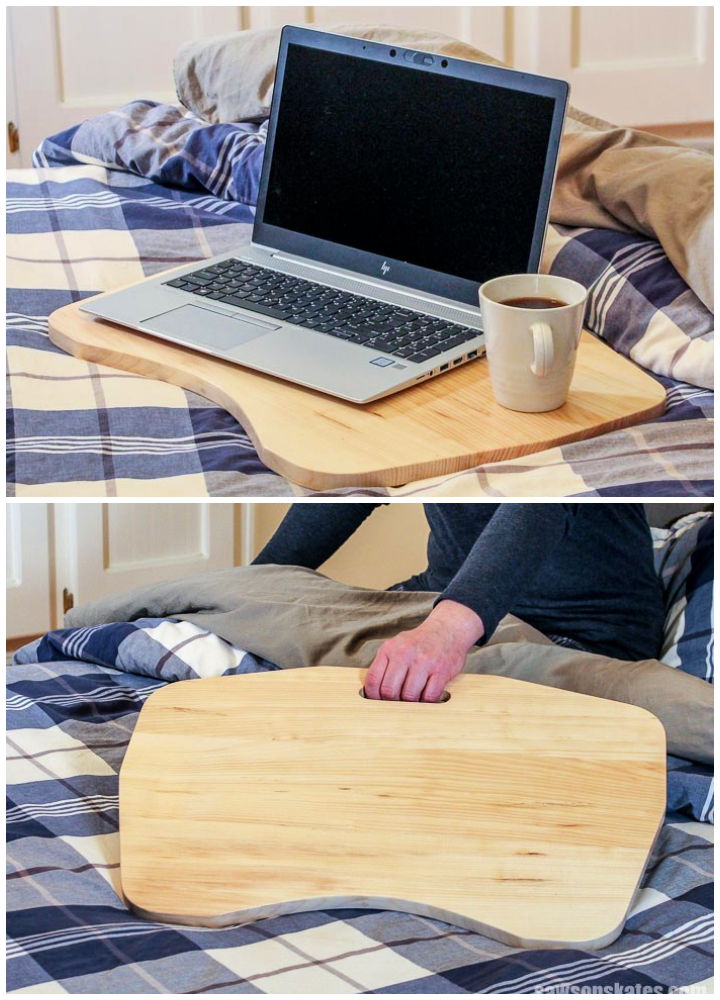 Make this wooden laptop desk using simple pine boards. You need 1x6x6′ and 1×2 to build this wooden lap desk. It comes in an artistic shape and provides a handle hole for easy life up and carriage. sand it smooth and give a custom finish for added smoothness and weather protection. sawsonskates
12. Repurposed Cupboard Door Lap Desk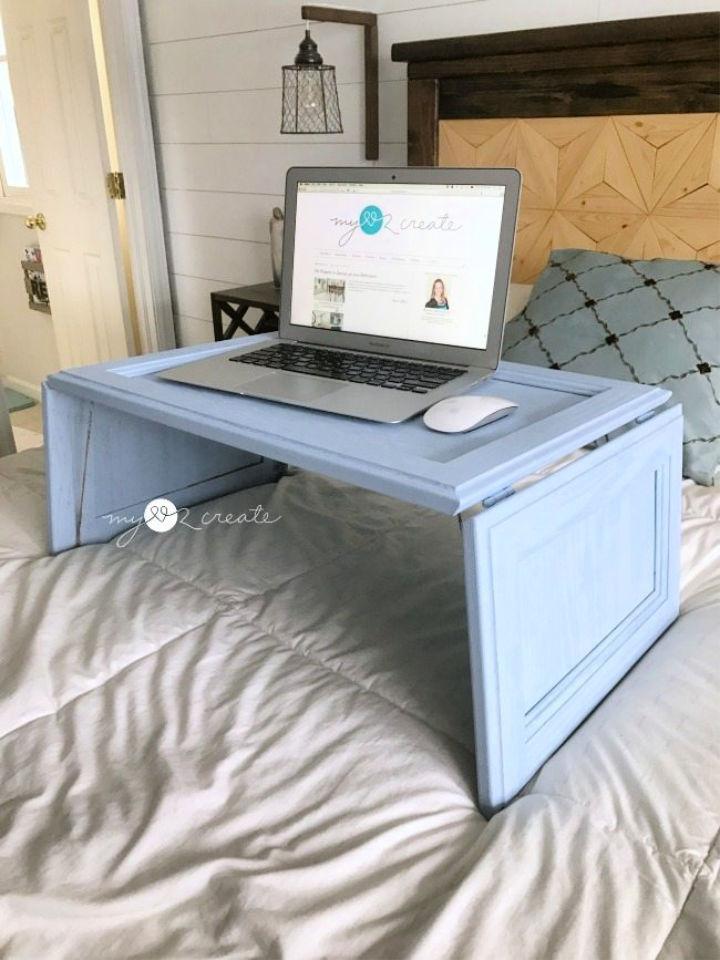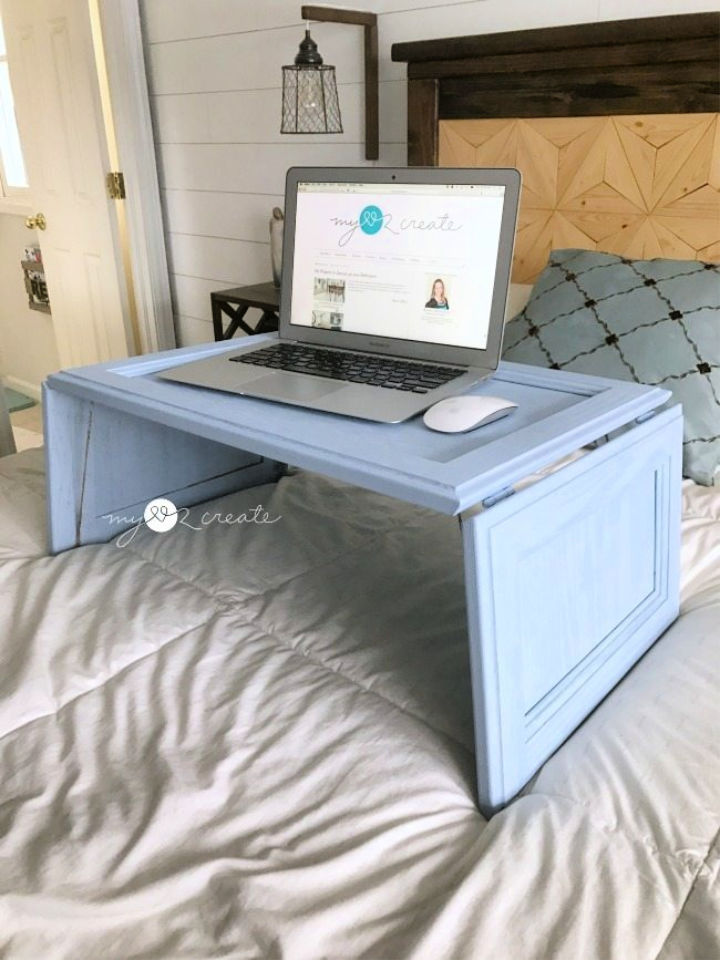 Recover great lap desks out of your old furniture items, will be loved dearly by all laptop lovers. build this cupboard door lap desk using repurposed cupboard doors. Just use two smaller cupboard doors as legs and add them to the bottom side of a bigger door, serving as the main desktop. Details here myrepurposed
13. How to Make a Lap Desk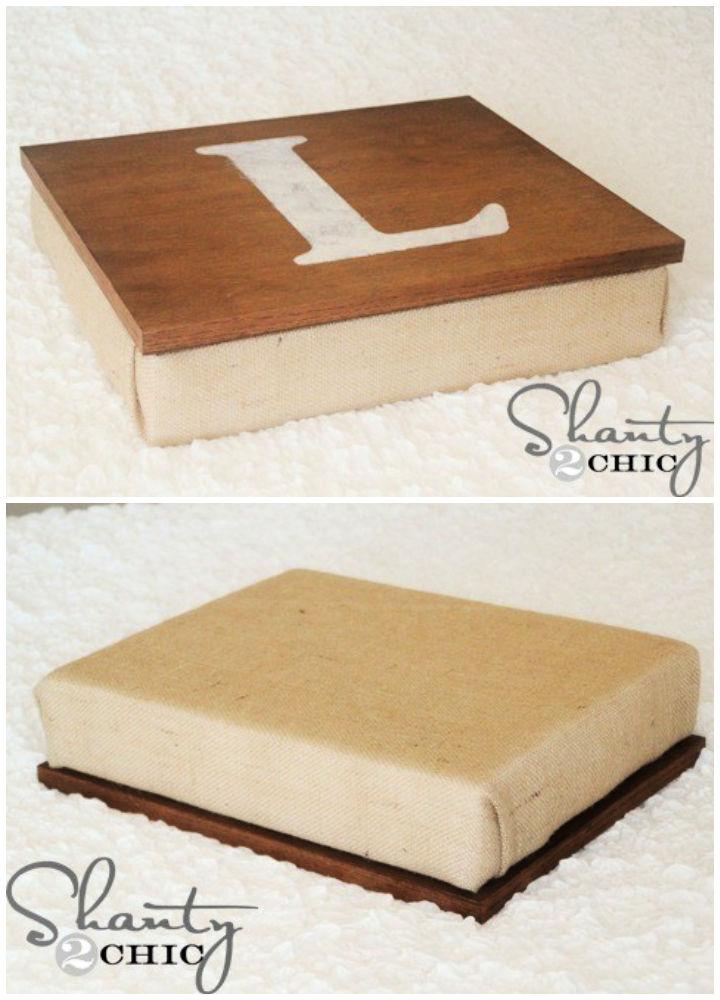 Just make the super-soft bottom of the lap desk using foam board, polyfoam, and burlap. For a make a monogrammed letter top, just grab a size of plywood, stain it, and stencil for a lovely letter monogram to make this fantastic lap desk. get inspired by this finally completed lap desk, will surely impress. shanty 2 chic
14. Homemade Lap Desk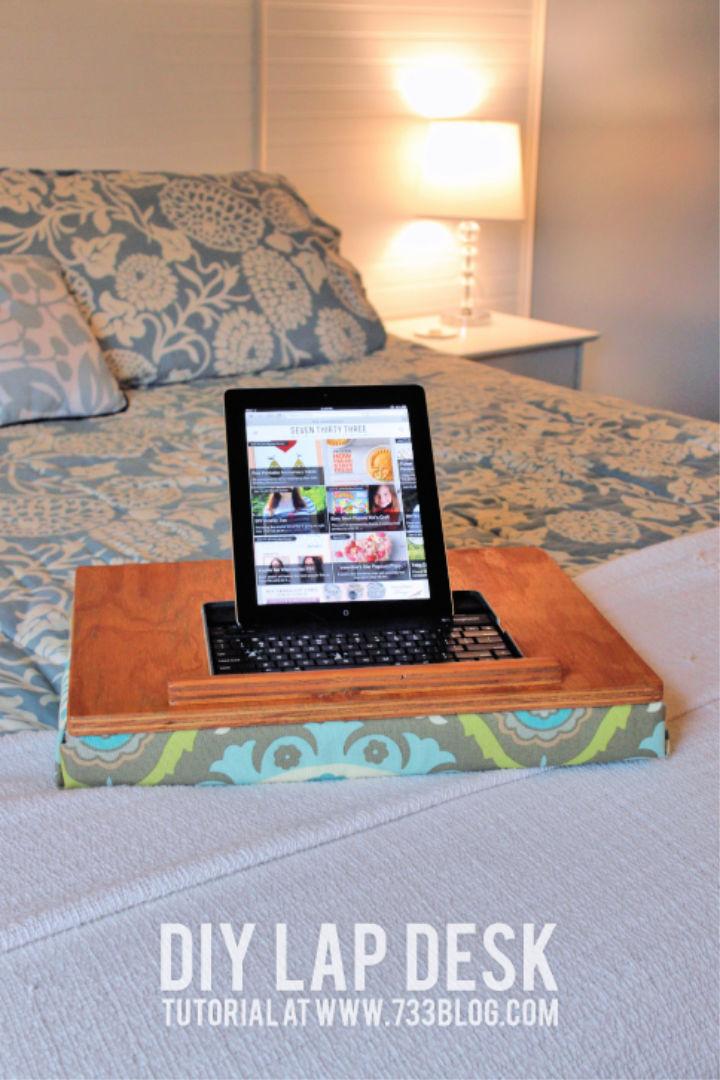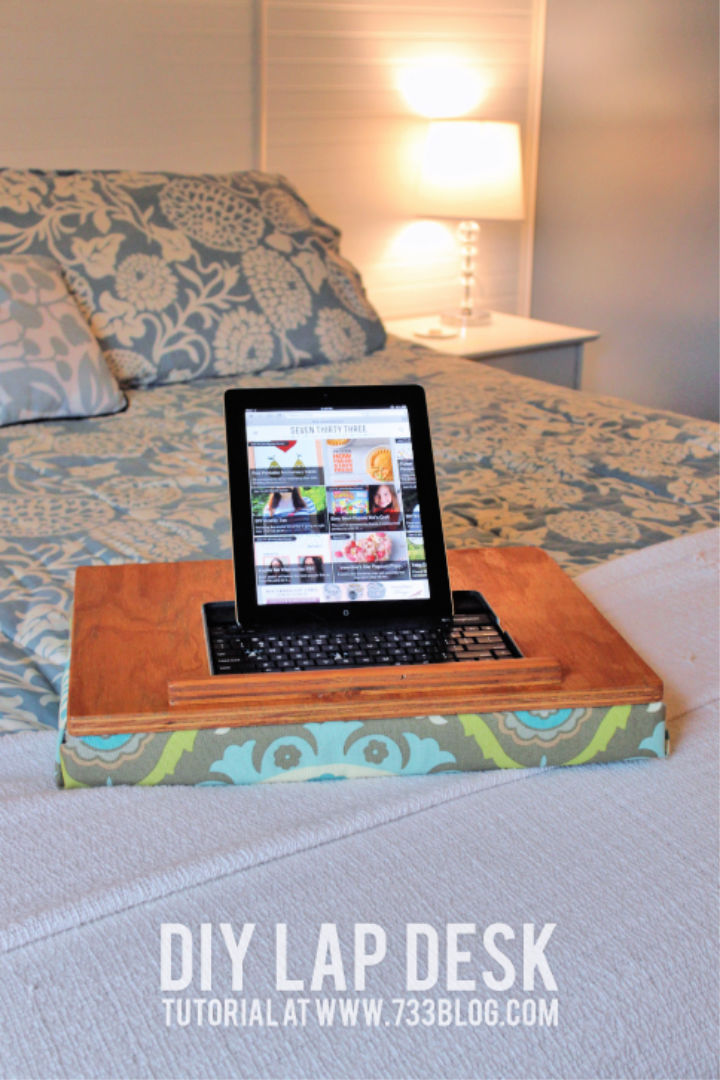 This lap desk comes with a foam bottom but in gain attention from the 10" catcher that will not let your expensive iPad or laptop fall down accidentally. Make the top lap desk with plywood, and for the soft bottom, just grab a piece of foam and cover it up with your favorite decorative fabric. Details here inspirationma
15. DIY Scrap Wood Laptop Desk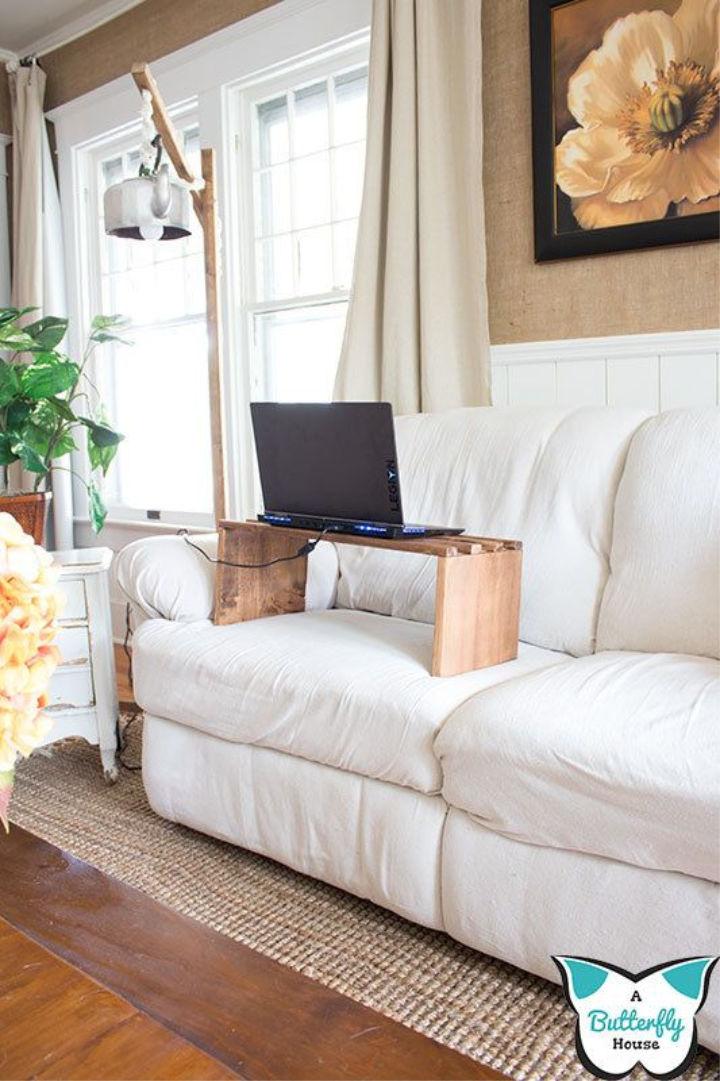 Enjoy an easy and comfortable laptop operating using this scrap wood laptop desk. Just grab 1" x 2" furring strip and 1" x12". Take 2 lengths of 1" x 12" cut to 9" size to build legs and then go with 2′ lengths of 1" x 2" to build slatted laptop desktop. It will amaze at a very first look. Details here abutterfly
Conclusion:
The bedrooms are the most comfortable spaces in man's life to take a rest. They provide too much comfort to make you lazy sometime. So, don't sacrifice your laziness or bedroom comfort when you need to do the rest of your office or willing to eat your breakfast, just use these DIY lap desk ideas for both to operate the laptop and to eat the breakfast in bed. Here some design comes with built-in storage options and other impresses with folding legs. You will love building these lap desks as most of them require a beginner skill-level.
Related DIY Ideas To Organize Your Home