When doing things in a hurry, we are often misplacing our keys. It is real trouble too to lose your keys at the time of need. So, never lose your keys again using these 15 simple DIY key holder ideas that are super creative and cost-efficient. These key storage ideas involve using mostly recycled materials and scrap objects to build durable, beautiful, and functional key organizers. From building DIY key holder boxes to enchanting candlestick key organizers to super gorgeous magnetic key holders, this collection of 15 DIY key holder ideas will reveal easy hacks to build all like a pro. Depending on your needs and home decor style, you can choose a custom DIY key holder for wall from the collection that will enhance the visual of your walls too.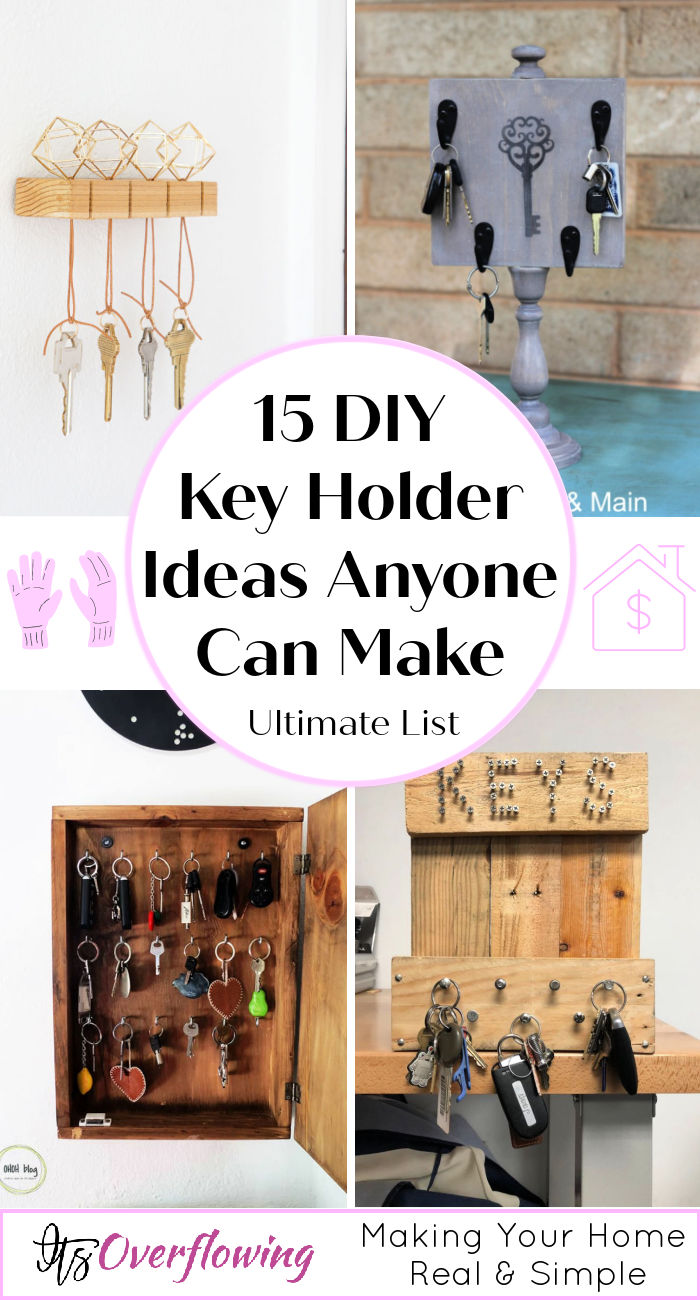 Make the concrete monogram key holders, will make amazing wall art signs too. Repurpose wood slats and the caged necklace pendants to build lovely key organizers. Spice up your key organization game by making succulent mason jar keyholders will make a smart wall art centerpiece too. Upcycle the wood slabs and drill holes in them to fit the wooden pegs in, and gain lovely key holders.
Go for rustic yet modern decor statements by featuring live edge wooden key holder and also use the Dremel Moto-Saw to make quick wooden letter key holders super quickly. Use scrap wood to build enchanting wooden boxes, fit the magnets in the bottom, and build magnetic key holders. Browse the entire collection of these DIY key holder designs to see lots of more unique and creative key rack and organizers.
1. Concrete Monogram Key Holder
Add custom monograms on your interior walls for creating a personal decor statement and get a lovely DIY key holder, too, at the same time using this concrete monogram key holder. You need to shape create, wax paper, thin brass rod, safety gloves, brass hooks, and screws, and a paintbrush to make it. sugarandclo
2. Modern DIY Key Holder
Take your key organization game to the next level using this modern DIY key holder. Build it using a 1" x 2" piece of wood, gold jump rings, decorative caged necklace pendants, 1.5mm leather cording, and 2 small keyhole hangers. One of the best DIY key holder with a hot touch of wood and metal. francoiset
3. Succulent Mason Jar Key Holder for Wall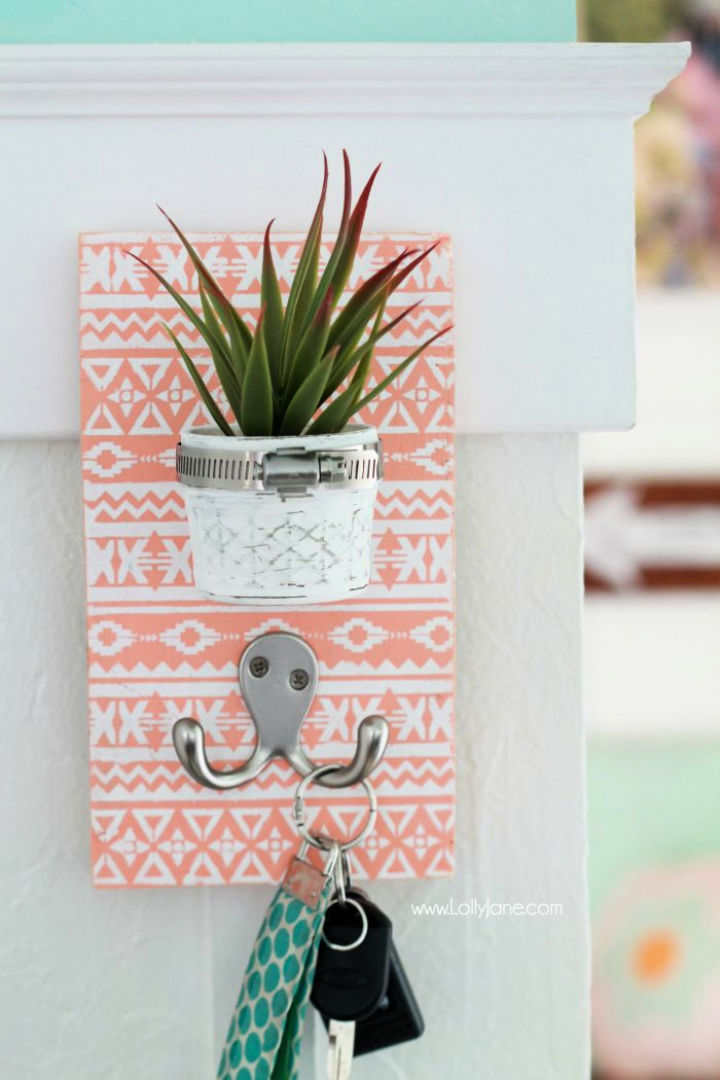 Are you often misplace your keys? Then come out from this embarrassing situation using the succulent Mason jar key holder. Grab a 10" x 6" pine wood board, hose clamp, a Mason jar, faux succulents, double prong robe hook, and chalky finish in white. Details here lollyjane
4. DIY Key Organizer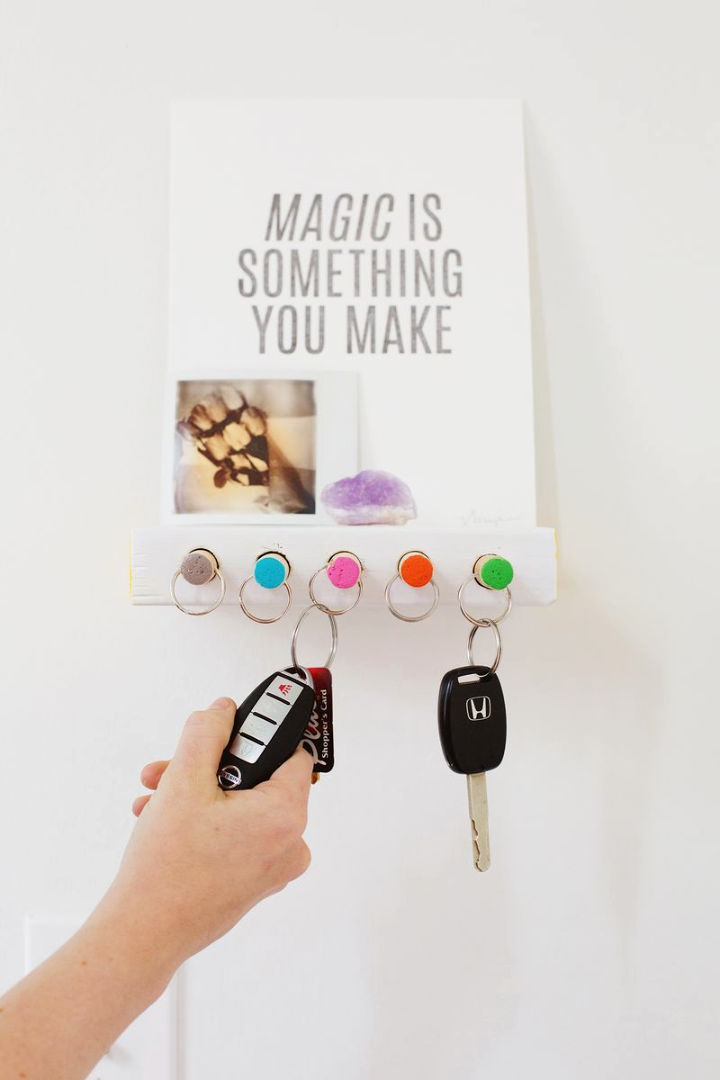 You will hang your keys on this DIY key organizer too that is color and is a smart DIY creation. Make with a recycled piece wood, just drill holes in front of the wooden piece, should like a slab. Next, add the round wooden pegs there, make them quickly using a 1/2" wood dowel. Add up the pegs with key rings and paint their heads colorful. abeautifulmess
5. DIY Keychain Chapstick Holder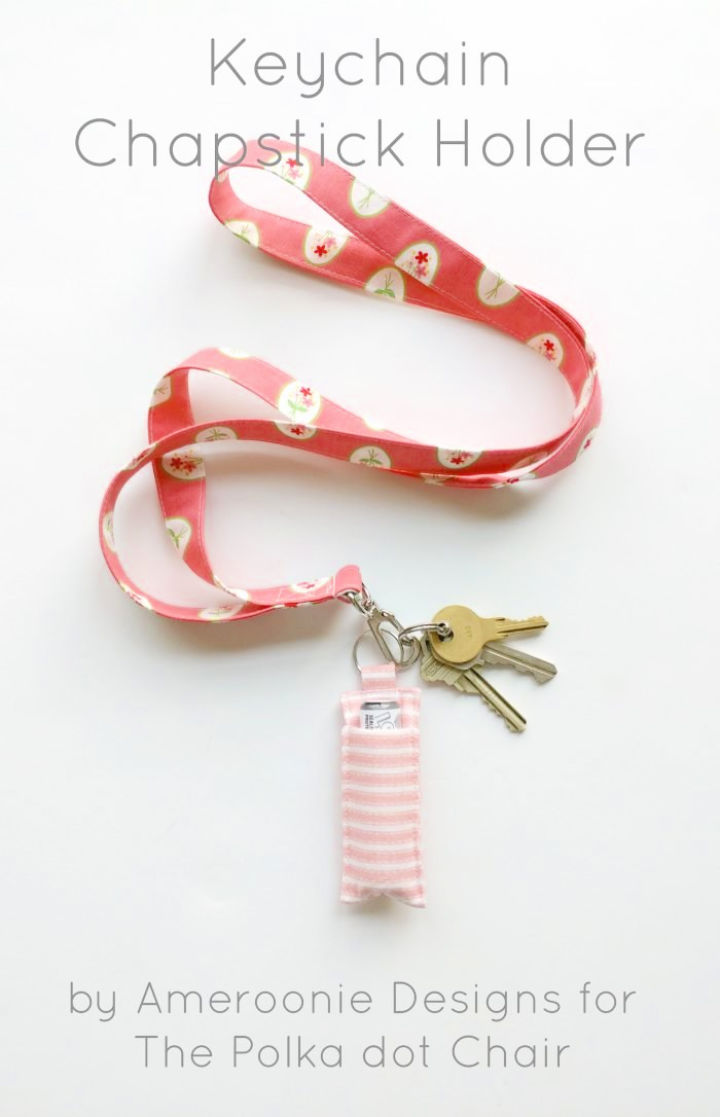 Make this outstanding DIY keychain holder using a few scraps of fabric. Next, you fusible fleece, 3/4" or 1" split ring to make this chapstick holder, will make a cool handmade gift. Adorn this keyholder more using custom embellishments, pendants, and charms. Details here polkadot
6. DIY Key Holder Using Dremel Moto-Saw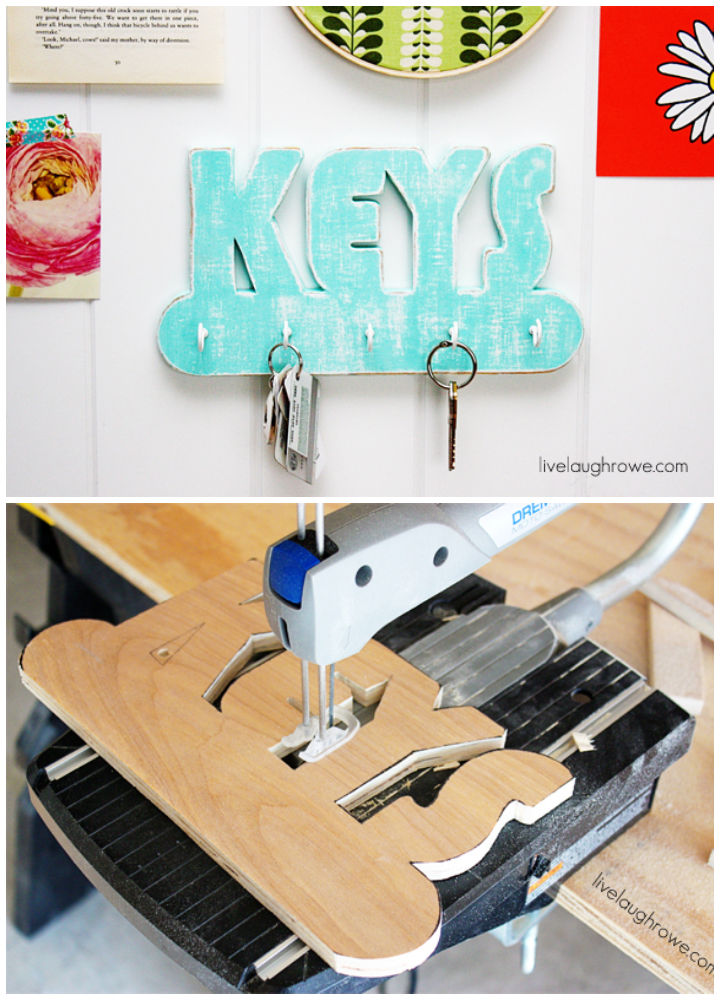 Grab a piece of 1/2" thick 2×2 birch plywood and then cut fantastic letters out of it using Dremel MotoSaw. Sand it up smooth and then add up with 7/8" cup hooks to make this fantastic DIY key holder. Just paint your finally cut out key holder with a custom cut out letters, and hang on the wall. livelaughr
7. Magnetic Key Holder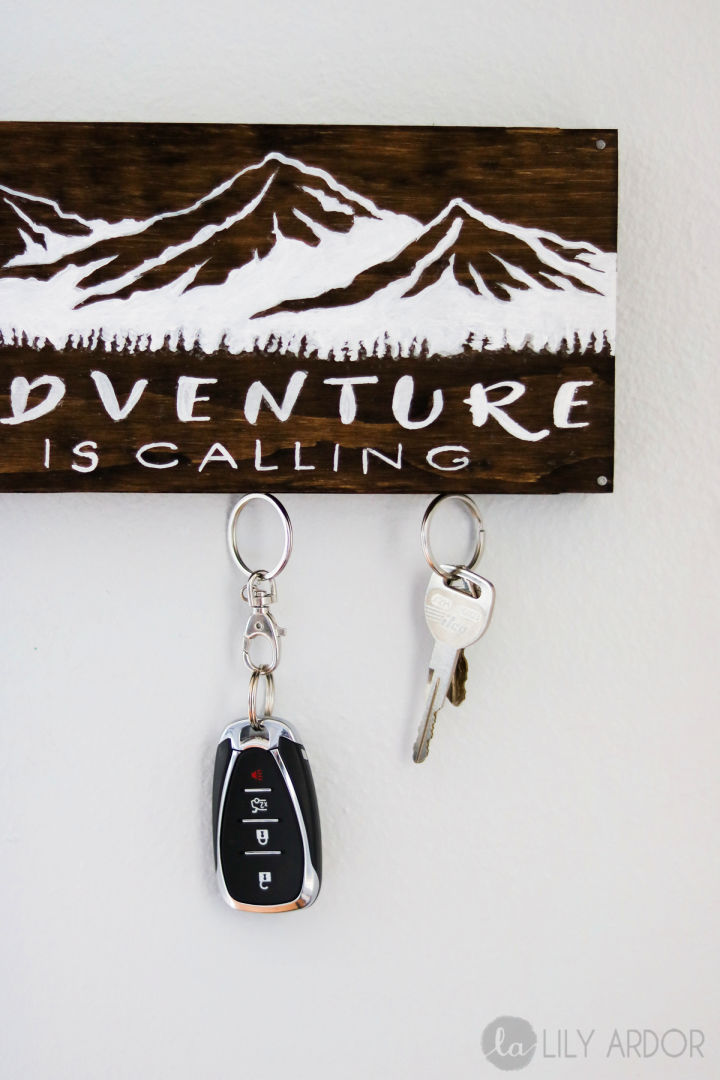 Spice up your key securing with this magnetic key holder that comes with a mountain art. Just grab the scrap wood pieces to shape up a lovely wooden box, just drill holes in the bottom of the frame to fix in the magnets and then stencil or paint the custom letters or art in front of it. Details here lilyardor
8. Wooden Slab Key Holder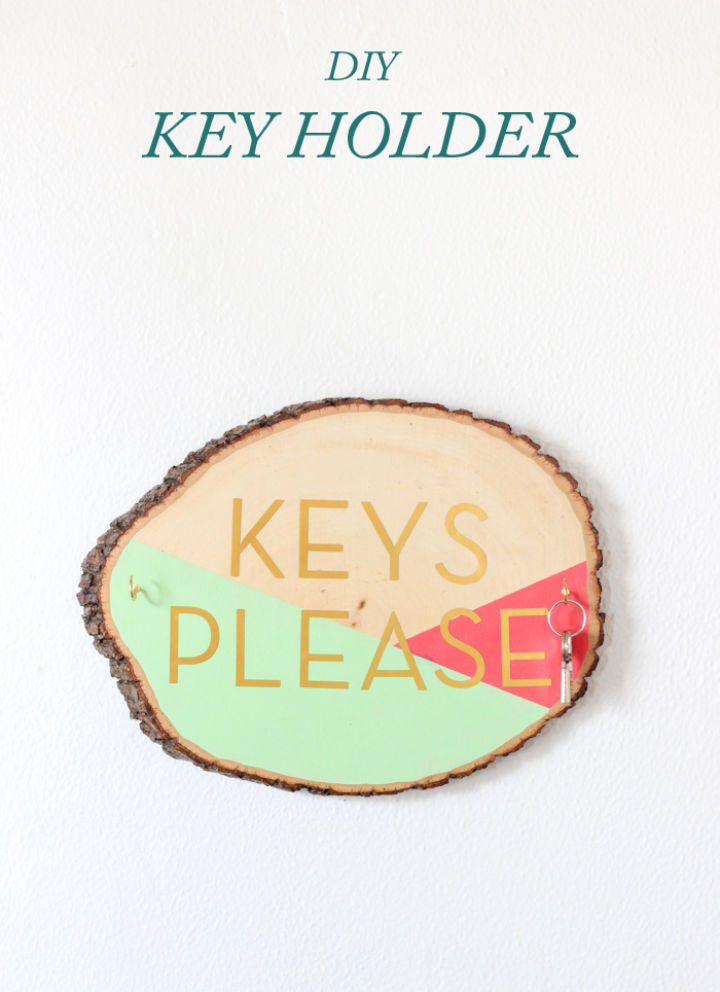 Cast elegance in an interior, along with getting a cool place to organize your keys using this wood slab key holder. Make it using a rustic wood slice. Give a custom wood reconditioning treatment to your unfinished wood slice, paint it for different color sections. Add it up with cup brass hooks, and finish with alphabet stickers. Details here thecrafted
9. DIY Pallet Key Holder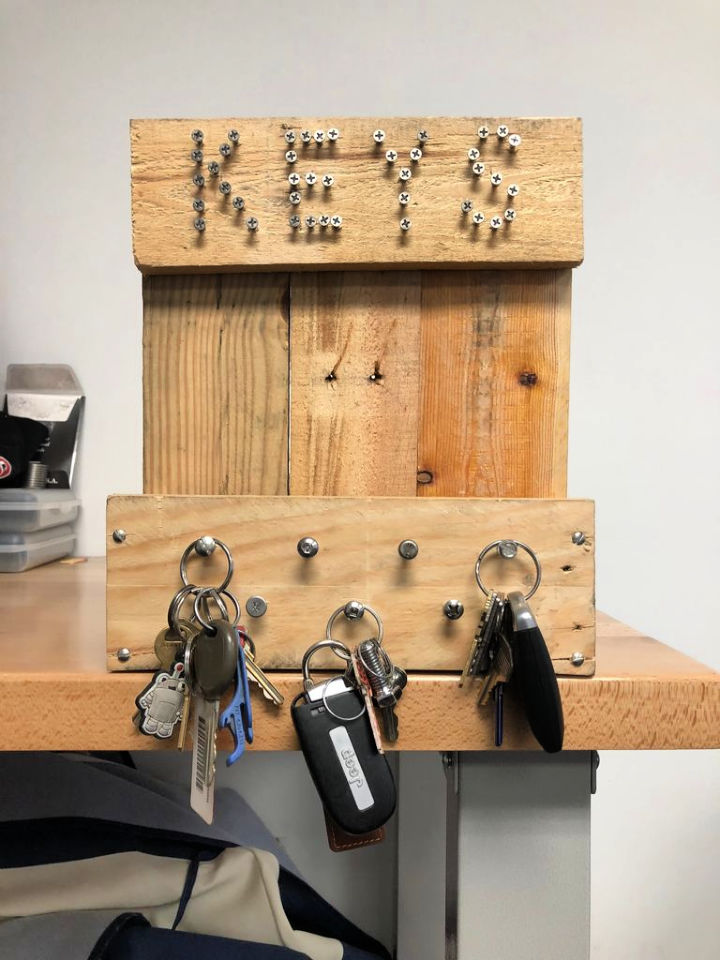 Here you need 7 planks of wood cut down to 1′ lengths to build this wooden pallet key holder. Next, you need lots of screws to add the screw "KEY" in the top board and then hanging hooks to the bottom side of this key holder to build a stylishly beautiful key holder. Details here instructables
10. Cool Map Rock Keychain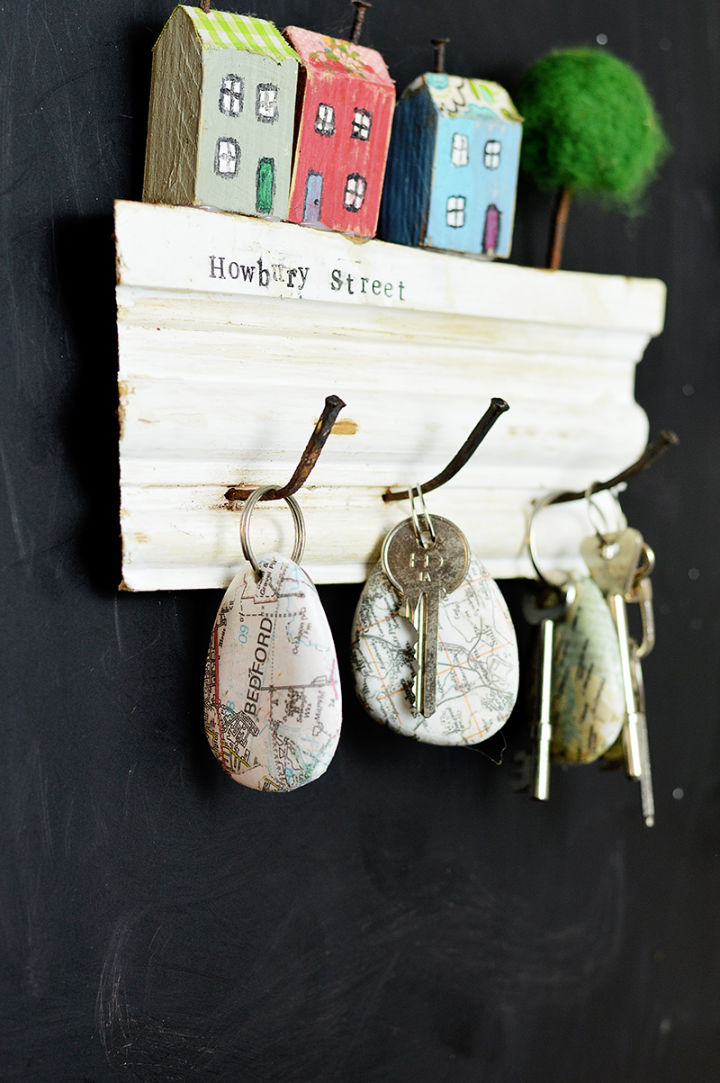 You will love this fabulous map rock keychain, which will be a lovely handmade gift for friends and beloved ones. Make this homemade keychain holder using a scrap piece of wood and rustic nail hooks. For making keychains, give a primer coat to your rocks, then layer mod podge and cover them up with map paper and finish with a keychain. Details here pillarbox
11. Wooden Key Holder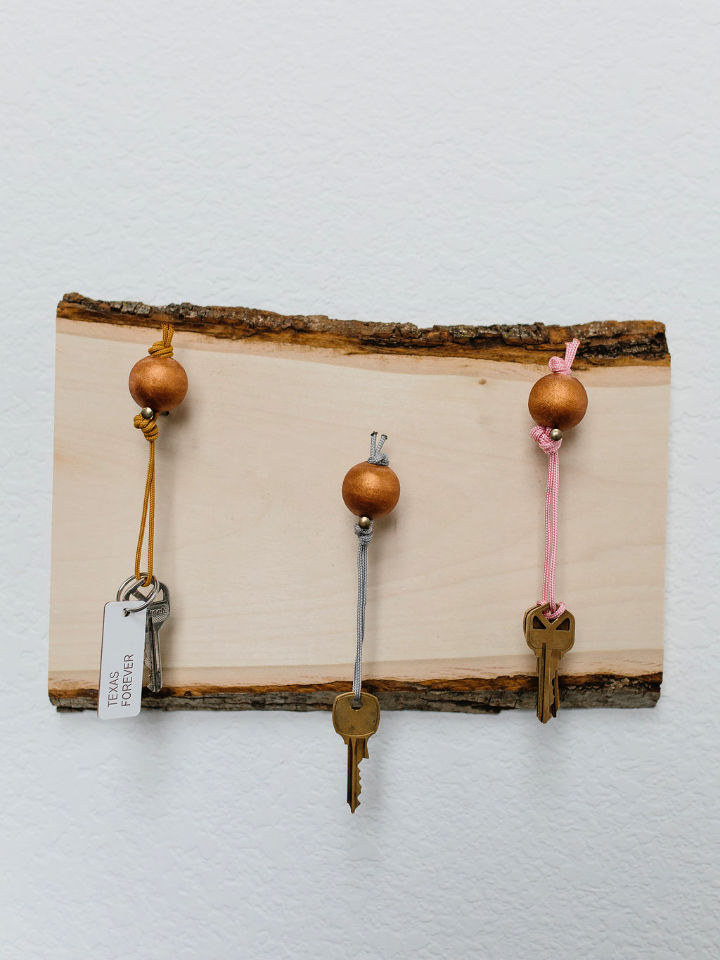 Feature the live edge in a particular home interior with this wooden key holder, built to inspire. Grab a handmade modern wood slab with the bark on both sides. Add it up with nail hooks and then use the nylon climbing rope and wooden bead balls to make the keychain. A perfectly cute key holder to make in no time. Details here theeffortless
12. DIY Chalkboard Key Holder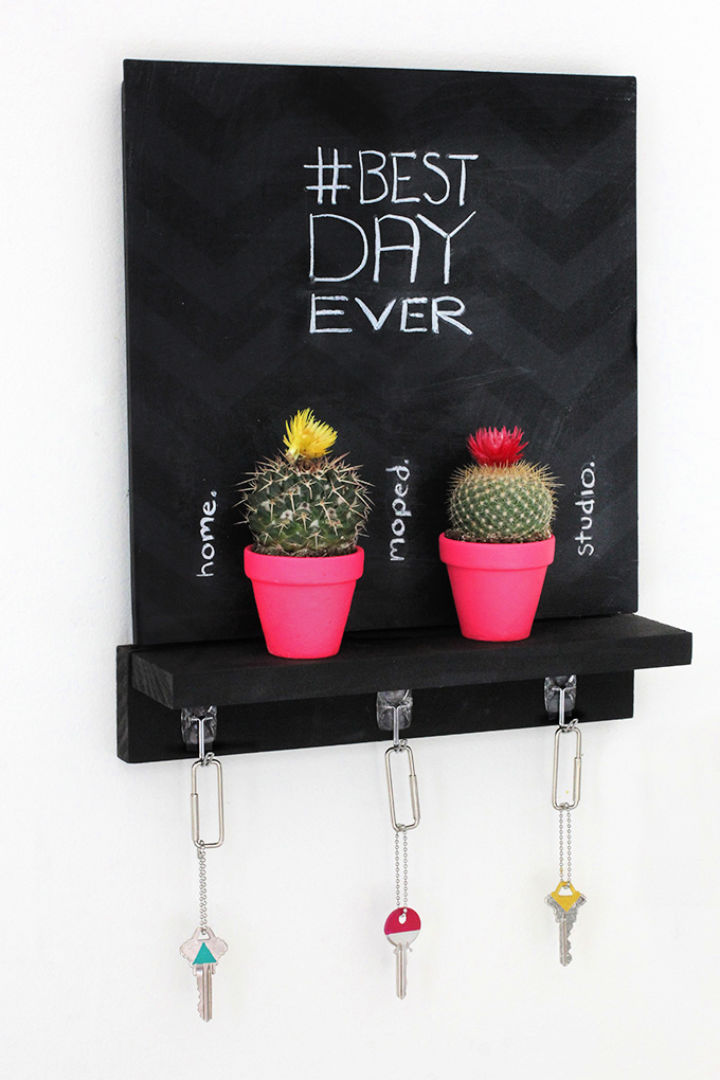 What an amazing hack for a beautiful homemade key holder. Just grab 2 pieces of wood, chalkboard spray paint, chalkboard tile, small wire hooks. This chalkboard key holder will allow you to write custom words and letters. Garnish it more using neon flower or succulent pots. Details here ispydiy
13. Woodland Animal Key Rack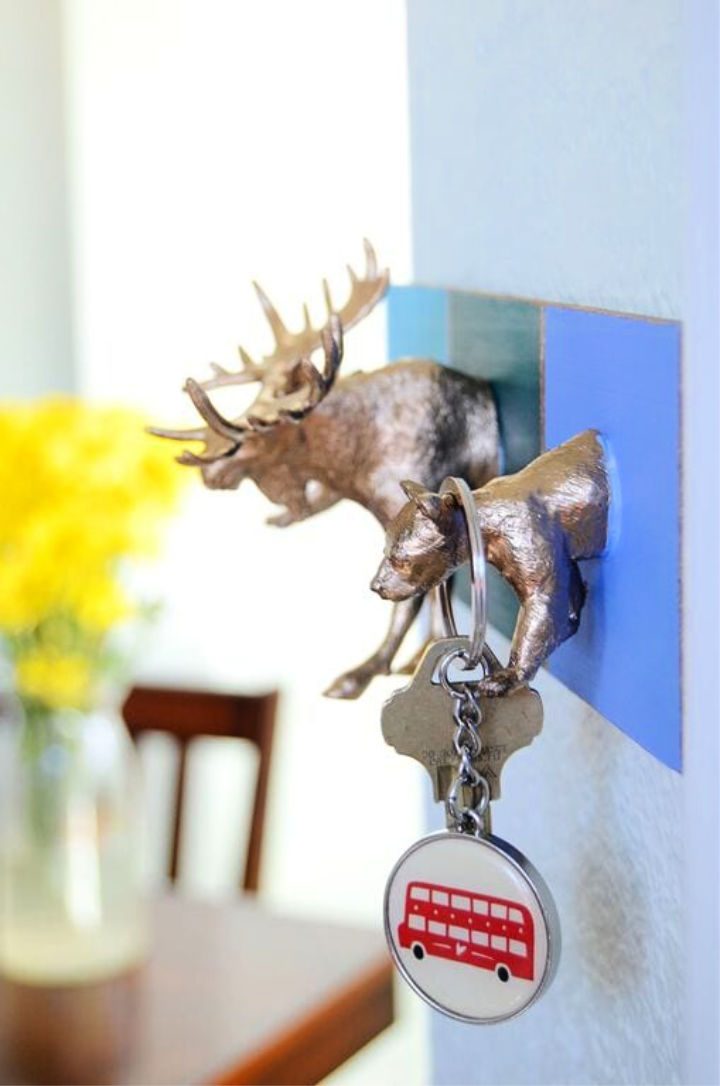 Grab a small wooden board, paint it for the different colorful square section. Next, add the half-cut gold-painted plastic animal to the section as hanging hooks. A super quick and modern looking woodland animal key rack to build super quickly and in no time. Details here bestfriendsfor
14. DIT Key Rack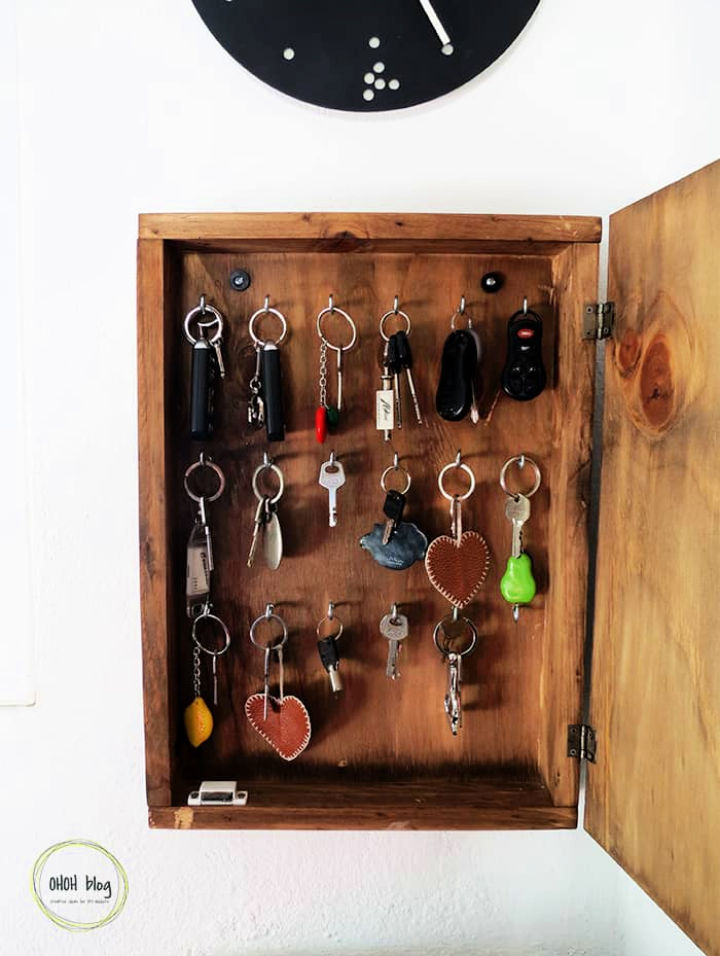 Build this DIY key rack that will make a great wall art piece too. It provides hooks inside to hold your keyring collection and front-hinged door. Lovely chevron painted stripes on the front side, turn this holder box into a fantastic piece of art. You need 12mm plywood, 2×1 wood lumber, small hooks, paint, and varnish to build this DIY key holder box. Details here ohohdeco
15. How to Make a Key Holder
Get here a brilliant DIY hack to build a DIY key hanger out of a candlestick too. Grab a candlestick, 5" wood plaque circle, wood drawer pull, 6" square piece of wood, wood stain, and 4 hooks to build this keyholder. Stencil the wood square for a key art stencil, add up with hanging hooks, and adjust on a candlestick. Details here hawthorneand
Conclusion:
Keys are necessary to organize as misplacing them can put you in big trouble. Organize your keys with these 15 easy to build DIY key holders that take you out of the trouble of finding lost keys, and you need a beginner skill level to build them all. From using everyday stuff, recycled materials, and old scraps, you will be able to build most of these key holder designs. They will fit in every budget and will make pleasing handmade gifts too. Build them with artistic appeals, so they will make interesting wall art pieces too. So give a try to these DIY key organizers to fulfill your home organization plan.
Related DIY Ideas To Organize Your Home