Do you wish to build safe shelters and barns for the livestock? If you currently have a passion for the goat farming, then go with these 15 free DIY goat shelter plans that will guide you build a weather and predator safe goat house like a pro. Whether you are willing to raising 1 or 2 goats, 3 to 6, or more goats, there is goat shed plans for building every size of goat barn. You can build them with built-in storage and playing features so they will create too much fun for the goats too. Just browse this collection of DIY Goat Shelter Plans that carry lots of crazily built readymade samples for you, will uplift your creativity.
These free goat shelter plans will give you illustrations, measurements, diagrams, visual instructions, and full tutorials to build each listed shelter like a pro. Finally, some plans will provide free video tutorials too to make it darn easier for you to build a goat barn or shed.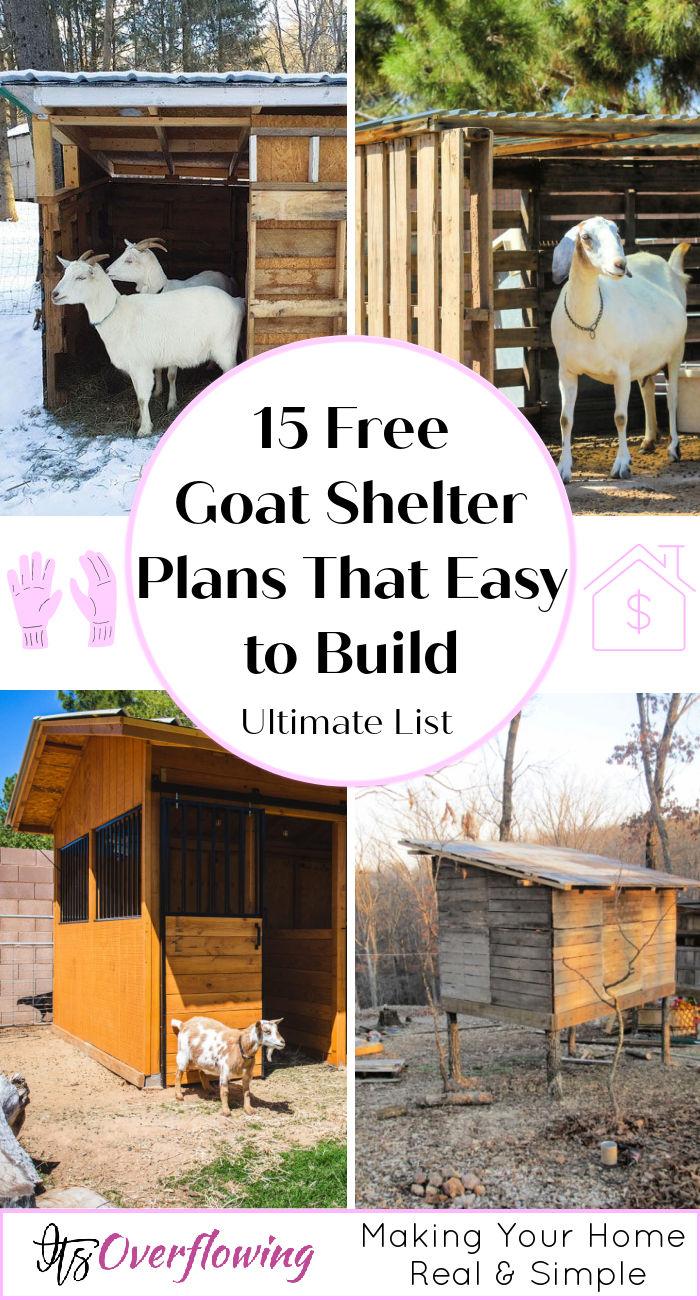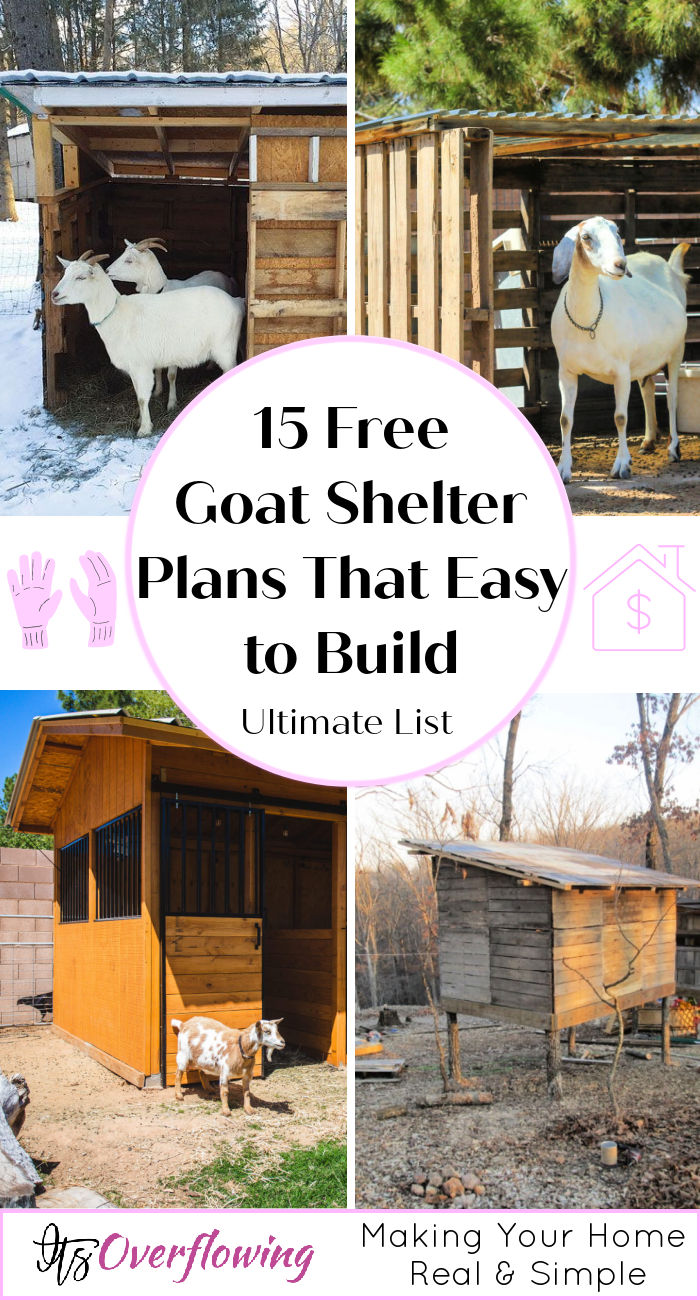 First, you can do manual wood constructions with the wood of choice to build a custom goat shed with your own added features. The 2x4s, 1×4, 1×6, 4×4, plywood, OSB, and corrugated metal roofs will be the main supplies to build most of these DIY goat shelter plans that will take your goat farming to the next level.
Secondly, opt for the recycled wood like pallets and other leftover lumber supplies to build no-cost goat barns, you can get the free plans for them also here. Browsing the entire collection of these DIY goat house plans is a must to check out to see a variety of designs to choose from.
1. How to Build Goat Shelter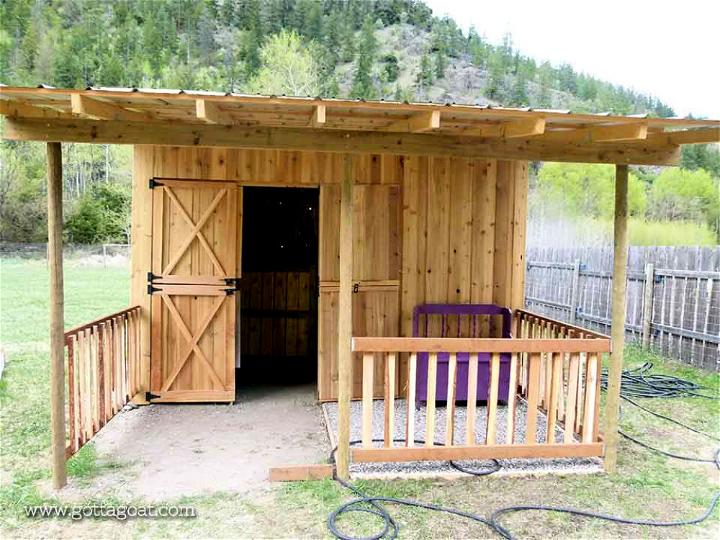 Build this small but functional barn for your goats, will fit ever budget for sure. It may seem to be daunting to build a goat barn, but with the provided instructions, it is going to be all easier and quick. It comes with 2 stalls, covered front porch, double dutch doors, and pole barn construction. One of the best 8ft x12ft goat shelters to build in no time. Details here gottagoat
2. 8×10 Goat Shelter Plan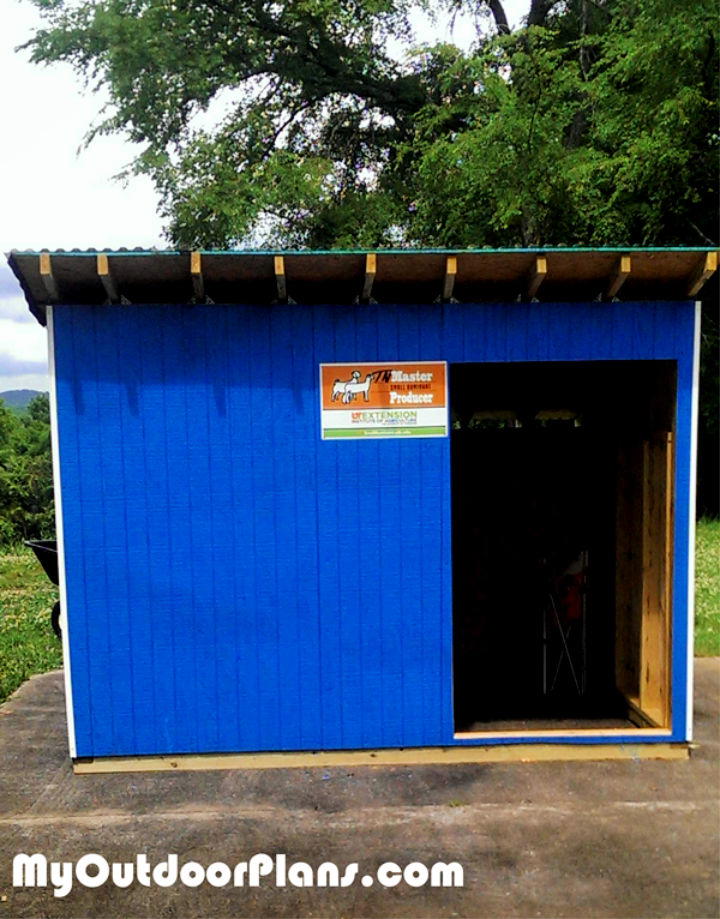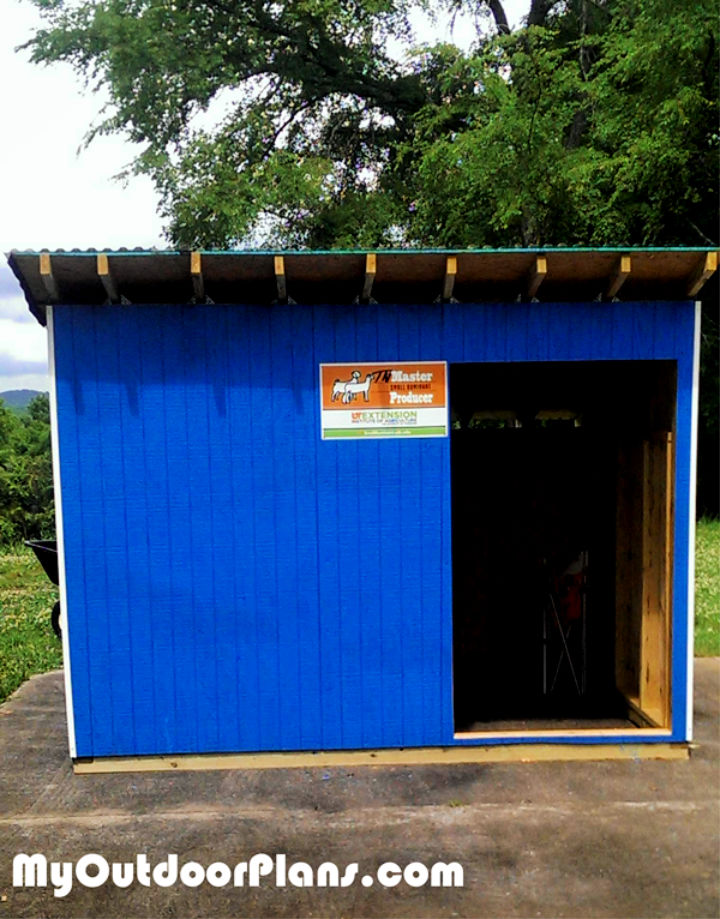 Get here free plans to build an 8 x 10 goat barn, will nicely house your goats. The design features a tilted corrugated metal roof, a large wide opening, and a solid wooden design to house your goats. Grab the 2×4, 4×4, and 3/4" plywood to build this goat shelter, will make a quick handmade gift. Details here myoutdoorplans
3. Make a Goat House from Pallets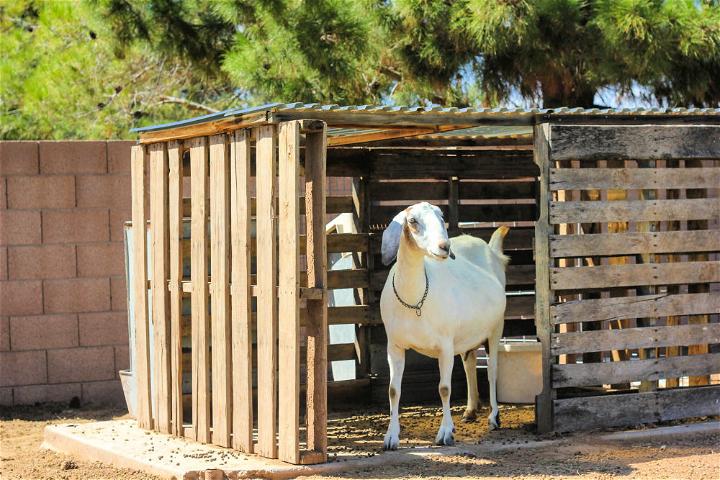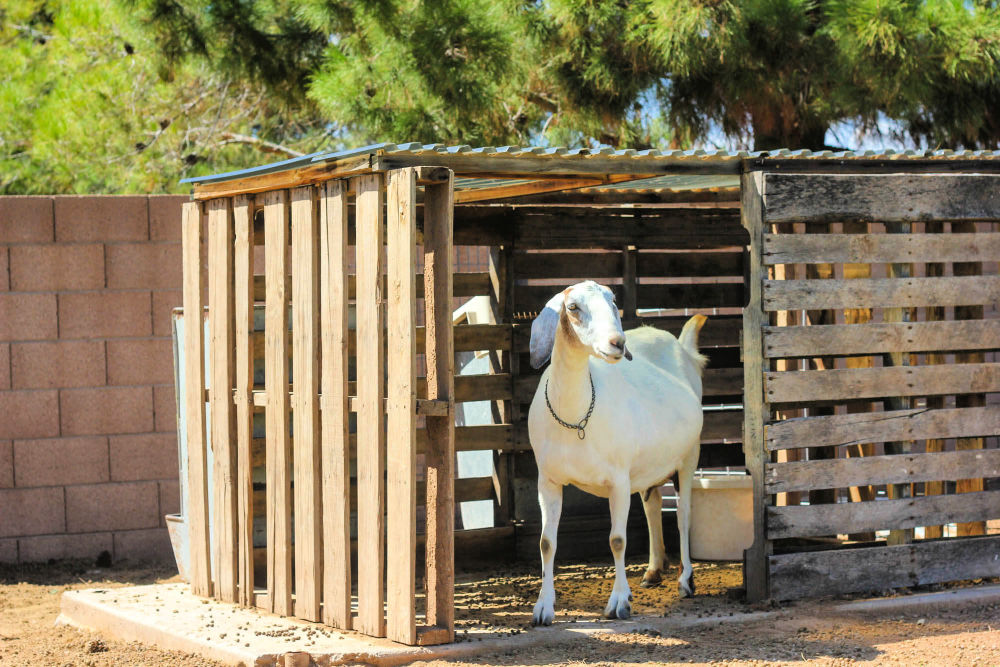 Not in a position to invest a lot in building a protected outdoor residence for your goats? Then build a great model of goat barn using free pallets. Just make the pallets stand vertically to build the wall for the goat house. Cover the as much area as you want and then finish with a metal tilted roof. weedemandreap
4. DIY Goat Shed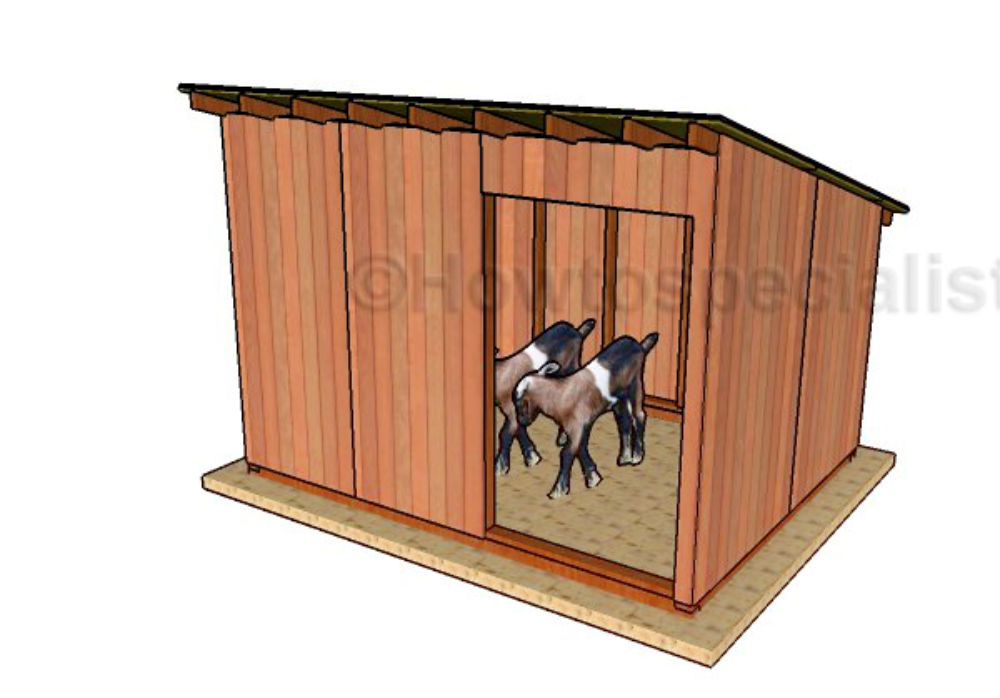 Get here free plans to build a shed for the goats, will be the safe and weather-protected residence for them. A big must-have for goat farming to get fresh milk and meat. Build the frame of this goat shed using the 2×4 should be supported with 4×4 corner posts. Use 2 pieces of 3/4" plywood to sheath the frame and finish with a corrugated metal titled or chevron roof. Details here howtospecialist
5. 10×14 Goat Shelter With Storage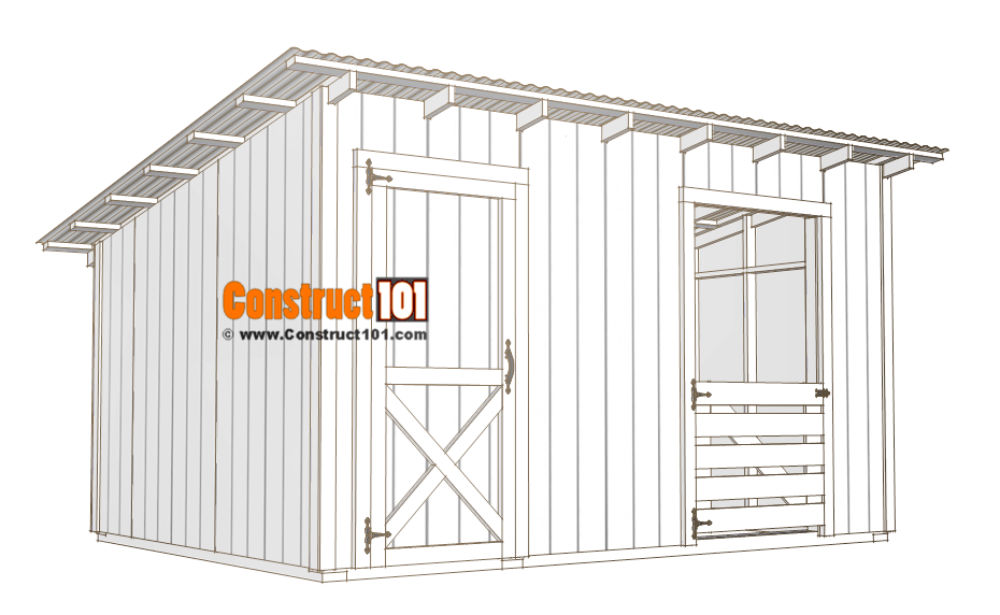 Opt for this goat shelter design that comes with built-in storage to manage the goat food stocks and other goat farming tools. The dimensions of this goat shelter are 10ft x 14ft, and it comes with a little edged corrugated metal roof that will not let the rainwater or snow to retain. A one of the best DIY Goat Barn to build quickly with free provided plans. Details here construct101
6. 8×10 Goat Shelter Plans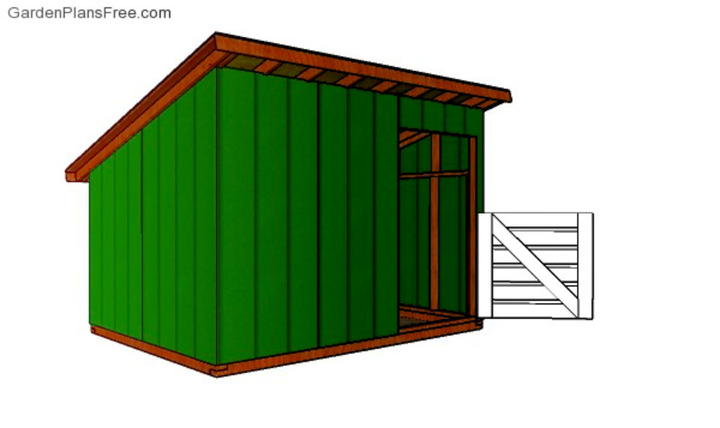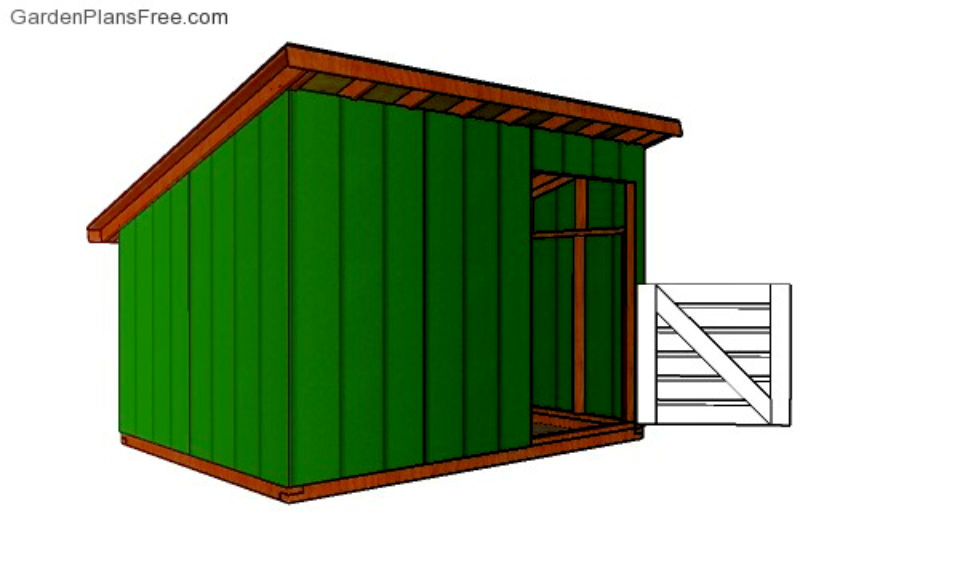 Have you built the safe and covered barns for the goat farming? Build a one without breaking the bank with these free provided plans that are for an 8×10 feet goat shelter. In the main features, it comes with a shingled roof and offers a tilted roof that can be made with 4×4, 2x4s, 2×6, and 1×6 lumber boards. Finish the entire goat barn with the T1-11 siding, and it will surely impress a farming loving person. The best to get for your goats. Details here gardenplansfree
7. Construction of New Goat Shelter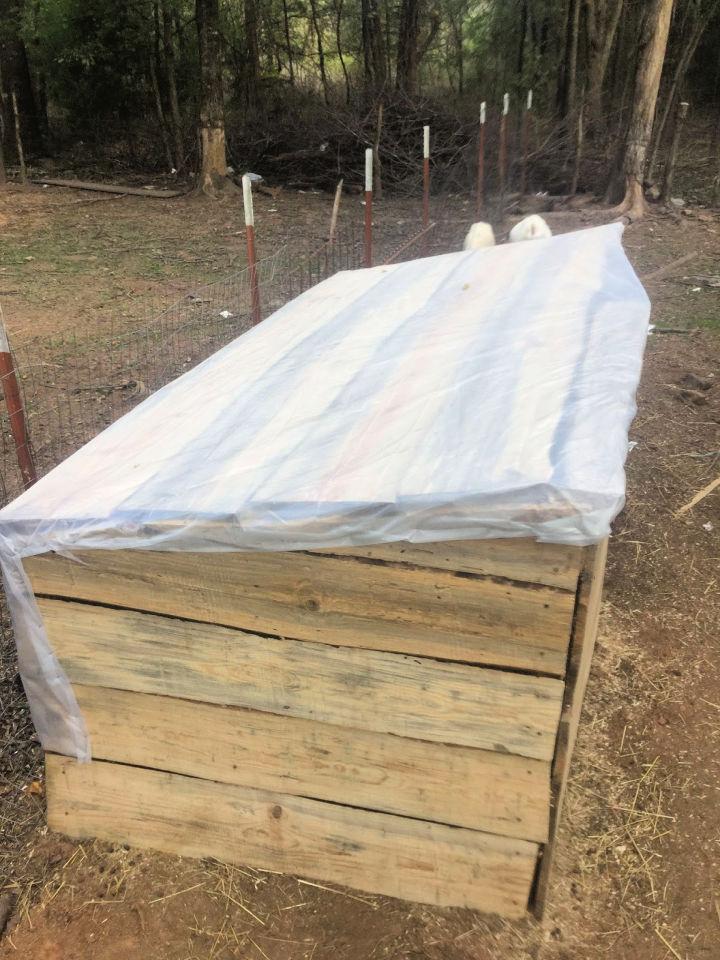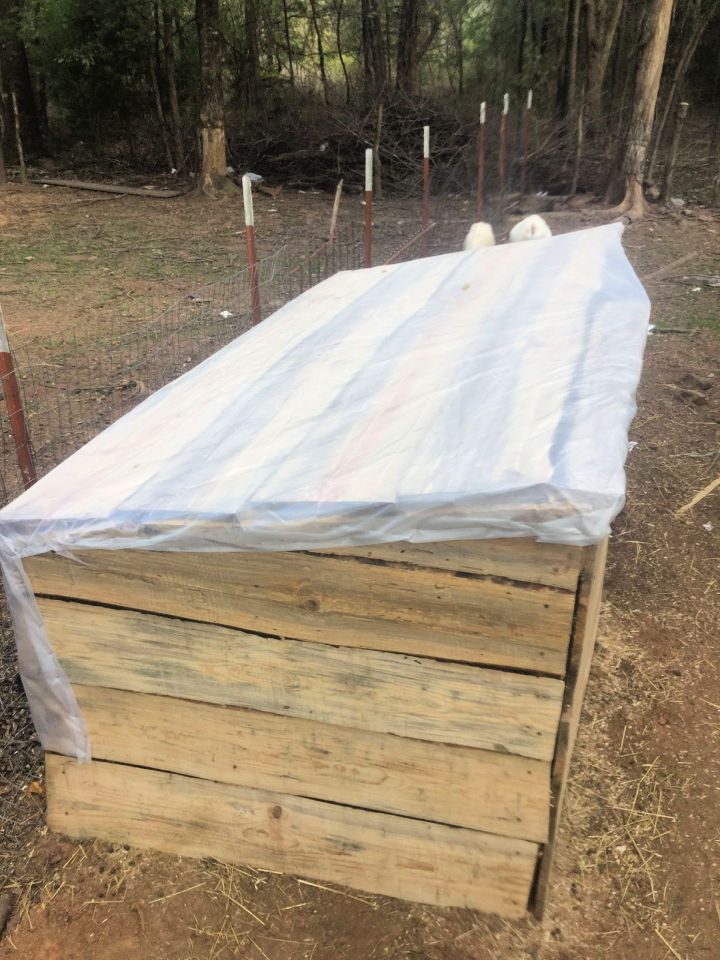 Willing to raise the goats for a fresh supply of meat and milk? Then the first very needed item would be a goat shed that you can quickly build with the provided free shed plans. How to build a goat shelter? This mini but super beautiful goat shelter comes with wood log poles and vertical supports. Next, use the slats to fill the vertical supports to shape up a lovely goat shelter. Finish it up with a corrugated roof, should on a sloped angle, and that' sit. countrifiedhicks
8. DIY Pallet Goat Shelter for Free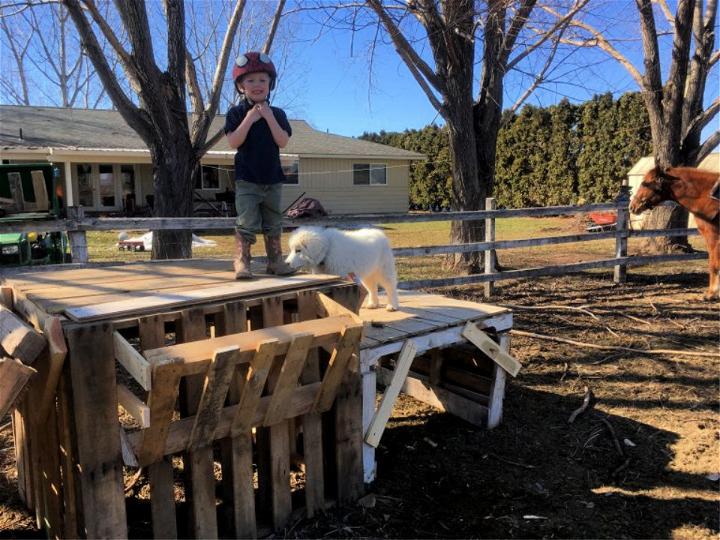 Take your goat farming to the next level by building a wooden pallet goat shelf. Yes, you can use the free pallets to build this beauteous and protected model of goat shelter, which will be a safer outdoor cave for the goats. Just put together the robust pallet skids to build a nice looking wooden cave and then house your goats in them. Make also the roof with a large pallet skid. A one of the best DIY Goat Shelter that will be ready on a zero-cost price. simplethingsb
9. DIY Goat Playhouse & Shelter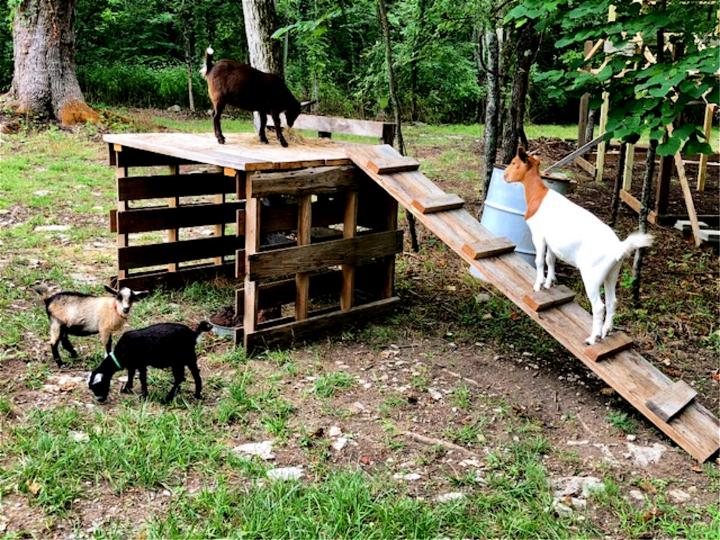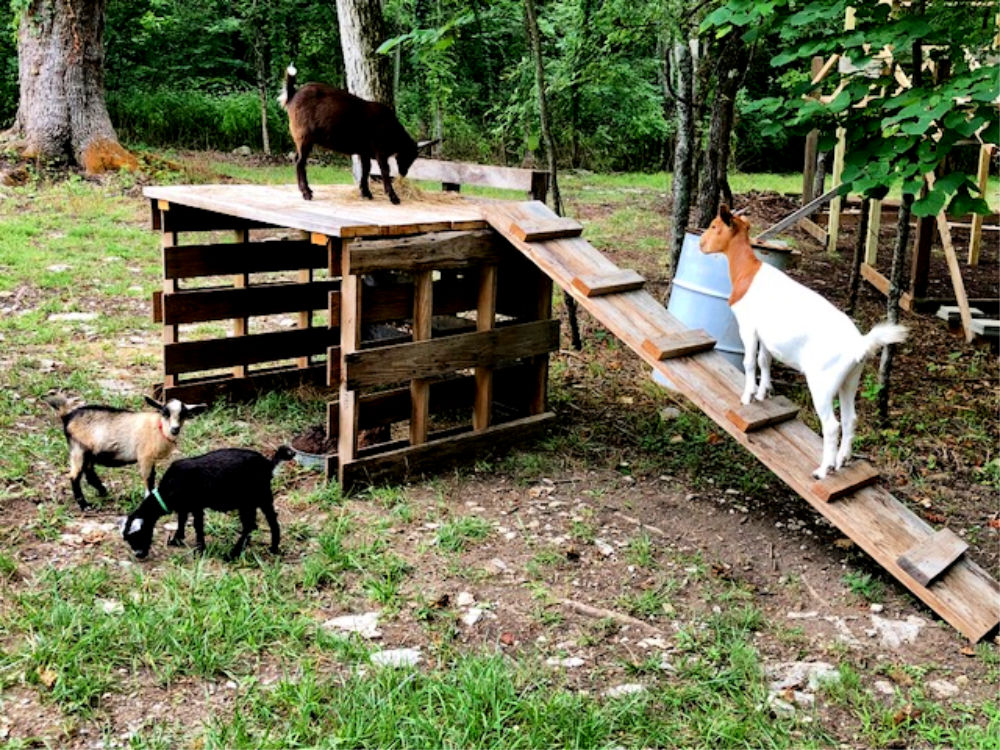 Building this goat shelter and playhouse will cost you next to nothing as it is most of it is made of recycled and scrap woods. You need 3 pallets, 2×4 and 2×8 scraps and durable hardware to make this goat shelter that will engage your goats into fun play too to be physically healthy. Just build a bigger box using large pallets, should come with an open front. Add up this box-like shelter with a wooden ramp, and that's it. thelittlefrugal
10. Perfect Pen for Pet Pygmy Goats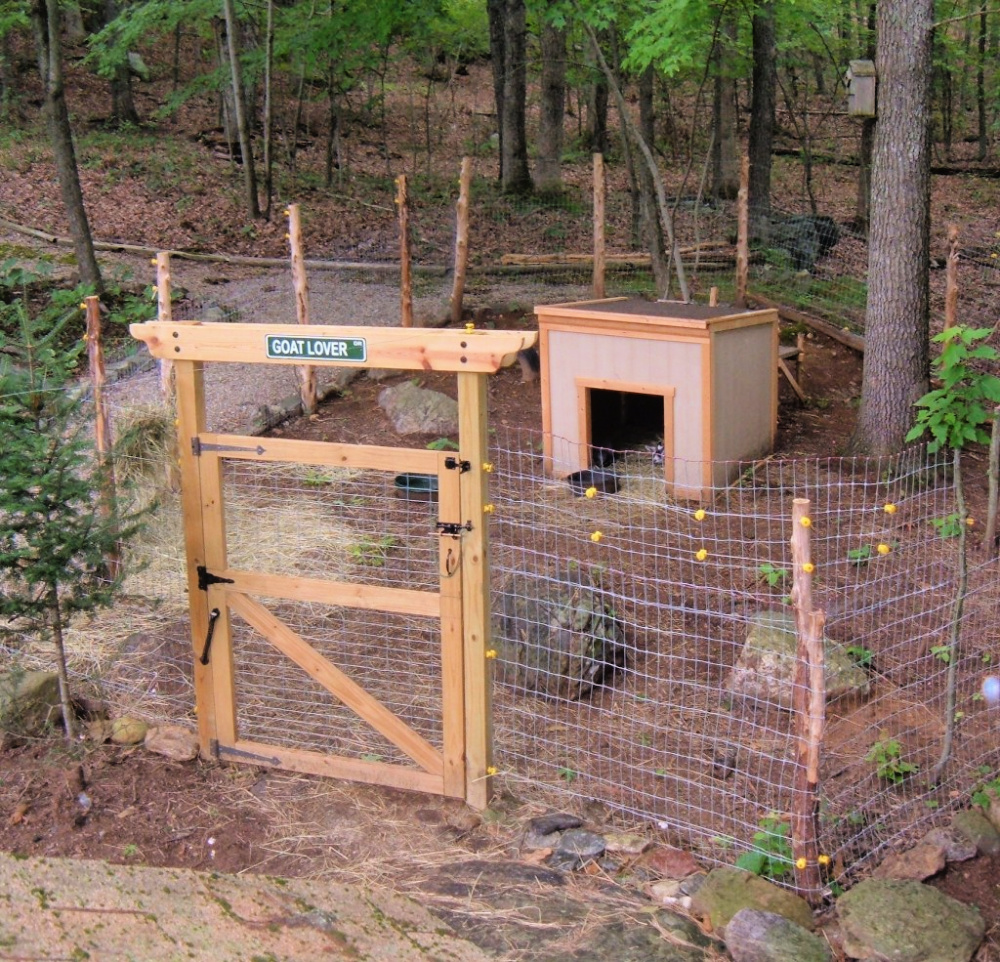 Willing to raise your goats in safe and protected environments? Then you must build this perfect pen for pet pygmy goats that comes with a large fenced area around the basic housing. Build the basic house that is all about to build a mini wooden roof with a tilted roof. Next, use the wood logs and the hardware cloth the fence the large area around the main goat residence. pethelpful
11. Homemade Goat Shelter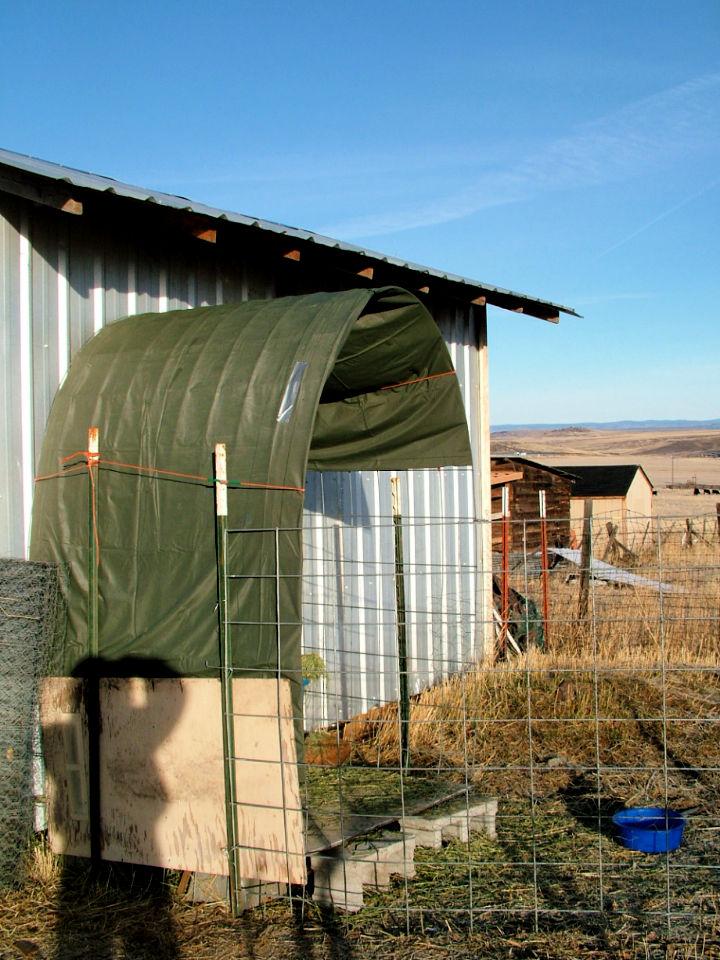 Wishing a build a large goat shelter that will serve for long time outdoor? Then get the free plans here for a 10ft x 20ft goat shelter, which will be large enough to house dozens of goats. Fence the area all around the shelter using custom wooden poles and cattle panels. This will provide total protection against the predators. The best goat shelter to build for your goat farming obsession. Details here dspla
12. Free Goat Shelter Plans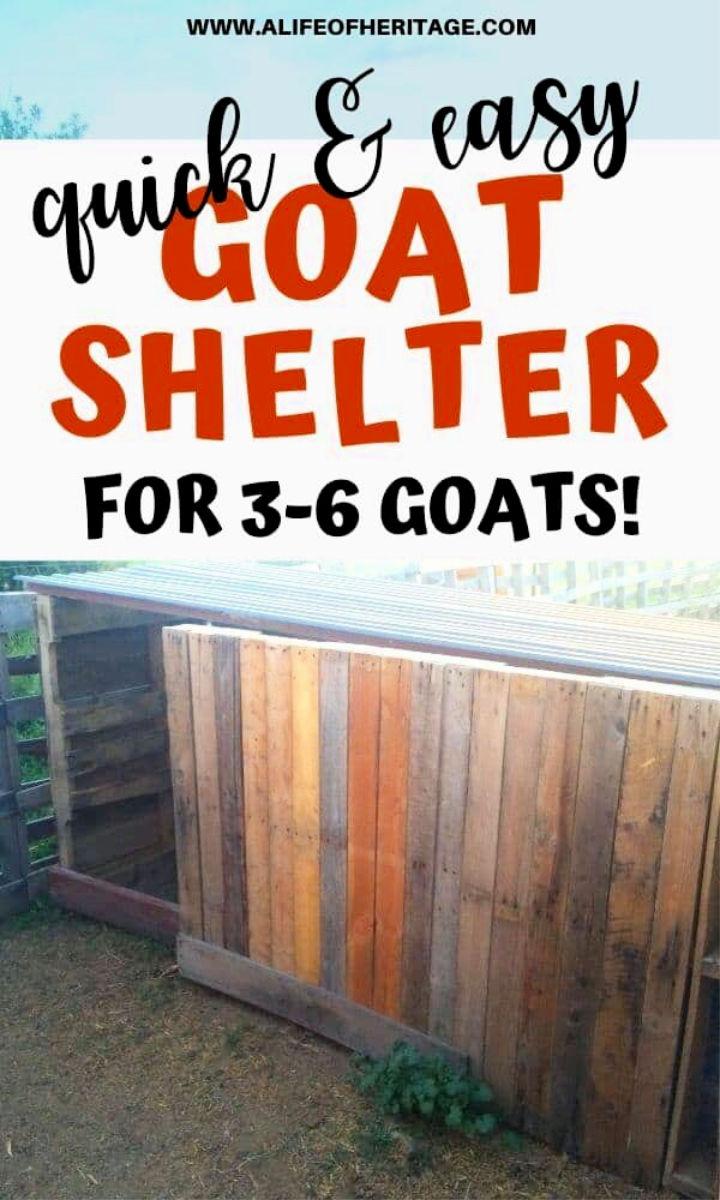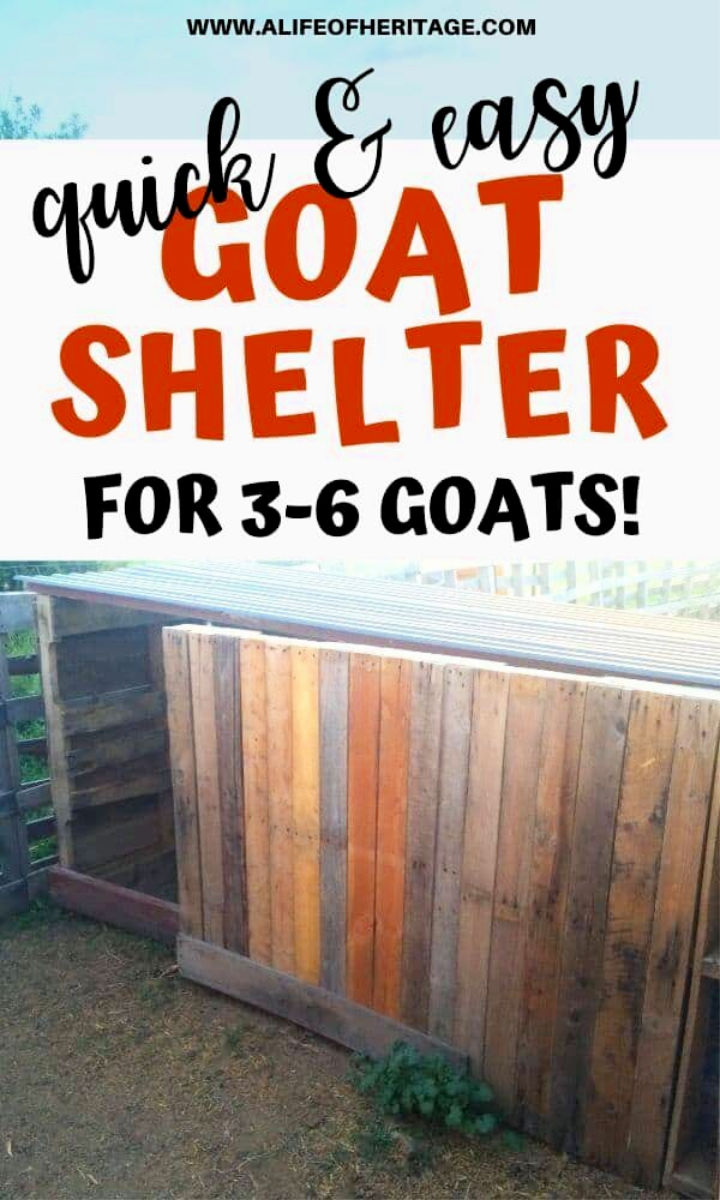 You can build a goat residence in any size to house a custom number of goats. This goat shelter will rock for 3-6 goats, and it comes with a corrugated tilted metal roof that will not allow the rainwater or snow retaining. Half of the design is to build with free pallets, and next, you can use the scrap wood slats to build the rest. Use the heaver wooden boards for the roof and corners and build the front gate also with pallets. The total cost of this goat shelter will be equal to the price of the metal roof. Details here alifeofheritage
13. Building Shelter for Goats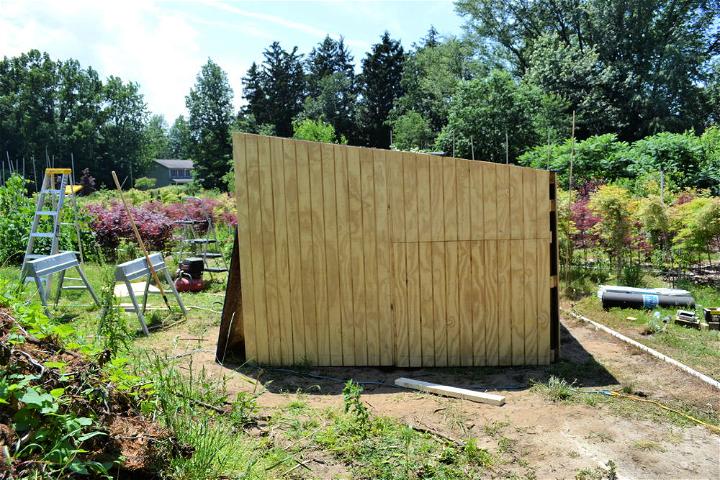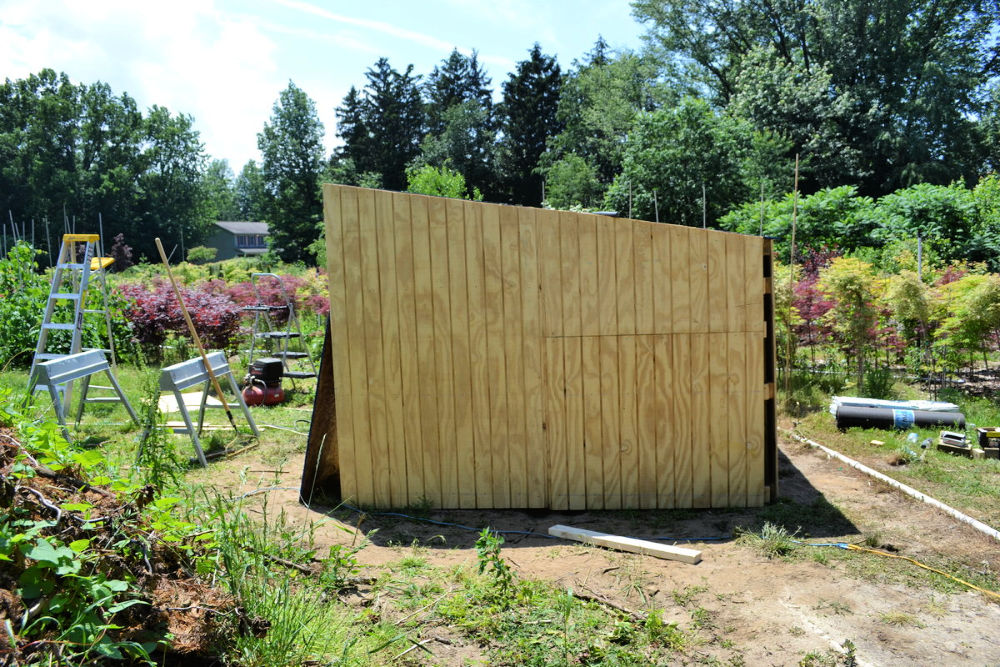 One of the best models of the DIY Goat Shelter ever built, finished with T1-11 siding. Just opt for custom wood slats and durable 4x4s wooden posts to build your uprights. Next, sheath the entire frame with OSB and head over to install the roof. Choose the corrugated metal roof for the best results. The chevron shingled roof will work great too. This shelter is to build with 2x4s, 1x4s, 4x4s, 1x6s, T1-11, and OSB. Details and instructions here mikesbackyard
14. Inexpensive DIY Goat Shelter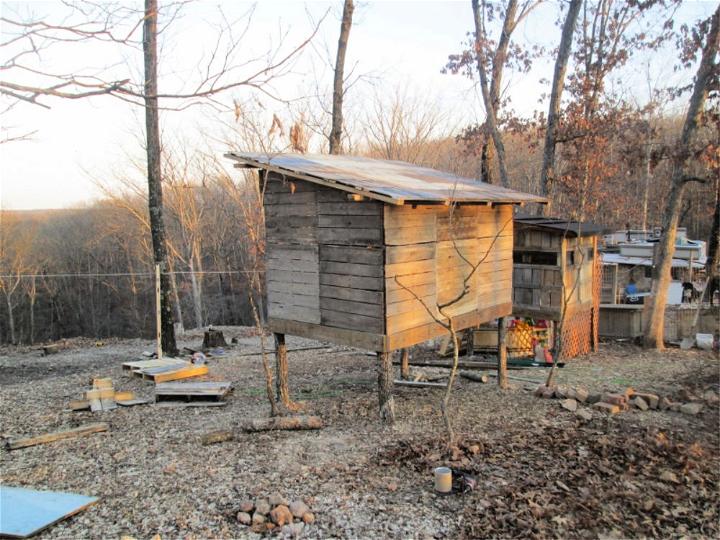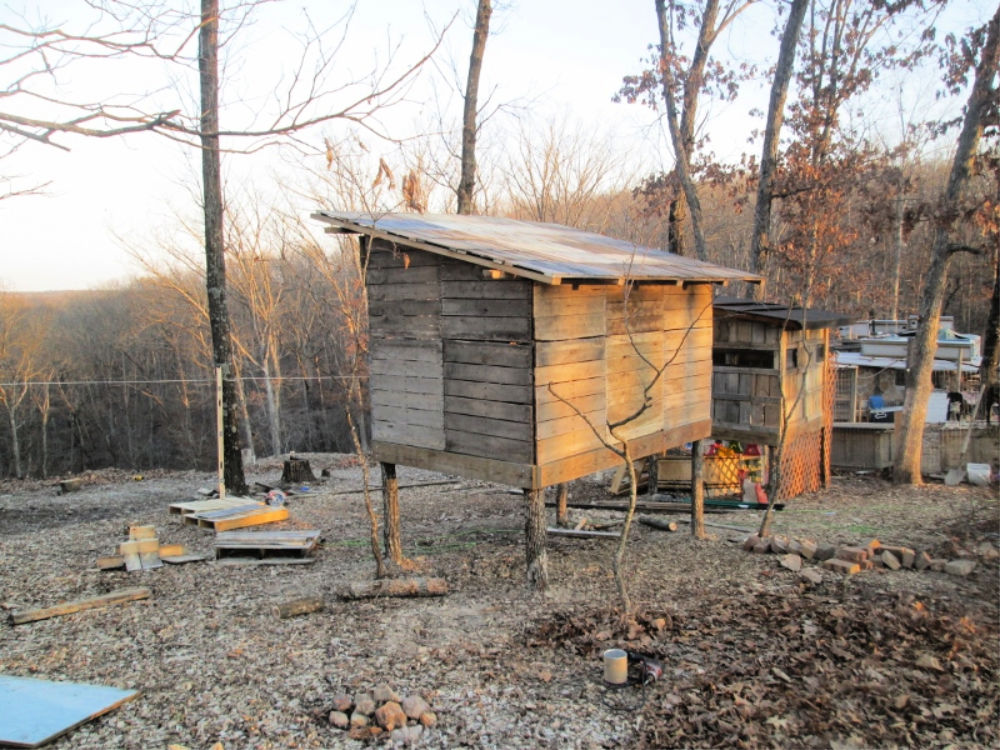 Ensure better protection of your goats by building this inexpensive DIY Goat Shelter that comes elevated. It will keep the goats extra safe from predators and will not be super difficult to build. Construct it using free pallets and recycled lumber boards and go with any chevron or tilted roof depending on your choice. Don't forget to set up some stair steps or a ramp for easy reach and access to the elevated entrance. earthenstewa
15. Livestock Shelter from Pallets For $20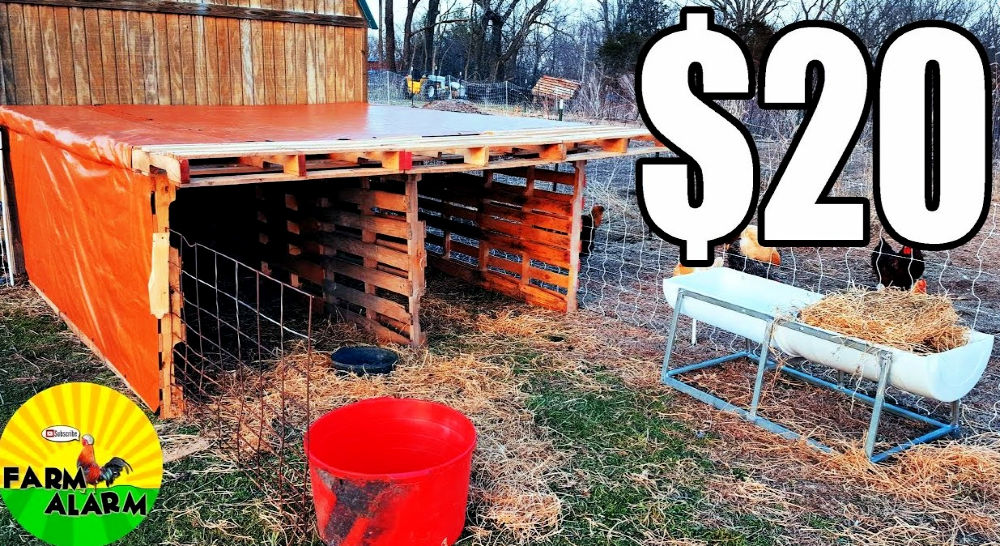 Make it easy on your wallet to raise the goats' safety using the free pallets. Just get here the free plan about how to build a livestock shelter for only $20. You need some old pallets to build this fine-looking shelter, will also keep your goats safe from the predators. Put the pallets vertically to build the frame and then use large ones to build the roof too. Don't forget to cover the completed shelter with a waterproof fabric. Details here youtube
Conclusion:
Planning your outdoor space for goat farming? Then building a safe housing for goats that will block off the predators is a must. A DIY goat shelter with custom added features may cost you big. So, willing to build a goat residence without breaking the bank? Then head over to these free and quick to build goat shelter plans that are to provide instructions for building any type of goat barn.
These goat house plans are going to be great gifts for the goalkeepers, and there are plans for zero-cost residences too. Browse the entire list to see a lot of design, roof, and fence choices.
Related DIY Projects: