How do you determine what kind of a homemaker are you, really? It mostly has to do something with how organized your space is. This roundup of 20 free lean to shed plans can help you quite to organize your garden and outdoor space. We include all sizes like 4×8, 10×12, 12×16 storage shed plans with PDF. For any DIYer or a homemaker, the most important points to consider while making a decision is the budget constraint.
The benefit of choosing for lean to shed plans is that it can also be seen as merely an extension to an already built wall or structure. Eventually offering more space! However, some points have to be considered before choosing any of these plans. Make sure to visit the local area restrictions like lean to roof height, style, clearances, and other things to get approved before you start with your plan!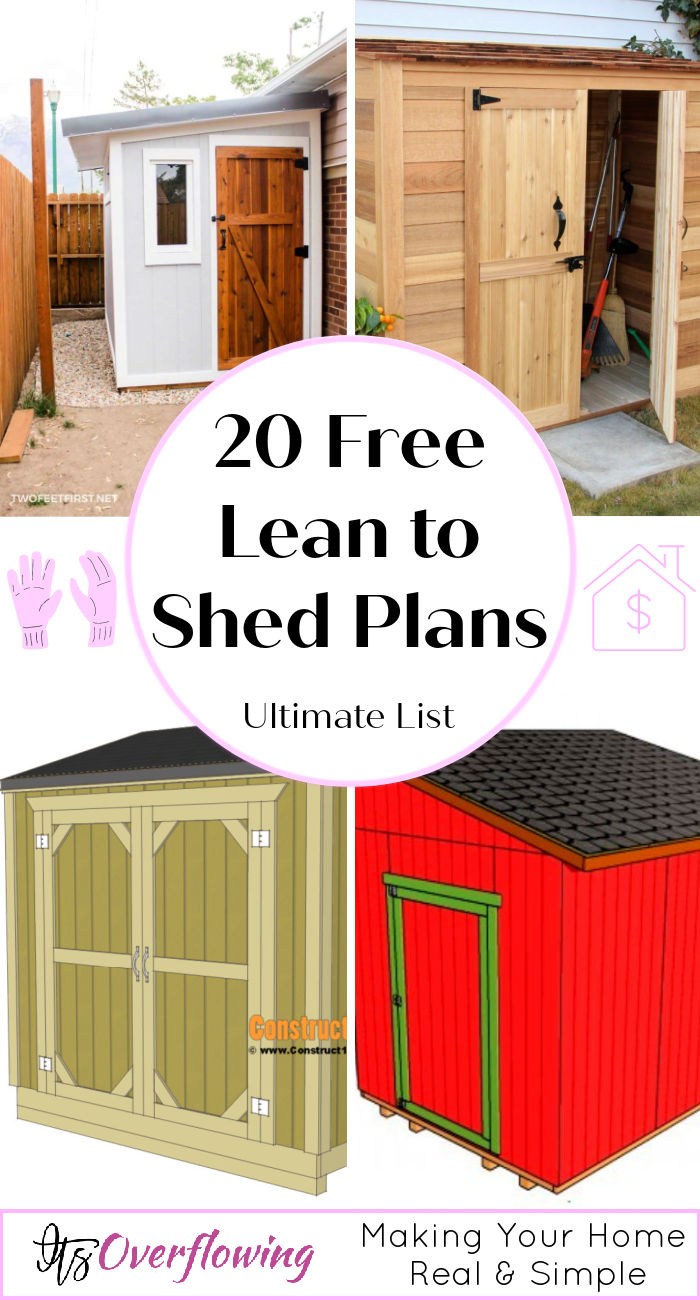 A lean to shed is easy to build! As it only involves building three walls leaning against the fourth base (of already built structure). It has a sloppy roof, which doesn't let any snow or water get collected; hence this makes it quite a sturdy storage idea. In these lean to shed plans below, you can find FREE downloadable plans to get started with. Each tutorial has detailed cutting lists, materials, and tools guide.
The best part is that none of these shed plans is too complex to take more than a weekend at most. From lumber, pallets wood, pressure-treated wood, plywood to metal roof and metal sheds, you can find a great many options below. Choose as per your area, size requirements, and especially the weather conditions. Also, don't forget the magnitude of the need you have to build one!
1. How to Build a Lean To Shed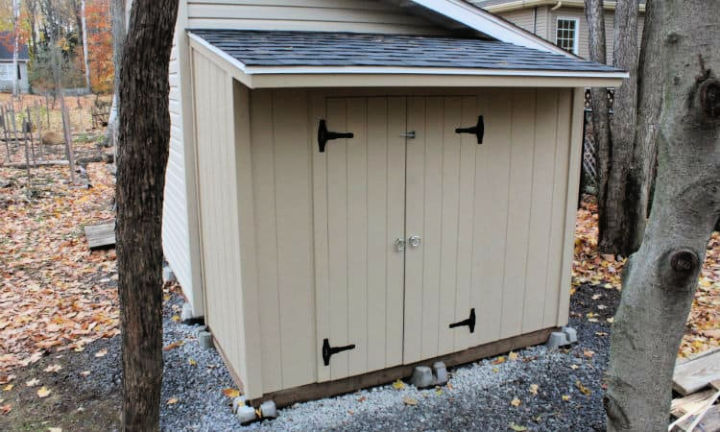 A lean to shed plan can improve your storage space and give you much more room to keep our things organized, smartly. It is more like adding extra space to an existing space. As it is usually a shed with three walls and a sloppy roof. The tutorial features lean to shed plan for an existing 12×14 shed. Start by gathering your supplies, including a tape measure, a 48-inch level, a circular saw, a nail gun, and a drill driver. Start by working around the corner block first and then moving ahead with the second block. plasticinehouse
2. 4×8 Lean To Shed Plans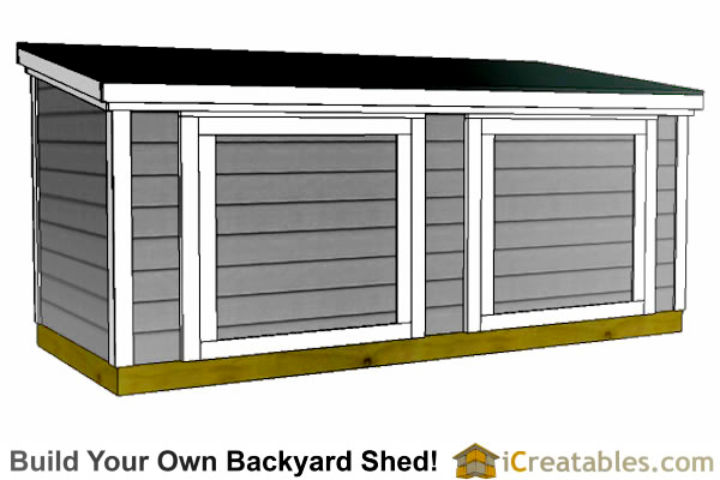 Every house needs a backyard shed! Some extra places for keeping the area effectively storage capable. With iCreatables, learn how to make a cost-effective 4×8 storage shed. You can get the complete plan and eBook on building it from the link below. Like every area's local regulations, don't forget to check your area restrictions first for the height of the shed and everything. The foundation of this shed is laid on a concrete slab with wood joists. The front wall height is 4'2'. Head over to the link below for a complete step by step guide. icreatables
3. 12×16 Lean to Shed Plans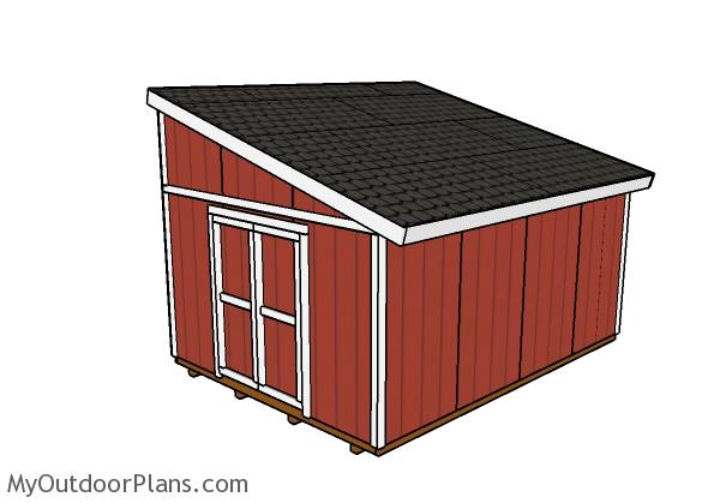 Are you looking for a rather large lean to shed plan? Then you have landed in just the right place! My Outdoor Plans has got the perfect 12×16 lead to shed plans that can help you build some extra storage facility in against your shed. If you have got all the supplies with you, then this project is not going to take more than a day! However, just be careful while buying the lumber to make sure you don't get a flawed wood. Look out for any visible cracks or flaws! Start by building the floor and then moving ahead. myoutdoorplans
4. Building a Lean To Shed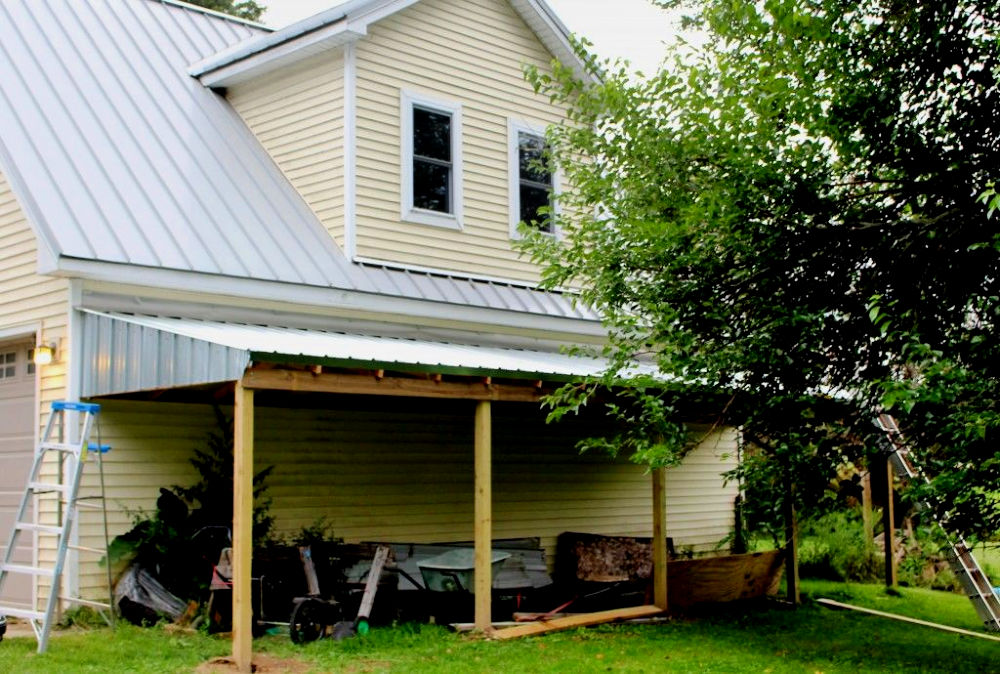 Build a safe and dry space for storing your wood away from rain or snow! Ideally, it has to be closer to your house and easily accessible too. We can't think of anything better than a lean to shed plan dedicated to storing the wood logs. The length of the garage is about 8 feet, and the ceiling is 7 feet. The roof joists are made using 2x4s. Start by laying strings first following the shape of the shed. Dug the post holes about 3 feet in depth. Fill in each hole with 80 lb. Bags of concrete mix! instructables
5. DIY Lean To Shed
Check out this 4×8 lean to shed plans! For the floor, you will need materials including six (2×6) and 2 (4×4) pressure-treated lumber. And 4'x8' plywood sheet. As for the rafters, wall frames, roof deck, and exterior siding, get the details of the cutting list here. In hardware, you will need materials including galvanized nails, finishing nails, deck screws, shingles, roofing felt, drip edge, roof tacks, and staples. The floor is made up of 2×6 bands. The exterior siding shades are 4'x8'. Get the complete building guide from the link below. construct101
6. Build a Lean To Storage Shed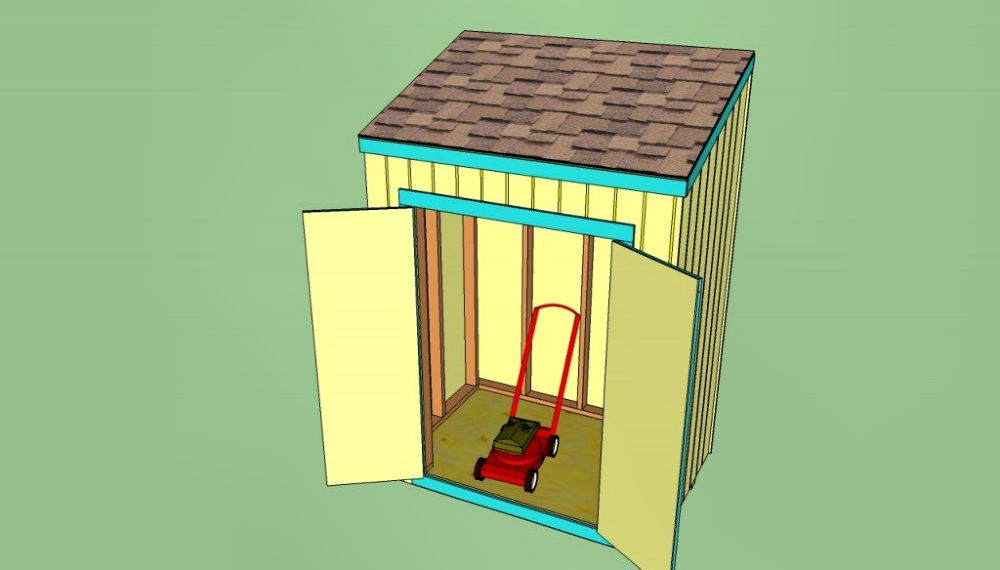 Using the right plans and by just implementing your basic woodworking skills, you can easily build some extra storage over just a weekend. How to a specialist has got the most straightforward project for you to build by staying completely in your budget. This lean to shed plan is made using 4×4 skids. Start by pre-drilling the lumber and then inserting the screws. The frame is made up of 2×4 lumber. Whereas the flooring is of 4×6' plywood. Get other cutting list details here. Other required tools include Miter saw, jigsaw, drill bit, chalk line, and safety gloves. howtospecialist
7. Free Lean To Shed Plans
Get ready to build significant storage space in your backyard by choosing for a wholesome lean to shed plans! You can adjust the size of the sheds as per your requirements. The first and foremost step is to build the flooring and frame of the shed first. Your focus should be on creating a rigid frame by using 2×6 joists. Make sure the corners are right-angled, and so are the diagonals. To avoid any mistakes or rather to build a sturdy structure, place the joists on the center 24" apart. gardenplansfree
8. 10×12 Lean To Shed Plans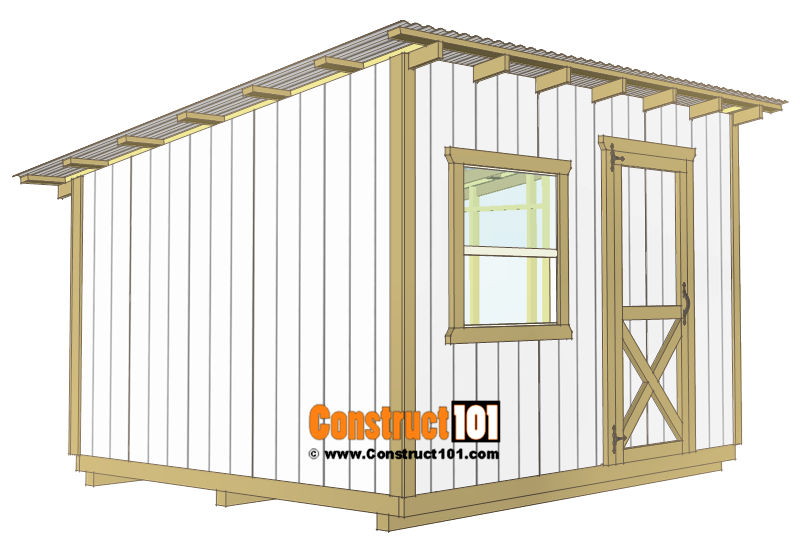 The key to building a sturdy lean to shed plan is to make sure choosing strong lumber. The material you use is going to determine how long-lasting that storage space can work for you! This tutorial features one perfect 10×12 lean to shed plan. The front side measures about 12", the side length is 10," and the back length is the same about as 12". The plan uses corrugated roofing plans and roofing panel screws. Get the complete list of supplies in the link below. construct101
9. Build a Lean To Roof for a Shed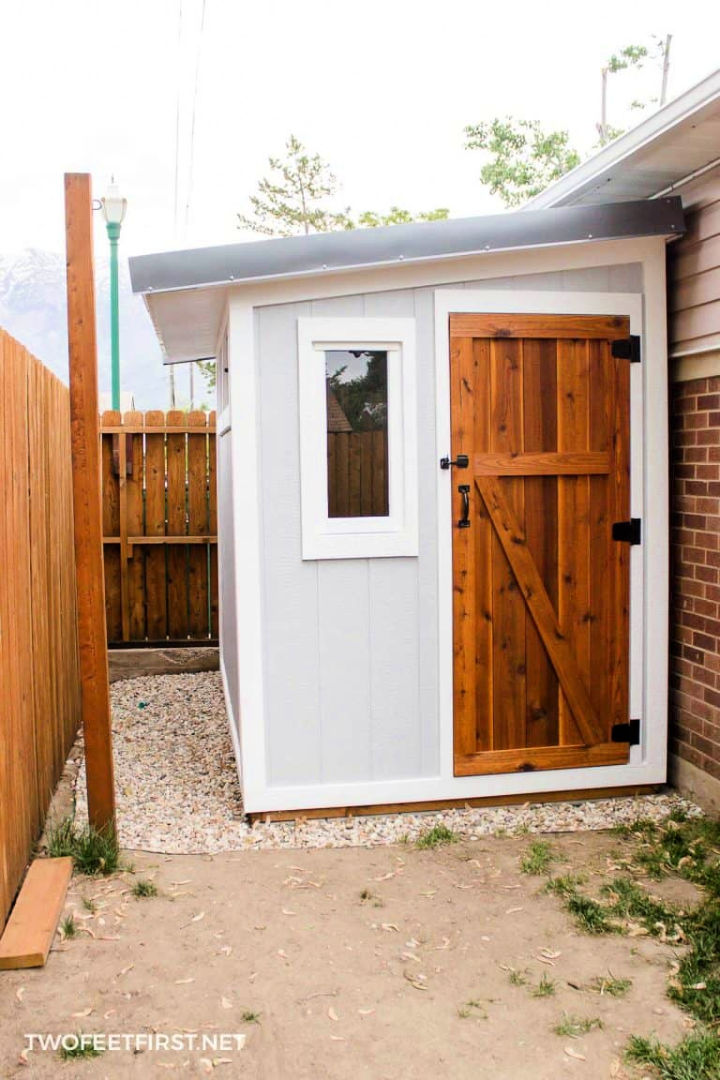 This super cool looking lean to shed can be yours! It can be built at the back of your house or against any wall which has a vacant space. Put the area to some good use by building an extra and easily accessible space. The supplies include 2x4s for framing, 7/16" sheathing, 3.4" framing nails, 2" framing nails. The roof is made up of metal panels! For the metal roof panel, you will need metal gable trim, 11/2" screws, 3/8" screws, and rib inside closure and rubber sealant tape. twofeetfirst
10. Lean To Shelter Plans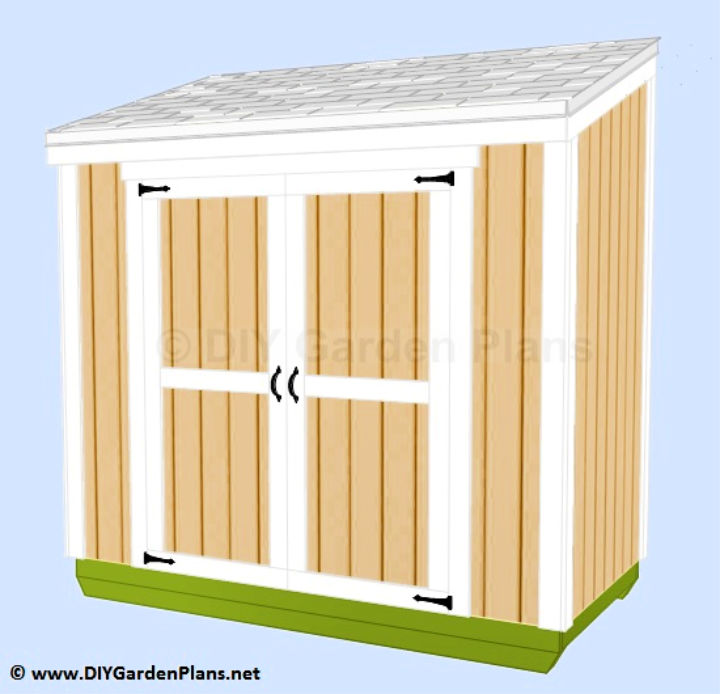 Don't fret if you have limited space, and your stuff is always mismanaged or disorganized. As the family grows, there's nothing like enough storage in any household. How to take care of that? With nothing else but by adding an additional storage space next to your already built shed or wall behind your home. This lean to shed plan measured 4×8', and it is hardly going to cost you even less than 10 dollars. Get the detailed and comprehensive cutting list guide from the link below from walls, roofing, plates, joists, and the flooring. The free building plan is also up for grabs! diygardenplans
11. 12×16 Wooden Lean To Shed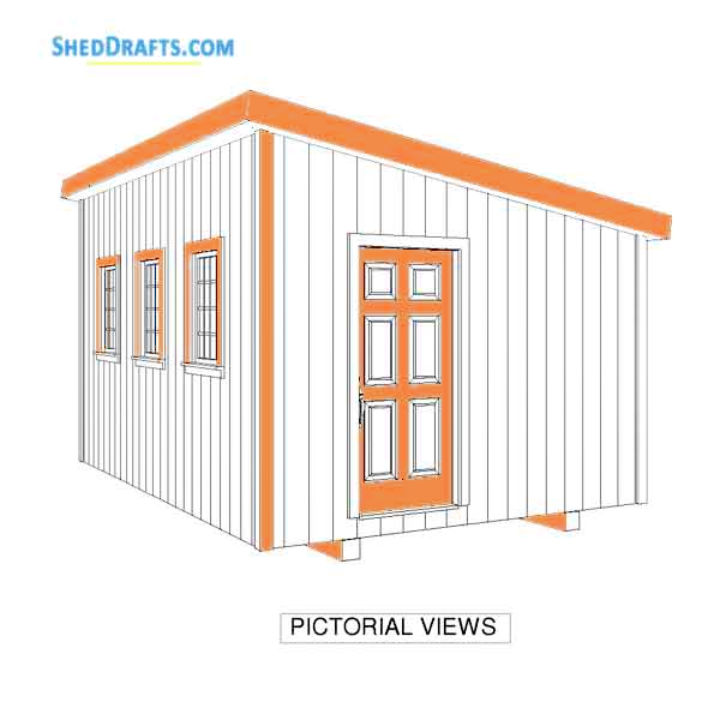 Looking for a large and sturdy storage area? Perhaps by your shed or in your backyard? Check out this 12×16 storage lean to shed plans. Way to add more space to your storage and manage your things smartly. You can make the floor space by using 2×4 blocks. However, one pro-tip: wait before your stain! Don't stain until the lumber has completely dried. Shed Drafts has certainly drafted for you the ideal and increasingly comprehensive construction plans. The tutorial is all equipped with pictorial illustrations and downloadable E- plan. All you need to is click! sheddrafts
12. 3×6 Lean to Shed Plan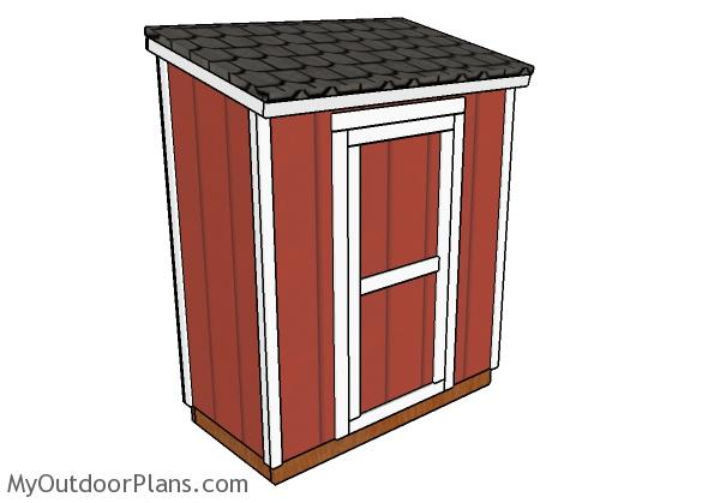 This 3×6 lean to shed plan is not large enough but still perfect for storing say your garden supplies or wood for burning. The skids of this lean to shed are 72″ long, whereas the floor is 33" long. Flooring is made up of ¾" plywood. You can start by building the frame for the flooring first. Once the surface is leveled, use crews for joining the joists together. Secure the corners and align them before moving ahead. The key to making a lean to shed is to choose the space wisely! It has to be somewhere utilizing an empty space around a building or a wall. myoutdoorplans
13. DIY 8×8 Lean to Garden Shed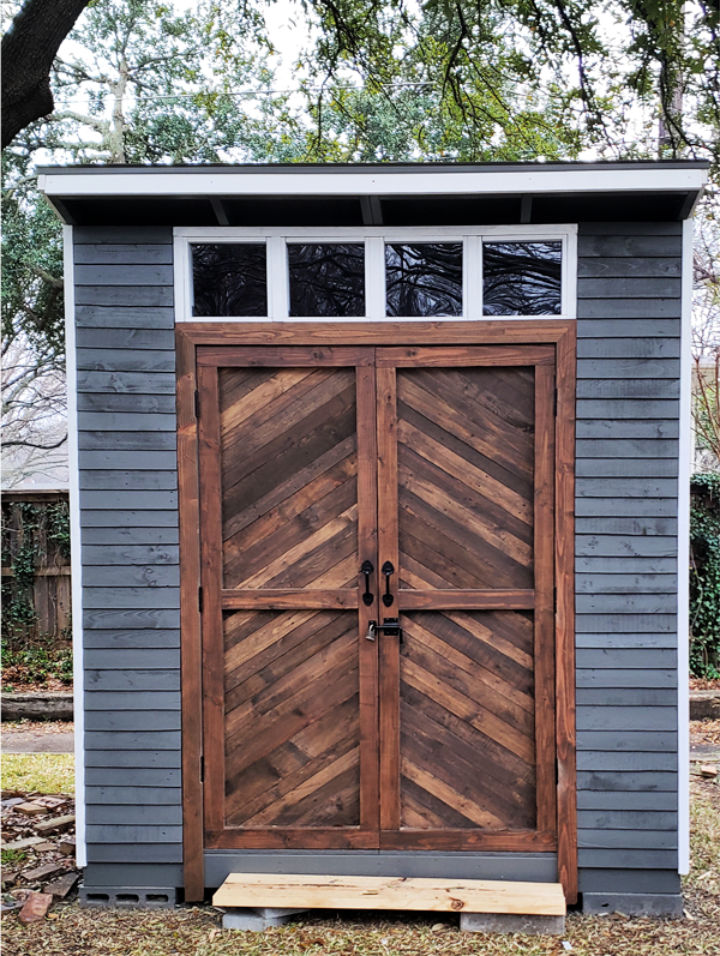 This looks like a magical door leading to somewhere a place like Narnia perhaps. Well, the subtle appeal of the wooden door and the perfect gray structured walls are totally worth the effort! Inspired much? Build the same 6×8 lean to storage shed for your garden. Store all your garden supplies in one place, never lose a spade, or anything else to halt your fun gardening endeavors. Choose weather-resistant materials or lumber to, of course, make it work for a longer time. Pro tip: drill holes beforehand to avoid the wood from splitting apart. howtospecialist
14. How to Build a 12×16 Lean to Shed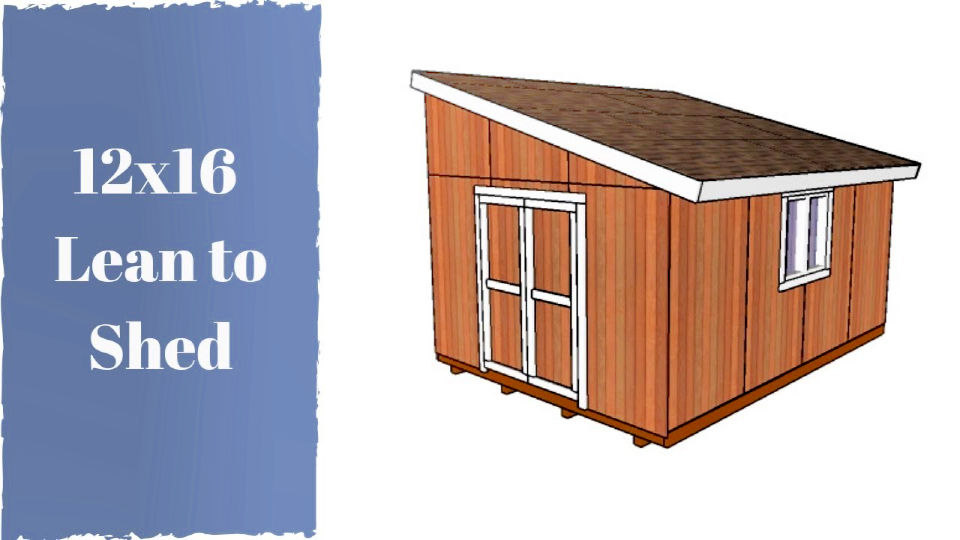 One of the many benefits of choosing to DIY lean to shed plans is that the sloppy roof makes it sturdy to handle any kind of weather! Pair that with a weather-resistant materials list, and you are all set to manage your storage space for a long time. The walls for this plan are made by 2x4s, it offers two doors and a window as well. So, it's not also going to give a shady look; in fact, if anything, it is going to bring in more light. Ready to build such a cool shed in your backyard? Hop on to the video tutorial and go through all the skills you need to get started with it! youtube
15. 4×8 Lean To Shed Plan
Who says that your backyard shed has to be shady or boring? You can actually make it look nice while at the same time, make it the perfect storage optimized shed. Perhaps by also adding a lean to storage shed besides. This 4×8 shed with a lean to roof has not only a perfect design, but it also is quite to build on your own. The tools required for this construction include a hammer, tape measure, level, framing square. As well as, Miter saw, drill, screwdriver, and sander, and don't forget your safety! For that reason, you will be needing safety gloves and safety glasses. youtube
16. Small Lean To Shed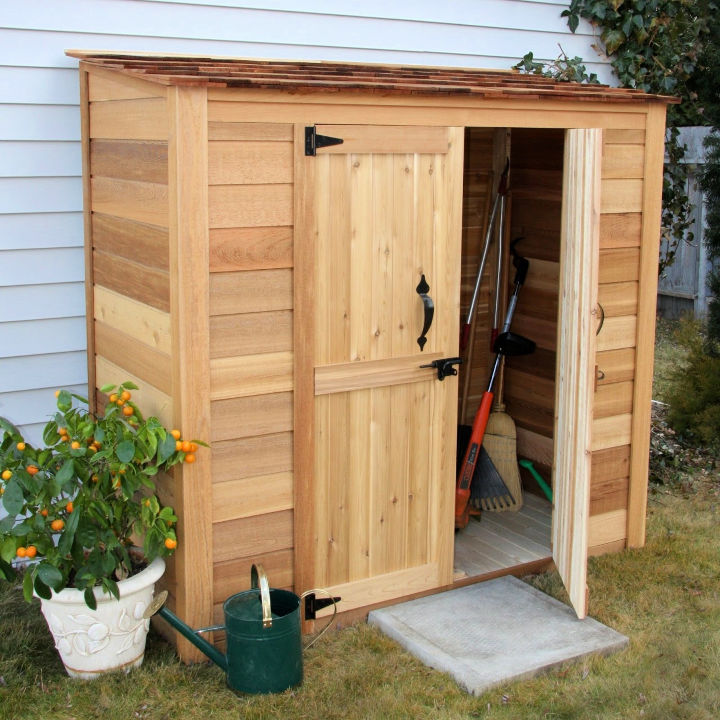 This all wooden lean to shed storage looks pretty catchy, right? This could be the kind of plan that you can build for your garden up in the front yard, perhaps. Since the shed has a very pleasant looking wood or lumber used, it can make a great exterior décor enhanced, storage facility. Keep all your shovels, spades, or other tools for gardening or for the snowy day's tools here. With its two perfect doors and a sloppy roof, it will be easy to keep clean and manage during all kinds of weather days!
17. Lean to Shed Cedar Plans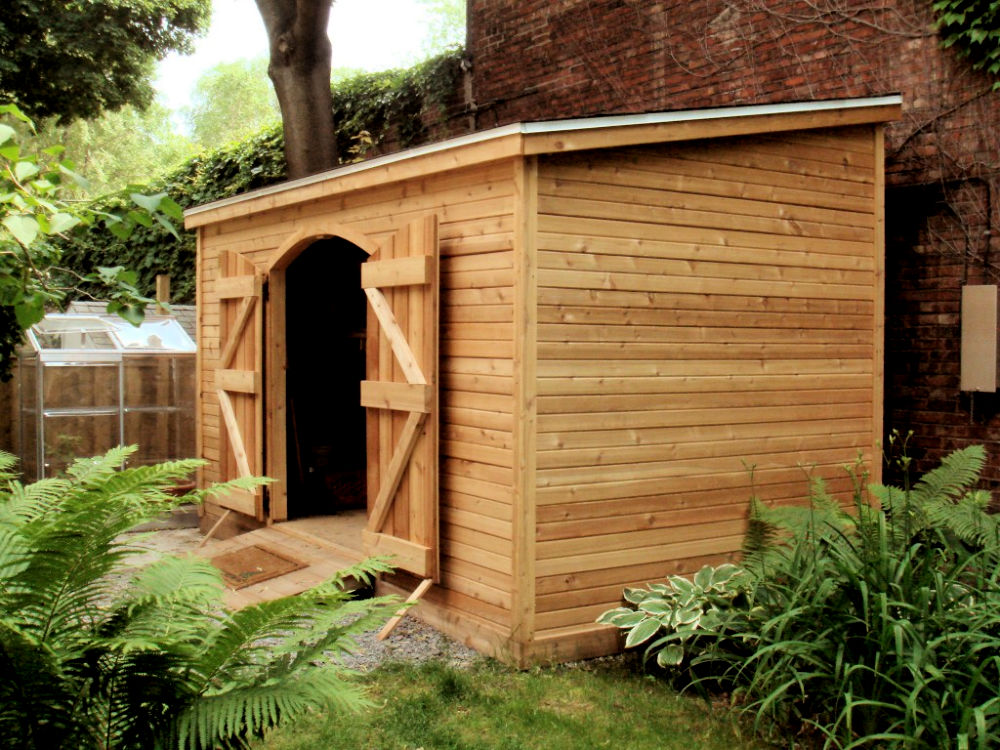 We are loving the super welcoming and pleasant vibes this lean to shed cedar storage is bringing! It looks pretty large in size and hence can make perfect storage for a number of things. Build it in your backyard. Perhaps around your herb garden or raised garden beds. You can even use the space for your DIYing wonders. Keep all your tools or supplies in it. Build a workspace or some storage cabinets inside. The options are just so many!
18. Lean To Storage Shelter Plans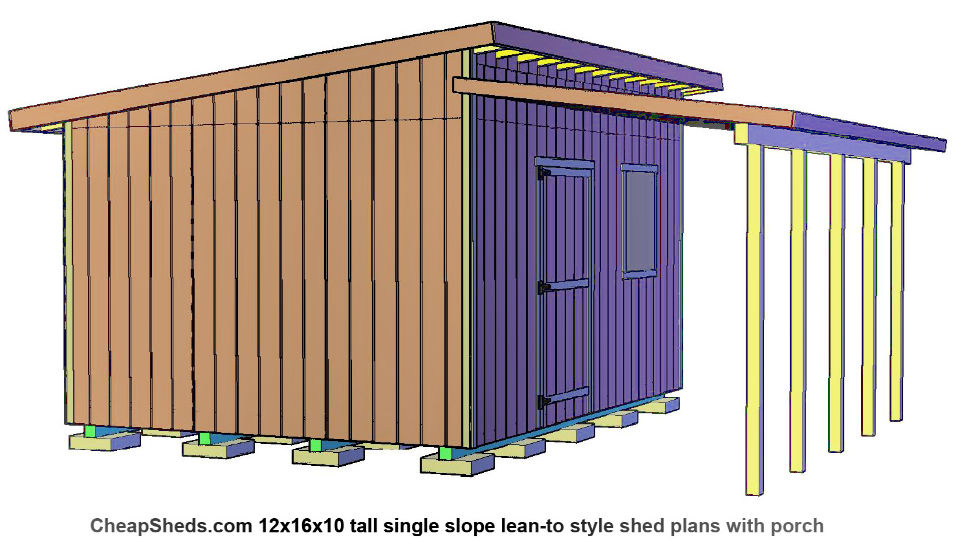 Sometimes while building a porch, you might feel that the space is huge enough to contain many of your things too. However, as time passes by and family grows, no storage is enough! For times like these, the ideal way to enhance the storage with economic checks in balance is to go for lean to shed plans. Like this storage shelter plan here. It is actually just an extension of your porch built already. With a single slope added, featuring about 12x16x10 in length. Add some extra storage space to your porch!
19. Lean to Storage Shedlean to Plans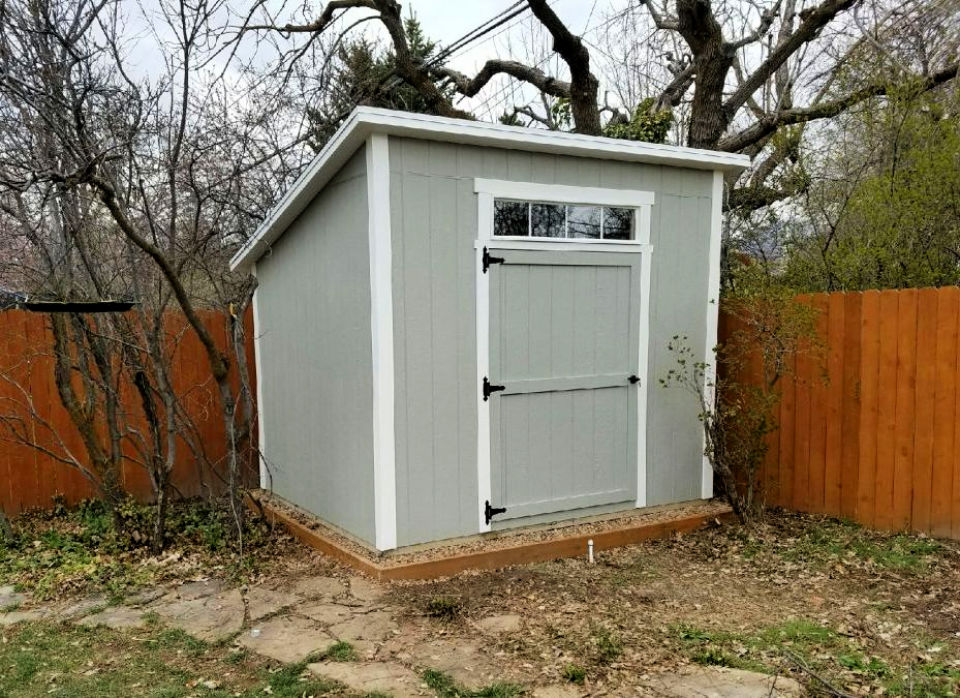 This lead to a storage shed plan is a perfect corner storage plan! If you have a huge backyard, perhaps having a bunch of chicken coops or a corner dedicated to raised garden beds, this corner storage shed can be ideal. To not come in the way of any of these while at the same time offering a perfect space for storing the maintenance supplies for usage. Get started, choose the space wisely, and then make an informed decision for choosing the kind of material you want to work with.
20. Lean to Metal Shed Plans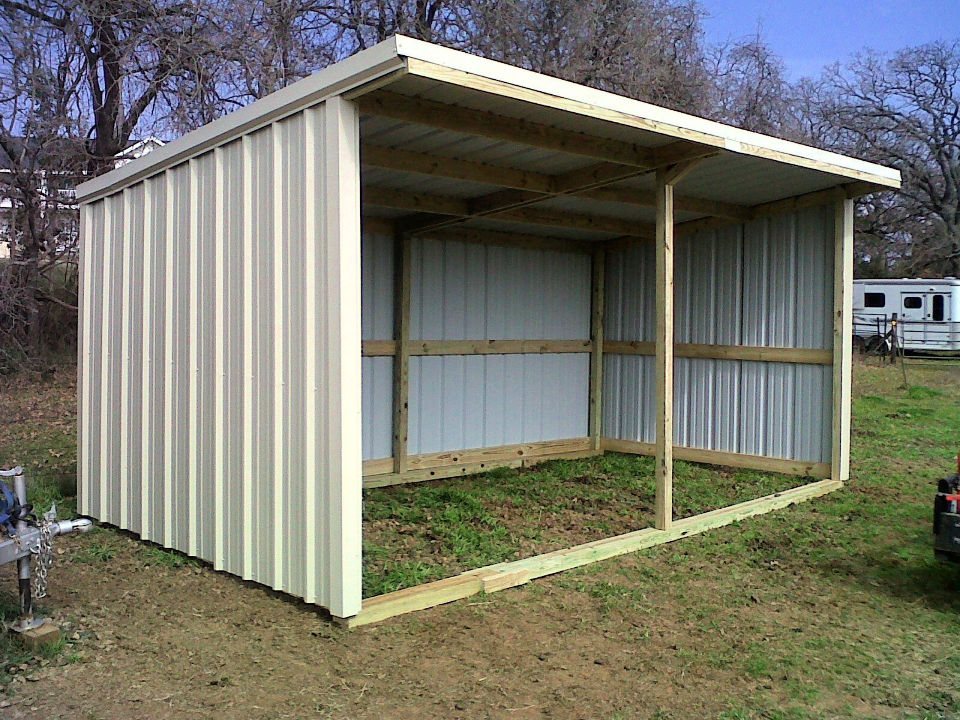 For the area where the weather conditions are too wild, a metal lean to shed plan is the ideal option to choose for! Perhaps your area faces a lot of hurricanes or tornadoes, the wooden lean to sheds will get sacrificed darn too quickly. However, a metal lean to shed can still be a bit more weather resistant. Construct a wooden frame inside and put up metal roofs, walls, and sides. Choose the sizes as per your requirements!
Learn woodworking in your home on ItsOverflowing to build furniture, toys, tools, wood, glue, and anything else for your home.
Conclusion:
When we said there are free lean to shed plans for everyone here, did you see how we really meant it?! You want storage space for your gardening tools, our small shed plans must have been of great help. Want to extend the porch space? Must have got that idea too. So, get started and never go through anything like – there's not enough space – ever again!