Your passion for woodworks will surely make you know about a router table that is often an expensive woodworking machine to buy. Don't pinch your teeth more by looking at the market router table price tags. Build your own router table at home with these 25 free DIY Router Table Plans that are easy to follow. From a simple benchtop router table to a multifunctional router table that will also come with PC and software, you will get step-by-step instructions to build all router table models. See all popular design in this list of 25 DIY Router table Projects that will definitely boost your woodworking passion. From using plywood to lumber to MDF, use all to build fine-looking router tabletops. The whiteboard and phenolic will make a great choice too.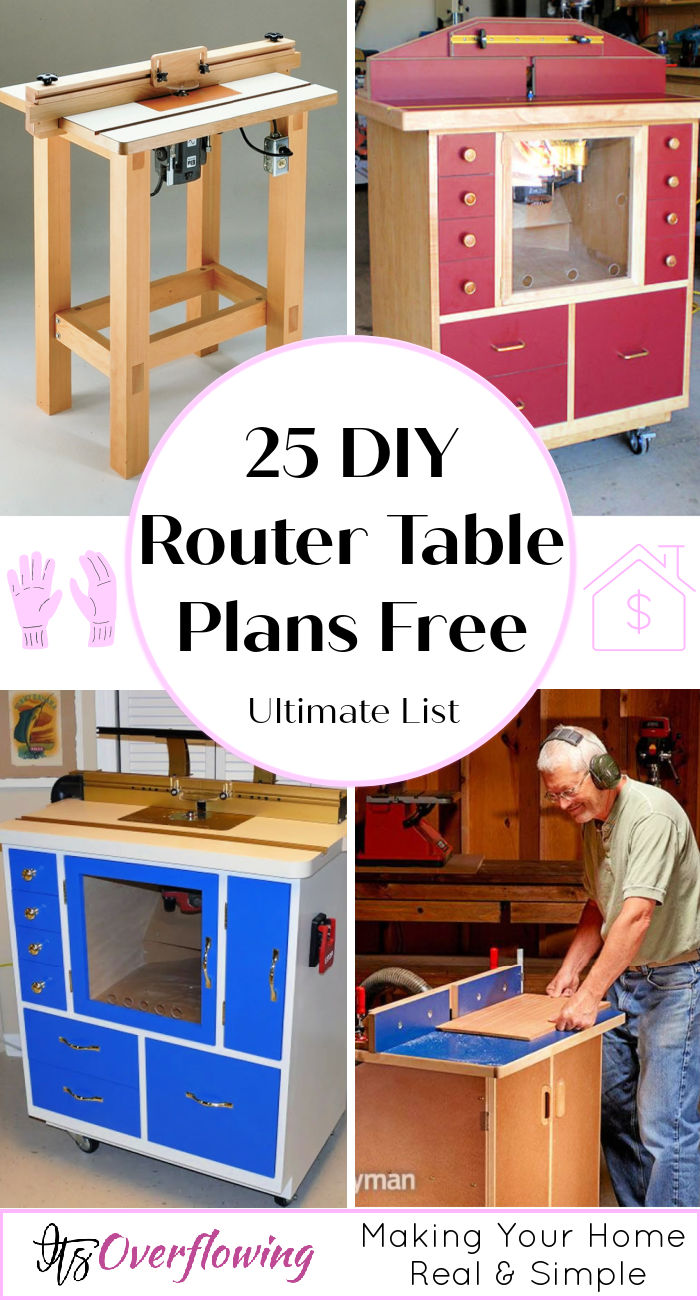 A router table is a big need when you need to make dowels, to cut high-quality stop cuts. They are widely used to make accent wood molding and also for amazing pattern work on the wood surfaces. Use a router table for amazing woodworking joinery methods like wood box joinery and also the grooves and slots joint systems. The main thing would be to install the router with a vertically oriented router providing a spinning bit at the top of the table. There are various router bits to cut the wood in lots of different designs. These DIY router table plans include both building a router table manually and also with the recycled items of furniture. So, do take a roundup of all router table plans, some provide complete video tutorials too.
1. Wooden Smith Router Table
If you want to use your 24000 rpm router, then you must get it to a decent height with the bit coming out nicely from a flat and fine working surface. So, build this Wood Smith router table quickly. It has a simple yet elegant design. Use 2x4s to build the frame, plywood for surfaces, and 4x4s for legs. woodsmith
2. DIY Router Table
This DIY router table has some impressive features like an adjustable fence, dust collection, ease of access to the router. Build this router table using plywood, 2 outlet boxes, and 5′ of 2x4s. Next, just install the switches with covers and also your router. A simple yet beautiful router table. instructables
3. Patrick's Router Table Plan
Ease yourself in cabinetry, cutting, angles, and in wood molding using this Patrick's router table. Build this storage-friendly and super functional design of router table using 1 sheet of plywood, 1x3x8′, 1x2x8′, and 1x6x8′. The table also provides a drawer to safely store your expensive bits. Details here ana white
4. DIY Portable Router Table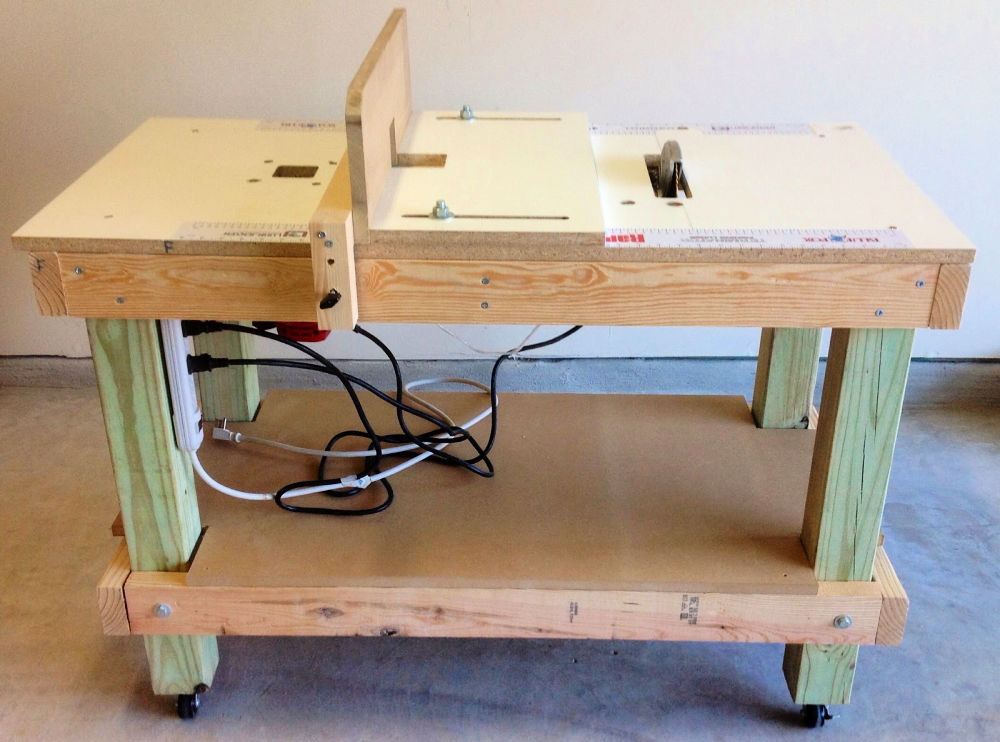 Get free router table plans to build a router table at a $70 cost. Just get crafty with the 2x4s to build the frame of the table, opt for 4x4s to build legs of the table, and build the top and bottom shelf using laminated MDF board. This table is 3-in-1, it will make a great router table, a table saw and a workbench at the same time. thinkingwood
5. Simple Router Table from Reclaimed Desk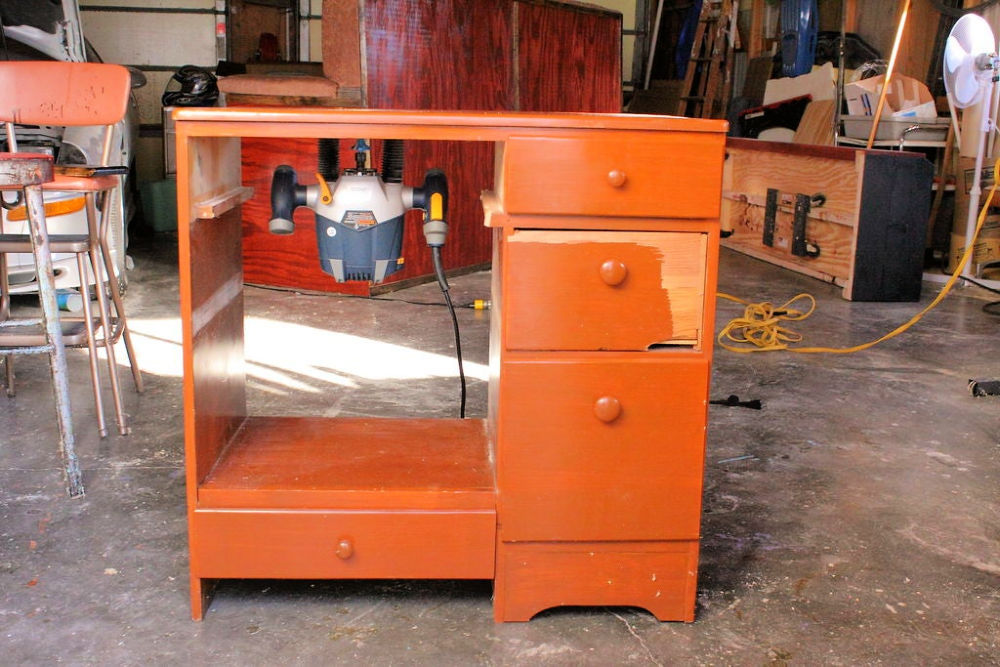 Building a router table for your workshop is one of the most necessary projects, and they will bring lots of precious in your work. Making dowels, moldings, and cutting the joints can be done with great precision using a router table. So, make a router table at home by recycling an old desk. Get plans here instructables
6. Ultimate Wood Router Table
Feel free to work on any advanced wood projects by using this ultimate wood router table. It will provide nice pockets, storage drawers, and compartments to organize your tools an expensive router bits. The design is painted in red and comes with a blank wooden board for a distinguished appeal. Details here crestonwood
7. How to Build a Router Table
Just do any wood project from easy to an advanced one, with precision using this router table. The finished size of this router table is 36″ high x 18″ deep and 24″ wide. Use the 2x4s, 1x3s, and 1x2s to build the frame of the router table. Next, just use the poplar to sheath the frame. This table is super storage-friendly also. scottmoore
8. American Woodworker Router Table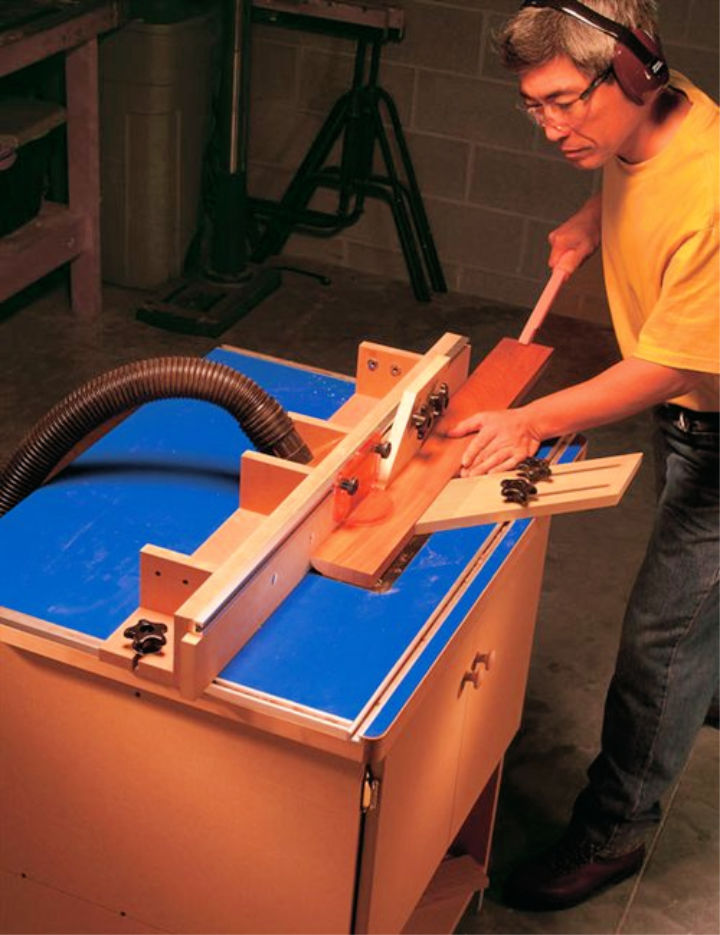 Get here plans and step-by-step instructions to build an ultimately functional design of router that comes with an adjustable fence and vacuum for easy dust collection. Moreover, the table is super storage-friendly too. From building the whole router table to the fence, get free plans here popularwood
9. Quick & Easy Wood Router Table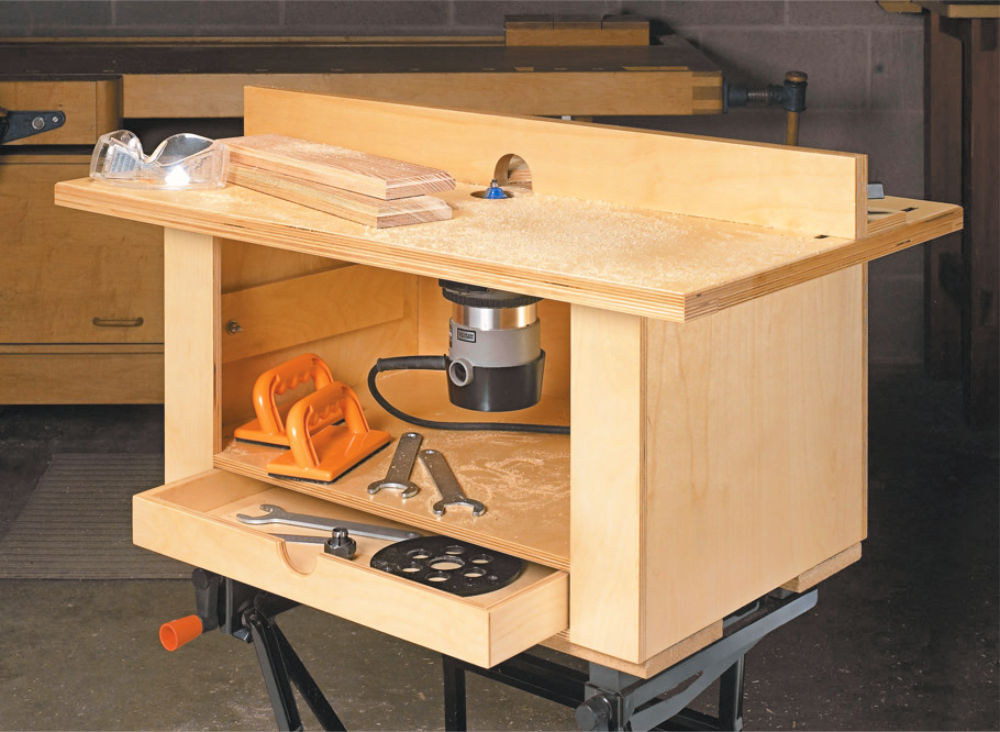 Download free router table plans to craft your own custom router table quickly and easily. It will make a cute handmade gift too for a professional woodworker friend. In features, it comes with an edged top, an adjustable fence, a sliding out drawer tray, and an underside storage compartment having router motor installed. Details here cdn woodsmith
10. Homemade Router Table
Router tables are a big need for professional and advance level carpentry. So, don't buy them expensive but make them at home in a budget-friendly way. Use the chalkboard and MDF for making the surface. Next, build the fence and lower part of the table that may come with custom built-in storage options. instructables
11. Ultimate Router Table Plan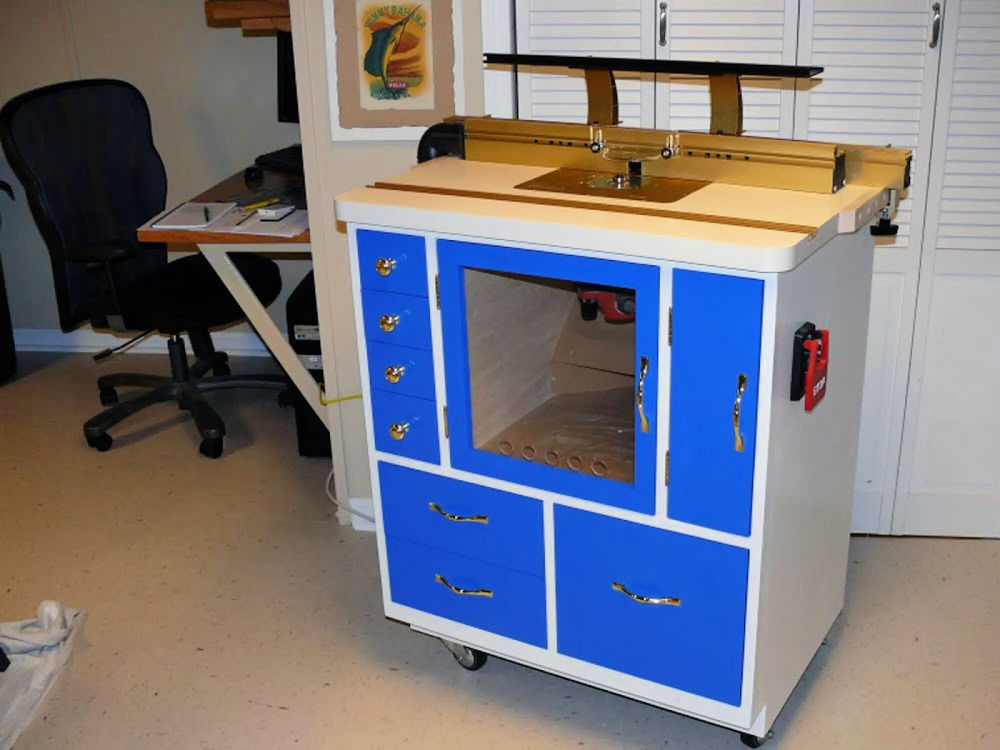 This is here one of the best router table ever made in history. It provides lines of small drawers to each side and also offers some bottom storage options. The top is edged that nicely holds the adjustable fence. Paint the router table for the desired appeal and finish with rolling casters. crestonwood
12. Router Table PLan
A router table is a big must-have for every woodworking shop. So, no need to buy them expensive as you can make functional and perfectly user-oriented router table designs at home. Get here free plans for building a router table with lots of amazing storage options. From building the body to the fence to custom storage options, get instructions for all. woodgears
13. Simple Router Table Plan
Want to make this for your wood working shop? Get free plans, cut list, step-by-step instructions and directions here! familyhandy
14. Mobile Router Table Combo
Grab our list of easy to make router table plans for building your own DIY router table like a pro, will surely impress a professional woodworker. The fine dimensions and equally divided drawers and an evenly flat work surface with an adjustable fence are the main features of this design. Build with plywood, PVC fittings, and finish with caster rolls. buildsomething
15. $100 Router Table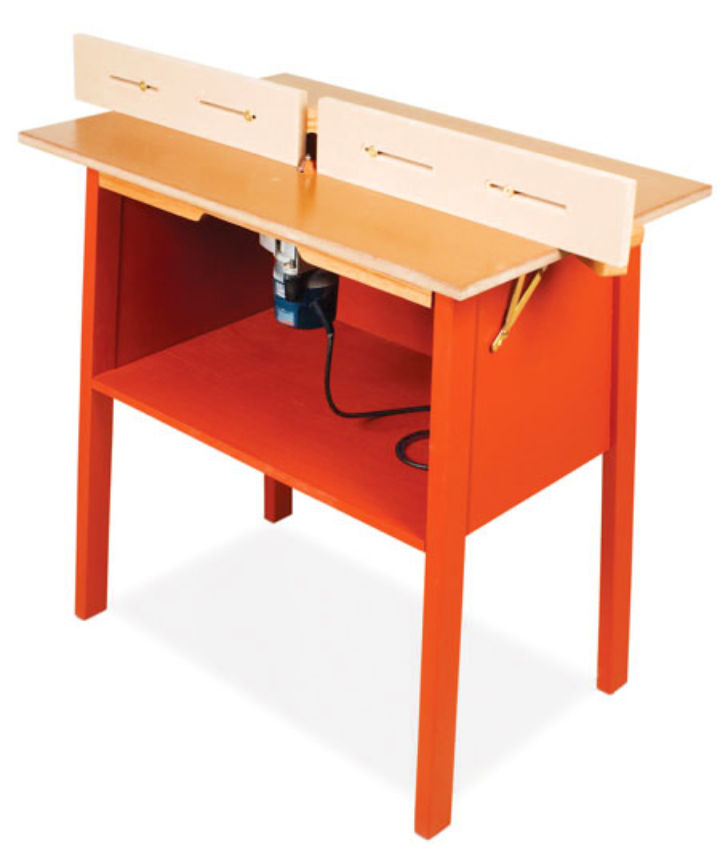 Be your own boss and build a professional style router table at $100. Build the top of the router table using MDF or plywood and build the rest also using leftover plywood or MDF board. Building the fence of the table is the most precision taking step. But you will get the perfect guides for it here popularwoodw
16. Utilitarian CNC Router Table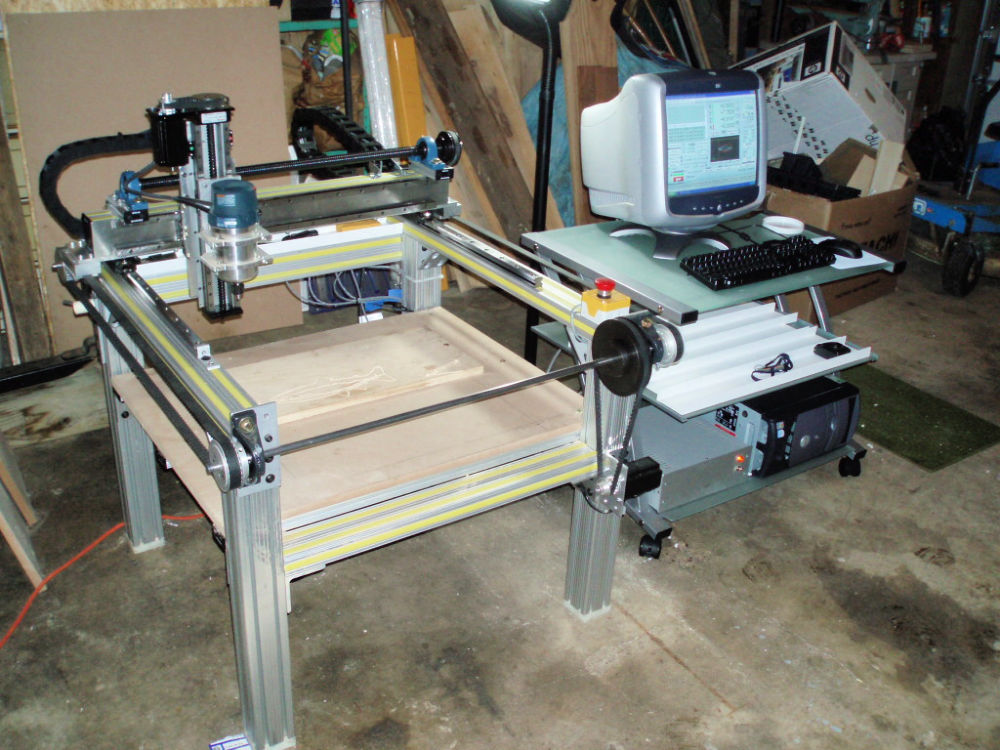 This CNC router table design is highly utilitarian and comes with a drill press, misc tools, taps, miter saw, a PC, and also software. For all sorts of advanced wood projects, this CNC router table will be a big helping hand. Use it to cut dowels, to cut all sorts of curved legs, and even the accent wood moldings. ecmarsh
17. Magnificent Router Table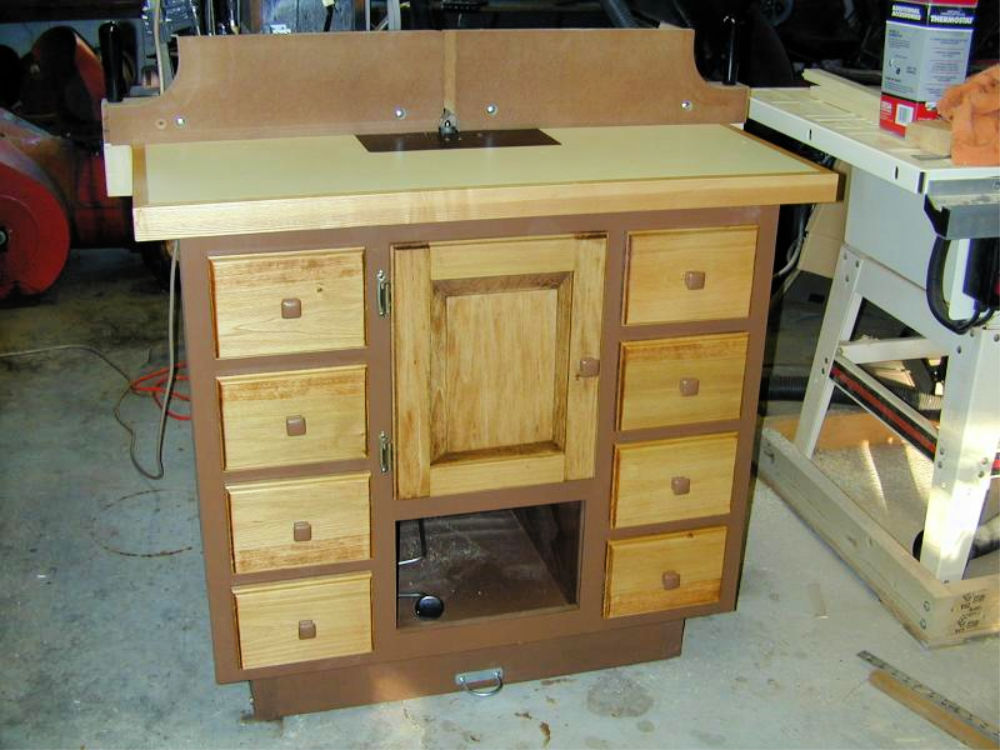 You will surely fall in love with the magnificent look of this router table that comes with lots of interesting features to impress. Build it using the MDF board and also the 12x12x3/8″ phenolic. The design is storage-friendly and is much doable if you go with step-by-step visual instructions. Details here cerealport
18. Homemade Rigid Router Table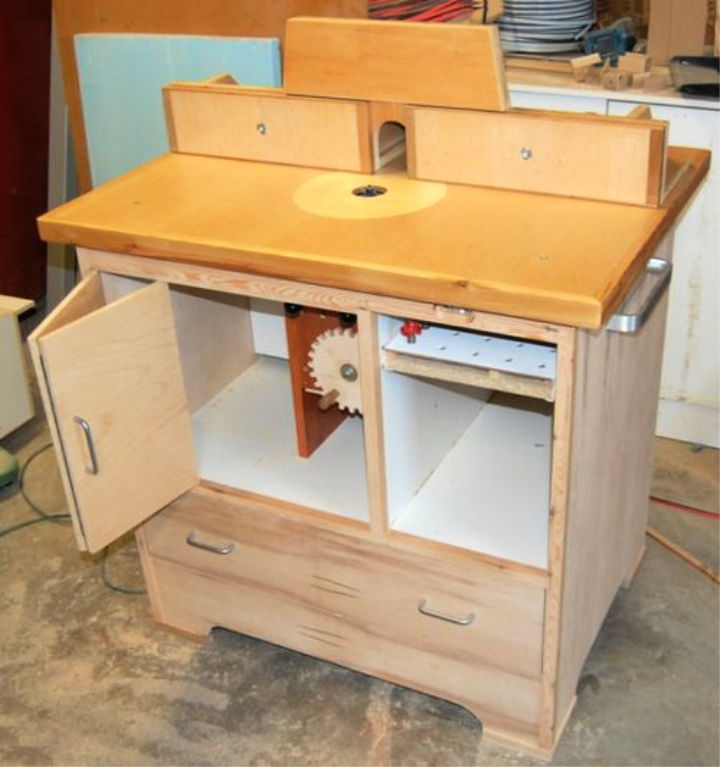 This DIY router table comes with advanced features and will wow the audience with amazing storage options. The design comes with a fine working surface having a precise fence. Moreover, the built-in router lift is one of the unique features of this rigid router table. Details here woodgears
19. Inexpensive DIY Router Table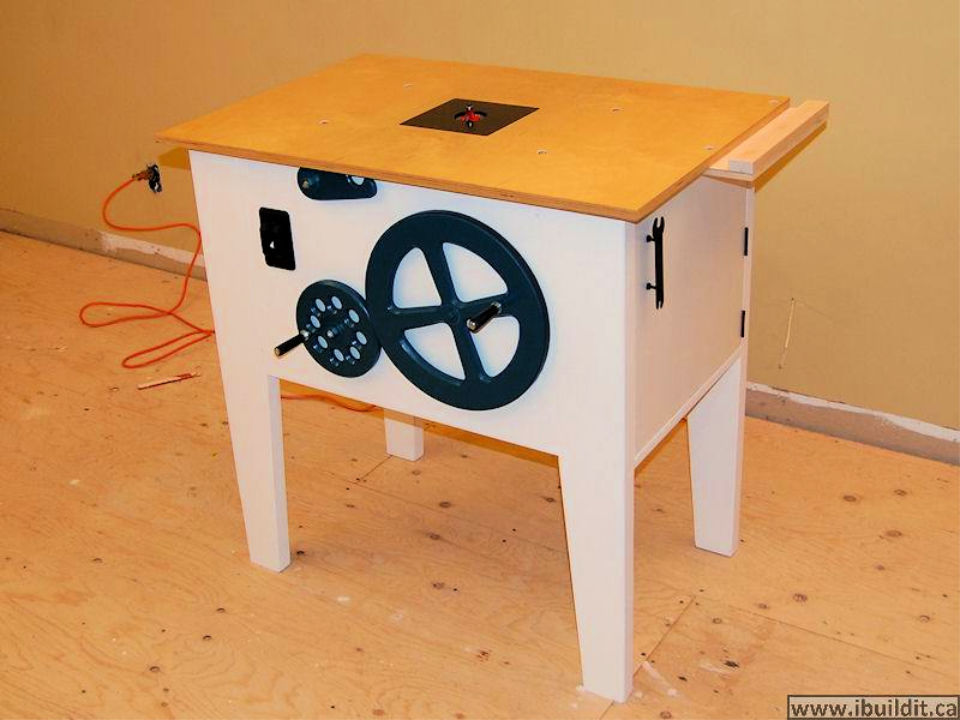 A router table is most expensive to buy but get these simple router table plans to make a router table inexpensively. This DIY router table has all the features to impress a passionate woodworker. It will make you do all you find complicated in the advanced woodworking projects. This DIY router table provides gears and controls on the outside. ibuildit
20. Build a Benchtop Router Table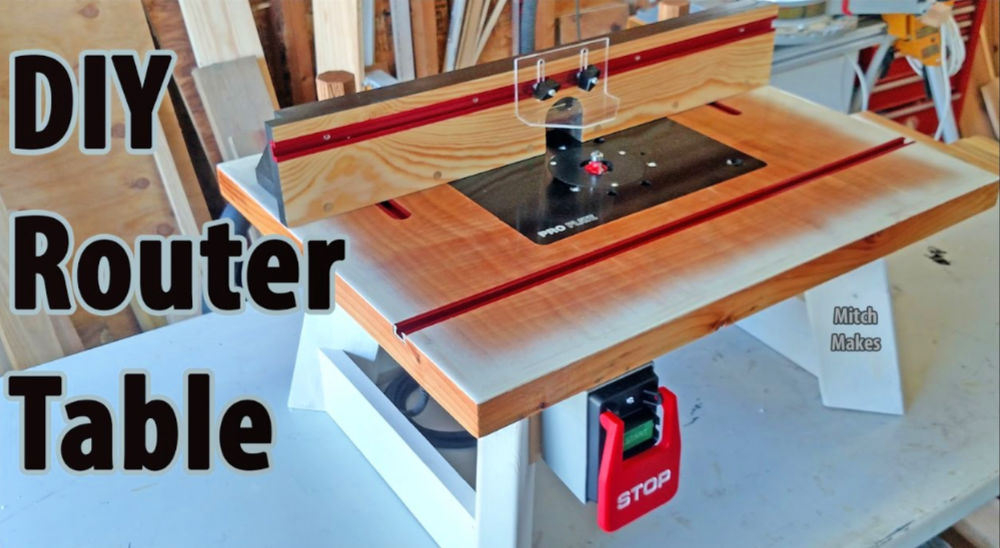 Get here free video instructions to build a benchtop router table, will help you in easy doing of advanced wood projects. In this project, the main focus is to build a fine-looking edged top that will come with a fence. An evenly flat and plain surface will make your work all easier and quick. Details here youtube
21. How to Build a Router Table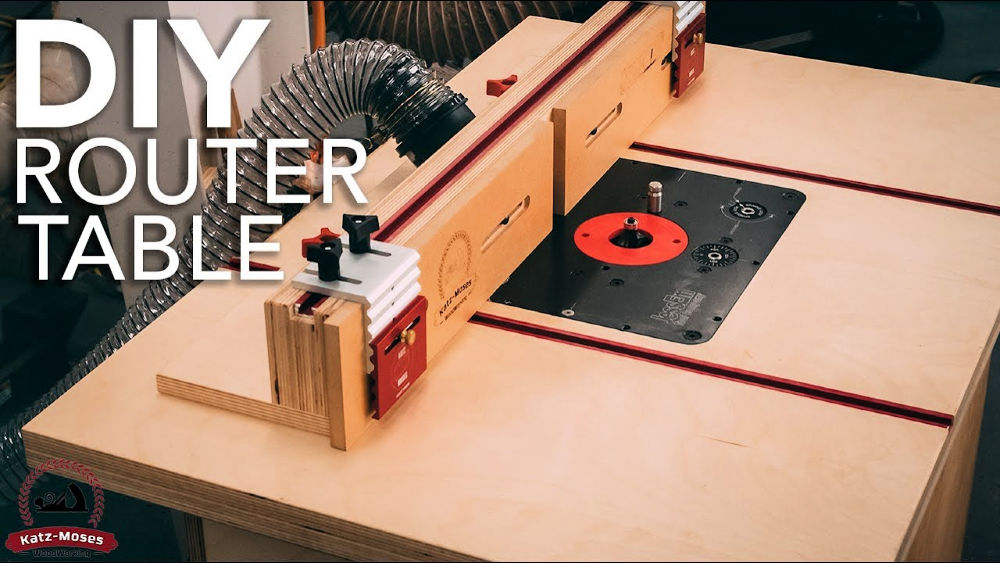 Missing out a router table in your woodworking shop? Then must make a durable and fully functional one using this router table. The table just looks fine in the blank tone of the wood and has a lot of amazing features to make you say a big wow. Details here youtube
22. DIY Router Table Under $20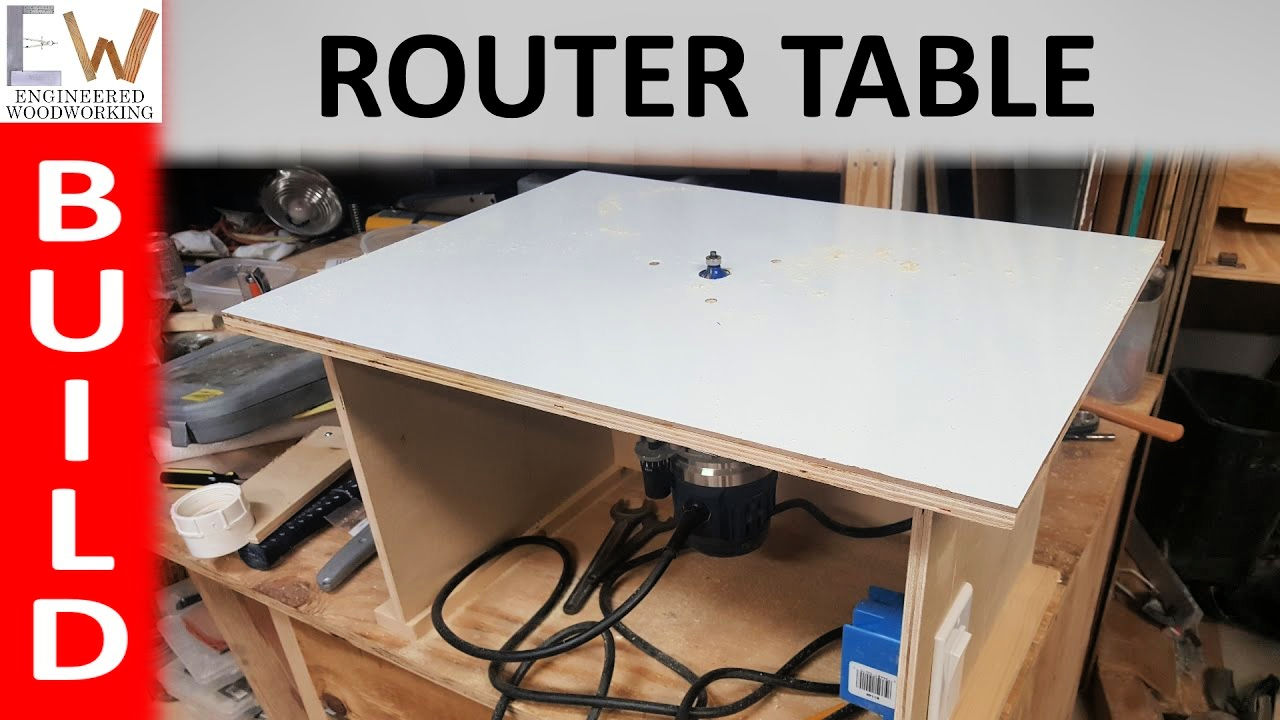 It is not always easy to buy expensive woodworking accessories and working benches or tables. Spend less than $20 to build this router table that comes with a whiteboard work surface that will help easily slide the wooden lengths you gritting with the router bit. Details here youtube
23. Easy DIY Portable Router Table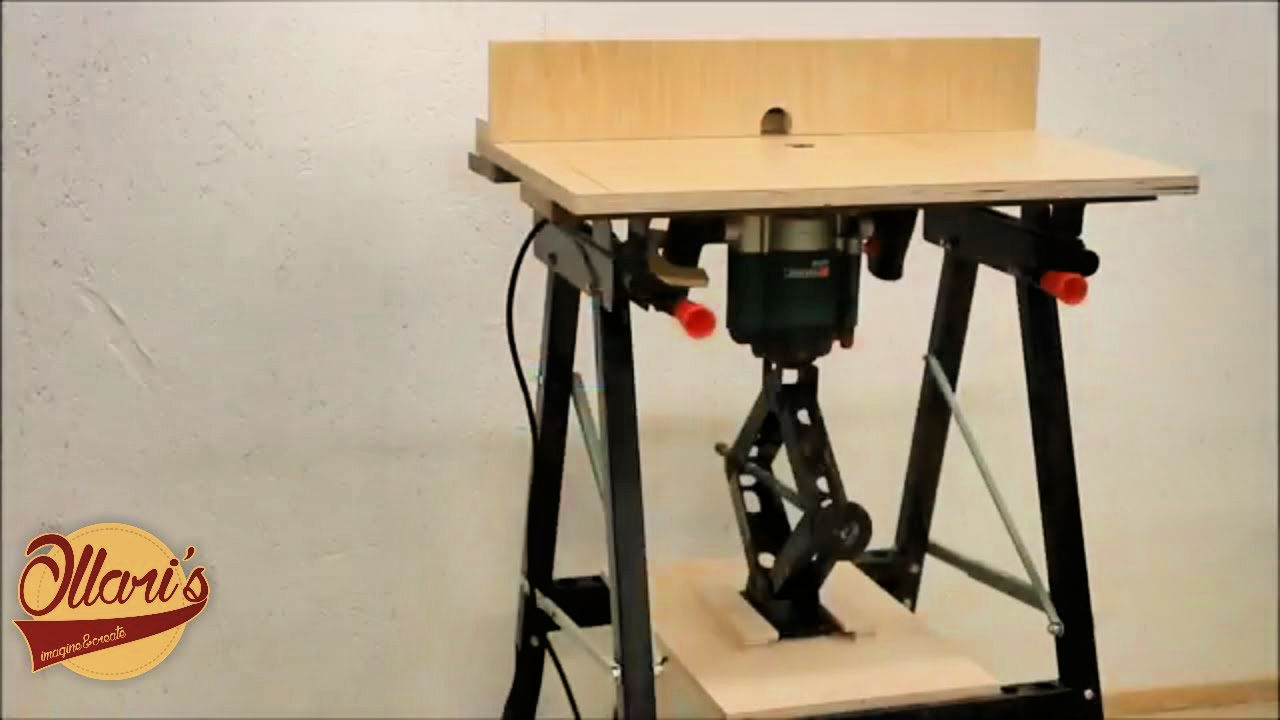 You will love building this portable router table that is incredibly beautiful and comes with a black painted base. The metallic and fine-looking wooden top work surface and an adjustable fence, are the most incredible features of this router table. Build it and enjoy happy woodworking. Details here youtube
24. How To Make Mini Router Benchtop Table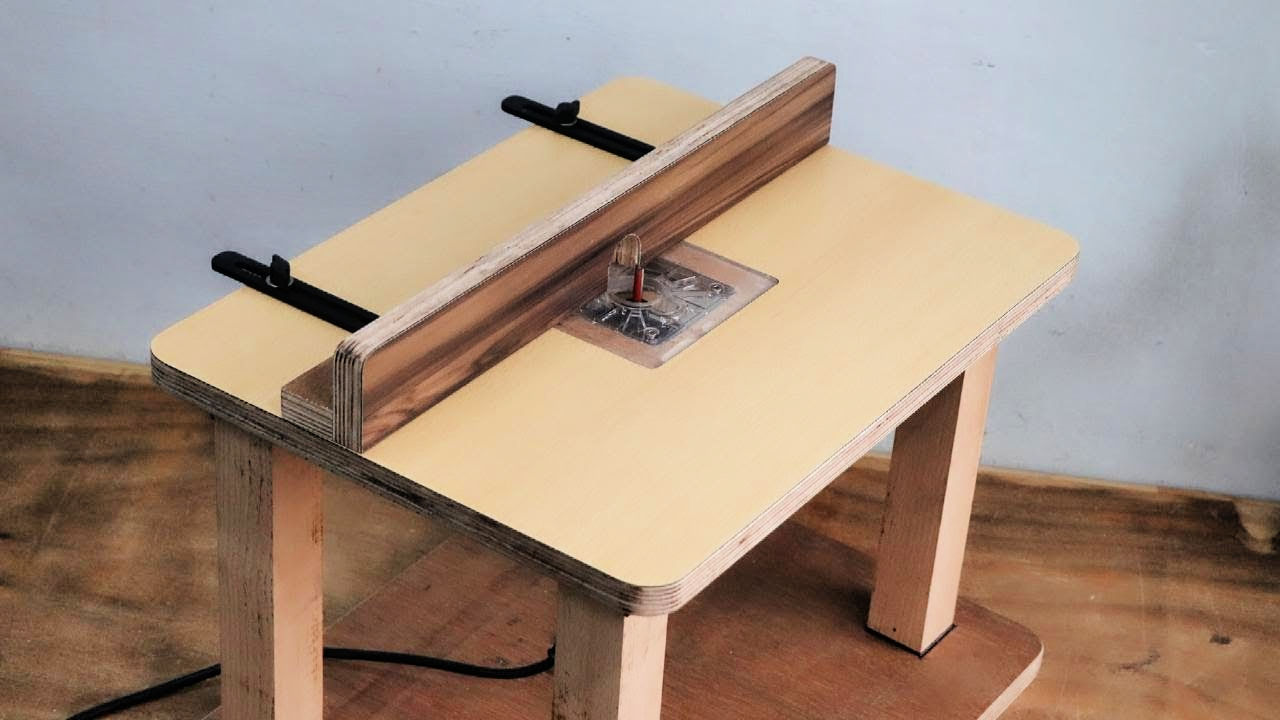 Building this router table is just like you are building a bench. Just make a bench with a solid wooden look with fine-looking MDF or plywood top, and next, just install the router to it. Finish the table by installing an adjustable fence too. The top comes with fab round edges and hence gain a lot of beauty. Details here youtube
25. Homemade Router Table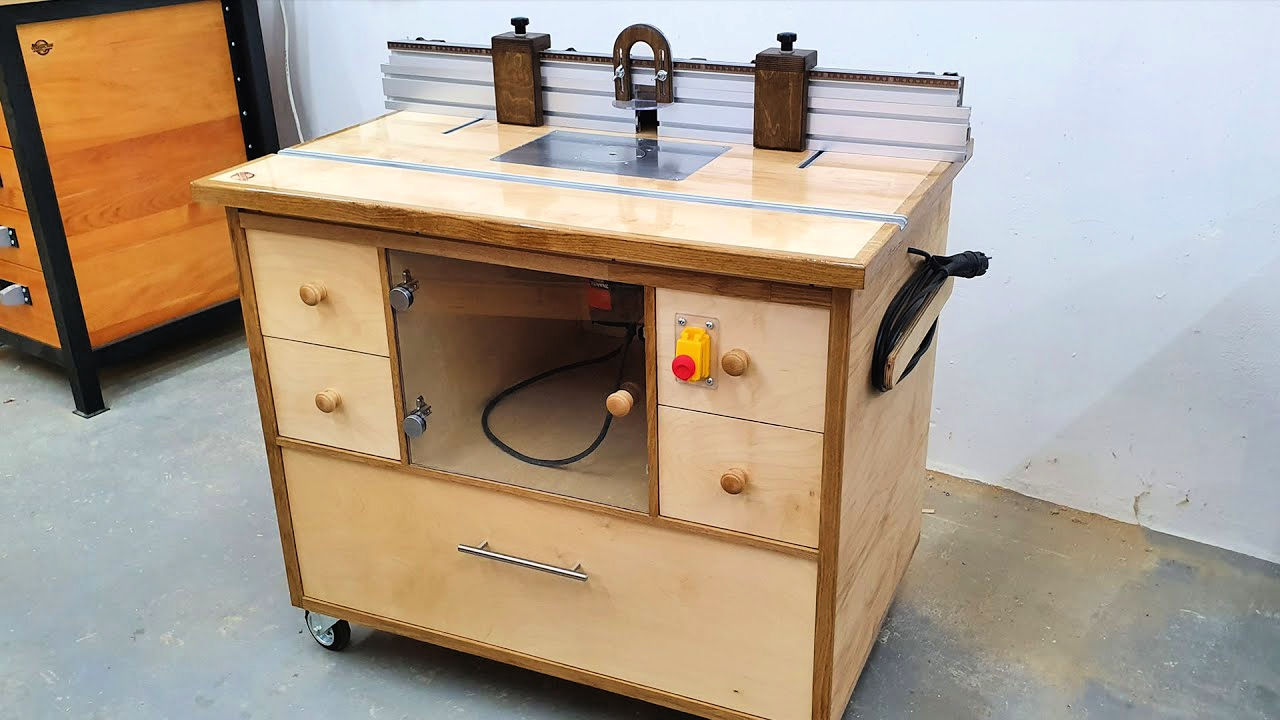 Willing to do the wood projects like a pro? Then do gain this homemade router table that is perfectly handcrafted one and will complete in no time. This table comes on wheels and amazes me with amazing storage options. It gains attention from the metallic fence that is adjustable. Video tutorial here youtube
Here are 150 great beginner woodworking projects that will get you comfortable with the basics of building with wood.
Conclusion:
A router table is what completes a shop of professional woodworking. It makes it super easy to do fine cuttings, to cut fine slots and grooves, and you can even use it to make perfect round wooden dowels our of square ones. These easy to build DIY router table plans will allow you to build a pro-style router table inexpensively. You will get the free step-by-step guides, visual instructions, and full video tutorials about building and setting up a router table. Do take a visit for lots of amazing design choices.
More DIY Wood Projects You May Like: