Playing with cats boosts your mood, and they make the best furry friends helping to remove stress and anxiety from your life. So, want to do something love for your cats? Just to get more love from them? Then build a cool residence with the help of these DIY outdoor cat house plans that will provide a full bag of tricks to build a safe, weatherproof, and fully featured outdoor cat shelter like a pro. You must get these cool pet residences while making sure that your cats are safe and comfortable outdoor.
Explore a variety of outdoor cat shelter by opening up this collection of 30 DIY outdoor cat house plans that are based on perfect pet housing plans and come with all features a DIY cat house should have. From scratching posts to a cat feeder to a comfy bed, these cat castles are added with all luxury features. You are all free to build them in any size as you are going to make them with your own hands.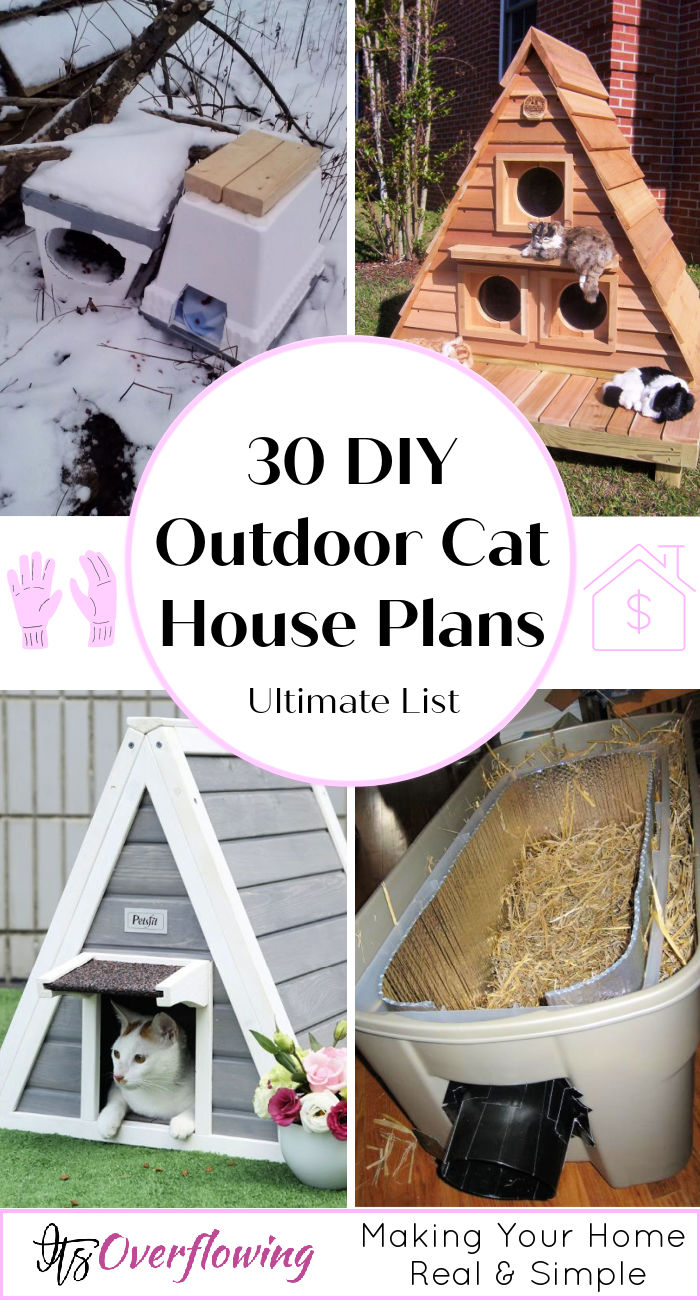 This collection of DIY outdoor cat house projects involves a big list of materials that you may use to build a cool cat residence. From using large plastic containers to Styrofoam coolers to cardboard boxes, use all to build cheap but fully functional insulated cast shelters. The top-rated materials in building cat houses are wood. Recycle, repurpose, and reclaim any wood to build a sweet bungalow-style cat house will be super easy to insulate due to zero conductivity of wood.
Find the best outdoor cat house plans:
From a single cat house to multi-story cat houses, you are going to get free plans and instructions for all. Shape up a big wood box or go to the next level and build mini cat bungalows with a chevron roof, veranda, deck, and scratching posts, will make your cat live the luxury. Choose any of these DIY outdoor cat house plans according to your budget, skill level, and needs.
1. Warm Cat House
What to do when you get tired playing with your cats? Then simply house them in their own DIY outdoor cat house so they can take a rest. Make this warm cat house using a 100qt or larger igloo cooler. Just add a cushion inside or a piece of rug along with a cat bowls, and that's it. Finish the lid with rope lights. instructables
2. Outdoor Heated Igloo Cat House
Get here a full free DIY outdoor cat house plan to build a heated cat house, the igloo cat castle. Build it using a Styrofoam cooler and with kitty pad having fleece cover. This cat house comes with a heating system and will surely provide great winter comfort to your cat. Details here cuckoo4design
3. Easy Winter Cat Shelter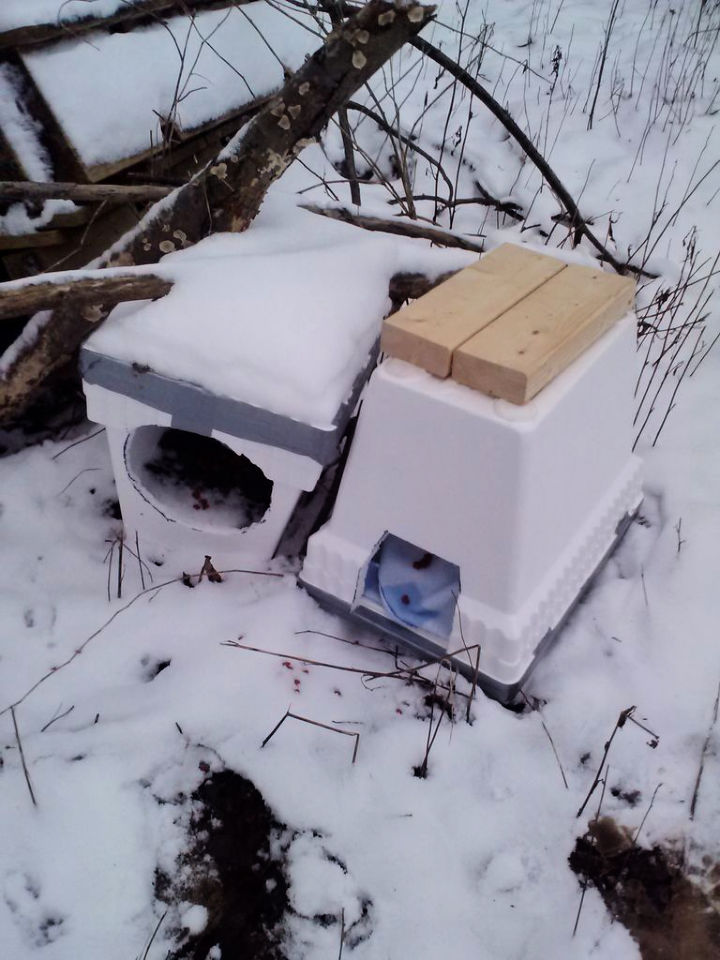 Another cozy DIY outdoor cat house to make with recycled items you can find quickly from home. Grab a Styrofoam cooler, tape, insulation, plastic bags, and scrap fabric to build this winter cat house will impress at a very first look. Assemble it using a durable adhesive. Details here instructables
4. Wooden Cat House Plan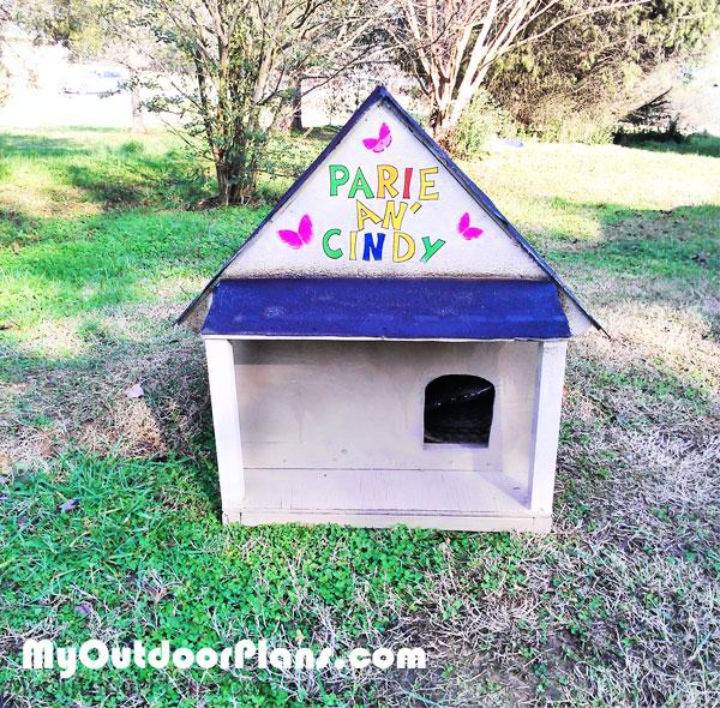 Willing to build a mini bungalow for your cat? Then get the free plans from here. Build this cat house using lumber wood, plywood, and felt roofing. Next, you need the tar paper, shingles, and paint to build this wooden cat house plan. This cat house will make a sweet handmade gift also to a cat owner. Details here myoutdoorplans
5. Cat House for Chilly Nights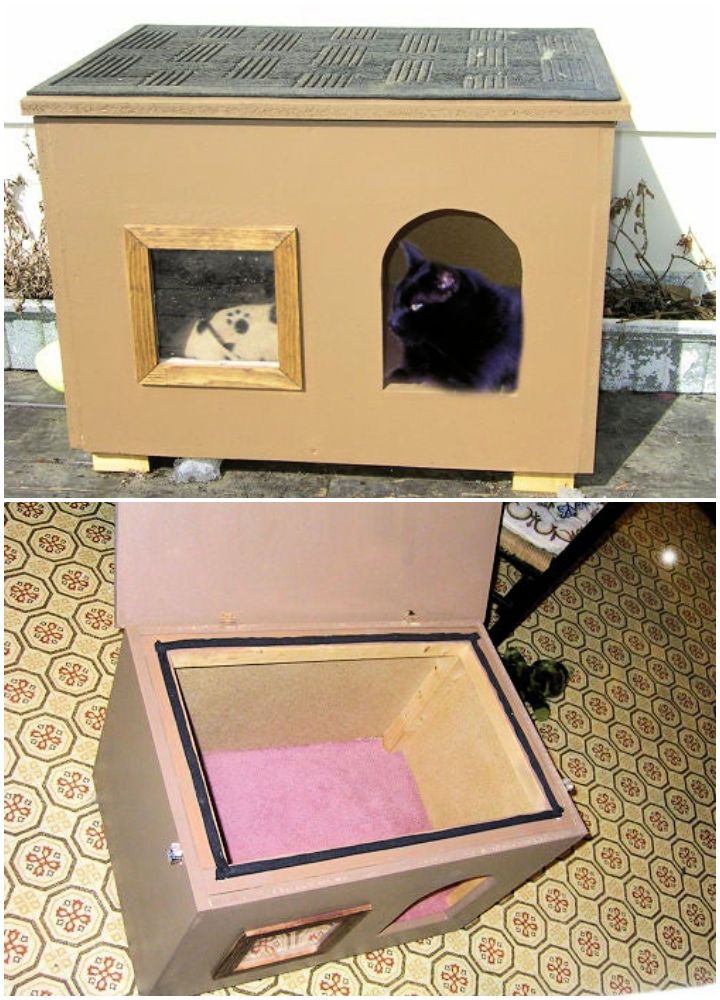 This DIY outdoor cat house is 18" x 26" x 18" and will make a sweet handmade gift. Build the frame with the 2x2s, and they will work great as the durable frame supports too. Cover the frame with plywood and then add up its top with a waterproof rug or mat. Add inside rug or cushion for ultimate sleeping comfort. instructables
6. Heated Outdoor Cat Shelters
Use the wooden boards, maybe recycled, to build this overall bungalow-style cat shelter with a chevron roof. Install the heating pads, thermo cubes, and cat bowls inside and lets your cat live the luxury inside. Put a lot of straws inside this cat house that will bring lots of warmth inside. Details here catsinmyyard
7. Insulated Outdoor Cat Shelter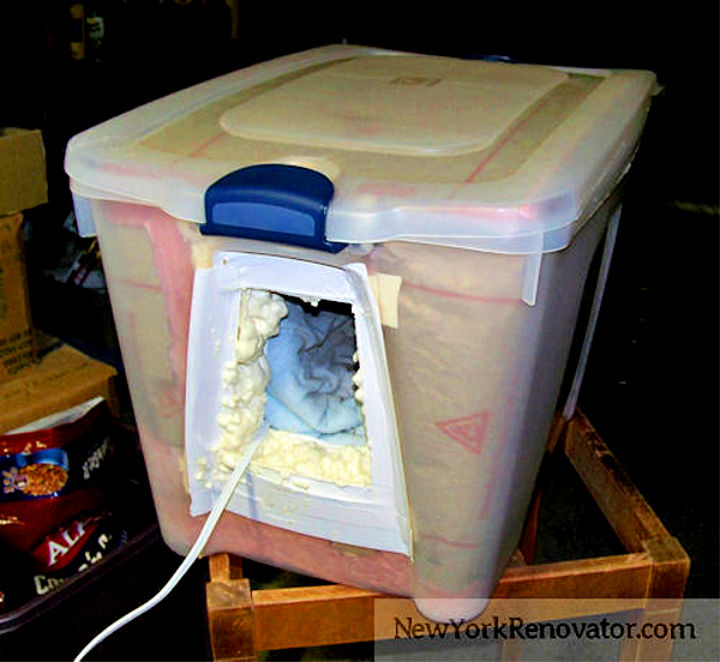 Build lasting longer outdoor cat shelter using plastic containers with lids too. Build this DIY insulated outdoor cat shelter using a 30-gallon plastic tub and an 18-gallon plastic tub. Place the small container in a bigger one with fiberglass insulation sandwiched in them. Use duct tape and expanding foam for adhesive demands. Find the DIY cat house here catster
8. Winter Shelter for an Outdoor Cat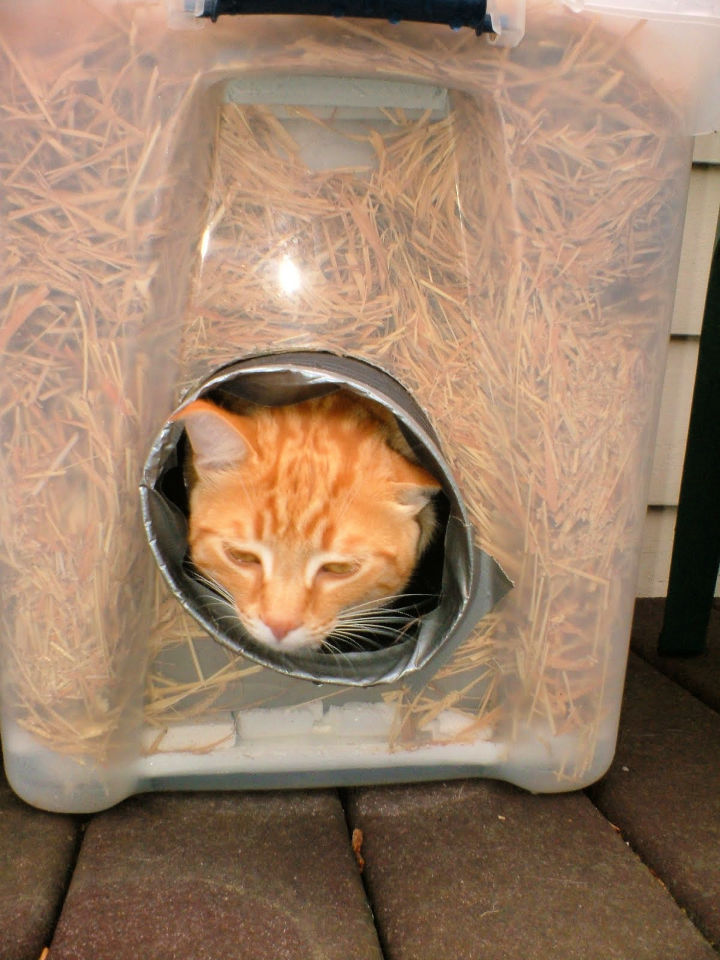 Build this another cozy castle for your cats using the big plastic containers. Just add the insulation inside and also a bunch of straws for added coziness and weather protection. Just place the carpet inside or a pillow to serve as a great bed. The best outdoor cat house to make in no time. Details here theverybestcats
9. Insulated Winter Cat Shelter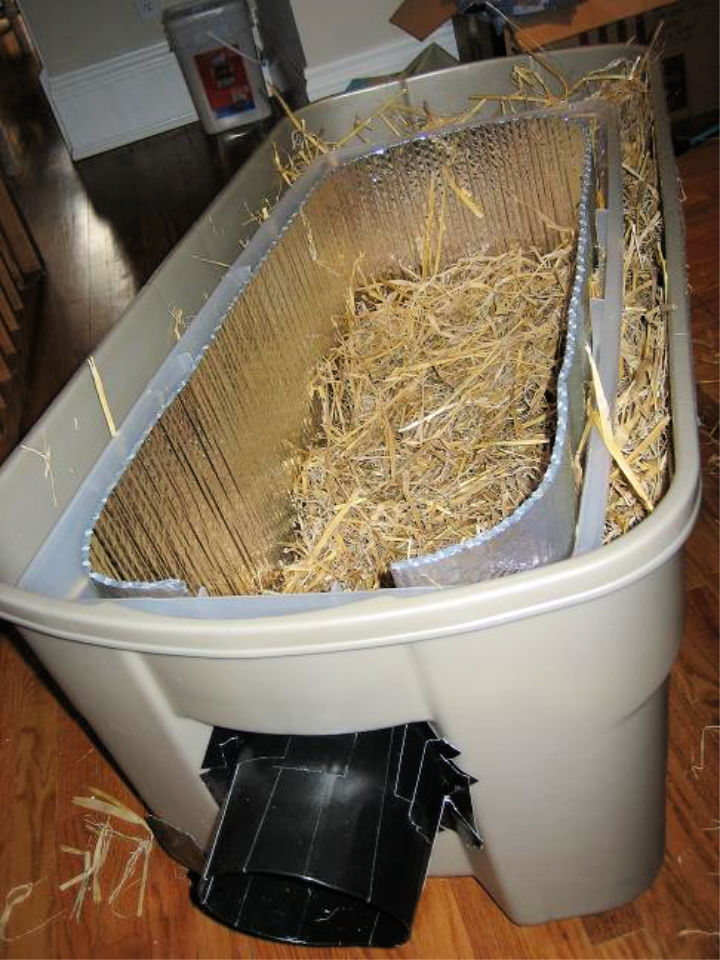 To build this insulated winter cat shelter, you need two bins here. Grab a Rubbermaid 189L and Sterilite 85L bin to build this cat shelter. Add the insulation inside and also add some straws inside for added coziness and winter comfort. One of the best cat shelters ever made. Details here diycatshelter
10. How to Make a Cheap Cat House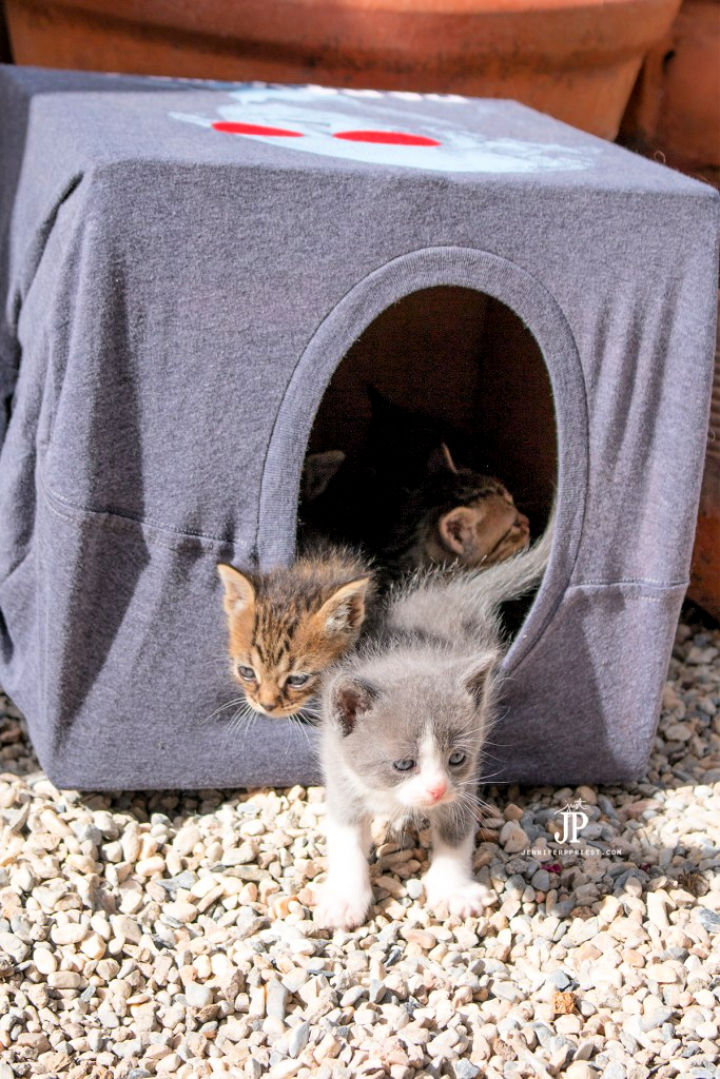 Willing to build an outdoor kitten house cheaply and in no time? Then here a mind-blowing free hack. Repurpose the old cardboard boxes from home and then cover them up with your old t-shirts to build this cheap cat house. It will provide the same value of comfort as needed. Details here smartfundiy
11. Outdoor Cat House for the Winter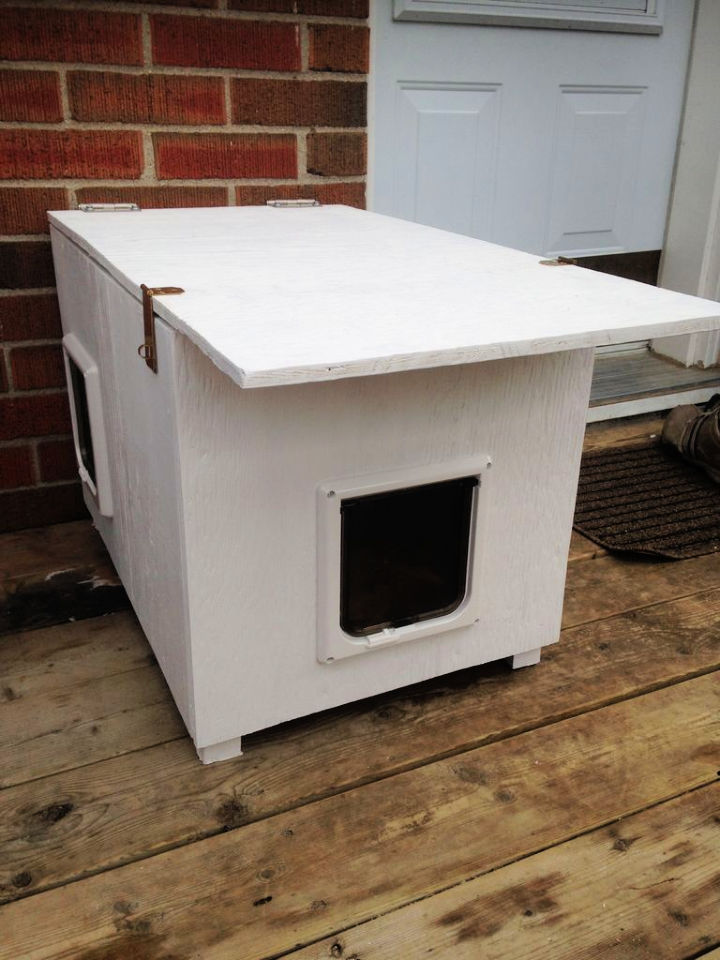 A one of the most beautiful outdoor cat house that comes with an edged roof. It will make a cute handmade gift for sure. Grab 1/2" plywood, 3 pieces of 2x2x8 for framing and 1/2" insulation board to build this outdoor cat house for winters. Next, you need two cat doors, weatherstripping, solar lights, and straws to make it. instructables
12. DIY Outdoor Cat Shelter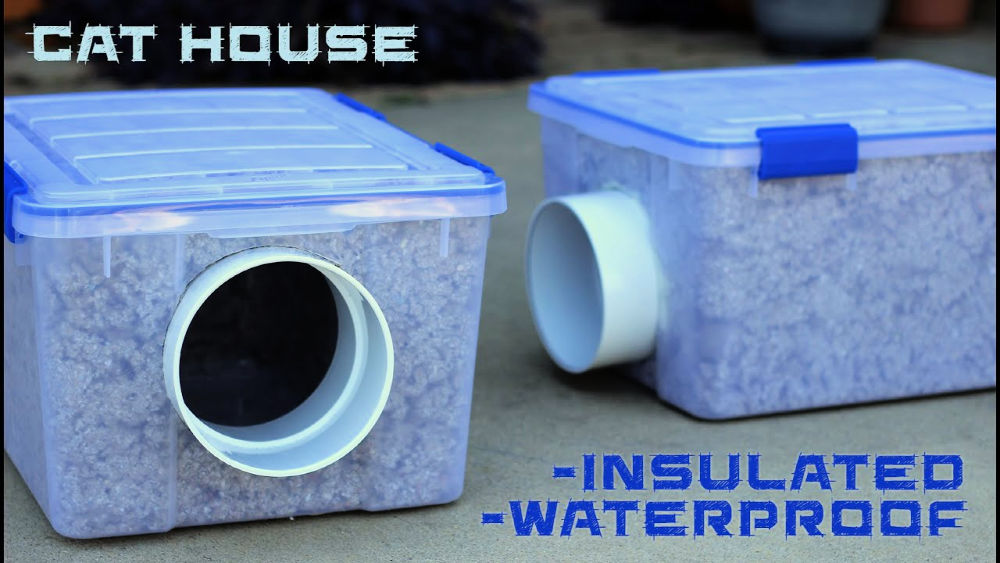 Get here free instructions to build an instant lovely outdoor cat shelter. It will be a matter of minutes to make. Just grab the plastic containers with lids, cut out a big hole in the front to serve as the main entrance. Next, cover the interior floor with rug or pillow and ad custom insulation. Finish the entrance with a PVC pipe coupler. youtube
13. Homemade Outdoor Cat Shelter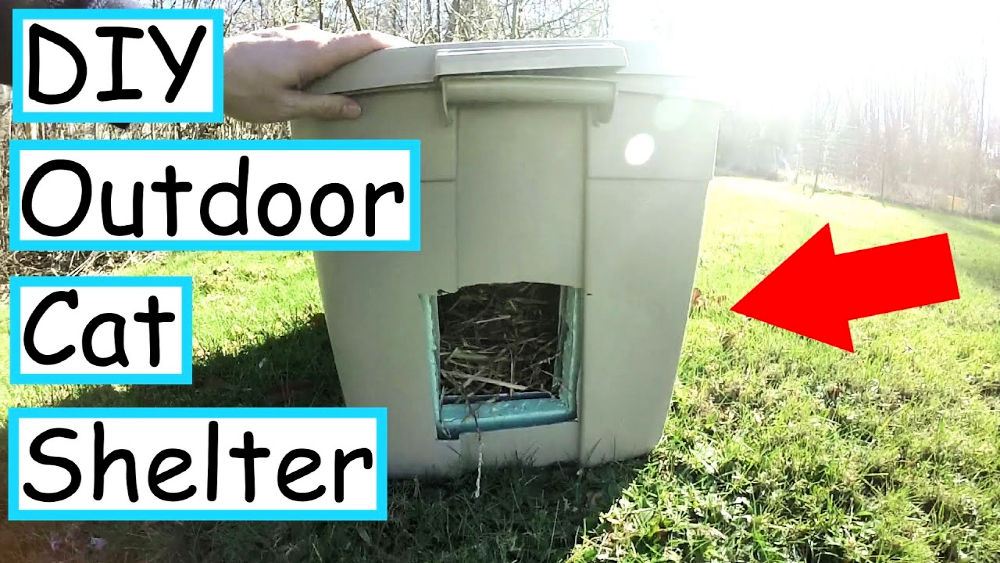 You need a 66-quart plastic container and a 44-gallon container to build this outdoor cat shelter. Insulate it using 1/2 sheet of foam to insulate this outdoor cat house. Cut out the main entrance from the front and add a cushion or pillow inside for a warm and cozy feel of comfort. Details here youtube
14. Build a Large Cat Shelter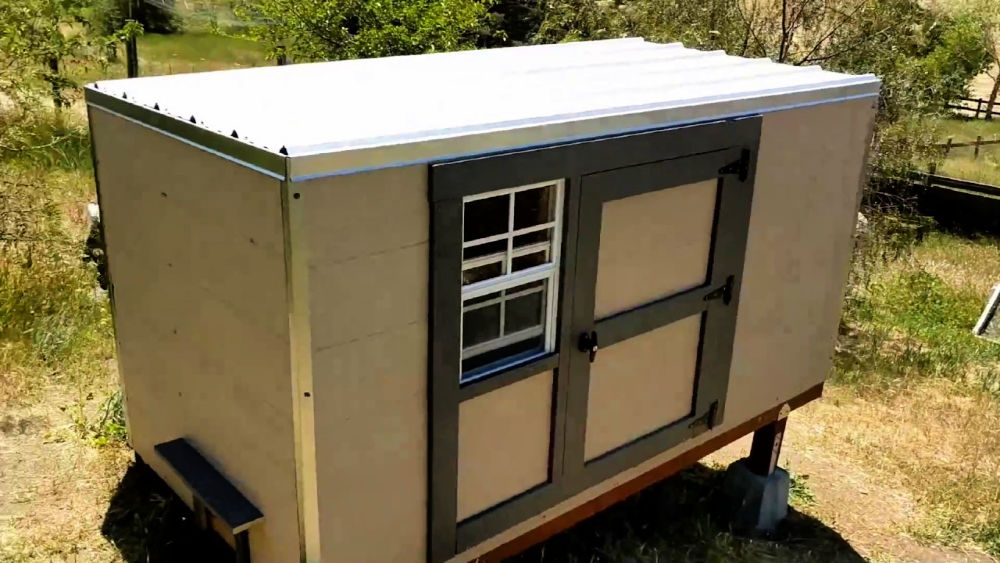 The finished size of this large cat shelter is 2'H x 4'W x 8'L and will be a luxurious bungalow for your cat to live in. Use the custom wooden lengths like 2x4s, 4x4s, and plywood to build this large cat shelter. Build first the slatted frame then sheath it up with plywood. Details here youtube
15. Outdoor Cat Houses for Feral Cats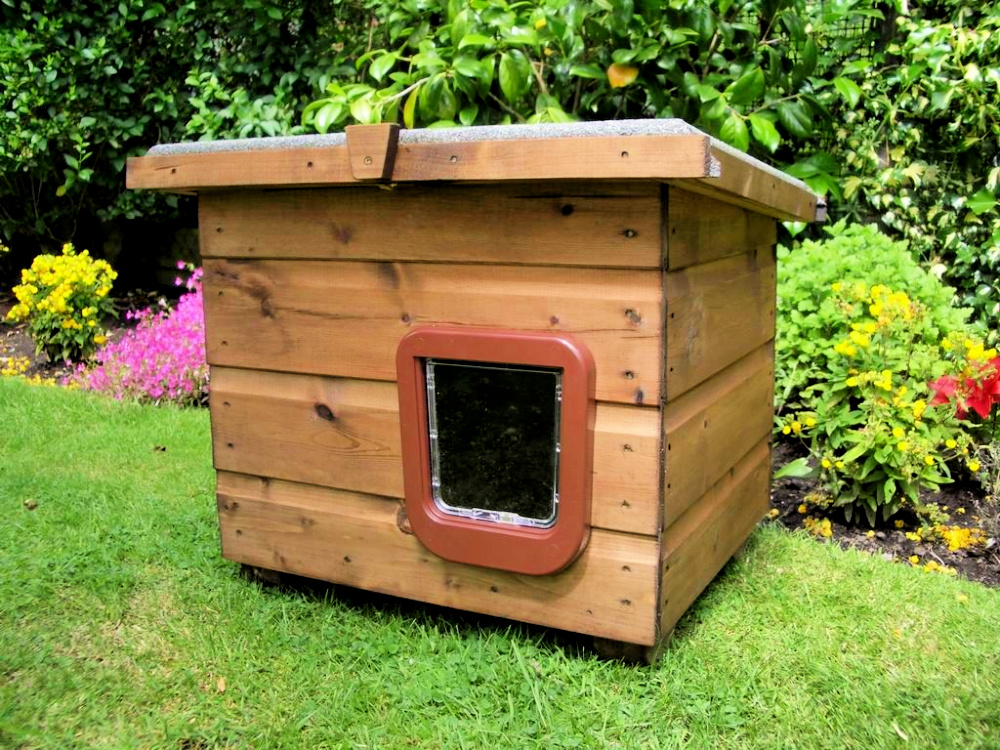 If you are having access to some free wood, then you must build this wooden cat house, will rock for feral cats! A nice entrance, solid wooden design, and tilted edged roof are the prominent features of this hand-built model! Make the inside comfy, too, using rugs, carpets, pillows, and custom insulation!
16. Cat House Plan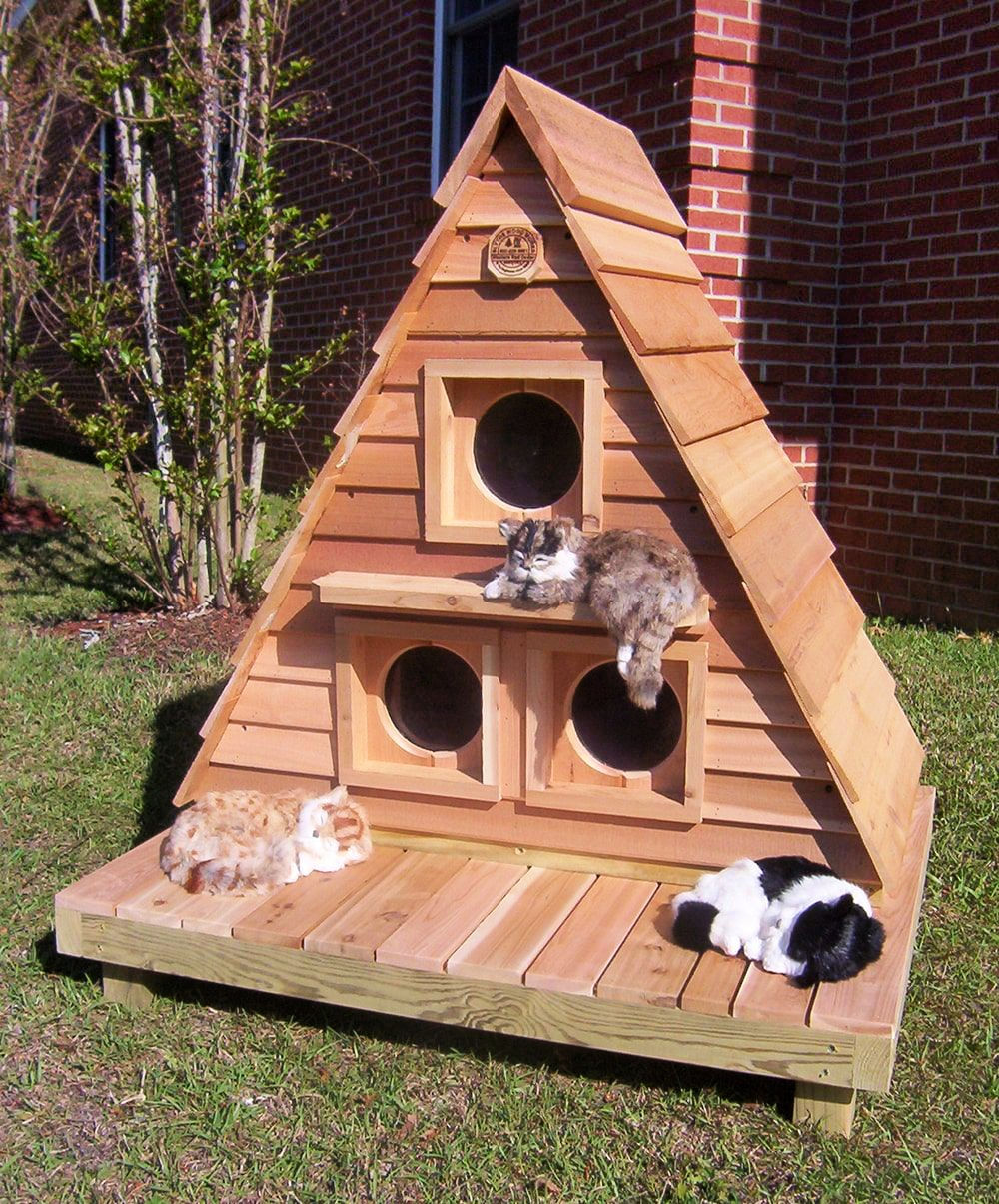 The cats are so sweet, and that's why most cat lovers love to keep multiple cats as pets! So, build this cat house for easy management for your cat care! This outdoor cat house is here as a lovely wooden bungalow with multiple stories, and there are built-in rooms to house multiple cats at the same time! The design features a shingled chevron roof and comes with an extended base serving as a deck!
17. Best Outdoor Cat House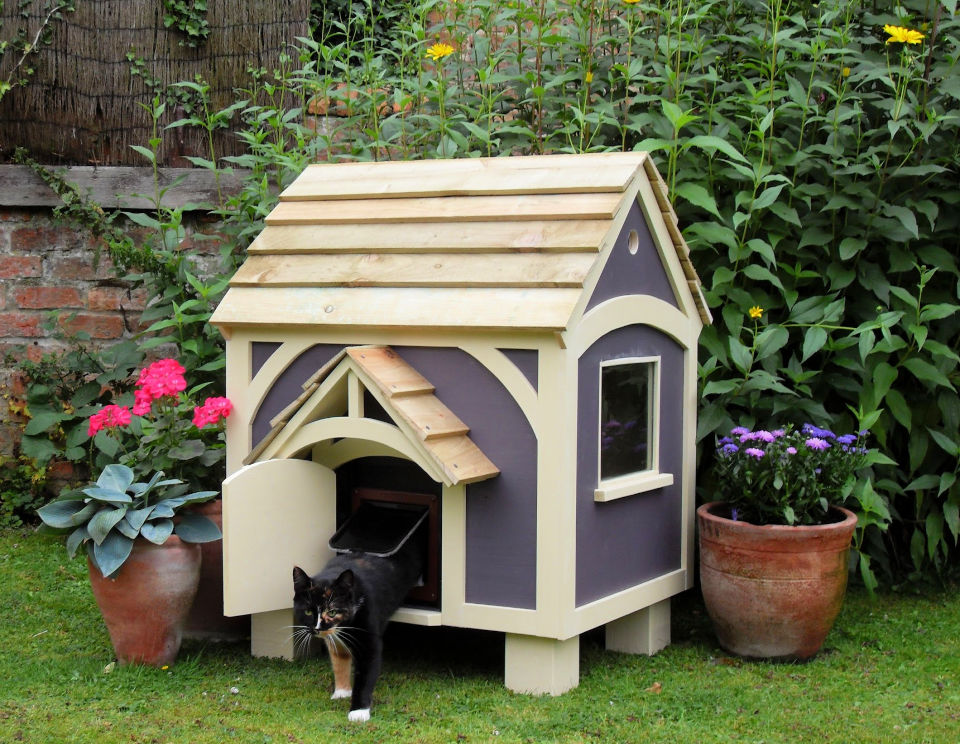 This cat house is having all to impress, a gorgeous design, gorgeous painted appeal, shingled chevron roof, and a raised bottom! Use custom lumber boards to build the overall frame, including roof rafters and sheath the entire frame with plywood! Here entrance comes with a hinged gate!
18. Outdoor Cat Houses for Winter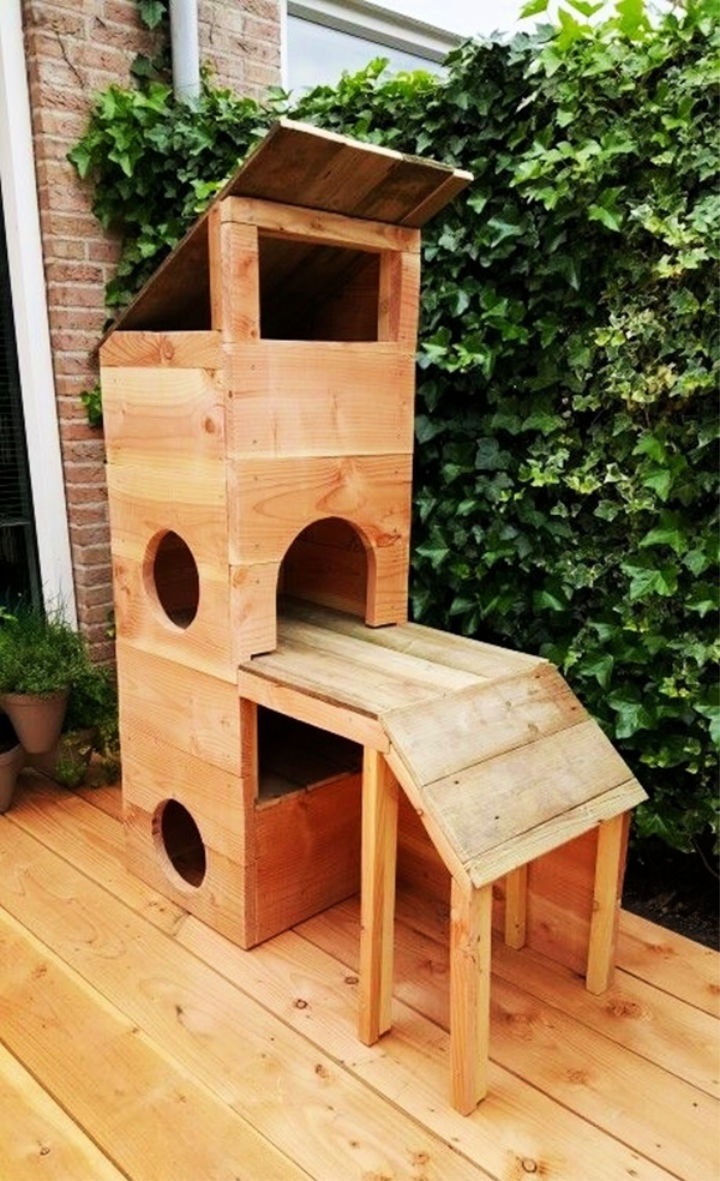 Let your cats feel cozy this winter using this lovely outdoor cat house! The first story comes with an extended roof veranda that makes an extended floor deck for 2nd story of this cat house! Finally there comes with a tilted roof that will not let the rainwater to retain! Make most of it using 1×8, 1×6, or 1×10 and 2x2s!
19. 3 Story Cat House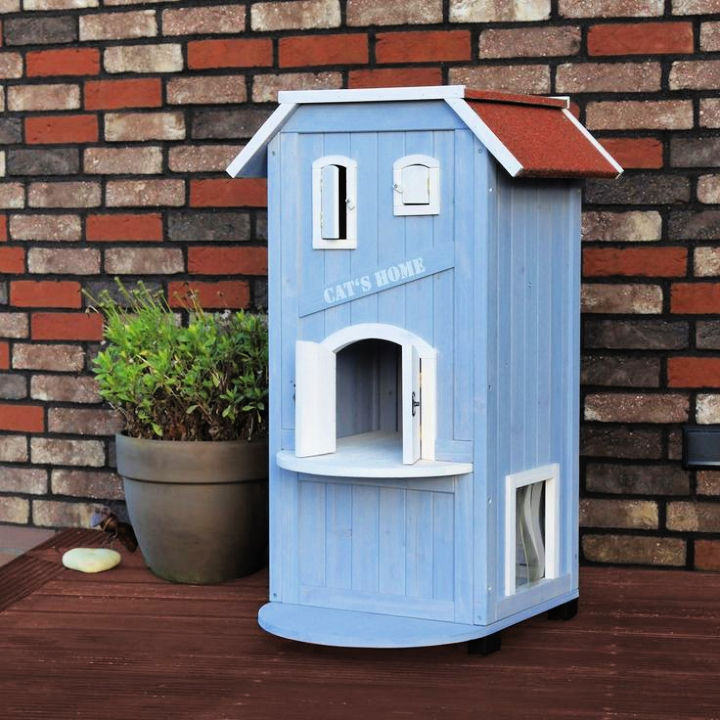 Start housing your cats by building this compact housing, the best 3 cat housing scheme! Grab the wood slats, plywood, wooden square posts, and paint to build this 2 story cat house! It will nicely house 2 kittens or cats at the same time who are good friends! The hinged double doors and miniature windows add a lot in the beauty of the design and allow great air circulation too!
20. Triangle Wooden Outdoor Cat House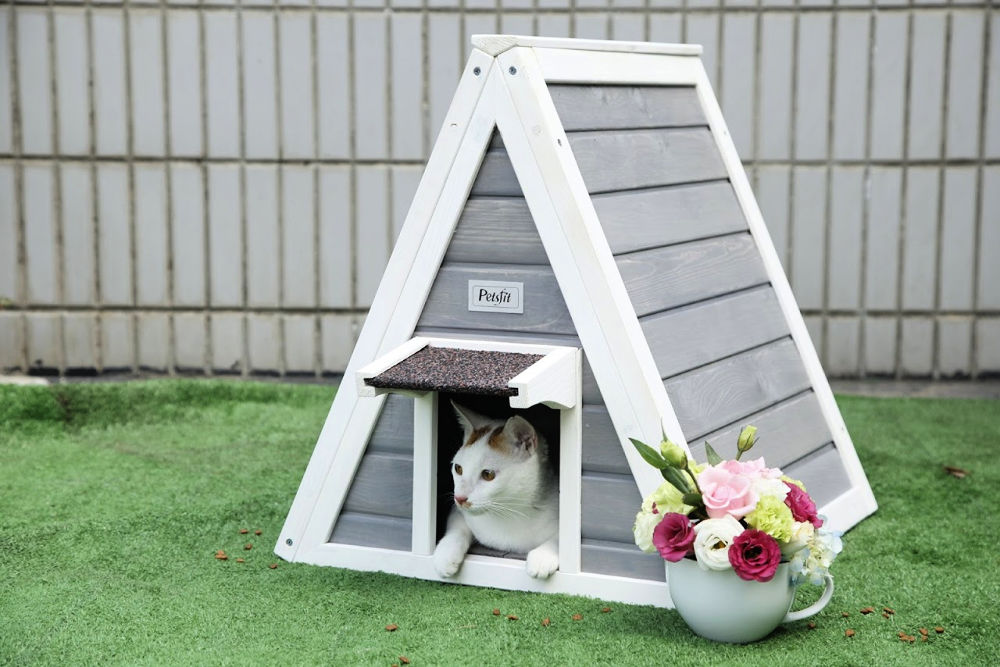 Style up the keeping pet game by building this luxurious residence for your cat! Use the heavy-duty wooden posts like 2×2 or 4×4 lumber wood lengths to build the overall frame, next use the plywood or the slats of equal dimensions to fill up the frame solid! Add a sheltered entrance that will allow your cat to peek out safely!
21. Wooden Outdoor Cat House
Check out here one of the most interesting and featured designs of a cat house! Along with a central entrance, it comes with a hinged door to each side, and then there comes with a hinged roof that you can open up also! It provides a comfy, evenly flat floor inside that you can cushion up easily!
22. Outdoor Cat Houses for Multiple Cats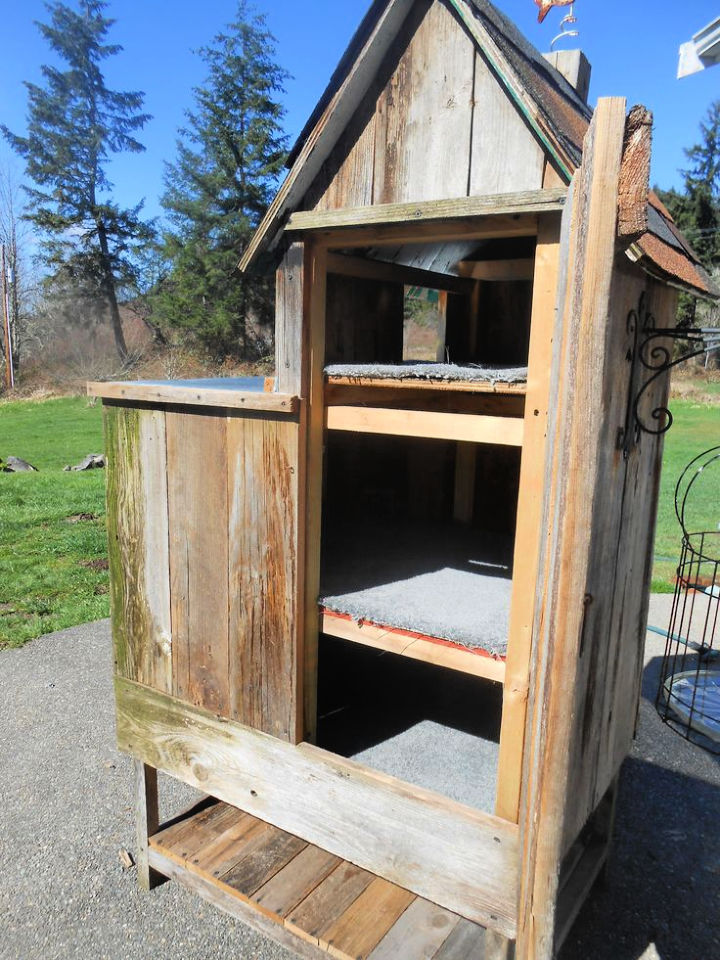 Do you want to build outdoor cat houses for multiple cats? Reuse the old wood or leftover wood from home to build this large cat residence! A luxurious cat bungalow that has the capacity to house multiple cats at one time in different stories! Each story has a carpeted floor where cats can rest easy to enjoy the resting hours! This huge design comes with a chevron roof!
23. Cute & Awesome Outdoor Cat Shelter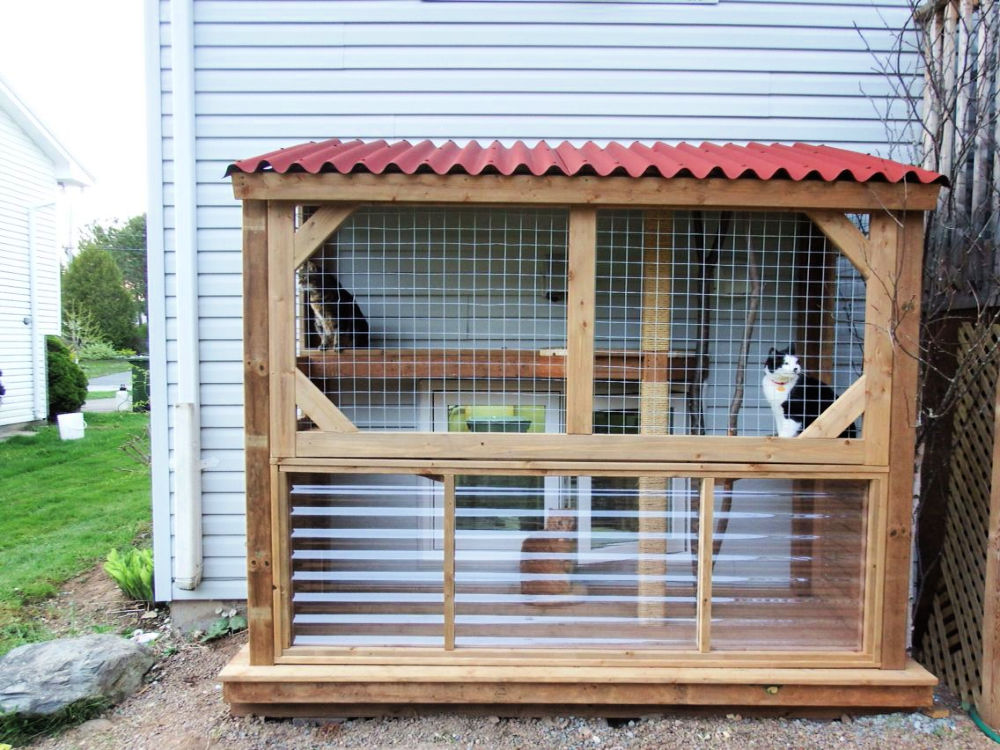 Just like the hen houses and rabbit cages, also build extra safe cage-style Outdoor Cat Shelter! Get inspired by this sample design that comes with a corrugated metal roof and has a durable wooden frame! First, build a solid base and cover the entire frame with chicken wire or with hardware mesh cloth at the end!
24. DIY Outdoor Cat Shelter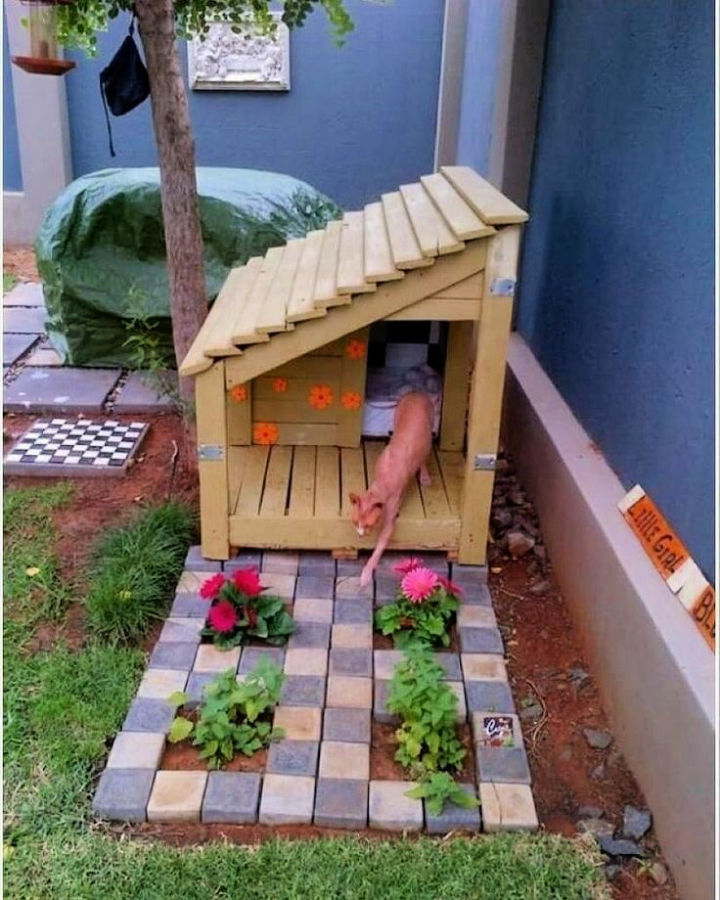 This amazing outdoor cat house comes with a shingled tilted roof and comes with a veranda too! It will make your cat live the full luxury and is just super beautiful to look at! Make it mostly with the wood slats like with 2x4s! You require an easy skill level to build it, a better gift to build for a cat lover!
25. Outdoor Cat Shelter for Multiple Cats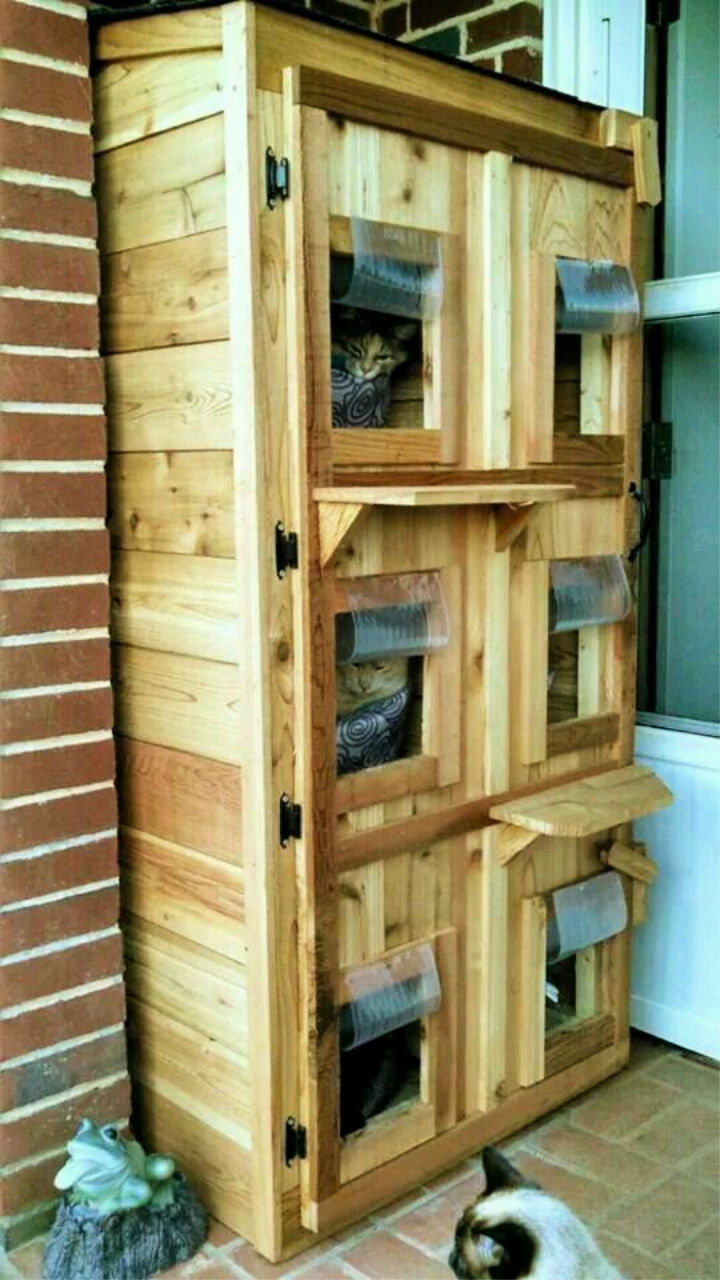 This Outdoor Cat Shelter building will provide a comfy housing space to 6 cats at the same time! So, it will allow you to keep 6 cats as pets at once! The cat house is a 3 story wooden building that provides separate compartments to cats! Build it up with wood, and each story comes with 2 cat rooms! You can also use it as outdoor cat houses for multiple cats!
26. Scraper Boxes House for Cats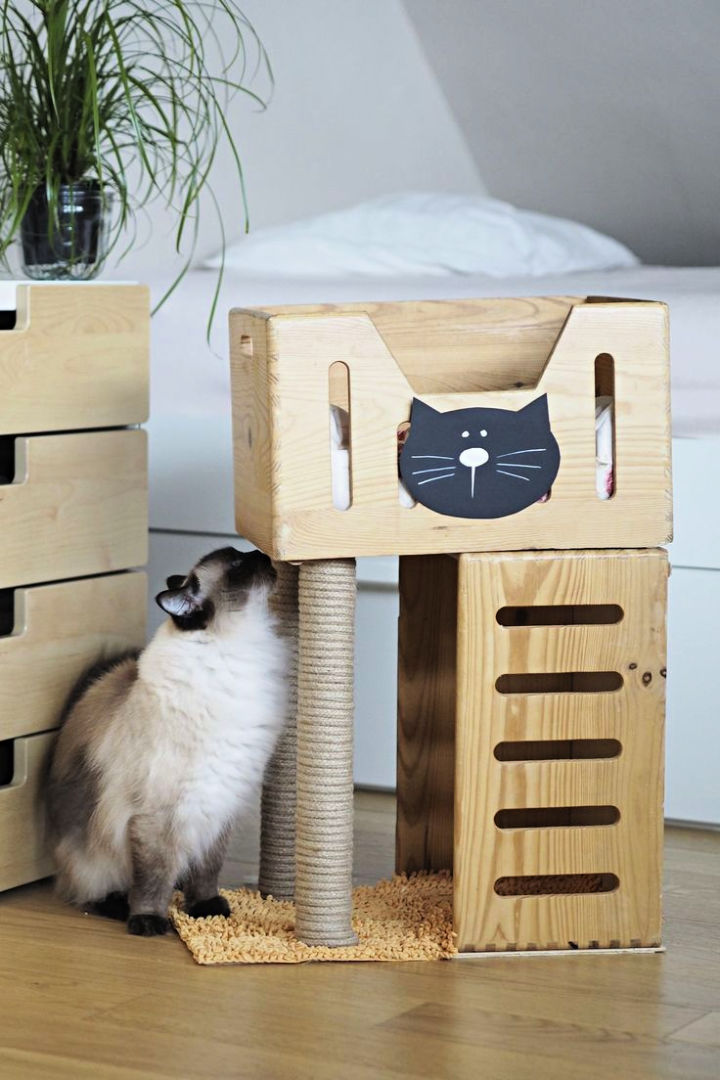 This DIY cat house is to build with the recycled items like with recycled scraper boxes and will be the ultimate comfort for your cat pets! Nicely carpeted floors, rope covered scratch posts that make the durable pillars for supporting this L-shape cat house building, too, are the main features of this cat house!
27. Cat Play Tower House
This DIY outdoor cat house is all in one and provides the features that are guaranteed to boost the fun of all the cats! It comes with a scratch post, and provides different elevated levels, will rock as a gym for cats! There are stronger vertical round wood log pillars and square wooden posts supporting this cat castle!
28. Outdoor Cat House from Wooden Pallets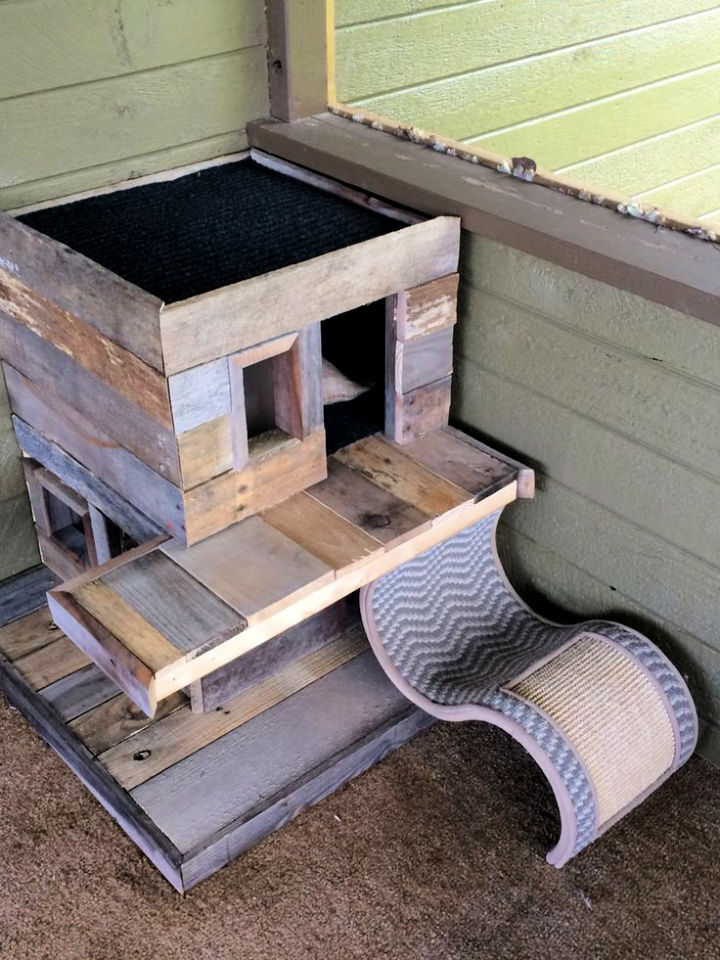 Recover amazing comfort of your cats out of pallets, and the idea is just to build a gorgeous-looking pallet cat house! First, build a solid wooden base, will make both extended deck and floor of the cat house! Next, build the cat residence over it, may come with custom stairs and other features!
29. Cat Shelters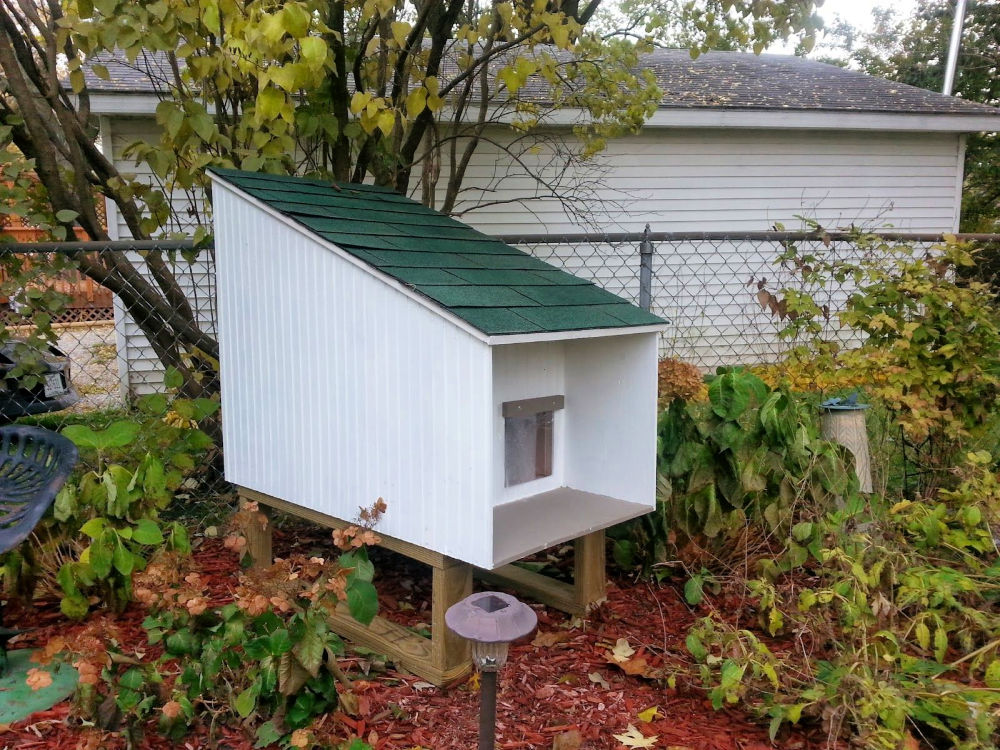 This chic white painted cat shelter stands on box style wooden legs! Next, it impresses with the green shingled roof that is sloped to avoid rainwater retention! This outdoor cat house provides a covered entrance, and will be loved dearly by all the cat lovers if given as a sweet handmade gift!
30. Cat Walk Outside House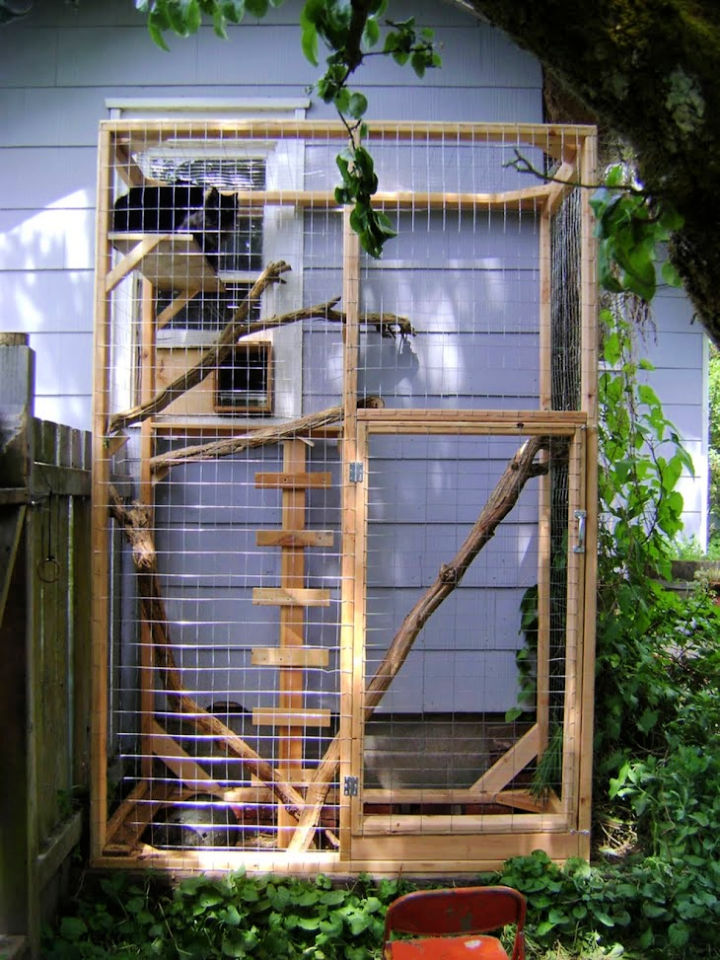 This bigger vertical cage is the next most beautiful outdoor cat enclosure for your cat! Just install the building frame using wood pillars and cross supports and then cover the frame with chicken wire! Install custom tree branches and ladders there for cat gym routines! An airy type of outdoor cat residence!
Conclusion:
After exploring your outdoors and indoors, the tired cat pets need a separate resting place. So, build the lovely cat residences with the luxurious features, will rock for the napping routines of your cat. Go with these 30 free outdoor cat house plans to build a luxurious cat bungalow or castle without breaking the bank. You will get the free instructions and plans to build fully-featured models of cat houses, will make sweet handmade gifts to your cats and to cat owners too. From insulated to airy caged style cat houses, you are going to see all the best outdoor cat house plans here.
DIY Cat Projects You Can Make At Home