Cats are usually found sleeping at one corner or the other! Especially with grown-up cats, they are mostly found sleeping all day long! But let's just not forget about the fact that when they are awake other than playing around, the other thing they love to do is scratching! Check these DIY cat scratching post plans to save yourself some scratch-free furniture! If you have a cat, you must have a lot of scratched surfaces and marks at your furniture! Ever lost a new sofa to a scratching cat? Or a new wooden bed or table? Let's remedy that with these DIY cat scratcher ideas and keep your cats happy and your life way more peaceful!
How to make a cat scratching post? You can find a lot of cat accessories in the store! But, we all know how boring those look. With the same dull look and absolutely not aesthetically appealing or pleasing! Keep your furry friend happy and satisfied, and don't waste any more time on pet stores hunting for a scratching post. By opting for DIY, you can make a custom statement decor to your place while at the same time take care of your feline's instincts! I've also published many posts on DIY cat furniture that you can easily make at home like DIY cat shelves, homemade cat tree, outdoor cat house, and DIY cat bed to build cat furniture cheaply and save your money.
Make a statement vase featuring sisal rope or making an enticing wall decor cum scratching post. You will also find some super eye-catchy cactus DIY cat scratching post plans. So, get ready to please your furry friends and making some aesthetically pleasant scratching posts.
1. DIY Cat Scratching Post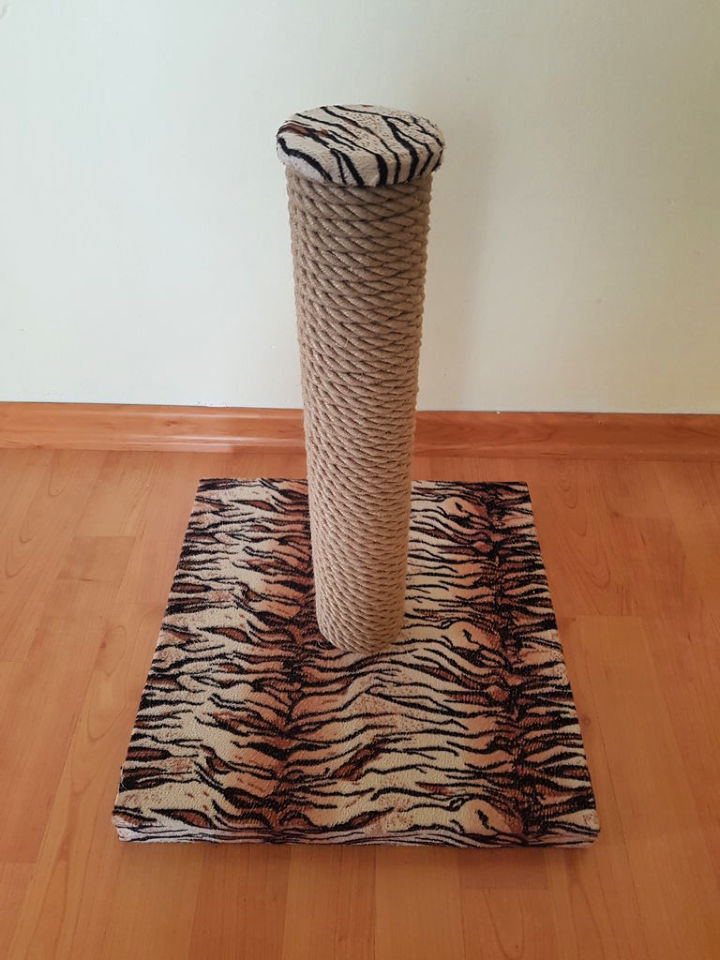 Make this fantastic DIY cat scratching post with limited supplies! All you need is a cardboard tube, some rope, adjustable cabinet foot, MDF, a jar lid, and some fabric and thick cardboard. Screws, nails, etc. will be needed as well! Choose the fabric depending on the theme of your living space. instructables
2. Modern DIY Cat Scratcher Post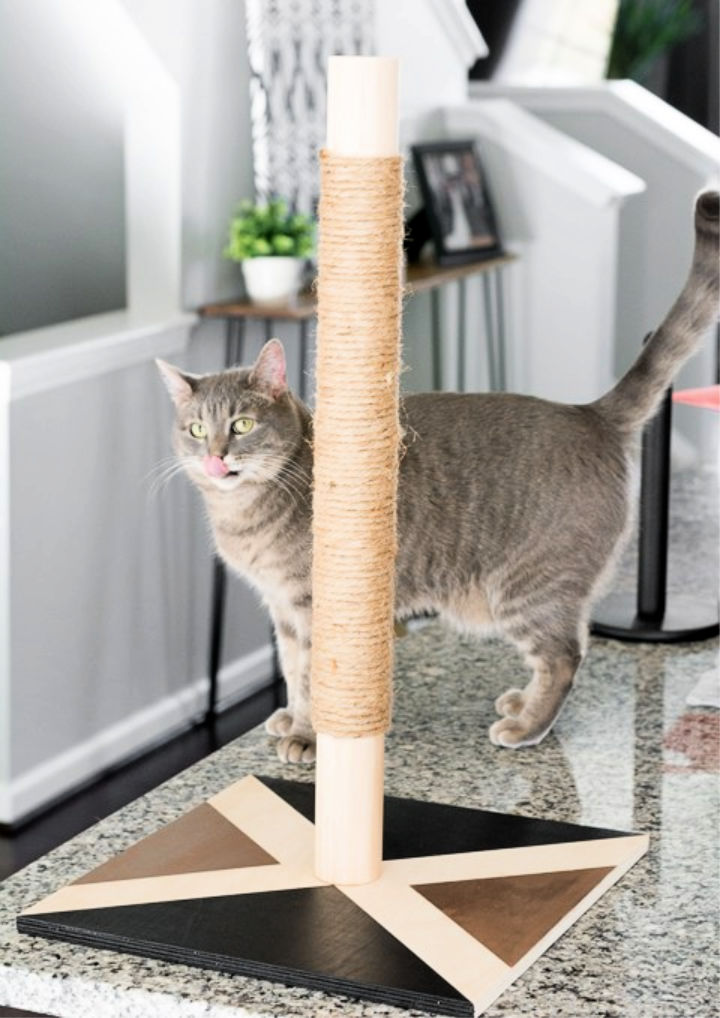 If you're living in a modern-looking apartment or house, you don't want to ruin it's aesthetic with a cat scratcher! Don't worry! This guide will instruct you on how to make this fantastic DIY cat scratcher, which looks very modern and will fit the aesthetic of your living space perfectly! prettyhandygirl
3. Cactcus Scratching Post
Do you love the color green? Do you like plants? Or maybe you're just a fan of cactuses! Cactus is a beautiful plant, but it can pierce you if you get close! However, they can be used as a great design, especially with this DIY cat scratcher! The green thread and pink flowers combine perfectly together! kayleeeylander
4. DIY Cat Scratcher
Check out this pleasing and appealing DIY cat scratcher! The good thing about this one is that it is shaped differently. If your cat is lazy and doesn't like to move a lot and try too hard, make this one for her! They won't have to jump to scratch themselves as they can easily sit on this! almostmakesp
5. DIY Vase Scratching Post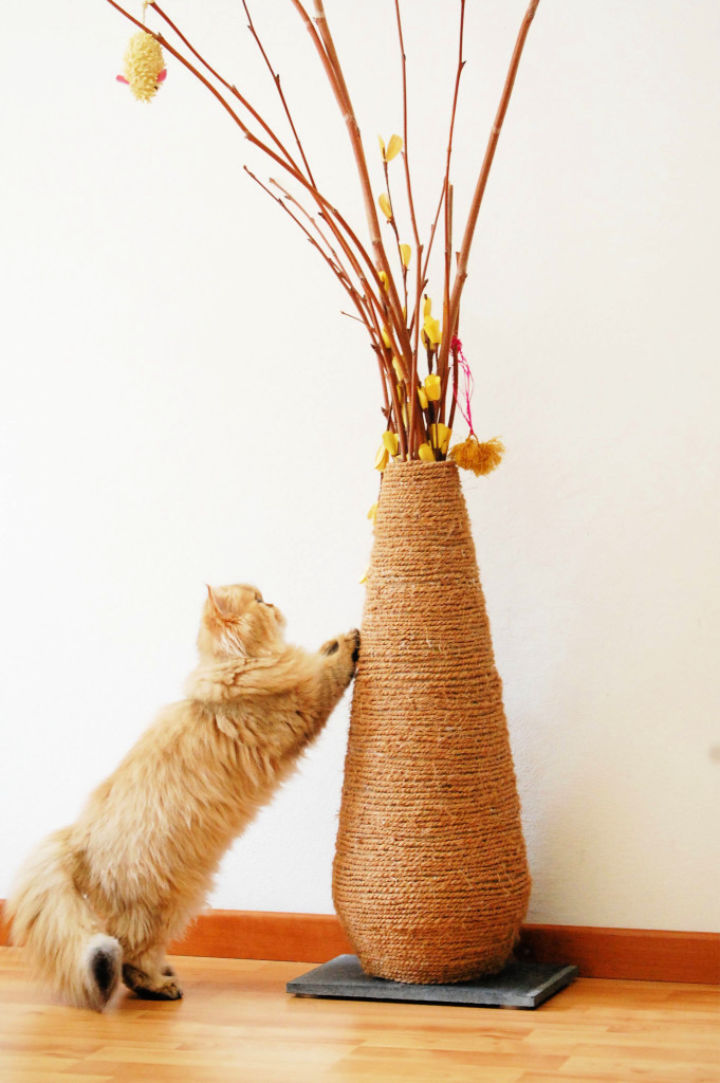 Maybe you want to utilize the space in your living area. It could be because of a small apartment or just liking minimalistic decoration. This is the DIY cat scratching post you should go for! It has attached to a vase! You won't have to free up space for a DIY cat scratching post! meowlifestyle
6. Modern Cat Scratcher + IKEA Hack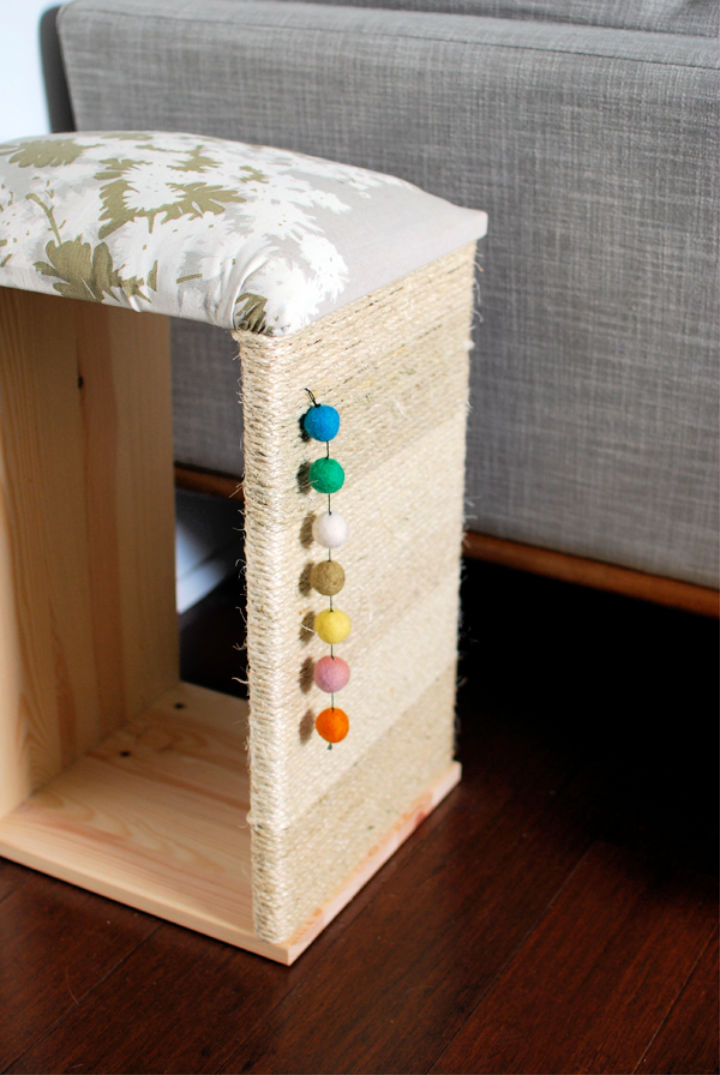 Looking for a cat scratcher that won't look like cat furniture and fit in with the theme of your house? This is the one to choose! This DIY cat scratcher is perfect for almost any theme! The best part is that it has a string with balls hanging on the side, which will keep your cat busy. we are scout
7. Super-Cute Cactus Scratching Post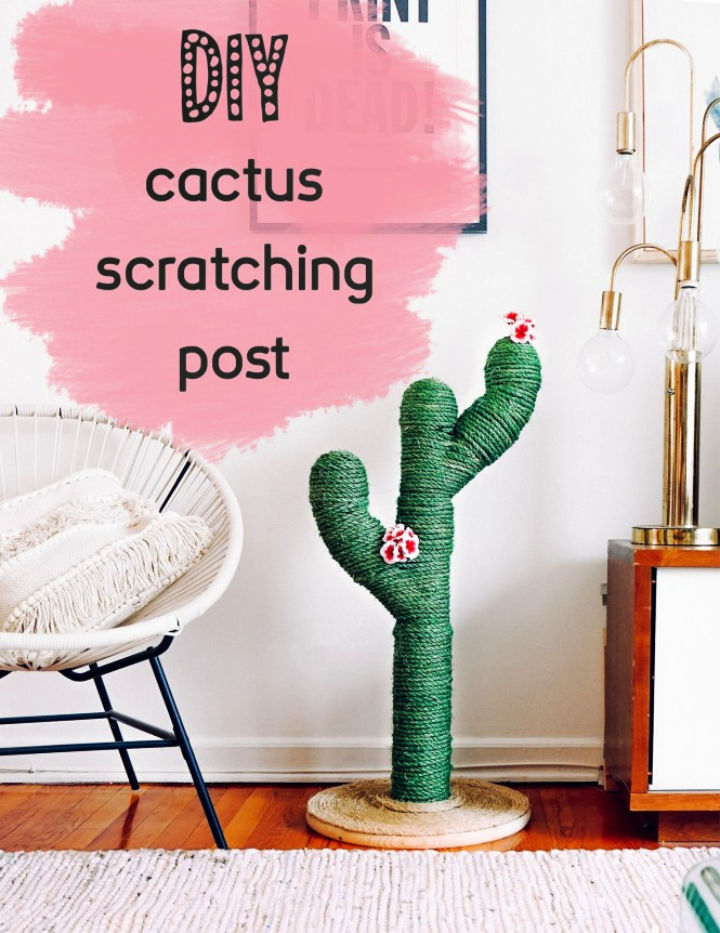 How cute is this DIY cat scratching post! It has a very stunning shape and color to it. The combination of dark green thread as the base and the flowers as some extra decor on top makes it look lovely! It will add a very cheerful and happy vibe to your house. bestfriendspiz
8. DIY Cat Scratching Posts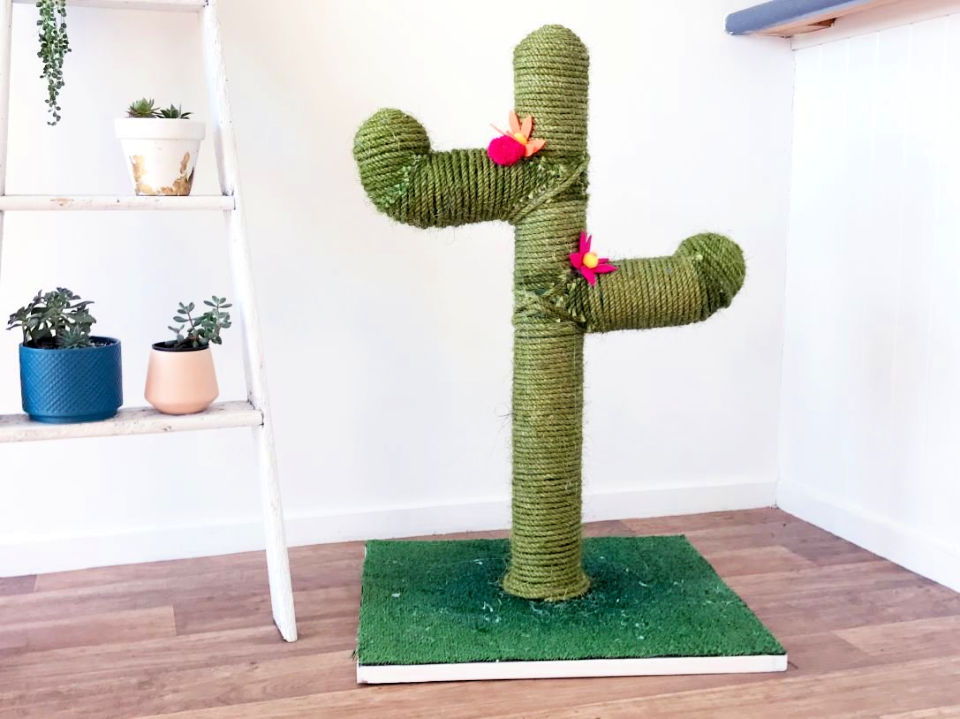 Plywood, fake grass, green spray paint, green dye, and some natural sisal rope needed for the base! Some other supplies needed are glue sticks, glue gun, hammer, and electric drill! A straightforward project which requires very few and limited supplies. Inexpensive and easy to make! createandcraft
9. Hanging Scratching Pad for Cats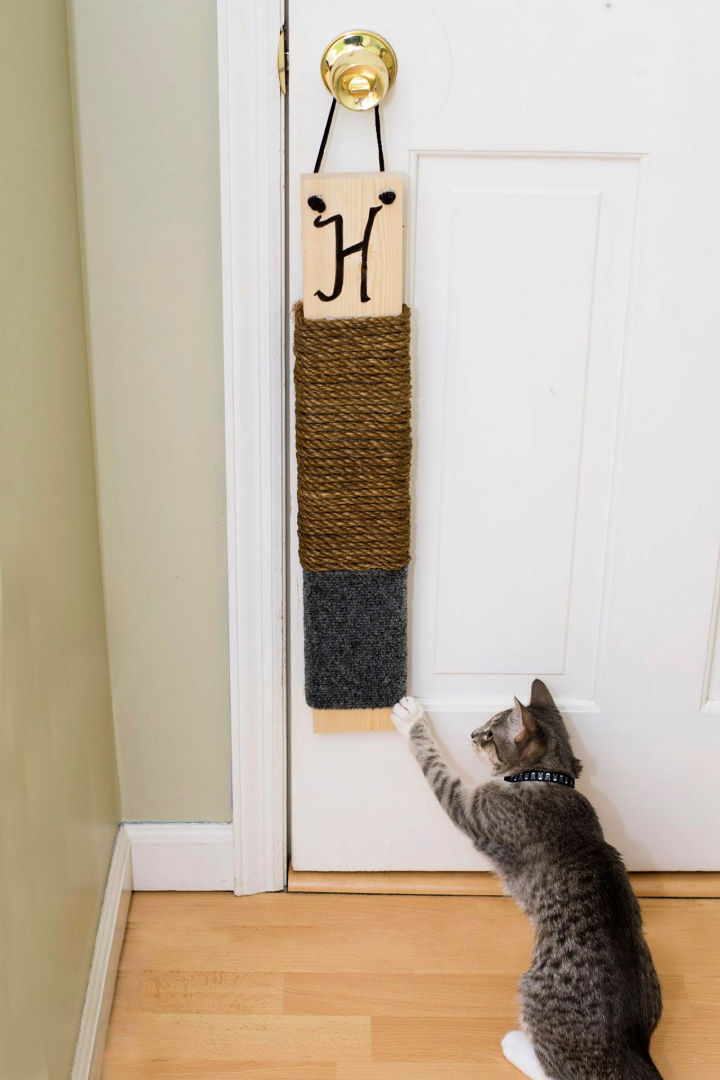 The plain white doors can get a little boring! If you have a cat and some plain white doors around your house, why not try this DIY cat scratcher? Your cat will love it, and in turn, this will add a beautiful touch of color to those plain white doors! hgtv
10. Homemade Cat Scratching Post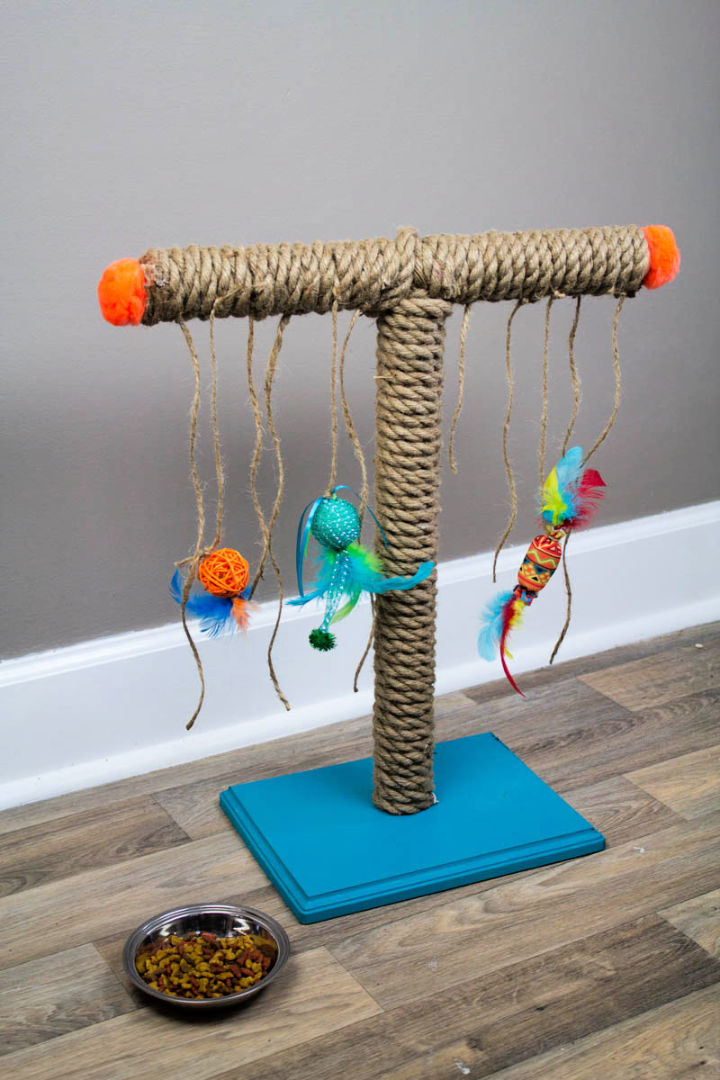 Another way of making this a DIY cat scratching post is by forming this perfect T shape! Round dowel, pom-poms, wooden plaque, rough rope, wood glue, cat toys, saw, paint, and a paintbrush is all that's needed for this stunning scratcher! It will look beautiful in your living room! alittlecraftiny
11. Scratching Post for Your Feline Friends
Raising a cat and a scratch less furniture is not something that can co-exist! But with a DIY cat scratching post in your life, you can make your way around it. Also, do that in a completely aesthetically pleasing way using a stylish rug. thesprucecrafts
12. Colorblocked Scratching Post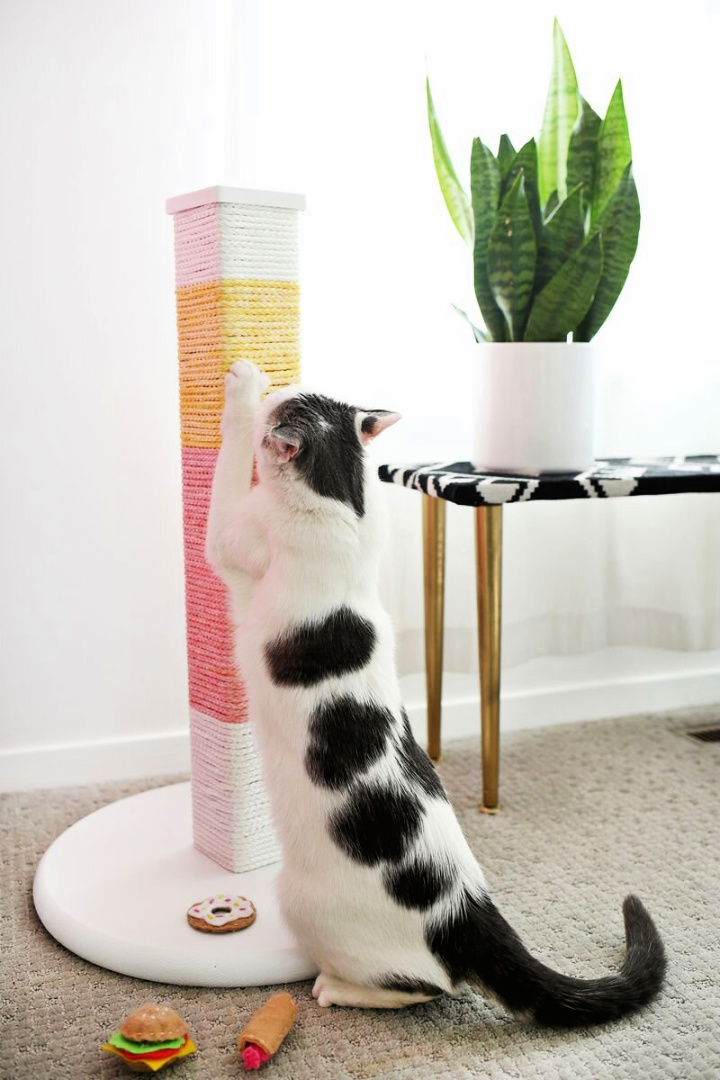 Way to make your decor and cat scratching post compatible! This color-blocked scratching post is an easy decision not to get hitched with a dull and boring post instead! You need a round wood circle, 4 x 4 wooden fence post, drill, and long wood screws. Along with white paint, pink and yellow dye, and a few more supplies! abeautifulmess
13. Modern Rainbow Cat Scratch Pad
Gather supplies like wooden base, 5-inch wood or MDF, 25-inch sisal rope, L brackets, pencil, chalk, screws, sandpaper, and drill. You can start by sanding the wooden base and then moving ahead. Don't forget to watch the video tutorial for a quick walk through the guide. shrimpsaladci
14. Cat Scratching Post and Storage Bin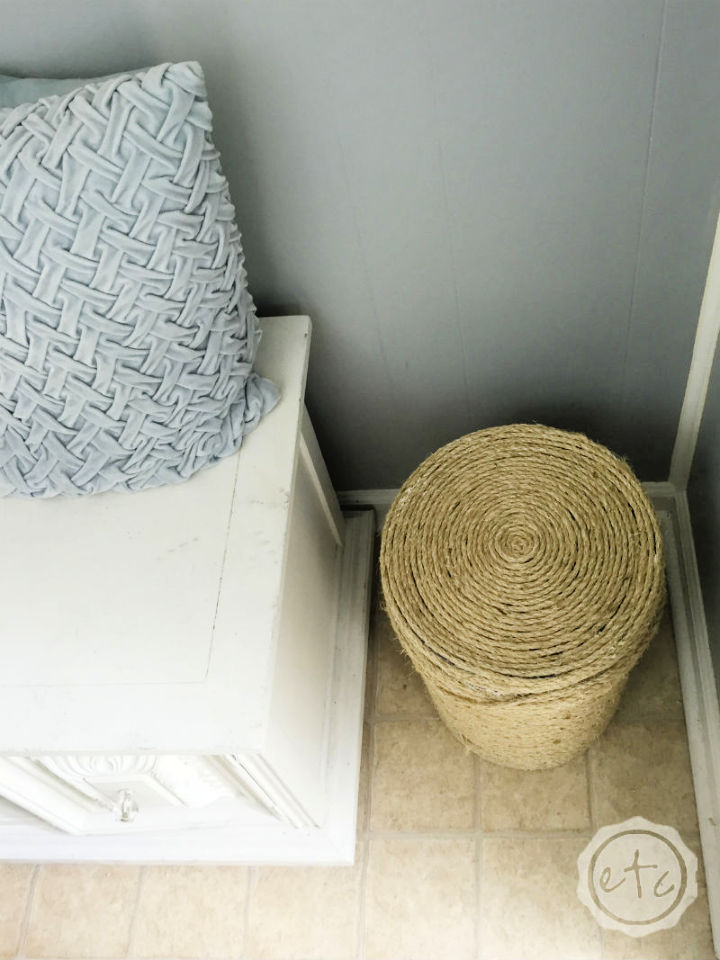 Got a cat in the house? We know the basics. A scratching post and a storage basket or bin. What if we interest you in a two in one storage bin cum scratching post! So cool, right? You will need a bucket and lid and rolls of some sisal rope! happilyeveraft
15. Handmade Cat Scratching Post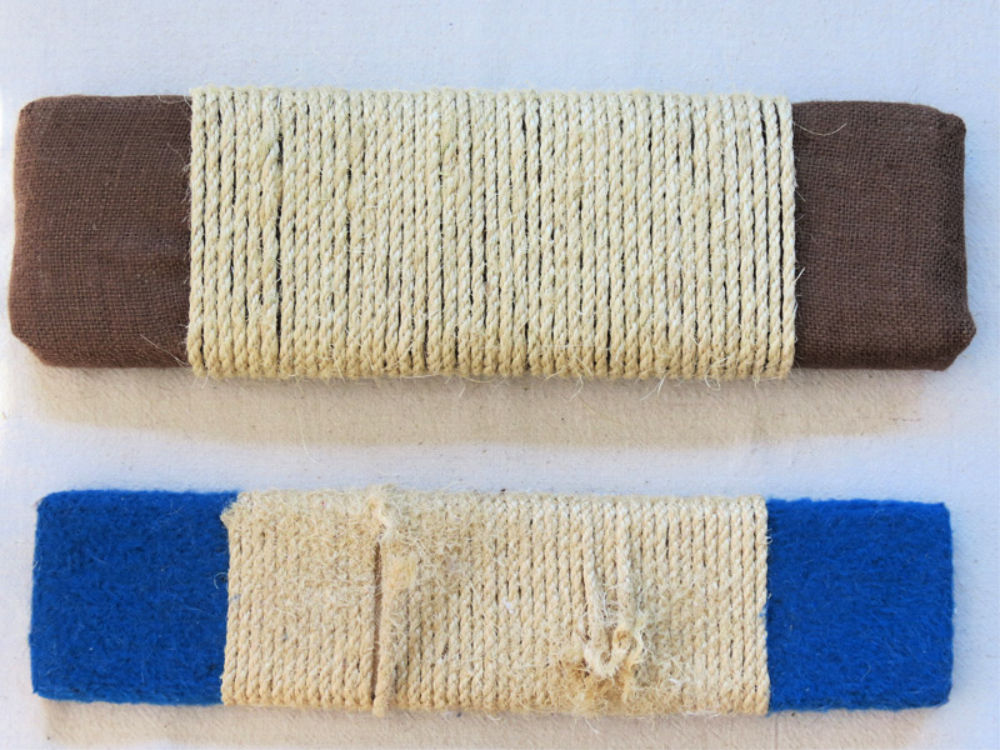 Check out this super quick to whip up a cat scratching post! You can easily make it using a scrap piece of a wooden board, an old towel for padding, a staple gun, a hammer, and a piece of burlap. Hit the tutorial for further details. realpurdy
Conclusion:
For a homemaker, any blow to the home decor is unacceptable! If you are a homemaker, a cat person, and at the same time a DIYer, then you must have loved these DIY cat scratching post plans. They are simple to make! Easy to maintain, and its purpose is two-fold. A charming add-on to your decor and a pleasing scratching post to your feline fellows.