Do you love backyard poultry and farming? Willing to raise some ducks this time? Then a duck house will be the most important item on your need-list. So, learn how to build a duck house go with these 22 free duck house plans to build all sorts of duck coops you are highly impressed with. Whether you want to build a duck coop with an attached run or want that floating duck house, there are plans for you. These DIY duck house plans will provide step-by-step instructions, diagrams, tutorials, and visual guides and will help you save lots of construction time, too, by giving some smart tips.
Browse this list of 22 DIY duck house plans to see an amazing array of duck houses that come with so many different designs and features. From triangular duck houses to bungalow style chicken coops, and also from A-frame duck houses to recycled duck homes, you will see the readymade models of all here.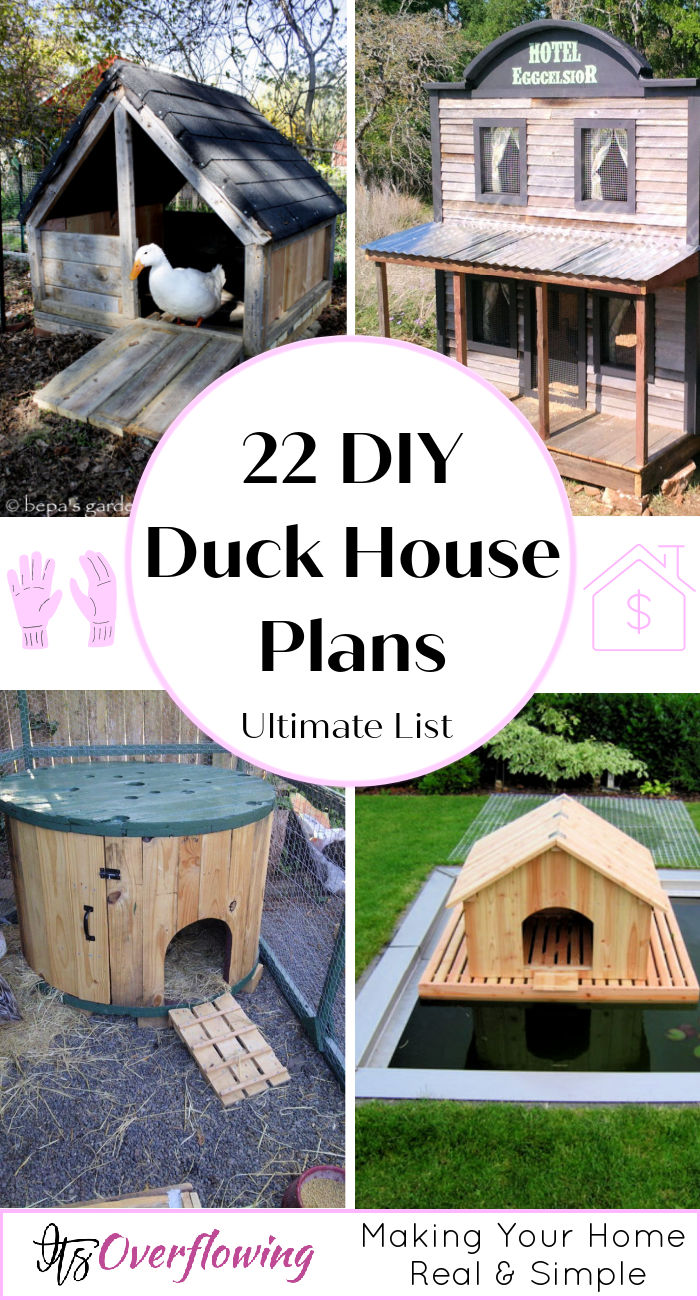 As the ducks just love to be in the water, so you can build a duck house with a pool or floating on a pool. It will be a real luxury for ducks. Repurpose the cable spools to build lasting longer and durable duck houses and upcycle the pallets also to build a huge variety of duck coops at a cost price next to nothing. Build a duck coop with a chevron roof or go with a sloped one; the choices are all yours. Add them up with straw bedding or with the cushioned bedding, and both options will be great. Take a short tour of all these DIY duck house plans to spice up your duck raising game.
1. Round Top Duck Coop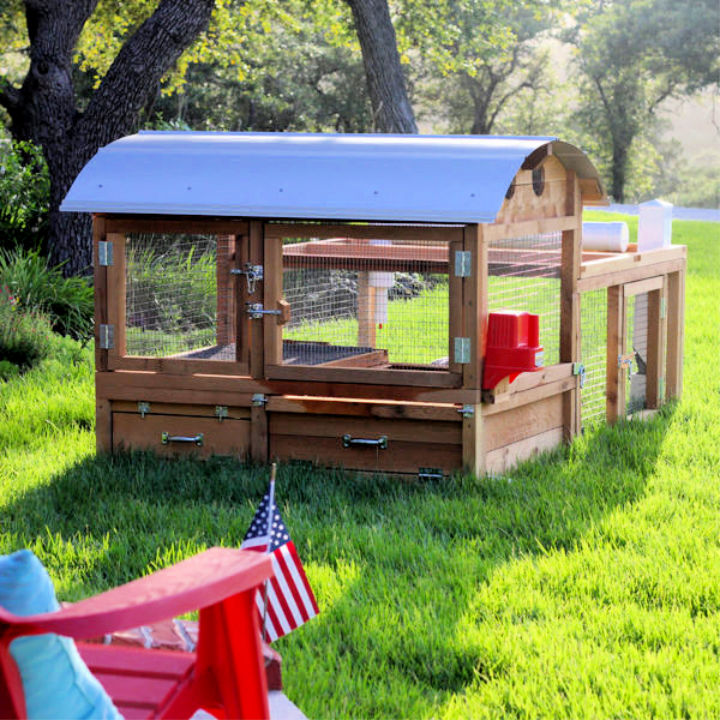 For ducks, this miniature hand-build residence will be real heaven. It comes with a built-in pool, waterer, feeder, and with a pool scoop holder. Next, it amazes with a unique design that comes with an attached duck run and also with an arched metal roof. Build this model using lumber, pine, or cedarwood, and it is going to take your duck poultry to the next level. PDF plans here urbancoopcom
2. Duck House Plan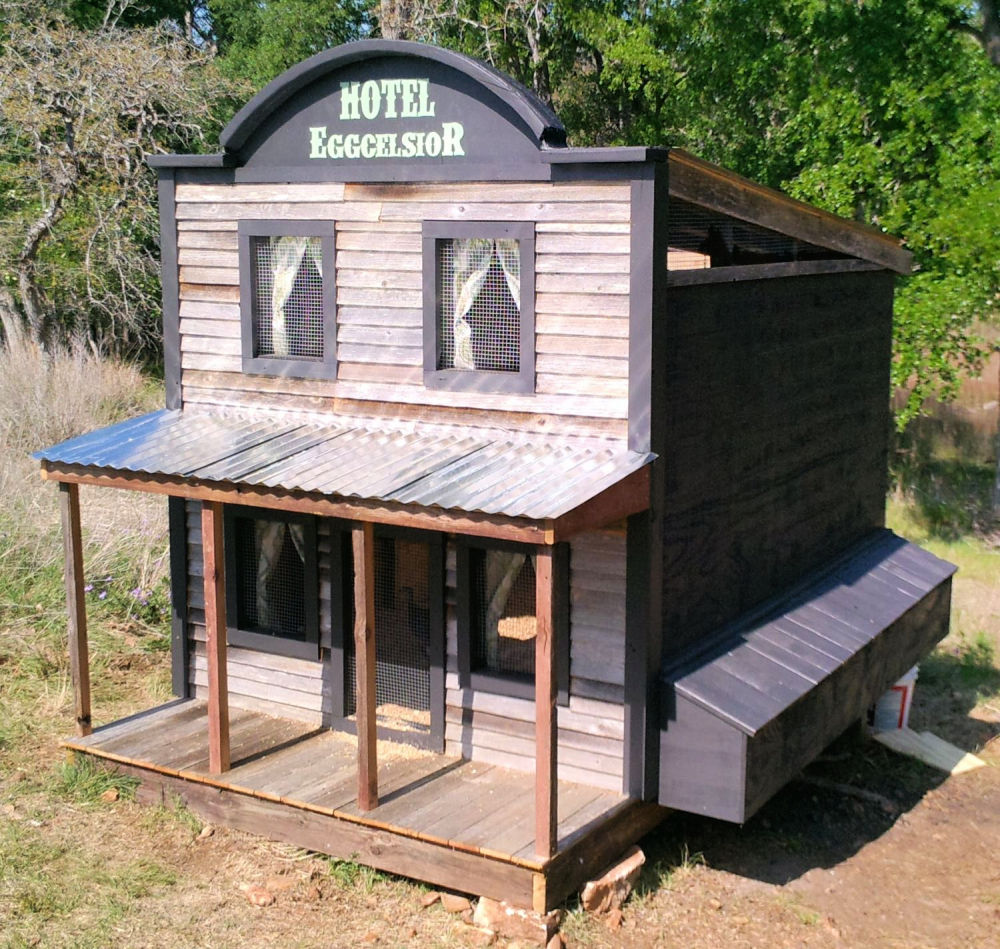 Grab the lumber of Craigslist or any other cheap source to build this duck house, looks like a mini wooden bungalow. Build the frame with heaver wood slats and then sheath the frame solid with plywood. Partition the inside space smartly to build the nesting boxes and feeders. Install the windows for ventilation. For a weathered rustic look, use the reclaimed fencing Shiplaping. A one of the best, neatly built and cost-efficient duck house plan. backyardchic
3. The A-Frame Duck House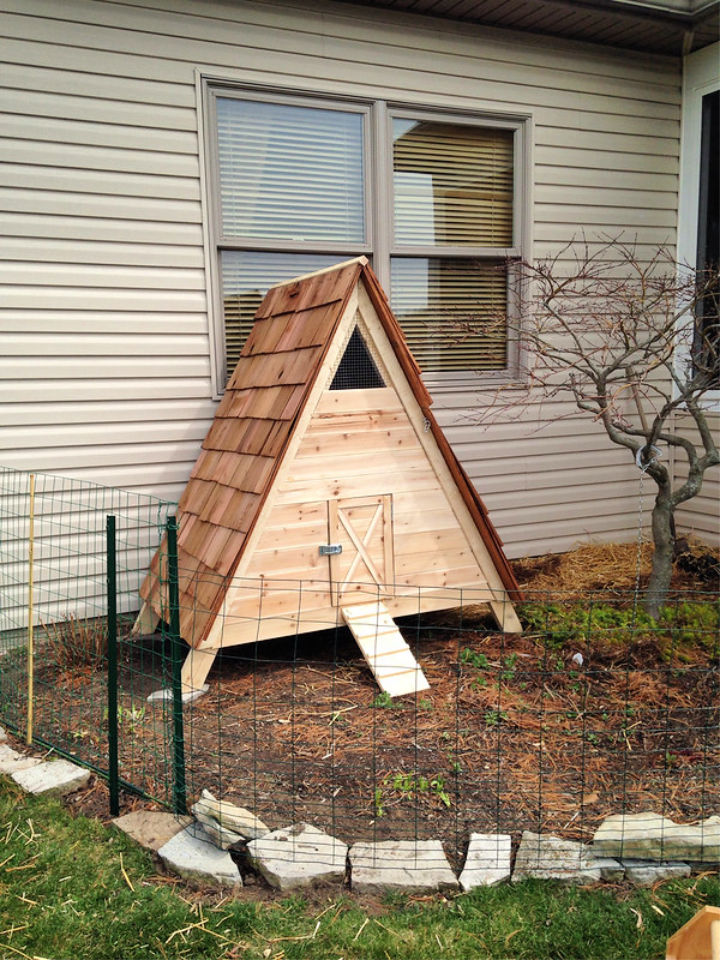 If you are willing to raise the ducks on a mini scale, they must make this A-frame duck house, will surely impress at a very first look. The design gains attention from the triangular design and comes with all the signature features that a duck house should own. First, build the self-standing A-frame of the model by with the 2x4s wood slats and next just sheath it with 3/4" plywood. For shingled chevron roof, first, install the underlayment and then asphalt shingles. diydiva
4. DIY Pallet Duck House and Run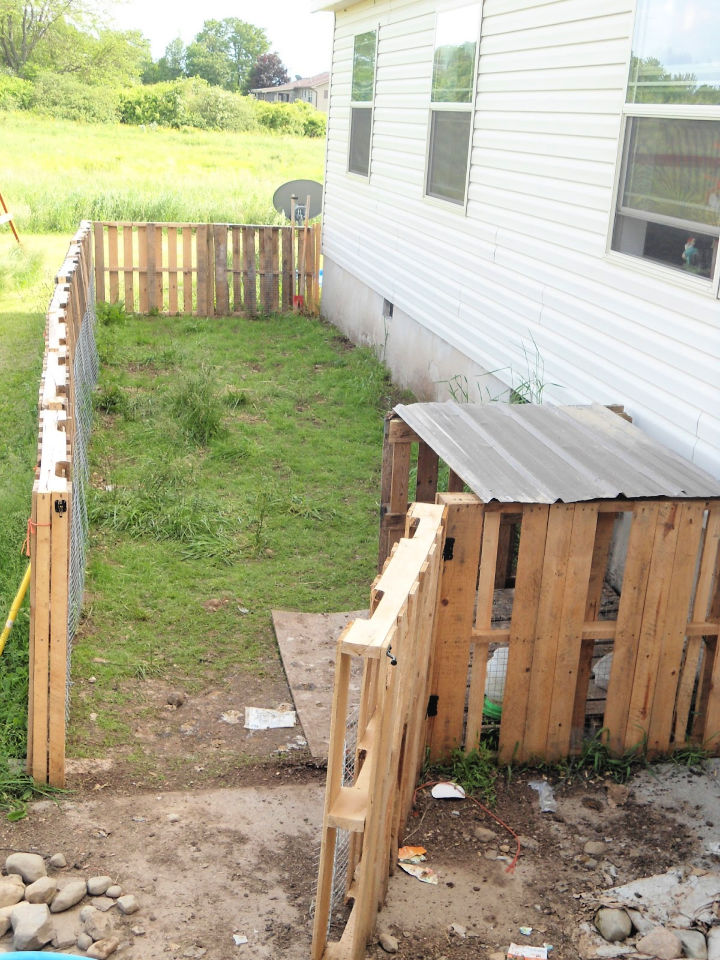 Pallets can be your next most cost-effective option to build a glorious duck house. Just put together the uncut pallets to build a box-like shelter for the decks and then fence this shelter with the pallet fencing. Just fix the pallets in-ground vertically in side-by-side arrangements to build the fencing around the area specified for duck run. One of the most budget-friendly DIY duck coop plan to build at home. tacticalhousew
5. How to Build a Duck House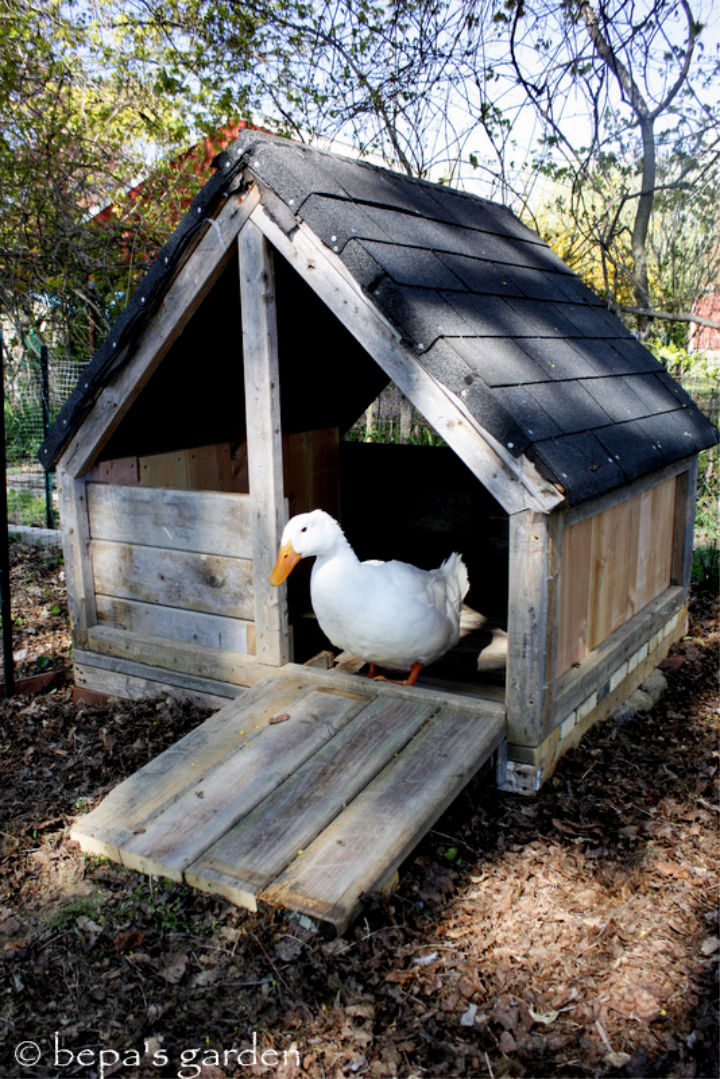 Build the cheap but durable looking duck houses out of recycled woods too. Construct this winter shelf for the ducks using leftover lumber and an old workbench. A fully featured DIY Portable Duck Pen to build in no time at a fraction of cost. Create walls also from the recycled lumber, here have been used from an old swing set, and the chevron roof comes from an old rabbit hutch. One of the best DIY Recycled Duck house to build at home. bepasgarden
6. Handmade Duck Enclosure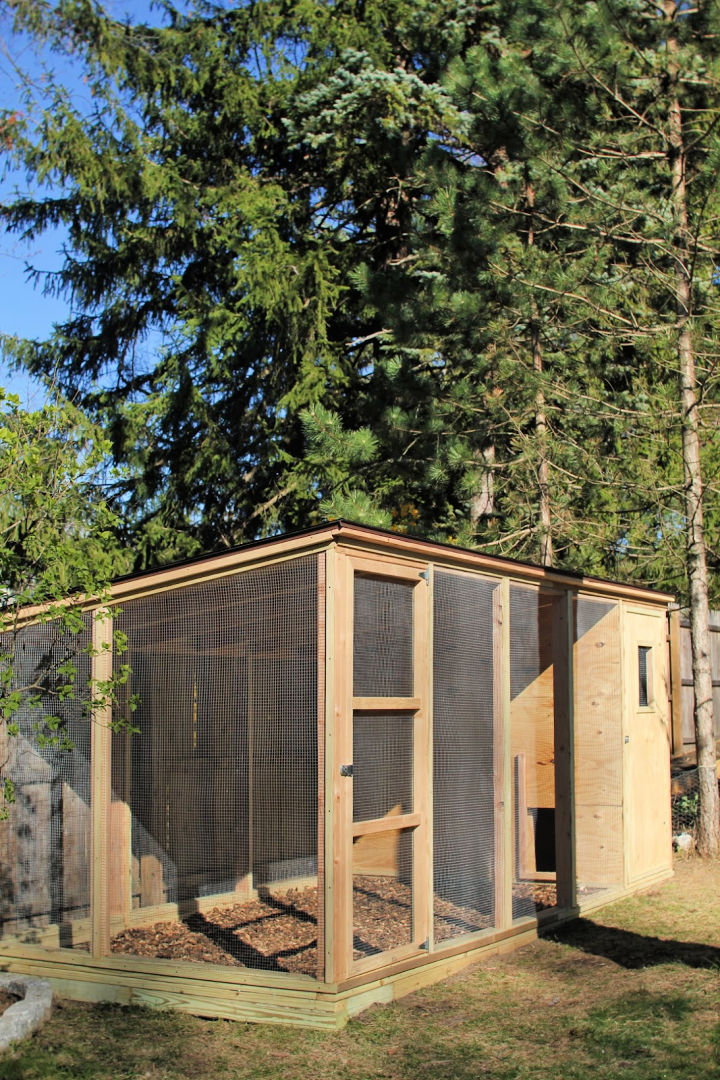 Get here plans to build the best duck patio and enclosure by yourself. This homemade duck enclosure is 15′ x 6′ and is sure to impress a poultry lover and will require a beginner level to build. Just build the duck house solid, should be sheathed with plywood, and next install the attached run. Use the heaver posts like 4×4 for the corner poles and next head over to 2x4s to build the frame. Cover the frame with hardware cloth to complete the duck enclosure. Details here frankiemakes
7. Cable Spool Duck House
Repurpose also the old and empty cable spools to build lasting longer duck houses. Just remove the central axis and then install the long carriage bolts across both wheels of spool. Then fill the entire spool solid and make a duck house, cut out the entrance, and install a straw bed inside, will make the ducks feel warm and cozy. Building this duck will simply cost you nothing and is a smart recycling project done to make your ducks live the luxury. Details here instructables
8. DIY Duck House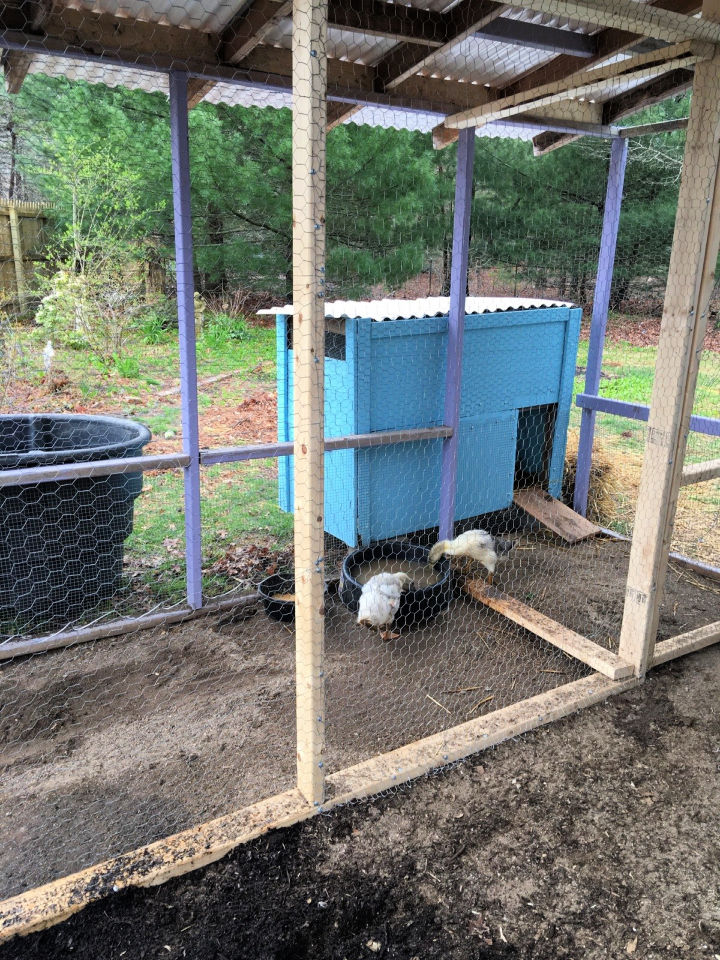 Puzzling at building a good looking duct house at home? Then get the step-by-step duck coop plan and instructions from here that will guide you to build a duck house like a pro. It is big and provides an attached run that is perfectly covered with hardware cloth. The entire duck house lies outside the duck run. Both the DIY duck pen and the duck run come with corrugated tilted metal roofs that will not let the snow or rainwater to stay avoiding the roof damage. Details here thecapecoop
9. Duck House Instructions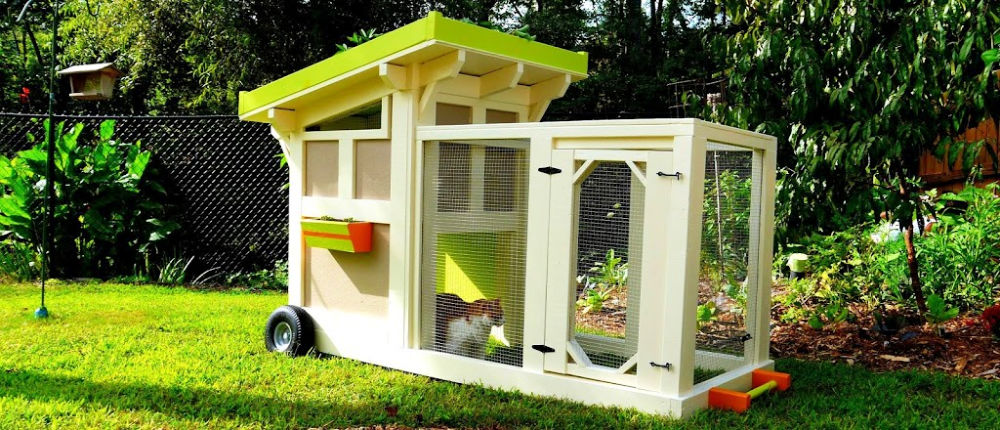 You will surely fall in love with this portable duck house, looking perfectly colorful and modern. The design looks super unique due to certain added features. It comes with a green roof that goes enchanting with the white painted appeal. Next, it provides an attached wire run to let the ducks enjoy the outdoor. Finally, it has its rear on wheels, and the front comes with a handle so the user can easily drag it to piece or green outdoor land. The addition of flower planter creates a subtle manifestation of it. tyrantfarms
10. Build A Pallett Duck House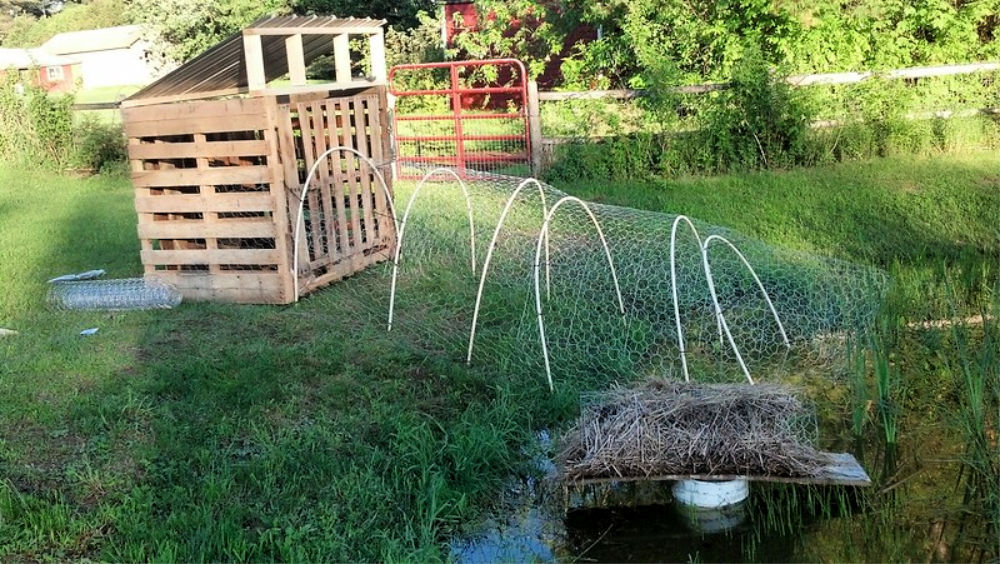 Another crazy model of the duck house that is sure to be loved by all the ducks and is pretty quick to build too. Just build the duck house by putting together pallets in a box shape. Finish them up with a tilted metal roof and add the waters and feeders inside. The final step would be to install the tunnel style duck run that you can build using PVC and hardware cloth. First, create the arched frame for duck run using PVC pipes and then cover it up solid with hardware cloth. thehomestead
11. Duck House Plans
Get the complete diagram and visual guides here about building a duck house like a pro from start to end. Use the 2x4s to build the floor frame and opt for 2x2s to build the sidewall and back wall frames. Use the 1x4s to fill the frame solid and opt for T1-11 siding to sheath the entire duck house frame. Finish the completed model with a corrugated tilted metal roof and also with a solid hinged door. This DIY Duck House will complete in a day and require the minimal skill level for overall construction. howtospecialist
12. Duck House from Scrap Wood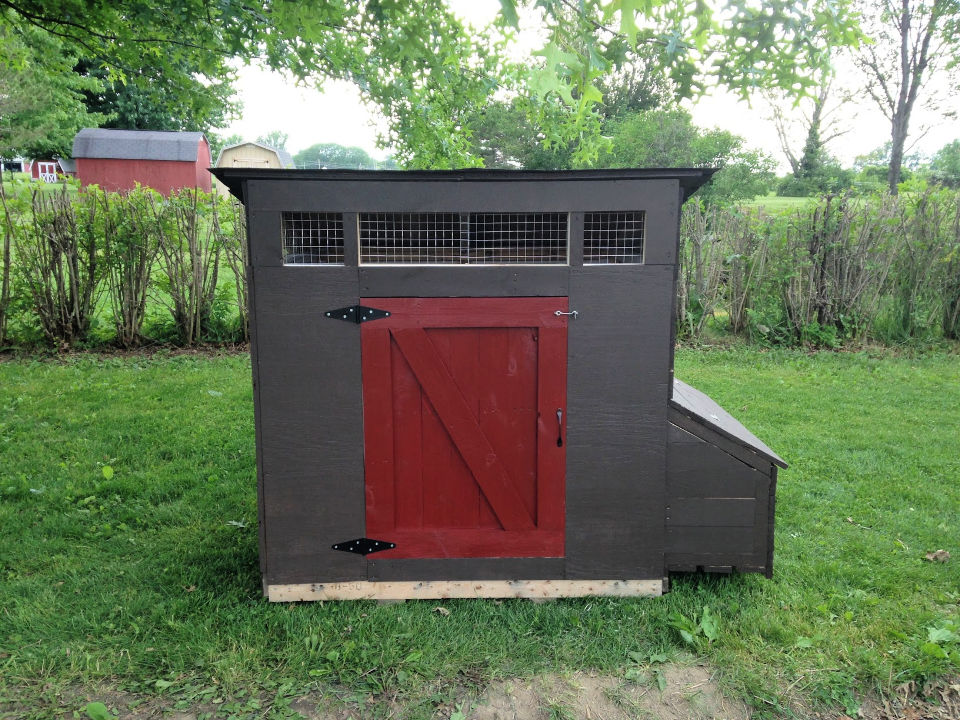 Are you sorting out the best housing plans for the duck poultry? Then we would like you to go with these duck house plan that is to accomplish with the old and recycled materials. Here you need free pallets, scrap wood, old handles, latches, small hinges, and shingles to build this very fantastic and graceful looking duck house. Set up a little plastic pool outside to let your ducks enjoy the swing too. One of the most cost-efficient duck coop to build instantly. needlesandnails
13. Cheap and Rustic Duck House Plan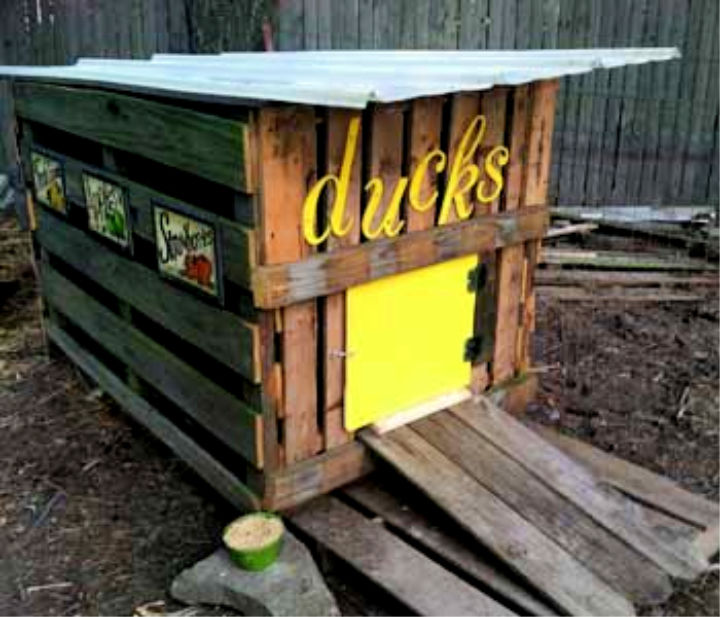 Again head over to free recycled pallets and scrap wood to build this gorgeous looking duck house. It comes in miniature dimensions and provides a gorgeous entrance that comes with an attached entrance. Personalize the design with the duck letters and finish with recycled corrugated metal roof. Details here homegrown
14. DIY Pallet Duck House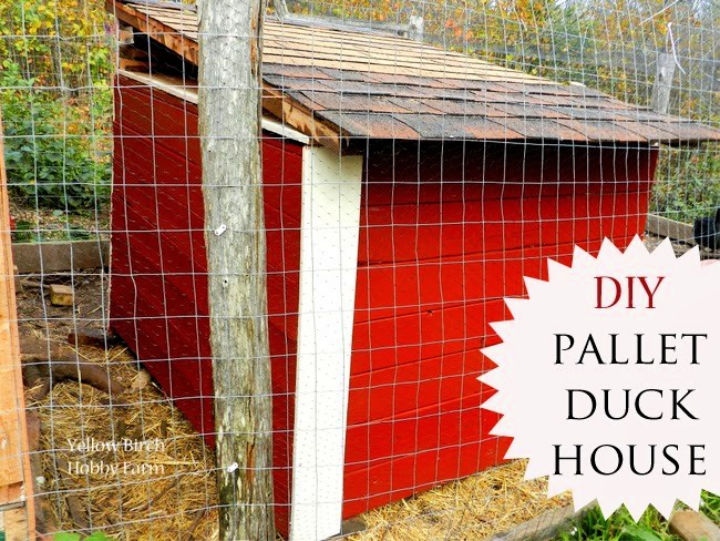 You will love this home-built wooden pallet duck house that is insanely cute and will be superb to raise your ducks. Just make it with pallets that you can put together vertically to shape up a home-like structure. Grab the wood from recycled crates to make the siding and install the tilted roof with recycled shingles. One of the cutest wooden pallet duck houses to build with recycled materials. yellowbirchho
15. Duck House from An Old Packing Crate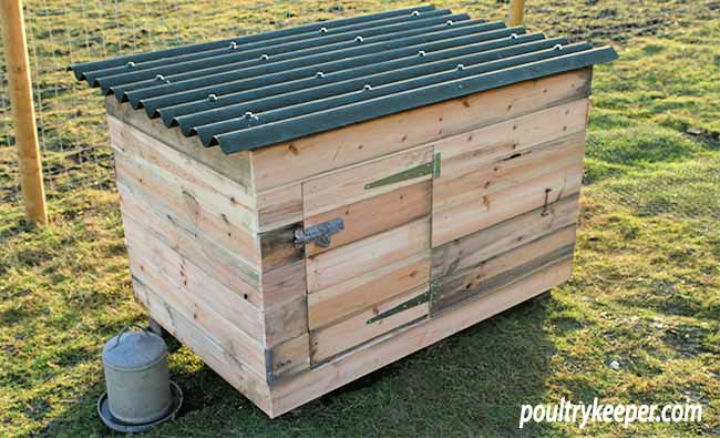 Repurpose the old packing crates also to build lasting longer and instant beautiful duck houses. Build this deckhouse will cost you $25. Along with a packing crate, you need extra, wood, roofing material, paint of choice, stain, and durable hardware for overall assembling of this duck house. Just cut out a door in the front to get the main entrance and next install the back hinged door to get access to eggs. Details here poultrykeeper
16. Duck House Out Of Reclaimed Materials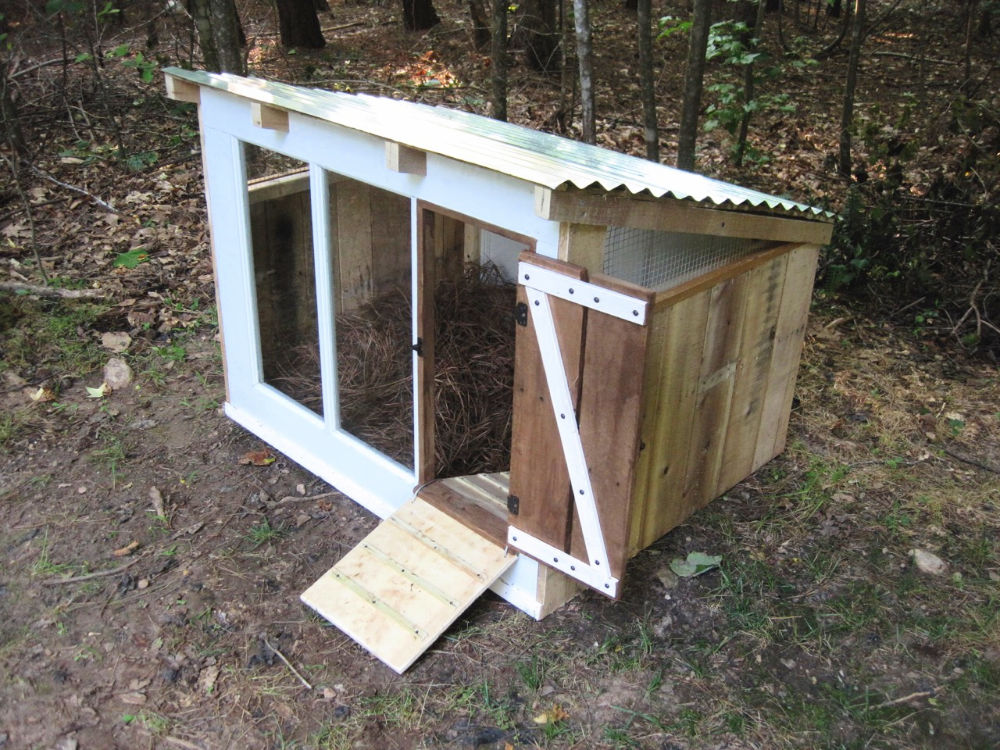 It makes you feel so happy to get the things of need for free. So, why not build a duck house for free at home? Get here the plan to build a duck house at no-cost using the recycled materials. Just grab the old doors, windows, fence pickets, 2x6s, pallets, leftover hardware cloth, plywood, and other items of this kind to build this duck house. Do little modifications and use it also as a rabbit hutch. A one of the best DIY Duck House to build at home at a cost next to nothing. Details here theprojectlady
17. How to Build a Wood Duck Nest Box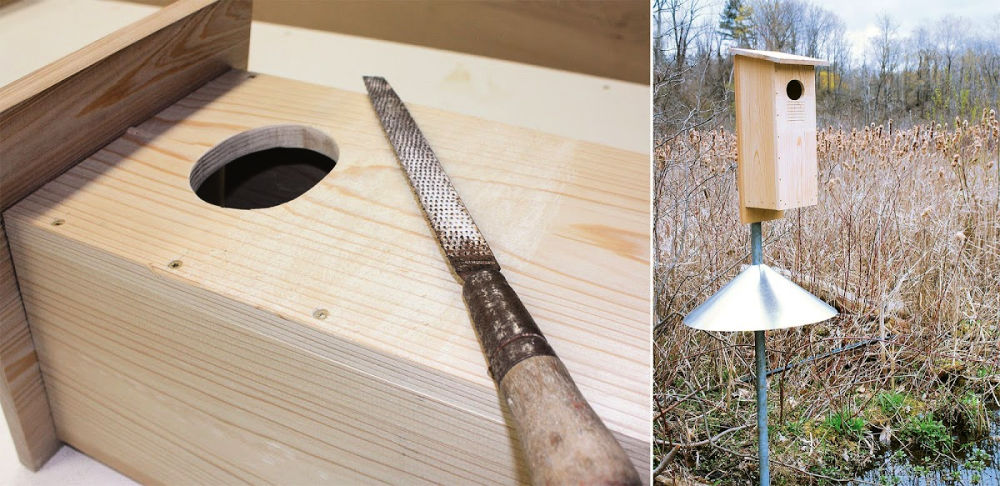 Get here the free instructions about how to build a nest box for the most beautiful North American Ducks. Grab any of cypress or cedarwood boards to build this wood duck nest box. You need 1×10 and 1×12 wooden boards to build this nest box. Next, you need a screen door, and wire mesh to complete this wood duck nest box design will surely be a smart gift for duck poultry lover. Assemble it with exterior grade screws. Details here audubon
18. Build an A-Frame Duck House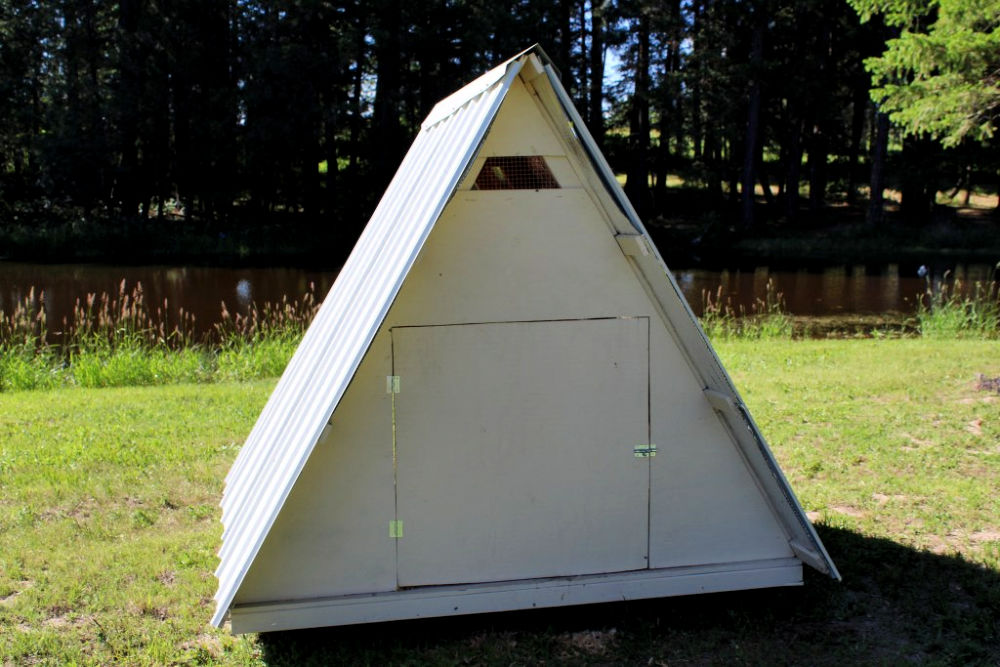 If you wish to raise a few ducks in your backyard, then this mini duck house will be a smart choice. It is loaded with all the features a functional duck house should own and enchants with a lovely A-frame design. Build it up with 2×3, 4×4, and 20 fencing slats. Install the insulation inside and finish the duck house with 3'x6′ metal roofing panels, which will make the duck house extra durable. Sheath the A-frame skeleton of duck house with plywood. The completed design has 5'x6'x6′ dimensions. Details here mayblossom
19. Floating Duck House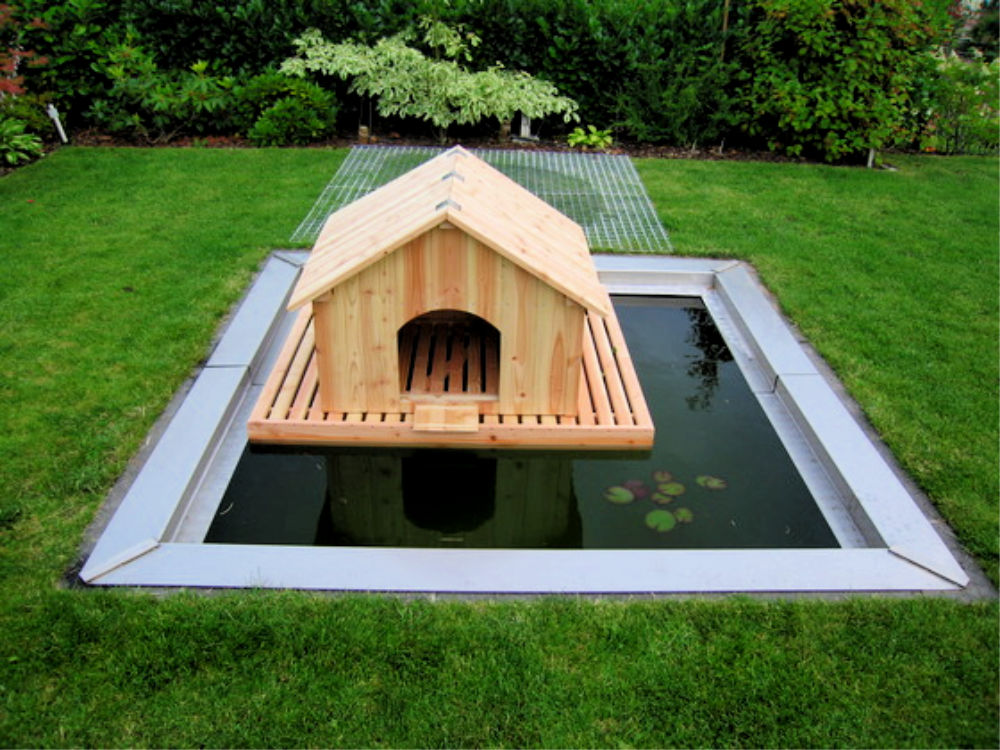 Oh wow, we have got the real heaven for the ducks here, the floating duck house plans will let the ducks be in the water any time. Just build this luxurious bungalow for your ducks using the larch wood. The larch wood has the capability to preserve well in the water. It looks extra adorable in the bright shiny tone of wood. Just install a mini pool anywhere outdoor for your ducks and then let this duck house float on it. It comes with a slatted bottom floor that will nicely float on the water. One of the best DIY duck house to build at home. goodshomed
20. Duck Pallet House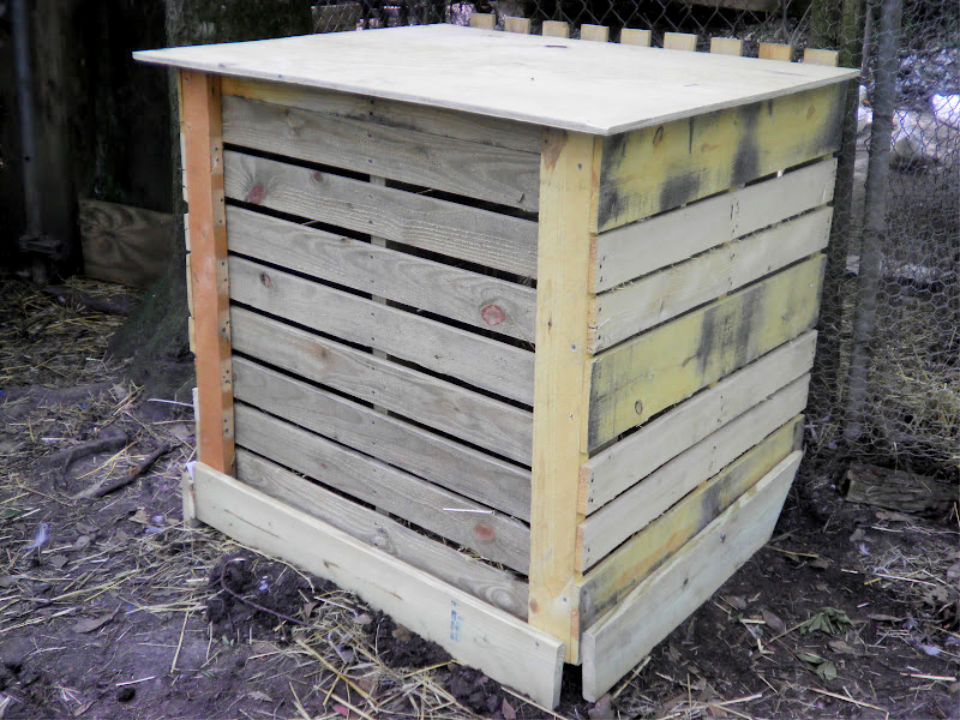 Save yourself lots of costs you would have spent on the duck poultry or farming by building this duck pallet house, maybe the very thing in your need-list. The model is a crazy pallet construction that looks like a durable wood box and comes with an evenly flat roof. The roof is hinged in place and can be lifted up any time to get access to duck house for collecting eggs. Just use the recycled pallets and some leftover wood to build this gorgeous looking wooden pallet house. Details here simplyselfsuf
21. Building a Duck Coop for $80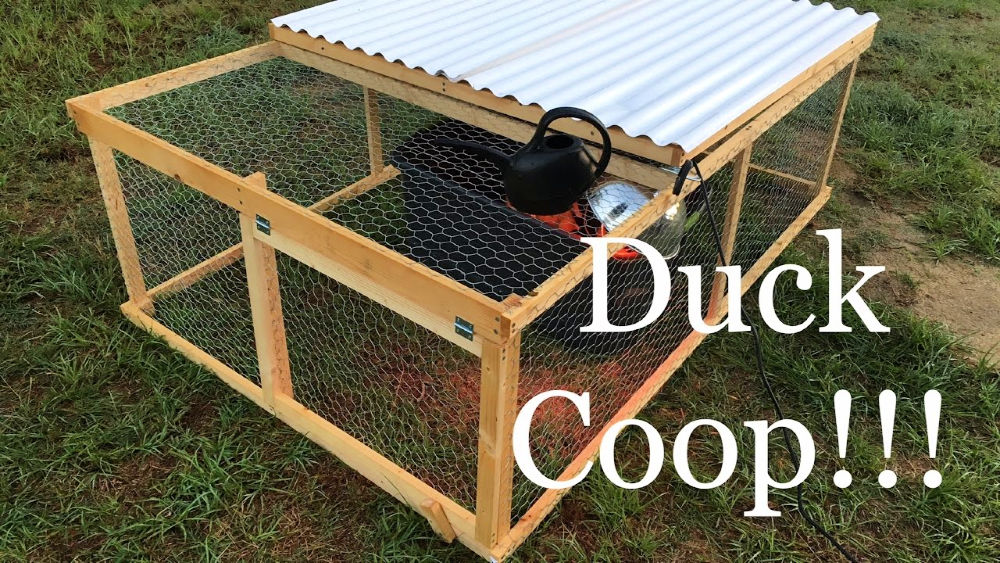 Are you addicted to duck raising? Do spice up your duck raising game with this duck coop that will cost you $80 and comes with attached duck run. Furthermore, it impresses with the hinged corrugated metal roof that can be lifted up to peek into to duck coop what is going inside and also to collect the eggs nicely. The metal roof comes on an angle to be a little sloped to not let the snow and rainwater collected on the roof. Just put inside a big plastic container filled with straws as a warm winter duck house. youtube
22. Building a Small Duck House
Get the free tutorial here about how to build a small duck house with custom added features. It comes with a large hinged door that will give you easy access to inside the duck house. Build the inside floor with the exterior deck boards and cover half of the walls with the fiberglass reinforced plastic sheets, will rock as insulation. For pest control, this model comes on a decent height, and then it offers a tilted metal roof. Here is how to make it
Conclusion:
Backyard farming and duck raising may cost you big if you go with the market bought coops and duck houses. Build your own duck coops at home with these Free duck house plans that will nicely house your ducks, the great sources of meat and eggs. Use the old packing crates to shipping pallets to build a no-cost duck house.
Also, upcycle the old doors, windows, and other scrap materials to build duck coops for free. Take your duck raising game to the next level by building a portable duck house on wheels and do the manual wood constructions also to build outstanding luxury duck houses.
Related DIY Projects: