You have to be focused on choosing and shooting your target deer. So, avoid getting your attention diverted and up your deer hunting with these 15 free homemade deer stand plans that will help you build the cost-efficient hunting stands and blinds. These blind will take your hunting game to the next level and will not let the fat winds and heavy rains cause a big disturbance to you when enjoying the hunting. These stands are a big must-have for the hunting season and should definitely be added to your hunting gear list.
Browse this collection of 15 best DIY deer blind plans that provide step-by-step instructions, illustrations, visual diagrams, cut lists, and measurements to build a custom model of elevated deer blind like a pro. From elevated to ground deer blinds, and also from self-standing to tree hunting blinds, there are free plans available for all.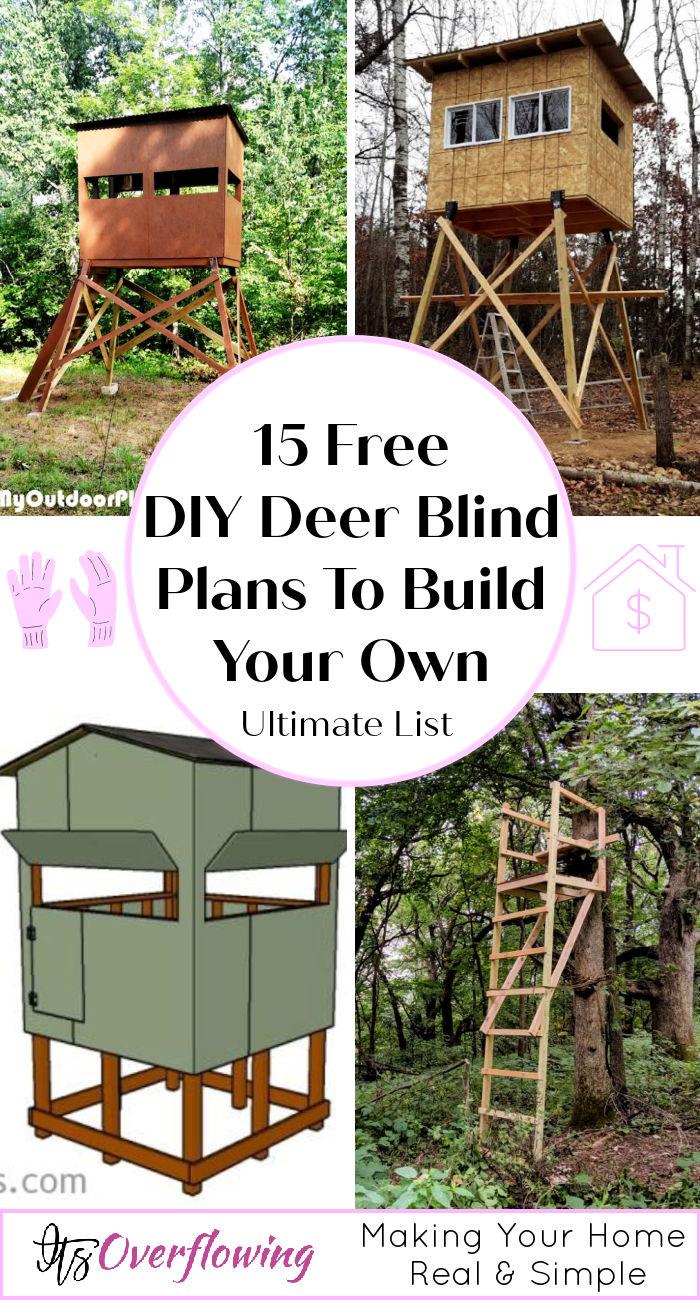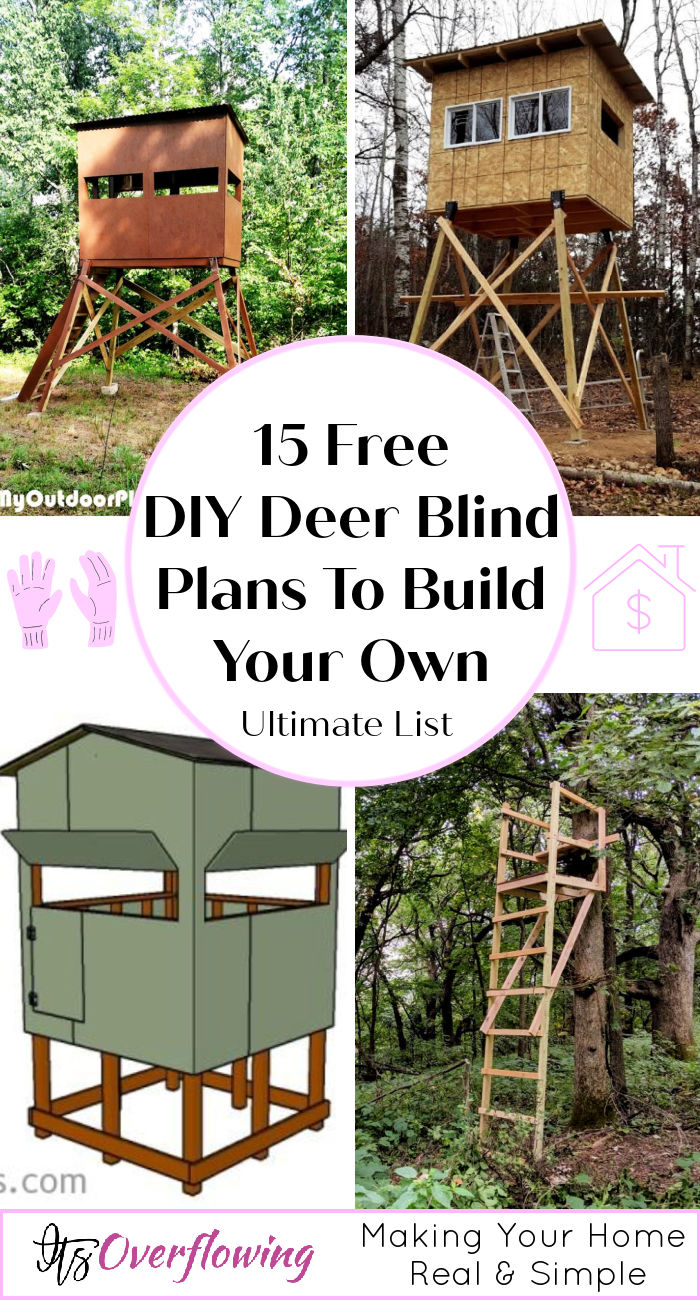 There are so many variations that you can give to a DIY deer stand. Like you can build a 2 level or multiple level stands that will make you enjoy safe hunting on your favorite height levels. Just build the ladder-style hunting blinds on the trees, will raise you on a decent height to easily find and shoot the deer. For avid hunters, these DIY deer blind plans will be a big gift, and they will complete on a budget too. So, do the easy constructions and build lovely deer blinds before you go into the wood to carefully enjoy the hunting season.
1. How to Build a Deer Blind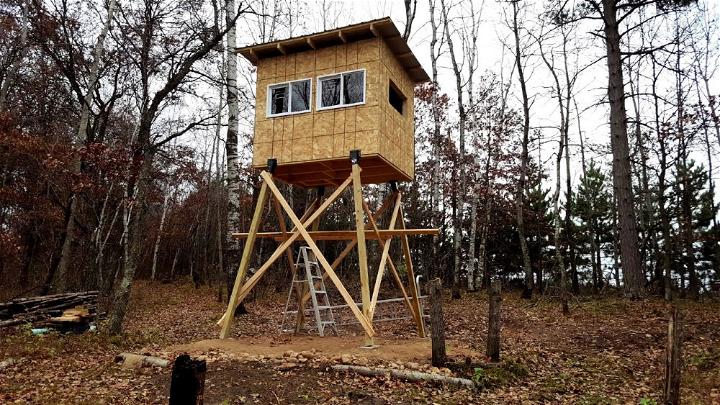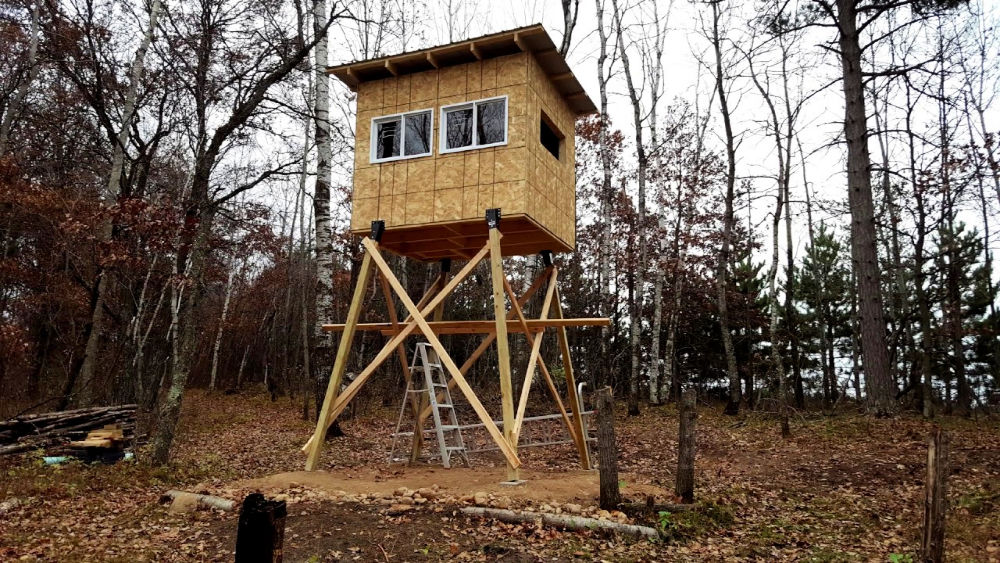 Having you started gearing up for the hunting season? Have you added a deer blind on the list? If not yet, due to higher money investments, then get these free box blind plans to build one for yourself cheaply. First, build the base frame, then side frames, and finally, the roof frame. Finally, sheath the entire frame and keep the space for windows. Use the heavy-duty wooden posts and poles to build the elevated base. Next, finish with a tilted metal roof. Details here youtube
2. 5×5 Deer Blind Plans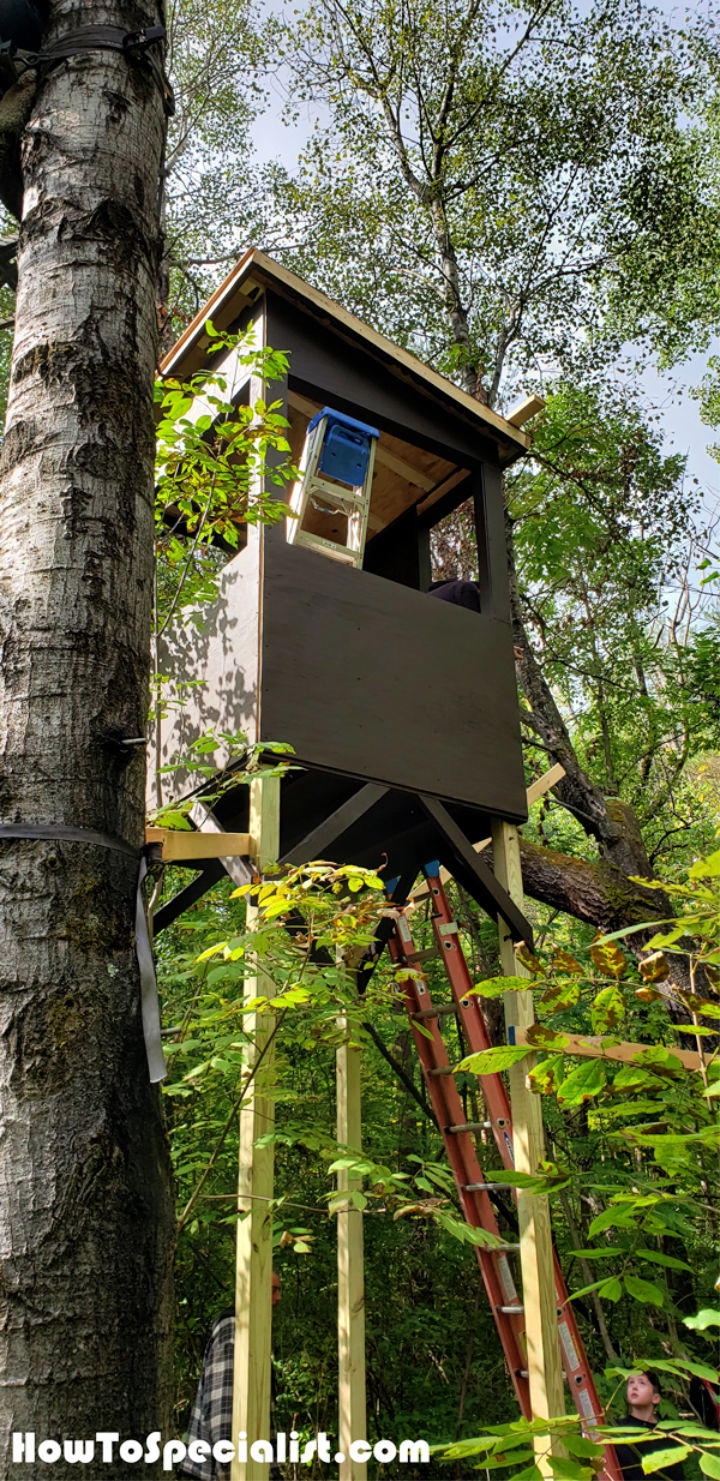 Build this extra elevated do it yourself tree stand that will require a ladder to get access. It comes on an extra height to keep you safe from predators and to make you keep an eye on your target. The chevron roof, the 5×5 square dimensions, and a painted appeal are the main features of this 5×5 deer blind. You need the 2x4s, 2×2, and plywood build the floor, side frames, elevated base, and roof of this deer blind. One of the most amazing DIY Deer Blind model that will last for years to come. howtospecialist
3. Deer Blind Plans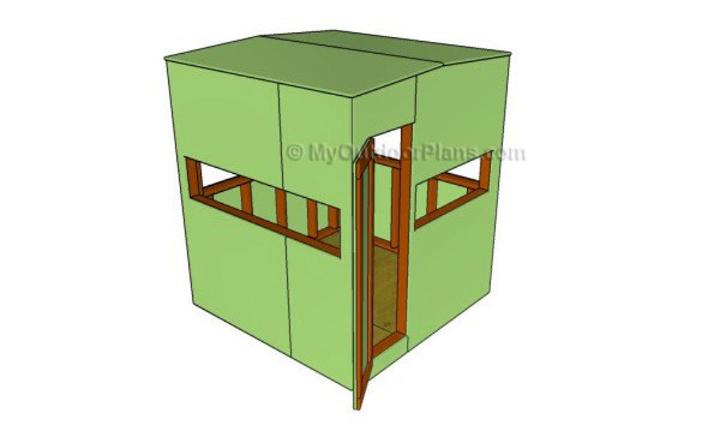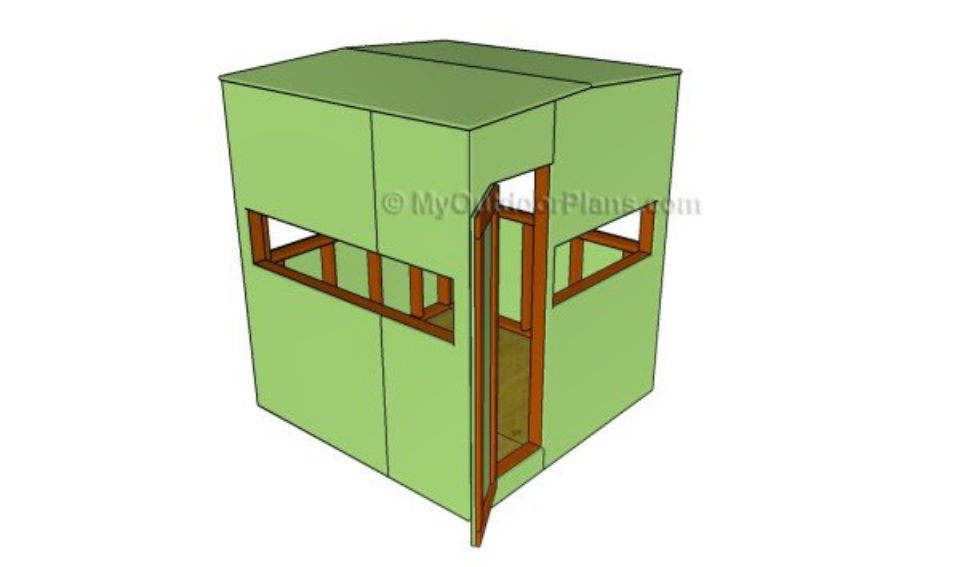 Are you an avid hunter? Then a deer blind will definitely be in your wish list. Build this deer blind at home before you go into the wood for deer hunting. There are free diagrams, illustrations, and measurements, making it easier for you to build a lasting longer and stylish model. Go with lumber and plywood to build this elevated cabin that will hide you to hunt the dears. Details here myoutdoorplans
4. Free 2-Level Deer Stand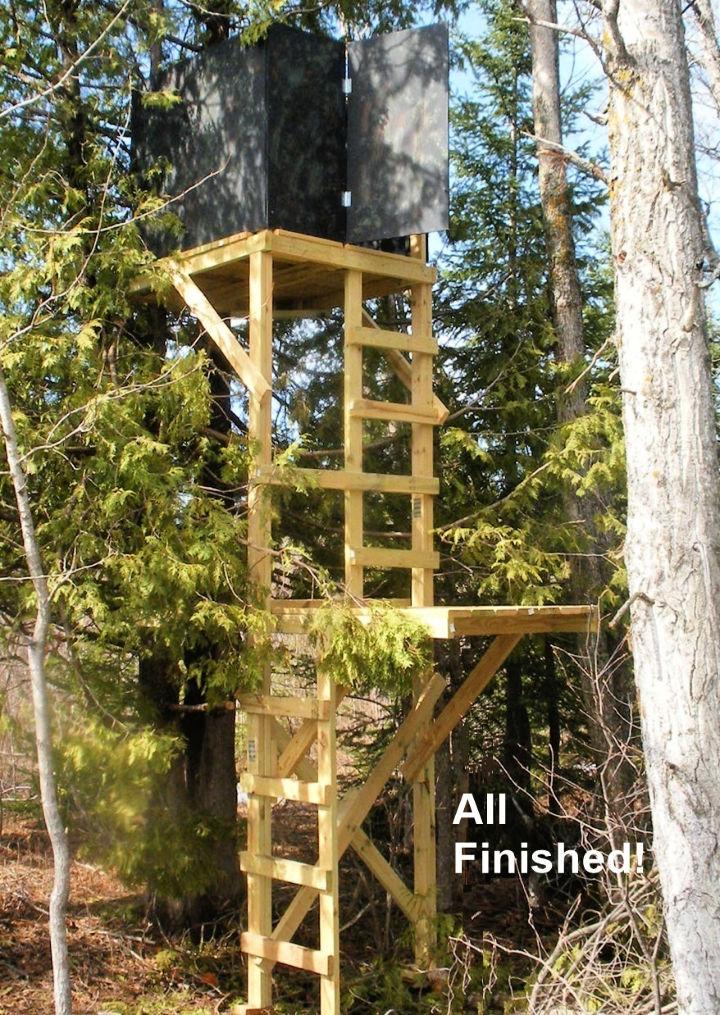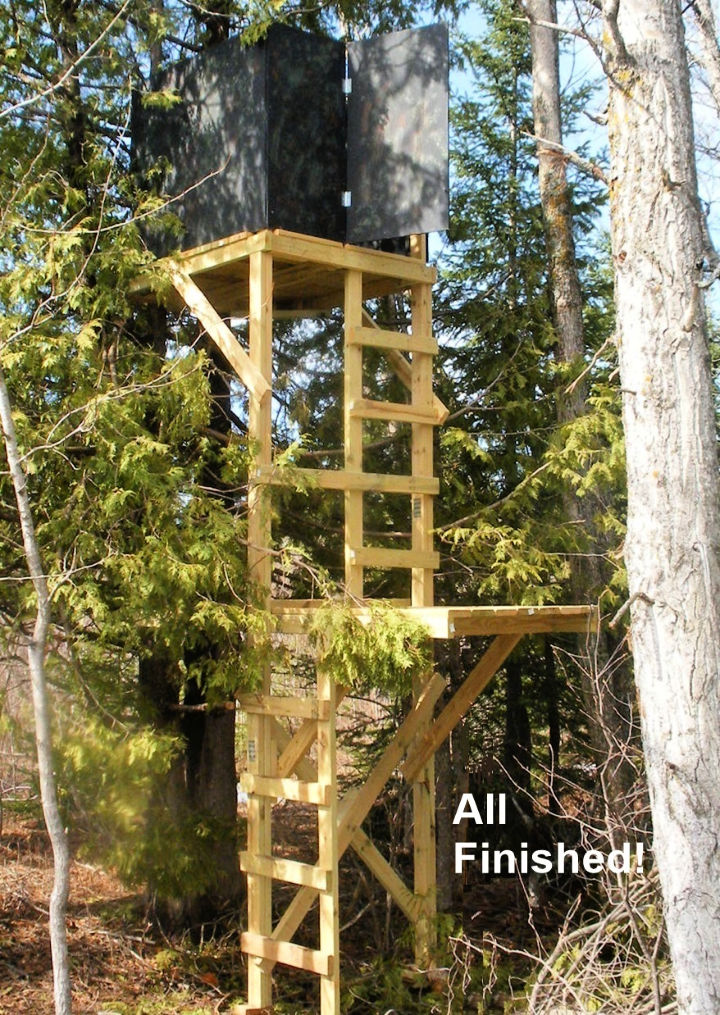 While being in a deer blind in the wood ready to choose your target, you often wish to adjust the height to shoot in perfection. So, presenting here free elevated deer blind plans for a 2-level deer blind. Actually, you have to build a 2-level stand, and you can simply install the blind deer cabin to any level for easy hunting. This 2 level stand will allow you to reach the higher levels quickly when there is a danger. You need 2x4s, 6" deck boards, 2x2s, and 4'x8′ sheets of plywood to build this deer blind. freedeerstand
5. Hunting Blind Plans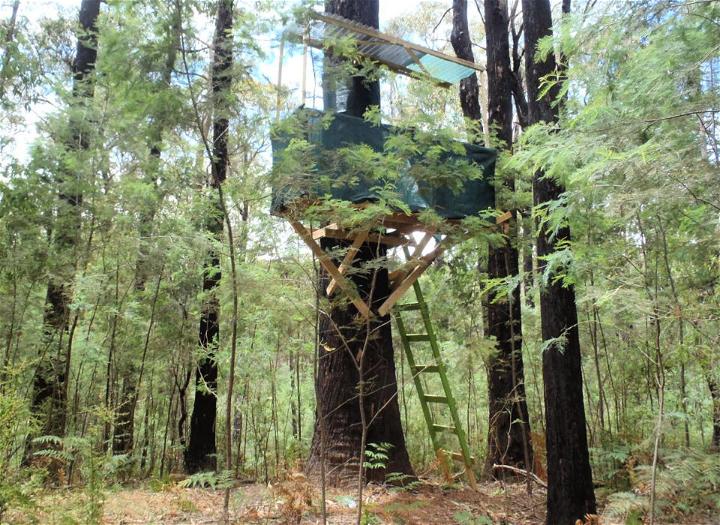 Get ready for the hunting seasons by building this hunting blind will make you easily hide to choose the target for accurate shooting. Due to being elevated, it will keep you safe, too, from being hunted. Here you have to build this hunting blind on a tree, should be almost 16 feet higher from the ground. Being higher will allow you to easily find your target in the woods. Just install a wooden platform on the trees and install braces to support it more in place. Use a ladder to get access to it. hho4free
6. Ultimate Economy Deer Hunting Stand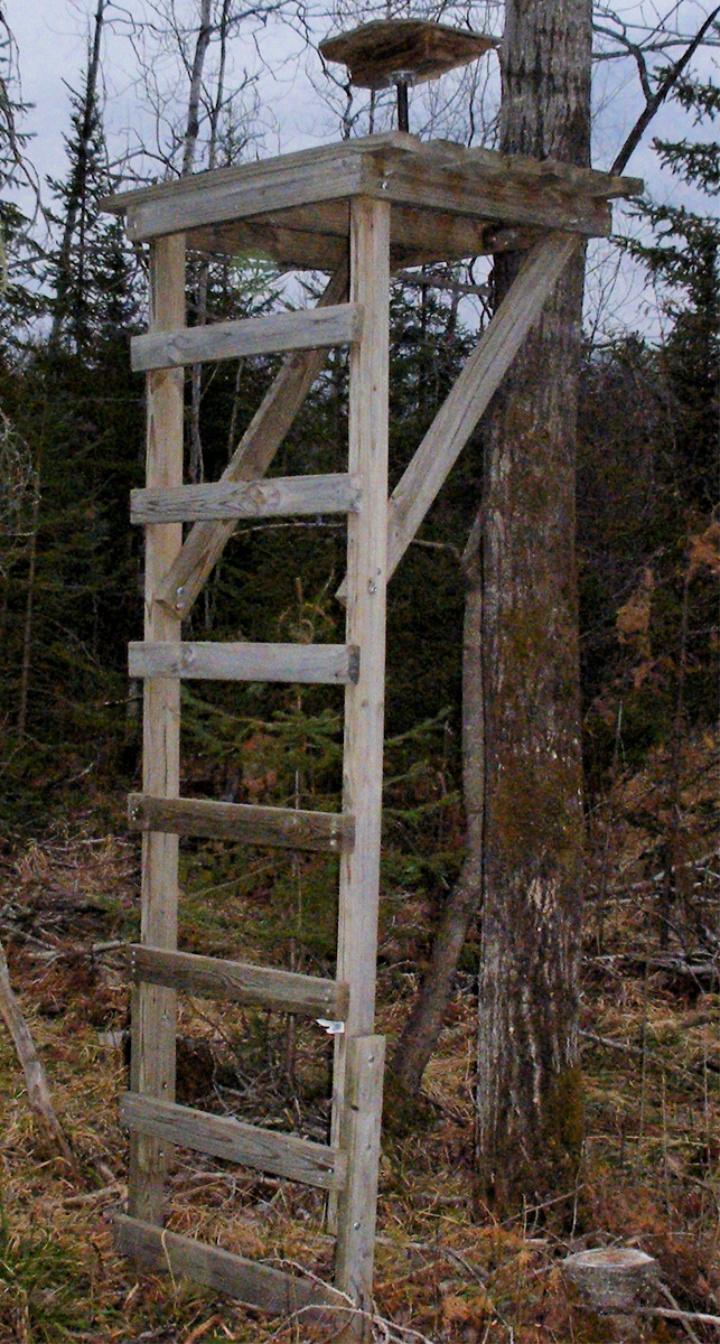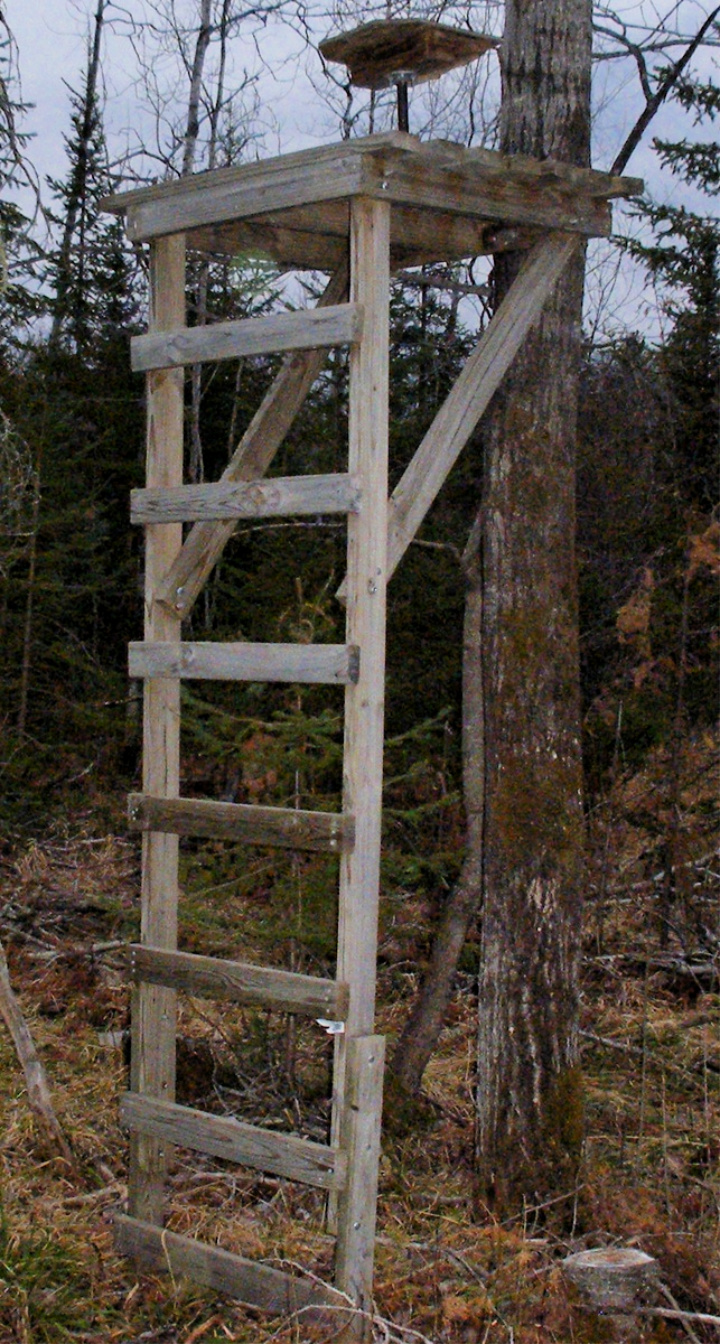 One of the best DIY deer hunting blind that is super economical to build too. Build it with 2x4s wood slats and galvanized metal pipes. You have to build a flat raised platform on the tree that should come with an attached ladder. By being on a decent height, you can easily choose your target without coming into the eyes of a deer. Make the deer hunting easier with this ultimate economy deer hunting stand. freedeerstandplans
7. DIY Deer Shooting Blind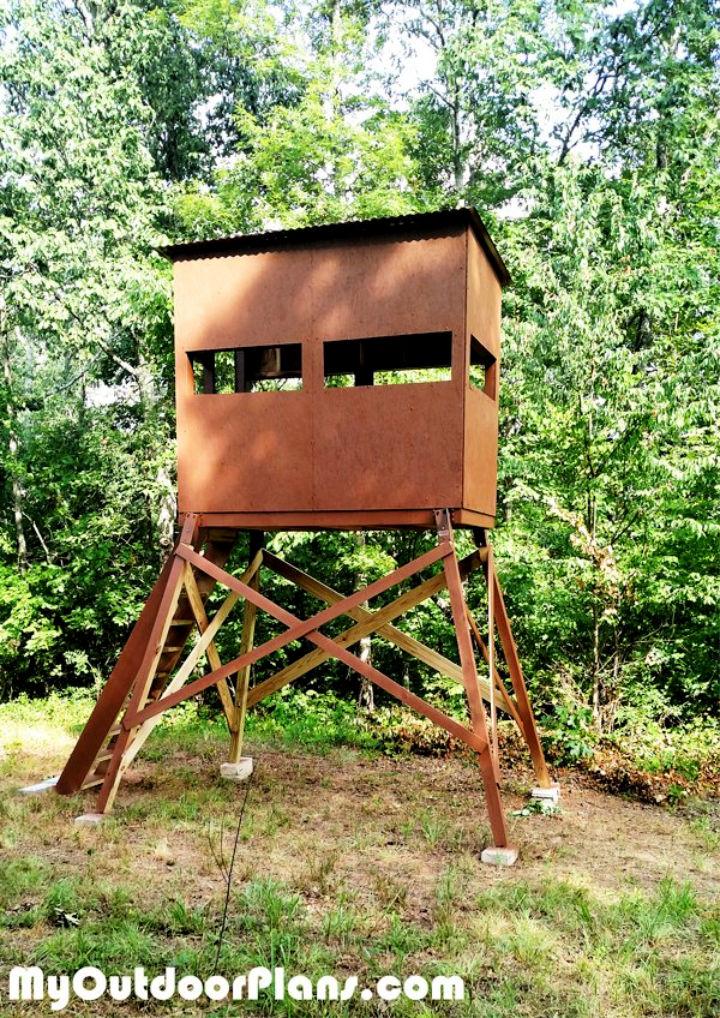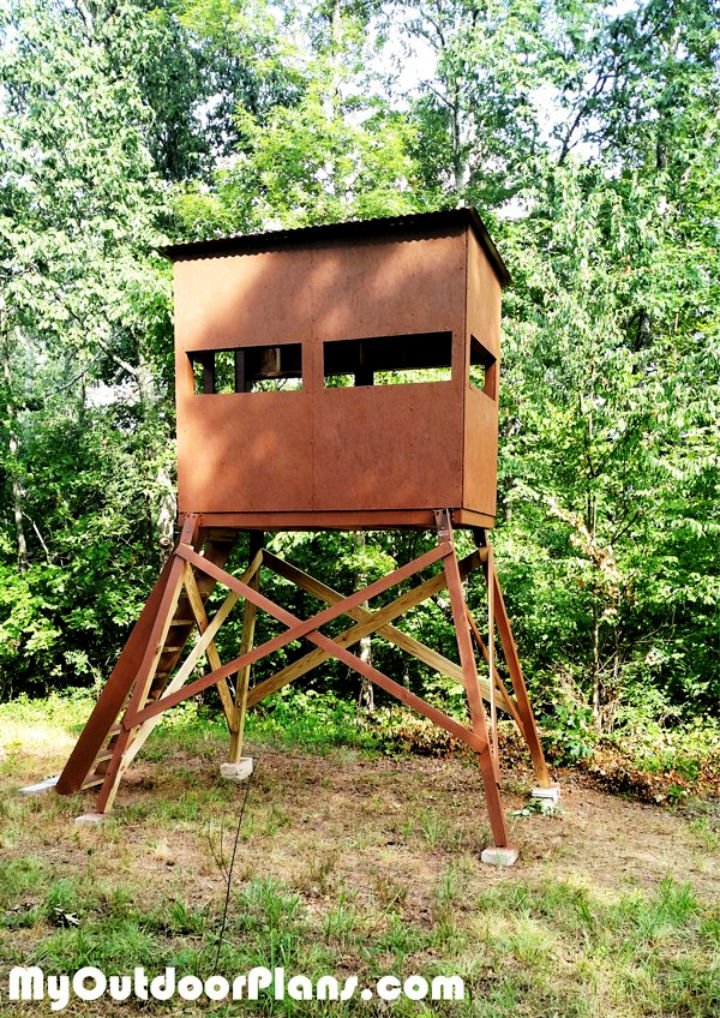 Are you planning to be in the woods soon to enjoy your hunting season? Then must build this deer shooting blind, will make it easier to shoot the fast running dears. A one of the best 4×8 deer stand that comes with sides a little uncovered from the top to let you peek out to see the target. It comes with a shingled roof and is to build with 2x6s, 2x4s, and 3/4" plywood. Build the base stand separately using heavy-duty wooden posts and hardware. myoutdoorplans
8. Scheierl Deer Stand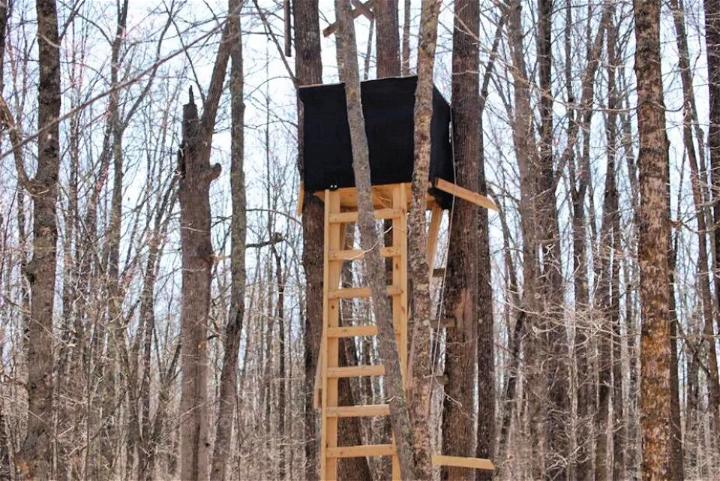 Hide nicely for shooting the deer perfectly using this Scheierl deer stand. Build it with 4×4, 2x4s, 1x6s, 2x8s, and plywood. Get the finally completed design covered with black outdoor fabric, will provide protection against rainwater. Use a readymade ladder to access it or build an attached one using the leftover wooden boards. All professional hunters should definitely get this. Details here wixstatic
9. Box Blind for Deer Hunting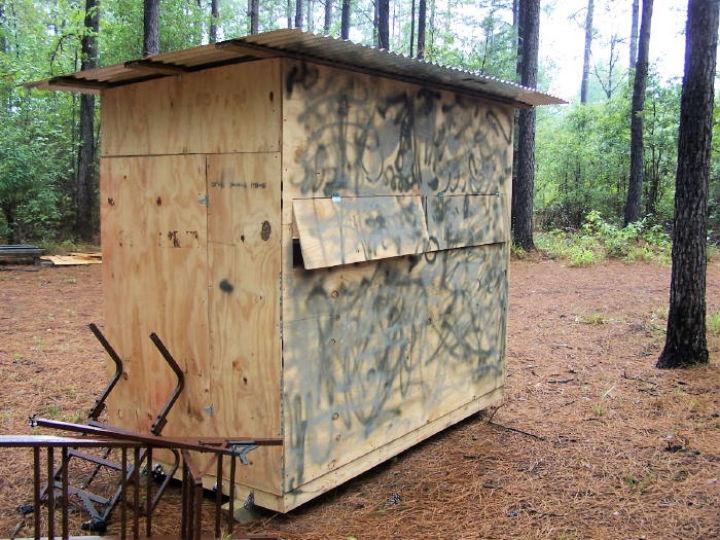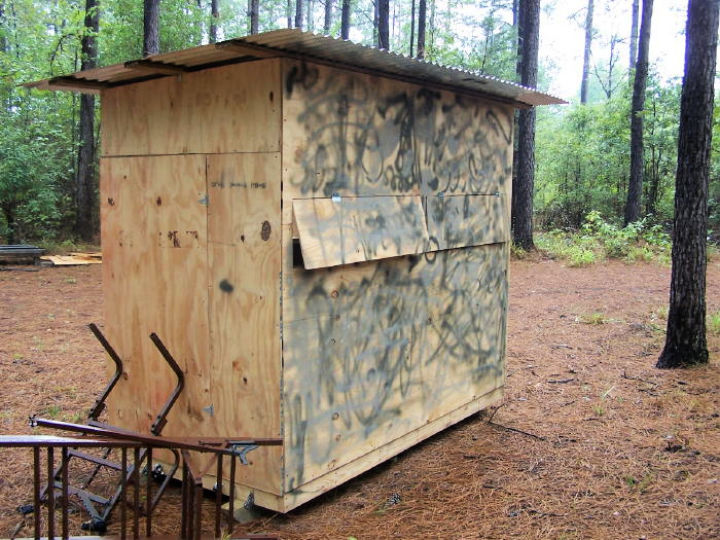 Build the frames for the floor to side walls to roof for this deer hunting blind using the 2x4s. Sheath the floor, walls, and entire model with the plywood and build a solid box style deer blind will make you easily shoot the target. The best gadget for your hunting season will be a breeze to build if you have a little woodworking experience. Finish it up with an edged corrugated metal roof. Details here outdoortexan
10. Build Elevated Deer Blind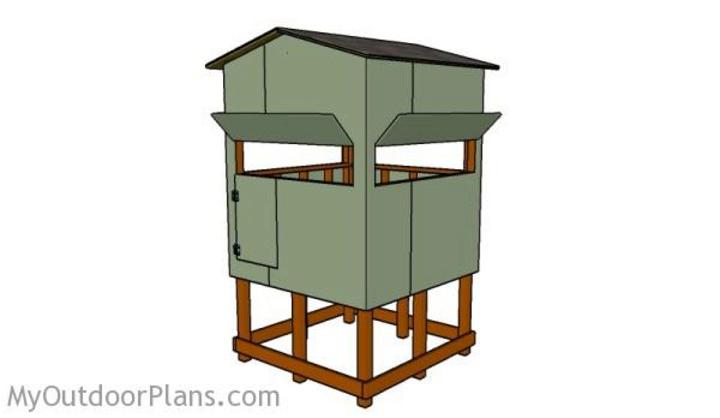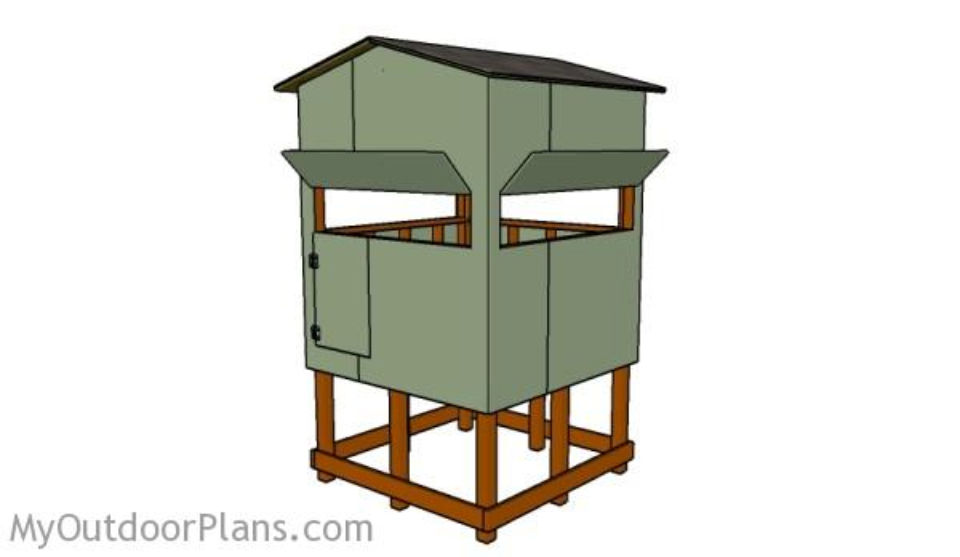 Check these deer stand plans to build another model of deer blind that stands on a durable base supported with 4×4 uprights. The 15 degrees sloped corrugated metal roof will not easily throw the rainwater down to the floor. This fantastic 6′ x 6′ deer blind design is to make with the 2x4s, 2x6s, 4x4s, 2x3s, and 3/4" plywood. The free plan will guide you to build all from floors to rafters to sidewall frames. You will also get the perfect guides for installing ridges and rafters. One of the most loved elevated deer blind to build at home. myoutdoorplans
11. Wood Pallet Ground Deer Blind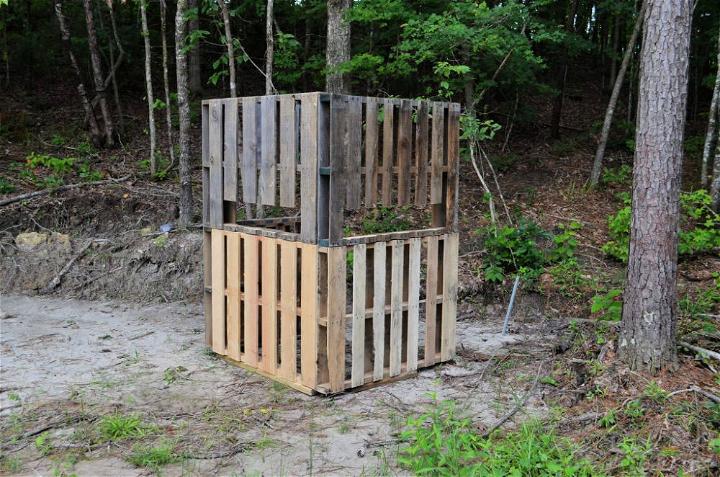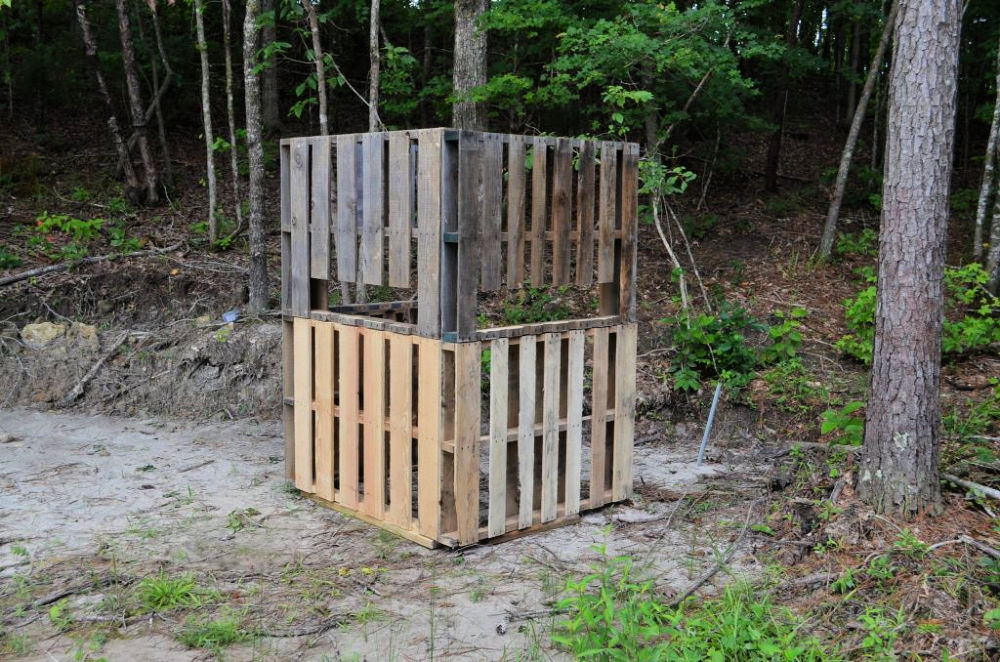 Get here the free plans to build a zero-cost wooden deer blind. The whole credit goes to free pallets, the main materials to build this ground deer blind. This model comes with no elevated base and is a simple wooden room or cabin, allowing you to hide for perfect hunting. Cut out a little portion to easily peek out to see your target and also the other dangers. Just grab the 2x4s, 2×2, and free pallets to build this fantastic wooden deer blind. You can raise it up on a stand too. greatdaysout
12. Portable Hunting Blind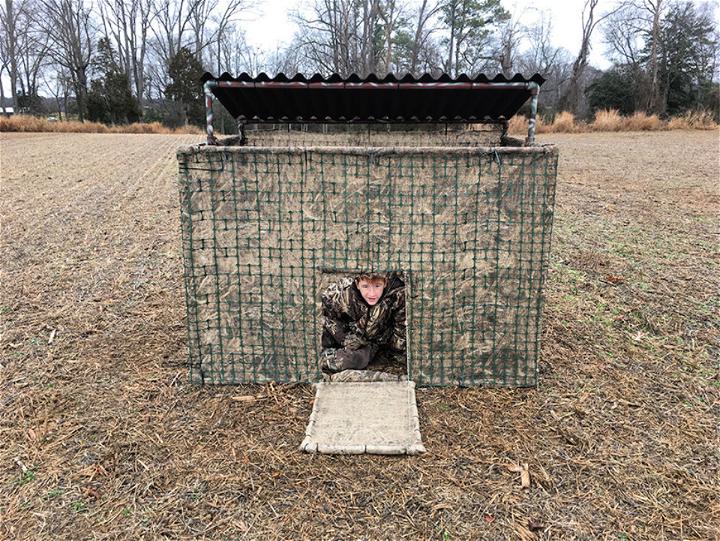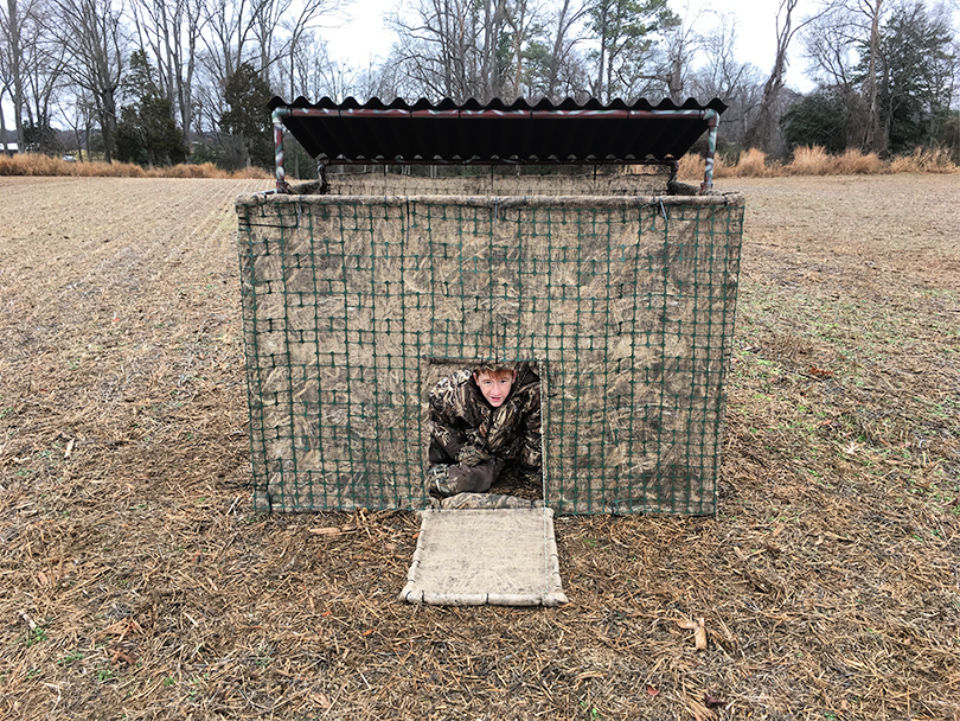 The fixed hunting blinds just make your stay in one place, but what to do to go closer to your target or choose another suitable hunting point? No need to worry about, this portable hunting blind come for a big rescue. Build this blind hunting frame using the metal pipes and fittings. Furthermore, you will get the free guides here about building a deer blind out of an old ambulance. Details here simplifiedbuilding
13. Build Elevated Deer Blinds On A Budget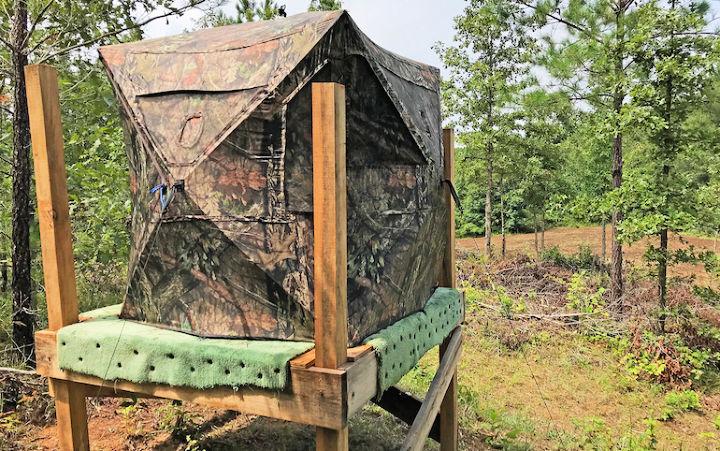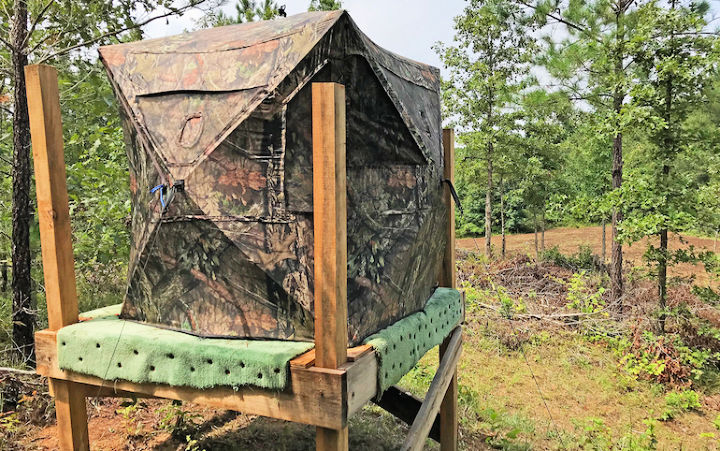 Buying the custom deer blinds often costs you big. But you can be your own boss and can build an elevated deer blind at home with the given free plans. Just use the 2x6s, 4x4s, 4x6s, and 2x4s to build this lasting longer deer blind. Use your carpets and clothes to bring more comfort to this hunting hiding spot. Just do leave the spaces to see what is going on outside the deer blind. Build it to take your deer hunting to the next level. gameandfishmag
14. Homemade Deer Blind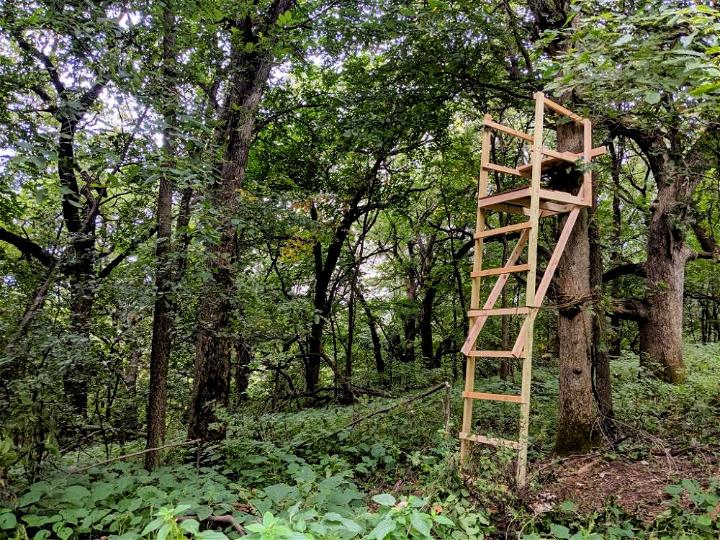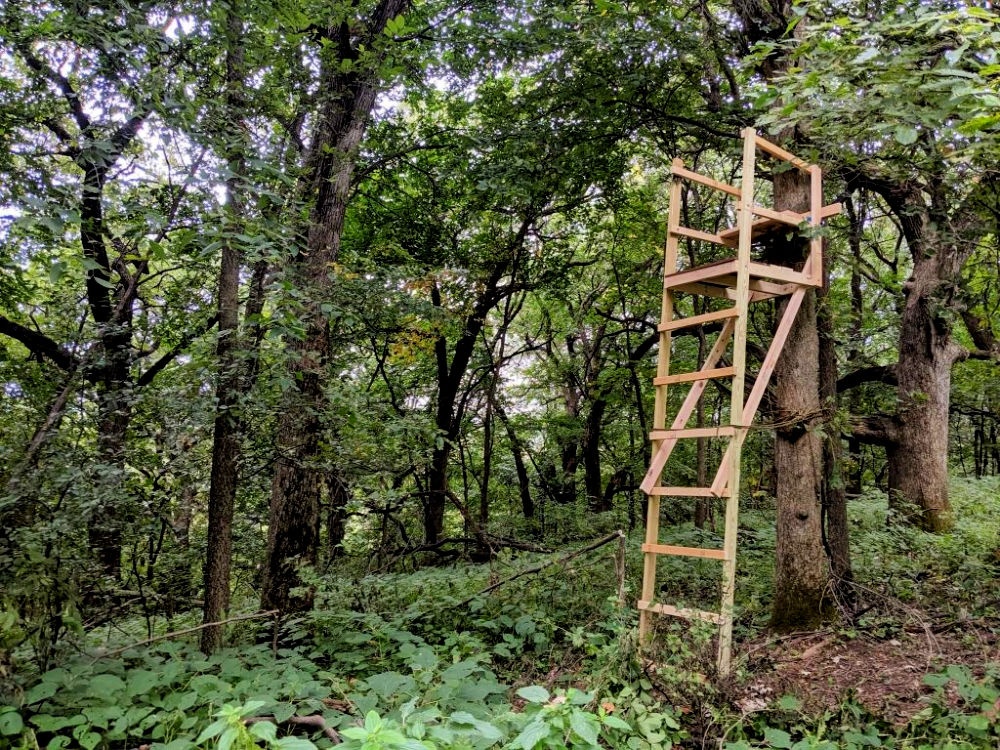 This deer bind is just like a large vertical ladder built on a tree stem. At the top, it provides a durable platform to stand and hunt the deer. Being on an elevated height will make you easily find your deer target, and you need 2x4s and 1x6s to build this lasting longer ladder style deer blind. Choosing a large tree to build a deer blind just removes the need for building the base stand separately. sportsmensnation
15. Free-Standing Deer Hunting Blind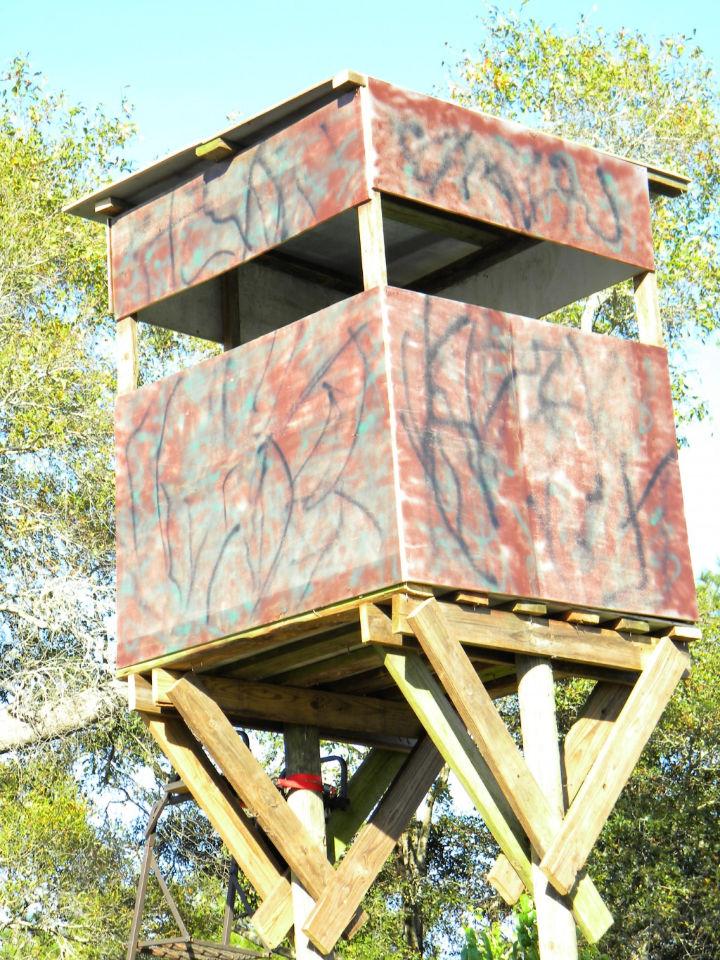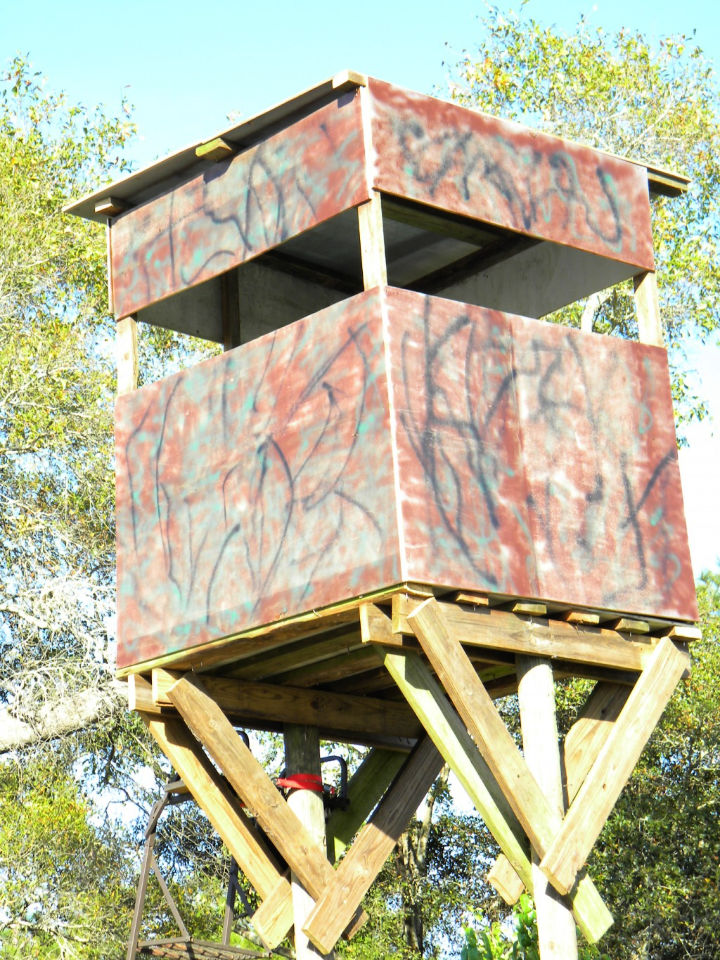 Peek into details of this one-of-a-kind deer hunting blind that is sure to impress. It stands on the 2 heavy-duty wooden pillars that are actually the durable wood logs, fixed deep in the ground. Next, use the 2x6s and plywood to build the floor, sidewall, and even the roof. Keep some space uncovered to peek out to choose a fantastic target. Don't forget to install the braces supporting the floor of the deer blind more. skyaboveus
Conclusion:
It always your first priority to wear safety before going on a hunt. So, opt for these easy DIY deer blind plans before you go into the wood to enjoy the hunting. The deer is one of the fastest running animals on the earth, and they have amazing senses to be aware of the hunters.
They will get vanished in just a blink of an eye if they somehow found you after them. So, these deer blinds will make hide perfect to choose and shoot the target. You will get here free hunting blind plans for portable deer blinds too that you can drag to any suitable hunting location.
Related DIY Ideas:
20 Surely low budget DIY camper trailer designs that you can build by yourself. You can easily build your own customized version of homemade camper trailer.